Updated on: December 4th, 2023
NSFW Character
& 12 Must-Visit Sex Chat Sites Like Nsfwcharacter.ai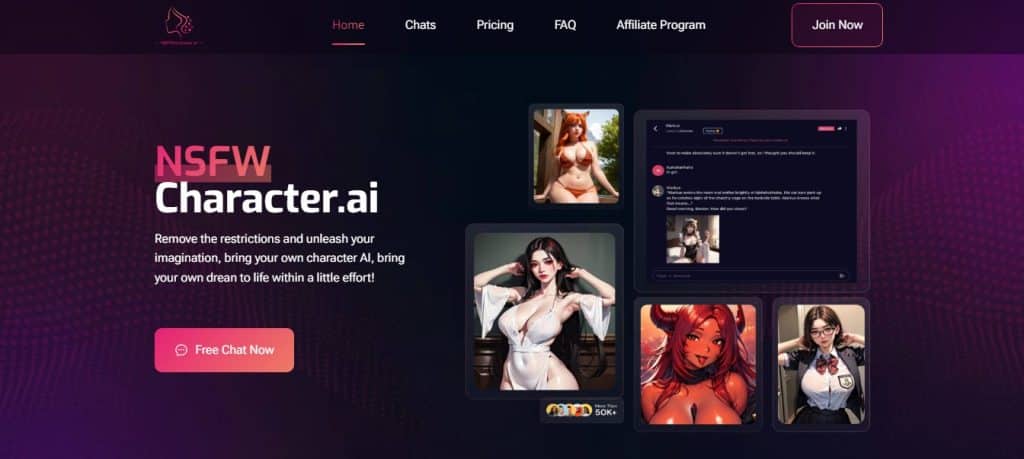 Step aside, old-school dating simulators and their scripted seduction attempts – there's a new player in town, and it's heating things in ways you won't believe. Enter NSFWCharacter.ai, the latest sensation in adult entertainment, bringing customizable adult chatbots to life through the wonders of artificial intelligence. This cutting-edge platform might be fresh out of the oven, but it's spreading like wildfire, attracting attention faster than a cat meme on the internet. Naturally, I couldn't resist diving into this saucy tech world and chatting with one of these frisky AI companions.
Official URL: https://beta.nsfwcharacter.ai
Oddly Satisfying AI Sex Chat Experience by NSFWCharacter.ai
You know, sometimes, when I'm indulging in a little one-on-one session with a sultry virtual vixen, I can't help but wonder what kind of naughty dialogue she'd unleash if we were to have a natural, uncensored chat. Call it a wild addition to my wet dreams, those spicy reveries that dance around blowjobs and climaxing – essentially, the spicy snippets of horniness. Oddly enough, my imaginative adult chit-chats are constantly R-rated, never just swapping cookie recipes. But it adds an extra layer of entertainment to my solo shenanigans.
Now, I've dabbled in those dating simulators that promise to deliver that titillating chitchat I'm yapping about. However, until lately, almost everything was about being as genuine as a reality TV show's "unscripted" drama. But hold onto your pants because NSFWCharacter.ai is flipping the script with AI-powered adult chatbots. This spanking-new platform is a rising star, racking up popularity like a cat video in the making. And trust me, I couldn't resist jumping headfirst into this steamy digital dialogue realm and getting down and dirty with one of these AI playmates.
Eye-popping Babes on the Homepage: Best Design Ever!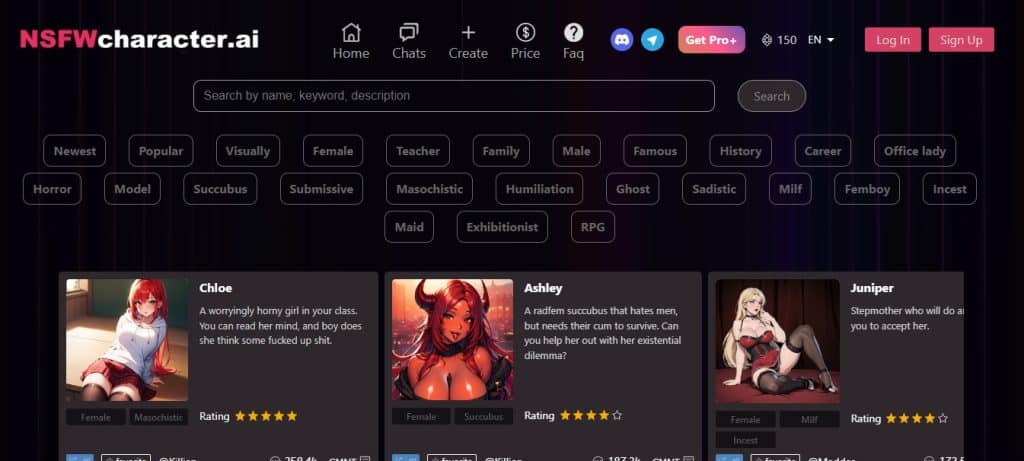 When I first laid eyes on the NSFWCharacter domain, with that nifty "AI" tacked onto the end, I couldn't help but roll my eyes a tad. You've seen one AI generator for filth; you've seen them all, right? The initial glance at their front page didn't do much to dispel that notion either – it looked like a classic setup for another one of those image-producing engines. But hold your horses because there's more beneath the surface.
Let's talk visuals, shall we? The homepage is packed with eye-popping babes you'd expect to see sprouting a shitload of AI-generated porno. It mixes those sultry anime temptresses and hyper-realistic beauties that could easily pass for poster girls in a Photoshop wizard's dreams. Remember those dating sims? Yeah, they were locked into a world of hentai hotties, bound by the artistic limits of time, energy, and motivation. But this site is like a breath of fresh, X-rated air – the boundaries are virtually non-existent, meaning you've got endless possibilities to chat with.
Sex Chatting with AI Chicks at Nsfwcharacter.ai? Isn't it Crazy and Weird?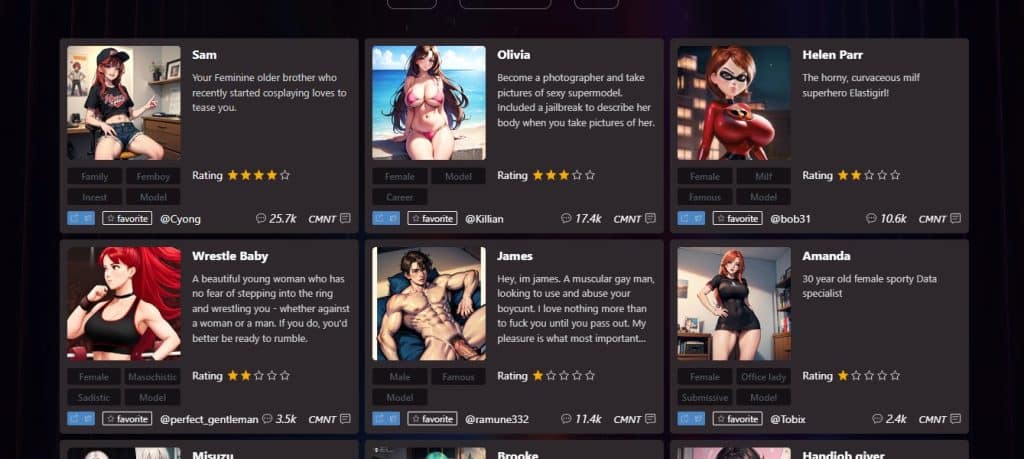 Let me tell you, the virtual ladies over at NSFWCharacter? They're not just playing around regarding their responses – they've got realism down to a science. These pixelated temptresses know how to dish out sassy comebacks that might even leave you blushing. But hold your horses, cowboy, because minutes after this spicy back-and-forth, a virtual bouncer popped up on my screen, wagging its pixelated finger and letting me know I'd burned through my freebie tokens. Talk about a digital cockblock, am I right?
But don't fret if you've been around the internet rodeo – you've probably been in this "out-of-tokens" pickle before. And let's give credit where it's due: NSFWCharacter isn't all bad. They offer you a test ride without demanding your digits, and I'm not talking about your phone number. You can give it a whirl to see what these AI vixens are capable of, all before committing to an account. It's a free sample at the grocery store, only a lot steamier. And let me tell you, after that tantalizing taste, I was ready to belly up for more.
Cool Benefits to Enjoy After Your NSFWcharacter Registration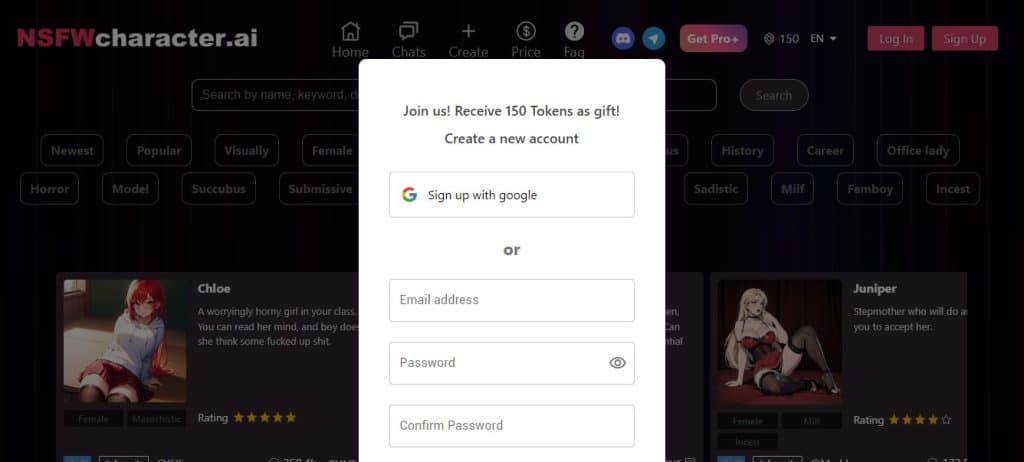 After you've bravely tossed in your valid email account and completed the registration ritual, guess what? They don't just leave you hanging – they throw you another bunch of their digital tokens to spice up your playtime. And let me tell you, signing up also unlocks a magic door: the "Create" feature. Yep, that's your golden ticket to crafting your very own character. Because who wants to settle for someone else's sexy fantasy chatbot? Am I right?
Before I actually dug in, I had these wild mental images based on all the enticing visuals splashed across the site. I was brewing up all sorts of assumptions about these customizable characters. But here's the real scoop – you're not just tweaking appearances. You're architecting this digital dame's whole personality, how she talks and reacts to things. In short, you're playing Dr. Frankenstein with dirty talk. Before you let your imagination run too wild, here's the kicker: You can't whip up an illustration of your creation. So, if you're itching for pics, you might have to hit up another site.
Create Your Customized Masterpiece and Transform Sex Chats Into a Unique Experience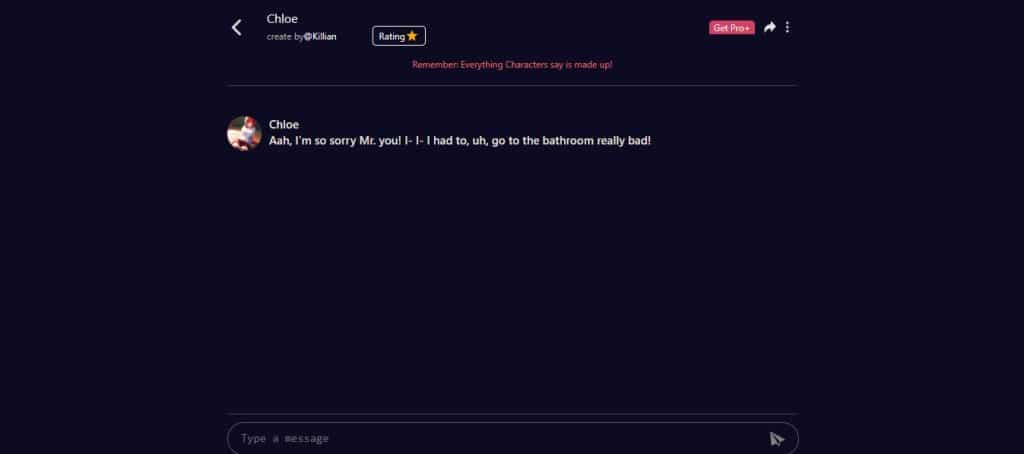 Finally, getting a NSFWCharacter to have a dirty little chat with is a tad more elaborate than just conjuring up a quick image for some DIY time. You'll dive into an online form where you spill the beans on her looks, cook up an enticing icebreaker, and then cherry-pick some traits from a lineup that includes the likes of Sadistic, Maid, and other intriguing flavors.
Here's the twist: If you're impatient, you can jump the advanced stuff and jump right into chatting – that's when the training wheels come off. After a bit of back-and-forth, you can give your digital gal a makeover by tweaking her settings – think of it a digital makeover session to make her even more your type. And for those with a tech wizardry streak, you can start messing with other elements, making the whole thing your saucy AI masterpiece.
It Takes Baby Steps to Get The Hang of NSFWcharacter, But You'll Get There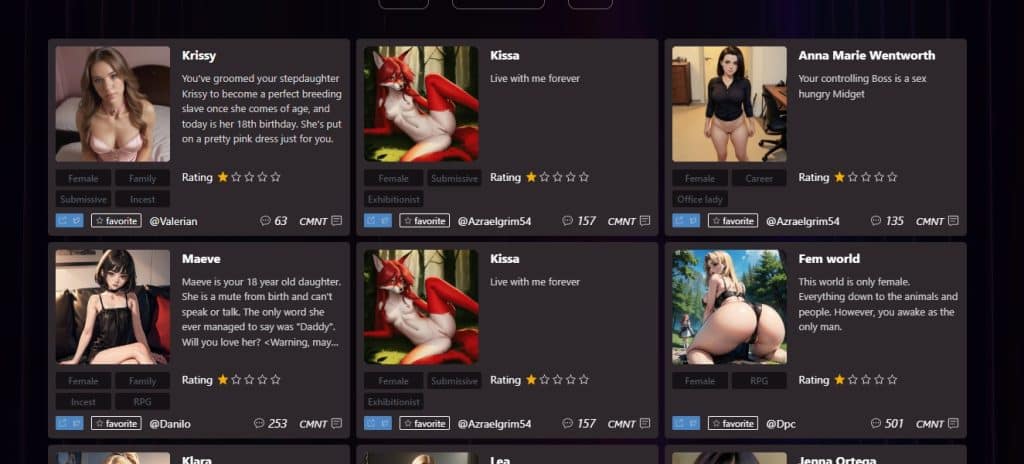 Let me be honest: Using NSFWCharacter comes with a steeper progress curve than my grandma's old staircase, especially if you're chasing the elusive goal of crafting your digital dream girl. So, here's the scoop: For a smooth ride, make a pit stop at the "Book." It's like your guide to the AI lover's manual, spilling the beans on how to shape and tweak your characters to fit your wildest fantasies.
Now, training these AI hotties is like choosing between different flavors of ice cream – not that I've ever had a rocky road conversation. You pick responses, rate them, and let the magic happen. Easy peasy. But wait, for all you adventure-seekers, there's a whole bunch of next-level stuff that'll have you blinking like a confused owl. Also, let's face it, we could all use a little head-scratching now and then, right?
Make It Official! Pick Any Membership Plans Matched For Your Needs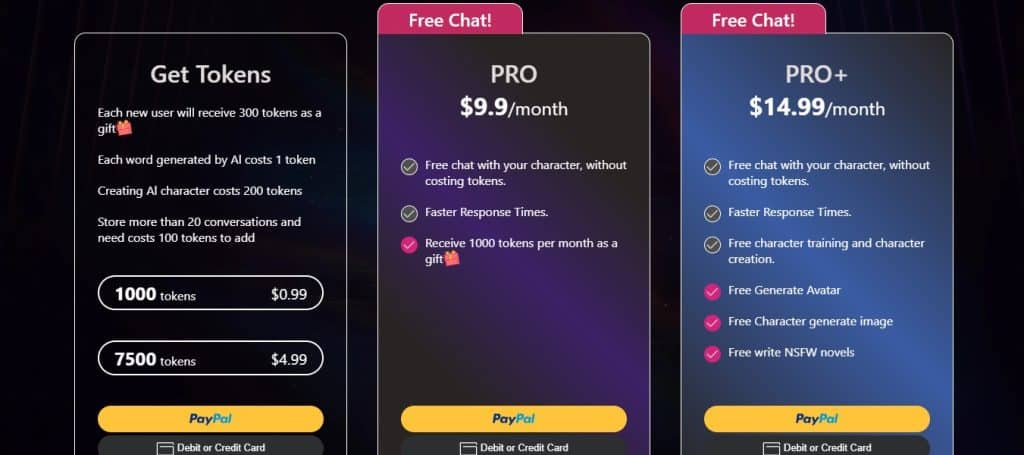 Let's discuss the cold, hard cash you might drop on NSFWCharacter. So, picture this: you've got options as varied as the positions you're pondering in your tête-à-tête with those AI hotties. If your bank account looks a bit barren, you can kick things off with a measly 99 cents, and voila, you'll snag 1000 tokens. Or, if you're feeling particularly generous, slap down five bucks and walk away with a whopping 7500 tokens in your pocket. Let's not forget the newbie treat – a lovely 300 tokens as a welcome gift. However, I believe I've already devoured my impulsive feelings.
Now, before you flex your creative muscles, remember this: every word conjured up by the AI genies costs a single token. And if you're feeling downright bold and want to breathe life into your AI character, that will set you back 200 tokens. But hold your horses because there's more to this smutty symphony than just nickels and dimes.
You've got the Pro membership lounging in the spotlight, offering all-you-can-chat privileges without constantly reaching for your token stash. For a monthly Hamilton, you're in the club, enjoying faster response times and the feeling of talking without counting coins. But wait, there's the Pro+ upgrade, priced at a fiver and throwing in sexy AI character creation and helpful training like the proverbial cherry on top. And you know what? If you're planning on virtually partying on this platform often, this Pro+ gig is the ultimate deal. It's like the all-you-can-eat buffet of AI chat – and trust me, you'll save some bucks while satisfying your digital desires.
Pros and Cons of Nsfwcharacter.ai
PROS:
A cool and unique concept
AI powers Sex Chat service
Some chats are offered for free
Customized characters
Lots of options
CONS:
Cannot generate images using AI
---
12 Must-Visit Sex Chat Sites Similar to Nsfwcharacter.ai: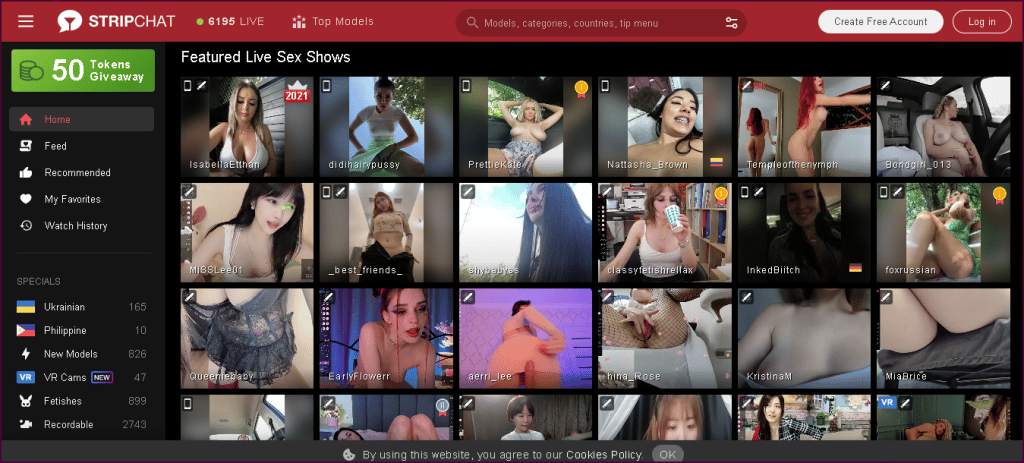 Stripchat, which has been around for five years, has successfully grown into the top 10 best adult platforms and continues to give superb quality and services, making everyone love the site a little more. One great feature that Stripchat offers is that users are not only limited to communicating with models but can also chat with other users. Also, there are plenty of models registered on this website, most of whom are professional porn stars. With its pornographic nature, Stripchat is already a reputable and credible cam site; wherever you are, everyone can enjoy sexual pleasure at their own pace.
Here's the full review of StripChat.
PROS:
A long list of beautiful models on the site
Simple, cool, and attractive website design
Users are allowed to forward private messages
The website is easily accessible and user friendly
A wide selection of live sessions and videos
Extensive FAQ page
FREE view and chat functionality for guests
CONS:
Unregistered members get constantly reminded via pop-up messages to sign up (which gets annoying)
English is the only available language feature
Private message chats are exclusive for paid memberships only
---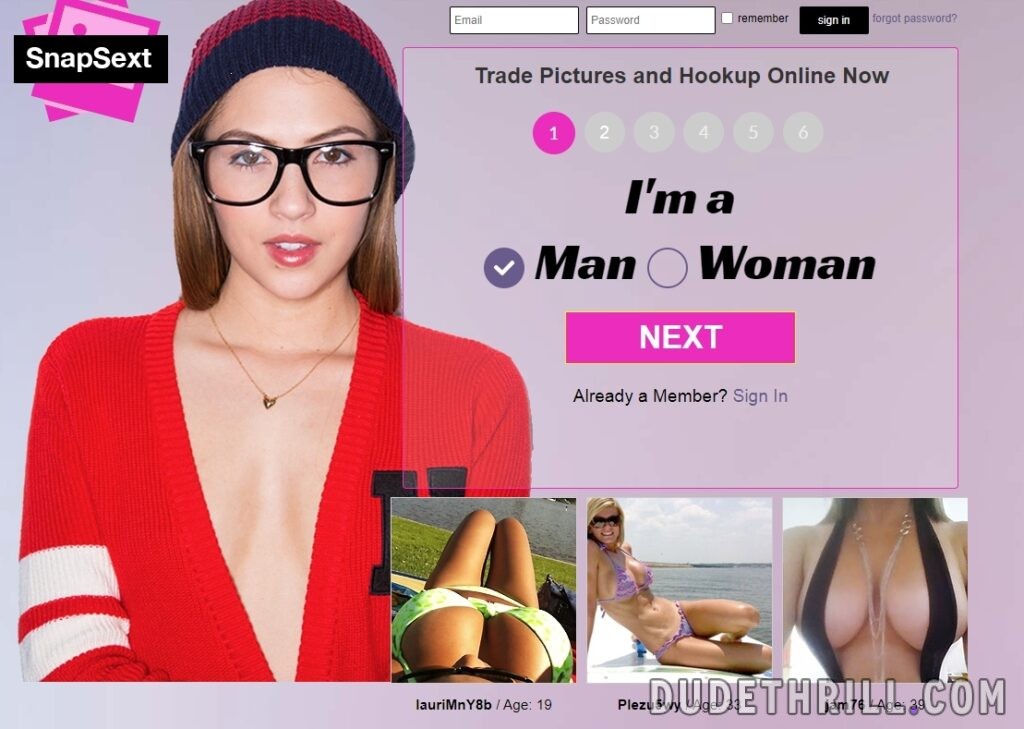 Snapsext is a free sex chat website for people who aren't afraid to take risks. The platform focuses on visual content such as video chats, images, live streams images, videos, and more. You can casually flirt or go straight to hookup and sex, or anything in between. The audience response to SnapSext has been fantastic because it is attracting a growing audience every day. Many people believe that the website encourages them to express their sexuality entirely and behave however they want, without worrying about repercussions.
Click here for a full review of Snapsext.
PROS:
Most of the basic features are free
Large user database
Real, hot verified girls & guys
Online for 10 years+
Flexible premium pricing
CONS:
Some screening questions when signing up
---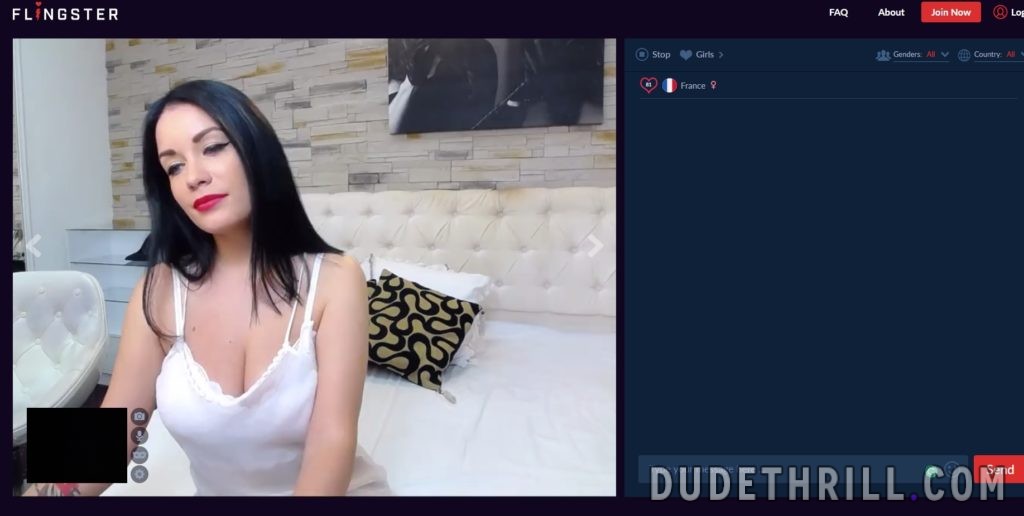 Flingster is an adult sex chat website for meeting, hanging, and making out with singles. On this website, the application process is indeed speedy and convenient. So, it won't be wasting much of your energy at all. Compared to several other sex chat websites, even free accounts can use messages and video chats without paying.
On the other hand, paid subscribers have additional features that are indeed unique. Meanwhile, Flingster similarly provides discreet identification while chatting before you consent to a spontaneous, quick fling.
PROS:
Unspecified character is a choice
Everybody is excellent regardless of sexual orientation or gender
The sign-up procedure is available and relatively simple
The site's design is simple; however, understandable to navigate
CONS:
There are occasional phony profiles reported
---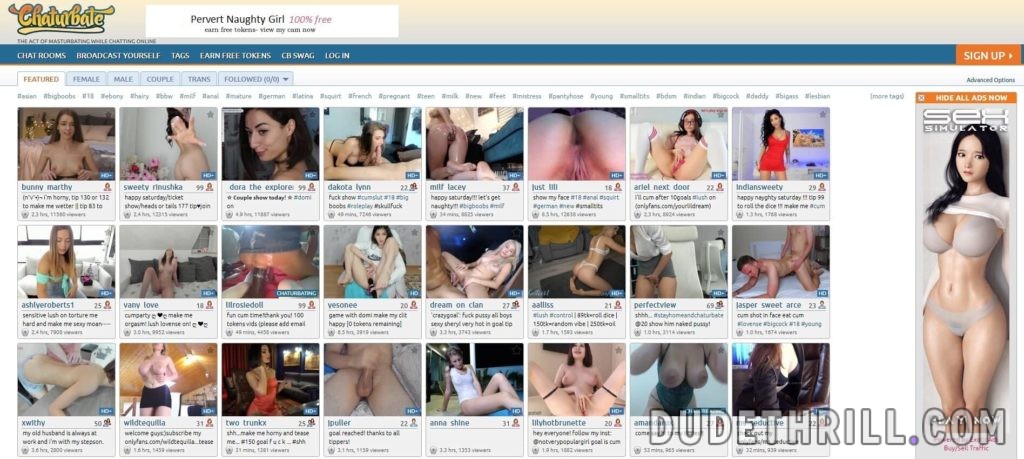 Connecting to people worldwide has never been so easy. Thanks to Chaturbate, unlimited talking is now possible. Plus, you will never spend a dime on it. There are a lot of sexy and beautiful women available for you, 24/7. As a matter of fact, women on this website love kinky stuff, which is always worth your time and attention. Meanwhile, live shows are also available for viewing at a reasonable price.
Click to see the full review of Chaturbate.
PROS:
Many cam girls available 24/7 live
No additional fees to expect
Nudes and sex are always a guarantee
Smooth browsing on smartphones and other devices
CONS:
Few videos are in SD format
Expensive private shows
---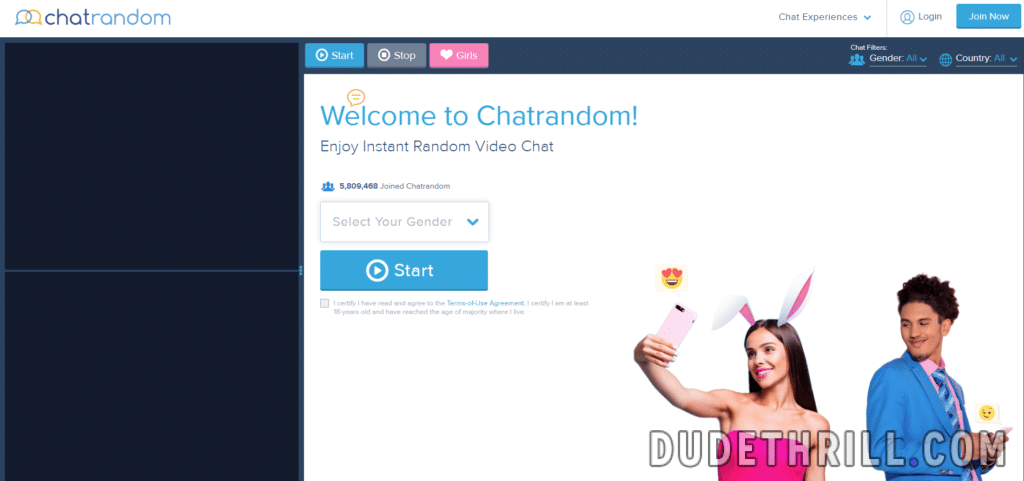 Chatrandom is a free live chat site that allows users to easily connect with people and strangers worldwide. The site started its outstanding service around 2011, and since then, it has become one of the most popular sites today. Indeed, this is the most exciting live chat you can experience. Because the system uses a roulette-type matching and lets you chat with thousands of people every day
Check out the full review of Chatrandom.
PROS:
Registration is free
Users can chat with members from other parts of the world
People can join live chat without registration
There are thousands of active users every day
App version is available for download
Hiding identity is public through "mask."
Free sending messages
CONS:
No profile photo is available
Only Android users can download it
More number males than females registered
---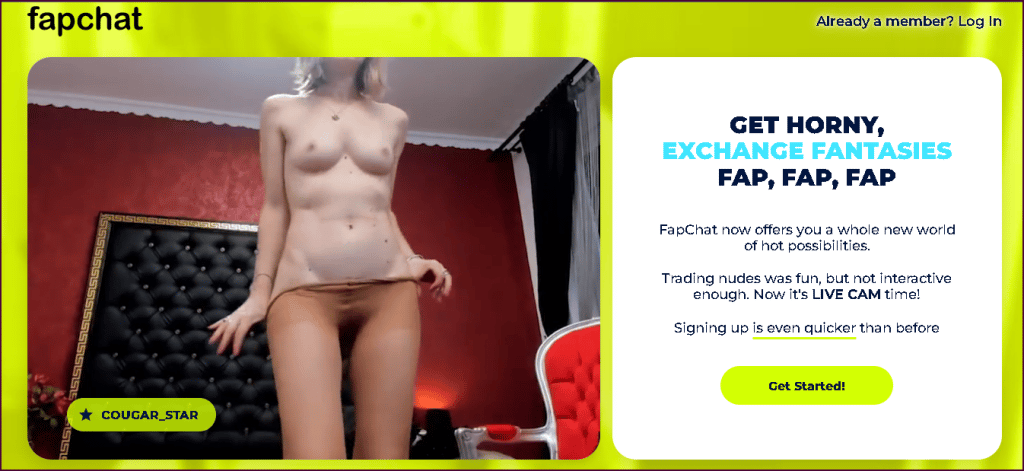 Fap Chat is a platform that helps men like you find attractive single women to take nude selfie photos with and strike up a conversation with. There are thousands of stunning young ladies to choose from, so you're likely to find at least a few that you want.
Take a look at the full review of Fapchat.
PROS:
The website has a simple design and is very easy to use
You can watch real live women performing on cam
Maintains anonymous identity
No bots and fake profiles
CONS:
It has no live chat support service or phone service
You cannot record cam shows
---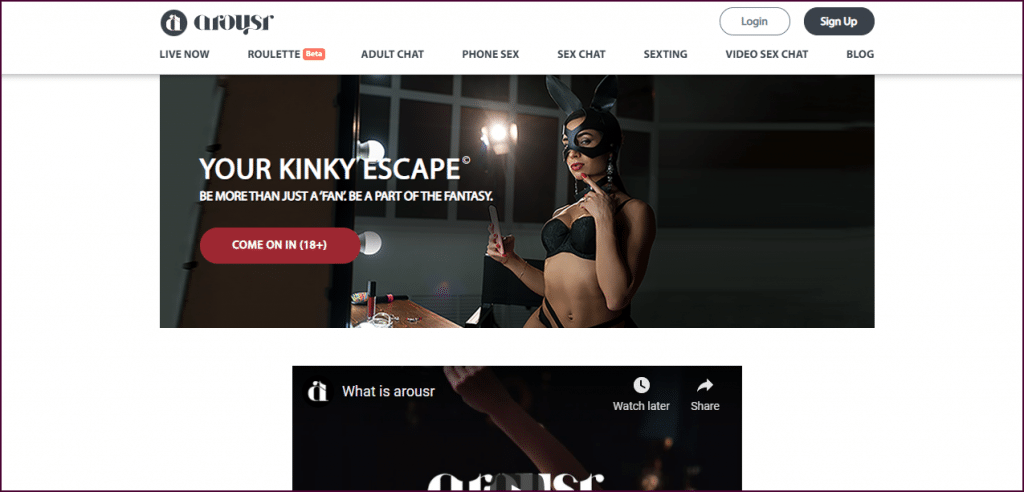 Arousr introduced a genuinely innovative concept, giving us extra intimate and stimulating experience. So far, it has been the most popular service for people who want to have fun, flirt, and enjoy sex chats casually. If you're looking for a website that's easy to use and has a long list of sexy women, Dudethrill recommends this one above all others.
PROS:
Simple navigation and layout
Plenty of female members
Free registration plus 100-credit free
The concept is unique and interesting
CONS:
Some shows are pretty expensive
The list of models is not that much
A basic account has ads
---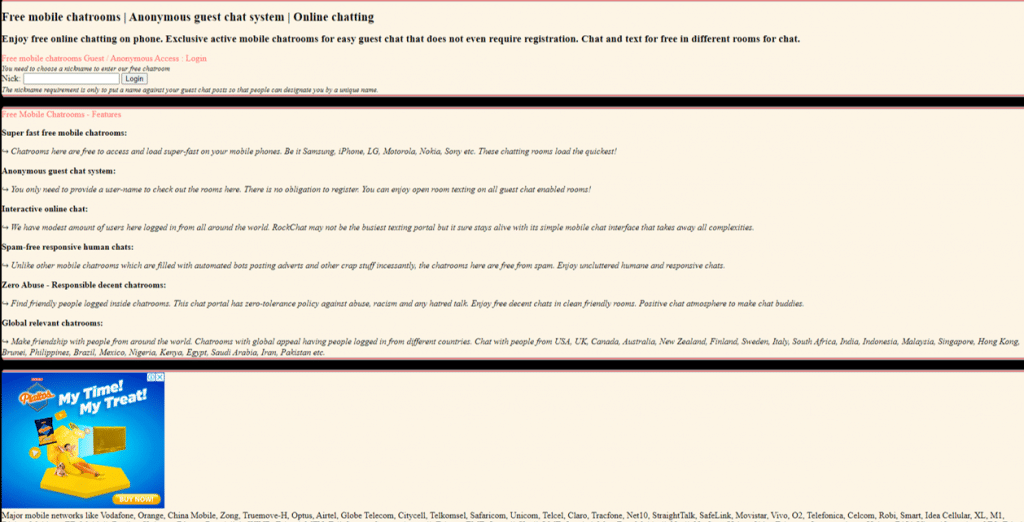 RockChat is a well-known mobile chat platform with enticing features for its friendly members. The website has a simple chatting interface that allows users worldwide to communicate with their potential matches.
To discourage improper accounts from violating security standards, the site is rigorously moderated. After registering on RockChat, a user can easily log in using a username and password. Furthermore, the innovative inbox feature enables to have personal discussions with people worldwide.
Read the RockChat full review.
PROS:
Free and best chat rooms for mobile phones
Works smoothly and provide users with a wide range of chatting options
The best private chat rooms and mobile chats are readily available to users
CONS:
---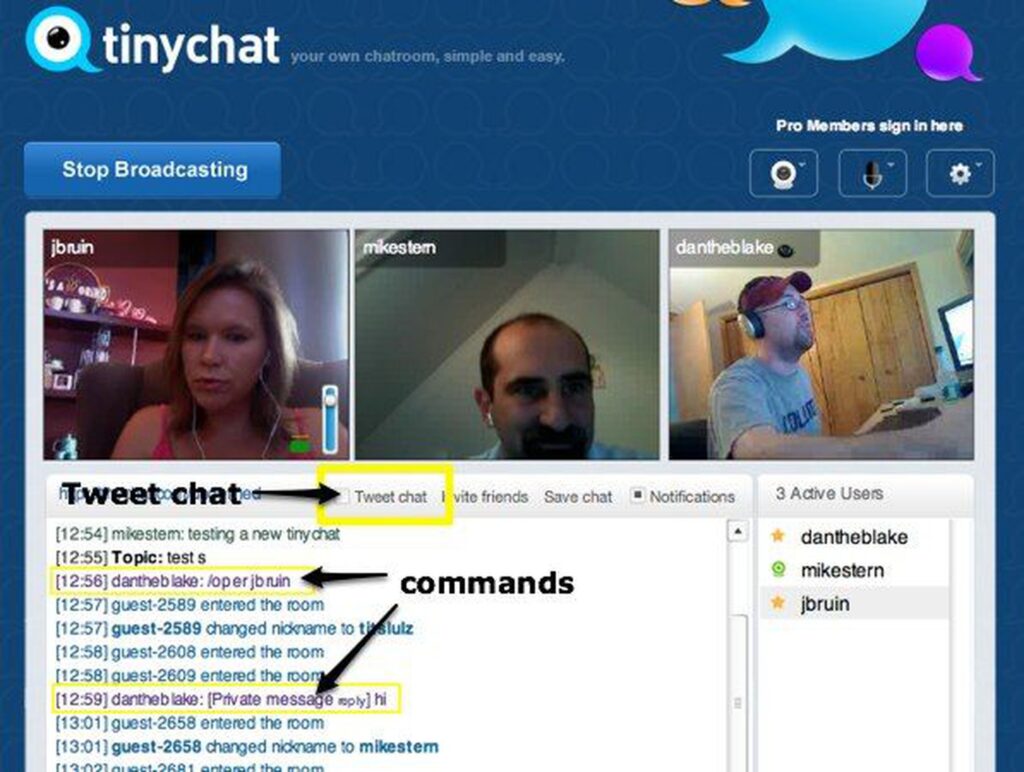 TinyChat effortlessly connects people worldwide in a traditional yet refreshing way of communicating. Certainly, this website has its take in reviving the 90s trend in interaction and incorporate it in modern ways through video and chat rooms.
Indeed, they brought the old chat rooms and made a modern take on them. Surely, what goes around, comes back around. Coupled with amazing features, fresh cool designs, and an amazing user-friendly interface makes the whole TinyChat experience more fun.
Check out the full review of TinyChat.
PROS:
You can send messages for free
You can add as many as 12 users in a conversation while controlling the number of people coming in
Free use of some of its features
Do not allow showing of explicit contents
An equal number of male and female members
All types of sexual orientation are welcome to join
The majority of the members are young
Design is amazing and simple to use
Plenty of features to enjoy and use in communication
There are moderators that review chat rooms
CONS:
The app may take a lot of space
Bugging notifications are available while using
---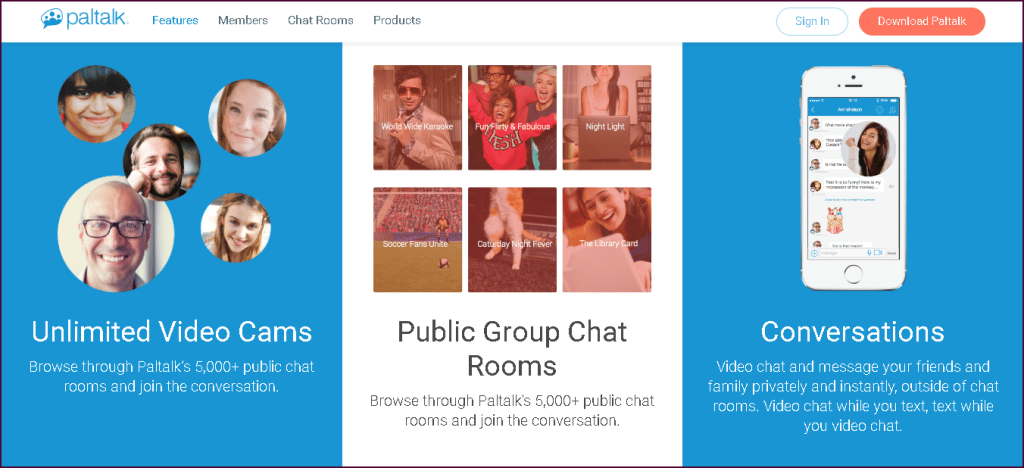 PalTalk has been around for quite some time and is well-known for its user-friendly design and extensive set of tools for encouraging interaction. It calls itself "the biggest and most popular talk chat app," is a robust online community in which millions of users share and see live video feeds. And since you'll make many new acquaintances on the site, successfully dating shouldn't be difficult. If you're looking to make some newfound virtual buddies, you may join up for a membership.
Click to see the full Paltalk review.
PROS:
Reliable chat features and options
Thousand free chats
Open for private and exclusive chats
Strong and reliable texting system
Can communicate without cams
Offers profiles customization
Unlimited viewing of live stream videos
CONS:
Several chats are not appropriate for underage users
---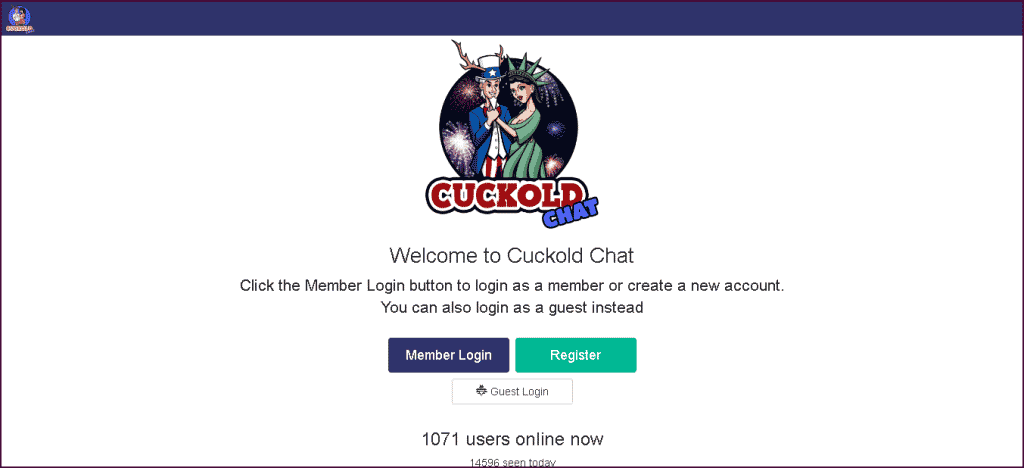 CuckoldChat is very open and welcoming to all people willing or curious to try the cuckold lifestyle. I'm pretty sure that this site will give you much more options and opportunities to explore what's more about cuckolding. This page has primary chat rooms and hundreds of people exchange pics, videos, and messages daily. Certainly, CuckoldChat established a fantastic community and a dream destination for all cuckold lovers.
Learn more about CuckoldChat with this full review.
PROS:
Active members
Free sign up
Lots of chat rooms available
All cuckolding stuff
Amateur and authentic content
CONS:
Chats can be crowded sometimes
---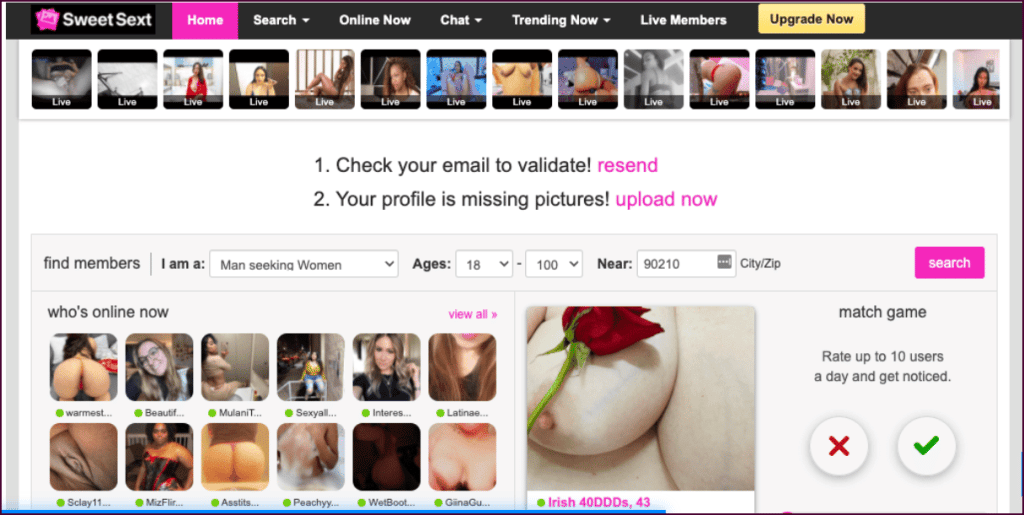 In case you haven't heard of it before, SweetSext is a popular cheating and hook-up application where users can send each other naked photos, tease, and find potential hook-up buddies in their area. This hook-up website allows you to connect to numerous women who desperately desire an affair or casual sex. Fortunately, it's completely free to sign up with SweetSext, and you can even try out their VIP features for a little while using the trial package. The overall interaction is simple and gives us lots of opportunities to cheat and get one-night stands so easily.
Check out the full review of Sweet Sext.
PROS:
Lots of active members
Cool features
Easy hook-up
Simple and easy-to-use website
Members are open to all affairs or sexting
Flexible services
Free registration
CONS:
It has a premium subscription
---
Verdict
NSFWCharacter has a cool and innovative concept of AI-powered chatbots that range from shy to sassy, from sporty to sensual. It's like building your squad of saucy sidekicks, minus the cape and tights. So, even if you're not in the mood to play digital puppet master and craft your very own chatbot seductress, NSFWCharacter.ai still has your back.
On top of that, the site has an ever-growing community of users who keep tossing new characters into the mix, so you'll have an easier time than ever finding that pixelated partner in crime that matches your mood. I'm crossing my fingers for the day when image-generation tech jumps into the fray, allowing us to personalize our dreams. But until then, I'm more than content cozying up to the AI hotties who've already RSVPed to this virtual party.
All 42 Other Sites in This Category Worth Checking Out:
TryNectar & 12 Best Sex Chat Sites Like TryNectar.ai Show Me 12 Alternatives for TryNectar.ai A day in the wild world of TryNectar, I found myself knee-deep in some next-level roleplaying with bots. Now, I won't lie; I'm starting to question if I'll ever waltz back into typical dating – yeah, call it an exaggeration, but […]