Updated on: December 8th, 2023
Online Free Chat
& 12 Must-Visit Sex Chat Sites Like Onlinefreechat.com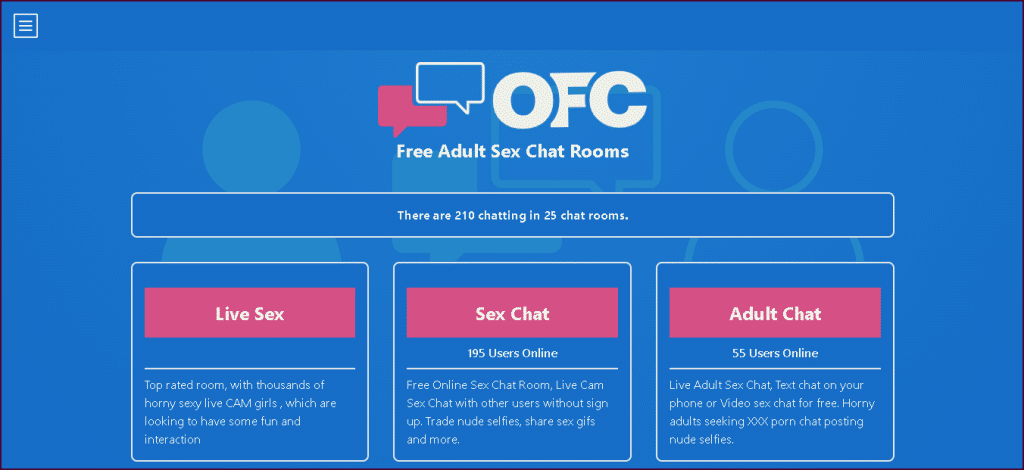 Prepare to be pleasantly surprised by a little gem in the vast ocean of adult sites: OnlineFreeChat. Now, I know what you're thinking — generic name, right? Sometimes the hidden gems lurk beneath the most mundane titles, waiting to be discovered. And with a decade-plus existence under their belt, these folks must be doing something right. But is it the asset of OnlineFreeChat or merely a stroke of luck in picking a catchy name? Will OnlineFreeChat live up to its reputation and captivate our senses, or will it leave us longing for more? Who the fuck knows! So, join me as we navigate the twists and turns of this sex chat platform, where half a million curious visitors venture monthly.
Official URL: https://onlinefreechat.com
Get Ready for An Amazing but Free Sex Chatting at OnlineFreeChat.com
When you land on the OnlineFreeChat website, you'll notice a familiar yet charming front page. It's like a friendly neighbor who always greets you with a warm smile. The sleek and professional design has a delightful color scheme and a logo that catches your eye. It's not trying too hard to impress, but it definitely leaves a good impression. Unlike some websites that throw in cartoonish distractions or steamy pics, these folks keep things clean and classy.
Meanwhile, let's talk about the chat rooms. They've always been a hub for textual banter. You'll find various sexually-occupied chat areas awaiting your exploration as you browse. Rather than diving into specific kinks, they've organized the rooms into extensive groups. They've got a room called the "Live Sex" chat area, which they proudly label as the site's trendiest and most highly active chat room.
Also, if you're curious about their top favorite one, look no further than the enticingly named "Sex Chat." Alongside those, there's an "Adult" room for those seeking more mature conversations, a playful "Roleplay" room, and inclusivity shining through with the "Gay" and "Lesbian" rooms.
Oh, but that's not all! Once you step into a room, a whole world of possibilities exists. They've cleverly created Groups within each room, each with its tantalizing name. You've got "Video Sex," "Pictures," "Masturbate," and even "Trans." It's like a buffet of temptations, catering to different cravings. No one is left out in this diverse playground of desires.
Active Sex Chatters Making the Site Vibrant and Thriving!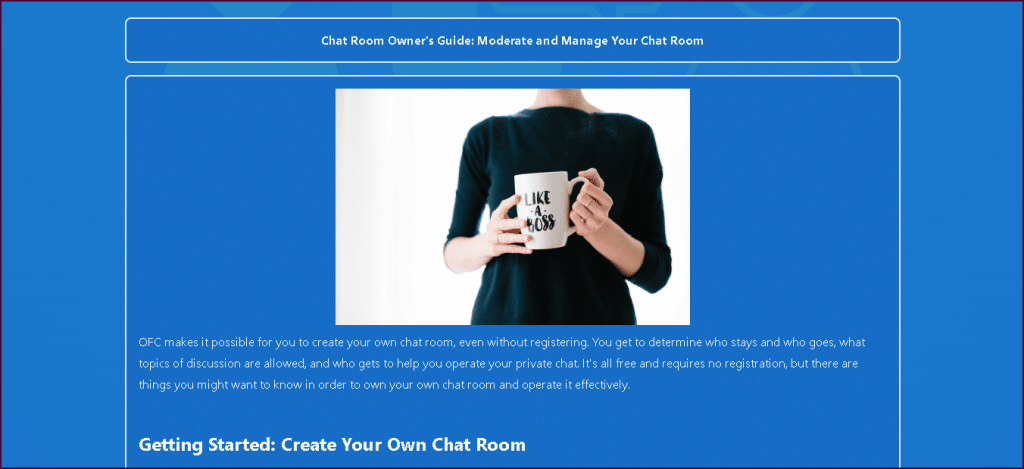 Of course, a chat site's success lies in its vibrant community. You can have the snazziest technology on the planet, but it won't mean a thing if it's just tumbleweeds rolling through. Fear not, my friend! OnlineFreeChat may not be the wildest party you've ever witnessed, but it draws in a lively crowd.
As a matter of fact, a shitload of guest users graces its virtual doors each day, ensuring you won't find yourself stranded in a desolate wasteland of solitude. As I write this Dudethrill review, there are a whopping 345 users passionately engaged in various chat rooms. So, rest assured; you won't be left to amuse yourself in an empty void.
Certainly, OnlineFreeChat has crafted an inviting atmosphere where conversation sparks, and connections thrive. It's similar to a cozy café where you can sip on words and indulge in flirtatious banter. Whether you're seeking a lively chat or a steamy exchange, OnlineFreeChat has something to tickle your fancy.
Join the Fun and Become an Official OnlineFreeChat Member or Guest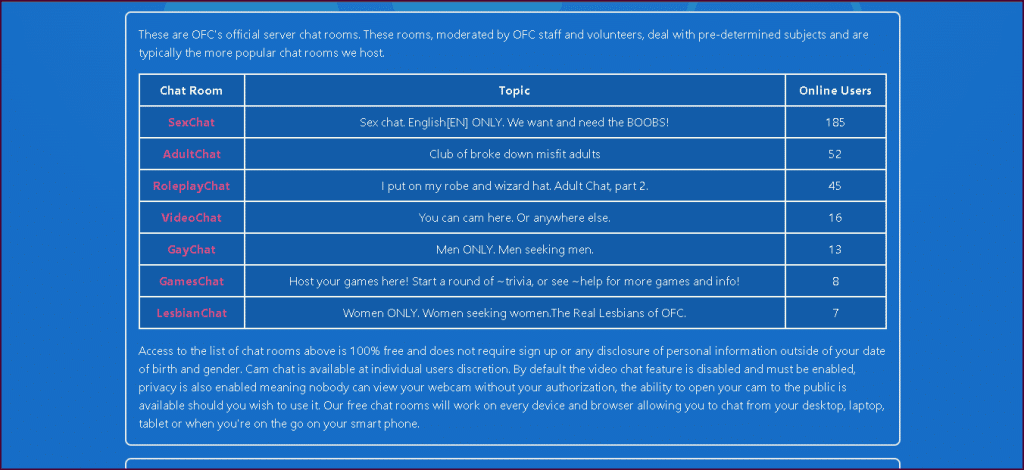 Alrighty, folks, get ready for a wild ride! You won't imagine the hours I've spent exploring the homepage — let's say it's become my second home. But I guess that's the life of a porn site critic, and I'm here to spill the beans. I know you're itching to hop in. Don't worry, that's what I did. The best part? You don't even need to sign up to begin chitchatting. Seriously, even the ladies on the dating app in my area have more baggage than this!
Meanwhile, the sex chatrooms are just a click away — no lengthy registration process or complicated forms. OnlineFreeChat keeps it simple and convenient, allowing you to unleash your inner chatterbox quickly. But let's say you want to become a regular, a true champion of the chatroom. In that case, creating an account might be worth considering. Don't worry; they provide options, ensuring you feel at home.
Few Spams Won't Stop Me From Jerking!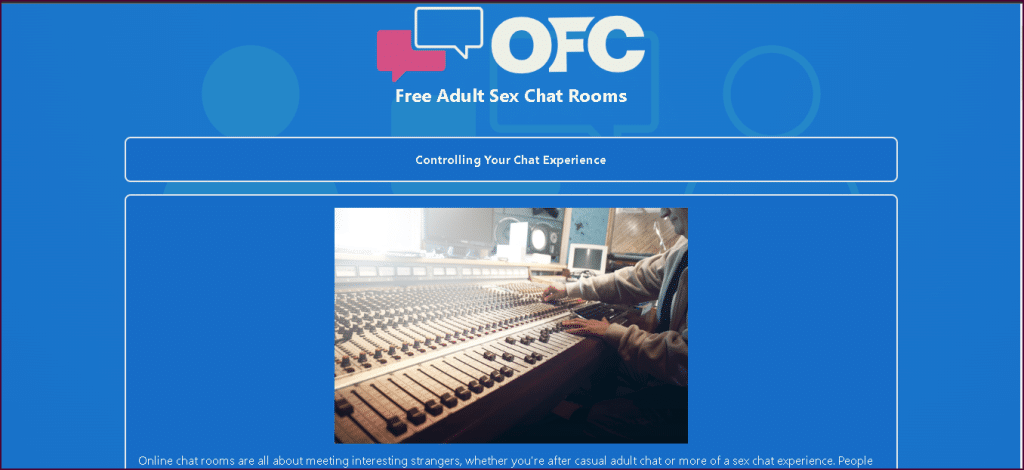 As I tap away on my keyboard, the "Sex-Chat" area is buzzing like a beehive, with over 227 users setting the virtual stage on fire. It's like the hottest club in town, and I couldn't resist waltzing my way into the action. The entrance was smooth and straightforward, with a neat little form asking for your birthday, sex, and username. Quick and painless, how we like it! I submitted my info, gave the nod of approval for being a consenting adult, and hit that "Guest" button like a boss.
But there's a little surprise waiting for you at OnlineFreeChat. Brace yourself for a sprinkle of spam! Yes, even with my trusty adblocker working its magic, a few pesky ads managed to slip through the cracks. Don't fret, though — I've got your back. Download an adblocker before exploring the OnlineFreeChat page. Trust me; it's a wise investment, like having a personal bodyguard for your browsing adventures.
Now, let's talk about the chat room of Onlinefreechat.com — it's got that classic vibe going on like those good ol' days of "IRC" when the internet was young and full of possibilities. Also, a directory of cool users is hanging out on the corner of your screen, while the left side is a whirlwind of chat messages. Certainly, it's like being transported to a virtual party, with notifications popping up faster than you can imagine. Not to mention, the folks in there are a delightful bunch of misfits, and you'll feel surrounded by fellow sex chat pervs.
Meeting Locals Can Be A Bit Tricky at OnlineFreeChat.com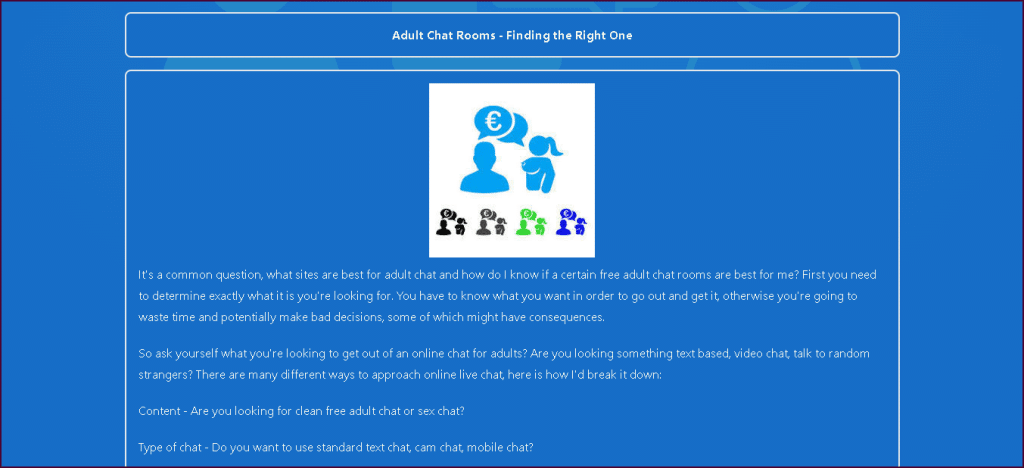 You know, when it comes to meeting ladies nearby in a chatroom, things can get a bit tricky. So, I have to admit; I was a tad skeptical about the chances of anyone actually finding a real-life connection through OnlineFreeChat. Sure, there are loads of users, and you'll notice quite a number from India. If you happen to be in India or the UK, you might have a better shot at some offline adventures. As for me, I was in sunny LA, and well, I didn't really expect any meetups on this particular day.
But hey, don't despair! OnlineFreeChat still offers a nifty feature for starting private chats. It's as simple as clicking on a user's name. Want to address them in the free chat? Just click their name in the chat window. But wait, there's more! Tapping any username reveals a new world of options, including Ignore, whisper, and more. It's like having a secret door to private conversations, allowing you to dive deeper into the chatroom experience. And let's not forget; you can even peek at their profile. Talk about feeling like a chatroom detective!
Sticking to Sex Chats and Staying Away from Dick Pics!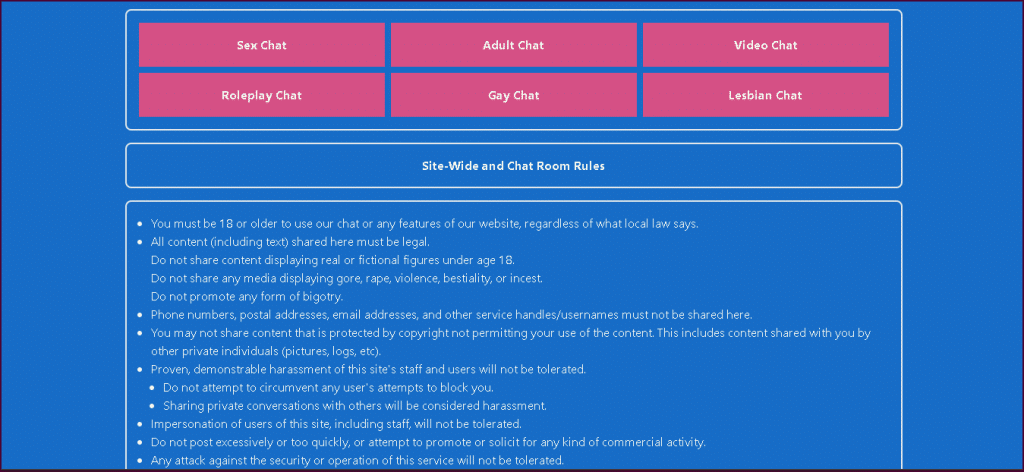 However, if you're not a fan of encountering wieners in your browsing adventures, the "Sex Chat" area might not be your ideal hangout spot. Yep, you heard me right. Many dudes are unleashing their artistic side by sharing dick pics, teasing hot selfies, and sexy nudes. Now, I can't say I'm a big fan of such but to each their own, right?
What's interesting is how this chat site makes it ridiculously easy to share all kinds of naughty content with fellow addicts. Between endless hookup dates and the cocks, you'll stumble upon a treasure trove of nudes, leaks, scandals, and a regular stream of hardcore stuff. Yep, the chatroom knows no bounds when satisfying those sexual cravings.
More Features to Hype Up Your Fapping Life at Onlinefreechat.com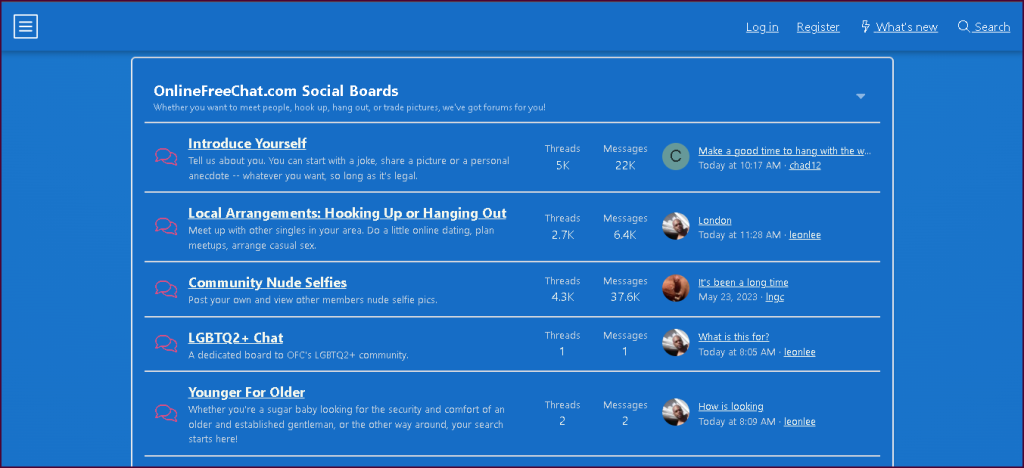 Now, let's talk about the heart and soul of OnlineFreeChat — those captivating free chat services. I mean, come on, it's right there in the name. It's not exactly brain surgery to figure that out. But hey, let me blow your mind for a moment. This site has a few extra goodies up its sleeve to keep things spicy. Imagine this: a gallery filled with pages of trans, females, and males strutting their stuff, tantalizing sex manga that'll make your heart race, not to mention a library of sexy content. Yep, they've got it all, dudes.
But wait, there's more! OnlineFreeChat even has a "Resources" page, and trust me, it's not your average run-of-the-mill blog. No, sir! It's a place where you'll find golden nuggets of wisdom on how to navigate the massive landscape of sex chatrooms, discover the hottest cam girls in town, dive into the wild world of OnlyFans, and explore a myriad of kinky desires that'll make your head spin. It's like having a personal guide to all things naughty, a roadmap to unleash your inner desires. They've honestly thought of everything.
However, let's not stop there. In fact, OnlineFreeChat has even more surprises in store. Enjoy some clicks at the "Adult Forum" that take your experience to a new level. It's like stepping into a room where like-minded individuals gather to dive deep into their passions and curiosities. And guess what? This section is where the action happens, my friend. Basically, this area is a vibrant hub where you can proudly share those enticing shots of your beloved girlfriend that you've been expertly clicking secretly.
Pros and Cons of Onlinefreechat.com
PROS:
Lots of active users anytime
Private chitchats are available
Free to use
Sharing of naughty content is allowed
Different chat rooms for different needs
CONS:
---
12 Must-Visit Sex Chat Sites Similar to Onlinefreechat.com: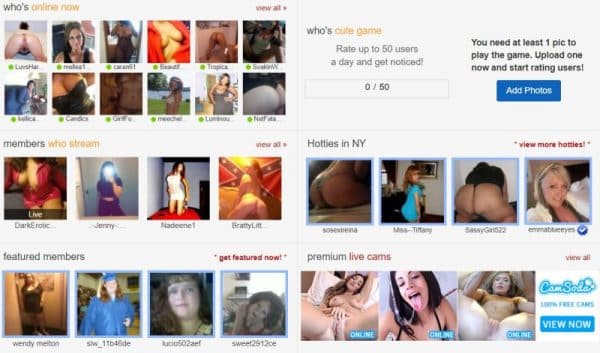 Snapsext is a free sex chat website for people who aren't afraid to take risks. The platform focuses on visual content such as video chats, images, live streams images, videos, and more. You can casually flirt or go straight to hookup and sex, or anything in between. The audience response to SnapSext has been fantastic because it is attracting a growing audience every day. Many people believe that the website encourages them to express their sexuality entirely and behave however they want, without worrying about repercussions.
Here's the full review of Snapsext.
PROS:
Most of the basic features are free
Large user database
Real, hot verified girls & guys
Online for 10 years+
Flexible premium pricing
CONS:
Some screening questions when signing up
---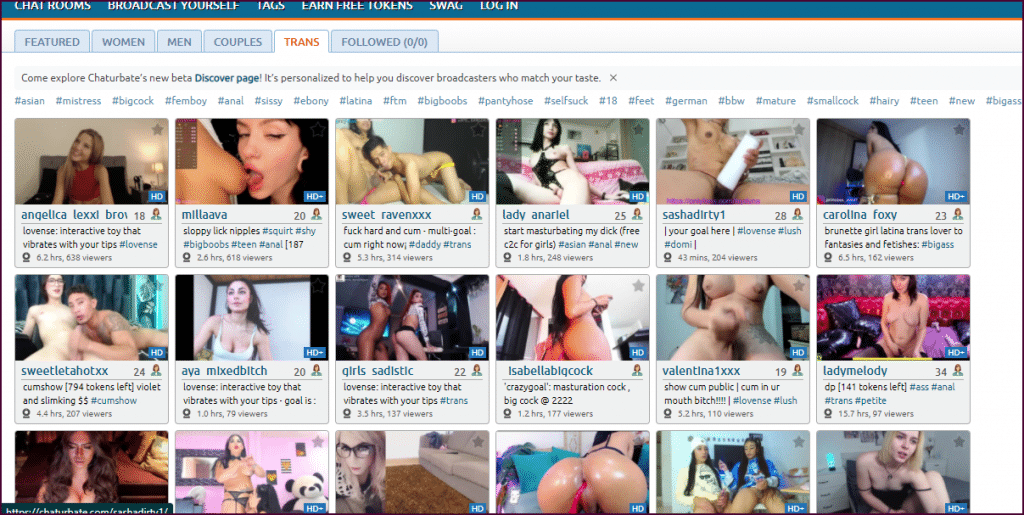 Connecting to people worldwide has never been so easy. Thanks to Chaturbate, unlimited talking is now possible. Plus, you will never spend a dime on it. There are a lot of sexy and beautiful women available for you, 24/7. As a matter of fact, women on this website love kinky stuff, which is always worth your time and attention. Meanwhile, live shows are also available for viewing at a reasonable price.
Click here for a full review of Chaturbate.
PROS:
Many cam girls available 24/7 live
No additional fees to expect
Nudes and sex are always a guarantee
Smooth browsing on smartphones and other devices
CONS:
Few videos are in SD format
Expensive private shows
---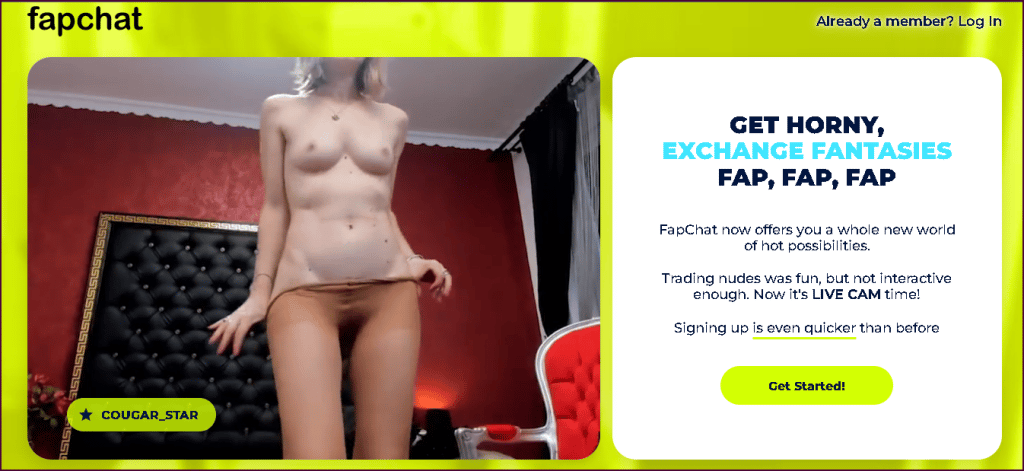 Fap Chat is a platform that helps men like you find attractive single women to take nude selfie photos with and strike up a conversation with. There are thousands of stunning young ladies to choose from, so you're likely to find at least a few that you want.
PROS:
The website has a simple design and is very easy to use
You can watch real live women performing on cam
Maintains anonymous identity
No bots and fake profiles
CONS:
It has no live chat support service or phone service
You cannot record cam shows
---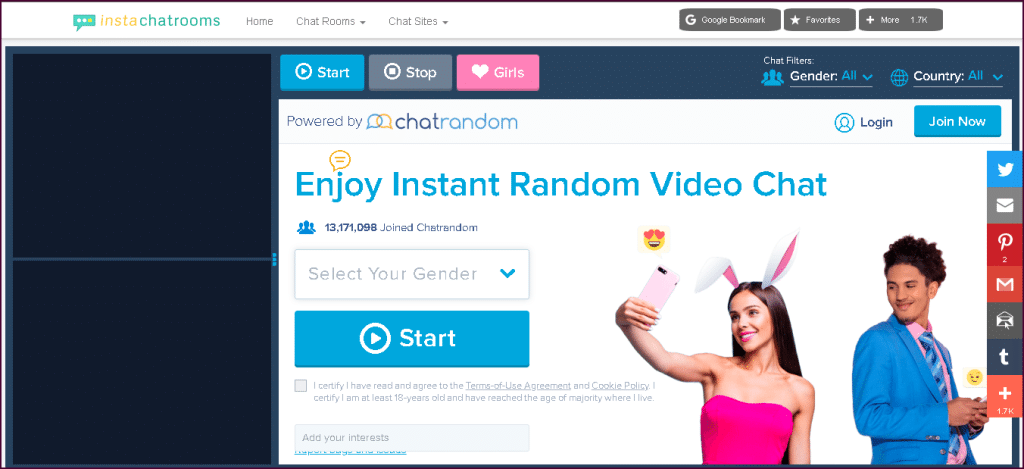 Chatrandom is a free live chat site that allows users to easily connect with people and strangers worldwide. The site started its outstanding service around 2011, and since then, it has become one of the most popular sites today. Indeed, this is the most exciting live chat you can experience. Because the system uses a roulette-type matching and lets you chat with thousands of people every day
Click to see the full review of Chatrandom.
PROS:
Registration is free
Users can chat with members from other parts of the world
People can join live chat without registration
There are thousands of active users every day
App version is available for download
Hiding identity is public through "mask."
Free sending messages
CONS:
No profile photo is available
Only Android users can download it
More number males than females registered
---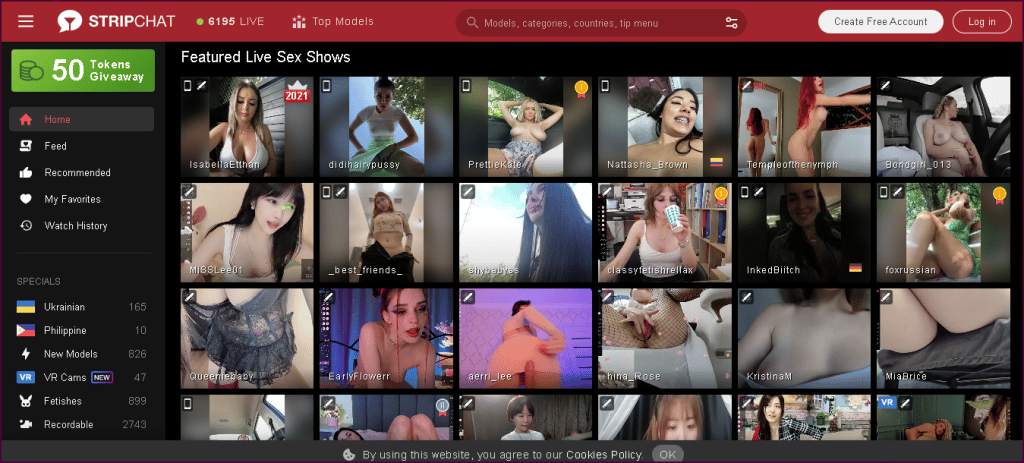 Stripchat, which has been around for five years, has successfully grown into the top 10 best adult platforms and continues to give superb quality and services, making everyone love the site a little more. One great feature that Stripchat offers is that users are not only limited to communicating with models but can also chat with other users. Also, there are plenty of models registered on this website, most of whom are professional porn stars. With its pornographic nature, Stripchat is already a reputable and credible cam site; wherever you are, everyone can enjoy sexual pleasure at their own pace.
Check out the full review of StripChat.
PROS:
A long list of beautiful models on the site
Simple, cool, and attractive website design
Users are allowed to forward private messages
The website is easily accessible and user friendly
A wide selection of live sessions and videos
Extensive FAQ page
FREE view and chat functionality for guests
CONS:
Unregistered members get constantly reminded via pop-up messages to sign up (which gets annoying)
English is the only available language feature
Private message chats are exclusive for paid memberships only
---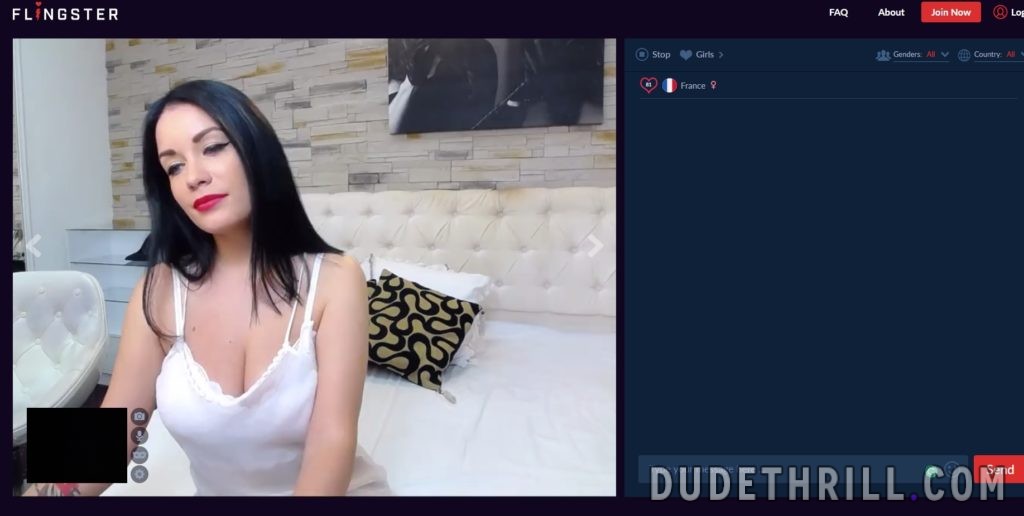 Flingster is an adult sex chat website for meeting, hanging, and making out with singles. On this website, the application process is indeed speedy and convenient. So, it won't be wasting much of your energy at all. Compared to several other sex chat websites, even free accounts can use messages and video chats without paying.
On the other hand, paid subscribers have additional features that are indeed unique. Meanwhile, Flingster similarly provides discreet identification while chatting before you consent to a spontaneous, quick fling.
Take a look at the full review of Flingster.
PROS:
Unspecified character is a choice
Everybody is excellent regardless of sexual orientation or gender
The sign-up procedure is available and relatively simple
The site's design is simple; however, understandable to navigate
CONS:
There are occasional phony profiles reported
---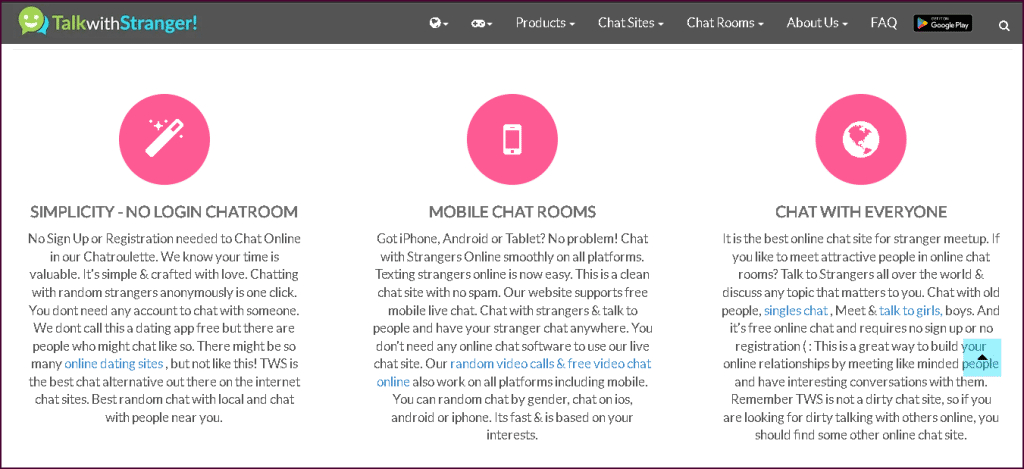 If you're looking for a high-quality platform to enjoy non-stop thrilling chats with strangers, go no further than TalkWithStranger.com. It's has a diverse group of folks from hundreds of nations that come together here, and a shitload of activities is going on, and countless chat fanatics are using the site simultaneously. All its features are easy to use and make your stay here a lot more convenient and effortless.
Here's a full Talk With Stranger review.
PROS:
Amazing features to communicate
Randomized system
Free access
It has interactive games
Participants are active
CONS:
Missing customer service
IOS compatible app is not available
---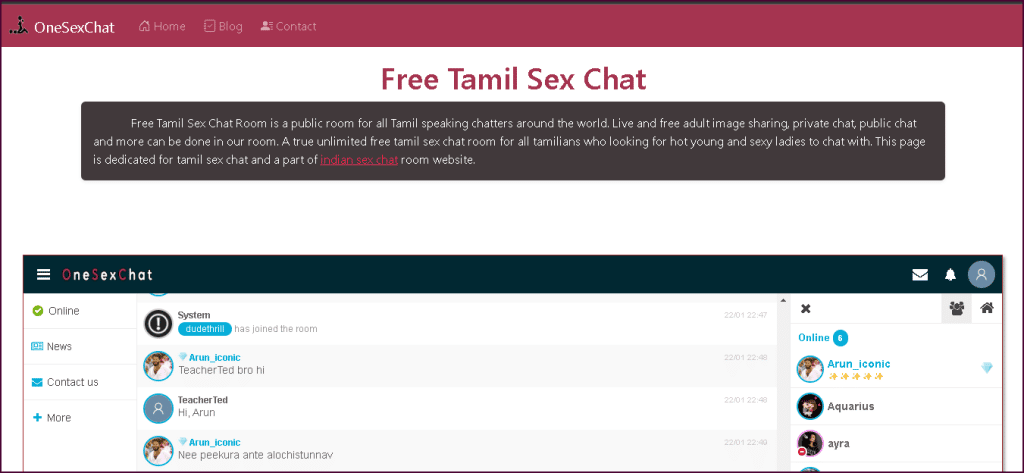 OneSexChatIndia is a sex chat site that offers fantastic free chat features and services. It also offers anonymous service, so you can enjoy non-stop talking, flirting, and connecting without worrying if your identity is at stake. The way they use straightforward navigation and no flashy features makes the entire sex chat experience a much better and easier encounter compared to other competing sites.
PROS:
Free to use
Indian-focused website
Offers international chatrooms
It doesn't require registration
Ads are minimal
Easy to use
CONS:
Not so many users are active
---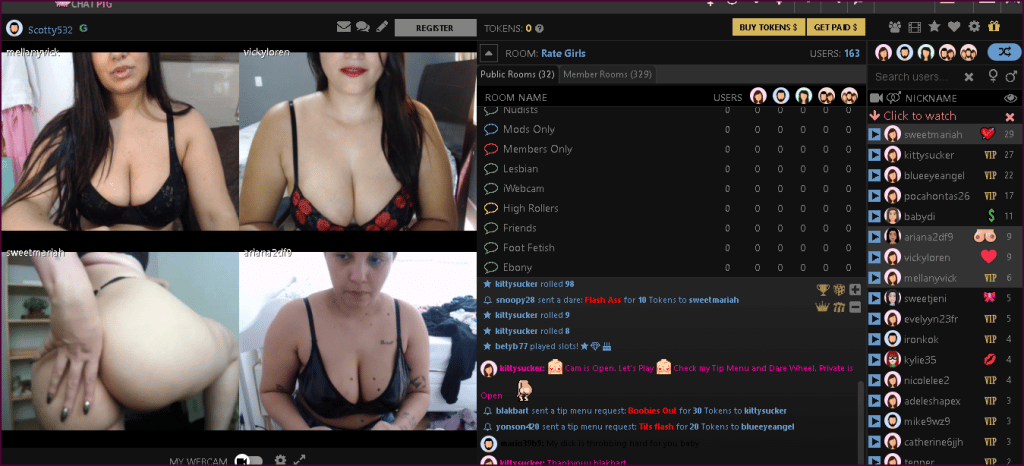 ChatPig has gained widespread fame across the globe. Now, it has a steady stream of visitors using its features and chatrooms regularly. The site's primary purpose is to provide users with a reliable venue for sexually explicit chat and content sharing. Also, the main feature of ChatPig is the chat room, which is top-notch and user-friendly. So, anyone who likes making new friends, giving in to nasty urges, watching filthy videos, and exchanging nudes should check out ChatPig.
Check out the full review of ChatPig.
PROS:
Amazing active community
Users can share pictures and videos
Features are user-friendly
Free to use
Lots of participants
Available anytime
CONS:
Customization features might need some improvements
---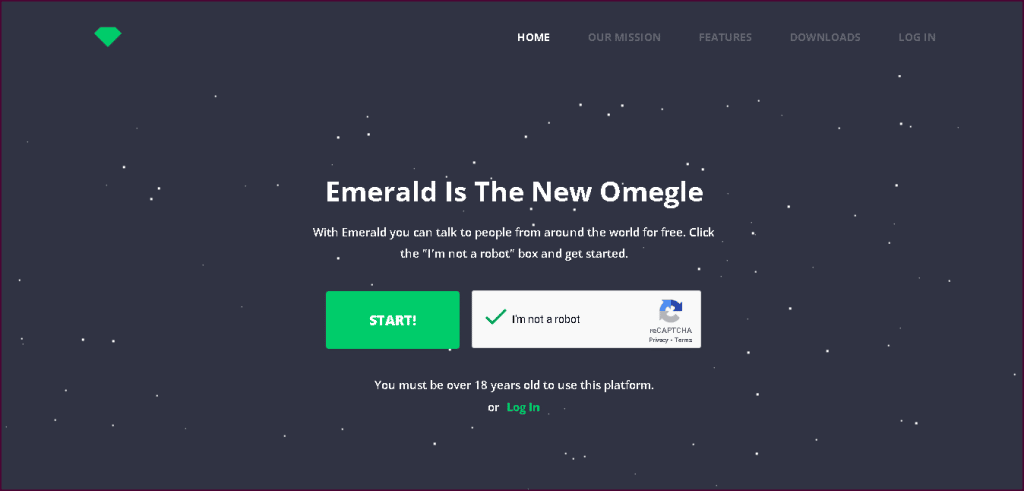 Emerald Chat is a brand new addition to the adult entertainment industry, and to my surprise, it has been getting a lot of attention from chat fans. The site aims to provide people with a reliable matching system based on users' preferences and interests. Its algorithm's pretty convenient and easy to use; you can talk to people without hassle. Everything here is free, and no hidden charges when browsing. Also, it has no bots or spam messages, unlike Omegle; thus, your safety is 100% guaranteed. Finally you can enjoy an endless flow of authentic users.
Click to see the full Emerald Chat review.
PROS:
Lots of users from numerous parts of the world
Verified users
Free registration
Free to use
Premium membership provides more benefits
Reliable matching algorithm
It has a gender filter and karma level rate
Intuitive design and features
Can use without registration
Safe and discreet
CONS:
Some features available to premium members
---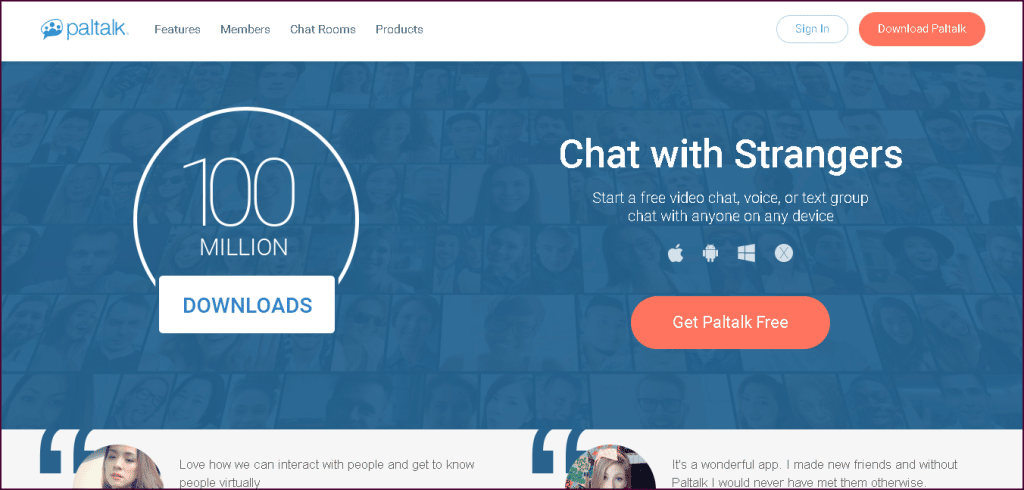 PalTalk has been around for quite some time and is well-known for its user-friendly design and extensive set of tools for encouraging interaction. It calls itself "the biggest and most popular talk chat app," is a robust online community in which millions of users share and see live video feeds. And since you'll make many new acquaintances on the site, successfully dating shouldn't be difficult. If you're looking to make some newfound virtual buddies, you may join up for a membership.
Learn more about Paltalk with this full review.
PROS:
Reliable chat features and options
Thousand free chats
Open for private and exclusive chats
Strong and reliable texting system
Can communicate without cams
Offers profiles customization
Unlimited viewing of live stream videos
CONS:
Several chats are not appropriate for underage users
---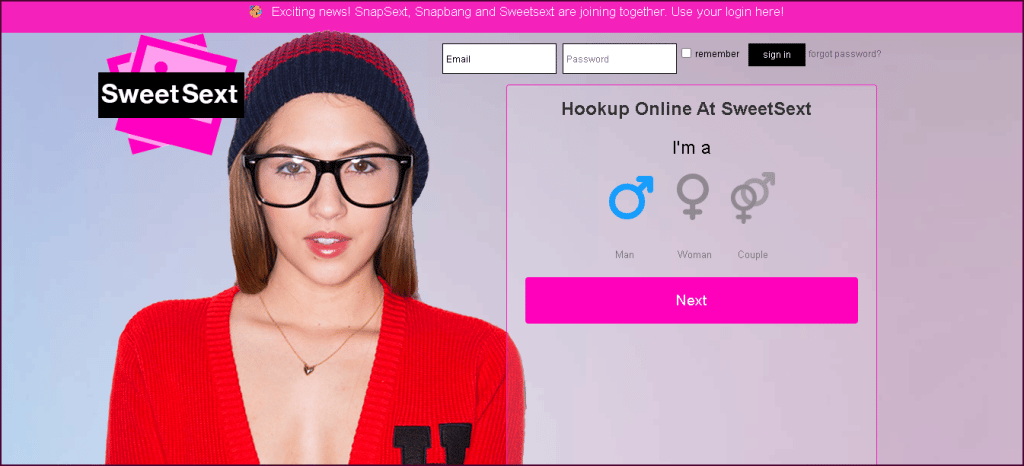 In case you haven't heard of it before, SweetSext is a popular cheating and hook-up application where users can send each other naked photos, tease, and find potential hook-up buddies in their area. This hook-up website allows you to connect to numerous women who desperately desire an affair or casual sex. Fortunately, it's completely free to sign up with SweetSext, and you can even try out their VIP features for a little while using the trial package. The overall interaction is simple and gives us lots of opportunities to cheat and get one-night stands so easily.
Check out the full review of Sweet Sext.
PROS:
Lots of active members
Cool features
Easy hook-up
Simple and easy-to-use website
Members are open to all affairs or sexting
Flexible services
Free registration
CONS:
It has a premium subscription
---
Takeaways
OnlineFreeChat may not claim the title of the busiest or most cutting-edge sex chat site. But hey, let's not underestimate its power to unite countless horny individuals searching for steamy interactions and a healthy dose of self-pleasure. As a matter of fact, your experience on OnlineFreeChat will depend on the timing, the people you encounter, and the magic of the moment. So why not dip your toe into the enticing world of OnlineFreeChat? After all, you've got nothing to lose!
All 42 Other Sites in This Category Worth Checking Out:
TryNectar & 12 Best Sex Chat Sites Like TryNectar.ai Show Me 12 Alternatives for TryNectar.ai A day in the wild world of TryNectar, I found myself knee-deep in some next-level roleplaying with bots. Now, I won't lie; I'm starting to question if I'll ever waltz back into typical dating – yeah, call it an exaggeration, but […]