Updated on: December 4th, 2023
InstaChatrooms
& 12 Must-Visit Adult Chat Rooms and Sex Chat Sites Like InstaChatrooms.com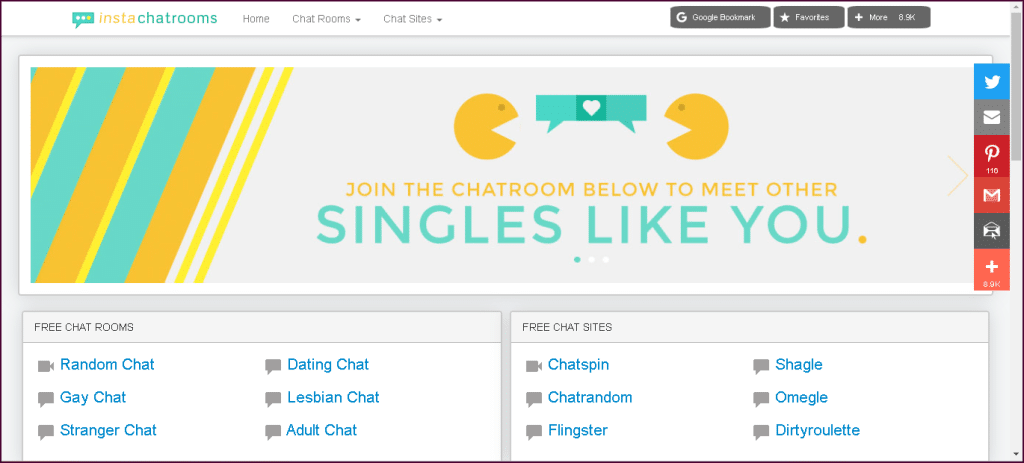 Bored? Looking for a fun way to talk and enjoy? Well, you're in serious trouble with InstaChatrooms. It is a global community platform where you can meet new folks from all walks of life just by chatting with them via chat and webcam. The website's primary goal is to facilitate interaction and enjoyment among people who share specific passions. Plus, there is no need to sign up for anything to participate in the chat rooms; everyone can talk freely and anonymously! What a great deal! I wonder what else InstaChatrooms offers for everyone? Let's find out below!
Official URL: https://www.instachatrooms.com
Thousands Strangers Online on InstaChatrooms' Free Chat Services
If you're looking for a niche chatroom, Instachatrooms is a fantastic choice. The site organizes its sex chat rooms into distinct types to accommodate various needs and desires. You can chat about romantic connections, schoolwork, hobbies, sports, and more with strangers. But what makes InstaChatrooms so fantastic is it connects you with individuals you might never come across in person and hopefully satisfies your need for social interaction.
Moreover, the Instachatrooms' logo and branding are fun and vibrant. Most of the platform's content is presented on a white screen, with minor tweaks that use bold, eye-catching design elements. Also, Instachatrooms has taken a proactive approach by focusing on its branding, unlike many other virtual chat sites that rely on webcam interactions. This way, it promotes a sense of trust and demonstrates that the site's administrators value their guests' time.
Access Premium Chat Sites For Free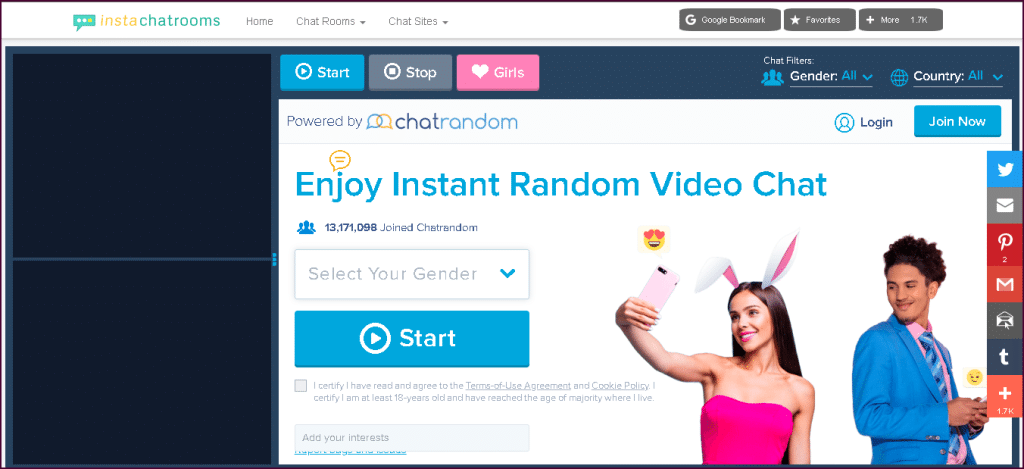 Spin Your Luck with Chatspin
When it comes to randomized sex chat apps, Chatspin is by far the most popular. This site is a freemium, multi-platform chat app with many advanced functionalities. The chatroom site's popularity has skyrocketed throughout the last several years due to its wide availability and chat convenience.
Billions of Potential Mates at Shagle
With its latest milestone of 1B+ interactions, Shagle has solidified its position as the most rapidly expanding random video chatting network on the internet. Countless people register to participate in its public and private chatrooms daily. I guess we can all attribute the site's popularity to its innovative layout and high-quality functions. Furthermore, Shagle gives you a shitload of customization choices to improve your chatting session, including unique filters, exclusive chats, and fun chat filters like beards, eyeglasses, and wigs.
Experience Quality Random Chatting Using Chatrandom
For a long time now, Chatrandom has been regarded as one of the finest random live chat services available anywhere globally. Its cornerstone was unrestricted online chatting, and its 2011 debut caused a worldwide frenzy among users. Although it started as a lesser-known alternative to other, more famous sex cam sites, Chatrandom has become a phenomenal hit. Hundreds of people use it daily, making it the largest and most active chat community on the internet.
Mingle with Strangers Anonymously at Omegle
Omegle is not a new form of digital chatting. While it was among the original video chat web services, Omegle has grown outdated. Because of this, many individuals are looking for alternatives to Omegle for video chatting with strangers online. Plenty of random chat services exist, but choosing a good replacement for Omegle is difficult because many need registration or a subscription.
Because of this demand, InstaChatrooms developed a freemium webcam system related to Omegle. Comparable to Omegle in some ways, this chat room is nonetheless distinct. Its online chatting service is free, customers are not asked to provide sensitive data, and randomized chat can be accessed from any device, not just a laptop or computer.
Find the Perfect Fling at Flingster
As time passes, finding a compatible partner in the actual world gets harder and harder. The rise in popularity of Flingster and similar services directly results from this trend. InstaChatrooms features Flingster, a global community where you may have spontaneous webcam chats with like-minded singles seeking romance or a serious commitment. Also, one thing that makes this chat service unique is that many members approach online affairs with a "no-strings-attached" attitude. At this very moment, hundreds of individuals worldwide are logging on to InstaChatrooms hoping to meet a potential mate or have a good time.
Don't Hesitate to Get Dirty at DirtyRoulette
Dirtyroulette is among the most cutting-edge substitutes to Chatroulette you'll find on the web. Men dominate numerous online services that provide sex chat services. According to statistics, men comprise as much as 90% of these websites' communities. Of course, this does not apply to the adult-only chats on Dirtyroulette.
Instead, this online adult site added a new spin on traditional sex chat services with the introduction of roulette-style chatting. Combining the two facilitates unrestricted access to live webcam chat with tens of hundreds of sexy women. Instant chats are lovely, and it's incredibly satisfying to chit-chat with a stunning woman the moment you tap the Enter key.
Explore Diverse Chat Rooms, Meet Numerous Chat Mates & Dates on InstaChatrooms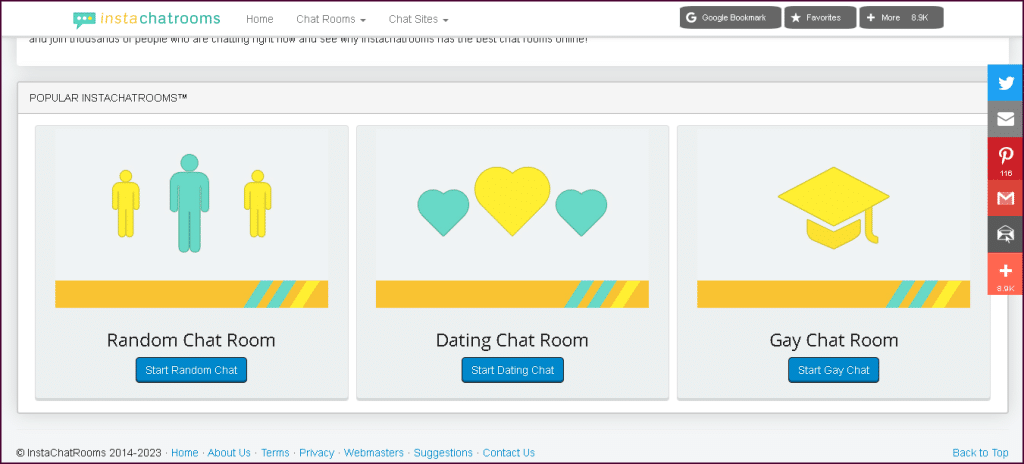 Unlimited Access to Amazing Free Sex Chat and Tempting Cam2Cam Sex Chat Services
What sets InstaChatrooms' adult chat apart from the competition is its instant sex activities. Folks from diverse backgrounds use the public chat service to showcase their desires and skills in front of an audience through webcams. Everyone from singles to lovers to large packs can participate in engaging and fun video chats online. Also, sex chatting with potential dates is now hassle-free. If that's not enough, you can switch on your camera and indulge in entertaining, interactive pleasure. Certainly, you won't find another chatroom like this elsewhere.
Don't Be Afraid To Talk to Strangers and Enjoy Free Random Chat Service Using Roulette-style Chatting
Instachatrooms is a great place to have fun and join various users through random sex chat. It's easy to make new friends and talk to strangers when thousands of individuals are on random cam any time of the day. The idea behind this free random chat service is to deliver a reliable and comfortable environment for people to initiate friendly conversations with strangers. Additionally, users' anonymity is secured, so you can freely express yourself without worrying about anyone else's judgments. InstaChatrooms won't even ask a single thing about you. You'll have to connect and set up your cam or mic, and you're good to go.
Explore the Limits of Online Dating and Meet Thousand of Potential Dates Using InstaChatrooms' Unique Date Chatrooms
InstaChatrooms introduces 100% free sex and video chat services in its dating chat rooms. That's right, no more wasting time on endless dating account searches. You can quickly hook up with like-minded people worldwide through dating rooms and note a large pool of real-life people is available. So, that's definitely a good start. Certainly, a horrible failed relationship doesn't have to be the end of your love life, and Instachatrooms can show you that. And if this is your first time trying out InstaChatrooms' online dating service, let me congratulate you for finding the most fascinating hook-up platform on earth. There are literally millions of individuals out there that could be "the one" if you're on the lookout for love or casual sex.
Unique Sex Chat Options and Exploring Different Sexting Opportunities With Strangers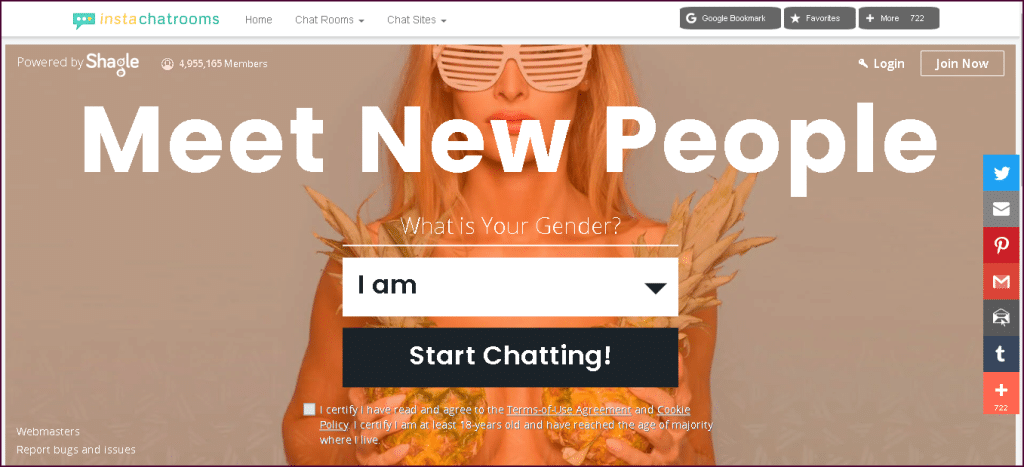 Talking To Random Strangers Has Never Been This Easy!
There are many options for talking online, but picking the "good" one might be challenging. Numerous chatbots and a few human users make free random chats a waste of time. Because of this, InstaChatrooms was developed. It's an exceptional platform for chatting with random people worldwide. Countless people are using its chat app at any given time. So, anyone looking for compatible partners from different regions simply hit the "enter" button and access any stranger chat room you want.
Spice Up Your Life and Enjoy The Unique Chat Experience with Lesbian Users
Explore the InstaChatrooms' lesbian chatrooms without registration and have some fun! You will surely enjoy the site's lesbian chatroom because of its convenience and easy-to-use features. Also, lesbian chat has a variety of methods of interaction, including instant message chat effective for sexting. Alternatively, you can activate your "mic" and enjoy nonstop chit-chat via audio chat. But, if you really want to get the most out of InstaChatrooms' lesbian chatroom, I highly recommend switching your camera on for some genuinely spectacular video chatting.
Gay Sexting and Video Calling Made Convenient and Fun
Instachatrooms is proud to offer the most prominent, active, free gay sex chat feature. Its sex chat services are home to a vibrant LGBT+ community. Also, InstaChatrooms' gay chatroom is a one-of-a-kind chat service that sets them apart from similar services. With its cutting-edge chat tools, anyone can find the perfect gay match that will fulfill your heart's desires.
Pros and Cons of InstaChatrooms.com
PROS:
Lots of diverse chat rooms
Features different premium sex chat and video cam sites
Easy-to-use design
Simple navigation and features
Intuitive tools and interface
Active community
No registration required
Free to use
CONS:
---
12 Must-Visit Adult Chat Rooms and Sex Chat Sites Similar to InstaChatrooms.com: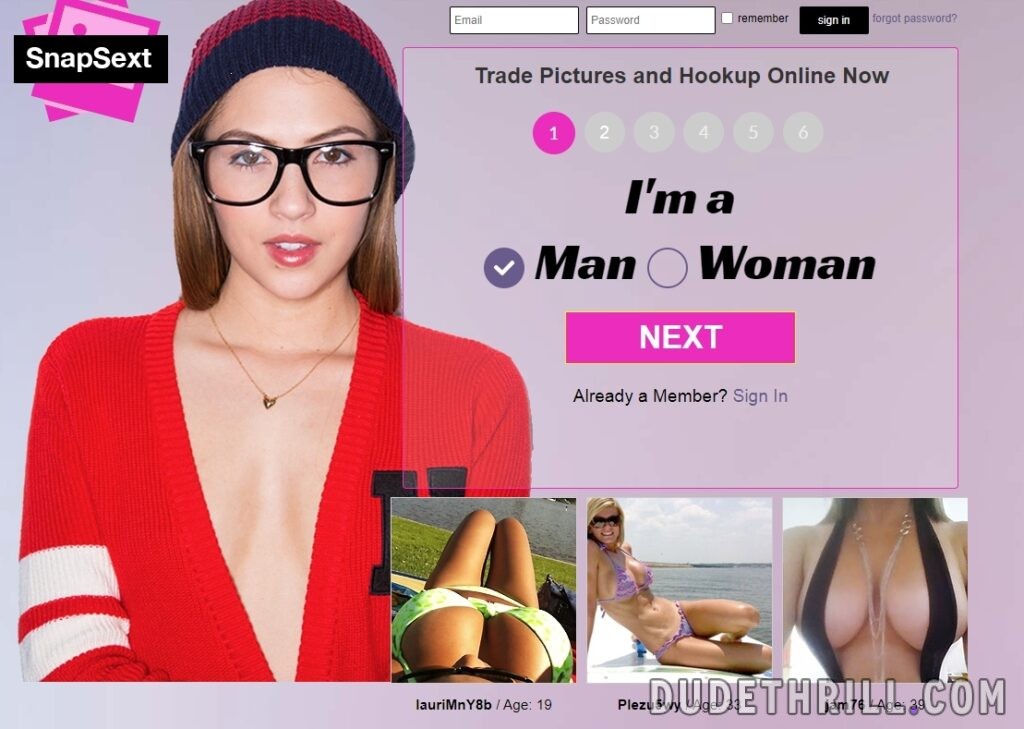 Snapsext is a free sex chat website for people who aren't afraid to take risks. The platform focuses on visual content such as video chats, images, live streams images, videos, and more. You can casually flirt or go straight to hookup and sex, or anything in between. The audience response to SnapSext has been fantastic because it is attracting a growing audience every day. Many people believe that the website encourages them to express their sexuality entirely and behave however they want, without worrying about repercussions.
Here's the full review of Snapsext.
PROS:
Most of the basic features are free
Large user database
Real, hot verified girls & guys
Online for 10 years+
Flexible premium pricing
CONS:
Some screening questions when signing up
---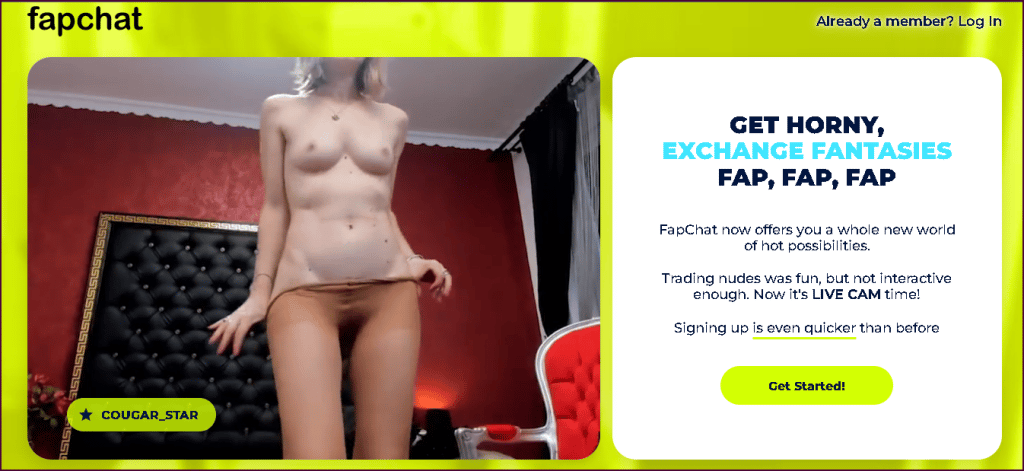 Fap Chat is a platform that helps men like you find attractive single women to take nude selfie photos with and strike up a conversation with. There are thousands of stunning young ladies to choose from, so you're likely to find at least a few that you want.
Click here for a full review of Fapchat.
PROS:
The website has a simple design and is very easy to use
You can watch real live women performing on cam
Maintains anonymous identity
No bots and fake profiles
CONS:
It has no live chat support service or phone service
You cannot record cam shows
---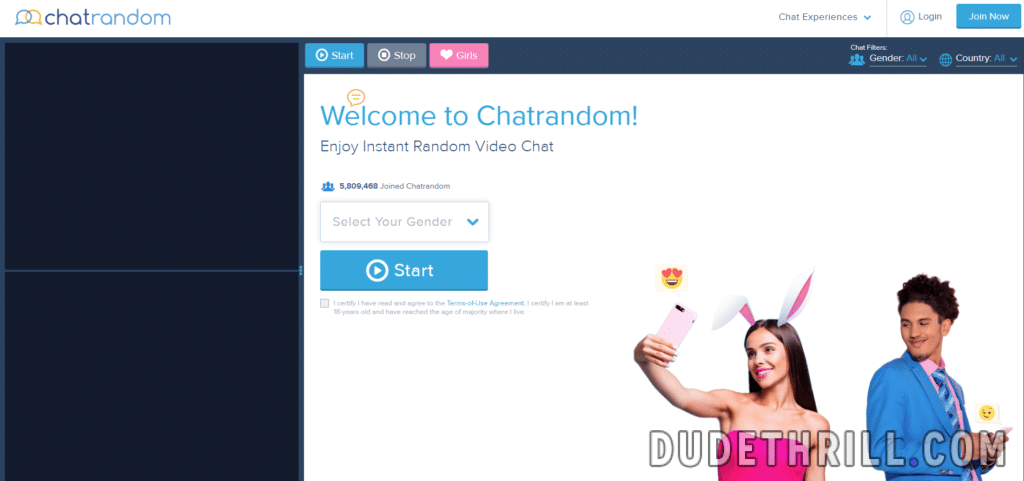 Chatrandom is a free live chat site that allows users to easily connect with people and strangers worldwide. The site started its outstanding service around 2011, and since then, it has become one of the most popular sites today. Indeed, this is the most exciting live chat you can experience. Because the system uses a roulette-type matching and lets you chat with thousands of people every day
PROS:
Registration is free
Users can chat with members from other parts of the world
People can join live chat without registration
There are thousands of active users every day
App version is available for download
Hiding identity is public through "mask."
Free sending messages
CONS:
No profile photo is available
Only Android users can download it
More number males than females registered
---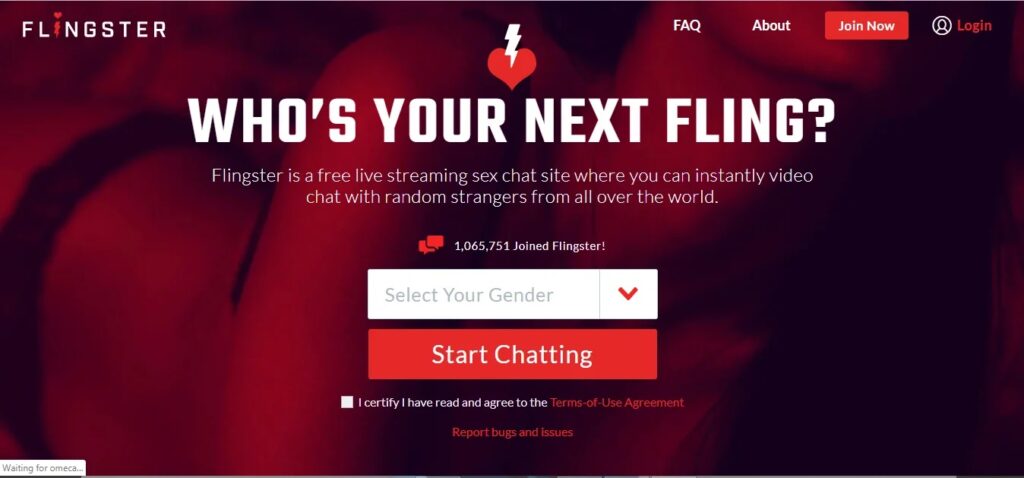 Flingster is an adult sex chat website for meeting, hanging, and making out with singles. On this website, the application process is indeed speedy and convenient. So, it won't be wasting much of your energy at all. Compared to several other sex chat websites, even free accounts can use messages and video chats without paying.
On the other hand, paid subscribers have additional features that are indeed unique. Meanwhile, Flingster similarly provides discreet identification while chatting before you consent to a spontaneous, quick fling.
Click to see the full review of Flingster.
PROS:
Unspecified character is a choice
Everybody is excellent regardless of sexual orientation or gender
The sign-up procedure is available and relatively simple
The site's design is simple; however, understandable to navigate
CONS:
There are occasional phony profiles reported
---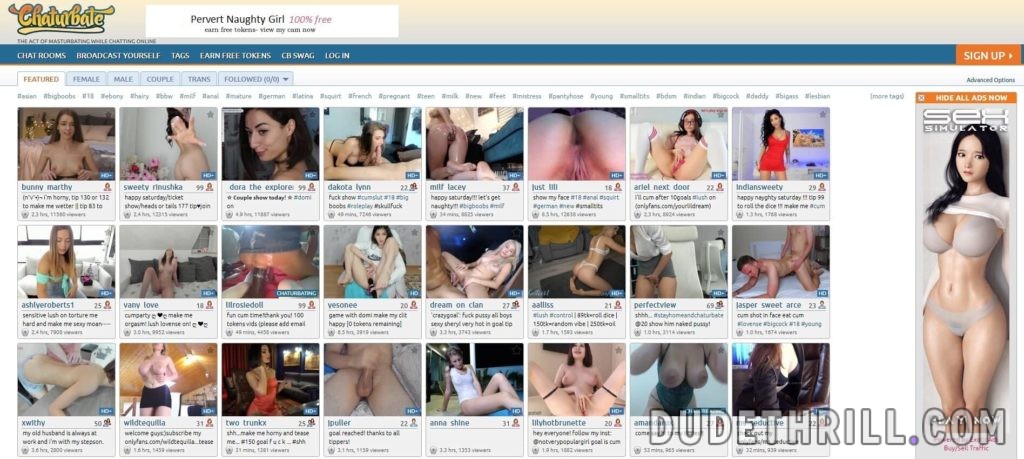 Connecting to people worldwide has never been so easy. Thanks to Chaturbate, unlimited talking is now possible. Plus, you will never spend a dime on it. There are a lot of sexy and beautiful women available for you, 24/7. As a matter of fact, women on this website love kinky stuff, which is always worth your time and attention. Meanwhile, live shows are also available for viewing at a reasonable price.
Check out the full review of Chaturbate.
PROS:
Many cam girls available 24/7 live
No additional fees to expect
Nudes and sex are always a guarantee
Smooth browsing on smartphones and other devices
CONS:
Few videos are in SD format
Expensive private shows
---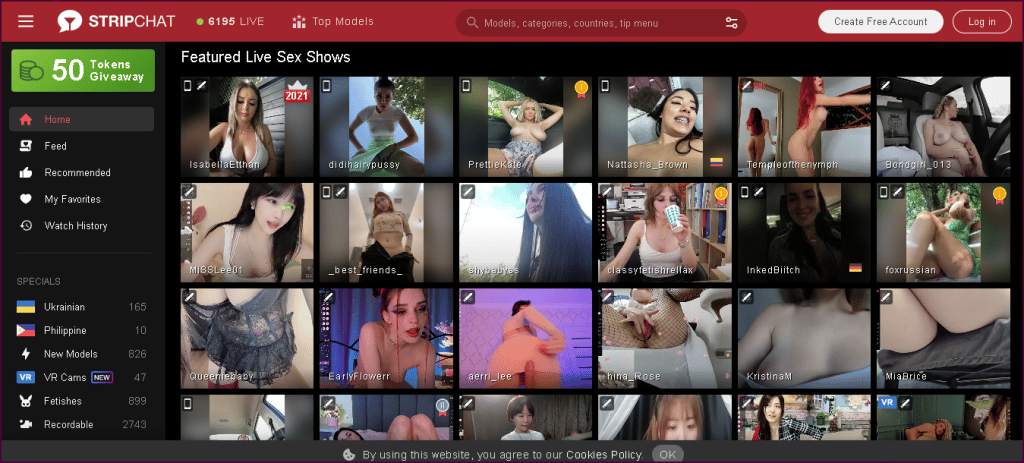 Stripchat, which has been around for five years, has successfully grown into the top 10 best adult platforms and continues to give superb quality and services, making everyone love the site a little more. One great feature that Stripchat offers is that users are not only limited to communicating with models but can also chat with other users. Also, there are plenty of models registered on this website, most of whom are professional porn stars. With its pornographic nature, Stripchat is already a reputable and credible cam site; wherever you are, everyone can enjoy sexual pleasure at their own pace.
Take a look at the full review of StripChat.
PROS:
A long list of beautiful models on the site
Simple, cool, and attractive website design
Users are allowed to forward private messages
The website is easily accessible and user friendly
A wide selection of live sessions and videos
Extensive FAQ page
FREE view and chat functionality for guests
CONS:
Unregistered members get constantly reminded via pop-up messages to sign up (which gets annoying)
English is the only available language feature
Private message chats are exclusive for paid memberships only
---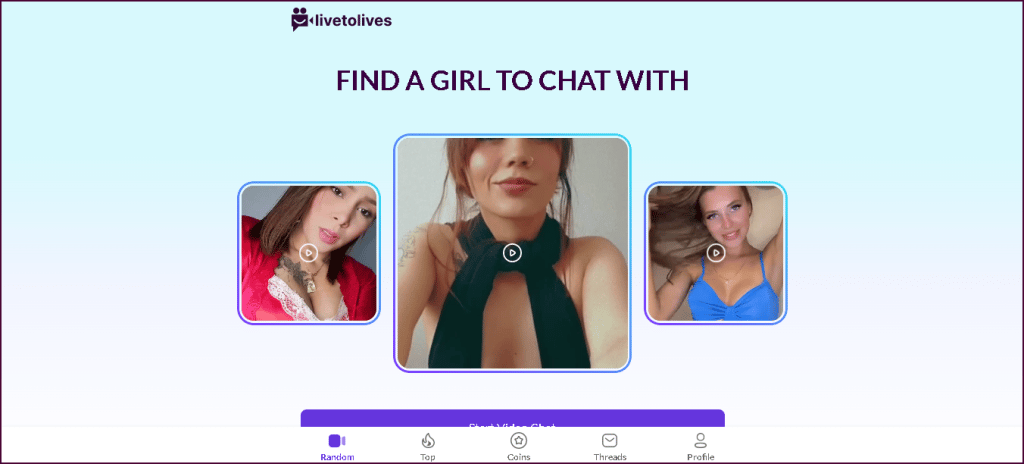 LiveToLives provide a never-ending supply of people eager for chitchat and pleasure. With the promise of quick and simple conversations, it's no surprise that users are rushing to this brand-new social media platform. Also, its Cam-to-cam feature works like a chat roulette that enhances users' cam communication and transforms it into a much more enjoyable encounter. You will no longer endure the tedious small talk and "get to know" stage and just go straight to the business.
Here's a full LiveToLives review.
PROS:
Unique website concept
Features trial membership
Lots of gorgeous women willing to chat
Numerous active users at any time of the day
Automatically translates language based on your location or preferences
CONS:
---

Are you interested in meeting new friends or connecting with someone in person? Do you want to maintain your friendships or keep in contact with friends? Then you must see FaceFlow and take a better feel for how FaceFlow can improve your communications.
This website was created for distant communication with your relatives and friends who may be living thousands of miles away. Later on, FaceFlow became a mix of a dating site and a service that helps you make new friends. Indeed, you can count on it to connect and laugh with your friends. Faceflow is a fantastic option for common messenger apps that demand subscription fees because it is free to use.
Read the Faceflow full review.
PROS:
The 'Find Random Partner' function helps to meet exciting friendships.
For searching users, basic search filters are available.
Members can be added to your Friends list.
If you are a registered user, your conversations are saved.
Without setting up an account, users can connect as guests.
Verification of email is optional
It is not a requirement to upload a profile photo
It requires 1 to 3 minutes only to complete a registration process
You can use your Facebook account to log in
The majority of the users are in their early twenties
FaceFlow moderators manage the public chatrooms
Free video conference communication is available without restrictions
There are four different languages available on the website
The website is available on multiple devices
Uses WebRTC to ensure high-quality live video chats worldwide
FaceFlow supports Opera, Chrome, and Firefox browsers for chat and video calls
CONS:
Users are using fake profile images
Males outnumber females
Display advertisements appear on the website since they are the website's primary source of revenue
---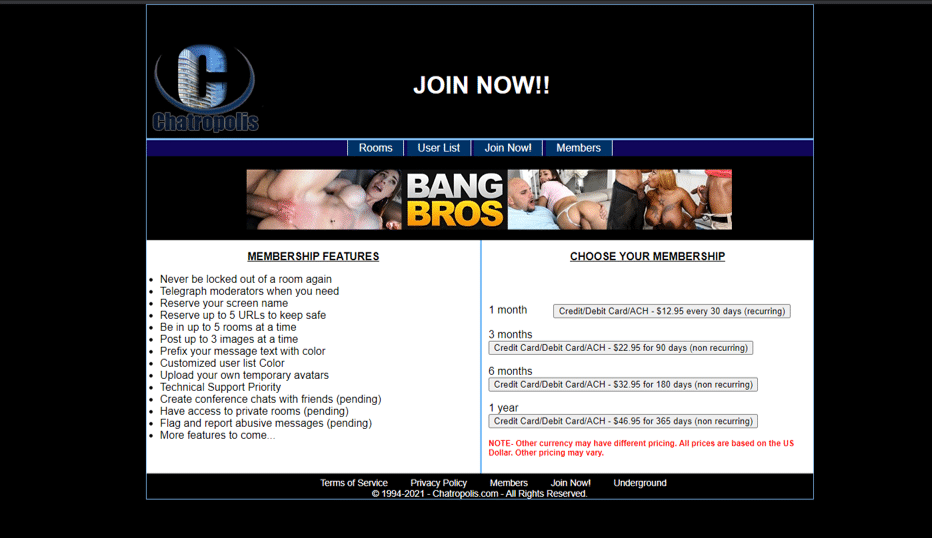 Chatropolis is a chat site is an excellent location for those who love engaging with actual people from all over the world in smaller, more intimate communities. There are also a variety of rooms accessible here that address a wide range of themes considering that they have a total of 49 chatrooms.
There are adult chat areas on the Chatropolis page, and it contains features that will delight website designers and programmers in particular. You may also decide to personalize your screens and your whole account by creating your unique image using photos available on the Web. In addition, the site allows you to create a username and design your profile.
Check out the full review of Chatropolis.
PROS:
Active since 1994
Wide ranges of themes and topics
Options to chat for free
Total of 49 chatrooms
Adult and intimate community
CONS:
Outdated design
Maximum of 30 persons per chatroom
No porn images and videos
Annoying advertisements
---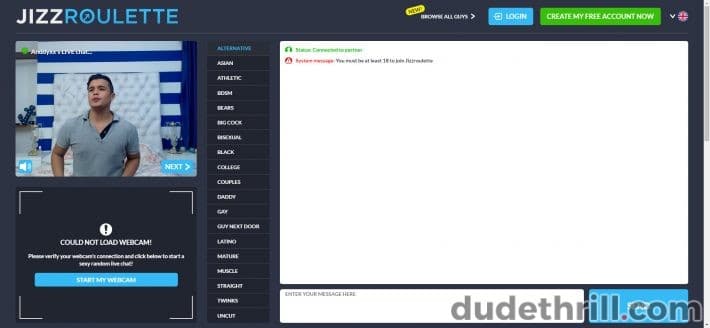 Jizz Roulette is another adult chat site that got my attention. However, I was a bit skeptical because when I searched in Google the name of one of the guys that were featured on the site, it took me to a website known as CamUltimate.
From what I discovered, I can say that this website might be using some fake cams or perhaps they are broadcasting on two sites. Regardless of the method they are using, this website is clearly for gay audience. So if you're looking for some gay cams or etc. – i guess that's one of the best places.
PROS:
You'll be entertained looking at male models jacking off
You can only see them performing but they won't see you if you don't like
CONS:
Forced credit card subscription
There are plenty of popups constantly asking you if you're at least 18 years old
You will be asked to sign up for an account to chat
---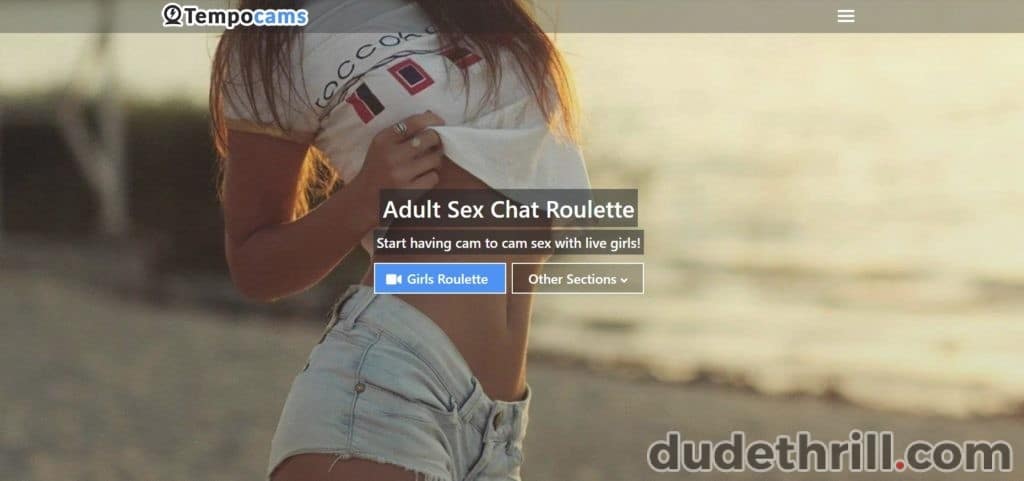 If you're looking for a good alternative to Omegle, the Tempo Cams is what I would suggest. At least, this site doesn't have all those penises and naked girls that are flooding Omegle. I also love the website's interface. When you reach the home page, you'll come across a dropdown box that will ask you to choose the type of roulette experience that you want – gay, shemale, girls, hentai, etc.
With Tempo Cams, you'll find sexy women doing seductive stunts in every cam. So, this might work best to those who would not mind jacking off to fake cams streaming horny women. But then you cannot expect these women to interact with you, at least verbally. I really have no desire to sign up for this site and take advantage of the free account to give at a test. I feel like there are several other adult chat sites that deserve my precious time.
PROS:
Women are very seductive even if they are fake
CONS:
You need to sign up and pay to chat with women who are not the ones on cam
Verifies age before chatting
---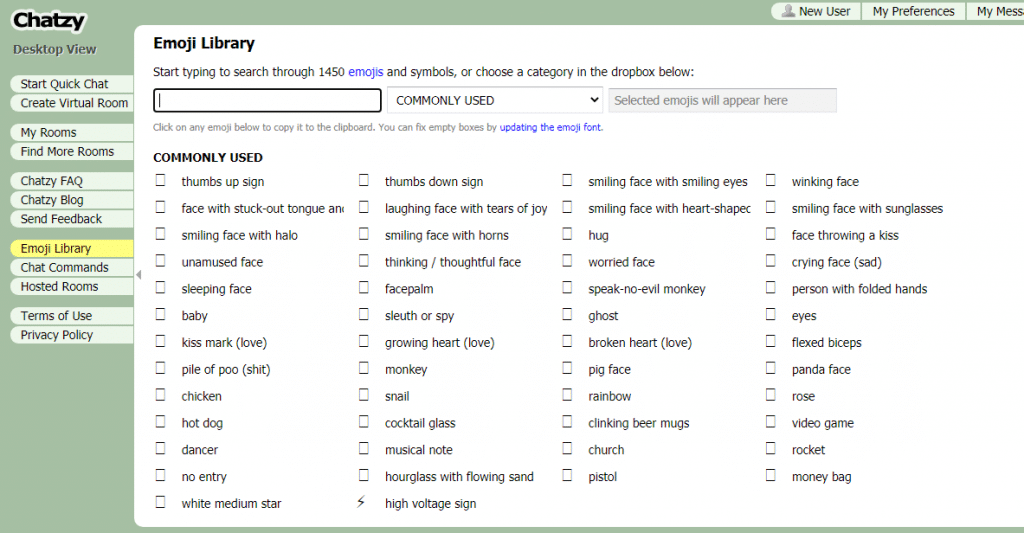 Since Chatzy.com is not a conventional Private Adult Chat website, it sees itself as a credible option to other social media sites like Skype. It's uncomplicated to set up an account, and once you've done it, you can launch chat rooms without sharing any personal details.
Users benefit from creating their chat rooms or joining one of the thousands of available chat rooms on the website. Somehow, Chatzy's concept seems somewhat outdated; however, it does not imply that the website is not highly recommended for romance.
Check out the full review of Chatzy.
PROS:
Registration is easy and safe
Has thousand available chatrooms you can join
Huge user base
You can create chatrooms freely and share them with anyone
It has instant messaging available
CONS:
No searching option
Old-fashioned design
No available profile pics
---
Bottomline
Instachatrooms are definitely a must-try. You have nothing to lose because everything you'll find on the site is free and easy to use. Also, the site offers different chat rooms that will accommodate your needs — be it random, video chat, dating, lesbian, gay, etc. Certainly, there are a lot of opportunities to meet strangers online and expand your social circle. But above all things that InstaChatrooms offers, the best thing I'm impressed about is its anonymous feature. Users can opt to provide sensitive data and remain unknown while on chat. That's something only a few sex chat sites offer, and I'm glad InstaChatrooms has it for free! There's more to InstaChatrooms than meets the eye, so check it out firsthand.
All 42 Other Sites in This Category Worth Checking Out:
TryNectar & 12 Best Sex Chat Sites Like TryNectar.ai Show Me 12 Alternatives for TryNectar.ai A day in the wild world of TryNectar, I found myself knee-deep in some next-level roleplaying with bots. Now, I won't lie; I'm starting to question if I'll ever waltz back into typical dating – yeah, call it an exaggeration, but […]