Updated on: December 4th, 2023
Streaming Love (via Skype)
& 12 Best Sex Live Chat Sites Like Skype.Streaming.Love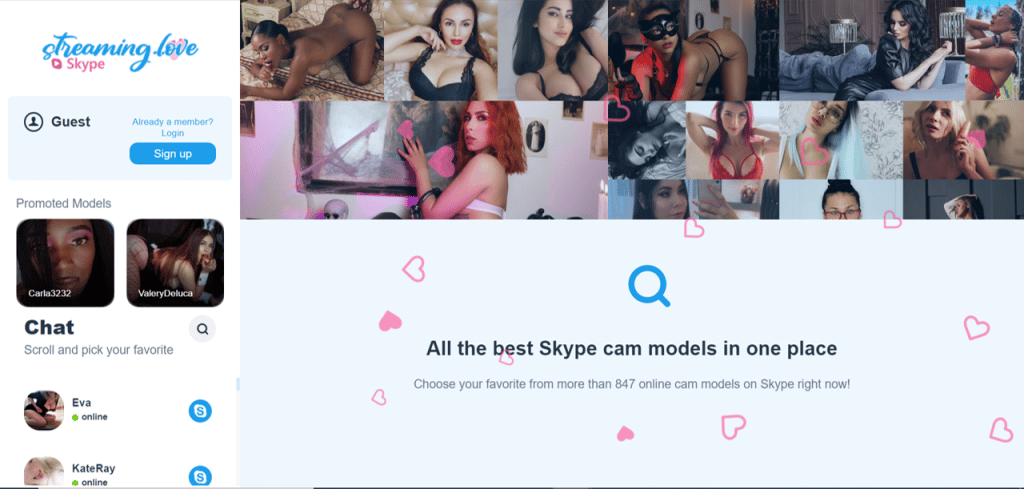 Streaming Love! You got to be kidding me. My dick is happy with the sluts taking over to excite me. I haven't thought Skype is brewing incredible gifts for perverts. Thus, you need not miss this tremendous opportunity, pal. Streaming Love hits not just my fancy but global jerkers today. Why don't I give you a pinch of Streaming Love's fantastic affair? Join me as we engage in a mouthful of intimacy and sexual autonomy.
Official URL: https://skype.streaming.love
I must say, Streaming Love sounds so fancy and romantic, but the place gave me a different appeal. It awakened the hungry sex addict in me. True enough, Streaming Love allowed me to escape reality by delighting in my wee hours at home or work. Passionate porn addicts like me found a new meaning when we dug into some malicious activities on Skype.Streaming.Love. Oh, boy, who would not salivate with gorgeous ladies ready to display their prowess?
Anytime and anywhere, you can engage with salacious women ready to seduce you until you cum in excitement. I am ecstatic to see how your dick will react to sexy chats and engagements on this sex chat page. Patrons are happily supplying their masturbatory necessities. Socks, lubricants, and toys are within reach as women deliver your daily sensual need. Shall we start streaming?
Use Skype in a New, Tasty Way
If you are using skype for your work, then allow the page to tempt you immediately. Go to your browser and type Skype.Streaming.Love, and you are about to explore a new realm of hidden erotic treasure. You no longer need to log in to some webcam sex domains to snatch a great deal of perverted experience. By simply tapping a few words on the link page, you can have a sumptuous sex interaction. Skype Streaming Love collates bankable features to ease boredom and loneliness.
All the hottest Skype babes are gathered to entertain a bunch of dudes. Streaming Love steals the attention of many with its fast-rising site statistics. Everyone is craving to join the in-demand sex chat experience. With that, I did not waste time and tapped the Join button. You can never go wrong with this domain's free chat registration. If you want to understand how deals work at Streaming Love, get your senses going by signing in.
Be a Guest or An Active Participant at Streaming Love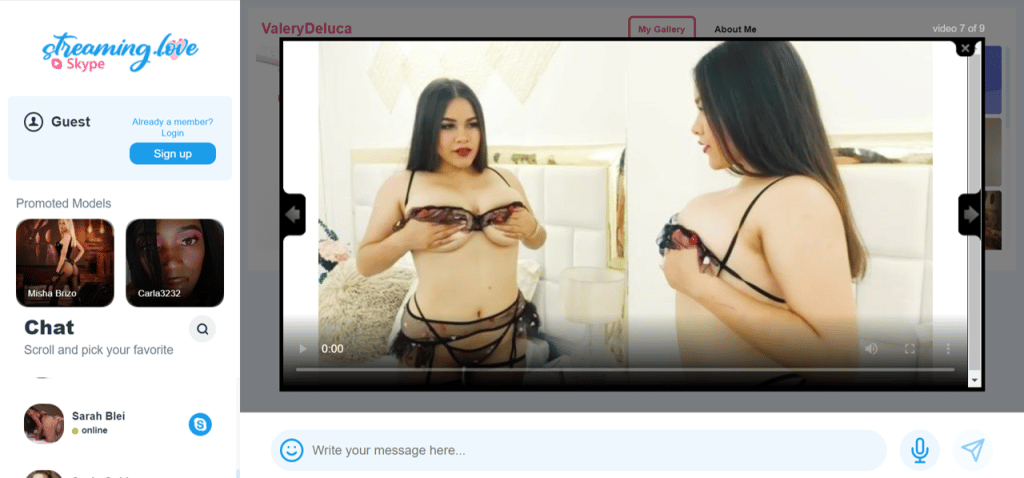 Streaming Love allows you to access the page by being a site guest or a registered member. There is no harm in choosing to be a dignified and horny guest at the start of your exploration. It is always advisable to test the waters and see how arousing this group of Skype babes is. So, what I did is that I started juggling the pages as a visitor and eventually tapped the Signup button to explore a variety of features. Unquestionably, Streaming Love gave my dick a worthwhile impression.
If you are sexually adventurous like me, you can dig the Signup button and supply the necessary information. Streaming Love only requires your email address, username, and password. Everything is precisely similar to other famous sex chat domains. What sets Streaming Love apart is its gallery of women waiting for an ultimate temptation. So far, I haven't seen this array of women. I will check if they are exclusive here at Streaming Love. If not, the hell I care; they are sumptuously alluring and salivating.
All the Best Skype Cam Models in One Place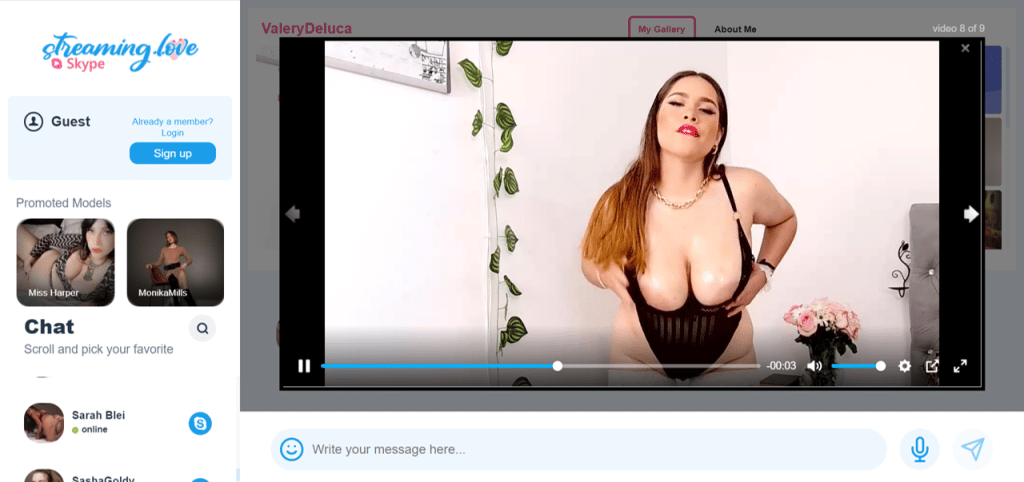 Streaming Love proudly used this tagline to attract more perverts and sex chat addicts. Who am I to resist this charm? I have been utilizing Skype for a long time and discovering that I do not need to hop from one web address to the next to give my dick an incredible feast is a huge bonus. This adventure is time-saving and effortless. In fact, I am rubbing my cock as I stare at the pile of ladies at the header.
However, you must also know that you are about to spend a few bucks with this army of hotties. Although the account registration at Streaming Love is free, the individual chats and women interaction can be a little pricey. Well, the rates depend on each model's rank or pricing details. Be sure to pick women with both quality service and fees. Streaming Love exemplifies how money can give you a sensual and erotic routine.
Streaming Love: Quite a New Site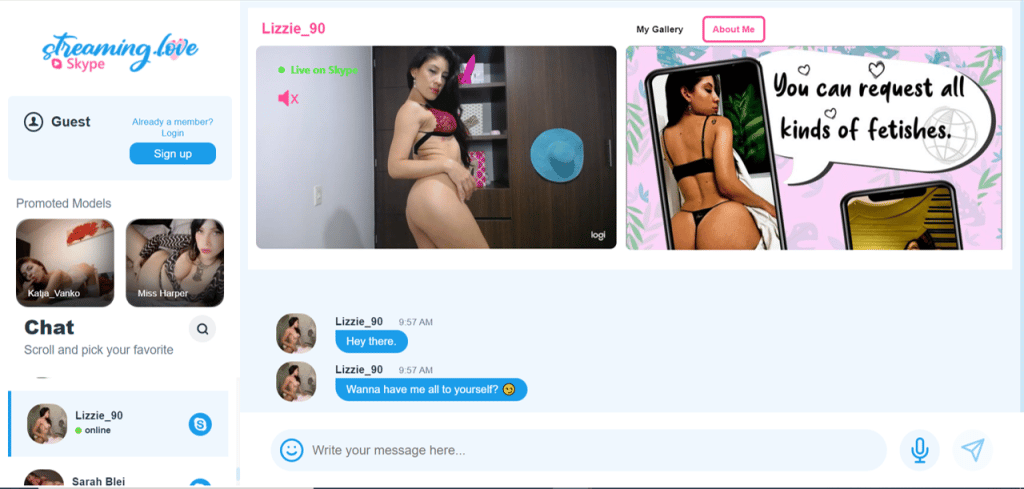 As I was staring at the whole page, I understood that the domain is new in the adult business world. Although Streaming Love hasn't stated its year of inception, the looks and impressions gave me a newly built approach. I commend the efforts and the noticeable technical qualities of Streaming Love. What is nice about the domain is that, despite being trendy and techy, it still provided enough ways to ease everyone's visit and exploration of the platform.
Indeed, the details are easy to utilize and comprehend. Visualizing an arena that is easy to navigate and juggle around is also delectable. The icons are friendly, and there is no number of annoying ads to distract your perverted hobby. Streaming Love launches a clean white domain with sweet ornaments of blue, pink, and more. The entire combination gives a salaciously tasty appeal that, at a simple glimpse, you can see a flavorful experience ahead.
You Can Never Deny the Orgasm at Streaming Love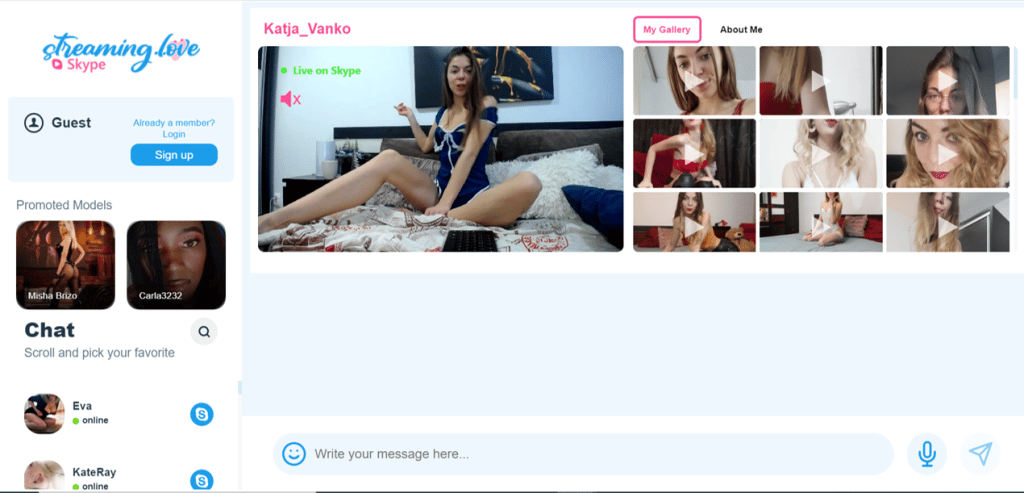 Nicely, Streaming Love incorporated a distinguished platform from the rest of the sex chat sites in the industry. I like how Streaming Love still displays the signature Skype presentation. Skype icons, chat mechanisms, and more are accessible to engage a friendlier tone. Skype fans and sex webcam advocates will adore this clean and attractive exhibition. Despite having a separate identity from other famous sex messaging venues, Streaming Love can never deny that they are here to tempt us.
The sexy sluts parading at the header are gluing my vision. Streaming Love displayed its hot women in a vast portrait collage and stuck it at the page's top area. When you see it, pal, your imagination will run free. How delectable could it be to have these juicy women in the comforts of our home? I can't help but look at these sluts and realize how their beauty catapulted mesmerizing attention. Because of their undeniable beauty, these fine ladies are those you can easily recognize on Instagram, OnlyFans, and more.
There's More to See at Streaming Love Than You Think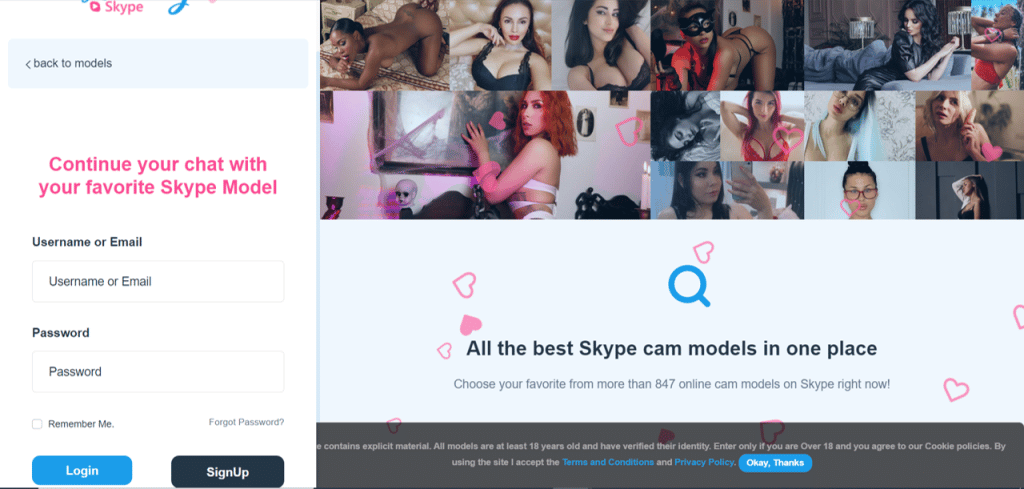 The unique presentation can be both an advantage and a disadvantage on your part. Your reaction is dependent, of course, on your preference, pal. Also, it is noticeable that the central portion of Streaming Love is dedicated to the chat sessions. You can only use this area for profile views and interactive conversations. If you are curious about where you can find the functions, they are all embedded in the left segment of the arena.
Here, you can see the signup or login buttons, promoted models, chat icons, and the list of online babes. The only option you can do is browse and pick your favorite lady. There are several suggestions for you; thus, you can check those models if you are new to the page. Sadly, sorting options are also unavailable. You can only utilize the massive search engine found at the center of the domain.
Honestly, I am hoping for a broader area to execute my selection. It would be a good suggestion for Streaming Love to extend more space for the list of Skype models and online hotties. I had difficulty navigating the area and browsing around the salacious women because of the limited allocations. Certainly, some areas can be utilized so that Streaming Love can work on these recommendations soon. Crossing their fingers, they can hear our collected pleas.
Those Horny Ladies Made Me Drool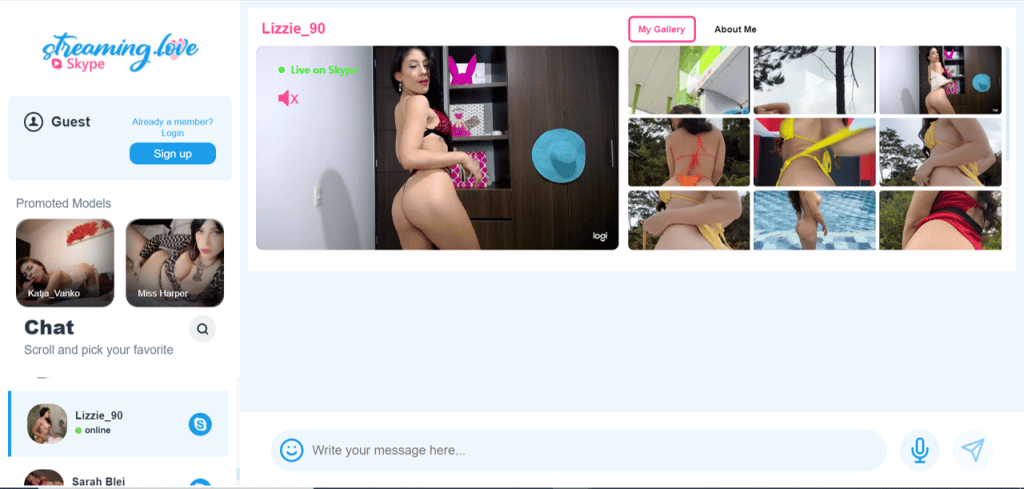 Streaming Love announced that they have a roster of 847 babes to make you cum. These numbers may be smaller than other live chat platforms, but they can be as mouthwatering as StripChat, Chaturbate, Camsoda, and more. In a blink, perverts will be surprised how the number will rise to thousands soon. Streaming Love got an undoubtedly fine collection of Asian, Latina, and other Western models. The diversity range in hair colors, body figures, appeal, and fashion styles.
I see horny ladies dressed in cosplay themes, lingerie, and bikinis. But you will salivate harder when you see tons of Skype models parading themselves with nothing but skins. Unclothed ladies are oozingly hot and feisty; you will have many reasons to stimulate your aching solid hard dick. There are also teen-looking babes and hot MILF selections. Whatever your fetish, pal, you can seductively uncover them at Streaming Love.
Sex Chat Experience
I visited a few profiles and gladly saw a collection of short videos and slutty images. Each model can advertise their skills with its segment. Gladly, I tapped online ladies like Lizzie_90, Valery Deluca, and Eva. I was happy to see their galleries and personal information. Each profile contains links to their collection via the 'my gallery' and 'about me' sections. As you open each model's index, they will automatically send you sexy messages—the auto-messaging sounds like a bot.
Remarkably, when you start engaging and deciding the rates, the models are ready to give you jam-packed performances. You can start calling, chatting, and watching their live exhibitions. You can do mouthwatering surprises in one sitting. I love how incredibly versatile Streaming Love is. Pour your cup with a glass of sexy Skype models at Skype.Streaming.Love.
The Pros and Cons of Skype.Streaming.Love
PROS:
Eight hundred Skype models
Sexy pictures and videos of women
Comprehensive model profiles
Diverse beauties
Friendly abode
Clean site
Skype features
CONS:
Some bot messages
No sorting functions
Varying rates and prices
Less space for valuable features
---
Top 12 Best Sex Live Chat Sites Similar To Skype.Streaming.Love: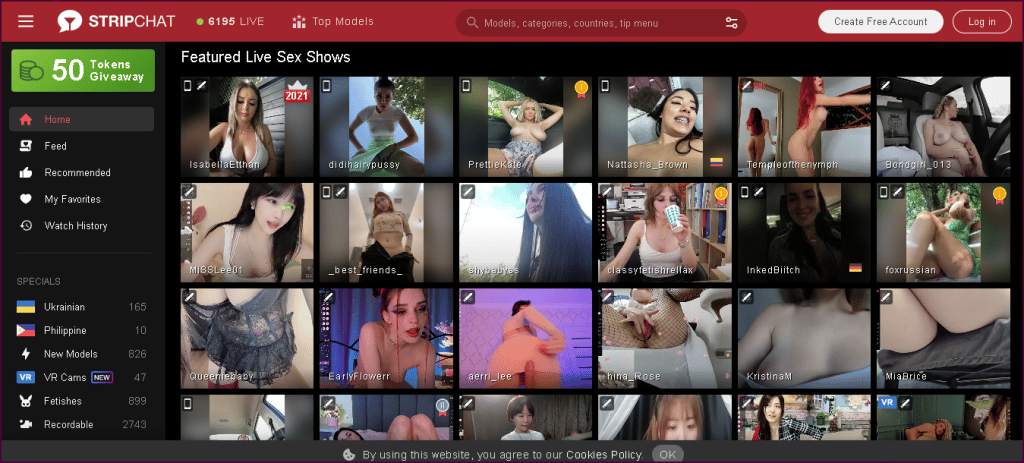 Stripchat, which has been around for five years, has successfully grown into the top 10 best adult platforms and continues to give superb quality and services, making everyone love the site a little more. One great feature that Stripchat offers is that users are not only limited to communicating with models but can also chat with other users. Also, there are plenty of models registered on this website, most of whom are professional porn stars. With its pornographic nature, Stripchat is already a reputable and credible cam site; wherever you are, everyone can enjoy sexual pleasure at their own pace.
PROS:
A long list of beautiful models on the site
Simple, cool, and attractive website design
Users are allowed to forward private messages
The website is easily accessible and user friendly
A wide selection of live sessions and videos
Extensive FAQ page
FREE view and chat functionality for guests
CONS:
Unregistered members get constantly reminded via pop-up messages to sign up (which gets annoying)
English is the only available language feature
Private message chats are exclusive for paid memberships only
---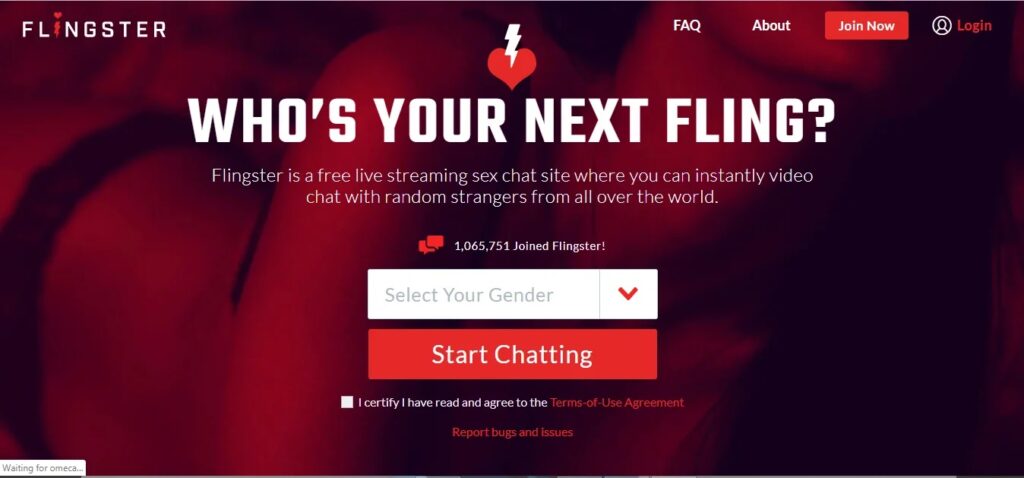 Flingster is an adult sex chat website for meeting, hanging, and making out with singles. On this website, the application process is indeed speedy and convenient. So, it won't be wasting much of your energy at all. Compared to several other sex chat websites, even free accounts can use messages and video chats without paying.
On the other hand, paid subscribers have additional features that are indeed unique. Meanwhile, Flingster similarly provides discreet identification while chatting before you consent to a spontaneous, quick fling.
Grab a quick bite with this Flingster review.
PROS:
Unspecified character is a choice
Everybody is excellent regardless of sexual orientation or gender
The sign-up procedure is available and relatively simple
The site's design is simple; however, understandable to navigate
CONS:
There are occasional phony profiles reported
---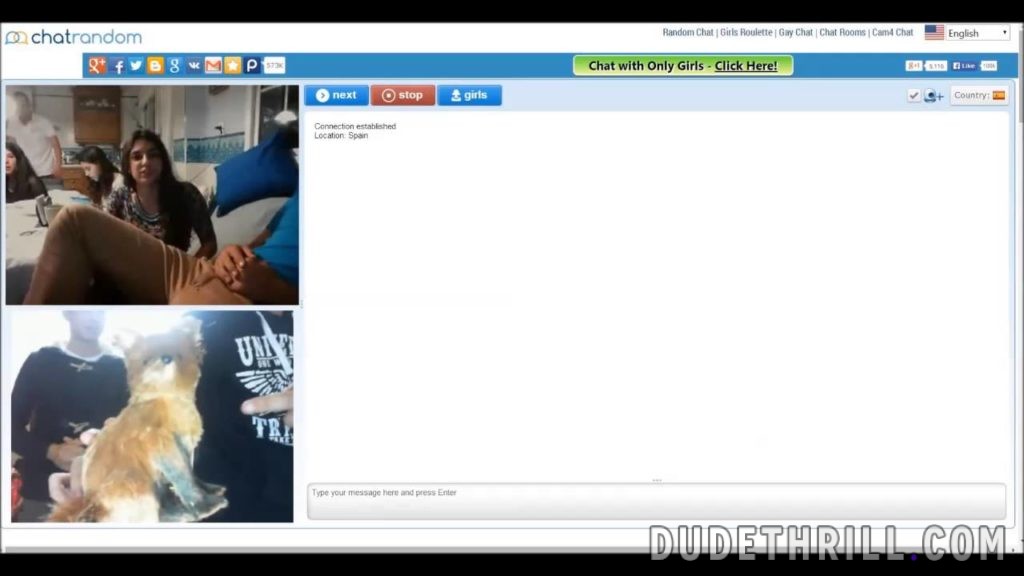 Chatrandom is a free live chat site that allows users to connect with people and strangers worldwide easily. The site started its outstanding service around 2011, and since then, it has become one of the most popular sites today. Indeed, this is the most exciting live chat you can experience because the system uses a roulette-type matching and lets you chat with thousands of people every day.
Full review of Chatrandom here.
PROS:
Registration is free
Users can chat with members from other parts of the world
People can join live chat without registration
There are thousands of active users every day
App version is available for download
Hiding identity is public through a "mask."
Free sending messages
CONS:
No profile photo is available
Only Android users can download it
More number males than females registered
---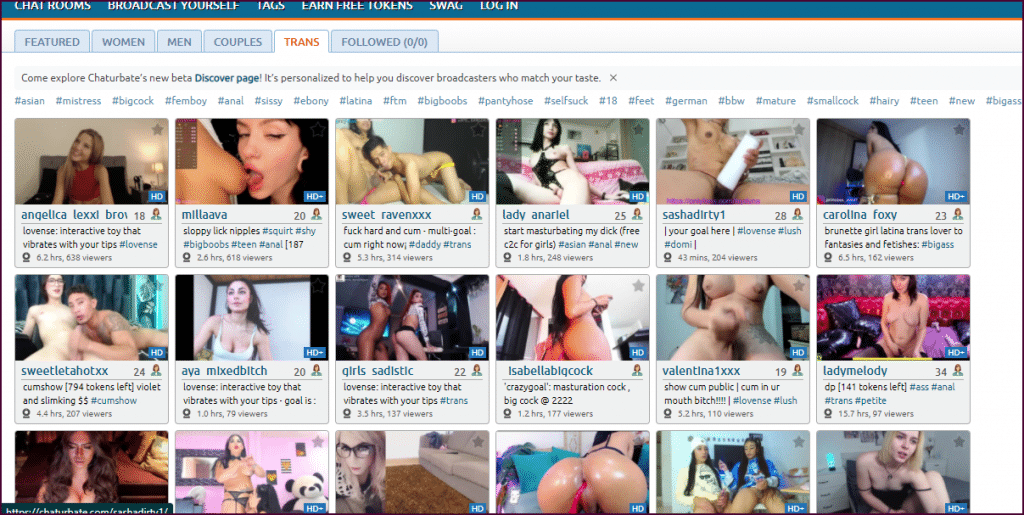 Connecting to people worldwide has never been so easy. Thanks to Chaturbate, unlimited talking is now possible. Plus, you will never spend a dime on it. There are a lot of sexy and beautiful women available for you, 24/7. As a matter of fact, women on this website love kinky stuff, which is always worth your time and attention. Meanwhile, live shows are also available for viewing at a reasonable price.
Read this full Chaturbate review.
PROS:
Many cam girls available 24/7 live
No additional fees to expect
Nudes and sex are always a guarantee
Smooth browsing on smartphones and other devices
CONS:
Few videos are in SD format
Expensive private shows
---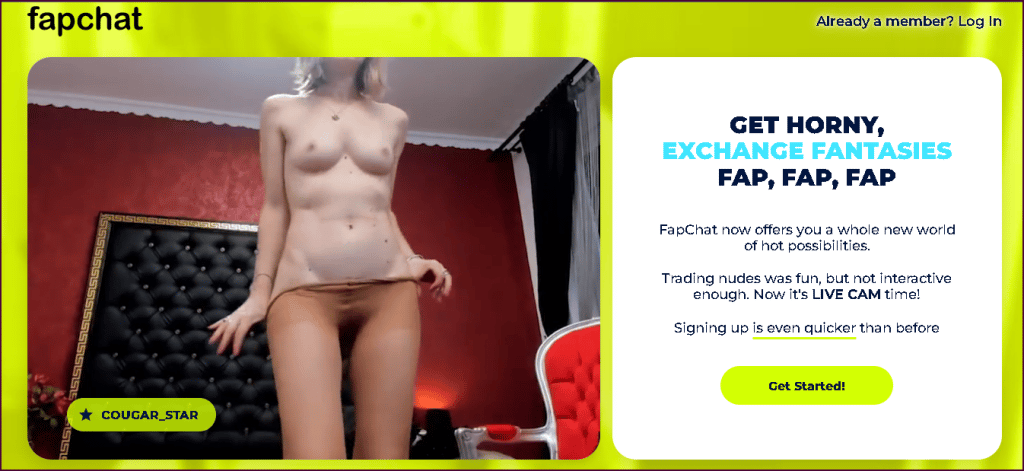 Fap Chat is a platform that helps men like you find attractive single women to take nude selfie photos with and strike up a conversation with. There are thousands of stunning young ladies to choose from, so you're likely to find at least a few that you want.
Read Fapchat's full details here.
PROS:
The website has a simple design and is very easy to use
You can watch real live women performing on cam
Maintains anonymous identity
No bots and fake profiles
CONS:
It has no live chat support service or phone service
You cannot record cam shows
---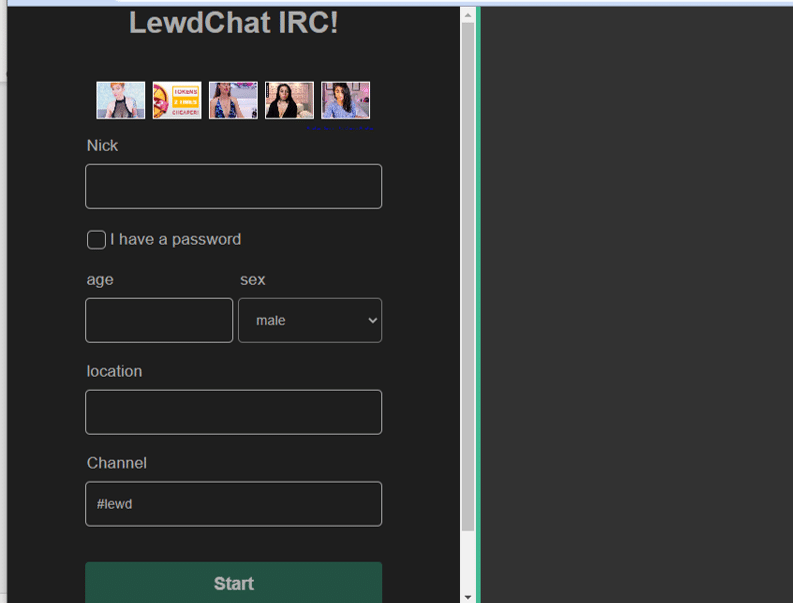 Lewdchat is all about sexual chatting and flirting. This site wants to create an active community through sex chatting, and draws so much attention because they care about the needs and abilities of the public. Everything here is free, smooth, and hassle-free. You do not have to pay money nor share personal details to use the site.
PROS:
No registration required
Protects identity and adheres to anonymity
Chat unlimited
Available 24/7
Can privately message other members
Multiple chatrooms
Straightforward features
Meet like-minded individuals
Completely free of charge
CONS:
Quite a boring design
Limited features
Few site members
---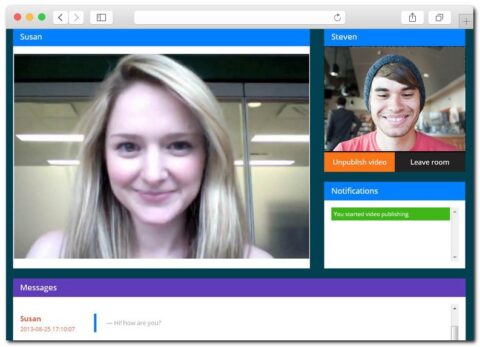 One of the oldest live chat websites on the internet today is Chat Avenue. The website is available to many countries around the world. However, it only uses the English language for the site. Currently, there are 19 available chat rooms for everyone to access. These include Boys, Girls, Cam, Adult, College, Gay, General, Live, Sports, and many more. So, there will always a perfect chat room available for you.
Take a look at Chat Avenue review.
PROS:
Registration is easy and fast
The site has 5,000 unique visitors
Users and chat rooms are always active
A long list of chat rooms to choose from
Customization of chat rooms according to special topics
Chat Moderators are available
CONS:
Fake profiles are available within the website
---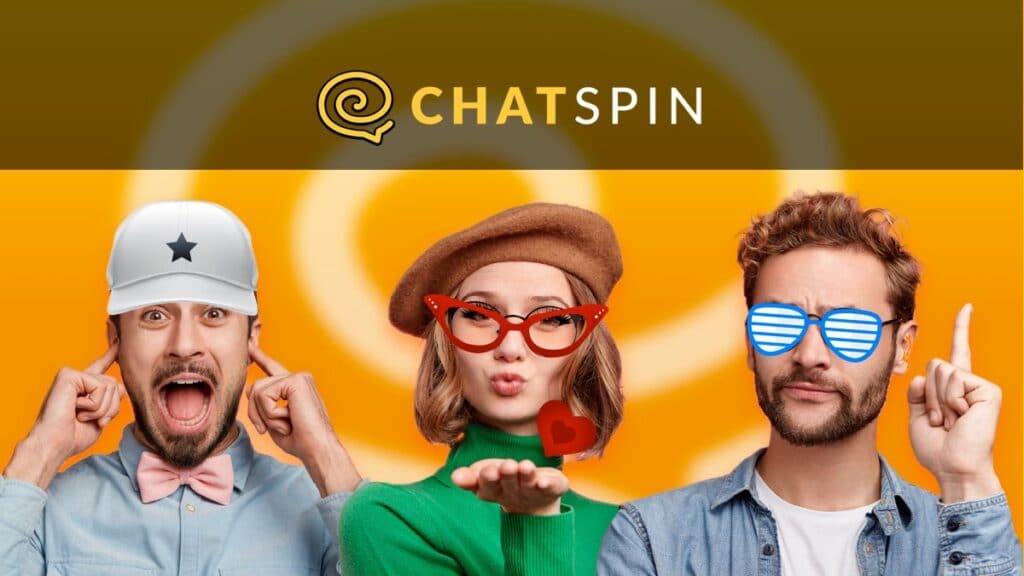 Chatspin is one of the leading random video chat websites worldwide. Boasting its most extensive user base ever recorded, even two video chat websites combined cannot compete. Uniquely, the website was founded to provide a venue for youngsters to enjoy, have fun, and spend a great time connecting. Especially that currently, most of its users are within the age of 18 to 25 years range.
Indeed, for people out there who want to have fun without commitments, Chatspin is perfectly crafted for you. Coupled with a fantastic set of languages and features, you will not certainly experience any communication issues here. Just enjoy, relax, and connect with over 3,000 users daily. With that amount, indeed, you will find a perfect match faster and better.
Here's the full review of Chatspin.
PROS:
Signing up does not require debit/credit card information
Plenty of exclusive benefits when using Chatspin Plus
Customer Support is available 24/7
Free use of text chat and video calls
Uses roulette-type chatting
Plenty of video chat features you can use for free
Thousand of active users online every day
The mobile app is downloadable on Android and iOS devices
Has unique seamless browsing experience on mobile
Google and Facebook sign up is available
The fast and easy registration process
Has userbase from different parts of the world
CONS:
Free accounts have limited search features
No verification of accounts upon registration
---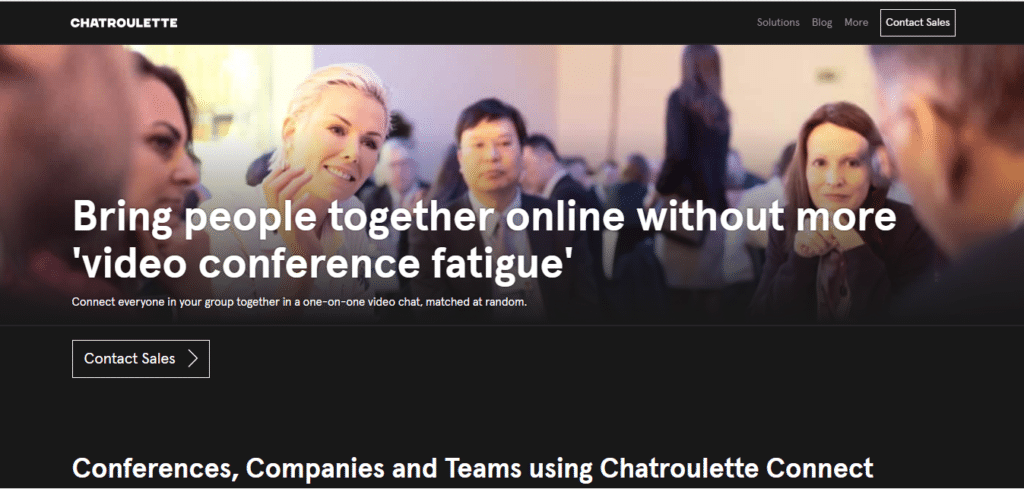 Chatroulette was among the first to establish popularity in the chat room in the early 2010s but didn't last long. Its three media forms are text, video, and audio chat for everyone. So, if you feel lonely and need some heat through the night, why not find a sexy friend online and indulge in a never-ending erotic moment? Join thousands of people randomly hooking up online, and witness how erotic magic illuminates your life.
Read our full review of Chatroulette.
PROS:
The website allows anonymous chatting and secures user's identity
Open to all types of sexuality like bisexuals, transgender, male, female, gays
The website is all-inclusive, opening itself to the LGBTQ community
It prevents users from showing inappropriate activities, actions, or exploitation of children
Easy process of reporting abuse, violation, or any wrong actions that occur during chatting
Free use of all the website's features, services, and anything you can find on the page
Requires facial recognition to enter Chat
You can effortlessly disconnect from an annoying, unwanted, or uncomfortable match
Registration is not a requirement
Has more than three million unique visitors every month
CONS:
Does not support iOS system
No longer offers text chatting, only video chats
Nudes and sex is rampant
---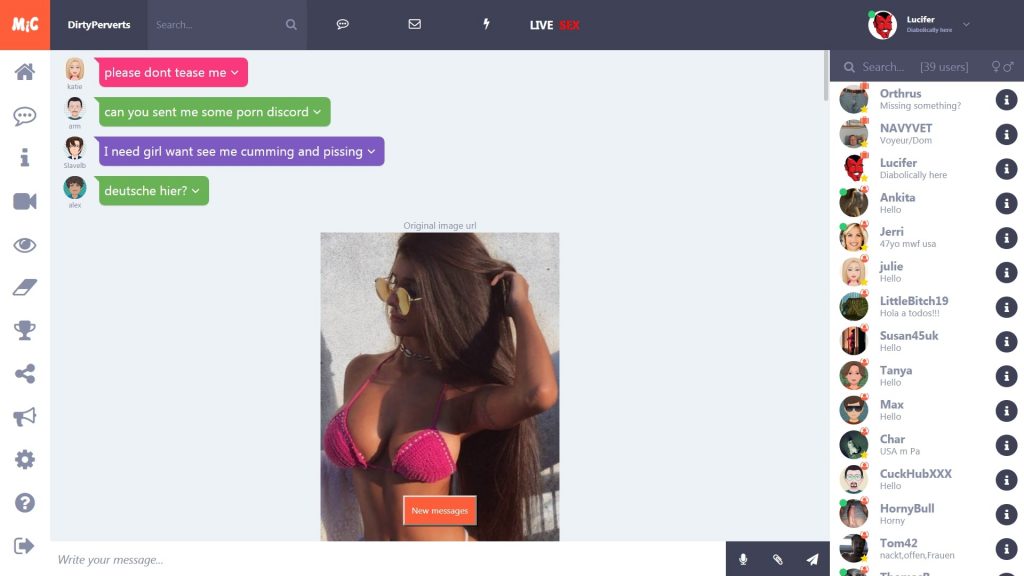 Meet In chat is another must-visit sex chat website. Certainly, it is a new page so that you won't expect many people around here. However, thousands of people are registered here, and all of them are actively looking for a fantastic sexy time. Despite being new, it contains 170 available public chat rooms you can join in for free.
Indeed, you will never feel bored or tired because the erotic activity happens every second. Also, the website provides options as a guest or official member. In other words, you can use Meet In Chat without registration. Although there are still plenty of available features you can use as a guest, more benefits can enjoy as a member.
Click here for MeetInChat full review.
PROS:
Gather all people with similar interests in no-string-attached relationships
Plenty of categories and chat rooms are available
It does not require membership to use
Minimal advertisements available
CONS:
Basic design
No FAQ available
---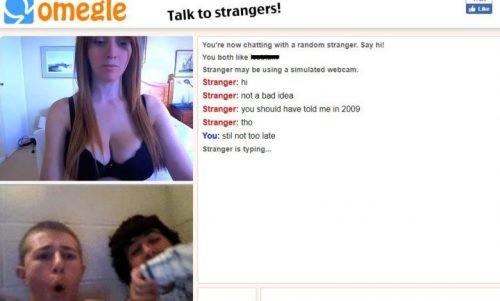 Omegle is a widely known random live cam and sex chat website. Initially, this suet advocate creating and building connections, meaningful relationships, and friendship with random strangers. Something that conquers prejudice in personality, ethnicity, and culture. Indeed, the people behind Omegle aim to provide an excellent platform for everyone that allows them to connect and interact with other people worldwide.
So, if you enjoy chatting, talking, and just having fun, you will undoubtedly enjoy Omegle. With its unique features and design, talking through text or video is easy-peasy! Swift off that loneliness and boredom, and indulge yourself with the pleasure of chilling with random strangers.
Check out our full Omegle review.
PROS:
Topics and discussions are limitless
You can personalize your experience by adding interest to make matching more precise
You can use live video for convenient video chatting
Maintains anonymous identity of members
People or users actively replies to messages
There are around 30,000 users you can talk to daily
Best venue to find strangers randomly
No registration required
You may use university-based e-mails to get matching with fellow university students
You can effortlessly disconnect from boring undesirable chat mates
CONS:
You may encounter perverts
Many users are into dirty and naughty chats
There were some reported bots within the website
---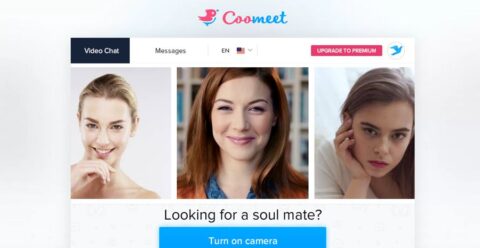 Coomeet is a live cam and chat website that made the life of many people easy and refreshing. Numerous websites on the Internet now give unbelievable features, and clearly, the Coomeet website is among them. Despite being a new website, it did not stop standing out and delivering users the best chatting performance. Because of its constant striving, it became what it is today.
Most of all, the website's unique features helped people find their luck in dating and hookups compared to other websites. Thus, if you have not experienced live sex chats before and feel bored with your life, head over to Coomeet; truly, you will experience the perfect live chatting ever, with a bonus of real sex and kinky stuff.
Click here for Coomeet full review.
PROS:
Thousands of women are active online every day
There are available girls within the 18 to 40 age bracket available so that everyone can find suitable matches
High-quality webcams
Stable video streaming
Free accounts can access all the website's features
An easy and smooth mobile browsing experience
Emojis are available
Private chats and video calls are available
No advertisements
Facebook and Gmail log in are available
CONS:
When doing things out of the guidelines, the website will deduct minutes from the video plan
Picking the gender of the person you want to talk to is not possible
---
Conclusion
Streaming Love is a new site available for nasty sex chat lovers. You can avail of this mouthwatering experience at Skype by adding Streaming Love into your browser links. The array of tasty women will make you grab your dick in seconds. Try the allure of sex messaging and interact with diverse beauties in the luxury of your homes, offices, and even while you are on vacation. Streaming Love has a clean abode that will excite you even more.
All 42 Other Sites in This Category Worth Checking Out:
TryNectar & 12 Best Sex Chat Sites Like TryNectar.ai Show Me 12 Alternatives for TryNectar.ai A day in the wild world of TryNectar, I found myself knee-deep in some next-level roleplaying with bots. Now, I won't lie; I'm starting to question if I'll ever waltz back into typical dating – yeah, call it an exaggeration, but […]