Updated on: December 10th, 2023
CuckoldChat
& 12 Best Sex Chat Sites Like chat.thecuckoldconsultant.com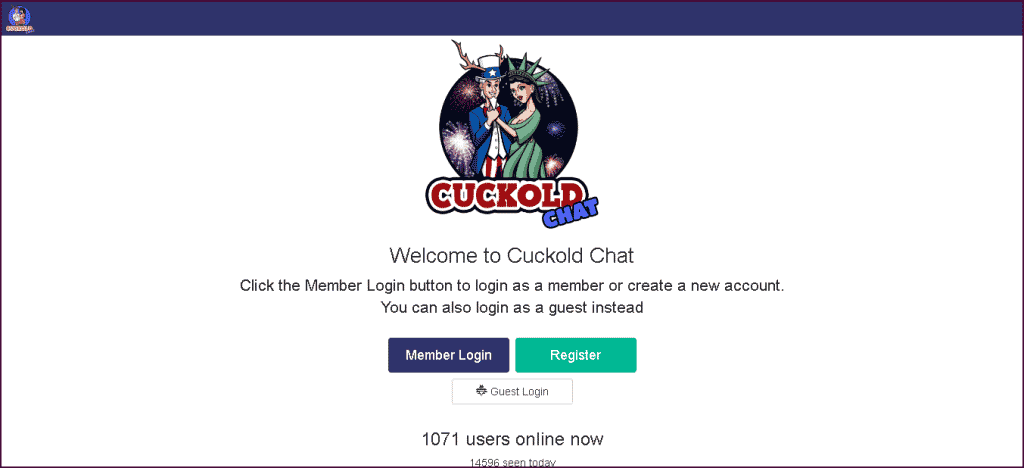 Are you tired of vanilla sex? Have you wanted to try the cuckold lifestyle? Well, I got good news for you. Today, we'll review the Cuckold Consultant's CuckoldChat. I bet you're pretty familiar with the Cuckold Consultant, and it's been in the industry for a while. This site established a fantastic community and a dream destination for all cuckold lovers. The member size of the CuckoldChat page definitely speaks a lot of how successful it is in terms of services and features. But just like me, I know this is your first time encountering a chat site dedicated to all types of cuckolding activities and pleasure. So better join me as I explore this fetish and see if it's worth the hype.
Official URL: https://chat.thecuckoldconsultant.com/
Welcome to the World of Cuckold!
Up to this day, Cuckolding is still a controversial lifestyle that not all people would really understand or accept. But for your knowledge, it's pretty similar to polyamorous relationships because the 'husband' gives consent to sleep with men outside their marriage or relationship. But of course, it's a totally unique entity.
Often, only the lady or the wife goes out on casual dating and fuck men. Sometimes, the differences and what the husband is not allowed to do or not during their time together, the bottom line of the fetish is usually for the man to enjoy each agonizing constraint he faces.
Certainly, watching your spouse devote entirely to some dude and commit acts she would never express toward you is a bizarre and fascinating form of lust. Seeing her as a free-spirited harlot on the prowl for romance is insulting, demeaning, invigorating, and I dunno —just really seductive.
Pick Your Chat Rooms
The Cuckold Chat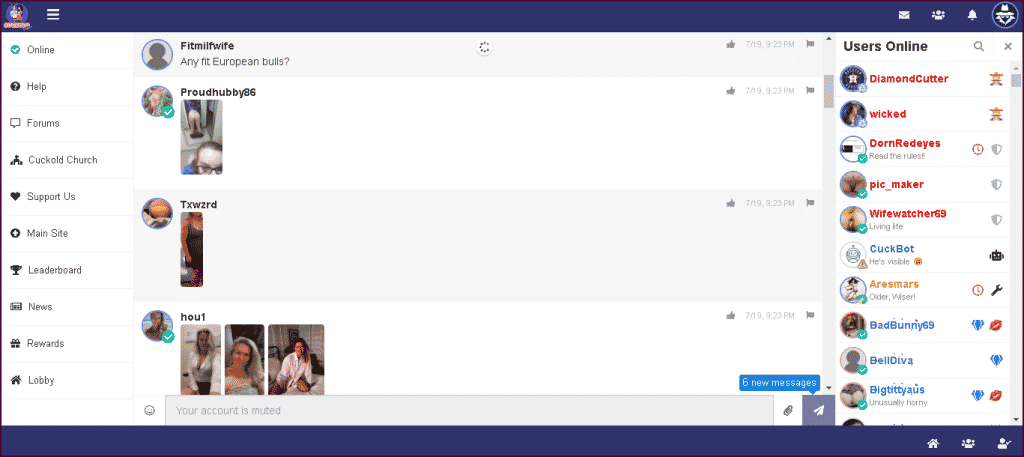 The Cuckold Chat is probably the busiest chat room of The Cuckold Consultant's CuckoldChat. This page's primary chat room and hundreds of people exchange pics, videos, and messages daily. Better charge up because the experience brought to you by the Cuckold Chat room is more than the typical cuckold pleasure. I know cuckolding is already a fantastic fetish that every couple or wife ever wished for, but to experience it with real people and strangers is such a new level of satisfaction.
Just Your Wife Chat Room
Perhaps the' Just Your Wife' Chat Room is among the most incredible room on the CuckoldChat site. Generally, the members here enjoy showing off their girlfriends, partners, and wives in their most seductive and intimate ways. Remember that you are not allowed to repost any items here, so make sure whatever you share is yours authentically.
The Verified Pic-Owners Chat Room
The site describes this chat room as "The Promised Land for those who have earned the Verified Pic-Owner VMB." Well, The Cuckold Consultant's CuckoldChat is very strict when verifying pics on the page, and the moderators don't tolerate posers. So, if you're uploading profile pictures or sharing stuff, they will go through the hands of the CuckoldChat moderators. Once you're safe, you can find verified pictures in this chatroom. Remember, all the members joining this chat have a Verified Pic-Owner VMB. So if you haven't earned that badge, try scrolling to other rooms.
CuckoldChat's Cartoons & Art Room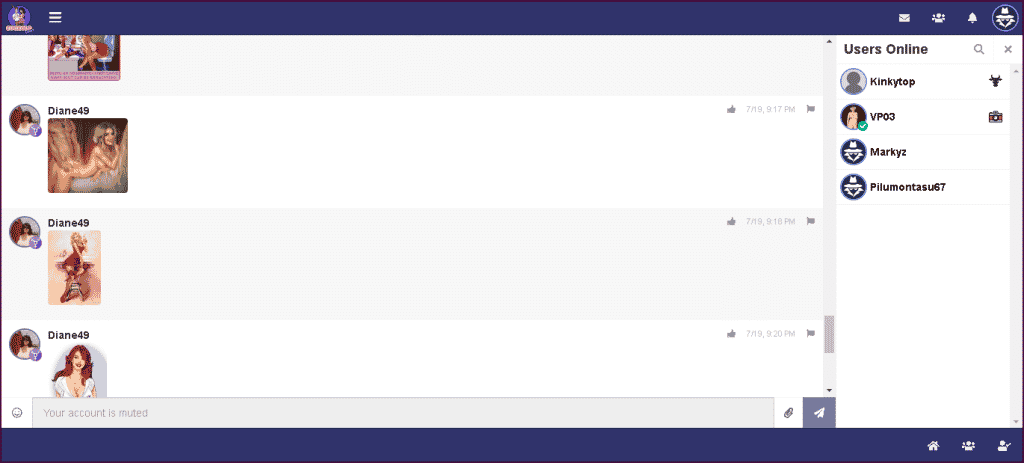 If you are an artist or collecting artworks, comics, or any animation content, the Cartoons & Art Chat Room is probably the best go-to place for you. All the members here are interested in all kinds of cartoons, but of course, with a cuckold twist. It has hot wives comics, cartoons that show cuckolding scenes, and much more. Certainly, this chat room is like a Hentai Dungeon, but you can only find the most erotic cuckolding experience. Remember that when you hop in the chat, ensure you're ready to share and indulge in the 'hot wife' craze. Participants are active, and your weak cock may not take it.
Degradation & Humiliation Chat Room of CuckoldChat
As weird as it may sound, plenty of people online enjoy hearing humiliation/degradation from others or even doing it to others. That's why CuckoldChat made sure to have a deluxe room for this fetish called the 'Degradation & Humiliation' Chat Room. Personally, I don't get aroused from receiving or giving degrading or humiliating words, but for many of you, this is a paradise for all erotic things. It's like heaven on earth, but even better. Lots of strangers are up for the game. In fact, while I was writing this review, there were approximately 800+ people on the site.
CuckoldChat's Stag & Vixen Porn Chat Room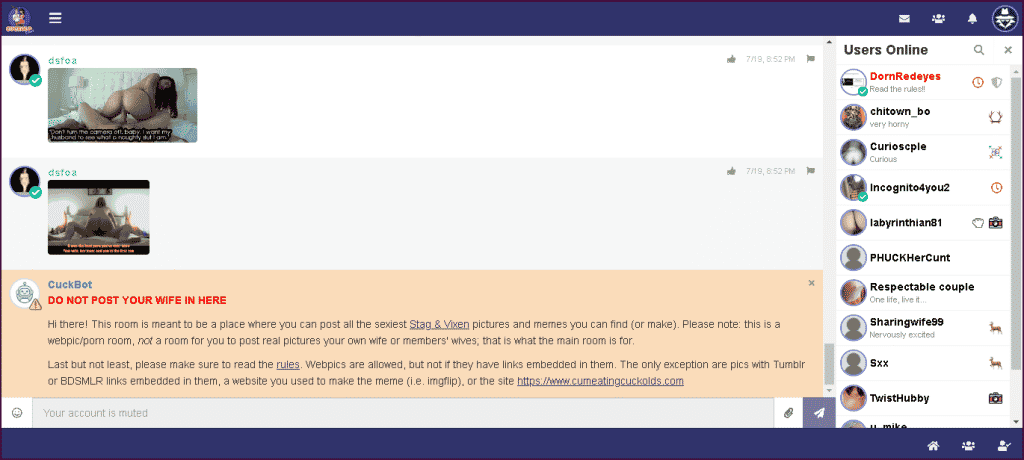 For those who don't know, Stag and Vixen is a type of cuckolding fetish wherein the wife will have sex with another man while his husband is watching. Unlike cuckolding, which often involves humiliation in different forms, the Stag and Vixen promote consensual sex and enjoyment. In other words, this fetish may have a similar fetish to cuckolding but does not follow the traditional cuckold nature. If that sounds amazing and interesting, then the 'Stag & Vixen Porn' Chat Room of CuckoldChat would probably be your dream destination! You are all welcome and join the fun. Don't be afraid to explore the Stag & Vixen world.
Chatroom for the Sissy Cuckolds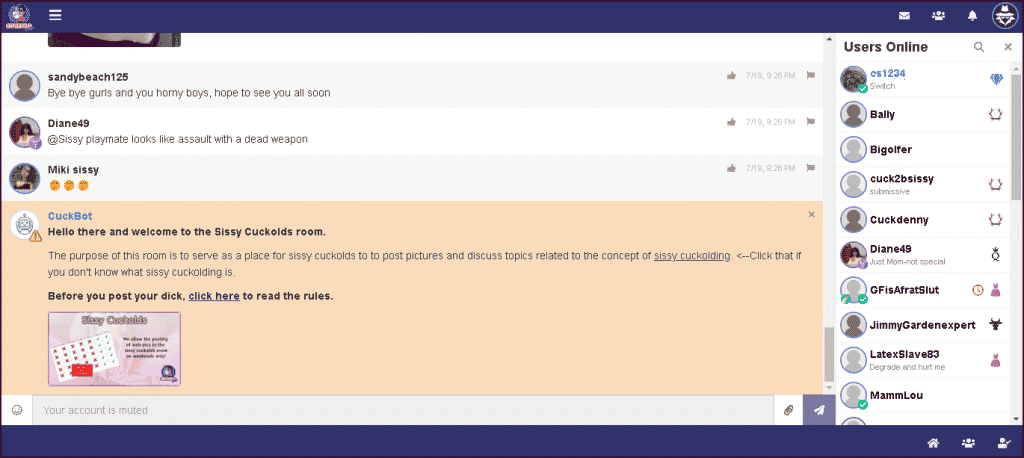 Sissy Cuckold? That's not my thing for sure, but if you get aroused being a sissy cuckold, then this chat room is for you. Welcome to the 'Sissy Cuckolds' chat room where people enjoy and pleasure from sneaking into your cheating wives while indulging the sissy role. It might sound weird for some, but the Sissy Cuckold lifestyle is a pleasure to experience. Try it, and you'll see what I'm talking about. Don't worry; there's no room for judgment here, and everybody welcomes users who enjoy or want to try the sissy cuckold lifestyle.
More Community Spots at chat.thecuckoldconsultant.com
Greater Middle East Chat Room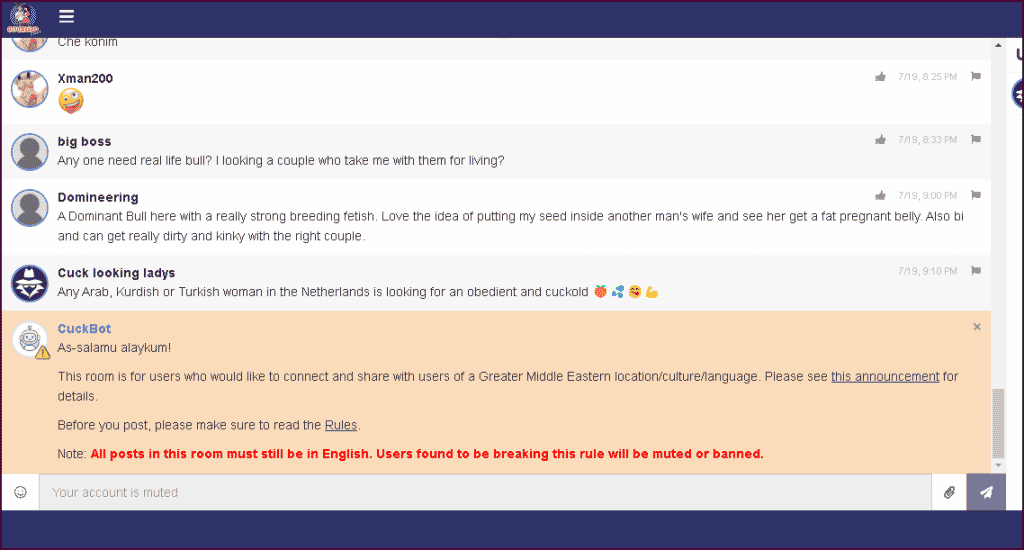 Lots of people are hopping from one chat room to another. But if you have a specific group of people who wish to interact with, better hop to a 'specific-themed' chat room made particularly for the Greater Middle Eastern group. Here at 'Greater Middle East' Chat Room, you can find all types of people looking for this specific group, culture, location, and language.
CuckoldChat's Dice Game Room
Up for a game? Well, you can now do that at CuckoldChat when you join the Dice Game Chat Room. It has an exciting Cuckold Dice that you can play together with strangers online or maybe your wives and girlfriends.
Chatroom for Interracial Needs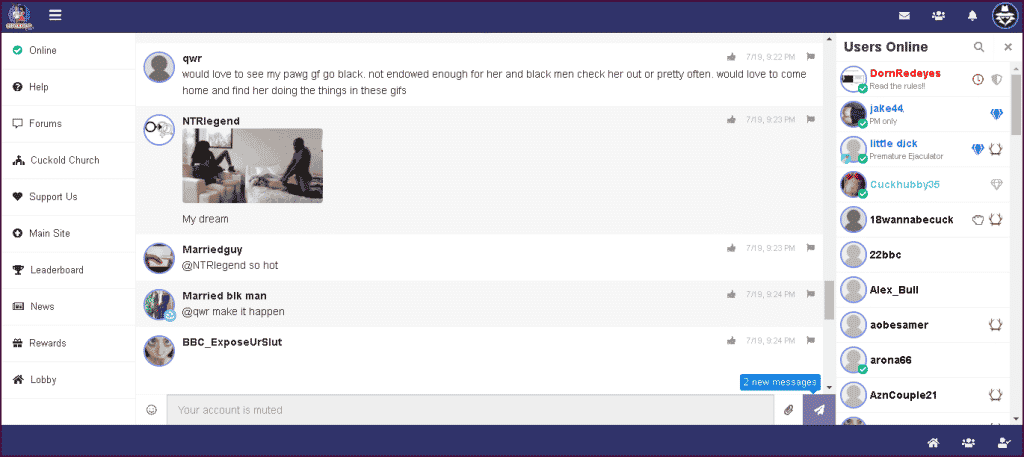 I know many of you enjoy interracial smut and entertainment, so CuckoldChat made sure to incorporate a chat room where you can express your love for interracial sex. Anything you can imagine is here, so this could be more than a dream destination, but rather an erotic haven!
The Chat Room for VIPs Only
Of course, the Cuckold Consultant's CuckoldChat has prepared a fantastic spot for its beloved VIP members. If you want to be part of this group, try signing up for an account and subscribing to the site. Enjoy the fun and thrill with fellow VIPs.
Fetish Cuckold Porn Chat Room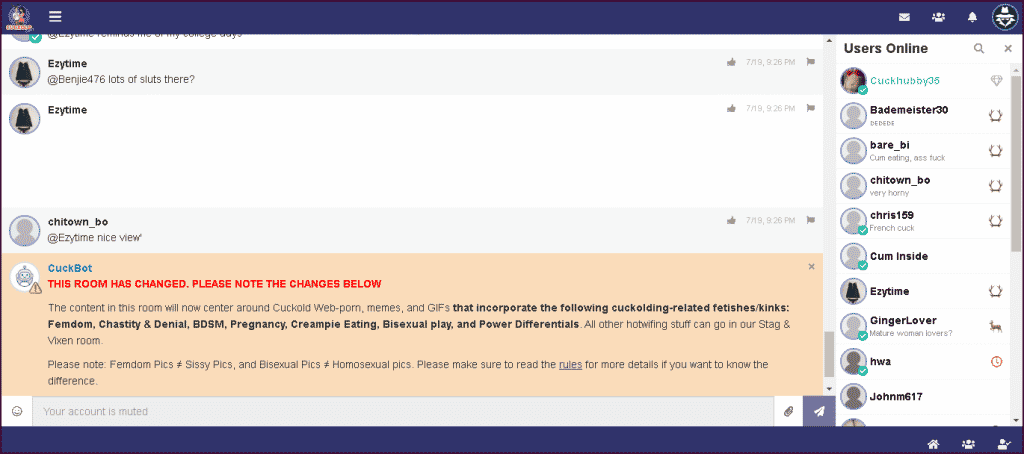 Many people online are not afraid of exchanging pics with strangers, which only proves the amount of content shared on the 'Fetish Cuckold Porn' Chat Room. It has many images of the sexiest and most horny hot wives worldwide enjoying the cuckold experience. If you have your own collection, better share it with everyone!
The Conversation Club
Wants to socialize? Well, CuckoldChat has a special gift for you: The Conversation Club. It's a chat room where people gather to talk about anything under the sun. But, when I checked it out, the users were obviously game for intimate and erotic topics. So better be ready for that. Before joining here, don't forget to register on the site. It's pretty simple, so there is nothing to worry about it. This one displays more interaction and discussion among all the chat rooms available here at the Cuckold Consultant's CuckoldChat.
CuckoldChat's Chatting Rules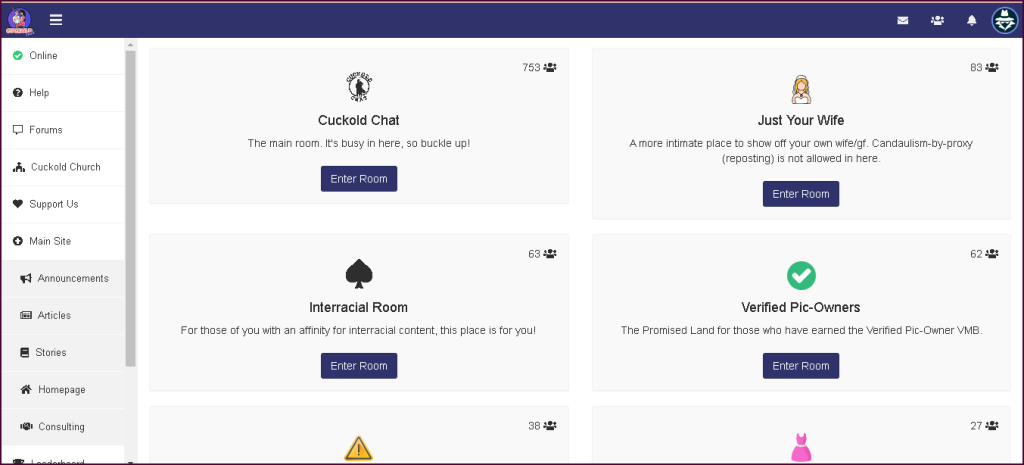 The Cuckold Consultant's CuckoldChat has very strict and specific rules that every member and guest should follow. Take note that the moderators will never slip anything from their sight, so if you're doing against the rules, expect to see your content wiped out from the page.
Initially, CuckoldChat does not allow minors on the page, so you better be at least 18 years old to become a member. Of course, since children are strictly prohibited, this extends to all the contents, videos, and images shared within the chat room. In fact, users are not allowed to discuss sexual context involving minors or kids. And speaking of content, CuckoldChat does not tolerate any form of illegal activities like taboo porn, incest, brutality, rape, drugs, bestiality, and more.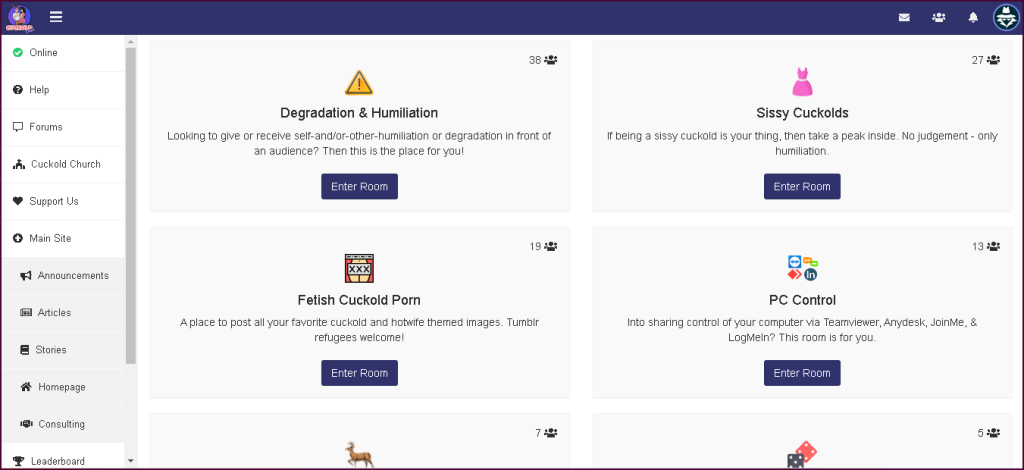 Also, the pics or videos shared here must not be from websites or sources owned by someone else. CuckoldChat tries its best to promote authenticity and amateurism. Additionally, don't discuss or share your social media accounts in the chat room, and most especially, force people to contact you outside the platform. This information is only accepted during private conversations.
Don't ever flood or spam messages in a chat or troll other users. People come here to have fun, so don't take the pleasure out of it. Also, please refrain from sharing your dick pics; nobody's interested in those. When talking, make sure not to use foul words or express racism in all forms. Stop sharing anything beyond the site's content, sharing links redirected outside the page, or grabbing pics with significant watermarks. Otherwise, you may need to submit a VMB Proof of the pics to prove you personally own it.
As you can see, some of the rules here are pretty minor, while others are significantly major. Despite the differences in seriousness, breaking one could result in permanent blocking or banning from the site. So be careful when using CuckoldChat. Remember that the moderators are eyeing 24/7.
Pros and Cons of CuckoldChat
PROS:
Active members
Free sign up
Lots of chat rooms available
All cuckolding stuff
Amateur and authentic content
CONS:
Chats can be crowded sometimes
---
12 Best Sex Chat Sites Similar to chat.thecuckoldconsultant.com: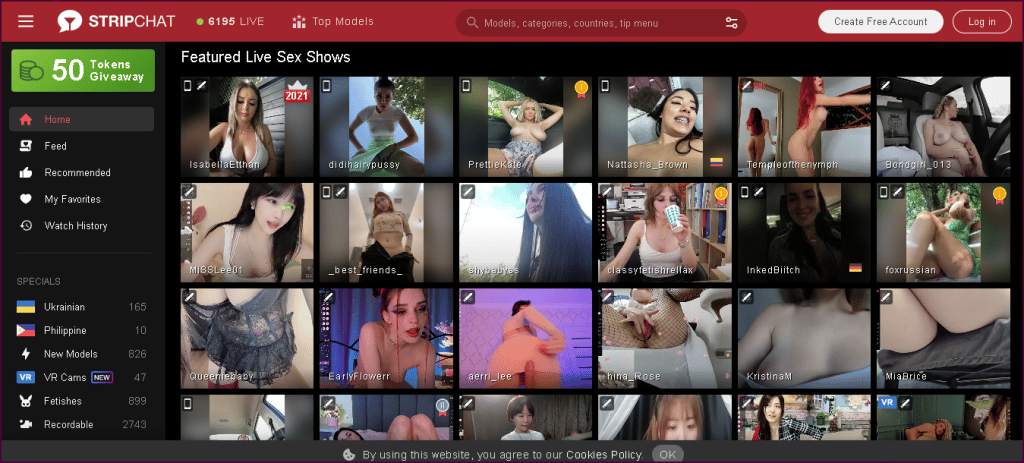 Stripchat, which has been around for five years, has successfully grown into the top 10 best adult platforms and continues to give superb quality and services, making everyone love the site a little more. One great feature that Stripchat offers is that users are not only limited to communicating with models but can also chat with other users. Also, there are plenty of models registered on this website, most of whom are professional porn stars. With its pornographic nature, Stripchat is already a reputable and credible cam site; wherever you are, everyone can enjoy sexual pleasure at their own pace.
Here's the full review of Stripchat.
PROS:
A long list of beautiful models on the site
Simple, cool, and attractive website design
Users are allowed to forward private messages
The website is easily accessible and user friendly
A wide selection of live sessions and videos
Extensive FAQ page
FREE view and chat functionality for guests
CONS:
Unregistered members get constantly reminded via pop-up messages to sign up (which gets annoying)
English is the only available language feature
Private message chats are exclusive for paid memberships only
---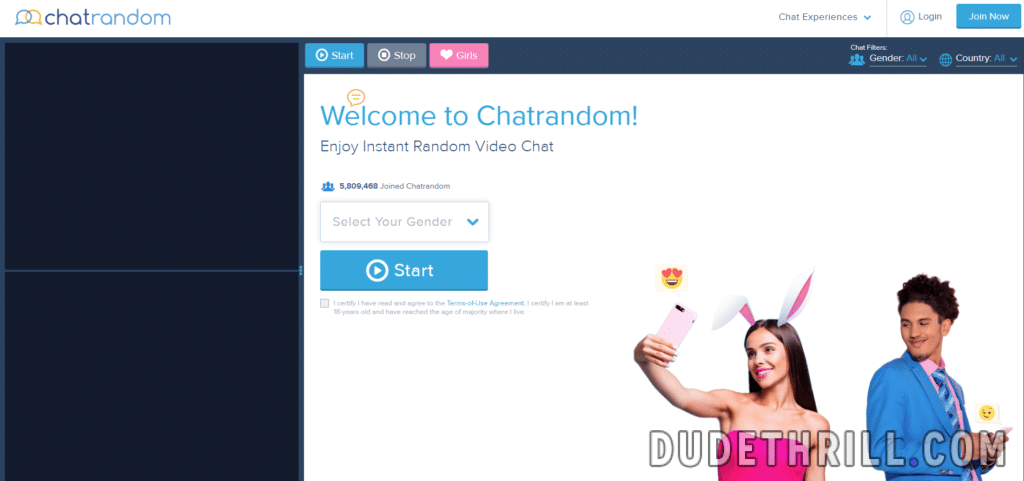 Chatrandom is a free live chat site that allows users to easily connect with people and strangers worldwide. The site started its outstanding service around 2011, and since then, it has become one of the most popular sites today. Indeed, this is the most exciting live chat you can experience. Because the system uses a roulette-type matching and lets you chat with thousands of people every day
Click here for Chatrandom's full review.
PROS:
Registration is free
Users can chat with members from other parts of the world
People can join live chat without registration
There are thousands of active users every day
App version is available for download
Hiding identity is public through "mask."
Free sending messages
CONS:
No profile photo is available
Only Android users can download it
More number males than females registered
---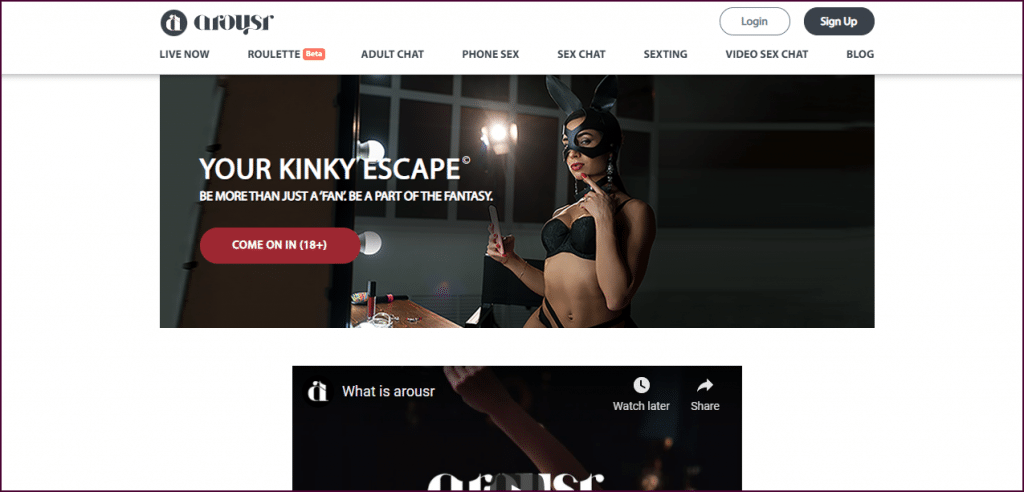 Arousr introduced a genuinely innovative concept, giving us extra intimate and stimulating experience. So far, it has been the most popular service for people who want to have fun, flirt, and enjoy sex chats casually. If you're looking for a website that's easy to use and has a long list of sexy women, Dudethrill recommends this one above all others.
PROS:
Simple navigation and layout
Plenty of female members
Free registration plus 100-credit free
The concept is unique and interesting
CONS:
Some shows are pretty expensive
The list of models is not that much
A basic account has ads
---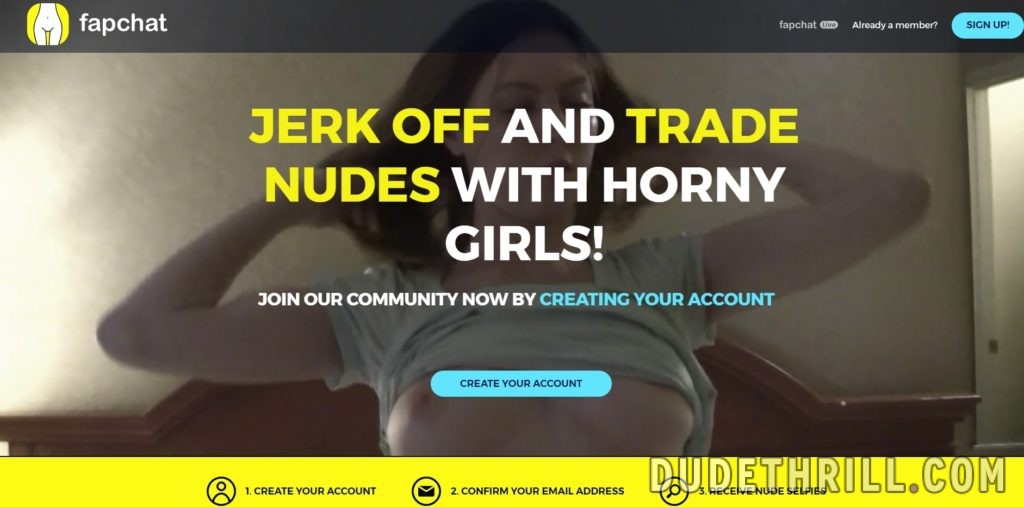 Fap Chat is a platform that helps men like you find attractive single women to take nude selfie photos with and strike up a conversation with. There are thousands of stunning young ladies to choose from, so you're likely to find at least a few that you want.
Click for a full review of Fapchat.
PROS:
The website has a simple design and is very easy to use
You can watch real live women performing on cam
Maintains anonymous identity
No bots and fake profiles
CONS:
It has no live chat support service or phone service
You cannot record cam shows
---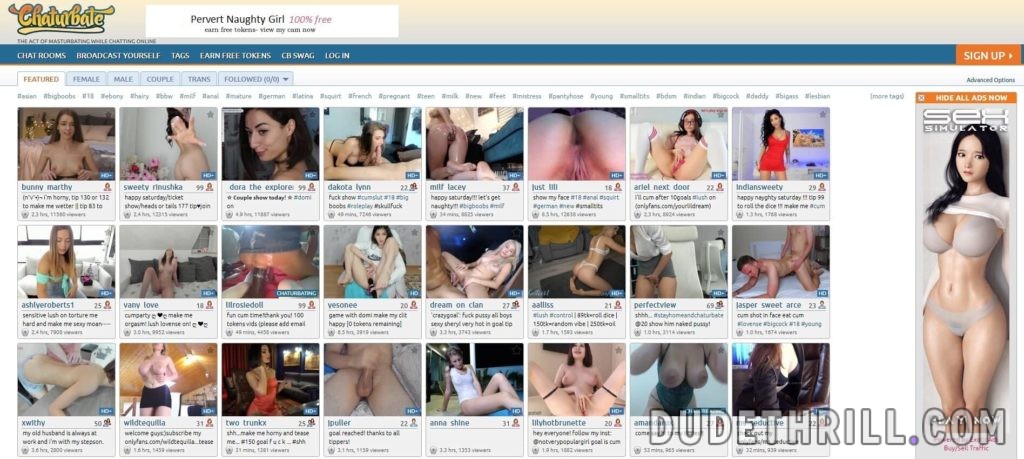 Connecting to people worldwide has never been so easy. Thanks to Chaturbate, unlimited talking is now possible. Plus, you will never spend a dime on it. There are a lot of sexy and beautiful women available for you, 24/7. As a matter of fact, women on this website love kinky stuff, which is always worth your time and attention. Meanwhile, live shows are also available for viewing at a reasonable price.
Check out the Chaturbate review.
PROS:
Many cam girls available 24/7 live
No additional fees to expect
Nudes and sex are always a guarantee
Smooth browsing on smartphones and other devices
CONS:
Few videos are in SD format
Expensive private shows
---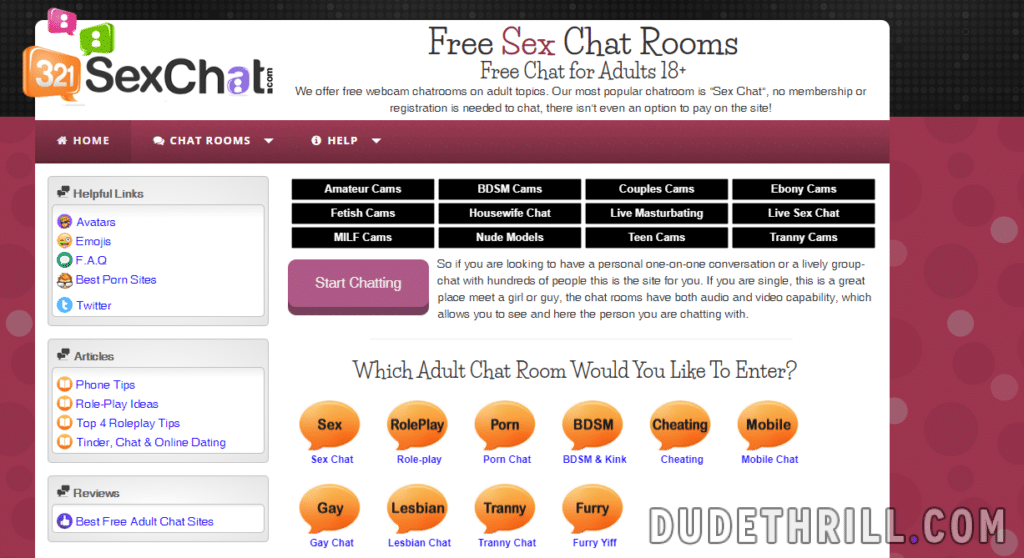 A masterpiece made by Greg Barrow, 321SexChat is a sex chatting website founded in the year 2002. Formerly, the website previously known as the 321Chat website contains plenty of chat rooms for adults, kids, and teenagers. Indeed, it has all the benefits of an adult sex website could have. Not to mention, it is safe, smooth to browse, and fun to use.
PROS:
Essential features and functions are available for free
The Mobile version of the website is smooth and user-friendly both on iOS and Android devices
Can customize profile accounts
Maintains anonymous identity of the users
Free use of video chat
You have the option to use the free version
Design is simple yet very easy to use
The browsing experience is smooth and no lags
Plenty of categories and chat rooms you can enjoy
Compatible with all smartphone devices
CONS:
Contains advertisements
Using Private Rooms is not for free
---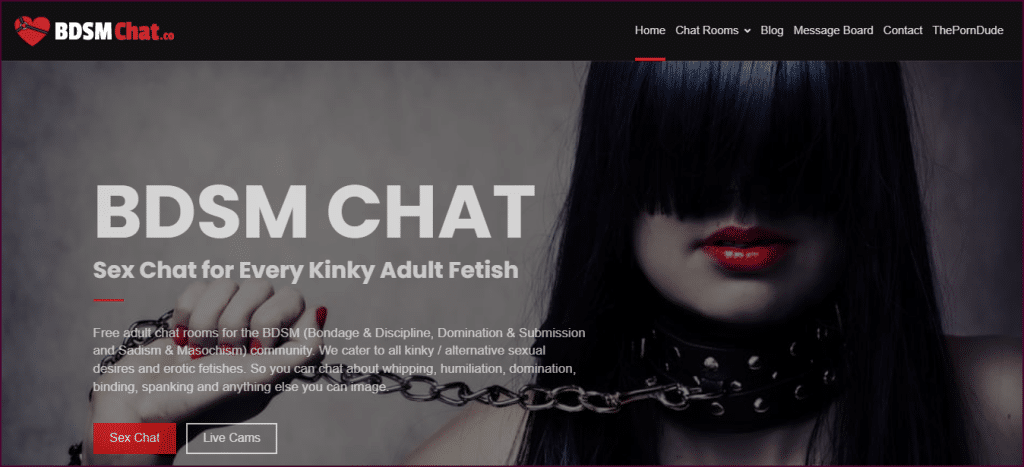 Compared to other sex chat sites, BDSMChat caters to a different and unique fetish that only a few of us would enjoy. You will find a shitload of different chat rooms where you can express your erotica-related fantasies freely. It is what BDSMChat is known for worldwide.
Take a look at BDSMChat review.
PROS:
Numerous chat rooms are available
Caters to all types of kinks and fetishes
Active members
Straightforward design and usability
Informative blogs
Can browse as a guest user
CONS:
The forum has few members
Requires registration to enter the chat
---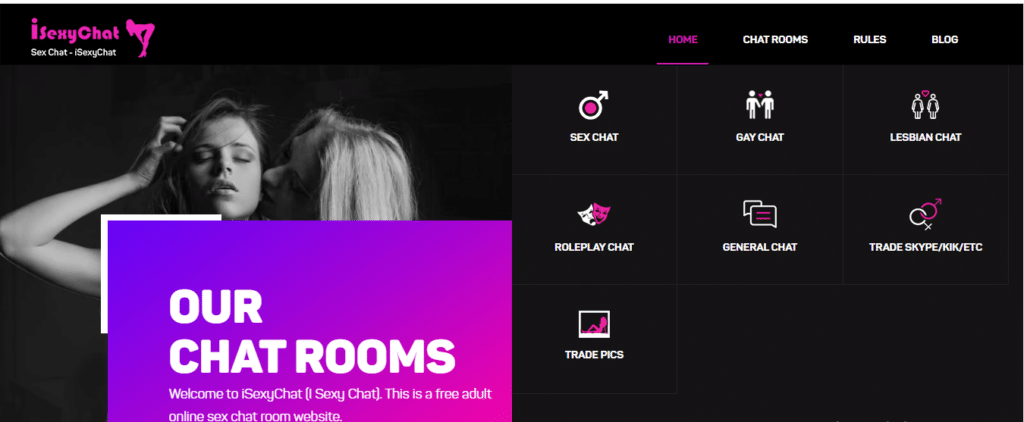 iSexyChat is a chatting website that lends tons of pleasing, stimulating, and satisfying services allocated for those who want to mingle with anyone online. The website made sure to allow the public to experience fulfillment and accessibility in one platform. Get ready to quench your thirst and sexual needs! iSexyChat groups individuals with the same needs, wants, and interests. This definitely make every time spent worthwhile and gratifying.
PROS:
Unlimited use with most of the website's features
No registration required to use the chat service
The web design is convenient and friendly even to novice users
It suggests various free adult websites
No discrimination and welcomes different gender preferences
It has a wide selection of chat rooms to choose from
CONS:
Unavailability of customer support
Several advertisements that affect the chatting experience
Unavailable search engine tools
---
SaucyTime is a sex chat site that blends the features of a social networking site, roulette-type chatting, sex shows, and dating app experience. Unfortunately, SaucyTime isn't as popular as other sex chat sites like Flingster, Stripchat, and other mainstream networks. So, it is less likely to see new members regularly.
Full review of SaucyTime here.
PROS:
Simple and easy to use
Don't have monthly membership fees
Browsing is smooth
Unique chat concept
Diverse models
CONS:
Requires credits when calling
More male members than females
---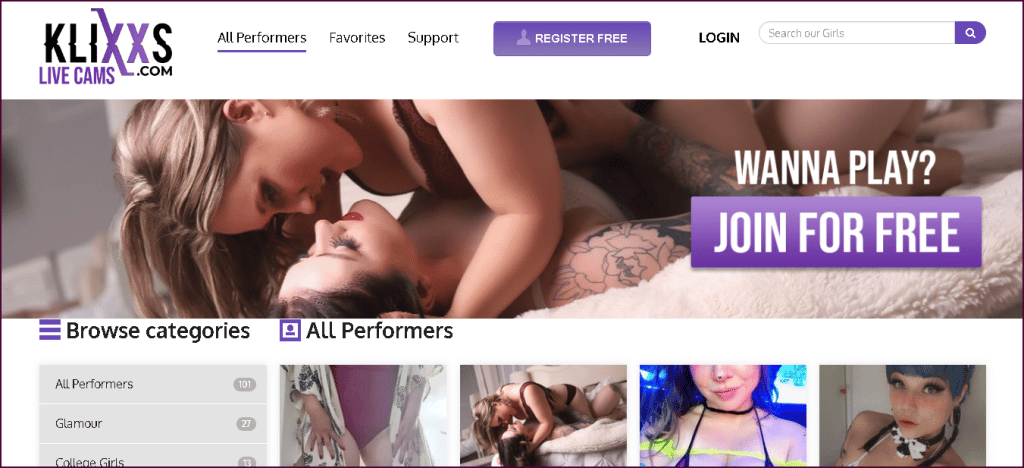 Klixxs is a very young and newly introduced live chat cam service in the adult entertainment industry. Klixxs may have a different concept and design than other live sex cam sites. But, I'm pretty impressed seeing its overall structure, features, and services. Seeing how this site managed to make a brand for itself really makes Klixxs stand apart from any other website in the entertainment industry.
Click for a Klixxs full review.
PROS:
Lots of categories are available
Convenient booking
Unique themes and concept
Easy to use
CONS:
---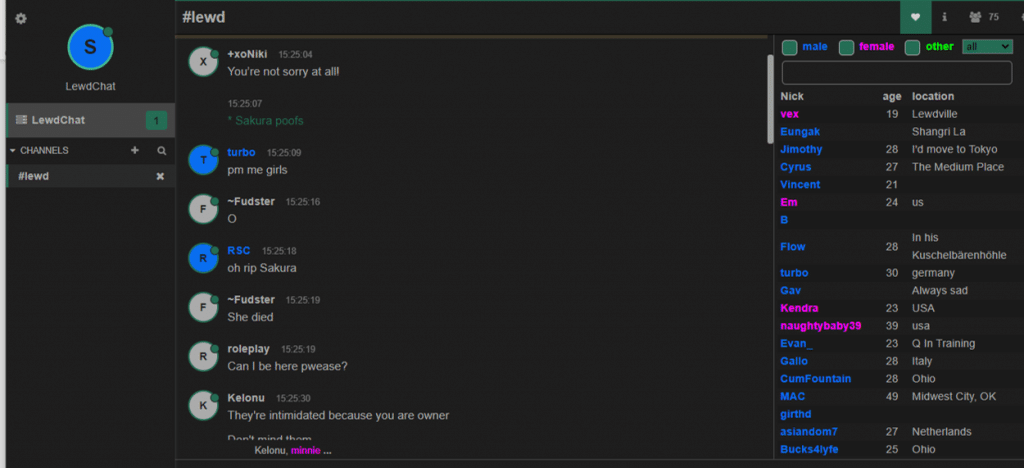 Lewdchat is all about sexual chatting and flirting. This site wants to create an active community through sex chatting, and draws so much attention because they care about the needs and abilities of the public. Everything here is free, smooth, and hassle-free. You do not have to pay money nor share personal details to use the site.
PROS:
No registration required
Protects identity and adheres to anonymity
Chat unlimited
Available 24/7
Can privately message other members
Multiple chatrooms
Straightforward features
Meet like-minded individuals
Completely free of charge
CONS:
Quite a boring design
Limited features
Few site members
---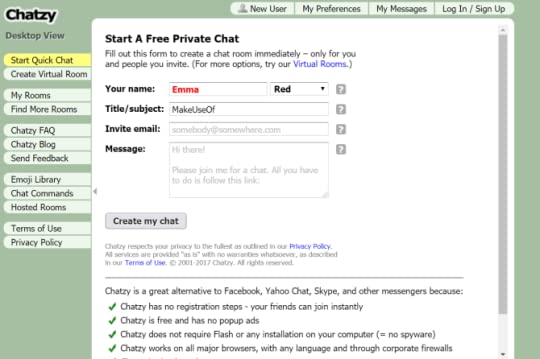 Since Chatzy.com is not a conventional Private Adult Chat website, it sees itself as a credible option to other social media sites like Skype. It's uncomplicated to set up an account, and once you've done it, you can launch chat rooms without sharing any personal details.
Users benefit from creating their chat rooms or joining one of the thousands of available chat rooms on the website. Somehow, Chatzy's concept seems somewhat outdated; however, it does not imply that the website is not highly recommended for romance.
Check out the review of Chatzy.
PROS:
Registration is easy and safe
Has thousand available chatrooms you can join
Huge user base
You can create chatrooms freely and share them with anyone
It has instant messaging available
CONS:
No searching option
Old-fashioned design
No available profile pics
---
Conclusion
After browsing the page, I can finally say that The Cuckold Consultant's CuckoldChat is very open and welcoming to all people willing or curious to try the cuckold lifestyle. If this is your first time checking out cuckolding, certainly this is the place to go. You won't worry about being judged or bullied because every member is open-minded and likes socializing. Also, for those couples living this unique lifestyle, I'm pretty sure that chat.thecuckoldconsultant.com will give you much more options and opportunities to explore what's more about cuckolding. If you are interested, just visit the website, and explore it as a guest. I'm sure you'll be hitting the registration button in no time because nobody can resist the free space offered by the CuckoldChat site. Not even a Dudethrill like me could say no. So, see you around motherfuckers!
All 43 Other Sites in This Category Worth Checking Out:
Talk To Me & 12 Must Visit Sex Chat Sites Like TalkToMe.com Show Me 12 Alternatives for TalkToMe.com Talk To Me! Yes! Are you bored or wishing to get some friends or strangers for a quality conversation? Sounds fun, isn't it? I am extra naughty today, so I swam across my compilation of sex chat sites […]