Updated on: December 5th, 2023
ChatRandom
Website link: https://www.chatrandom.com
The Ultimate Chatrandom Review – Should You Join It?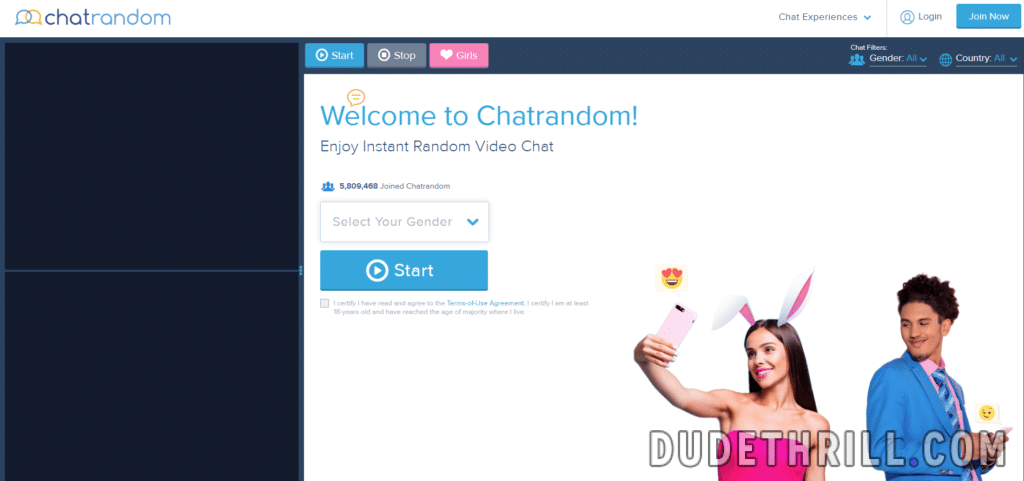 Developed in 2011, Chatrandom has easily climbed up to the top favorites in terms of adult cam & sex chat sites. That was the time when both Chatroulette and Omegle has already been existing for quite some time. So, to survive the competitive industry and be known among the rest, Chatrandom has developed unique and never-before-seen features. But of course, it stems from the same concept as others: to connect strangers from all over the world.
Chatrandom.com is an adult chat site with great features and plenty of users due to its popularity. Compared to other sites, you won't ever find Chatrandom advertising itself since they already established their name in the industry and many people know about them as it is. It's one of the top picks for young people who want to meet new acquaintances and hook-ups. Most cam sites we have today are bombarded with pop-up ads and for some, it gets dangerous with minors joining the bandwagon. Some of these websites are disorganized that you won't get to where you want through it. Fortunately, Chatrandom is nowhere near those disappointing sites.
So, in this review, we will be helping you get to know Chatrandom more. We'll thoroughly discuss everything about it; accurate information that you'll get by reading this article will be a big help for you to decide if ever you want to give Chatrandom a try. Read on and discover how good of a site it is; this might be your step to meeting the next hook-up or love of your life.
Should I Register on Chatrandom?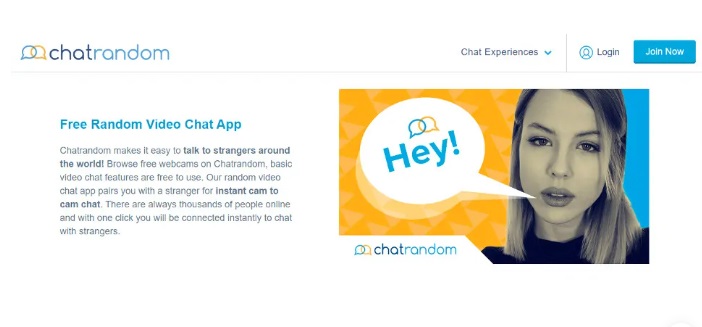 To enjoy the great features brought by Chatrandom, you can just visit their website and even without an account, you can still make use of some features like the chat rooms. There are different chat rooms and you can choose one depending on what type of people you want to encounter. As for the registration, it is only needed if you want to upgrade your membership and pay for it. When you upgrade your account, you will have the power to enjoy the perks and benefits which are non-existent for free users. Some of the features that only paid members can enjoy are the following: checking out your chat mate's gender, unlocking all the countries with registered users, removing all the ads, and the chance to have your VIP chat badge.

Users have two options to successfully register for an account — they can either provide a valid email address or simply link their Facebook or Google+ accounts. For the email option, you will nominate your unique password and Chatrandom will send you a link to verify your account. Once you're done with that, you can start talking with other people already. You just have to verify your account and immediately make use of Chatrandom's features in talking to new people. If you choose to link your social media account, you will be able to skip the verification process and immediately chat with others. Although for dating sites, we do not recommend linking your accounts for safety purposes.
Let's Talk About ChatRandom's Safety
Chatrandom has been constantly up in the ranks for the best dating and hook-up sites. But, unlike the equally famous Omegle and Chatroulette, Chatrandom is not strict regarding their users' age. So, that would mean you can probably have the chance of chatting with a minor without your knowledge. But of course, the site does not tolerate illegal activities so there's no sexually explicit content anywhere in this site.

So, in line with Chatrandom not having age restrictions, they also remind users that they are not going to be held responsible for any untoward incidents that may happen while being on their platform. It's one reminder that users should stay safe and vigilant all the time for their protection. But on a positive note, Chatrandom monitors all the conversations on their site, although as many have noticed, there is just a little action towards the protection of users. They could only do so much as to account termination and post removals, as well as communicating with higher authorities.

Considering that the website does not have a sign up as a prerequisite, it is a good platform for making new connections but being an adult site that it is, most of the people here have indecent intentions. Users have reported that some chat mates have exposed private parts or keep on initiating dirty conversations, and this is all not good for the younger ones. Child predators can easily use this free online platform to take advantage of curious and innocent minds. If ever you encounter such scenarios, you have to report your chat mate as soon as possible.
Ways to Contact on Chatrandom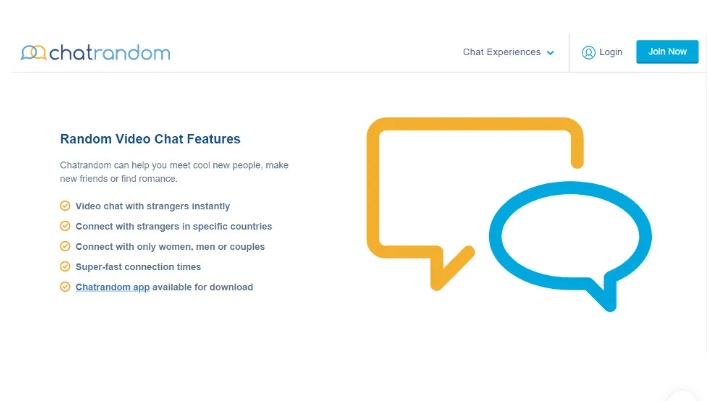 Chatrandom offers a lot of features for communication. You can use cam-to-cam online chats and this is used widely by many people. These chat features are categorized into four types:
RANDOM CHAT – This is where you get to chat with a total stranger from anywhere in the world. You can also see each other via webcam chat. You may use filters for specific categories like gender and location, especially if you have an upgraded membership. This category also has the most number of users.
CHATROOMS – In here, you can pick who and how you would want to chat with other people. You can choose any chat room you want to get into, which would usually be grouped depending on your interests. It is also available in video chats so you can find chat rooms for categories like singles, gays, students, friendly chats, text-only chats, or girls-only chats.
GAY CHAT – This caters all the gays and bisexual users from around the world and for those like-minded people who are open to meeting them. You can enjoy both text-only chat and webcam-chat via video streaming facilities.
CAM4 VIDEO CHAT – This is where you can chat with 4 random users at the same time with the use of Chatrandom's very own video chat facility. Each "party" has its very own chatbox and you can also connect with anyone of them on a separate chatbox. You just have to click a button to skip to the next stranger you can connect with.
ChatRandom.com Member Count and Structure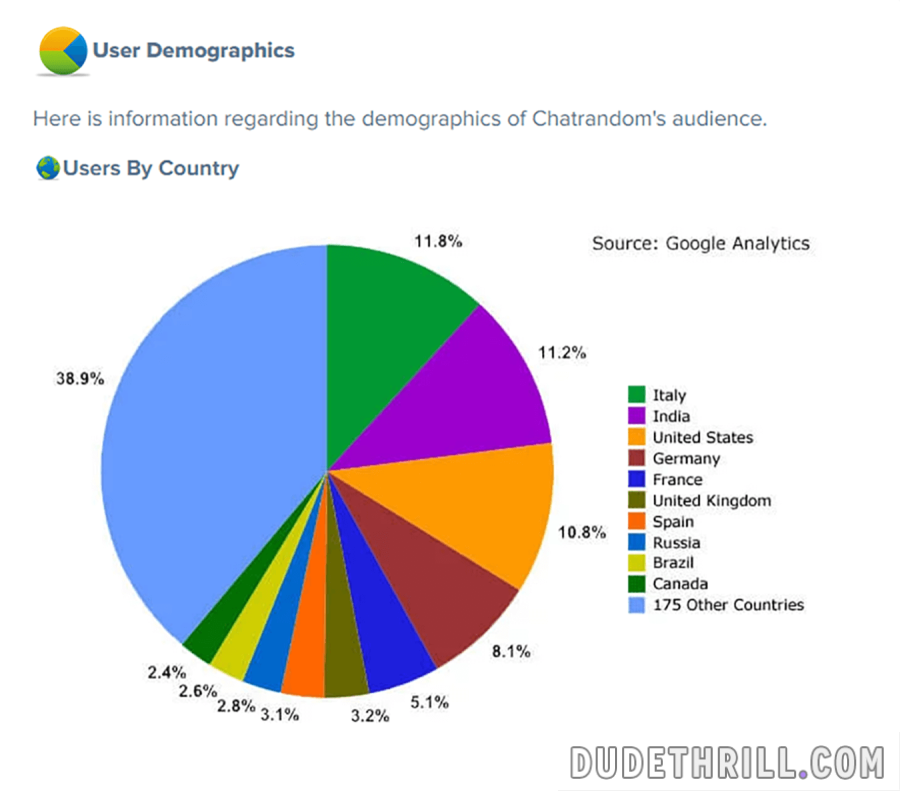 Before you start using Chatrandom, or any dating platform for that matter, you should know that there are more than 5 million registered accounts all over the world. Among these massive number of users, around 35K-100K users login to their accounts on a daily basis. While there is no data regarding the gender distribution for users in the site, it is already safe to assume that the ratio would probably be more or less equal so you can find someone to talk to in here.

As for sexual preferences, there is also no specific figure regarding the number of users and their sexual orientations. Chatrandom offers a chatroom that caters to anyone from the LGBT+ community and they do welcome anyone regardless of one's sexuality. As for race and ethnicity, you can say that Chatrandom has diverse users since it is available from all over the world. Wherever you are, most likely you'll be able to find other users from the same country or even in the same city as you.

According to the site's demographics, India and Italy are the leading countries with the most number of users, with an audience share of over 11%. They are followed by the USA and Germany with 10.*% and 8.1%, respectively. Since Chatrandom is available worldwide, you are in for a very diverse community, and also contributes to that fact is its system which doesn't need you to register beforehand to use its services. So you can say that people here typically comes and goes.
Pricing Policies of Chatrandom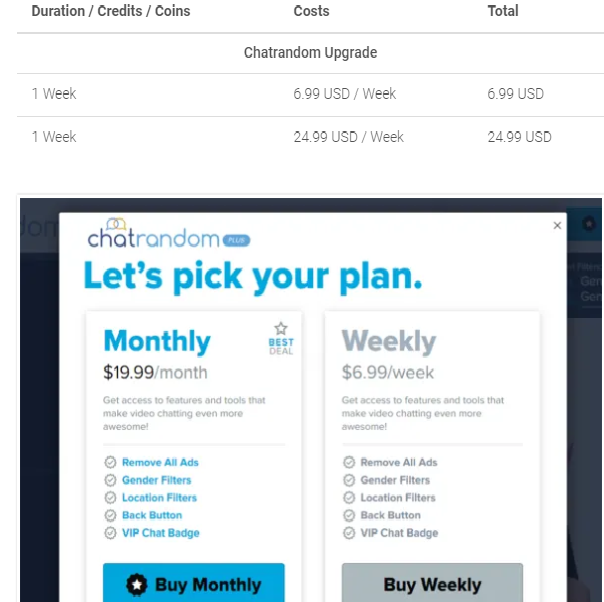 Although the price for premium membership is slightly expensive, you should check out the differences between that and the free membership.
If you register to Chatrandom, you are immediately granted a standard membership which is 100% free. You are allowed to chat with any random stranger, you can join chatrooms and video chats. Remember that even non-registered users also have access to such features. Even though most of these perks are locked behind payment terms, Chatrandom still provides a lot for everyone. So, you can still find casual dates without even spending a single penny. Probably the only downside for having a free membership is having to deal with third-party ads. It gets distracting for the whole experience. So, we can say that it's a price you pay in exchange for not paying anything for the features you use.

If you choose to upgrade your membership and pay a bit, you will have the freedom to choose any chatroom that you like. Filters regarding gender and location can also be used. You are also given a VIP badge and the option to undo or reconnect with a previous user you were able to chat with. And of course, the best thing about it is that you get a seamless and distraction-free experience minus the annoying ads.
Chatrandom.com Design and Usability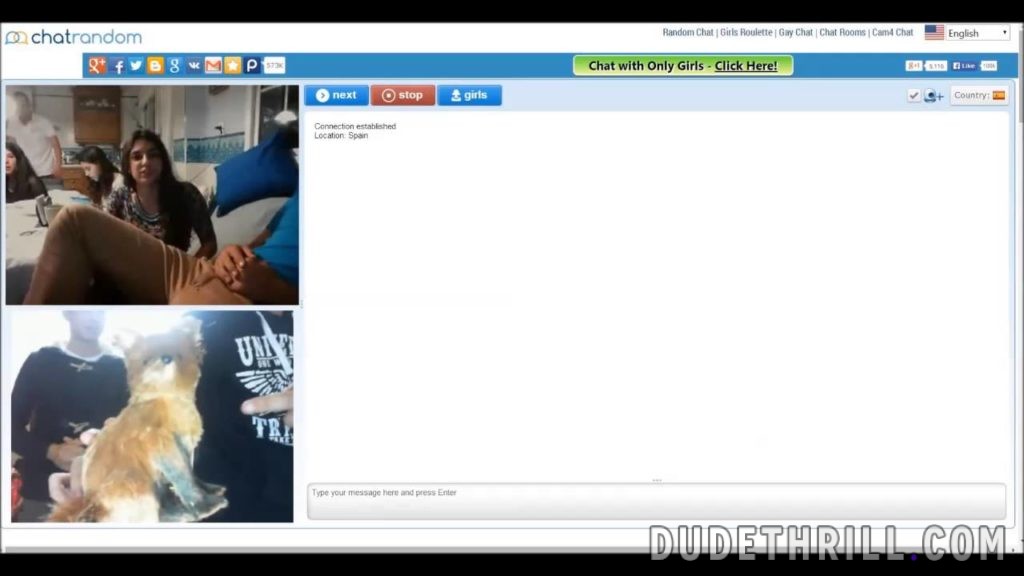 Chatrandom's website is built well and is very user-friendly. The pages on the site are easy to navigate and has simple button icons and easy to read word fonts. You can also choose from more than 20 language options and has quick-search options that will help you connect with other users all over the world. Even its webcam function works well. Once you click start, you will immediately see the site searching for another online user so you can start chatting with each other and your computer or laptop's webcam will also be enabled. A pop-up box will be asking you for permission to access your webcam and microphone features. However, you still have that option to turn off your video streaming if you are not comfortable with it yet. Everything on the website works well and fast so you won't have to worry about lag and slow connections.
As for the website's design and aesthetics, Chatrandom makes sure that they perfectly hit those areas well and at the same time, keeping everything easy to use so users won't have a hard time navigating the site. Despite its nature of being a dating platform, they opted for blue and white color palettes, unlike most dating sites that use darker colors such as black and red.
Their color choice makes it look very clean, professional, and inviting. It is also made up of large fonts that are easy to read. Overall, the website is designed well so that it is pleasing to the eyes and its interface is minimalistic and pretty simple. You won't find any clutter or unorganized areas in their site as everything is conveniently placed so users will easily find whatever button or option they are looking for.

One helpful and common-sense consideration from Chatrandom is how they have a little "Help" section at the bottom of their page. If you ever encounter any problems while you are using the website, you can simply consult and check this section out before you proceed to reach out to their customer support. They even offer online safety tips so you can steer away from online scammers. If you are new to the website and in the online dating world, in general, then we suggest you give it a read.

One downside we've already stated earlier is their ads. It gets annoying especially if you are a free user. For some, it might be bothersome but there is nothing to worry about. They are not placed in locations that will disturb your experience, but rather are placed in vacant spaces. Most of their ads are also not intrusive-looking and are not attention-grabbing so rest assured that you can still look and focus on everything else that matters. If you are a frequent user of Chatrandom, at some point you'll get used to the ads and you won't even notice that they're there.
Account Deletion and Subscription Cancellation on ChatRandom
You can cancel your premium memberships by visiting the account deletion page. If you do so, you have to remember that you will not be refunded for the remaining time you have until your next bill cycle. So if you want to cancel, you may opt to continue just until the next one so you can still use it for a while and it won't be put to waste. Refunds will only be available on some conditions only.
But the bad thing here is that the website does not provide clear parameters regarding such conditions so we can just assume that the refund happening will be based on Chatrandom's discretion only.
If you want to delete your account, you just have to go to your My Account tab. From there, you will find the option to Delete your account so if you click it, you will be receiving a confirmation email regarding your account deletion. Once you have deleted your account, you will not be able to retrieve the action anymore.
Mobile App for Chatrandom.com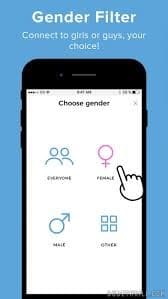 Chatrandom is available for download via the mobile app but only for Android users. You may get it from the Google Play Store without any charge. The mobile app is a more convenient option but unlike desktop and website versions, you'll need to register so you can chat with other people. Everything is still free to use even with the mobile app unless of course, you want to upgrade your account. Apart from the need for registration, everything on the website version is also found on the mobile app. Even the design of the mobile app is suitable for the video chat features and small details like color palette, icon buttons, or text fonts are also taken into consideration to help users enjoy their Chatrandom experience to the fullest.
FAQs About ChatRandom
What is Chatrandom?

It is an online video chat website which targets people who want to meet strangers from all over the world
Is Chatrandom available on a mobile app?

Yes, it has a mobile app available for Android users and you can download it for free.
Is the registration free?

Yes, you can join and chat with random strangers even without registering for an account and everything is free. You will only sign up once you want to upgrade your membership into a premium.
Is Chatrandom available to many countries?

Yes, the website can be accessed in more than 180 countries so you can say that it is available wherever.
Who uses Chatrandom?

Since the website caters to a very diverse audience, strangers who want to talk and meet other people from wherever in the world are welcome here. Only their gender and location can be known; if you want to know someone on a much deeper level, then you'll have to ask personally since the site promotes anonymity and values each user's privacy.
Can I report users?

Yes, you can report someone you are chatting with. You need to have a valid reason as to why you are reporting the user because if not, your account might be terminated. You can also message customer support for any complaints and suggestions since they are always available to assist.
Does Chatrandom have an age restriction for users?

You have to be at least 13 years old to be able to use this online chat platform.
Are the features in the desktop version the same as the mobile app?

Yes, everything you can find on the website is also available and still the same on the mobile app.
What do I need to register for an account?

You will only need a valid email address or you also have the option to log in via FB or Google+ accounts
Can I still use Chatrandom without a webcam?

Although the site's main purpose is to provide a full video chat experience for everyone, you are still free to use text-only chatrooms without needing webcams.
Can I remove my account?

You can delete your account permanently by simply hitting the Delete button on the My Account tab. You will then be receiving an email to confirm your account has been deleted.
ChatRandom's Pros & Cons:
PROS:
PROS
Free registration
Diverse members from different countries
Chatrooms are available even without signing up
Thousands of random strangers you can chat with
Users can log in via FB or Google
Has an email verification process
Lots of useful features
Nice aesthetics and website look pleasing to the eyes
Users can use the features even without an account
The quick and easy registration process
CONS:
Could be used for catfishing or indecent requests
The mobile application is only available for android users
Users 13 years old and above can start using the site so they might be exposed to nudity
Conclusion
Chatrandom has come a long way since it started, and now it has climbed up to the ranks of being one of the most popular online random-video-chatting platforms to exist. With lots of users online at any time of the day, you will be entertained and be able to meet like-minded strangers every time you log in. As for its features, it offers versatile chat options that are not usually offered by other sites. Its video roulette function runs on a solid and reliable software platform so you don't have to worry about being disconnected mid-conversation. The many options that they offer are also great since users can specifically choose what type of people they could interact with. Since they can choose from either text-only chats or video chatting, they are given lots of options to further enjoy their Chatrandom experience.
With all of these things stated above, we can really recommend trying out Chatrandom.
Although some lacking features should have been available which is in most websites, the best thing about it is that you can access the chat and use its features for free and that is something you cannot always see anywhere. Their matchmaking and chat functions work well just like its leading competitors, Omegle and Chatroulette. Although its mobile app is only available for Android users, it is already a great feat bringing that convenience in the palm of your hand. All of these for 0 dollars. Sounds great, right? So come on and visit Chatrandom.com, give it a try and it might just be what you are looking for.
All 42 Other Sites in This Category Worth Checking Out:
TryNectar & 12 Best Sex Chat Sites Like TryNectar.ai Show Me 12 Alternatives for TryNectar.ai A day in the wild world of TryNectar, I found myself knee-deep in some next-level roleplaying with bots. Now, I won't lie; I'm starting to question if I'll ever waltz back into typical dating – yeah, call it an exaggeration, but […]