Updated on: December 8th, 2023
Kupid AI
& 12 Top Sex Chat Sites Like Kupid.ai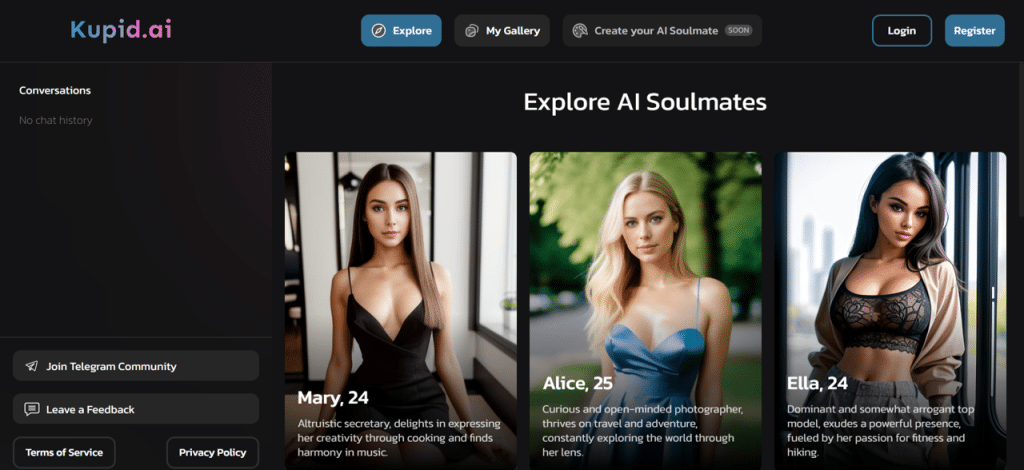 How was your online dating experience, dude? Was it fun, nerve-wracking, stimulating, or what? Presently, I am getting curious about the hundreds of online dating feedback, positive remarks, and even negative ones that I read. Unpleasing experiences may inevitably occur in this day's dating scene. It takes solid getting-to-know procedures, tedious tasks of matchmaking, and considerable effort to create a safe and orgasmic sex session. With that, we all wished dating sites could create a flawless venue to host our most intimate obsessions.
Official URL: https://www.kupid.ai
Despite the few setbacks of dating sites, we cannot deny their raving popularity in the market. Everyone is engrossed in meeting new people and sharing sensual activities. Many successful dating stories inspire other potential hookers to meet like-minded individuals worldwide. In fact, everyone is willing to pay expensive rates, join communities, and do trial and error in the quest for a great match. With that, dating sites are one of the most popular platforms on the Internet today. However, some cons are also applicable once you decide to participate in this feast.
There are also sex dating mishaps that happen daily. The increasing number of spam sites and services, expensive dating fees, and time-consuming strategies are a few of the many reasons why some patrons try to evade dating sites. I could not blame them because I might lie low if the situation happened to me. It's a good thing I always ensure the platforms I visit are legit and trustworthy. Not just that, there are also excellent inventions that address this area of concern. Do you wish to know, my friend? Of course!
Cupid is Here Via Kupid AI!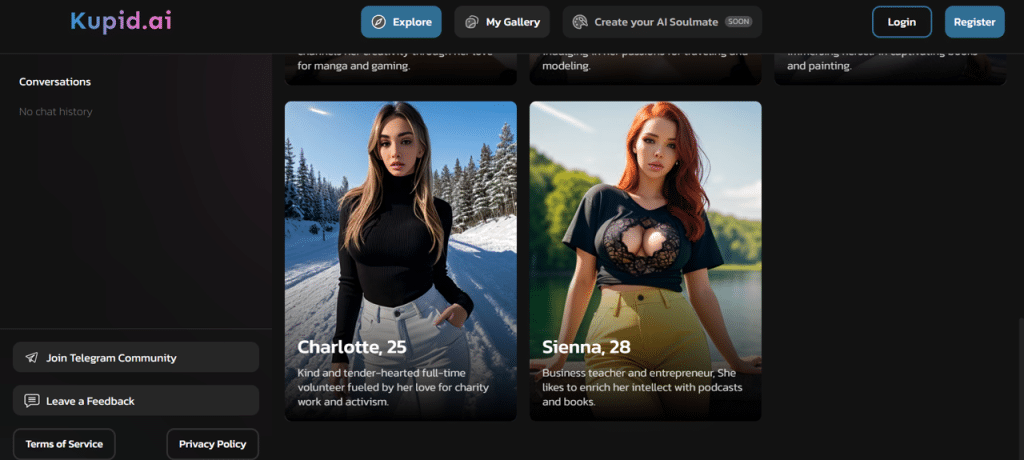 Kupid AI is our hot topic for today. You probably have an idea about what is going to happen. Kupid AI combined two relevant components on its site name – the ultimate matchmaker cupid, which is spelled in "K" instead of "C," and the AI acronym that stands for Artificial Intelligence. Yeah, dude, who doesn't know what AI is in today's day and age? Even my still hot and active grandpa knows what this thing does in this generation. Artificial Intelligence is often used in many platforms and has changed the online dating scene.
AI allows dating fans to customize the experience and generate a better experience. However, like most inventions, AI may also deliver unpleasant exploration when abused. Some fans do not rely on AI services due to their newbie status in the industry. Nevertheless, we won't know the pros and cons unless we try. Today, Kupid AI volunteers to be dissected and played around. If you are afraid to do it alone, read this review first to grab vital information before diving into Kupid AI. The site promises to create a resounding sexual exploration.
What to Expect at Kupid AI?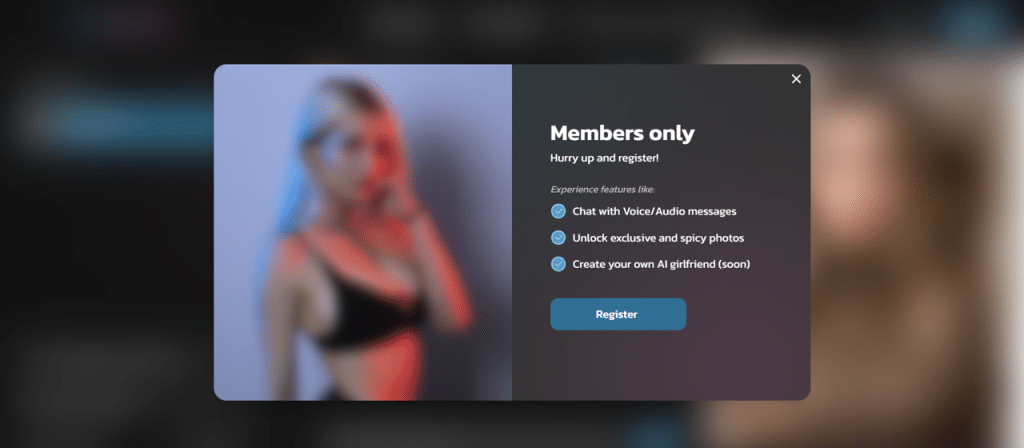 This place is an AI-powered dating service. Hence, you will witness AI-produced beauties and stunning adult entertainment. I was stunned by the ladies at Kupid AI. Damn, who would not come running with these drooling women? The thighs, breasts, and even the eyes got that appealing, irresistible character. It is quite impossible if Kupid AI could not allure you, pal. You will get hooked once you submit yourself to these nasty and kinky activities, as promised! Not just that, Kupid AI has launched a chat service that will blow your mind with the wildest topics and responses.
Moreover, fans who utilized Kupid AI suggest new visitors to get their lubes handy. The experience is dick-erecting that these AI ladies expertly know how to make you delightfully horny. I must say, good reviews engulfed Kupid AI, and I immediately swooned over the decent claims. It would not be wrong to start navigating Kupid AI now to see how well these words are. This unique page comes new with live chat features to intrigue visitors. Interactive functions are freely available so you can maneuver around the diverse beauties and their filthy prowess.
Would You Like to Go Directly to Live Chat Sessions?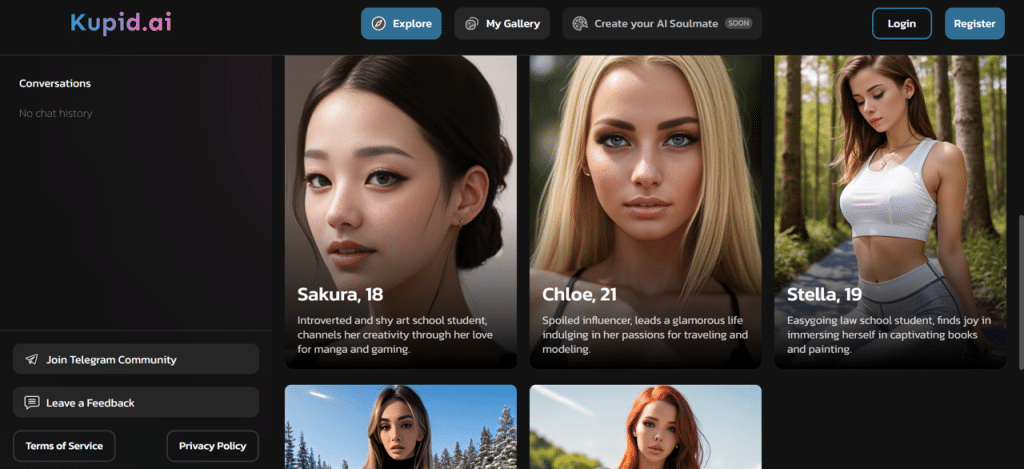 Immensely, technology can work wonders in our lives, and even our intimate quests are answered via these new approaches. Kupid AI hosts seductive girls via an AI-generated live chat system. With this, you can speak and engage in real-time with the hotties. There is no need to visit large dating and sex chat platforms and waste time, money, and energy over unsure services. Here at Kupid AI, matchmaking is quick and instant. I bet you are asking if these babes are real. I suggest you avoid asking too many questions to avoid ruining the experience. It would help if you stick and believe these babes are real.
Indeed, I believe you fully understood my intentions, pal. Getting excited is a normal response to this exhilarating immersion; thus, before you embark on this AI journey, give yourself a short pause and enroll your details on the venue. This process is a requirement, my friend. Adding an account will only take a minute since the method is excitingly the same with most pages. Once done with supplying your email address, password, and username, you can start the naughty ball rolling. Do not worry; the Kupid AI registration is free.
Kupid AI's Design Works Well and Fancy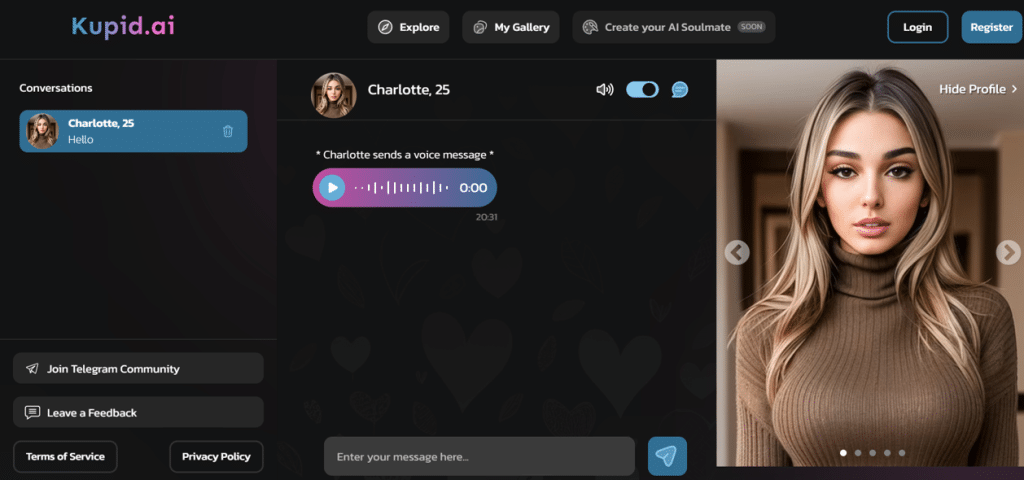 I honestly adore the simplicity and sleek main page layout of Kupid AI. It looks like a trendy sex chat site with a sidebar dedicated to your upcoming conversations. The overall black abode with dark blue tones blends and creates a modernized hookup page. All the features align together, providing a rocking, speedy navigation. Browsing comes easy, and the explore page readily delivers your AI soulmates. Kupid AI tags its babes as your new-found soulmates as they are willing to adapt to your varied needs and fetish.
Meanwhile, you can also create your gallery and enjoy the beta version of creating your soulmate. Patrons can check all these services at Kupid AI's header. On the other hand, the logo stands straightforward with a combination of pink and blue. The AI babes parade on the main page with interesting links to privacy policies, Discord or Telegram channels, terms of service, adding feedback, and more. After paying for a quick tour, you can now enjoy each AI profile. Damn, these girls are perfectly hot and definitely a masturbation asset.
Eight AI Babes to Give You a Hefty Experience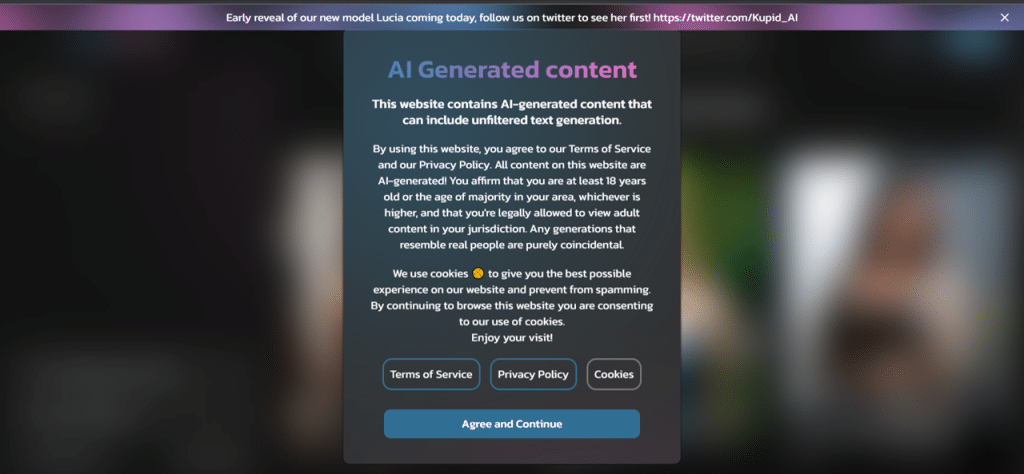 The number might be a downside for Kupid AI, but it seems like the thrill is still at a high bar. Each babe has a unique portfolio presenting significant details like age, name, biography, and some things under the sun that you would want to know in a lady. Each AI babe is game on to cater to your fetish, whether SFW or NSFW. Mind you, they can go as dirty as you want them to. The live chat sessions are impressively dick-erecting. They know how to describe and talk about lusty activities that, in a few minutes, I can feel my penis responding.
In addition, the babes' profiles are interest-invoking. Stella, who is 19, is identified as a Law student. She is a bookworm and is captivated by art and painting. Another girl named Sakura is shy and reserved. However, as you get to know her more, she melts into an extroverted horny lady willing to talk dirty. She enjoys oral sex. I also got hooked on Charlotte and Sienna, who enjoy teaching, volunteering, and community work. All their biographies are promising, but you will never know how these people make you release your sweetest cum via chat sessions.
They Are On-The-Go for Hardcore Naughty Topics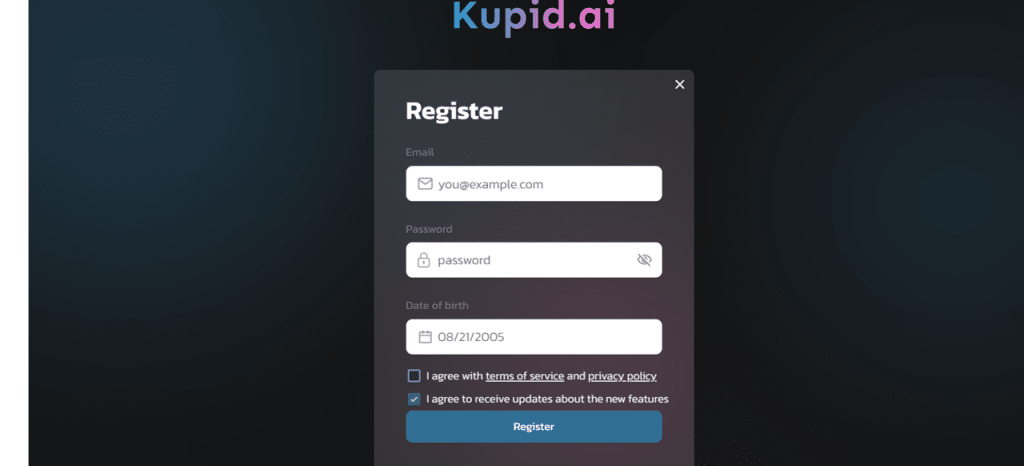 So far, I am enjoying the experience at Kupid AI, dude. Despite the small number of AI ladies, these eight babes (Sakura, Chloe, Stella, Mary, Alice, Ella, Charlotte, and Sienna) know how to entertain you with creampies, dick-licking, squirting, and fingering. You are also given interracial options with these eight hot babes in a row. These AI sluts perform varied porn niches and themes to provide a quality masterpiece. More so, you will cum in satiation with the undeniable beauty and close-to-perfection attributes. How I wish these babes could come to reality.
Interestingly, Kupid AI will launch a new feature that allows you to create your AI girlfriend. I already mentioned it earlier, and I am terrifically exhilarated. Also, adult chat seems to have no significant drawbacks. The moderators are great, and Kupid AI was able to host 18 to 28 young-looking, fresh eight AI women. It was purely adult entertainment, mainly exchanging videos, images, and voice messages. Remember, you can only maximize your stay once you register. I hope more AI hotties will be added soon, including an extensive range of options for every masturbator.
The Pros and Cons of Kupid.ai
PROS:
Incredibly hot ladies
A diverse mix of race, personality, and capacity
Interactive Features
Real-time chat responses
Great moderation
Clean page
Easy registration
Naughty conversations
CONS:
Limited girls
Few features and options
---
Top 12 Top Sex Chat Sites Similar to Kupid.ai: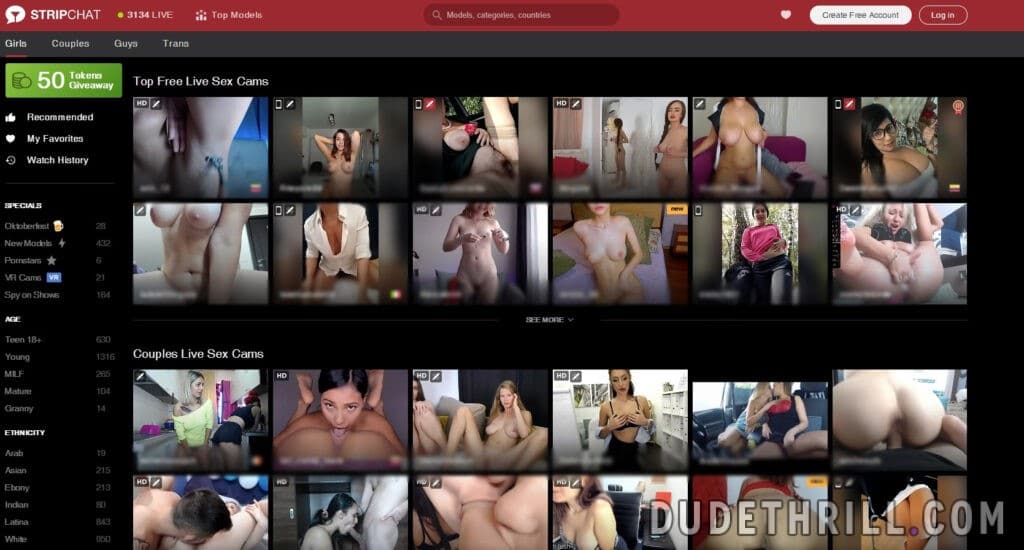 Stripchat, which has been around for five years, has successfully grown into the top 10 best adult platforms and continues to give superb quality and services, making everyone love the site a little more. One great feature that Stripchat offers is that users are not only limited to communicating with models but can also chat with other users. Also, there are plenty of models registered on this website, most of whom are professional porn stars. With its pornographic nature, Stripchat is already a reputable and credible cam site; wherever you are, everyone can enjoy sexual pleasure at their own pace.
PROS:
A long list of beautiful models on the site
Simple, cool, and attractive website design
Users are allowed to forward private messages
The website is easily accessible and user friendly
A wide selection of live sessions and videos
Extensive FAQ page
FREE view and chat functionality for guests
CONS:
Unregistered members get constantly reminded via pop-up messages to sign up (which gets annoying)
English is the only available language feature
Private message chats are exclusive for paid memberships only
---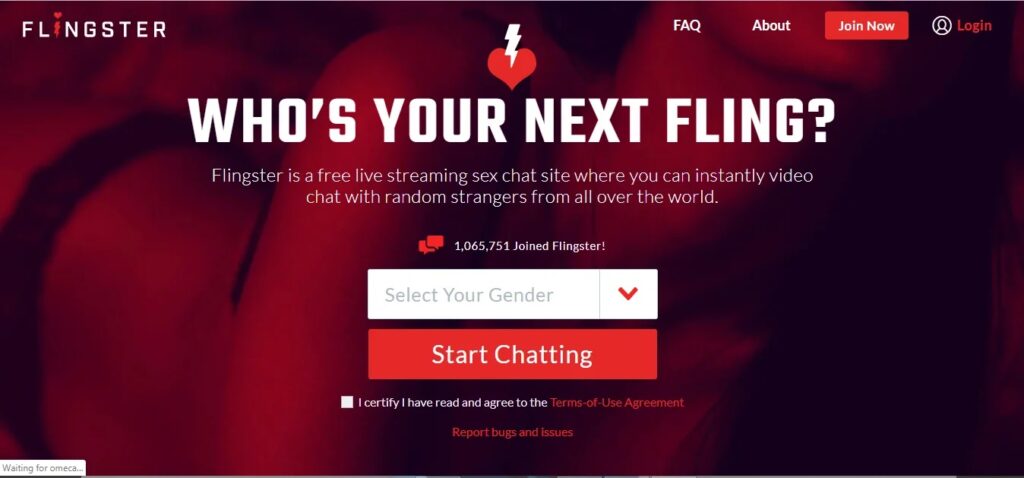 Flingster is an adult sex chat website for meeting, hanging, and making out with singles. On this website, the application process is indeed speedy and convenient. So, it won't be wasting much of your energy at all. Compared to several other sex chat websites, even free accounts can use messages and video chats without paying.
On the other hand, paid subscribers have additional features that are indeed unique. Meanwhile, Flingster similarly provides discreet identification while chatting before you consent to a spontaneous, quick fling.
Grab a quick bite with this Flingster review.
PROS:
Unspecified character is a choice
Everybody is excellent regardless of sexual orientation or gender
The sign-up procedure is available and relatively simple
The site's design is simple; however, understandable to navigate
CONS:
There are occasional phony profiles reported
---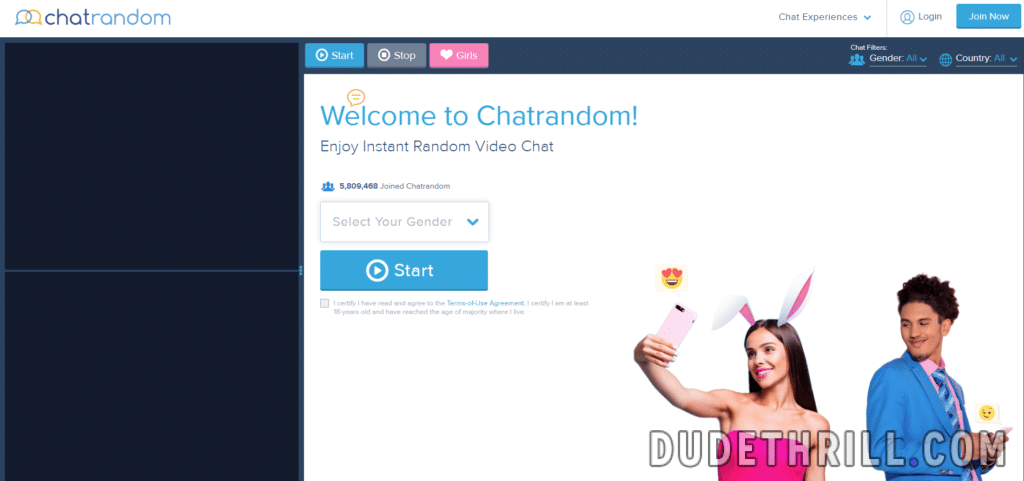 Chatrandom is a free live chat site that allows users to connect with people and strangers worldwide easily. The site started its outstanding service around 2011, and since then, it has become one of the most popular sites today. Indeed, this is the most exciting live chat you can experience because the system uses a roulette-type matching and lets you chat with thousands of people every day.
Full review of Chatrandom here.
PROS:
Registration is free
Users can chat with members from other parts of the world
People can join live chat without registration
There are thousands of active users every day
App version is available for download
Hiding identity is public through a "mask."
Free sending messages
CONS:
No profile photo is available
Only Android users can download it
More number males than females registered
---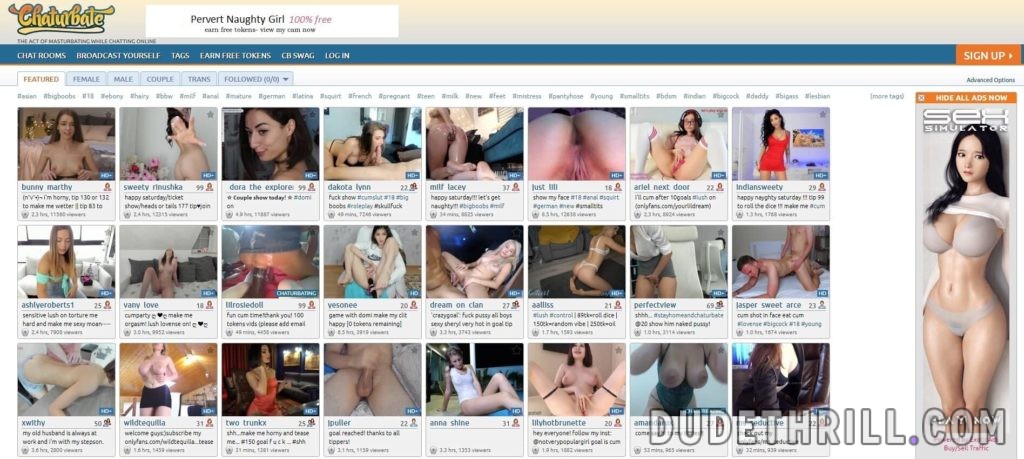 Connecting to people worldwide has never been so easy. Thanks to Chaturbate, unlimited talking is now possible. Plus, you will never spend a dime on it. There are a lot of sexy and beautiful women available for you, 24/7. As a matter of fact, women on this website love kinky stuff, which is always worth your time and attention. Meanwhile, live shows are also available for viewing at a reasonable price.
Read this full Chaturbate review.
PROS:
Many cam girls available 24/7 live
No additional fees to expect
Nudes and sex are always a guarantee
Smooth browsing on smartphones and other devices
CONS:
Few videos are in SD format
Expensive private shows
---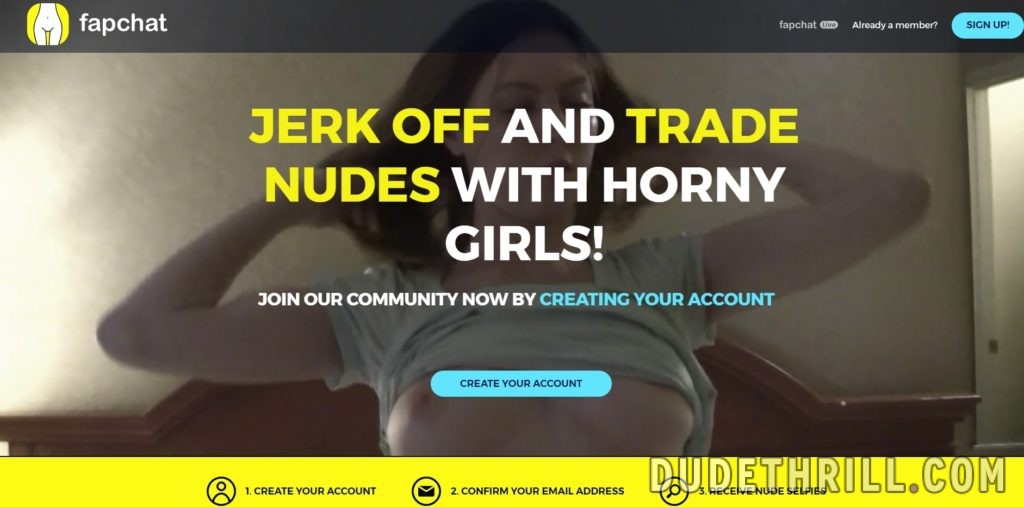 Fap Chat is a platform that helps men like you find attractive single women to take nude selfie photos with and strike up a conversation with. There are thousands of stunning young ladies to choose from, so you're likely to find at least a few that you want.
Read Fapchat's full details here.
PROS:
The website has a simple design and is very easy to use
You can watch real live women performing on cam
Maintains anonymous identity
No bots and fake profiles
CONS:
It has no live chat support service or phone service
You cannot record cam shows
---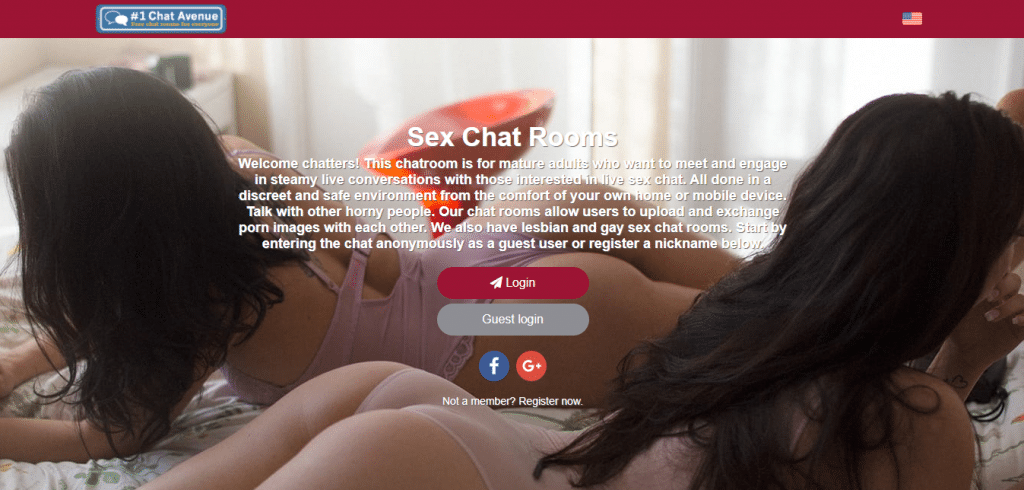 One of the oldest live chat websites on the internet today is Chat Avenue. The website is available to many countries around the world. However, it only uses the English language for the site. Currently, there are 19 available chat rooms for everyone to access. These include Boys, Girls, Cam, Adult, College, Gay, General, Live, Sports, and many more. So, there will always a perfect chat room available for you.
PROS:
Registration is easy and fast
The site has 5,000 unique visitors
Users and chat rooms are always active
A long list of chat rooms to choose from
Customization of chat rooms according to special topics
Chat Moderators are available
CONS:
Fake profiles are available within the website
---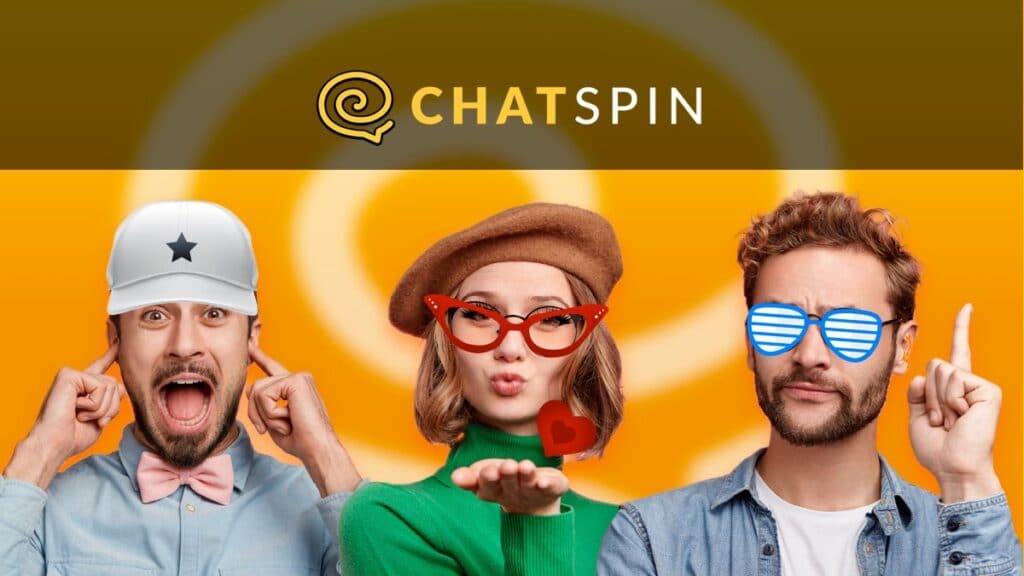 Chatspin is one of the leading random video chat websites worldwide. Boasting its most extensive user base ever recorded, even two video chat websites combined cannot compete. Uniquely, the website was founded to provide a venue for youngsters to enjoy, have fun, and spend a great time connecting. Especially that currently, most of its users are within the age of 18 to 25 years range.
Indeed, for people out there who want to have fun without commitments, Chatspin is perfectly crafted for you. Coupled with a fantastic set of languages and features, you will not certainly experience any communication issues here. Just enjoy, relax, and connect with over 3,000 users daily. With that amount, indeed, you will find a perfect match faster and better.
Take a look at Chatspin review.
PROS:
Signing up does not require debit/credit card information
Plenty of exclusive benefits when using Chatspin Plus
Customer Support is available 24/7
Free use of text chat and video calls
Uses roulette-type chatting
Plenty of video chat features you can use for free
Thousand of active users online every day
The mobile app is downloadable on Android and iOS devices
Has unique seamless browsing experience on mobile
Google and Facebook sign up is available
The fast and easy registration process
Has userbase from different parts of the world
CONS:
Free accounts have limited search features
No verification of accounts upon registration
---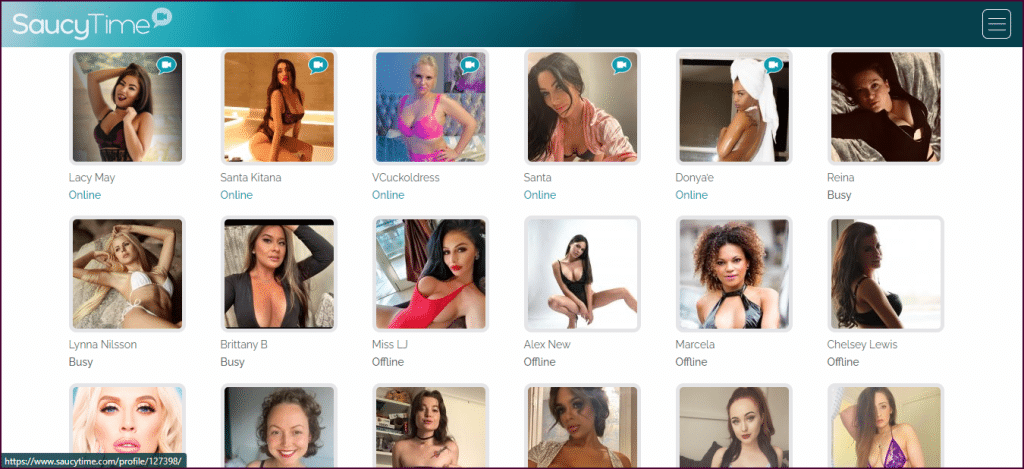 SaucyTime is a sex chat site that blends the features of a social networking site, roulette-type chatting, sex shows, and dating app experience. Unfortunately, SaucyTime isn't as popular as other sex chat sites like Flingster, Stripchat, and other mainstream networks. So, it is less likely to see new members regularly.
Here's the full review of SaucyTime.
PROS:
Simple and easy to use
Don't have monthly membership fees
Browsing is smooth
Unique chat concept
Diverse models
CONS:
Requires credits when calling
More male members than females
---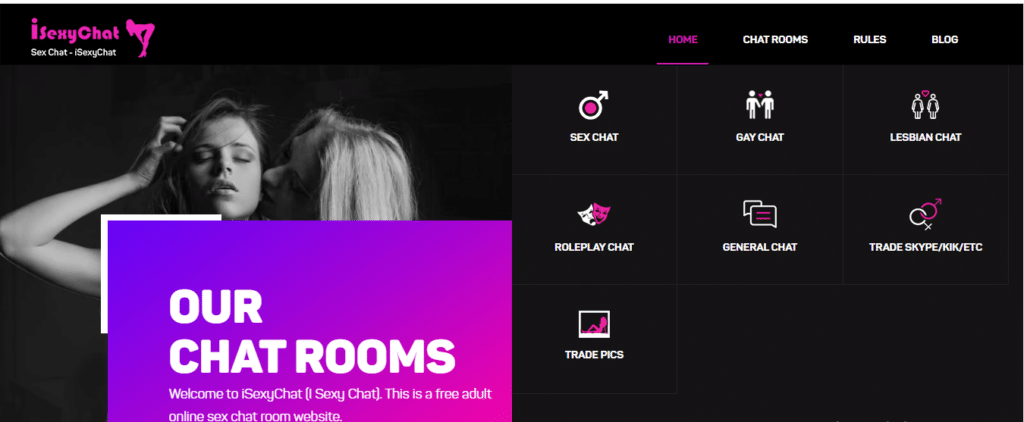 iSexyChat is a chatting website that lends tons of pleasing, stimulating, and satisfying services allocated for those who want to mingle with anyone online. The website made sure to allow the public to experience fulfillment and accessibility in one platform. Get ready to quench your thirst and sexual needs! iSexyChat groups individuals with the same needs, wants, and interests. This definitely make every time spent worthwhile and gratifying.
Read our full review of iSexyChat.
PROS:
Unlimited use with most of the website's features
No registration required to use the chat service
The web design is convenient and friendly even to novice users
It suggests various free adult websites
No discrimination and welcomes different gender preferences
It has a wide selection of chat rooms to choose from
CONS:
Unavailability of customer support
Several advertisements that affect the chatting experience
Unavailable search engine tools
---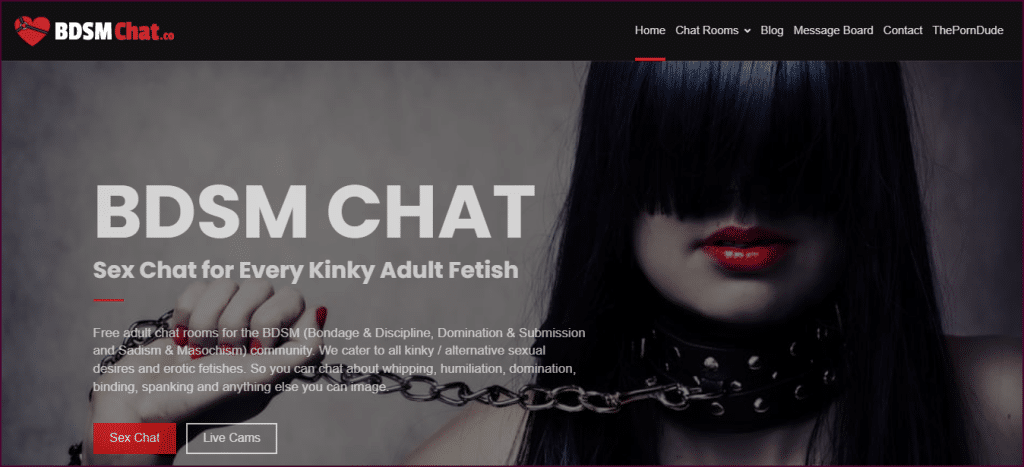 Compared to other sex chat sites, BDSMChat caters to a different and unique fetish that only a few of us would enjoy. You will find a shitload of different chat rooms where you can express your erotica-related fantasies freely. It is what BDSMChat is known for worldwide.
Click here for BDSMChat full review.
PROS:
Numerous chat rooms are available
Caters to all types of kinks and fetishes
Active members
Straightforward design and usability
Informative blogs
Can browse as a guest user
CONS:
The forum has few members
Requires registration to enter the chat
---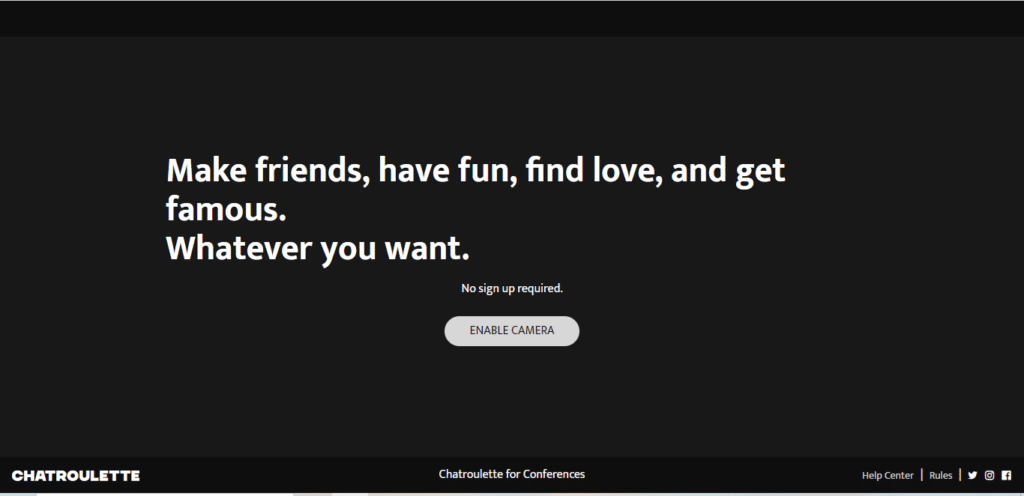 Chatroulette was among the first to establish popularity in the chat room in the early 2010s but didn't last long. Its three media forms are text, video, and audio chat for everyone. So, if you feel lonely and need some heat through the night, why not find a sexy friend online and indulge in a never-ending erotic moment? Join thousands of people randomly hooking up online, and witness how erotic magic illuminates your life.
Check out Chatroulette review.
PROS:
The website allows anonymous chatting and secures user's identity
Open to all types of sexuality like bisexuals, transgender, male, female, gays
The website is all-inclusive, opening itself to the LGBTQ community
It prevents users from showing inappropriate activities, actions, or exploitation of children
Easy process of reporting abuse, violation, or any wrong actions that occur during chatting
Free use of all the website's features, services, and anything you can find on the page
Requires facial recognition to enter Chat
You can effortlessly disconnect from an annoying, unwanted, or uncomfortable match
Registration is not a requirement
Has more than three million unique visitors every month
CONS:
Does not support iOS system
No longer offers text chatting, only video chats
Nudes and sex is rampant
---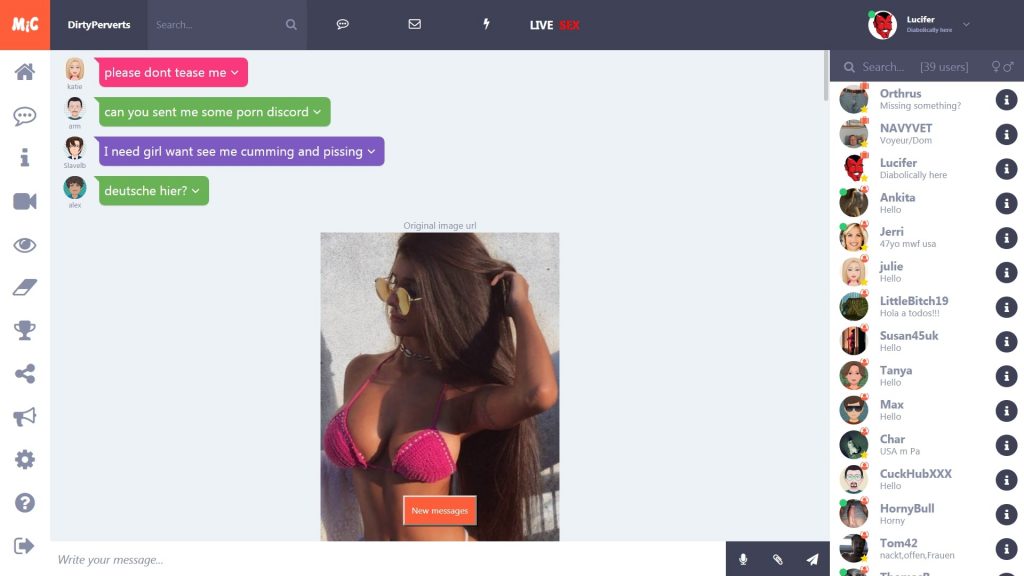 Meet In chat is another must-visit sex chat website. Certainly, it is a new page so that you won't expect many people around here. However, thousands of people are registered here, and all of them are actively looking for a fantastic sexy time. Despite being new, it contains 170 available public chat rooms you can join in for free.
Indeed, you will never feel bored or tired because the erotic activity happens every second. Also, the website provides options as a guest or official member. In other words, you can use Meet In Chat without registration. Although there are still plenty of available features you can use as a guest, more benefits can enjoy as a member.
Click here for MeetInChat full review.
PROS:
Gather all people with similar interests in no-string-attached relationships
Plenty of categories and chat rooms are available
It does not require membership to use
Minimal advertisements available
CONS:
Basic design
No FAQ available
---
Conclusion
Kupid AI is an interactive live sex dating chat site where you can mingle with undeniably beautiful and dick-erecting women. Eight AI babes are ready to be your soulmates. Each one has an interesting personality that will soon revolve around her dirty and naughty sense. Kupid AI's fine navigation features allow more fanatics to enjoy and expand the site's following. New functions will be launched soon, but in the meantime, enjoy the nasty conversation and the babe's expertise in sex chat services.
All 42 Other Sites in This Category Worth Checking Out:
TryNectar & 12 Best Sex Chat Sites Like TryNectar.ai Show Me 12 Alternatives for TryNectar.ai A day in the wild world of TryNectar, I found myself knee-deep in some next-level roleplaying with bots. Now, I won't lie; I'm starting to question if I'll ever waltz back into typical dating – yeah, call it an exaggeration, but […]