Updated on: December 8th, 2023
SaucyTime Review
& 12 Best Sex Chat Sites Similar to saucytime.com
After reviewing too many crazy sites, I think it's time for some vanilla entertainment. And I guess I found the perfect site where you can have vanilla-kind fun while enjoying intense entertainment. This site is called SaucyTime, a sex chat site that delivers a unique blend of sex, social networking features, dating perks, and chat roulette fun! Can you imagine getting all these services, features, and interfaces that no other sex chat sites have ever created? Honestly, I'm pretty disappointed about myself right now that I just recently discovered this online. It's been operating for quite long years, and I guess SaucyTime is not getting the suitable attention it deserves. So, today we are making SaucyTime the star of the show and dig this bitch to the bones!
Official URL: https://www.saucytime.com
It's Saucy Time!
Oh boy, I'm just too excited about SaucyTime. The site has been running for years, and I just recently discovered it, so I literally spent years wasting on hookup apps. Generally, SaucyTime is a sex chat site that blends the features of a social networking site, roulette-type chatting, sex shows, and dating app experience. It sounds really promising and exciting —no wonder SaucyTime ranked among the Top 5 Adult Sex Chat Sites.
Basically, SaucyTime has a straightforward interface. So, once you visit it, you already know its purpose and how to maneuver the entire page. The models available are displayed on the homepage, and each has its personal profile for reference. Currently, there are more male members than females on the site, so the competition is a bit rough.
Even though that's the situation, I found five dazzling models instantly when I tried it out. It looks like what they call "rough" competition isn't as rough as expected. Unfortunately, SaucyTime isn't as popular as other sex chat sites like Flingster, Stripchat, and other mainstream networks. So, it is less likely to see new members regularly.
Ready, Get Set, and FaceTime!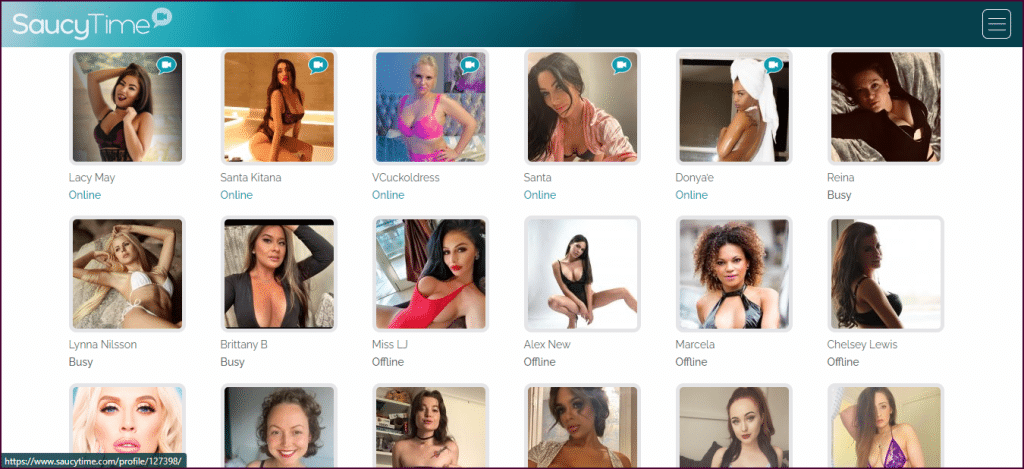 SaucyTime has a long list of available models ready for sex chats. Simply check who's online, and pick the right girl for you. There is a shitload of choices available, so don't worry about not getting a chat mate online. Anyway, once you have selected a model, it's time for the next step.
When your model is in place, you have to pick the duration of your sex chat. In SaucyTime, FaceTime is the primary platform needed for communication, so make sure you have that on your device. You can select short time or long time call length, depending on the credits available in your account. Take note, SaucyTime doesn't have any membership fees, but charges call per minute. Better have backup credits so you won't get cut off while calling.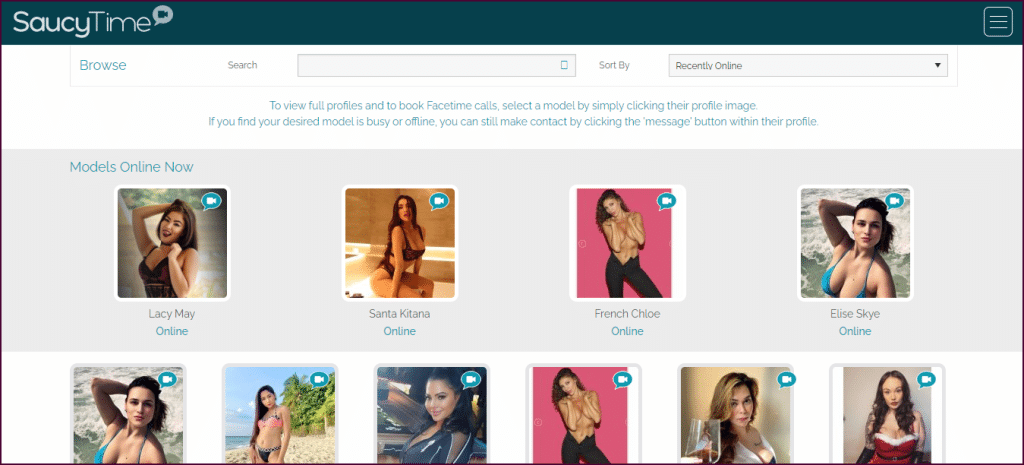 Once step 1 and 2 are settled, put your FaceTime feature to "On" mode, so it's ready for a chat once the model calls. Not all smartphones have FaceTime features, so check your gadget if it's compatible before doing anything silly. Also, ensure you have stable Wi-Fi connectivity and loaded credits.
Just chill and relax if you can complete the whole steps because the model will call you when ready. Just remember to make the most of your time when FaceTiming; I already mentioned that SaucyTime charges per minute, so don't waste any moment with silly chit-chats if you could get straight to the raunchy part.
What You Need to Know About Scheduling Appointments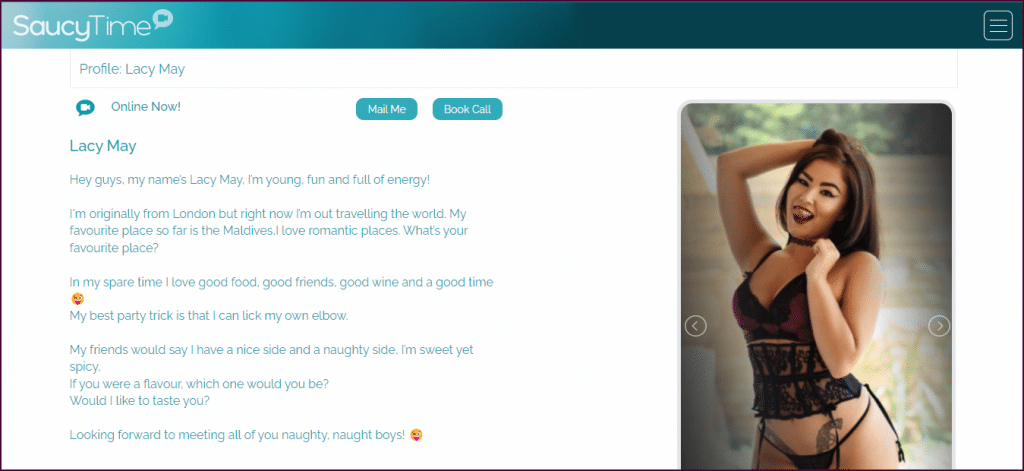 SaucyTime's appointment schedule is a crucial step when sex chatting with models. The team behind the site has provided rules in place to ensure that all connections happening on the site will be successful. I have to remind you that SaucyTime does not organize sex sessions or cam shows compared to other chat sites. Instead, it's a platform where models and users meet and connect. So, whenever you set up an appointment with a particular model, better clear up your schedule first. Models are always ready to pump up when meetings are in place.
Of course, you can't avoid having unstable connections during calls, or worst case, dropping calls. Don't worry; the models will call you up to three attempts. After that, if you still drop the call, you might have to reschedule an appointment again. Unfortunately, SaucyTime does not provide refunds. So, make sure when you set up appointments, everything should be ready, not just for yourself, but also the internet, FaceTime, and other relevant factors.
Not Just Your Ordinary Girls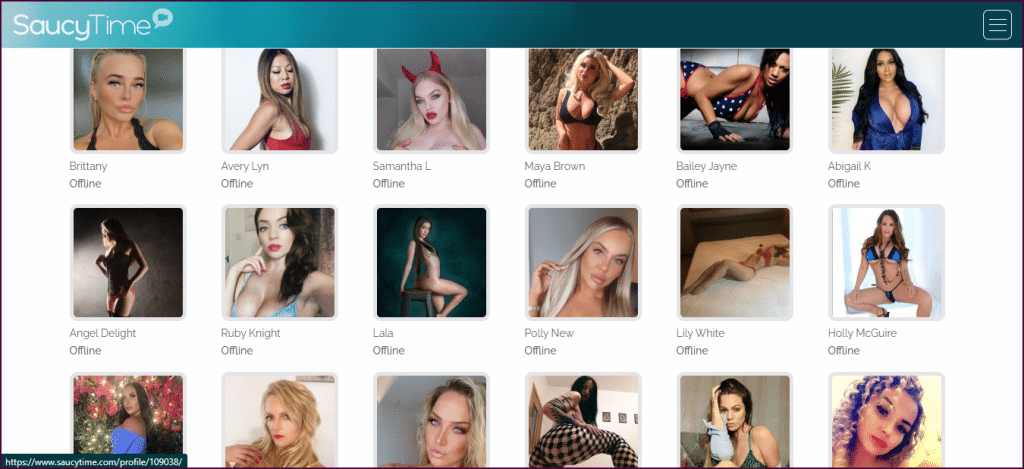 Most of the time, when we visit a sex chat site, its models are typically sluts and whores. You might see some popular ones, but most likely, they are all nude models and sex providers. So, when I checked out SaucyTime's model list, I was pretty surprised with their listing.
First and foremost, SaucyTime is an international-based platform, so don't be shocked when the girls here are scattered across the world. Some are from the United States and Europe, while others are from Arab countries and Asia. But despite the differences in ethnicity, SaucyTime assures that all their models can communicate fluently in English.
Second of all, their models are not just some whore they pick up in the corner streets. In fact, I checked out a few, and there was one girl with a master's degree! Few of them are into sports and have decent jobs in real estate, corporate, and business companies. Certainly, SaucyTime is entirely unexpected. It may not be as trendy like the others, but it will explode like fireworks if given the spotlight!
SaucyTime's Model Profile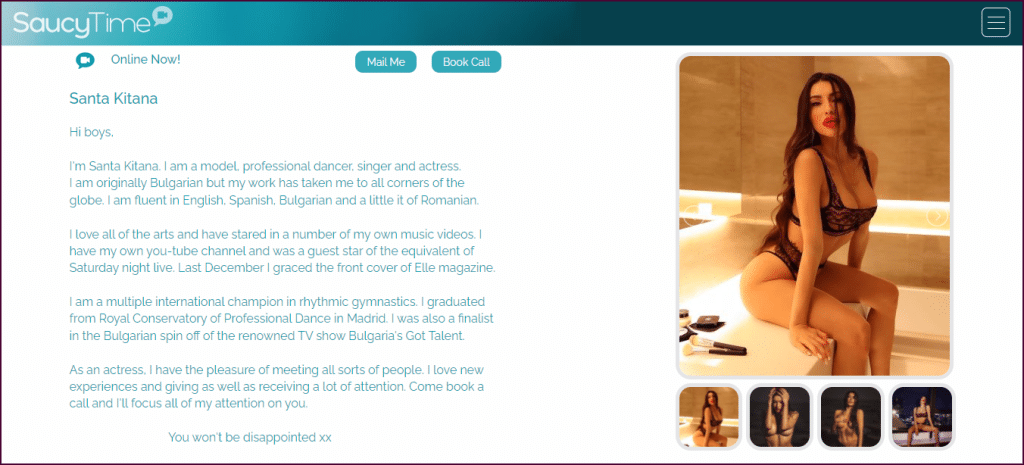 SaucyTime has promising model profiles. When I checked it out, the descriptions were pretty detailed and personalized. It looks like the models themselves have written whatever shit they put up on their accounts. Personally, I prefer it more personalized because it's easier to detect a scam from the real ones. Also, each profile has dedicated photo galleries. So far, I haven't seen any nude photos — so I'm guessing those are probably a no-no on the site. But, definitely, the galleries are hot, suggestive, and seductive.
I found some attractive models on the page, like the girl named Marcela. She's from Brazil and describes herself as sweet and open-minded. After reading the first sentence of her About Me section, I already loved her. She's also a sporty girl and enjoys going outdoors and connecting with nature. From its looks, Marcela seems like the girl perfect for me. So far, I like her experimental, risky, and fun attitude. If I book her for a sex chat session, I'm pretty sure we will have a great time!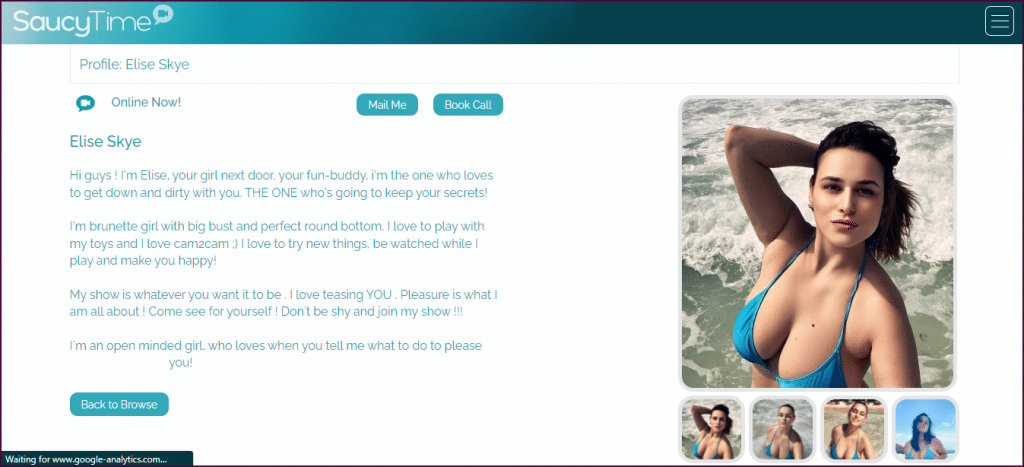 Afterward, I went ahead and checked out another girl named Alexandra. She's pretty young and lives nearby South America. I guess we can get along with a love for music and being adventurous. At 19, she seems mature, but her youthfulness radiates a sweet and energetic vibe. Also, according to her profile, she's very flexible in terms of connection because Alexandra is fluent in numerous languages.
Finally, I checked out Lynna Nilsson. She looks sexy, so I don't want to miss her out. Lynna is brilliant and graduated with an MBA degree. I kinda like her among the bunch because of her interests as a model and a topless DJ. Currently, Lynna lives in the rural area of Austria, far away from the chaotic world of London. After reading some more about her interests in modeling, I already knew she was the one!
How Much Does SaucyTime Cost?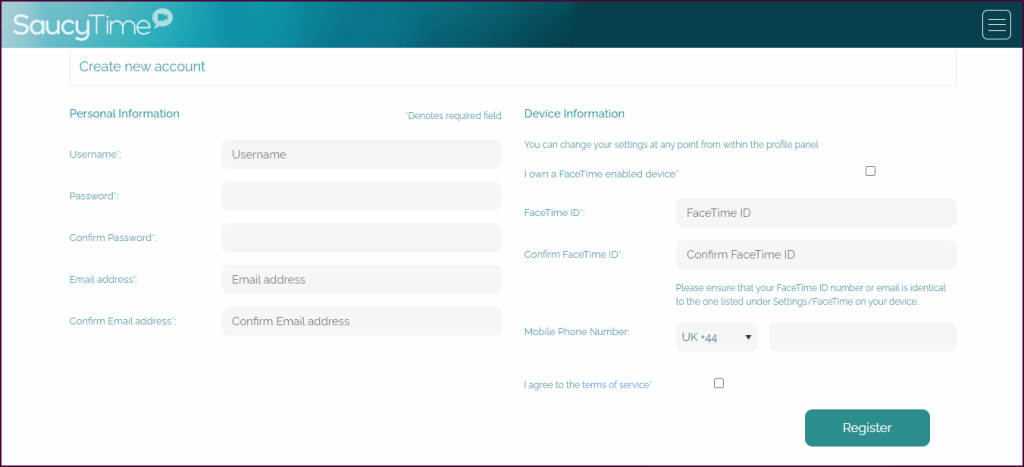 Don't worry about monthly membership fees or subscription-based usage because SaucyTime has none. Generally, the site uses a "pay-per-minute" method, so your purchases would depend on how much you make calls or schedule meetings. SaucyTime uses "credits" as the mode of payment for calls, and these can be purchased through cards, banks, etc. Plus, these credits don't have expirations if not used.
Right now, SaucyTime charges £2/minute call. So, if you're thinking of calling a model for an hour, better load up as many as you can, SaucyTime offers credits for 5 minutes per purchase, and you can buy at least £10.
Apart from no membership fees, what I like about SaucyTime is its appointment feature. As I have discussed a while back, part of its appointment scheduling is the duration or length of call you prefer to avail. So, your account won't be credited beyond the period you set up. The credits will automatically be subtracted from your existing account credits as soon as the call length has been settled.
If you want to extend the sex chat session, you must settle a "continuation" booking. Note that the extended time won't be credited unless you manually do it. SaucyTime has no control over your credits and how long you intend to extend the session.
How Safe It Is?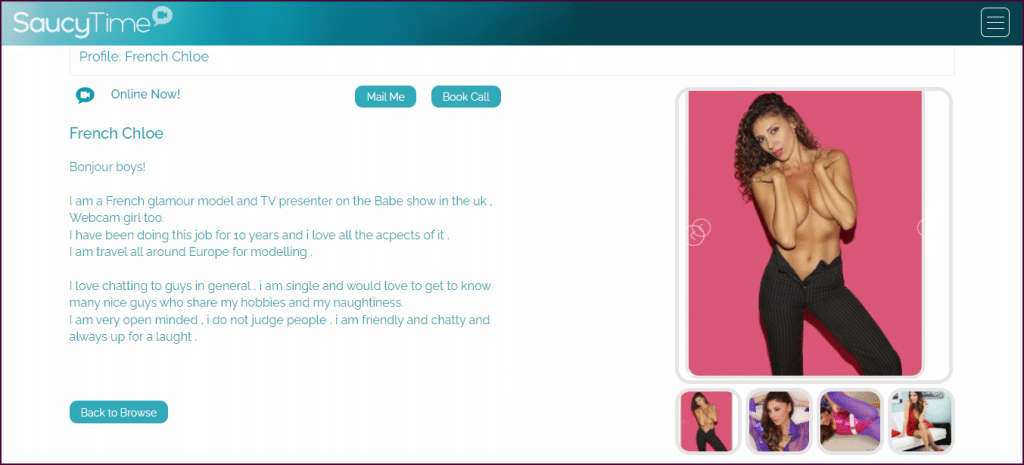 All sex chat sites know that safety and confidentiality are crucial aspects of any platform. Personally, it is also among my main concerns. That's why I took my time checking out the safety of SaucyTime when connecting, browsing, and purchasing credits.
The good thing is that SaucyTime also put safety and confidentiality as its primary concern, so the team behind this amazing site developed a system that protects members' sensitive data. As the site claims, they don't share any information about their models and users to any third-party sites.
Plus, your payments and in-site transactions are highly secured because SaucyTime employs an SSL system. With this, all your credit cards and payment details are encrypted and safe from any breaches. Rest assured that SaucyTime takes security and privacy seriously, so your browsing experience will be smooth every single time.
Pros and Cons of SaucyTime
PROS:
Simple and easy to use
Don't have monthly membership fees
Browsing is smooth
Unique chat concept
Diverse models
CONS:
Requires credits when calling
More male members than females
---
12 Best Sex Chat Sites Similar to SaucyTime.com: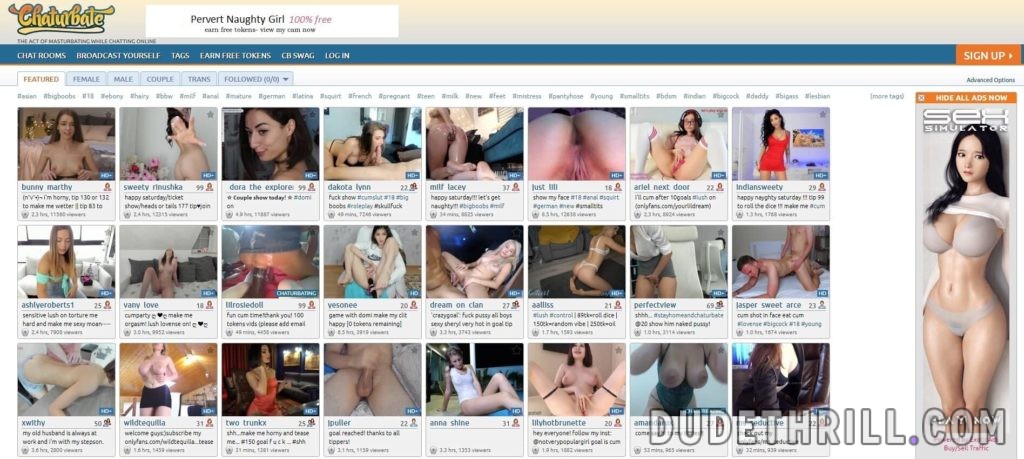 Connecting to people worldwide has never been so easy. Thanks to Chaturbate, unlimited talking is now possible. Plus, you will never spend a dime on it. There are a lot of sexy and beautiful women available for you, 24/7. As a matter of fact, women on this website love kinky stuff, which is always worth your time and attention. Meanwhile, live shows are also available for viewing at a reasonable price.
Here's the full review of Chaturbate.
PROS:
Many cam girls available 24/7 live
No additional fees to expect
Nudes and sex are always a guarantee
Smooth browsing on smartphones and other devices
CONS:
Few videos are in SD format
Expensive private shows
---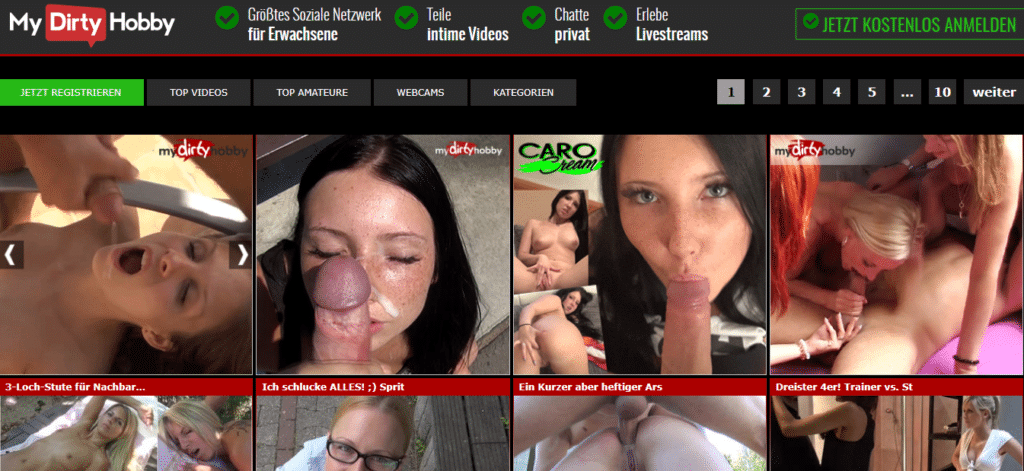 Germany's best live sex cam website, My Dirty Hobby, brings everyone together. Coined as one of the largest adult social networks to ever grace the Internet, MyDirtyHobby is more than just its intriguing and interesting handle; it is a haven for amateurs who like posting homemade sex videos and provocative photosets. It is an interactive community that will live up to one's expectations, especially if you look for a reliable source of adult porn and live sex sessions.
It has plenty of members video chatting and messaging daily. Also, the website allows the members to gain money by joining cam shows. Indeed, My Dirty Hobby has a fantastic set of cam girls waiting to have a naughty time with you.
Click here for MyDirtyHobby full review.
PROS:
Different contents according to specific interests
Design is simple and easy to use
Regular updates
Do not need membership payment
CONS:
Downloading is not available
---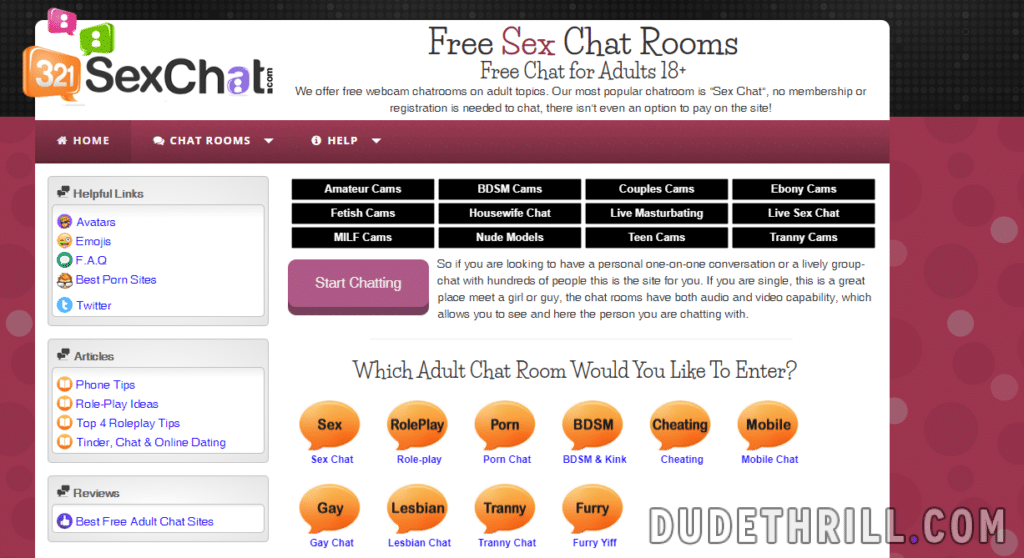 A masterpiece made by Greg Barrow, 321SexChat is a sex chatting website founded in 2002. Formerly, the website previously known as the 321Chat website contains plenty of chat rooms for adults, kids, and teenagers. Indeed, it has all the benefits an adult sex website could have. Not to mention, it is safe, smooth to browse, and fun to use.
PROS:
Essential features and functions are available for free
The Mobile version of the website is smooth and user-friendly both on iOS and Android devices
Can customize profile accounts
Maintains anonymous identity of the users
Free use of video chat
You have the option to use the free version
Design is simple yet very easy to use
The browsing experience is smooth, and no lags
Plenty of categories and chat rooms you can enjoy
Compatible with all smartphone devices
CONS:
Contains advertisements
Using Private Rooms is not for free
---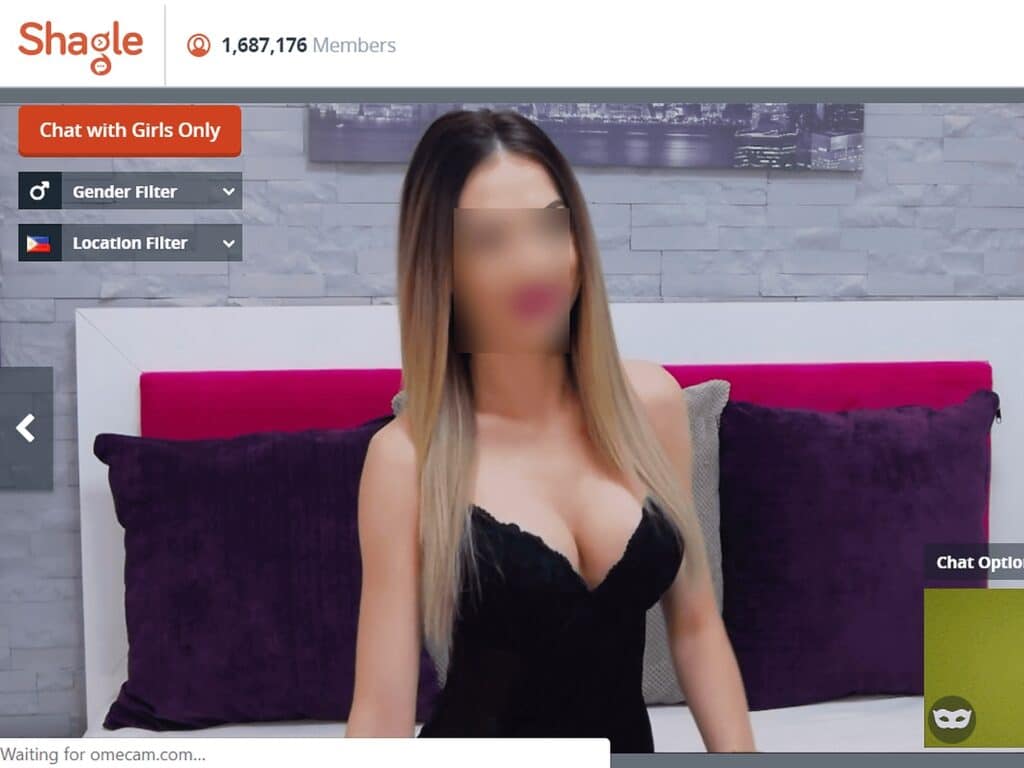 If you are considering a superb venue to video chat with strangers and gorgeous hotties, then certainly, the community of Shagle would be an excellent option for you. You can discover lots of diverse people with various interests on this page.
Hence, creating a connection and understanding are the main focus. Also, it has an outstanding balance of people aged 25 to 55 years old, suggesting that you can always find the right match on this platform regardless of how young or old you are.
Click for a full review of Shagle.
PROS:
The intelligent algorithm ensures you will not talk to the same person two times
It has millions of members around the world
A maximum of 5 minutes will require to register
Free members have plenty of benefits and feature to enjoy
Available in 70 different countries
Rule s and regulations are available and required to follow to maintain the user-friendly experience
Features and communication tools are plenty
It does not require personal information to register
Free sending of text messages
Free use of live video chat
No language barriers because of Translation Tool
CONS:
Not available in-app version
You cannot access additional features using a free account
Video quality is average
---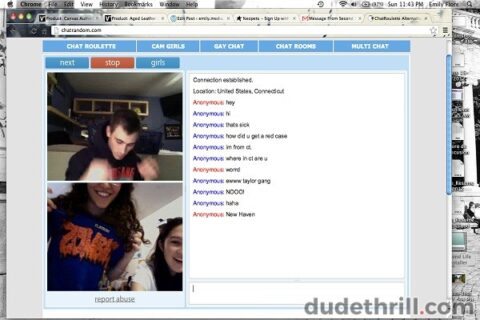 Chatrandom is a free live chat site that allows users to easily connect with people and strangers worldwide. The site started its outstanding service around 2011, and since then, it has become one of the most popular sites today. Indeed, this is the most exciting live chat you can experience because the system uses a roulette-type matching and lets you chat with thousands of people every day.
PROS:
Registration is free
Users can chat with members from other parts of the world
People can join live chat without registration
There are thousands of active users every day
App version is available for download
Hiding identity is public through "mask."
Free sending messages
CONS:
No profile photo is available
Only Android users can download it
More number males than females registered
---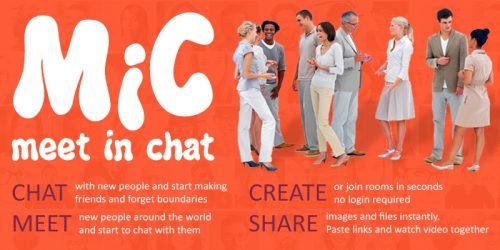 Meet In chat is another must-visit sex chat website. Certainly, it is a new page so that you won't expect many people around here. However, thousands of people are registered here, and all of them are actively looking for a fantastic sexy time. Despite being new, it contains 170 available public chat rooms you can join in for free.
Indeed, you will never feel bored or tired because the erotic activity happens every second. Also, the website provides options as a guest or official member. In other words, you can use Meet In Chat without registration. Although there are still plenty of available features you can use as a guest, more benefits can enjoy as a member.
PROS:
Gather all people with similar interests in no-string-attached relationships
Plenty of categories and chat rooms are available
It does not require membership to use
Minimal advertisements available
CONS:
Basic design
No FAQ available
---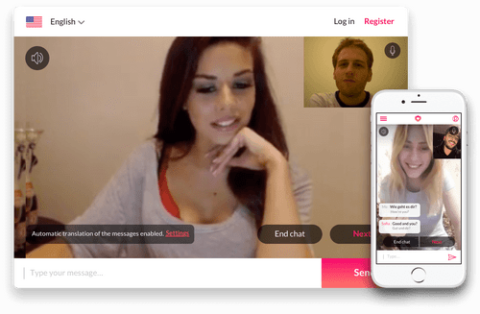 Released in the year 2019, LuckyCrush is the latest website that offers single people casual video chats. LuckyCrush can provide you with the best live sex cam experience ever. Equipped with the best features, members, and opportunities, LuckyCrush has remained to deliver the chance of meeting a perfect sex buddy. Above all, it has a wide range of choices, from being completely exposed to or remaining anonymous to identity throughout live chats.
Take a look at LuckyCrush review.
PROS:
Connects you to random people worldwide
Users can flirt with anyone from various countries
A data breach is not a problem because data is safe within the site
Chat features are comfortable and easy to use
Many girls registering the site are gorgeous and hot
The site employs unique quick searching to make matching more efficient
CONS:
Some features require payments
---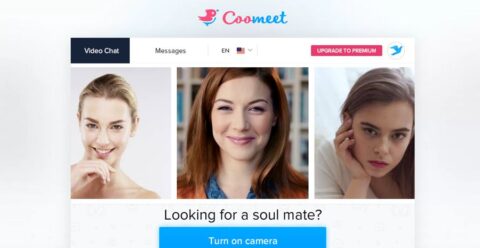 Coomeet is a live cam and chat website that made the life of many people easy and refreshing. There are numerous websites on the internet now that give unbelievable features, and clearly, the Coomeet website is among them. Despite being a new website, it did not stop standing out and delivering users the best chatting performance. Because of its constant striving, it became what it is today.
Most of all, the website's unique features helped people find their luck in dating and hookups compared to other websites. Thus, if you have not experienced live sex chats before and feel bored with your life, head over to Coomeet. Truly, you will experience the perfect live chatting ever, with a bonus of real sex and kinky stuff.
PROS:
Thousands of women are active online every day
There are available girls within the 18 to 40 age bracket available so that everyone can find suitable matches
High-quality webcams
Stable video streaming
Free accounts can access all the website's features
An easy and smooth mobile browsing experience
Emojis are available
Private chats and video calls are available
No advertisements
Facebook and Gmail log in are available
CONS:
When doing things out of the guidelines, the website will deduct minutes from the video plan
Picking the gender of the person you want to talk to is not possible
---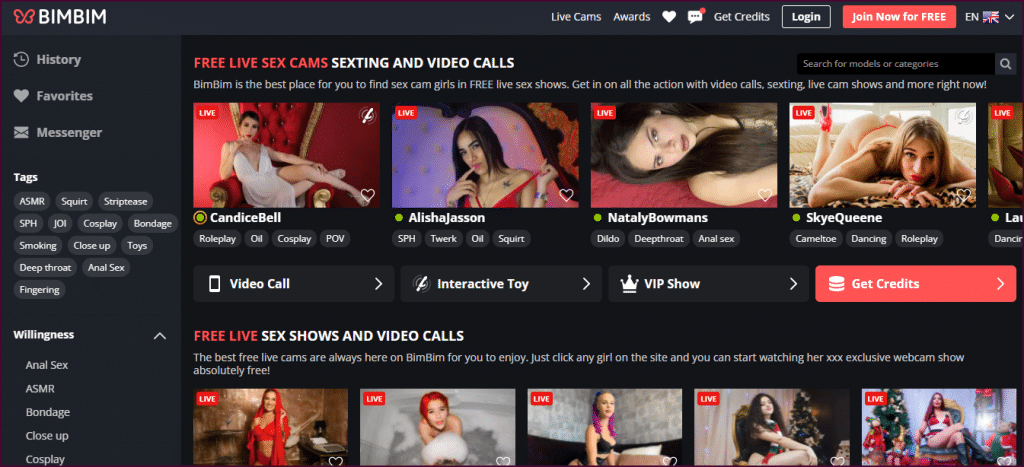 When you join BimBim, you will immediately notice that it functions and acts like a social networking site, coupled with interactive features and excellent services. With an Instagram-like look and experience, BimBim is the ultimate desktop site and smartphone app for real sex cams. They also include well-known and up-and-coming models so that everyone can get the right dose of the perfect cam girl of their dreams.
PROS:
Offers free coins upon registration
It has an impressive collection of content creators
Lots of free stuff
Fantastic variety of live shows
Exclusive chats with Camgirls
Safe and secure
Basic navigation and simple design
CONS:
Downloading is not available
Coin bundles are pretty expensive
Some features require membership
---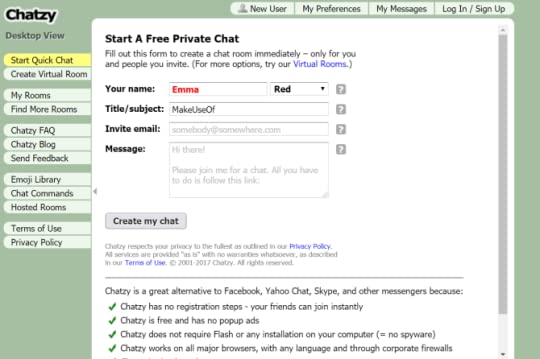 Since Chatzy.com is not a conventional dating website, it sees itself as a credible option to other social media sites like Skype. It's uncomplicated to set up an account, and once you've done it, you can launch chat rooms without sharing any personal details.
Users benefit from creating their chat rooms or joining one of the thousands of available chat rooms on the website. Somehow, Chatzy's concept seems somewhat outdated; however, it does not imply that the website is not highly recommended for romance.
Click for a Chatzy full review.
PROS:
Registration is easy and safe
Has thousand available chatrooms you can join
Huge user base
You can create chatrooms freely and share them with anyone
It has instant messaging available
CONS:
No searching option
Old-fashioned design
No available profile pics
---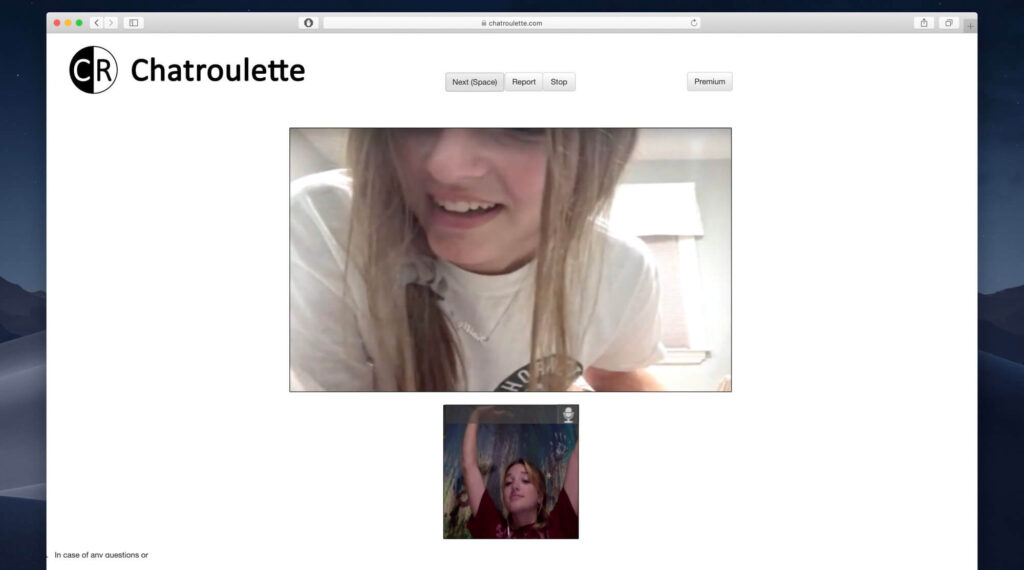 Chatroulette was among the first to establish popularity in the chat room in the early 2010s but didn't last long. Its three media forms are text, video, and audio chat for everyone. So, if you feel lonely and need some heat through the night, why not find a sexy friend online and indulge in a never-ending erotic moment? Join thousands of people randomly hooking up online, and witness how erotic magic illuminates your life.
PROS:
The website allows anonymous chatting and secures user's identity
Open to all types of sexuality like bisexuals, transgender, male, female, gays
The website is all-inclusive, opening itself to the LGBTQ community
It prevents users from showing inappropriate activities, actions, or exploitation of children
Easy process of reporting abuse, violation, or any wrong actions that occur during chatting
Free use of all the website's features, services, and anything you can find on the page
Requires facial recognition to enter Chat
You can effortlessly disconnect from an annoying, unwanted, or uncomfortable match
Registration is not a requirement
Has more than three million unique visitors every month
CONS:
Does not support iOS system
No longer offers text chatting, only video chats
Nudes and sex is rampant
---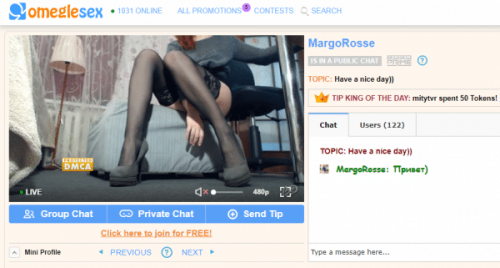 Omegle is a widely known random live cam and sex chat website. Initially, this suet advocate creating and building connections, meaningful relationships, and friendship with random strangers. Something that conquers prejudice in personality, ethnicity, and culture. Indeed, the people behind Omegle aim to provide an excellent platform for everyone that allows them to connect and interact with other people worldwide.
So, if you enjoy chatting, talking, and just having fun, you will undoubtedly enjoy Omegle. With its unique features and design, talking through text or video is easy-peasy! Swift off that loneliness and boredom, and indulge yourself with the pleasure of chilling with random strangers.
Click here for a review of Omegle.
PROS:
Topics and discussions are limitless
You can personalize your experience by adding interest to make matching more precise
You can use live video for convenient video chatting
Maintains anonymous identity of members
People or users actively replies to messages
There are around 30,000 users you can talk to daily
Best venue to find strangers randomly
No registration required
You may use university-based e-mails to get matching with fellow university students
You can effortlessly disconnect from boring undesirable chat mates
CONS:
You may encounter perverts
Many users are into dirty and naughty chats
There were some reported bots within the website
---
Bottomline
For so long, SaucyTime has been behind the spotlight in the adult entertainment industry. But after checking this site today, I personally think it needs the proper attention it deserves. With its concept of blending features of a social networking site, dating app, and fun cam chat, the team has created a one-of-a-kind sex chat platform. SaucyTime may not be as perfect as other mainstream cam sites, but it delivers more than I expected. I might suggest some improvements to their design and features, but the site works perfectly for sex chat purposes.
All 42 Other Sites in This Category Worth Checking Out:
TryNectar & 12 Best Sex Chat Sites Like TryNectar.ai Show Me 12 Alternatives for TryNectar.ai A day in the wild world of TryNectar, I found myself knee-deep in some next-level roleplaying with bots. Now, I won't lie; I'm starting to question if I'll ever waltz back into typical dating – yeah, call it an exaggeration, but […]