Updated on: December 7th, 2023
Emerald Chat Review
& 12 Best Random Video and Adult Chat Sites Like emeraldchat.com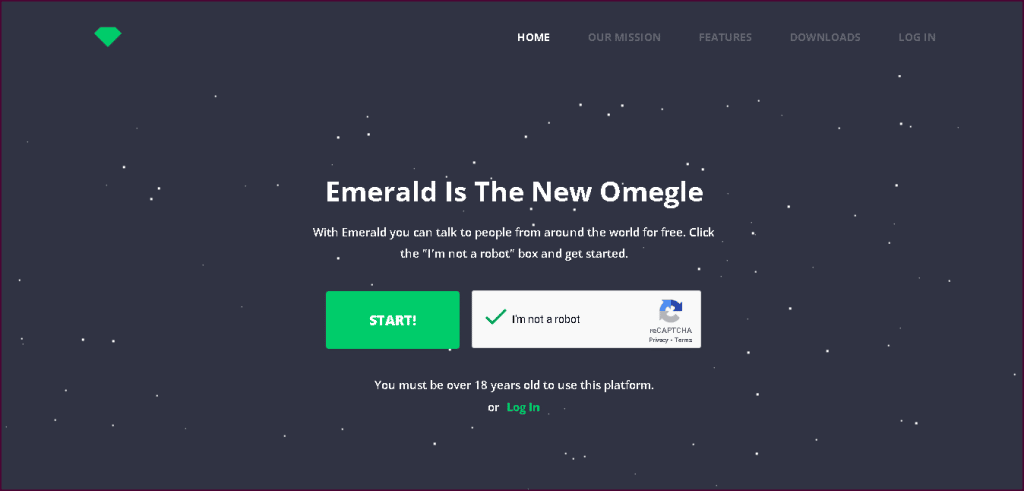 Despite repeated evidence that random chat services are dangerous, the World wide web refuses to allow this kind of website to disappear. Emerald Chat, which calls itself the "new Omegle," has recently joined the crowd of random chat sites. Similar to Omegle, EmeraldChat lets you talk to random strangers from all over the world in real-time using your PC camera or smartphone, and there's no need to sign up for anything. But does it really keep up with its claims? Let's find out below.
Official URL: https://www.emeraldchat.com
EmeraldChat: The New Omegle
After the site Omegle debuted online, many sites have popped up too, claiming they have similar and even better features than Omegle. However, not all these sites were successful enough to penetrate the mainstream scene and eventually crashed. Fair enough, Omegle is a massive and popular chat site that's hard to beat, so I'm not surprised how many times these websites attempted to overthrow it.
But, one site is making noise online and boasting its innovative features that are better than Omegle — ever heard about Emerald Chat? No? Well, keep on reading because this will be a comprehensive exploration of the site's features and services. This site is a brand new addition to the adult entertainment industry, and to my surprise, Emerald Chat has been getting a lot of attention from chat fans.
As the people say, Emerald Chat has no bots or users who spam the chat box, unlike Omegle. Once you enter its dungeon, you can enjoy roulette chatting away from bots and fraud profiles.
As you already know, Omegle is notorious for its bots and serious spam messages. That's probably the main complaint of users when using it. Luckily, we got Emerald Chat and finally enjoyed an endless flow of authentic users.
Did you know it's a free roulette video and adult chat site? Yes, you read that right. Everything here is free, and no hidden charges when browsing. Even the features, chat, and video calling services are free. According to the site's admin, they have developed Emerald Chat for adults only, and provide them with a suitable and convenient platform to talk, flirt, and even date.
Start Your Roulette Video and Adult Chat Adventure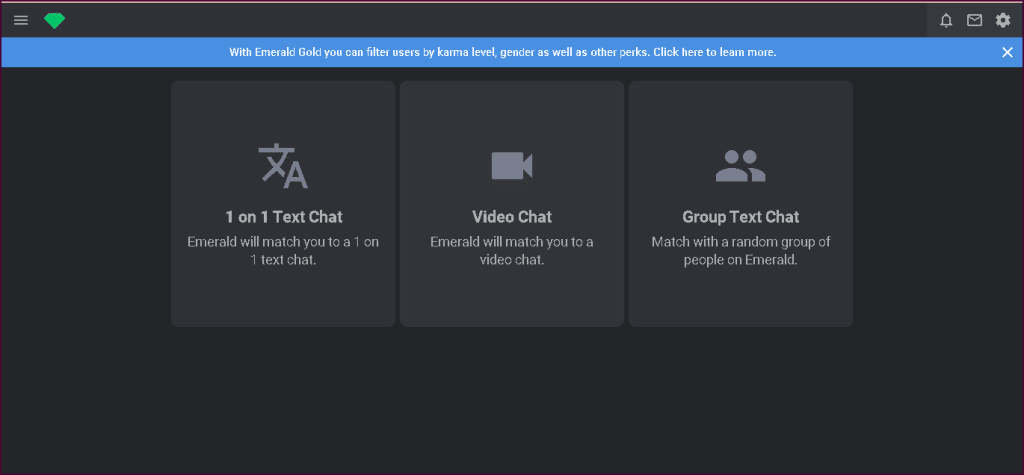 Emerald Chat provides a guideline when you enter the site and register an account. In fact, you are required to follow a tutorial on navigating the site properly and get in-site information about Emerald Chat. But since you are here already, let me guide you on how to start your adventure here in the most straightforward ways possible.
The moment you register an Emerald Chat account, you will be greeted with a blue menu on the left side screen. Just click on that to start chatting, and pick one appropriate chat feature suitable for you. Currently, the site offers chat options like text chat and video chat.
To select the Chat Text feature, pick the one with an "A" logo. This button will take you directly to its chat page and match you to random strangers. You can also customize your chat feed by putting hashtags about your interests or preferences. Meanwhile, the Video Chat feature is the best way to find a perfect hookup match. You can find this right beside the Chat Text button. This feature is effortless to use; all you need is a camera. Don't forget to allow the site to access your cam and microphone devices to start video chatting.
Why Do You Need Emerald Chat?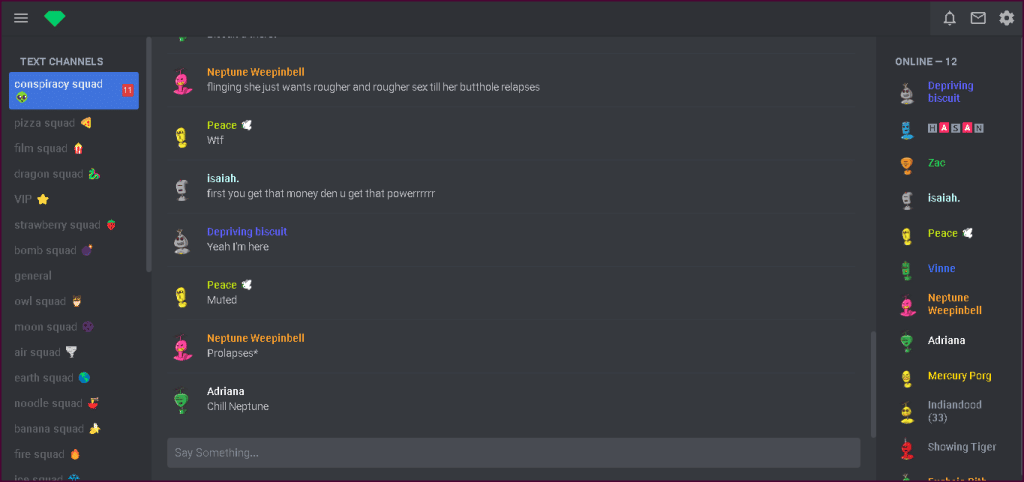 With overflowing roulette video and adult chat sites nowadays, finding a reliable one is a great challenge. Many people demand more options and sources, and the sites popping up now aren't providing satisfying services and features. Even the ever-famous Omegle is facing backlash from users because of its bots and spam messages.
This is where the Emerald Chat site enters the scene, and it's ready to conquer the world of roulette video and adult chat sites; the site aims to provide people with a reliable matching system based on users' preferences and interests. Its algorithm's pretty convenient and easy to use; you can talk to people without hassle.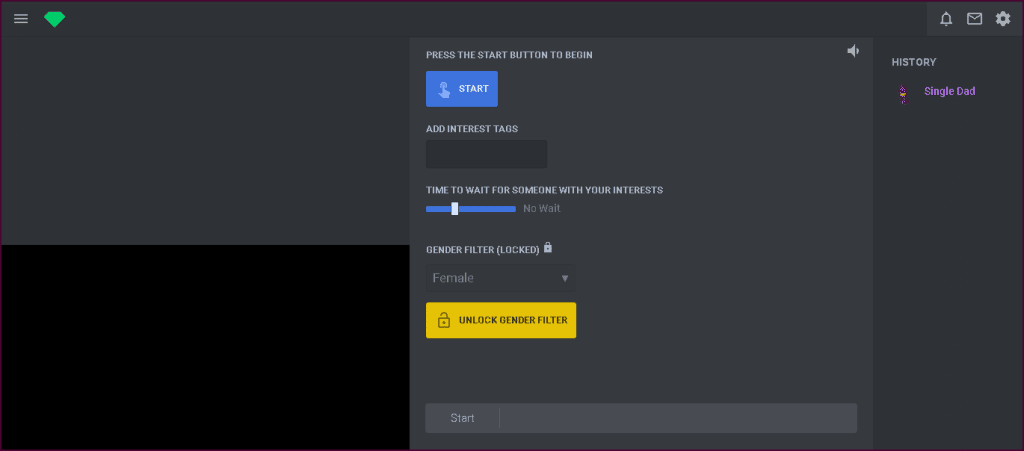 Basically, Emerald Chat wants to create an innovative platform where users can enjoy meeting and chatting with strangers without worrying about their safety and privacy. In fact, lots of people have expressed their favorable experiences with Emerald Chat and how they were able to meet new friends and hook up through the platform.
Additionally, this site offers a chat system without the annoying ReCaptcha issue. Unlike Omegle, which requires ReCaptcha verification, Emerald Chat provides smooth communication. I'm already starting to think that this site is actually the new Omegle — even better!
Site's Quality of Users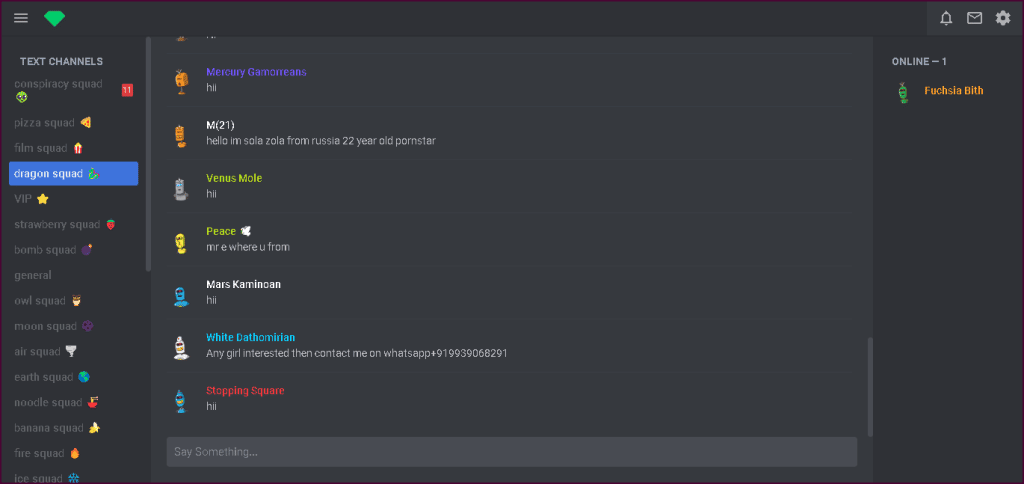 As I mentioned previously, Emerald Chat has reached global stardom. That's why many people from different countries and walks of life use its chat services. On average, people from the United States occupy a massive proportion of its user pool. There were also a few users from India, Britain, the Philippines, and Canada. Of course, there's more diversity on Emerald Chat than on the surface, so don't be surprised if you get matches all over the world.
The majority of the users here are males, but overall, Emerald Chat has a good gender proportion. Anyway, just don't get disappointed when you get matches with male users; that generally happens on any roulette chat site. Meanwhile, Emerald Chat offers a gender filter feature that lets you filter your matches to your preferred sexual orientation. However, this feature is not available for free and can only be accessed when you purchase a premium subscription.
Premium Perks for Emerald Chat Members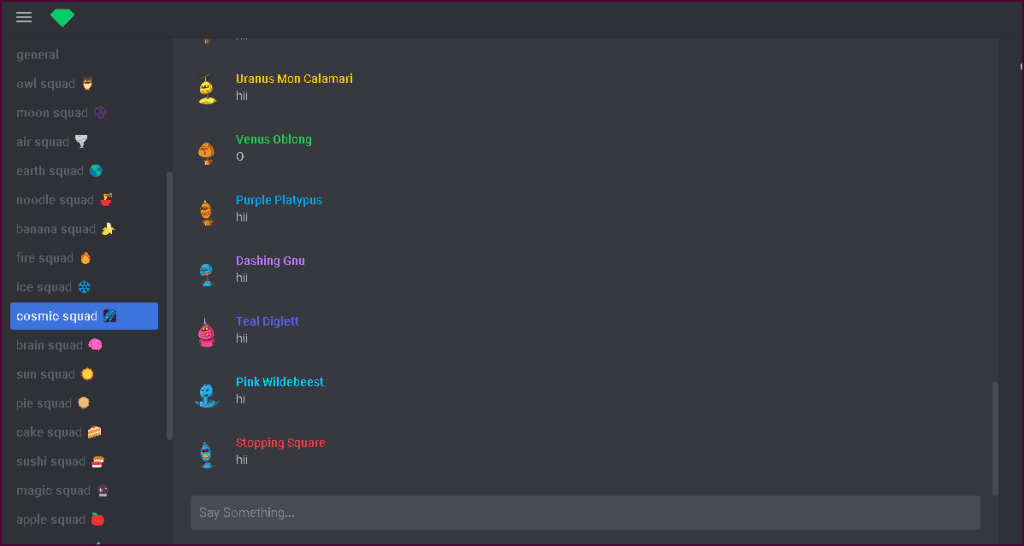 So far, Emerald Chat has been showing us great features and services available for free. But are you aware that you can experience much bigger perks once you upgrade to a premium membership? Yes, that's right! On top of chatting and video calls, premium members can filter their matches by karma level, gender, and strangers. These filter options will surely enhance your matches and talk to people within your preferred criteria.
Additionally, your account will have a verified badge beside the username. It may sound useless, but having this badge will increase your credibility on the site and enhance your chatting experience. Lots of people will be reaching out to you because of your authenticity. Plus, the premium members can enjoy special treatment on-site by getting all the priority matching recommendations first. This means that if you're a basic user or guest, you will get the leftovers of premium members.
Take note all these premium perks and features are available for only $3.89 monthly! Sounds affordable, right? Hell yeah! Imagine all the good stuff you can get without spending a hefty price. I guess not all adult chat and video sites offer this kind of deal, and if in case they are, you won't get the same perks. You must live under the rock if you think you can find better sites for a much lower price. Perhaps, this is the time we can all agree that Emerald Chat is an excellent roulette video and chat platform and has been giving us benefits after benefits!
Are We Safe at Emerald Chat?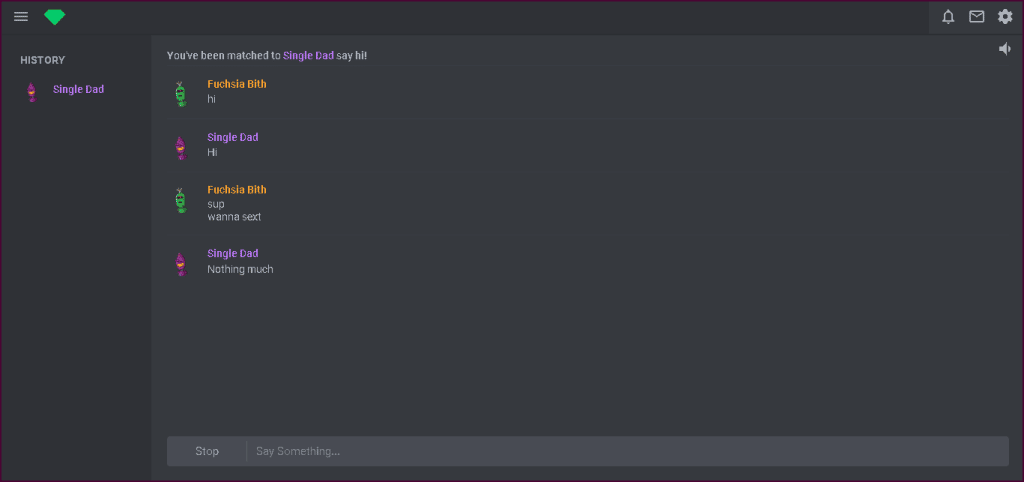 With lots of scam sites nowadays, it's not surprising that people have gotten used to asking whether the site they are using is safe or not. Aside from hooking up and relationships, safety, and privacy are the most important things we desperately try to protect. That's why I am now addressing this safety issue when using Emerald Chat. For everyone's information, this site is generally safe. I already mentioned previously that Emerald Chat has no bots or spam messages, unlike Omegle; thus, your safety is 100% guaranteed.
However, it doesn't mean that you won't be careful throwing out your information to strangers. In general, when visiting a new site like Emerald Chat, it is best to conduct a little research and see if it protects your safety in all possible ways. If you can't find any security and privacy details on a particular dating website, then use that issue as your basis before registering.
Moreover, if you encounter malicious and predatory activities on the site, especially on Emerald Chat, you can always rely on their customer support system for assistance. In fact, you can report this user directly on the Help page. Let me remind you, always follow your instincts because that's your best protection from any harm. Not to mention, this could also help other site users because you're taking down malicious accounts away from the chat platform. Finally, if you decide to stop using Emerald Chat, the customer support system is available 24/7 to terminate your membership and account anytime.
Pros and Cons Emerald Chat
PROS:
Lots of users from numerous parts of the world
Verified users
Free registration
Free to use
Premium membership provides more benefits
Reliable matching algorithm
It has a gender filter and karma level rate
Intuitive design and features
Can use without registration
Safe and discreet
CONS:
Some features available to premium members
---
12 Best Random Video and Adult Chat Sites Similar to EmeraldChat.com: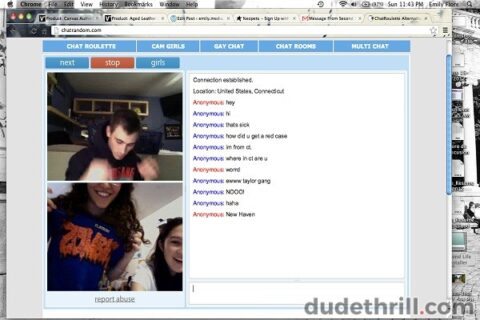 Chatrandom is a free live chat site that allows users to connect with people and strangers worldwide easily. The site started its outstanding service around 2011, and since then, it has become one of the most popular sites today. Indeed, this is the most exciting live chat you can experience because the system uses a roulette-type matching and lets you chat with thousands of people every day.
Here's the full review of Chatrandom.
PROS:
Registration is free
Users can chat with members from other parts of the world
People can join live chat without registration
There are thousands of active users every day
App version is available for download
Hiding identity is public through a "mask."
Free sending messages
CONS:
No profile photo is available
Only Android users can download it
More number males than females registered
---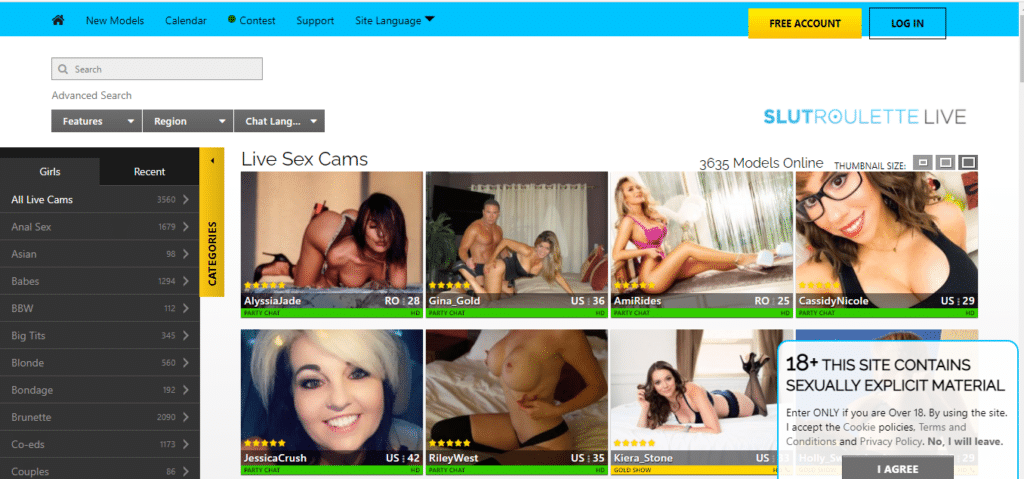 Are you tired out of the same old porn videos? Do you wish to spice things up a bit more and say goodbye to your dull, pathetic night? Say no more because the SlutRoulette website is here to answer your never-ending prayers.
SlutRoulette has been around for many years now. Indeed, it was able to gain the respect and admiration of many live sex cam fanatics. Certainly, there are no traces of old-fashion elements, graphics, and layout you can see. It has pretty straightforward functionality that even newbies would easily understand how it works.
Click here for a full review of SlutRoulette.
PROS:
Registration is free and easy
Various selection of Live categories is plenty
The mobile app is free to download
The mobile app is well-matched with all gadgets and phones
Updates regularly
Chatting in chat rooms are free of charge
Free to switch from one person to another in a split second
Private and gold shows are available
Thousand of models to choose from
Community is diverse and shares different interests
Members are active daily
Scams and fraud have no place on this website
CONS:
No hook-ups available
There are some models with expensive rate
---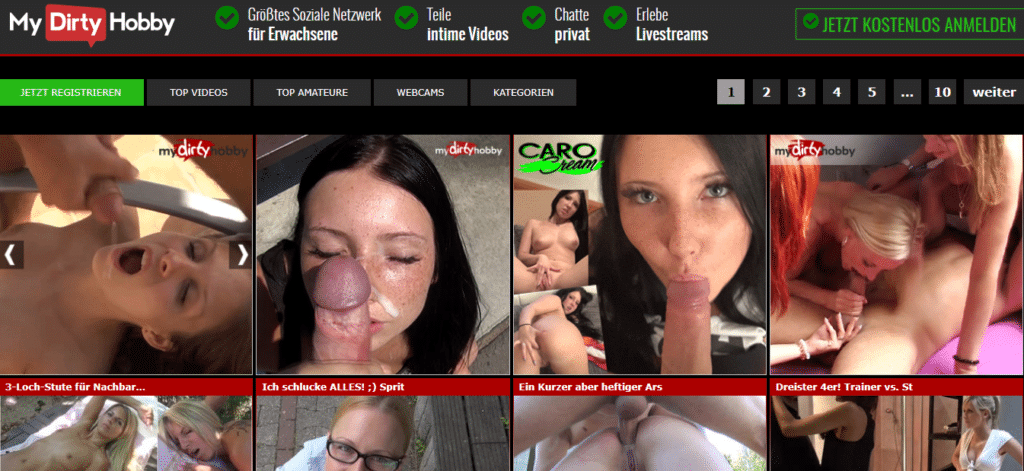 Germany's best live sex cam website, My Dirty Hobby, brings everyone together. Coined as one of the largest adult social networks to ever grace the Internet, MyDirtyHobby is more than just its intriguing and interesting handle; it is a haven for amateurs who like posting homemade sex videos and provocative photosets. It is an interactive community that will live up to one's expectations, especially if you look for a reliable source of adult porn and live sex sessions.
It has plenty of members video chatting and messaging daily. Also, the website allows the members to gain money by joining cam shows. Indeed, My Dirty Hobby has a fantastic set of cam girls waiting to have a naughty time with you.
PROS:
Different contents according to specific interests
Design is simple and easy to use
Regular updates
Do not need membership payment
CONS:
Downloading is not available
---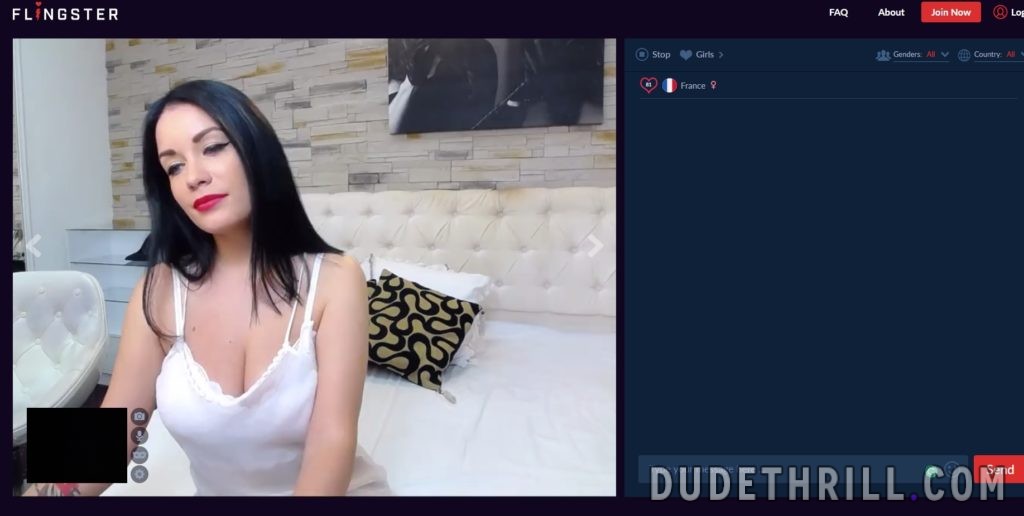 Flingster is an adult sex chat website for meeting, hanging, and making out with singles. On this website, the application process is indeed speedy and convenient. So, it won't be wasting much of your energy at all. Compared to several other sex chat websites, even free accounts can use messages and video chats without paying.
On the other hand, paid subscribers have additional features that are indeed unique. Meanwhile, Flingster similarly provides discreet identification while chatting before you consent to a spontaneous, quick fling.
Click to see the full review of Flingster.
PROS:
Unspecified character is a choice
Everybody is excellent regardless of sexual orientation or gender
The sign-up procedure is available and relatively simple
The site's design is simple; however, understandable to navigate
CONS:
There are occasional phony profiles reported
---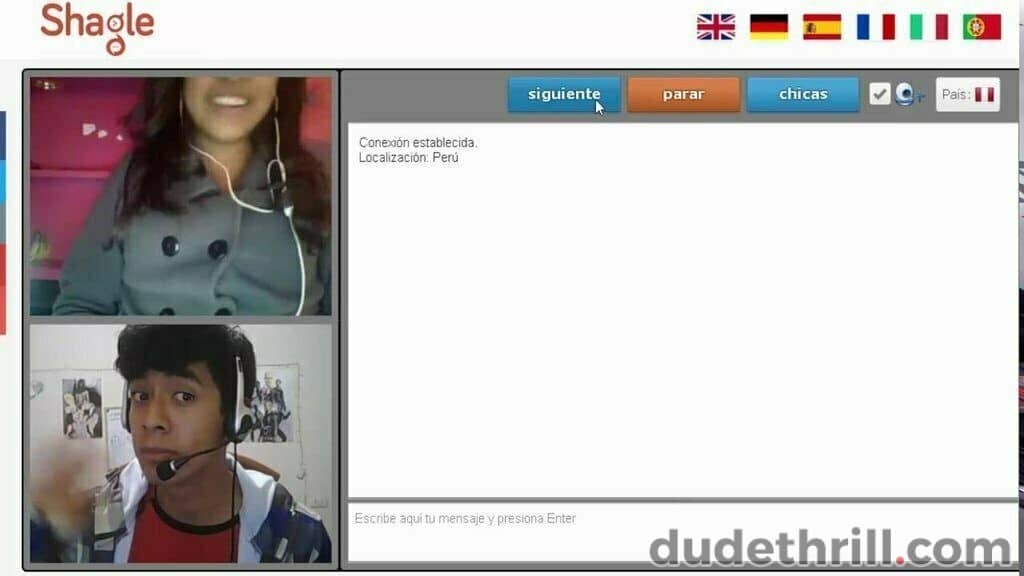 If you are considering a superb venue to video chat with strangers and gorgeous hotties, then certainly, the community of Shagle would be an excellent option for you. You can discover lots of diverse people with various interests on this page.
Hence, creating a connection and understanding are the main focus. Also, it has an outstanding balance of people aged 25 to 55 years old, suggesting that you can always find the right match on this platform regardless of how young or old you are.
Check out the full review of Shagle.
PROS:
The intelligent algorithm ensures you will not talk to the same person two times
It has millions of members around the world
A maximum of 5 minutes will require to register
Free members have plenty of benefits and feature to enjoy
Available in 70 different countries
Rule s and regulations are available and required to follow to maintain the user-friendly experience
Features and communication tools are plenty
It does not require personal information to register
Free sending of text messages
Free use of live video chat
No language barriers because of Translation Tool
CONS:
Not available in-app version
You cannot access additional features using a free account
Video quality is average
---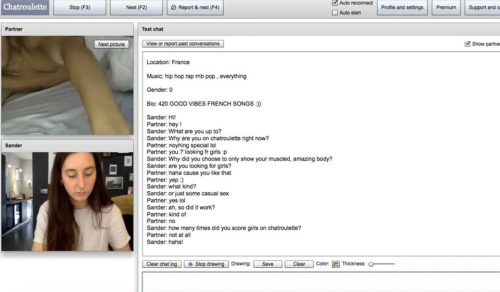 Chatroulette was among the first to establish popularity in the chat room in the early 2010s but didn't last long. Its three media forms are text, video, and audio chat for everyone. So, if you feel lonely and need some heat through the night, why not find a sexy friend online and indulge in a never-ending erotic moment? Join thousands of people randomly hooking up online, and witness how erotic magic illuminates your life.
Take a look at the full review of Chatroulette.
PROS:
The website allows anonymous chatting and secures user's identity
Open to all types of sexuality like bisexuals, transgender, male, female, gays
The website is all-inclusive, opening itself to the LGBTQ community
It prevents users from showing inappropriate activities, actions, or exploitation of children
Easy process of reporting abuse, violation, or any wrong actions that occur during chatting
Free use of all the website's features, services, and anything you can find on the page
Requires facial recognition to enter Chat
You can effortlessly disconnect from an annoying, unwanted, or uncomfortable match
Registration is not a requirement
Has more than three million unique visitors every month
CONS:
Does not support iOS system
No longer offers text chatting, only video chats
Nudes and sex is rampant
---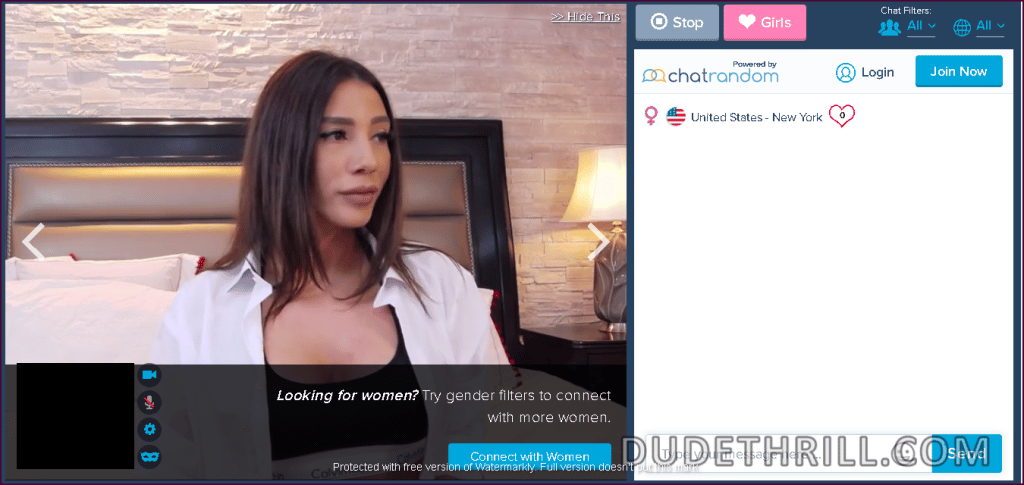 If you are a fan of adult cam and video chats, you might have heard about Fruzo. This website is not just a typical video chat platform; instead, it acts as a social networking site. Indeed, it helps people from different parts of the world connect and gather in the same venue. So, if you like the idea of having a chance to find love, friendship, and deep connections, this is the website for you.
Here's a full review of Fruzo.
PROS:
You can chat with confirmed friends
No spam messages
The trial period is free
Simple design but very easy to use
You can experience the benefits of social media and dating website
CONS:
It takes time to find a match
---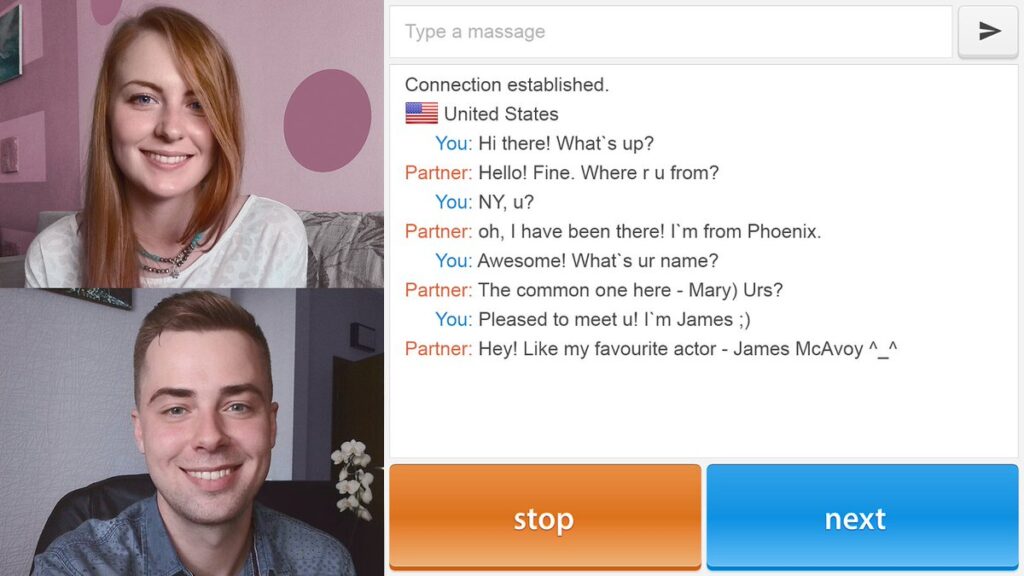 Do you love connecting to different people from across the world? If yes, certainly you will love the CamSurf website. This is where you can find random chat mates and help you find connections worldwide. Coupled with unique features, CamSurf is the best adult cam and video chat website.
Also, the team behind this website designed it to help people find and meet individuals, romantic interests, or simply random users. Not to mention, it is available across 200 countries from different parts of the world. Also, everyone can use it regardless of what area you are in.
PROS:
Fantastic adult cam and video chat website
Free to use
It does not require any registration
User-friendly design and simple to browse
Maintenance of Users' privacy
Implements regulations to maintain positive experiences
Available in 200 countries worldwide
Uses SSL encryption for security and protection
CONS:
No filter option for sex chat only
Requires the people to be at least 18 years old to use the website
---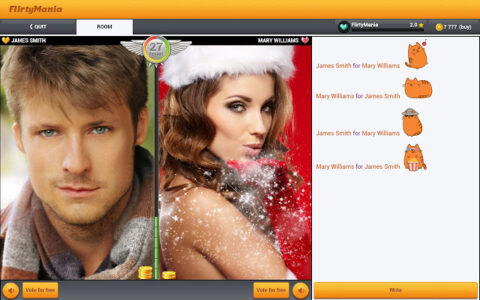 Technology and the internet have changed our lives dramatically through innovative inventions to unique websites that help people communicate easily. One of the most popular site online that has brought millions of active users worldwide is FlirtyMania. Watch recorded sessions, live streams, chat with people, and send gifts online. Frankly, all this exciting stuff is going to make your life more fun and exciting.
Try and pick topics you like, set your camera, and ready yourself for the most erotic sex adventure of your life. There is no room for empty chats on this site because of their active user engagement and thousands of new visitors day-to-day. Find a great chatmate anytime you want. Every day there is always a buddy ready for your dirty imaginations.
Check out the full review of FlirtyMania.
PROS:
A huge number of streamers on the site
Downloading the app is free
Joining public chats is free
The site maintains a positive environment and moderates the chat 24/7
Both website and app versions are compatible with any devices
Video chats are free to use
Huge selection of beautiful streamers
Video calls are in high-resolution
The app and website operate on 3G, 4G, and Wi-Fi networks
CONS:
The price of the subscription is a bit expensive
Watching broadcast is not free
---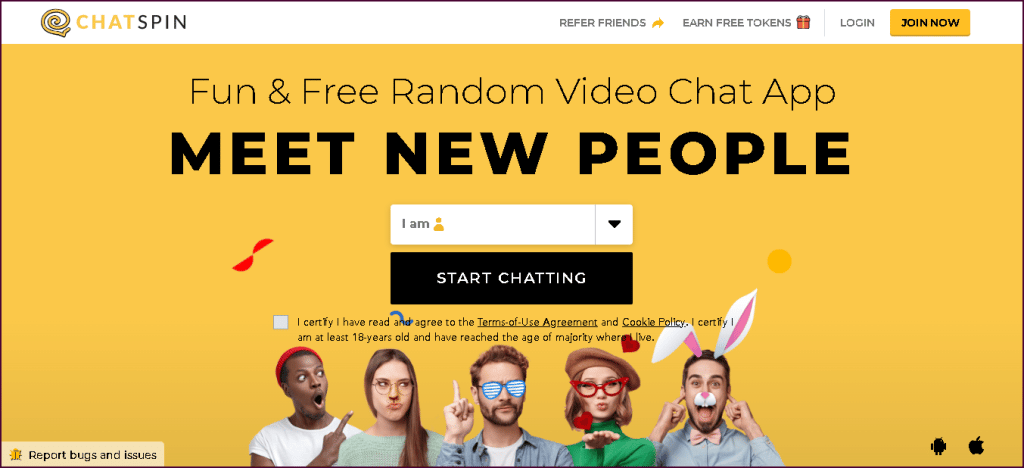 Chatspin is one of the leading random video chat websites worldwide. Boasting its most extensive user base ever recorded, even two video chat websites combined cannot compete. Uniquely, the website was founded to provide a venue for youngsters to enjoy, have fun, and spend a great time connecting. Especially that currently, most of its users are within the age of 18 to 25 years range.
Indeed, for people out there who want to have fun without commitments, Chatspin is perfectly crafted for you. Coupled with a fantastic set of languages and features, you will not certainly experience any communication issues here. Just enjoy, relax, and connect with over 3,000 users daily. With that amount, indeed, you will find a perfect match faster and better.
Click to see the full Chatspin review.
PROS:
Signing up does not require debit/credit card information
Plenty of exclusive benefits when using Chatspin Plus
Customer Support is available 24/7
Free use of text chat and video calls
Uses roulette-type chatting
Plenty of video chat features you can use for free
Thousand of active users online every day
The mobile app is downloadable on Android and iOS devices
Has unique seamless browsing experience on mobile
Google and Facebook sign up is available
The fast and easy registration process
Has userbase from different parts of the world
CONS:
Free accounts have limited search features
No verification of accounts upon registration
---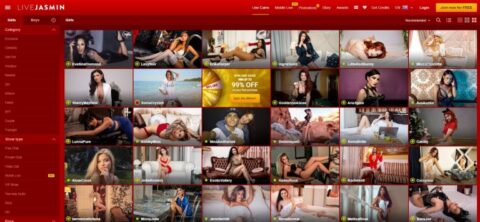 LiveJasmin is one of the first live sex cam websites ever founded on the Internet. All the members of this website are fun and active in looking for hookups, serious relationships, and casual friendships. Similarly, it caters to all types of sexual desires, fetishes, and kinks. In other words, the fulfillment of your greatest and darkest desires will always remain the priority. So, hop on to the page and feel free to choose your favorite models.
Learn more about LiveJasmin with this full review.
PROS:
Incredible choices of seductive ladies and dudes
Free high-quality photos of camgirl
Huge options of hardcore girls
Free sneak peeks of ongoing special shows
Before purchasing to earn free credits, you have to spin the wheel
Wide-array of fetish varieties
User support assistance is excellent
CONS:
Rates is quite high
No available community boards and forums
---
SaucyTime is a sex chat site that blends the features of a social networking site, roulette-type chatting, sex shows, and dating app experience. Unfortunately, SaucyTime isn't as popular as other sex chat sites like Flingster, Stripchat, and other mainstream networks. So, it is less likely to see new members regularly.
Check out the full review of SaucyTime.
PROS:
Simple and easy to use
Don't have monthly membership fees
Browsing is smooth
Unique chat concept
Diverse models
CONS:
Requires credits when calling
More male members than females
---
Bottomline
Emerald Chat has shown us what a roulette video and adult chat site should be. Apart from ensuring its users' credibility and authenticity, they prioritize safety and privacy. With unique chat features and communication services, Emerald Chat is among the best options for hookups and casual affairs. But let me remind you that Emerald Chat is not focused on sex, and not every user is looking for sext. So, better be careful when chatting nasty words because those users may give you a bad karma rating!
All 42 Other Sites in This Category Worth Checking Out:
TryNectar & 12 Best Sex Chat Sites Like TryNectar.ai Show Me 12 Alternatives for TryNectar.ai A day in the wild world of TryNectar, I found myself knee-deep in some next-level roleplaying with bots. Now, I won't lie; I'm starting to question if I'll ever waltz back into typical dating – yeah, call it an exaggeration, but […]