Updated on: December 3rd, 2023
iMeetZu Review
& 12 Must-Visit Sex Chat Sites Like iMeetZu.com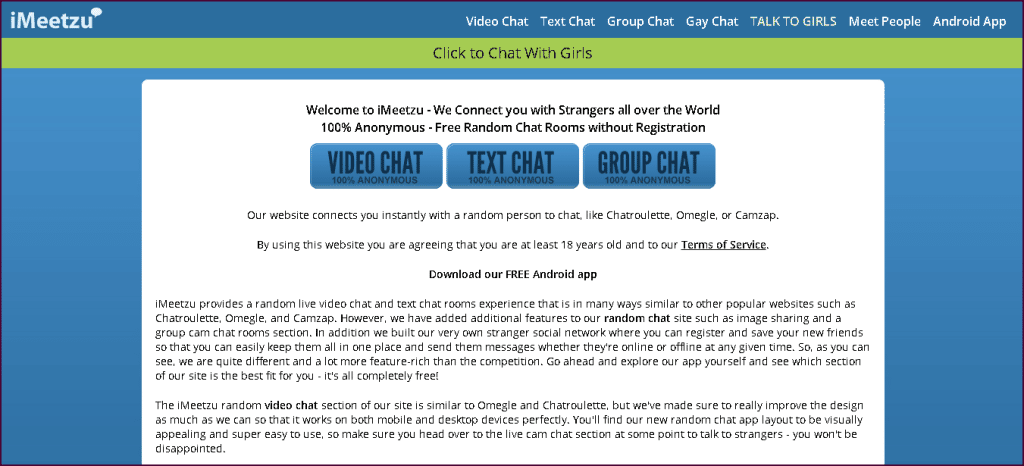 Are you tired of the same old sex chats that offer basic messaging options? If so, you should give iMeetzu a shot. You'll never think about chat sites in the same way again after using this platform, which is packed with features you never knew you needed. When you take advantage of everything this site offers, you can expect to find new acquaintances and potential romantic interests. Rather than simply being a random chat room, iMeetzu can lead to meaningful interactions and friendships. There are many great things about iMeetzu, but before we dive in, let's look at some of its significant benefits and drawbacks below.
Official URL: https://www.imeetzu.com
Inside the iMeetZu Chat Rooms
In 2009, the iMeetzu website launched, becoming the first to mix spontaneous online chatting with a social networking component. The page hasn't changed much; however, its user base continues to grow daily. I wonder why, though. There must be some magic going on, for sure.
Like other renowned chat services like Omegle, and Chatroulette, iMeetzu allows users to engage in randomized real-time video and text chatting with strangers. Nevertheless, they have improved the standard spontaneous chat service by including features like photo uploading and an area where people can freely enjoy live video chatting.
As an added bonus, iMeetzu also developed its unique social-media-like system that lets you sign up and add users as "friends." This way, it will be much more convenient for you to shoot their texts or calls regardless of whether they are active or away. Compared to the alternatives, it is clear that iMeetzu offers far more functionality and superior design. It won't cost you a dime to download and play around with its app and discover services that best suit your needs.
Unique Combination of Chat and Social Media Features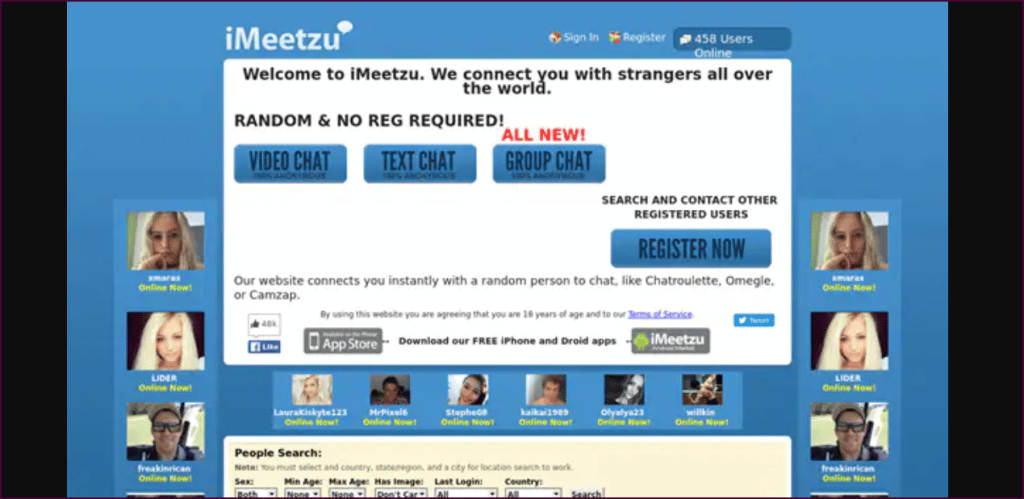 Mixing social networking with chance encounters gives users of iMeetzu a unique experience in chatting and socializing. By combining the two ideal functions, users are given a chance to enjoy anonymous online chats and public talks with strangers. Clearly, iMeetzu is an exciting and unique sex chat platform that connects users worldwide through its innovative and functional services. Not to mention, it has made navigating the page a breeze to the point where almost no effort is required on the users' end. Certainly, this new spin on the age-old concept of video chatting via webcam is both exceptional and clever.
With iMeetzu, you'll embark on a thrilling journey into the hearts and minds of like-minded individuals who prowl for new acquaintances and potential partners in virtual romance. Thanks to this site, you may avoid awkward first dates filled with empty promises. Rather, you can take advantage of online romance and gain instantaneous delight from the girls' flirty text and webcam performances. Initially, iMeetzu appears to be nothing more than a camera that streams live video of its users. But if you look further, you'll find a fascinating world of gorgeous users desperately seeking flirty and meaningful connections online.
Ring Them Up Using iMeetzu's Video Chat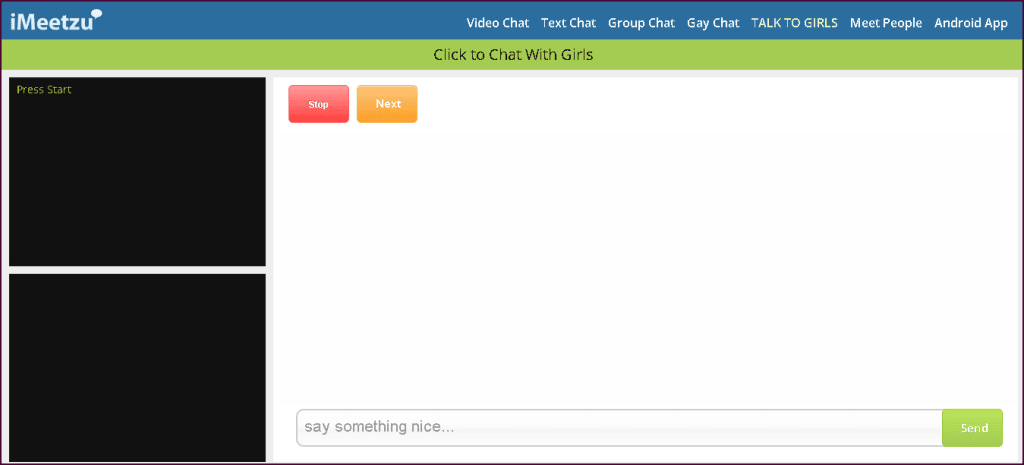 iMeetzu has taken inspiration from popular sex and video chat sites like Chatroulette and Omegle to develop its own brand. However, the admin of the site has maximized the efficiency of its layout and features to ensure that it runs well on different devices like smartphones and computers. Moreover, its brand-new sex chat application is aesthetically pleasing and incredibly easy to navigate. If you're interested in conversing with a stranger, you should check out the live video chat feature.
To initiate a call, simply click the "green" icon on the page, and it will automatically connect you to an unknown user. Both parties can see each other live, and there are available display windows of your cams on the same screen. After activating the video calling, a text message box will appear on the lower screen. Meanwhile, iMeetzu understands that not everyone is comfortable broadcasting themselves on camera to random people, so they have included alternate methods of participating on this page.
Random Text Chat for Free!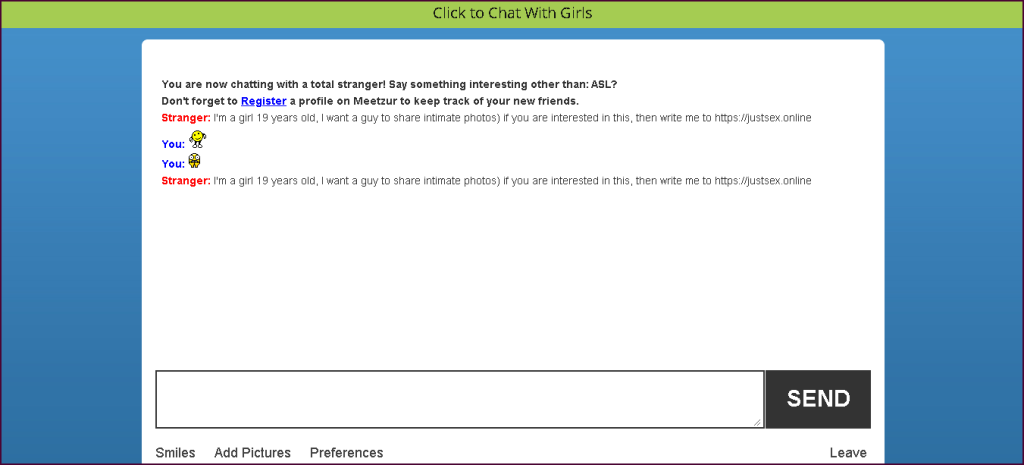 iMeetzu totally understands if you'd rather not use a webcam and would rather only interact with strangers via text. Thankfully, the team behind the site has spent a shitload of time making its random sex chat feature the best possible for you. In fact, its randomized text chat service, which is somewhat similar to Omegle, is among its most well-liked features. I couldn't find a comparable service with as many options as this one.
It even has a unique tool that allows you to send pictures to random strangers while chatting. You can't find this anywhere else, so that's a 10/10 for iMeetZu. Surely, among the different kinds of random messaging services I've used before, this one is particularly well-liked since it provides users more freedom and makes online interaction far less nerve-wracking.
Spontaneous and Exciting Chat Rooms at iMeetZu.com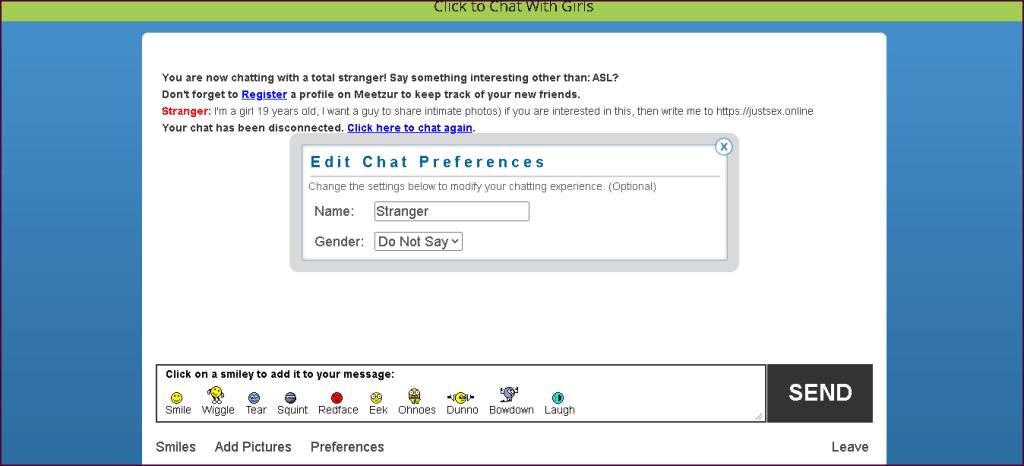 To enjoy an interactive chat in a more social environment, join the iMeetZu chat rooms. This chat service functions similarly to a conventional chat room but with the addition of modern conveniences like live video and several digital gifts, emoticons, and other goodies. You can meet many of our users online, who will gladly engage in lighthearted conversation on topics you care to bring up, whether political news, football, or new series. You can also make your live stream visible exclusively to persons you've approved in advance or publicly available. The people at iMeetZu will welcome you with open arms, so don't miss out on this fantastic place. Do yourself a favor and check out all the cool extras.
Simple Design but Convenient To Use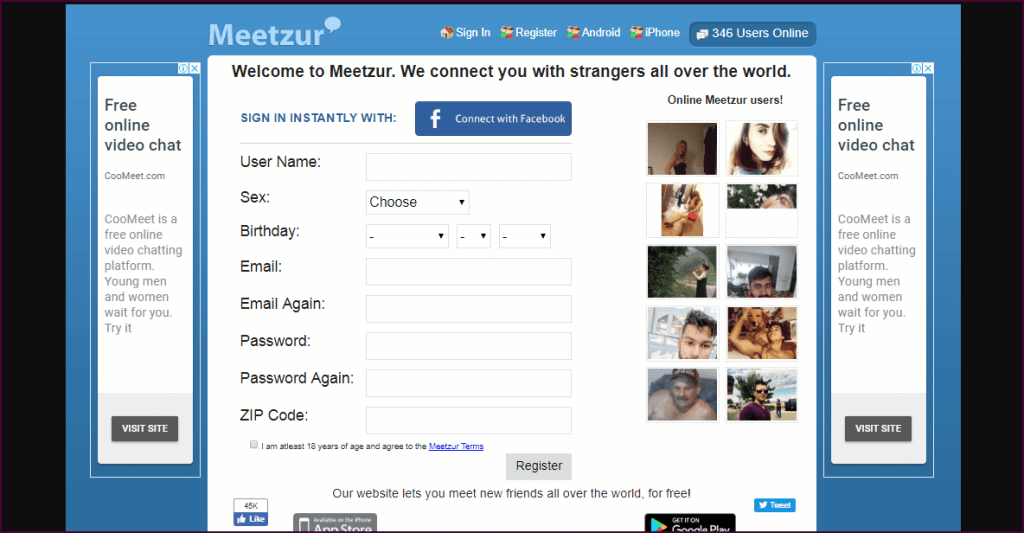 The iMeetzu homepage isn't exactly flashy or elaborate at first glance. Believe it or not, the platform's design hasn't significantly changed since it launched in 2009. But don't worry, you won't have any trouble figuring out how to use this site's features and navigation because it doesn't come with unnecessary bells and whistles. There are large buttons conveniently on the main page that allow you to reach any of the possible means of contact quickly.
Furthermore, its Omegle-like chat room is compatible with all platforms and offers better options than any website. It also allows you to share photos from your existing gallery or new ones. Because, you know, iMeetZu doesn't desire to be precisely like Omegle; instead, they hope to become much more fabulous! As such, iMeetZu developed a downloadable app customized for optimal performance. Ultimately, the site aims to make chatting enjoyable, so you'll always appreciate that once in your life, you've stumbled upon an ideal location for meeting new people and striking up meaningful conversations like a pro.
iMeetZu is Free for Everyone!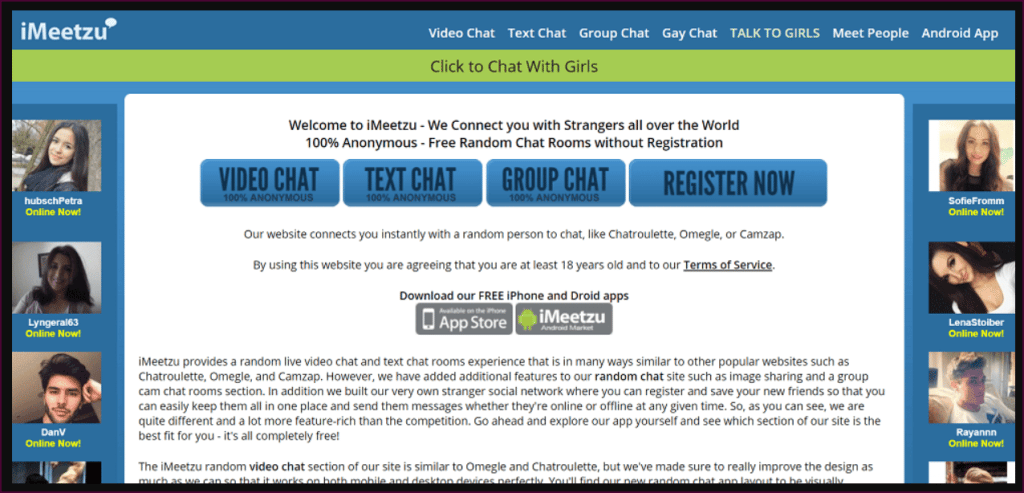 The iMeetzu website does not charge users a dime for its features. You can use its text-based chats, webcam-based calls, one-on-one texts, or group video calls. Thus, you really shouldn't worry that the services provided on the site may eventually be insufficient for developing meaningful human connections.
Meanwhile, additional benefits and avenues of communication are available to registered users. Registering for an account is free. Once you do, you'll have access to searching for and interacting with people worldwide and signing up increases your chances of connecting with potential matches on the platform.
Exploring Your Safety and Privacy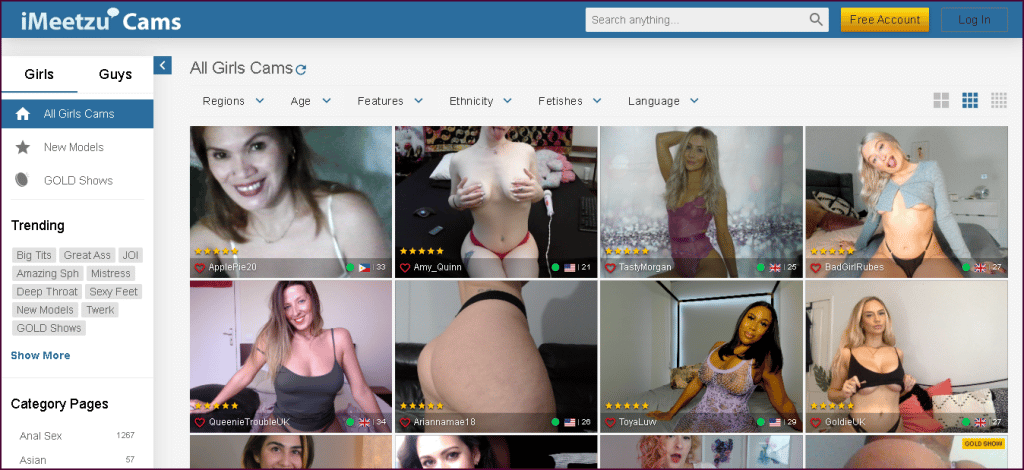 To ensure the safety of its users, iMeetzu doesn't gather any personally identifiable information from them. In fact, users' identities are not checked before registration, and anybody can view chitchats regardless of whether they sign up. However, certain users may abuse the platform for this reason — possibly fraud accounts, scams, phishing, catfishing, and more. If you intend to protect your identity and relevant data, it's best to think twice before sharing sensitive details in a chat room.
Also, it's best to keep your private life discreet in open chat rooms because your "words," no matter how innocuous they may seem, might come back to haunt you. In case you have a long-standing relationship with another user in a group chat. Eventually, you decide to take things outside iMeetZu and save your contact information in a private conversation. Remember that you can talk in complete anonymity and then make all your communications and data inaccessible to anybody else once the session ends. Finally, any user misbehaving or violating must be immediately blocked and reported to iMeetZu's mods.
Pros and Cons of iMeetZu.com
PROS:
Numerous chat options
Free to use
No need to register
Active members
Welcoming community
CONS:
The web page looks basic
Beware of scammers
---
12 Must-Visit Sex Chat Sites Similar to iMeetZu.com: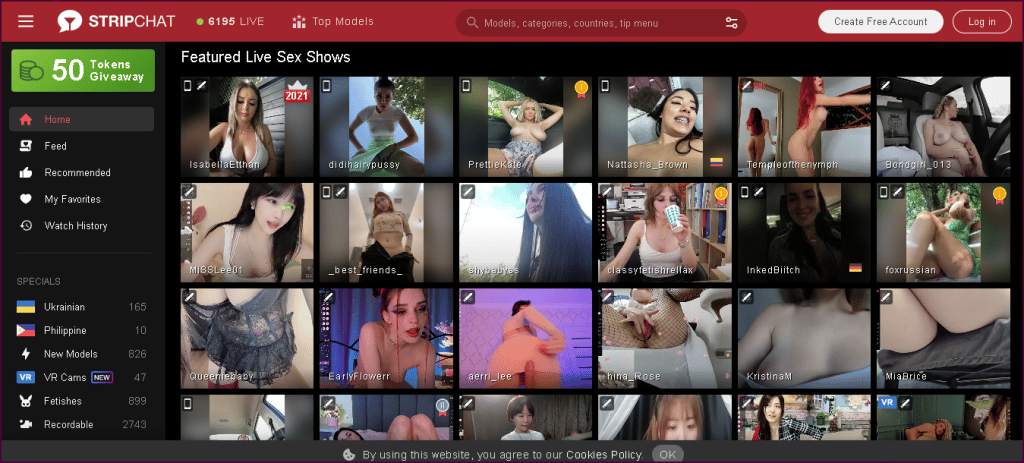 Stripchat, which has been around for five years, has successfully grown into the top 10 best adult platforms and continues to give superb quality and services, making everyone love the site a little more. One great feature that Stripchat offers is that users are not only limited to communicating with models but can also chat with other users. Also, there are plenty of models registered on this website, most of whom are professional porn stars. With its pornographic nature, Stripchat is already a reputable and credible cam site; wherever you are, everyone can enjoy sexual pleasure at their own pace.
Here's the full review of StripChat
PROS:
A long list of beautiful models on the site
Simple, cool, and attractive website design
Users are allowed to forward private messages
The website is easily accessible and user friendly
A wide selection of live sessions and videos
Extensive FAQ page
FREE view and chat functionality for guests
CONS:
Unregistered members get constantly reminded via pop-up messages to sign up (which gets annoying)
English is the only available language feature
Private message chats are exclusive for paid memberships only
---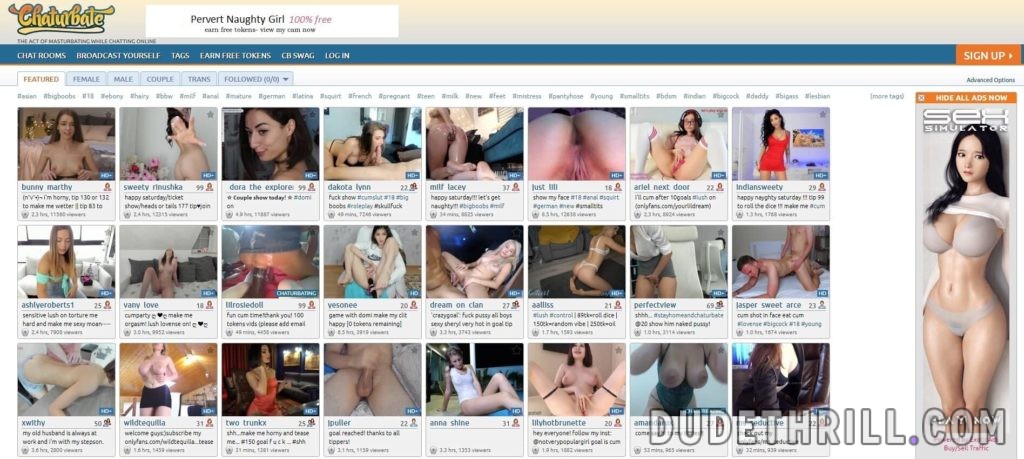 Connecting to people worldwide has never been so easy. Thanks to Chaturbate, unlimited talking is now possible. Plus, you will never spend a dime on it. There are a lot of sexy and beautiful women available for you, 24/7. As a matter of fact, women on this website love kinky stuff, which is always worth your time and attention. Meanwhile, live shows are also available for viewing at a reasonable price.
Click here for a full review of Chaturbate
PROS:
Many cam girls available 24/7 live
No additional fees to expect
Nudes and sex are always a guarantee
Smooth browsing on smartphones and other devices
CONS:
Few videos are in SD format
Expensive private shows
---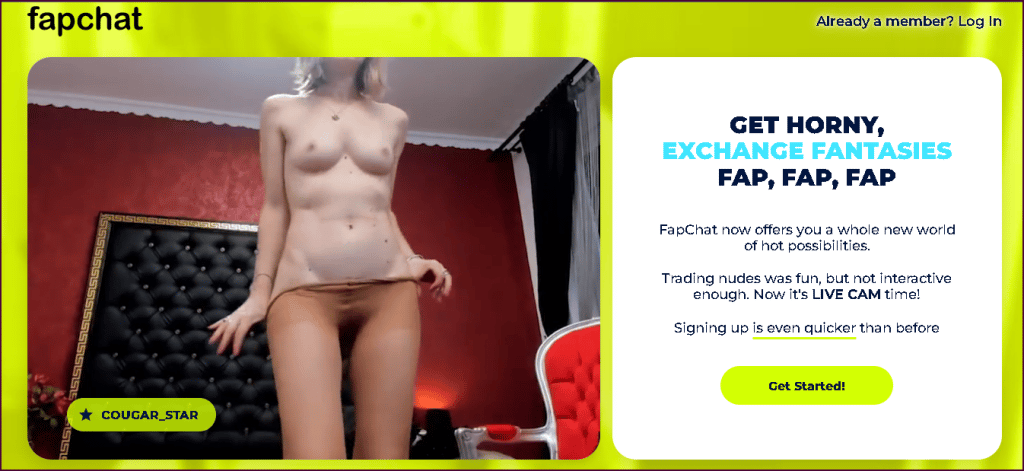 Fap Chat is a platform that helps men like you find attractive single women to take nude selfie photos with and strike up a conversation with. There are thousands of stunning young ladies to choose from, so you're likely to find at least a few that you want.
PROS:
The website has a simple design and is very easy to use
You can watch real live women performing on cam
Maintains anonymous identity
No bots and fake profiles
CONS:
It has no live chat support service or phone service
You cannot record cam shows
---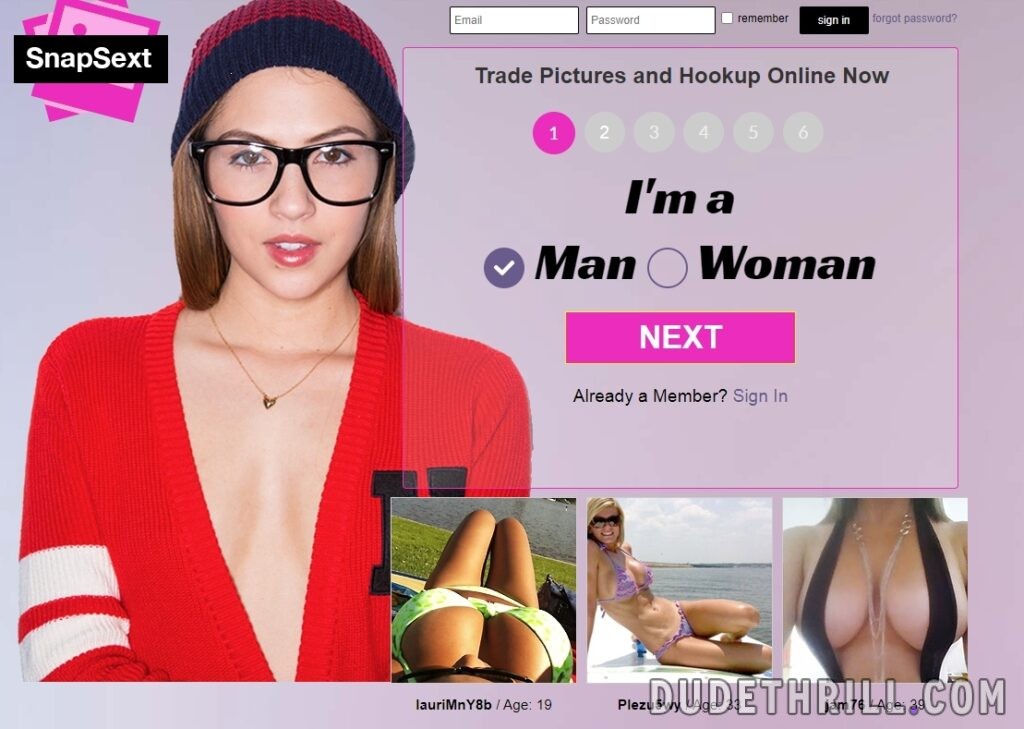 Snapsext is a free sex chat website for people who aren't afraid to take risks. The platform focuses on visual content such as video chats, images, live streams images, videos, and more. You can casually flirt or go straight to hookup and sex, or anything in between. The audience response to SnapSext has been fantastic because it is attracting a growing audience every day. Many people believe that the website encourages them to express their sexuality entirely and behave however they want, without worrying about repercussions.
Click to see the full review of Snapsext
PROS:
Most of the basic features are free
Large user database
Real, hot verified girls & guys
Online for 10 years+
Flexible premium pricing
CONS:
Some screening questions when signing up
---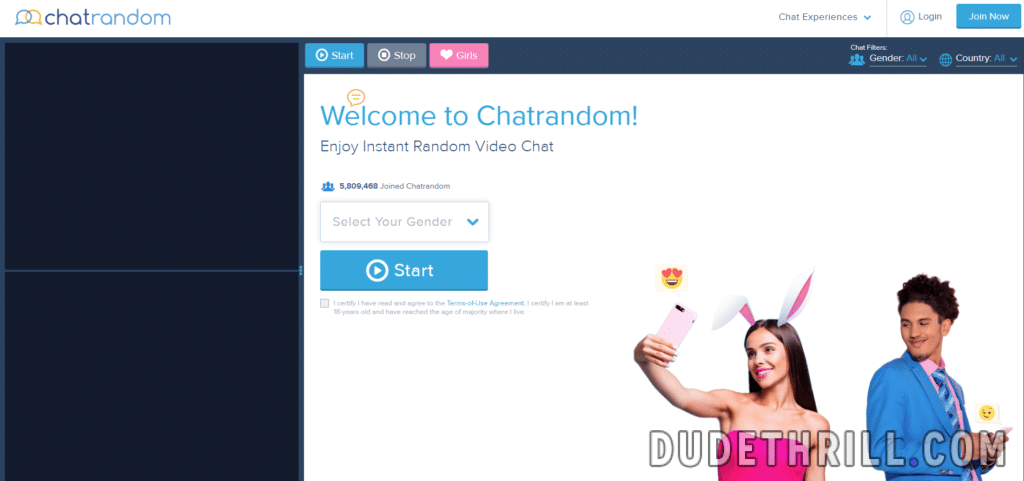 Chatrandom is a free live chat site that allows users to easily connect with people and strangers worldwide. The site started its outstanding service around 2011, and since then, it has become one of the most popular sites today. Indeed, this is the most exciting live chat you can experience. Because the system uses a roulette-type matching and lets you chat with thousands of people every day
Check out the full review of Chatrandom
PROS:
Registration is free
Users can chat with members from other parts of the world
People can join live chat without registration
There are thousands of active users every day
App version is available for download
Hiding identity is public through "mask."
Free sending messages
CONS:
No profile photo is available
Only Android users can download it
More number males than females registered
---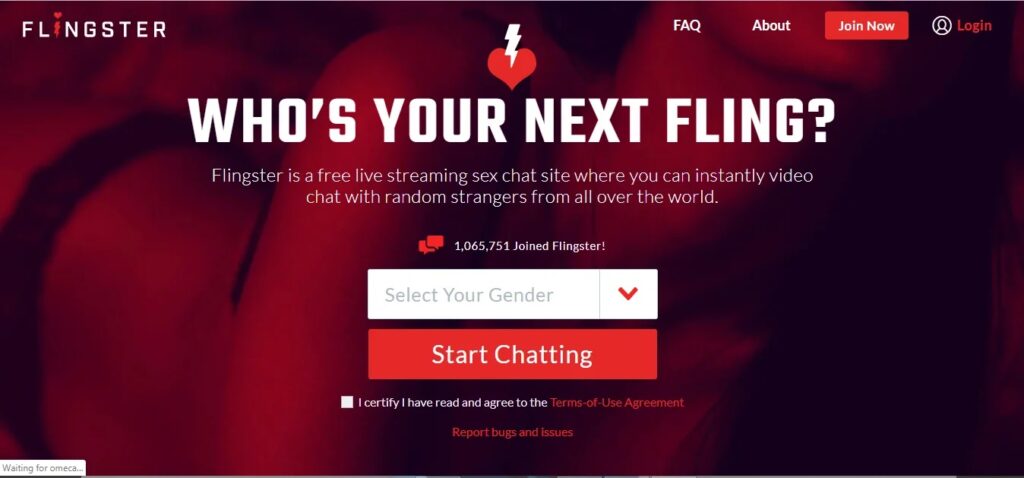 Flingster is an adult sex chat website for meeting, hanging, and making out with singles. On this website, the application process is indeed speedy and convenient. So, it won't be wasting much of your energy at all. Compared to several other sex chat websites, even free accounts can use messages and video chats without paying.
On the other hand, paid subscribers have additional features that are indeed unique. Meanwhile, Flingster similarly provides discreet identification while chatting before you consent to a spontaneous, quick fling.
Take a look at the full review of Flingster
PROS:
Unspecified character is a choice
Everybody is excellent regardless of sexual orientation or gender
The sign-up procedure is available and relatively simple
The site's design is simple; however, understandable to navigate
CONS:
There are occasional phony profiles reported
---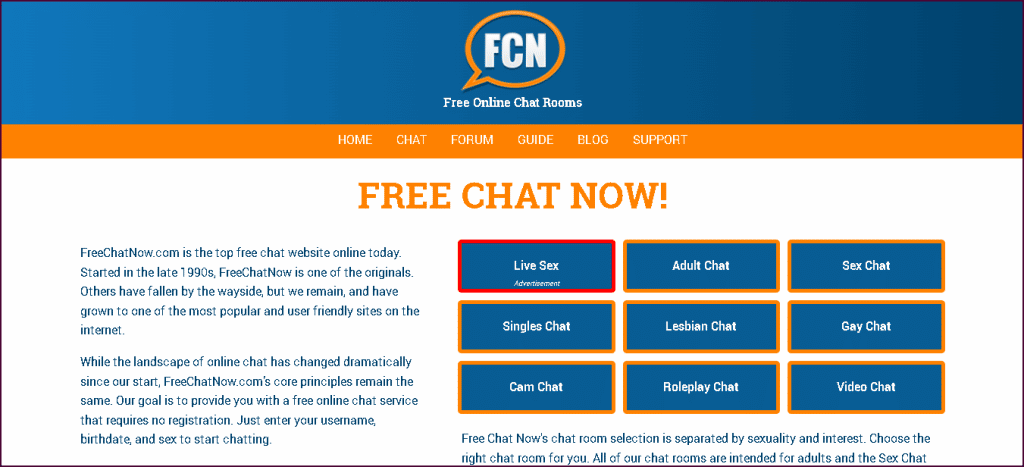 FreeChatNow was established in the 1990s, making it an early competitor for other emerging sexting sites. The site's chat rooms have evolved from simple text message exchanges to more interactive formats, such as video meetings and voice chat sessions, where users can watch and listen to each other in real-time. Even though the site has strict rules and guidelines on each chat room, it's clearly put in there for everybody's safety and privacy. In the end, if one-on-one communication is more your style, FreeChatNow creates a secure environment.
PROS:
Lots of chat rooms are available
Free to use
It doesn't require registration
Simple design
Easy to use
Smooth mobile experience
CONS:
---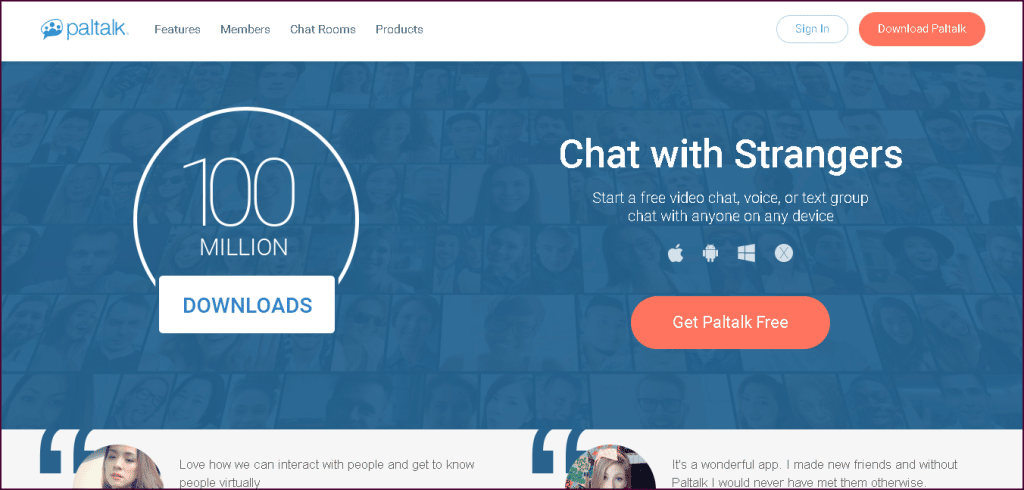 PalTalk has been around for quite some time and is well-known for its user-friendly design and extensive set of tools for encouraging interaction. It calls itself "the biggest and most popular talk chat app," is a robust online community in which millions of users share and see live video feeds. And since you'll make many new acquaintances on the site, successfully dating shouldn't be difficult. If you're looking to make some newfound virtual buddies, you may join up for a membership.
PROS:
Reliable chat features and options
Thousand free chats
Open for private and exclusive chats
Strong and reliable texting system
Can communicate without cams
Offers profiles customization
Unlimited viewing of live stream videos
CONS:
Several chats are not appropriate for underage users
---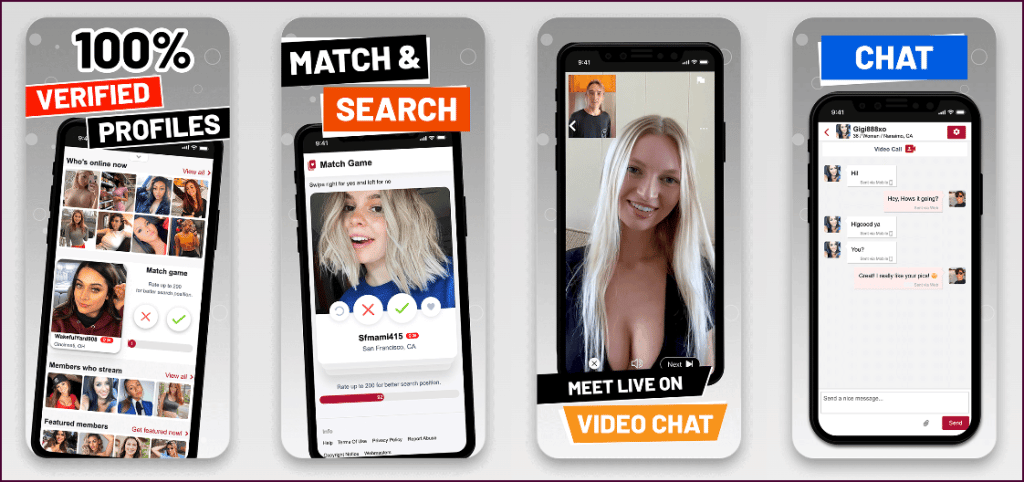 In case you haven't heard of it before, SweetSext is a popular cheating and hook-up application where users can send each other naked photos, tease, and find potential hook-up buddies in their area. This hook-up website allows you to connect to numerous women who desperately desire an affair or casual sex. Fortunately, it's completely free to sign up with SweetSext, and you can even try out their VIP features for a little while using the trial package. The overall interaction is simple and gives us lots of opportunities to cheat and get one-night stands so easily.
Check out the full review of Sweet Sext
PROS:
Lots of active members
Cool features
Easy hook-up
Simple and easy-to-use website
Members are open to all affairs or sexting
Flexible services
Free registration
CONS:
It has a premium subscription
---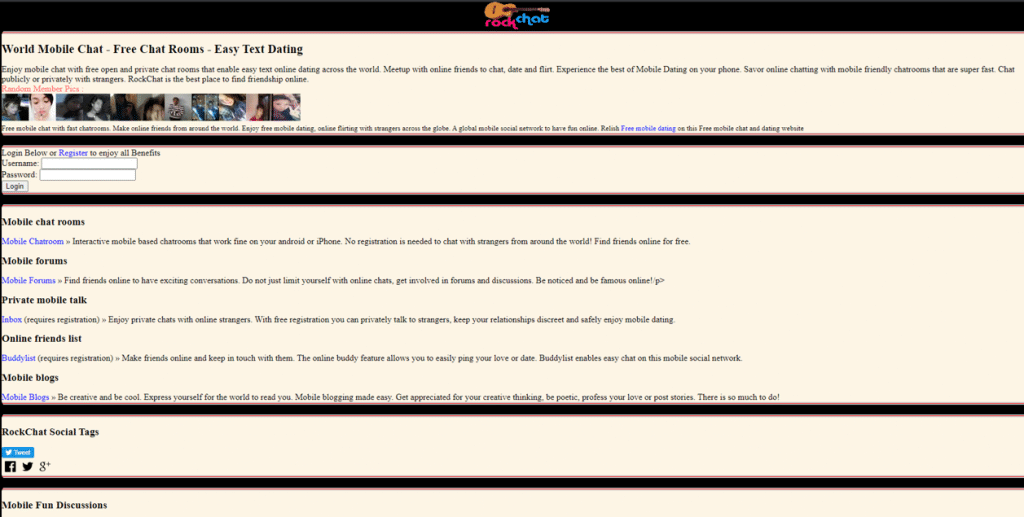 RockChat is a well-known mobile chat platform with enticing features for its friendly members. The website has a simple chatting interface that allows users worldwide to communicate with their potential matches.
To discourage improper accounts from violating security standards, the site is rigorously moderated. After registering on RockChat, a user can easily log in using a username and password. Furthermore, the innovative inbox feature enables to have personal discussions with people worldwide.
Click to see the full RockChat review
PROS:
Free and best chat rooms for mobile phones
Works smoothly and provide users with a wide range of chatting options
The best private chat rooms and mobile chats are readily available to users
CONS:
---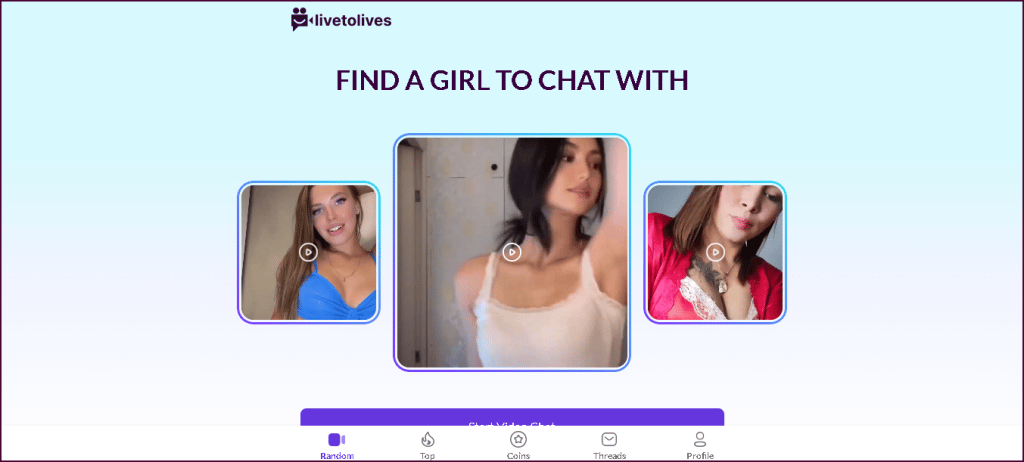 LiveToLives provide a never-ending supply of people eager for chitchat and pleasure. With the promise of quick and simple conversations, it's no surprise that users are rushing to this brand-new social media platform. Also, its Cam-to-cam feature works like a chat roulette that enhances users' cam communication and transforms it into a much more enjoyable encounter. You will no longer endure the tedious small talk and "get to know" stage and just go straight to the business.
Learn more about LiveToLives with this full review
PROS:
Unique website concept
Features trial membership
Lots of gorgeous women willing to chat
Numerous active users at any time of the day
Automatically translates language based on your location or preferences
CONS:
---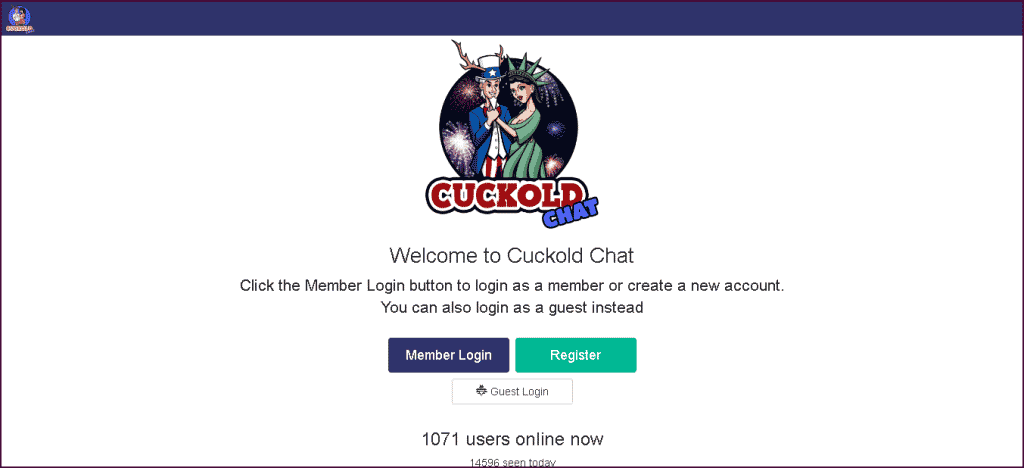 CuckoldChat is very open and welcoming to all people willing or curious to try the cuckold lifestyle. I'm pretty sure that this site will give you much more options and opportunities to explore what's more about cuckolding. This page has primary chat rooms and hundreds of people exchange pics, videos, and messages daily. Certainly, CuckoldChat established a fantastic community and a dream destination for all cuckold lovers.
Check out the full review of CuckoldChat
PROS:
Active members
Free sign up
Lots of chat rooms available
All cuckolding stuff
Amateur and authentic content
CONS:
Chats can be crowded sometimes
---
Bottomline
In conclusion, iMeetzu is a fantastic community for those thrilled to meet fresh faces and expand their social circle. The members are very welcoming, and the atmosphere is warm and inviting. You are also free to express yourself openly and freely, discover others who have similar interests, and develop deeper relationships than you would in regular sex chat sites.
Despite having a basic-looking web design, the buttons, features, and other relevant chat options are functional and easy to use. What I like most about iMeetZu is its customized user experience, where users can enjoy a completely anonymous chat or save them by the end of the session. Certainly, iMeetZu.com can change how you see sex chat sites. For those curious, you better head to iMeetZu.com and check it out yourself.
All 42 Other Sites in This Category Worth Checking Out:
TryNectar & 12 Best Sex Chat Sites Like TryNectar.ai Show Me 12 Alternatives for TryNectar.ai A day in the wild world of TryNectar, I found myself knee-deep in some next-level roleplaying with bots. Now, I won't lie; I'm starting to question if I'll ever waltz back into typical dating – yeah, call it an exaggeration, but […]