Updated on: December 6th, 2023
Cherry.tv Review
& 12 Must-Visit Sex Chat Sites Like cherry.tv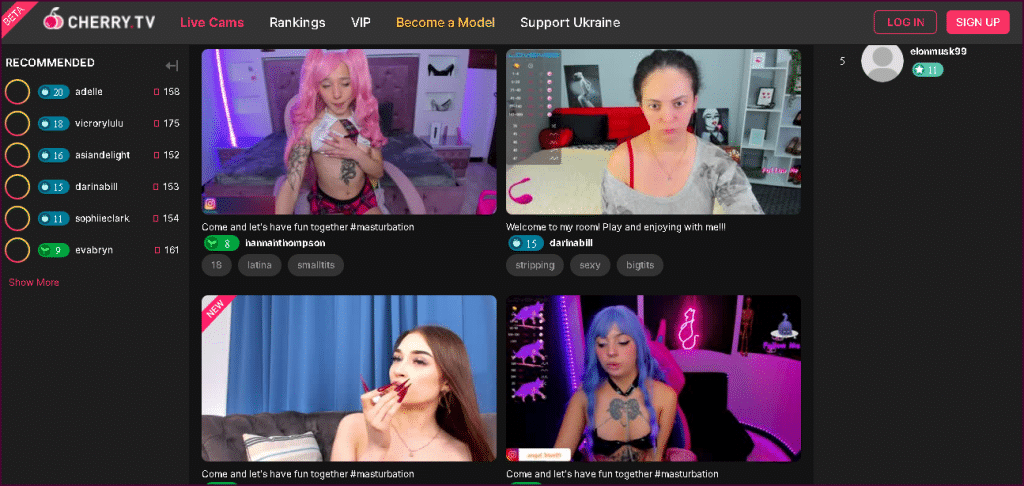 How do you spend your leisure time, lads? Partying? Exercising? How about reading or writing? Or maybe… masturbating? I know you'll unanimously answer that mother fuckers! And there's only one source of pleasure we all go to whenever the "calling" calls — the Internet! Obviously, with the fast advancement of the cyber world, anything is possible with just a tap of the mouse.
But along with it is also the uprising of nasty, spammy adult entertainment online. Don't worry; I know one site that I trust most in terms of pleasure, which has created a reputable mark in the sex world. No other than Cherry.tv! A newcomer to the camming and sex chat industry, Cherry.tv has spent its best developing and offering us a functional live sex and video chat network.
Official URL: https://www.cherry.tv
Behind Cherry.tv's Success
This brand-new site called Cherry TV is among the most popular and unique additions to the sex entertainment industry's camming world. It promised (and delivered) a supreme live sex experience through the unique blend of entertainment and gaming thrill. Yes, you read that right! This site was able to pull off unique features of live cam streaming while promoting the fun elements of social media and the gaming experience.
The whole crew of Cherry TV is not your ordinary service provider. Still, they are many professionals who have established a mind-blowing reputation in the cam entertainment industry for over two decades. In fact, even the Cherry TV performers have the same reputation as the site's admins.
Some of them are popular and has already a "brand" in both the sex market and gaming community. Of course, with all these people behind the Cherry TV site, you can assure that all their knowledge and unique contributions cultivate how the site approaches its live sex concept and creates its camming features.
The site's number one mission is to establish a reliable community of live streaming performers using high-quality features and platforms. Cherry TV also integrates "interactive" tools to revolutionize the way audiences and entertainers engage online. As much as possible, this site is willing to work its butt off just to deliver a delightful, comfortable, and entertaining setting for the users and the cam girls. They believe that when both parties can effortlessly explore, enjoy, and connect, it can promote a much better cam experience.
The Cherry TV Cam Models
Gorgeous Cam Girls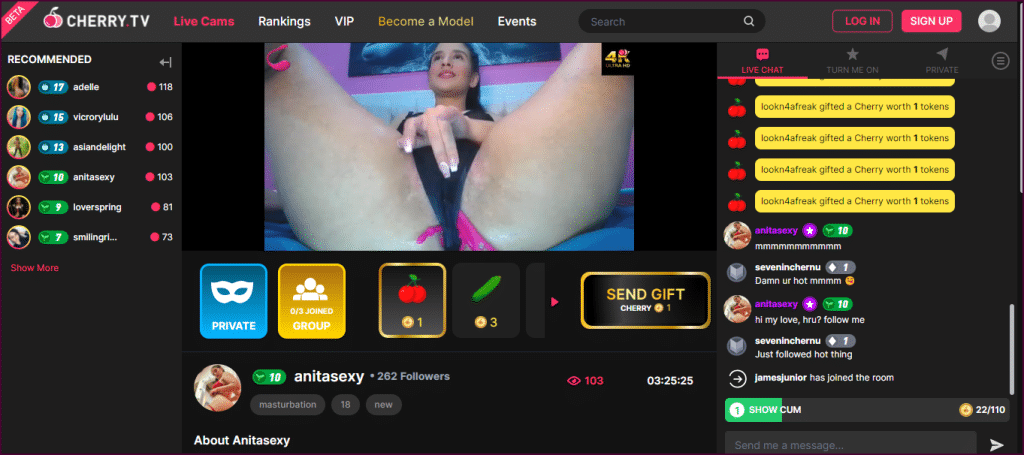 Landing on the main page, you'll immediately notice a display of its available cam models. Typically they'll showcase some popular and newcomer models, but let's go to the "Girl" section and see what's behind them. The site offers thumbnail photos that help you take a glimpse of their amazing cam shows. Note that these pictures are actual and real-time, so whatever you see on display is precisely what you'll find inside their chat rooms.
Despite being new, Cherry TV was able to pull off being a fantastic sex cam site by putting an impressive cam girl collection while maintaining a great selection of features. I noticed around 100 cam girl models available online when browsing the Girls section. They are all free to chat, and I'm pretty sure the number will soon rise with these current online girls.
Meanwhile, in terms of diversity, Cherry.tv seems pretty impressive. Although most are white blondies, I found several hundred with Latina blood. Also, there were Asians and seductive ebony ladies on the list, and I'm confident it will grow more as the site dominate the worldwide scene. But of course, there is more cam girls you can pick from, including anal, fetish, newbies, BDSM, MILF, and more.
Seductive Trannies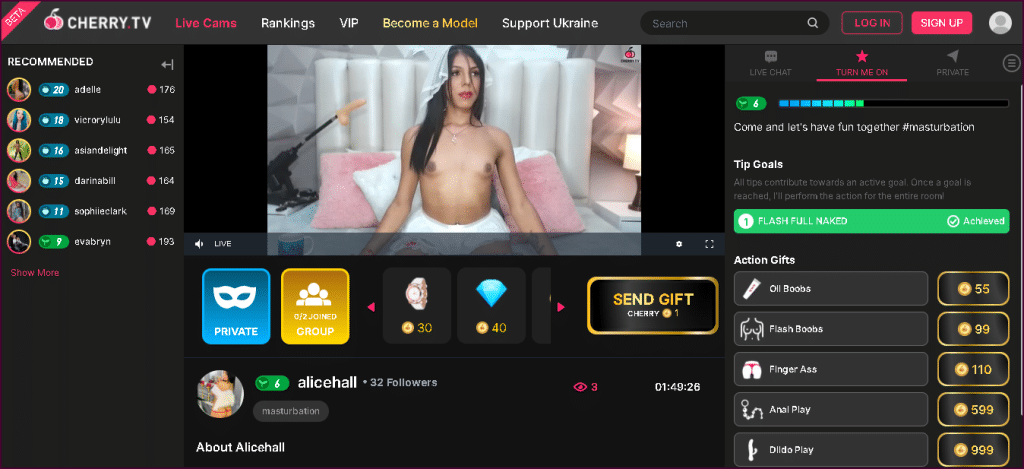 In terms of cam trans models, Cherry TV seems a bit off. Although I found several trans online, the girls still dominate the entire site. I'm sure you'll love the trans models here because they always give fantastic cam shows and erotic performances. Hopefully, with the site's active promotion of modeling opportunities, the number of trannies at Cherry.tv will eventually increase. But for now, for any user who likes watching seductive models showing off dick shows, Cherry TV is your dream destination.
The Gamer Cam Girls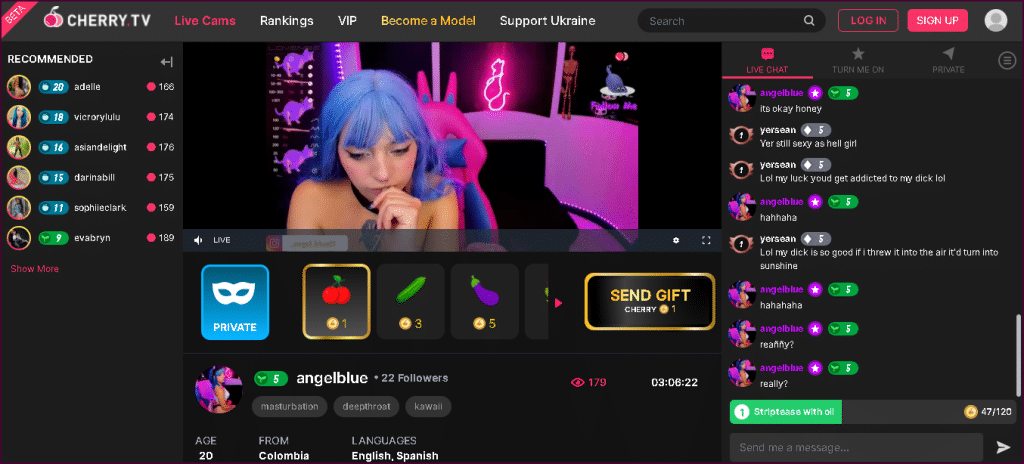 As mentioned earlier, Cherry TV has created a platform where you can find a cool blend of social networking sites and gaming experiences in one heck of a site. So, don't be surprised if you discover masturbating gamers on Cherry.tv. These specific models are performing sex shows while streaming a game. Isn't that exciting?
Unfortunately, the site currently has a limited number of gamer cam models, so their shows are surely jam-packed whenever they are online. Typically, these gamer models came from famous mainstream porn studios, supermodels, and well-known cam pornstars. So, expect that every game streaming and sex shows,
Cherry.tv's Fun, Interactive Chat Options
Free Chat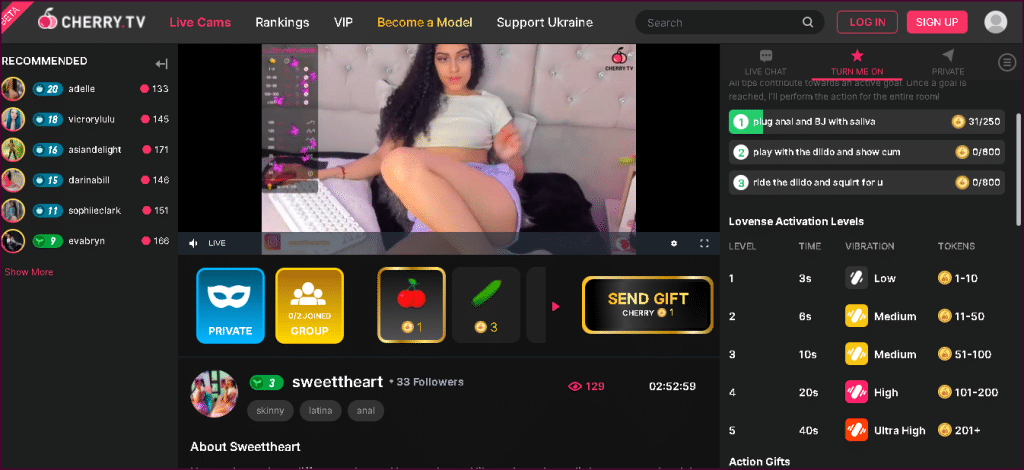 Free live cam shows and chat rooms on Cherry TV have a shitload to offer. All the users have access to free live streaming performances where cam models can freely go crazy and seductive. You can also ask the models to perform a "specific" activity with the help of a variety of creative emoticon symbols. The most popular demands are showing a bra and feet and blowing a kiss. Interacting with vibrators and other sex toys is a favorite pastime for several cam models. Of course, this is not only for the audience, but it's fun for the models, too, because these toys may be activated in numerous ways and for varying amounts of time depending on the tip goal reached.
Action Gift Show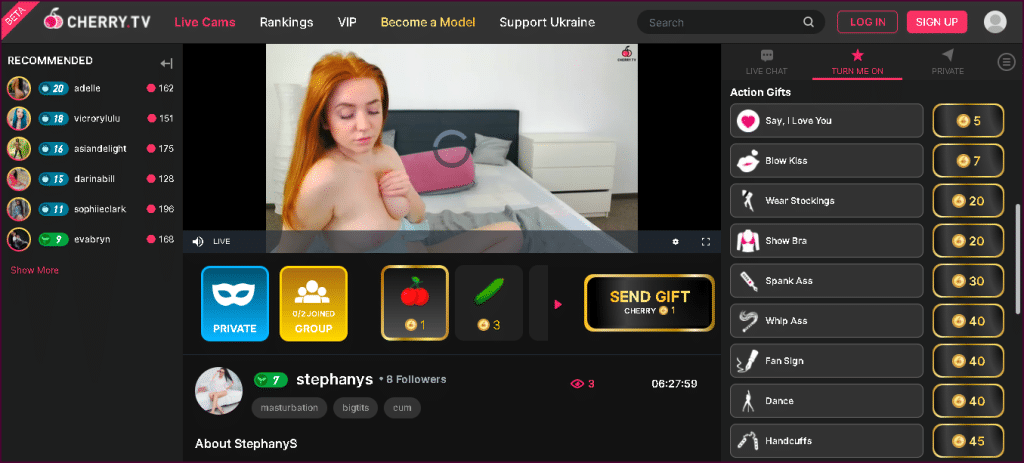 The Action Gift feature is an interactive cam show popular on Cherry.tv page. As a user, you can dominate the entire scene and performance by requesting gifts. When you send a gift to the model, you are allowed to request any action or performance for your pleasure. I've checked out this feature, and many of the horny audience are demanding fingering, masturbation, BDSM acts, choking, and even simple things like blowing a kiss or saying something sexy.
Private Chat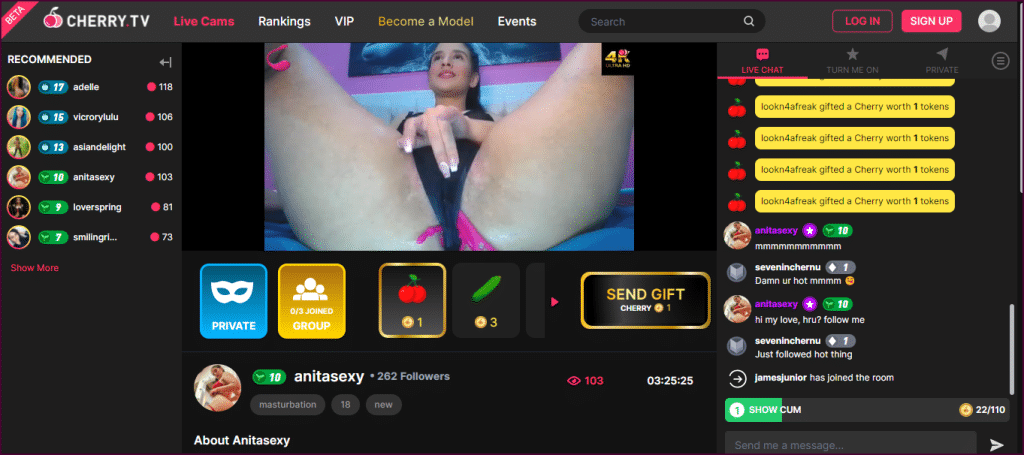 Jumping into the Private Chat feature with any cam entertainer is your perfect choice if you want to control the scene a little extra. Both of you can enjoy a much more intense experience this way and experience undivided interest and attention. There are a variety of token-per-minute rates and a required duration of time specified by the models. Typically, one-on-one sessions often last between three to ten minutes, depending on the model's availability. But, if you don't want to deal with this hassle, there are a shitload of models who don't offer these requirements and will begin performances at the earliest possible opportunity.
Additionally, a private cam model experience on Cherry TV costs roughly $3.00/minute; however, specific models are available for as low as $0.60. No wonder this site has been called the most affordable virtual cam service. Certainly, this is a great deal considering the high-definition camera resolution and the high-grade actors on hand.
Spy Show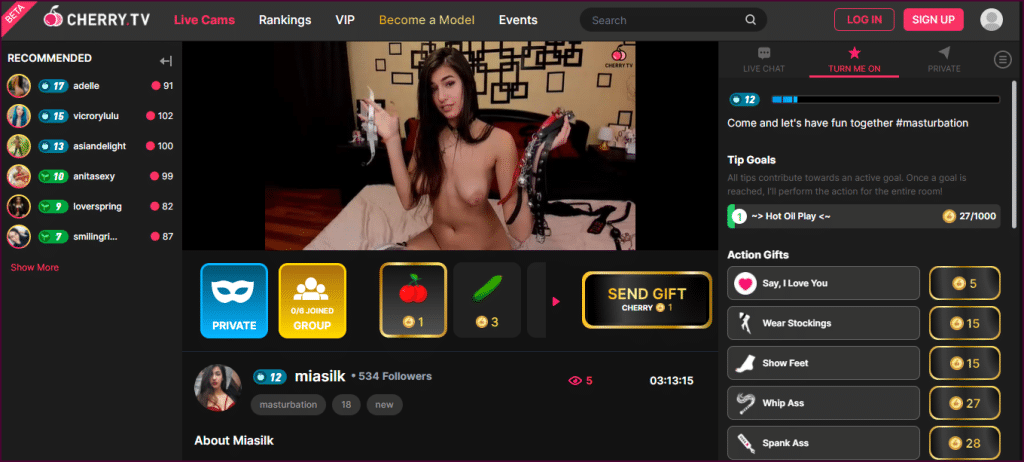 As you all know, Spy Show is the most exciting part of Cherry.tv and even other live cam sites online. You can spy on the model's show without getting noticed and known by a different audience. You can also jump from one show to another and enjoy all the fun cam experiences without showing yourself to everybody. Unfortunately, Cherry.tv has limited spy shows available, so when it's up, make sure to grab them and don't miss the chance!
Group Show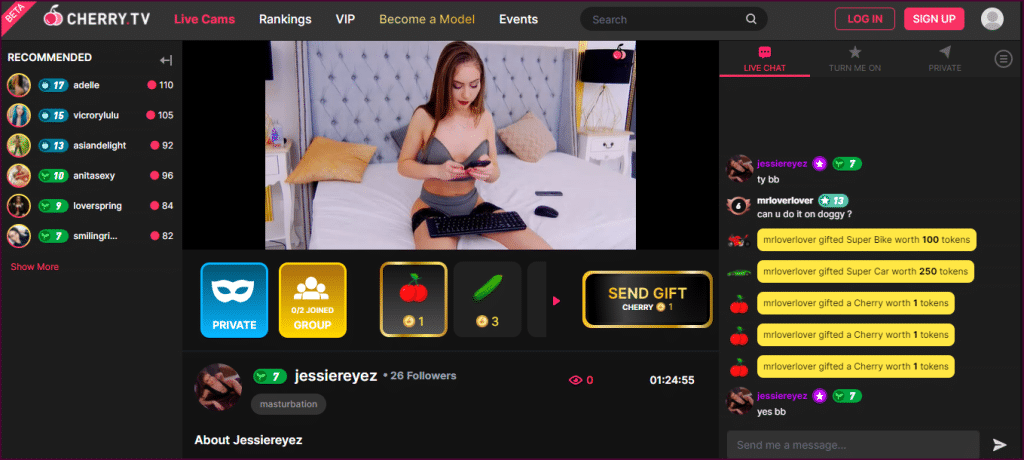 To save money while still reaping the rewards of an exclusive chat experience, pick the "Group Show" mode on Cherry.tv. This option enables up to six people to watch an exclusive performance and simultaneously communicate with the cam performer. Definitely, it's the cheapest feature of Cherry.tv and perhaps the most money-saving option to watch live porn shows.
Start Your Modeling Career!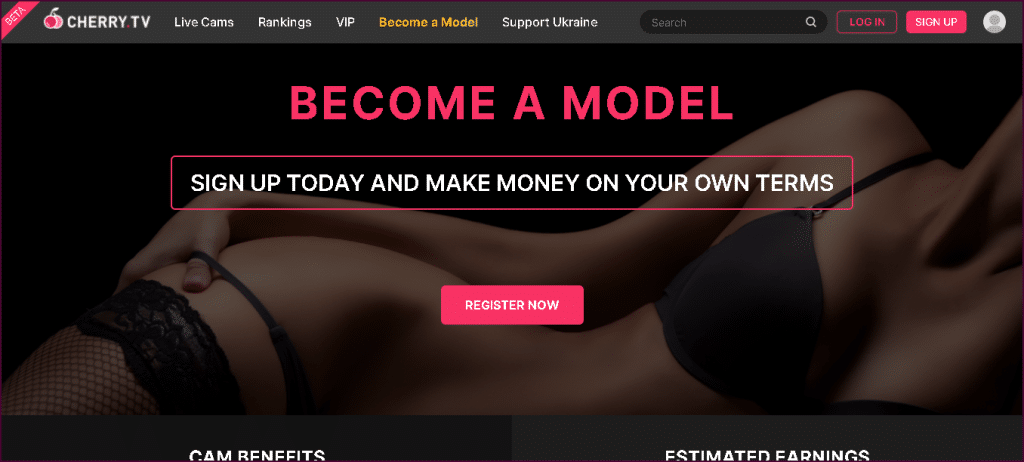 Do you want to make money by making people happy? Well, you have to be Cherry.tv's cam model now! Register and enjoy some fantastic benefits like high payout, customer support, in-site membership perks, and join exclusive competitions and events.
Signing up is very easy and available to all parts of the world. First, you just got to be at a legal age (18) and need a stable internet connection with a high-speed computer/laptop. If you think you have all these things, start streaming and go all-out to earn whopping money!
Currently, the models can earn a 65% share during shows, gifts, and tips. So, if you earn 50,000 on one live stream, you get over 49,000 take-home pay. Plus, you can earn a 15% share when you refer a guest to register on the site. Cherry TV offers a $100 opening gift for all new cam models, and you can cash that out anytime.
Club Cherry Membership and Its Perks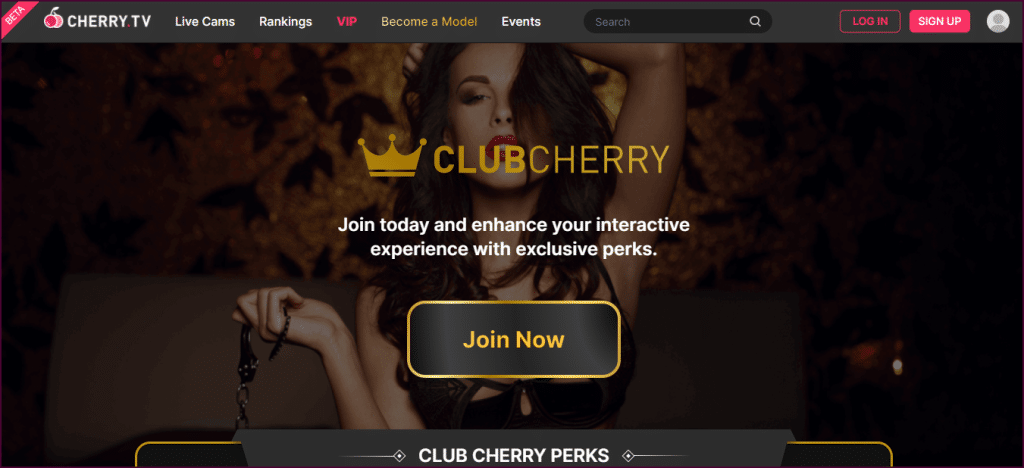 For as low as a $17.99 monthly membership, you can already enjoy the perks and other benefits of Cherry.tv exclusively. The site will give you 200 tokens for the new subscribers for free and a whopping 1,600 Instant XP after registering and availing of the "Club Cherry."
Apart from that, users can also enjoy exclusive chatroom features like badges. Private messages are exclusively for Club Cherry members that you can use when a model is broadcasting a live cam show. There are also VIP gifts available that only the VIP members can access, and send these to your beloved cam model anytime. Let these gorgeous performers know how they made you happy and satisfied. Finally, the Club Cherry member can enjoy unlocking exclusive privileges as a VIP and even become an in-site moderator.
Safety and Privacy of Cherry.tv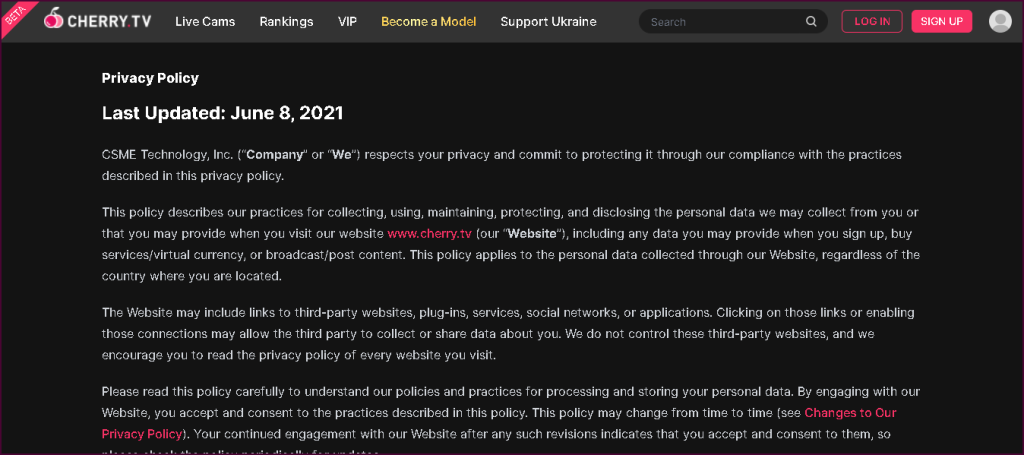 Hell yeah! The Cherry.tv site employs cutting-edge technologies to keep your data private and protected. So, don't worry about any scamming or data fishing because I can assure you that this site has already secured its perimeter from untrusted online scams. As a matter of fact, Cherry.tv has a stable and reliable HTTPS system in place that is used for every website transaction.
Also, every payment and transfer made at Cherry.tv is handled using encrypted communications, so let me assure you that no data breaches will occur. Specifically, the Epoch and Segpay, among the world's biggest and technologically sophisticated digital transaction handling firms, are handling Cherry.tv's payment method purchases.
Pros and Cons of Cherry.tv
PROS:
Numerous cam girls, trans, and gamer models are available
Attractive design and user-friendly features
It has free cam shows
Registration is accessible to all
Models are diverse
Variety of chat options
Secured site
Freebies upon registration
CONS:
Some exclusive features available for Club Cherry members only
---
12 Must-Visit Sex Chat Sites Similar to cherry.tv: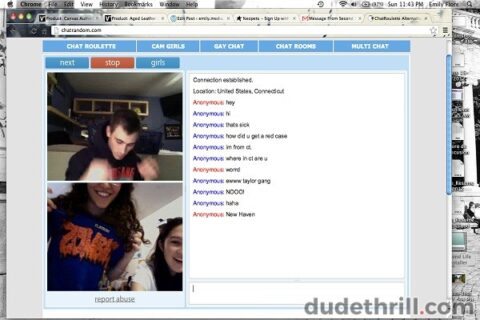 Chatrandom is a free live chat site that allows users to connect with people and strangers worldwide easily. The site started its outstanding service around 2011, and since then, it has become one of the most popular sites today. Indeed, this is the most exciting live chat you can experience. Because the system uses a roulette-type matching and lets you chat with thousands of people every day
Here's the full review of Chatrandom.
PROS:
Registration is free
Users can chat with members from other parts of the world
People can join live chat without registration
There are thousands of active users every day
App version is available for download
Hiding identity is public through "mask."
Free sending messages
CONS:
No profile photo is available
Only Android users can download it
More number males than females registered
---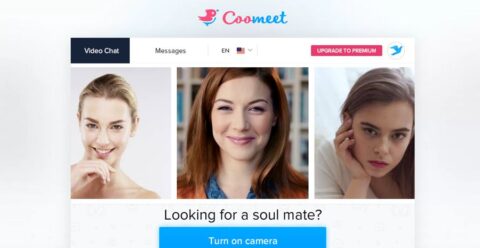 Coomeet is a live cam and chat website that made the life of many people easy and refreshing. Numerous websites on the Internet now give unbelievable features, and clearly, the Coomeet website is among them. Despite being a new website, it did not stop standing out and delivering users the best chatting performance. Because of its constant striving, it became what it is today.
Most of all, the website's unique features helped people find their luck in dating and hookups compared to other websites. Thus, if you have not experienced live sex chats before and feel bored with your life, head over to Coomeet; truly, you will experience the perfect live chatting ever, with a bonus of real sex and kinky stuff.
Click here for Coomeet full review.
PROS:
Thousands of women are active online every day
There are available girls within the 18 to 40 age bracket available so that everyone can find suitable matches
High-quality webcams
Stable video streaming
Free accounts can access all the website's features
An easy and smooth mobile browsing experience
Emojis are available
Private chats and video calls are available
No advertisements
Facebook and Gmail log in are available
CONS:
When doing things out of the guidelines, the website will deduct minutes from the video plan
Picking the gender of the person you want to talk to is not possible
---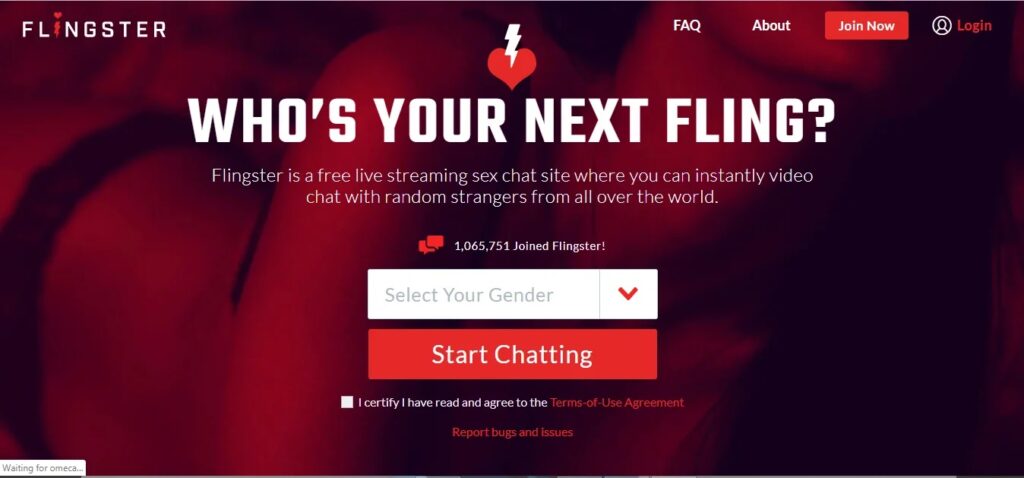 Flingster is an adult sex chat website for a meeting, hanging, and making out with singles. On this website, the application process is indeed speedy and convenient. So, it won't be wasting much of your energy at all. Compared to several other sex chat websites, even free accounts can use messages and video chats without paying.
On the other hand, paid subscribers have additional features that are indeed unique. Meanwhile, Flingster similarly provides discreet identification while chatting before you consent to a spontaneous, quick fling.
PROS:
Unspecified character is a choice
Everybody is excellent regardless of sexual orientation or gender
The sign-up procedure is available and relatively simple
The site's design is simple; however, understandable to navigate
CONS:
There are occasional phony profiles reported
---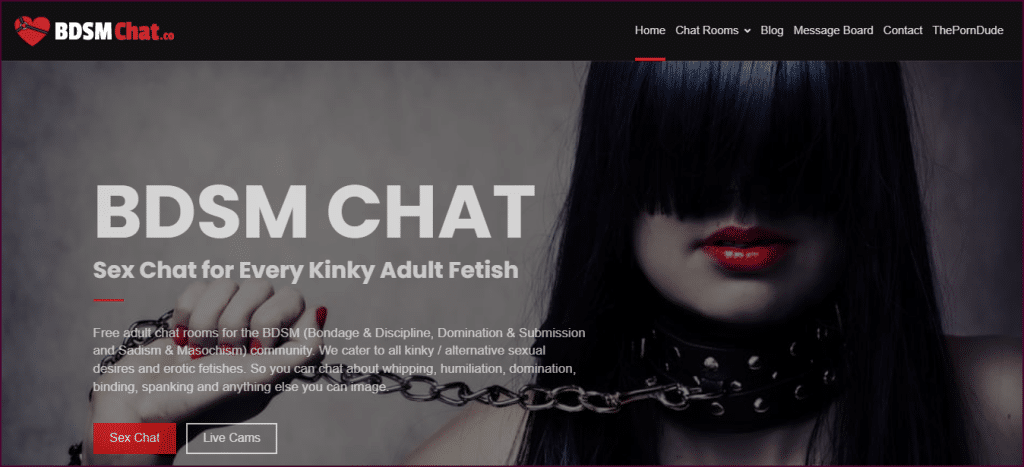 Compared to other sex chat sites, BDSMChat caters to a different and unique fetish that only a few of us would enjoy. You will find a shitload of different chat rooms where you can express your erotica-related fantasies freely. It is what BDSMChat is known for worldwide.
Click for a full review of BDSMChat.
PROS:
Numerous chat rooms are available
Caters to all types of kinks and fetishes
Active members
Straightforward design and usability
Informative blogs
Can browse as a guest user
CONS:
The forum has few members
Requires registration to enter the chat
---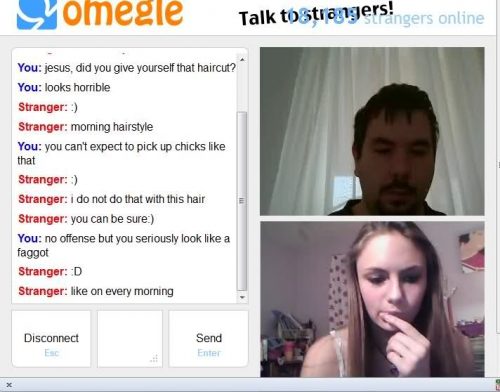 Omegle is a widely known random live cam and sex chat website. Initially, this suet advocates creating and building connections, meaningful relationships, and friendships with random strangers. Something that conquers prejudice in personality, ethnicity, and culture. Indeed, the people behind Omegle aim to provide an excellent platform for everyone that allows them to connect and interact with other people worldwide.
So, if you enjoy chatting, talking, and just having fun, you will undoubtedly enjoy Omegle. With its unique features and design, talking through text or video is easy peasy! Swift off that loneliness and boredom, and indulge yourself with the pleasure of chilling with random strangers.
PROS:
Topics and discussions are limitless
You can personalize your experience by adding interest to make matching more precise
You can use live video for convenient video chatting
Maintains anonymous identity of members
People or users actively reply to messages
There are around 30,000 users you can talk to daily
Best venue to find strangers randomly
No registration required
You may use university-based e-mails to get matching with fellow university students
You can effortlessly disconnect from boring undesirable chat mates
CONS:
You may encounter perverts
Many users are into dirty and naughty chats
There were some reported bots within the website
---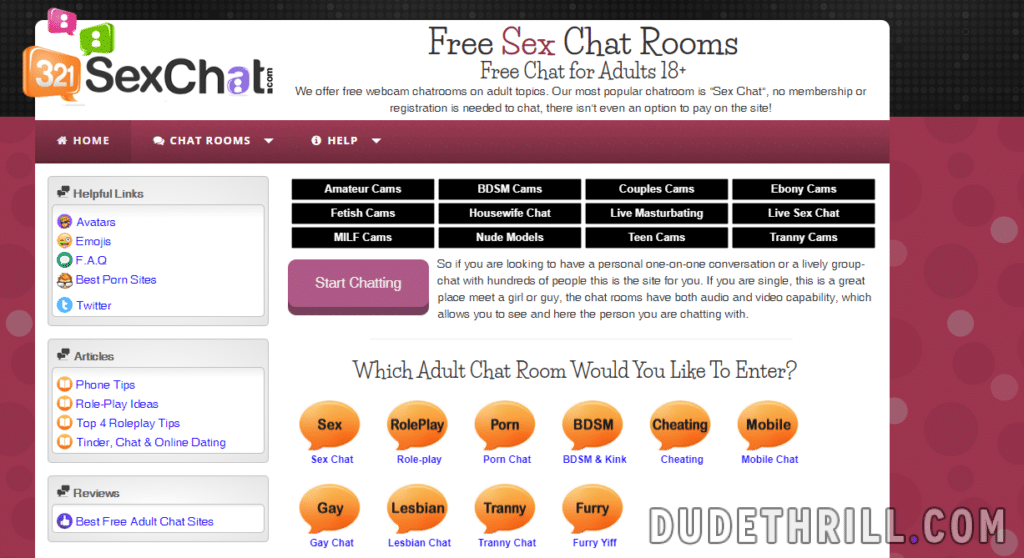 A masterpiece made by Greg Barrow, 321SexChat is a sex chatting website founded in 2002. Formerly, the website previously known as the 321Chat website contains plenty of chat rooms for adults, kids, and teenagers. Indeed, it has all the benefits an adult sex website could have. Not to mention, it is safe, smooth to browse, and fun to use.
PROS:
Essential features and functions are available for free
The Mobile version of the website is smooth and user-friendly both on iOS and Android devices
Can customize profile accounts
Maintains anonymous identity of the users
Free use of video chat
You have the option to use the free version
Design is simple yet very easy to use
The browsing experience is smooth, and no lags
Plenty of categories and chat rooms you can enjoy
Compatible with all smartphone devices
CONS:
Contains advertisements
Using Private Rooms is not free
---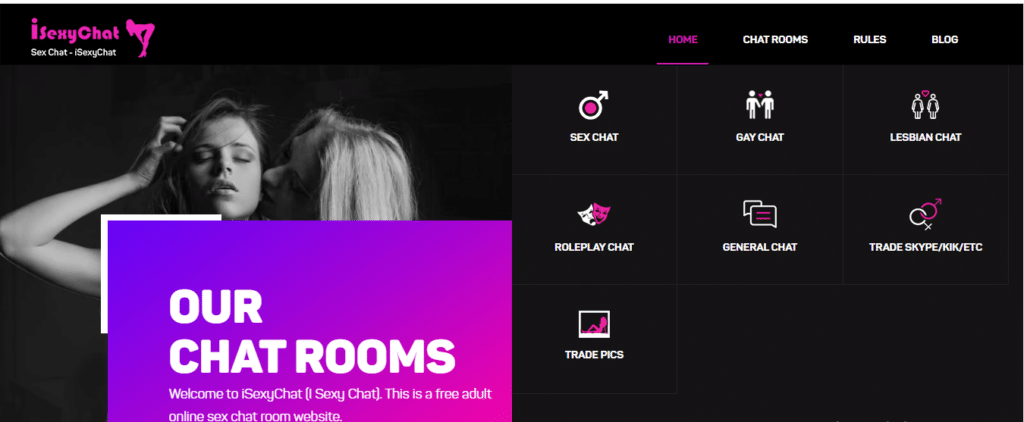 iSexyChat is a chatting website that lends tons of pleasing, stimulating, and satisfying services allocated to those who want to mingle with anyone online. The website made sure to allow the public to experience fulfillment and accessibility in one platform. Get ready to quench your thirst and sexual needs! iSexyChat groups individuals with the same needs wants, and interests. This definitely makes every time spent worthwhile and gratifying.
Take a look at iSexyChat review.
PROS:
Unlimited use with most of the website's features
No registration is required to use the chat service
The web design is convenient and friendly even to novice users
It suggests various free adult websites
No discrimination and welcomes different gender preferences
It has a wide selection of chat rooms to choose from
CONS:
Unavailability of customer support
Several advertisements affect the chatting experience
Unavailable search engine tools
---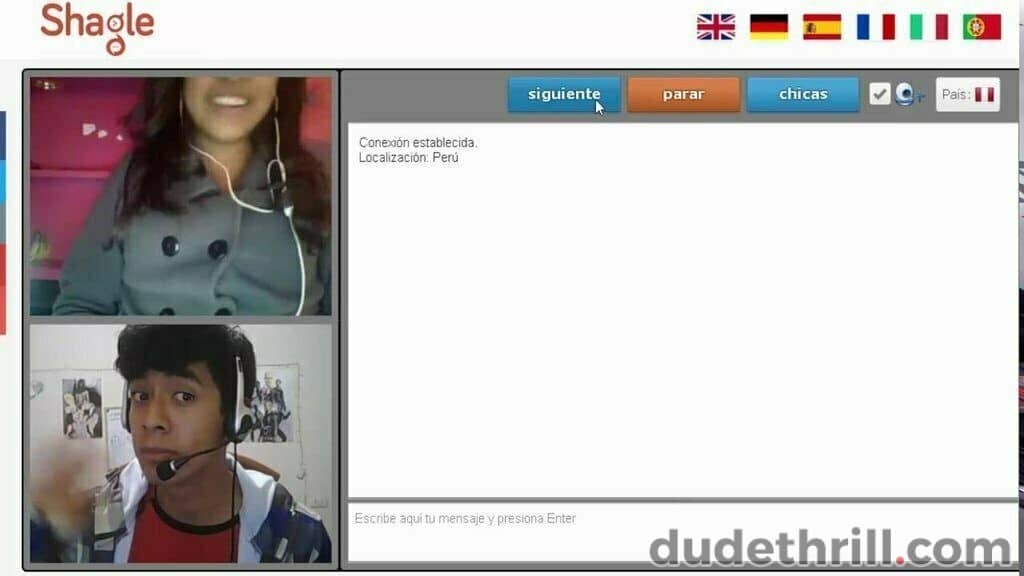 If you are considering a superb venue to video chat with strangers and gorgeous hotties, then certainly, the community of Shagle would be an excellent option for you. You can discover lots of diverse people with various interests on this page.
Hence, creating a connection and understanding are the main focus. Also, it has an outstanding balance of people aged 25 to 55 years old, suggesting that you can always find the right match on this platform regardless of how young or old you are.
PROS:
The intelligent algorithm ensures you will not talk to the same person two times
It has millions of members around the world
A maximum of 5 minutes will require to register
Free members have plenty of benefits and feature to enjoy
Available in 70 different countries
Rule s and regulations are available and required to follow to maintain the user-friendly experience
Features and communication tools are plenty
It does not require personal information to register
Free sending of text messages
Free use of live video chat
No language barriers because of Translation Tool
CONS:
Not available in-app version
You cannot access additional features using a free account
The video quality is average
---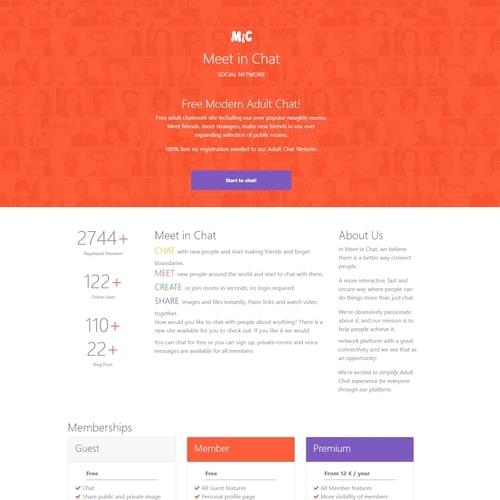 Meet In chat is another must-visit sex chat website. Certainly, it is a new page, so you won't expect many people around here. However, thousands of people are registered here, and all of them are actively looking for a fantastic sexy time. Despite being new, it contains 170 available public chat rooms you can join for free.
Indeed, you will never feel bored or tired because erotic activity happens every second. Also, the website provides options as a guest or official member. In other words, you can use Meet In Chat without registration. Although there are still plenty of available features you can use as a guest, more benefits can enjoy as a member.
Full review of MeetInChat here.
PROS:
Gather all people with similar interests in no-string-attached relationships
Plenty of categories and chat rooms are available
It does not require membership to use
Minimal advertisements available
CONS:
Basic design
No FAQ available
---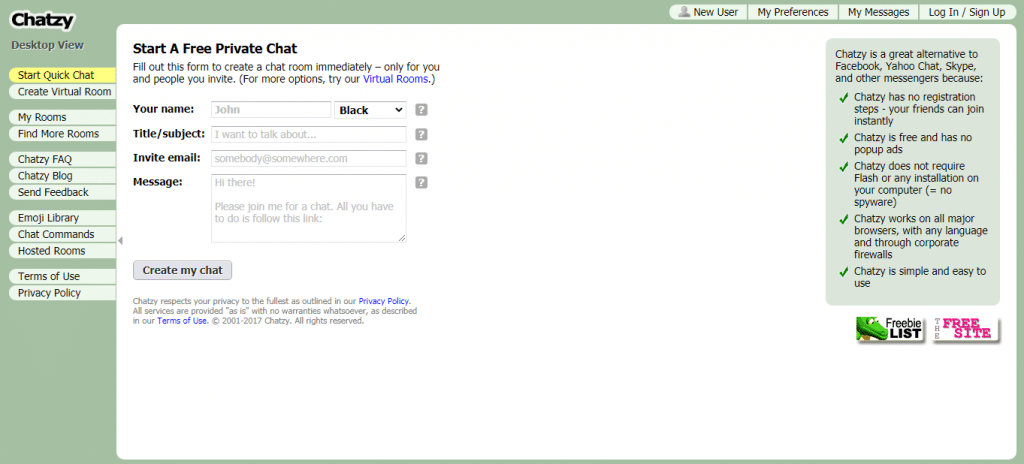 Since Chatzy.com is not a conventional Private Adult Chat website, it sees itself as a credible option to other social media sites like Skype. It's uncomplicated to set up an account, and once you've done it, you can launch chat rooms without sharing any personal details.
Users benefit from creating their chat rooms or joining one of the thousands of available chat rooms on the website. Somehow, Chatzy's concept seems somewhat outdated; however, it does not imply that the website is not highly recommended for romance.
Click for a Chatzy full review.
PROS:
Registration is easy and safe
Has thousand available chatrooms you can join
Huge user base
You can create chatrooms freely and share them with anyone
It has instant messaging available
CONS:
No searching option
Old-fashioned design
No available profile pics
---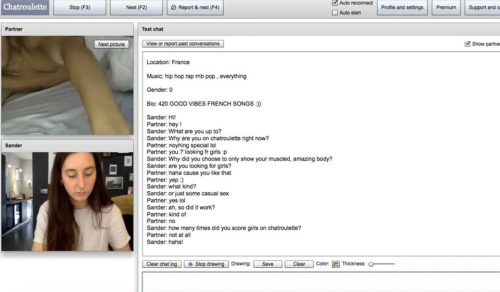 Chatroulette was among the first to establish popularity in the chat room in the early 2010s but didn't last long. Its three media forms are text, video, and audio chat for everyone. So, if you feel lonely and need some heat through the night, why not find a sexy friend online and indulge in a never-ending erotic moment? Join thousands of people randomly hooking up online, and witness how erotic magic illuminates your life.
PROS:
The website allows anonymous chatting and secures user's identity
Open to all types of sexuality like bisexuals, transgender, male, female, gays
The website is all-inclusive, opening itself to the LGBTQ community
It prevents users from showing inappropriate activities, actions, or exploitation of children
Easy process of reporting abuse, violation, or any wrong actions that occur during chatting
Free use of all the website's features, services, and anything you can find on the page
Requires facial recognition to enter Chat
You can effortlessly disconnect from an annoying, unwanted, or uncomfortable match
Registration is not a requirement
Has more than three million unique visitors every month
CONS:
Does not support iOS system
No longer offers text chatting, only video chats
Nudes and sex is rampant
---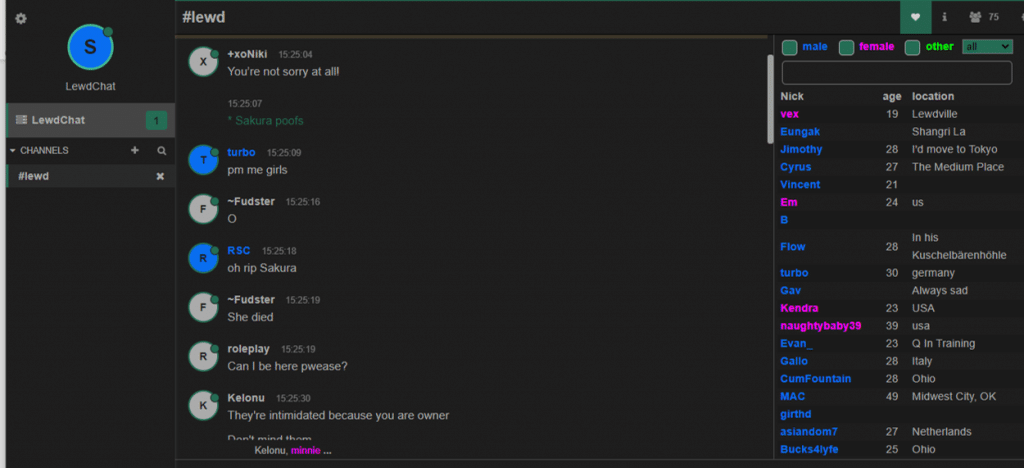 Lewdchat is all about sexual chatting and flirting. This site wants to create an active community through sex chatting and draws so much attention because they care about the needs and abilities of the public. Everything here is free, smooth, and hassle-free. You do not have to pay money or share personal details to use the site.
PROS:
No registration required
Protects identity and adheres to anonymity
Chat unlimited
Available 24/7
Can privately message other members
Multiple chatrooms
Straightforward features
Meet like-minded individuals
Completely free of charge
CONS:
Quite a boring design
Limited features
Few site members
---
Bottomline
With all the perks, freebies, and advanced features offered by Cherry.tv, I can say that this site is really to watch out for. My experience here is pretty unforgettable because it has delivered not just a unique cam experience but also a fantastic engagement and interactive connection. I really thought that Cherry.tv would be just another live cam site, but when it incorporated social networking features and gaming experience within its features and concept, that's when I knew, "This is beyond ordinary." So far, Cherry.tv has exceeded all my expectations and disappointed my negative pre-judgments.
Above all, offering free chats for budget-tight users is a fantastic perk any site can do. You won't find a live cam site that delivers sophisticated design and VIP-like features for free, so if your cock is craving something fun, better not look elsewhere. You got Cherry.tv to satisfy every bit of fantasy and soul. This state-of-the-art platform has a reliable reputation that consistently provides high-caliber models, high-definition cams, and opportunities to experience sex adventure right in the comfort of your home!
All 42 Other Sites in This Category Worth Checking Out:
TryNectar & 12 Best Sex Chat Sites Like TryNectar.ai Show Me 12 Alternatives for TryNectar.ai A day in the wild world of TryNectar, I found myself knee-deep in some next-level roleplaying with bots. Now, I won't lie; I'm starting to question if I'll ever waltz back into typical dating – yeah, call it an exaggeration, but […]