Updated on: December 7th, 2023
MaturesCam
& TOP 12 Live Sex Cam Sites Like MaturesCam.com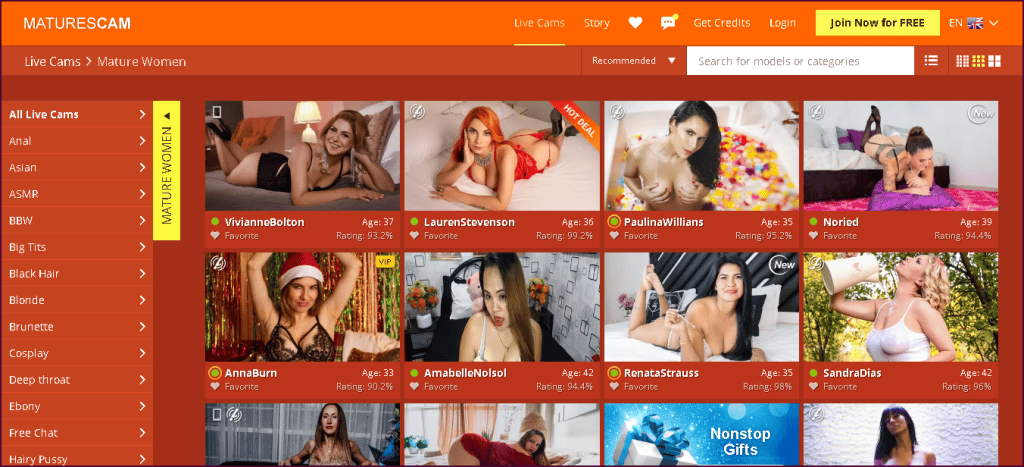 A real horny man would know that girls age like fine wine. The more years they add to their age, the more they taste great. That's why, recently, I got hooked on a unique live sex cam site that showcases hot MILFs in town. I'm talking about MaturesCam, and the adult entertainment industry has recognized its explicit cam service for years. People, especially horny men, can finally enjoy the expertise and sexiness of hot wives, cheating partners, and mature women in an interactive chat system. But if you're a newbie in this niche, maybe my review below will convince you to switch!
Official URL: https://maturescam.com
MaturesCam: Making A Revolutionary Transformation On Your Typical Live Sex Cam Experience
Before, if you wanted to stream porn starring some gorgeous MILF, you had to collect these hotties, invite several viewers, and create a simple chat site.
However, things have changed over the years, and adult websites have come up with numerous innovative ideas to experience cheating and smoking hot MILFs more interactively. Of course, those sites that can't keep up with the trend will get left behind.
MaturesCam, on the other hand, has already shown these types of services. In fact, it's one of the few that provide technical innovations and transform the live sex cam experience in more fun and exciting ways. It offers unique chat features and standard live cam services, including sex shows, visitor chats, and private live cam performances.
Also, the site supports other languages apart from English, like German, Italian, Spanish, and more. With this, all users who are not English speakers can still communicate with the models effortlessly. But remember, particular cam girls offer these languages, so pick the right one that fits your standards.
Excellent Quality Cam Performances Anytime You Want!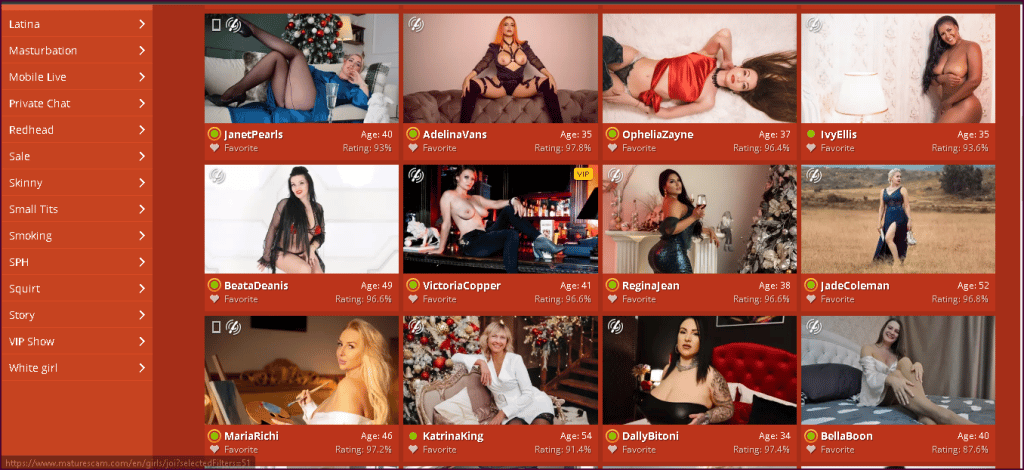 MaturesCam offers some decent quality performances and webcam resolutions. Although, I'm going to say that the overall quality of the site's cams will depend on the model's equipment. We can't be sure they will all have the same HD cams because some only use SD quality. Now and then, you might experience some choppy signal or poor-quality cam.
You might stumble across some dedicated models investing in high-definition cams if you are lucky. And yes, I used the word "stumble" because there is no means to know if a model uses SD or HD cams. Some live cam sites use a tag system for easy identification, but for MaturesCam.com, unfortunately, only luck can tell whether you'll land in a quality chat room.
Real-Like Model Experience and Free Photo Gallery Browsing of MaturesCam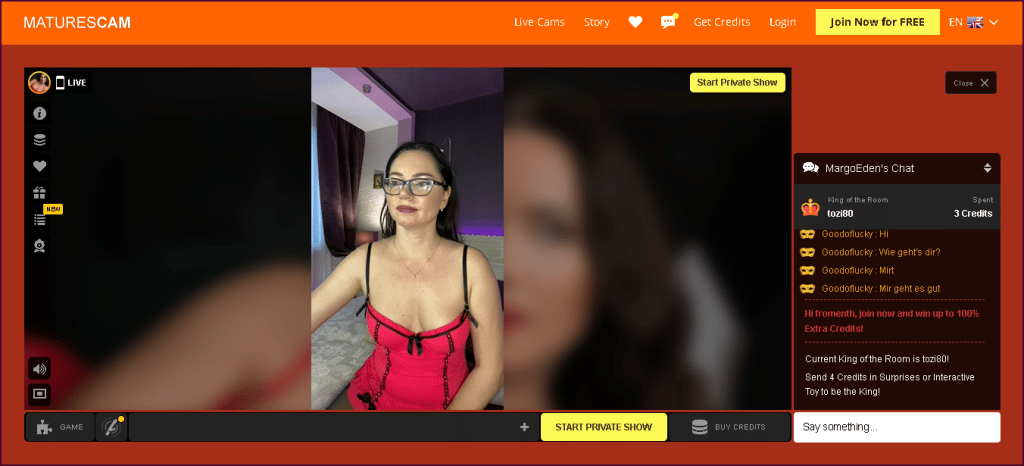 Fortunately, I was lucky to land on high-quality cams and top-notch models. It was surprising because every chat room I enter has impressive streaming capacity and sharp image resolution. Wherever you look, the view is clear as fuck, and getting intimate with the gorgeous MILF won't be so complicated and time-consuming. Certainly, high-quality cams make the live cam experience much better and close to reality. It feels like you're actually talking to them in person and performing in the same area.
Certainly, this type of close interaction is a huge advantage and a fantastic experience that many live sex cam sites often overlook. There should be no way to hinder you from indulging in a show and exploring the one-of-a-kind cam adventure.
Additionally, most models love posting their pics online, which are accessible for free. Luckily, the images on MaturesCam.com are also available in high-quality resolution, so you have no other reasons not to enjoy your time here, even when you're not using the chat room service. Also, if you like to see some professional-looking galleries, the site has regular award shows for the best MILF models, and you get to see their fantastic collection at no charge.
Effortless Navigation, Newbie-friendly Features, Detailed Profiles, and Incredible Menu Options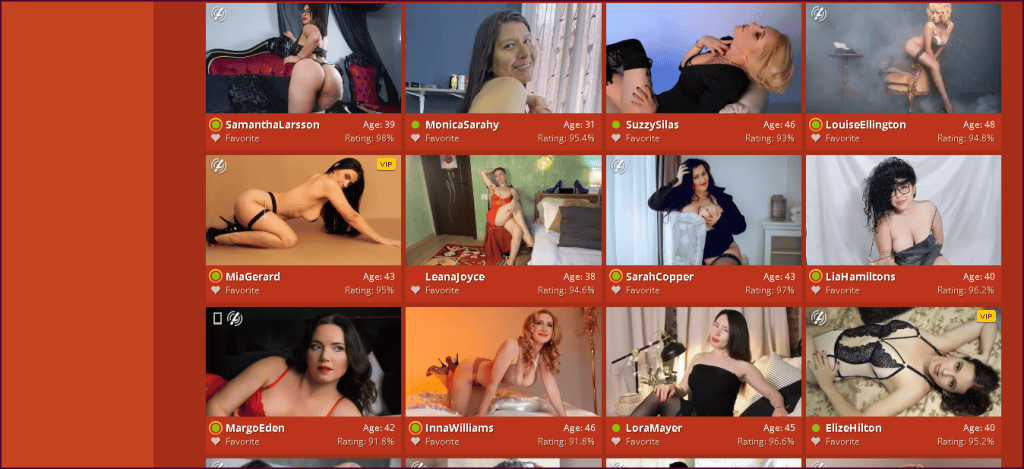 Simple Design and User-friendly Navigation
The MaturesCam's interface should be easy to use, even for first-timers. It has a similar structure as the other sex cam sites, so you should be familiar with the Navigation and features it has. Expect to see a massive selection of models, and you are free to explore hundreds of model profiles available for chat. One thing I like about MaturesCam is its excellent navigation process.
Model Profiles With Basic Information and Live Cam Show Teasers
It's the first time in my online journey this week that a live sex chat site has provided me with fantastic profile features. You can easily view live teasers of their active cam shows while exploring the entire page. This way, any user would experience convenience because they don't have to go hither and thither around the site just to keep up with the models' current activities. And when you finally find that perfect model and want to locate them every time you visit effortlessly, simply add them to your "Favorite" list.
Find The Perfect MILF Using Menu Categories
Meanwhile, MaturesCam's main menu is incredible because it is composed of different functions that will make browsing and streaming more uncomplicated. It has various features, including language sets, categories, model attributes, physical appearance, etc. Moreover, the search engine is pretty helpful in filtering the different live sex chat rooms. I consider this "helpful" because currently, MaturesCam has over 200 active chat rooms, and it would be pretty challenging to pick which ones suit my taste.
This number, however, is not consistent from day to night. There were times that there would be less than a hundred active chat rooms available, but expect to see an overwhelming amount during weekends. Certainly, all users will experience much better navigation, especially in picking out specific models with different attributes and cam show specialties.
Hottest Cheating Wives, Seductive MILFs, and Naughty Mature Cam Models at MaturesCam.com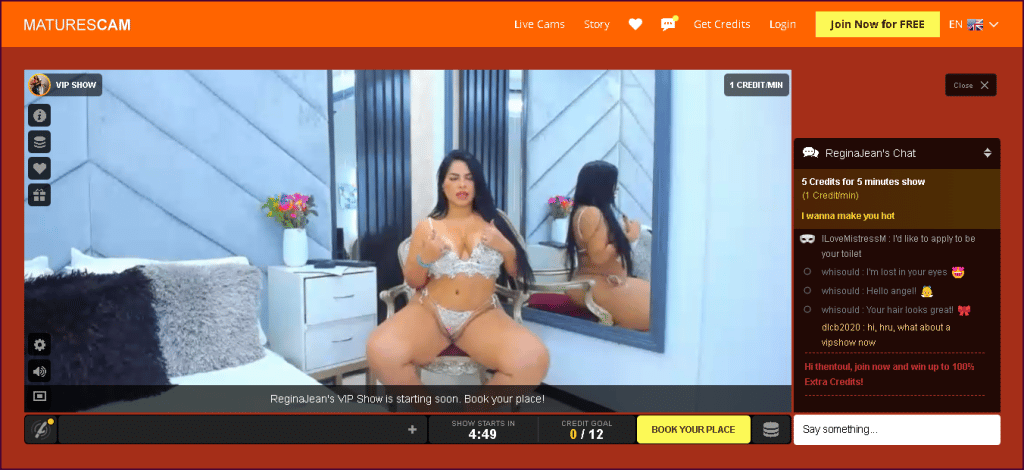 MaturesCam has an incredible number of models, and over a hundred are active simultaneously at any time. Of course, these MILF models are not just ordinary performers; they have different skills, niches, kinks, and capabilities. So each of them will surely provide you with a different experience every visit. And if you will explore it deeper, I'm sure you will find a perfect model who likes to experiment and is willing to fulfill even the most ridiculous request.
Moreover, after browsing the model directory, I realize that the site's performers are not all considered "mature." Yes, most of MaturesCam's performers are within the "mature" age range compared to other live sex cam sites. However, many are also below the typical "mature" standard. Maybe this is a good thing because we have a wide range of model options anytime we want.
Additionally, MaturesCam has an extended interactive feature where you can write the model some messages and share your opinions regarding their performances, chat experience, and pictures. Every model also has a dedicated profile with information about themselves. Sadly, this info is not as detailed as we want it to be, but it is helpful because it has several pieces of information that will guide us in deciding and picking out which live cam shows to join.
Passionate Live Sex Cam Shows and One-on-One Intimate Moments with the Cam Girls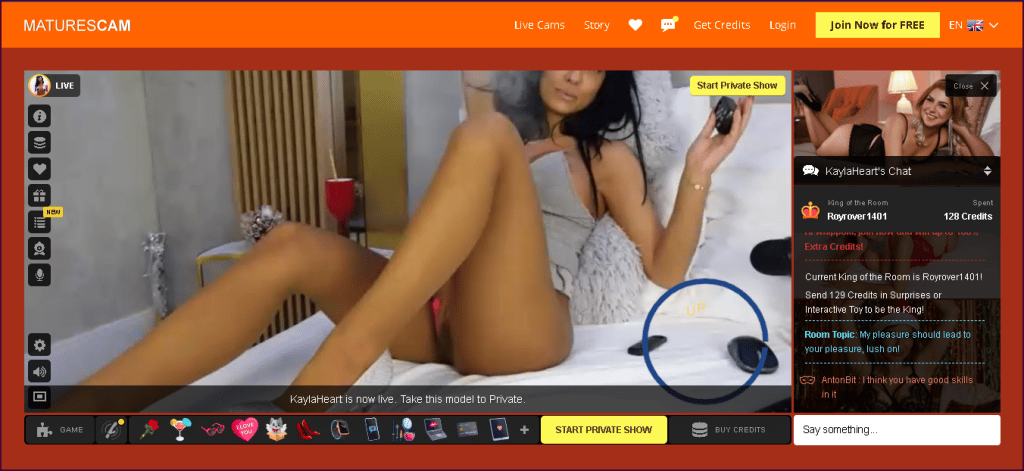 Available to all users and even visitors of MaturesCam. This free chat feature is a fantastic way to get to know the models. Some users also use this to familiarize themselves with the site's overall chat experience and functions.
Ahh private. This is probably the best way to experience MaturesCam's models in the most intimate and daring ways. Many people are flocking to the site just to get private time with the MILF and indulge in their sexual prowess. Above all, you are free to choose which one aligns with your tastes and preferences.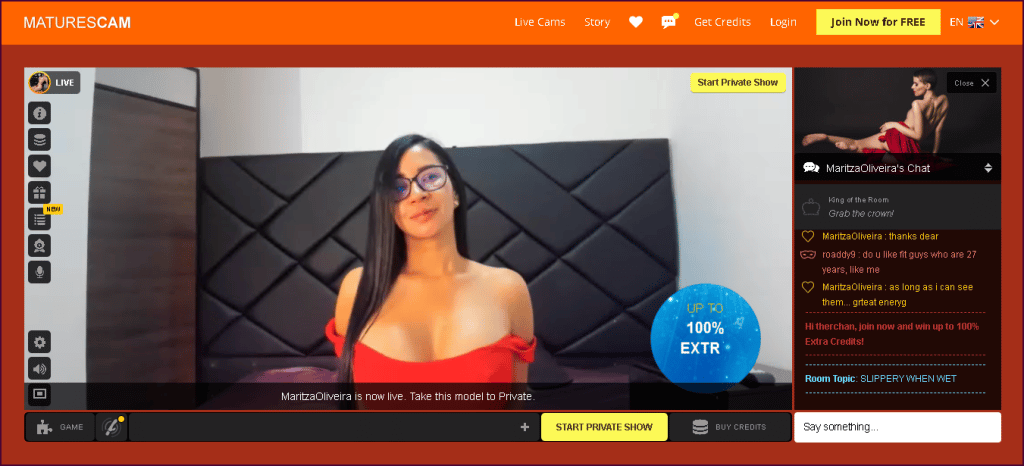 Many live sex cam sites have used the Cam2cam feature, and MaturesCam also didn't leave this feature behind. This is a fantastic tool to have a more intimate experience with your favorite cam model through audio and video chat services.
This might be a new feature for some of you, but technically, it works like a private sex chat where people can enjoy any MILF they want and experience it without interruption from other annoying members. But remember, a one-on-one experience with a cam model costs an additional fee, so make sure your wallet is prepared for anything.
Shitload of MaturesCam Perks for An Affordable Rate!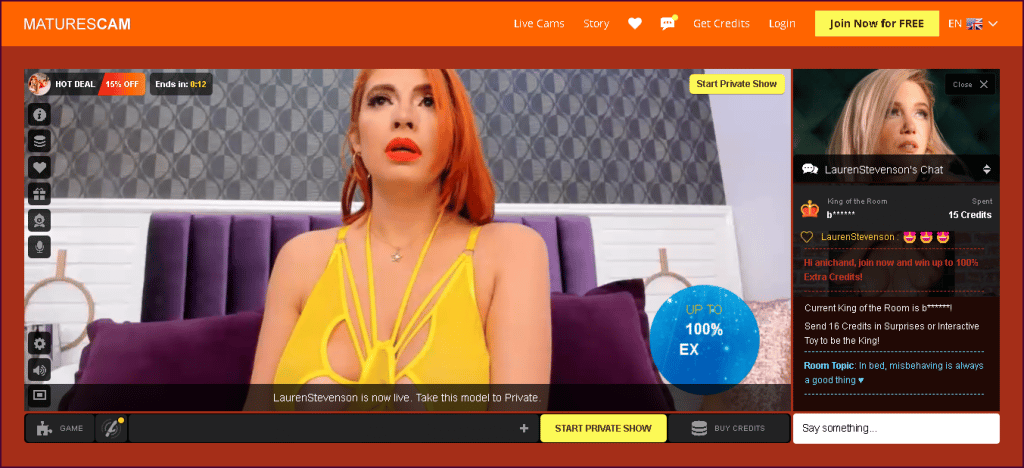 Don't worry about the prices because MaturesCam won't dry out your bank! The site has very affordable rates, and for the quality of its cam shows, it's definitely cheaper than expected. Also, the site offers several promos now and then, like chat discounts and sales. And when you purchase some credits for the first and sixth time, you will enjoy a bonus credit — no catch! But for a quick reference, here are the standard prices available on the site:
Chat Prices
Public Chats – Free (No Charge)
Private Sex Chats – $3.60/Minute
Cheap Sex Chats – $1.20/Minute
Credit Prices
17.99 Chat Credits — $22.99
27.99 Chat Credits — $33.99
67.99 Chat Credits — $75.99
97.99 Chat Credits — $106.99
157.99 Chat Credits — $169.99
Pros and Cons of MaturesCam.com
PROS:
Lots of unique and gorgeous MILFs
Hundreds of active cam girls anytime
Simple interface
Easy to use
Different ways to chat and stream
Unique concept
CONS:
Some private chat rooms are a bit pricey
---
TOP 12 Live Sex Cam Sites Similar to MaturesCam.com: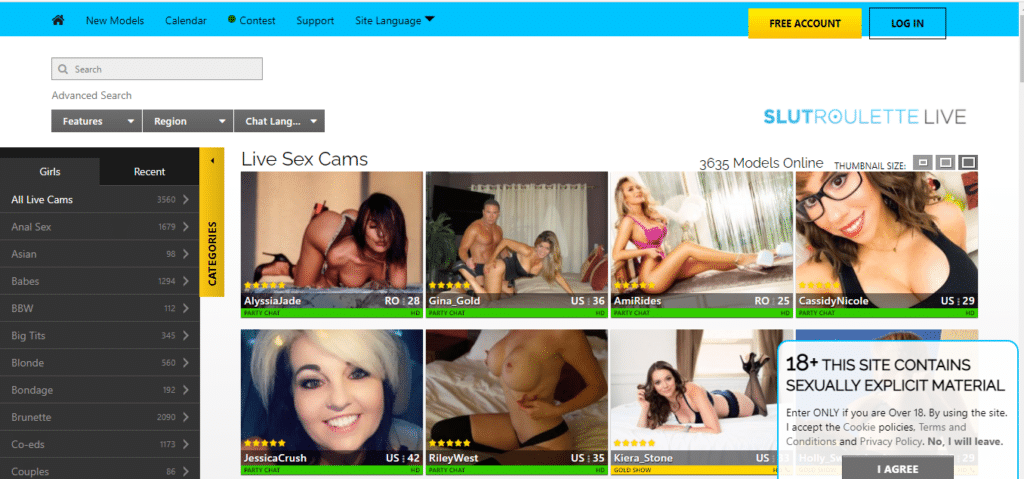 Are you tired out of the same old porn videos? Do you wish to spice things up a bit more and say goodbye to your dull, pathetic night? Say no more because the SlutRoulette website is here to answer your never-ending prayers.
SlutRoulette has been around for many years now. Indeed, it was able to gain the respect and admiration of many live sex cam fanatics. Certainly, there are no traces of old-fashion elements, graphics, and layout you can see. It has pretty straightforward functionality that even newbies would easily understand how it works.
Here's the full review of SlutRoulette.
PROS:
Registration is free and easy
Various selection of Live categories is plenty
The mobile app is free to download
The mobile app is well-matched with all gadgets and phones
Updates regularly
Chatting in chat rooms are free of charge
Free to switch from one person to another in a split second
Private and gold shows are available
Thousand of models to choose from
Community is diverse and shares different interests
Members are active daily
Scams and fraud have no place on this website
CONS:
No hook-ups available
There are some models with expensive rate
---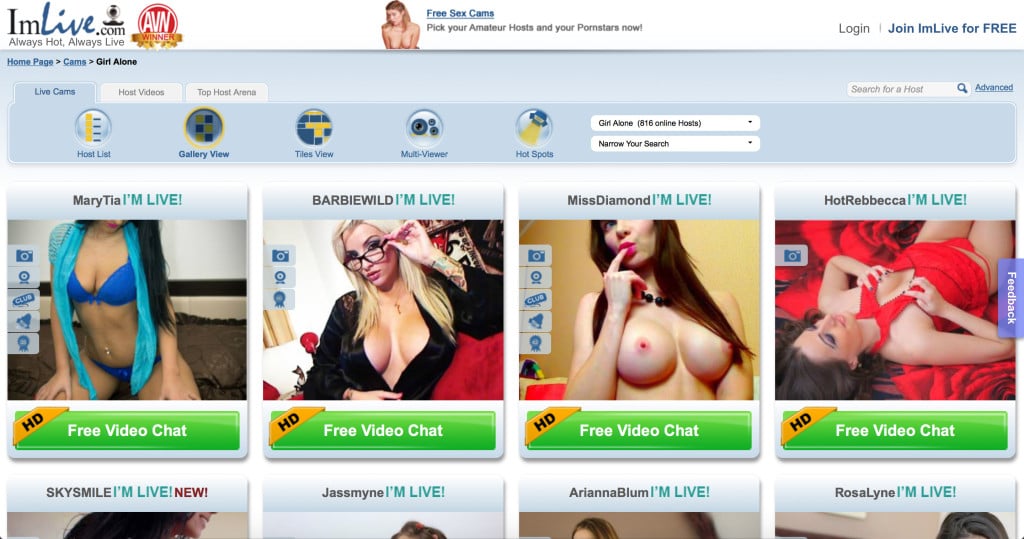 Imlive.com is a unique live sex cam site made for those diverse people. These people are those who really need to incorporate a little more excitement into their stressful schedules. Truly, it is one of the internet's very famous Livestream chat sites and we already understand really why.
Besides, in terms of producing hot females on the internet, Imlive.com presents numerous user preferences. In other words, with just a click of the mouse away, you can indulge loads of free pleasure camcorders with an amateur or beautiful pornstars. Ultimately, to fulfill your sexual urges, these good looking women from all around the globe are all here.
Click here for a full review of Imliv.
PROS:
Split into three various types namely, Host Videos,
Live Cams, and Top Host arena
Searching is not hard
HD videos with a bunch of sensual and beautiful girls
The browsing experience is considerably simple
Numerous different videos with a collection of distinct varieties all for users' satisfaction
CONS:
A bit confusing which video to watch because of a wide selection
---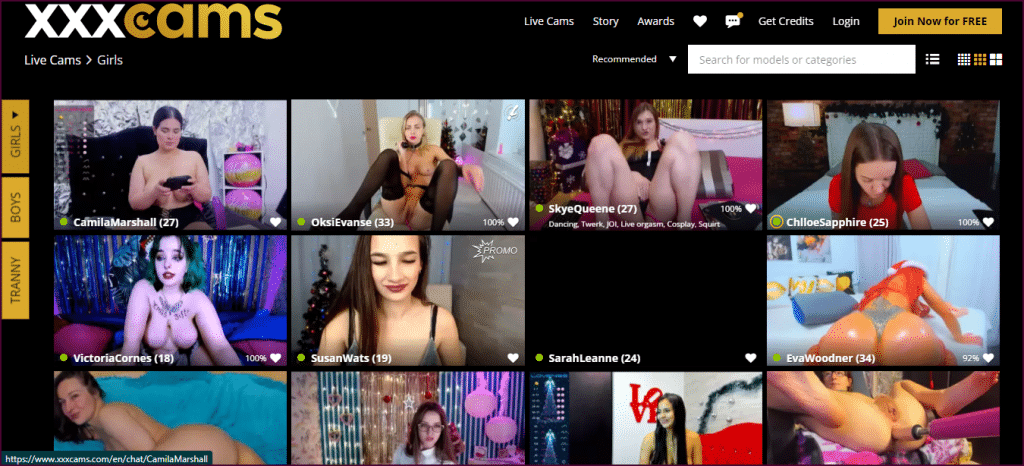 xxxCams is just a regular sex cam site online, but its features and services are no ordinary. As the title suggests, the service features kinky sex cam footage with sexy hot chicks. But, if you're thinking they are just regular chicks putting up a show, then think again. You can enjoy professional and amateur cam models here and even experience an exclusive sex performance with a pornstar.
The xxxCams site will give you breathtaking "seats" imaginable because the majority of them use brilliant high-resolution cameras. Certainly, it's like having front-row seats in a blockbuster Hollywood movie!
PROS:
Shitload of girls to chat
High definition cams
Free viewing of cams once registered
Truly good looking girls
CONS:
No peeking without registration
Private chats are pretty expensive
---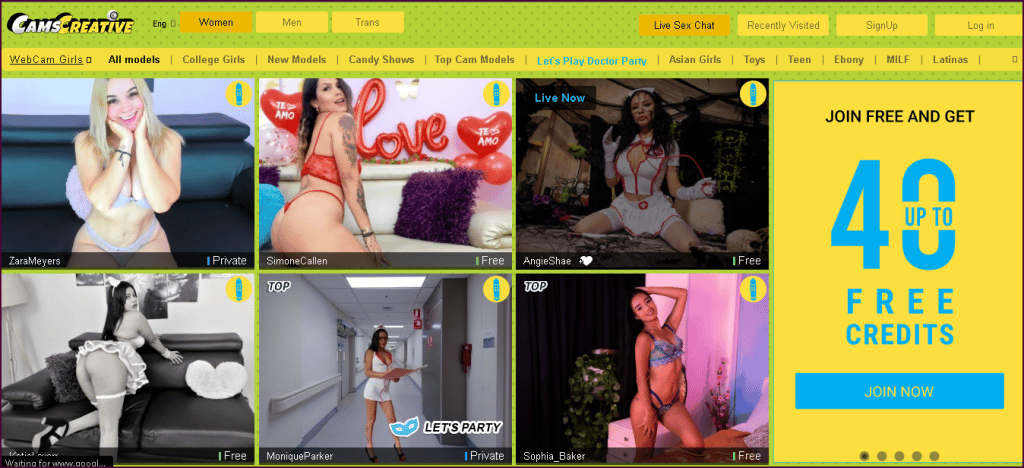 They are pretty new to the adult cam site industry, and they have the best, most creative, and artistic way of introducing their models. Creativity mixed with hot and sizzling sexy babes is how Camscreative do their thing. With the creative and artistic sides shown in every corner of the site, it will really get your blood and juices flowing in the right places, ready for some fun time.
All the sexy babes on the site offer the best experience via webcam, and Camscreative didn't disappoint in their lineup of models. Aside from the usual webcam stuff I've been used to doing with other sites, they also offer exclusive and unique site features, which I definitely enjoyed.
Click to see the full review of CamsCreative.
PROS:
Unique content and a wide variety of shows
Members can enjoy a lot of freebies and perks
Fetish shows by models are very in-demand
Models can do any task you want during private shows
Lots of show variety to choose from
Models are from different countries worldwide
Great variety of models and not just limited to girls
Couples, transgenders, solo guys are also available for shows
Interactive environment for both users and models
During private shows, users can control the model's vibrators
Affordable pricing with many perks
Excellent customer support available 24/7
200 minutes of free live chat are given to members every month
Videos are made of HD quality
Creative and artsy website design
Virtual gifts can be sent to models to show appreciation
CONS:
No HD marking, so it's pretty tricky to navigate
If you have low credits, models rarely interact with you
You cannot write comment reviews
No indicator for the availability of models (online status)
---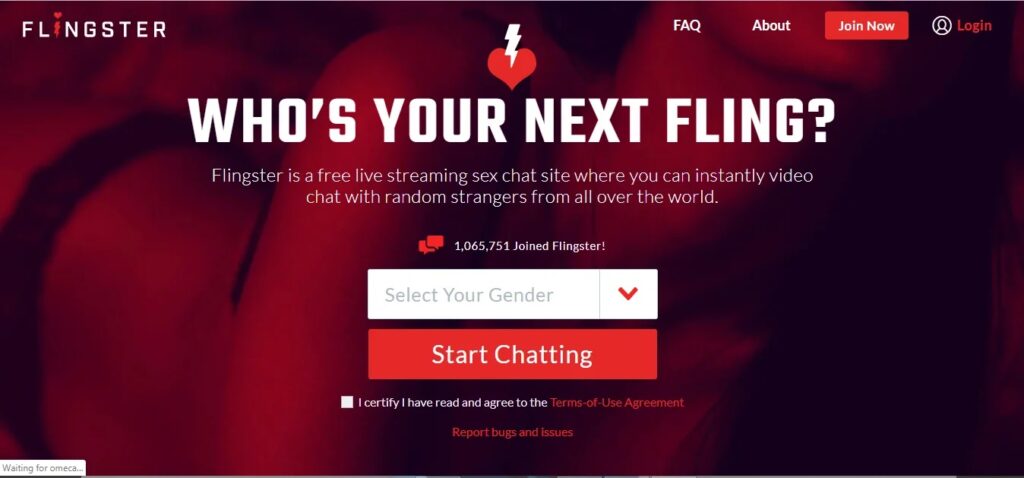 Flingster is a must-visit random video chat for a meeting, hanging, and making out with singles. On this website, the application process is indeed speedy and convenient. So, it won't be wasting much of your energy at all. Compared to several other dating websites, even free accounts can use message and video chats without paying.
On the other hand, paid subscribers have additional features that are indeed unique. Meanwhile, Flingster similarly provides discreet identification while chatting before you consent to a spontaneous, quick fling.
Check out the full review of Flingster.
PROS:
Unspecified character is a choice
Everybody is excellent regardless of sexual orientation or gender
The signup procedure is available and relatively simple
The site's design is simple; however, understandable to navigate
CONS:
There are occasional phony profiles reported
---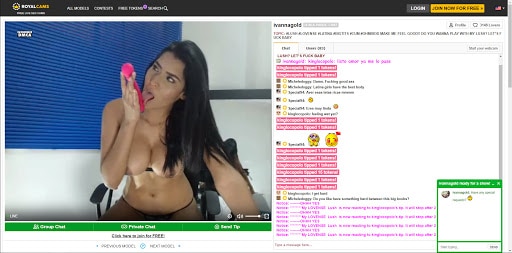 RoyalCams is a fully functional webcam platform. It uses a vast library of models that reflect both genders and orientations. There are four different types of personal chats available, including fully explicit and tip-based completely free chats. Check out our best choice if you're looking for the best adult cams. It's open, simple to use, and well-liked by users, increasing your chances of having a good time.
Take a look at the full review of Royalcams.
PROS:
Plenty of gorgeous girls
Spy/Voyeur style that allows you to see and chat with models.
Uses sex toys
Professional and amateur models
Mobile compatible
CONS:
Sometimes, models take time before going nude
A brief preview of the Visitor Live series
---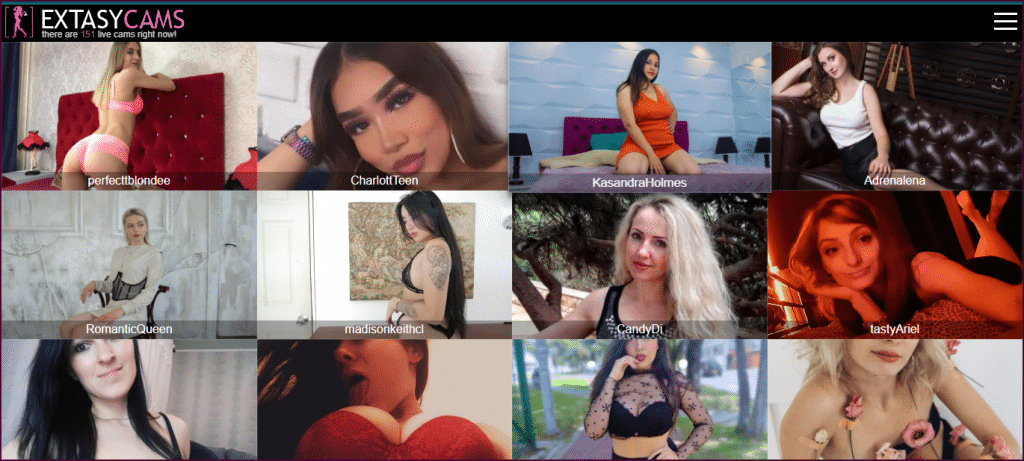 When we visit a sex webcam site, we already have a pre-existing notion of what to expect. Of course, that includes gorgeous cam models, high-quality resolution cameras, and pleasurable cam shows. On that note, Extasy Cams really top those expectations. Extasy Cams is really straightforward in bringing us what we expect it to be. Perhaps, the only twist I was really excited about here is the live show rates. Compared to other cam sites, this one is really reasonably cheap. You can watch live shows and sex for only $0.49/minute.
Here's a full Extasy Cams review.
PROS:
Simple design but elegant
Lots of models available
Some cams are HD quality
Very affordable cam model rates
Registration is free
CONS:
Lacking features
Unsatisfactory customer support
Most models have Average quality webcams
Nothing much to do with basic membership
---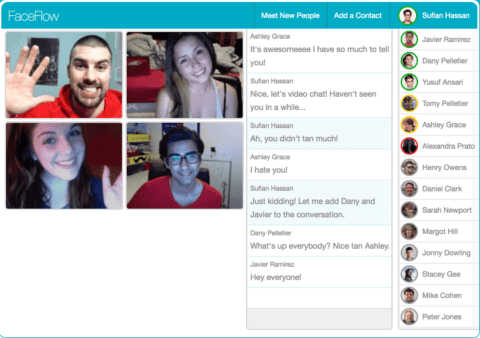 Are you interested in meeting new friends or connecting with someone in person? Do you want to maintain your friendships or keep in contact with friends? Then you must see FaceFlow and take a better feel for how FaceFlow can improve your communications.
This website was created for distant communication with your relatives and friends who may be living thousands of miles away. Later on, FaceFlow became a mix of a dating site and a service that helps you make new friends. Indeed, you can count on it to connect and laugh with your friends. Faceflow is a fantastic option for common messenger apps that demand subscription fees because it is free to use.
Read the Faceflow full review.
PROS:
The 'Find Random Partner' function helps to meet exciting friendships.
For searching users, basic search filters are available.
Members can be added to your Friends list.
If you are a registered user, your conversations are saved.
Without setting up an account, users can connect as guests.
Verification of email is optional
It is not a requirement to upload a profile photo
It requires 1 to 3 minutes only to complete a registration process
You can use your Facebook account to log in
The majority of the users are in their early twenties
FaceFlow moderators manage the public chatrooms
Free video conference communication is available without restrictions
There are four different languages available on the website
The website is available on multiple devices
Uses WebRTC to ensure high-quality live video chats worldwide
FaceFlow supports Opera, Chrome, and Firefox browsers for chat and video calls
CONS:
Users are using fake profile images
Males outnumber females
Display advertisements appear on the website since they are the website's primary source of revenue
---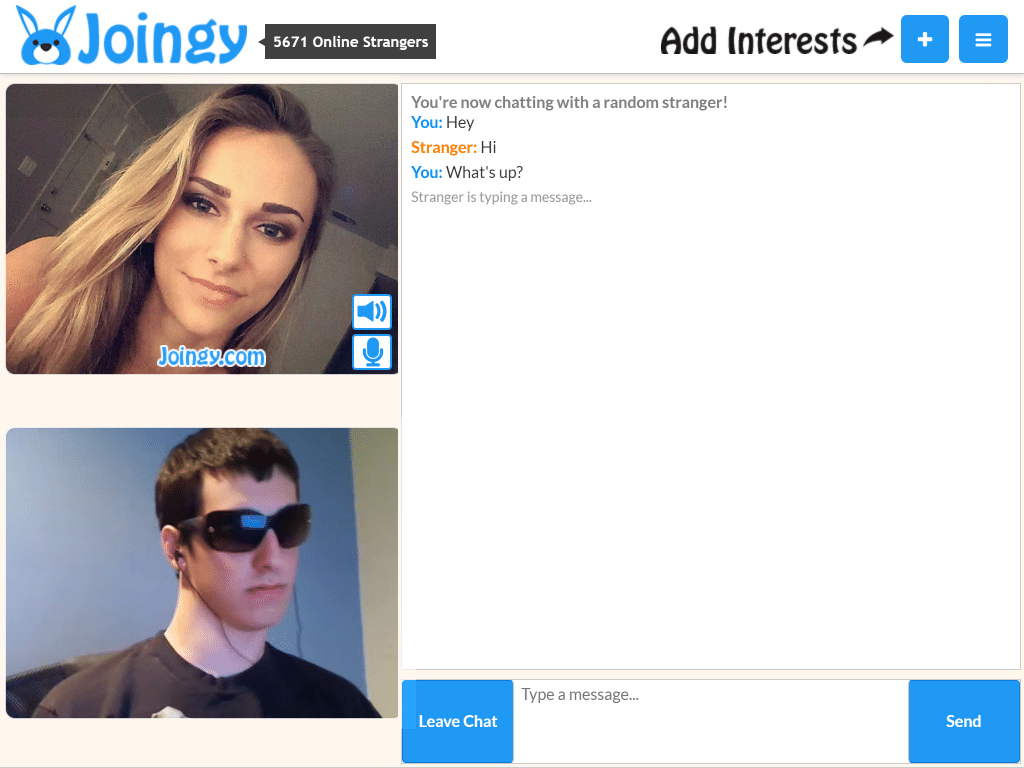 Joingy is a free video and chat service site that allows people worldwide to connect and interact with strangers roulette-type way. For years, this place has served as an excellent venue for many lonely users to come together and chat about fascinating things and simply have fun. So, whether you're looking to have a good time, discover something interesting, make new acquaintances, or perhaps fall madly in love, Joingy is perfect for you.
Check out the full review of Joingy.
PROS:
Easy matching
Supports mobile browsing
Free download of pp
Anonymous identity of users
Available in different languages
CONS:
Teens might be susceptible to sexual stuff
Mixed chat area for adults and teens
No serious connections, just fun
---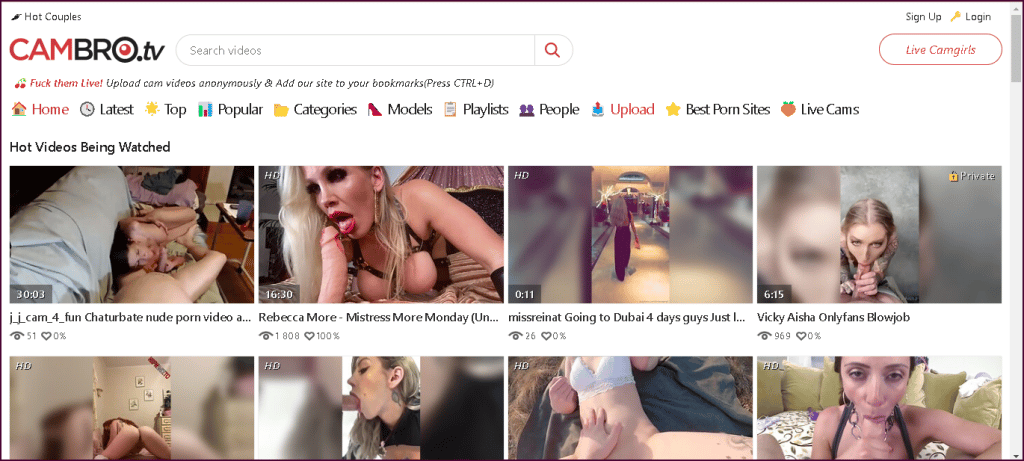 CamBro is definitely my ultimate go-to site for cam pornos and live sex videos. It has an amazing collection from CamSoda, OnlyFans, Snapchat, Chaturbate, etc. The page has thousand upon thousand of videos available, and they are not stopping until everyone drops. But obviously, a site won't become huge without the help of its hot cam models. So, CamBro is proud of its amazing and ever-gorgeous models who always make cam shows extra spicy and delicious. I can definitely assure you that all the best possible outcomes and performances will be mind-blowing.
Click to see the full CamBro review.
PROS:
Thousands of cam sex videos
Features lots of live sex cam sites
Models are plenty and all gorgeous
Frequent updates
Free to use
CONS:
Lots of ads and redirects
Some spam ads
---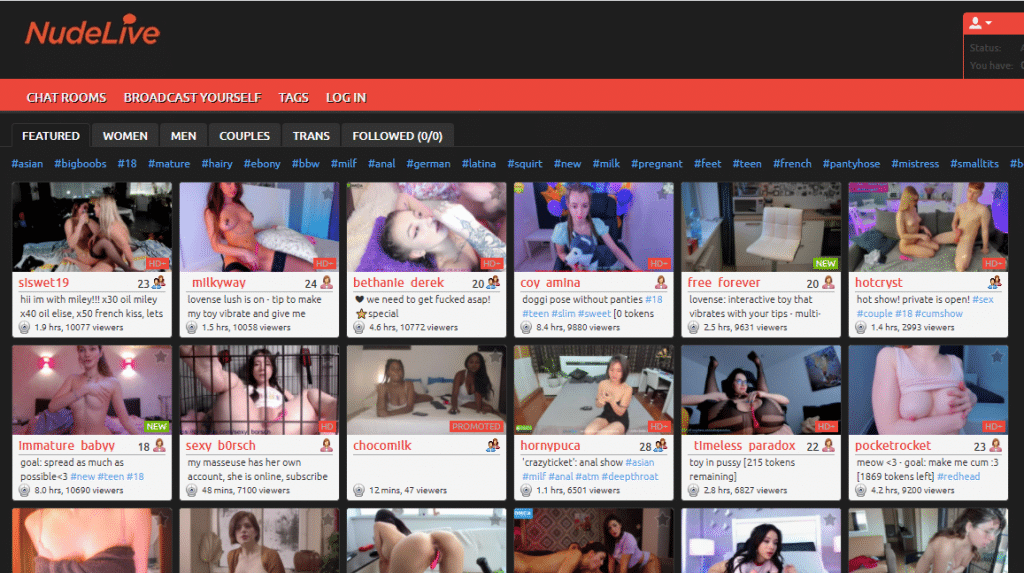 NudesCams is known for many features and offers live feeds, making it stand out from the most cam-site crowd. NudeLive is a relatively new website, but it already has a considerable fanbase and plenty of live webcams to choose from at whatever given time.
Not to mention, this website brings a great blend of real-time cam models and males and females alike. It's as effortless as pressing a button to switch between watching "only men" or "only women" on camera. Also, there is a wide range of material that has lumped together here, including "Teens 18+," "Couples," and Bi & Gay," making it easier for you to find what you're interested in and desire.
Learn more about NudeLive with this full review.
PROS:
Responsive cam girls and cam boys in an extensive database.
Cam models are a lot of fun to watch.
The majority of sex webcams are of high definition.
There are several niche categories from which to choose.
NudeLive is the only place where you can get a random feature
All of the cam models have massive thumbnail previews available
The website has a large number of models online
Adding models to your favorites makes it simple to stay informed on when they are available on the website
You can quickly switch from one cam display to other thanks to the convenience of use
The act of sharing your webcam with the actors gives you the feeling that you're watching an actual live performance
Free to use
CONS:
Several features are only accessible when you sign up and register as a member
Private chats and shows can get expensive
---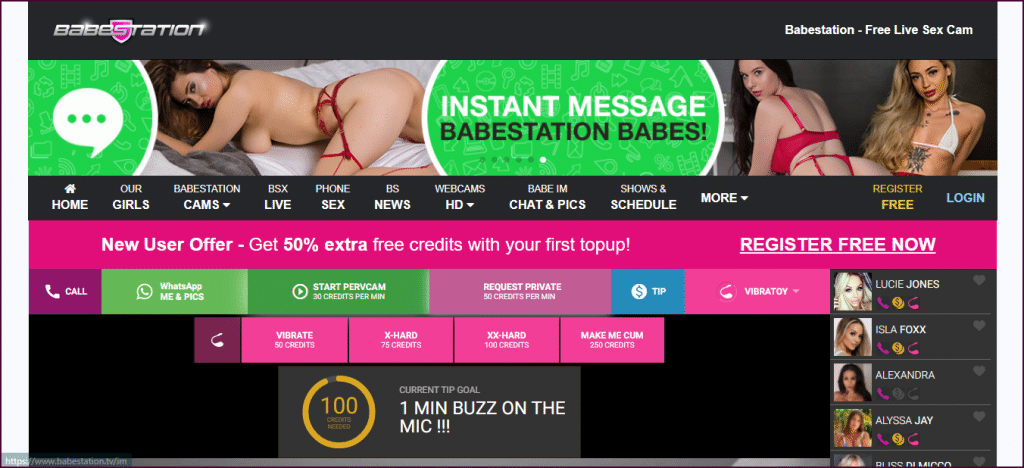 Babestation has been made closer to the viewers by creating an interactive website to fit the evolving advancement of technology. The Babestation.tv offers us excellent options to enjoy different types of erotic entertainment for the sake of pleasure. Certainly, there's nothing more fantasy-triggering service than the Babestation.tv's cam shows. You can watch and enjoy all its models and see which of them can complete your jerking night.
Check out the full review of Babestation.tv
PROS:
Amazing cam shows
Thousand cam models are available
Fantastic features
Registration is free
Supports mobile browsing
CONS:
Some shows are expensive
Requires VIP upgrades
Basic account has limited options
---
Conclusion
MaturesCam is the ultimate live sex cam site for mature cam model lovers. Its features and services are almost perfect, and you can enjoy it at an affordable price. The only area in which it falls short is the category feature, yet it still provides customers with the essential components of an exceptional adult cam adventure. So, this is definitely the most fantastic option for every gentleman looking for a passionate chat session with a decent fee. Before I wrap up this review, I highly suggest to all live sex cam sites out there to jot down and follow the footstep of MaturesCam.
All 115 Other Sites in This Category Worth Checking Out:
Strip Flix Review & 12 Must Visit Free Sex Cam Sites Like StripFlix.cam Show Me 12 Alternatives for StripFlix.cam Will you join me as I stream on unlimited stripping and babe teasing? There is no other site I could ever think about that is convenient, accessible, and limitless in nudity. We shall dig on sex cam […]