Updated on: December 8th, 2023
RevealMe Review
& 12 Greatest Live Sex Cam Sites Similar to revealme.com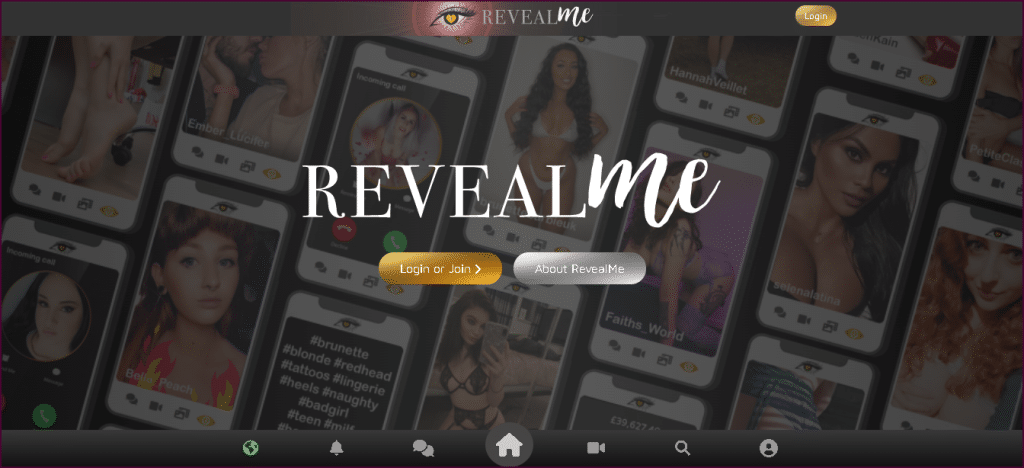 Another day, another review. Recently, I was looking for another live sex cam site that brings new features, concepts, and services. Good thing a friend of mine suggested checking out RevealMe. Hearing the name for the first time, I assumed it was just another simple striptease cam site. But to my surprise, it's far beyond my imagination. RevealMe has impressive interactive features and much more to "reveal." Don't panic; it's still a sex cam site, so there will be a buttload of pussies, titties, and sex click after click. But what makes RevealMe different and unique? Curious? Well, let's get down to business below!
Official URL: https://revealme.com
Revealing The Nitty-gritty of RevealMe.com
The live sex cam site RevealMe.com describes itself as a "dream destination" for horny adults to socialize, flirt, and have fun. This is my first time hearing and visiting this site, and it's probably the dumbest thing I've ever done. RevealMe has similar features to the OnlyFans; however, it has little cool twists.
The team behind RevealMe has developed a few alterations to make it more attractive for sex addicts users online and even the performers. So, instead of trying to get the attention of online users, they are also encouraging models and aspiring amateurs to join the roller-coaster fun!
Unfortunately, when I browse the site a little more, it seems like OnlyFans has almost a million more daily visitors than RevealMe does. Perhaps, because it's still in progress of creating a brand new name and reputation in the adult entertainment industry, I mean, you gotta start from low to top, right? Besides, RevealMe has been making many improvements already, so I'm sure sooner or later, they'll attract more people sooner or later.
RevealMe's Model Categories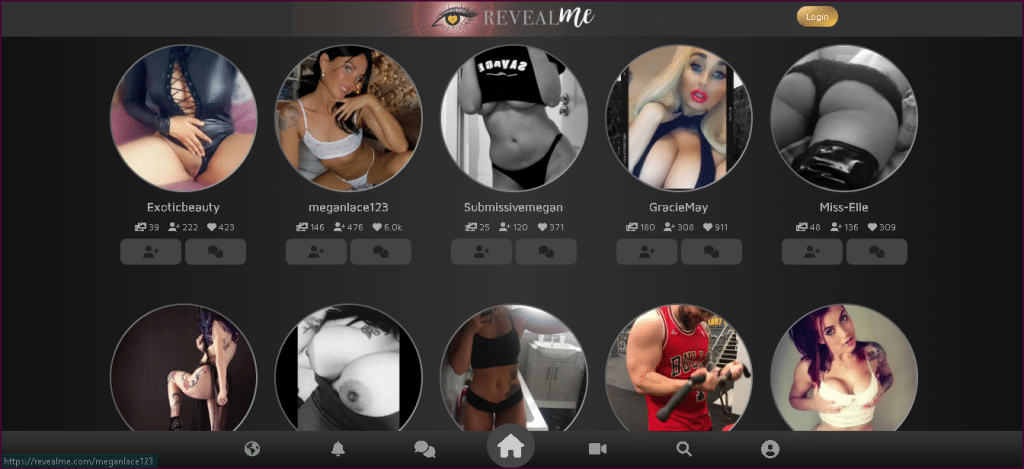 RevealMe's models are not your ordinary performers. They have specializations that could cater to the most peculiar needs of horny users. Some of these models are doing Cuckolding, Water sports, and domination shows. If you enjoy that kind of thrill, these categories might suit your best.
Of course, RevealMe has several more categories, including Latex, Voyeurism, and Roleplay. If you prefer these themes during a live show, check them out. I totally enjoy watching them all doing nasty performances in specific themes. Sure, sex cam shows are great, but it's even better if they show amazing stunts suited to my sexual preferences. Just like the fetish addicts, RevealMe features amazing fetish-themed shows,l such as Foot Worship, Humiliation, BDSM, Cuckolding, Public Nudity, Leather, and Submission. Definitely, whatever you ask from RevealMe, they have it.
Moreover, some quirky categories like Hard Sports, Pregnancy, Trampling, Rubber, Halloween, and Christmas are available. These may sound unusual, and you may think that it's not eye-pleasing, but surprisingly RevealMe has transformed it into an out-of-this-world satisfaction. Finally, if you like models performing vanilla-type shows, you can count on RevealMe. The site has included Boy/Girl Content, Girl/Girl Content, Solo Content, Cosplay, and Gamer categories.
Undressing RevealMe Models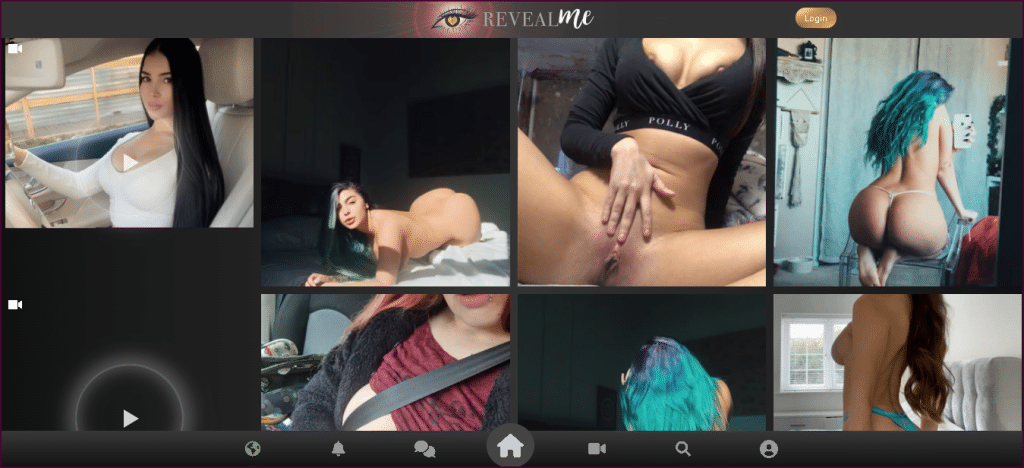 My curiosity piqued as quickly as I found out that RevealMe.com allows guests to peek inside and find out what all the noise was about. To some extent, my excitement stems from the fact that some live sex cam sites' typical concept is clearly lacking in usability. Still, more importantly, I was eager to explore what kinds of performers were featured on the platform. But, to access the entire RevealMe menu, you'll first need to create a personal account. It's easy, so don't worry about it.
Peeking inside, I was utterly blown away by what I discovered. I saw a fantastic set of pretty cool girls on the main page — there was a lovely brunette teen, a sexy MILF, sultry ebony in lingerie, a sultry Asian girl, and a mixed girl race hottie dressed with nothing except her sexy grin. As I continued browsing, there were sexy whore, horny wives, kinky sluts, and other nationalities who make up a diverse group of entertainers on RevealMe. But, if you're looking for something more fun and quirky, there are other men, trannies, male-female couples, and female-female couples to pick from.
Many of these models are within a specific age range. Several I found were in their Mature age, Forties, Thirties, Twenties, and even Teens. Certainly, RevealMe has multiple models available, so it's ideal for featuring a smart approach to narrowing down your options. Fortunately, this site has various search options that help refine your ultimate, perfect model.
The Model Services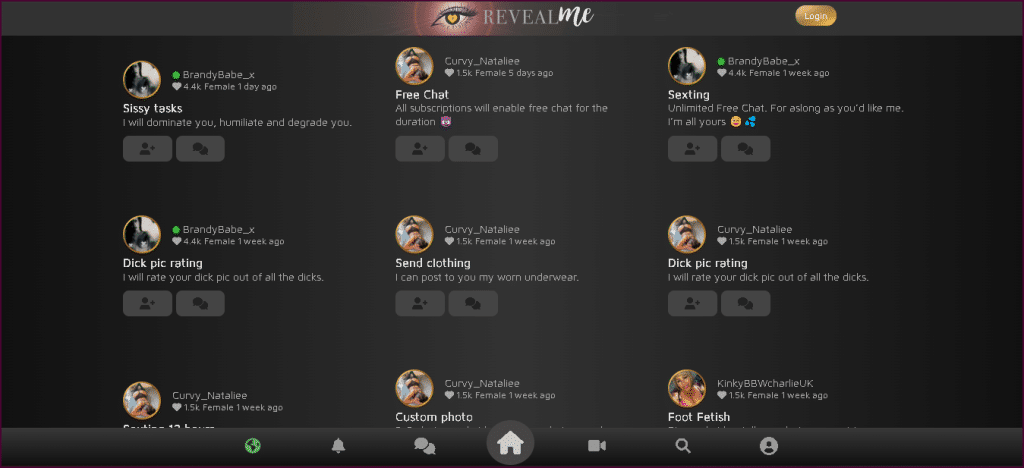 It's pretty interesting to see that RevealMe offers a fantastic set of model services for your private sexual needs. Apart from the categories I mentioned above, RevealMe allows models to perform special requests during the shows like Sissy Tasks, Free chat, Sexting, Rating a Dick Pic, and more. Some of these models can perform humiliation and domination if you wish.
I saw this model named BrandyBabe, and she's offering unlimited sexting for as long as you want. Per user requests, she's also rating your dick pics or even humiliating small dicks. Another model with a username of Curvy Nataliee is offering a good service through free chat and custom photos or videos. Meanwhile, model Charlie from the UK is offering various services. She could send you videos and pictures of her tiny toes and bare soles, the content of her smoking for users with a smoking fetish, a week of a girlfriend experience.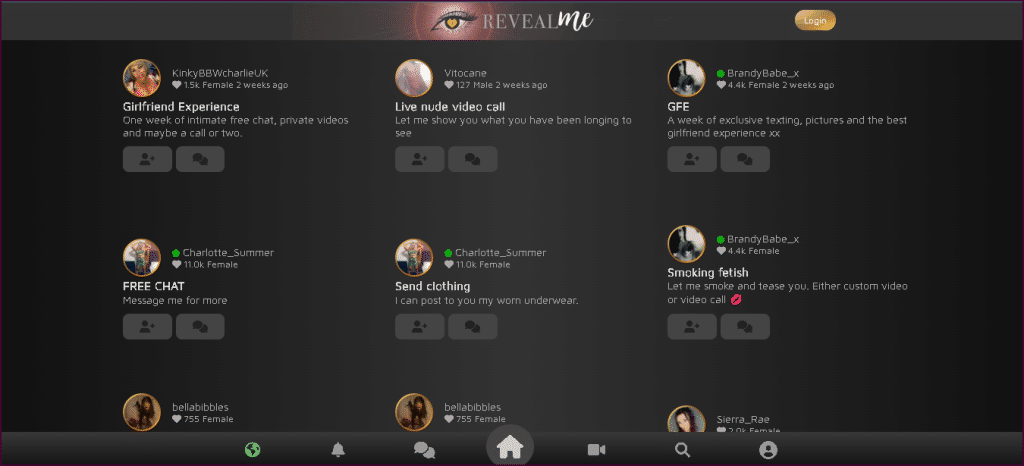 Further, a model named Charlotte Summer can send you her dirty underwear wherever you are in this world. But if you like a more intimate connection, she's open for a free chat anytime you need. Finally, I got curious about this girl Esme Amelia. She has fantastic services like BDSM Video calls, gagging, fucking, and sucking until you reach orgasm. Esme can also send you her used clothes, underwear, socks, or any requests. Certainly, these RevealMe models have many skills and performances offered, and you can request them anything you need.
Connect, Flirt, and Chat!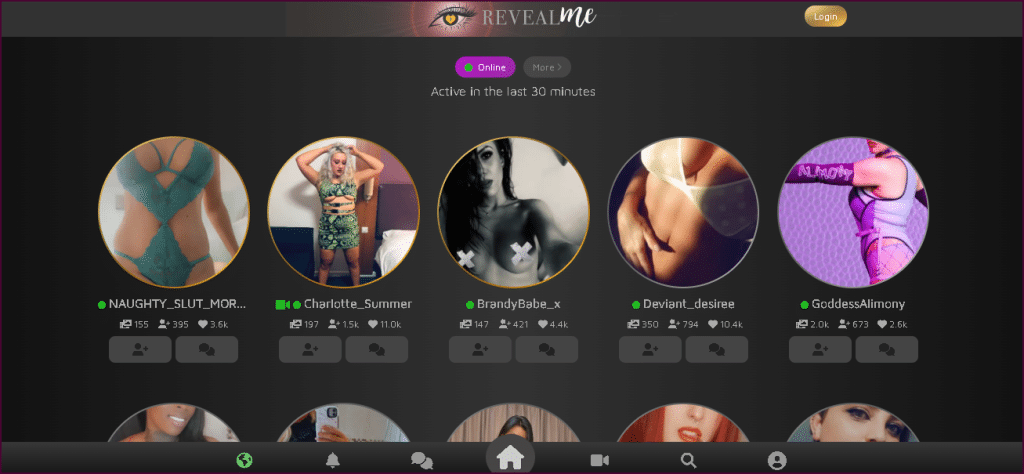 Of all RevealMe features, the real-time chats make this site really promising. Chatting is a very important feature for many live sex cam sites, so it's good to know that RevealMe has focused its attention on providing a fantastic messaging service. In fact, the team behind this site has stepped up a bit and incorporated a "Booking" option to give even more convenience. This booking feature is located on the top-most portion when using the search engine. This way, you can cut the talking and book a model right off the bat.
But remember, RevealMe has no in-site video or audio system available because it's not a webcam platform. So, if you're trying to book a model, the site will help you set up an arrangement through different video call apps like Telegram, Skype, Instagram, or WhatsApp. Plus, every girl has their own call rates, so I can't really tell exactly how much they charge.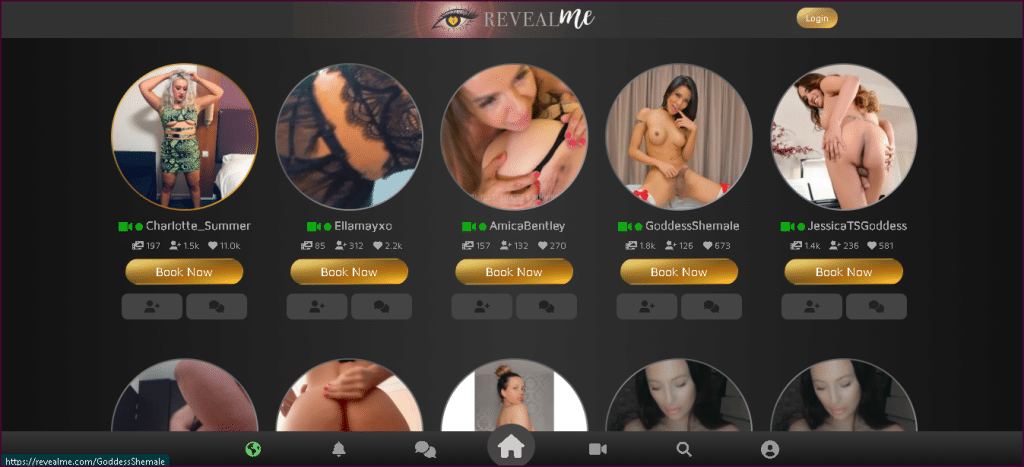 Certainly, with the RevealMe site, users have many opportunities for live sexting and cam shows. Don't hesitate to join thousands of other users on this site and let RevealMe help find that perfect model of your dreams. With over a thousand various choices, multiple category options, and all types of model services, RevealMe definitely set an unreachable standard in live sex cam.
Of course, we can't deny its impressive usability on top of the fantastic features, so that's already a huge plus for everyone. Since RevealMe.com has such a great system, I'm hopeful that the rewards will encourage more users and models to register on the site. Just like OnlyFans, it features the same kind of intimate pornos, a wide range of performers, and an easy-to-use layout for browsing and purchasing your favorite items.
Safety and Authenticity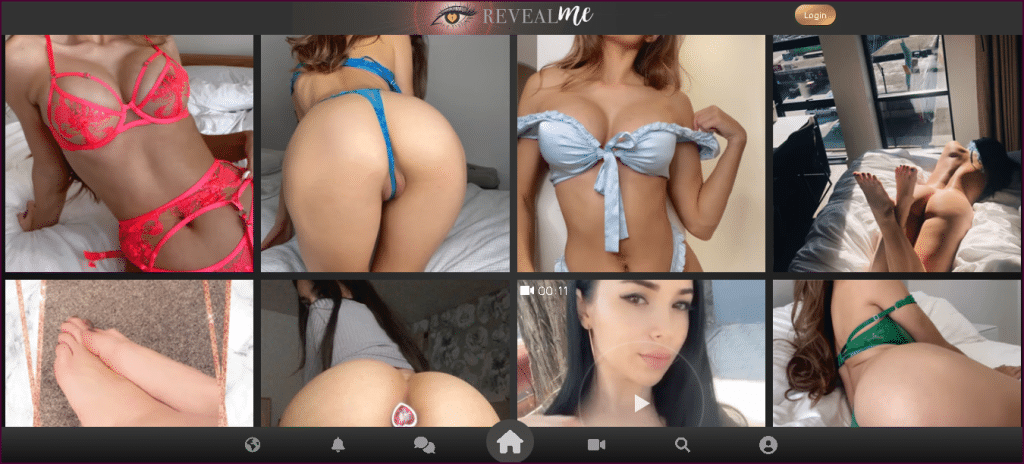 As I said, RevealMe is among the trendy live sex cam site today that delivers its "Fans" the power to connect, flirt, and interact with gorgeous online celebrities, influencers, and models. It has a fantastic set of services and features and continues to frequently provide new and improved features —all thanks to the site's efforts and dedication. In fact, RevealMe has a team focused on the design and development of the site, so you'll surely experience the best quality every day.
Additionally, RevealMe offers various subscription options to access private chats, stream videos, browse photo galleries, and book virtual or audio calls. There are still new features soon to release like products, bespoke services, and stuff that will wreck your mind!
Anyway, these services and features are nothing if a site is not reliable and authentic. So, I made sure to check out the safety of RevealMe. To know this, I have to start with the performers. Luckily, RevealMe Models underwent a verification process before going live and displayed on the platform. The site requires all applicants to submit valid identification documents, and once approved, they can go live instantly. Plus, RevealMe's in-site calling and messaging features allow users and models to interact without exchanging private contact information. Above all, transactions and payments are highly secured and limit processes made by unverified accounts.
Pros and Cons of RevealMe
PROS:
Amazing features
Lots of models
Variety of performers and services offer
Free to register
No ads
Very simple and easy to understand interface
Many category options
Open to all gender and sexuality
CONS:
Requires registration to access
Model prices vary
---
12 Greatest Live Sex Cam Sites Similar to Revealme.com: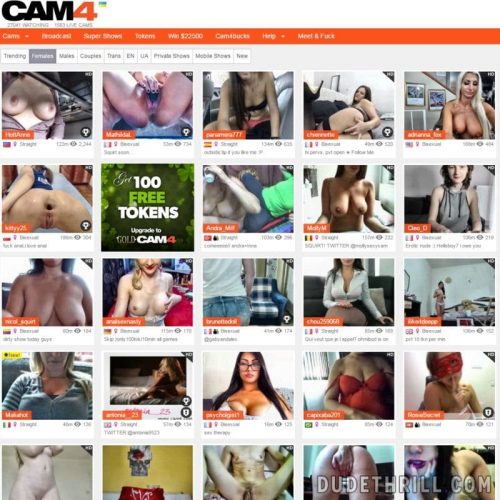 Cam4 is operated by the Granity Designated Activity Company and broadcasts one's own shows and events over the Internet. The first freemium cam site, Cam4, was launched in 2007 and has since gained considerable popularity. Many different types of people—men, women, and gay couples—broadcast their events.
Amateurs mainly use this camera site in making amateur Webcam videos. Customers can buy virtual tokens for an additional fee. They are best used to watch shows and reward the performers, or in the hands of the voyeurs to show you their private stuff.
Thanks to the site's early online porn features, it has gained a lot of popularity, and now it is highly regarded as one of the most valuable webcam sites for everyone who enjoys camgirls. People have only used film; nowadays, you can also use the Cam4VR app, which is available on the Cam4 platform and captures 360° 3D video.
Here's the full review of Cam4.
PROS:
Numerous cam models
Plenty of searching options, tags, and categories
Virtual Reality Shows are available
The fantastic customer service team
Offers bonuses upon registration
CONS:
A limited number of cameras in HD quality
---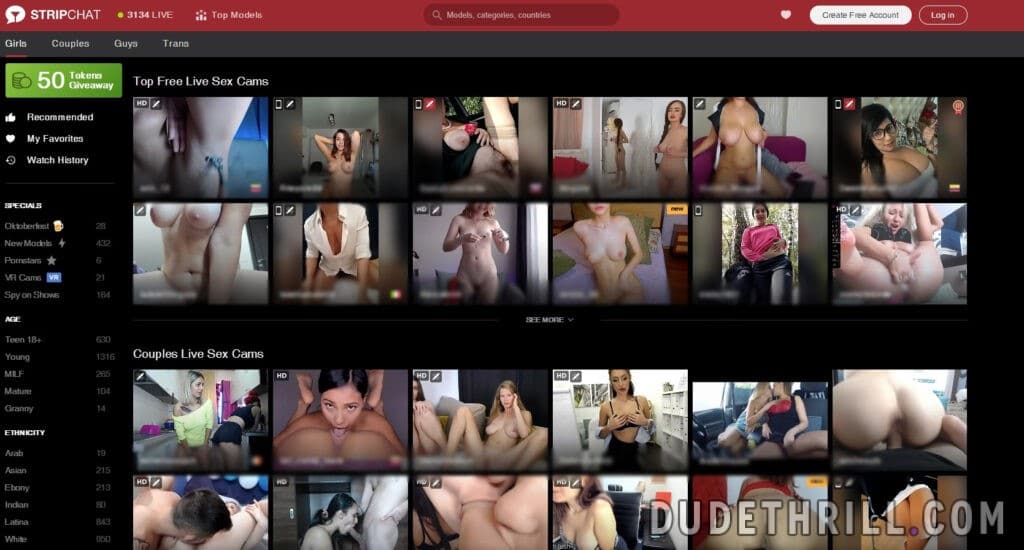 Stripchat, which has been around for five years, has successfully grown into the top 10 best adult platforms and continues to give superb quality and services, making everyone love the site a little more. One great feature that Stripchat offers is that users are not only limited to communicating with models, but they can also chat with other users.
Click here for StripChat full review.
PROS:
A long list of beautiful models on the site
Simple, cool, and attractive website design
Users are allowed to forward private messages
The website is easily accessible and user friendly
A wide selection of live sessions and videos
Extensive FAQ page
FREE view and chat functionality for guests
CONS:
Unregistered members get constantly reminded via pop-up messages to sign up (which gets annoying)
English is the only available language feature
Private message chats are exclusive for paid memberships only
---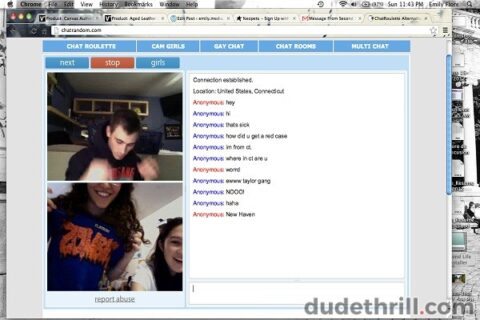 Chatrandom is a free live chat site that allows users to connect with people and strangers worldwide easily. The site started its outstanding service around 2011, and since then, it has become one of the most popular sites today. Indeed, this is the most exciting live chat you can experience because the system uses a roulette-type matching and lets you chat with thousands of people every day.
PROS:
Registration is free
Users can chat with members from other parts of the world
People can join live chat without registration
There are thousands of active users every day
App version is available for download
Hiding identity is public through a "mask."
Free sending messages
CONS:
No profile photo is available
Only Android users can download it
More number males than females registered
---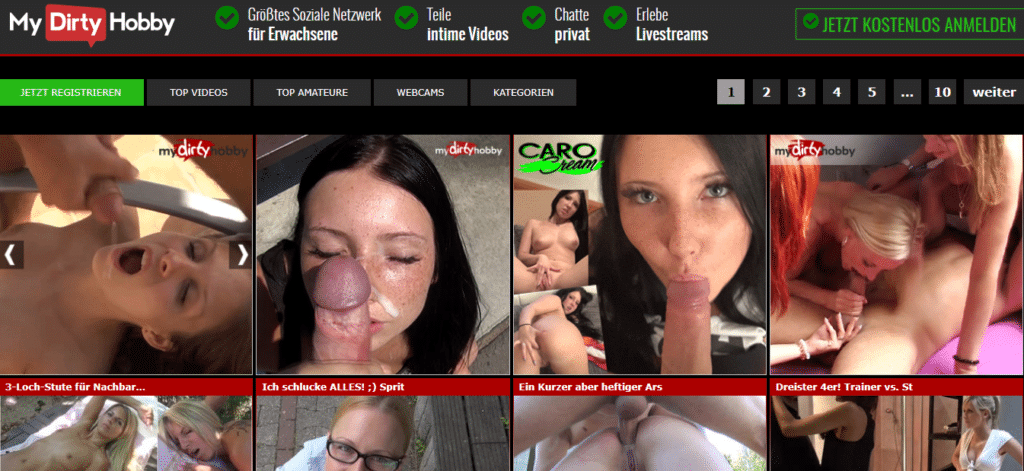 Germany's best live sex cam website, My Dirty Hobby, brings everyone together. Coined as one of the largest adult social networks to ever grace the Internet, MyDirtyHobby is more than just its intriguing and interesting handle; it is a haven for amateurs who like posting homemade sex videos and provocative photosets. It is an interactive community that will live up to one's expectations, especially if you look for a reliable source of adult porn and live sex sessions.
It has plenty of members video chatting and messaging daily. Also, the website allows the members to gain money by joining cam shows. Indeed, My Dirty Hobby has a fantastic set of cam girls waiting to have a naughty time with you.
Click for a full review of MyDirtyHobby.
PROS:
Different contents according to specific interests
Design is simple and easy to use
Regular updates
Do not need membership payment
CONS:
Downloading is not available
---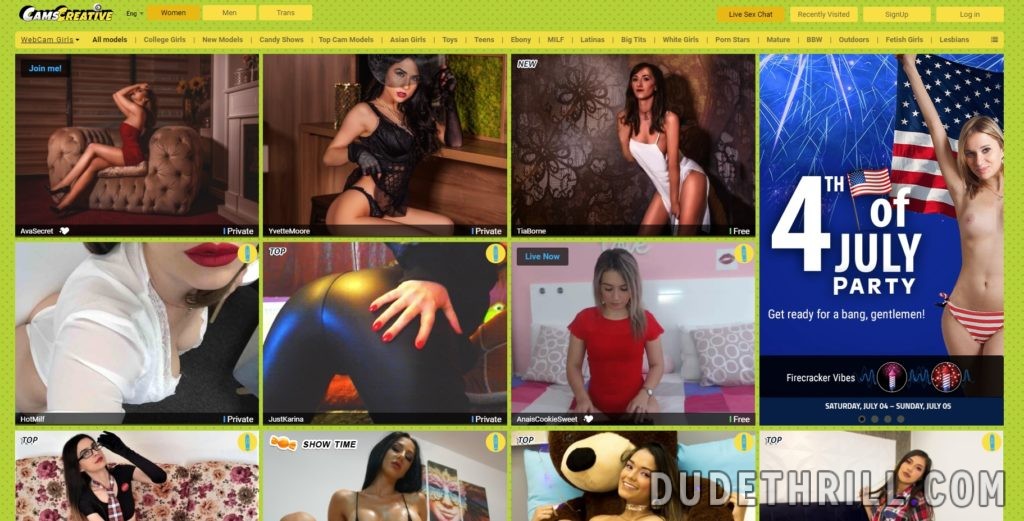 They are pretty new to the adult cam site industry, and they have the best, most creative, and artistic way of introducing their models. Creativity mixed with hot and sizzling sexy babes is how Camscreative do their thing. With the creative and artistic sides shown in every corner of the site, it will really get your blood and juices flowing in the right places, ready for some fun time.
All the sexy babes on the site offer the best experience via webcam, and Camscreative didn't disappoint in its lineup of models. Aside from the usual webcam stuff I've been used to doing with other sites, they also offer exclusive and unique site features, which I definitely enjoyed.
Check out CamsCreative review.
PROS:
Unique content and a wide variety of shows
Members can enjoy a lot of freebies and perks
Fetish shows by models are very in-demand
Models can do any task you want during private shows
Lots of show variety to choose from
Models are from different countries worldwide
Great variety of models and not just limited to girls
Couples, transgenders, solo guys are also available for shows
Interactive environment for both users and models
During private shows, users can control the model's vibrators
Affordable pricing with many perks
Excellent customer support available 24/7
200 minutes of free live chat are given to members every month
Videos are made of HD quality
Creative and artsy website design
Virtual gifts can be sent to models to show appreciation
CONS:
No HD marking, so it's pretty tricky to navigate
If you have low credits, models rarely interact with you
You cannot write comment reviews
No indicator for the availability of models (online status)
---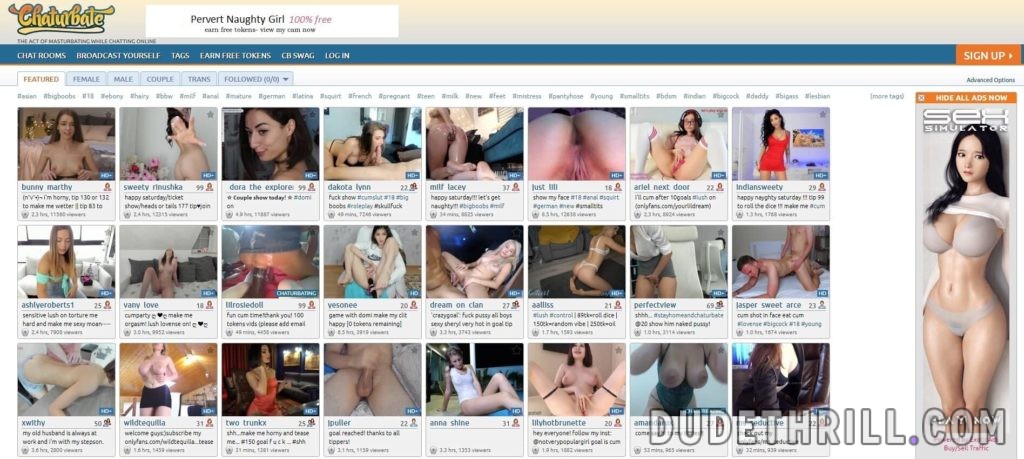 Connecting to people worldwide has never been so easy. Thanks to Chaturbate, unlimited talking is now possible. Plus, you will never spend a dime on it. There are a lot of sexy and beautiful women available for you, 24/7. As a matter of fact, women on this website love kinky stuff, which is always worth your time and attention. Meanwhile, live shows are also available for viewing at a reasonable price.
PROS:
Many cam girls are available 24/7 live
No additional fees to expect
Nudes and sex are always a guarantee
Smooth browsing on smartphones and other devices
CONS:
Few videos are in SD format
Expensive private shows
---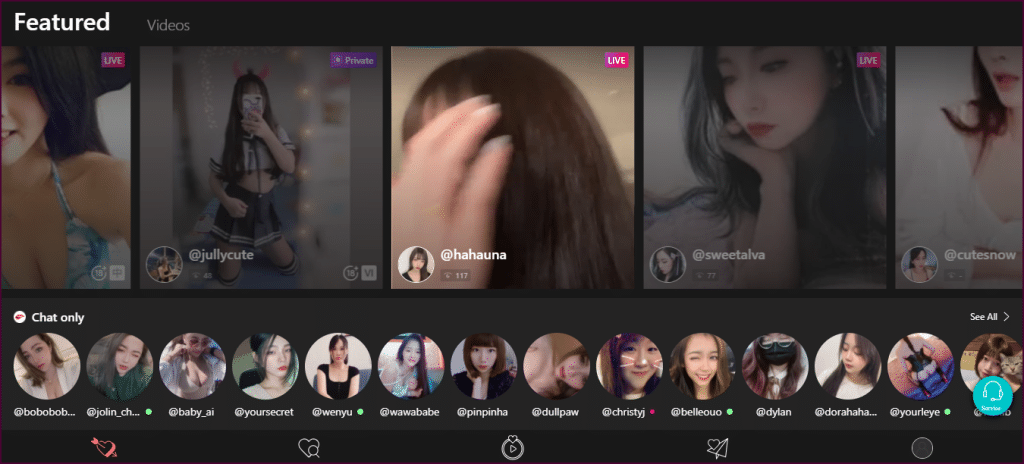 Swag Live claims to be the largest live cam streaming site in Asia. It's an expert in amateur cam shows and features a massive erotic photo and video collection. Swag Live boasts its 1M+ active members, filling up its welcoming community. Plus, the site ensures the privacy and security of its members and cam models. So, everyone, regardless of shape and size, will enjoy the swagger streaming. Certainly, the easy and convenient means of Swag Live to interact with your best-loved and dream girls is the best feature it has. Obviously, this site is hard to beat! You gotta step up your game to compete with Swag Live.
Take a look at SWAG Live review.
PROS:
Massive collection
Numerous online streamers
Cam models are hot and cute
Plenty of videos and pics
Easy registration
Website design is sophisticated and modern
CONS:
Joining chat rooms require diamonds
Limited features for basic users
---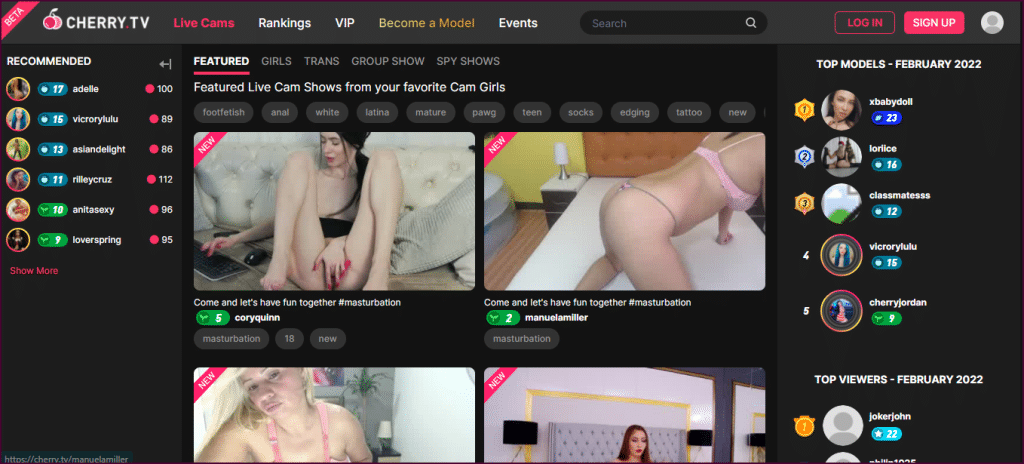 Ever since, Cherry.tv has always been the primary source of adult cam fun, using its innovative features and platform. It has created an excellent way for users and cam models to interact and enjoy each other's company. In fact, it's the life-long goal of Cherry.tv to become the top leading live cam site worldwide and provide a million users with an exciting, unique, and pleasurable way to have fun. Moreover, Cherry.tv has been a popular go-to site of million cam site fans because it's a safe and comfortable place for cam performances. You can have the freedom to interact, explore, and openly connect with gorgeous cam models.
PROS:
Thousand cam models are available
A diverse selection of models
Cute and fun design
Usability is great
Offer free shows
Free registration
Affordable subscription package
CONS:
Some features are exclusive to premium members
---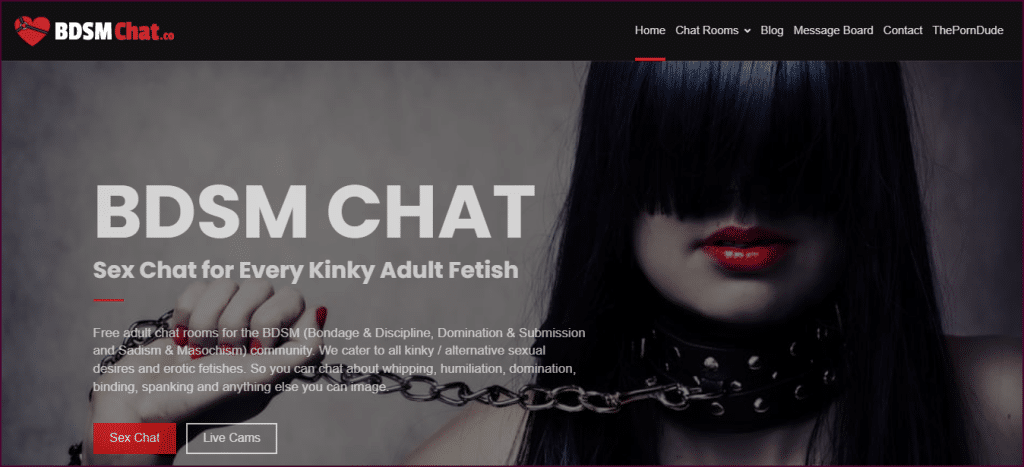 Compared to other sex chat sites, BDSMChat caters to a different and unique fetish that only a few of us would enjoy. You will find a shitload of different chat rooms where you can express your erotica-related fantasies freely. It is what BDSMChat is known for worldwide.
PROS:
Numerous chat rooms are available
Caters to all types of kinks and fetishes
Active members
Straightforward design and usability
Informative blogs
Can browse as a guest user
CONS:
The forum has few members
Requires registration to enter the chat
---
SaucyTime is a sex chat site that blends the features of a social networking site, roulette-type chatting, sex shows, and dating app experience. Unfortunately, SaucyTime isn't as popular as other sex chat sites like Flingster, Stripchat, and other mainstream networks. So, it is less likely to see new members regularly.
Click for a SaucyTime full review.
PROS:
Simple and easy to use
Don't have monthly membership fees
Browsing is smooth
Unique chat concept
Diverse models
CONS:
Requires credits when calling
More male members than females
---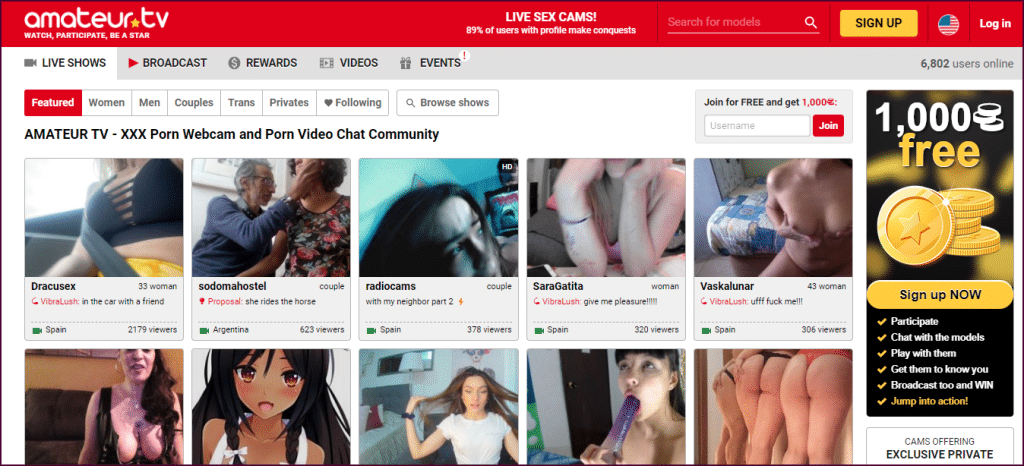 Live porn? We all love the pleasure and addictive sensation of watching women perform. That's why I'm not surprised how the sex cam industry bloomed over the years. And along with the rising popularity of this porn niche comes the rise of AmateurTV. All the viewers of AmateurTV can easily enjoy uninterrupted and non-stop live cam shows for free.
PROS:
Free Live cam shows
Huge cam model selection
Hundreds of online cam models anytime
Plenty of free shows
New site members can enjoy free tokens
It has a spy cam feature
CONS:
Advanced filtering is not available
Some shows need membership and tokens
---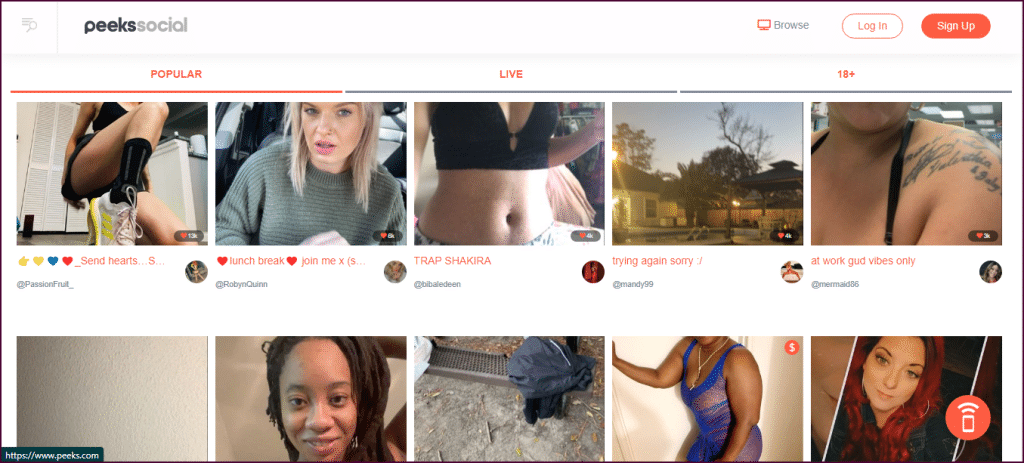 Peeks, commonly referred to as PeeksSocial, is a live cam and video sharing network. People from various ethnicities, shapes, sizes, and colors gather here to share live streaming videos and perform various activities for the explicit fun and pleasure of the audience. Interestingly, PeeksSocial really provides terrific streams. Many of them are strippers and skilled performers, while others are amateurs.
PROS:
Lots of adult content
Can make money
Available using mobile phones
CONS:
Limited adult content available
Several videos are pre-recorded
Some streams are accessible when you pay
---
Conclusion
Ladies and gentlemen, I suppose we have a winner. RevealMe is definitely a surprise to me. I didn't expect a lot from it but gave a shitload of features and services I didn't know I needed. It also has an excellent system in place, so this site will surely thrive and grow regardless of having a few thousand performers and users. After this review, I'm hopeful that more models and horny fellas will sign up.
Just like our favorite live cam sites, RevealMe features a unique kind of intimacy, a wide range of performers, and an easy-to-use layout for browsing and transactions. Perhaps, the only downside I've seen so far is the model price ratings. Unlike others, this one has no fixed rates and depends on the model's services. Sure, it sounds pretty convenient for the performers, but it could cause a little stress when booking for the users. Anyway, I've seen the best of the best here, so RevealMe is definitely worth looking at.
All 115 Other Sites in This Category Worth Checking Out:
Strip Flix Review & 12 Must Visit Free Sex Cam Sites Like StripFlix.cam Show Me 12 Alternatives for StripFlix.cam Will you join me as I stream on unlimited stripping and babe teasing? There is no other site I could ever think about that is convenient, accessible, and limitless in nudity. We shall dig on sex cam […]