Updated on: October 1st, 2023
Rarecord
& 12 Must Visit Cam Girl and Webcam Sex Sites Like Rarecord.io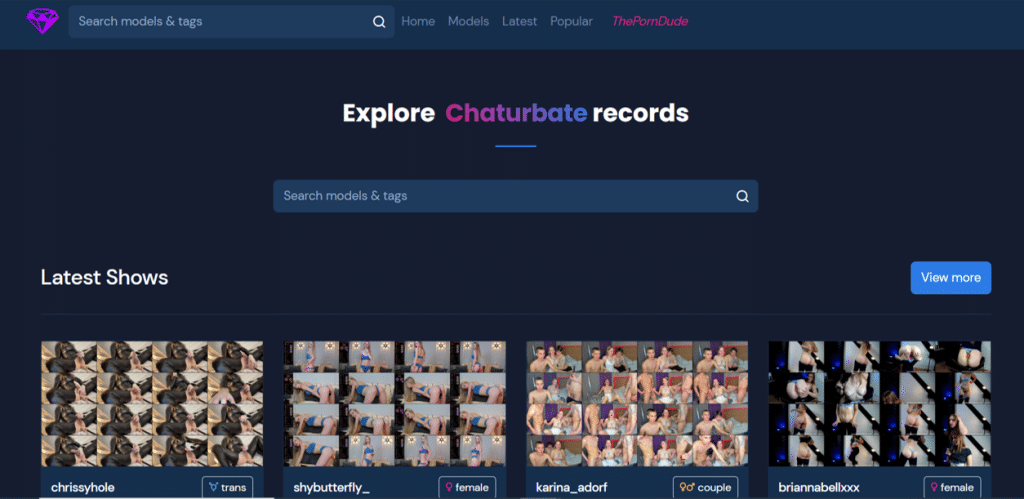 Let us raise a toast for a brand-new day of fapping! Yes, pal, our jerking habits must be celebrated. I always believe in the power of self-care, and cherishing your sexual fetish is one way of showing this practice. It is always refreshing to get intimate with ourselves while feasting on worldwide sexual performances. With this, go-to porn destinations are a perfect sensual bonus. Good thing the industry does not know the word 'stopping.'
Official URL: https://rarecord.io
New sites are sprouting and worthy of discovery. Hence, I dropped by Rarecord, and the thrill never ended. This whole page exhibits a great selection of recorded cam activities. Well, from the name itself, rare and record must have blended perfectly. The dirty pile of orgasmic treats parades in the arena, making Rarecord a perfect opportunity to fap. I wouldn't be surprised if this domain gathered an immeasurable increase in site visits. Rarecord showcases a clean and enticing abode.
Rarecord: Growing Archive of Chaturbate Contents
Who else loves Chaturbate? We all know how huge this live cam site is and the power it has to attract millions of global perverts. Chaturbate is a phenomenon, but some horny jerkers may not afford it or do not want to pay high rates for live performances. As the old saying goes, 'If there is a will, there will always be means.' With that, generous fappers collated the best of the best at Chaturbate and created a whole porn domain for free.
Truly, the archive is prospering with a massive number of Chaturbate records. The library is free and mouthwatering. It comprises previous webcam sex shows and prerecorded smut. Despite being new in the industry, Rarecord has a good standing in the business. Thousands of perverts are making the page an enormous hit. When I glanced at Rarecord, I thought it would be another spam page of webcam sex. But, no pal, the domain is brewing a tasteful and lustful assortment. Ready to dig in?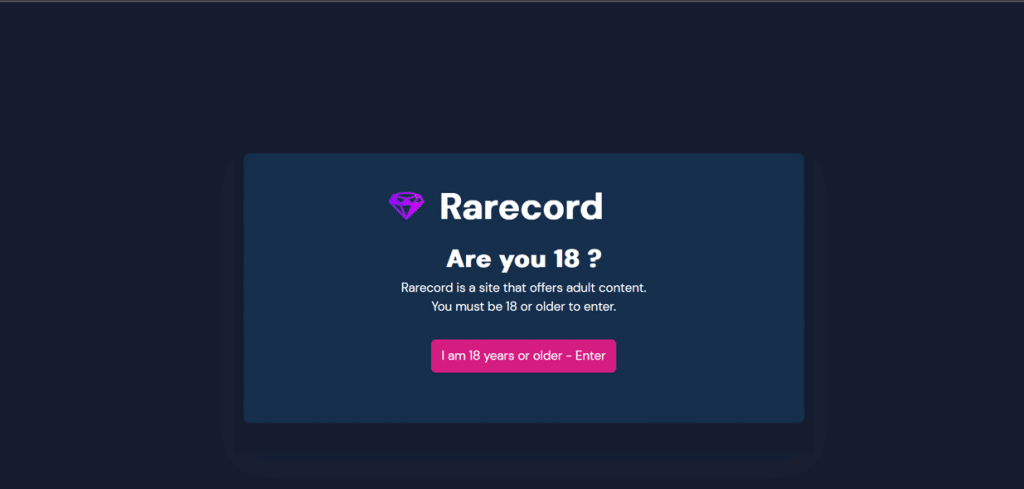 Dick's Mesmerized with Rarecord's Clean Library
Most accessible pages utilized adverts to keep going. Commercials are their means of surviving in the industry. Positively, Rarecord shows zero advertisements on the homepage. I have heard fellow masturbators saying Rarecord greeted them with popups during their visit. However, my experience spoke differently. My feelings revolved around getting excited and shocked by the sleek and clean abode. Indeed, there are no marketing strategies from brands and pages in sight.
With this, I became even more vigor in preparing my penis for a salacious battle. Browsing among the contents was also straightforward since there were no clutters and disturbances in the arena. What is also evident on the page is its most uncomplicated presentation. The dark-purple hues combined with white text do not seem to create an impact. But once you start navigating, you will appreciate this accessible abode. The simplicity became even more powerful with no ads to annoy you. Definitely, my friend down there is nodding.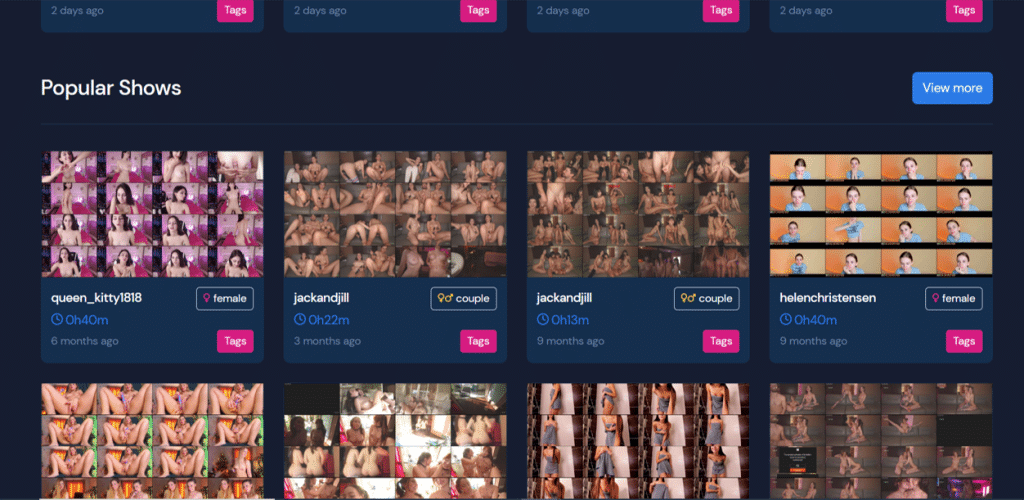 Grids and Thumbnails are Calling Me; I Shall Explore and Wait No Further
A vast 'Explore Chaturbate Records' hangs on the central portion of the page, inviting you to savor the deals. Below this banner is the extensive search bar to aid your quest for your favorite Models and Tags. I find the color scheme less to my liking, but I have known more fellow fappers who immensely adored the gradient effect. More so, Rarecord exemplifies a diamond-shaped logo with another search icon adjacent to it.
I find it amusing to see two search bars here at Rarecord while some domains fail to incorporate even one. As expected, the header presented your keys to Home, Models, Latest, and Popular. By default, Rarecord provides blocks with previews of the latest and popular shows. Through this, visitors can hand-fully pick their favorite camwhores' newest additions and top performances. Not just that, the thumbnails display more or less sixteen captures of the live cam performance.
Moreover, the previews may not be identical to other porn pages; you can still see the dick-erecting shows. Rarecord is also efficient in providing valuable details per material. I adore how the page included labels that classify the content. You can readily identify the deals with solo female performers or couples. In addition, tags are visible with the model's names, video duration, and more. It looks like the creators of Rarecord knows what to do.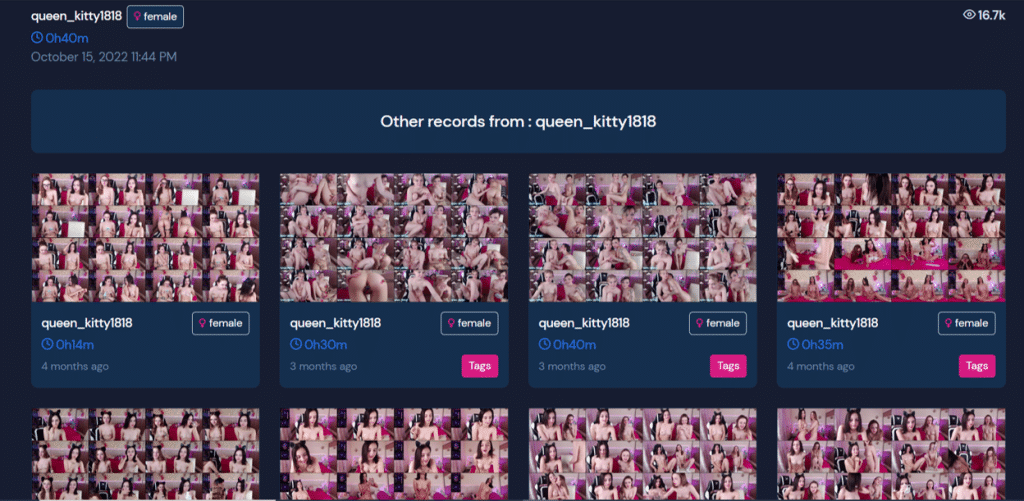 Plenty of Webcam Scenes to Devour
Rarecord did a great job in making its archive grow daily. The domain boasts its arena that regularly updates and adds juicy sex show records. Since Chaturbate is also increasing daily, Rarecord also does the same. What makes me happy is that Rarecord is dynamic and eager to do its job. The vast user base is alive and drooling. There is much to stream and wank your dicks at. Camwhores are also diverse and eye-catchy.
Webcam fans are fully aware that the quality of cam shows varies. So, you have to lower your standards regarding prerecorded items. However, it doesn't mean Rarecord failed to provide high-resolution nastiness. Boy, I picked a vast number of high-quality recorded pieces. Rarecord has spotted the most incredible Chaturbate content. You can see a wild repository of strip teasing, fucking, masturbating, and group activities. Not just that, random picks are also going on at the arena. I must share to you my incredible experiences, dude.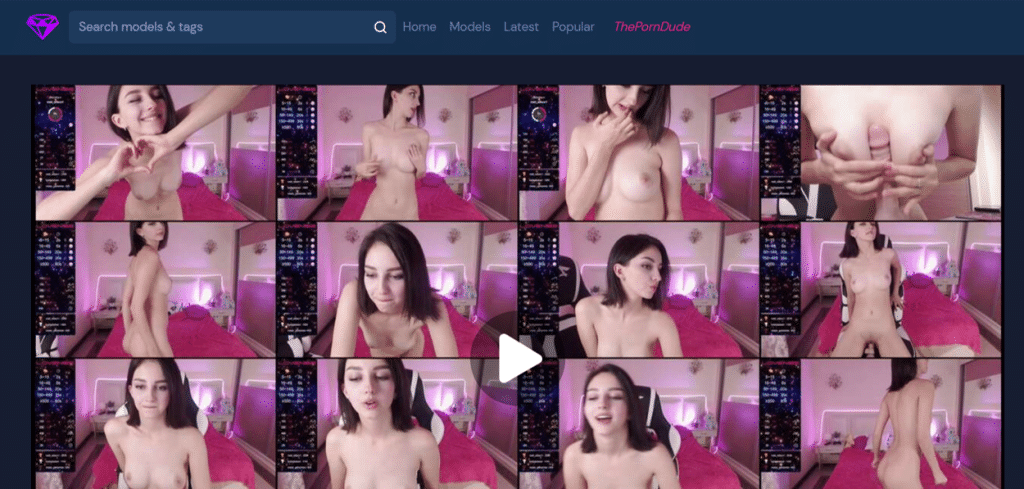 Should I Tell You How Many Faps I Did with Rarecord?
Honestly, I had plenty of sessions in this domain. Not just because it is accessible but because the selection is incredibly fap-worthy. I started my journey with the popular shows area and tapped the model queen_kitty1818. She attracted me with her pink room nude performance. The show lasted forty minutes as she exhibited her lovely tits and hot body.
She moved around her room comfortably, wearing nothing. Until she decided to do more kinky activities that made my dick kick. The model pulled off a full masturbation display with a cock participation. She rubbed and played her breasts onto an erect penis. Her playful side also captivated me. There is also a couple here at Rarecord that enthralled me. They tag themselves as JackandJill, and this duo made the experience even more salivating.
Stream and Get More Recommendations
As you pick a luscious material, you are given random items to savor on your next jerk. I had fun binge-watching the materials, dude. The domain exhibited hundreds of options from the same artists. Queen Kitty has tons of performances that I suggest you should try firsthand. Each content gathered sixteen to twenty thousand views. These numbers are massive enough considering Rarecord's newbie status in the business. In fact, Rarecord added almost a dozen of webcam show during this review.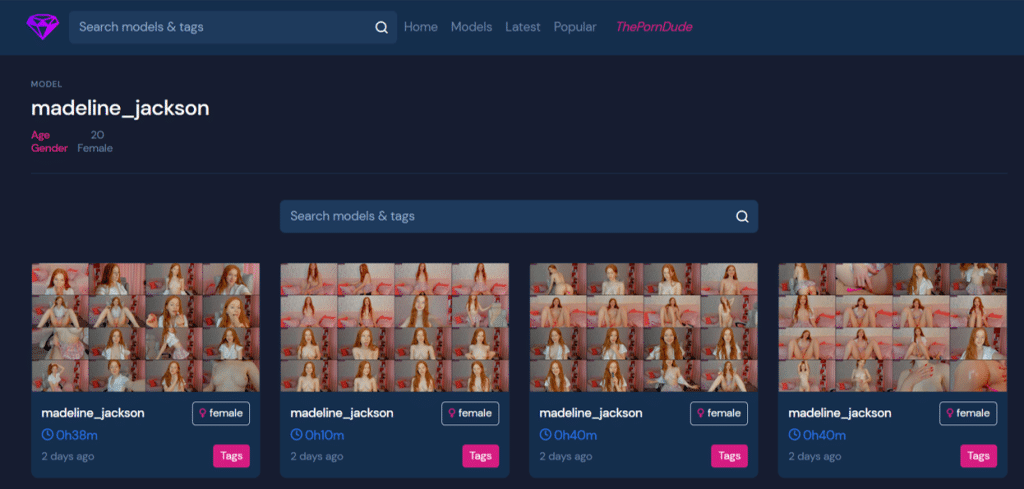 Furthermore, the presentations will charm you with their full-length capacity. I haven't seen any webcam performance that runs shorter than ten minutes of perverted exploration. Most deals fall in thirty minutes to one hour of luscious fap-worthy exhibitions. However, the downside of Rarecord is its search engine. I appreciated the platform at the onset of the review with its two search functions on the main page. Regrettably, these services may not suffice your immediate fapping need.
Considering the huge flock of Chaturbate materials here at Rarecord, the search engine depicts limited results. I had a hard time grabbing the deals I craved because it sets to a page maximum. With this, it is hard to relish the entire library fully. Good thing Rarecord upholds a great tagging system. The labels are an effective tool in locating the flavors of my dreams. It was easy to take note of the juicy dick-licking, sucking, threesome, and doggy-style items.
Jaw-Dropping Parade of Webcam Whores at Rarecord
Boy, this nerve-wracking collection of sluts is a bonus. Rarecord kept my dick engaged with the number of models I can salivate. The page got a whopping 33 082 models. It doubled since I first visited the page a few months ago. Previously, they only listed an estimated sixteen thousand perverted performers. Imagine how giant the leap was. Each lady or couple is displayed well, with valuable information in the designated segment.
Thus, if you are intensely curious, visit the models' page and drool over the complete list of babes and their counterparts. As mentioned, you can expect to see solo and couple shows in Rarecord. Thus, on the list of models, the site was generous enough to provide identification for each performer's characteristics. Rarecord indicated the name, gender, age, number of videos, and tags. These details are filed in a table presentation.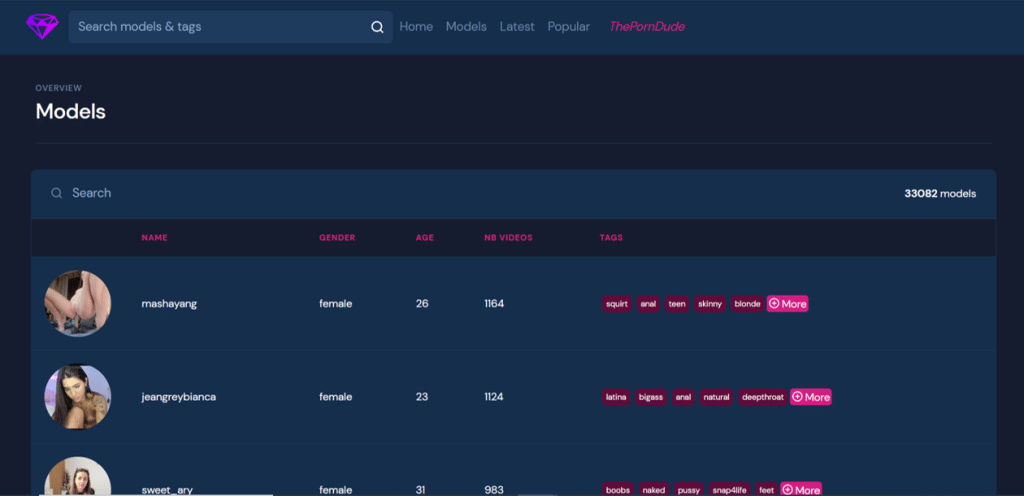 Moreover, I was awed to see the number of recorded flicks per model. The babe mashayang has 1164 videos in the gallery. She literally has the energy considering that she is only 26 years old. Her movies revolve around squirting and anal. Next to her is jeangreybianca, a 23-year-old hottie with 1124 pieces in Rarecord. Deepthroating is her finest skill. Do you want more? See the full page, pal; the list goes on and on.
The Pros and Cons of Rarecord.io
PROS:
Seamless platform
Quick navigation with efficient tagging
Thousands of webcam flicks
On-the-go prerecorded Chaturbate shows
More than thirty-three thousand webcam models
Regular updates
CONS:
Unfavorable search results
---
12 Must Visit Cam Girl and Webcam Sex Sites Similar to Rarecord.io: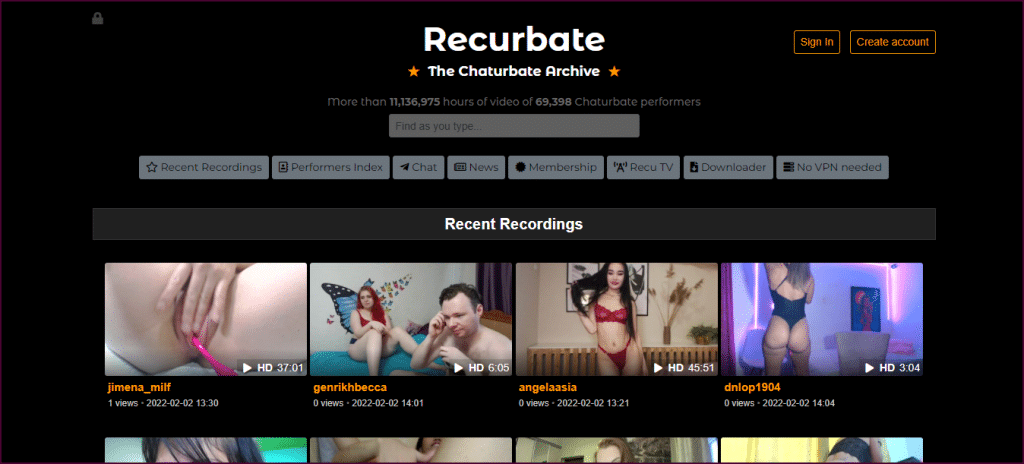 Expect to see videos here featuring masturbating girls, stripteasing, and other forms of erotic entertainment. If you're a fan of Chaturbate and have been watching its live cam shows, then that's the kind of entertainment you'll get at Recurbate. In other words, whatever you miss from the Chaturbate site, Recurbate is here to save all the cam shows, chats, and every live streaming performed by hot cam models.
Visit Recurbate's full review here.
PROS:
Re-watch cam shows
Massive archive
Thousand models available
Reputable sources
Affordable subscription packages
Free registration
Offers previews
CONS:
Basic users have limited options
Downloading is for Ultimate Members only
One video each day for free users
No tags or search engine
---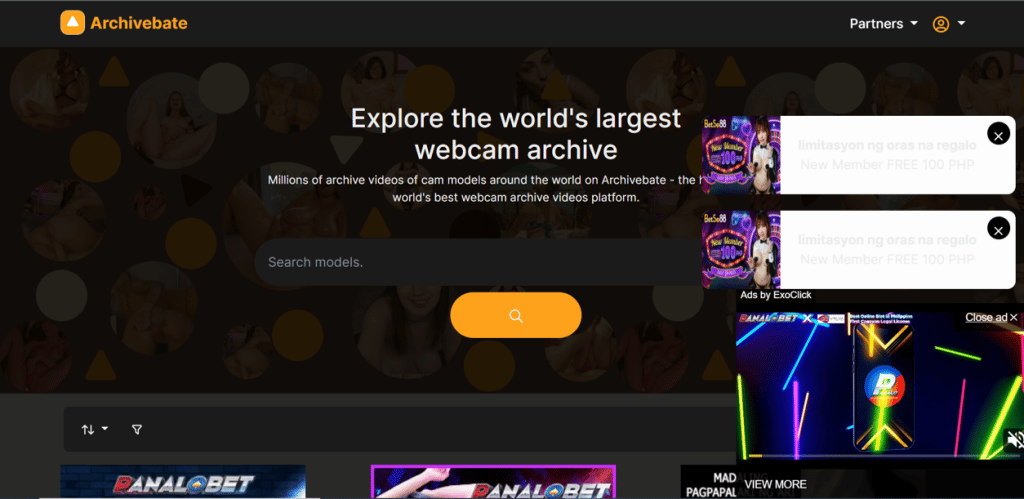 Have your much-awaited live cam babe performance for free at Archivebate.com. The page claims to be a house filled with a nasty and seductive extensive archive of webcam deals. Fans can participate in wild activities from big live cam sites like Camsoda, Chaturbate, and Stripchat. Certainly, anyone can relish the recorded materials and fresh babes in complete nudity, masturbation, and hardcore fucking.
Read this full Archivebate review.
PROS:
Free archive of recorded live shows
Enjoy the finest from big sites like Camsoda, Stripchat, and Chaturbate
Dynamic community
Full videos
Filter options
Thousands of webcams show to select
A gorgeous pile of cam beauties
CONS:
Adverts everywhere
Small thumbnails
No sections
---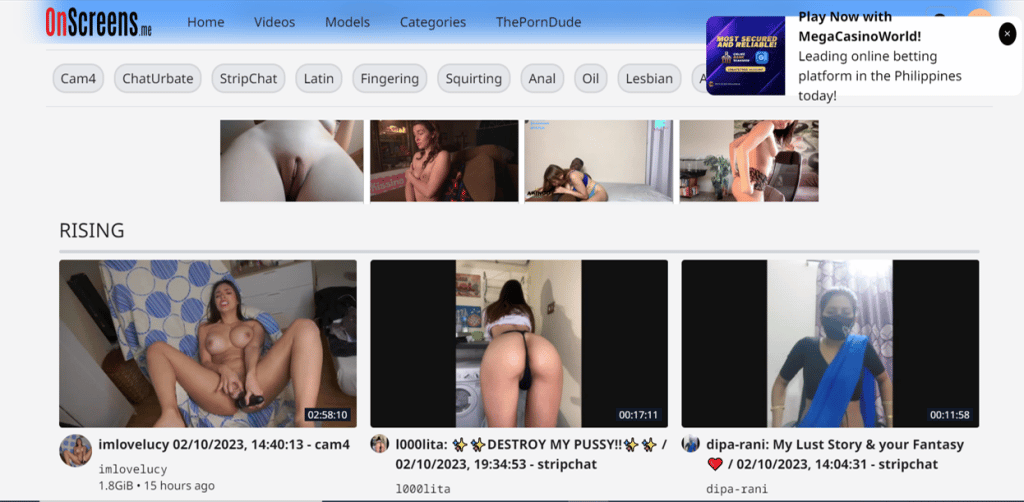 On Screens has an undeniably promising objective in the adult video industry. It opens gates for those adoring prerecorded live cam performances for free. Webcam sex films have grown in massive popularity; thus, perverts are eyeing to grab a handful of these flicks. On Screens tried to deliver your nasty pursuits; however, a few rough roads are also present in the arena. The free collection can be savored with persistence due to existing spam and site buffers. Try the page and devour the salivating archive; it may be worth the effort, pal.
Full review of OnScreens here.
PROS:
Hundreds of camgirls
Prerecorded webcam sex selection
Categories are presented in an A-Z listing
Fans can download
Thousands of webcam videos
Hourly uploads
CONS:
Adverts are a headache
Buffers
Few previews
---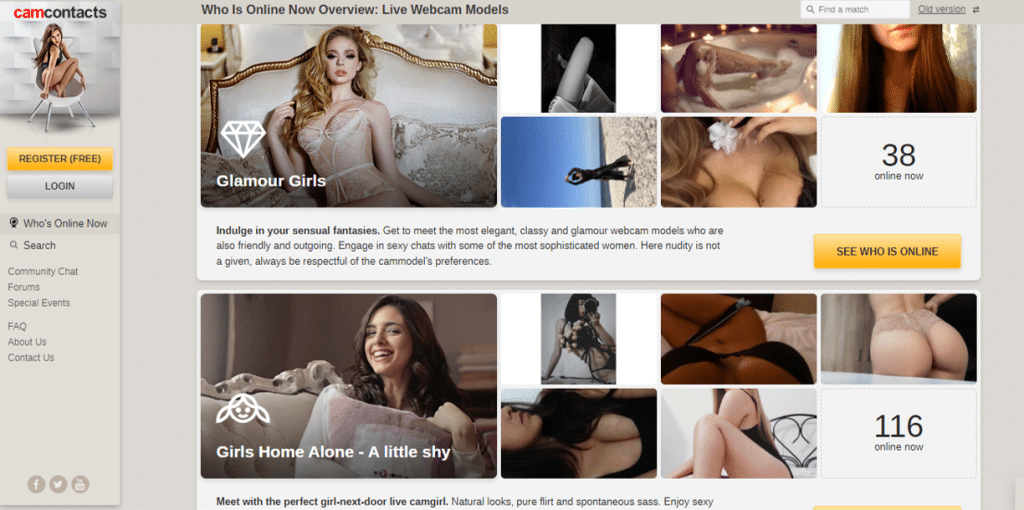 Cam Contacts is undeniably tempting to various sexy cam girls' aficionados. You can have delectable babes at the lowest prices, providing various selections and opportunities for fans to have a sumptuous experience. Users can select females from different categories, locations, fetish, and countries. Not just that, Cam Contacts offers chat options for you to choose from, as the site believes that every porn fan deserves nothing but the best.
Read CamContacts' full description.
PROS:
Engage in various chat options
Affordable chat rates
Hot babes in every corner
Efficient categories
The search function is great
CONS:
Basic site layout and design
Needs to pay to chat
---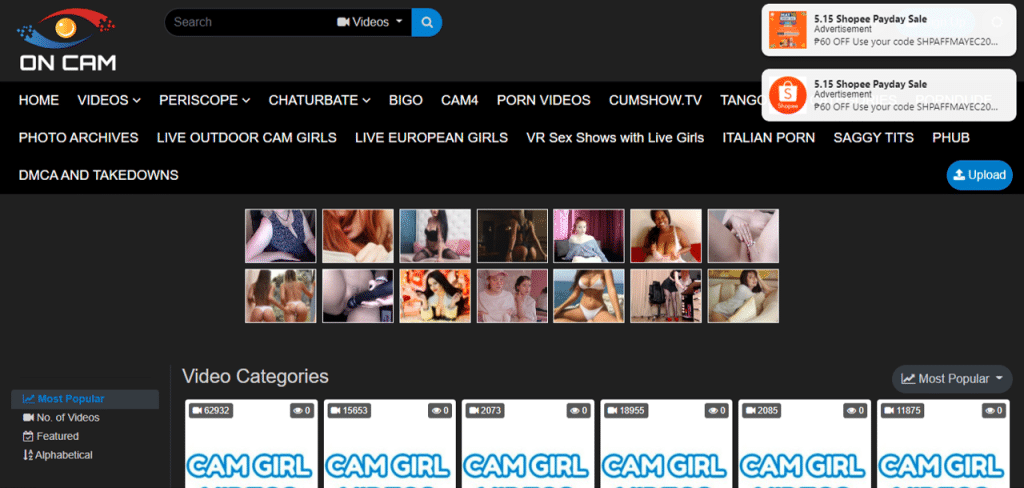 On Cam is a perfect destination if you are in a hurry and want to watch your favorite cam babe's performance. This free site will load diverse content in a mouthwatering selection. You do not need to secure any penny, wait for their live show, or book for your favorite horny female. Thus, fans can jerk anytime and anywhere with OnCam.me repository.
PROS:
Massive collection of recorded live videos
Free orgasmic assortment
Loads of categories to enjoy
Good navigational tools
Filtering and sorting options are available
No need to create an account
CONS:
Advertisements are everywhere
Some standard flicks
More features to improve
---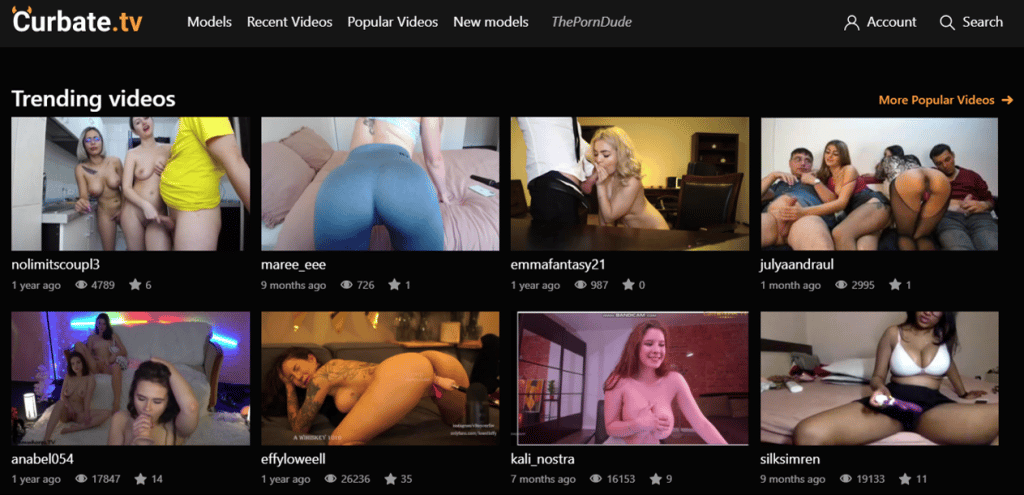 Grab a doze of the morning, afternoon, or midnight delight at Curbate.tv. The page exhibits a wildfire of recorded live cam shows. Porn fans can explore their oozing love for cam performances by navigating this free site. The clean abode makes the stay even more mouthwatering. Not just that, the juicy profiles became even more tempting. Check out Curbate today and immerse in the extreme nakedness. Be ready to fap hard with the flicks.
PROS:
Free live cam materials
Sexy and delectable performers
Numerous flicks to jerk
Salivating model indexes
Consistent uploads
Clean site
Easy to access
CONS:
No category segment
Can add more sorting options
---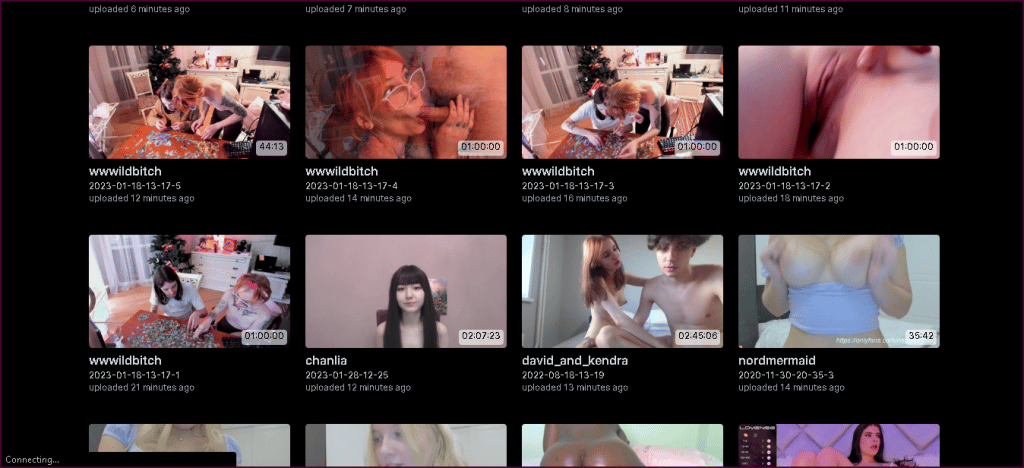 If you enjoy live cam shows but have no time to catch their live broadcast, then ChaturFlix might be perfect for you. It has all the fantastic pre-recorded performance videos from your favorite cam girls on Chaturbate.com. The site is significantly growing, and the variety of videos in the library is superb. Certainly, there is nothing you can ask for from ChaturFlix apart from just enjoying its entire collection.
Take a look at ChaturFlix's review.
PROS:
Amazing cam performances
Library of pre-recorded videos
Great models
Fast growing library
Every day there are newly uploaded videos
Video downloading is available
CONS:
Some videos are hard to find
Some ads
---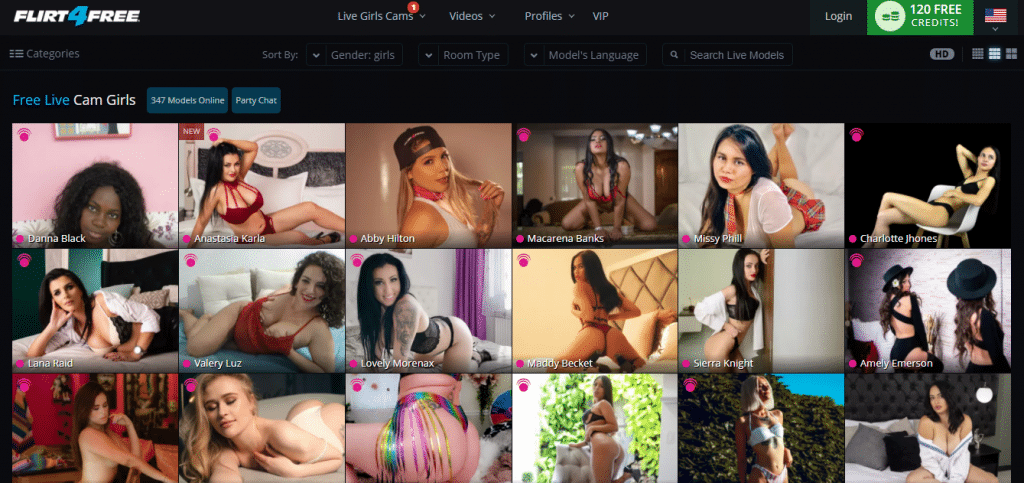 Do you want to start the evening with no strings attached? Would you like to see a never-ending supply of hot young sex action on cam? are you interested in viewing it free of charge? And if that is the case, then you have found the right website.
When you use the Flirt4Free, you can list the girls according to the activities that turn you on. Also, if you discover a model that interests you, you can see when they're coming online every week. Indeed, the Flirt4Free free account will provide you with just enough content for your entertainment.
Read our full review of Flirt4Free.
PROS:
Fantastic live sex cam website
Design and layout is modern and cool
Features are great and work for your convenience
There are pre-recorded videos available
Variety of models you can choose from
CONS:
Sometimes the website buffer
There are expensive private shows
Some dead links
---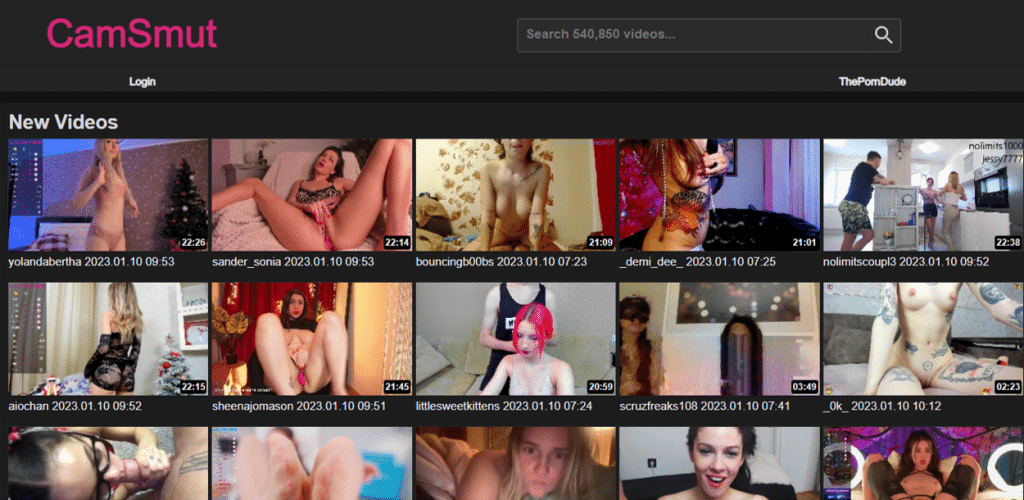 Cam Smut gives me the vibes for a complete live cam porn experience. This free site has more than five hundred thousand recorded flicks to wiggle your dicks at. Your favorite scenes come in handy with the constant updates and sensual weekly additions. All the deals run for a long duration and are of decent quality. Sadly, adverts are lurking the video players. No worries, the beauties will make you happy and horny. They got more surprises once you start digging. Enjoy!
Read our full review of CamSmut.
PROS:
Consistent library additions
Free webcam performances
Hot and famous camwhores
More than five hundred thousand recorded flicks
Addresses your favorite live cam fetish
CONS:
Too simple design
Adverts
No sorting functions
---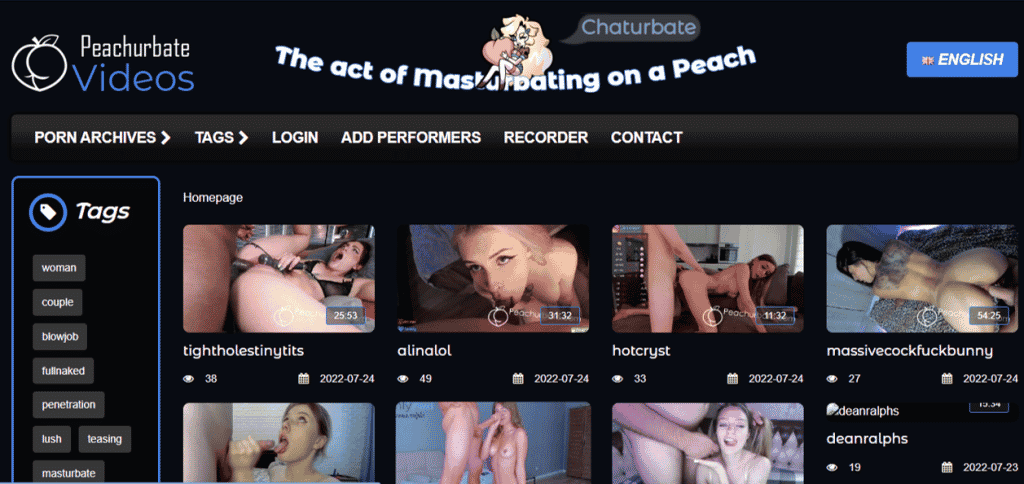 Peachurbate claims to be "The Best Porn Archive" in the business. This tag is a huge claim; however, we are not here to discredit that. In fact, we are excited to test the waters fully. If this is the best repository, Peachurbate must have something entirely exhilarating for you. I have done a few faps, pal, but I am keen to dig more. By far, Peachurbate brought thrills to my spine. The archive is huge, and the content speaks for itself.
Click here for Peachurbate's full review.
PROS:
Clean page
Big sex cam archive
Features big sites like Stripchat, Bongacams, Chaturbate, Cam4, and others
Easy to utilize
Add performers to be recorded
Thousands of flicks available
CONS:
No search engine
Some features need an upgraded pay
---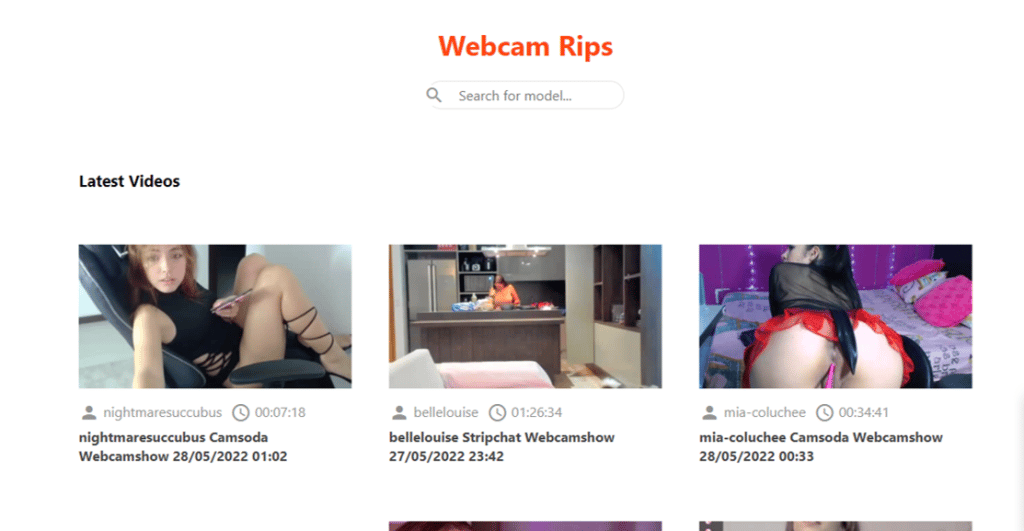 Webcam Rips offers quality materials covering your favorite cam shows. This domain is a good place to spend time if you are itching for cam performances but do not have an enormous amount of time and money. Webcam Rips gives out its collection for free. Hence, anyone across the globe can enjoy the assortment of female, male, couple, and transgender videos.
PROS:
Downloadable collection
Free site
Full-length videos
A decent number of materials
Sorting options via site and gender
Delectable recorded live cam shows
CONS:
Many adverts and spam links
Plain and bare design
---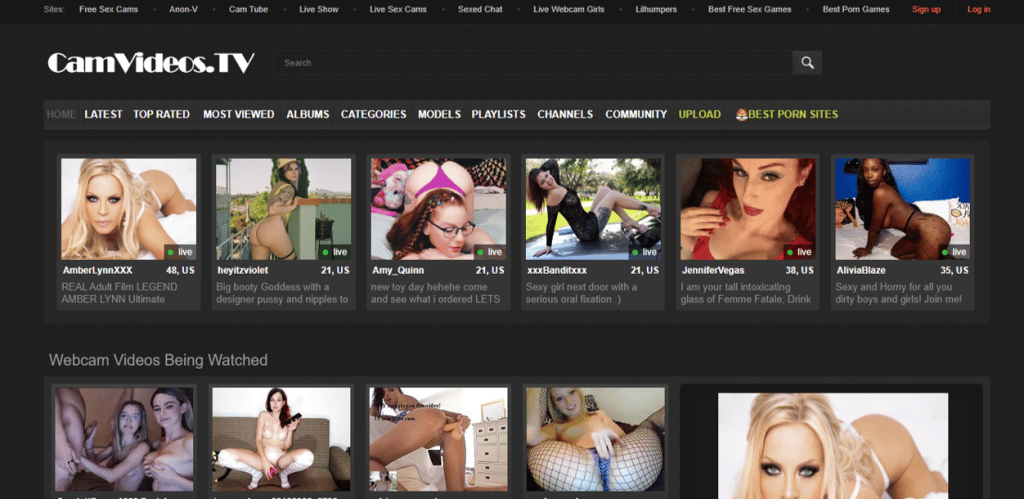 Cam Videos is another explosive domain with quality features anyone will adore. I can say that Cam Videos did a great job when it came to the site's objective. The manner of delivering recorded live cam performances is top of the line. I appreciate the features at hand and the various activities you can do at the arena. Cam Videos' categories are sumptuous that you are tempted to explore great nudity, premium, HD, and hot amateur content. Not just that, the babes are drooling. You can start finding friends, adding a playlist, and uploading your materials.
Take a look at CamVideos' review.
PROS:
On-point categories
Top models
Sorting options available
Steamy recorded performances
Good quality flicks
Helpful segments like channels, find friends, playlists, and albums
Easy to navigate
Well-placed ads
CONS:
Too simple site design and layout
---
Parting Words
Enjoy the overflowing numbers of Chaturbate webcam sensual performances at Rarecord. This gallery caters to your favorite camwhores as they spread their legs and masturbate in front of the lenses. Rarecord got all these massive treats in its free abode. Nothing to worry about, as this domain sets a record-breaking selection with zero fees. It also gathers more than thirty-three thousand perverted performers. Hop in and see a pile of fucking couples, models using sex toys, and babes happily executing their audiences' needs. Rarecord is a feast you cannot resist.
All 113 Other Sites in This Category Worth Checking Out:
Fetish Galaxy Review & 12 Best Live Sex Cam Sites Like FetishGalaxy.com Show Me 12 Alternatives for FetishGalaxy.com Welcome! Today, we're strapping in for a journey that's bound to tickle your curiosities and awaken your inner desires. Don't tell me the name "FetishGalaxy" didn't already send your imagination into overdrive. I mean, it's like a cosmic […]