Updated on: December 7th, 2023
Seeking Arrangement Review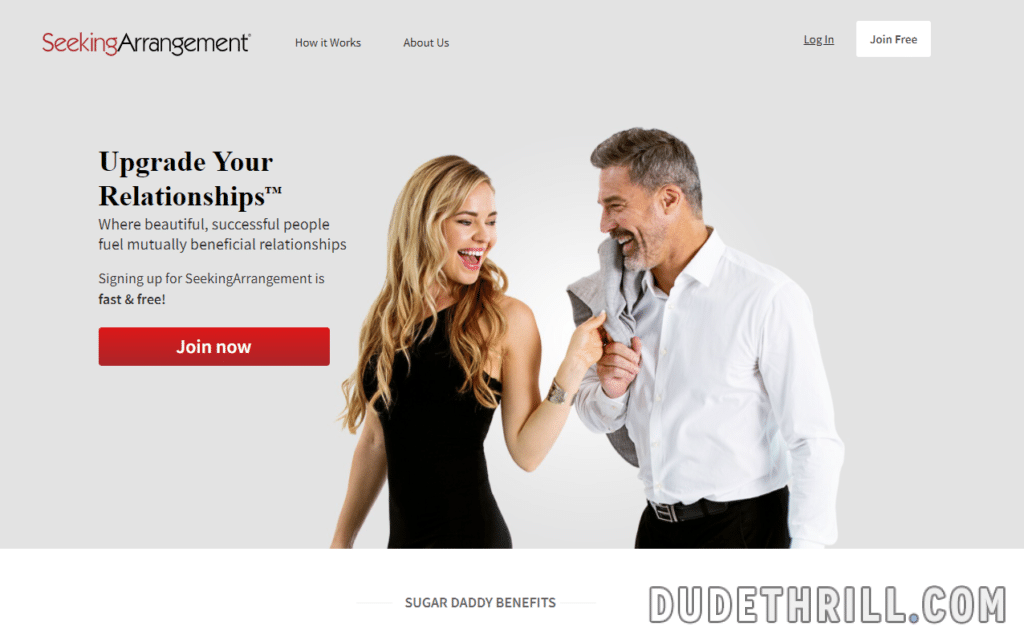 (Updated on January 2021) — If you're looking for a different kind of fun in the dating world, sugar dating might be the perfect one for you and Seeking.com might help you a lot! Sugar dating may be a little controversial to some since it is basically a finance-based relationship but despite that, it has got on from just having sugar dates because of a mutual friend to where it is now – in the online platforms, thriving like all other kinds of dates which mean that there is a wide market for this type of dating arrangement. You might even find your lifetime partner in the sugar dating world.
What Is Seeking Arrangement All About?
So if you are the type who is into dating which in general is based on one's financial needs or capabilities, there are a lot of legitimate sites that I can recommend for you to start your sugar dating adventure. To date, there are already hundreds and hundreds of sugar dating sites that have been established but only a few of them have to thrive with the intense competition there is online, not only for the sugar dating sites but for all the dating sites in general.
One of the best sugar dating sites is Seeking.com (aka Seeking Arrangement). The site does not leave any information hidden. It is upfront of what the site is actually about – no fuss, no baiting with whatnots, no pretensions. It immediately shows you that they are all about sugar dating and those who are interested in looking for sugar daddies/mommies, or sugar babies. Their transparency has been one of their strong points. You can put in your profile how much exactly you are willing to spend or if you are a sugar baby, you can put the amount you need and where the money will go – be it for your tuition for studying or just for the designer bar you've been eyeing. Your profile includes exactly everything that you want or what you can offer, you can even indicate whether or not sex is on or off the table.
This site has been in the sugar dating industry for a long time already so you can really say that they are experts in accommodating the needs of their users. You may even download their app if you want it on mobile. Signing up to the site is free but you can also opt to have a Premium or Diamond membership which is the gateway for loads more of perks. If you have a paid membership, you can already receive messages, your profile is highlighted and you get to be prioritized in searches, and you can even improve your privacy such as the optional profile picture if you want to go incognito, and this is only to name a few of the many perks that the site has in store for you.
Seeking.com Interface & Website Feel
The interface of the site is intentionally made to be simple and easy to navigate for the potential sugar daddies to be able to browse it easily. If you are worried about getting scammed, Seeking Arrangement has been verifying the accounts of the users. Their moderators have been really working on weeding out fake accounts to get rid of scammers and even to prevent prostitution.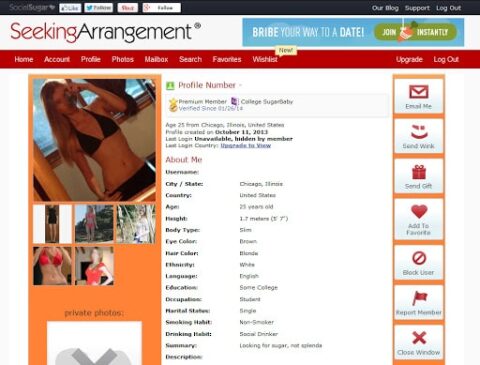 It may seem to you that the site is only limited to those who are of heterosexual preference but what you do not know is that if you just browse, even more, you would realize that the site is also for those who have homosexual preferences.
You will really have no problem using Seeking.com since any time you can also visit the site's blog on how to build a strong profile or how you can maintain your stay in the site safe and enjoyable. The site surely is a paradise for sugar daddies since there are a lot of sugar babies on this site. Not only can you find hookups or casual dates, but you may also find here members who have an interest in long–term relationships.
Seeking Arrangement's Main Pros & Cons
PROS:
Wide population of both male and females
Transparency
Strong Privacy and Security
Simple Interface
CONS:
Profile verification procedure could be tedious
App version is only available in Google Play
---
12 Sugar Daddy/Dating Sites Like Seeking.com: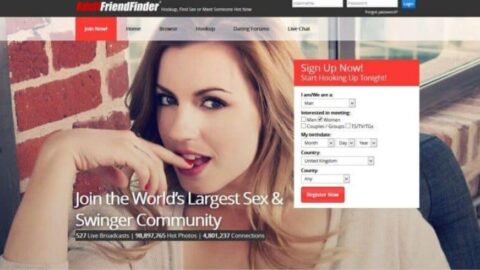 If your main purpose is to look for casual hookups, this site will never let you down. However, you might get lucky and find someone down for a serious relationship too. The site caters to a wide array of different dating arrangements. You can specify what exactly it is that you are looking for to narrow down your searches, but you always have the option to explore.
Navigating the site is like a walk in the park since the site provides you all the basic features of a dating site. More than being able to find a suitable date or hookup, you can also find friends on this site. Members are so active you can join groups and interact with people in real-time. However, most of its free features do not involve private interaction. If you feel the need to take your conversation up a notch and go private, you have to upgrade your account.
This is probably one of the best sites to visit now that there are protocols on social distancing. Due to its every sex-positive vibe, you can feel as much tension live streaming in the site as if it were the real thing. AdultFriendFinder is also a haven for you who are looking for sugar babies. The young ones make up most of the active users of the site.
For more in-depth review of Adultfriendfinder, click here.
PROS:
Open to any and all sexual expressions
Huge membership base
Very active users
Yu never run out of things to do
CONS:
---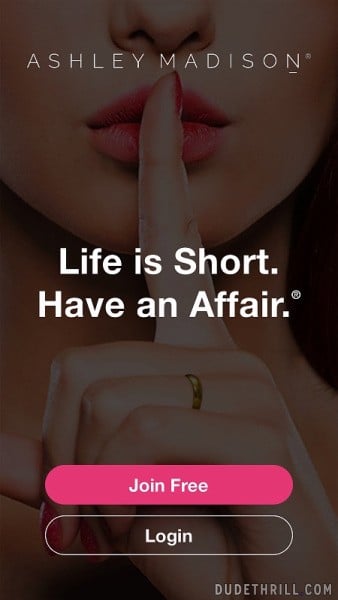 This site has a reputation as the "affair site". Well, it just stayed true to their slogan which literally says "Life is short. Have an affair." Even if Ashley Madison stuck to their "affair" branding, it has also evolved through the years to cater to other needs of their clients. They no longer mainly serve to those who are married and just wanting to get some quick hookups or one night stands, they are expanding their reach for those of you who are in an open relationship, or those of you who are just exploring different dating arrangements. For the women, the site is entirely free for you. However, for the men, although there are free features on the site, most of the interesting features need payment.
A more extensive Ashley Madison review can be read here.
PROS:
Photos can be uploaded discreetly
Free Sign Up
Friendly and easy website interface
CONS:
Their App is not very useful
Users are not very much filtered
---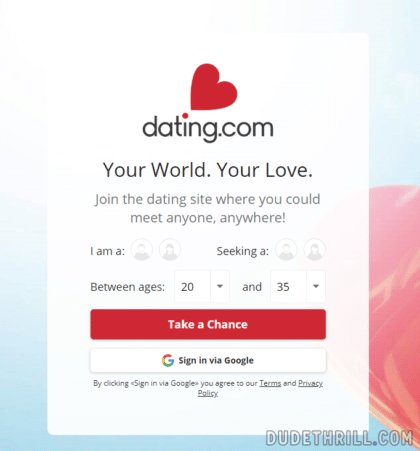 This site has earned praise from all around the world. The site has become a hit because of its friendly interface and the many success stories that began through it.
It has an app that you can use that is as effective as the website although you may notice that not all the features in the site are already in the app. Signing up is easy, you can your Google account and unlike other websites which has a tedious profiling process, you can skip some of the spaces that they ask you to fill out. However, if you want to appear interesting, you must fill these out since it will appear on our personal feed.
There a number of ways for you to interact, you can choose to do private messaging and chat. You also have the option to interact with many people at the same time, or if you want, you can video chat the person. You cannot avoid annoying people in these types of platforms so Dating.com is also giving you the option to block the annoying user.
Interested in more information — here's Dating.com review.
PROS:
Very good user interface
You really get what you paid for
2018 Customer Choice Awardee
CONS:
App is only available for Android Users
---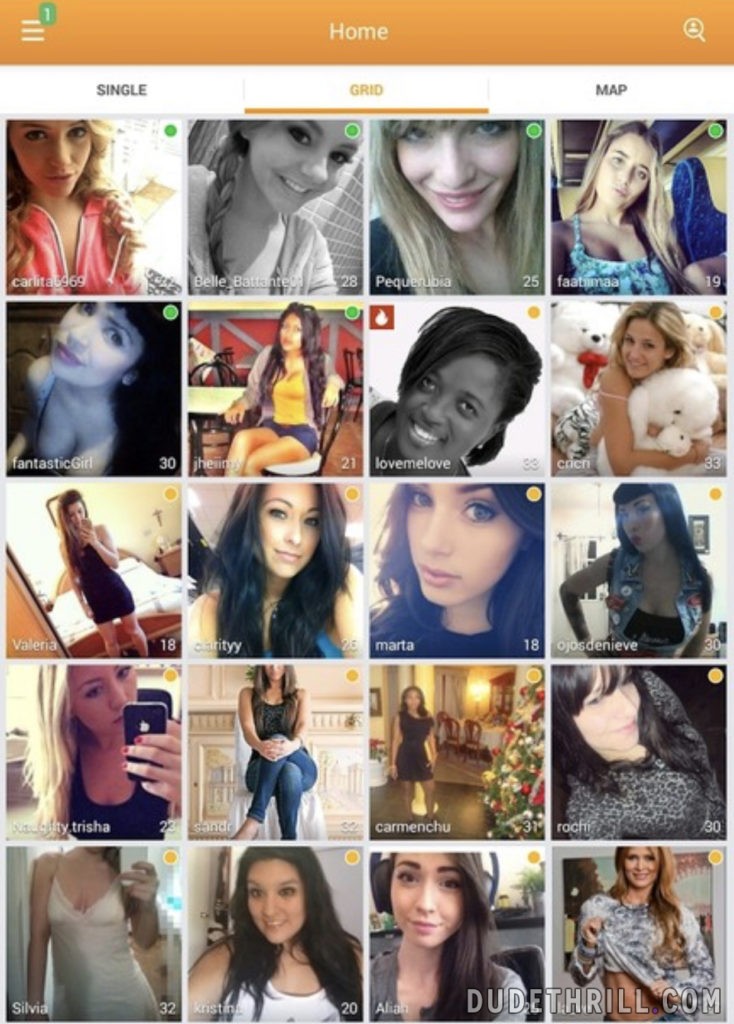 This is like the all – in – one type of dating site. It has almost all the niches that other dating sites can provide you. The site offers you different levels and ways of interacting with other users. You can have the option to sift through the people you can interact with, whether only those who are verified or including those who are not — which is basically everyone.
If you are interested in women, this site is recommended for you since most of the active users in this site are women. This is somehow expected though since there are features that are free for women but with a fee for men.
BeNaughty has also launched its mobile app if you prefer it on your devices which is fully functional. The site has a very easy interface and buttons are also easy to locate which is friendly for users of all ages.
A full review of Benaughty.com can be seen here.
PROS:
App is available for both Android and iOS
Lots of free features
Cheaper fees compare to other sites
CONS:
Annoying live notification
On – site ads can be distracting
---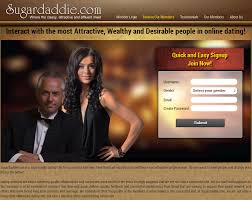 Don't be discouraged by the outdated façade of the site since for more than a decade of being in the niche dating industry, SugarDaddie can confidently boast of their numerous successful match stories. Even with just a free membership, you can already check and browse the profiles of the members. Signing up will only take you a few minutes. There is just a need for you to fill in the important details for your profile. You may indicate there your interest whether it's for some serious long–term relationship or just a purely sugar dating arrangement. For those of you who are eagerly looking for sugar daddies/mommies, you can easily find them in this site since the site has a minimum earning cut – off.
You can only use their messaging feature if you up to your account and paid for it. This is what they do to filter out scammers and fake accounts to interact with legit users. Special features of this site include meeting your match. Basically, your profile is being matched with another's and you have the option to click "YES" or "NO" on the profile suggested to you. Your chance of meeting a better match is a higher quality score. Getting an upgrade on your profile will also boost your quality score since you are able to enjoy all its features.
PROS:
No automatic billing
Huge membership and on-site activities
Does not require sensitive information in profiling
CONS:
No App available
Outdated Design
---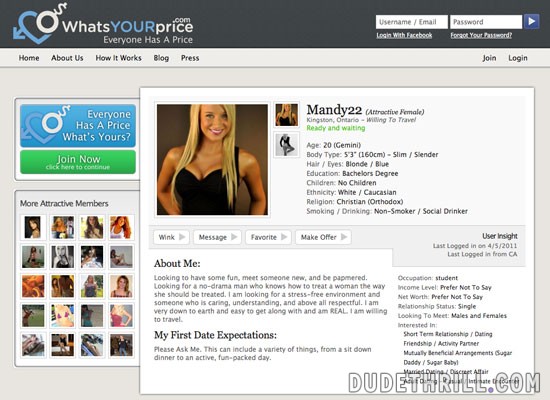 This site is a niche of its own. Aside from its enticing website color, it also boasts of its different setup. If you're looking for a date in WhatsYourPrice, you better bring your competitive A-game. The site is auction-based and the highest bidder wins the woman. During the bidding, others can counter-bid. Women can also offer their preferred amount. In short, the date you can get depends on the money you can offer.
In looking for the perfect date, you may narrow down your searches through the filters. You can select the age bracket, features, and even the amount of money they ought to get.
PROS:
24/7 Customer Service
Straightforward and Transparent
Easy credit purchasing
CONS:
No monthly membership fee
Non members cannot browse through user profiles
---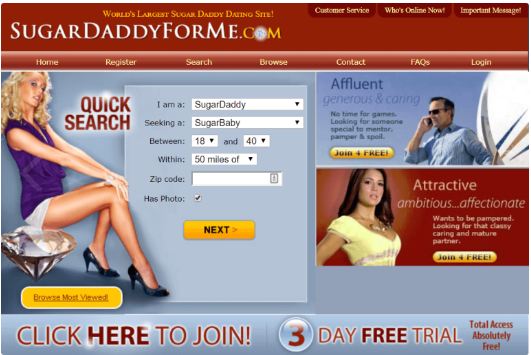 you may not see the usual elegant appearance of other sugar dating sites in SugarDaddyForMe but you should not judge it by the looks of it. Just like any other sugar dating site, this is made for those adult men with bills to spare, and for young beautiful women who want to be spoiled and pampered. The site is literally open for anyone's exploration since you can browse the users' profiles, look at their pictures, and even see who is online even without signing up. It's like their teaser for you. Once you sign up, you cannot help but upgrade to have a Gold membership for even better services and features.
Unlike other sugar dating sites where free members cannot message, SugarDaddyForMe allows messaging even to non – paying members. One of its special features is the Weekend planner wherein you can display your plans for the weekend. You can even indicate your current status whether you're asleep, busy, or free. You can also schedule calls you're getting based on your preferred schedule. It has a large membership so you will for sure find what you're looking for.
PROS:
Free profile browsing even for non members
Audio and Video Chatroom
Detailed profile and profile sharing
CONS:
Expensive Premium Packages
No Profile Matching
---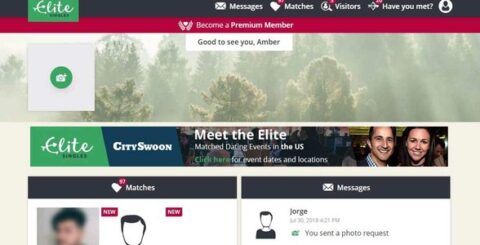 This is for you who are looking for not just the sexual orgasm but also the intellectual orgasm. Elite Singles is known to be the leading dating site for educated singles. Once you become a member of this site, you are not only matched intellectually but also financially.
Signing up may take you a while since it has a lengthier process than usual. The site matches you not only on face value likes and dislikes. It has an in-depth matching algorithm that looks into the personalities of the user.
Just like other dating sites, Elite Singles are not all for free. For you to unlock features such as messaging or image viewing, you have to pay.
You can check more about EliteSingles and it's 10 similar websites here.
PROS:
Data – driven matching system
Comprehensive Profiles
Convenient to use and navigate
App available for both Android and iOS
CONS:
Extremely targeted market
No search option
Lengthy verification
---

At first look, you may not see this site as a sugar dating site but you can find a lot of women who are looking for a sugar dating arrangement.
If you are not new to these kinds of sites, you would know about MillionaireMatch since it has established its credibility having started in the sugar dating realm in 2001. It has a reputation of having rich and famous people as members of the site. Despite the name of the site, you do not necessarily have to be a millionaire to be able to join.
Actually, signing up with the site is free. But if you are actually a millionaire, you are more than welcome to join the site. The site has a "certified millionaire" for those who really are millionaires. You just need to undergo the verification process and if you passed the process, you may now be easily found by sugar babies who filter their searches with that status.
Interaction in the site may somewhat be a challenge or those who are in free membership mode but if you have already upgraded to gold membership, you can easily communicate in the site. It also has a Forum tab which is of big help especially if you are a newbie to the site and you have just started exploring it. MillionaireMatch also has an application for those who prefer it on mobile.
Of the many years that the site has been running, you can say that it already has made way to a lot of successful stories.
PROS:
Verified Profiles
Live Millionaire Match Counselor
Easy Facebook sign in
CONS:
App version does not have full features
No video chat
Can be costly
---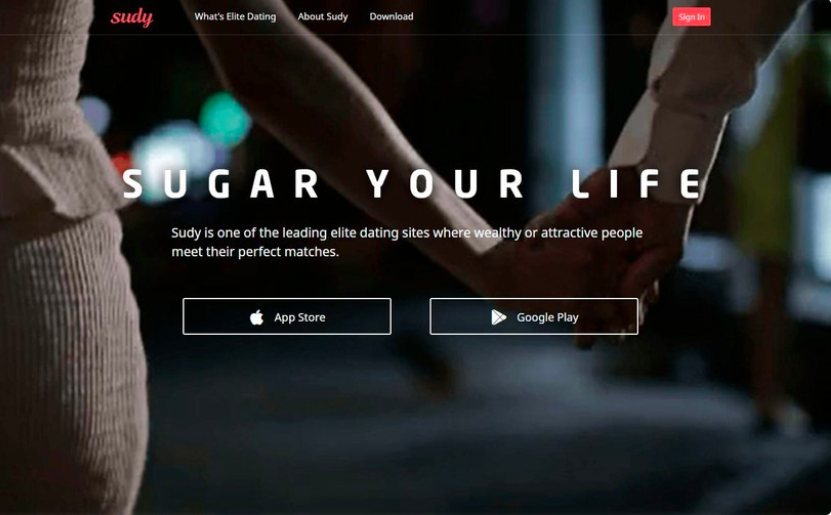 Sudy is an app-based since it is following the current swipe dynamics of other dating apps. You can easily say that Sudy is made by people with experience in the online dating realm, and even with sugar dating arrangements. It is designed for you to swiftly navigate it, and matches can be swiped right or left depending on if the match is a yes or no for you.
If you are an adult man, as their target market, you will be drawn with the way it presents its services to you. This platform is really built for you since the population of the sugar babies is four times more than that of the sugar daddies. You don't really need to worry much about the competition.
Its main page immediately shows you the available sugar babies you can possibly match with. Similar to other sugar dating platforms, you can experience the full features of Sudy if you are a paying member.
PROS:
You can go incognito mode
Verified badges to avoid fake accounts
You can check the contact details of your match
Several security measures for users
CONS:
Expensive
App crashes
Very limited free services
---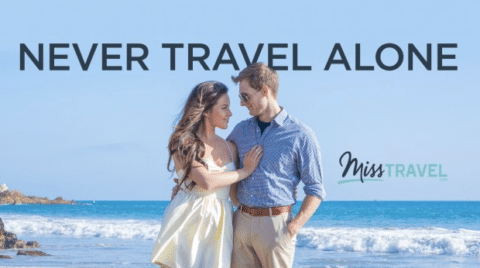 If you to travel but you have no one to explore new places with, this may be the site for you. Miss travel is for the sugar babies who want to travel but are a bit out of budget, and for sugar daddies who also want to travel but needs company. Just the perfect match!
This site is similar to all other dating sites but instead of paying off student loans or giving allowances, the benefits come as free trips around the world. All you need to do is invest effort in making your profile appealing to the market you want to attract.
The site matching doesn't work like magic and you can't get overwhelmed with the idea of immediately traveling. Since the site shows you the general and the detailed aspects of the user profiles, you have to make sure that you get to know your potential travel buddies.
PROS:
Advance search features
High member activities
Quick and easy registration
Worth the price you pay
CONS:
No App available
Limited special features
---
This is one of the more recently established sugar dating sites having started only in 2017. But despite being new, you can already see that it has made its way to the business. Started in Europe, and now it already has a lot of members in the US too.
Rich Meet Beautiful does not merely focus on the Sugar Daddy – Sugar baby girl relationship. It is also open for the Sugar mommas who want sugar baby boy toys to spoil.
If you visit the site, you would immediately notice the elegance of their homepage, unlike other older competitors who have an outdated page. Navigating through the site is also easy, you easily find the buttons you need which are actually helpful for those who are not very tech-savvy.
PROS:
Lots of free features
Detail profiles
App is available in both Android and iOS
CONS:
Fake profiles and scammers
Membership is still not that large
The Last Word
Seeking Arrangement and these 12 other sites are only a few of the best sites to achieve your wildest sexual and relationship dreams. Depending on your need, there is always a site that would gladly cater to it. And despite what they say that money can't buy happiness, it can get you a sugar baby, and it's kind of the same.
If you ask me which site or sites I recommend from those 12 mentioned ones… You can certainly try:
#1 — AdultFriendFinder;
#2 — AshleyMadison;
#3 — and of course SeekingArrangement.
Have a blast spending some $$ and hooking up with some gorgeous looking chicks!
All 75 Other Sites in This Category Worth Checking Out:
Top-5 Dating & Casual Hookup Sites That Actually Work in 2023 Perfect for ~20-55 year olds, with & without spouses! These are not some "fake" ones pretending to have girls, they are real, worldwide largest networks. Jump to Top-5 Dating & Hookup Sites Hey, I know that jerking off is quite exciting and cool. But… nothing […]