Updated on: December 4th, 2023
The League Review
& Top 12 Adult Dating Sites Similar to theleague.com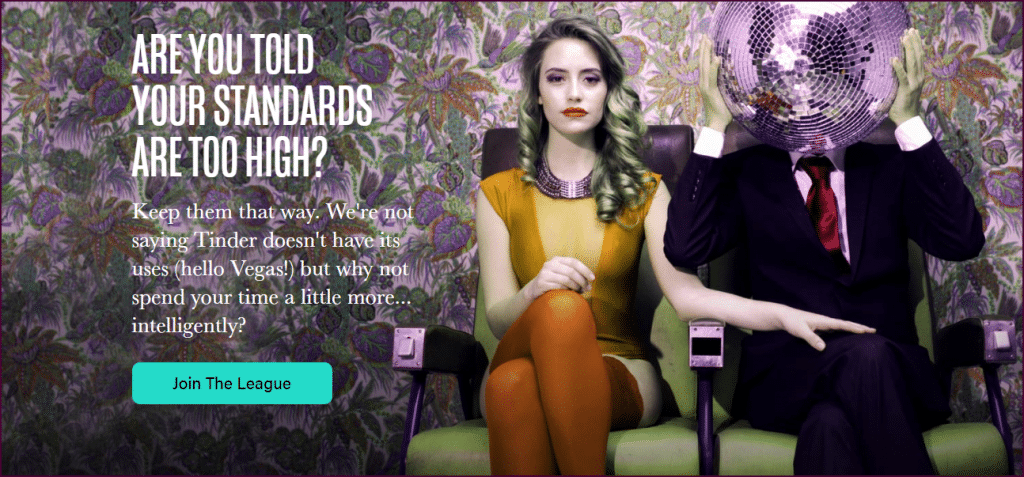 So you're here —and since you're here for TheLeague's review, perhaps you've noticed that Tinder isn't quite brimming with partners who are equally passionate, intellectual, and career-focused just like you, right? Then, you've come to the right spot because when it comes to finding the "perfect" partner, TheLeague is an excellent match for the job.
Official URL: https://www.theleague.com
"Prospects" selected by TheLeague's matching gurus are offered to members in a carefully curated selection. It's not your typical cheap hookup site full of scams, but rather a custom matchmaking site for anyone eager to walk away from the fuck-buddy phase. So, I'm going to give you an in-depth app analysis of TheLeague covering all the aspects needed to assess —from features, design, services, and pros and cons. By then, you'll be able to find out whether or not this unique service is worth the hype.
TheLeague: Exclusive Site for the Elites
TheLeague is an elite and legitimate matchmaking service that promotes career-minded, hardworking, and enthusiastic adult professionals to discover their dream partner. So, this service's primary target audience was those who set a high-pitched value on intellectual prowess and aspirations. By the nature of this site, it's not surprising that some people may be put off by the site's "exclusivity," especially those hoping for a husband or wife in a matter of days.
Despite the site's intimidating nature, TheLeague generally goes above and beyond and upholds its commitment to connect people far beyond the conventional ways. A Tinder-like matching and pointlessly swiping is not everyone's cup of tea; that's why the matching feature of TheLeague makes it more reliable and efficient than other dating platforms. Just imagine, with only several basic personal info, your everyday chances of success are simply at your fingertips.
How TheLeague Started?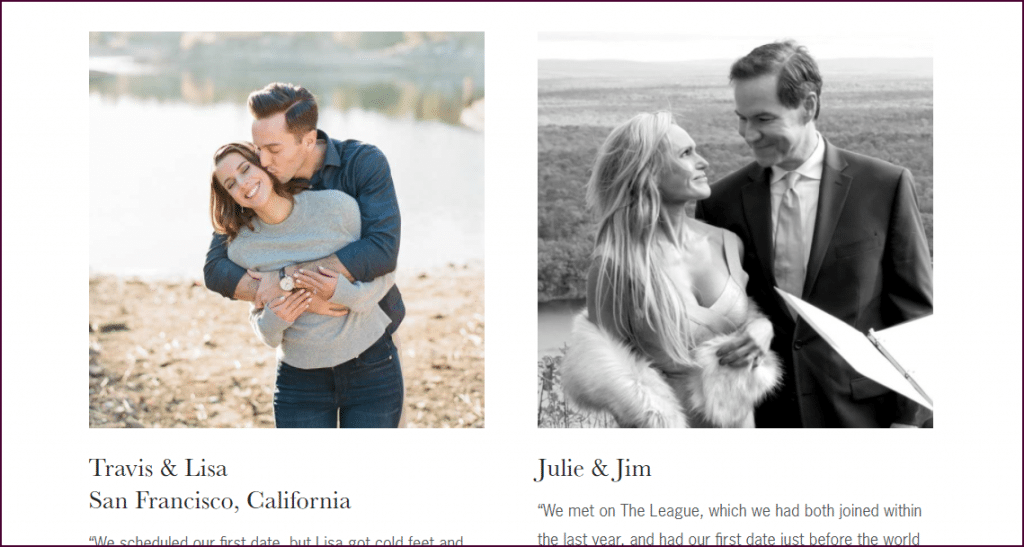 While working at a leading new enterprise, Amanda Bradford attempted to collect $750K in funding for her latest endeavor. Fortunately, several financiers expressed interest in funding this endeavor, and we are lucky how this site turned out. Now, TheLeague was recognized as among the most superior matchmaking services in the new generation.
In 2015, TheLeague started operating and was presently available in multiple places worldwide. Amanda used the funds to hire more engineers, strengthen the workforce, and introduce the TheLeague app in several countries.
TheLeague's primary purpose is to build a platform that brings together the world's most fascinating and accomplished bachelors and bachelorettes. Indeed, their designers and concept-maker envisioned a smaller and more exclusive membership than the Tinder app and other dating sites.
How to Use TheLeague?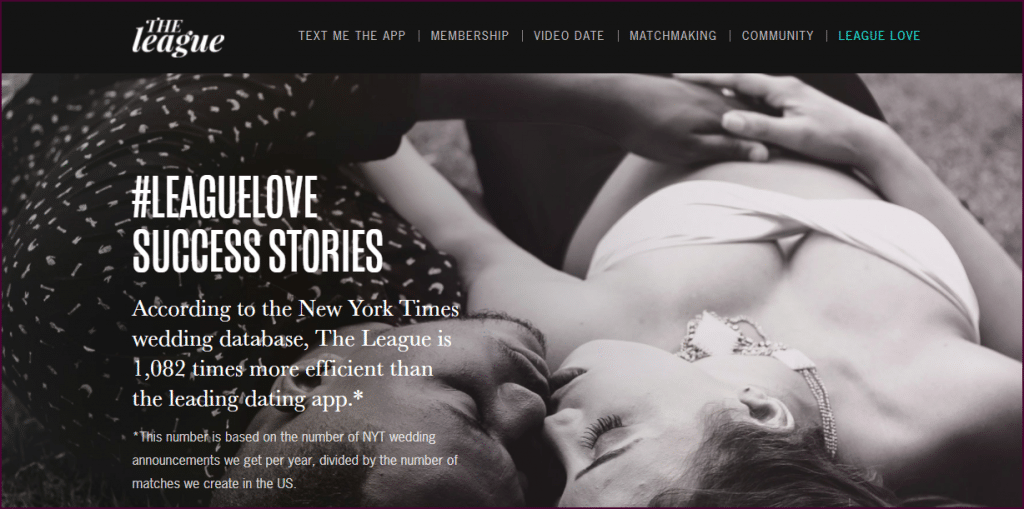 Amidst all the hype and scandals, TheLeague aims to connect career-focused professionals with like-minded users. These people don't have the time to keep up with less empowered singles; they want someone as motivated and eager as them. In other words, they are looking for a partner who'd appreciate their desire, dedication, the strength of character.
Taking these into consideration, TheLeague made sure to design a convenient platform intended for its goal. That's why admins imposed an extremely rigorous process to match ambitious people or perhaps even far more enthusiastic matches. Because of this "process," fewer applicants can join TheLeague following its stringent screening system — leading to a somewhat smaller pool of potential mates.
Typically, around 5:00 in the afternoon, TheLeague will send you daily potential matches. However, the number of matches you'll receive will vary depending on the specified characteristics of your profile and the type of subscription you acquire. Generally, guest users will enjoy a maximum of three prospective matches daily, whereas being a member offers around 5-7 matches.
Boosting Your Matches at TheLeague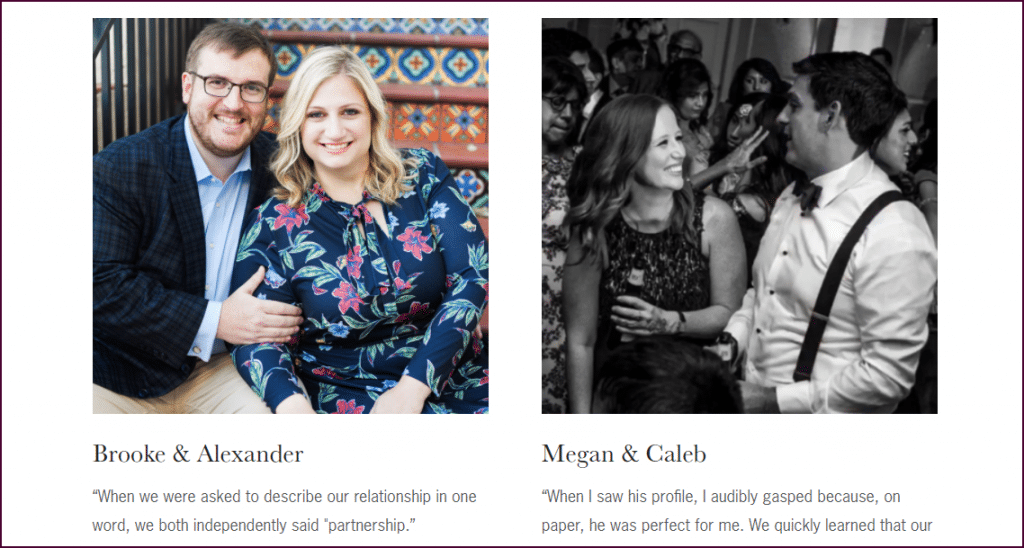 Also, you'll get a lesser number of potential matches if you're incredibly particular about your match preferences. For instance, you're very specific about the hair color, level of educational achievement, awards, the field of expertise, and more. So, if you notice you've got less than three matches daily, or struggling to find more, then better widen your search preferences.
If that didn't work, there is another option to promote your account using the BoostMyProfile feature. With this tool, your account will be visible to fifty additional matches instantly. Once you have matched/loved other users, both users will receive an alert and start your TheLeague dating journey right away!
Their Member Quality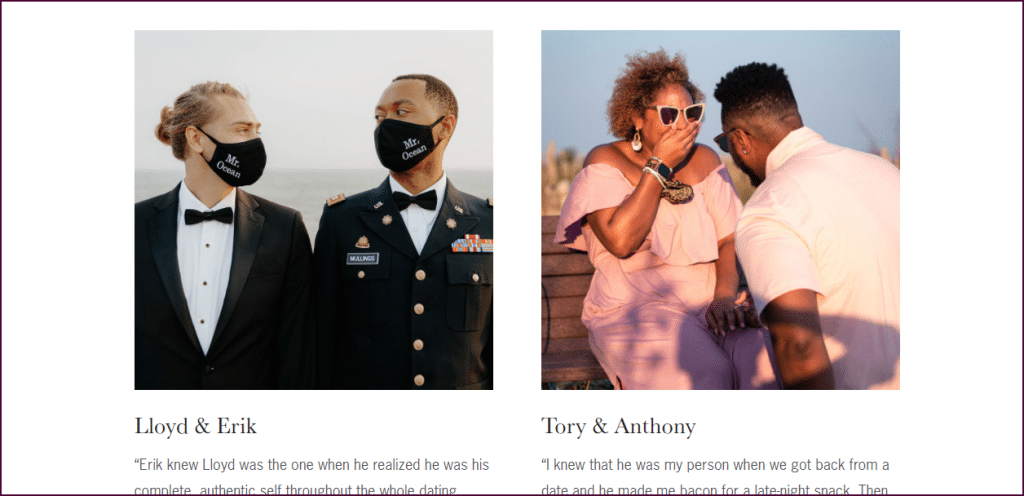 Connecting people regularly and building friendships is highly challenging in today's fast-paced and demanding environment. No wonder online dating sites are attracting more and more attention every single day. Certainly, I'm not surprised that more people are curious about TheLeague since it has promising claims.
Unlike Tinder or other dating platforms, TheLeague isn't a place to meet your ordinary Jane and Joe. Singles who are "choosy" are typically encouraged and promoted by the site since they are eager to find promising or "high-standard" matches. Meaning, anyone with high educational attainment or perhaps a CEO of a company falls under this category.
Currently, TheLeague's wait-listing policy and rigorous validation process may be somewhat irritating. Although at the same time, it ensures that only the "best" members and the most desirable partners worldwide are on the site. Not to mention, you no longer need to sift through hundred profile pages looking for "warning signs" to eliminate the wrong matches. Certainly, every bachelor and bachelorette in TheLeague has been thoroughly checked and is generally excellent.
Signing-up at Theleague.com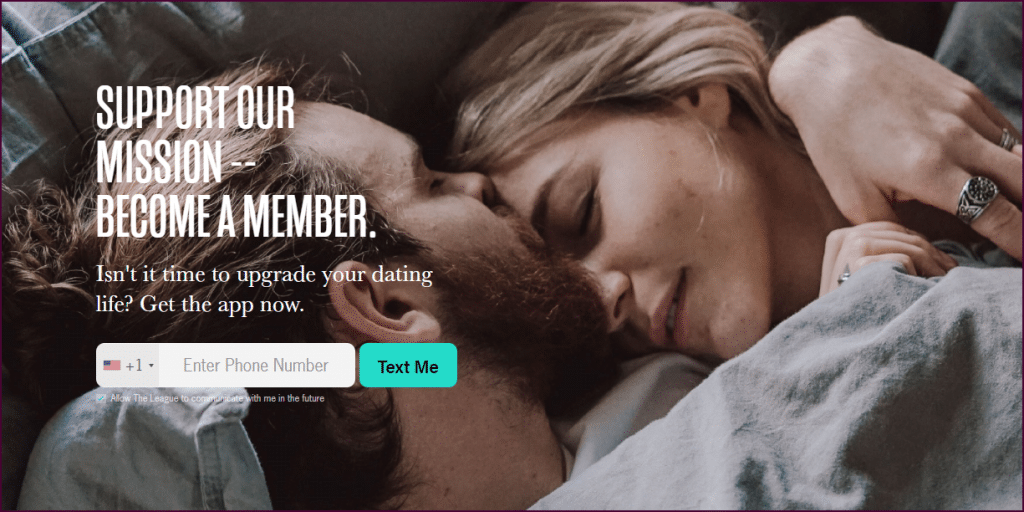 The moment I launched the app, my initial impression was it looked like a snobbish version of Tinder. But unlike the popular site, this one is only for the beautiful, wealthy, and powerful to enjoy. As expected, I was honestly curious about how the site runs, but it took me a couple of days of thinking before finally agreeing to join and take a shot.
Generally, TheLeague is pretty effortless to use and allows you to upload high-quality images. Also, you can show off your interests and things you love, such as mountaineering or having lunch with colleagues on your profile. Typically, that's how the members highlight their characteristics and lifestyle, instead of a bunch of partying pics or unpleasant nude selfies.
Additionally, you need to connect your LinkedIn and several other social networking profiles. It could help boost your profile's credibility since the TheLeague system quickly generates your academic achievement and work history straight to your account so others can notice how clever and successful you are. But as expected, after finishing my account information, I was thrown on a waiting list and got a notification saying I was around at the 946,000th place. What a bummer!
About Their Waiting List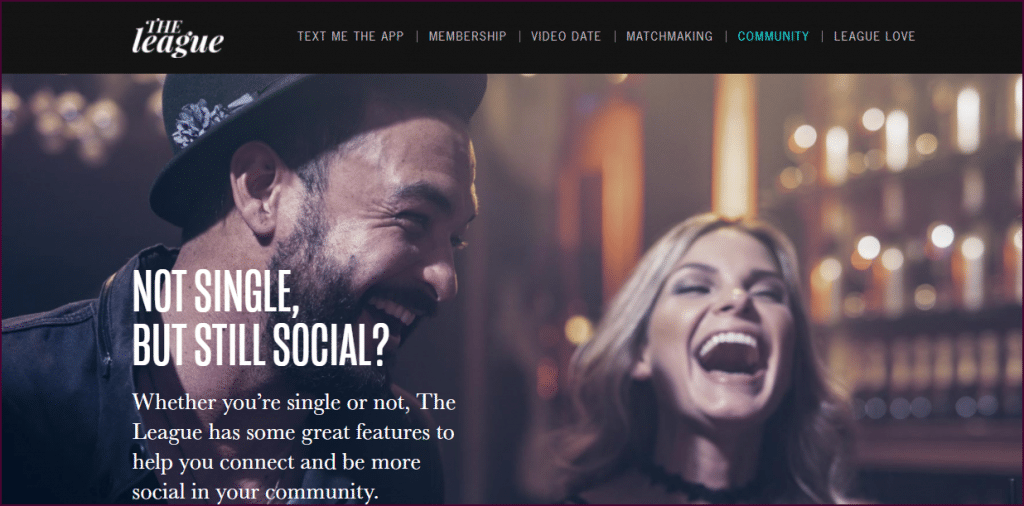 Unfortunately, you can't use TheLeague right away after registration. A reviewer will either approve or deny your application following a thorough assessment of your qualifications. Indeed, there's no shortcut here; both non-members and paid users alike go through the looooong waiting list.
I also asked several members of TheLeague, and they told me that somewhere between days, months, or even longer is the usual waiting period before you could expect a decision. However, there's another way to expedite the assessment process of your account; of course, this does not ensure immediate approval. You could certainly speed up the assessment phase by subscribing to the site or acquiring an endorsement from an authorized TheLeague user.
Aspiring candidates can see how long they'll be on the backlog, but that list might change daily since more members spend a fortune just to skip the unnecessary waiting. Better start asking for a Premium pass from a colleague currently using TheLeague so you could finally experience this unique dating style.
Special Features of TheLeague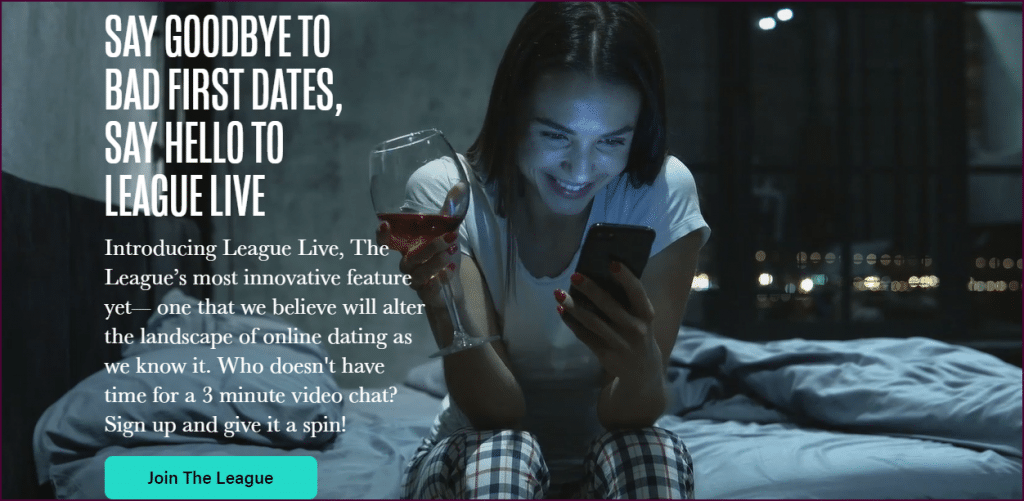 Buying "LeagueTickets" allows you to expand your options and reap the perks of this app's matchmaking function. Sure, these tickets are pretty expensive, but they can really assist you in finding and choosing a suitable partner.
One of TheLeague's most notable features is the interactive user service or the "ConciergeSupport." These people behind this service assist your concerns and even act as relationship gurus. Unfortunately, the Elite users only get access to this excellent feature.
Thanks to this fantastic feature, your account rises to the highest level of users' search engine listings. With this approach, you may quickly boost the volume of individuals who discover and get interested in your profile. However, only the Higher-tier users can access the PowerMoves.
TheLeague users have the freedom to set up groups or clubs to discuss their interests with other members openly. Aside from recent world events, they can also talk about their hobbies, passions, or desires to help build a "togetherness" spirit in a pretty small group.
The Site's Membership Options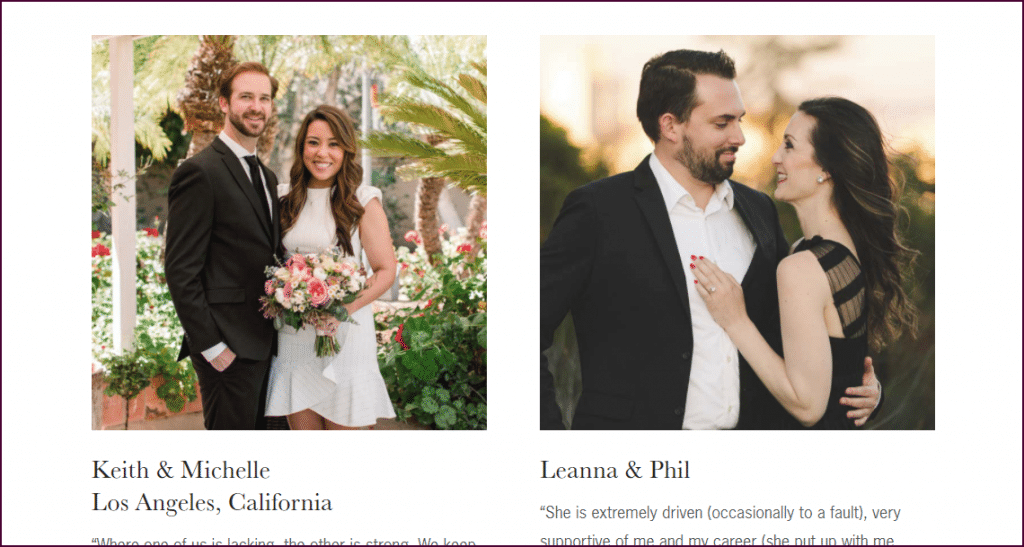 Guests
You can access and use TheLeague as a "guest" for no payment at all. Once approved, you can use the website as a visitor without any restrictions or additional charges. Plus, you'll receive a daily email that contains a maximum of three potential matches. You can beep them and see if it's a good fit. Also, you're allowed to upload photos, search for other users, and send requests.
Members
Alternatively, if you're ready to spend a fortune, you can register as a "member" on TheLeague. Currently, the site has three (3) primary subscription packages — a one-month subscription for $199.99, a three-month subscription for $99, and a six-month subscription for $67.
Being a member, you can enjoy some special privileges that any guest won't have, including five daily matches, three recommended dates, and send a maximum of five connection requests. On top of that, you can use tools like personalizing your biography according to your preferences, increasing possible dates, and prioritizing your account on top of the search engine.
Owners
Being an "owner" of TheLeague requires massive investment because the monthly costs start at $399, and for $299, you can experience three months membership. The standard features for owners differ slightly from other membership options, but they are otherwise similar.
For this membership, you'll enjoy six daily matches, send six connection requests, and match six people through likes. In addition, you get unlimited PowerMoves, reverse a "pass," and potentially get re-matched with an "owner" subscriber. A person's profile also shows you if they've "liked" you in the past, so you can decide whether to message them again or not.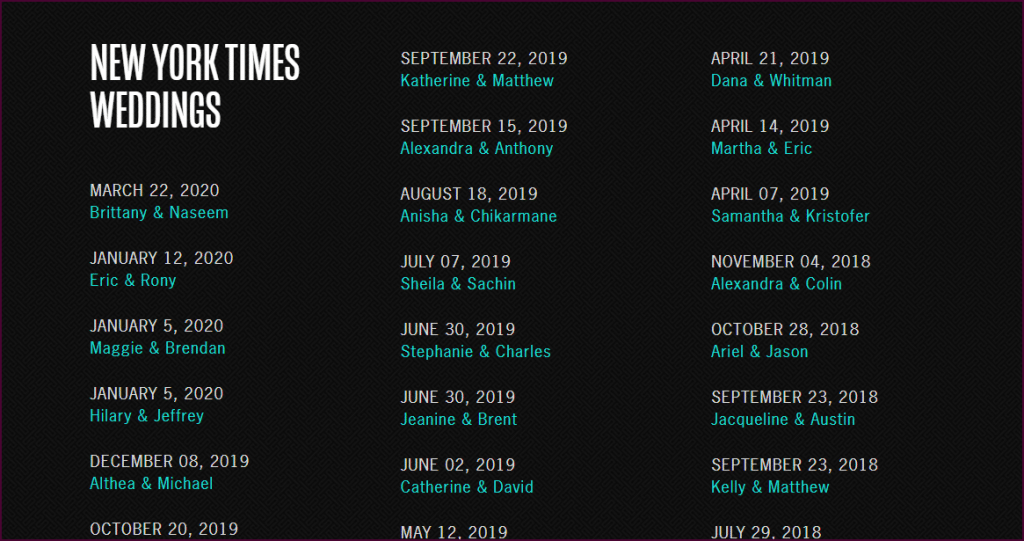 Investors
For "investors," the registration requires a substantial fee. Currently, a one-month membership is equal to $999.99, while a weekly membership costs around $399.99. Yes, that's right —it's pretty costly, and only the most eligible ones can afford it. If you find investors around the site, then surely they're not here to mess around.
As an investor, you'll be able to use features like getting info on who "liked" your profile, enhancing publicity systems, and the power to see relevant statistics. Besides that, you'll be bombarded with seven daily matches and seven connections requests. Also, being an investor allows you to enjoy and maintain privacy and communicate with suitable users before the matching process. Finally, the coolest part of investor memberships is you'll have access to a personal "concierge." Meaning, your profile will increase popularity by around 40% than those of lower-level users.
Pros and Cons of TheLeague
PROS:
Reliable members
Easily link relevant websites and other social media accounts
Robust verification process
It has incredible features and design
Cam2cam chatting
CONS:
Only a few LGBTQ+ members
Long waiting list
Some users are not on LinkedIn
---
Top-12 Adult Dating Sites Similar to theLeague.com: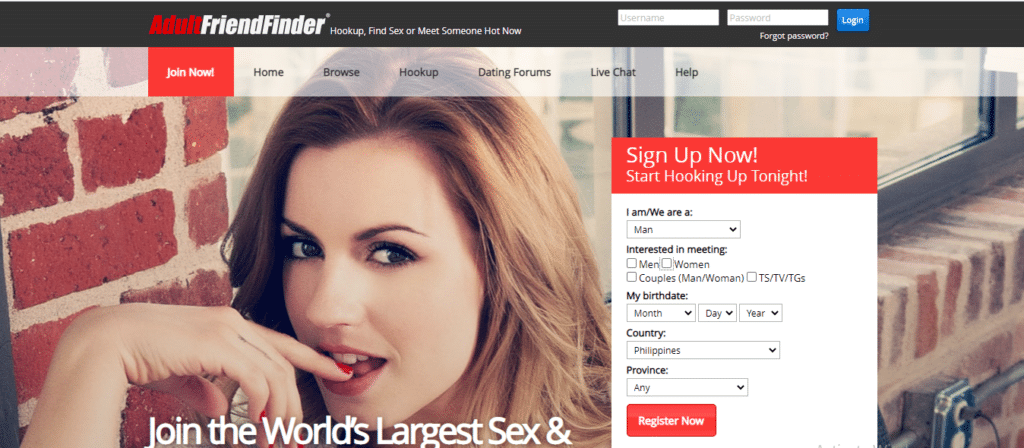 The Adult Friend Finder website is famous all over the world. It has more than eighty million members desiring erotic interactions with multiple women. Similarly, it provides numerous flirtatious relationships, such as casual connections, monogamy, couples, fuck buddies, and many more.
Indeed, this is an excellent experience that spices things up in the bedroom, especially between open-minded people willing to examine their sexual orientation. Finally, registration is relatively stress-free and straightforward, so members finish it in less than five minutes.
Here's the full review of AdultFriendFinder.
PROS:
Registration is free and fast
The members of the website are active in looking for casual hookups
Plenty of options in terms of communication
Watching videos and viewing images are free
You can write blogs and engage in a group conversation
The app is available for download and compatible with both iOS and Android devices
CONS:
The number of male members is greater than the females
Limited options for free basic accounts
---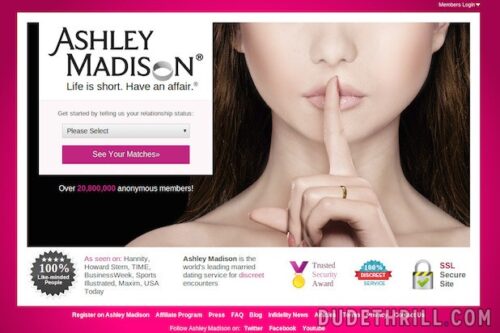 Top-notch website in terms of hookups and adult dating, Ashley Madison has been around since 2001. If you are in a monotonous relationship or want to get out of the routine of married life, then this website is just right for you. Indeed, all types of sexual affairs are welcome here, and no one will judge you. Also, the members can engage with many members across the world and enjoy sexual entertainment.
Above all, Ashley Madison listens to its members' feedback and the changing demands of people's lifestyles to improve their features. Everyone is free to explore all types of relationships, including polygamy, threesomes, and many others. Thus, Ashley Madison remains on top of the game despite the competitive industry of online dating.
PROS:
Encourages the members to upload discreet photos
The site offers free registration and follows a simple process
Protection of images and sensitive data from spams
You can download this through Google Play and App Store
Low storage requires and will not occupy too much phone storage
Members are huge and from across the world
CONS:
Several accounts do not provide details about themselves
---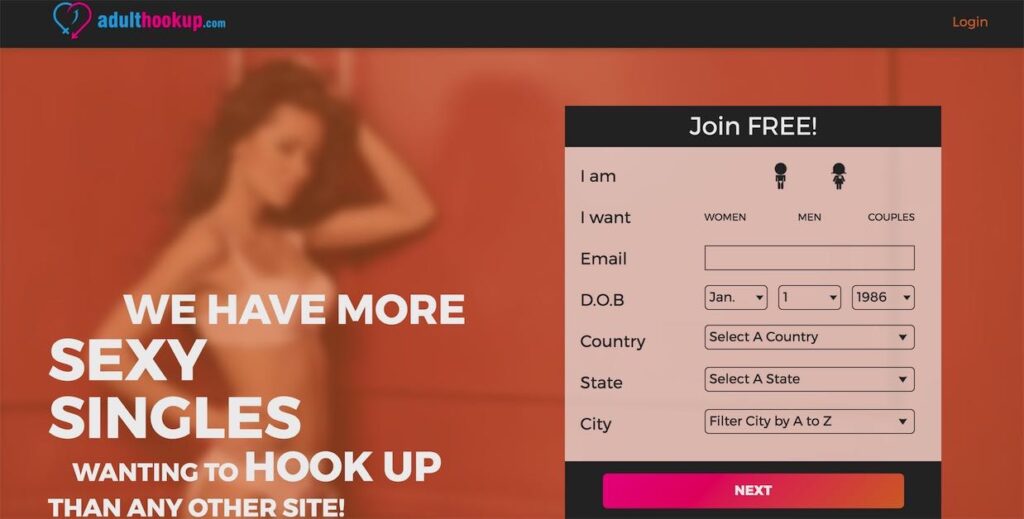 Adult hookup is a dating website that will indeed surpass all your expectations in terms of hookup and dating. Regardless of being new, the Adult Hookup website provides excellent ratings in giving a pleasurable and convenient experience among its members in finding a match. The website has a very stylish design and is simple to use.
Also, more than millions of its members are actively engaging in sexual connections every day. Indeed, there are many forms of communication between members, including video chats and instant messaging. Above all, Adult Hookup commits to giving its members the best sex and matches of their lives. Thus, they offer a 100-day Guarantee program that assures you to have sex less than this duration.
PROS:
SSL certificate and encrypted service used for Payments and transactions
New users can benefit from the free trial membership
An enormous collection of users worldwide
CONS:
Vast and distinct components of the site are available for premium members only
---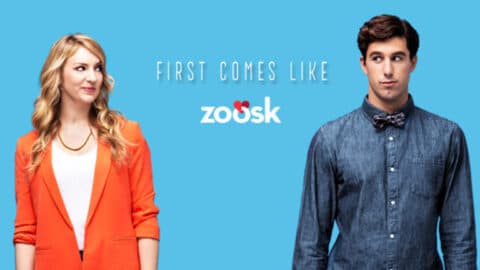 Zoosk has been the place for young singles who are looking for casual hookups. It didn't merely provide for the night's satisfaction to some of its users, though. There are plenty of users who end up being together in a serious relationship. One of the site's top priorities is the verification of members' profiles. So you don't have to worry wastefully whether who you're talking to is an actual person or not.
Click for a full review of Zoosk
PROS:
It's popular and available in various countries
It has a verification process for all members
Amazing design
Plenty of active users
It has fantastic and unique matchmaking features
Open to all gender and sexual orientation
CONS:
The auto-generated replies would make other users think you're a bot
Messaging is for premium users only
---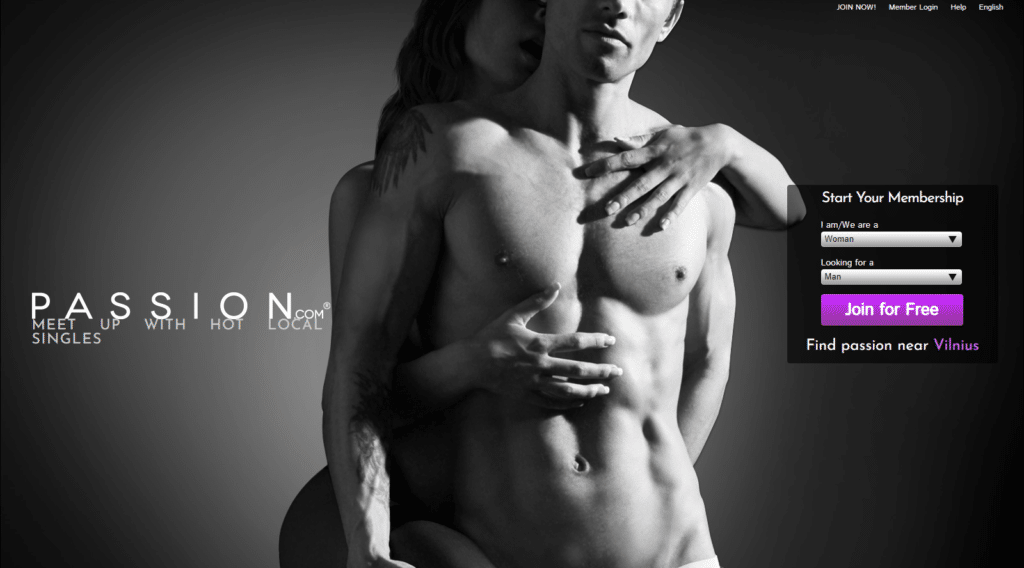 Lustful, playful, and passionate, these are the images and videos that will welcome you when you visit Passion. True to its name, the site will give you the sensual sexual adventure you have been looking for. The site has been growing day by day and has retained a high percentage of active users.
PROS:
The site is easy to navigate; very user-friendly
Lots of active members
Most of the active members are for real passionate
CONS:
No mobile application
Limited access for free members
---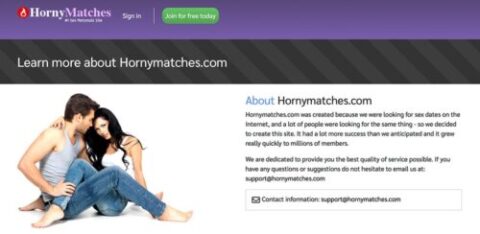 An online sex dating website for adults called HornyMatches includes participating members searching for casual dating and relations. Also, people had no trouble seeking satisfying experiences here, as the title of the website shows. Everyone can find their best matches and enjoy a sexy time together as quickly as possible. Besides, several of its services are for premium members exclusively, like messaging, viewing personal images, and many others. However, some functions are typically available to use by free members.
Full HornyMatches review here.
PROS:
Simple design but very easy to use
Active community
Responsive members
The help page is available to cater to issues, problems, and many more
Registration is free and easy to understand
There are many members in any areas
CONS:
Some members reported fake accounts
---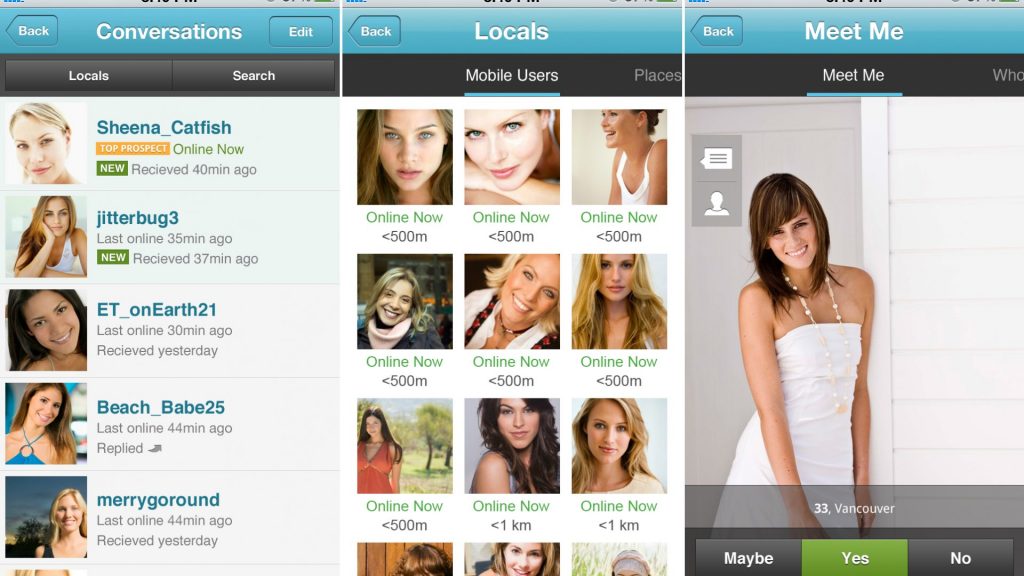 This site is one of the pioneering sites that offer to find love for single people. It has continued to evolve through the changing time. To date, Plenty of Fish (POF) has gained so much popularity worldwide. It has millions of members that are male-dominated. Lots of its members are specific with their intent in joining the site, and you can see a handful just looking for casual dates and not necessarily the serious stuff. Unlike other sites, communicating in POF is for free whether you are a premium member or not. It also has an app that is compatible with both Android and iOS users.
Take a look at PlentyofFish review.
PROS:
Plenty of free services/features
Affordable price
Automatic sign out after inactivity for some time
CONS:
Some people could be fake
The desktop version is a bit overwhelming
---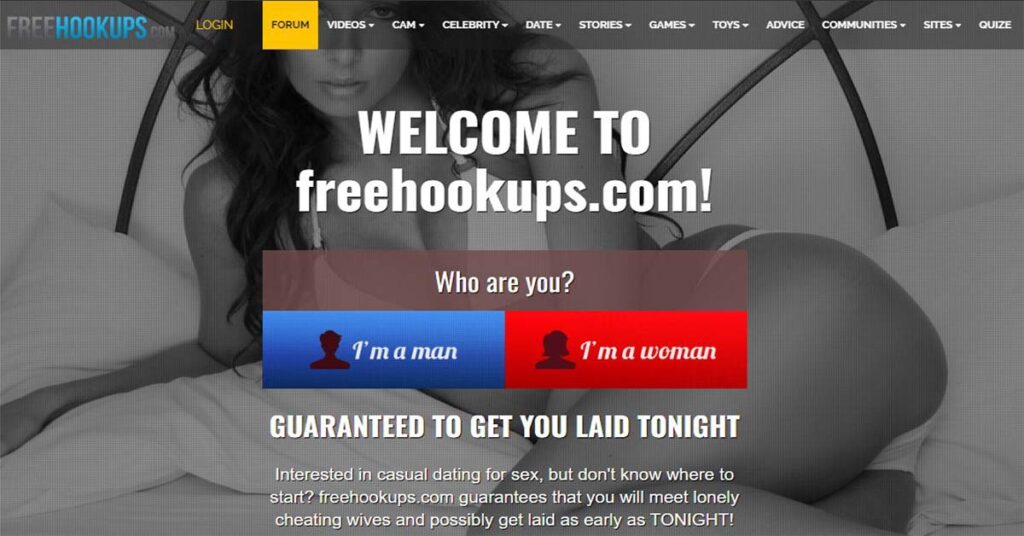 Freehookups.com is an excellent hookup and sex dating website. With this in mind, it ranked #1 on the list of quality websites around the world. As the site asserts, 92% of its members end up having a hookup partner. Certainly, FreeHookups is the place to go if you like to have multiple orgasms. Also, there is a significant number of women to choose from this platform. Finally, the most remarkable feature is, no fraud or phishing scams are lurking around.
PROS:
Various classes of girls to choose from
The design of the website is simple to use and enhances features even more for premium members
CONS:
The payment for premium membership is extra costly
---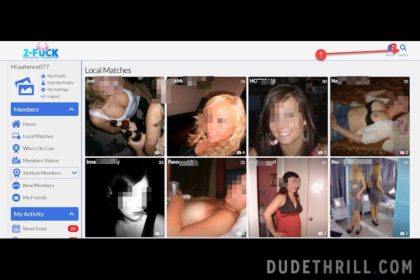 This site might answer if you are tired of the simple dating apps that don't give you the result you need. 2Fuck is entirely new to the adult dating realm, but it has already gained millions of users, a relatively significant number. The site is similar to other social media platforms and provides you with several options for interacting and communicating with other users.
PROS:
Lots of users
Design and interface are pleasing
Joining is for free
CONS:
Can be pricey
Privacy is low
---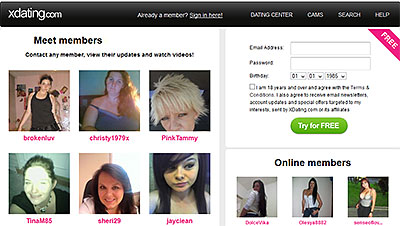 Xdating is a dating site that offers casual, fun times with like-minded people. This site brings everyone interested in one-night-stand encounters and arranges meetups instantly. It employs a matching system that brings along members that appears to be compatible and matches them to make initial connections. If suggested matches get along, then the site's communication features will assist in navigating deeper relationships. Indeed, hookups on this site are extremely easy to achieve. Within just a few moments, you are already talking to a random person that will later turn into a steamy conversation.
Click for a Xdating full review.
PROS:
Photos categorized to make matching more accurate and precise
The features of the site are almost alike as Tinder app
Maps serve as easy access to locate attractive members
Live cam sex is available
Premium members get special attention and recognition within the site
CONS:
Computer-generated profiles reported as one of its issues
Limited searching capacity
---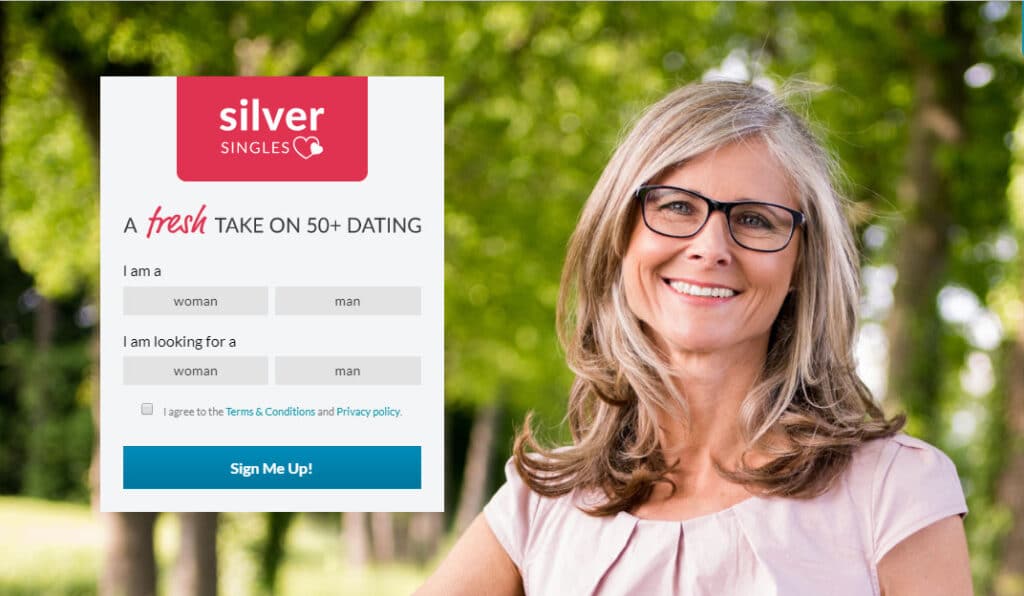 SilverSingles is an excellent site for people in their silver years, meaning aged 50 years and above. It's running for almost two decades already and continues to provide its members with the safest and genuine services. When you register on this site, your information will help you find matches, and the website will provide you with names of potential interests. In this way, the SilverSingles site is widely known in matchmaking, especially for those seeking true love. Indeed, even at your silver age, it is never too late to have your chance.
PROS:
Personality traits provided is the basis for matching
The free and easy registration process
Free sending of smiles
The search filter based on your preferences
Even for free accounts, users can see other members' profiles
App version and a desktop version function similarly
Free download for the app version both for Android and iOS devices
CONS:
Paid members can only view other photos
Paid subscription required to use chat messaging feature
---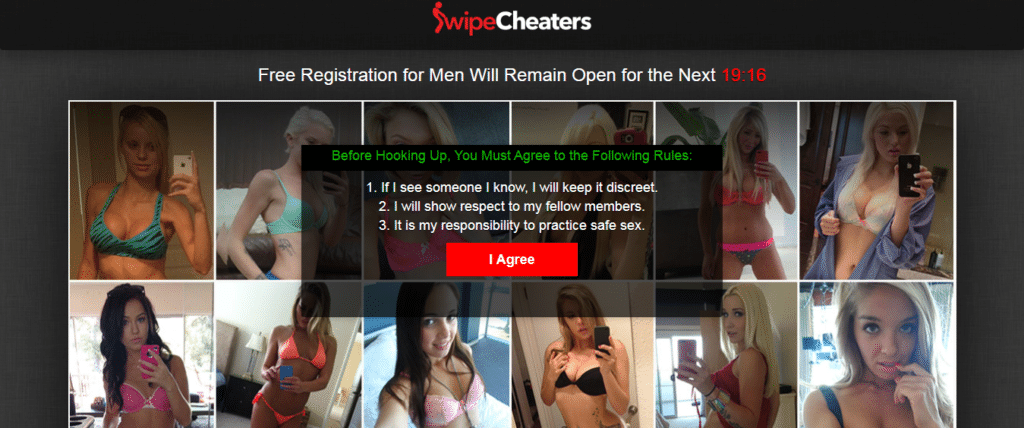 Swipecheaters is an adult dating website that caters to married people and couples. Indeed, members on this site are actively seeking casual sex hookups with no strings attached and just wanting to spice up their sex lives. So, just when you thought that fantastic and hot sex could no longer feel by married couples. Then this platform is a great way to explore your hidden desires in bed.
Meanwhile, you will experience the most convenient way of communicating secretly and safely through text or video chat when you sign up. On top of these, you can also engage in the website's unique feature where you can view explicit live streaming.
PROS:
All members are under protection and security
Mode of payments has encryption
Using the site is simple and manageable
It features intelligent matching to get an instant and precise match
A simple way to communicate
CONS:
There are exclusive perks for paid members only
---
Bottomline
TheLeague is an absolute lifesaver for busy adults who never had the energy or luck in search of a suitable partner. The site's features and services make it easier for people to discover self-sufficient, intellectual, and career-driven beings who hold themselves to the highest standards of ethics.
Sure, there's a relevant number of folks who are reluctant to register because of the League's long and tedious waiting list. I understand how frustrating it may be because I've been there. However, I can assure you that TheLeague's unique advantages and the chance of dating success outweigh the minor annoyance of waiting. Indeed, with TheLeague, you'll never have to settle again for second best when it comes to your romantic relationships. The thorough screening of all site members ensures that nobody gets mediocre quality matches.
In addition, we recommend visiting www.Dating.com — it's a great and one of the biggest adult dating sites in the world!
All 75 Other Sites in This Category Worth Checking Out:
Top-5 Dating & Casual Hookup Sites That Actually Work in 2023 Perfect for ~20-55 year olds, with & without spouses! These are not some "fake" ones pretending to have girls, they are real, worldwide largest networks. Jump to Top-5 Dating & Hookup Sites Hey, I know that jerking off is quite exciting and cool. But… nothing […]