Updated on: December 4th, 2023
eHarmony Review
& 12 Best Premium Single, Dating Sites Similar to eharmony.com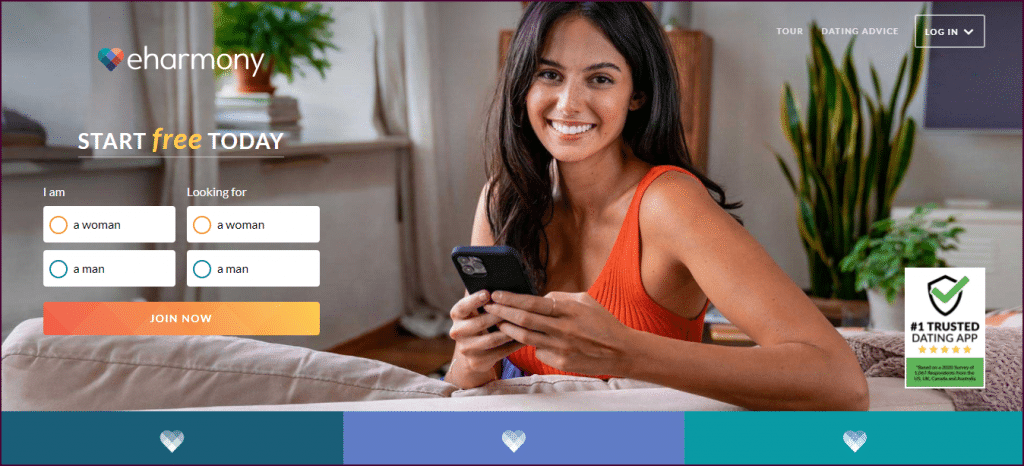 Every dating service and platform has its own set of purposes for your dating and hookup needs, and you're likely aware of this. It's pretty standard for online daters to devote countless days scrolling through possible matches, but nothing else really stands out to them for some unexpected reasons. If you're not seeking something permanent, there are plenty of perfectly acceptable apps for you. For instance, if you're looking for an urgent date or "friend with benefits," try one of the speed dating apps online or apps like Tinder.
But unless you're longing for something a little more meaningful, which online dating service is the most suitable for long-term partnership? Well, maybe eHarmony is the answer to all of your problems. In terms of meeting a long-term partner and a soulmate, it's among the most popular and effective dating websites around.
Official URL: https://www.eharmony.com
eHarmony's dating process is based on data science, which allows finding match singles and encouraging serious relationships. The matchmaking is done through several queries and eventually generates compatible connections with an excellent analytical chance of succeeding. But I'm wondering if it's terrific, as everyone claims? Maybe this eHarmony in-depth assessment will give us a clear answer.
The eHarmony Dating History
Since the distant past, men and women have yearned to meet their "soulmates." Take it from the first humans on earth —Adam and Eve, who hardly know each other yet firing with passion and love. Clearly, it's just one aspect that hasn't gone within us —the desire for the ideal mate! Choosing a life partner has changed dramatically during the last centuries, though.
In fact, even if the idea of dating websites was commercially successful around the 1960s, the introduction of websites including "eHarmony" and other dating companies in the twenty-first century was indeed a game-changer. But with the current flooding of websites and applications, you have to try out, finding that "perfect" match and date is not as simple as ABC. Good thing there's eHarmony! This is your best bet if you're looking for a long-term relationship on a dating website, since there'a plenty of options to choose from.
eHarmony's Registration Process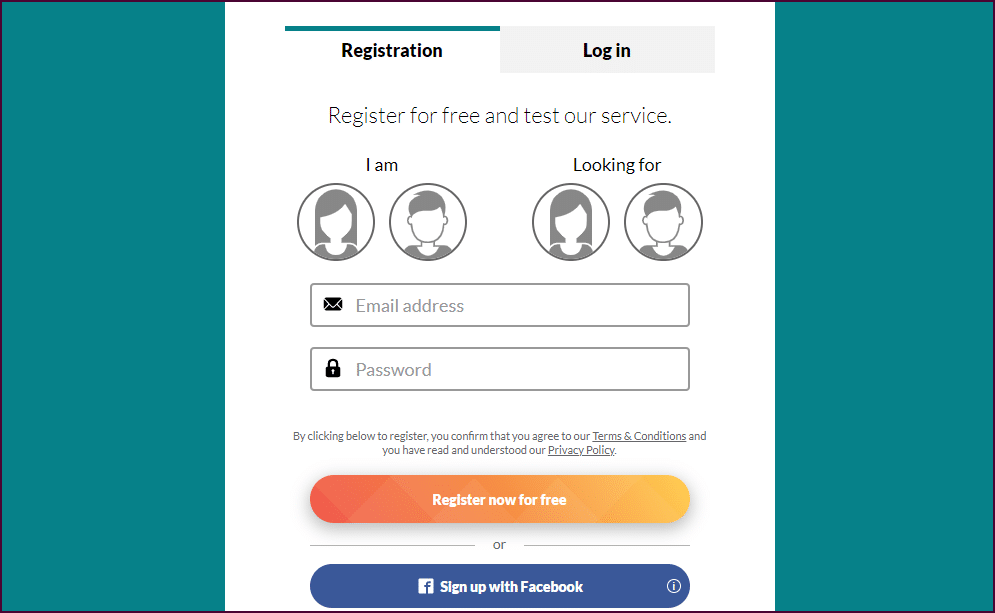 Sign-up
Because prospective matches need to understand you before setting up a face-to-face meeting fully, it appears that eHarmony takes its registration process seriously. It might be lengthy, but every step is worthwhile to take. Meanwhile, if you choose to join up with your email ID or Facebook account, the rest of the process will go as normal.
Compatibility Test
To stay ahead of the curve, eHarmony requires you to take a lengthy personality assessment. Just make sure you're telling the truth because it will affect the matches you'll earn after the test. In the early part of this site, there were 300+ queries, but they were later reduced to around 70. Even if you only had to answer a 70-question test about yourself, that would still be a massive amount of information to cram into a single sentence.
But why do you need to go through this lengthy process? Well, it's simple — the goal of the matching test is to determine your strengths and weaknesses in various dimensions of yourself and your interests. Each question has a pre-determined solution, so you have to stick to the task by responding to it before moving on. Finally, after registration, you'll have the option of uploading your finest picture to the profile page.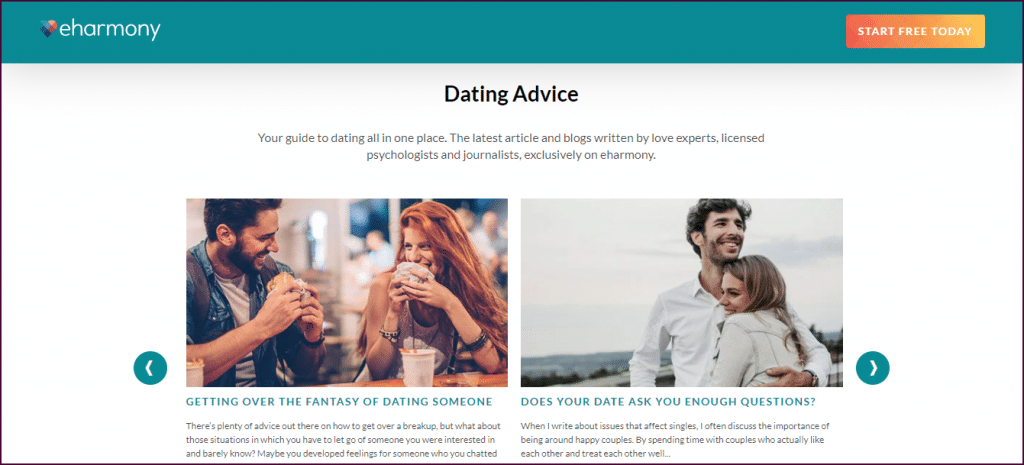 Choosing Your Preferences
In addition to answering the questionnaire which properly represents your personality, eHarmony allows you to pick your ideal matches. Approximately 70 to 100 items are available in eHarmony's matching test, which aims to collect relevant views and preferences on a wide range of topics —spanning social activities to your spiritual convictions.
If you've ever taken an MBT, you'll be familiar with how much like the one it is. As shortly as you complete the quiz, everything else is a breeze. Finally, begin searching for your soul mate on eHarmony today by uploading a few of your favorite photos. After that, you're ready to look through your prospects and show off your online flirting skills to the world.
Matching & Dating Process of eharmony.com
Matching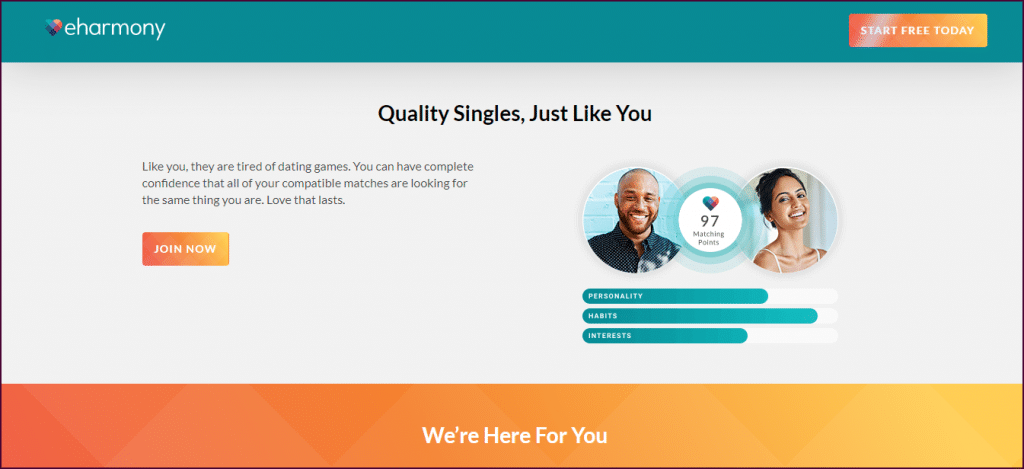 Site users don't have the power to manually seek out other users on eHarmony because their system takes care of it all. Trust me; the whole system could guarantee you'll receive regular matching tailored according to your preferences and interests. However, if you sign up for one of their special programs, you'll enjoy special perks and get matched with people beyond the matching region.
As a bonus, you can use the web's searching function by limiting down your in-site suggested matches according to ages and geographic location. But, if you haven't found a fit from the previous day's selection of suggested individuals, eharmony.com offers a new match selection generated every day or two.
Dating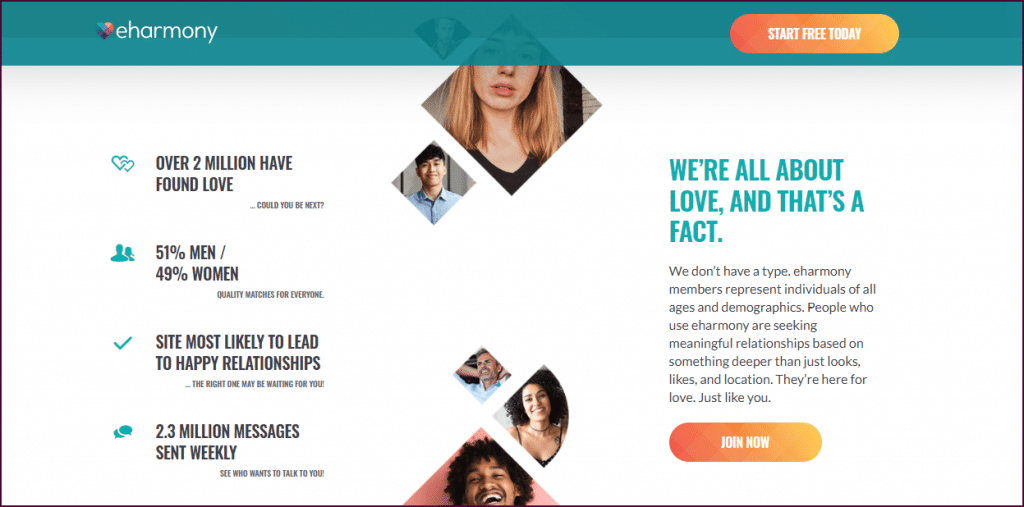 There are several options for contacting your matches at eHarmony. However, it's important to note that only premium members have exclusive use of the messaging system, which includes writing and responding to messages.
Basically, as a regular or free user, you can only send five "favorite" topics to ideal matches. The site automatically prepares these topics, so you'll just have to choose which fits perfectly. Alternatively, you can exchange "winks" and tag users to your list of favorites. Unfortunately, you can't view the accounts of other members who aren't currently online or actively using the page, except for the connections that eHarmony suggested.
A Better Way to Find Love With eHarmony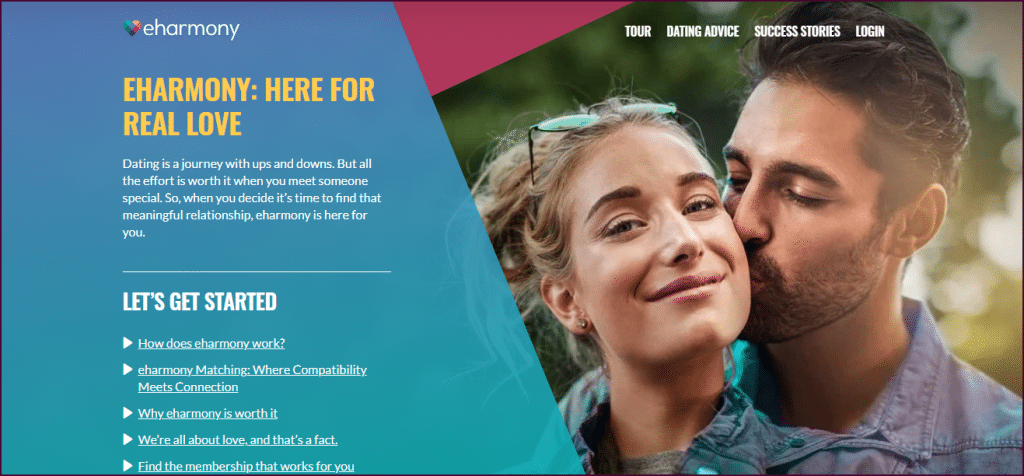 If you're looking for a dating/matchmaking site, "sound" quality of matching is crucial —not cost, photos, or courting ideology. Relating to online dating, eHarmony has mastered the skill of perfect matching. In fact, its consistently dominating effectiveness in 2000 remained the same, and they continue to have it today for the new generations.
So, when it comes to finding a deep connection, passion, and marriages, the creators of the eHarmony website are professionals in the field. Besides, the quality of the matches that they supply is genuinely unsurpassed in the online dating industry. However, unlike Tinder and similar high-speed internet dating, their market demands a good bit more from them.
eHarmony's Reliable Matching Algorithm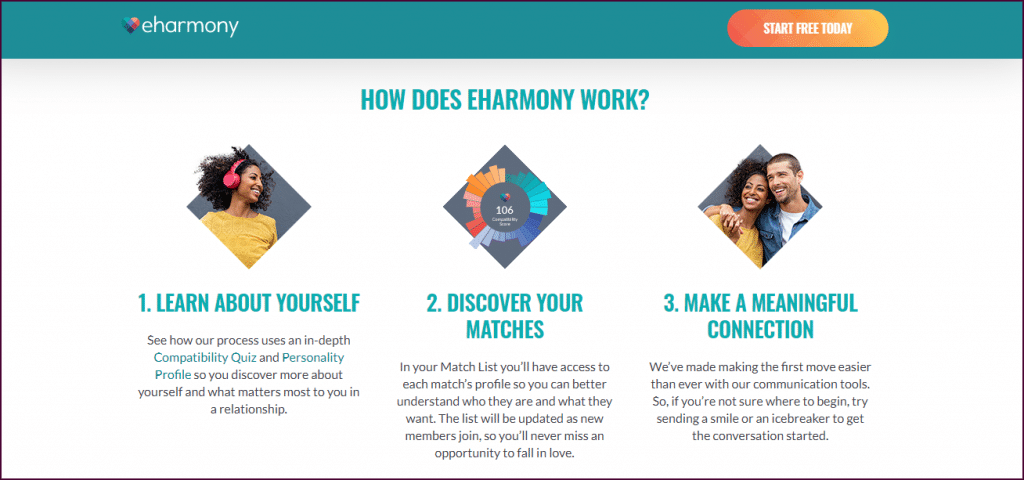 According to the site's promise, you can actually have a new romance connection every 15 minutes. But does it sound so bragging and impossible? How can eHarmony keep its promise at all? Well, the answer to those questions is in the matchmaking algorithm. After seeing how they manage and run their matching and dating systems, I'm pretty confident that your faith in eHarmony's matching capacity will not be put to waste because everything's based on psychological research and innumerable examinations of long partnerships.
The Dimensions of Compatibility Test by eHarmony, the extensive quiz I talked about, is the foundation of the mystical matching powers. eHarmony uses your answers to find compatible matches and to assist you in finding love effortlessly. So, if you don't want to be blinded by superficial information or a brief profile biography, you can take this matching test and see if a possible mate is a good match for you.
Their App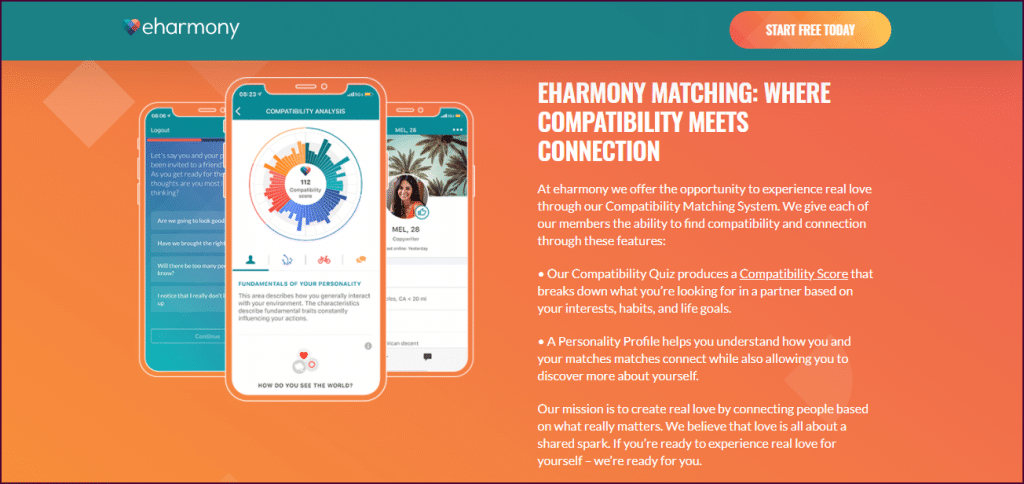 EHarmony's matchmaking app is a godsent gift for singles on the run. If you have an iOs or other smartphone device, you could install the app at no cost. I'm so excited about this because I found a matchmaking app that contains all or most of the functionality seen on the computer for the first time in my life.
Well, the purpose of this is to make sure you don't waste out on any of the significant aspects of eHarmony whenever you're on the road. So, if you enjoy dating websites and similar technologies, the eHarmony app is an excellent option for you. Not to mention, if you're a hater of pop-up ads, you'll appreciate the app's ad-free design.
Valuable eHarmony Features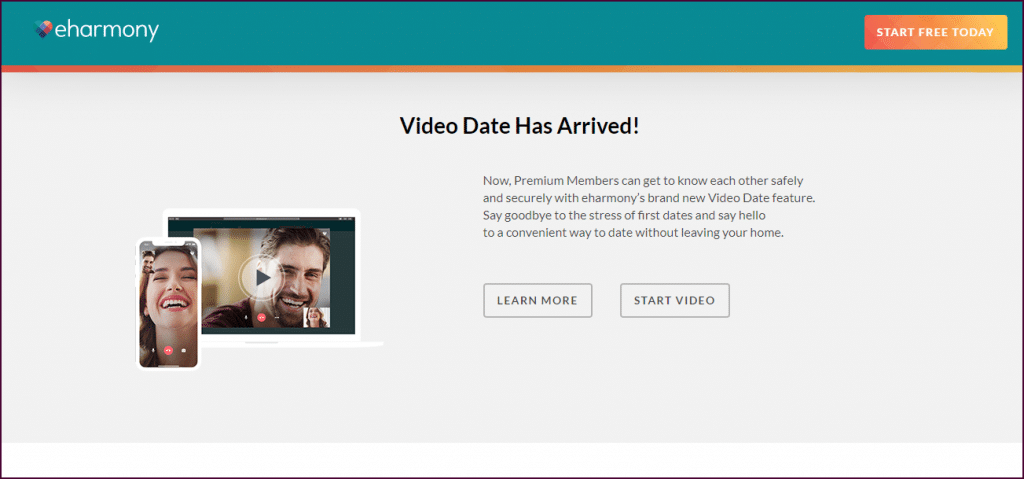 What if you could meet somebody in the convenience of your home and privacy? Sounds good? Well, with eHarmony, eHarmony allows you to do so. With the help of Video Chat —a premium function — allows you to connect with other individuals in an online, face-to-face meeting.
Smiles are an easy way to start a conversation with a potential mate. That's why eHarmony is giving you that spark to your lousy ass. On your matches' page, you'll find a "Send a Smile" button right next to each of their pics.
Getting matching users outside of your preferences lineup is possible here at eHarmony. With the help of "What If" functionality, you can always do the impossible things, right? Unfortunately, it's a premium option, but it provides more prospective mates. So gear up, and subscribe to the site's paid membership.
Users can likewise ask your matches a series of pre-programmed queries, and they can select whether or not to respond to them. Even so, it's a means to start a conversation — or continue one already underway. Not to mention, this is a massive advantage for all basic members who have no perks to write or respond to messages due to premium restrictions. I'm pretty sure this function will help immensely.
Many dating websites include the "Favorite" option, and this site is one of them. To keep track of the people you've met, just try clicking the "star" symbol on their account page, and voila! Additionally, it's a terrific method to limit down the pool of potential partners with the users you prefer only.
Membership Packages, Prices & Money-Back Guarantee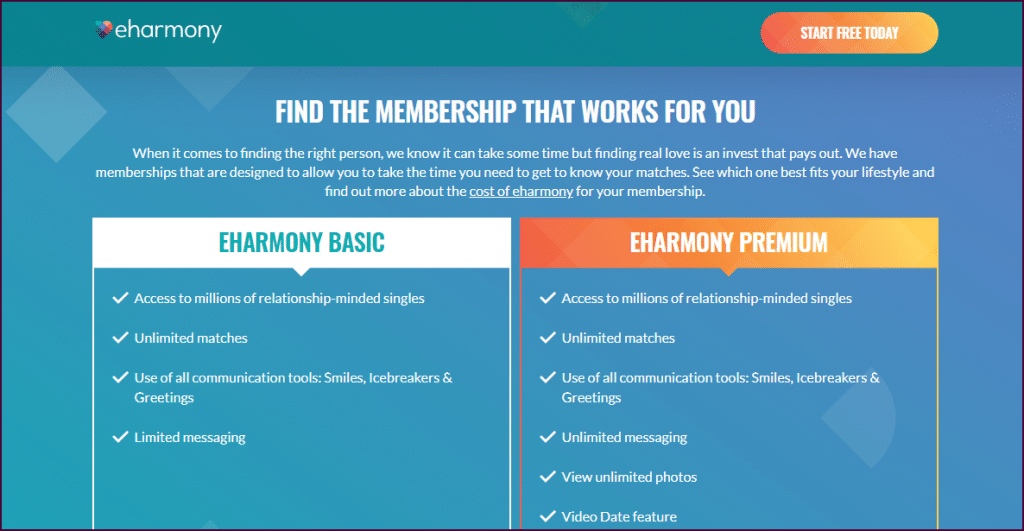 Currently, eHarmony has three different membership packages you can avail of, depending on your preferences and budget. Here's an overview:
Premium Light — $55.90 per Month (Good for 6-Month Membership)
Premium Plus — $35.90per Month (Good for 12-Month Membership)
Premium Extra — $25.90 per Month (Good for 24-Month Membership)
Also, it's probably fair to say that eHarmony's subscription packages don't have ranks. In other words, whether you sign up for any of those packages, be it 6-Month, 12-Month, or 24-Month, you will still receive the exact grade and quality of the care. Perhaps, the only major diff is the duration of your deal.
As a matter of fact, eHarmony is so sure of its matchmaking abilities that it offers a three-month money-back guarantee for everyone. Meaning, anyone who unfortunately doesn't discover love during the first 3-month matching and dating, the site will give you another three months at no charge!
Pros and Cons of eHarmony
PROS:
Easy to use
Simple navigation
Few ads
Downloadable in iOS and Android phones
App has similar features to the site version
Detailed profile account
Reliable matching system
It has members worldwide
Perfect for long-term relationships
CONS:
Limited communication and interaction features
Lengthy questionnaires upon registration
---
12 Best Singles, Dating Sites Similar to eharmony.com: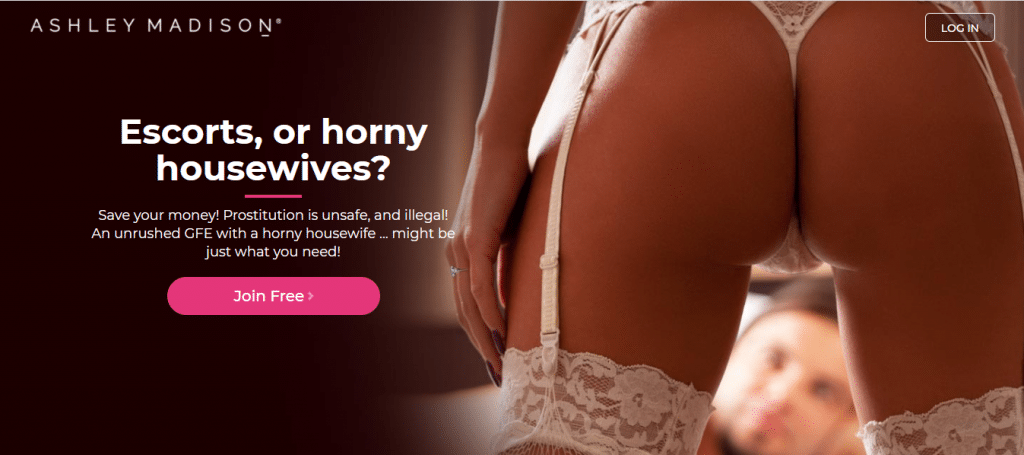 The Ashley Madison escort website is not just a typical escort website you see online. Founded back in 2001, the website provided committed people, married or in an attached relationship, the freedom to seek any discreet affairs with someone. Until this moment, Ashley Madison remains to offer a free-of-judgment environment, and affairs are not discouraged.
Over the years, the services offering of the Ashley Madison website is changing according to the demands and changing lifestyles and ways of cheating of members. This website covers many interests, including the perks of having polygamous, monogamous, open relationships, threesomes, and others. Due to the extraordinary features, it became popular and continues to be on top-up to this day, gaining reputation worldwide.
Click here for AshleyMadison's full review.
PROS:
Maintains photo and personal information discretion
Encourages discreet photo uploading
Free registration and easy registration process
Available as apps on Android and iOS phones and don't require too much memory space
A large community of members around the world
CONS:
Some profiles do not provide many details
Some don't fill out profile information
---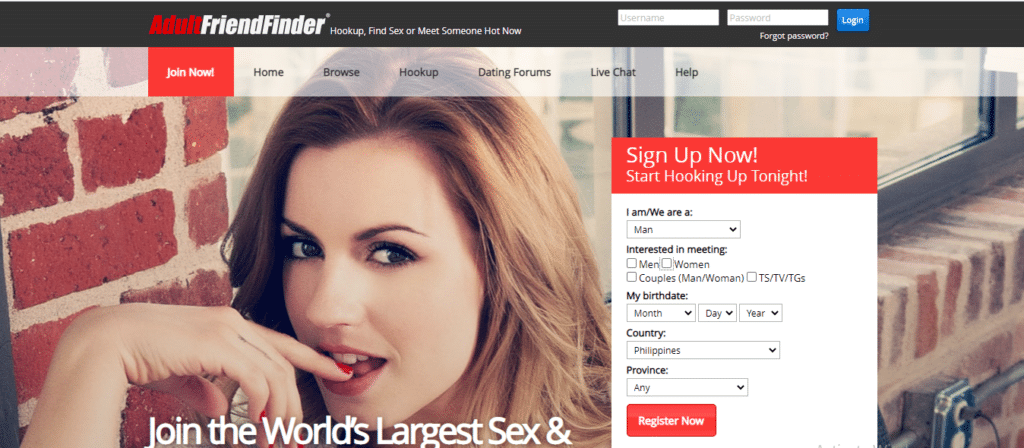 The Adult Friend Finder website is famous all over the world. It has more than eighty million members desiring erotic interactions with multiple women. Similarly, it provides numerous flirtatious relationships, such as casual connections, monogamy, couples, fuck buddies, and many more.
Indeed, this is an excellent experience that spices things up in the bedroom, especially between open-minded people willing to examine their sexual orientation. Finally, registration is relatively stress-free and straightforward, so members finish it in less than five minutes.
Here's the full review of AdultFriendFinder.
PROS:
Registration is free and fast
The members of the website are active in looking for casual hook-ups
Plenty of options in terms of communication
Watching videos and viewing images are free
You can write blogs and engage in a group conversation
The app is available for download and compatible with both iOS and Android devices
CONS:
The number of male members is greater than the females
Limited options for free basic accounts
---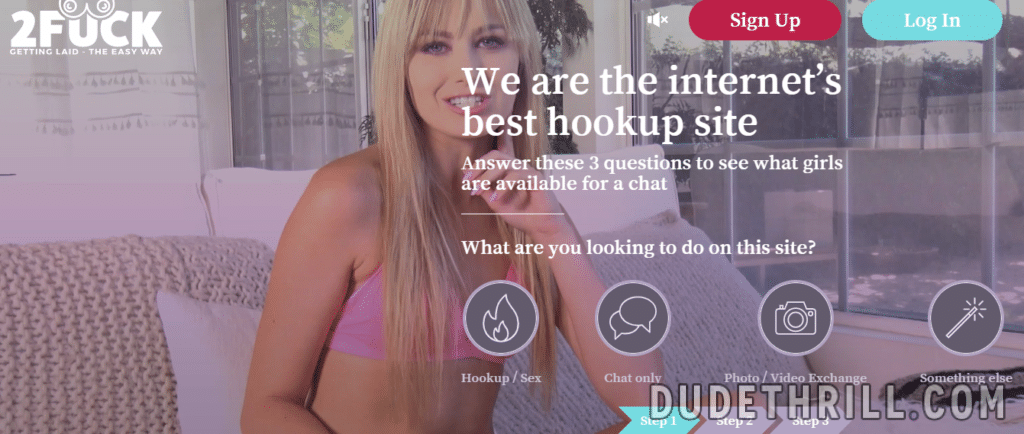 This site might answer if you are tired of the simple dating apps that don't give you the result you need. 2Fuck is entirely new to the adult dating realm, but it has already gained millions of users, a relatively significant number. The site is similar to other social media platforms and provides you with several options for interacting and communicating with other users.
Click here for 2Fuck full review.
PROS:
Lots of users
Design and interface are pleasing
Joining is for free
CONS:
Can be pricey
Privacy is low
---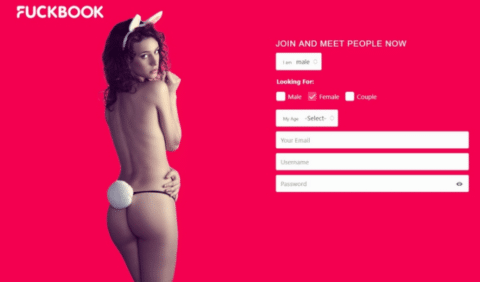 A perfect website for casual relationships and sex hook-ups is called FuckBook. Here, you are given opportunities to find swinger encounters, sex dates, and many more. This is convenient for people seeking a no-strings-attached relationship as quickly as possible. From the name of this site itself, you know exactly what you are getting into once you scroll through the platform. The interface and features of the FuckBook are straightforward and convenient compared to other swinger dating sites on the internet.
PROS:
Profiles created are numerous
The website has a design that is easy to navigate and use
Signing up is fast and instant
Membership is affordable but with lots of advantages
CONS:
There are annoying advertisements on the site
---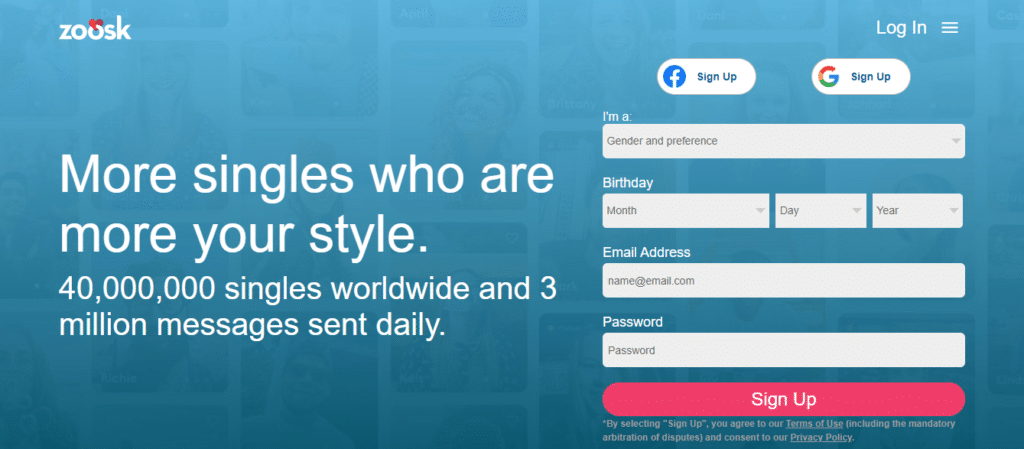 Zoosk has been the place for young singles looking for casual hook-ups. It didn't merely provide for the night's satisfaction to some of its users, though. There are plenty of users who end up being together in a serious relationship. One of the site's top priorities is the verification of members' profiles. So you don't have to wastefully worry whether who you're talking to is an actual person or not.
Click for a full review of Zoosk.
PROS:
It has an app accessible for both Android and Apple
Verified Accounts
High member activity
CONS:
The Messaging feature is only for premium members
Site appearance could use an upgrade
---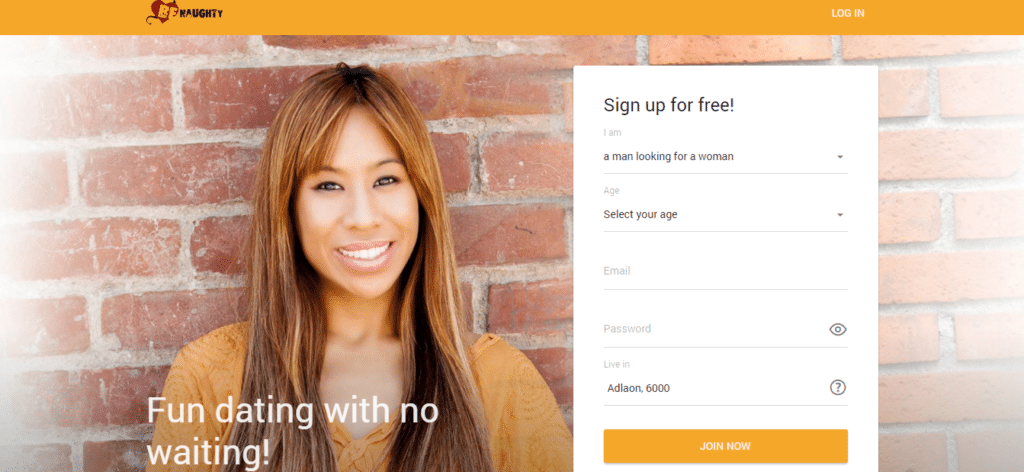 Introduced in 2000, it became an increasingly successful dating website that works in partnership with Flirt, IWantU, and UpForIt to provide proven quality and comfortable environment for the users. Each day it has over 13 million visits, and there are over millions of individuals worldwide considering signing up as official users.
This is indeed a perfect outlet for getting wild and engaging among married people and single individuals in sexual activities and relationships. Your private data sent to the BeNaughty site is safely secured because it uses the SSL Encrypted method and has followed the validation phase for all accounts. Everything enables the entire journey to be more enjoyable and avoids any money-making scheme.
PROS:
The platform is over 20 years already
Every day, there are an increasing number of people signing up
Members are responsive and active
Free five chats daily for free basic accounts
Easy to navigate and simple interface website design
Video chat is available
CONS:
Some accounts do not provide much information on their profiles
Advertisements are plenty and annoying
Annoying live notifications
---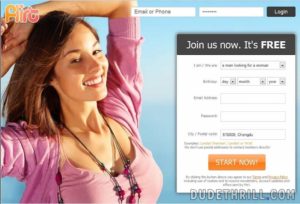 Flirt is a dating website that has gained a notable reputation in catering to casual hook-ups and explicit relationships since 2009. Over the years, many people have trusted this site and earned millions of members around the globe. The site offers a three-day trial for membership subscriptions and lets people experience what Flirt can offer. It provides a Satisfaction Guarantee program that a full refund is awarded to members if not satisfied. Your data and other sensitive information are secured here as it strictly implements anti-scamming features and safety procedures at all times. All your experiences here in meeting casual sexual encounters and hook-ups are protected.
PROS:
More than a million members around the world
Numerous members are actively seeking an online day today
Low cost on the trial membership fee
Diverse nationality and sexuality are welcome
Locked messages features allow deleting automatically within 24 hours
The verification process is utilized for suspicious members
CONS:
Sending and receiving messages is for paid members only
---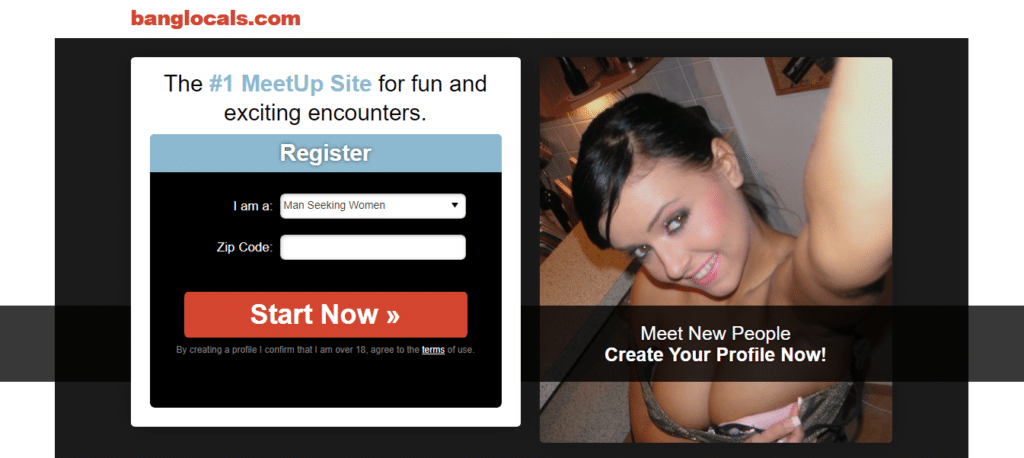 Banglocals is a must-visit website for people looking for a perfect match for sex, dates, and casual affairs. Regardless of the number of competitive websites out there, it has remained on the top spot today. Indeed, our lives are a shitload of work and stress. All we want is relaxing and calming ways to release it. Certainly, a great buddy who will stimulate our sexual desires can make life full of enjoyment. Good thing, Banglocals is a sex dating website that uses a simple process in registration. So, everyone will right away experience pleasure. Indeed, everyone has the chance to find a hot, sexy mate.
Take a look at BangLocals review.
PROS:
People can create a sex date network
Free to search profiles of other members
View galleries of images and videos
People can give ratings to hot members
Registration is free and easy
Encourages to post personal images or upload public contents
You can contact people through text or email
CONS:
No x-rated videos
No trial period
---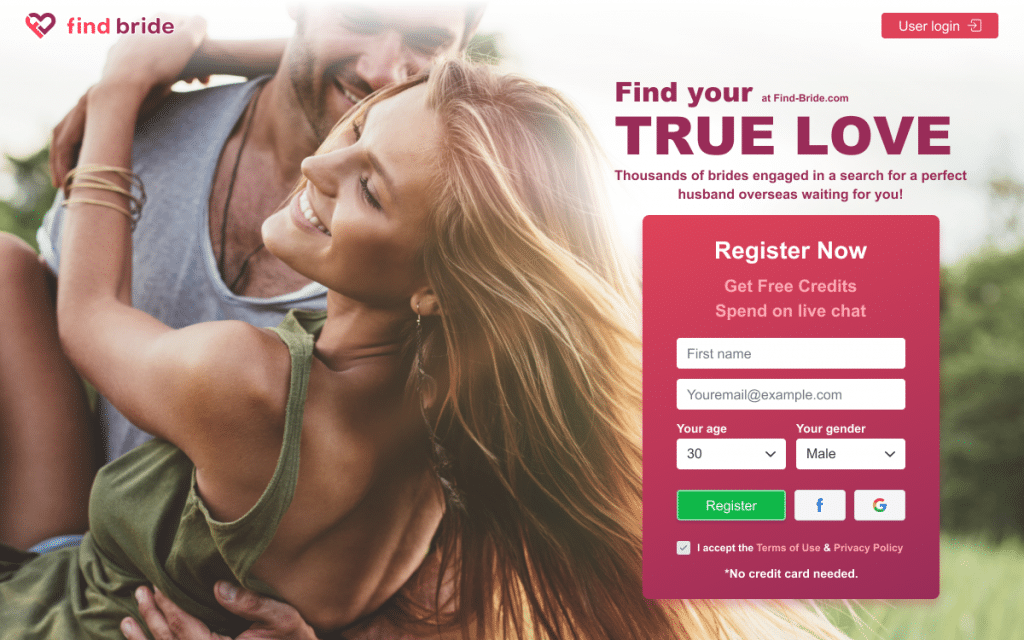 Find-Bride is one of these dating sites providing a popular online matchmaking service for single, desperate men worldwide. Here you can discover and meet hundreds of breathtakingly beautiful women looking for a "perfect" husband. Find-Bride's girls are pretty serious and interested in finding someone they can love and respect. There's literally no room for playdates or no-string attached relationships.
PROS:
View profiles without registration
Amazing navigation
No ads
Thousand women
Plenty of communication features
CONS:
Some women have children
Limited to East European girls
Not all profiles are detailed
---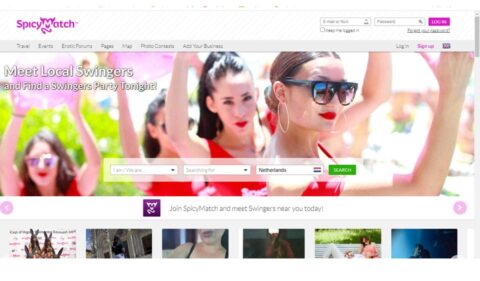 Known for its pleasure, information, free, and entertainment, the SpicyMatch site brings the swinger community on a top-notch heat. Using a free account, members can navigate all the features on the site and locate couples, singles, and groups in an event or party for swingers.
SpicyMatch provides the members with the freedom to keep their accounts' content public or private. Some people may not feel comfortable keeping things out for others to see. Above all, the validation system of the site assures all its members that scammers are not allowed to lure around. The founders built this site only to give a venue for the swinger lifestyle.
Click for a SpicyMatch full review.
PROS:
Forums for swingers are available
Registration is fast and easy
The mobile app is available for download
Features are diverse and helpful
Numerous members are active every day
Finding members of similar interests are easy to find
CONS:
There are features available on the site that only paid members can access
---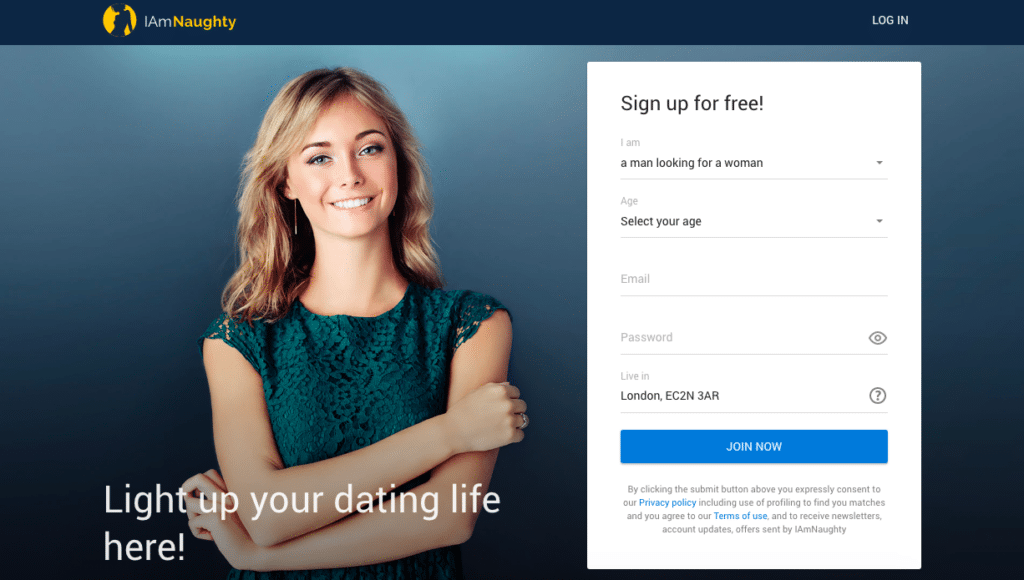 IAmNaughty is a website that has built a reputation in online hook-ups and dating sites without further introduction. Here, the members are free to explore their kinky sides and flirt with whom they want. Indeed, it has remarkable features that allow easy connections and engagement of the members.
Also, this platform encourages people to post erotic images and sexy videos to increase the higher rate of finding a perfect match. While it also allows the system to automatically link their profiles to other matches.
PROS:
The community is active, and every day they feel determined to find a suitable match
Site developers manually check accounts to assure that spammers are not available
Free chat room feature
Guaranteed great platform to find a suitable partner or casual meet-up
Women can access the whole website for free
CONS:
Viewing other member's images from the gallery is a paid feature
---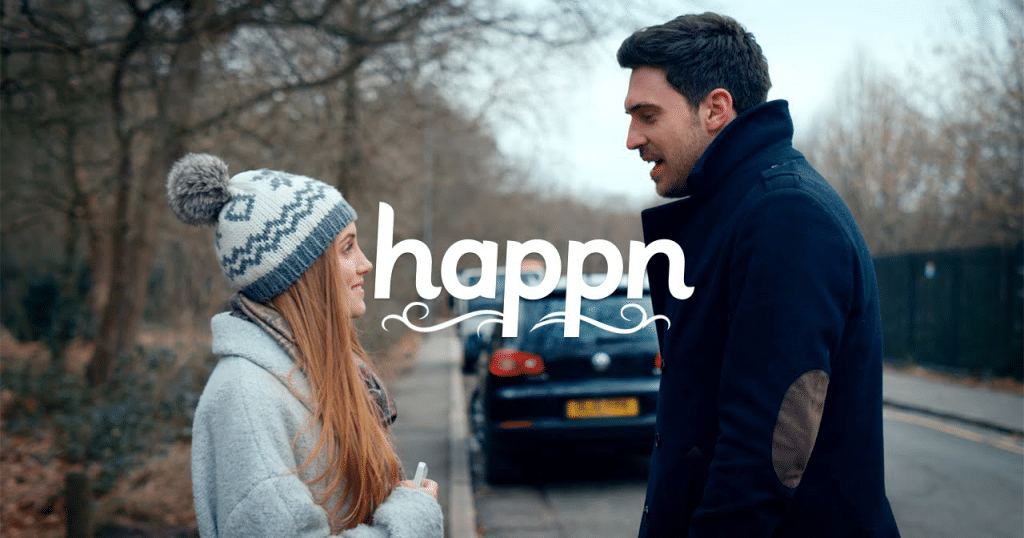 What truly sets Happn apart from its competitors is how they bring a unique way of matching and connecting users within ideal proximity. Unlike other sites that randomly match you with users of similar interest, Happn considers locations along with interests, preferences, and tastes. So instead of wasting hundreds of matches in a day just because they are far away from you, Happn has an intelligent way to make sure you can handpick all possible matches regularly.
PROS:
Easy matching and meetings singles
Effective matching features
Signing up is straightforward and fast
The verification process enhances security
CONS:
Cannot send a message without getting "like" back
Chances of finding matches outside your location
---
Final Words
Considering the available tools, approach, and milestones, I'd conclude that eHarmony's premium services definitely live up to the expectations. Although the fee is higher than other dating sites, if you're looking to settle down quickly with somebody, the rate can play in your gain. But anyone looking for a one-night stand or an uncomplicated romance is unlikely to shell out for a month-to-month subscription.
Personally, if you are looking for a long-term relationship to get married down the road, there is no nicer matchmaking site than eHarmony. But what truly persuades me to like eHarmony is its quality dating system at a reasonably reasonable fee. Not to mention, every algorithm is geared to help you not just merely find a "match" but a perfectly compatible one.
All 75 Other Sites in This Category Worth Checking Out:
Top-5 Dating & Casual Hookup Sites That Actually Work in 2023 Perfect for ~20-55 year olds, with & without spouses! These are not some "fake" ones pretending to have girls, they are real, worldwide largest networks. Jump to Top-5 Dating & Hookup Sites Hey, I know that jerking off is quite exciting and cool. But… nothing […]