Updated on: December 4th, 2023
Happn
& 12 Must-Visit Dating Sites Similar to happn.com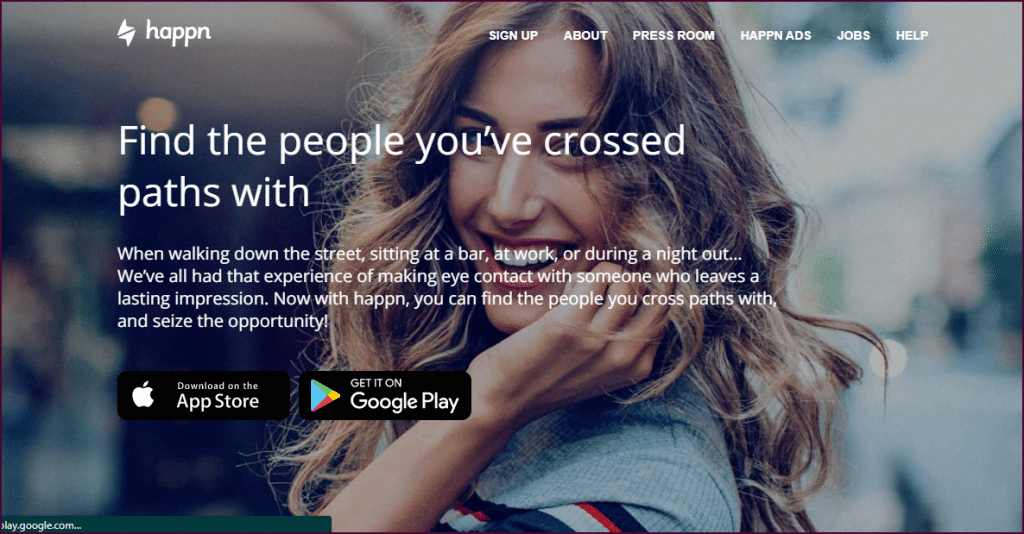 If you haven't been in the dating scene for a while or are a newbie in the matchmaking world, perhaps seeing numerous dating sites and apps seems quite surprising. In fact, you'll feel overwhelmed picking just the right one. Good thing dudethrill.com is here to introduce another site that might suit your taste. Happn is a new addition to the adult game scene. It has proven its worth for almost a decade and built a remarkable reputation. For those who haven't tried Happn, this review might help you decide whether it's worth trying or just a plain scam.
Official URL: https://www.happn.com
Happn and How It Changed the Matching Concept of Dating Sites
In 2014, a dating site emerged in the adult entertainment scene. Many people were curious about what's the site is all about, and its promising claims seem to attract potential users worldwide. For many years, Happn proved its worth to millions of people worldwide. Despite being an oldie in the dating industry, they could still fulfill and exceed our expectations by creating a safe platform where users can find a love match or even a hook-up.
But what truly sets Happn apart from its competitors is how they bring a unique way of matching and connecting users within ideal proximity. Unlike other sites that randomly match you with users of similar interest, Happn considers locations along with interests, preferences, and tastes. So instead of wasting hundreds of matches in a day just because they are far away from you, Happn has an intelligent way to make sure you can handpick all possible matches regularly.
How Does Happn Work?
For those of you who don't know, Happn is a free-access dating site and a handy mobile app. after launching in 2014, this site spread across the entire world like a wildfire.
It uses a location-based system to find potential matches. Somehow, it has a similar function to the tinder app; however, its strict proximity rule makes this site different. By the way, this concept is quite impressive because you won't miss any connections or matches just because they are far away from your location. What's the purpose of using a convenient dating app if your matches are not in a suitable area? Isn't this a great strategy to use for matching?
Proximity Matches of Happn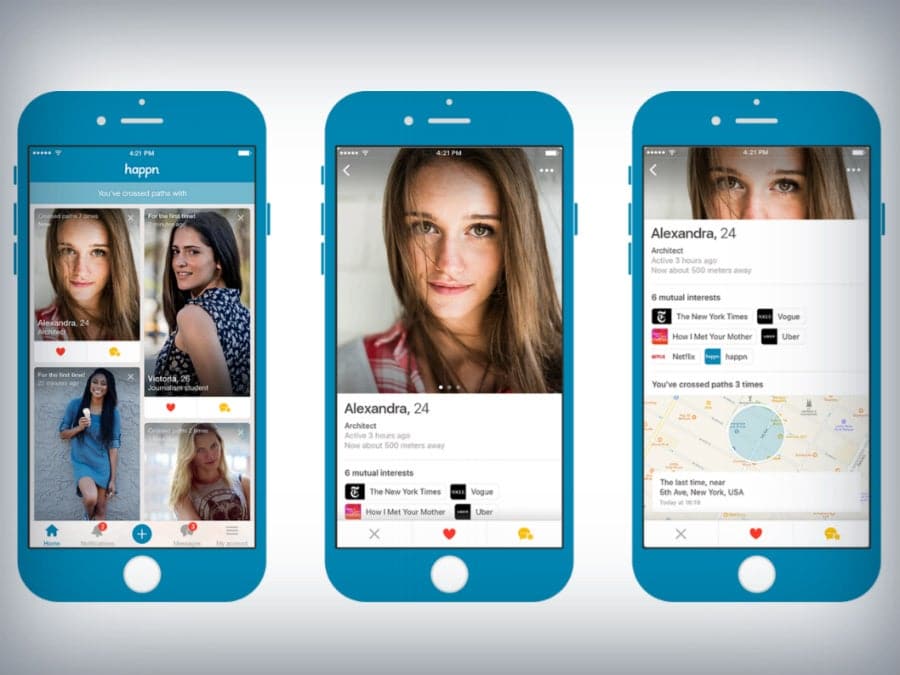 To understand further how this location-based matching works, let me give you an example. For instance, there's a user with similar preferences and interests just like you, and they happen to be in the exact location or nearby area, the system will send you a notification, and their profiles pop-ups in your Happn timeline. The location-based system can detect users within a 55-mile radius. Additionally, the matches will share other information with the users, including the number of encounters you have crossed each other's path and your last activities together.
Once you notice the "Now" badge on other users' profiles, it could only mean that they are within reach or just in nearby places. Unfortunately, there's no exact location indicated on their profiles because Happn is strict and maintains the privacy of everybody. Finally, you can send "Hearts" to your matches to show interest, and once they sent back, then you're connection will transition to "Crush." Once you reach this level, you can send messages and eventually hook up.
Connecting and Messaging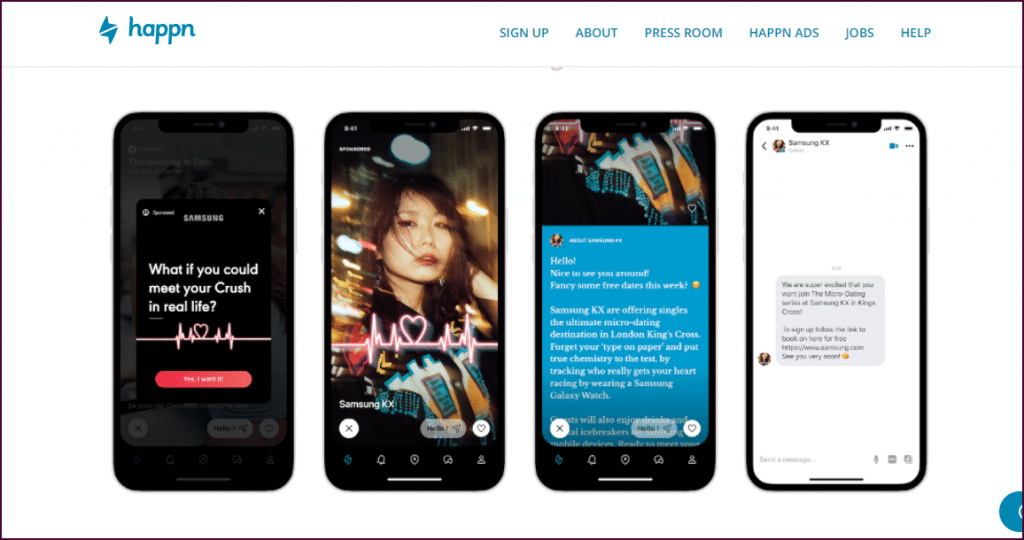 As mentioned, Happn is very particular with location and uses a location-based system for your matches. Compared to other websites, it has no search feature to input similar preferences with other users manually. Certainly, using this technique will only give you "preference" based matches, but most of the time, they are outside the country. So rather than wasting your time on someone you can't be with physically, Happn has a unique and effective means of connecting with users.
Further, Happn is also very strict in terms of connecting and messaging. since nowadays there is plenty of scammers and fraud lurking online, this site implements a two-way connection. meaning, sending messages to other users will only happen if they send back a "like." In other words, only users transitioned from "matches" to "crushes" can connect. if you don't like that hassle, there is an option to check your "Like List manually." But before you get thrilled, let me remind you that this feature is only available for premium members.
Happn's Special Site and App Features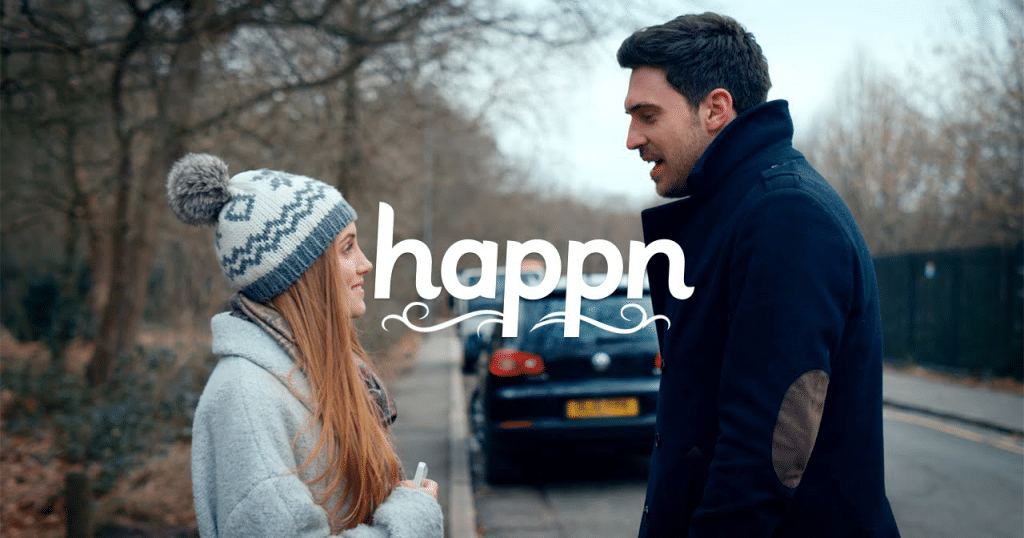 This feature is trendy among premium members and app users. As the name of these features suggests, it allows you to hide and pretend invisible while browsing the site. Meaning, your activity will not be visible to you and other members.
As I said, Happn uses a location-based system that matches you within nearby users. However, this feature is a default setting for all free members, so if you are a premium user, you can personalize your matching criteria. In other words, you can suitable handpicked users and save plenty of your precious time.
The Flash Note feature is a cool addition to Happn's unique matching tool. You can send this Flash Note to other users before matching. Certainly, it helps increase your chance of getting back a "like." The Flash Note is an exceptional feature that you can only get on special occasions for basic members. but for paid members, you will enjoy then flash notes every 12-hour period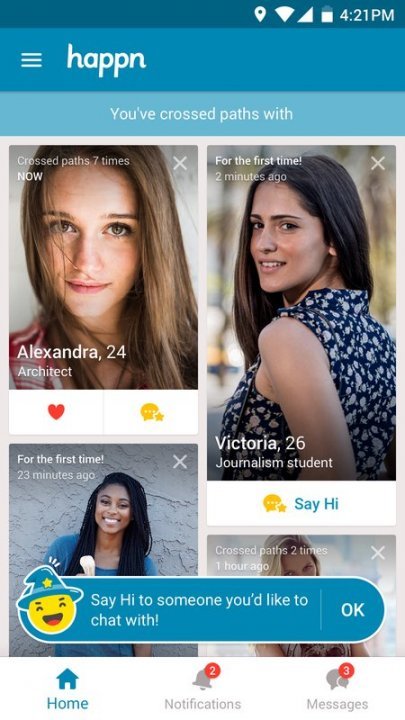 There's another cool feature where the members of Happn, it's called Audio Call. This one is a free service with a 5-minute Video Chat feature. To use this, just click on the "Phone" icon on the corner of the chatbox, and you're ready. Certainly, this will increase your chance of giving a good impression to your potential matches.
This feature will indicate if you are available in the following hours. You can add your activities to your profile by clicking on the "button" below the home page. You can relate to default activities, including going for a walk, a drink, watching a movie, and more. The SeeYouThere tool really increases your chance of meeting other members personally and talking to them in real life.
The Audio Note feature is an absolute gem for anyone who loves to add highlights or personality to their profile. It's a creative way to showcase yourself and maybe give a cute little impression, highlighting your overall character.
It's a handy feature that highlights your shared preferences, interests, and tastes to other users. It also increases your chance of finding matches more conveniently because it automatically displays similarities with different user profiles.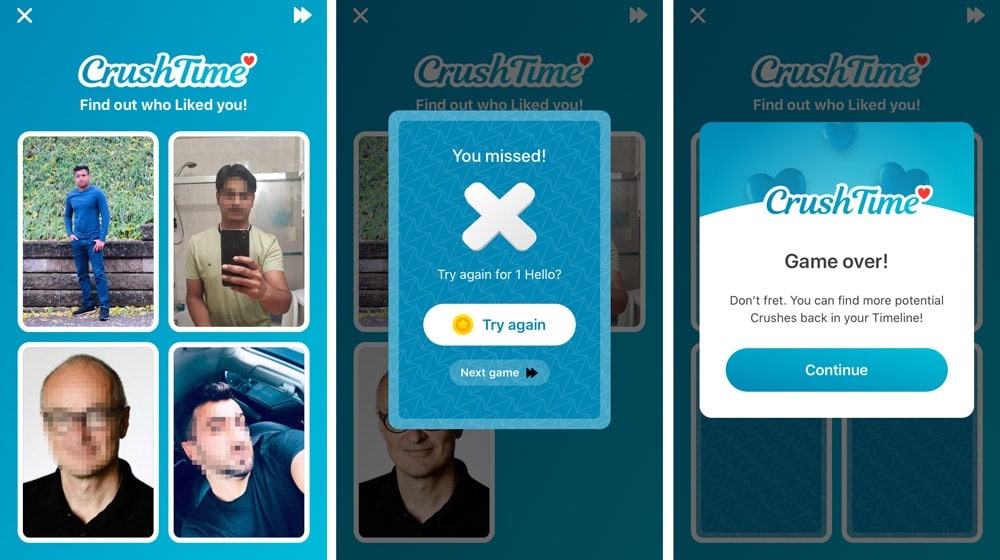 The CrushTime is a cute game in Happn that you can play using the app. this game gives you suitable matches using the number of times you crossed paths with other users. But since this is a game, their profiles will not be revealed until you guess them right. Once you guessed correctly, then both of you transition to "Crush" level. But if you lose, you can always try again.
Basic and Premium Membership
Using Happn is not entirely free, and there are several features exclusive for premium members only. In fact, I've seen that you can't do much around the site using your basic membership. Anyway, becoming a premium member is such an excellent investment because you can enjoy tons of benefits.
And, these perks I'm talking about includes accessing the list of profile that liked your account, sending messages, and customized matching criteria. Also, you can use unique features like Invisibility and take control of your activities without getting noticed. Additionally, Happn claims that premium members will have a better security and privacy system than basic accounts.
Register at Happn Now!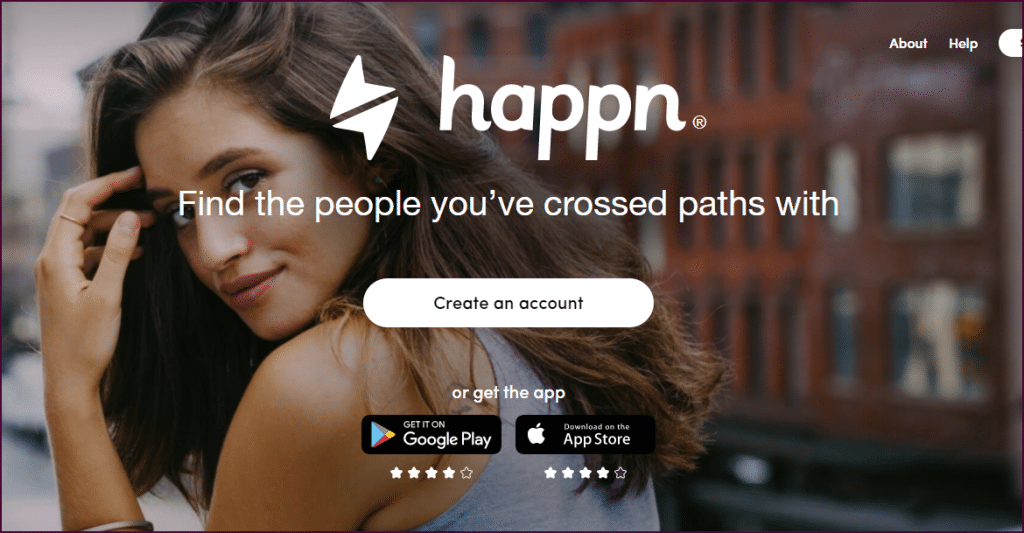 The registration process of Happn is straightforward. If you are familiar with the Tinder app, it uses a similar method to use the Facebook account for a faster signing up process. Many members have used Facebook to increase their chances of a quick verification process. Also, it lessens the chance of creating a fake account. But don't worry, because all your activities in Happn will remain on the site, and nothing will be shared in your Facebook timeline.
The system will automatically grab your Facebook display photo into your Happn account when you finish the registration. You can manually input other information like education, age, profession, and other relevant stuff after. Additionally, connecting your photos from Instagram is also possible. However, you're only allowed to use a maximum of 30 pictures. If that's not enough, you can also use your Spotify and give your profile a little background music. Afterward, you're free to personalize your preferred age range and ideal date.
Is Happn Worth A Shot?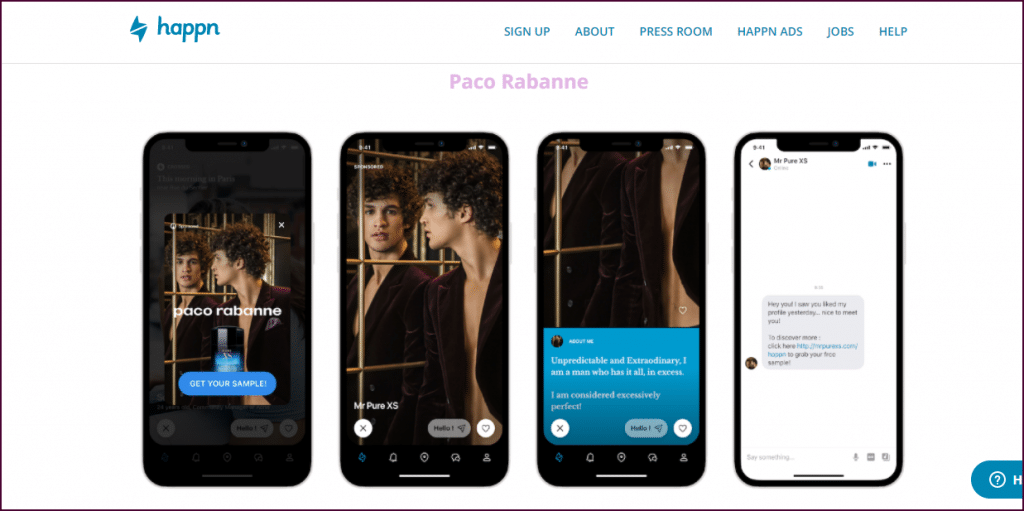 Compared to other mainstream dating sites and applications, Happn is still a new dating service. However, I'm pretty impressed with all its features and functions that match today's top-quality dating sites. Most of its members are pretty young and know how to manage technology. So there's a chance of getting instant replies or feedback within seconds or minutes. In fact, I messaged one user, and I already received a response for a few minutes!
I must say, its unique features are impressive and very useful in finding or increasing your chances of matching. Meanwhile, the perks you can enjoy for premium members are also a good investment. Sure, I've seen some minor issues while using the site, but it's nothing compared to the benefits you can get from here. So, if you ask me if it's worth it, I'm pretty confident that it is.
Pros and Cons of Happn
PROS:
Easy matching and meetings singles
Effective matching features
Signing up is straightforward and fast
The verification process enhances security
CONS:
Cannot send a message without getting "like" back
Chances of finding matches outside your location
---
12 Must-Visit Dating Sites Similar to happn.com: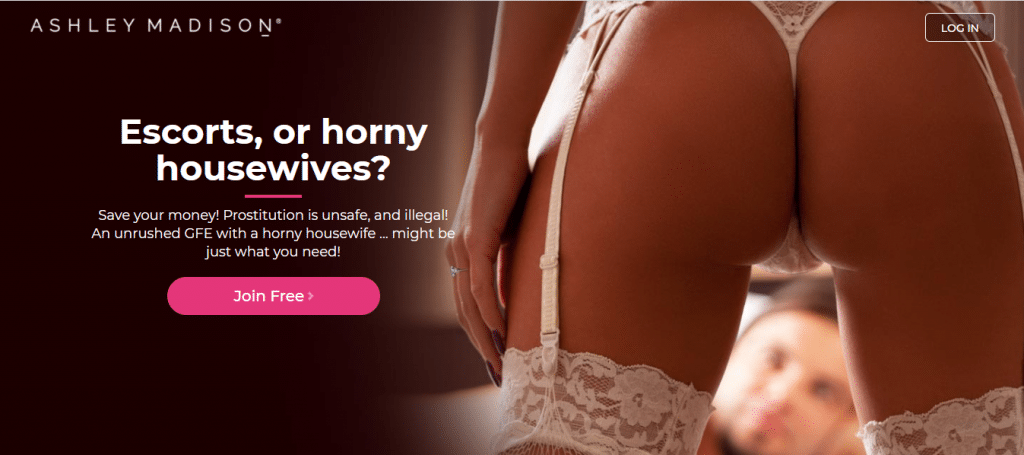 Top-notch website in terms of hook-ups and adult dating, Ashley Madison has been around since 2001. If you are in a monotonous relationship or want to get out of the routine of married life, then this website is just right for you. Indeed, all types of sexual affairs are welcome here, and no one will judge you. Also, the members can engage with many members across the world and enjoy sexual entertainment.
Above all, Ashley Madison listens to its members' feedback and the changing demands of people's lifestyles to improve their features. Everyone is free to explore all types of relationships, including polygamy, threesomes, and many others. Thus, Ashley Madison remains on top of the game despite the competitive industry of online dating.
Check out AshleyMadison review.
PROS:
Encourages the members to upload discreet photos
The site offers free registration and follows a simple process
Protection of images and sensitive data from spams
You can download this through Google Play and App Store
Low storage requires and will not occupy too much phone storage
Members are huge and from across the world
CONS:
Several accounts do not provide details about themselves
---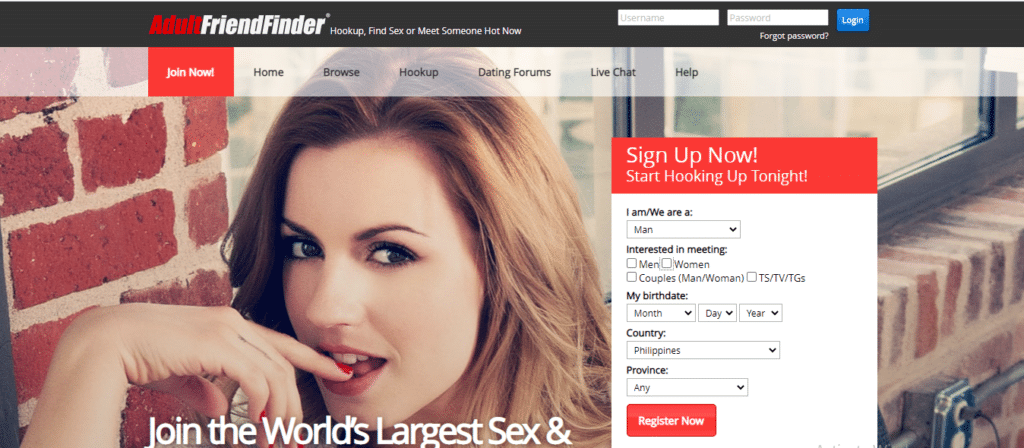 The Adult Friend Finder website is famous all over the world. It has more than eighty million members desiring erotic interactions with multiple women. Similarly, it provides numerous flirtatious relationships, such as casual connections, monogamy, couples, fuck buddies, and many more.
Indeed, this is an excellent experience that spices things up in the bedroom, especially between open-minded people willing to examine their sexual orientation. Finally, registration is relatively stress-free and straightforward, so members finish it in less than five minutes.
Here's the full review of AdultFriendFinder.
PROS:
Registration is free and fast
The members of the website are active in looking for casual hookups
Plenty of options in terms of communication
Watching videos and viewing images are free
You can write blogs and engage in a group conversation
The app is available for download and compatible with both iOS and Android devices
CONS:
The number of male members is greater than the females
Limited options for free basic accounts
---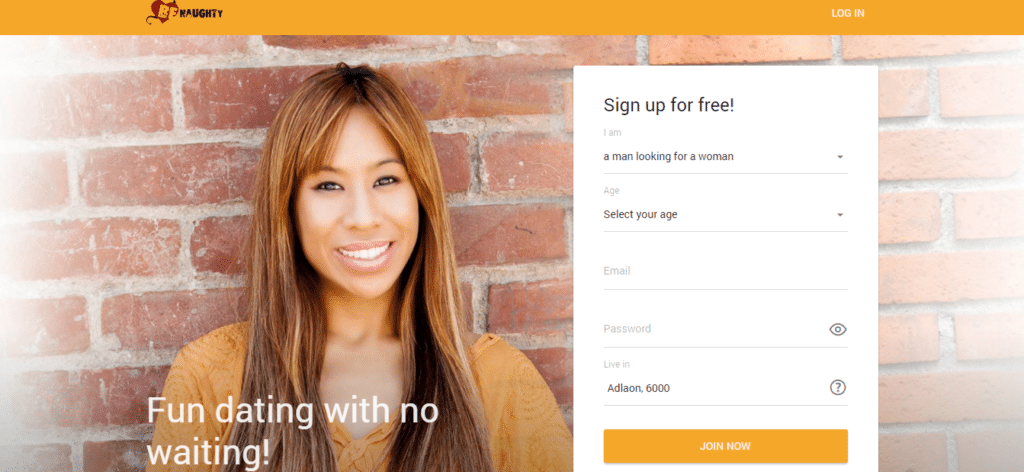 Introduced in 2000, it became an increasingly successful dating website that works in partnership with Flirt, IWantU, and UpForIt to provide proven quality and comfortable environment for the users. Each day it has over 13 million visits, and there are over millions of individuals worldwide considering signing up as official users.
This is indeed a perfect outlet for getting wild and engaging among married people and single individuals in sexual activities and relationships. Your private data sent to the BeNaughty site is safely secured because it uses the SSL Encrypted method and has followed the validation phase for all accounts. Everything enables the entire journey to be more enjoyable and avoids any money-making scheme.
Click here for BeNaughty full review.
PROS:
The platform was established over 20 years already
Every day, there are an increasing number of people signing up
Members are responsive and active
Free five chats daily for free basic accounts
Easy to navigate and simple interface website design
Video chat is available
CONS:
Some accounts do not provide much information on their profiles
Advertisements are plenty and annoying
Annoying live notifications
---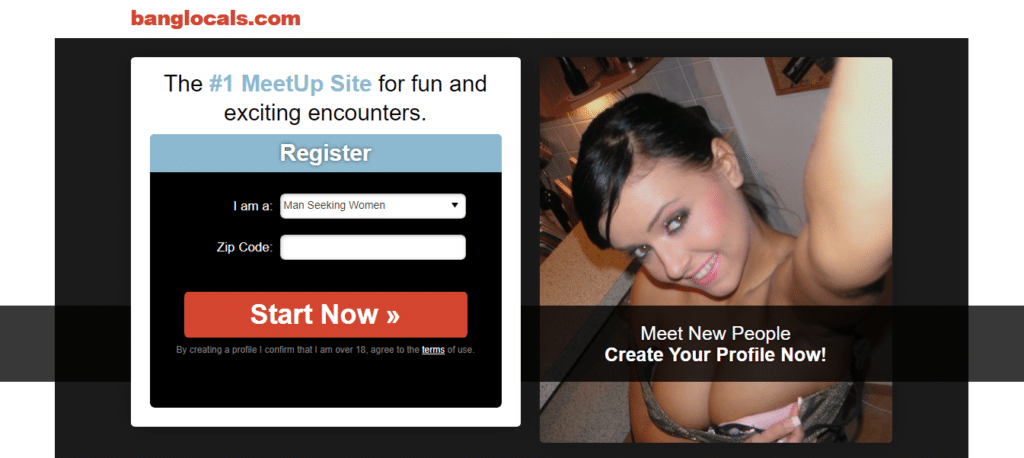 Banglocals is a must-visit website for people looking for a perfect match for sex, dates, and casual affairs. Regardless of the number of competitive websites out there, it has remained on the top spot today. Indeed, our lives are a shitload of work and stress. All we want is relaxing and calming ways to release it. Certainly, a great buddy who will stimulate our sexual desires can make life full of enjoyment. Good thing, Banglocals is a sex dating website that uses a simple process in registration. So, everyone will right away experience pleasure. Indeed, everyone has the chance to find a hot, sexy mate.
PROS:
People can create a sex date network
Free to search profiles of other members
View galleries of images and videos
People can give ratings to hot members
Registration is free and easy
Encourages to post personal images or upload public contents
You can contact people through text or email
CONS:
No x-rated videos
No trial period
---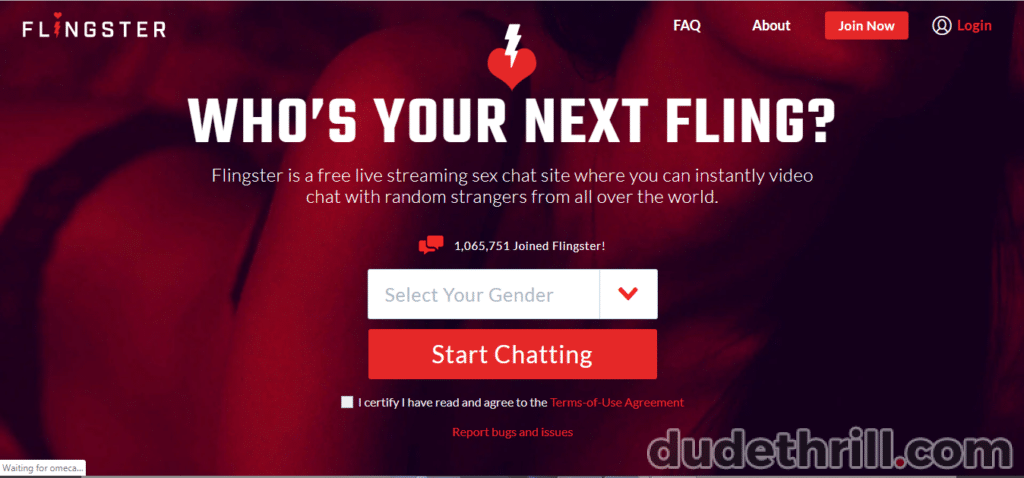 Flingster is an adult dating site for singles to meet, hang, and make out. The registration process on this site is very convenient and easy; thus, it will not waste much of your time. Unlike other dating sites, messaging and video chats are available for use even by free accounts. Other unique features are also exclusive for paid members. Flingster even offers anonymous identity while interacting until you agree to a casual hook-up. Right at the point of your cursor, your fan connects already with millions of users worldwide immediately.
Click for a full review of Flingster.
PROS:
Everybody is welcome regardless of gender and sexual orientation
Anonymous identity can be an option
The registration process is free and easy
Website interface is simple yet easy to navigate
CONS:
There are a few fake profiles reported
---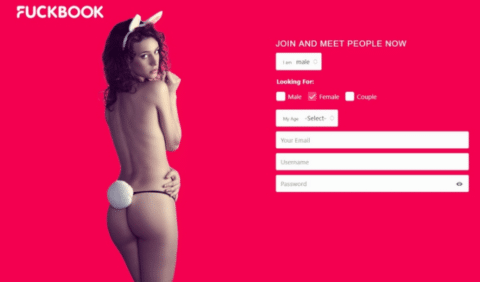 A perfect website for casual relationships and sex hook-ups is called FuckBook. Here, you are given opportunities to find swinger encounters, sex dates, and many more. This is convenient for people seeking a no-strings-attached relationship as quickly as possible. From the name of this site itself, you know exactly what you are getting into once you scroll through the platform. The interface and features of the FuckBook are straightforward and convenient compared to other swinger dating sites on the internet.
PROS:
Profiles created are numerous
The website has a design that is easy to navigate and use
Signing up is fast and instant
Membership is affordable but with lots of advantages
CONS:
There are annoying advertisements on the site
---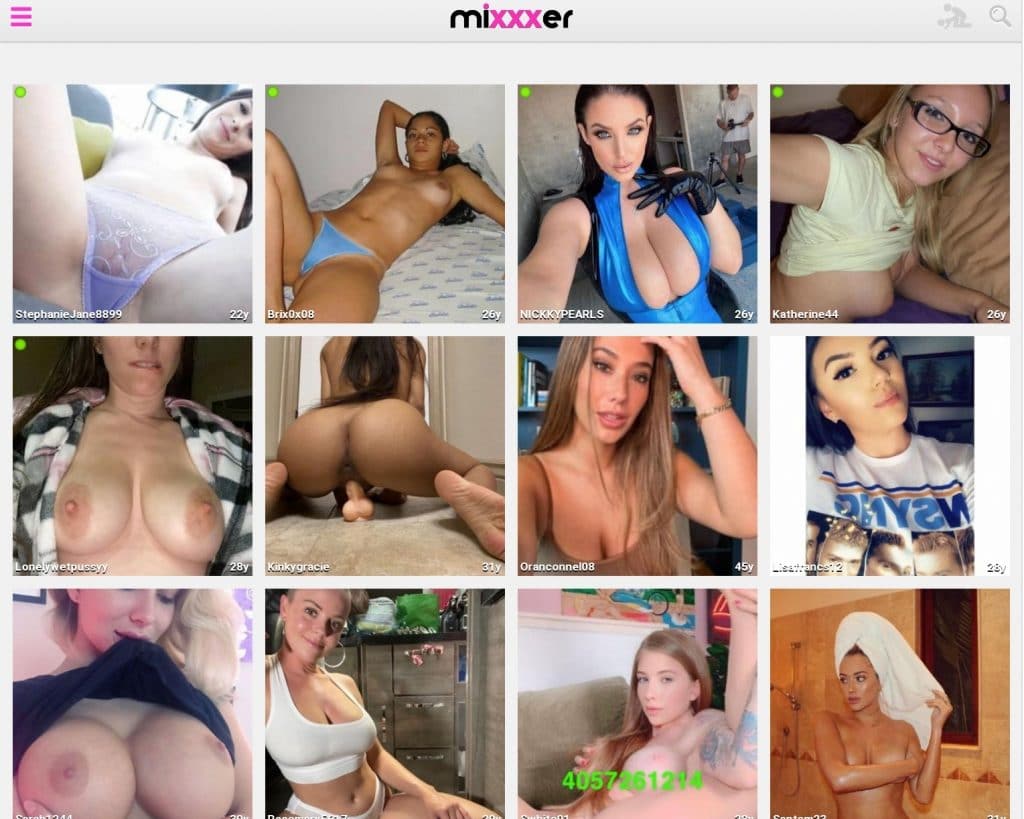 Mixxxer was released in 2014, and once they had gone live, they achieved to pull in over 1M+ new users who found them right away and helped them carve out a niche in the hook-up business. The variety of functions and options in Mixxxer promises an effective and efficient way to find your compatible mate and ultimately fulfill your craziest fantasies. The basic features of this hook-up site are complemented by a range of additional features that may be obtained on a subscription basis.
Take a look at Mixxxer review.
PROS:
Simple sign-up process and takes less than 5 minutes
Open to all sexuality and preferences
Security systems are highly effective and reliable
All members are actively seeking hook-ups
Great features
Affordable premium prices
CONS:
Some fake accounts reported
Only available on mobile phones
The USA has the highest number of members registered
---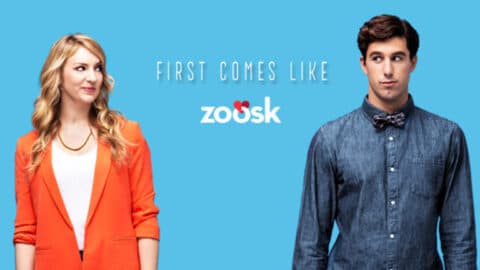 Zoosk has been the place for young singles looking for casual hook-ups. It didn't merely provide for the night's satisfaction to some of its users, though. There are a lot of users who end up being together in a serious relationship. One of the site's top priorities is the verification of members' profiles. So you don't have to worry wastefully whether who you're talking to is an actual person or not.
PROS:
It's popular and available in various countries
It has a verification process for all members
Amazing design
Plenty of active users
It has fantastic and unique matchmaking features
Open to all gender and sexual orientation
CONS:
The auto-generated replies would make other users think you're a bot
Messaging is for premium users only
---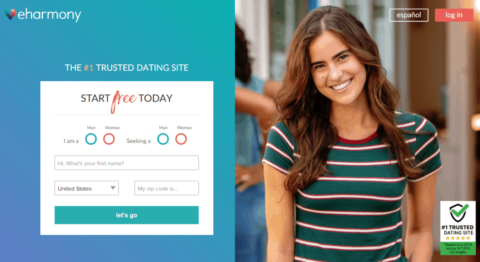 eHarmony is not like your typical dating site as it promotes members to find serious matches that can be capable of long-term relationships. The dating site utilizes a unique compatibility system for matching and narrows down to your considerably possible match. Intending to help its members land on genuine love across the globe, the eHarmony has prevailed to persist in meaningful relationships since 2000.
According to reports, the site creates over fifteen million matches every day, and over 600,000 pairs matched here got wedded. With this, eHarmony has established an excellent reputation through its compelling communication features and deep knowledge of the members' backgrounds. If you are specifically looking for a dating site to meet long-term relationships and profound connections, this is worth trying.
PROS:
A precise and accurate method of matching
Millions of members across the world
Numerous privileges offer for premium members
Website design is simple and easy to understand
Free sending of winks
App version is available for download both for iOS and Android devices
Minimal number of advertisements
CONS:
No communication medium variety
Viewing of profile pictures is exclusive for premium members only
---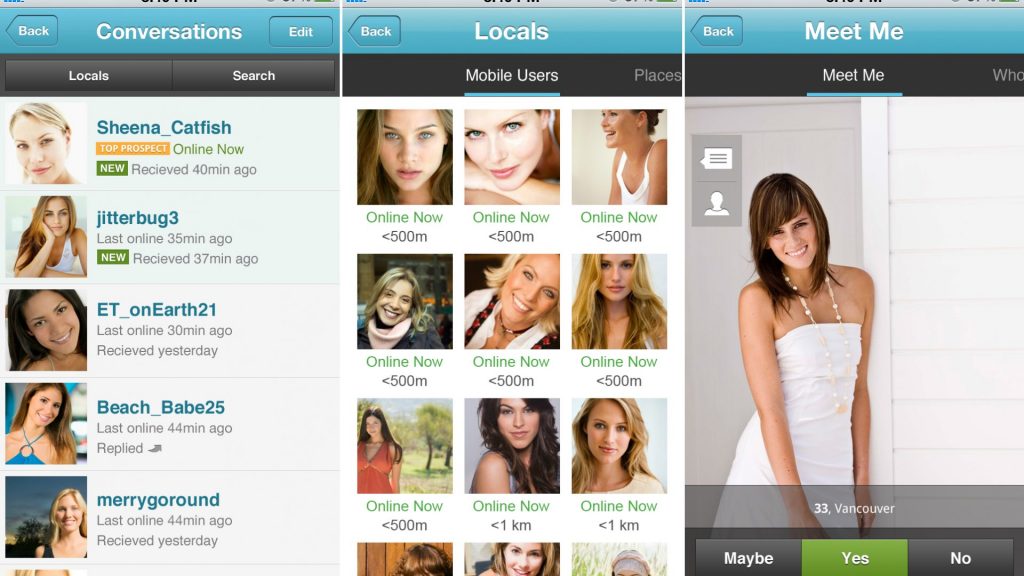 This site is one of the pioneering sites that offer to find love for single people. It has continued to evolve through the changing time. To date, Plenty of Fish (POF) has gained so much popularity worldwide. It has millions of members that are male-dominated. Lots of its members are specific with their intent in joining the site, and you can see a handful just looking for casual dates and not necessarily the serious stuff. Unlike other sites, communicating in POF is for free whether you are a premium member or not. It also has an app compatible with both Android and iOS users.
Click for a PlentyofFish full review.
PROS:
Plenty of free services/features
Affordable price
Automatic sign out after inactivity for some time
CONS:
Some people could be fake
The desktop version is a bit overwhelming
---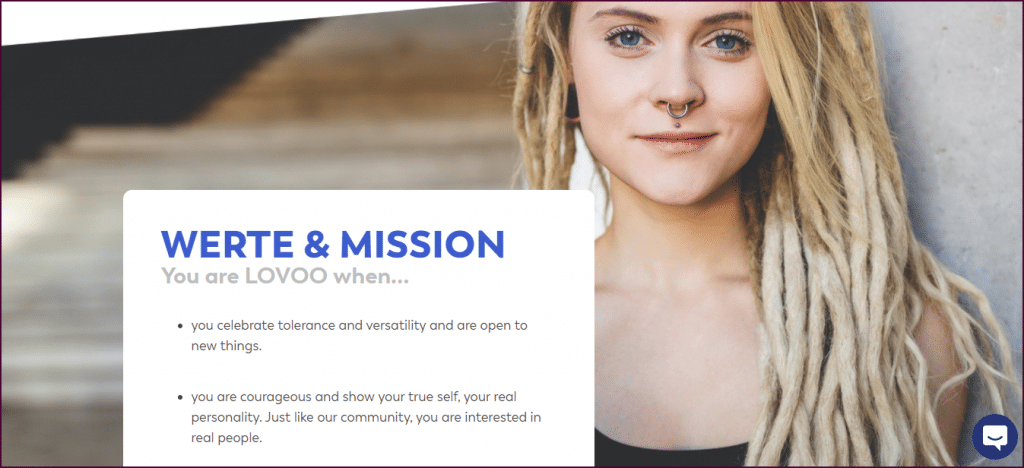 It's no surprise that Lovoo is one of the world's largest, most rapidly expanding, and widely-used dating sites today. There are plenty of singles to pick from its unique 70M+ subscribers. But the site's success is not just about the size of its members; it also attributed to its focus on improving and continuous development of its IOS and Android-compatible apps. At this point, the number of people finding love on this matchmaking app has risen to almost 4K+ monthly.
PROS:
Open to all types of relationships —hook-up, long-term, dating, casual, friendship, affair, flirt
Free registration
No reported fake accounts
High rate matches
Can register using Facebook
Roulette matching system
Verified members have badges
Affordable premium membership
CONS:
Some profiles have few details
Basic search engine
---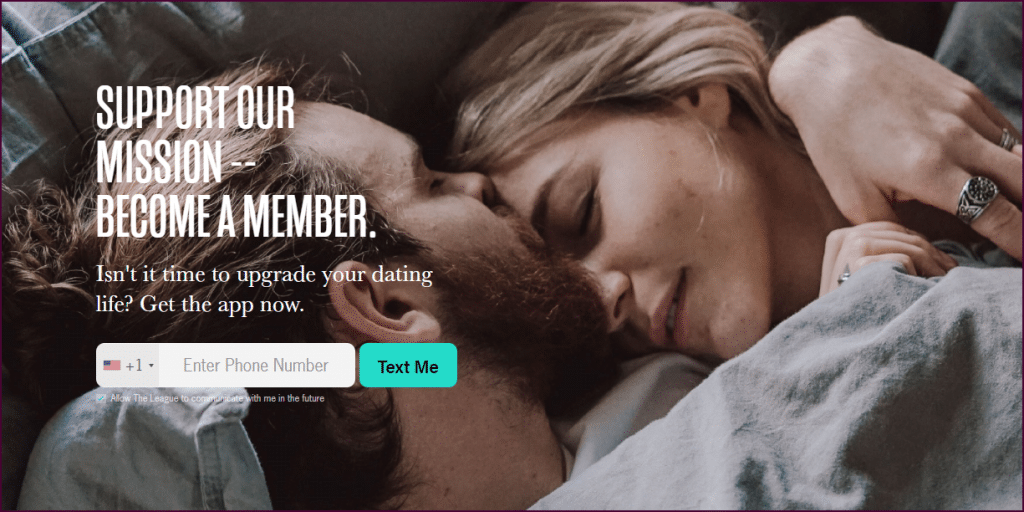 TheLeague is an elite and legitimate matchmaking service that promotes career-minded, hardworking, and enthusiastic adult professionals to discover their dream partner. So, those who place a great respect on intellectual prowess and aspirations were this service's primary target audience. By the nature of this site, it's not surprising that some people may be put off by the site's "exclusivity," especially those hoping for a husband or wife in a matter of days.
Check for review of The League.
PROS:
Reliable members
Easily link relevant websites and other social media accounts
Robust verification process
It has incredible features and design
Cam2cam chatting
CONS:
Only a few LGBTQ+ members
Long waiting list
Some users are not on LinkedIn
---
Bottomline
For over the years, Happn has grown its Member Pool significantly, and I could only blame it on their services. However, their location-based matching system would be a significant disadvantage if you're living in areas with lesser app members around or poorly populated locations.
But one thing is for sure, the concept of Happn sparks the romantic side of us because we can all agree that finding romance within the nearby location is thrilling and exciting. I've already tried it myself, and I guess it's your time to test it too. Who knows, this might be your last chance of finding love and romance? Anyway, Happn has free options, is very convenient, and is pretty effective in matching, so what could go wrong?
All 75 Other Sites in This Category Worth Checking Out:
Top-5 Dating & Casual Hookup Sites That Actually Work in 2023 Perfect for ~20-55 year olds, with & without spouses! These are not some "fake" ones pretending to have girls, they are real, worldwide largest networks. Jump to Top-5 Dating & Hookup Sites Hey, I know that jerking off is quite exciting and cool. But… nothing […]