Updated on: December 4th, 2023
Hinge Review
& 12 Best Dating and Hookup Sites Like Hinge.co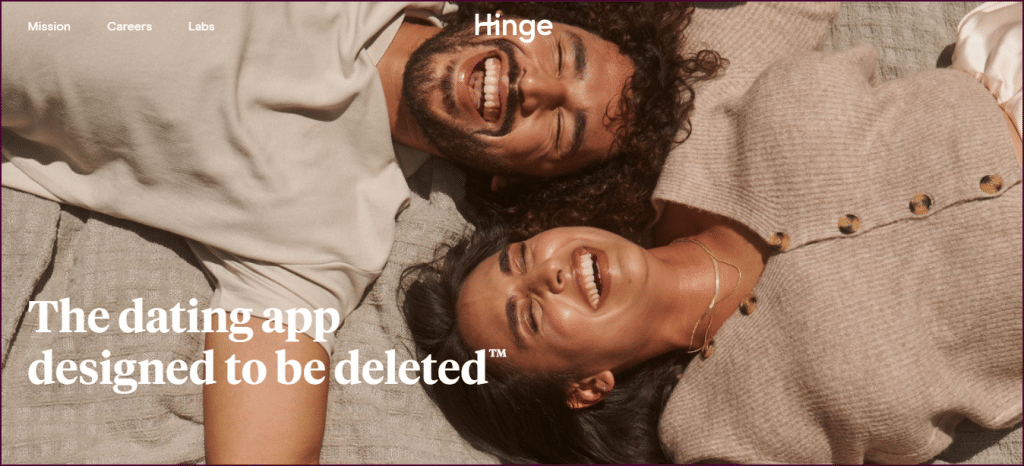 Hinge has relaunched its site as a "relationship-pro" dating service to compete with Tinder, which has become a popular method of meeting new people. Instead of relying on pics to evaluate if some users are perfect matches, Hinge pushes you to delve deeper at every profile. Rather than swiping left and right endlessly, people can simply "like" their pics or stories on the app to initiate the connection. Not to mention, Hinge encourages users to express themselves in innovative ways and exchange activities that reflect their personality, so they become more actively involved in the social dating experience.
Official URL: https://www.hinge.co/
The Mysteries of Online Dating
The idea of meeting someone using a dating website has constantly struck me as something of amusement, somewhat like playing a video game. For all who reached eighteen, dating sites partly served as a kind of transition to adulthood. And we all know Tinder is by far one of the famous dating/matchmaking platforms, but I want to check out something new and unique. Good thing I stumbled upon Hinge. It's a brand-new mobile app that I'd never used before, and it seemed like a good place to start some meaningful dating experience.
To be honest, when I initially started using the Hinge app, I had some difficulty figuring out how to sort through these promising matches. The whole summer I spent on Tinder has prepped me with the swiping left/right system, however, Hinge surprised me with its unique concept.
Additionally, Hinge offers a wide range of options for creating and sharing your profile. In fact, the maximum number of pics you may upload is six, which is one less than on Tinder. Anyway, I'm pretty sure Hinge could be the dating spot for you if you're looking for something long-term. Not to mention, this service was built for horny millennials seeking a lifetime commitment instead of quick romance or affairs.
How Hinge Started?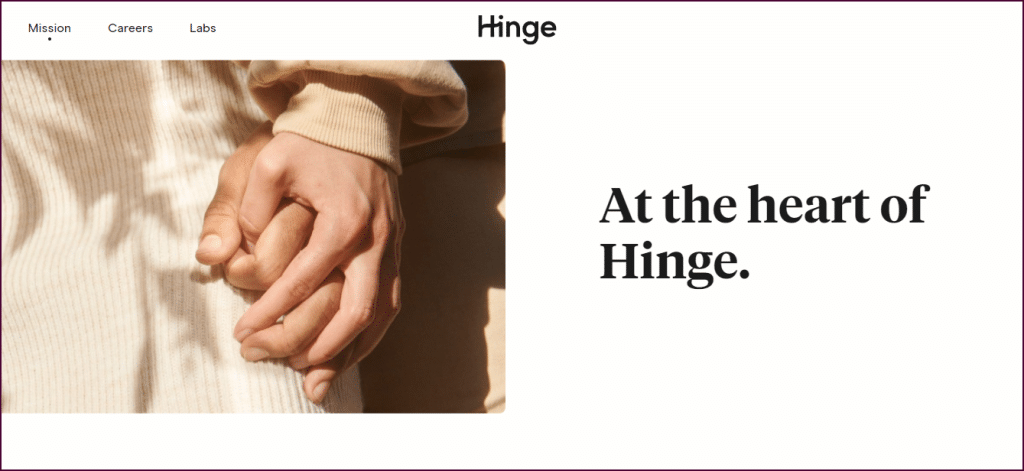 Initially, when Hinge began in 2013, the site hit the headlines because of its Facebook-friend matching system. Meaning, the site will give you potential matches from your FB friends, reducing your chances of getting catfished while boosting your chances of discovering highly compatible matches. Unfortunately, Hinge.co has removed this "required" option from their site. But if you wish to use this option, you can do so.
Nevertheless, the Hinge's basic goal has never changed over the years, and that is to assist everyone finds matches worthy — and perhaps even upgrade your single status from desperate single to "in a relationship." As of 2016, 45% of Hinge members seek meaningful connections, whereas 55% are absolutely into serious and long-term relationships. So, when you lose trust in online dating due to previous letdowns and dead ends, Hinge could be the ultimate answer.
Hinge: "Designed to be Deleted"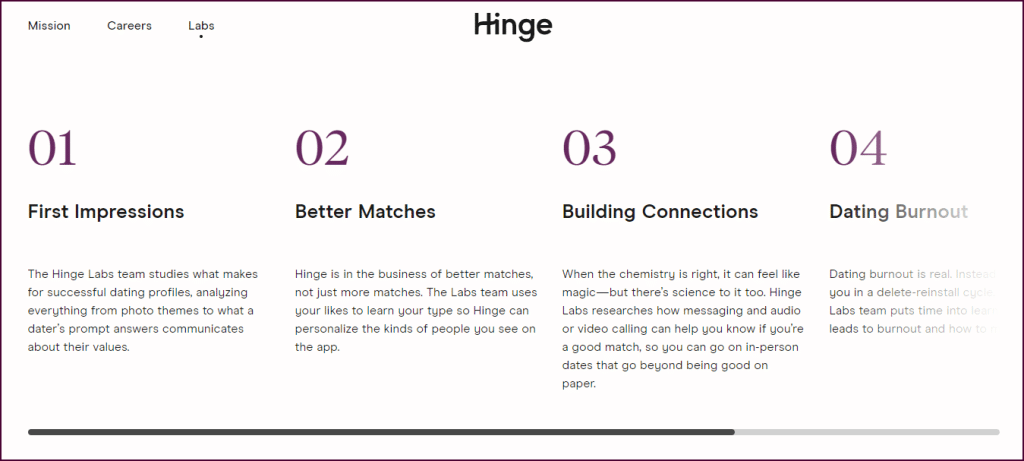 "Designed to be Deleted" — that's the tagline of Hinge. Sounds confusing, right? After they encourage people to download the app, they instantly want you to delete it. That's probably because Hinge encourages its customers to uninstall their app after finding a perfect match or partner. Dating platforms, according to Hinge, are now the go-to means for meeting new people in modern-day society.
Unfortunately, most well-known dating platforms don't necessarily offer a place suitable for establishing long-term commitments or marriage. There is a shitload of apps out there that promote thoughtless swiping and focus primarily on aesthetics.
Thankfully, Hinge has revamped its mobile application to encourage people to seek deeper, meaningful relationships than a quick fling. Certainly, the admins don't want their app to end up pointless and a fucking waste of time for their customers.
Sign-up Process of Hinge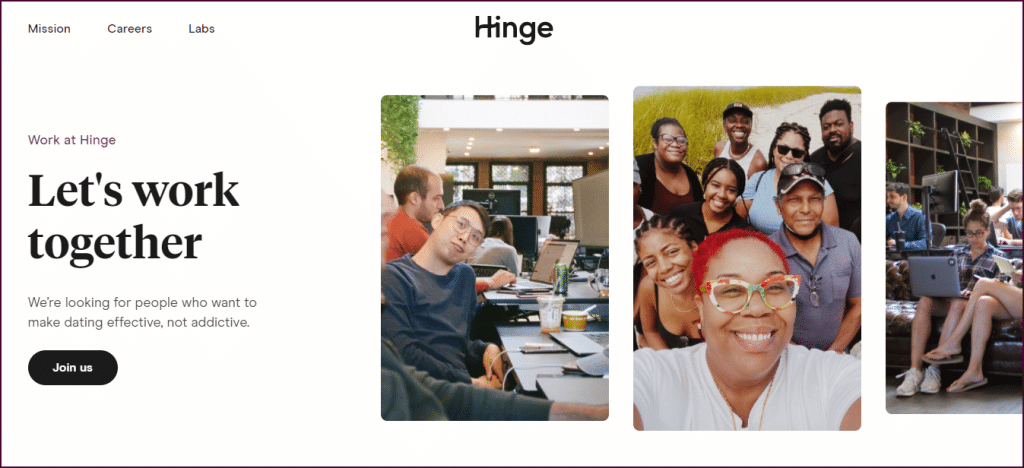 There is no available Hinge dating website alternative, so to use Hinge, you must install the app first. Afterward, set up a profile using your contact number or sign-up using a FB account. There's also an option where you can allow Hinge to access your FB's close acquaintances and singles nearby who are also looking for a new love interest.
But as a means of verifying your identity, Hinge asks no less than 60 Friends on FB when you register using Facebook. After which, Hinge will ask you some basic information about yourself, such as where you live and whether or not you practice any particular religion. Vitals, Vices, and Virtues are the three main categories that this site organizes all the information about yourself.
Special Hinge Features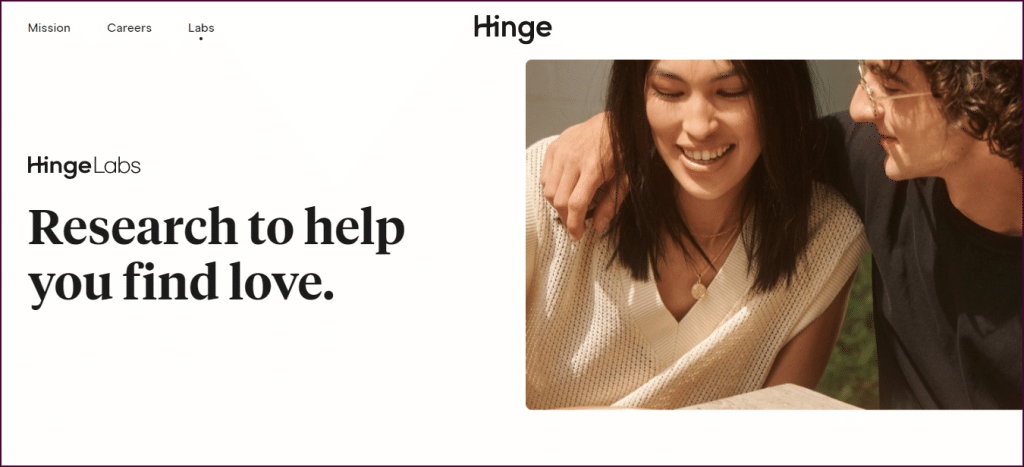 Several sites and apps offer some features that help more people see your account for a short period. And Hinge provides the same feature too! Boosting your profile on Hinge promises to increase your visibility by 40 times. Just pay $9.99 and enjoy one Boost. Buy three or more Boosts, and the rate decreases to $8.99 each, and five or more Boosts are $7.99 each.
Every user gets one freebie rose every Sunday, which you can give throughout the week. Freebie roses expire, so make the most out of them before it runs out. Good thing roses are easily purchased at $9.99 per set of three. With the help of this virtual Rose, your rank will be higher in your match's feeds and more certainly get a date. Certainly, Roses never go out of style —be it personal or online dating.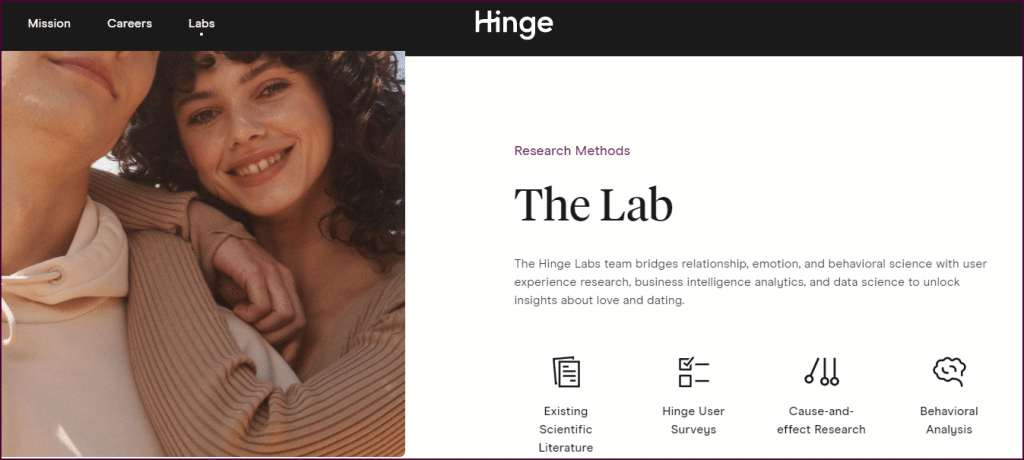 You may apply Hinge's home-based dating function once you've connected with somebody interesting. This feature functions as a way to signal other users that you're open to having video calls or chat. You'll both receive a notification message when your match updates their online status to "Ready," and you can immediately set up a quick call. However, before you're free to use this feature, both parties must at least exchange one chat.
The Video Prompts tool is a great way to get your video conversation rolling if you're having trouble coming up with things to chat about. Users can pick one from eight chat topics from a drop-down menu while using this feature. Five prompts will turn up throughout the video call, one for each topic theme. Currently, Hinge has various options available, including icebreaker-style quizzes and interactive exercises that you both can enjoy, including a small treasure hunt around your houses.
Profile Quality on Hinge.co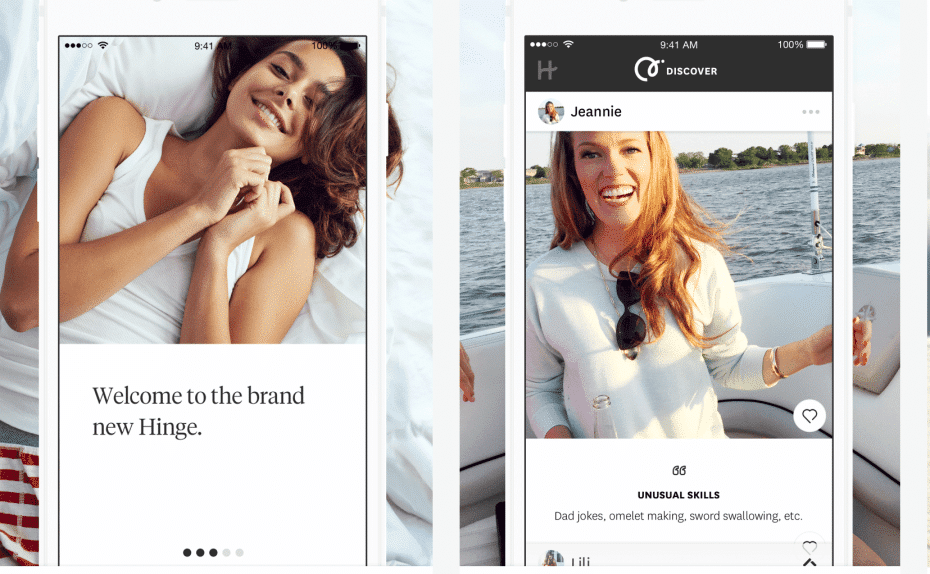 For those skeptical of Hinge's claims, you should think again. This site boasts as world's largest social network and provides an abundance of entertaining and charming options for users to connect. Sounds promising, right? But I believed it.
Certainly, I've seen how Hinge managed to provide a wide range of options for creating an attractive personal profile and sharing data. You're allowed to upload a maximum of six images on your profile, three less pics compared to other dating apps. You can likewise include your preferred pronouns —something I enjoy since you can't do much on the Tinder app.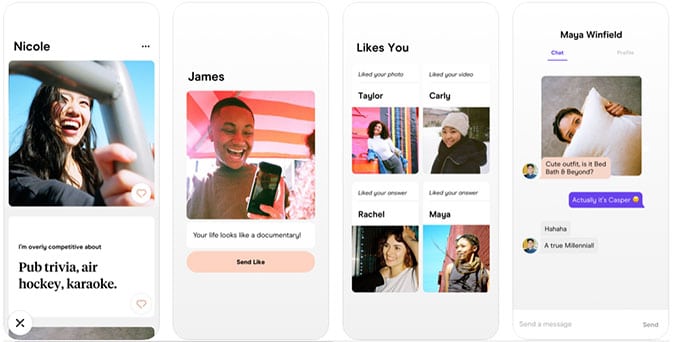 Another element that I found amusing on Hinge was the option to provide information about the user's height, vaccination history, alcohol or drug habits, religious views, and political opinions. I wasn't keen on this feature, although I see why it's essential for certain users to include their ideological and spiritual views on their profiles. Above all, it was good to see that the chat function worked similar to famous dating apps. Now, I don't have to familiarize myself with new chat systems. Ultimately, Hinge is a decent app overall. I enjoyed a lot of things here, but of course, it's not a perfect site, so there were little things I didn't enjoy.
Sign-up for Premium Membership at Hinge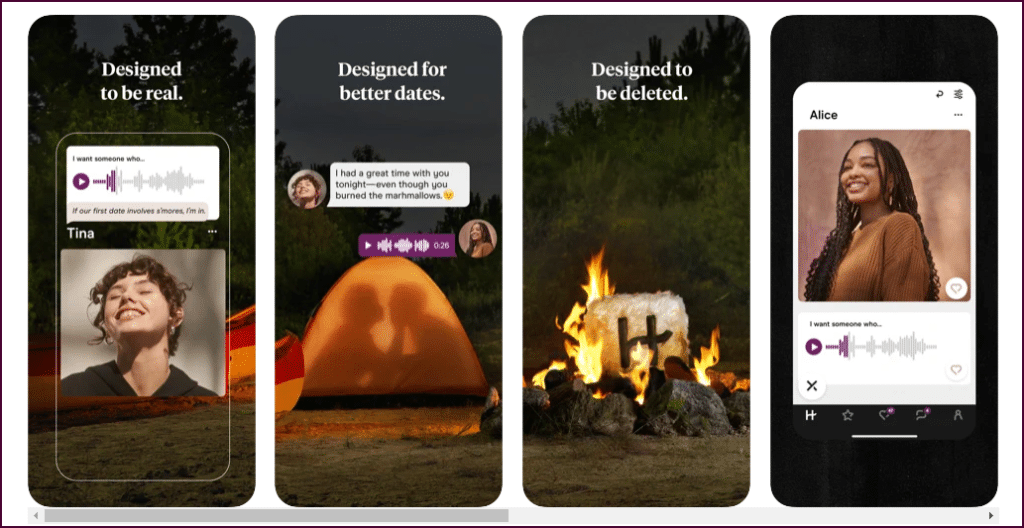 As a user of Hinge, you have the option to upgrade to the "Preferred Member" plan for a low price. Because Hinge doesn't feature a lot of extras, the fees are lower than the competing online dating apps. Three subscription options are available, including a one-month, three-month, and six-month subscription. Generally, you'll save money when you choose the most extended subscription option.
Additionally, Hinge's premium membership comes with a slew of goodies, including the ability to send as many likes as you want and a grid-view of all the people who have liked you. You can, however, get by without it. Because even though you're a regular user, you'll be able to check who else has liked your profile. Perhaps the only slight difference is you have to scroll on each account individually instead of scanning them all at once.
Pros and Cons of Hinge
PROS:
Modern app design
Downloading is free
Free messaging
Active members
Millions of users worldwide
CONS:
Some have less detailed profiles
---
12 Best Dating and Hookup Sites Similar to Hinge.co: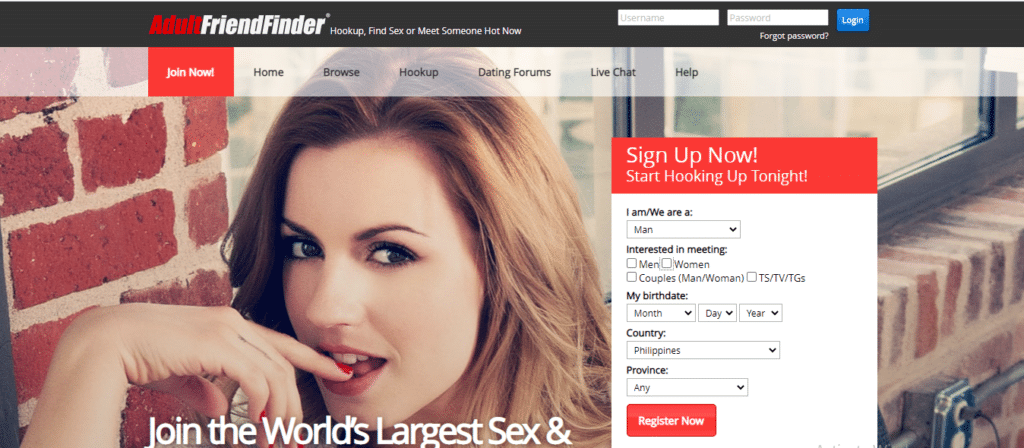 The Adult Friend Finder website is famous all over the world. It has more than eighty million members desiring erotic interactions with multiple women. Similarly, it provides numerous flirtatious relationships, such as casual connections, monogamy, couples, fuck buddies, and many more.
Indeed, this is an excellent experience that spices things up in the bedroom, especially between open-minded people willing to examine their sexual orientation. Finally, registration is relatively stress-free and straightforward, so members finish it in less than five minutes.
Here's the full review of AdultFriendFinder.
PROS:
Registration is free and fast
The members of the website are active in looking for casual hookups
Plenty of options in terms of communication
Watching videos and viewing images are free
You can write blogs and engage in a group conversation
The app is available for download and compatible with both iOS and Android devices
CONS:
The number of male members is greater than the females
Limited options for free basic accounts
---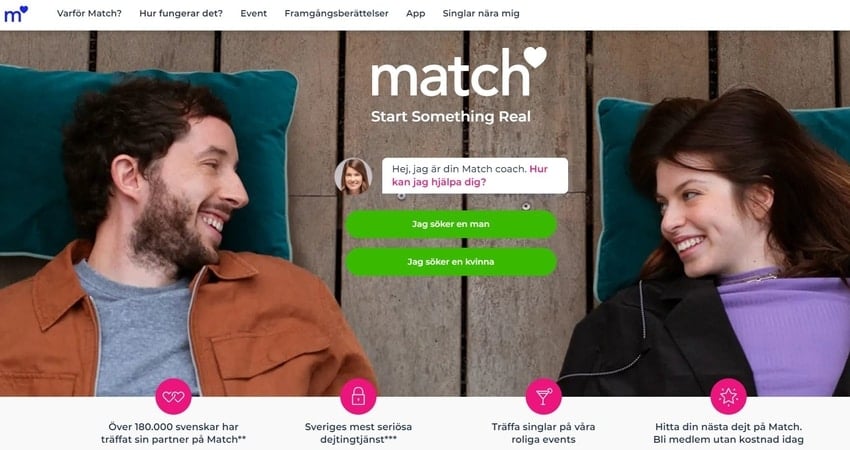 The Match is a great and unique website that allows singles to find matches and love. It covers worldwide and has been dominating the internet since 1993. The site even rewarded its initial members a lifetime subscription to their place as a way to celebrate their success. Up to this day, Match is still progressively growing, and many people register. Surely, your money, effort, and time will not be wasted on this platform. Even your online experience is protected through their strict security standards.
Click here for Match.com full review.
PROS:
It has been established and continues to operate for several decades already
App version is free to download in both the App Store and Google Play Store
It has premium members of over eight million around the world
More than 20 million members registered
Registration is quick, fast, and easy
Free viewing of profile accounts
Functionality and usage is guaranteed convenient
CONS:
Message and chats are for paid members only
Only premium members can exclusively access chat rooms
---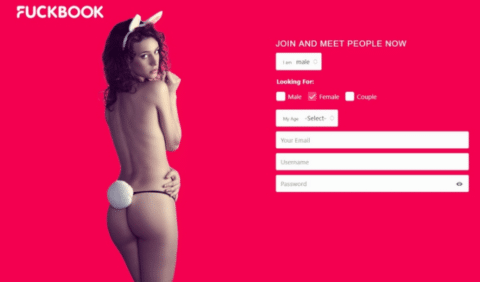 A perfect website for casual relationships and sex hook-ups is called FuckBook. Here, you are given opportunities to find swinger encounters, sex dates, and many more. This is convenient for people seeking a no-strings-attached relationship as quickly as possible. From the name of this site itself, you know exactly what you are getting into once you scroll through the platform. The interface and features of the FuckBook are straightforward and convenient compared to other swinger dating sites on the internet.
PROS:
Profiles created are numerous
The website has a design that is easy to navigate and use
Signing up is fast and instant
Membership is affordable but with lots of advantages
CONS:
There are annoying advertisements on the site
---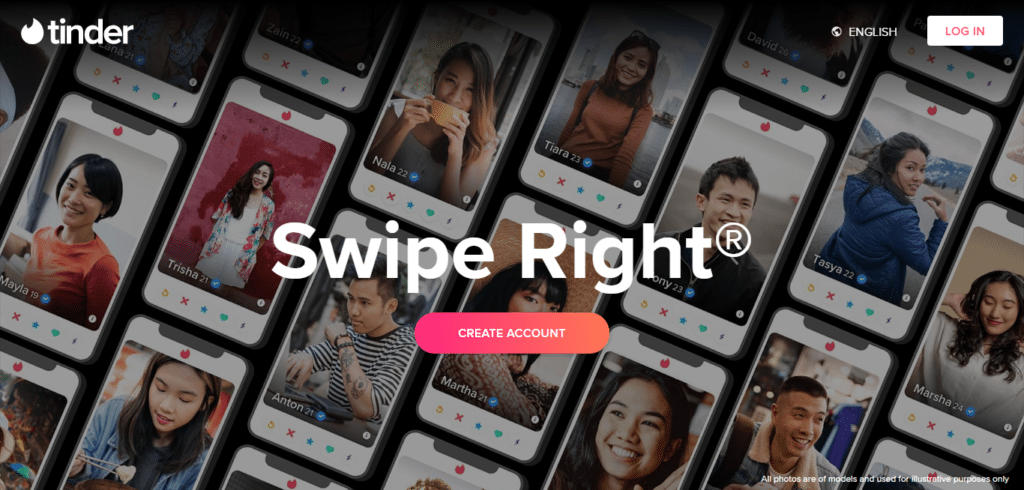 Tinder is a sex dating app that allows you to use its features for free. Several of its features and services that other dating apps provide for a price; in Tinder, all are free of charge. Such as sending messages, downloading, uploading photos, and locating nearby members are all available for free.
Because of this, the app gained more than a million subscribers worldwide. Thus, it also opens up the chance of finding matches faster. Additionally, many of its members are into casual fun and activities. So, if sex, flirting, and casual affairs are what you like. Certainly, you can find it all here on the Tinder app.
PROS:
Matchmaking system uses locations
Free sending of messages
Free uploading of photos
All members can access video calls for free
There are millions of members to check out
Active members are high every day
Very easy to use
Fast registration process
CONS:
Some people do not respond to messages
Only has 100 swipes a day
---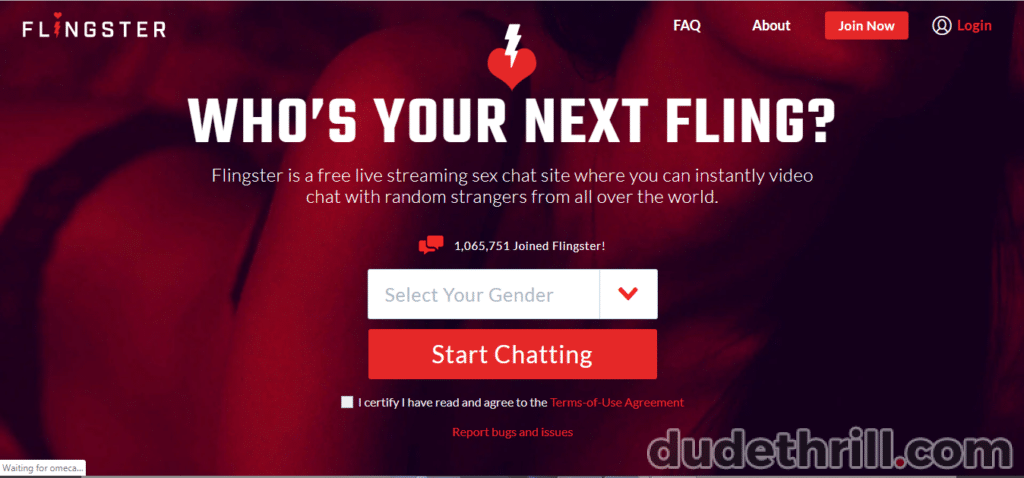 Flingster is an adult dating site for singles to meet, hang, and make out. The registration process on this site is very convenient and easy; thus, it will not waste much of your time. Unlike other dating sites, messaging and video chats are available for use even by free accounts. Other unique features are also exclusive for paid members. Flingster even offers anonymous identity while interacting until you agree to a casual hookup. Right at the point of your cursor, your fan connects already with millions of users worldwide immediately.
PROS:
Everybody is welcome regardless of gender and sexual orientation
Anonymous identity can be an option
The registration process is free and easy
The interface is simple yet easy to navigate
CONS:
There are a few fake profiles reported
---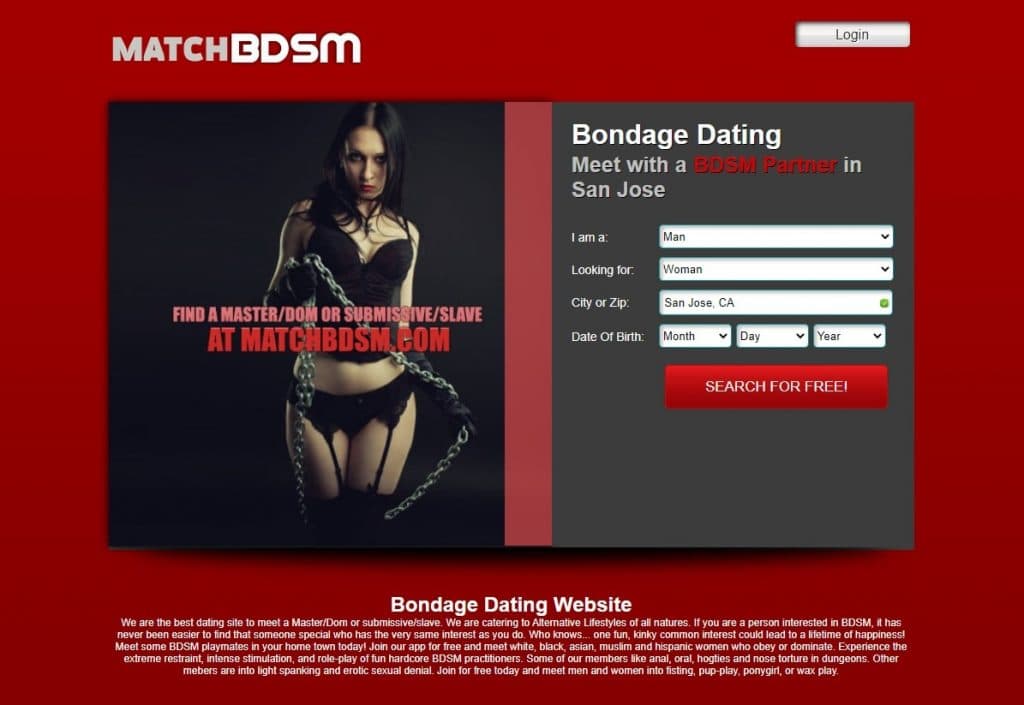 The MatchBDSM website is one of the best and renowned bondage websites today. It caters BDSM lifestyle and helps people find suitable matches to enjoy. You can also browse for kinky singles and get paired with members based on location. Furthermore, the searching feature is entirely free to use. So, whichever town you're in, you can find the suitable BDSM partner you want.
PROS:
It has guidelines for members to maintain security and safety when meeting up
The website is free to use
It brings people together using group chat sessions
Affordable price for membership
CONS:
Annoying pop-ups to upgrade membership
---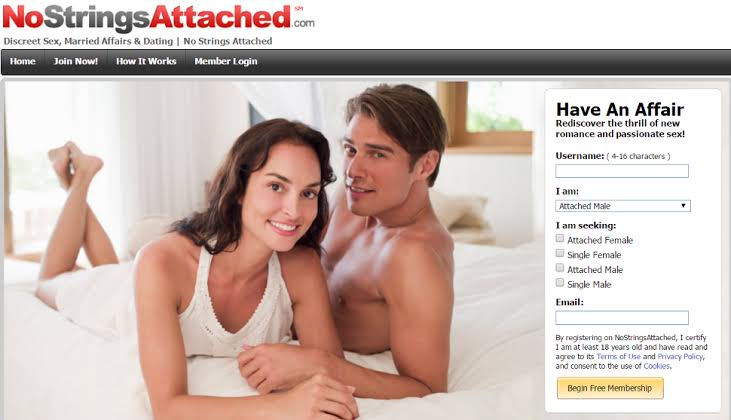 This hookup/dating website was created for persons who desire anonymous sex without the worry of being caught. It's a perfect spot for those who are already committed, engaged, or in a long-term relationship to enjoy intimate moments with others without terror or worry of being prosecuted for an affair. NoStringsAttached has a robust online presence, an excellent user base, and responds to everyone's unique demands. In other words, getting a bang every day is just an understatement.
Take a look at NoStringsAttached review.
PROS:
Well-designed websites
Innovative algorithm for matching members
Simple layouts and easy navigation
Valuable features that make hooking up easy
Tips and guidelines to cheat is a unique feature
Anonymity and privacy are top-notch
Plenty of active members
CONS:
No app available
The website has no multiple languages option
---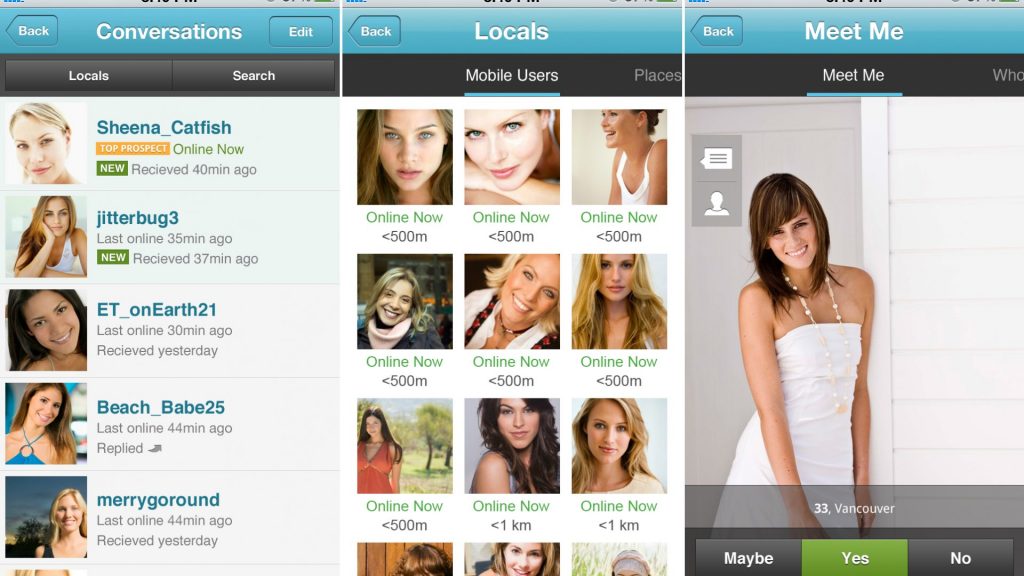 This site is one of the pioneering sites that offer to find love for single people. It has continued to evolve through the changing time. To date, Plenty of Fish (POF) has gained so much popularity worldwide. It has millions of members that are male-dominated. Lots of its members are specific with their intent in joining the site, and you can see a handful just looking for casual dates and not necessarily the serious stuff. Unlike other sites, communicating in POF is for free whether you are a premium member or not. It also has an app compatible with both Android and iOS users.
PROS:
Plenty of free services/features
Affordable price
Automatic sign out after inactivity for some time
CONS:
Some people could be fake
The desktop version is a bit overwhelming
---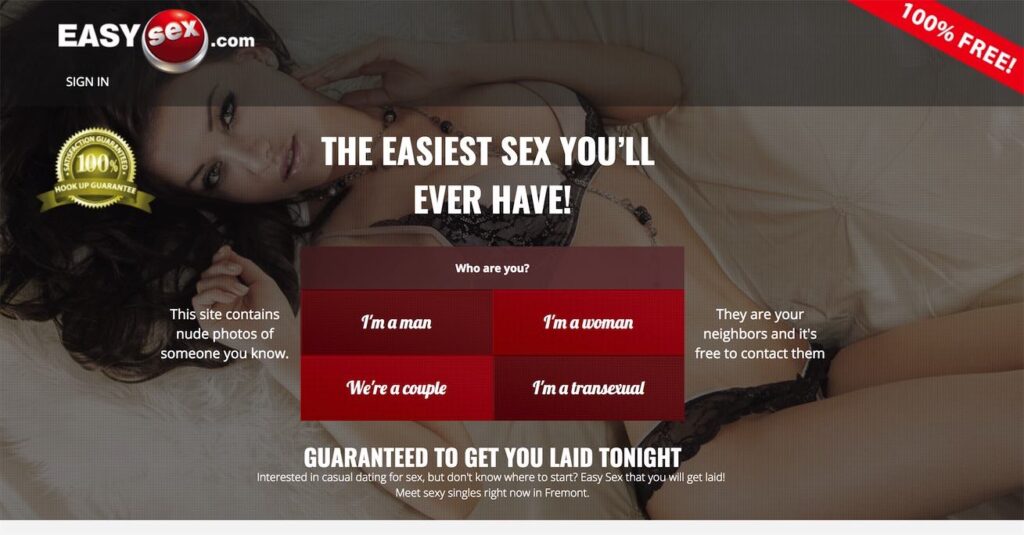 Quick sex and satisfaction of sexual urges are what people are seeking out right now; hence, some sites offer such convenience to people's lives. That includes Easysex.com, wherein adults gather together from all over the world to find their perfect match. In here, casual hookups and no-string-attached relationships are highly encouraged, and members do not judge or discriminate against others. Everyone is welcome to use this site, no matter your sexual or gender orientation.
PROS:
Registration is free
Users of this site can add photos pr videos of themselves to boost their profiles
Women are free to use the website and its features
There are available sex toys you can buy
It caters to multiple types of relationships and hookup arrangements
CONS:
A paid subscription is required to access its features fully
---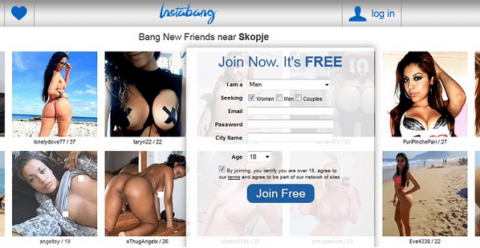 Bringing the community together is Instabang's primary objective. This platform was deliberately developed to provide users with hectic lives through its promising speedy service. Indeed, there is a quick gratification of sex life among its members. Hence, if you are searching for non-committed partnerships or just occasional connections with people with common needs, you are ideally suited to this platform. Indeed, the participants will never encounter problems locating a one-night stand buddy with many sensual girls and young women with attractive bodies.
Click for a Instabang full review.
PROS:
It contains various languages for the most convenient usage of non-English speaking members
Members provide abundant images and videos on their galleries
The advanced searching option is available to make accurate searching
Safe mode feature is available when browsing by blurring any explicit images or scenes while in public areas
Preview of videos is available before making payments
The homepage is straightforward to understand and use
CONS:
There are fake profiles reported
A paid subscription is required to send messages
---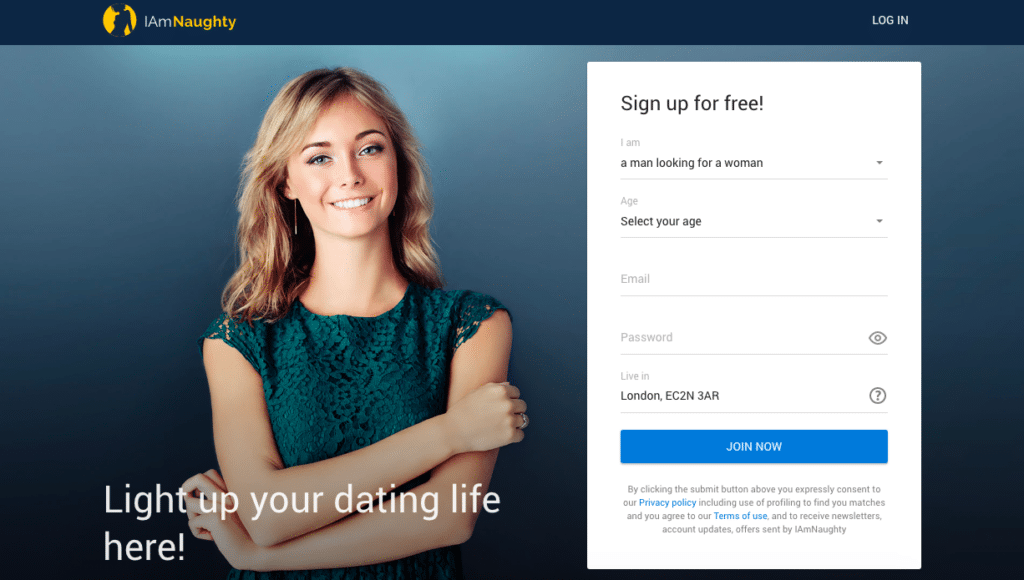 IAmNaughty is a website that has built a reputation in online hookups and dating sites without further introduction. Here, the members are free to explore their kinky sides and flirt with whom they want. Indeed, it has remarkable features that allow easy connections and engagement of the members.
Also, this platform encourages people to post erotic images and sexy videos to increase the higher rate of finding a perfect match. While it also allows the system to automatically link their profiles to other matches.
PROS:
The community is active, and every day they feel determined to find a suitable match
Site developers manually check accounts to assure that spammers are not available
Free chat room feature
Guaranteed great platform to find a suitable partner or casual meet-up
Women can access the whole website for free
CONS:
Viewing other member's images from the gallery is a paid feature
---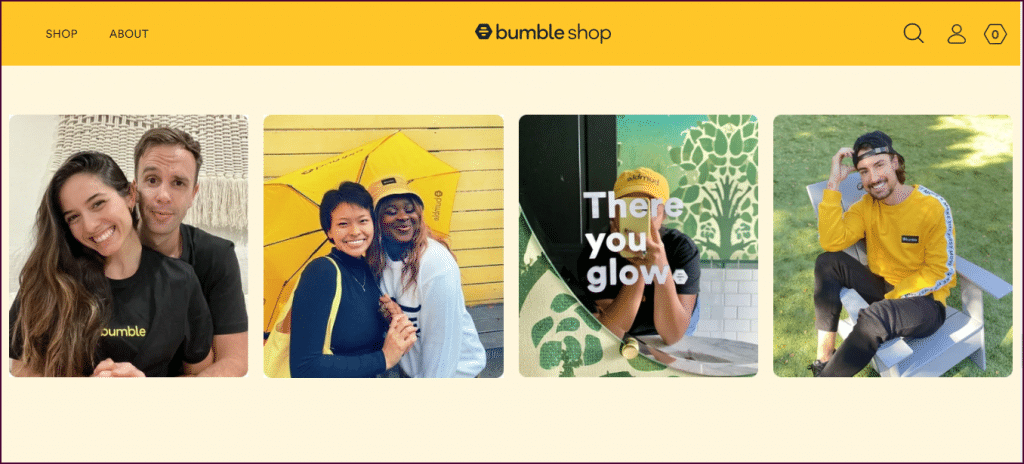 Bumble is among the most popular matchmaking apps on the market, but its innovative and groundbreaking concept allows ladies to enjoy better choices and engagements. In other words, those men having trouble making the first move are relieved of the burden of coming up with a snappy opening remark.
PROS:
It has numerous unique features
Secured browsing on-site and mobile
It has free features and services
Balance female and male member ratio
Sign-up is easy
CONS:
Premium membership is quite expensive
Lose matches after no response within 24 hours
---
Bottomline
As a whole, Hinge is an excellent choice for anyone searching for more than just average online dating sites. It's designed to bring together those looking for long-term partnerships and meaningful experiences together. For those skeptical of Hinge's promise to be the world's largest social network, the site provides many exciting and carefree options for users to connect. I'm pretty sure that actual "service" is more reliable than claims, right? However, sad to say that due to some restrictions and limitations on features that regular members can enjoy, Hinge progresses at a gradual rate, unlike its competing apps. This and several other minor nuisances keep Hinge from overthrowing Dudethrill's Favorite pick, AdultFriendFinder, from taking the throne.
All 75 Other Sites in This Category Worth Checking Out:
Top-5 Dating & Casual Hookup Sites That Actually Work in 2023 Perfect for ~20-55 year olds, with & without spouses! These are not some "fake" ones pretending to have girls, they are real, worldwide largest networks. Jump to Top-5 Dating & Hookup Sites Hey, I know that jerking off is quite exciting and cool. But… nothing […]