Updated on: December 4th, 2023
Asian Fever
& 12 Must Visit Escort Sites Like AsianFever.ch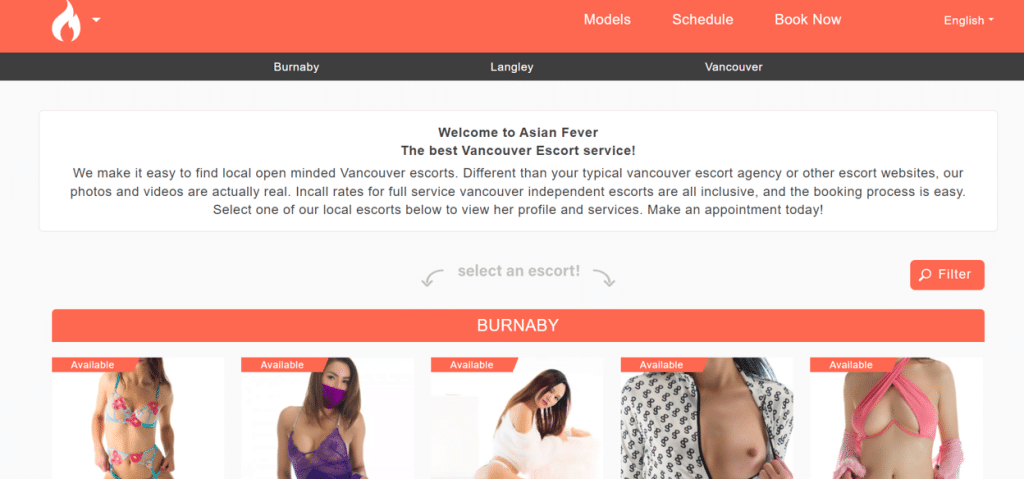 I just reviewed some dating and hooking sites for bi-singles and couples, and now we are yet to explore a kinkier and naughtier market. Shall I introduce Asian Fever and its worldwide offerings of wet pussies? Do not be confused with the site name, pal. It may seem limited with the Asian horny cuisine but do not be deceived. Tons of Canadian beauties are set to warm your cold nights. With this, I was thinking why the site set Asian Fever to be its platform label. Well, I immediately got the answer in seconds of gazing at the venue. An enormous population of Asian hotties floods the platform. A crazy and perverted fever indeed!
Official URL: https://asianfever.ch
We all know how famous and extremely loved Asian beauties are in pornography. They got the undisputed charisma, nastiness, and combined innocence and confidence. Asian babes are a staple in this business as they give us the satiation and orgasm we deserve unless you jerk for other hotties from various parts of the world. Good thing Asian Fever announces more options than Asian escorts. This sex-oriented platform became even followed and famed for its Vancouver slut offers. Would you believe how the Canadian community brings glorious fantasies to sex addicts? You shall learn more in the subsequent discussions, pal.
Asian Fever Attracts Worldwide Population of Escort Fanatics
Brace your penis with hefty Vancouver, Thailand, Japanese, Chinese, Filipino, and more options. However, you must note that Asian Fever is extremely well-loved with its Vancouver escort service. Hence, the place is named "The Best Vancouver Escort Service!" And no one is doubting this claim. The beauty of Canada exudes with its ladies. It is also one of the many locations where Asians migrate and find new homes. With this, I am starting to understand the Asian Fever in Vancouver. The Asians contribute to the city's grandeur. It provides a dick-erecting taste and cuisine you would have difficulty resisting.
Catching any escort for your sexual needs is the most straightforward job here in Vancouver. With the aid of Asian Fever, everyone will get a good escort right at their hands. These babes are eager to ride cocks and lick pussies. Your wildest obsessions manifest; Asian Fever lined up perverted ladies to spice up your cravings. The horny girls are keen to present their bedroom skills in exchange for sweet cash. Each gathers varied talents and appeals. As they say, they are uniquely capable of arousing their clients. It is your challenge to seek among these wildcats the best fit for your nodding dick.
Bright Orange Tones Markets Asian Fever's Seductive Powers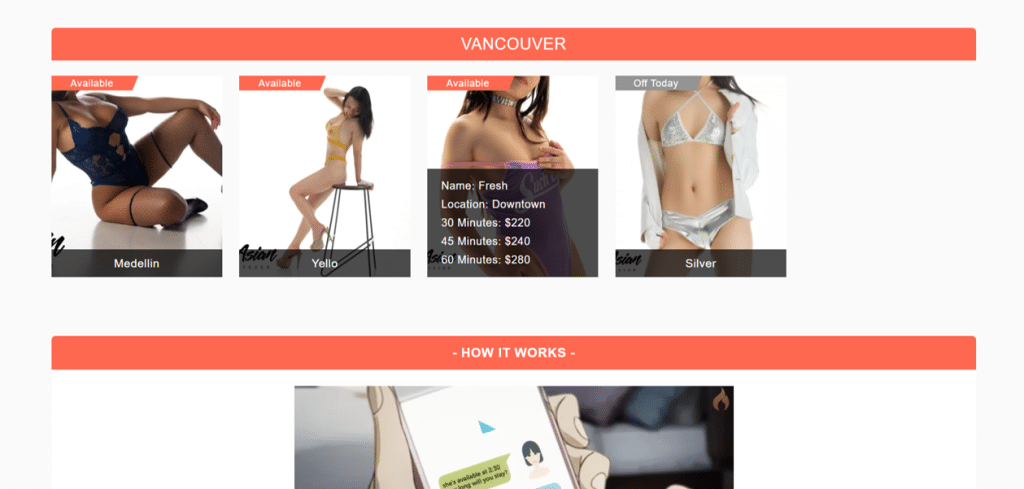 Feisty orange is Asian Fever's color theme. The bright color gives a dynamic ambiance. Asian Fever's zesty collection of sluts became even more luscious and captivating. The simple site layout exemplifies a clean and flawless exhibition of escorts. Each babe is given a space to display a photo portrait with details like name and availability. The pictures show their pleasant bodies and tempting personalities. Asian Fever explores to provide potential clients the power to connect with their handpicked dick-erecting set of Vancouver hotties.
Not just that, Asian Fever also clings to the claim that this domain is a massive portfolio of Asian escorts. However, some pals have yet to be satisfied with these promises. I completely understand the hundreds of scam escort pages in town lately. With this, Asian Fever must be tried and tested first to set our expectations. Nevertheless, looking at the Asian Fever domain, I realized how they exceptionally marketed its escort features. The straightforward presentation allows anyone to comprehend the activities efficiently. You can directly spot your favorites in one snap.
Not Just Vancouver, But Two Other Cities are Available for You!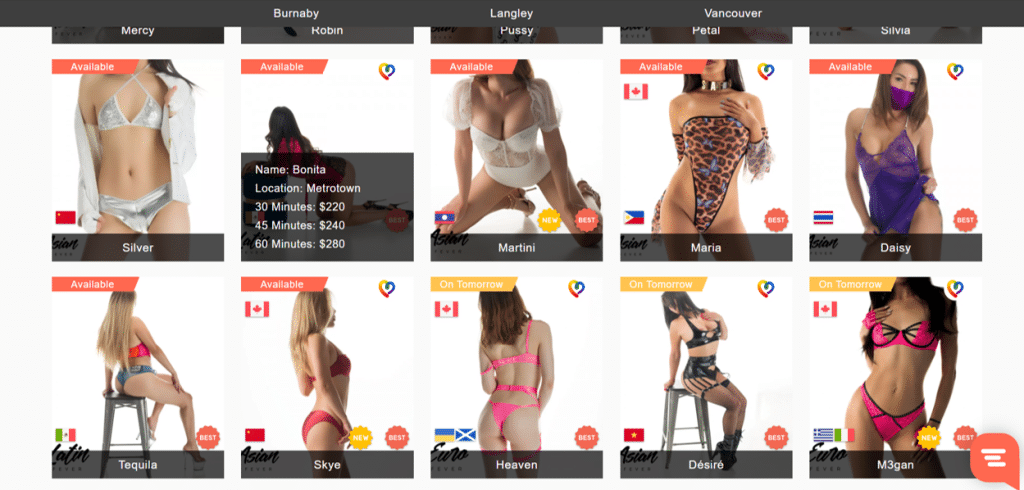 Yes, pal, I know Asian Fever is known for its Vancouver delights, but I am glad to tell you its two other offered Canadian city locations. Since this is a worldwide phenomenon, snatching more areas to address other localities would be best. Good thing the cities of Burnaby and Langley are available too. You can select among these three cities, whichever suits your escort adventure. All options gather Asian delights that only Asian Fever can provide. I appreciate this move considering the vast geographical area of Canada. Thus, hoping for more cities to be added soon.
Each city consists of hundreds of escorts posing in exquisitely high-quality images. Damn, all of them are wearing a pair of sexy bikinis. Some babes are confident enough to show off nipples and naked breasts. So far, I haven't seen pussies yet on the main page. Perhaps, Asian Fever and the escorts are giving a few thrills. The available information is also straightforward, giving you on-point details. As you hover your cursor on each image, details like name, location, and pricing per minute appear. For example, a lady named Tequila (unique name) from Metrotown rates her 30 minutes of service for $220. Each ten-minute increase will most likely add another $20.
Main Menu Hosts the Booking Page and Hot Escort Portfolios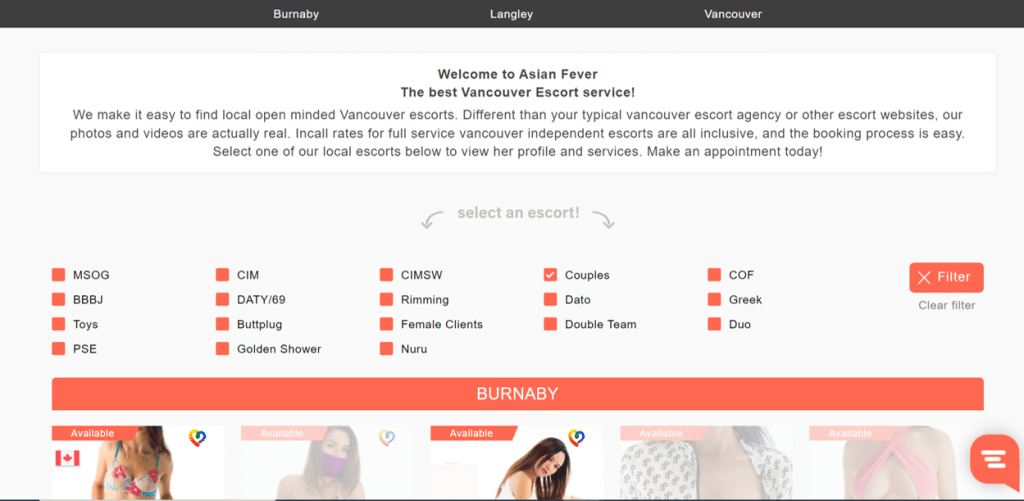 The handy features gave Asian Fever a plus. It utilizes a white flame logo that is quite familiar. Honestly, I found it too simple. However, I am not here for the logo. I can slide this observation in seconds. Gladly, the Asian Fever logo has a drop-down menu that collects enticing features. The list consists of vital articles, go-to recommendations, and tips. I had fun squeezing myself into the pile of articles that shared etiquette stories and FAQs for booking an escort. The literary pieces made me ecstatic to try the available Asian Fever treats.
In addition, Asian Fever also provided links to its site blogs and the booking tab. You may check the models on the main page and their available schedules for efficient escort arrangements anytime. These areas allow you to navigate the hourly rates of your handpicked sluts. I must say, most of the rates are pricey. An hour of pleasure will cost you more or less $280. Some escorts give off uniform rates while others present lower or even higher. The babes also do not want you to get lost by specifically tagging its designated location.
Meanwhile, fans looking for their perfect escort match will delight in the language button. The options include English, Korean, Chinese, and others. It seems like Asian Fever is focusing on Asian dialects. I hoped to see French on the lineup but could not find one. Anyway, below these menu items is the filter button that gives visitors more selections to narrow their escort directory. You may tap the corresponding boxes if you are looking for couple escorts, duos, or female clients. The filter also allows pals to navigate around their fetishes like golden shower, butt plug, and use of toys.
What Happens When You Visit Each Escort Profile?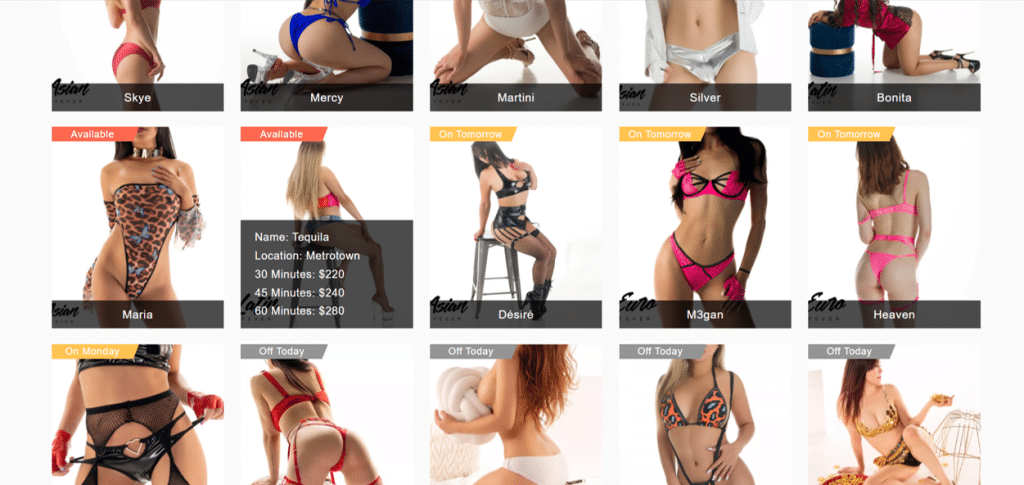 Asian Fever did well in alluring my dick through the individual escort profiles. Each girl has a friendly photo gallery that displays all her tantalizing photosets. Some even display high-resolution videos to entice more escort-seeking dudes. Do not expect much with the video items, pal, as most ladies prefer to delight you with images alone. Like other porn venues, Asian Fever also includes a comprehensive biography for the girls. The description includes her body statistics, height, boob size, services provided, and pussy status. The profile also effectively lists the rates and details in between.
Furthermore, Asian Fever also includes a tutorial method to help you navigate the booking process. Mind you, pal, getting it done is fast and quick. Even first-time escort seekers will find the procedure effortless. More so, Asian Fever also promises an accurate display of images per escort. I heard some readers are not convinced by the beauties they see on screen—Asian Fever pacts and guarantees to deliver the babes perfect for your hard-earned money. I also want to note the helpful customer service support and the Asian Fever fast contact feature.
A Surprising Immersion at Asian Fever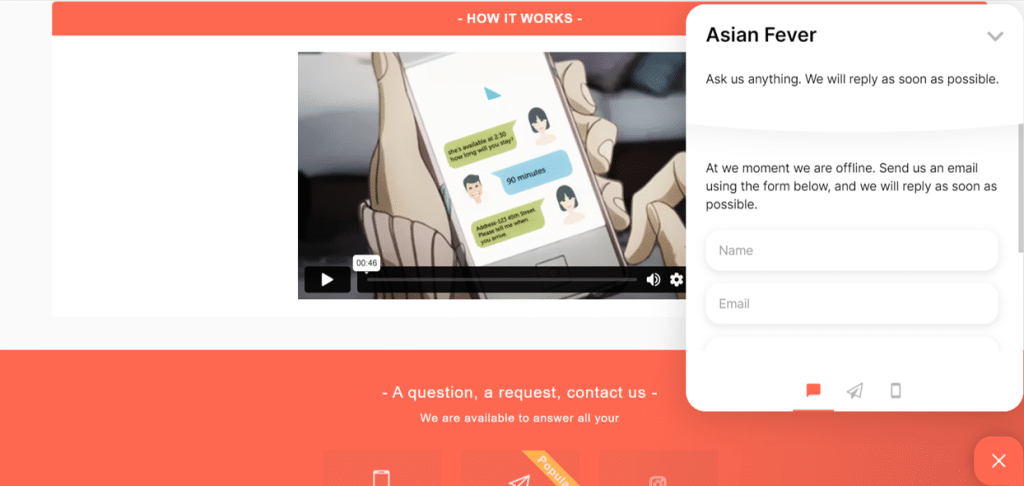 The whole time I was expecting a complete set of Asian babes in Canada, but there is an enormous, diverse selection of non-Asian escorts. Those who love hookers from Mexico, Colombia, Greece, Ukraine, and Scotland will adore the magnificent beauties. A part of me is disappointed because all this time, the page has been using the Asian banner. On the other hand, it isn't bad to experience diversity. Perhaps, Asian Fever could allot a section for these non-Asian girls to avoid confusion among visitors.
More so, the language area also needs a slight improvement. Asian Fever must add more dialect options to cater to other nationalities visiting the arena. Anyway, there is much to see here at Asian Fever, including the feisty Asian community willing to arouse and provide erotica services. Babes like Fresh, Tequila, Mercy, Daisy, Cookie, and more love their jobs to the fullest. All these ladies submit themselves to hardcore fucking, dick teasing, multiple orgasms, threesome escapades, bisexual discoveries, lesbian encounters, and more escort games they are willing to play. One thing is sure, handling dicks is their expert profession.
The Pros and Cons of AsianFever.ch
PROS:
Straightforward site layout
Blogs and instructional guides
Easy booking
High-quality photosets
Adequate detail listing and services provided
Asian babes are feisty
Filters
CONS:
---
Top 12 Must-Visit Escort Sites Similar to AsianFever.ch: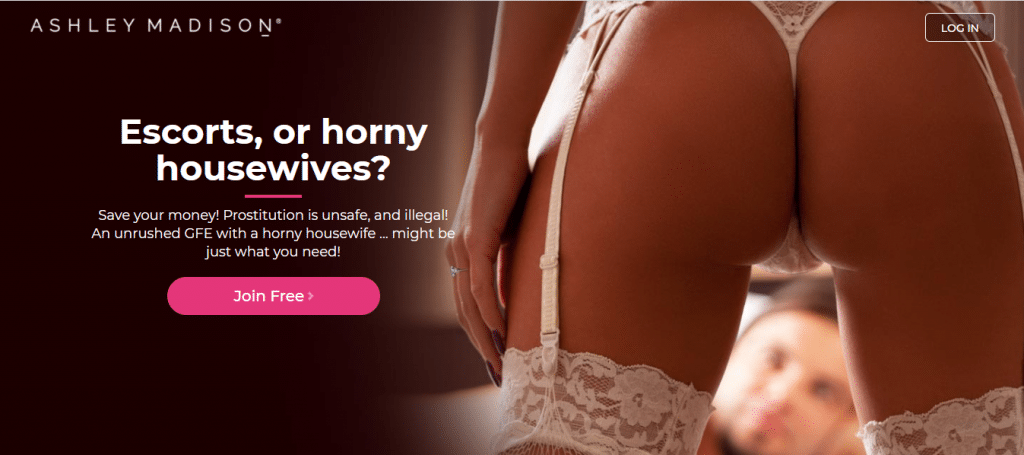 The Ashley Madison escort website is not just a typical escort website you see online. Founded back in 2001, the website provided committed people, married or in an attached relationship, the freedom to seek any discreet affairs with someone. Until this moment, Ashley Madison remains to offer a free-of-judgment environment, and affairs are not discouraged.
Over the years, the services offering of the Ashley Madison website is changing according to the demands and changing lifestyles and ways of cheating of members. This website covers many interests, including the perks of having polygamous, monogamous, open relationships, threesomes, and others. Due to the extraordinary features, it became popular and continues to be on top-up to this day, gaining reputation worldwide.
Read AshleyMadison full review.
PROS:
Maintains photo and personal information discretion
Encourages discreet photo uploading
Free registration and easy registration process
Available as apps on Android and iOS phones and don't require too much memory space
A large community of members around the world
CONS:
Some profiles do not provide many details
Some don't fill out profile information
---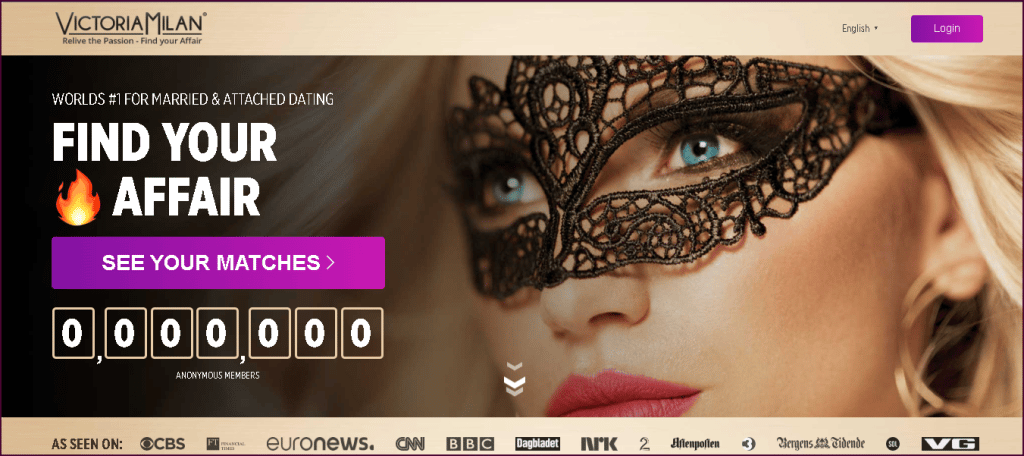 They claim to be the number one site for married people and those in the attached relationship a platform to cheat. Such a site provides confidential and anonymous experience and personal information for people to experience. They accommodate committed and married people and are ready to spice up their sexual experience to the next level.
Your face is blurred and protected to keep you unidentified to everyone and concealed. Users are even allowed to keep things discreetly while searching for a perfect match all over the world. And the moment things heat up, but suddenly you are about to get caught, the site has an emergency button, popularly known as the Panic button, wherein you can click and divert yourself to an unsuspecting place. As of now, it has over six million worldwide members from different categories.
Grab a quick bite with this VictoriaMilan review.
PROS:
Straightforward steps in free registration
The site is available for download for iOS and Android users
Most of the members are from Sweden, Poland, and the Netherlands
Exclusive photos with corresponding private keys
CONS:
Premium members only have perks in sending messages and viewing
---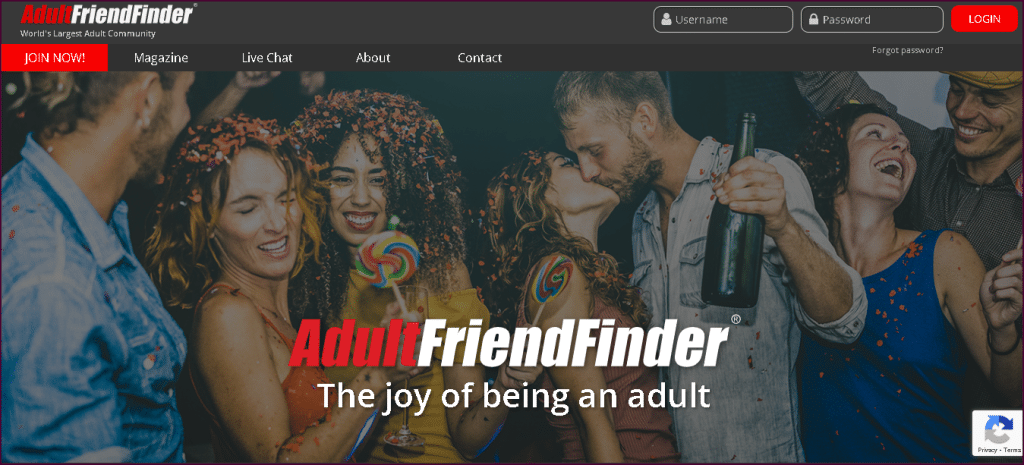 Adult Friend Finder is widely popular worldwide and has over eighty million members seeking casual and sexual encounters with different girls. Also, this website became popular in the United States and provided an excellent platform for users to seek a perfect sexual match using its communication features.
Further, it offers many casual arrangements, including polygamous relationships, monogamy, couple sharing, FuBu, and many others. Indeed, it is a great website to explore sexual preferences and spice things up in bed, especially among single people and couples willing to scrutinize their sexuality. With easy navigation and a fast registration process, the users will be finished within 5 minutes or below.
Full review of AdultFriendFinder here.
PROS:
Free registration
Members of the site are seeking casual relationships
Open for bisexuals and gay members
There are plenty of features for communicating with each other
Members are allowed to create blogs and groups for information exchange
Free feature in watching videos and viewing photos
Members are allowed and free to share any types of videos and photos
CONS:
There are more males than females
---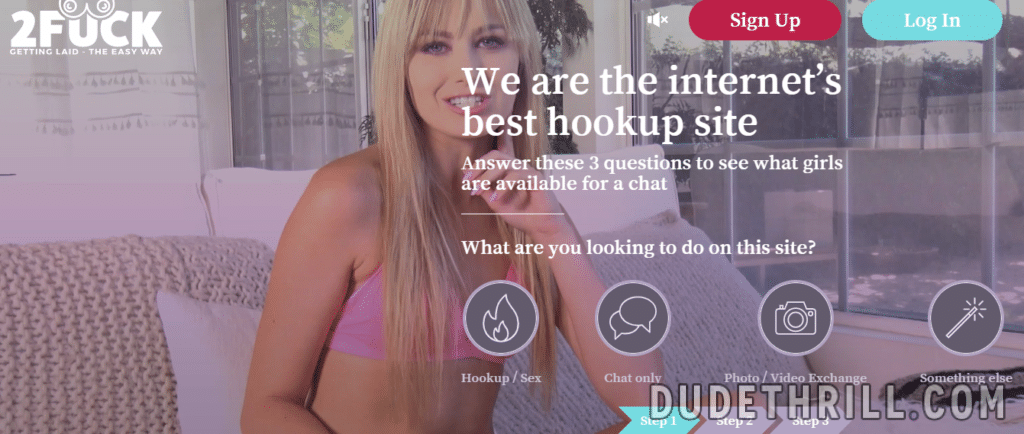 With all the escort websites across the Internet, only a few stand out. One of these is 2fuck.com, an Escort website with three million registered members worldwide. It is progressively growing every day. The website boasts genuine and authentic services for everyone who craves sex every day.
Once you become a member, your profile will automatically undergo compatibility matching and provide you with lists of members compatible with your preferences. It is easy to say that 2fuck.com does not randomly search for members for your convenience but instead employs an analytic process to make matching more accurate.
Read this full 2fuck.com review.
PROS:
Members worldwide reach up to millions and growing each day
The design of the website is user-friendly and straightforward
Free registration for everyone
CONS:
Premium members have exclusive features that can only access them
---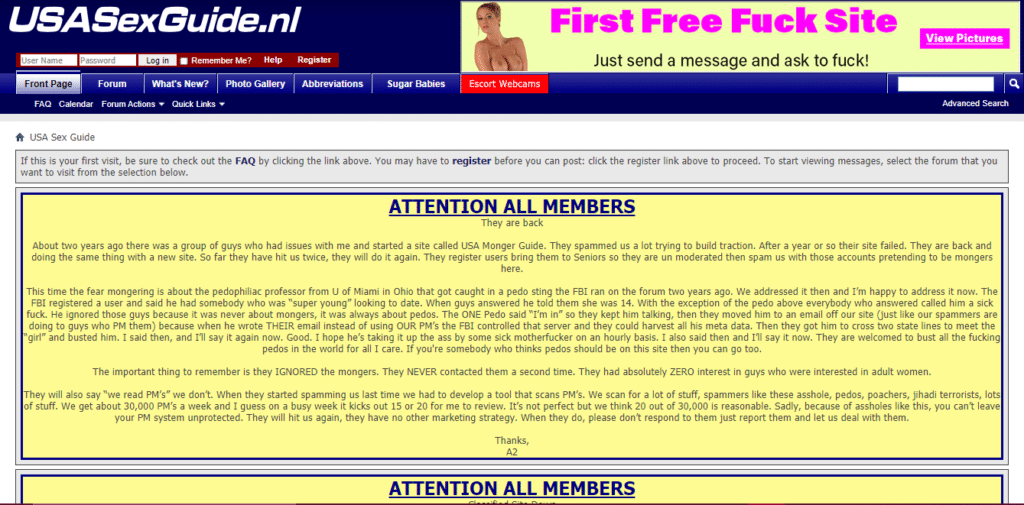 Are you eager to connect to people, have a great time, meet new friends, discover strip clubs, and hire gorgeous escorts around the US? Well, let me introduce you to USASexGuide, a popular website that gained more than half a million members and continues to gain more users every day.
Read USASexGuide's full details here.
PROS:
Free registration
Members of the site are seeking casual relationships
Open for bisexuals and gay members
There are plenty of features for communicating with each other
Members are allowed to create blogs and groups for information exchange
Free feature in watching videos and viewing photos
Members are allowed and free to share any types of videos and photos
CONS:
There are more males than females
---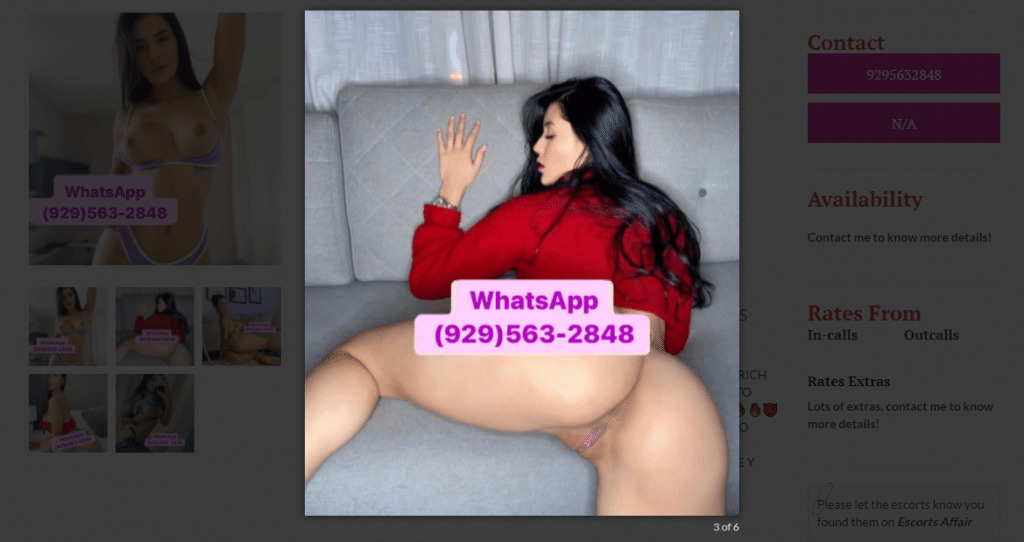 Escorts Affair makes the full escort service more favorable and easy. The website offers a reasonable price for mind-blowing sex in return. For instance, it also has gorgeous ladies willing to make love with anyone — married, single, or in a committed relationship. Indeed, Escorts Affair became the most popular venue among married people because it allowed them to explore their sensual side. Besides, they can fuck gorgeous and hot escorts they only wish in their dreams.
PROS:
The registration process is free and follows simple steps only
The list of escorts is pretty long, and many are available within your local area
The site caters within your local areas and worldwide
CONS:
Check the laws within your local area that is against escorting service
---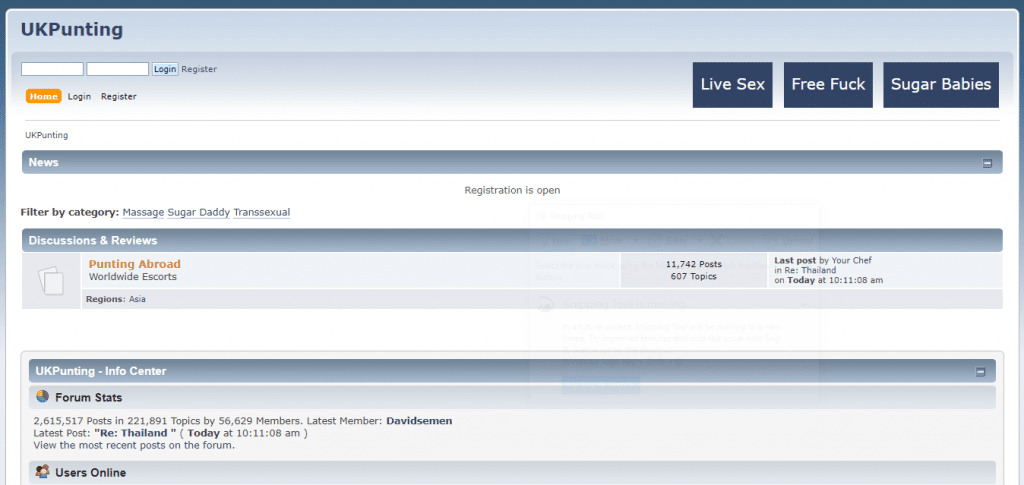 The UKPunting website is here to help UK-based hookers and seductive masseuses find legit clients. It is a place where horny dudes can freely express their sex lives, seek support, and provide others a place to blow off steam. Are you ready to connect and blow off your erotic secrets with like-minded people? If the answer is yes, then UKPunting must be your go-to site for all your needs.
It offers to help consumers and escort partners learn about each other to gain positive and satisfying sexual experiences. UKPunting gives consumers relevant details on other customers' experiences, helping them better understand what they're dealing with. Isn't that cool?
Take a look at UKPunting review.
PROS:
Plenty of links to fantastic porn videos
Great recommendations of safe and excellent porn sites with various niches
Relevant discussions and topics
The user interface is sensitive and uncomplicated to use
Reviews are detailed and accurate
CONS:
Few porn banners are available
Design is too simple
---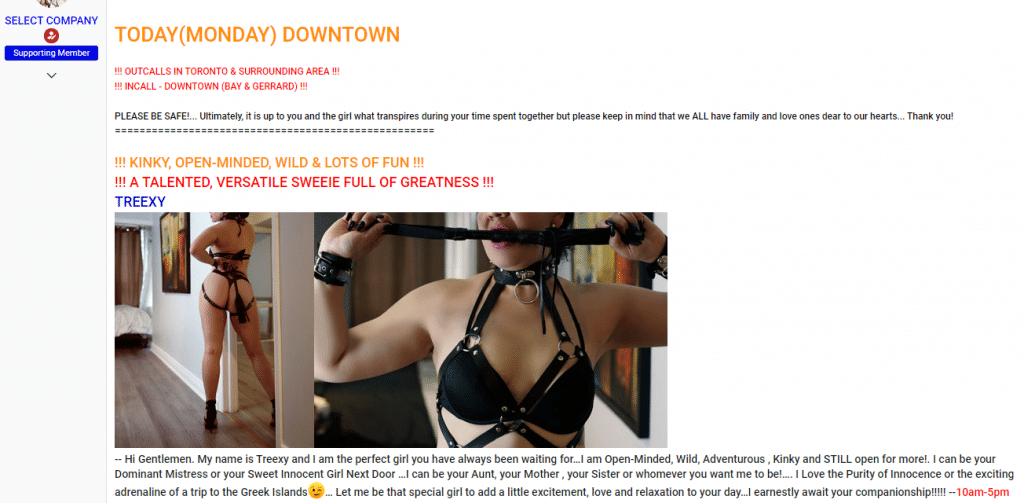 The TERB website has existed for a long time and claims to provide an objective, non-bias assessment of everyone's ideas. Their team works hard each day to make it a fantastic community. For ten years, TERB has been doing business as a community resource for Toronto escorts and massages. The TERB forums are meant to be for your fun and edification, accommodate independent contractors, and match personalized needs for Toronto agencies.
Here's the full review of TERB.
PROS:
Great design
User-friendly interface and navigation
Active users every day
Plenty of forums
CONS:
---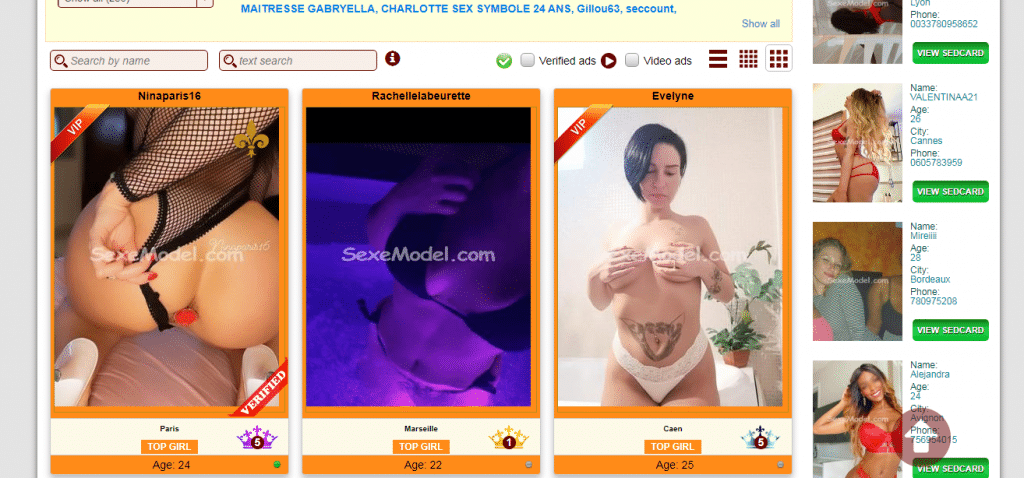 A site's homepage design is a significant factor for it to suit your liking. We must say that SexeModel doesn't have a commendable design, although it is more professional-looking. It looks pretty basic, but of course, since we know what we want, this part of the review won't matter since the contents are good. SexeModels have a lot of escorts on their sleeves. And when we say a lot, it is. Escorts from different locations are always ready to have some fun with you in exchange for a bit of cash. Aside from female escorts, they also have male and transgender escorts, so whatever floats your boat, you can still enjoy the site's contents and services.
Read our full review of SexeModel.
PROS:
Very sexy escorts
Offers short clips of the escorts
A lot of escorts – female, male, trans
CONS:
The website looks pretty bad in general
Unorganized features and buttons
The site will need some design upgrade
---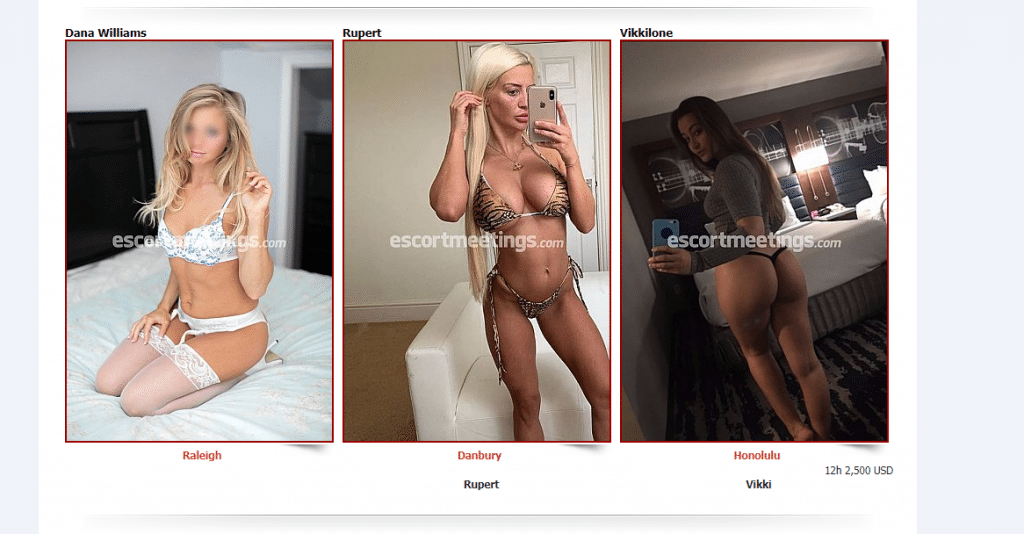 Any travel is fruitful if you can fuck some gorgeous locals. However, where you can find a company for a night or two is another question. And that's where EscortMeetings comes in handy. Surprisingly, most of the world's big cities, most beautiful women, and most of the world's most eligible escorts are all in this one fantastic spot.
Finding an escort should be easier now that you can use EscortMeetings. Don't forget about the extended search options, and an endless number of hookers who will cater to your sick fantasies are available on this platform.
Click here for EscortMeetings full review.
PROS:
Registration is free
Book escort free of charge
Usability is simple and easy to understand
A lot of beautiful escorts to check out
Plenty of escorts are open for kinky services
Girls are often willing to travel
Plenty of escorts you can pick from different parts of the world
Direct contact escorts, no agencies
Credible and accurate website of escort list
New updates of escort every week
CONS:
Need registration to post comments
Quite a simple website design
Some of the escort images are low-quality resolution
---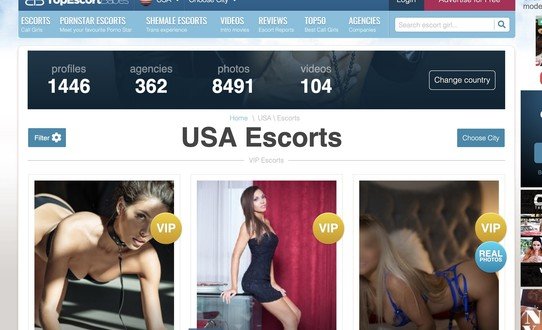 As the internet grows, escort services have increased on various websites. Many of them have gorgeous, super-arousing female escorts. Functionalities and credibility, however, differ significantly from one brand to another. So, if you're an erotic seeker and your dream is to spend one of the sexiest moments of your life, you should pick out the best suitable escort platform there is. One of these relevant websites is Top Escort Babes.
Top Escort Babes is an escort service website we all know about. They offer intimate companionship on demand if you ever need some late-night company! The website provides information on the thousand most well-known pornstars, women, shemale escort models, and celebrities worldwide.
Check out TopEscortBabes review.
PROS:
It has thousands of escorts and plenty of featured agencies worldwide
Supports multiple languages
It does not require registration
It has a built-in messaging feature
Indicates suspicious accounts using the "Suspicious Profil" badge
There are pornstars available as escorts
Simple, elegant, and great design
A fast and smooth browsing experience
Supports mobile browsing
Plenty of escort categories to choose from
CONS:
Lacks searching features
Some escorts are pretty expensive
---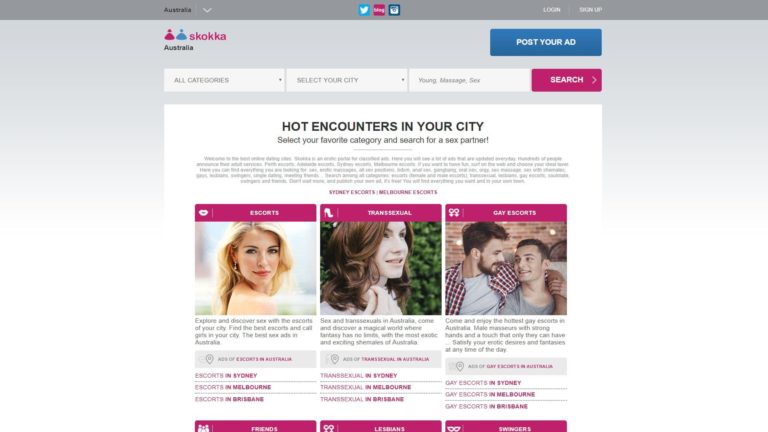 This website is popularly known as Skokka.com. Skokka.com is insanely popular, with over 30,000+ unique visitors every day. These numbers suggest high demand and only show how successful the site is. The overwhelming number of site visitors might result from the many offered countries on the front page's list. If you have a little cash and somewhat bored of your hand is the only contact you get these days, it cannot hurt to try anyway.
Click here for Skokka full review.
PROS:
Plenty of escorts with escort listings all over the world
Advertisements for casual encounters
Respond to ad on-site
Several thumbnails and good display
Accessible to search and use
No membership required
CONS:
I could not find user reviews
Average site features
Some advertisements do not display pictures
Prices are sometimes not listed
---
Takeaways
Book your Asian slut with Asian Fever. This escort page gives a solid directory of Asian beauties residing in Canada, specifically Vancouver, Burnaby, and Langley. The high-end selection of profile images and set of sexual services made Asian Fever a top escort destination. Filter options like language, location, and pricing rate are available. There are also non-Asian sluts to accommodate fans' varied needs. Overall, the impressive portfolios and tantalizing images give Asian Fever an excellent standing in the escort market. Check the page today!
All 110 Other Sites in This Category Worth Checking Out:
NewYork Exgirlfriend & Top-12 Escort Sites Like New-york.exgirlfriend.com Show Me 12 Alternatives for New-york.exgirlfriend.com Hey there! We all know the struggle of finding escort services online, hoping to find that diamond in the rough – the perfect escort model who'll make your heart race and your desires sing. In this wild world of the Internet, it's […]