Updated on: December 8th, 2023
Shag.co.uk Review
& 12 Must-Visit Hookup Sites Similar to shag.co.uk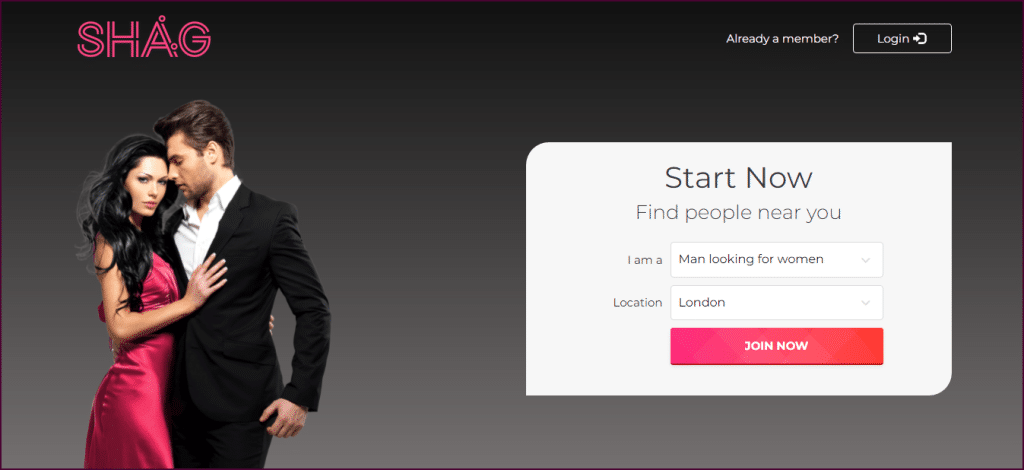 Amidst the unpredictability of the Covid virus, thinking of what to do just to make ourselves productive is tricky and challenging. Nowadays, it appears that everything carries the possibility of infection or death. For many folks, going out with their buddies or picking up a prostitute is enough to make them anxious. So, instead of getting anxious throughout these crazy moments, I've switched to the least risky fun activities —fucking people online through Shag.co.uk. Are you seeking a one drunken night? What about a swinging buddy to fulfill your greatest fantasies?? Well, it's Shag's pleasure to serve you the best hookup service and assist in meeting your perfect match!
Official URL: https://shag.co.uk
Become A Shag User!
Shag.co.uk's signup process is pretty simple and efficient. The only things required throughout the user registration are a few basic details, like your gender, username, password, and e-mail account. Then, after filling out, a new screen will pop up that will ask you to verify the information you've provided. Yes, Shag.co.uk has a verification process to reduce, if not eliminate, the number of fake profiles lurking on the site.
To do this, the system automatically redirects your registration with a link, and when clicked, it should prompt the start of the verification process. Once that is done, you will receive a message from the Shag admins through the e-mail provided during registration. This e-mail will serve as your portal to officially confirm your identity, and the system will redirect you to the profile homepage.
User Profile of Members
Kudos to Shag.co.uk! The team behind this site has managed to provide a detailed profile and sustain it. Each member profile has numerous sections that contain different information about yourself. Apart from information, there are also photos available that you can access for free. It's a good start since photos are among the things that are really important when hunting for hookups.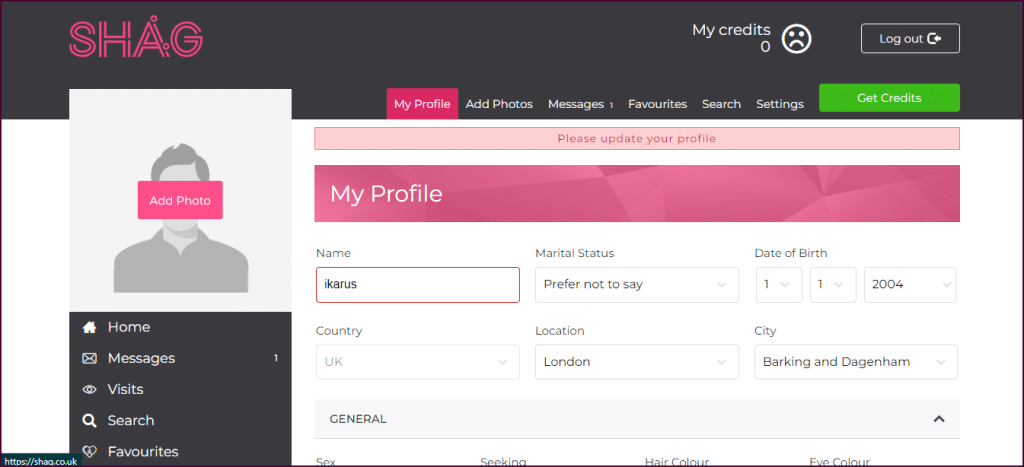 The member profile is generally composed of Preferences, Profile Restrictions, Character, and Photos. Let's discuss them one by one. To start, the Preferences section is where you can find all the preferred relationships of the user —be it swinger, hookup, casual dating, gays, etc. Personally, I like the idea of incorporating such information to skip wasting time on people we don't share similar preferences.
Additionally, the Character section is where the characteristics of the user can be found. You can use this trying to get to know the user initially before initiating a connection. The Profile Restriction section details the user's limits in various aspects. I've seen some users indicate their limits on first dates, way of communication, etc. Last but not least, the Photo section is obviously where images of users belong. Take a look at them and see if they look fine ass to you. I mean, we all wish to hook up with gorgeous hotties, don't we?
The Shag's Member Pool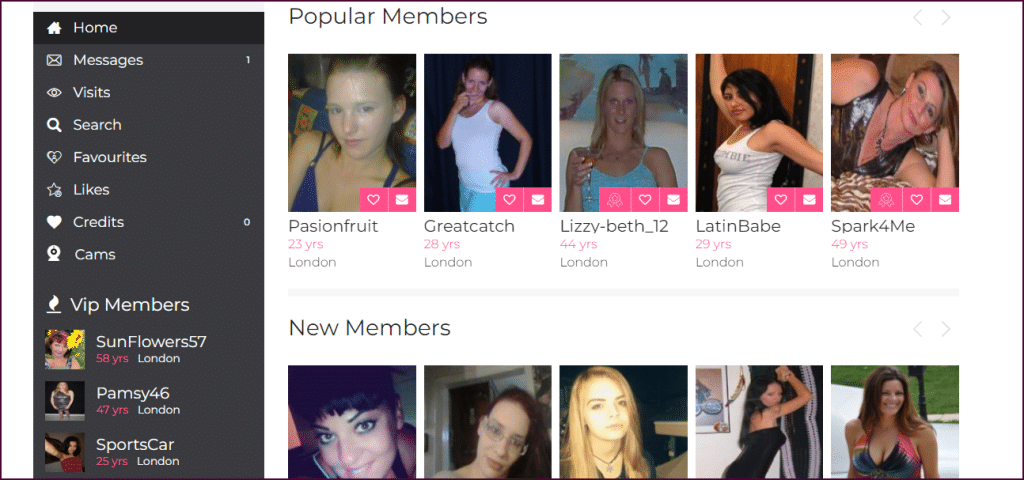 After browsing for hours, I realized that many of Shag.co.uk's members came from the United Kingdom. Of course, other users are signing up from numerous parts of the world. Some of the countries I found were Denmark, Ukraine, the United States, and Poland. Definitely, Shag is not just focused on one place but aims to cover the entire world. And with its drive to cater to worldwide horny folks, they have widened their territory to other areas like Sweden, Spain, Canada, the Czech Republic, Portugal, Romania, Greece, and Germany.
Meanwhile, the gender ratio of Shag is quite unbalanced. Currently, they have higher members on the male side than the female —precisely 80% of it. Also, most of the members belong to the age range of "young adult," but of course, there are still other members with ages from the late 40s to 60s. It's unusual to find couples around here, but Shag.co.uk still welcomes anyone looking for swinger couples. Finally, most of its members are singles, so there's an excellent potential for finding casual sex and free-spirited sex adventures on Shag.co.uk.
Start Flirting and Get Hookups in Minutes!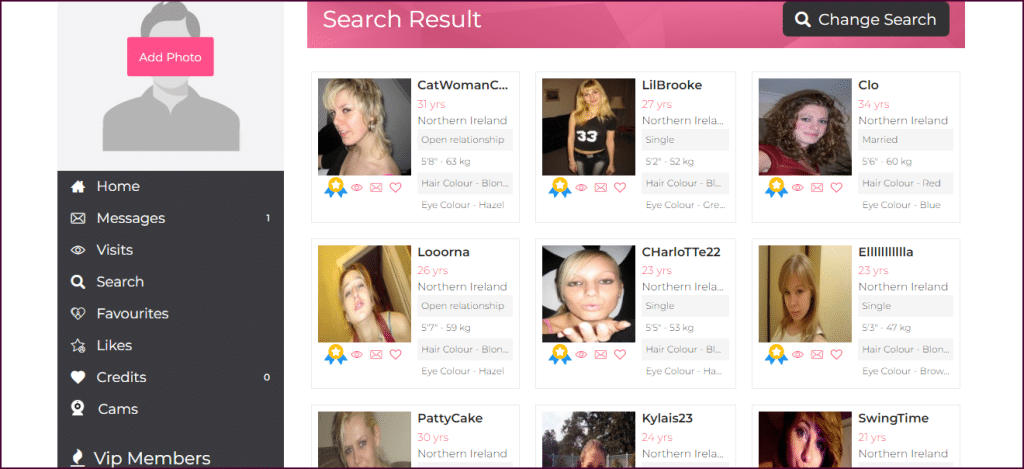 Connecting with several Shag users is pretty convenient, simple, and fast. Just like other hookup and dating sites, Shag uses private messages for communication and interaction. Currently, Shag offers free private messaging but is limited to one message daily. But, if you think you found "the one" and wish to continue flirting, Shag won't allow it unless you get an account upgrade.
Unfortunately, unlimited messaging is not a free service. Before connecting, you should purchase "credits" that will serve your in-site money. Good thing there are plenty of packages you can choose from, so if you're on a tight budget right now, there are still credits that suit whatever you have.
Meanwhile, to hunt for better and most appropriate matches, Shag.co.uk has an advanced search tool. You can narrow your searches into the most preferred users with qualities that match your interests. Finally, Shag.co.uk offers more communication features like sending "hearts" and online gifts when you get connected. These features are typically used as ice breakers and little entertainment while exchanging chats.
Shag's Special Chat Features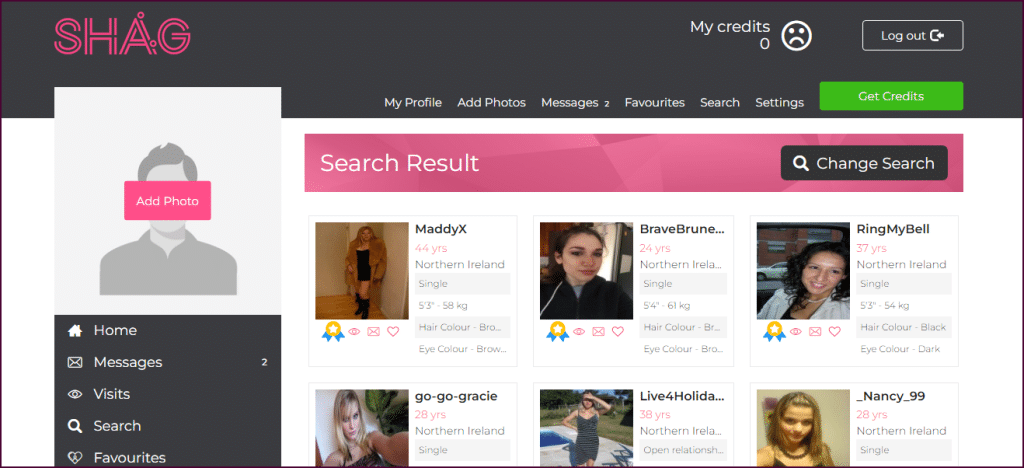 The searching feature is a free-based tool that can be used when looking for more user matching. Often, Shag members use the search engine for hunting for specific members that match their preferences, lifestyle, and interests. Currently, Shag has numerous filters available, and these will help you refine your hunt.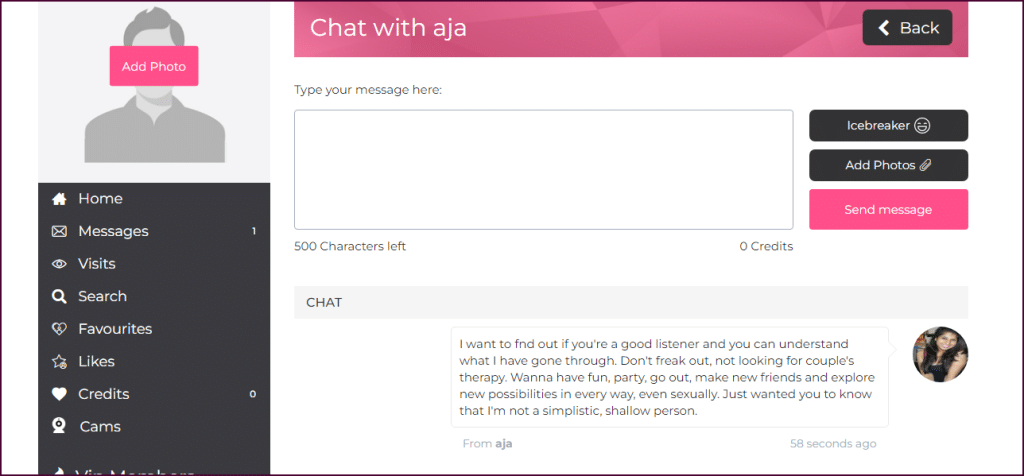 The Live Chat toll is a unique feature of Shag.co.uk that you can use to experience real-time interaction. With this, two users can exchange messages using the live chat and flirt with no interruptions. Certainly, many Shag users were able to find hookups and dates using this tool, and I guess you could too! Just remember, this feature only works when the other person on the line is online.
The Shag Blog
Yes, blog! Apart from being a hookup site, Shag.co.uk also has a fantastic blog section where users and even non-members can check out for valuable information. Typically, the blogs are all about tips, guidelines, professional advice, and anything helpful in people's lives. There are also blogs related to flirting and dates that could be useful for the newbies.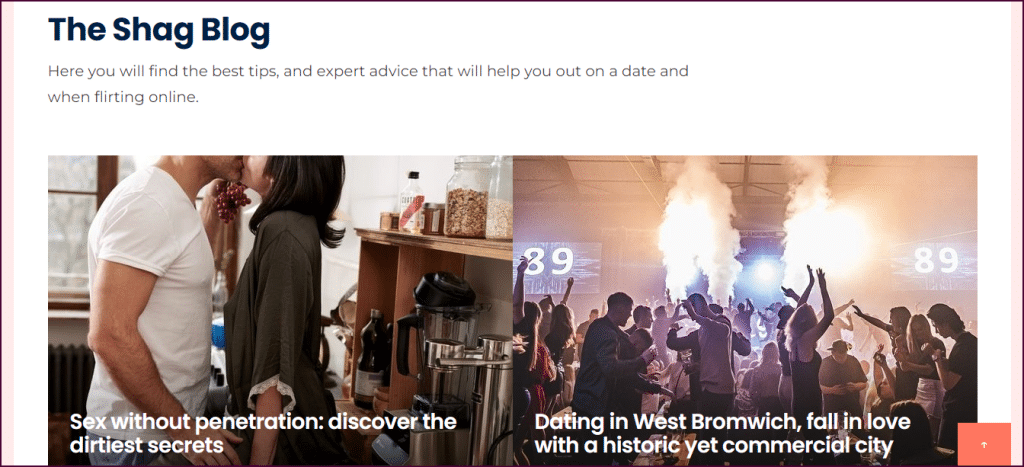 I found some interesting articles like "Sex Without Penetration: Discover The Dirtiest Secrets" and "How To Drive A Woman Crazy In Bed. " They captured my attention, and I thought they were good blogs to start. I went ahead and scrolled some more. Surprisingly, I found some tips that should be useful for first-timers, including "What Does A Woman Look For In A Man" and "Fun Ideas For A Date."
Additionally, Shag's blog section offers knowledgeable articles talking about safe sex and valuable tips. I found several great reads like "What Is The Best Form Of Contraception? The Secret" and "The Very Best Ten Exercises For A Better Sex Life." But if you want to stick with dating and flirting, Shag got you covered! There were hundreds of articles discussing some guidelines and tips on dating in numerous parts of the world. Some of these are "Dating In Watford, Fall In Love In Its Great Parks" and "Dating in West Bromwich."
Currently, the site offers different blog categories that discuss numerous topics about Advice, Cities, Sex, and Tips for couples and flirting. Whatever you need, I'm sure you will find it on Shag's Blog!
Membership and Credit Prices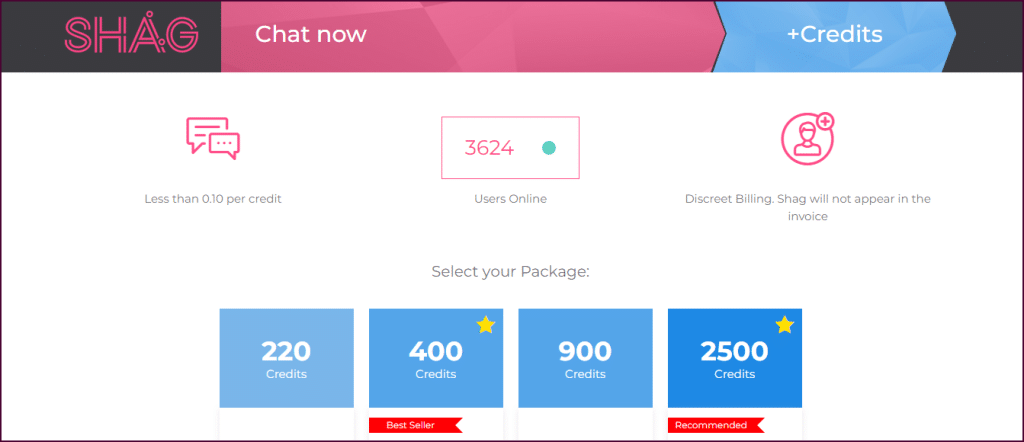 If you compare Shag.co.uk's Membership and credit prices on other hookup sites, they are quite in the average range. Here's a summary of its updated prices:
Membership
3 Month-Membership — 13.33£ (4.44£ per Month)
6 Month-Membership — 59.94£ (9.99£ per Month)
12 Months-Membership — 99.96£ (8.33£ per Month)
Credits
220 Credits — 29.99£ (0.14£ per Credit)
400 Credits — 49.99£ (0.12£ per Credit)
900 Credits — 99.99£ (0.11£ per Credit)
2,500 Credits — 249.99£ (0.10£ per Credit)
What Benefits Can You Get From Shag.co.uk Membership?
A basic or free-based membership only gives limited access to the Shag.co.uk site. Some of these free services include signing up for an account, browsing user profiles, and exploring matches through the searching feature. If you want to expand your access, I hate to tell it, but those are the only things you can do for free. Also, the site offers one message per day for all basic users, but other than that, Shag is pretty useful if you are not a premium user.
For the premium membership, Shag.co.uk offers bountiful services to everyone! You can enjoy sending unlimited messages to potential hookup matches, flirt all you want, and stay connected whenever you wish. Also, the premium members will have a "Premium Star" badge on their profiles to show they're serious about getting hookups.
On top of those perks, Shag.co.uk gives you the privilege of sending online gifts and hearts to anyone. Typically, gifts and hearts are signs of showing interest and could spark a date in minutes. Anyway, if you can't afford a one-time payment for the membership packages, Shag offers credit purchases. These credits can be used to access premium features and services. All in all, the site is pretty flexible in terms of Membership, usage, and credit purchases.
Pros and Cons of Shag.co.uk
PROS:
Large membership pool
Great features
Easy hookup process
Registration is free
Design is simple but easy to navigate
Lots of perks for premium members
CONS:
Requires Membership and credits to send messages
Limited free features
---
12 Must-Visit Hookup Sites Similar to Shag.co.uk: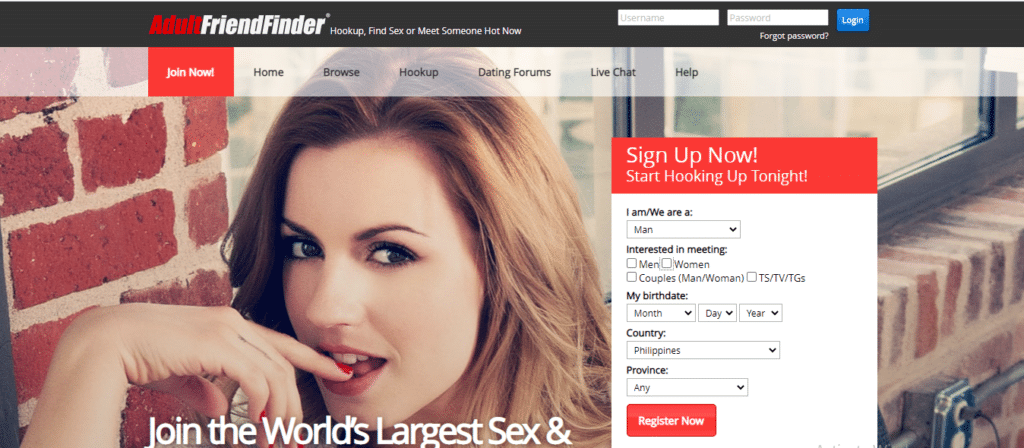 The Adult Friend Finder website is famous all over the world. It has more than eighty million members desiring erotic interactions with multiple women. Similarly, it provides numerous flirtatious relationships, such as casual connections, monogamy, couples, fuck buddies, and many more.
Indeed, this is an excellent experience that spices things up in the bedroom, especially between open-minded people willing to examine their sexual orientation. Finally, registration is relatively stress-free and straightforward, so members finish it in less than five minutes.
Here's the full review of AdultFriendFinder.
PROS:
Registration is free and fast
The members of the website are active in looking for casual hookups
Plenty of options in terms of communication
Watching videos and viewing images are free
You can write blogs and engage in a group conversation
The app is available for download and compatible with both iOS and Android devices
CONS:
The number of male participants is larger
Limited options for free basic accounts
---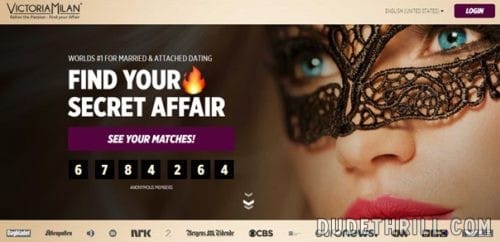 Victoria Milan is one of the favorite dating websites worldwide for cheating couples and committed relationships. Indeed, the website provides a secured and private venue where you can experience sexual connections.
So, if you are lonely or in a monotonous relationship, the website delivers a fantastic escape from this misery. Indeed, it transforms lousy sex life into a more fun and exciting journey. Above all, you do not have to worry about getting caught because the website has a "Panic Button." So, you can exit the page without getting caught.
Click here for Victoria Milan full review.
PROS:
More than six million members across the world
Registration is hassle-free and simple
The design of the site is simple and easy to navigate
Features like winks and adding to favorites are free to use
Callout boxes use to address problems, issues, and concerns regarding the site
The app version is available for download on Google Play Store and App Store
CONS:
Video calling is not available
Only the paid members send and view messages
---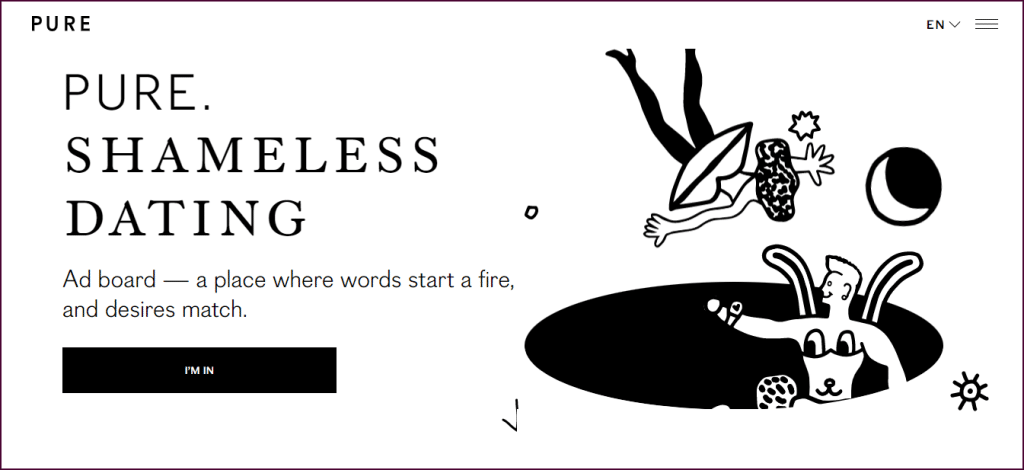 The Pure app is a GPS-focused online hookup platform developed by GetPure Inc. Its primary purpose is to link up singles from numerous parts of the world within a specific duration. Even though the Tinder app is the most popular dating website, Pure quickly grows and gains popularity. It was marketed as a hookup app with the complete anonymity of users. And that's because Pure users can choose not to submit any personal information, not even photos or contact numbers.
PROS:
Very safe to use
Anonymous identity
High level of privacy
Ladies are free to use
Efficient and fast hookup
Fewer bots available
Do not waste your time or money
CONS:
Trial membership requires credit card info
Limited time to connect
Low-quality algorithm for matching
---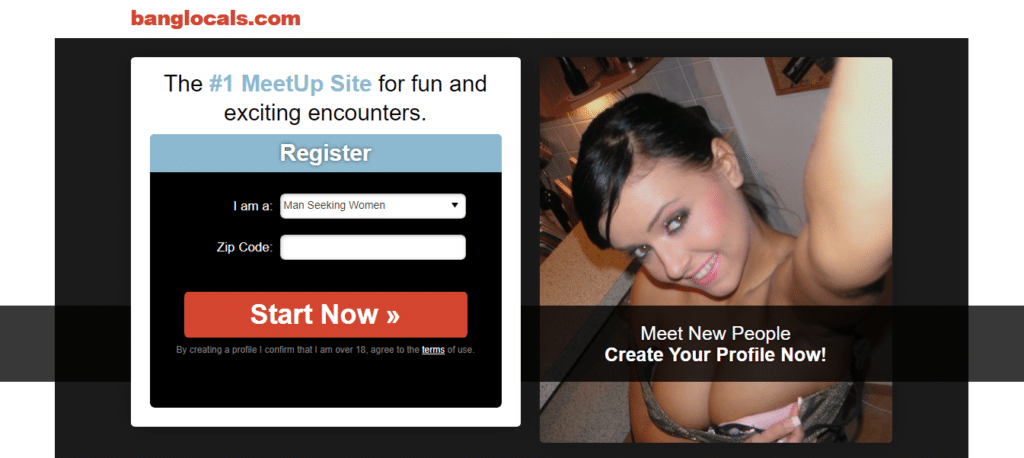 Banglocals is a must-visit website for people looking for a perfect match for sex, dates, and casual affairs. Regardless of the number of competitive websites out there, it has remained on the top spot today. Indeed, our lives are a shitload of work and stress. All we want is relaxing and calming ways to release it. Certainly, a great buddy who will stimulate our sexual desires can make life full of enjoyment. Good thing, Banglocals is a sex dating website that uses a simple process in registration. So, everyone will right away experience pleasure. Indeed, everyone has the chance to find a hot, sexy mate.
Click for a full review of BangLocals.
PROS:
People can create a sex date network
Free to search profiles of other members
View galleries of images and videos
People can give ratings to hot members
Registration is free and easy
Encourages to post personal images or upload public content
You can contact people through text or e-mail
CONS:
No x-rated videos
No trial period
---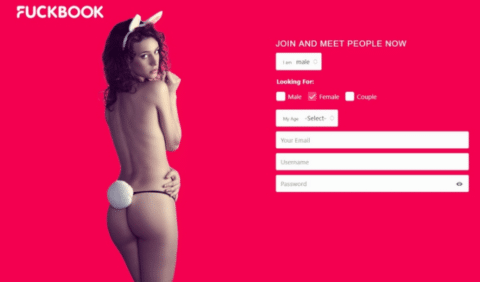 A perfect website for casual relationships and sex hookups is called FuckBook. Here, you are given opportunities to find swinger encounters, sex dates, and many more. This is convenient for people seeking a no-strings-attached relationship as quickly as possible. From the name of this site itself, you know exactly what you are getting into once you scroll through the platform. The interface and features of the FuckBook are straightforward and convenient compared to other swinger dating sites on the internet.
PROS:
Profiles created are numerous
The website has a design that is easy to navigate and use
Signing up is fast and instant
Membership is affordable but with lots of advantages
CONS:
There are annoying advertisements on the site
---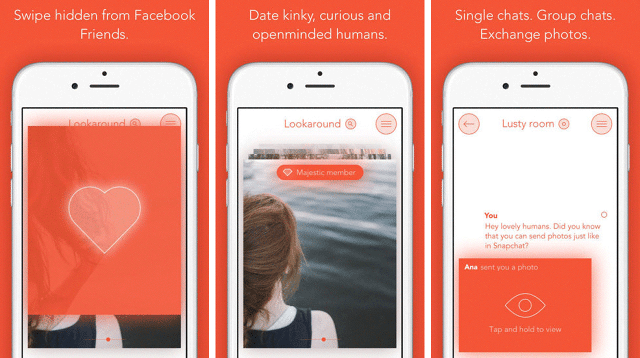 For many of you who didn't know, Feeld is not just for dating but also for multiple hookups. The admins intend to create a platform where everybody, even in groups, flirts and interacts. In fact, the title "Feeld" was from the root term "play in the field" because the apps function as a ground or foundation where people can match, connect, and hook up to any users nearby.
PROS:
Wide range of sexuality available
Welcoming and open to all
Free to download
The app is both available on Apple and Google Play
Incognito is available
It has exciting blogs and articles
Lots of members
Modern app design
Easy to use
Uses verification process upon registration
CONS:
No site available
Features are quite modest
Requires Facebook to register
---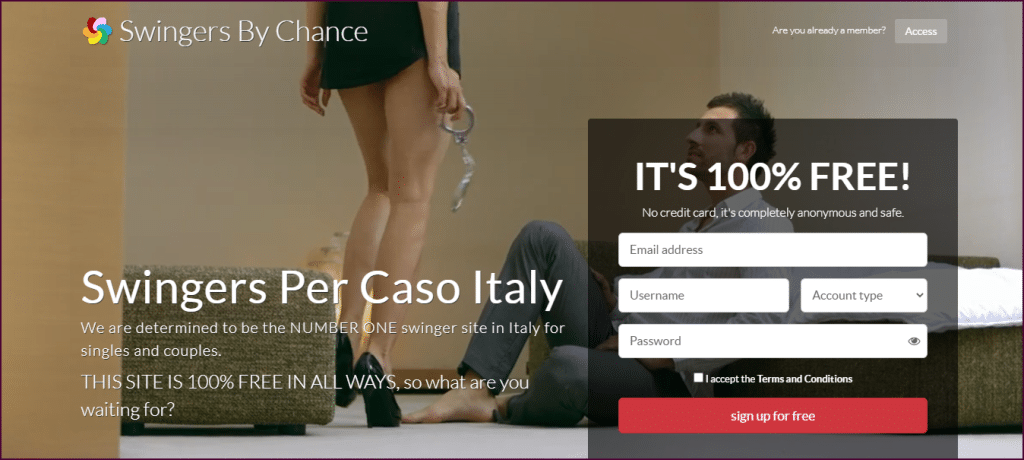 The Scambistipercaso is an exciting site in Italy. It has been around since 2018, but it has attracted plenty of users in Italy despite being new. With the help of Scambistipercaso's relevant links, ads, and recommendations, finding that perfect swinger would be much easier. Not to mention, it has incredible tools, features, and search functions that are conveniently made to make your browsing quicker.
Take a look at Scambistipercaso (Swingers By Chance) review.
PROS:
Largest directory
Active members
Exclusive for swingers and doggers
Numerous features
Private and anonymous members
It has parties, groups, and clubs for swingers
Free to use
CONS:
---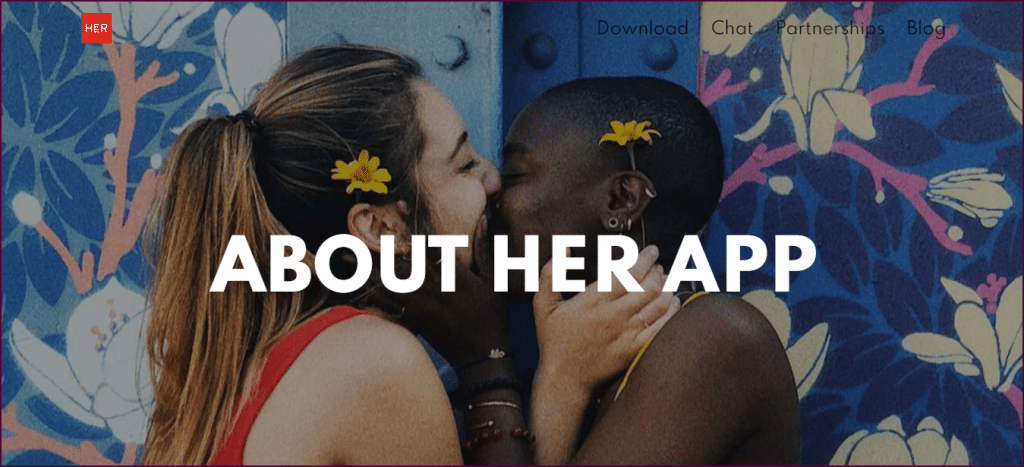 If you're part of the LGBTQ+ group, the apps oriented for straight users can be a little intimidating. But now, the tables turned after the release of HER. HER is promoting openness and a welcoming environment. So they are encouraging all the members of the LGBTQ+ community to become a member of this app. After years of improving and implementing the demands of users worldwide, HER is now among the most extensive and sought-after dating apps for the LGBTQ+ community.
PROS:
Inclusive to LGBTQ+ community
Design is modern and stylish
Free to use
Most features are accessible for free
Active members
Open and welcoming to all
Uses verification process to ensure security
Numerous features to connect
CONS:
Limited swipes for basic users
No website available
---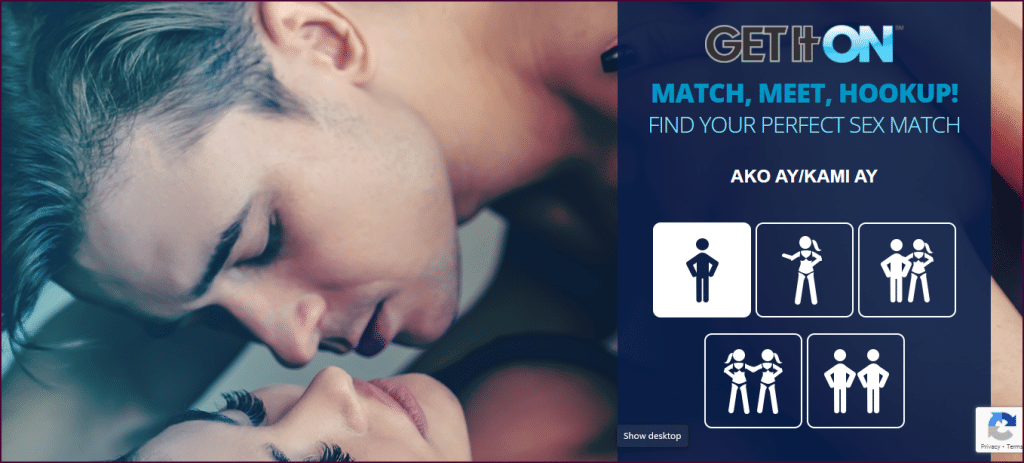 GetItON is an excellent hookup website that helps people find casual sex fun, easier, and more convenient way. Its sophisticated matching approach is very practical in finding your best sexual matches. With this ranking and features available, GetItON definitely offers efficient and easy access to all the hottest and sexiest users in the world.
PROS:
Massive members
Users are actively participating
Features are cool
Easy hookup method
Design is great
CONS:
Requires premium Membership
Features are primarily for premium users
---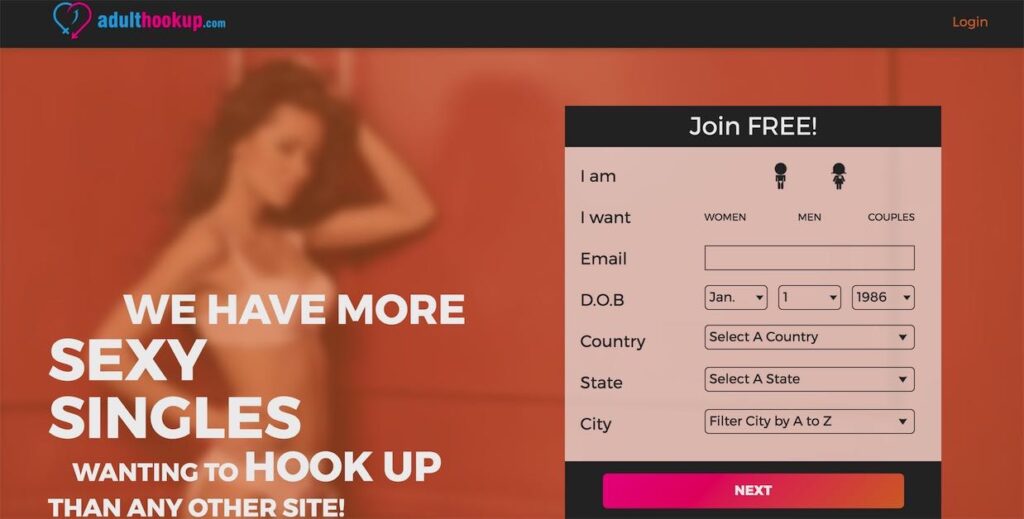 Adult hookup is a dating website that will indeed surpass all your expectations in terms of hookup and dating. Regardless of being new, the Adult Hookup website provides excellent ratings in giving a pleasurable and convenient experience among its members in finding a match. The website has a very stylish design and is simple to use.
Also, more than millions of its members are actively engaging in sexual connections every day. Indeed, there are many forms of communication between members, including video chats and instant messaging. Above all, Adult Hookup commits to giving its members the best sex and matches of their lives. Thus, they offer a 100-day Guarantee program that assures you to have sex less than this duration.
PROS:
SSL certificate and encrypted service used for Payments and transactions
New users can benefit from the free trial membership
An enormous collection of users worldwide
CONS:
Vast and distinct components of the site are available for premium members only
---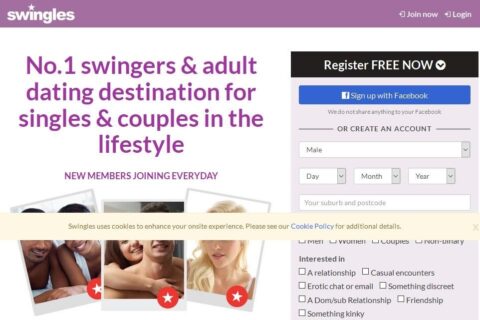 A quality site that provides comprehensive tools and features for the swinger lifestyle has come here. Swingles has thousands of members and features singles, couples, and swingers with the opportunity to explore the swinger lifestyle without judgment. It has a fast and easy registration process, and your account is ready to go. If you feel uncomfortable about showing yourself online, the site allows you to go invisible mode and upload sexy photos. Other members can only view it as per the invitation of the account owner.
PROS:
Plenty of members are interested in swinging
Chat rooms and live chats are available
CONS:
Newbies to the site may find the website confusing at first
---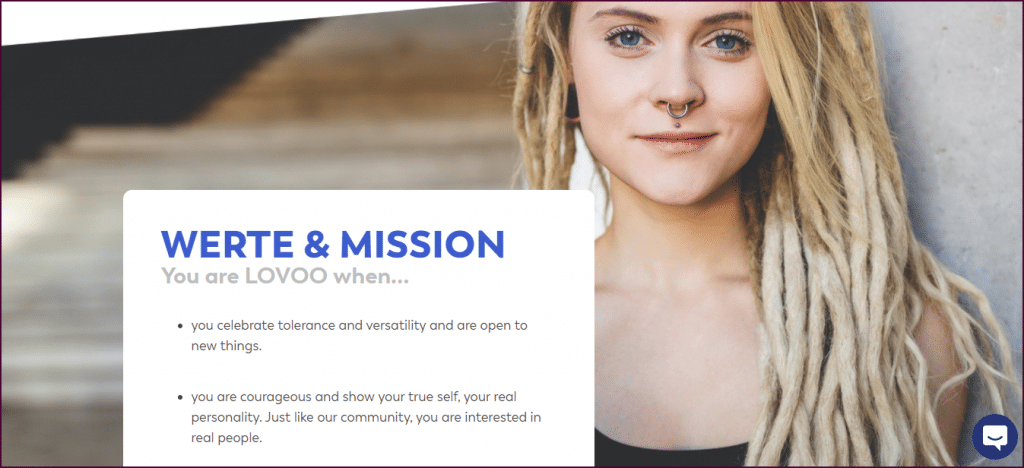 It's no surprise that Lovoo is one of the world's largest, most rapidly expanding, and widely-used dating sites today. There are plenty of singles to pick from its unique 70M+ subscribers. But the site's success is not just about the size of its members; it's also attributed to its focus on improving and continuous development of its IOS and Android-compatible apps. At this point, the number of people finding love on this matchmaking app has risen to almost 4K+ monthly.
PROS:
Open to all types of relationships —hookup, long-term, dating, casual, friendship, affair, flirt
Free registration
No reported fake accounts
High rate matches
Can register using Facebook
Roulette matching system
Verified members have badges
Affordable premium membership
CONS:
Some profiles have few details
Basic search engine
---
Takeaway
Overall, Shag.co.uk is pretty great for anyone looking for hookups and dates. It has good membership options and functions the way it is intended. There's not much to do around here if you're only a free member, but definitely, it's a worthwhile purchase once you become a premium member. Currently, the site is expanding its coverage from the United Kingdom and the rest of the world. I bet you can find suitable matches across different places and countries. Also, the security and convenience of hooking up with safety is such a plus point for me. If you want to experience hooking up the "Shag" way, you know what to do.
All 110 Other Sites in This Category Worth Checking Out:
NewYork Exgirlfriend & Top-12 Escort Sites Like New-york.exgirlfriend.com Show Me 12 Alternatives for New-york.exgirlfriend.com Hey there! We all know the struggle of finding escort services online, hoping to find that diamond in the rough – the perfect escort model who'll make your heart race and your desires sing. In this wild world of the Internet, it's […]