Updated on: December 3rd, 2023
Shemale Canada
& 12 Must-Visit Trans and Regular Escort Sites Like ShemaleCanada.com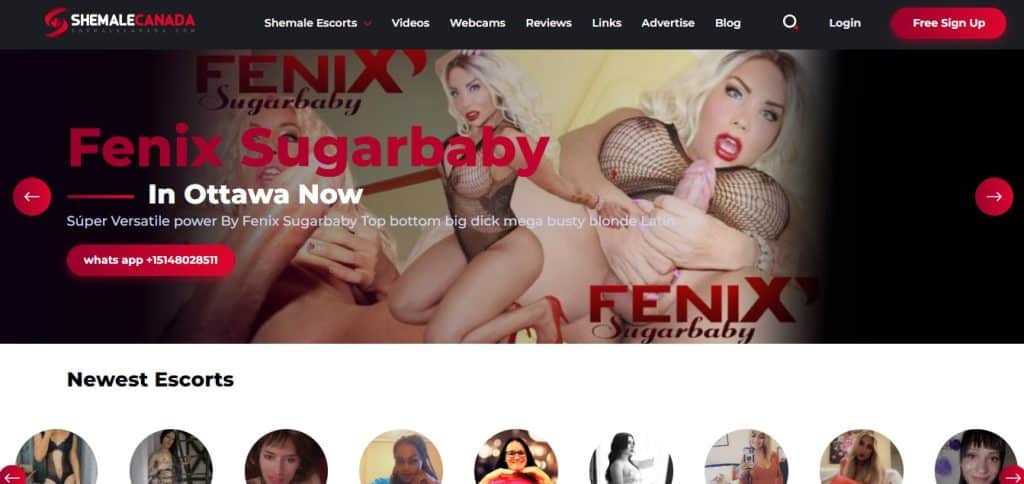 Alright, buckle up because we're about to take a trip back to the early 2000s, where ShemaleCanada.com has been holding it down since 2002. Yes, you read that right – it's practically an online dinosaur, but don't let its age fool you. This Canadian gem has been quietly thriving in the vast wilderness of the internet, drawing in 500K+ curious visitors monthly. It's like the granddaddy of Canadian escort directories, embracing its vintage charm while still being the go-to spot for anyone looking to dive into the world of shemale adult services.
Official URL: https://www.shemalecanada.com
I know what you're thinking – 500K+ monthly visitors? For a niche Canadian escort directory? It's like finding out your grandma's secret recipe for the best apple pie is a global sensation. But Shemale Canada isn't here to play small; it's like the rockstar of Canadian escort ads, and people can't get enough of its unique, nostalgic flavor. So, let's unravel the story of this site that's been satisfying the guys' needs.
Taking A Wild Ride Into The Vibrant World Of Shemalecanada.Com
Alright, buckle up because we're taking a wild ride into the vibrant world of ShemaleCanada, where fantasies unfold and desires meet reality. This isn't your grandma's knitting club; it's a playground for adults with a taste for the extraordinary.
Meanwhile, imagine you're strolling down the digital avenue of seduction, and what catches your eye? Banners slide on the upper corner, showcasing the crème de la crème of companionship. These aren't your average Joes; these are the high rollers, the VIPs, the folks who've made it rain in the world of visibility. But hold on, don't let the glitz and glam distract you, my friend.
Additionally, as you navigate this digital red-light district, you'll encounter a hierarchy of escorts. Picture this: VIP Escorts strutting their stuff at the top, Premium Escorts bringing their A-game, and down the ladder, the regular escorts doing their thing. Now, I know what you're thinking, "Do the Standards hold up?" Absolutely. A handful of the most stunning, jaw-dropping personalities are in the "Standard" section, defying expectations without breaking a sweat.
No matter your flavor, ShemaleCanada's got it all. Shemale MILFs? Check. Petite with huge cocks and the voluptuous vixens? Double-check. Asians, fiery Latinas, black goddesses, and classic blonde beauties? Check, check, and check. It's a buffet of options, a kaleidoscope of choices, ensuring that your fantasy isn't a needle in a haystack but a gem waiting to be discovered.
Shemale Canada Throws Sophistication Right From The Get-Go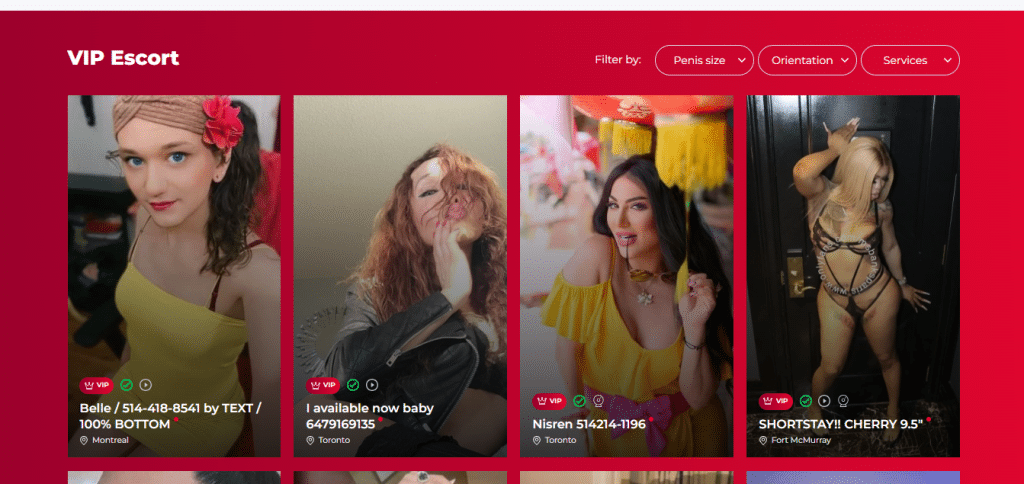 Jumping into Shemale Canada is like stepping into a glitter-filled, high-heeled wonderland. Unlike those other escort directories that seem to have taken design cues from the early days of the internet, Shemale Canada throws sophistication your way right from the get-go. There are no dull menus or eye-searing color schemes here. It's a visual feast where the dazzling t-girls steal the show.
Do you know how some sites throw everything at you before you even get a chance to blink? ShemaleCanada.com isn't playing that game. Instead, it eases you in with a parade of blondes, redheads, and stunning Asians, each vying for your attention from different map corners. It's like a buffet of exotic beauty, and I haven't even picked a specific area.
Now, unless you've got a private jet or a teleporter stashed away, you might want to narrow down your search. This site has classified ads scattered across the vast expanse of Canada. Yep, they've got a Location menu on the front page, teasing you lots of options. Sure, American idiots might think Canada is an escort shithole; however, those clueless souls haven't been hunting for trans models.
Navigating The Sea Of Tempting Options And Exclusive Options At Shemale Canada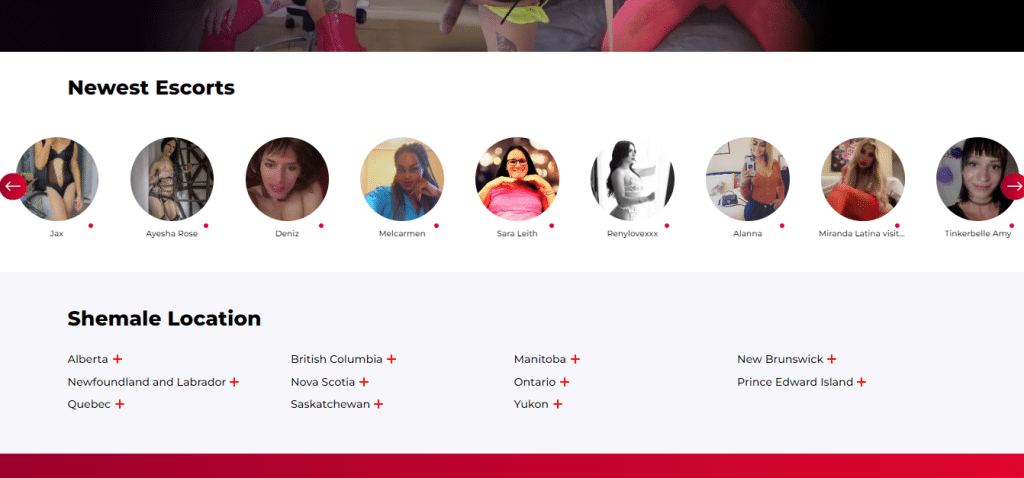 I found myself in the digital red-light district of ShemaleCanada.com, trying to navigate the sea of tempting options. Forget your typical online shopping filters; here, it's all about preferences that are a bit, let's say, more specific. We're talking about a menu where you can choose, well, the size of the anchor in the harbor. Yes, they have a whole selection for that. Do you want a submarine or a dinghy? They've got you covered.
But let's not get too hung up on the sizes. What caught my eye were the site's Premium and VIP areas. It's like stepping into an exclusive club where escorts with gravity-defying assets are the main attractions. For writing integrity, I decided to dive into the regular models section. You know, the meat and potatoes of the escort world.
The Taste Of VIP And Premium Shemale Escorts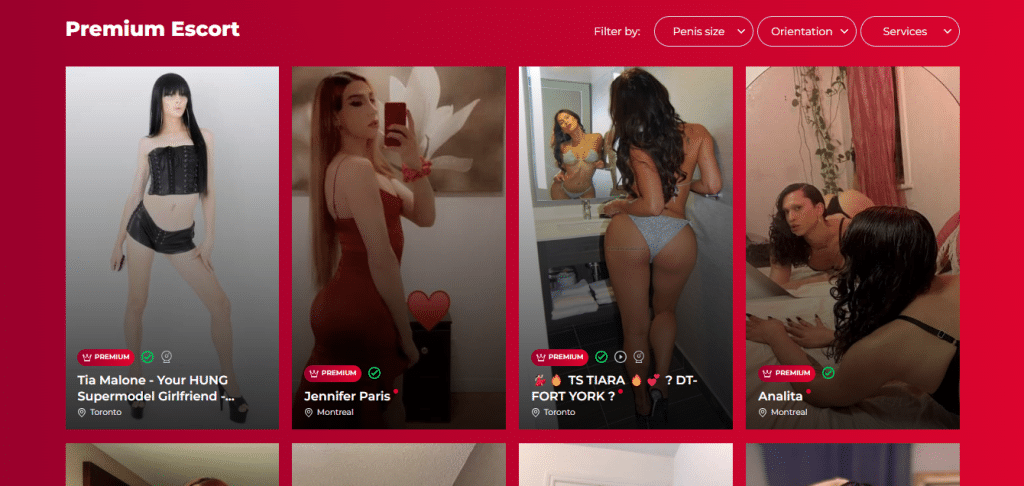 I started on my quest through ShemaleCanada by checking out what Toronto offered. Casually browse through the site's main menu, as one does when looking for companionship. The good folks at ShemaleCanada were thoughtful enough to quickly explain how many escorts I could find in numerous locations. Now, that's either promising or daunting, depending on your location.
Despite this site's bustling traffic, ShemaleCanada.com doesn't boast a shitload of escort ads compared to the grander escort platforms. Let's cut them some slack; they are niche enthusiasts dealing exclusively with trans providers. As expected, their canvas spans Canada, with apparent hotspots in the big cities.
Also, they've categorized the escort ads into different escort service qualities like regular, premium, and VIP. Yeah, I get the logic, but it feels like having three menus when you want to settle down with one. Instead of a seamless scroll, I struggle between these three tiers. It's like going to a buffet and realizing you must visit three separate rooms for appetizers, main course, and dessert. Not the smoothest experience, you know?
But let's be honest; the VIP section presents me with a dozen VIP and Premium shemale escorts before I hit the lineup of regular ones. Now, they've thrown in these neat filters, but when the menu is this lean, you're not exactly spoiled for choice. And if you're residing in a quiet city, well, good luck – you might need a magnifying glass.
Various Adult Services That Will Blow Your Mind!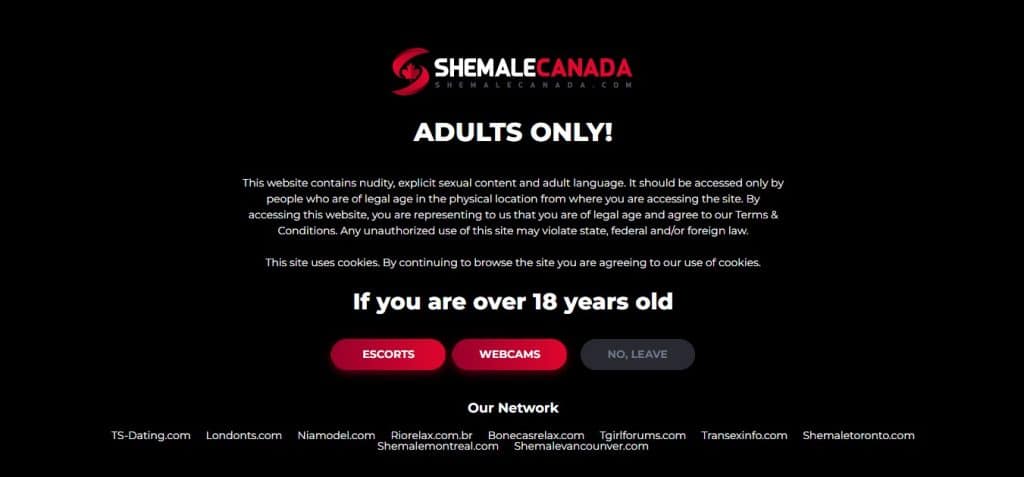 ShemaleCanada isn't precisely the Amazon of adult services. They don't bombard you with filters like body types or whether they prefer candlelit dinners or Netflix and chill. But they keep it simple. Penis size? Check. Orientations? Oh, they've got more orientations than a compass in a crazy storm. It's like a choose-your-own-adventure for adults.
I do wish they had more filters. You know, the kind that helps you narrow your search, like finding out if they do house calls or fit your budget. However, beggars can't be choosers, right? So, armed with my limited but somewhat intriguing filters, I ventured into the world of ShemaleCanada escorts, ready for whatever adventure lay ahead.
Extensive Shemale Service Menu Brought By Shemale Canada Escorts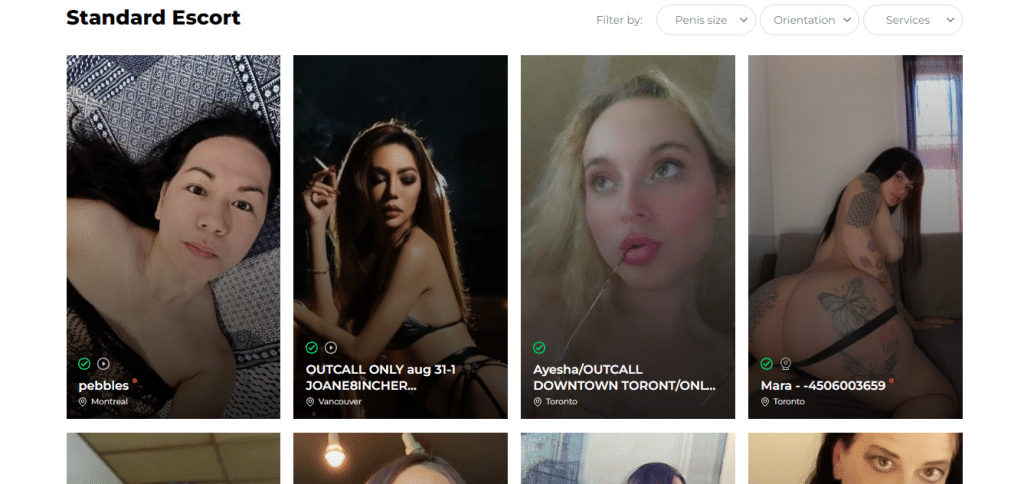 The service menu might not be as extensive as a buffet, but it gets straight to the point. We're not here for a gourmet dinner but for spicy listings, and ShemaleCanada delivers. Forget the secret code; these listings lay it all out for you. From BDSM to GFE, and even a sprinkle of Anal, it's like a menu where they don't bother with euphemisms. It's refreshing. No decoding is required, just a straightforward list of naughty offerings.
Additionally, when you dive into the ads, it's like a carnival of self-expression. Trans women aren't holding back; they're putting it all out there. The media section is where things get wild. Most ads come with a treasure trove of amateur videos and images, and we're not talking about your average selfies. No, we're talking about complete nude and nasty collection, including the good stuff—nudes. You can practically window-shop before deciding to meet the talent in person. Some even give you a sneak peek of their skills in preview videos. Who doesn't want a little trailer before the main show, right?
Shemale Canada Continues To Reign Supreme In Shemale Adult Services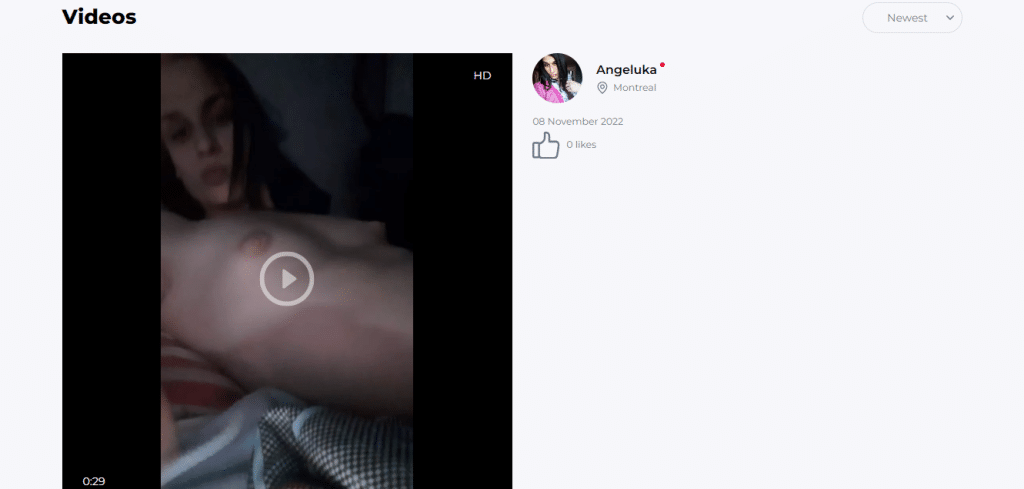 Ah, after a leisurely evening exploring the dazzling array of enchanting individuals on ShemaleCanada, it's glaringly apparent why this site continues to reign supreme in adult services. Let's talk aesthetics – it's like the James Bond of escort sites, suave and sophisticated. Navigating it is a breeze, almost like having a GPS for your desires.
However, let's get to the main event – the shitload of stunning shemale escorts offering exclusive adult services all over the vast expanse of Canada. It's not just a range; it's an array of choices. If you're up north, searching for companionship and craving the extraordinary, skipping this site would be like forgetting your umbrella on a rainy day – not the brightest move.
It's the platform where you're not just scrolling; you're on a quest to find the one who aligns with your fantasies. It's like searching for the perfect slice of pizza in New York – overwhelming but worth it when you find the right one.
Looking For Customer Reviews But To No Avail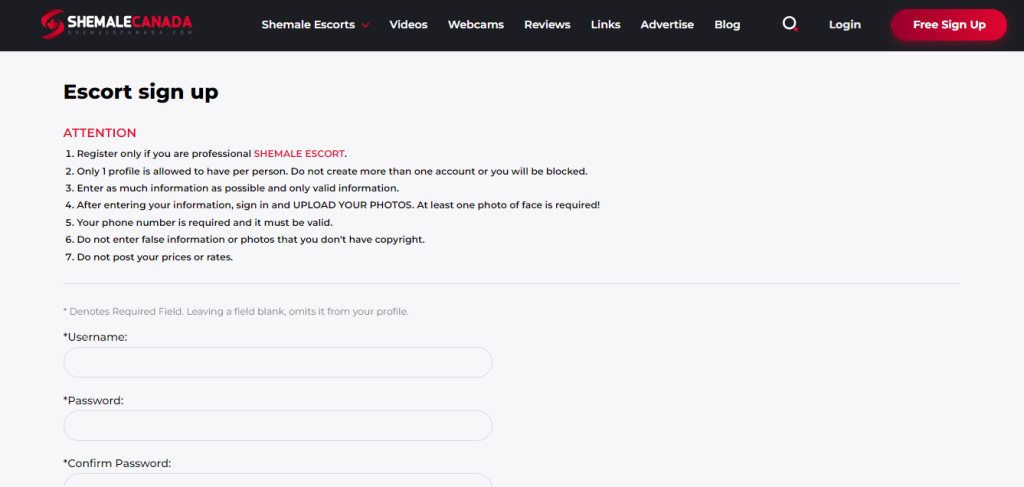 Finding customer reviews is like discovering a secret treasure map when navigating the jungle of escort sites. Who wants to mindlessly spend their hard-earned cash without hinting at what they're getting into, especially in an industry with a knack for the mysterious?
Now, here's the twist. ShemaleCanada.com doesn't hand you a neat folder labeled "Reviews," but it's not hard to get either. Instead, it's more like a comments section party where people spill the tea on their experiences. It's a bit like eavesdropping on the juiciest conversations at a cafe, except it's all about ensuring you're investing in a good time.
So, imagine this as your online Sherlock Holmes magnifying glass, where you can pick up on the vibes, tales, and occasional plot twists shared by fellow adventurers who've treaded these online escort realms before you. It's the kind of real talk you need in a world that's always been a hush-hush.
Pros and Cons of ShemaleCanada.com
PROS:
Profiles and ad postings have plenty of videos and photos attached
Users provide comments on models
No need to sign up
Focused on shemale escorts
Canadian site
Different escorts available
Lots of models you can book
CONS:
The search feature needs improvement
---
12 Must-Visit Trans and Regular Escort Sites Similar to ShemaleCanada.com: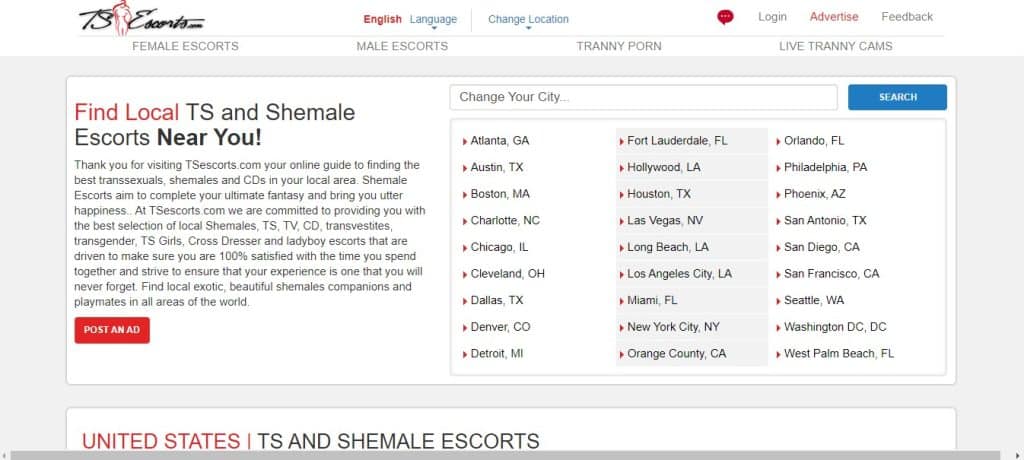 TSEscorts.com is a pretty good website that you should check out. It has just about everything you could ever want out of a shemale escort site, and it offers all of this information for free. You don't even have to make an account to enjoy what this site has to offer. Isn't this the most crucial part of the experience? I think TSEscorts is one of the best places for you to schedule a hot shemale to fuck with, and that's coming from a guy who has had many experiences with tranny escorts.
PROS:
vast selection of VIP and ordinary escorts
Worldwide coverage
all the info and photos are available for free
CONS:
some regions are empty
no dark mode
boring design and outdated look
---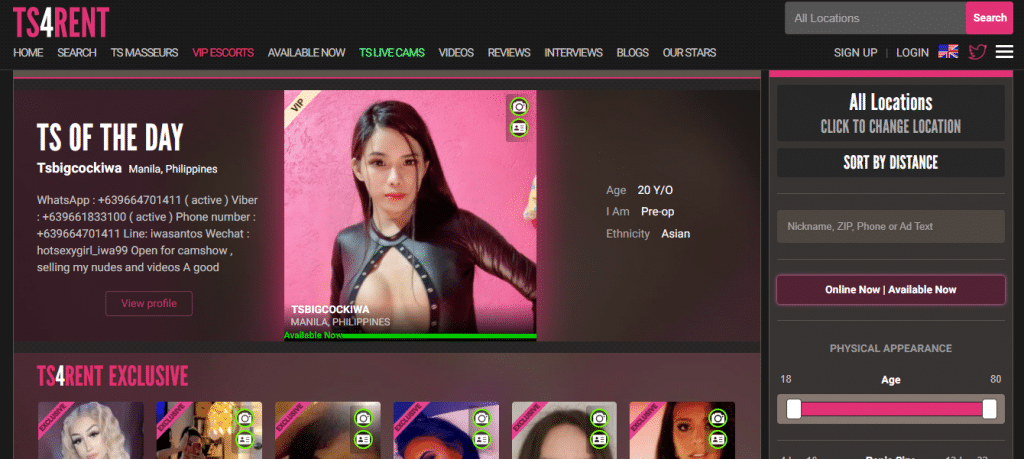 TS4Renters is a fantastic site where you can find unique and perfect trans girls for a fantastic value. The majority of these women are easily found in major European cities, especially London. With just one click, you get to enjoy a dirty weekend with some hot companion.
Click here for a full review of TS4Rent.
PROS:
It has an "Available now" section
TS massages are available
The website has a luxurious design and feel
Public nude images are available
CONS:
Some of the design elements are pretty clickbaity
---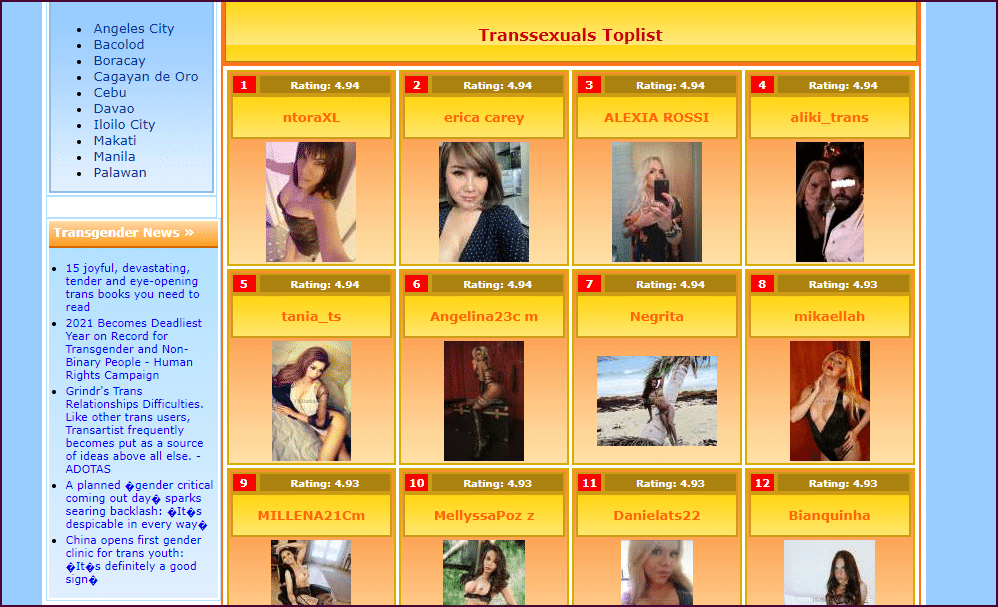 TSDating is an excellent website for meeting trannies internationally, in places like Europe and Asia especially. This website is generally has a large number of escorts, and you can browse through full-page graphics ads similar to those in a magazine. It's like flipping through the back pages of a filthy journal, which some viewers might enjoy.
PROS:
It has a unique vintage magazine-style design
Escort details and services are available
Verified users
Plenty of gorgeous trans escorts
CONS:
Not convenient for US users
---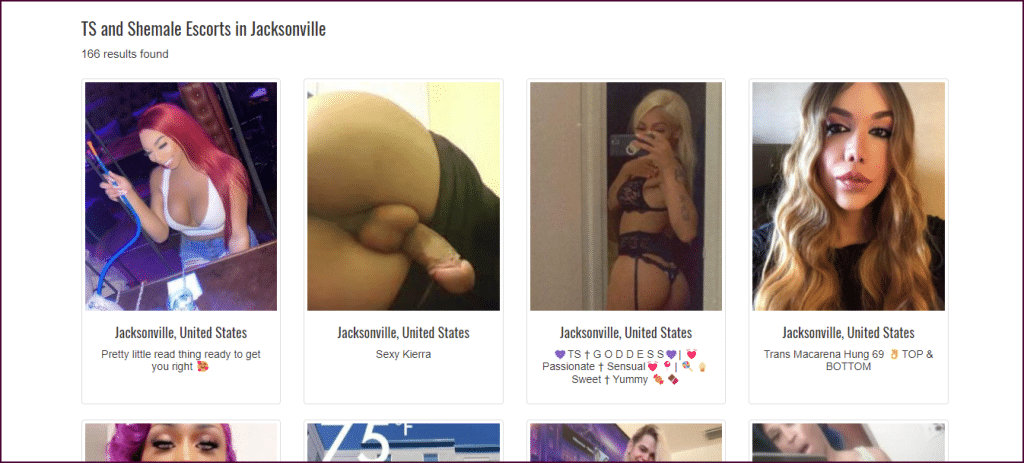 T-Escorts is among the biggest and most extensive directories for trans escorts. Every day, the site is adding more and more escort listings, covering both in the US or Europe and worldwide. This site is definitely an excellent resource for anyone looking for a call girls and intimate service around Europe, the United States, Asia, or Canada. T-Escorts has many connections with independent escorts and agencies, so your browsing and booking experience would be seamless and convenient.
Click to see the full review of T-Escorts.
PROS:
Thousand of trans escorts
Free to use
Numerous locations
Gorgeous trans selection
Different escort services provided
Verifies ad posts
CONS:
Escorts are independent and not affiliated with the site
Only trans escorts are available
---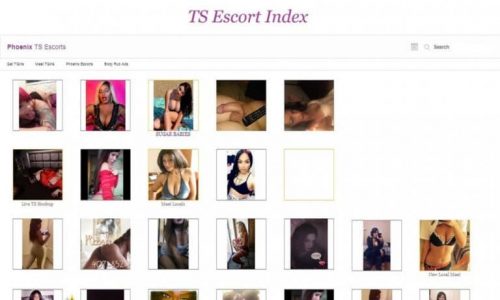 TSEscortIndex gives people the opportunity to exchange highly-quality, no-strings-attached sex for cold, hard cash with trans women. TSEscortIndex collects postings from other websites and places them in one location —making it more convenient. Also, the pictures are arranged in sequential order. One of the most valuable features of TSEscortIndex is its open access to advertisement history, promotions in other cities, and phone numbers. Essentially, this allows people searching for transexuals who are up for some tremendous escorting fun to check whether or not profiles are genuine.
PROS:
Amazing database
Easy to use and smooth browsing
Image-based adverts
CONS:
It has a limited search function
Caters in North America only
---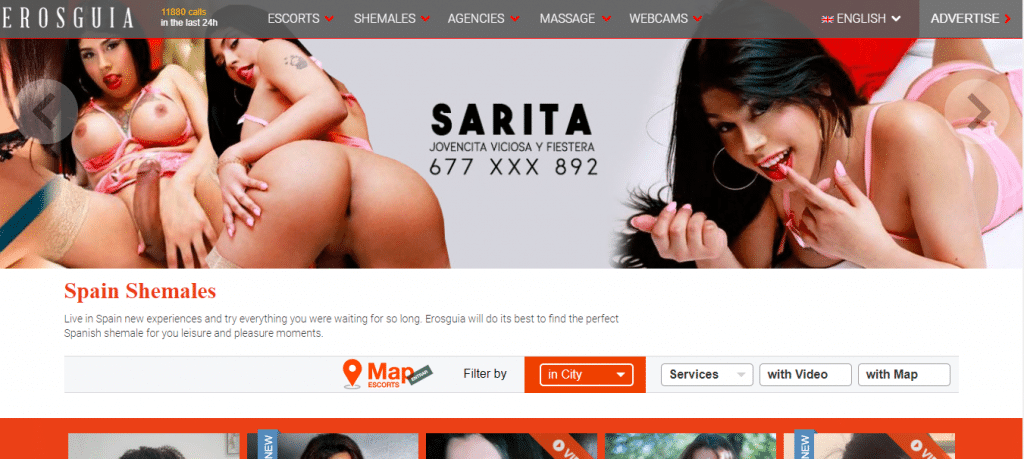 Erosguia is a full-service escort company that operates in Spain. They can be found in Barcelona, Madrid, and all other Spanish cities. Isn't that fantastic? If Erosguia is indeed what it claims to be, and this escort service can show that the escorts are genuine, this may be one of the finest escort services in Spain! Sure, a lot to expect from an escort website, but Erosguia can undoubtedly handle anything. I have reviewed loads of escort sites, and numerous escort platforms are no good in customer service. However, when Erosguia emerged in the scene, many people could experience authentic escort services they've been deprived of.
So, unlike many escort websites, Erosguia only has women and trans escorts available. While this means that the most beautiful women in Spain are denied their temptation, the rest of us get our fun. I certainly have to admit that the escorts on this platform are of very high quality. Currently, I'm looking for escorts in Barcelona, and there are 236 escorts open for booking. Every single one of these escorts is stunning, and there's a great mix of ladies and shemales as well.
Take a look at the full review of Erosguia.
PROS:
Thousands of diverse female and shemale escorts
Profiles have plenty of details
Website design is so simple but easy to use
CONS:
Caters to limited areas only
No verification process
---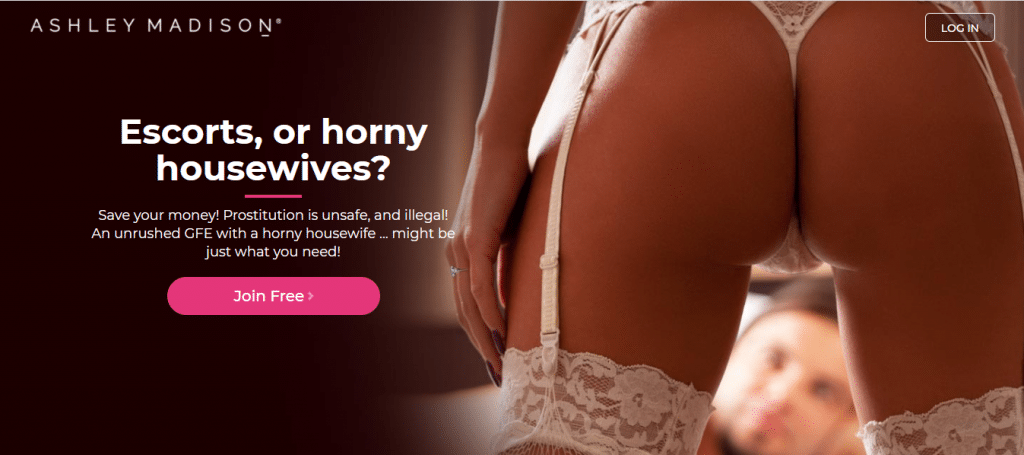 The Ashley Madison escort website is not just a typical escort website you see online. Founded back in 2001, the website provided committed people, married or in an attached relationship, the freedom to seek any discreet affairs with someone. Until this moment, Ashley Madison remains to offer a free-of-judgment environment, and affairs are not discouraged.
Over the years, the services offering of the Ashley Madison website is changing according to the demands and changing lifestyles and ways of cheating of members. This website covers many interests, including the perks of having polygamous, monogamous, open relationships, threesomes, and others. Due to the extraordinary features, it became popular and continues to be on top-up to this day, gaining reputation worldwide.
Here's a full AshleyMadison review.
PROS:
Maintains photo and personal information discretion
Encourages discreet photo uploading
Free registration and easy registration process
Available as apps on Android and iOS phones and don't require too much memory space
A large community of members around the world
CONS:
Some profiles do not provide many details
Some don't fill out profile information
---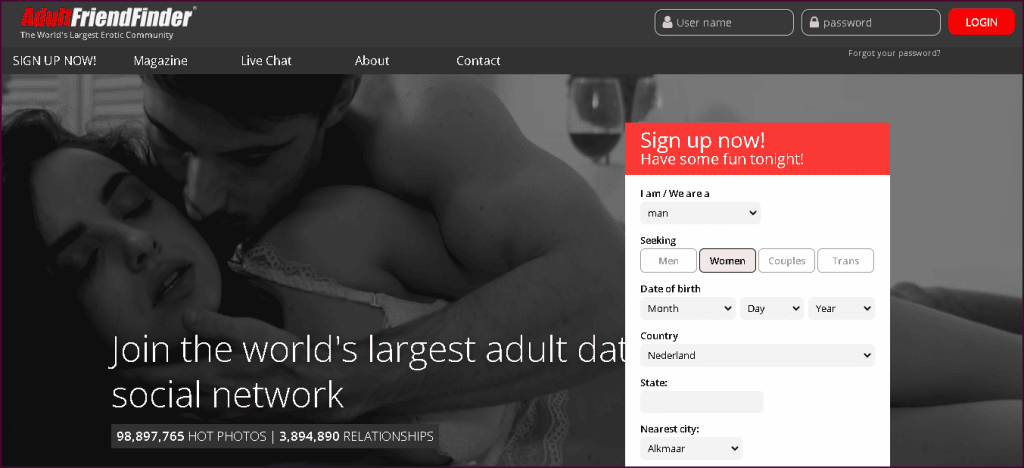 Adult Friend Finder is widely popular worldwide and has over eighty million members seeking casual and sexual encounters with different girls. Also, this website became popular in the United States and provided an excellent platform for users to seek a perfect sexual match using its communication features.
Further, it offers many casual arrangements, including polygamous relationships, monogamy, couple sharing, FuBu, and many others. Indeed, it is a great website to explore sexual preferences and spice things up in bed, especially among single people and couples willing to scrutinize their sexuality. With easy navigation and a fast registration process, the users will be finished within 5 minutes or below.
Read the AdultFriendFinder full review.
PROS:
Free registration
Members of the site are seeking casual relationships
Open for bisexuals and gay members
There are plenty of features for communicating with each other
Members are allowed to create blogs and groups for information exchange
Free feature in watching videos and viewing photos
Members are allowed and free to share any types of videos and photos
CONS:
There are more males than females
---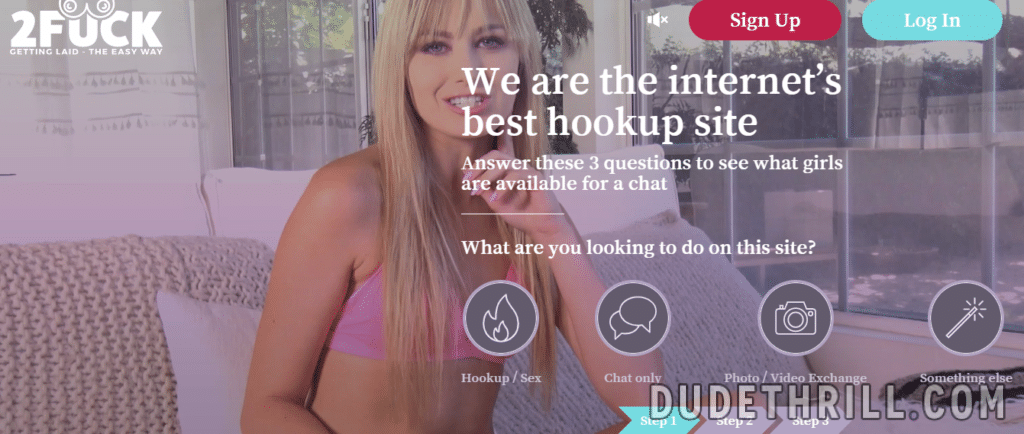 With all the escort websites across the Internet, only a few stand out. One of these is 2fuck.com, an Escort website with three million registered members worldwide. It is progressively growing every day. The website boasts genuine and authentic services for everyone who craves sex every day.
Once you become a member, your profile will automatically undergo compatibility matching and provide you with lists of members compatible with your preferences. It is easy to say that 2fuck.com does not randomly search for members for your convenience but instead employs an analytic process to make matching more accurate.
Check out the full review of 2fuck.com.
PROS:
Members worldwide reach up to millions and growing each day
The design of the website is user-friendly and straightforward
Free registration for everyone
CONS:
Premium members have exclusive features that can only access them
---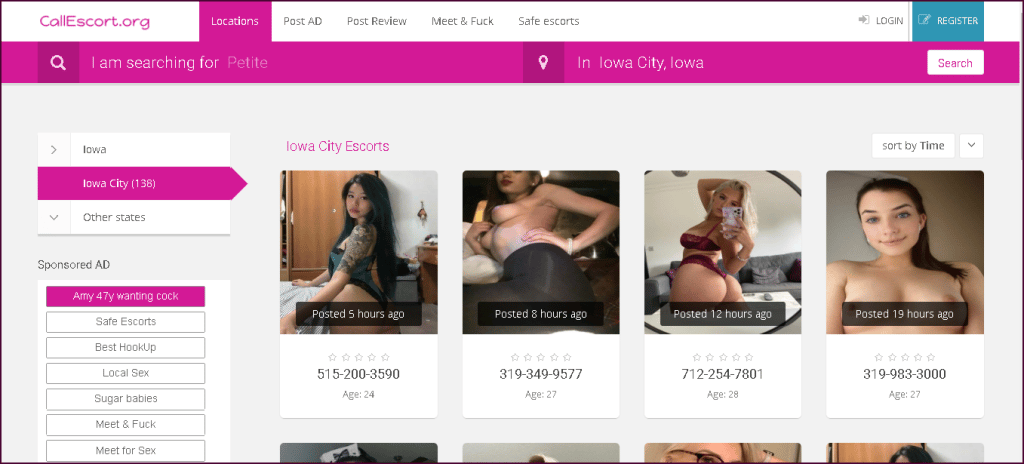 CallEscort is a massive escort service site with stunning, elite escort models. Everyone with an online connection can visit the site and look at some enticing and skilled girls. It features escort ads from several female models across distinct and popular regions worldwide. Most of which have received positive feedback from previous customers. Also, the site takes details seriously to ensure its customers feel secure and comfortable browsing and booking their happy adventures. Considering everything, I think CallEscort is a great destination whenever you need a break from your lifeless life.
Click to see the full CallEscort review.
PROS:
It has legit and reliable reviews
VIP-quality Escorts
It covers different ethnicities, shapes, and sizes
Affordable prices
Reliable and easy booking service
Secured transactions
CONS:
Most escorts are females
The location of services is quite limited
---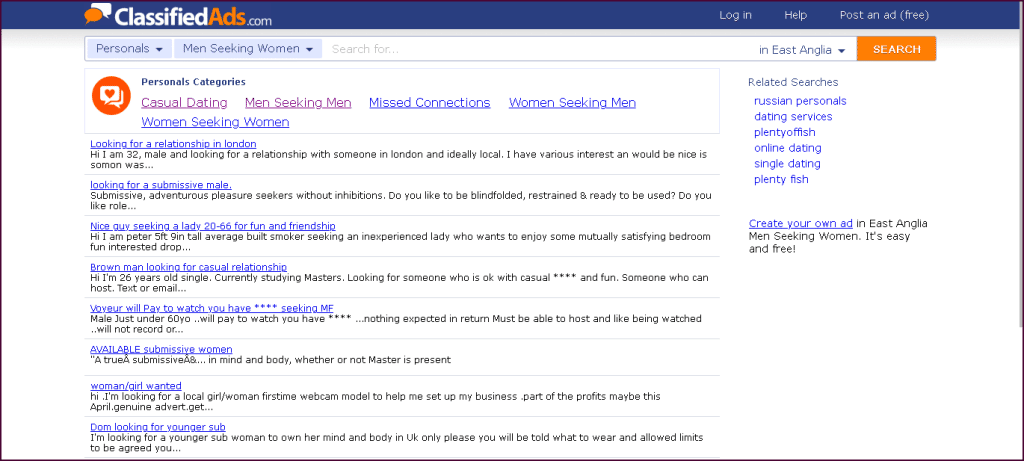 ClassifiedAds has a lot of the ads that are legit and verified true. And that's probably the reason why this site remains on top of the game despite the competition online. Escorts and other workers have widely used ClassifiedAds as a reliable platform for their business. In fact, it has also served people some dating services that no escort sites have previously achieved. Certainly, it's pretty fulfilling that finally, we can sleep peacefully knowing that there is Classifiedads.com we can run to when escort hunger strikes.
Learn more about ClassifiedAds with this full review.
PROS:
Opportunities to find casual sex
Massive ad posts
Lots of escort ads
Easy to use
Simple interface
CONS:
Some ads are sponsored
Few ads no longer exist
Beware of fake accounts
---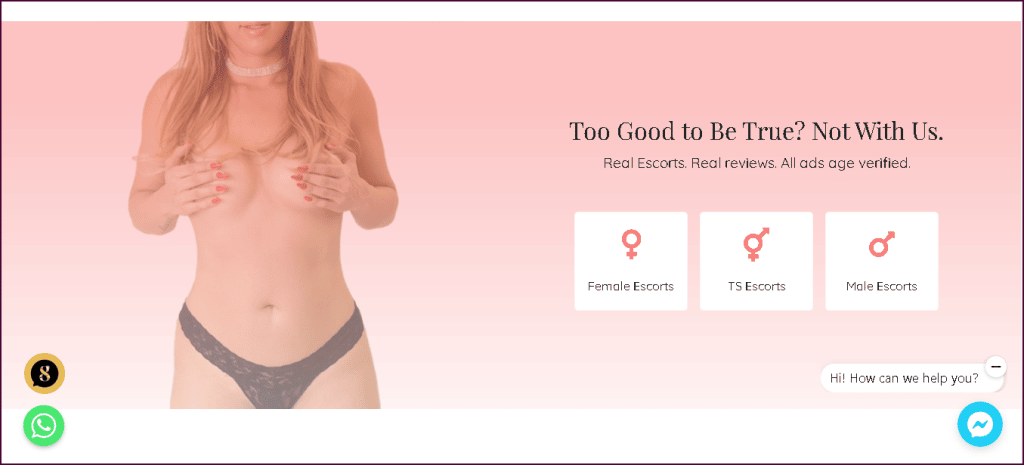 888 Companions is a hell of a lot of assistance when picking the ideal woman for the escort job. The website provides profiles with authenticated escort photos, detailed descriptions, and options for easy booking and browsing. An escort service like this is an excellent method to meet a partner's bodily and erotic cravings without having to begin a brand-new committed relationship. Finally, there is no more reason to sit around the house jerking or imagine banging your girlfriend while watching Netflix.
Check out the full review of 888 Companions.
PROS:
Detailed escort ads
Verified escort photos
Hundreds of available escorts
Lots of drop-dead gorgeous women, men, and trans
CONS:
No tools to browse by state or other regions
---
Final Words
In conclusion, ShemaleCanada is an escort site and a finely crafted experience. Its enduring popularity is no mystery; it's a sleek and user-friendly platform that brings a touch of sophistication to the world of adult services. For those in Canada with a taste for unique companionship, particularly within the transgender community, skipping this site would be missing out on diverse choices. It's not merely a directory; it's a journey, a quest for the perfect match. So, if you're up for an adventure, ShemaleCanada might be the compass guiding you to an unforgettable shemale escort experience.
All 110 Other Sites in This Category Worth Checking Out:
NewYork Exgirlfriend & Top-12 Escort Sites Like New-york.exgirlfriend.com Show Me 12 Alternatives for New-york.exgirlfriend.com Hey there! We all know the struggle of finding escort services online, hoping to find that diamond in the rough – the perfect escort model who'll make your heart race and your desires sing. In this wild world of the Internet, it's […]