Updated on: May 23rd, 2022
AdultWork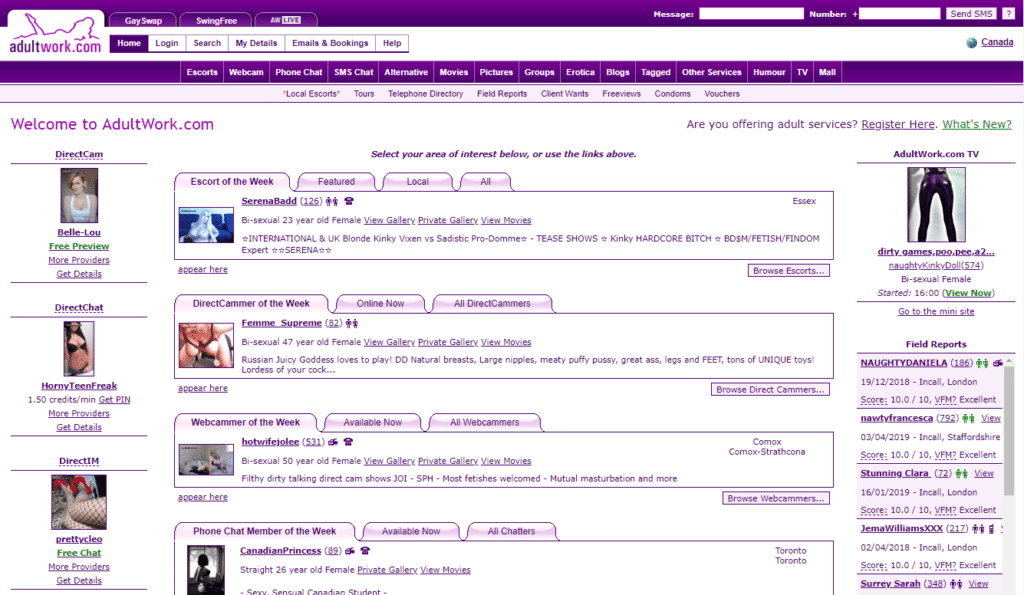 There are lots of online platforms for people looking for some naughty and sexy adult services. We all know it is not always easy to have our sexual needs satisfied. Escort services are a heaven-sent as it will surely make your sexual dreams and fantasies true to life, with lots of hot chicks, trans and sexy dudes to provide them all for you. Adultwork.com is a go-to for everyone who is into such dilemmas with fulfilling their needs, and they have proven over time that they offer services much different and personal than the other sites.
Adultwork.com has lots of services and features, including webcam, phone and SMS chat, erotica, and of course the best one, which is their Escort services. You'll find most of their traffic coming from the United Kingdom, especially from London. The site will automatically adjust based on your location so you will be given tons of ads for escorts near you. Although the website design looks pretty messy due to tons of information and data, you will eventually find webcam models, female or male escorts, and phone sex providers. Adultwork has added an extra ounce of security and assurance to users with their verification features; you would know if a person is verified through a logo just right by their profile. You also get to check out their price chart, services offered, and dates or places available. Messages can be sent for free to reach the escort providers you have chosen.
Escort services work well whenever you are bored and want to try something new just to spice up your life or if you are someplace nice, maybe abroad, and you just want to get laid and release your inhibitions with some hot stranger. Adultwork's advanced search enables you to find a partner suitable to your liking and needs, regardless of your location. If you are on the other side of the picture and you want to work as an escort, you simply sign-up, post hot pics, verify your account, and then you can start with your ads. You can easily earn with the Adultwork services without any issues.
Adultwork is also available for mobile use, as we all know that most people are on their smartphones almost 24/7. It is responsive just like how it is on the desktop site, and you can make use of the "Adultwork Near Me" feature. It is a dependable move for you to get suitable dates with your chosen escorts. If you check out their site, you will find more features that will be essential for you to score some, whenever and wherever you want and whoever you want it with. Although Adultwork looks pretty dated, the site is very easy to navigate. It's also a good thing that there are very few ads on the site. Each section on the website has a set of options both for search and sorting features, making you search profiles and choose an escort quickly. You can easily communicate with other members or clients, subscribe to services, or receive and read feedback.
If you have tried Adultwork and are interested in similar sites that provide escort services, go and check out the list below and you will find one perfect site for you and jumpstart your journey to enjoying escort sex.
12+ AdultWork.com Alternatives: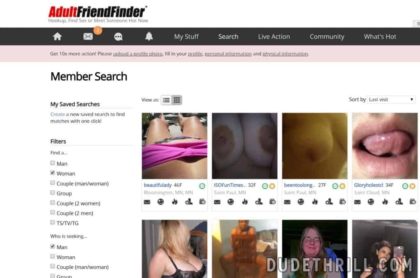 Do you want an easy and affordable way to get laid? Go check out Adult Friend Finder. In fact, if you're lucky, you can even get it for free!
I truly admire the brilliant system behind this website. Non-paying members can message paying members, but they can't contact other non-paying members. As such, a lot of adventurous women use the site and take advantage of the free perks. They will wait for any paying member to message them and that's when they can offer their escort services.
Although it works like a hookup site, it's easy to find women who want to get laid on this site. I only paid for the $25 subscription fee per month, yet I was able to hire escorts at a very cheap rate. In fact, I was able to score some free hook ups as well!
I would highly recommend the Adult Friend Finder to anyone who is not keen on spending lots of money for this stuff.
You can also read our full review of Adult Friend Finder here.
PROS:
Easy and cheap way to get laid
Some profiles have nude photos
Lots of active and horny users
CONS:
Free members can only message paying members
---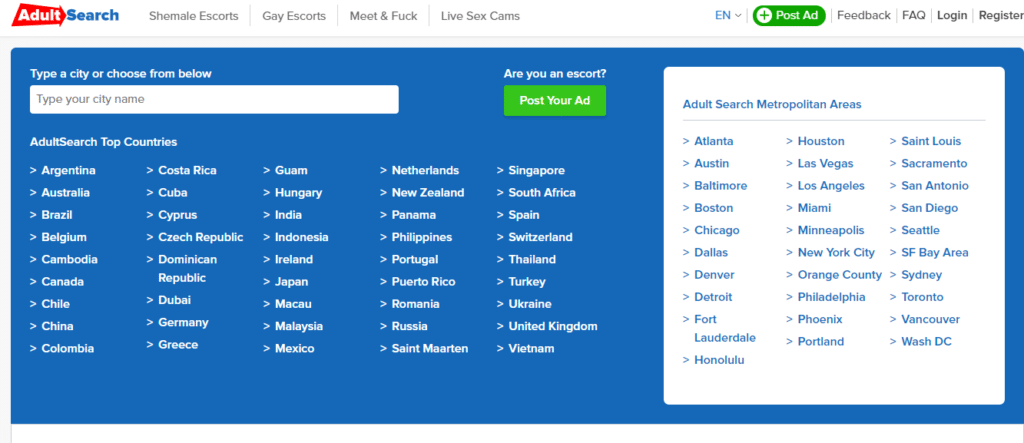 With the huge number of listings, AdultSearch is your top escort site and you will find lots of sexual services in almost any location. AdultSearch is available in most cities and even suburban places. Female, male or transgender escorts, body rubs, and massages are just some of the services that the site offers. You will find escorts of different body types, ethnicities, and services offered. Most of the escorts have their hot pictures posted, even some videos if you're lucky, and playful bios that will leave nothing to the imagination. These escort babes are good at what they do and vary in terms of personality, bodies, services, and many more.
You can check out links to other sites that offer different services as well – sugar babies, No Strings Attached relationships, affair sites, and just about anything you would want. Although you might notice that AdultSearch is unavailable in some countries and some would have no listings at all. As the site is more of a listing platform, you will also find links to sites that will fulfill your BDSM needs, gay bathhouses, and even erotic massage parlors. You can find yourself mindlessly scrolling through sexy profiles of escorts and if you found one that you would want to bang tonight, simply check out her details and you're good to go.
PROS:
Top escort listings
Lots of escort options
Has links to other erotic services
CONS:
Some cities have no listings
Some bothering ads
Website looks plain
---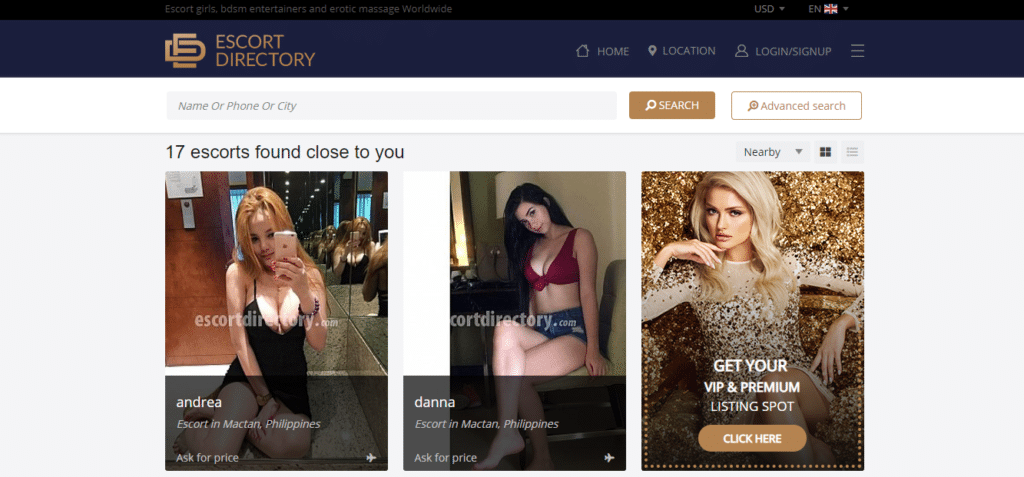 If you want some easy way to score some pussy and enjoy some fun night, then getting an escort service is a good way to go. Escort Directory is one of the sites that offer excellent escort services, with their long list of verified escort connections. It is a popular advertisement space for anyone that offers various kinds of listings, most of it about adult services like escorts, erotic massages, and the likes. With the site's simple layout, you will find its many sections and information regarding their posted ads.
If you are into BDSM or any kind of erotic kink, you will get what you want since they have organized options and advanced search features so you can get to someone that suits your needs. Wherever your location is, you will be connected to escorts and prostitutes near you. And the best thing about this site, along with many other escort sites, is their review section. If you are currently in search of scoring some of these services, you should make it a habit to check out reviews before you decide to fuck someone from the Internet.
PROS:
Thousands of escorts available
Well-organized features and layout
Advanced search
Profiles are detailed and extensive
CONS:
Lots of ads
Some fake profiles
Not strict with verification
---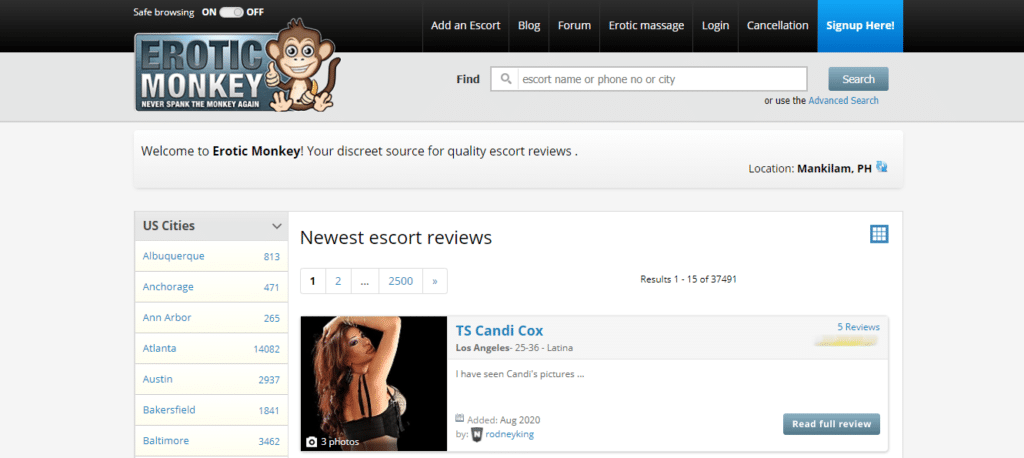 Perfectly describing itself as a "discreet" source for high-quality and trusted escort reviews. Although it is mostly focused on American locations, you will still have lots of fun browsing over their massive number of listings. First, you would need to sign up for an account to use their basic features. Once you indicate your location, you will then be redirected to the latest reviews so you will also see which of their escorts have the highest ratings. Erotic Monkey encourages interaction between users and escorts alike, with their FAQs and queries being voiced out in forums that are open for all. This site will aide you in choosing the best escort in town with their reliable reviews and posts.
PROS:
Extensive and legit reviews
Easy to navigate
Interactive forums for users
CONS:
Available only in the US
Sign-up is needed
A few spam posts
---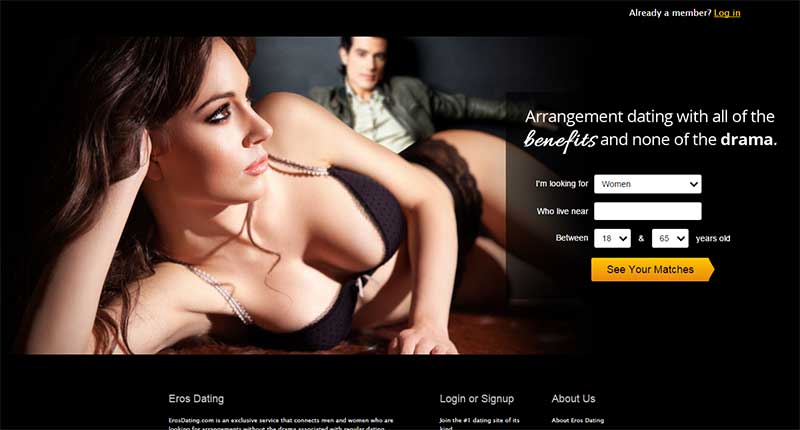 This is one of the escort websites that has been proven and tested over time. Just like the others, they have a wide array of escort services that you can avail of. Whether you are in for some sexy time with a female, male, or trans escort, you will surely have the best time of your life with the many choices you can make and there is a lot to choose from. Erotic massages are their top-most service with lots of positive reviews, and they also have other themed services so you can get your fix of BDSM or any other kinks. One thing about Eros Guide is that the whole site looks formal, without the usual vulgar images or videos you would usually see in adult sites. They also cater to different locations so wherever you are, you will be sure to get a list made especially for you, based on your interests, types, and location.
Here's also a more extensive review of Eros.com here.
PROS:
The website doesn't look vulgar
Lots of members
Has that social networking feel
Quality escorts
CONS:
Some ads
Other locations do not have available escorts
Options and advanced search can use some improvement
---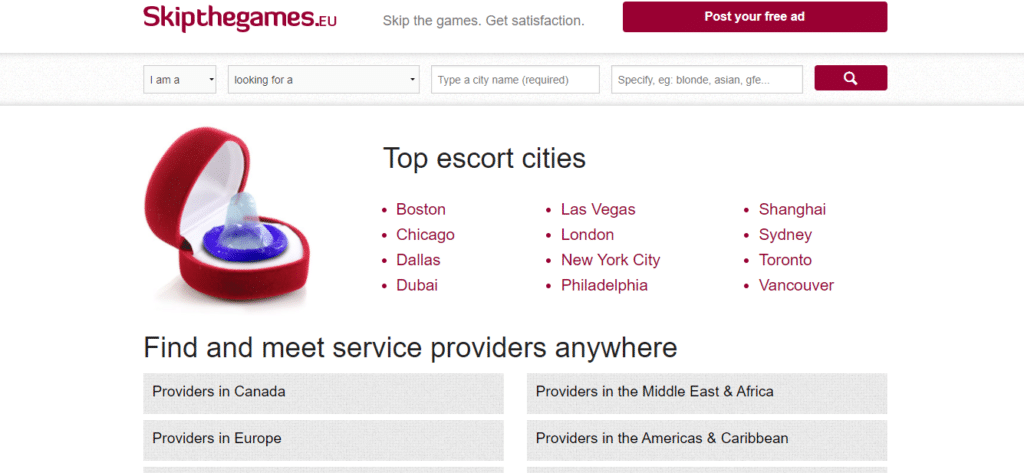 With a catchy and intriguing handle, you would know that SkipTheGames has a lot of members because it is not your typical adult escort website. Similar to the plain, classic Craigslist, you will find lots of listings of various services here, including sex work (which is what we're here for!). Simply choose your location and you will have the option to narrow the choices down by stating your city and then lo and behold, you will be welcomed with a collage of possible escorts for you. The results are even varying, from female, male to trans so you will have to choose which of the suggested profiles would be the one for you tonight. Remember their catchy website name? It could also mean going straight for the action once you meet an escort here.
If you want — take a look at our review of skipthegames.
PROS:
Website is easy to navigate
An endless number of escorts available
Available all over the world
CONS:
Listed pricings are not clear
A lot of ads
Annoying promos
Website looks boring
---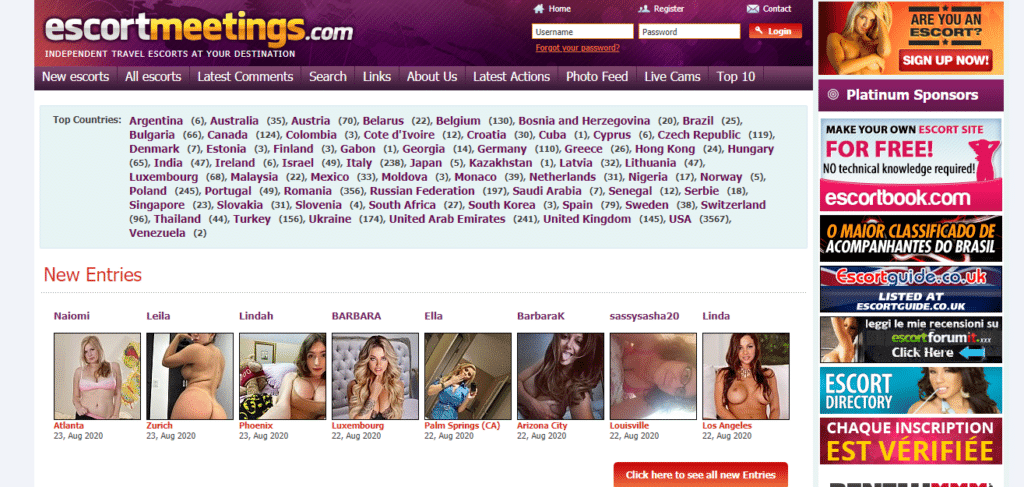 This is not your typical escort website. If you are someone with lots of money and you just want to spend some time fucking some escort chick, then you are in the right place. Most of the members and visitors in EscortMeetings like to hire escorts that would accompany them in their out-of-town trips or something along those lines. Or not necessarily travel but just someone to fuck around with and get your blood and libido going.
Hot chicks from all over the world are available on this site, and all you need to do is hit them up, know their terms and conditions, then you are off to some heavenly sex that would surely have you craving for more. The site has organized details so that it is easier to look for specific categories, just like if you are someone who has a fetish for a certain ethnicity, take Asian girls, then you will be welcomed with a massive list of available Asians whom you can fuck and pay. Or if you are single, then you can check out some escorts' featured services where they would gladly act as a girlfriend.
PROS:
Escorts from all over the world
Advanced search is very useful
"Girlfriend services" and other kinky acts
Live cams and webcam sex
CONS:
Unattractive design
Escorts' pictures are of low quality
Live cam feature often lags
---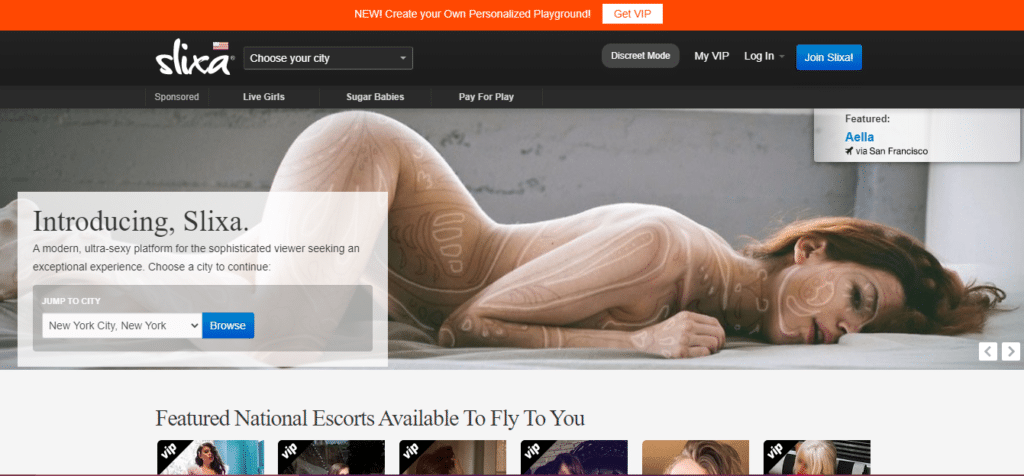 One of the few websites that offer escort verification, Slixa is a must-visit if you are planning to hire someone to have fun with and fulfill all your sexual desires for some cash. It is mainly focused on the United States but you can also choose other countries as it is available in some parts of Canada, Germany, and even the United Kingdom.
All the escorts associated with Slixa are WILD! They offer world-class escort services and even have premium options if you want to spend some fortune in exchange for a fun time. Most of their listings include hot girls that could easily pass for a porn star and you simply choose one out of the thousand girls on-site and then you are on your way to getting laid and more. Slixa is also not just limited to escort services — if you are into kinky stuff or any fetish, you will enjoy their other list of erotic services.
PROS:
Works well on mobile devices
Top-rated escort listings
Hot escorts that are almost pornstar-level
CONS:
No reviews at all
A few ads
Aside from the USA, there are only a few places where it is accessible
---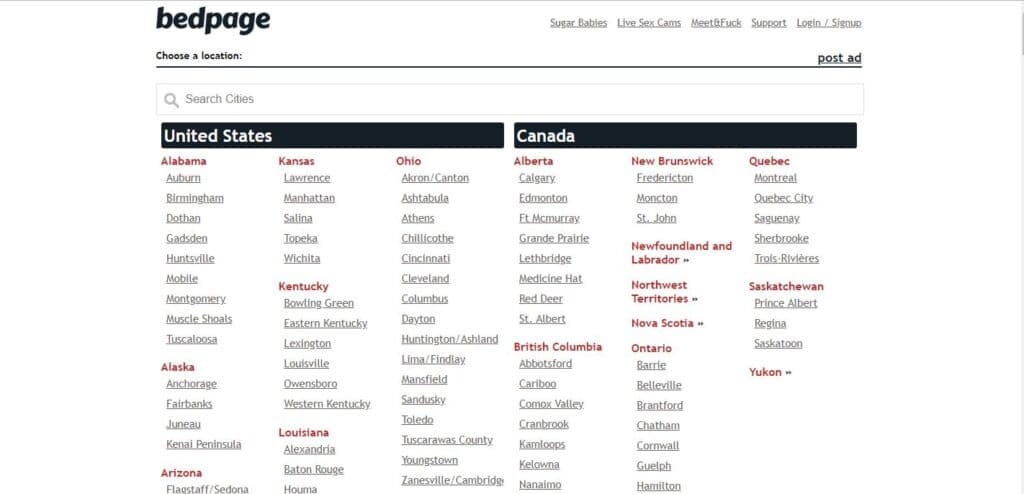 With their famous escort services, the site is known for having almost anything to offer — from basic stuff, adult jobs, and even dating services. We have to admit that escort services have been a thing for a long time now, and with the surge of technology where we get almost everything over the Internet, it has been easier to avail such services now.
Bedpage is available all over the world, so it would come in handy if you are traveling someplace nice and you just want to get laid without thinking of any complications – just you and your chosen escort. These girls are even down for some adventures, even to accompany you wherever you are, as long as it is upon their terms. You will find almost all sorts of adult listings in the Bedpage; all the women on this site are of diverse qualities. Whatever kink, fetish, or type you have, you sure will find one that suits your tastes.
Also, you can see our more in-depth review of BedPage by clicking here.
PROS:
Easy to navigate
Available worldwide
No need to register
Has a similar feel to Backpage
CONS:
No advanced search
Lots of spam posts
Prostitution ads are everywhere
---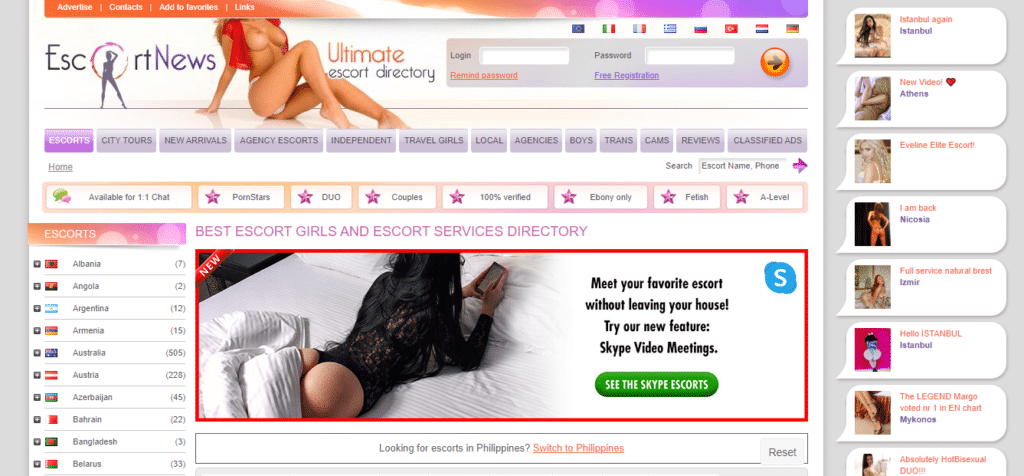 On their homepage alone, you will immediately get a glimpse of all the VIP escorts around Europe. These sexy babes could be yours in just a few steps because EscortNews makes it easy to avail of their services. Based solely on Europe, you will get your hands on hot Latinas who have been verified by the site, which added an ounce of security in your escort journey.
EscortNews has a reputation among popular sites in Europe. And with that said, you would know that the girls on this site are the real deal. EscortNews picks the hottest ladies around the area, making them known for their top-tier escort listings. If you are into the escort services, you can step it up and have the girl perform an all-in girlfriend experience. Imagine yourself traveling to the picturesque locations in Europe with some hot chick by your side!
PROS:
Good-looking and sexy escorts
Almost all European cities covered
Escort profiles are verified
CONS:
Not available outside of Europe
Lots of ads
Expensive rates
---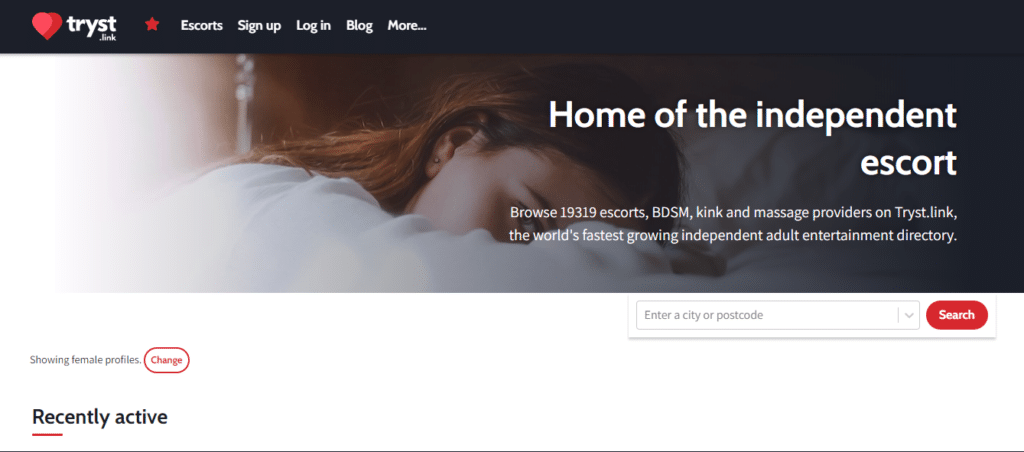 Another site similar to Backpage or Craigslist, you will have your easy way to score a hookup with the help of Tryst. If you ever had that need to fuck some hot girl near you and bring your sexual experience to another level, then this site is a must-visit. With almost 5,000 escorts and counting, you will be in awe with their long list of adult services, with their best ones like happy ending massages, BDSM, and other kinks.
The girls' profiles are the bomb, you will surely have a hard time choosing one for yourself. So, to help you with such dilemmas, you can make use of Tryst's advanced search and filter options so you can finally find an escort that perfectly suits your liking. Just one look at their profiles and you will have an idea about a certain hot babe because all necessary details, especially regarding her body type and sizes are indicated.
PROS:
Little to no ad
Very detailed escort profiles
Can be used for free
Useful search options
CONS:
Very pricey
Website looks plain
Fewer user reviews
---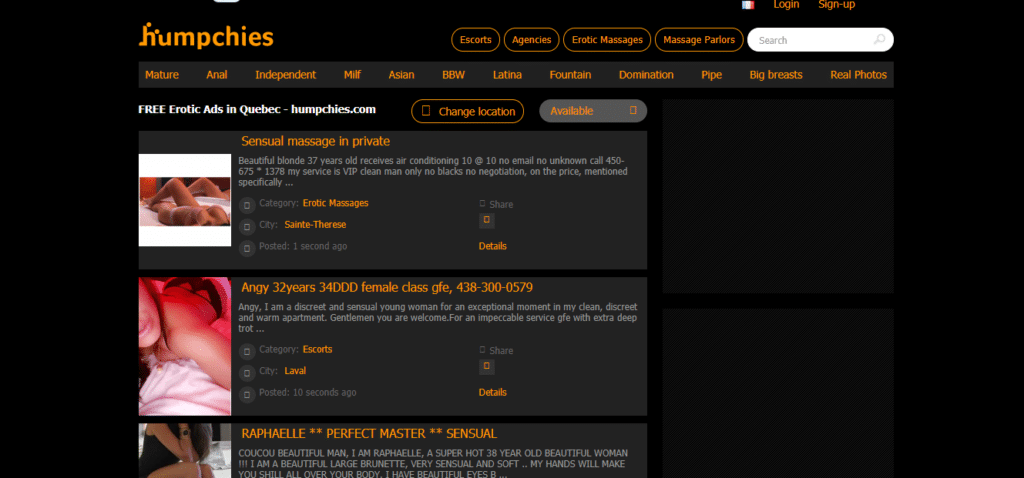 Boasting its professional-looking homepage, you will immediately gain confidence with this site because its features look reliable and easy to navigate. This is not your typical escort site; Humpchies is known for their professional escorts doing exceptional adult services, putting in lots of fun and pleasure in between. They have lots of services offered and of course, they are all adult stuff that will bring you utmost pleasure— erotic massages and happy endings, escort agencies, or just some random hookups.
Whatever floats your boat, as long as you want to get laid, then you are on the right track with Humpchies. Based in Quebec, you will find their long list of sexy escorts available at any time of the day. You can easily check out profiles after profiles, with details that will help you get an idea as to what kind of girls you are going to choose. All the girls on Humpchies are hot and legit so you won't need to worry about being scammed or having your money wasted here; you will get your money's worth.
PROS:
Easy to navigate
Professional-looking site
Lots of sexy escorts
The massive number of listings and posts
CONS:
Only a few pics especially on posts
No advanced search
Website looks outdated
---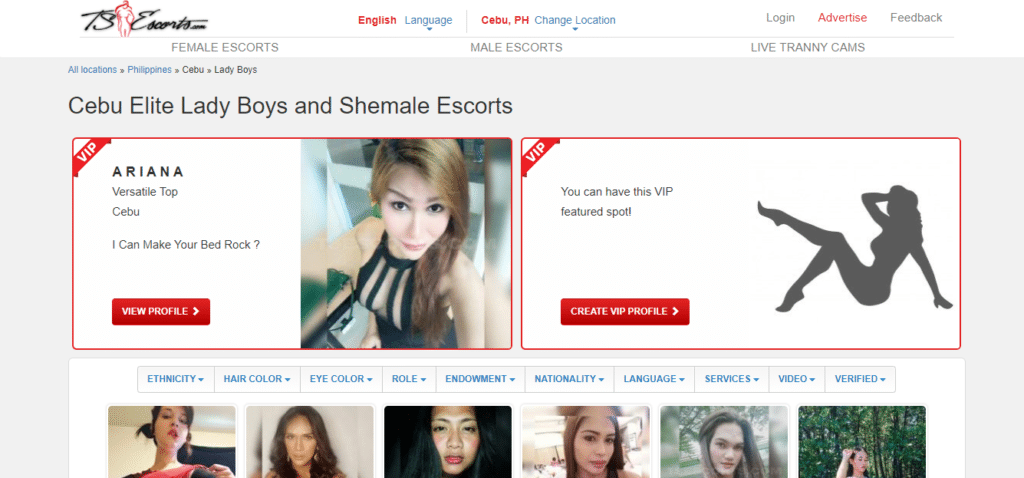 On this site, you will find several shemale or transgender escorts who are more than willing to devour you in bed. As TS Escorts is very discreet and puts its users' privacy as their top priority, you will not be afraid of getting your identity exposed here. It is a safe platform for both users and escorts. Its homepage looks clean, crisp, and professional. You will see their escorts who have garnered the VIP advertising and you can also check out some girls who are near your location.
Each escort's profile is carefully written, and you will find lots of photos and videos to further stimulate you. Communication is easier on this site because you simply check out the contact details provided. Filtering options are also very good; you can specify your types in a girl so you will end up with an escort that perfectly suits your ideals. TS Escorts is not one of the typical sites that needs you to pay some money with almost every action; they allow lots of features to be enjoyed even as a non-paying user.
PROS:
No annoying ads on this site
The website design looks simple and well-put-together
Escort previews and bios are well-written
A safe platform for clients and escorts
CONS:
Some fake profiles
Some escorts take quite some time to respond
Advanced search can be improved
Conclusion
These websites will let you hook up with some local escorts. You can just choose one and you will meet lots of prostitutes, hookers, and just about any call girl that would gladly do some fun and naughty things with you. You know how there are times where we want to get some new girl and take us to the highest of highs, especially if you are in a different place for travel. You can easily get laid with these escort sites.
Most of the sites listed above have verified profiles for their list of escorts. You can even avail of other services like erotic massages with some happy endings if you know what we mean. High-class ladies with smoking hot bodies are available so you just have to hit them up and they will give you the best sex that you needed, one where you get to fulfill your sexual desires and fantasies. You will be assured that most of the escorts here are safe and clean because they are usually connected with escort agencies, or if not, then they are independent amateurs trying to make a name for themselves, or just simply hot girls with blazing hormones ready to spend some dirty time with you. Just always remember to use a condom in every escort encounter.