Updated on: October 1st, 2023
SumoSearch Review & Top 12 Escort Sites Like Sumosear.ch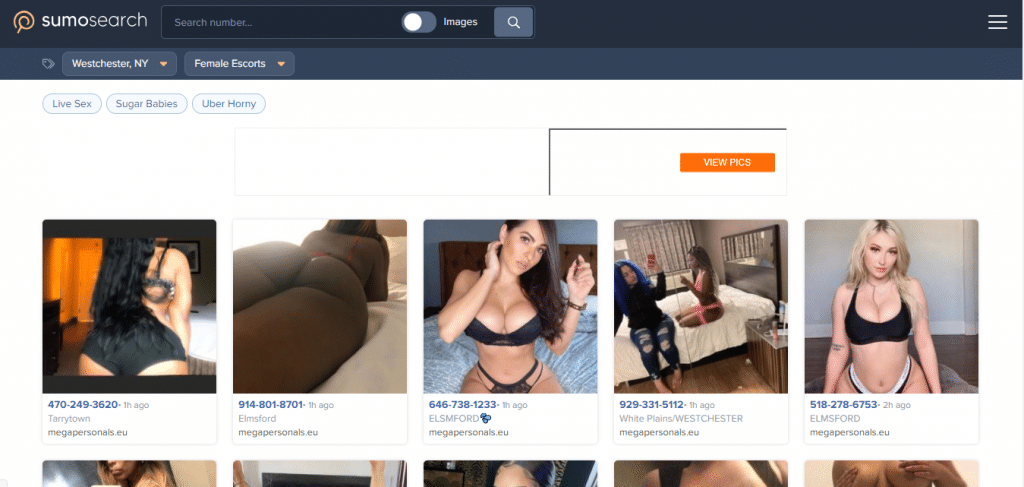 When I first heard about SumoSearch, I immediately thought the domain is clever and well-thought. It uses a swiss domain .ch as an extension of its name and spells out as Sumosear.ch. Though the name sounds strange, SumoSearch is a resource for finding escort services from various escort sites. It possesses a strong, reliable search engine that provides a searching function, especially for phone numbers.
Official URL: https://sumosear.ch/
With this site's powerful scanning system, you can browse websites and photos linked to any phone number. In other words, it shortens your search time browsing for escorts because it lets you run one search instead of numerous profiles on hooker sites. Thanks to the heavy volume of traffic, I can assume it's a fantastic idea!
It's only been a month since Sumosear.ch went online but still gets around 6,000 visitors per day. Wow! Although the real measure of any hooker site today always boils down to how fast and easy you can get laid. So, let's try and see what SumoSearch has in store for us horny lads.
Packed Some Condoms; It's About To Get Juicy on SumoSearch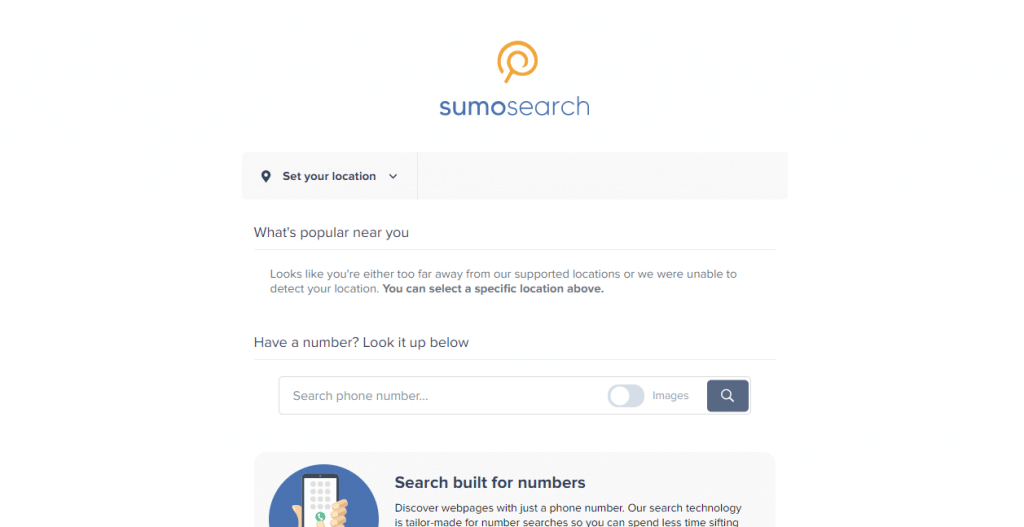 SumoSearch is generally a powerful browser/search engine for phone numbers. At the top of the website, there is a search bar with ten digits displayed. In other words, people who want to find specific web pages using just a phone number can easily tailor down searches, so you can spend lesser time browsing and get the pages you need. Surfing the FAQ section will further help you understand how SumoSearch works and its specialized search engine for phone numbers.
Certainly, visitors like me will quickly get a good sense of the SumoSearch community's hipness because of its home page selection of "What's Popular Near You," breaking down the hottest sluts just within the neighborhood. People in the erotic industry can be divided into a half-dozen groups, including Massage and Body Rubs, Female Escorts, Male Escorts, Escorts, Fetish and Domination, and Trans/Shemale Escorts.
Also, the SumoSearch listings are divided up by location, like every decent escort website. SumoSear.ch uses your browser's location to locate the nearest cities mentioned on the site automatically. But, you'll need to enter your location manually if you're using incognito mode. If you compare this to other websites, you may still have to look at the major cities if you want to find the advertisements for certain pages. But in SumoSearch, you can enjoy a larger selection than I'm used to seeing elsewhere because this guy combines listings from multiple websites in one spot.
Large Listings of Pussies and Tits on SumoSearch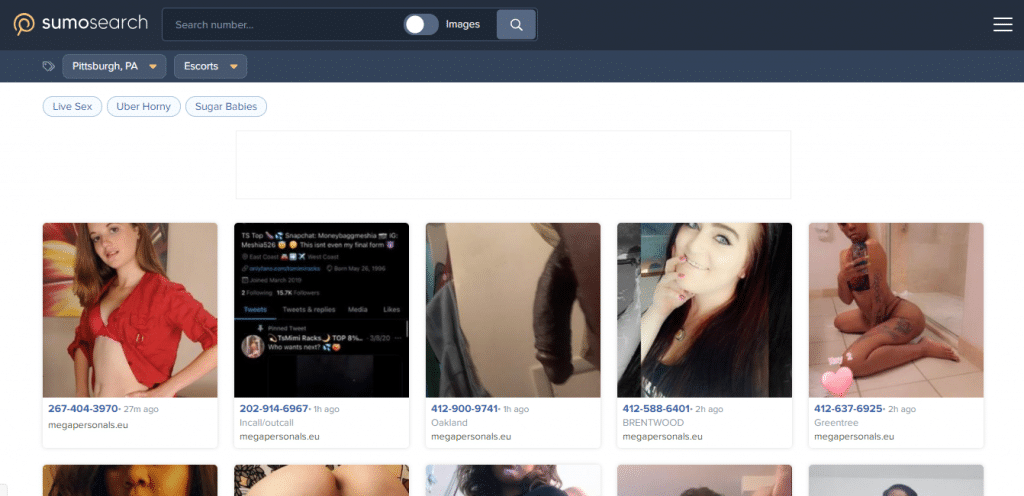 As I browsed the site, I came across the "Female Escort" category, and boy, did I strike the gold. The entire front page has added a new listing in the last hour, including 40 thumbnails of nude and semi-naked sluts. Although these things could be changed depending on the location, with more whores offering their goods as "Massage." There are almost no restrictions on the practice of sex work in some locations, so the police aren't too concerned about it.
Certainly, anywhere you look, SumoSearch has an impressive amount of listing results for you. Even if I limit myself to today's offers, I'll need to wade through tons of options. For example, there's a PAWG 30-minute away on MegaPersonals selling the GFE and a tit-flashing Latina on AdultSearch ready to fly to me. As a man like me would do, I instantly dial the numbers for a well-endowed, pink-lipped blond, a big brunette, and a scrub-faced star pouty lady with large tits.
Checking Out Some Profiles on SumoSearch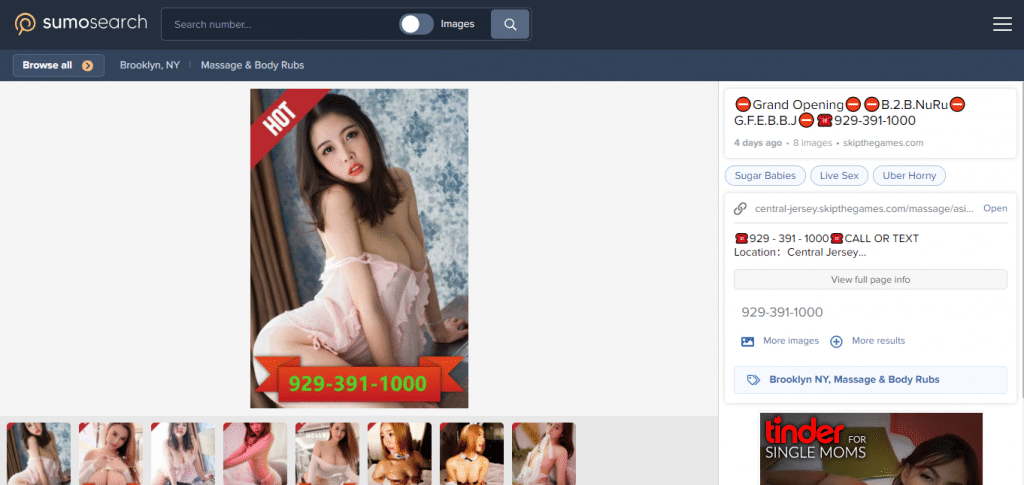 Sumosearch's Profiles Will Never Disappoint You
You see immediately under each thumbnail the phone number and how far away she is from you. For me, I absolutely adore the numbers on the distance scale because it allows me to get in touch with her right away. Certainly, the layout can come in handy if you're short on time and trying to get laid during your break or when your wife is at football practice with the kids.
Although I'm a little surprised by the relative lack of sorting and searching tools, considering the size of the collection it has, only numbers are available in the search bar. I also can't reorganize the directory to put the listings into different categories like Escorts, Fetish, Massage, and Body Rubs.
More Info, The Better!
When I click and view on a picture, it brings up a more detailed description. SumoSearch takes the original version of the source site's post and puts the photos in highlight. Also, more information is available in a sidebar, with the phone number being the most notable bit of info. This is consistent with their business strategy as a directory of phone numbers. Not to mention, you can check out the girl's contact details and other information without registering or signing in. Additionally, you can discover even more information by following the connection to the girl's original listing.
Sadly, the database does not provide details on the specific escorts like MILF, including her payment forms, fetishes, availability, or general demographics, such as hair color or race. Since they're grabbing information from websites that list it in various ways, it's a recurring issue on sites like this that collect escort listings. Nevertheless, it would be great to post more information on their website and improve their method to collect their leads more easily. Not only would it improve the functionality of listings, but it would also improve the search feature.
SumoSearch's Weakest Side and Strongest Strength
Lack of searching capabilities is the main shortcoming of SumoSearch. You will have to conduct an additional search and look around on websites to find something specific, such as a blonde woman with tattoos and C-cup breasts or something like that. You're much more likely to appreciate the web if you're only shopping for a pretty chick to have pretty casual sex with you for some bucks.
Meanwhile, the greatest value of SumoSearch is its integration of multiple escort directories into one location. It certainly helps you save time in a variety of ways. Sure, it's brand-new and has some bugs to work out, but I believe in the long run, it will be an excellent resource. The more websites and information they list, the more convenient this site can become if you're looking for a date tonight. Why don't you browse through their listing and see what kind of sluts they have in your town?
Other Things SumoSearch Can Offer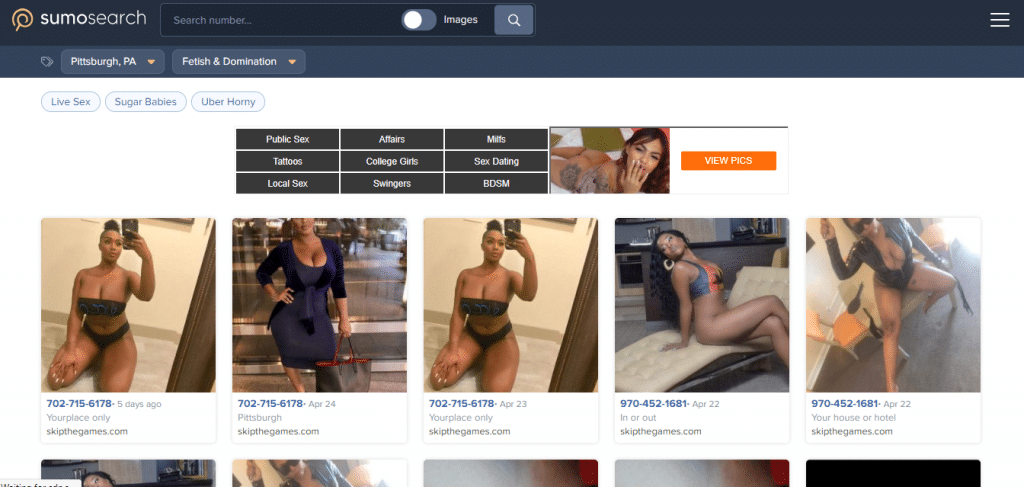 If you're a guy who enjoys trannies and wondering if there are any around, then go to SumoSearch —where you can find lovely trannies on the go. Sure, hundreds of transexuals walk the streets every day selling their services for trade in my locale. But, SumoSearch hasn't forgotten the transexual lovers who want to enjoy some dicks, from a gorgeous woman in just one click of the mouse. Meanwhile, male escorts have far fewer numbers than female escorts. However, the number can vary depending on your location.
It's a bit of a let-down than few Fetish listings on SumoSearch, but I think it's still a good deal since the website is strategically simple to use and convenient than any other option. I'm just glad that there are plenty of raunchy whores stepping on scumbags for cash around here. So, when I need a bad bitch calling me dirty names or smash me for hours, there is no way I'm going elsewhere than in SumoSearch.
Pros & Cons of SumoSearch
PROS:
Efficiently gather escort listings from different websites
You can find erotic massages, escorts, fetish, and trans escorts services
Plenty of listings every day
No need to register or log in to checkout escorts' contact information
Free to use
Clean and simple website layout
CONS:
Few sorting and searching tools
---
Top 12 Escort Sites Similar to Sumosear.ch: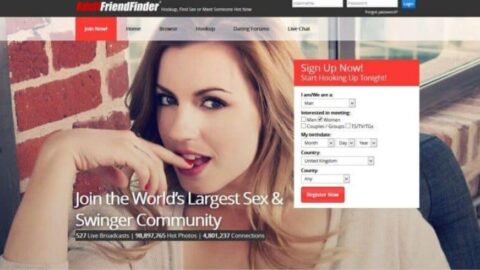 The website Adult Friend Finder is widely popular worldwide and has over eighty million members seeking casual and sexual encounters with different girls. Also, this website became popular in the United States and provided an excellent platform for users to seek a perfect sexual match using its communication features.
Further, it offers many casual arrangements, including polygamous relationships, monogamy, couple sharing, FuBu, and many others. Indeed, it is a great website to explore sexual preferences and spice things up in bed, especially among single people and couples willing to scrutinize their sexuality. With easy navigation and a fast way of the registration process, the users will finish within 5 minutes or below.
Here's the full review of AdultFriendFinder
PROS:
Free registration
Members of the site are seeking casual relationships
Open for bisexuals and gay members
There are plenty of features for communicating with each other
Members are allowed to create blogs and groups for information exchange
Free feature in watching videos and viewing photos
Members are allowed and free to share any types of videos and photos
CONS:
There are more males than females
---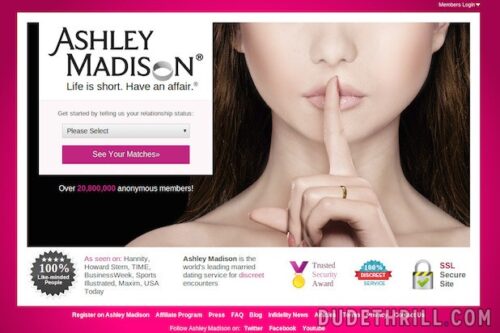 The Ashley Madison escort website is not just a typical escort website you see online. Founded back in 2001, the website provided committed people, married or in an attached relationship, the freedom to seek any discreet affairs with someone. Until this moment, Ashley Madison remains to offer a free-of-judgment environment, and affairs are not discouraged.
Over the years, the services offering of the Ashley Madison website is changing according to the demands and changing lifestyle and ways of cheating of members. This website has many interests, including the perks of having polygamous, monogamous, open relationships, threesomes, and others. Due to the extraordinary features became popular and continues to be on top-up to this day, gaining reputation worldwide.
Click here for AshleyMadison full review
PROS:
Maintains photo and personal information discretion
Encourages discreet photo uploading
Free registration and easy registration process
Available as apps on Android and iOS phones and don't require too much memory space
A large community of members around the world
CONS:
Some profiles do not provide many details
Some don't fill out profile information
---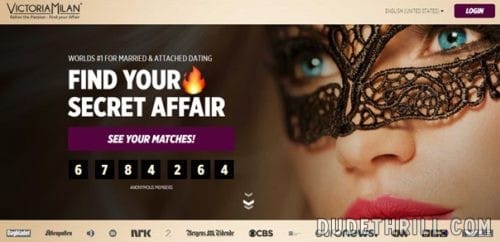 They claim to be the number one site for married people and those in the attached relationship a platform to cheat. Such a site provides confidential and anonymous experience and personal information for people to experience. They accommodate people committed and married and ready to spice up their sexual experience to the next level.
Your face is blurred and protected to keep you unidentified to everyone and concealed. Users are even allowed to keep things discreetly while searching for a perfect match all over the world. And the moment things heat up, but suddenly you are about to get caught, the site has an emergency button or popularly known as the Panic button, wherein you can click and divert yourself to an unsuspecting site. As of now, it has over six million worldwide members from different categories.
PROS:
Simple and easy steps in free registration
The site is available for download for iOS and Android users
Most of the members are from Sweden, Poland, and the Netherlands
Exclusive photos with corresponding private keys
CONS:
Premium members only have perks in sending messages and viewing
---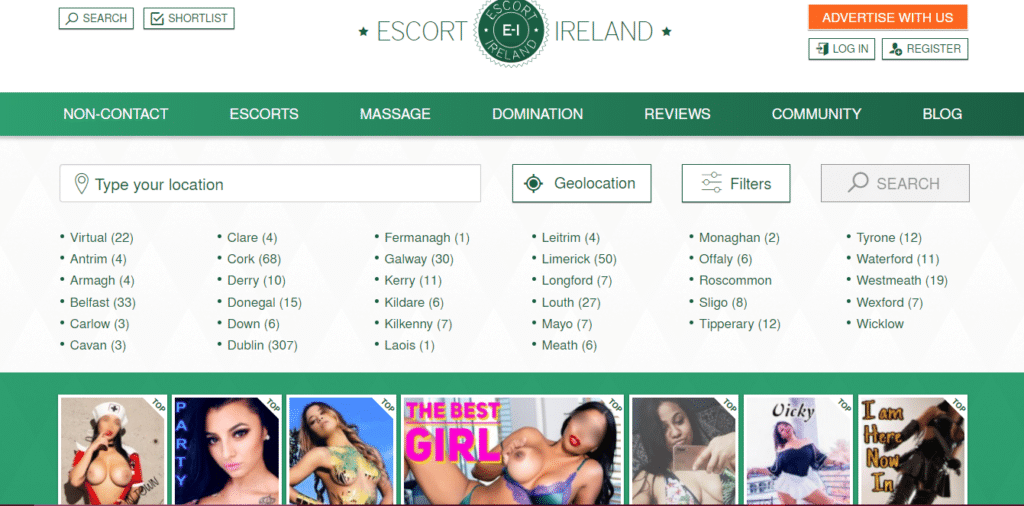 Escort services are pretty popular in Ireland since websites like Escort-Ireland does a good job of promoting and ensuring that users enjoy the best options for their leisure. You can start by entering your location, and you will immediately find hot escorts nearby. The site is also well-designed and has navigation tools to ease users' overall experience further. You can use filters to be more specific in what you want in your escort. You can also check out reviews, so you know how she does well in her job. There's this one unique feature about Escort-Ireland where they have some sorts of mini-diaries for every escort, so users can read on what they are capable of.
Full review of Escort-Ireland.
PROS:
Sexy Irish escorts
Website is very easy to use
Interactive community and forums
Escorts do some "blogging."
CONS:
Available only for Ireland
In some Irish places, there are only a very few escorts
Spam users are lurking on the site
---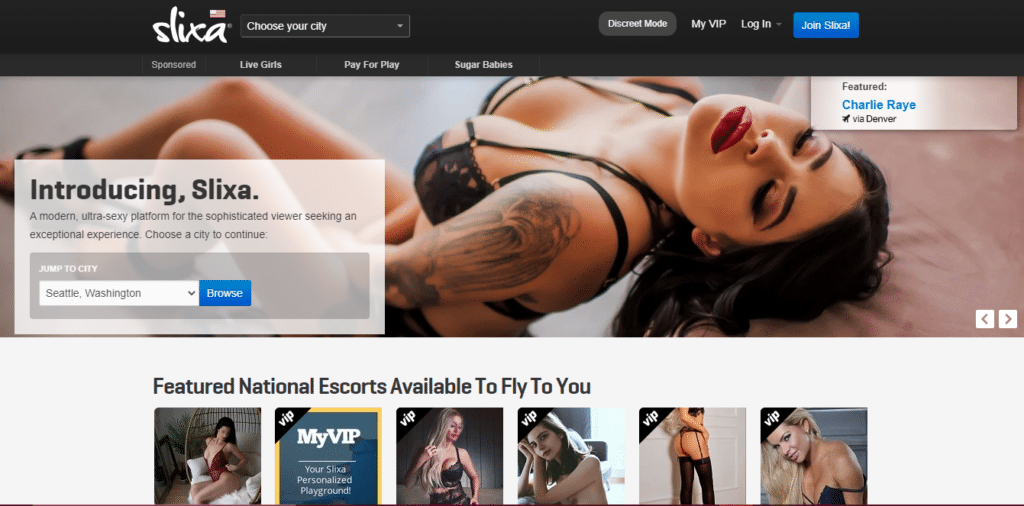 Most of the time, we feel horny and want to have a company with us. You might be wandering around the internet searching for that right sex companion to sit by your side while fulfilling deep darkest desires. This is certainly mind-boggling sometimes. By all means, I am glad to introduce to you Slixa. It is a website that will indeed bring all the best aspects in escort service and avoid pitfalls in this industry.
Surprisingly, Slixa provides undying excellence and satisfying customer service. So, there is an amazing amount of positive feedback and reputation scattered all around the internet favoring this site. Additionally, various important publications provided their opinions about Slixa, and primarily were positive and upholds its fame. For this reason, the website gained over a million visitors, and thousands of more people signing up every day.
PROS:
The design of the website is simple yet classy
It contains the hottest and most gorgeous selection of escorts
The profiles of the girls have detailed information
The majority of escorts here are willing to fly out and adventurous
Advertisements are only a few
CONS:
Prices are a bit expensive
---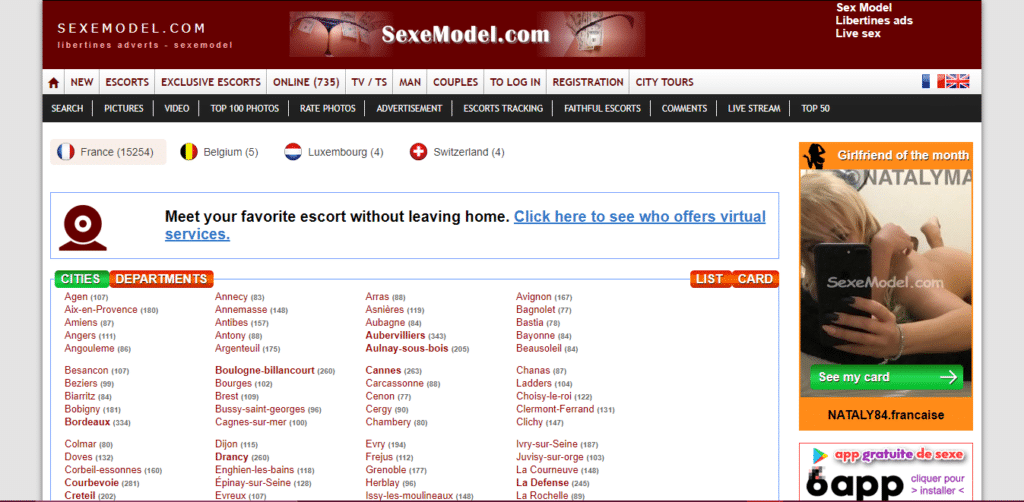 A site's homepage design is a big factor for it to suit your liking, and we must say that SexeModel doesn't have a commendable design, although it is more professional-looking. It looks pretty basic, but of course, since we know what we want, this part of the review won't matter since the contents are good. SexeModels have a lot of escorts on their sleeves. And when we say a lot, it is. Escorts coming from different locations are always ready to have some fun with you in exchange for a little cash. Aside from female escorts, they also have male and transgender escorts, so whatever floats your boat, you can still enjoy the site's contents and services.
Here's a full review of Sexemodel.
PROS:
Very sexy escorts
Offers short clips of the escorts
A lot of escorts – female, male, trans
CONS:
The website looks pretty bad in general
Unorganized features and buttons
The site will need some design upgrade
---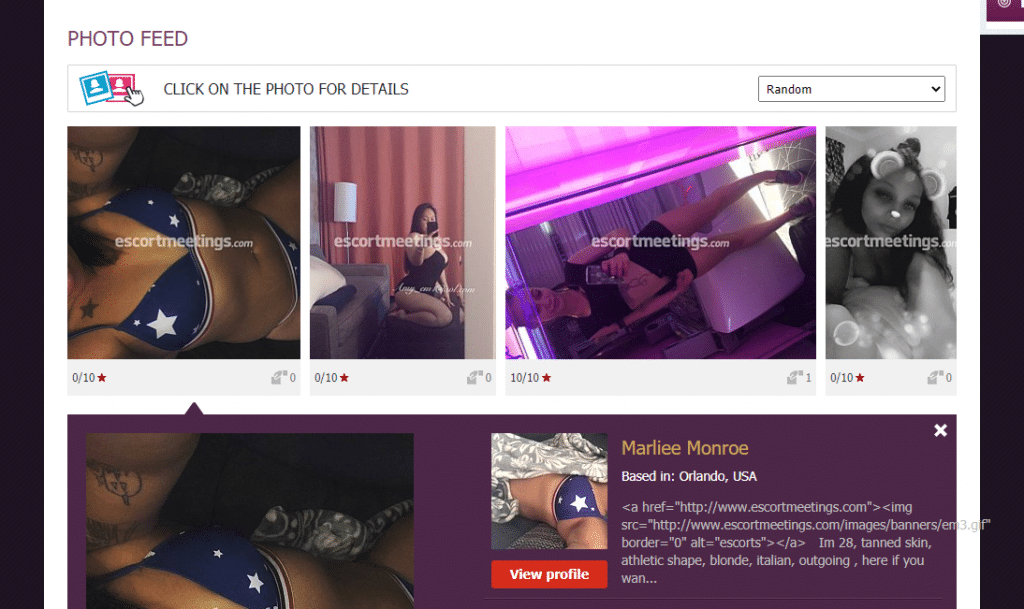 Any travel is fruitful if you can fuck some gorgeous locals. However, where you can find a company for a night or two is another question. And that's where EscortMeetings comes in handy. Surprisingly, most of the world's big cities, most beautiful women, and most of the world's most eligible escorts are all in this one amazing spot.
Finding an escort should be easier now that you can use EscortMeetings. Don't forget about the extended search options, and an endless number of hookers who will cater to your sick fantasies are available on this platform.
Take a look at EscortMeetings review.
PROS:
Registration is free
Book escort free of charge
Usability is simple and easy to understand
A lot of beautiful escorts to check out
Plenty of escorts are open for kinky services
Girls are often willing to travel
Plenty of escorts you can pick from different parts of the world
Direct contact escorts, no agencies
Credible and accurate website of escort list
New updates of escort every week
CONS:
Need registration to post comments
Quite a simple website design
Some of the escort images are low-quality resolution
---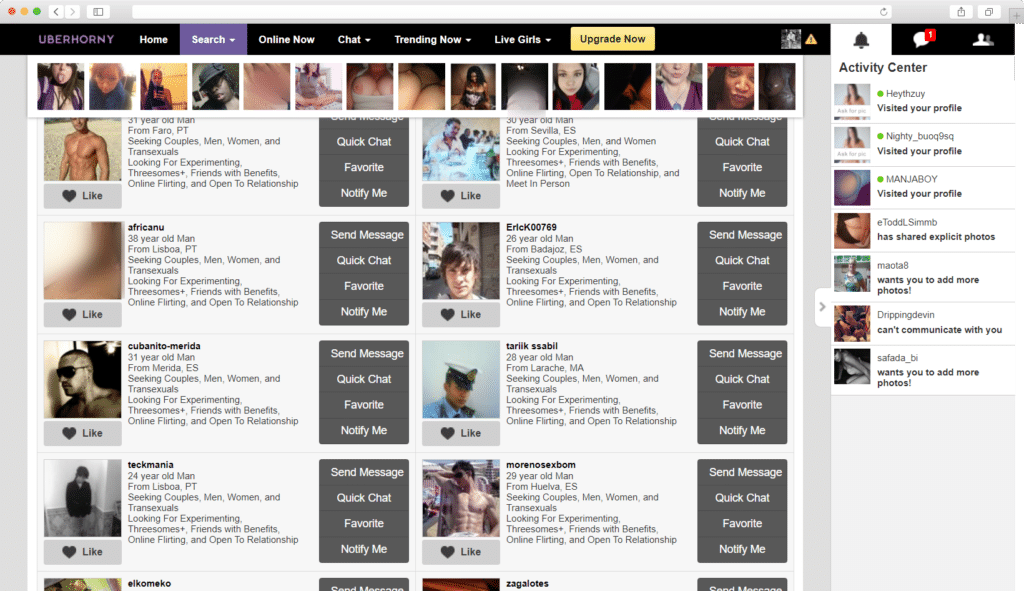 If you are looking for a quick sexual adventure within your area, this is your go-to site. Uberhorny lifts to its name. It can literally address your horniness with just an uber call away. It has already gained a lot of avid users worldwide.
The site is actually male-dominated. It won't be hard for those looking for male hookups since there are many open to homosexual engagements. Every account is verified through email. Afterwhich, you can choose your username and upload your photo if you want.
Unlike other sites that limit their messaging feature to paying users, Uberhorny encourages communicating with others. They have the message feature for free. Premium contents include exclusive photos of models and having a live cam with them. This is for those who would want to take the sex virtually. Although you are not the type to immediately commit with a premium membership, the site offers cheap trial packages.
PROS:
3-month guarantee
Verified accounts
Signing up is quick and easy
CONS:
No matching algorithm
Limited free features
---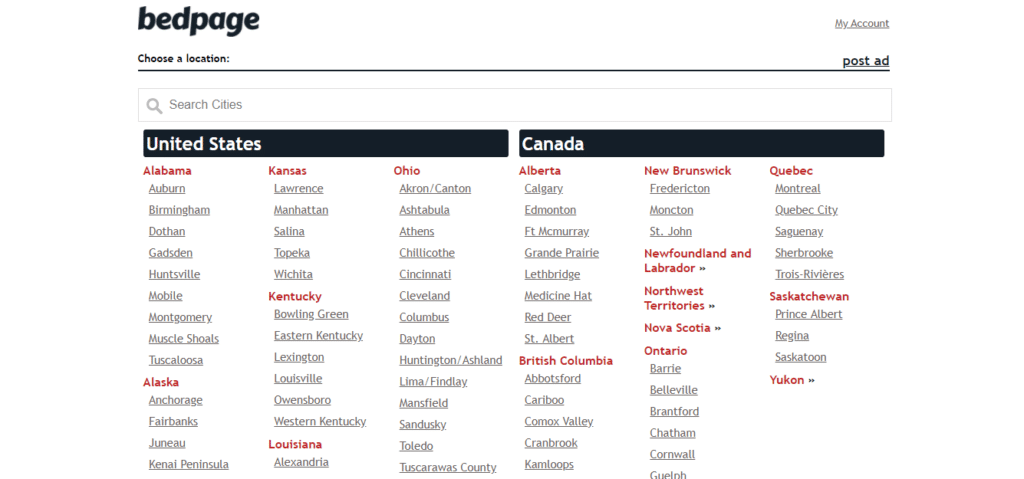 The BedPage escort website's main priority is the services they provide. This one has a wide assortment of escort girls that will fulfill multiple sexual wishes and demands.
Besides, you can also select escorts from Asia, Europe, and North America or any places from the extensive list of areas. On the other hand, the clean and straightforward layout and critical elements often facilitate the better performance of the website. It provides a user-friendly design and easy connectivity —making it more essential for everybody.
A full review of BedPage here.
PROS:
A long list of cities included on the site
The user interface and layout of the site is straightforward and simple to operate
The website adopts a confirmation procedure to assess every profile account
CONS:
Advance sorting is not available
---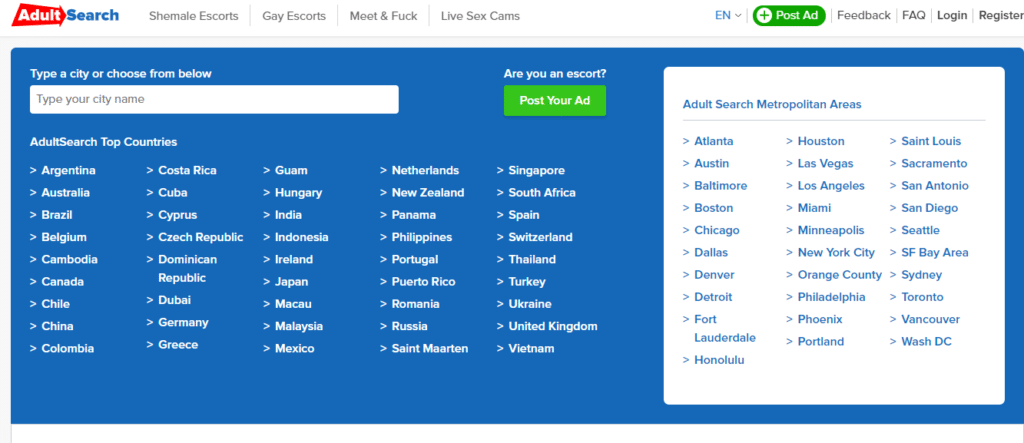 AdultSearch is an escort website that functions like no other. It provides overwhelming services mostly about sex from their long list of escorts. Although, you can still enjoy other activities you like to try apart from sex. Members come from numerous parts of the world, and there is certainly a perfect escort for you within your local area. Even around suburban locations are included in the listing; that is how broad the coverage of their services is. You can select from multiple types of escorts that differ according to body types, hair color, ethnicity, and other specific sorts you prefer. You can scroll through their profile photos. Some may even provide full sexy, and gorgeous bodies of themselves you can jerk off easily. For the most convenient way, some escorts uploads videos that give you a preview of how hot they can be in bed.
Click for an AdultSearch full review.
PROS:
Escort listing is huge
Profiles of escorts are detailed and straightforward
You have a variety of options on specific types of escorts
CONS:
Few cities have no available escorts
---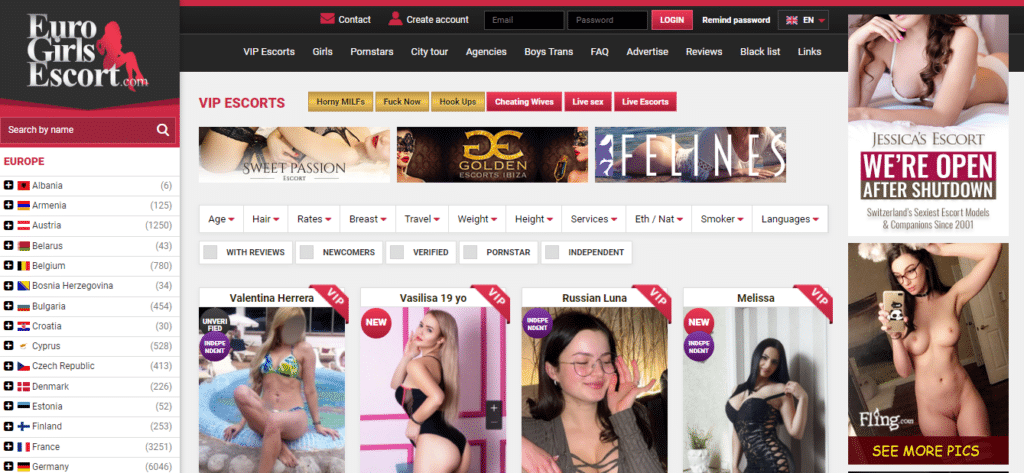 A platform that does so well in connecting you with hot escorts around your area, EuroGirlsEscort is the answer for those who want to bang around in Europe. Wherever you are, you sure will have someone nearby to provide you with the hottest escort experience ever. Simply look through the profiles on-site and check out their photos before you proceed in reaching out to have arrangements with them.
The website is designed well and pretty simple, making it easier for users to navigate through. The escorts' profiles are well-thought-of, with all their important contact details and physical attributes for easier browsing and matching. You will enjoy checking out profiles because European girls are something; you're surely going to have fun with once you start your escort service journey with this site.
PROS:
The majority of the countries in Europe included on this site
It consists of profiles with detailed information and background
Hot and wild escorts
CONS:
Some of the locations provide a few numbers of available escorts
Plain-looking site
No advanced search
---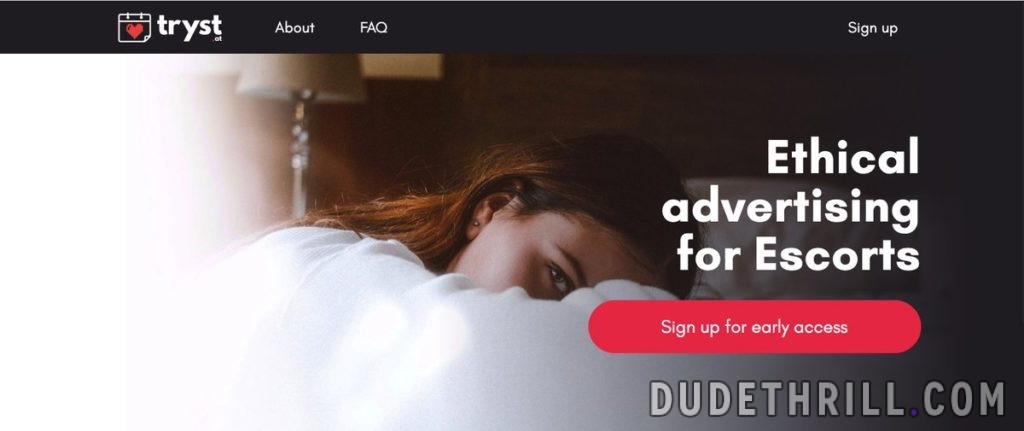 Every day, many horny men, women, and couples are progressively growing and eager to try out various things in bed. However, Congress has been strict in implementing laws on the escorting industry that many independent escorts are looking for a legitimate home to venture their services. Among all other independent escort sites, only a few have remained to withstand the business restrictions and emerge as the top escorting sites worldwide.
If you are fond of scrolling through escorting sites, you might have heard about the Tryst.link. It is an independent escort site that newly set up its reputation in this type of industry. It contains more than thousands of hot and sexy entertainers that rate at an affordable price range.
Check for review of Tryst.link
PROS:
Plenty of beautiful escorts on the list and a wide array of selection
All independent services are available
The design of the site is clear, minimalist, classy, and simple
It functions conveniently and user-friendly
Searching feature functions amazingly
An in-site messaging system is available
Advance searching according to location, price, race, and other specifics is available
Escorts are verified, and accounts are genuine
It has an "Available Now" feature
Actively markets escort on social media
Affordable price range
CONS:
Contains traffic in few cities
No reviews available
---
Final Thoughts on Sumosearch
Despite the slightly comical term, Sumosear.ch sets out to provide a home for escort listings from all over the websites in one spot. The core idea of this website is to provide you with a fast, less demanding way to search for a paid sex worker. Now that's what I call innovation, convenience, and efficiency! Beat that!
On the website traffic alone, I'd bet it's a fucking smart idea. Not to mention, in just a month after Sumosear.ch launched, it continues to expand its userbase and gets over six thousand visitors every day. So, what are you waiting for, you sexy pussy-fucker machine? Pull yourself together, and stop jacking off to cover girls on magazines when you can visit SumoSearch now and taste a real-life pussy! Don't forget; there is also plenty of other escort sites featured here, so come and visit them as well.
To give you a good idea, here are some of my top-3 favorite escorts sites apart from Sumosear.ch:
You can't go wrong with these. Try it, sometimes you don't have to pay $$ to some escorts when you find a funky partner that can fulfill all your darkest desires.
All 106 Other Sites in This Category Worth Checking Out:
Empire Escort & 12 Must-Visit Escort Sites Like EmpireEscort.com Show Me 12 Alternatives for EmpireEscort.com Greetings, Dudethrill fans! Today, we're diving deep into the scandalous world of EmpirEscort, the fresh face in the online escort scene. Before you raise an eyebrow and wonder if their youthfulness is a red flag, remember, it's not the years; the […]