Updated on: October 1st, 2023
T-Escorts Review
& 12 Must-Visit Trans Escort Sites Like t-escorts.com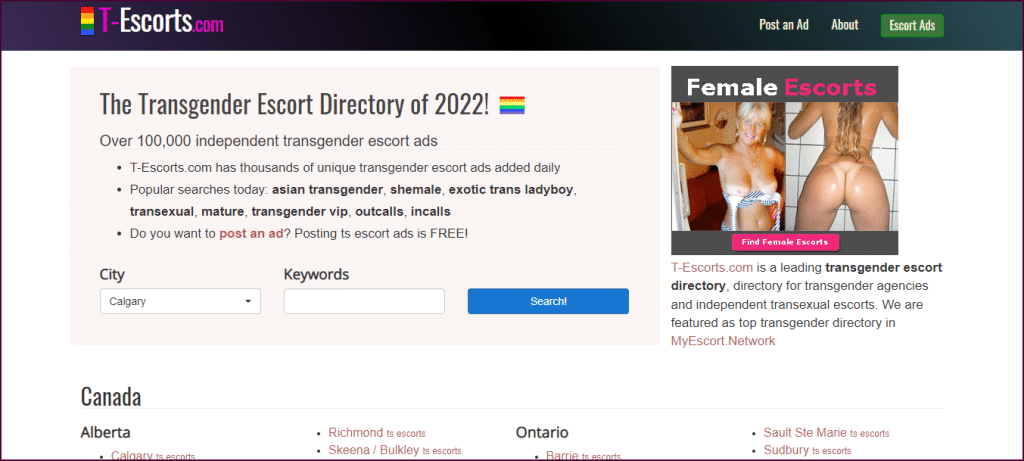 There are only a few sites I trust when looking for trans escorts for so long. And I'm glad to introduce another one on the list —T-Escorts! It has over 100K+ escorts ads posted by independent trans escorts. Every day, there are new escorts added to the site, so there are more escorts to check out every time you come here. Plus, T-Escorts has been featured in the MyEscort.Network page as one of the top-quality trans escort directories. But the real question is —does it live up to the expectations, or is it just another failed site? Let's find out below.
Official URL: https://t-escorts.com
T-Escorts: Hotspot for Trans Escorts
According to the site's claims, T-Escorts is among the biggest and most extensive directories for trans escorts. But seeing the entire area, I can attest that T-Escorts is not only claiming such reputation but actually walking the talk. So, if your taste leans more on shemales and trannies, T-Escorts is here to the rescue!
Every day, the site is adding more and more escort listings, covering both in the US or Europe and worldwide. Most importantly, these ads are not duplicating, meaning every ad posted here is unique. So, whenever you visit T-Escorts, you are sure to find thousand upon thousand of escort ads from the lovely independent trans providers. Better check out Europe, the United States, Canada, Asia, and worldwide because T-Escorts has everything you need for services and booking.
Finally, T-Escorts has regular checking and verification, where the site moderators fact-check every ad. This way, they ensure that all ads posted on the page are relevant and not spam. If an ad receives much attention from users, it's automatically pushed up to the top list. Another reason to be on top would be a new post on the popularity of trans escort, dancers, or pornstars. Also, any escorts with user reviews or upgraded to VIP subscriptions will also be on top.
T-Escorts Top Priorities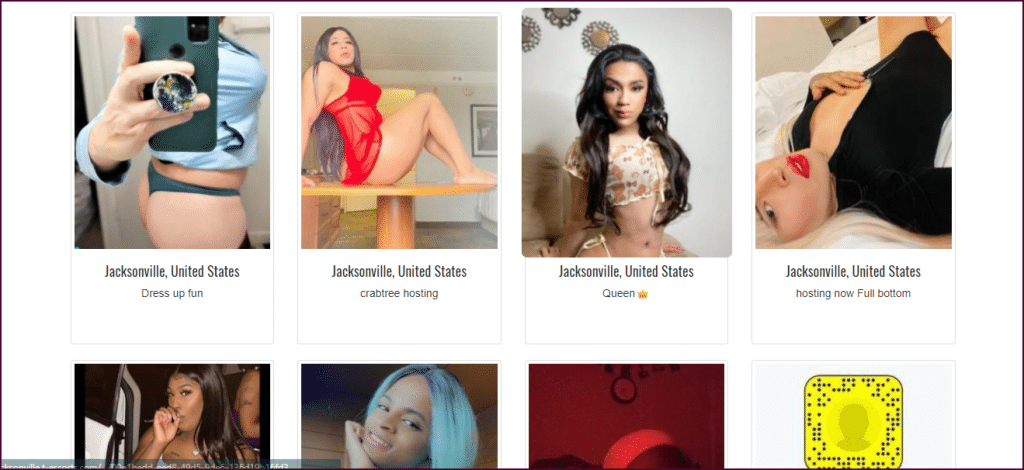 Escorts' Safety
T-Escorts does not accept "specific" addresses or locations of their trans escorts to safeguard their security. Of course, apart from users' safety, its primary goal is to ensure the welfare of their beloved independent escorts. While employing this, T-Escorts also consider your convenience, so they show you a list of escorts within the vicinity of your current location. This is actually more convenient and efficient when booking because, typically, escorts nearby are most likely to show up during meetings. However, if you're always on the highway or planning a vacation somewhere overseas, you can always find a trans escort in whatever city you visit. As I said, the T-Escorts site has covered most countries worldwide.
Verified Trannies
Fake escort advertising is becoming increasingly prevalent on the internet. I know this because I've seen it with my two eyes. They are literally everywhere, just waiting for someone to scam. Aside from wasting your time, clicking on bogus adverts might lead to financial loss. That's why T-Escorts has been training its system engine to distinguish between legitimate escorts and bogus ones —and it is a top priority for this site at all times. This way, you will only view escort ads from verified escort providers and definitely ensure your browsing and booking safety.
No Escort Ad Duplicates
In spite of the fact that T-Escorts deal with massive escort ads every day, the moderators give each one a meticulous evaluation. It's a fundamental process ensuring safety for the escorts and users alike. As we all know, duplicates and fakes are constantly bombarding other escort directories online, and it's something that most sites can't control. I was surprised to hear that T-Escorts always sorts and eliminates inappropriate ads. Of course, it would be a great help to the site if you let them know if any adverts you don't think should be shown.
The Best Escort Directory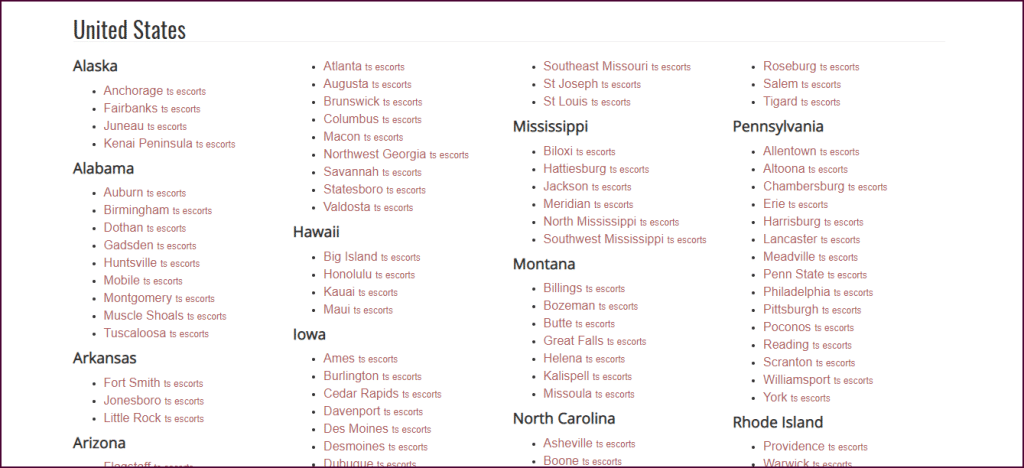 T-Escorts is definitely an excellent resource for anyone looking for a call girls and intimate service around Europe, the United States, Asia, or Canada. The site has many connections with independent escorts and agencies, so your browsing and booking experience would be seamless and convenient. Plus, T-Escorts will let you know about any escort reviews they've come across. This way, you can citric, verify, and check them before booking or setting up a meeting.
Moreover, T-Escorts also provides free classified ad services to all escort providers. But, regardless of the privilege, quality and quantity are equally important to the site. Meaning, despite its massive listing, T-Escorts ensure that majority of its ads have undergone verification. Anyway, the best thing I like about T-Escorts is that its costs are pretty reasonable compared to other escort directory services. If you think about it, with all the quality ads you can get here, the price could get higher than expected. But, of course, T-Escorts are different.
Finally, when it comes to online visibility, T-Escorts has partnered with several companies, so you can more trans escorts from T-Escorts in numerous escort directories. The team behind T-Escorts are making a shitload of effort in ensuring that all the escort ads are updated, unique, unduplicated, and underwent verification procedure.
Available T-Escorts Locations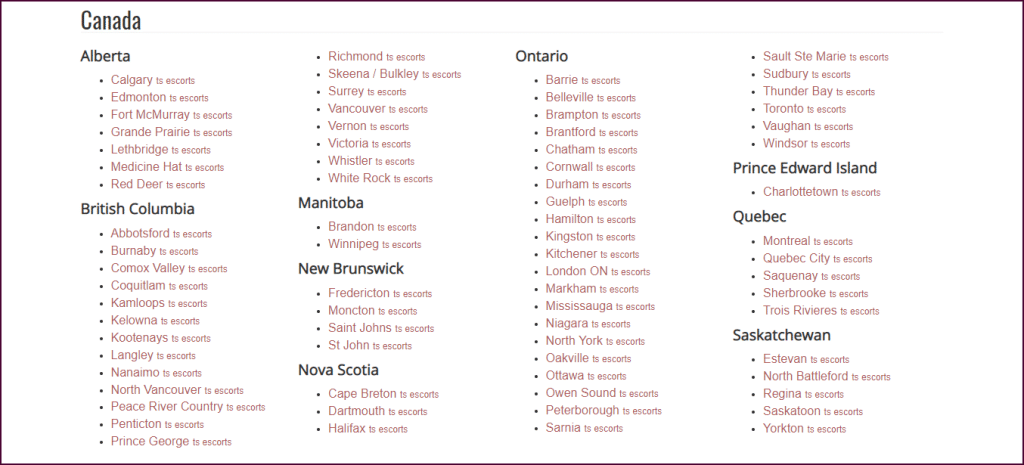 If you're in Canada, you're in luck because plenty of escort hot spots are available in this area. Some of these locations are Saskatchewan, Ontario, Nova Scotia, Alberta, Quebec, New Brunswick, Prince Edward Island, Manitoba, British Columbia. Meanwhile, if you happen to be vacationing in the United States, well, there's plenty of trans escorts ready to reach you. These include Virginia, New York, North Carolina, Texas, New Jersey, Michigan, Illinois, Pennsylvania, and Georgia. Also, I've seen some fantastic posts around Idaho, Ohio, Florida, Arizona, Alaska, Indiana, Iowa, Massachusetts, Colorado, and California.
Moreover, the entire Europe is an escort land of trannies because everywhere you look, there is always a gorgeous service provider ready to satisfy your needs. These locations include Russia, Italy, the United Kingdom, Switzerland, Austria, Spain, and Germany. There are still plenty more options on the site, so better check it out personally.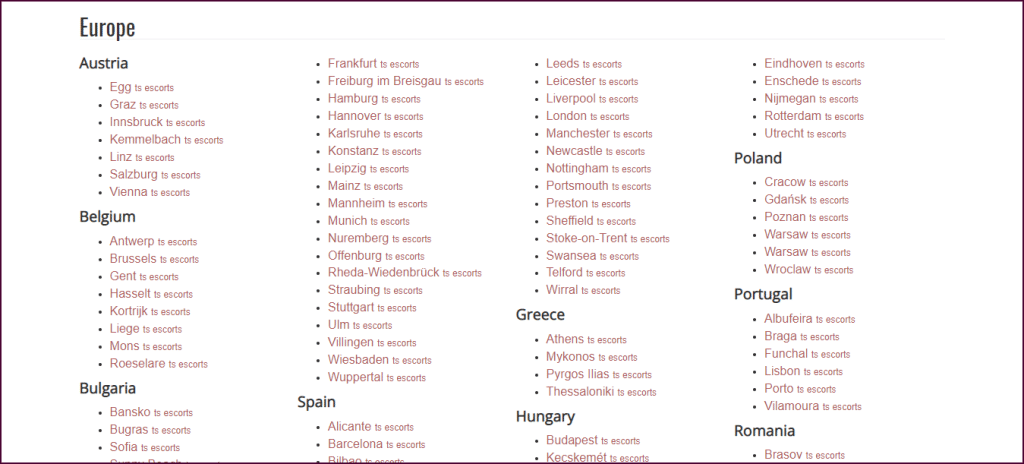 Of course, last but definitely not the least —Asia! I'm sure many of you would want to have a sex-capade in several Asian countries, so this will be an excellent spot to book a trans escort. Currently, T-Escorts is operating around Singapore, Thailand, Malaysia, UAE, Philippines, and India.
Booking T-Escorts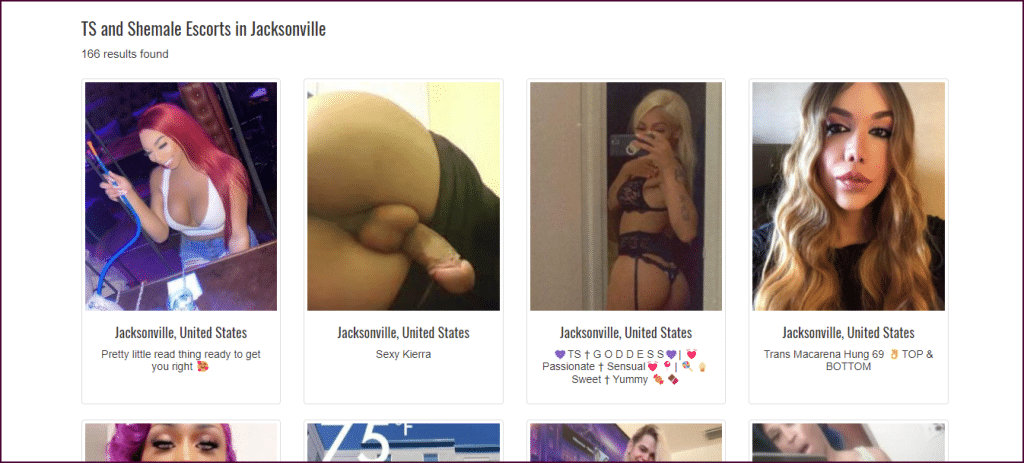 People in the escort and adult entertainment business can use T-Escorts' advertisement tools to promote their goods on the web. This site can put escorts in touch with people who need their intimate services with any luck. However, in terms of security in hiring and booking, T-Escorts can't ensure that the information in advertising posts is correct and validated at all times. Yes, I mentioned a while ago that T-Escorts undergo verification in every ad post on the page. However, with an overwhelming volume of postings daily, the moderators can't guarantee 100% verification completion.
Additionally, the status of an escort or ads will not also ensure the absolute safety and success of the transaction. For instance, you may find VIP or premium status on the ads, but these tags don't matter much. The only difference between premium, VIP, and validated advertisements from the regular ones is where they appear on the website. Usually, these ads are given priority to see them generally on top. However, T-Escorts.com has no close link with any of these advertisers, nor could it ensure which advertising is the most secure.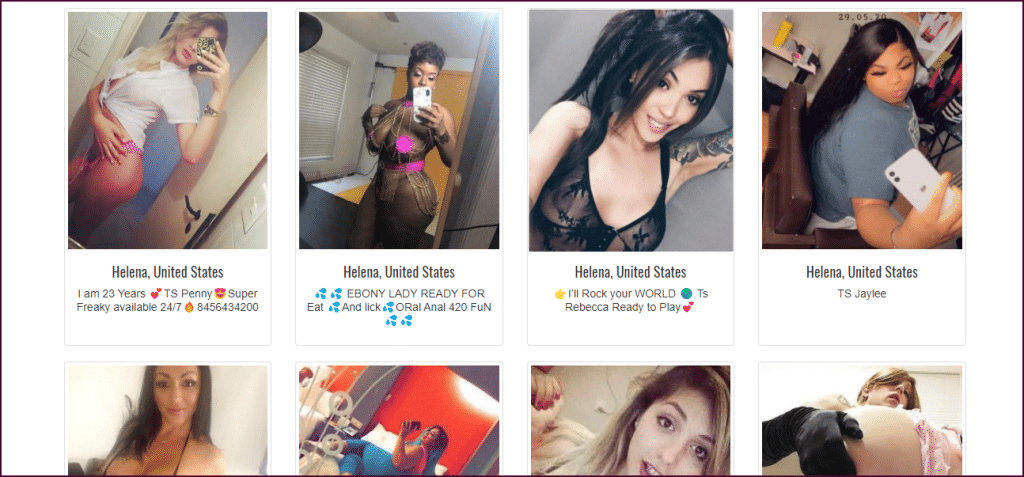 So, do your due diligence and thoroughly check out any adverts or independent escorts you are considering booking with. Certainly, T-Escorts cannot promise that the deal will succeed because it is neither linked with these clients nor affiliated with the agencies. If you think an ad is misleading or has the potential to scam, kindly let the moderators know. After all, when these ads get banned, we can all benefit from it. Whenever trying to contact an escort or agent, you must obviously use your own judgment. It doesn't matter whether you are working with an agent or an independent contractor; it is essential that you are satisfied with the person you are booking.
Posting Ads at T-Escorts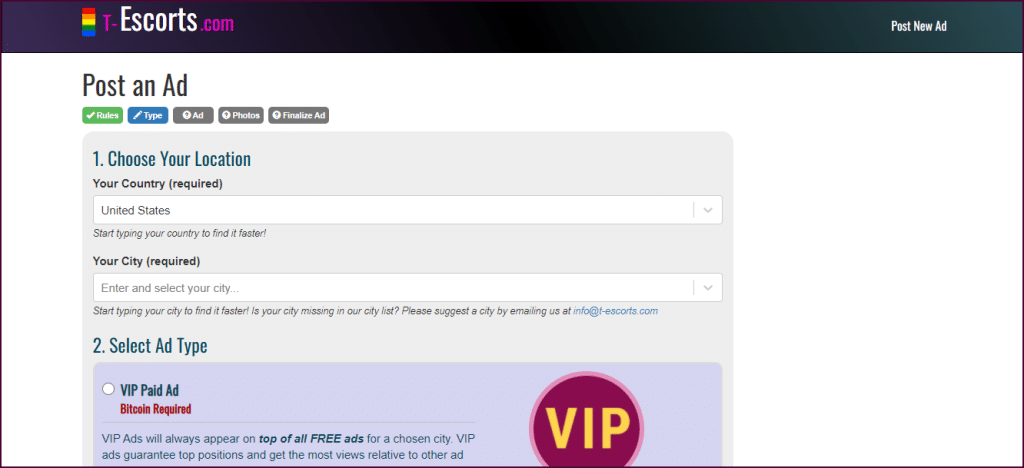 In terms of ad posting, users can use free and paid ads. Paid advertisements typically appear within moments, making them much faster and more convenient. Once you register for paid ads, expect confirmation mail with information about your ad and the location advertisement posted. Meanwhile, free promotions are still pending confirmation and may not be online right away.
As expected, most people prefer free ad posting, so there will be a long queue of advertisements to verify. So, try to be patient at all times when dealing with free ads. Of course, paid advertising is an option if you want your advert to display on the T-Escorts page quicker.
Also, reminders to everyone: please be aware that spammers and misleading posts are investigated thoroughly on T-Escorts. So, when you use a bogus backlink, this could result in ad removal and account blocking. It's typically among the cause why some ads may not go live.
Security Protocols of T-Escorts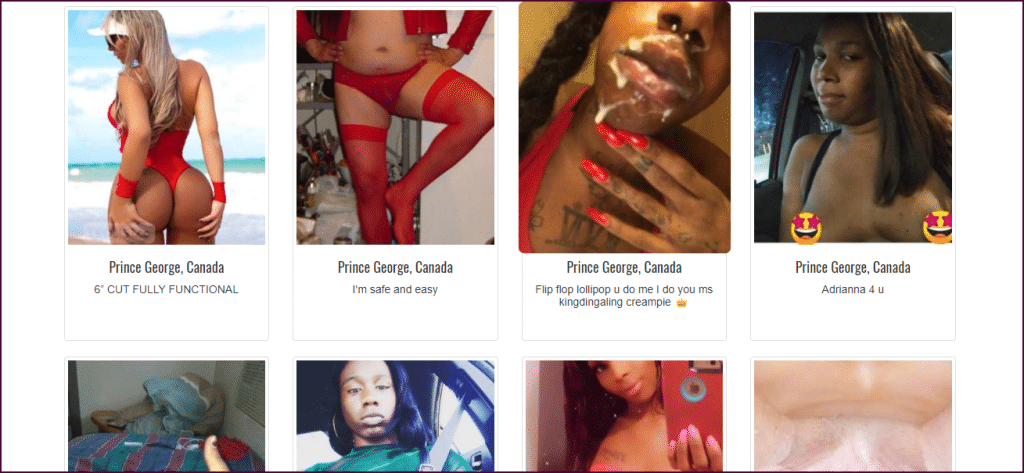 As part of T-Escorts' security measures, contact numbers are hidden not to be scraped and abused by automated systems. So, if you want to see the contact information of an escort, try clicking on the phone number using the mouse, and it will automatically appear. Hassle, right? But, the T-Escorts' goal is to ensure that the numbers are safe and up to date at all times. This way, both escort, and users will feel a much safer browsing experience.
In any case, if an ad seems to have a piece of erroneous contact information or other misleading details, kindly use the "Report" button available on the page. This way, you are also helping T-Escorts maintain these data safe and up-to-date for the escorts, members, and the rest of the horny public.
Finally, advertisements are considered "outdated" if they have been marked more than once and the advertiser itself has stopped updating them. Generally, T-Escorts will automatically archive the ad, and it will only display again if the poster adds them back in. If not, then Eventually, they are stored and finally deleted permanently.
Pros and Cons of T-Escorts
PROS:
Thousand of trans escorts
Free to use
Numerous locations
Gorgeous trans selection
Different escort services provided
Verifies ad posts
CONS:
Escorts are independent and not affiliated with the site
Only trans escorts are available
---
12 Must-Visit Trans Escort Sites Similar to t-escorts.com: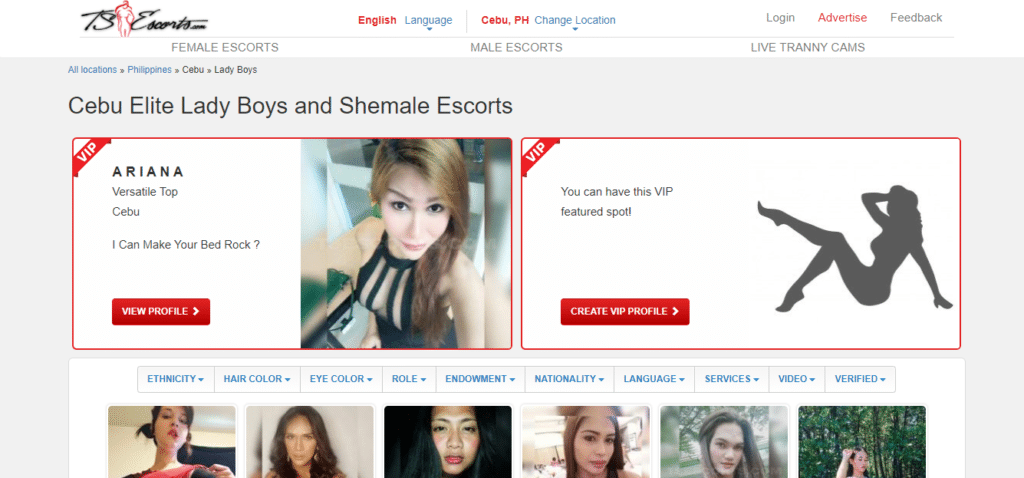 TSEscorts.com is a pretty good website that you should check out. It has just about everything you could ever want out of a shemale escort site, and it offers all of this information for free. You don't even have to make an account to enjoy what this site has to offer. Isn't this the most crucial part of the experience? I think TSEscorts is one of the best places for you to schedule a hot shemale to fuck with, and that's coming from a guy who has had many experiences with tranny escorts.
PROS:
vast selection of VIP and ordinary escorts
Worldwide coverage
all the info and photos are available for free
CONS:
some regions are empty
no dark mode
boring design and outdated look
---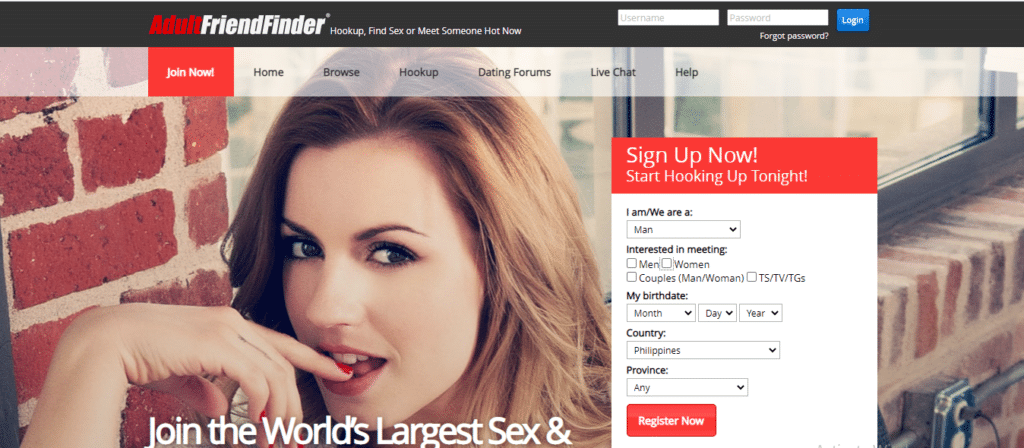 Adult Friend Finder is widely popular worldwide and has over eighty million members seeking casual and sexual encounters with different girls. Also, this website became popular in the United States and provided an excellent platform for users to seek a perfect sexual match using its communication features.
Further, it offers many casual arrangements, including polygamous relationships, monogamy, couple sharing, FuBu, and many others. Indeed, it is a great website to explore sexual preferences and spice things up in bed, especially among single people and couples willing to scrutinize their sexuality. With easy navigation and a fast registration process, the users will be finished within 5 minutes or below.
Click here for AdultFriendFinder full review.
PROS:
Free registration
Members of the site are seeking casual relationships
Open for bisexuals and gay members
There are plenty of features for communicating with each other
Members are allowed to create blogs and groups for information exchange
Free feature in watching videos and viewing photos
Members are allowed and free to share any types of videos and photos
CONS:
There are more males than females
---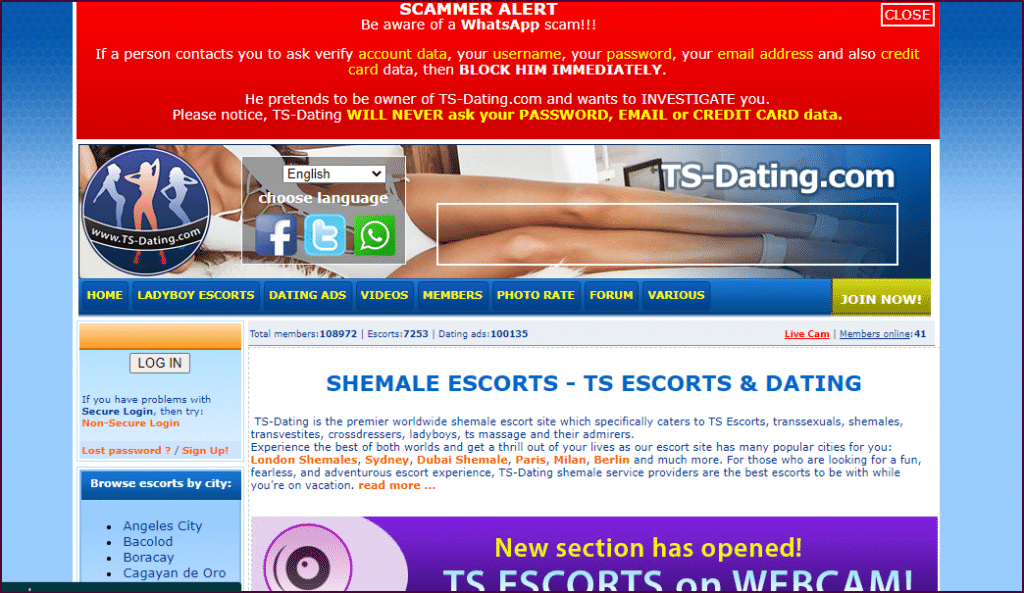 TSDating is an excellent website for meeting trannies internationally, in places like Europe and Asia especially. This website is generally has a large number of escorts, and you can browse through full-page graphics ads similar to those in a magazine. It's like flipping through the back pages of a filthy journal, which some viewers might enjoy.
PROS:
It has a unique vintage magazine-style design
Escort details and services are available
Verified users
Plenty of gorgeous trans escorts
CONS:
Not convenient for US users
---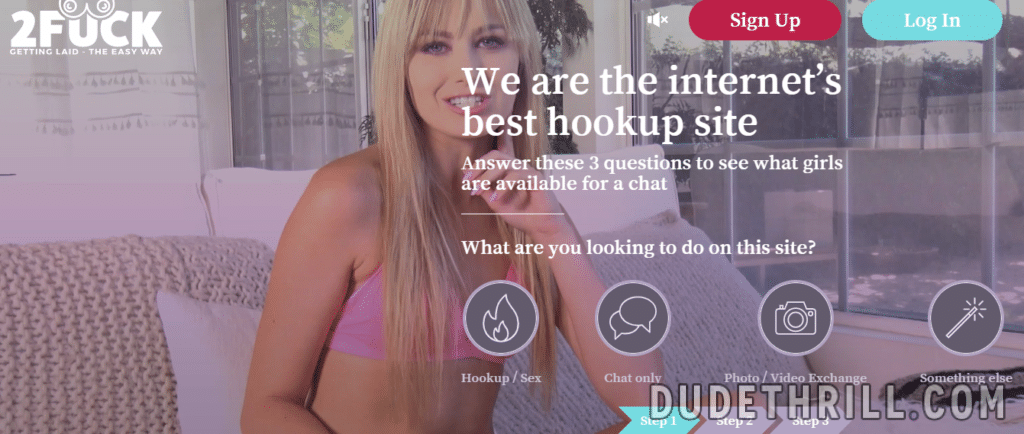 With all the escort websites across the Internet, only a few stand out. One of these is 2fuck.com, an Escort website with three million registered members worldwide. It is progressively growing every day. The website boasts genuine and authentic services for everyone who craves sex every day.
Once you become a member, your profile will automatically undergo compatibility matching and provide you with lists of members compatible with your preferences. It is easy to say that 2fuck.com does not randomly search for members for your convenience but instead employs an analytic process to make matching more accurate.
Click for a full review of 2fuck.com.
PROS:
Members worldwide reach up to millions and growing each day
The design of the website is user-friendly and straightforward
Free registration for everyone
CONS:
Premium members have exclusive features that can only access them
---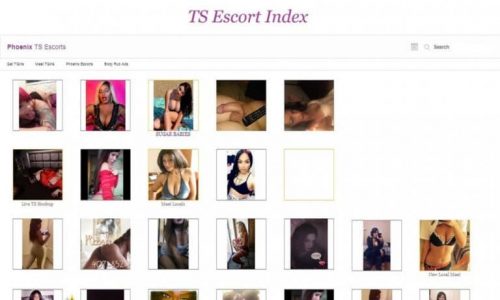 TSEscortIndex gives people the opportunity to exchange highly-quality, no-strings-attached sex for cold, hard cash with trans women. TSEscortIndex collects postings from other websites and places them in one location —making it more convenient. Also, the pictures are arranged in sequential order. One of the most valuable features of TSEscortIndex is its open access to advertisement history, promotions in other cities, and phone numbers. Essentially, this allows people searching for transexuals who are up for some tremendous escorting fun to check whether or not profiles are genuine.
PROS:
Amazing database
Easy to use and smooth browsing
Image-based adverts
CONS:
It has a limited search function
Caters in North America only
---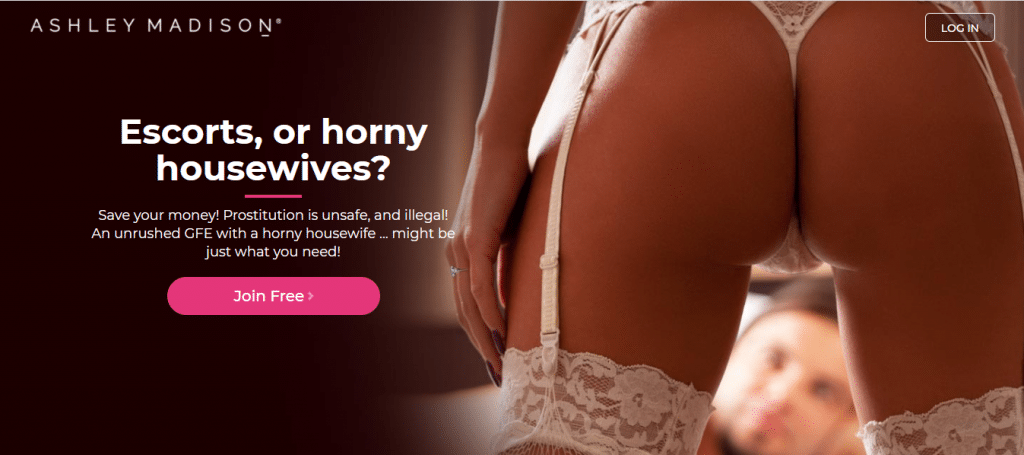 The Ashley Madison escort website is not just a typical escort website you see online. Founded back in 2001, the website provided committed people, married or in an attached relationship, the freedom to seek any discreet affairs with someone. Until this moment, Ashley Madison remains to offer a free-of-judgment environment, and affairs are not discouraged.
Over the years, the services offering of the Ashley Madison website is changing according to the demands and changing lifestyles and ways of cheating of members. This website covers many interests, including the perks of having polygamous, monogamous, open relationships, threesomes, and others. Due to the extraordinary features, it became popular and continues to be on top-up to this day, gaining reputation worldwide.
Full AshleyMadison review here.
PROS:
Maintains photo and personal information discretion
Encourages discreet photo uploading
Free registration and easy registration process
Available as apps on Android and iOS phones and don't require too much memory space
A large community of members around the world
CONS:
Some profiles do not provide many details
Some don't fill out profile information
---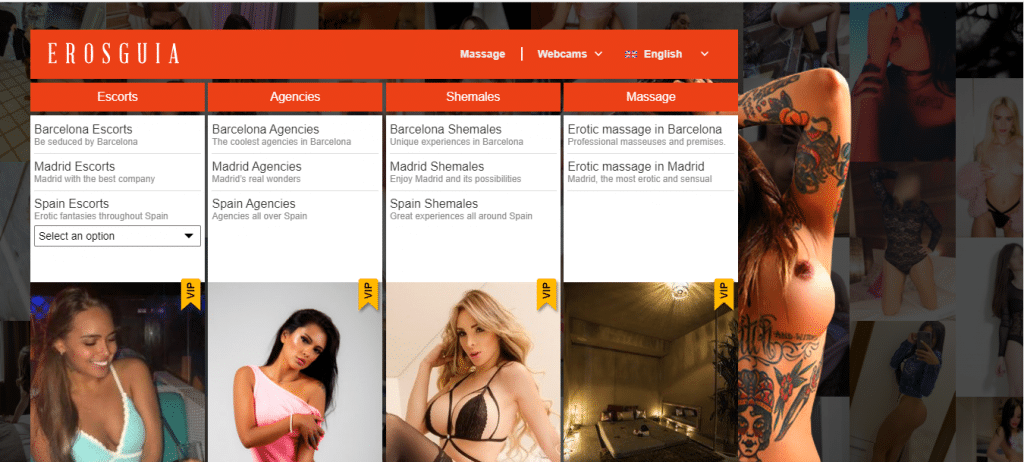 Erosguia is a full-service escort company that operates in Spain. They can be found in Barcelona, Madrid, and all other Spanish cities. Isn't that fantastic? If Erosguia is indeed what it claims to be, and this escort service can show that the escorts are genuine, this may be one of the finest escort services in Spain! Sure, a lot to expect from an escort website, but Erosguia can undoubtedly handle anything. I have reviewed loads of escort sites, and numerous escort platforms are no good in customer service. However, when Erosguia emerged in the scene, many people could experience authentic escort services they've been deprived of.
So, unlike many escort websites, Erosguia only has women and trans escorts available. While this means that the most beautiful women in Spain are denied their temptation, the rest of us get our fun. I certainly have to admit that the escorts on this platform are of very high quality. Currently, I'm looking for escorts in Barcelona, and there are 236 escorts open for booking. Every single one of these escorts is stunning, and there's a great mix of ladies and shemales as well.
Take a look at Erosguia review.
PROS:
Thousands of diverse female and shemale escorts
Profiles have plenty of details
Website design is so simple but easy to use
CONS:
Caters to limited areas only
No verification process
---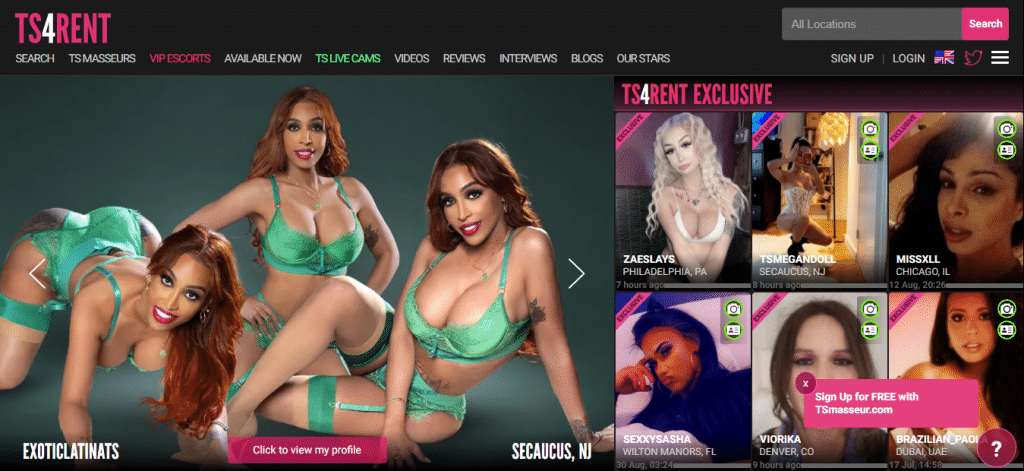 TS4Renters is a fantastic site where you can find unique and perfect trans girls for a fantastic value. The majority of these women are easily found in major European cities, especially London. With just one click, you get to enjoy a dirty weekend with some hot companion.
PROS:
It has an "Available now" section
TS massages are available
The website has a luxurious design and feel
Public nude images are available
CONS:
Some of the design elements are pretty clickbaity
---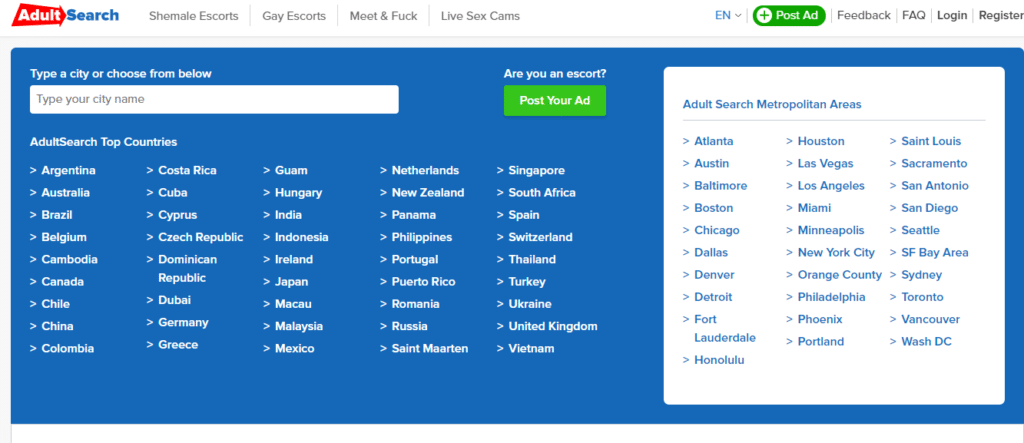 An escort website that functions like no other. Adult Search provides overwhelming services mostly about sex from their long list of escorts. Although you can still enjoy other activities, you like to try apart from sex. Members come from numerous parts of the world, and there is undoubtedly a perfect escort for you within your local area. Even around suburban locations are included in the listing; that is how broad the coverage of their services is. You can select from multiple types of escorts that differ according to body types, hair color, ethnicity, and other specific sorts you prefer. You can scroll through their profile photos. Some may even provide entire sexy and gorgeous bodies of themselves you can jerk off quickly. For the most convenient way, some escorts uploads videos that give you a preview of how hot they can be in bed.
Full review of AdultSearch here.
PROS:
Escort listing is huge
Profiles of escorts are detailed and straightforward
You have a variety of options on specific types of escorts
CONS:
Few cities have no available escorts
---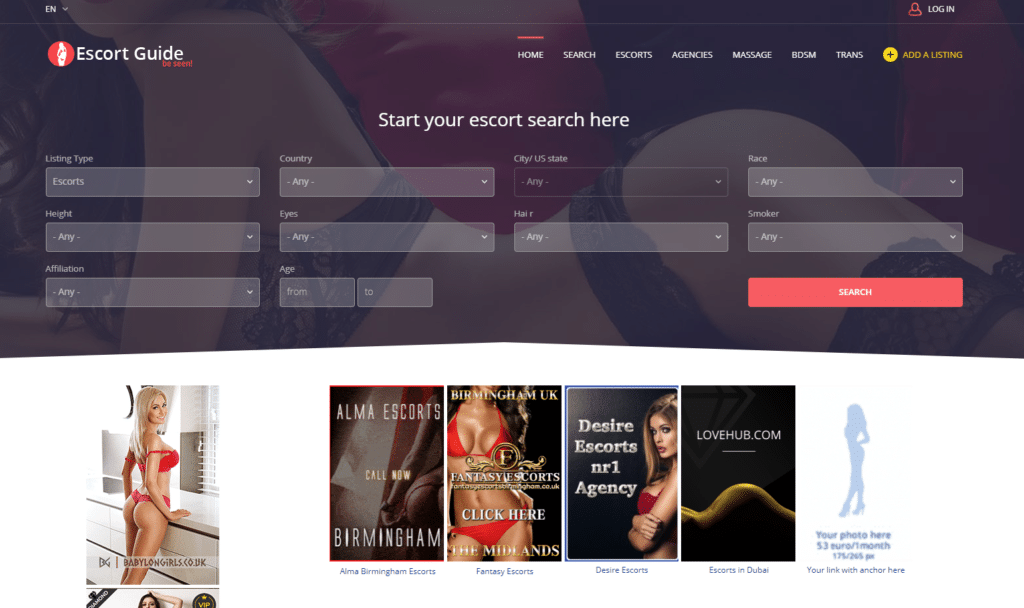 EscortGuide is a website that answers your prayers. If you are trying to book an escort in the United Kingdom, head over to this website. Certainly, there are loads of girls listed on this platform. You will make sure to locate escorts of different ethnicity like Black, Asian, African American, or Latin.
Not to mention, there are somewhat a few mature and experienced escorts available here as well. However, they remain to look stunning and appear youthful.
Click for a EscortGuide full review.
PROS:
Thousand of available female escorts in the United Kingdom
Profiles of escorts are complete and detailed
User-friendly features
The place has a fresh and simple design
Supports mobile version
CONS:
Only caters within the United Kingdom
---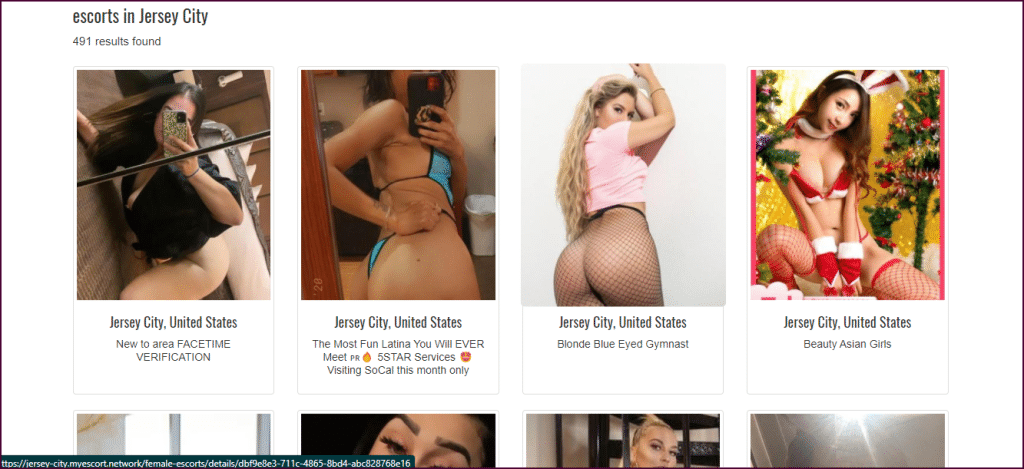 MyEscort Network started when there was a high need for quality escorts and scam-free ad listings in the adult service market. It claims to be among the most extensive and biggest escort service site online and believes in providing authentic and scam-free services to all its members and visitors. The admins of this site understand the industry gap and want to fill the void of landing on safe escort sites. Also, MyEscort Network indeed shows its commitment to giving us the best, most enjoyable, and unforgettable escort experience. And this can only be achieved when we feel comfortable and safe browsing ad listings.
PROS:
Thousand of available independent escorts
Plenty of ads worldwide
Hundreds of ad listings are updated regularly
Diverse escorts available
Simple and easy to use site
No advertisements or popups
CONS:
Webpage design could improve
No 100% security assurance against frauds and scams
---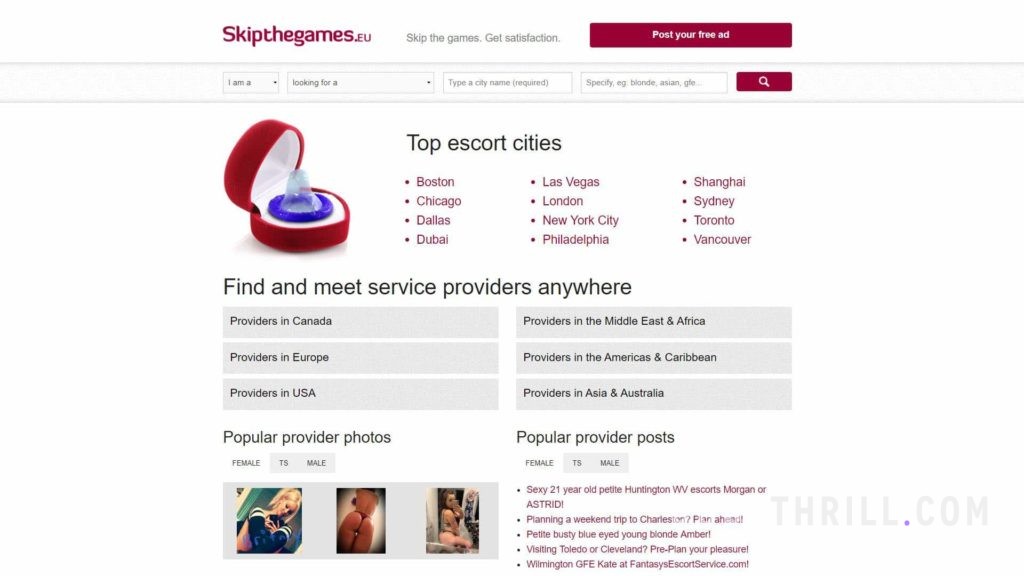 Skip the Games may sound like an excellent game to play. However, this name is not for playtime but rather a great platform to find adult workers and independent escorts all in one place. The most awesome thing about this is you are no longer required to sign up to get vital information about the available escorts.
You just need to scroll around, click a few profiles, and viola; you can already find your perfect destination. Nonetheless, there are still risks involved since registration is unnecessary. Most importantly, if you are up for a quick sexual time of your life, then take a break from porn and indulge yourself in a once-in-a-lifetime opportunity to have sex with a real woman.
Check for review of SkipTheGames.
PROS:
There are available escorts across the world
Photos posted by the escorts are genuine
There are articles published on this site that are useful and interesting to read
CONS:
No price range for escorts are available as a preview
---
Verdict
When T-Escorts claimed that its site has the most extensive list of trans escorts worldwide, I thought it was just too good to be true. But after checking it out, definitely I'm in awe. So far, T-Escorts has the most extensive directory I've seen after using several shemale escort sites. So, if your taste leans more on shemales and trannies, T-Escorts is here to the rescue!
It has covered all parts of Canada, the United States, Europe, and Asia, so booking an escort when traveling or vacationing would be much easier and more convenient. Whenever the urge for an escort companion rises, don't hesitate to visit T-Escorts. I'm crossing my heart; you'll definitely not be disappointed with the trans escort list it has.
All 106 Other Sites in This Category Worth Checking Out:
Empire Escort & 12 Must-Visit Escort Sites Like EmpireEscort.com Show Me 12 Alternatives for EmpireEscort.com Greetings, Dudethrill fans! Today, we're diving deep into the scandalous world of EmpirEscort, the fresh face in the online escort scene. Before you raise an eyebrow and wonder if their youthfulness is a red flag, remember, it's not the years; the […]