Updated on: October 1st, 2023
RubMaps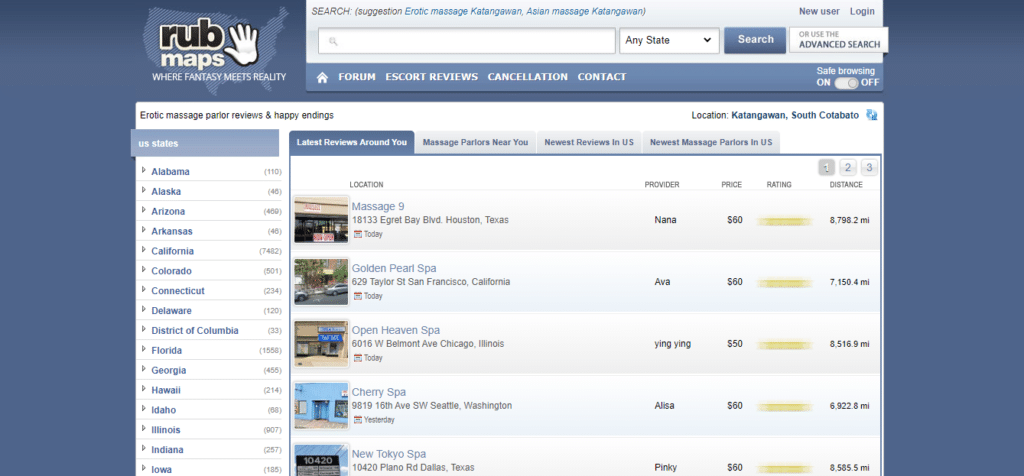 You must have heard of the term "happy endings" usually associated with massages and parlors. This is referring to getting massage services where the masseuse would eventually help you reach orgasm, which is included in their "services". Yes, this is happening and they are real. Lots of massage parlors offer happy endings, and this service somehow started in Thailand. It has been known to be one of their popular tourist activities, although this is, of course, kept mum and only those who are in the know can attest to it. You might be surprised that there are even such establishments around your area since most of the Asian countries have this kind of services. And not just in Asia, as these happy ending massage services have reached other places already, including the USA.
It is a discreet fact that massage parlors are offering extra services and now they are going online as well. If you are looking for some erotic massage parlors, then Rubmaps.ch is the best place for you. They have reviews made by those who have tried and tested their services and their locations vary so wherever you are, there would be some girls nearby to do the massage and give you the happy ending you want to achieve. Rubmaps will be a great site to help you locate massage parlors within the USA, waiting for you to have your appointment. You can never go wrong with Rubmaps' discreet shops because you can be assured that they're all clean and professional. All the ladies in these shops know what they are doing and they do it quickly but of course, satisfying.
The website calls its members "mongers" and you will find serious feedback regarding their services, from the physical appearance, attitude, and massage techniques of their masseuses. Calling themselves as the home to erotic massages, you get to choose from their options as to what kind of service you want to avail: prostate, massage, hot massage, happy endings, and Nuru massage. But be reminded that although the site is legal in the USA, happy massages are not, so they do this as discreet as possible. You need to be aware of the risks in case you avail of such services.
Most of these massage parlors are operating silently because of legal issues but continue to run because they now rely upon word of mouth or online so that people can find them. Before, it was much harder to locate such massage parlors unless you know someone who frequents such places, but now that we have the Internet, everything is easier and you won't need to sweat trying to find a place for your happy ending. Since Rubmaps is available in almost any part across America, they will also tell you the distance and estimated costs if you book their services. You can easily pamper yourself and release your pent-up stress and the sexual tension you've been feeling. So, if you already checked out Rubmaps, here are some similar sites that you can try next time for your happy ending visits to these massage parlor
9 Alternative Massage Parlor Websites Like Rubmaps.ch:
URL: https://adultfriendfinder.com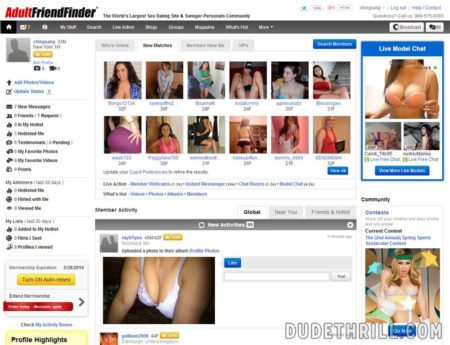 For all people searching for intimate and casual affairs, Adult Friend Finder is a must-visit website. Not only you can get a one-night stand, but find some kinky women willing to do you an erotic massage! Moreover, it gathered over eighty million users who use the site's preferred communication features of the platform. Indeed, they constantly pursue stimulating relations and erotic encounters online. Certainly, there are multiple incredible activities you can explore here and eventually provoke your erotic preferences. Finally, it is relatively quick to use the Adult Friend Finder site and the design is easy to manage. Above all, this will only require just under five minutes to register online and be an official user.
Read our full Adultfriendfinder.com review.
---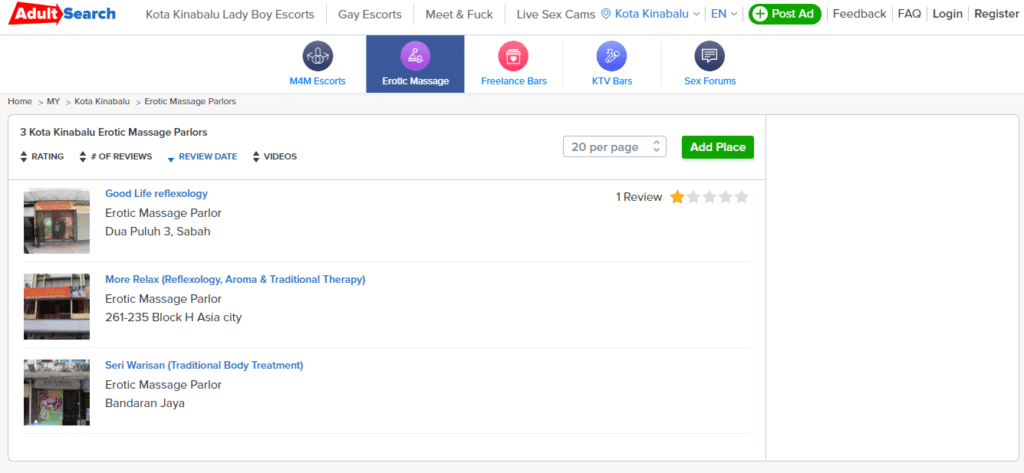 A Netherlands-based erotic massage site that allows consenting adults to engage in massage and sexual activities in exchange for some cash. This website has been existing for the last 20 years and as we've noticed, they get around 14 million views every month, making them a well-known sex marketplace worldwide. You can never run out of activities and services to avail on the site, as they have a long list of adult stuff on their lists. They have organized their lists by country and you can just start exploring from there if you aren't from any major cities. It's a great site overall because not only do they offer erotic massage parlor locations, you can also find strip clubs and escort listings, gay bathhouses, and even swingers club. Adult forums are also available, which promotes interaction between members and everyone can just casually open up sex topics and the like. No matter where your location is, you can find an erotic massage parlor or two near you. You can check out their reviews first if you feel skeptical but you will know that these are legit since lots of people leave honest reviews for their services.
Check out our full review of Adultsearch.
PROS:
An extensive list of erotic massage parlors
Lots of honest reviews with media
Interactive user forums
Offers coupons and discounts
CONS:
Some review pages are broken
Areas listed on the site are limited
Reviews are made by non-verified profiles
---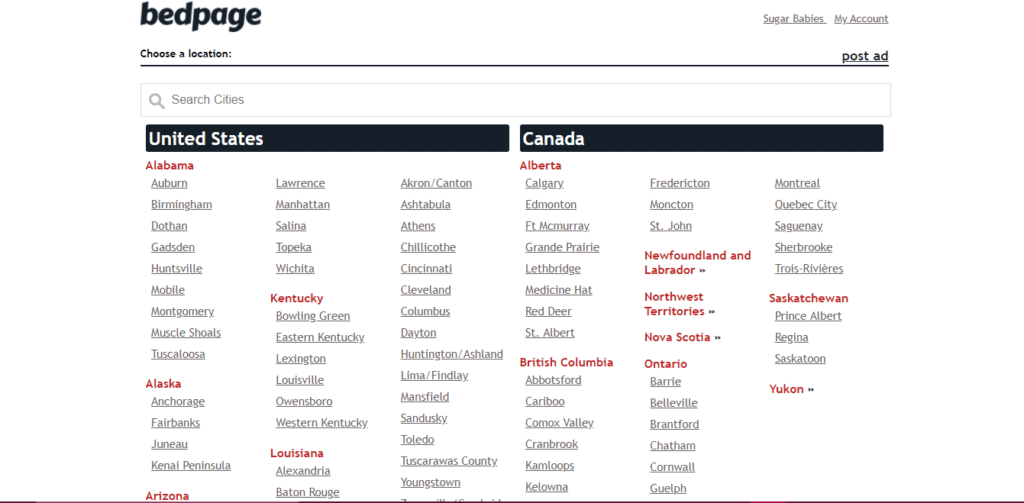 Looking like your typical Craigslist or Backpage website, it lists cities all over the world and putting them down by province or state so you can easily navigate and check if there's a nearby massage parlor near you. They have lots of available places and their categories are so extensive that you'll find a listing of various things, from the normal and typical services to sexual services, which is what we're here for. They have Adult listings and you can choose erotic massages, adult jobs, BDSM, escort services, and Bodyrub categories. If you've found categories that you like to avail and have searched within your location, then you can start hitting up local masseuses and go your way to a happy ending. BedPage's listings include pictures so you can have an idea of how your masseuse for the night looks like and contact details so you can reach them easily.
Here's a full review of Bedpage.
PROS:
Worldwide coverage of local erotic massage parlors
No registration required
Many listings of various categories
CONS:
No thumbnails on posts
Lots of sexual gibberish and emojis on list titles
No user reviews
---
URL: https://www.eroticmonkey.ch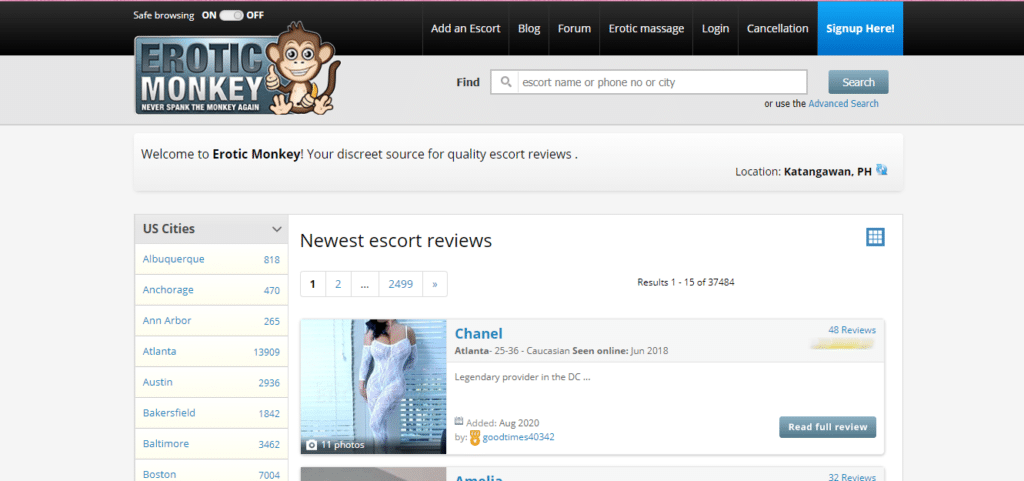 This site is probably one of the largest platforms that are similar to the widely-known Backpage. Mostly based in the United States, it gives you access and details to a wide range of hot girls from various states. This site is not available for other countries so if you're outside the US, then you may try your luck somewhere else.
Erotic Monkey's site is very versatile. They have all sorts of adult listings and you can frequent their forum where users discuss a wide range of topics and you get to interact with them as well. Another portion of the site is a Backpage-inspired massage parlor where you can contact girls and have their services. Aside from that, they also have live shows that you can enjoy yourself while seeing hot girls doing all sorts of stuff in front of you.
PROS:
Minimalist interface
Easy to navigate
Works well on mobile devices
CONS:
Available only in the United States
Annoying links from shady users
Quite a few ads
---
#4: AAMP Maps (no longer existent)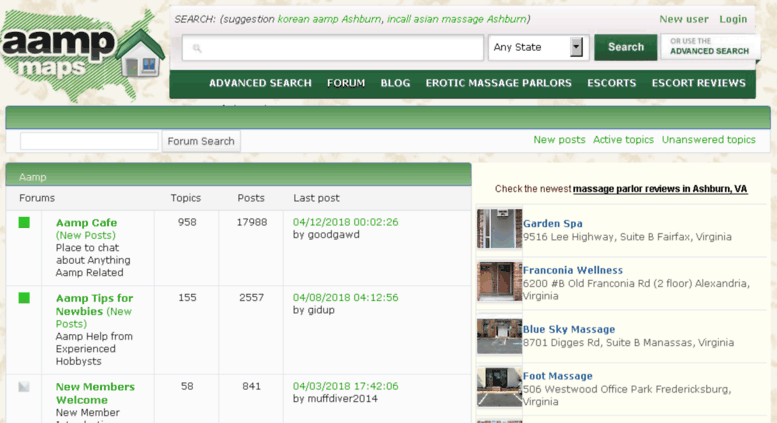 This is a Rubmaps elective and can help you look for your fulfilling erotic massage parlor near you. They mostly have Asian women to massage clients and by visiting AAMP maps, you will know some answers regarding all kinds of massages and the quality and costs it would take. They also have extensive studies regarding the different types of massages that you can avail, so you will encounter back rubs, Nuru massage, prostate, and body to body on this site. To fully enjoy the site, you will need to register for an account first since free users only get a little glimpse of what's really on the site. Once you've signed up for an account, you can access special features on-site that will lead you to a happy ending, by fulfilling your tastes, needs, and more. In the forum, you can comment and review the places you've been to and others would do the same. You will know which places are the best in terms of massage quality and many more.
This website is, unfortunately, no longer online.
PROS:
Extensive details about different kinds of massage
Easy to navigate
Interactive forum
CONS:
Website designs look outdated
Some annoying ads
Only a few details regarding lady masseuses
NO LONGER ONLINE
---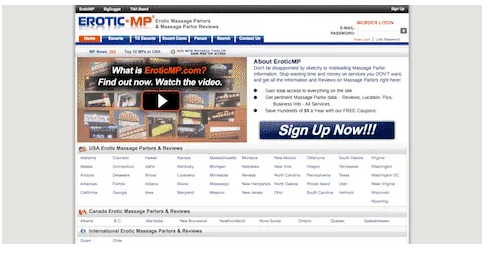 A lot of reviews can be found on this site and most of them are written honestly so you can have an idea of which one is great or not, which places are legit and sketchy. If you're looking for a site that will lead you to get hot back rubs and extra services, then EroticMP is a must-visit because booking for appointments has never been easier with this site. If you are keen on getting your massage from places featured on listing sites, then it is a must that you do a little check first so you can be sure that you're going to the right place. EroticMP aims to help you get to the best relaxation massage and get laid afterward, of course.
PROS:
Honest reviews
Many members can attest to existing parlors
The site has been around for a long time
CONS:
Not available on a mobile app
The site looks pretty plain
No advanced search
---
URL: http://www.spahunters.com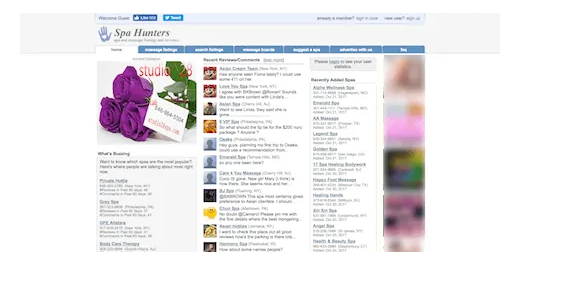 Introducing a very massive forum that allows members to comment and rate every massage parlor they've ever been into, Spa Hunters is now one of the best sites that are similar to RubMaps and even Backpage. Top Recommendations are also being updated now and then so if you have some time to spare, or you just want to relax after a long and stressful week, then Spa Hunters can come and help you out. Special "talents" can also be found on this site. These are beautiful ladies who can give you massages and a hard-on so you will enjoy your stay in any parlor of your choice.
PROS:
Lots of massage parlor locations
Massive forum with honest reviews
Happy endings are offered in most parlors on site
CONS:
Website looks unorganized
Only a few features
Very few images on the listings
---
URL: https://www.mpreviews.com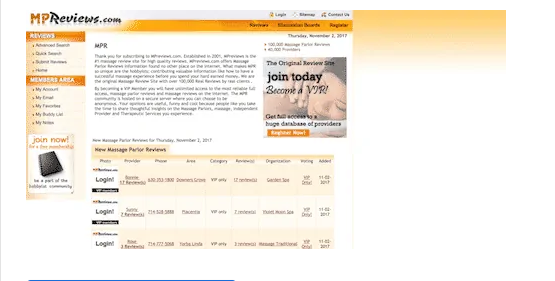 Known for their high-quality reviews, this site has been around since 2001 and a lot of people come on-site to look for the best places and search for erotic massages and happy endings. They do not directly divulge on the erotic massage portion; they offer tips and user comments on how to experience the most satisfying and successful massage and even lets you in on the know-hows of getting one, like hidden fees before you decide to splurge on it. More than 10,000 honest reviews are written by the most satisfied clients of MPReviews so you would know where to go if you want something similar as well. The users' privacy is very important on this site since they keep everyone anonymous so you won't have to worry about expressing your real opinions and experiences so it would be useful for other users who want to have that kind of release as well.
PROS:
Offers friendly tips on getting a massage
Anonymity is very important on this site
More than 10,000 real reviews
CONS:
Only a few locations, mostly around the USA only
No advanced search
---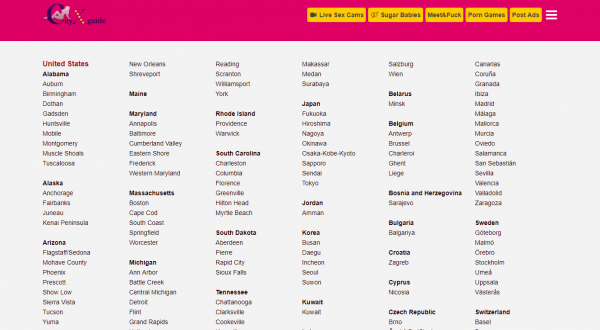 On this site, you will find a lot of girls willing to provide extra services for you. More like an escort directory, you would find lots of countries on their list, and postings are updated regularly so you can easily find an erotic masseuse nearby. Most of the girls on this site are part of larger third-party services so you would know that they're all legal and legit. Although the site focuses on the US market, it is still surprising to have a few other countries included in their list. If you have someone that has piqued your interest, you can directly contact her and you're on your way to some happy ending. With CityXGuide, everything is simple and smooth-sailing. No extra charges and not even a paper trail left behind because the site values the users' discretion and privacy.
You can also check our full review of CityXGuide here.
PROS:
Site is very simple to use
Everything is for free
Valid information about girls is provided
CONS:
Plenty of annoying ads
Only a few reviews
---
URL: http://www.localbodyrubs.com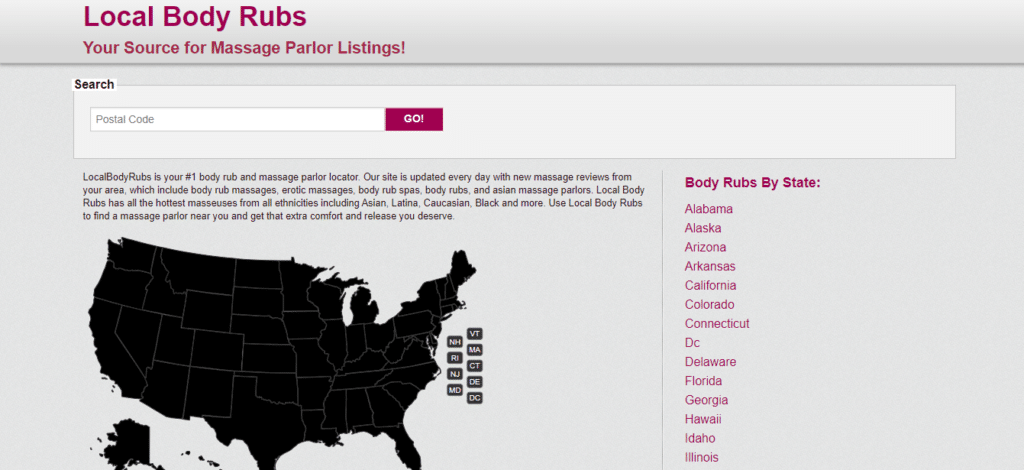 This website is updated daily so you can always go and check for massage reviews, especially those around your area. No matter what type of massage you've availed, your reviews will be much appreciated here since lots of users check from time to time before they also avail of such services. Local Body Rubs feature massage parlors with the hottest masseuses so you won't ever regret going in for some extra service, and to think that they all come from various ethnicities. It would be a definite eye feast that you can enjoy while going for that extra comfort and stress release that you deserve. Massage parlors are discreet and lowkey so you won't have to worry about your identity being exposed if ever you avail for one of their erotic services.
PROS:
Has a long list of available massage parlors
Most of their masseuses are from different ethnicities
Directions are well-provided as well as contact details
CONS:
Some services cost quite a bit
The website looks plain and boring
No advanced search and other features
Final Word
If you're looking for some good old handjob but you are feeling too lazy to fap yourself, then you should start looking at these websites to have someone do it for you! And the best thing with these erotic massage parlors, you won't just cum, you will also get relaxed since they do their massages well. These sensuous places will be heaven for you to fulfill your sexual fantasies and reach your "happy ending". The only downsides are that most of these sites are only available in most US countries so if you're from other places, you are less likely to find one. Maybe you will if you're in Asia since it's a known fact, as stated above, that most countries have them, but they are not listed on sites like these. You'll only need to hear from word of the tongue to know that stuff.
If you're unsure which to use — I'll give you a hint. You can't go wrong with:
– Rubmaps;
– CityXGuide;
– and EroticMonkey.ch
All of these sites are kind enough to provide information about their hot masseuses so you can find someone to your liking. Most of the girls look like porn actresses and one thing is for sure, they know how to play in bed and they'll leave you wanting for more. The parlors are also very open to other sexual acts so you would know which ones they would allow and what type of massage you would want. This is a must-try experience for men because you never know when you'll need some good massage with some extra service.
All 3 Other Sites in This Category Worth Checking Out:
Massage Planet & 12 Best Erotic Massage Sites Like MassagePlanet.net Show Me 12 Alternatives for MassagePlanet.net These muscle pains are hindering me from doing my best abilities today. Why don't I get some prescriptions from my favorite sexual doctors? In less than minutes, I received my diagnosis. Damn, these experts suggest a steamy massage for my […]
RubMaps Show 9 Similar Massage Parlor Websites to Rubmaps.ch You must have heard of the term "happy endings" usually associated with massages and parlors. This is referring to getting massage services where the masseuse would eventually help you reach orgasm, which is included in their "services". Yes, this is happening and they are real. Lots of […]
Show Me The List of 11Nevada Bordellos At one point or another, you'll be hearing about brothels whenever you're in Nevada. It's a happy place for men — one where they can go whenever they want to pay for sex. Prostitution is legal in Nevada (but only for counties with residents below 700,000) so brothels are […]