Updated on: December 5th, 2023
ManhwaHentai
& Top-12 Hentai Sites Like ManhwaHentai.com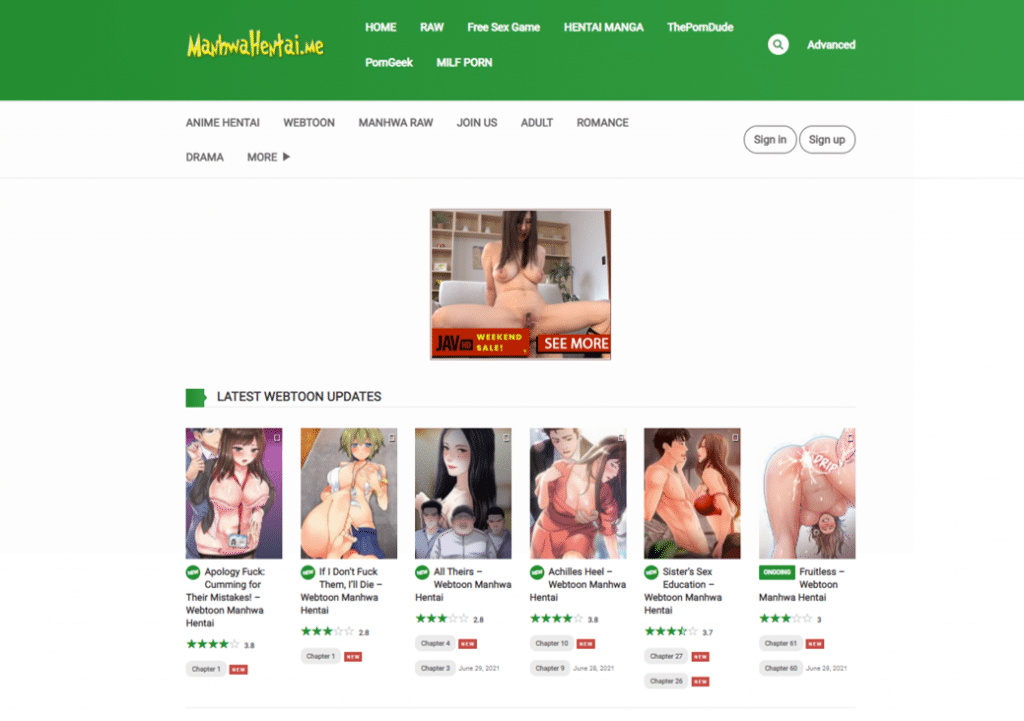 I come across a website that says Korean Porn comics, and then again, my curious mind worked. I browse the page, and I thought it would be best to write a review to share what I experienced firsthand on the platform. And here it is, by the way, the site is called Manhwahentai.com. Manhwa is a common word associated with manga, cartoons, and animations in South Korea. Meanwhile, the site manhwahentai.com caters to enthusiasts who adore reading and divulge on free Korean erotic comics.
Official URL: https://manhwahentai.me/
Now, if you are a great fan of any hentai manga, then for sure, this website will catch your attention. This platform became one of the most famous hentai manga websites since its launching a few years back. Indeed, technology and the world are evolving as with the current developments we are experiencing. Hence, thanks to more sophisticated digital graphics and erotic plots, Korean porn comics now get thousands of subscribers and are among the most jacked up to pornography.
ManhwaHentai is here to offer you the naughtiest manga and graphic novels from around the globe. This means artists do not solely create this hentai from Korea since it has come a long way since the site started. Hentai is now a part of the erotica realm, and anybody may produce their personal dirty manga. Isn't that exciting and incredible? You, too, may share your own sensual comics.
Searching for a Place to Jerk on? This is it!
I guess this is the site for you if you are tired of seeing the same hentai mangas. What made me say this? Well, this site has a slew of artists out there that are pushing hentai into unknown realms. They push the boundaries of creativity, creating all kinds of unique and stunning breasts and asses that will make your brain explode.
There are also a lot of hot fuck scenes in here. The characters are frequently seen leaning hoes over and fucking their asses out. The characters are usually doing stuff in a dominant and hard manner. Other than that, manhwa hentai is not only hardcore porn; it also concentrates on people and drama to tell a tale. Even without the porn component, many of these stories are fascinating, providing actual amusement in between your hard jerking periods.
Collections of Plots to Fap on ManhwaHentai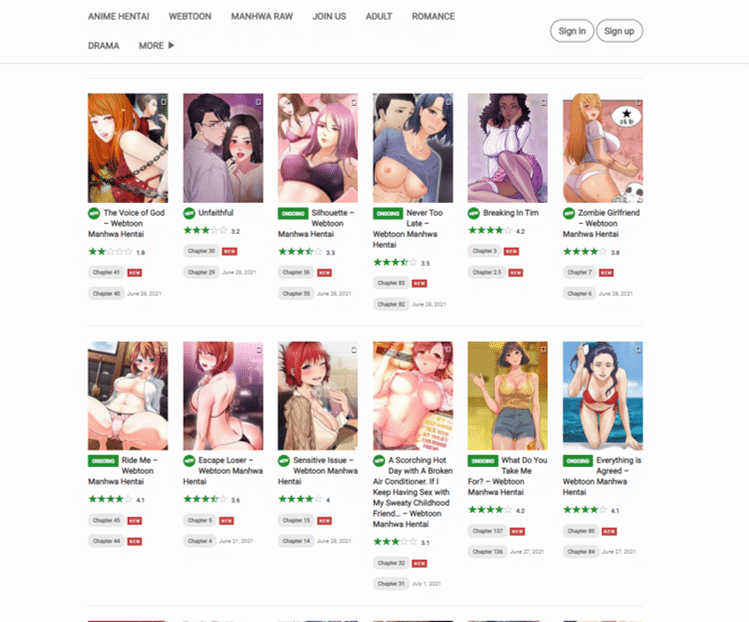 At least once every two chapters in most comics, you will get a fantastic fuck scene on ManhwaHentai. However, it is sad that dicks and pussies will be banned or censored in some stories, but the art remains excellent.  Date, ratings, popularity, highest views, and fresh are all used to categorize the comics. Drama, comedy, thrill, harem, and passion are prominent themes for these comics, and you will find vibrant and fascinating stories here.
You will get hooked on the variety of stories and plots the creators present on the platform. I love how diverse the contents are. If you love a specific theme, certainly you can immediately find it. The classifications of the highest views and ratings allow the users to have a glimpse of the best of the best materials in manhwa hentai. More so, users can quickly locate the updated list of new contents as they are already classified. Indeed, the platform will never run out of unique content, making fapping sessions active 24/7.
Spotting Differences: Korean and Japanese
This is one of the questions I tend to ask myself while exploring the platform. Well, in numerous respects, manhwa porn differs from Japanese hentai. To begin with, the visual style and the color palette is rather distinct between the two. Hentai has a traditional anime aesthetic, with large eyes, wild hair, and expressive facial expressions. On the other hand, Manhwa is a more natural form of manga created on a computer rather than with a pen and paper.
Another significant distinction is the narratives. Hentai has practically no storyline, instead of relying on easy reasons for the participants to have sex and fuck each other every day. Meanwhile, Manhwa is a unique genre. Manhwa is a considerably more sophisticated kind of storytelling, with more emotional and melodramatic elements.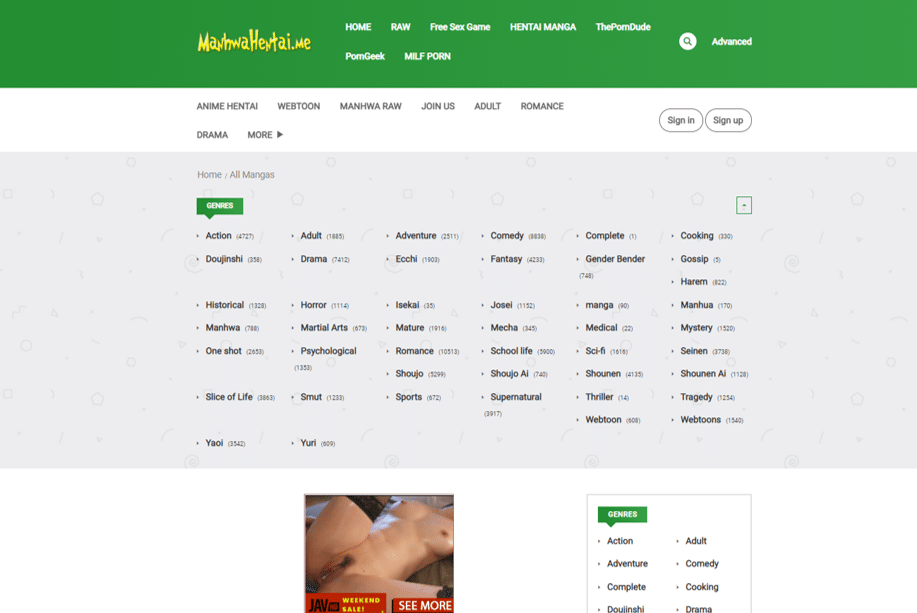 ManhwaHentai's Unique and Creative Content
These comics are really unique. Every artist on this site, after all, has their own distinct style that they have practically developed for their cartoons. I had no idea this kind of nonsense was popular. On this site, no two artists create in the same manner. It is fantastic. Nothing pleases my dick more than variety, which you will find on this website.
You will see a tremendous number of various styled tits, butts, eyes, and all kinds of goods on ladies of all shapes and sizes if you look at the front page of this site. The more authentic and original imagery is most notable on the site. However, keep in mind that some of the materials here also include some very poor artwork due to the amateur content. Furthermore, because the comics are more story-driven, there are chapters where there is no heavy action. Nonetheless, there is still a lot of sexy and erotic materials available.
Site Design and Navigation Experience
While we like the quantity and quality of all the material on this site, some features will surely enhance. The layout of Manhwahentai.com isn't perfect, but it gets the job done. The color palette is appealing, and the overall structure is superior to that of most pornographic websites. The first you will bump into is that Manhwa Hentai has a few advertisements, as well as pop-ups and redirection.
The absence of filters and restricted pagination are significant issues, although, in need, you can still use the standard or comprehensive search. When you click on a comic or chapter, you will be sent to a page that includes the title, score, rankings, synopsis, creator, and other information. This makes it simple to learn and discover more about anything you are researching.
Finally, you may bookmark, save, or favorite comics and receive alerts of upcoming updates if you decide to sign up here. Moreover, there is a specific area to discuss and exchange thoughts at the end of the materials. What is more exciting? Anybody can utilize the Discuss comment area, so why not try and talk to your fellow comic porn lover out there.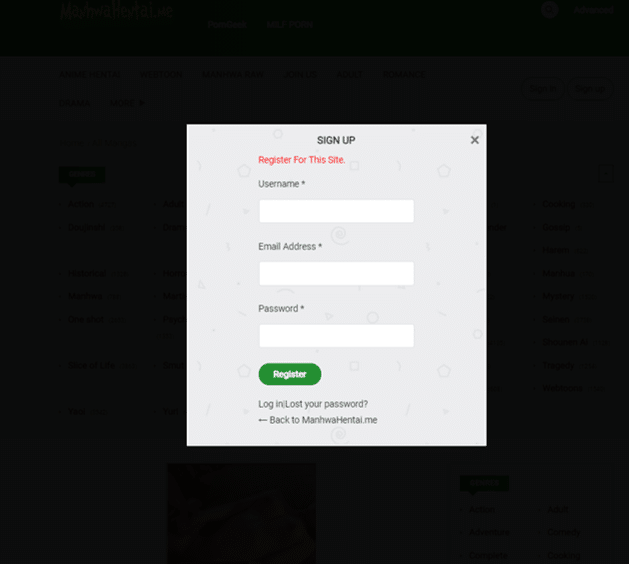 Don't Understand Korean? No problem!
No, you don't need to know Korean to use this site or to understand the material. All of the beautiful content is really effectively translated. Indeed, a piece of great news. However, I am not sure if the original artists translated it, but it looks and works incredibly. Other than that, the best part is that all of the comics here are free to read.
Furthermore, you will discover good content to fill a library with a vast collection of dozens of porn manhwa, all with good English translations. Your library will be covered with your favorite materials in no time, thanks to the high-quality graphics and steamy backside scenarios.
Few ManhwaHentai's Imperfections to Note
I notice that there are enormous spaces amongst each item, and you have to scroll down since comics load in a separate list. I am not sure why they have such massive ass margins between each image, but it looks awful. They should either smoosh the photos together or provide enough boundaries to indicate where you should look and focus.
In addition, advertisements, pop-ups, and banner ads are present everywhere on the site. Sometimes, they become too annoying or will disrupt the moment of enjoyment. However, as this is a free site, these advertisements are highly expected. All in all, these drawbacks are only a pinch compared to the other wonderful flavors manhwa hentai offers us, porn citizens.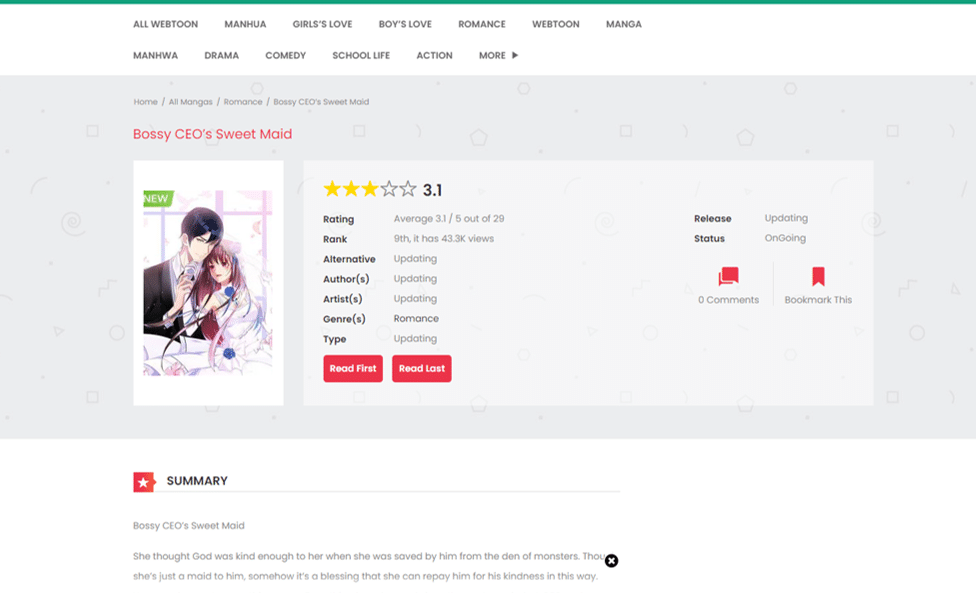 The Pros and Cons of ManhwaHentai.com
PROS:
Efficient English translation
Free comics to read
Wide selection of contents
Has a discussion section
Good quality comics
Diverse topics and plots
Good mobile display
With dramatic and engaging storylines
Comics load fast and quick
CONS:
Too many advertisements and pop-ups
Not all hardcore
Absence of sex scenes sometimes
Not so good layout
Some censored contents
---
TOP 12 Hentai Sites Similar to ManhwaHentai.com: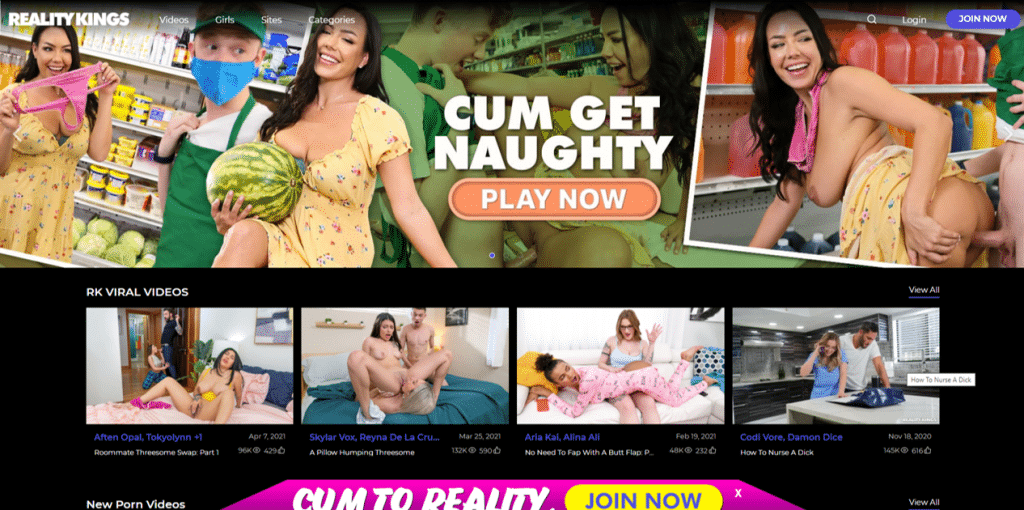 Sure, I know it's not a hentai site! But why wouldn't you want to try some REAL porn?! This is no ordinary porn site because it has loads of high-quality scenes performed by the hottest and sexiest pornstars. Also, one of the most sought out scenes here includes MILFs fucking their daughters' boyfriends, erotic massages, shy maids, fake professionals, and many other storylines. Indeed, the name RealityKings is not given for no reason. Loaded with thousands of videos to watch, there is so much more to see within this site.
Click here for a review of RealityKings
PROS:
The trial period is only $1
Regular updates and video uploads
A huge number of porn collections
All the hottest and most popular pornstars are all here
CONS:
Members can download a maximum of 50 videos per day
---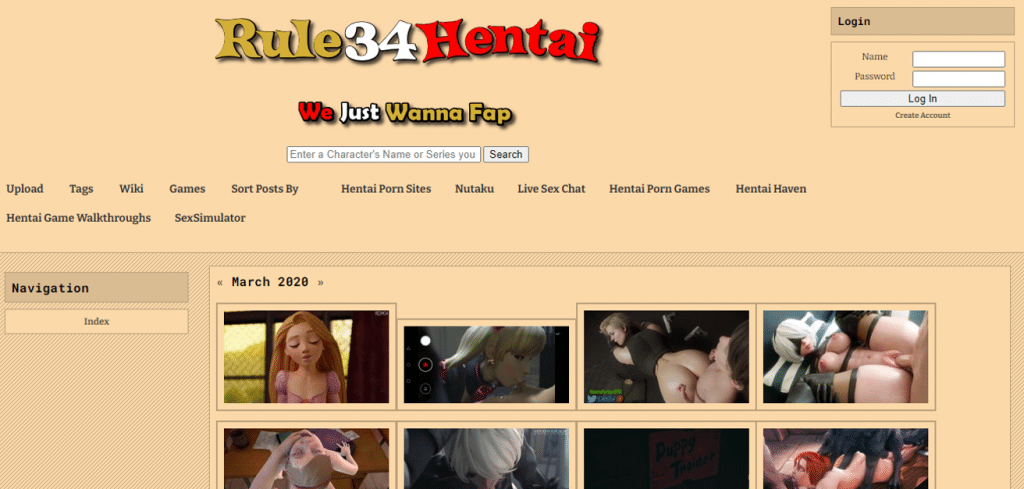 Rule34hentai is a pornographic image paradise where its brigade of devoted consumers provides the content. You will also find all your beloved characters fucking and sucking in its massive gallery, whether from Frozen, Overwatch, or The Simpsons. Basically, the site aims to provide you with animated fun and Rule 34 enjoyment.
A full review Rule34Hentai here.
PROS:
Loaded with hentai contents
User friendly and easy to access
Fantastic search engines
Amazing navigation tools
Updates regularly
CONS:
Minor members of the community
Slideshow contents are unavailable.
Minimal advertisements
---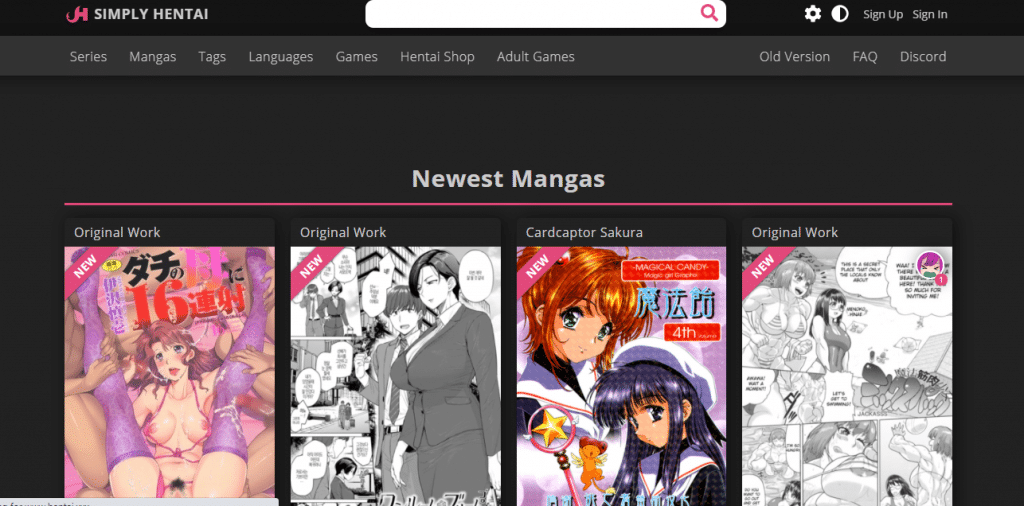 SimplyHentai is a complete source for your anime/hentai desires. Here's where you can discover new videos of your beloved sex anime shows and comics to browse, all without needing to pay anything. Hence, now you will find everything you could possibly want to fulfill your highly unique erotic dreams and discover new and thrilling fetishes.
PROS:
Massive selection of hentai content
Full-length collection of Hentai episodes
Amazing navigation and design
Supports mobile browsing
CONS:
---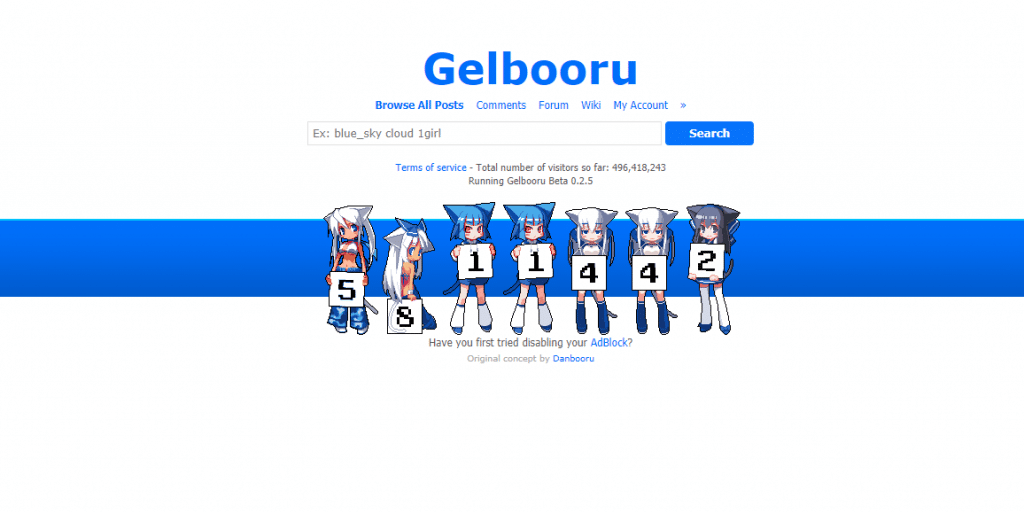 Though it looks pretty basic, Gelbooru does precisely what they boast about. It is an efficient solution for all of the lusty hentai aficionados across the world. Many people also consider Hentai to be the weirdest fetish possible. This is precisely why the website presently includes many Hentai pics and doujinshi containing the most bizarre Hentai fetishes.
Read the comprehensive review here.
PROS:
Plenty of anime/Hentai content
Amazing search feature
Image quality is top-notch
Fantastic community features and services
Supports mobile browsing
Compatible with all mobile devices
CONS:
Videos are limited in number
It has few pop-up ads
---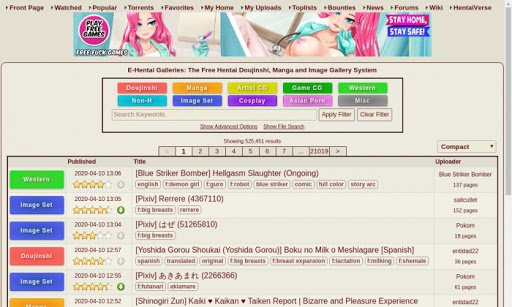 E-Hentai is your one-stop store for all the depraved and filthy hentai! Nurses, shemales, tentacles, and furries are all there. Nothing is off limits here; the only limitation is the right to use search marks. Even without an account, E-Hentai is completely free to use.
The only restrictions on a free account are the inability to play Hentaiverse, create and approve bounties, and post. If all of that appeals to you, making an account is as easy as it gets! Simply enter your e-mail address and generate a username and password.
PROS:
Millions of videos
Full length size of available videos
Updates regularly
CONS:
Need membership for unlimited access
Advertisements
---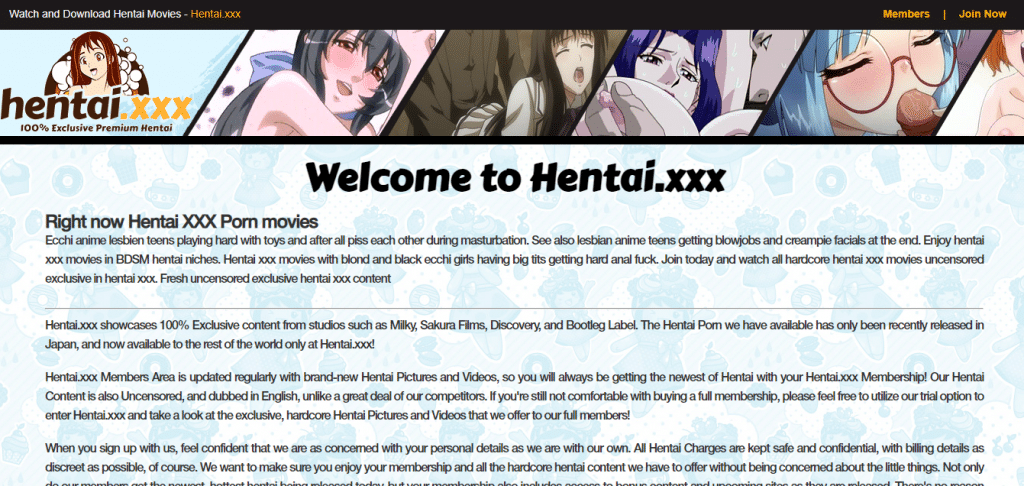 A brand new and unique hentai video service with consistently good stuff from Japan that is indeed everything you're getting at Hentai.XXX. It's a website that includes well-produced videos of varying qualities, including high-definition quality and SD formats. You should anticipate exceptional anime sexual content in HentaiXXX because unique Japanese studios produce everything here — and we know exactly how they work.
PROS:
Exclusive Japanese material
Top-notch movies with excellent quality
Contents are tremendous and wild
It offers some bonus scenes
It has a mobile version
CONS:
---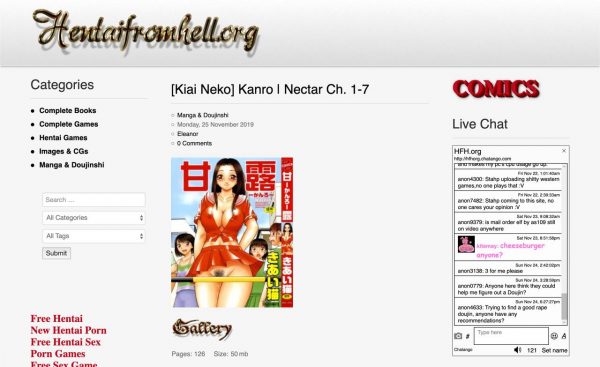 Hentai From Hell is a great name for a forum dedicated to naughty hentai porn. Every day, a large number of new comics are added, so the archive is very large. We are talking about over 3,100 pages, each of at least ten hentai galleries.
However, the presentation of these comics is lacking, since they are simply thrown on the web with just a title. HentaiFromHell is just as simple as websites come. There are no frills, only naughty anime porn that you can appreciate right now. I like how they specify the size of each comic as well as the number of pages.
PROS:
Free access to hentai porn
Updates regularly
Various contents
CONS:
---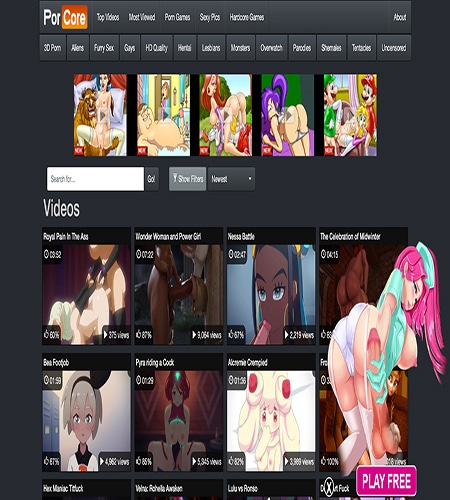 Millions after millions of pictures, gifs, and videos are available for your viewing pleasure. If you like hentai, a visit to PorCore.com will make you feel as if you've died and gone to heaven. There's only too much to discover. The web is updated on a daily basis, so there's still something fresh and interesting to look forward to.
People have invested time and effort into making these videos, and even though you aren't a big fan of hentai, there are a lot of videos that you will have a happy time viewing. PorCore.com is a hentai platform that can't be matched, not in terms of content, not in terms of frequency of updates, but with its overall functionality.
PROS:
Wide array of hentai videos
Free access
Can be utilizing a mobile phone
User friendly
Easy to navigate
CONS:
Plenty of annoying advertisements
---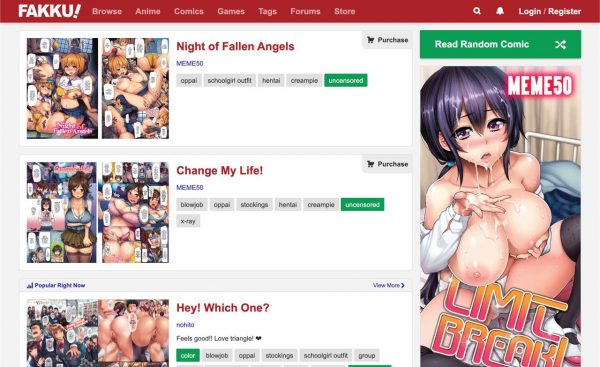 Fakku is a reputable distributor of original, translated Japanese hentai and manga. They have even made their own games, and you will enjoy yourself here. Fakku is, for the most part, accessible. Fakku, on the other hand, sells premium anime and comics with its Unlimited subscription.
Through buying it, you will not only gain access to the most recent material, but you will also get all previous issues from a variety of well-known comics such as Kairakuten and Koh. You will also get a 10% discount on anything in the Fakku shop, as well as access to beta features on the website and uncensored hentai.
PROS:
Wide array of pornographic contents
Lengthy videos and materials
Amateur and professional contents
CONS:
High-definition videos is accessible for premium members only
Advertisements
---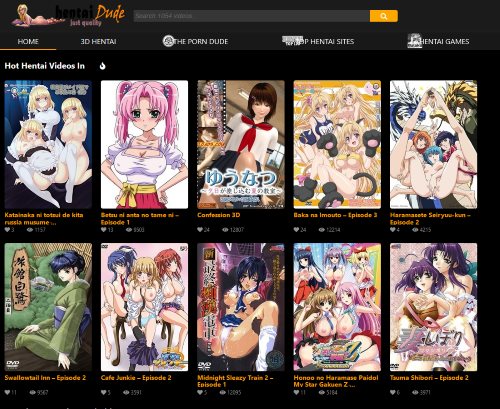 HentaiDude is without a doubt one of the most significant pornographic discoveries you'll ever find. The sheer volume of videos will astound you. Each video is neatly classified into a sub-genre and cross-referenced with keywords. This means that within 30 seconds of landing on the front page, you will find an exact video.
The majority of the videos are available for free to watch, but the paid account is where the true advantage lies. Any video is available for free, and you can communicate with other members of the group. When it comes to this niche, paying a premium is an investment rather than a cost.
PROS:
Many free accounts to access
Amazing web design
Highly organized and neat
CONS:
---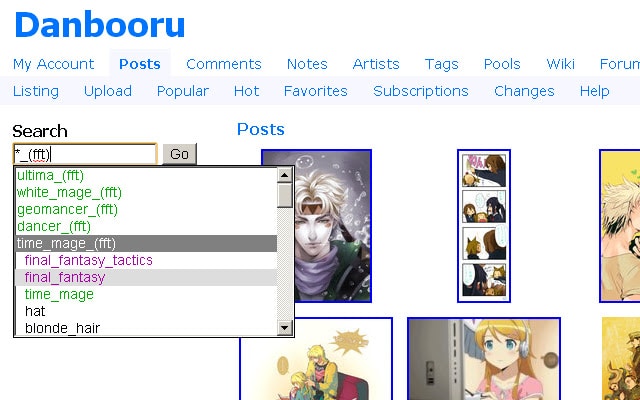 Danbooru is a forum that caters to both developers and non-creators. You can both display and make hentai in this way. Names, creators, visibility, and other factors are used to categorize these posts. If you are feeling daring, you can check out the most recent comments on the website, as well as links to sections where you can debate subjects with other enthusiasts.
Basic, Gold, and Platinum membership levels exist on Danbooru, with Platinum being the greatest and Basic being the least. Although absolutely nothing on Danbooru is limited, having a higher tier makes some aspects of the platform easier to use or offers better facilities.
PROS:
Variety of pornographic contents
Consist of anal, escort, cam, and many more porn sites
Lengthy videos and materials
Amateur and professional contents
CONS:
High-Definition videos is accessible for premium members only
Advertisements
---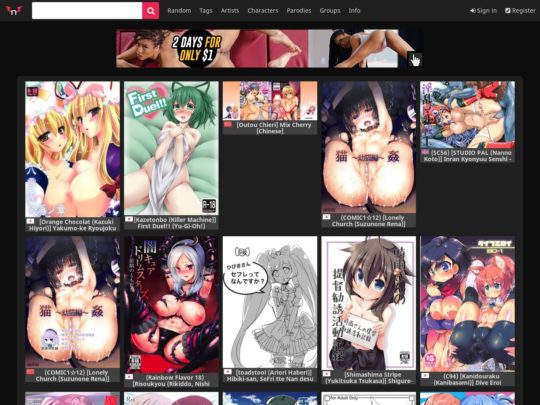 nHentai began a few years ago and has done an excellent job of offering a forum for people who want to see original Japanese hentai from some of the best artists in the industry.
The homepage is dedicated to displaying the most recent content that has been posted, as well as the language in which it has been written. Every post has a small flag next to it, the majority of which are Japanese, English (shown with a British flag), or Chinese. I strongly suggest for you to look at the tags section to see what categories are available. Popular choices include anal, which has 50,000 video files.
PROS:
Exciting user interface
Cute and enticing designs
Wide selection of videos
CONS:
Existence of some weird hentai porn
---
Conclusion
Manhwahentai is an excellent website with some tremendous Korean manhwa porn. I enjoyed it since the tales are more engaging, and the art is unique compared to typical hentai. Manhwahentai has also come up with a wonderful concept of compiling all of these series into a quick and dependable website. This site is far more reliable than many of the free manga sites I used in the past.
Another option which I highly love is the ability to browse the comics by an artist. Many Korean authors have become well-known as a result of the meteoric rise in popularity of these manhwas. With this, we can expect a lot here. Manhwahentai also performs an excellent job at remaining current and maintaining high ratings. Because it's such a popular site, you will discover a plethora of ratings that will help you figure out which things are worth trying next.
Therefore, I will recommend this platform, noting the joyous adventures I had. Apart from this, try to check out RealityKings too. Do not hesitate and start checking these websites today to get that tremendous fapping journey.
All 71 Other Sites in This Category Worth Checking Out:
LoL Hentai Review & 12 Best Hentai Porn Sites Like LoLHentai.net Show Me 12 Alternatives for LoLHentai.net Hey there, fellow gamers and hentai enthusiasts! Today, we're diving into the fascinating world of LoLHentai, also known as League of Legends but with a hentai twist. Now, I know what you're thinking – "What on earth will happen […]