Updated on: December 8th, 2023
Hey Hentai
& TOP-12 Hentai and Anime Porn Sites Like HeyHentai.com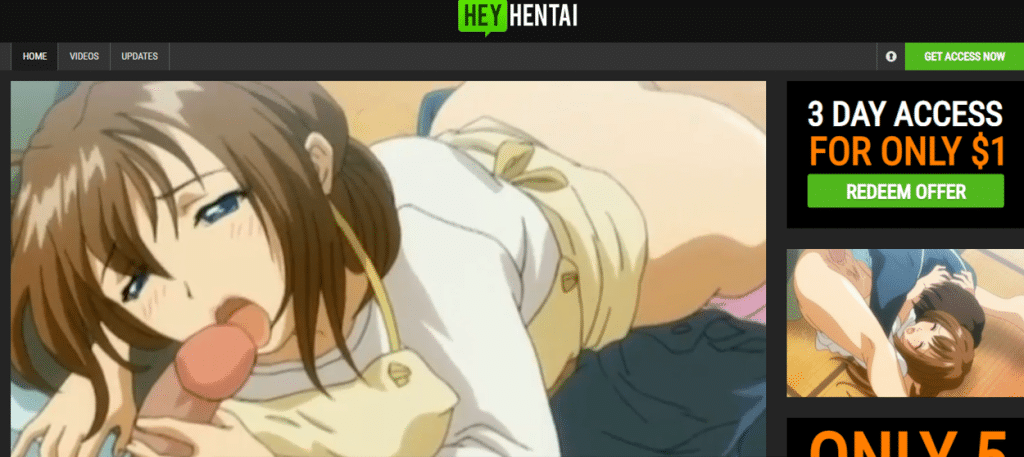 Oh, have you jumped across this hentai site that offers premium materials? Hey Hentai has been around for a couple of years and continually promises excellent animated porn content. I decided to do a review to see what Hey Hentai is proud to offer. Various porn domains are sprouting everywhere, and definitely, hentai sites are making names. With that, Hey Hentai is up for an evaluation. They know its purpose and welcome every visitor to assess its services — great, HeyHentai.com.
Official URL: https://www.heyhentai.com
Meanwhile, Hey Hentai was brought to life in 2010. The platform went into a challenging journey as they endeavor to become porn fans' Hentai fapping partner. Though its monthly visits from porn advocates aren't as consistent as other erotica sites, Hey Hentai manages to draw enough fans. If not, it wouldn't have stayed and provided flicks until today. It caters to porn addicts who are willing to pay money to view incredibly steamy hentai videos. If you are one of these hentai followers, pay attention and read this review.
Hey Hentai's Gift
Various porn venues are everywhere that provide free full-length HD videos. In fact, you can opt to download, stream, and engage with fellow porn fans on these platforms. Thus, the question is, what makes Hey Hentai different from them? Many believe that Hey Hentai gives an incredible fresh addition to your horny table. Community members of this premium domain do not mind the price, for they are satisfied with the service. Hey Hentai is known for its easy navigation, excellent selections, and reasonable subscriptions.
Hey Hentai aims to make its site visitors happy with tons of videos available. The treasure trove of erotica pieces will be your entire supply for the rest of the year. Yes, Hey Hentai's gift to the porn community is its massive repository of hot treats. However, the site knows it is not perfect; therefore, they make it up by delighting users with diverse fetishes. Uncensored anime pieces are everywhere too. Hence, Hey Hentai entices you to subscribe and check its vast collection.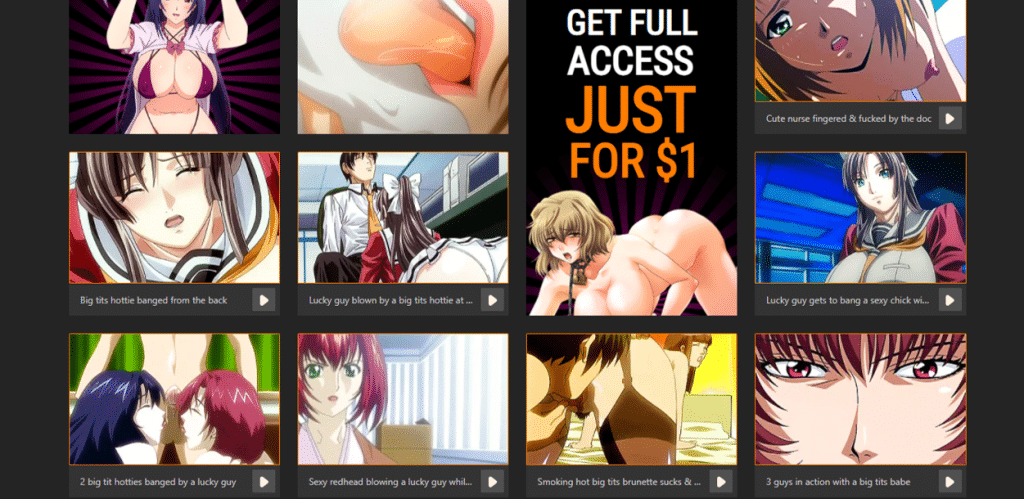 Checkout the Abode
Hey Hentai does not look any different from other domains. Hey Hentai resembles other sites with its black-themed home page. The only detail that you will see on the main page is the vast green Hey Hentai logo. Other than that, Hey Hentai showcases three sections to make your exploration easy. It only gives Home, Videos, and Updates. Meanwhile, you can locate the Get Access Now button on the other side of the page. From there, you can see various membership deals and treats.
Also, it is noticeable that there are no search engines and other essential features on the main page. Well, we will discuss that thoroughly later. Hey Hentai's significant attraction is its huge preview of stimulating anime porn. Excitingly, the preview shows cocks, pussies, without pixels and blurry lines. With this, you can guarantee a massive assortment of unfiltered animated pornography. You can never go wrong when you devour HeyHentai.com deeply.
Thumbnails and Orgasm
The more you get into the world of Hey Hentai, the more you become curious and enticed with its collection. It is difficult to grasp the whole repository when you are a guest on the site. Hey Hentai restricted the access of non-members and will advise you to get a subscription to enjoy its materials. Nevertheless, the thumbnails are fap-inducing to look at. They are in uniform sizes and presented in an organized manner. More so, each thumbnail offers a great representation of the erotica. You can see dick sucking, intense exploration, passionate kissing, and more.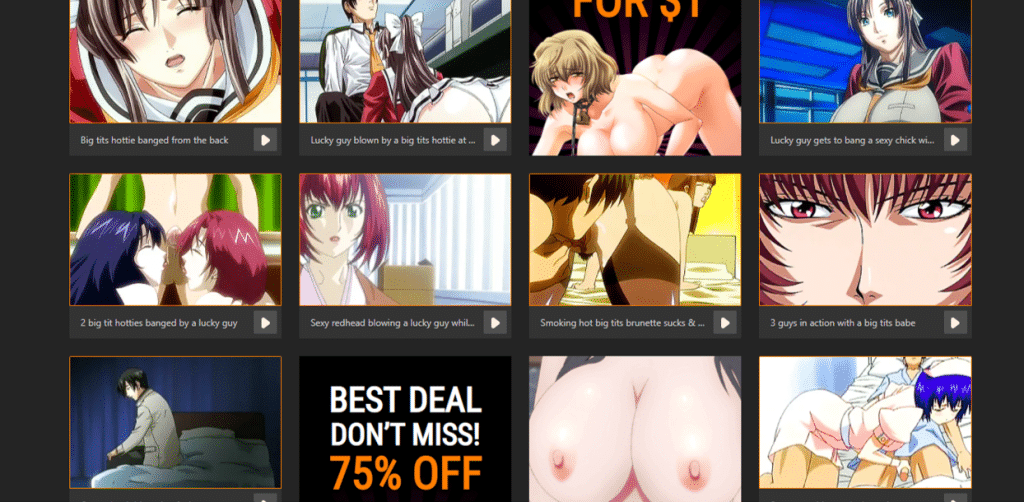 Not just that, the preview images also depict sex in bedrooms, schoolgirls getting banged by professors, babes with massive tits, and many others. Also, pagination is found at the bottom of the page; from here, you can identify that the assortment is extensive with Hey Hentai's total number of 154 pages. However, the thumbnails lack essential information. Unlike other premium sites, the preview image here at Hey Hentai only contains the title and nothing else. I hope they can look into this feature and improve the platform.
No Tags and Categories
Yes, you read that right; Hey Hentai wants to make you navigate its collection manually. I do not know if they make the site look straightforward, but tags and categories are essential. They are one of the most outstanding features every porn site in the industry must-have. The tags will help site goers navigate the collection with ease. Sadly, Hey Hentai does not have any trace of this function. Also, I mentioned earlier that there is no search engine on the main page.
Thus, anywhere you go, Hey Hentai does not have it. Hey Hentai also did not prioritize labeling the videos. Well, you can see the titles like 'Big tits hottie banged in the back,' '3 horny chicks corner a lucky dude', 'cute nurse fingered & fucked by the doc,' and more. However, I think this does not suffice the needs of porn fans, considering that Hey Hentai is a premium platform. I am sure porn explorers want episode names, series titles, character names, video duration, likes, views, and more meaningful information.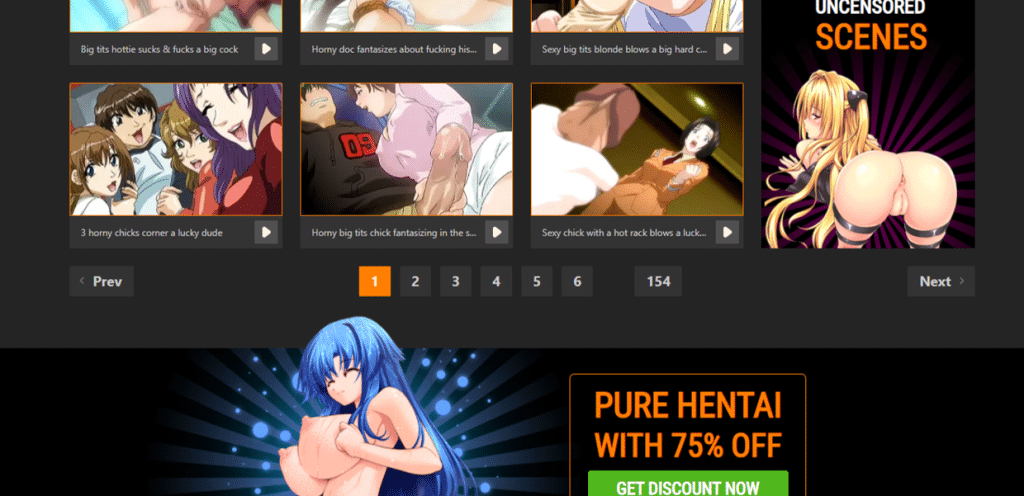 Additionally, it is hard to identify which video is the oldest and the newest. Though you can access the Updates section, it is hard to identify due to a lack of details. It is also tough to give credits to the makers of pornography because they aren't mentioned in the library. Overall, if you want to get the videos and utilize them for fapping, visit the section immediately and taste the films. As a follower of pornography, I know you can figure out the categories available, pal. Hey Hentai wants you to exercise your independence.
Contents at Hey Hentai
Hey Hentai knows to tickle anime erotica fans with its delectable pieces despite the absence of significant features. Oh, they offer scenes that showcase lesbian intimacy and interaction. If girl-to-girl pieces are your fetish, you can have them at Hey Hentai. Also, you will have an intense orgasm when you see the characters going crazy over dicks and huge penises. The babes are indulging in group sex, passionate erotica, and masturbation.
Thus, if you are a hardcore fan, Hey Hentai will never disappoint you. Porn fans will view various intense fucking, deep penetration, use of sex toys, licking, sucking, pussy eating, and many more. It would be inevitable not to appreciate the uncensored erotica that will make you have a tremendous crush on the anime characters. Hey Hentai also has babes with big tits, perfect physiques, and seductive appeal. The Hey Hentai girls are undeniably hot, and they can even elevate their talents. Hence, the creators know what every porn fan is craving and address every possible sexual need.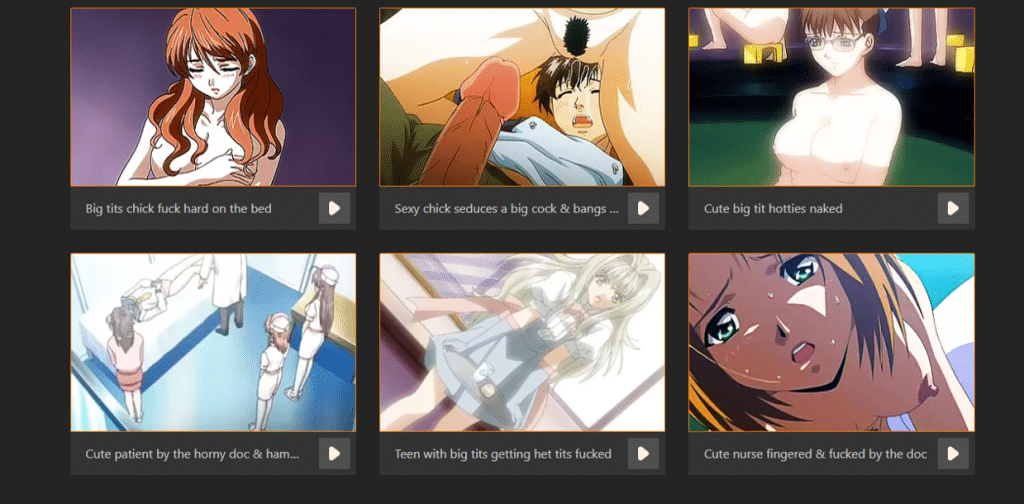 Video Quality and Options
You will love Hey Hentai because they did not stop providing new additions to its library. With this, the site guarantees that you will never be bored and run out of options. More so, Hey Hentai imports videos from various sources and distributes them on the domain. Hey Hentai will give you a fantastic experience because it offers a no advertisement site. Thus, the whole abode is clean and easy to access. Despite the challenge in platform features, you can appreciate Hey Hentai's location.
Furthermore, video quality seems a little confusing too. You can see some materials in high definition while others are not. Hey Hentai has quality variations because of its diverse collection. Porn fans will notice that Hey Hentai offers numerous old hentai videos, explaining a few standard quality flicks. It is also noticeable that the video player lacks significant functions as well.
Is the Price Worthy?
Hey Hentai provides membership options for you. If you are still having a hard time deciding, you can try their three-day subscription trial. You can pay one dollar for three days of unlimited access. Thus, if you are satisfied, you can now choose which subscription suits you. Hey Hentai offers one, three, and twelve months membership starting at $29.99 a month. The longer the duration of your premium deal, the more discounts and freebies await you at Hey Hentai.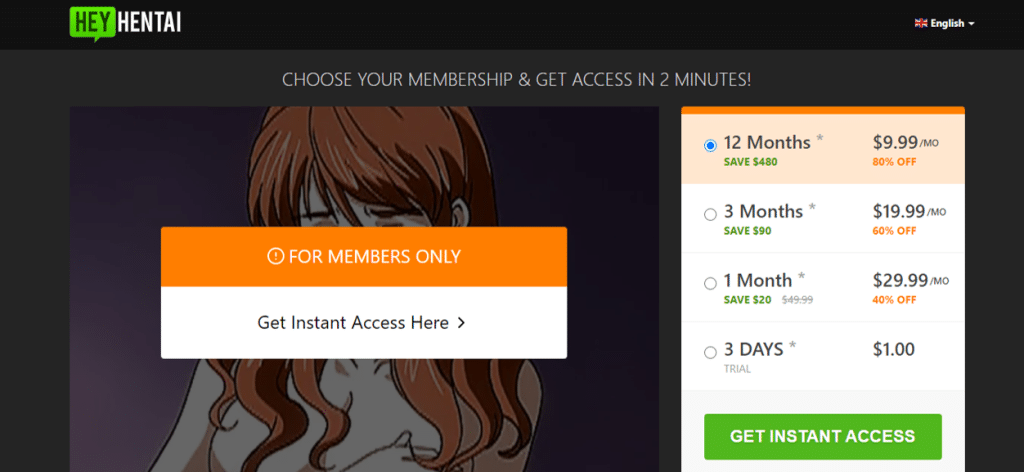 On my end, I suggest that you try the trial version first before submitting it to full monthly access. You have to be ready with some drawbacks and other lacking features, but you can also appreciate the mobile version. It is also appealing that they do not have any advertisements and provide deals like schoolgirls and lesbian sex. Additionally, you will love the masturbation flicks, BDSM, big tits, asses, and many more.
The Pros and Cons of HeyHentai.com
PROS:
Hot hentai materials
Old hot contents
Uncensored
Good and clean design
Diverse assortment
CONS:
Lacks features
No categories
No search and sorting functions
---
TOP-12 Hentai and Anime Porn Sites Similar to HeyHentai.com: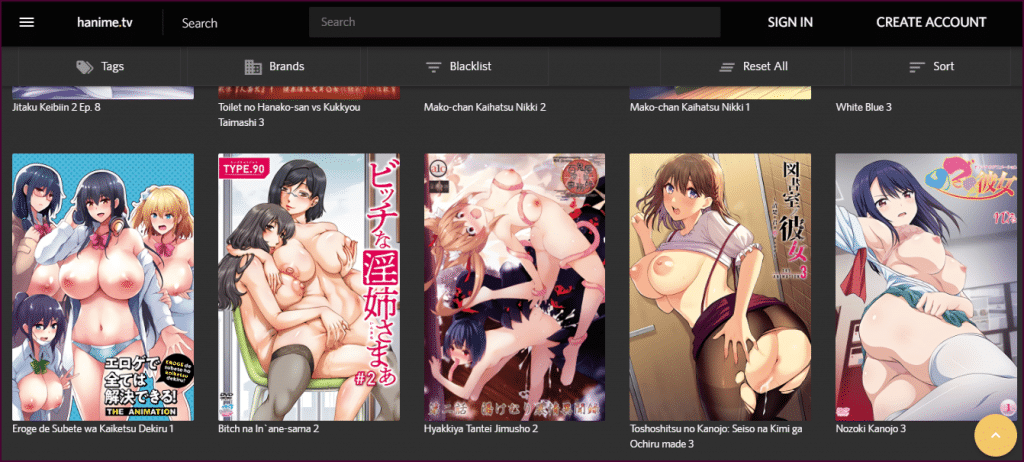 Hanime.tv is another free streaming hentai site, suitable for anyone who enjoys Japanese manga and animated cartoons. Hanime is notoriously known for its huge library hentai. It's packed with sensual scenes and themes that you don't typically see in several traditional pornos. Here, you can search any videos or images with numerous categories effortlessly.
PROS:
Amazing content
Simple but intuitive design
Effortless to use
Available as a mobile app
Taboo and bizarre themes
CONS:
Some features require membership
Ads are plenty
---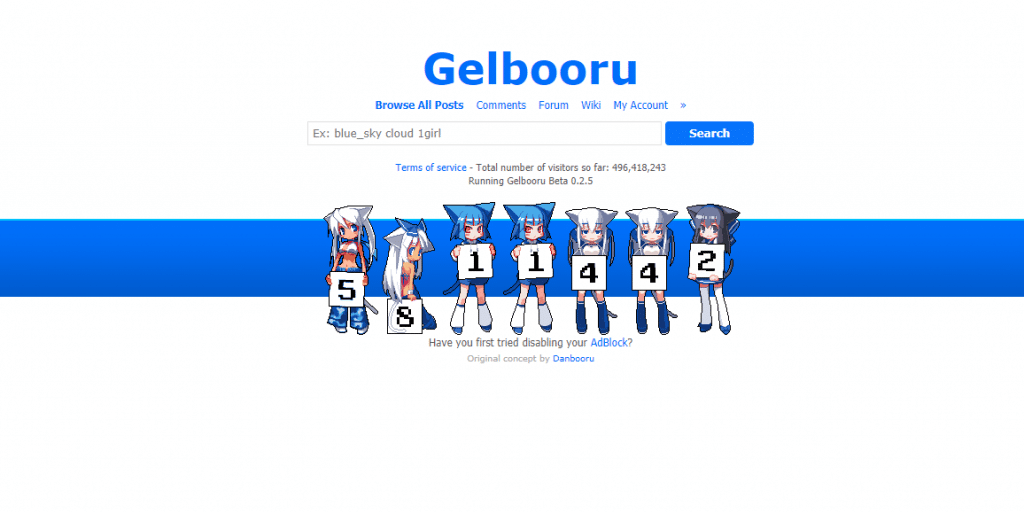 Though it looks pretty basic, Gelbooru does precisely what they boast about. It is an efficient solution for all of the lusty hentai enthusiasts worldwide. Many people also consider hentai to be the weirdest fetish possible. This is precisely why the website presently includes many Hentai pics and Doujinshi containing the most bizarre Hentai fetishes.
PROS:
Plenty of anime/Hentai content
Amazing search feature
Image quality is top-notch
Fantastic community features and services
Supports mobile browsing
Compatible with all mobile devices
CONS:
Videos are limited in number
It has a few pop-up ads
---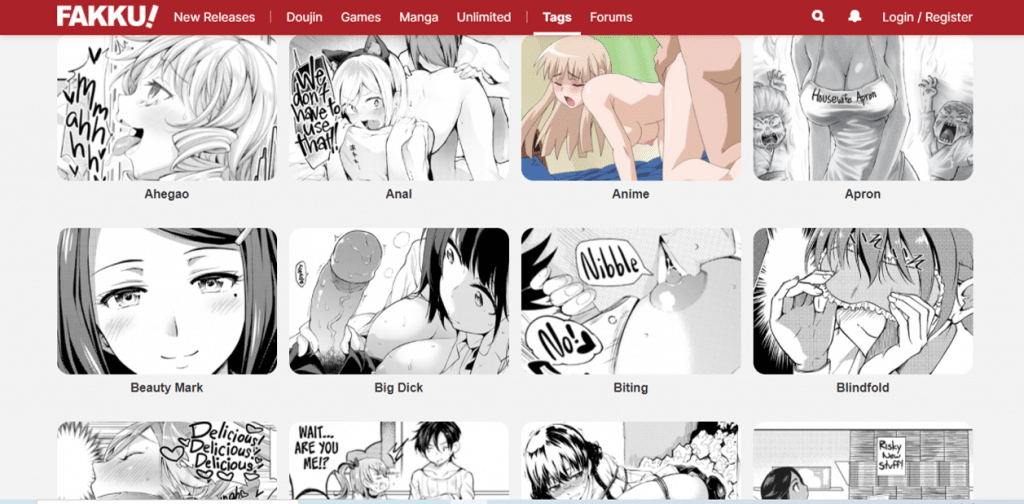 Fakku is a reputable distributor of original, translated Japanese hentai and manga. They have even made their own games, and you will enjoy yourself here. Fakku is, for the most part, accessible. Fakku, on the other hand, sells premium anime and comics with its Unlimited subscription.
By buying it, you will not only gain access to the most recent material, but you will also get all previous issues from a variety of well-known comics such as Kairakuten and Koh. You will get a 10% discount on anything in the Fakku shop, as well as access to beta features on the website and uncensored hentai.
PROS:
A wide array of pornographic contents
Lengthy videos and materials
Amateur and professional contents
CONS:
High-definition videos are accessible for premium members only
Advertisements
---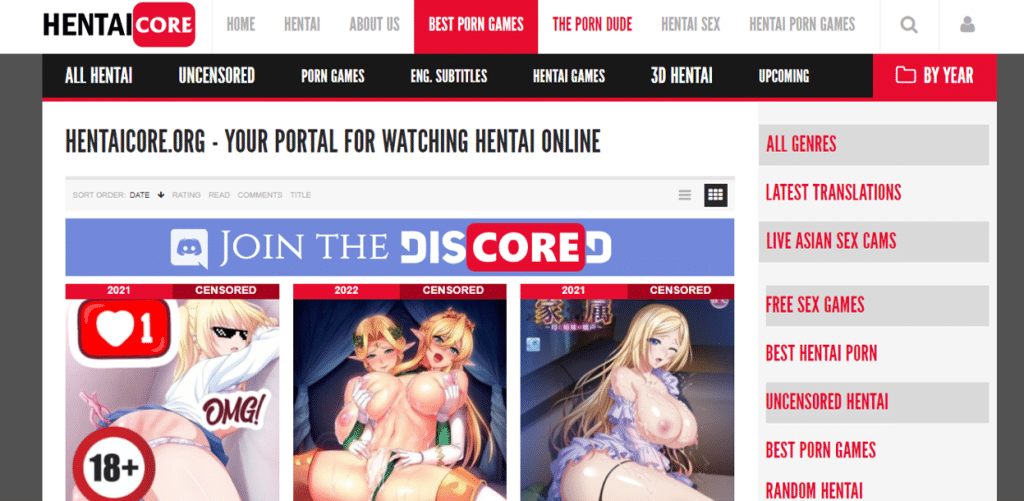 Hentai Core is one great hentai porn destination with its Japanese sex vibe. The site delivers hardcore and out-of-this-world scenes. Hentai Core does not limit its library with standard porn content but also covers all porn genres and anime series. I adore how flexible and diverse the nasty materials here at Hentai Core are. No wonder Japanese cartoon fans lurk around Hentai Core due to its intense sexual repository.
Here's Hentai Core's full review.
PROS:
Free anime porn site
Regular updates
Huge library
Hundreds of uncensored films
Sorting options available
Subbed and dubbed contents
More quality features
CONS:
Advertisements
Censored materials
No download options
Few site functions
---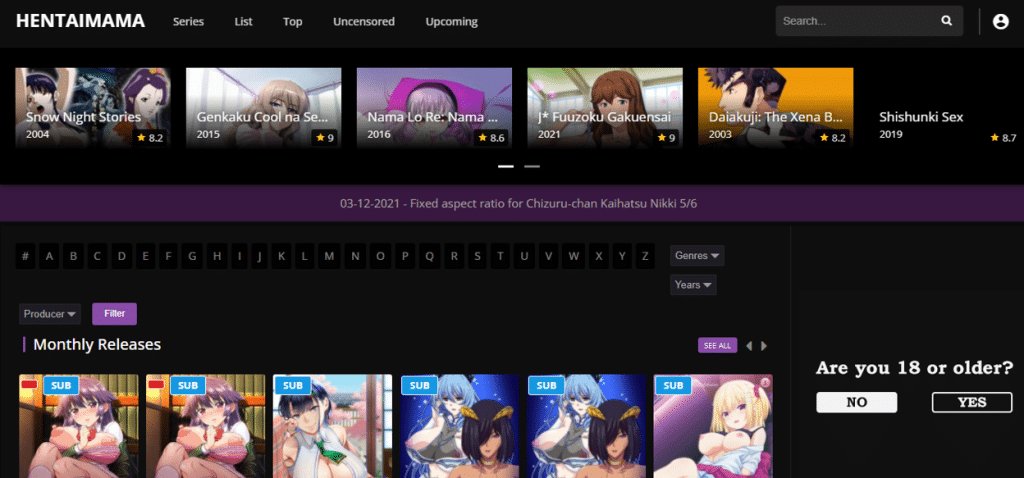 Hentai Mama is a free website that debuted in 2014; since then, the platform has featured a library of hentai series and episodes. Undoubtedly, porn fanatics will enjoy the fine assortment of hentai niches. Not just that, all releases are in high-quality material. Hence, Hentai Mama made its presence known in the porn world by consistently adding erotic scenes in its domain.
Read more about Hentai Mama here.
PROS:
Free anime porn site
Delivers complete hentai series and episodes
Straightforward site layout
Efficient browsing tools
Full-length contents and a vast database
Nice interactive features for members
CONS:
Few ads
Some censored materials
Need membership to use full features
---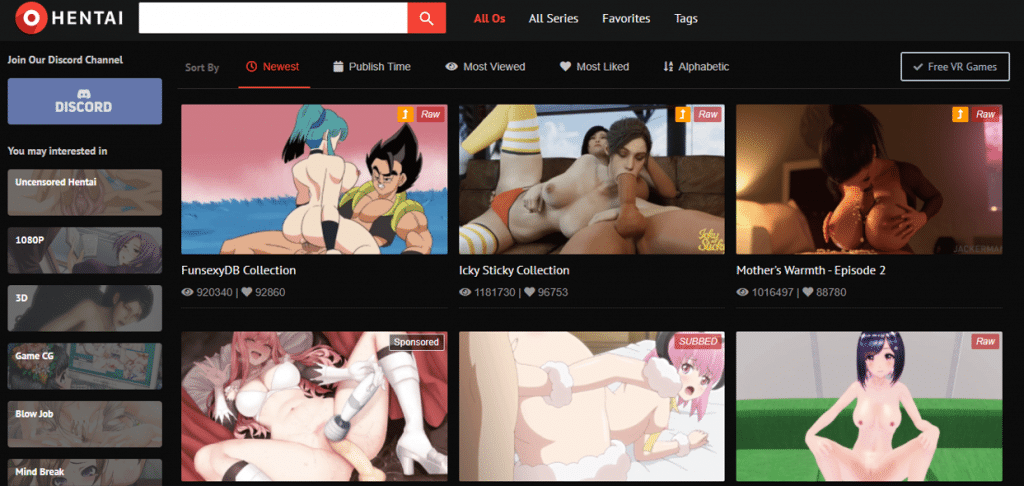 Ohentai.org offers hentai content and a 3D pornography library in up to full high-definition quality. Also, the platform provides access to many of the most erotic hentai videos; in fact, the site has a talent for finding outstanding materials and including them in its rooster of quality content. Additionally, porn fans glee in the scenes and episodes of superb sexual experiences with gorgeous women and an astounding choice of supernatural genres available here.
PROS:
High-quality hentai videos
Has 3D and CGI porn
Free download options
Variety of tags and categories
Taboo scenes
Good site organization
CONS:
Advertisements
No photos
Problems with some links
---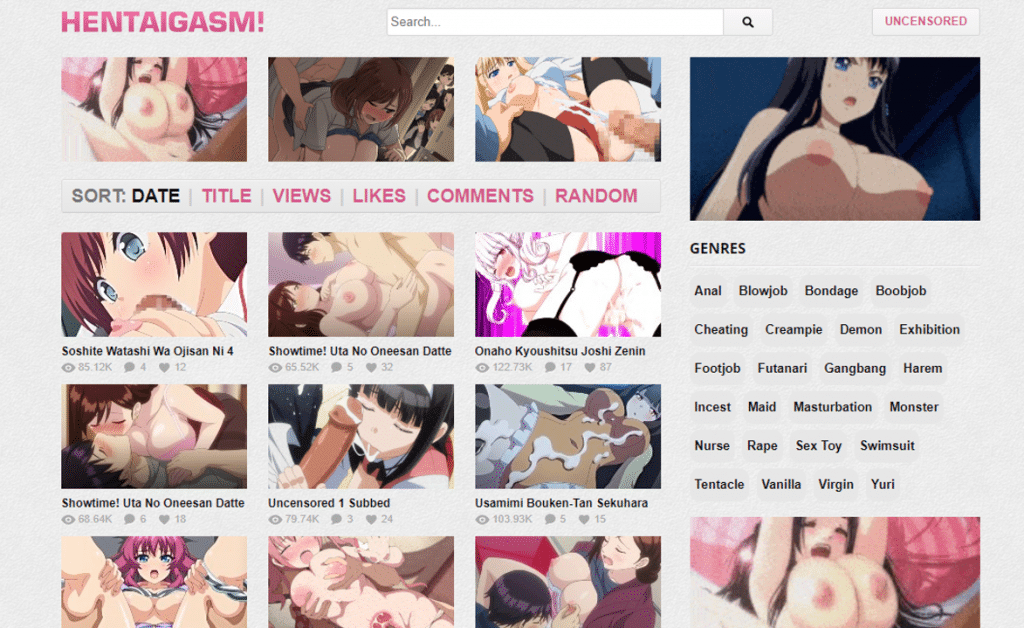 Hentaigasm reached more than a million site visitors in the world of pornography. The site reportedly has more than thirteen million monthly visitors; I mean, that is huge! With that, Hentaigasm continually constructed its massive library of free hentai videos. Intensely, I love the experience of watching hentai films too. Hentaigasm aims to satisfy every hentai lover with its bits and pieces of orgasmic delicacies, all waiting for you to try.
PROS:
Straightforward platform
Free anime porn site
Quality contents
Free downloads
Uncensored contents
CONS:
Some censored contents
Few categories
Advertisements and pop-ups
---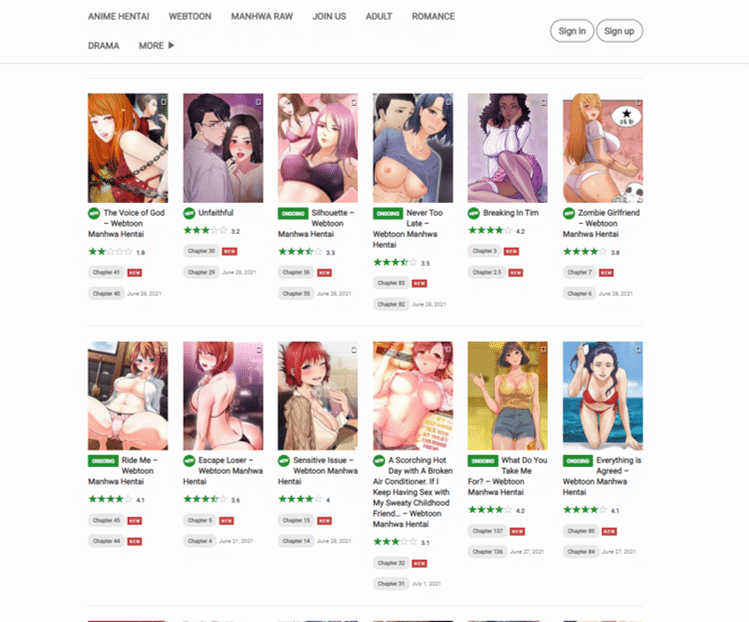 Manhwahentai is an excellent website with some tremendous Korean manhwa porn. I enjoyed it since the tales are more engaging, and the art is unique compared to typical hentai. Manhwahentai has come up with a beautiful concept of compiling all of these series into a quick and dependable website. This site is far more reliable than many of the free manga sites I used in the past.
It also performs an excellent job at remaining current and maintaining high ratings. Because it's such a popular site, you will discover many ratings that will help you figure out which things are worth trying next.
Check out ManhwaHentai review.
PROS:
Efficient English translation
Free comics to read
Wide selection of contents
Has a discussion section
Good quality comics
Diverse topics and plots
Good mobile display
With dramatic and engaging storylines
Comics load fast and quick
CONS:
Too many advertisements and pop-ups
Not all hardcore
The absence of sex scenes sometimes
Not so good layout
Some censored contents
---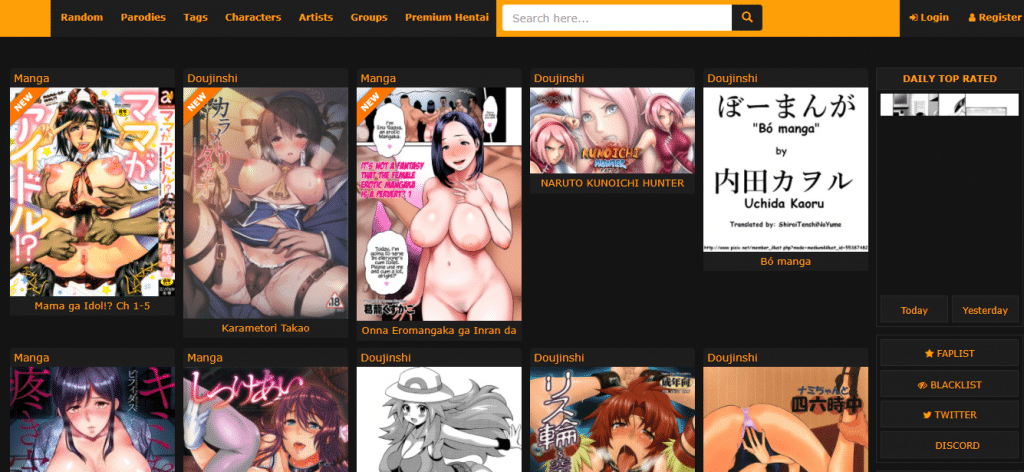 HentaiFox provides an extensive collection of the most entertaining and seductive hentai porn videos and photos. In fact, millions of people worldwide enjoy Japanese sexually explicit content. It is among the most popular erotic forms in the US alone, and perhaps among the most popular hentai sites worldwide.
Full HentaiFox review in the next page.
PROS:
Amazing hentai collection
Different categories to choose from
There are taboo and uncensored content available
Free to browse
Basic and straightforward design
CONS:
There are too extreme themes
Feature basic searching tool
Some ads
---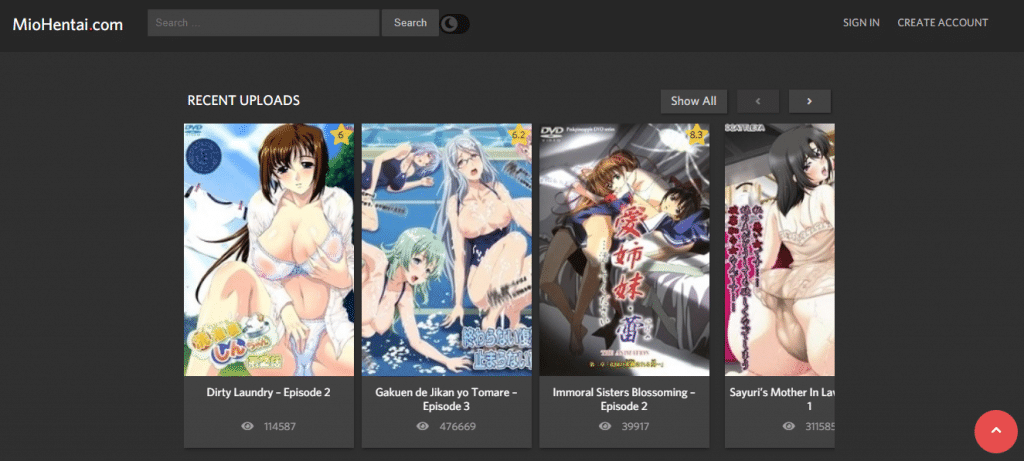 MioHentai has a great feature, with an easy navigation system employed. Everything you see around the page seems newbie-friendly and straightforward to understand. In fact, it has tags, categories, and a top list that makes searching more effortless than it ever was. Plus, the video player is quite impressive since no lagging or buffering happened throughout my experience.
PROS:
Design is accessible and user-friendly
There are taboo themes
Uses 3D and 2D animation
Plenty of categories
CONS:
Mostly censored content
Some ads
Registered users can access some member-only features
It has redirect links available
---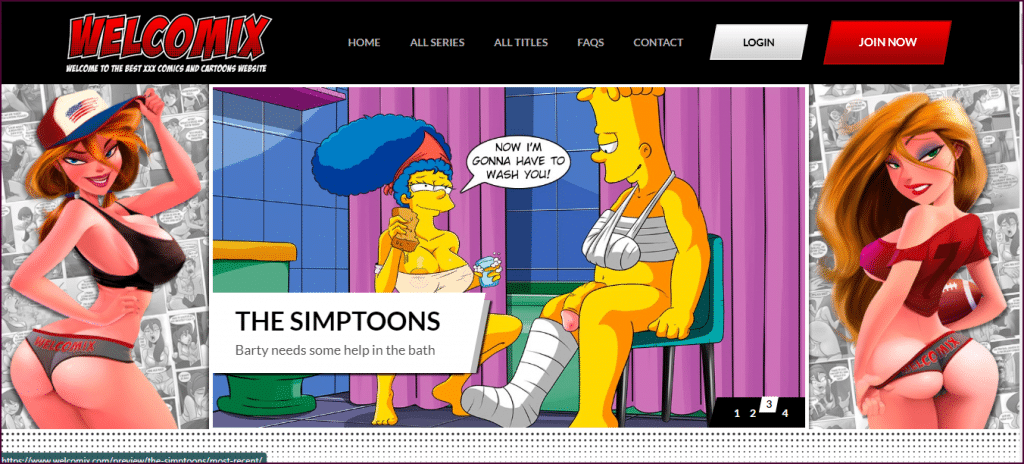 Welcomix's subscribers get all-out access to various comic entertainment through animations, comic strips, adventures, and fantastic artwork in every issue. If you visit Welcomix, you'll be treated to some genuinely bizarre romance among featured parody characters. It has quite a massive casting in terms of quantity and quality, and everything is impressively high-quality resolution.
Here's the full review of Welcomix.
PROS:
Massive comic collection
Supports mobile browsing
Plenty of comic series available
Caters to various genre
Updates regularly
CONS:
You can't play slideshows when reading comics
Needs monthly payment to access
---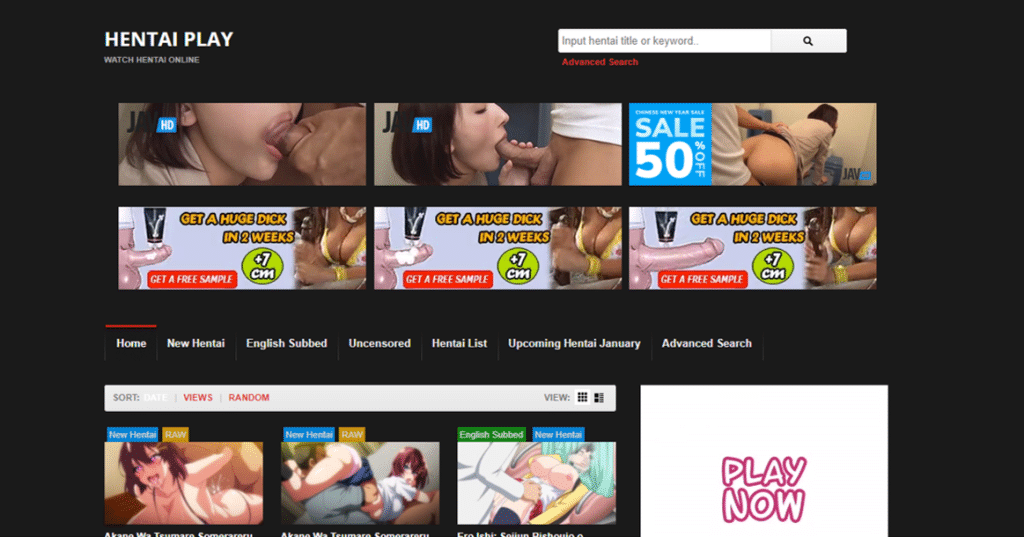 Hentai porn is explosive here at Hentai Play. Porn fans can discover fantastic flicks, series, and episodes. The massive repository grows regularly, and you can access them in standard to high-quality resolution. Site goers can also have a taste of various porn niches available at the Hentai Play domain. The site gives substantial uncensored delicacies and English-translated mouthwatering materials.
PROS:
Free horny site
Hot animated characters
Great browsing tools
Massive hentai collection
Uncensored flicks
Various porn niches are available
English translated materials
CONS:
Very simple site design
Annoying advertisements
Hard to download videos
---
Conclusion
If you seek more hentai stuff, Hey Hentai will give you tons of animated porn. They love to help you explore diverse materials ranging from solo performances to group sex. Hey Hentai gives aid to every fetish craving. It surely entices you to devour its collection. Also, the main page displays orgasmic thumbnails and mouthwatering pieces. The characters at Hey Hentai are equally alluring, seductive, and horny. They will excite your dicks and make you happy with massive uncensored materials.
Moreover, the site looks clean and straightforward, with no unnecessary materials and links. However, Hey Hentai also contains drawbacks. Indeed, there are features that Hey Hentai seemed to forget or do not prioritize. Hey Hentai does not have essential information on its video and materials. Labels, duration, creators, reactions, and many more are lacking. There are also no categories, tags, sorting options, and search bar in sight. Overall, it is a good platform that is not perfect. There is no flawless site; thus, Hey Hentai will still have room for improvement.
All 71 Other Sites in This Category Worth Checking Out:
LoL Hentai Review & 12 Best Hentai Porn Sites Like LoLHentai.net Show Me 12 Alternatives for LoLHentai.net Hey there, fellow gamers and hentai enthusiasts! Today, we're diving into the fascinating world of LoLHentai, also known as League of Legends but with a hentai twist. Now, I know what you're thinking – "What on earth will happen […]