Updated on: December 7th, 2023
Hentaied
& 12 Best Premium and Free Hentai Sites Like Hentaied.com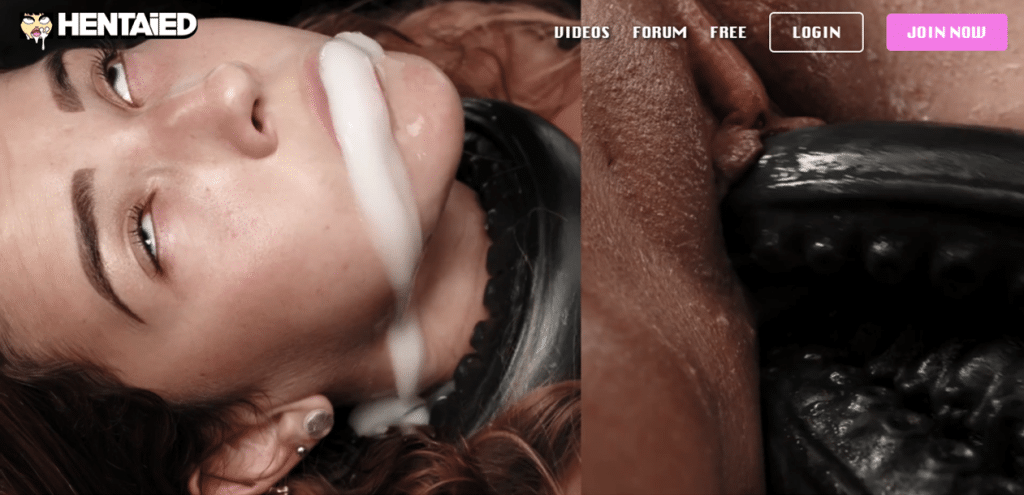 Hey, pal, what is your porn fetish? If you like tentacles, fiction, bukkake scenes, exorcisms, and anything related, Hentaied.com is a great discovery for fans like you. This hentai platform brings anime and hentai porn a new flavor. Hentai followers will be stimulated with a sweet and spicy tang of Japanese sex escapades in uncensored live-action. Hentaied offers one of the hottest cosplays, squirting, and sexy fetish in the world of pornography.
Official URL: https://hentaied.com
Interestingly, Hentaied isn't your typical anime or cartoon porn site. This domain utilizes real porn stars and actresses in erotic and uniquely hentai-themed flicks. Hentaied is like an adaptation from fiction books and is portrayed in videos to provide a clear plot picture. With this, imaginations can now run free with the details being done in live scenes. Hentaied does make you crazy with orgasm and curiosity.
Hentaied? How Awesome!
Have you experienced looking at hentai porn and seemingly imagining what if tentacle sex happens in real life? How do porn stars react when some weird creatures passionately penetrate them? Oh, the answer to your queries is here at Hentaied.com. You will no longer dream about it because Hentaied made an effort to show you the actual scenario. Thus, get ready to see genuine females, yes real, not animated, exposed to pussy eating, devouring, and penetrating sessions.
Hence, instead of dicks and human counterparts, these hot beauties enjoy sexual escapades with fictional characters. The characters also portray hentai approaches like hair colors, tiny waists, big soft breasts, and steamy appeal. With this, Hentaied transformed every woman to become your absolute anime crush. Not just that, they enjoy the white sticky cum being ejaculated on their faces, pussies, and other body parts.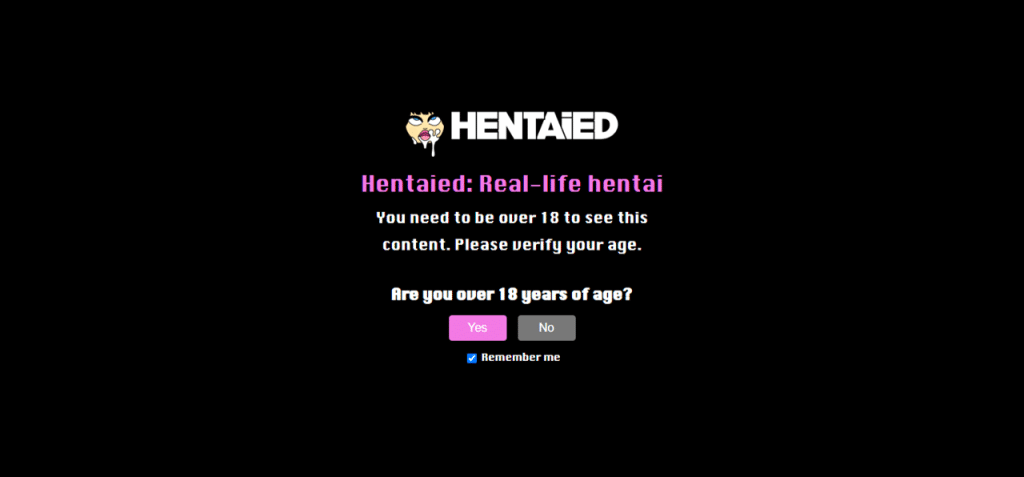 Hentaied, A Success!
A long time ago, porn aficionados dreamt of extreme and hardcore videos like Hentaied's collection without realizing it would be possible. Thanks to hardworking pornographers, they created a fetish site that addresses every hentai craving. Who would have thought the porn market would love platforms with these delicacies? Oh, the site consistently has a massive following with significant traffic and visits daily. This premium platform has made names in the industry with its concept and quality materials.
In addition, the fast-rising site, which started a few months ago, set a record high of ten to twenty thousand visits a day. Hentaied revolutionized the world of hentai and the whole porn industry. Well, this massive following does not end here. Hentaied has a vast path to take on. Surely, fans will drool and rub their dicks on their seats while streaming at the hottest, sexiest, filthiest, and nastiest babes getting Hentaied.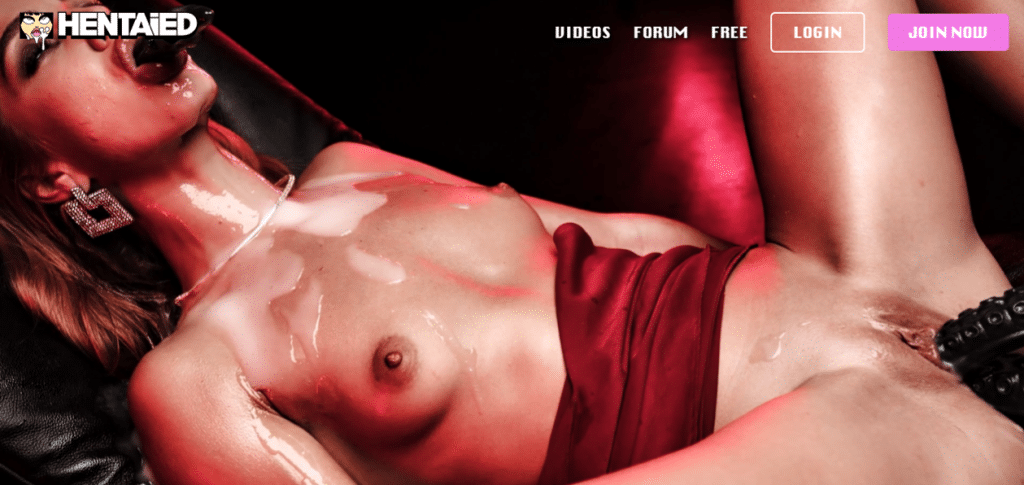 Take A Look at Hentaied
"Hentaied: Real-Life Hentai" is the tagline you will see upon visiting the Hentaied.com page. Firstly, site goers must adhere to its age confirmation page. Hence, tapping the yes button will be your key to the domain. When done, Hentaied will welcome you with a preview video of the platform's unique and delightful assortment. I saw a babe getting horny over tentacles on the platform as she indulged in vaginal and anal sexcapade.
Moreover, the main page will give you squirting short films, seduction, etc. There are also seductive hot females enjoying oral sex and masturbation. Indeed, the home page will provide you with more than expected. The thumbnails also expose the beauty of hentai and the orgasmic detail of the entire repository. Not just that, I also saw links to their social media platforms like Instagram. Thus, Hentaied can bring out the hidden sexual desire in you anywhere you go.
Sections and Impressions
Unlike other Hentai sites with our favorite cartoon characters, you wouldn't see any trace of anime porn at Hentaied. The babes on the site are real-life women who love to extend their adventure and devour nasty stuff. The platform is simple to navigate, with only five sections to explore. Hentaied organized its assortment into Videos, Forum, Free, login, and the Join Now button. The site does not want to complicate things; it will provide immediately what porn fans are seeking.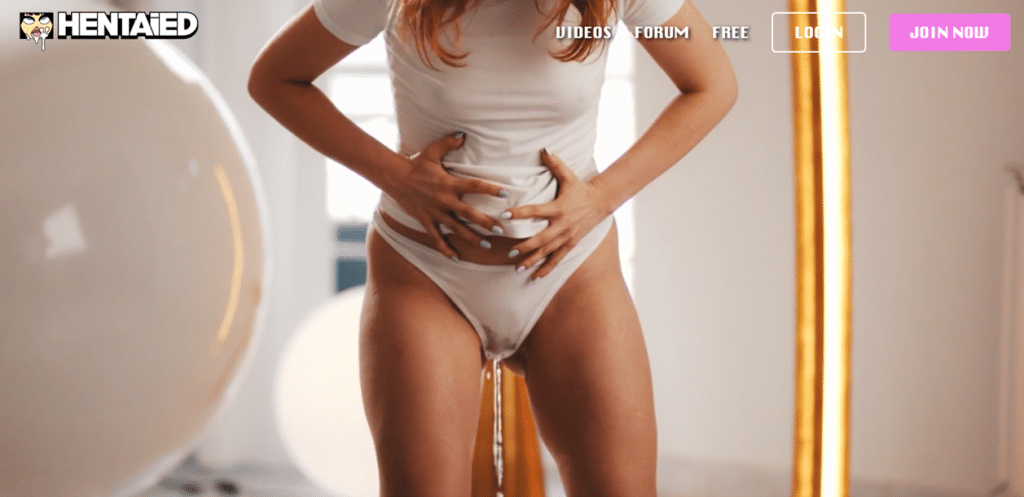 More so, I appreciate the site logo. It explains and summarizes the entire service of the page. Hentaied displays an animated girl with sticky cums all over her mouth, exactly what happens to every girl on the page. Additionally, I am delighted that the flicks on the main page are uncensored; thus, you can enjoy the view, details, and the entire film. Plus, the site loads fast with no advertisements and unnecessary pop-ups. So far, everything is smooth and easy to access. Great Hentaied!
Get Awed with the Collection
Most of the materials at the Hentaied library are solo exploration or an escapade with a giant octopus. Hence, fans must expect to see a massive repository of flicks containing tentacles and weird creatures. Even the main page primarily showcases banners and images of babes enjoying tentacles and getting full orgasms. They use these organisms to stimulate themselves; hence, instead of using the standard dildos, tentacles are the game's new name.
Furthermore, the concepts are getting filthy and hardcore at Hentaied.com. The adult materials usually show babes fucking machines, vegetables, and other sorts of food. Sometimes, these babes are under the influence of some potion or simply want to scratch their itch that they find objects and machines more pleasurable than men's penises. I also get envious of these tentacles, which have the freedom to indulge and enjoy the hot ladies' ass, pussies, and mouth. Oh, giant octopuses are indeed lucky, and women are having fun with a lot of ahegao facial reactions. It must have been fun shooting this stuff.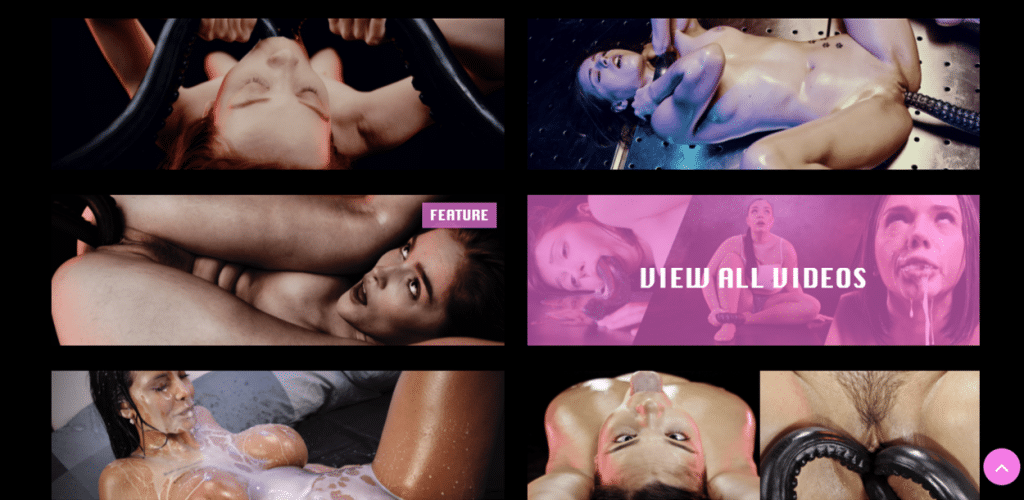 Undoubtedly, Hentaied has one of the most exceptional and bizarre collections. Tentacles aren't the only object of sexuality here; the site also included storylines that involve elves, demons, and other fictional characters. Again, the actresses are so great in acting that their facial expressions are lit. Porn viewers cannot deny their satisfaction when they reach climax. I must say, this detail makes the scenes even more intriguing. They express their happiness through cums, sticking tongues out, crossing their eyes, or shouting in pure excitement.
High Definition Videos
Hentaied is impressive with its assortment of Ultra 4K videos. Porn fans can view these delicacies in streaming options like 1080p and Ultra 4K. Other than that, these videos are also accompanied by high-resolution images accessible in 3840×2160 dimensions. Hentaied viewers will also love the descriptions found in each material, hence, providing ample ideas per video. Luckily, the site includes features like hovering the mouse to get a glimpse of video previews.
Meanwhile, the production value is the top priority of Hentaied. You can see how they wanted to make everything so realistic that they worked hard in every scene. The characters are dressed and styled like Hentai characters. The abode also gives a hentai and anime appeal. It is also evident how the makeup, styling, and aesthetic matches the hentai concept. Additionally, the streaming player is also doing its job by providing options that will help every viewing experience worthwhile. There are no bumps, buffers, and delays while using the player.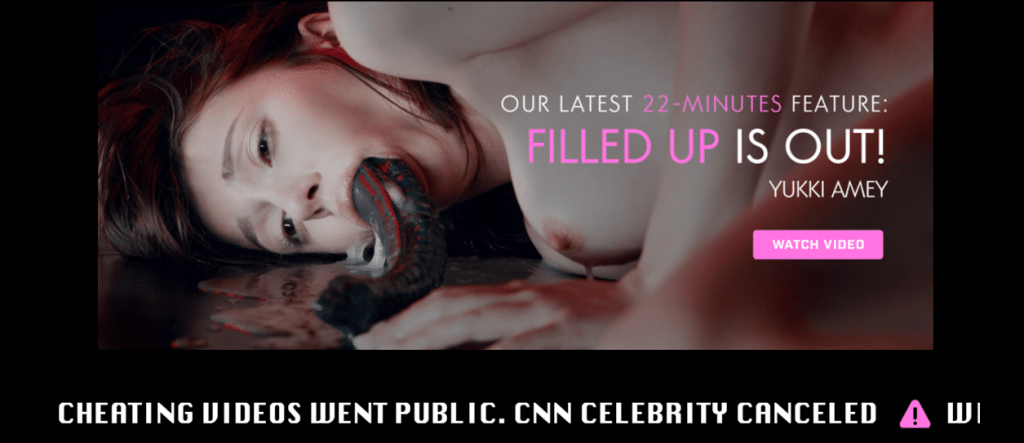 More Thoughts on the Features
The scenes at Hentaied usually last from seven to ten minutes. Yes, the videos are relatively short but have an intense impact on fetish lovers. The place got robots with dripping cums, babes fucking aliens, and milky boobs. Porn fans will also enjoy the sound quality; hence, every moan, drooling, and giggling is excellently heard. The shutting and rolling of eyes during orgasm are perfectly delivered, and the use of background sound and music is amusing.
Undeniably, the platform is a home of quality porn. Everything is premium and professionally crafted. I must also give credit to the directors, producers, editors, and actresses. They did a fantastic job bringing the hentai and manga fetish into live-action. Though there are no tags and video categories on the site, you will know immediately what is inside the library. Hence, prepare your dick with deep penetrations, aliens, creampies, bukkake, ahegao, feet shots, licking, tits, moaning, dildos, and many more.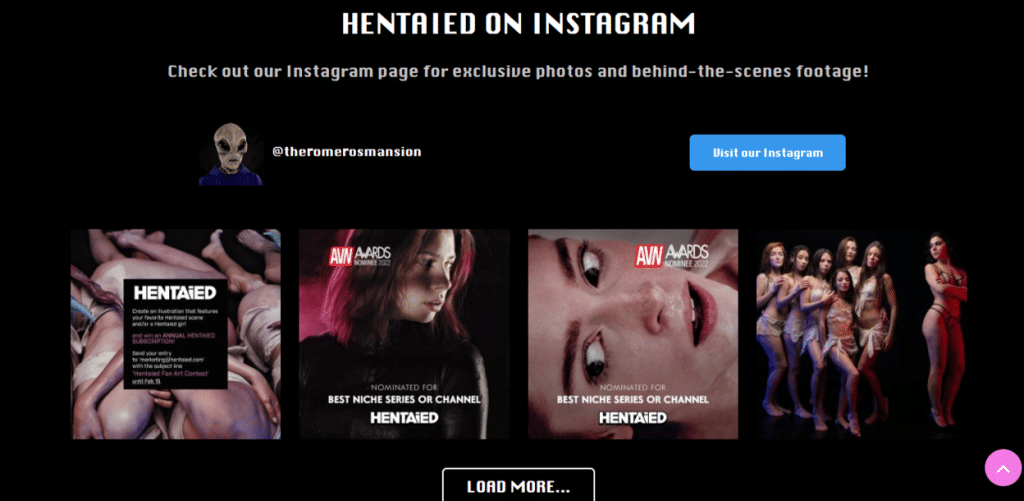 Membership and Downloads
Membership and subscription are accessible here at Hentaied.com. However, it is somewhat pricey than other hentai platforms. The site starts one-month full access at €29.70. Also, its one-day trial subscription costs €5.99. Yes, the prices are higher than any other domain. On the other hand, if you are an ultimate fan of this fetish, the payment will never be a problem. Fans can also enjoy 180 days of unlimited streaming and consumption at Hentaied for only €118.80.
Unfortunately, downloads will make you pay extra as it is not included in the subscription features. Hentaied only promises unlimited streaming of 4K real-life hentai videos. Plus, you can enjoy four times regular updates every month. I know you are sad, but you can spend some of it and download your favorite flick if you have extra cash. Thus, register on the site and submit your email address and password for a fascinating experience.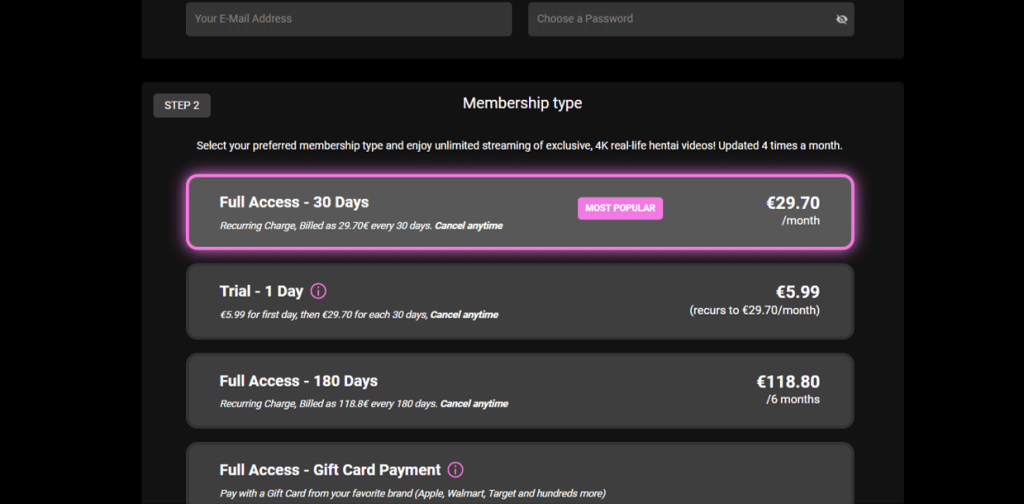 The Pros and Cons of Hentaied.com
PROS:
Live hentai action
Quality site
High-resolution materials
Library updates
CONS:
Small collection
Downloads not included in the subscription
No tags and categories
---
12 Best Premium and Free Hentai Sites Like Hentaied.com: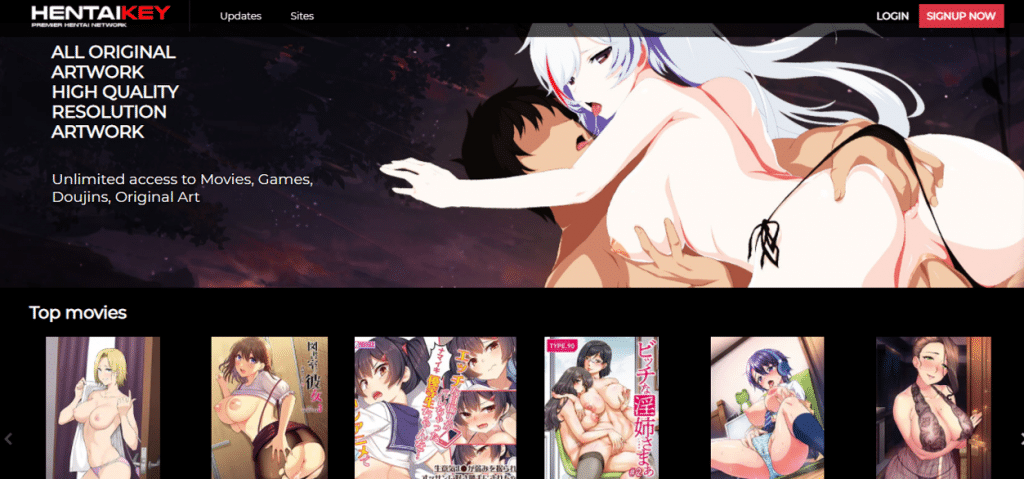 When it comes to top-notch anime and manga erotica, Hentai Key is the network to watch. This network includes more than 40 fantastic websites where you can get anything from hentai shows and films to comics and even hentai games. Moreover, the platform also provides a user-friendly interface and quick download rates. Hence, anyone from the newest anime newbie to a lifelong manga aficionado can enjoy this ultimate hentai experience online.
Hentai Key and more of its features in this review.
PROS:
Access to more than 40 hentai sites
Uncensored hentai
Massive collection of contents
High-definition videos and photos
Regular uploads and updates
CONS:
Needs membership to access
Quite disorganized
---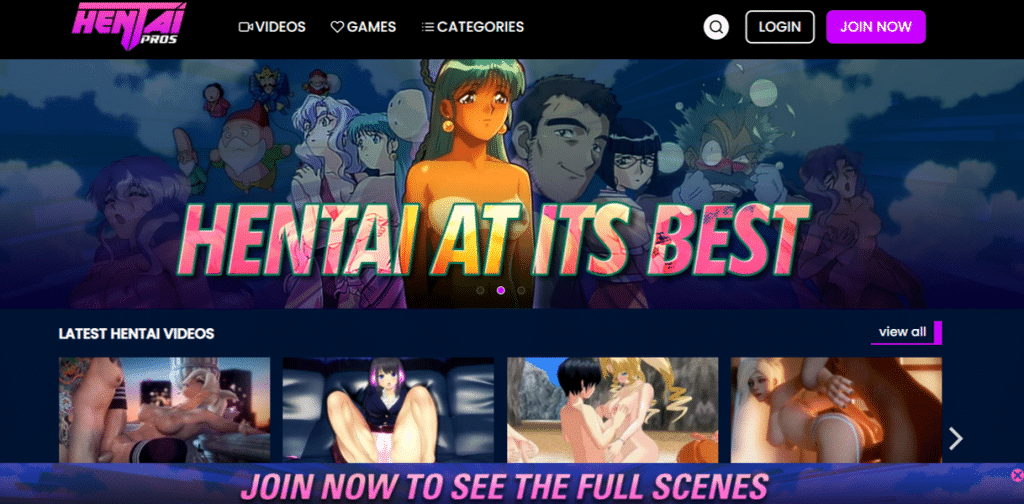 Launched in 2014, Hentai Pros served its clientele efficiently by offering various categories like creampies, hand jobs, blowjobs, squirting, and more. Not to wonder why they have good reviews, the films at Hentai Pros are sultry and timeless. You can use these contents any time of the day; hence, you can even grow old with them. More so, the characters are stunning and alluring. Everything here is of excellent quality, and the audio is on par with the visuals.
Get to know more about Hentai Pros in this review.
PROS:
High definition contents
Uncensored hentai materials
Wide range of contents
Good sorting and searching options
User and mobile-friendly site
Updates regularly
CONS:
Pay to access full site features
Pay extra to download contents
No pictures and images
Few categories
---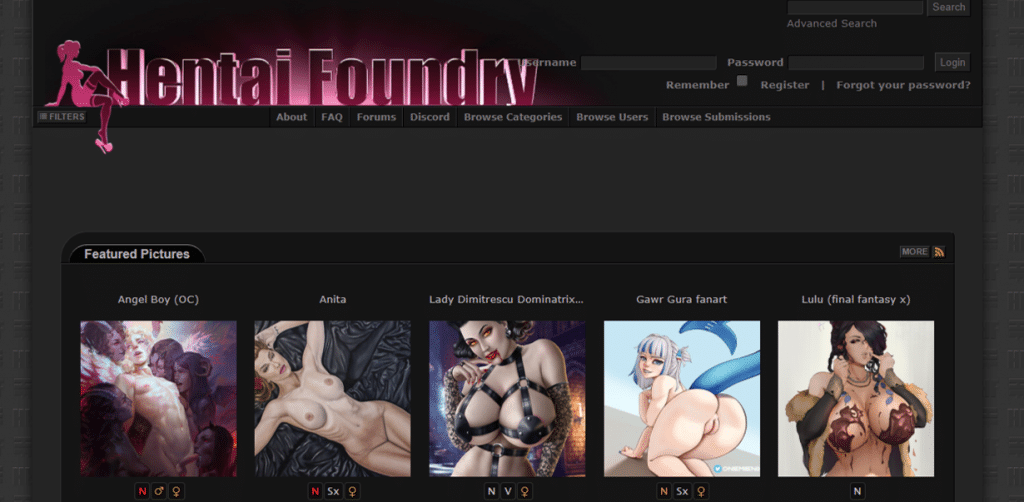 The Hentai Foundry website is very user-friendly. With a vast community and engaging users, everyone will surely love the atmosphere here. The site also needs registration before users can thoroughly enjoy all its perks and features. In fact, everything is really well structured, and everyone who has an account may upload. Downloading contents are also free and can be done with a few clicks.
Here is Hentai Foundry's full review.
PROS:
Free hentai contents
Lots of genuine artists
Engaging community
User-submitted hentai materials
Prices and perks
Effective search options
It has a gaming section
CONS:
Advertisements
No videos available
Need registration to enjoy more features
---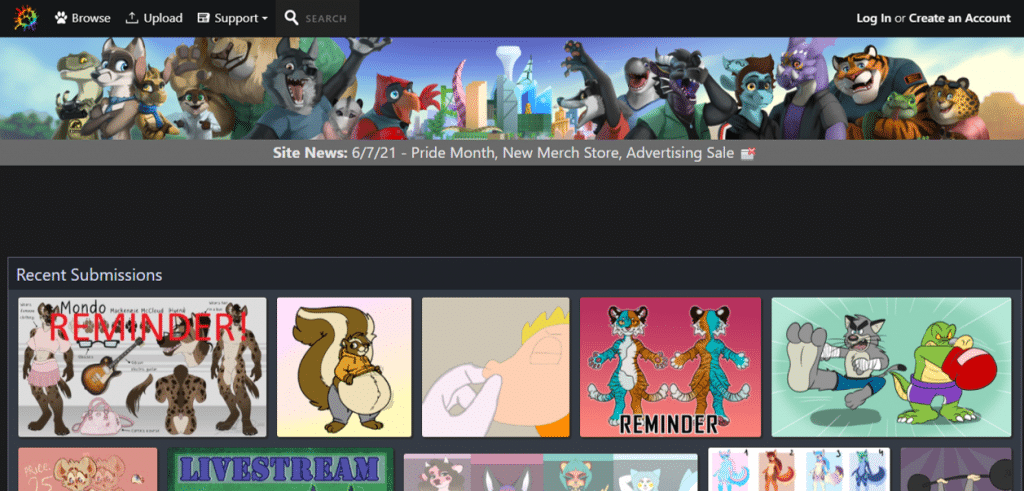 If you enjoy hairy creatures and content involving sexual activities with furry characters, this is perfect. Even if you are not, I can attest that this website has much valuable and fascinating information. Indeed, FurAffinity is more than just a pornographic site.
More so, I love how this excellent site allows us to chat with other individuals, read some steamy stories, or simply find some furry porn to jerk off to. Indeed, they offer everything that entails furs and hair characters; what more to ask if you have some hairy fetish in you! I also noted how features are available for free! However, you need to create an account to get to the adult content.
Here's the full review of Furaffinity.
PROS:
Ability to share and upload own works
Has a flood of sexy furry contents
Excellent features
Good mobile experience
CONS:
A lot of nonsexual materials
Requires an account to enjoy an adult section
The not too fancy design
Some weird materials
---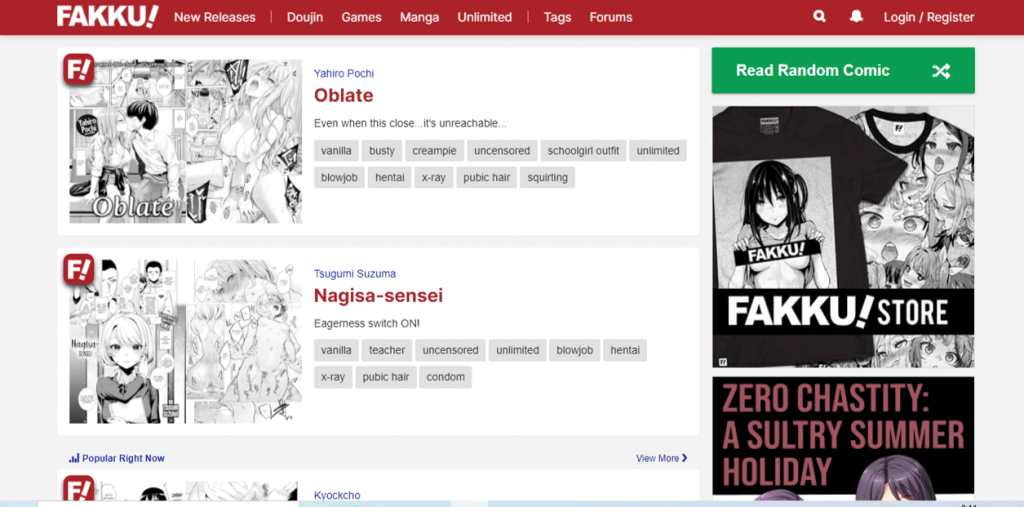 Fakku is a reputable distributor of original, translated Japanese hentai and manga. They have even made their own games, and you will enjoy yourself here. Fakku is, for the most part, accessible. Fakku, on the other hand, sells premium anime and comics with its Unlimited subscription.
By buying it, you will not only gain access to the most recent material, but you will also get all previous issues from a variety of well-known comics such as Kairakuten and Koh. You will get a 10% discount on anything in the Fakku shop, as well as access to beta features on the website and uncensored hentai.
PROS:
A wide array of pornographic contents
Lengthy videos and materials
Amateur and professional contents
CONS:
High-definition videos are accessible for premium members only
Advertisements
---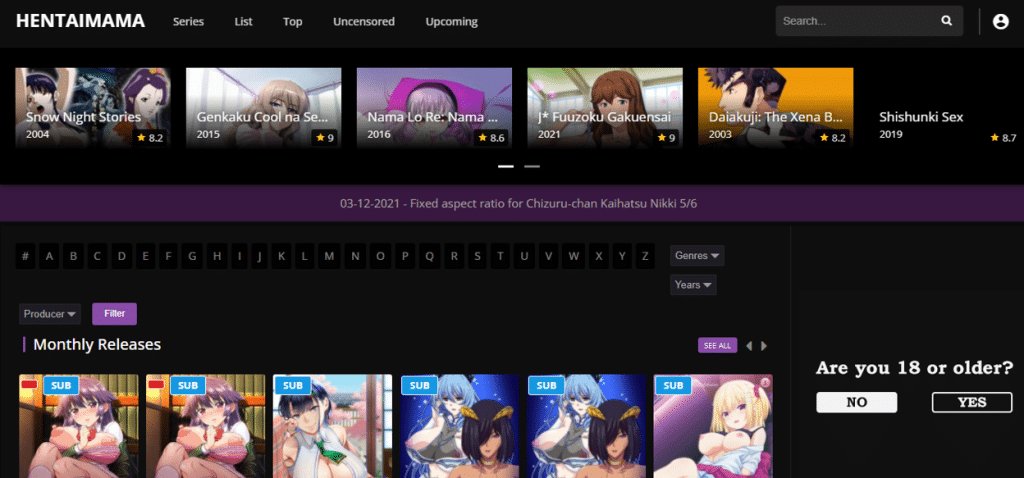 Hentai Mama is a free website that debuted in 2014; since then, the platform has featured a library of hentai series and episodes. Undoubtedly, porn fanatics will enjoy the fine assortment of hentai niches. Not just that, all releases are in high-quality material. Hence, Hentai Mama made its presence known in the porn world by consistently adding erotic scenes in its domain.
Read more about Hentai Mama here.
PROS:
Free anime porn site
Delivers complete hentai series and episodes
Straightforward site layout
Efficient browsing tools
Full-length contents and a vast database
Nice interactive features for members
CONS:
Few ads
Some censored materials
Need membership to use full features
---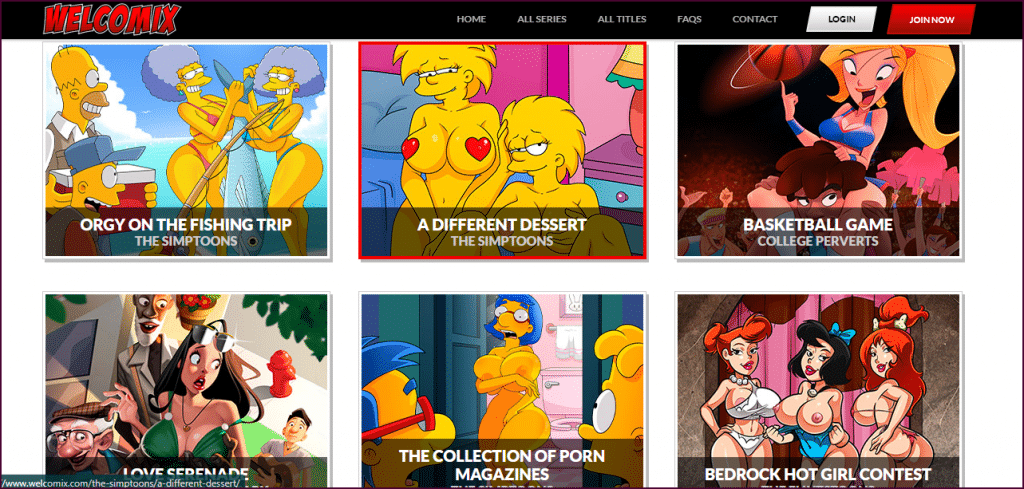 Welcomix's subscribers get all-out access to various comic entertainment through animations, comic strips, adventures, and fantastic artwork in every issue. If you visit Welcomix, you'll be treated to some genuinely bizarre romance among featured parody characters. It has quite a massive casting in terms of quantity and quality, and everything is impressively high-quality resolution.
Here's the full review of Welcomix.
PROS:
Massive comic collection
Supports mobile browsing
Plenty of comic series available
Caters to various genre
Updates regularly
CONS:
You can't play slideshows when reading comics
Needs monthly payment to access
---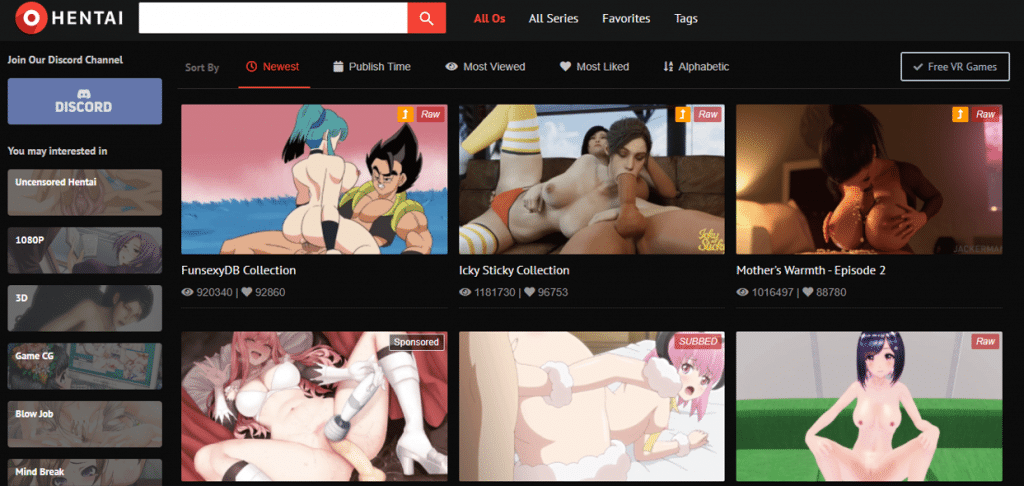 Ohentai.org offers hentai content and a 3D pornography library in up to full high-definition quality. Also, the platform provides access to many of the most erotic hentai videos; in fact, the site has a talent for finding outstanding materials and including them in its rooster of quality content. Additionally, porn fans glee in the scenes and episodes of superb sexual experiences with gorgeous women and an astounding choice of supernatural genres available here.
PROS:
High-quality hentai videos
Has 3D and CGI porn
Free download options
Variety of tags and categories
Taboo scenes
Good site organization
CONS:
Advertisements
No photos
Problems with some links
---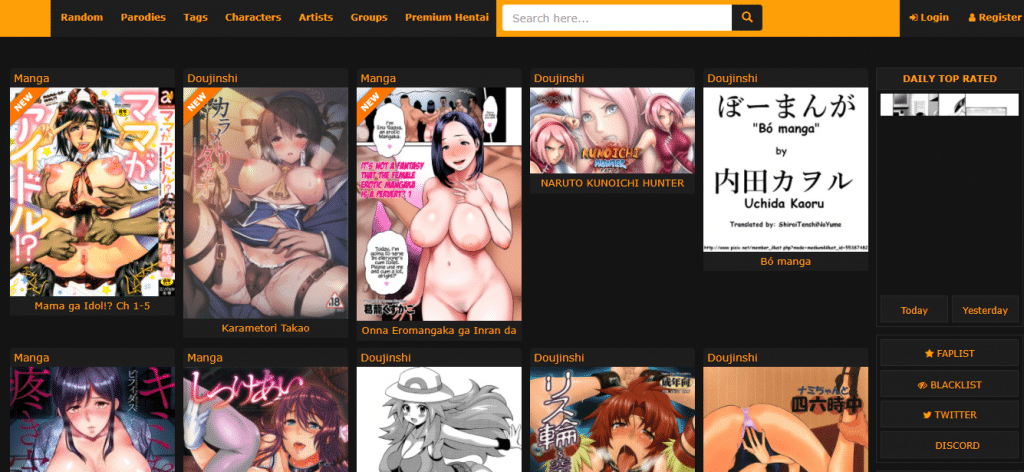 HentaiFox provides an extensive collection of the most entertaining and seductive hentai porn videos and photos. In fact, millions of people worldwide enjoy Japanese sexually explicit content. It is among the most popular erotic forms in the US alone, and perhaps among the most popular hentai sites worldwide.
Full HentaiFox review in the next page.
PROS:
Amazing hentai collection
Different categories to choose from
There are taboo and uncensored content available
Free to browse
Basic and straightforward design
CONS:
There are too extreme themes
Feature basic searching tool
Some ads
---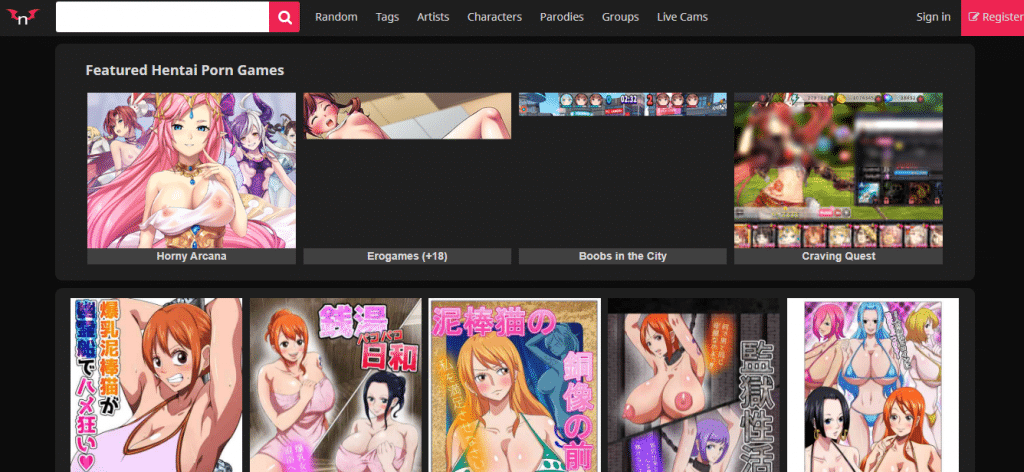 nHentai began a few years ago and has done an excellent job of offering a forum for people who want to see original Japanese hentai from some of the best artists in the industry.
The homepage is dedicated to displaying the most recent content posted and the language in which it has been written. Every post has a small flag next to it: Japanese, English (shown with a British flag), or Chinese. I firmly recommend that you glance at the tags section to see what categories are available. Popular choices include anal, which has 50,000 video files.
PROS:
Exciting user interface
Cute and enticing designs
Wide selection of videos
CONS:
Existence of some weird hentai porn
---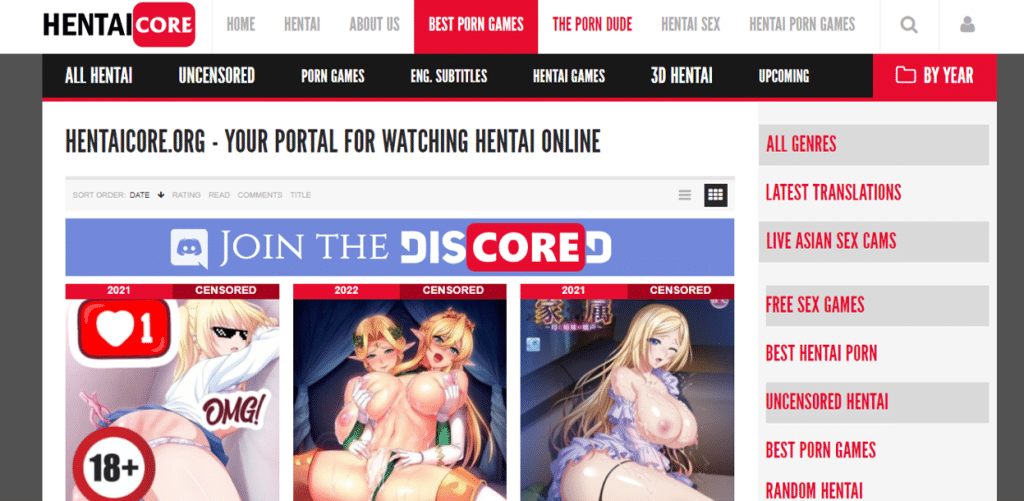 Hentai Core is one great hentai porn destination with its Japanese sex vibe. The site delivers hardcore and out-of-this-world scenes. Hentai Core does not limit its library with standard porn content but also covers all porn genres and anime series. I adore how flexible and diverse the nasty materials here at Hentai Core are. No wonder Japanese cartoon fans lurk around Hentai Core due to its intense sexual repository.
Here's Hentai Core's full review.
PROS:
Free anime porn site
Regular updates
Huge library
Hundreds of uncensored films
Sorting options available
Subbed and dubbed contents
More quality features
CONS:
Advertisements
Censored materials
No download options
Few site functions
---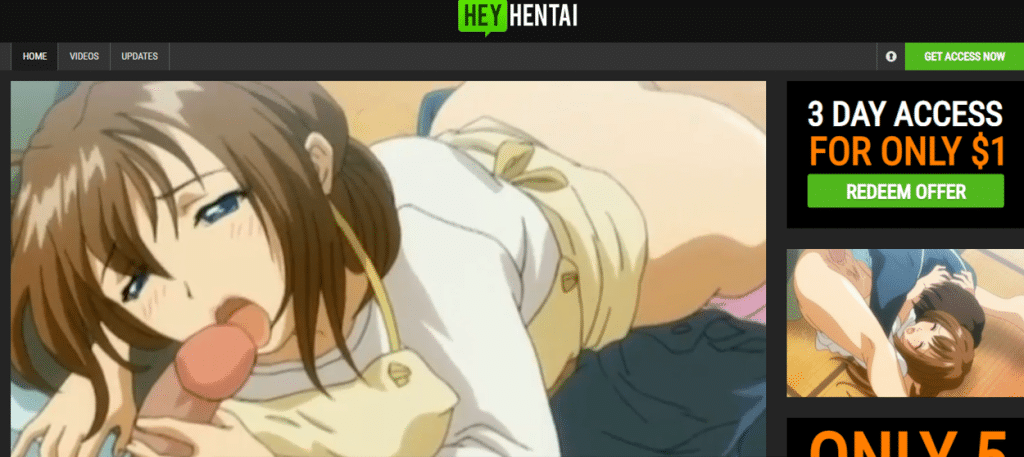 Hey Hentai was brought to life in 2010. The platform went into a challenging journey as they endeavor to become porn fans' Hentai fapping partner. Though its monthly visits from porn advocates aren't as consistent as other erotica sites, Hey Hentai manages to draw enough fans. If not, it wouldn't have stayed and provided flicks until today. It caters to porn addicts who are willing to pay money to view incredibly steamy hentai videos.
PROS:
Hot hentai materials
Old hot contents
Uncensored
Good and clean design
Diverse assortment
CONS:
Lacks features
No categories
No search and sorting functions
---
Takeaways
This hentai premium site is a decent addition if you are an avid fan of the anime porn niche. Hentaied arouses the curiosity and dream of every porn fanatic who desires to immerse in live hentai scenes. I must say, Hentaied did an excellent job in pulling off this sexual genre. Everything you see is professionally crafted with high definition quality. The platform is clean and smooth. Plus, materials are uncensored.
With this, you can enjoy every detail, moan, and excitement of the characters. Though this fetish is not for everyone, Hentaied's collection is delectable, with various scenes exuding tentacles, aliens, weird creatures, objects, cums, dildos, etc. Indeed, most of the concept is hardcore and filthy. So, if you are a great fan, tap the Join Now button and grab your cock for one adventure. Be ready to get Hentaied.
All 71 Other Sites in This Category Worth Checking Out:
LoL Hentai Review & 12 Best Hentai Porn Sites Like LoLHentai.net Show Me 12 Alternatives for LoLHentai.net Hey there, fellow gamers and hentai enthusiasts! Today, we're diving into the fascinating world of LoLHentai, also known as League of Legends but with a hentai twist. Now, I know what you're thinking – "What on earth will happen […]