Updated on: December 11th, 2023
Mucho Hentai
& 12 Best Hentai/Anime Porn Sites Like MuchoHentai.tv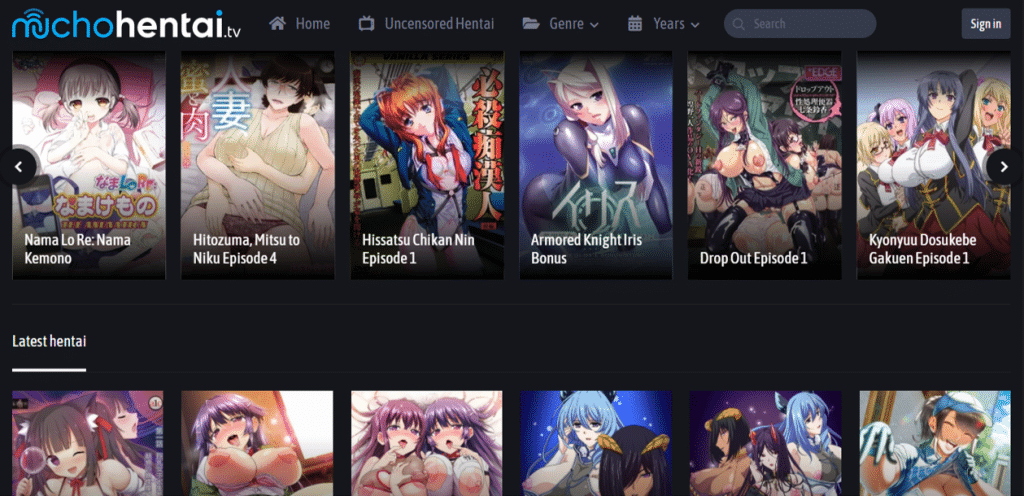 I will talk about this hentai site that provides loads and tons of anime porn content. Well, from this site's name, you can immediately expect orgasmic delicacies suited for your sexual needs. Mucho Hentai delivers vast and diverse hentai erotica that comes in videos and images. Hence, to facilitate happiness and intense satisfaction from its audiences, Mucho Hentai consistently updates and adds more erotica to its growing collection. Mucho Hentai also offers everything for free. Yes, you can stream and download your favorites without having to pay.
Official URL: https://muchohentai.tv/
Meanwhile, Mucho Hentai wanted to linger every excitement in our senses as they gave us plenty of hot episodes and stories. Porn fans can't help but get hooked with the series of scenes and cinematography available at Mucho Hentai. Ever since it started airing in the porn industry, Mucho Hentai crafted full-length videos and easy to navigate domain. Indeed, it is not difficult to comprehend that the founders of this platform have so much dedication in providing accessible hentai materials.
My First Impressions
I appreciate Mucho Hentai's effort of putting all anime porn goodies within reach for all hentai aficionados. The significant fact that they do not charge any single money is commendable enough. As I roamed around the page, I also noticed the thumbnails waiting for my attention. From there, I must say that Mucho Hentai presented every material with an enticing illustration. It displays a detailed look that will make every porn citizen click the videos right away.
Interestingly, the thumbnails and previews can be a tool for site visitors to get the anime porn they crave quickly. One important detail that immediately caught my senses here at Mucho Hentai is its language feature. Definitely, there is greater joy when watching hentai in your native language. Hence, here at Mucho Hentai, you can have the power to stream content in Japanese, Spanish subbed, and English. These functions allow every porn lover to comprehend what is happening with the episodes. Thanks, Mucho Hentai.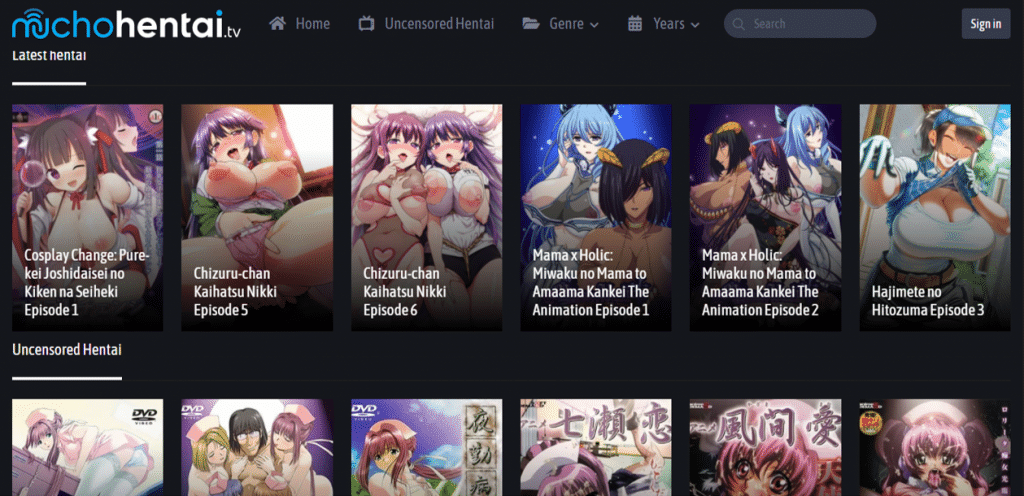 Mucho Hentai's Homepage
As part of my initial impressions of the platform, I created a separate paragraph for the homepage design. Well, I liked Mucho Hentai's idea of putting the background dark and warm with the eyes. The site's name in blue and white also adds to the horny vibes. In addition, the white texts and thumbnails are both pleasing to the eyes and cock. Anyway, as you scroll around the main page, you can directly access the latest and uncensored content.
Moreover, I adore that the platform is clean and sleek. Though it looks similar to other porn sites, Mucho Hentai's organization is commendable. I do not see any unnecessary sections; all segments available are on-point and straightforward. Hence, you can only see six (6) functions in the main page's header. These sections include the home, uncensored hentai, genre, years, the search engine, and the sign-in button.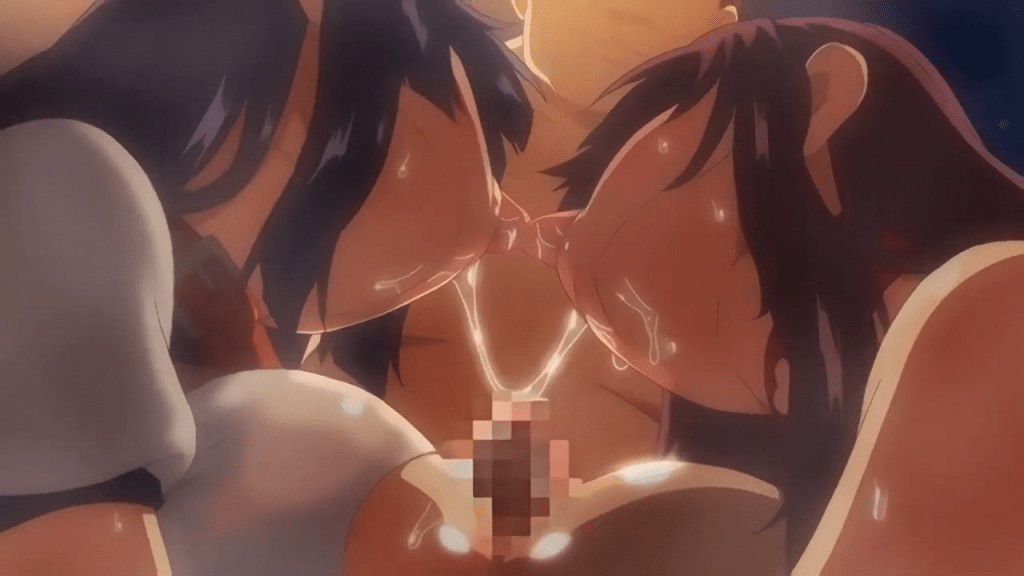 Undoubtedly, porn fans can quickly go to the specific segment or location of their erotic dreams. In addition, I must share that Mucho Hentai is designed well and that the people behind it dedicated so much effort and time for this site to look this pleasing. More so, each video contains a title and a few descriptions. A navigation arrow is also available on the main page to help site visitors access the entire collection. From my judgment, I can say that everything is laidback and relaxed here at Mucho Hentai.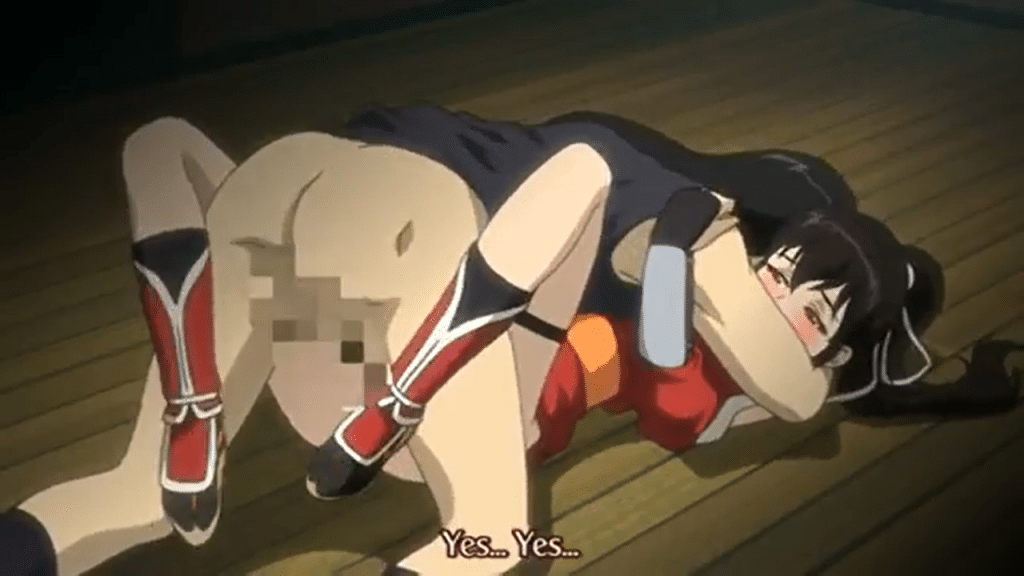 Quality Porn Materials
With thousands of anime porn contents varying from censored to uncensored, Mucho Hentai episodes range from 10-15 minutes of streaming time. Although Mucho Hentai does not provide a feature that can allow us to change the quality of every video, you will be surprised that they have a collection of high-definition videos. Yes, a free hentai site does not stop in delivering quality materials. With this, you can look forward to viewing 720p or 1080p films at the library.
On the other hand, most erotica flicks here are of standard quality. My experience was hassle-free, with smooth viewing and less buffering. It is also valuable to take note that downloads are available. However, saving and downloading two or more materials simultaneously is prohibited. Also, fans must remember that the download speed is limited to 2mbit per second. Undoubtedly, site users will have various activities and features to explore here at Mucho Hentai. Indeed, these are great features found in one free site.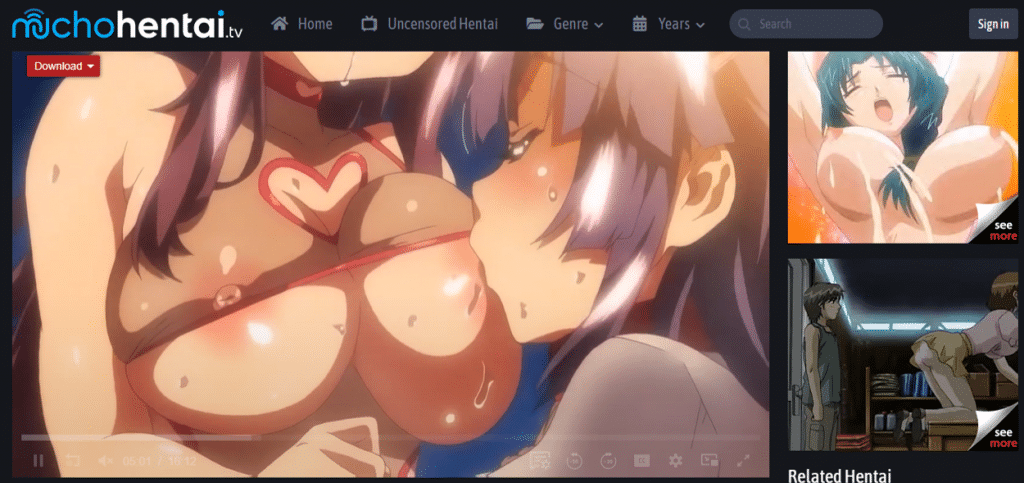 Video Information
It is indeed helpful to read and have essential information on each video material. Luckily, Mucho Hentai contains this feature. Site goers can have a glimpse of the scenes available. Honestly, some may not give too much attention to this detail; however, the effort and thought count after all. Each video description contains a short synopsis, release date, and the number of episodes. Below each film are lists of related videos and genres for porn fans to utilize.
Furthermore, sharing these delicacies and goodies can be done via social media platforms like Twitter and Facebook. Yes, these social domains are represented with their corresponding icons on the page. With this, hentai aficionados can efficiently distribute these treasures to their friends and followers. Mucho Hentai is also generous with streaming and downloading tips. I appreciate how this function can aid users' site exploration. Not just that, they have a vast video player too. Hence, going to full screen is an excellent decision while streaming. Mucho Hentai also gives way essential add-ons by providing audible video sounds.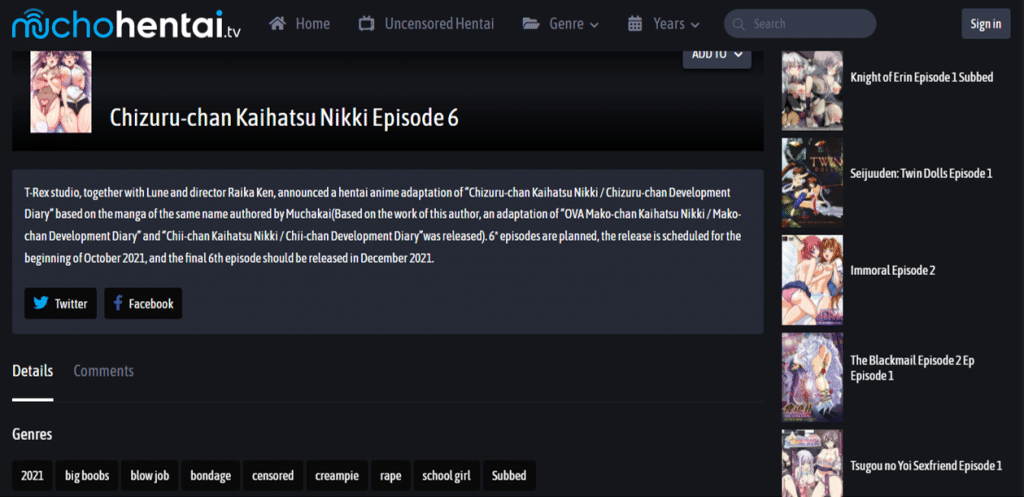 Film Series and Episodes
As mentioned in the previous paragraphs, Mucho Hentai delivers materials in a series of videos and episodes. The site dedicated a section that allocates porn movies with complete episodes. Mucho Hentai ensures that they continually gratify its audience by giving materials to follow and look forward to. More so, each masterpiece is arranged in alphabetical order with captions and vital descriptions.
From here, viewers can access captivating and famous porn anime flicks like Bible Black, Lover in Law, Mitama, Hiiro no Koku, Gakuen Shimai, Immoral, The Blackmail, Kanajo, and many more. In addition, these mouthwatering pieces are again translated into English and Spanish. Hence, no detail is hidden and spared here at Mucho Hentai. The subtitles and dubbing are on point too.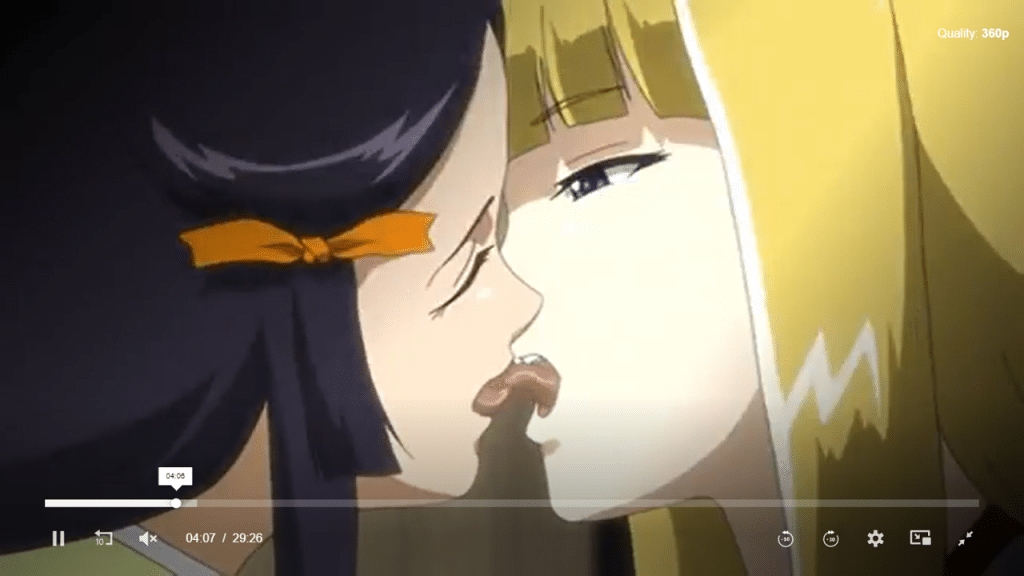 Censored and Uncensored Hentai
Mucho Hentai, like other Japanese porn domain, contain films that have pixels and censors. This may sound a bit sad, but blessings are still overflowing with the unfiltered materials available. Well, porn followers are happy with Mucho Hentai's entire segment for uncensored erotica. From here, avid hentai fans can enjoy the unlimited streaming of wet pussies, big boobies, cock licking, and pussy eating.
Well, I am sure you will agree that these activities make hentai porn watching even more exciting. When you see these treasures, your cock will readily arouse, and in seconds you are now rubbing your dicks. It is even stimulating to hear the female character's soft moan and clear sound of orgasm. However, a limited number of uncensored flicks are available in the Mucho Hentai repository. Hence, expect to see more censored than uncensored varieties here at Mucho Hentai.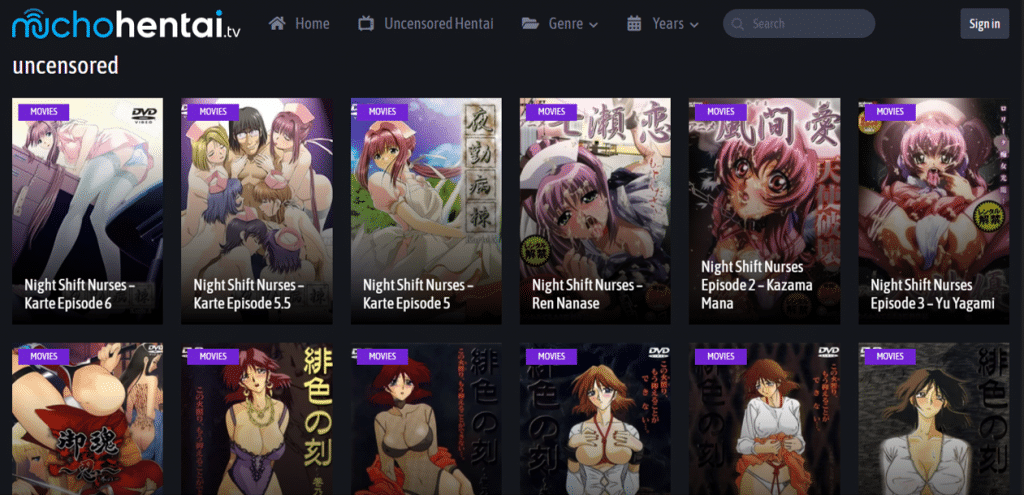 Hentai Porn Niches
Interestingly, Mucho Hentai contains various niches and genres in its library. The complete selection is available in a drop-down list on the main page. From there, you can locate the deals that make you horny and sexually active. Hence, the list housed niches like anal, ahegao, adventure, BDSM, cunnilingus, creampies, and large breasts. Porn fans can also enjoy the materials that involve school girls, big ass, bondage, doggy style, cosplay, comedy.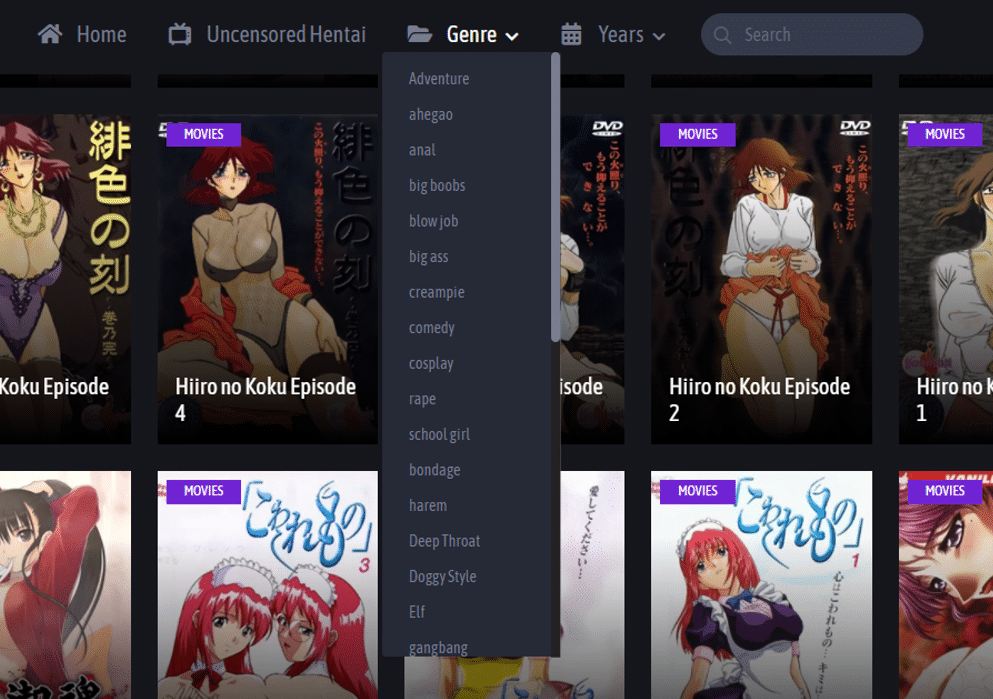 However, it does not end there. Mucho Hentai also provides a broader range of content. In fact, the site presents out-of-this-world materials and other fictional-related sources. Other than that, taboo contents are also accessible for those who enjoy such entertainment. With this, Mucho Hentai can entice you with its slew of virgins, gangbangs, incest, and rape collection. Lastly, porn lovers will get addicted to the variety of masturbation and self-stimulation erotica here at Mucho Hentai.
Sorting and Navigational Options
I am more drawn into the 'Years' section at the main page's header with a slew of typical sorting options. This sorting option is indeed one of the most valuable features of the platform. I appreciate how this segment can quickly bring site users down memory lane. Unlike other domains where it is nearly impossible to see contents from ten to thirteen years ago, you can access them in two clicks here at Mucho Hentai.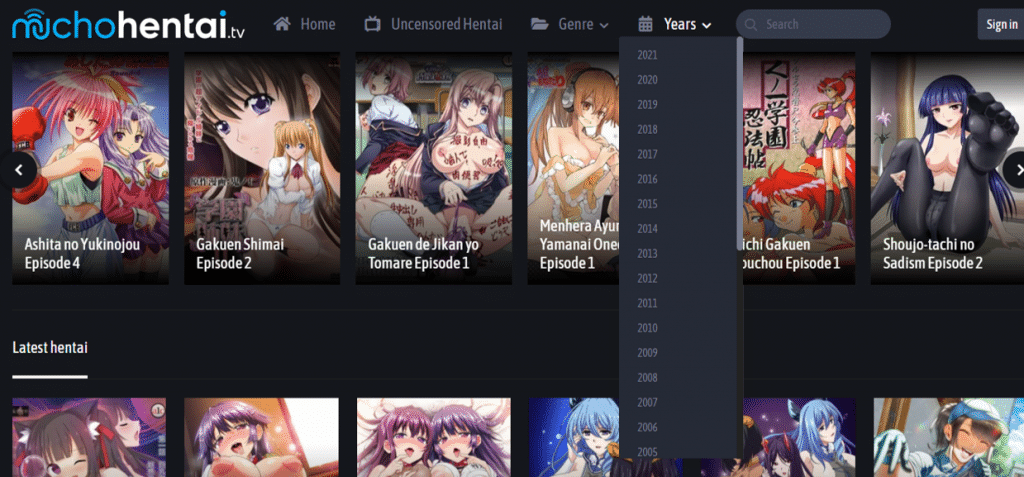 Indeed, from the site's inception until the current year, porn citizens can roam around the yearly collection. Not just that, viewers can also sort and filter contents via title, views, comments, and reactions. The search button is also beneficial and effective since day one. I also discovered a 'random button' to get surprising porn materials. Hence, if you would like to get great flicks from time to time, click that random thing today, and together let us get the juicy treats.
The Pros and Cons of MuchoHentai.tv
PROS:
Regular updates
Free anime porn site
Various sorting and navigating options
Video descriptions available
Efficient thumbnails
Simple and clean site layout
Free downloads
Good collection of hentai materials
Up to 1080p video quality
CONS:
Advertisements
Mostly censored contents
---
12 Best Hentai/Anime Porn Sites Similar to MuchoHentai.tv: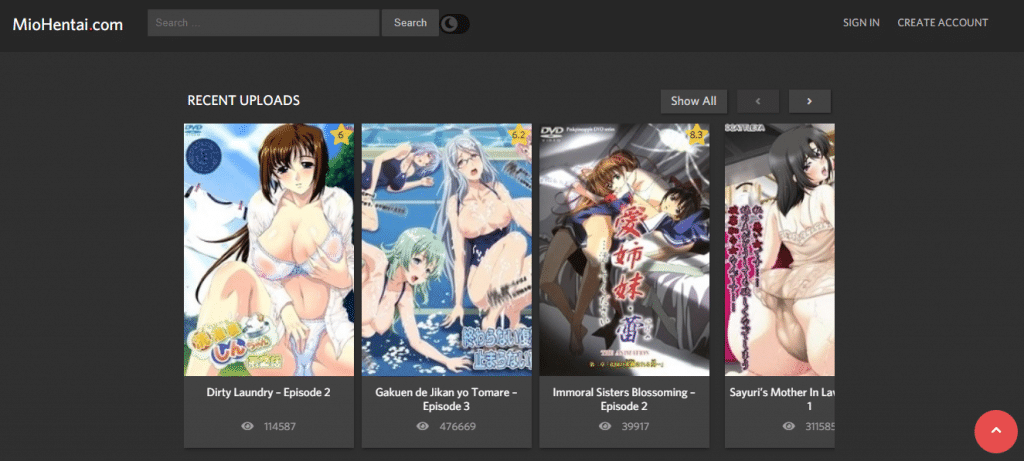 MioHentai has a great feature, with an easy navigation system employed. Everything you see around the page seems newbie-friendly and straightforward to understand. In fact, it has tags, categories, and a top list that makes searching more effortless than it ever was. Plus, the video player is quite impressive since no lagging or buffering happened throughout my experience.
PROS:
Design is accessible and user-friendly
There are taboo themes
Uses 3D and 2D animation
Plenty of categories
CONS:
Mostly censored content
Some ads
Registered users can access some member-only features
It has redirect links available
---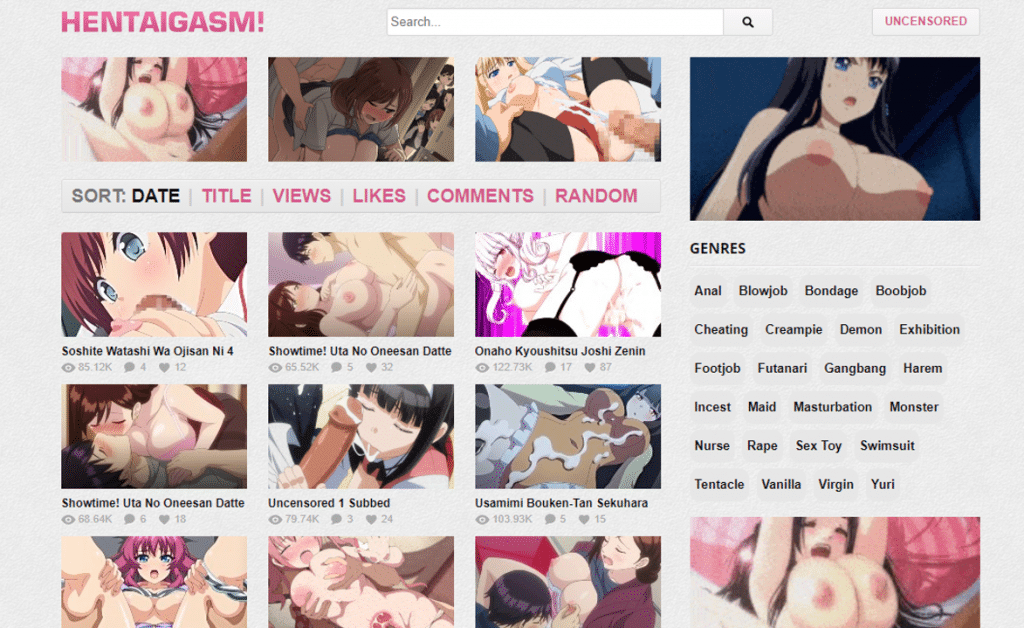 Hentaigasm reached more than a million site visitors in the world of pornography. The site reportedly has more than thirteen million monthly visitors; I mean, that is huge! With that, Hentaigasm continually constructed its massive library of free hentai videos. Intensely, I love the experience of watching hentai films too. Hentaigasm aims to satisfy every hentai lover with its bits and pieces of orgasmic delicacies, all waiting for you to try.
PROS:
Straightforward platform
Free anime porn site
Quality contents
Free downloads
Uncensored contents
Nice thumbnails and video descriptions
Random feature
Efficient video player
CONS:
Some censored contents
Few categories
Advertisements and pop-ups
---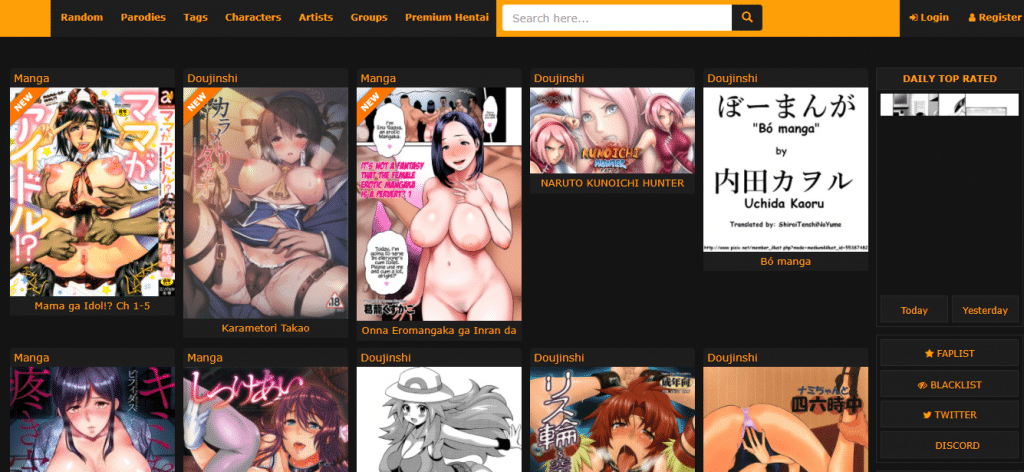 HentaiFox provides an extensive collection of the most entertaining and seductive hentai porn videos and photos. In fact, millions of people worldwide enjoy Japanese sexually explicit content. It is among the most popular erotic forms in the US alone, and perhaps among the most popular hentai sites worldwide.
Full HentaiFox review in the next page.
PROS:
Amazing hentai collection
Different categories to choose from
There are taboo and uncensored content available
Free to browse
Basic and straightforward design
CONS:
There are too extreme themes
Feature basic searching tool
Some ads
---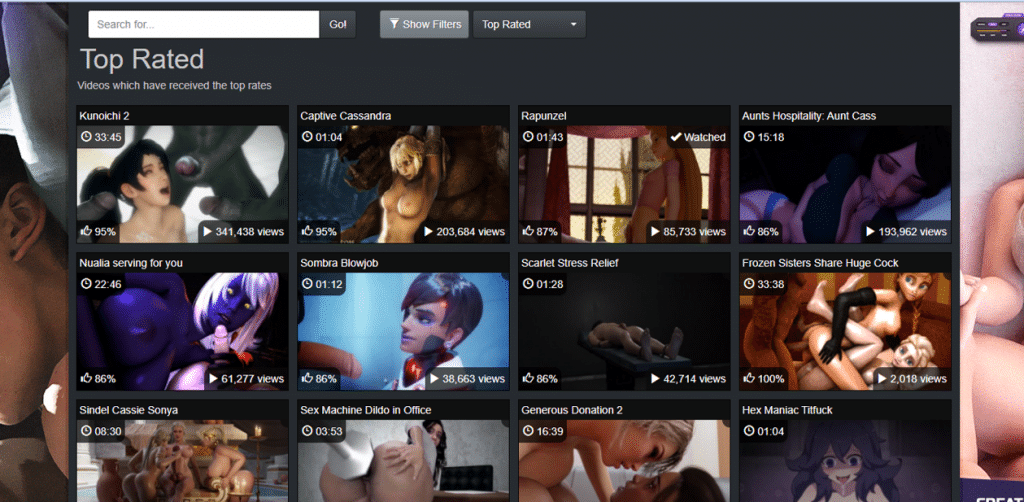 People have spent time and effort making these videos, and even though you aren't a big fan of Hentai, you will have many videos that you will have a happy time viewing. PorCore.com is a hentai platform that can't be matched, not in terms of content, not in terms of frequency of updates, but with its overall functionality.
PROS:
A wide array of hentai videos
Free access
Can be utilizing a mobile phone
User friendly
Easy to navigate
CONS:
Plenty of annoying advertisements
---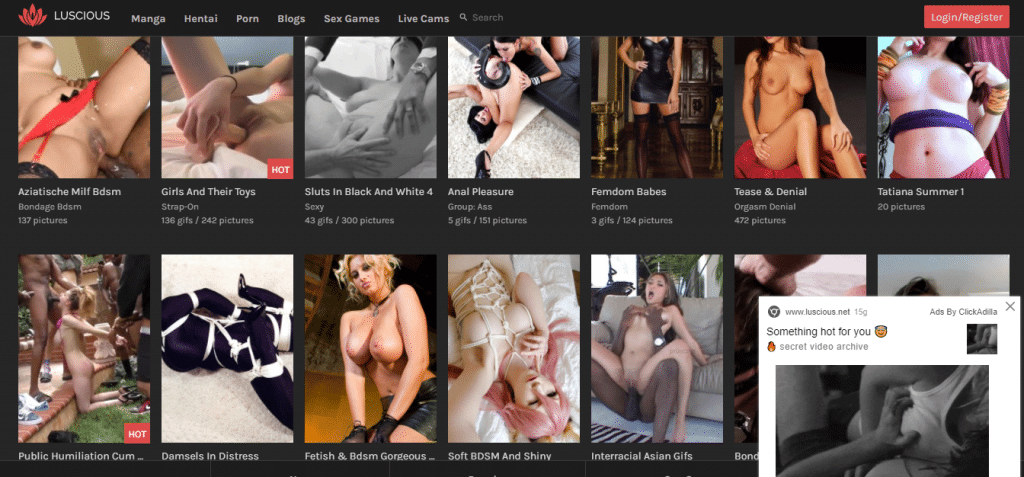 Luscious is something special to me. Sure, it does not have a meticulous blend of these items, but several different elements also appear on this website. Such as comics, doujinshi, comics, cartoons, and more. While it is true that many other websites offer the same things that Luscious has, yet it really doesn't provide enough. I guarantee this site is full of content, and everyone would totally enjoy it.
Click for a Luscious full review.
PROS:
Hentai albums are plenty
All types of genre, themes, and fetishes are included in every section
You can join the active community
Talk over and share your opinions with other members at the discussion area
Blogs are available
There are user-generated content available
CONS:
Advertisements and redirects to third-party websites
Require registration to communicate and leave comments
The premium price is quite costly
---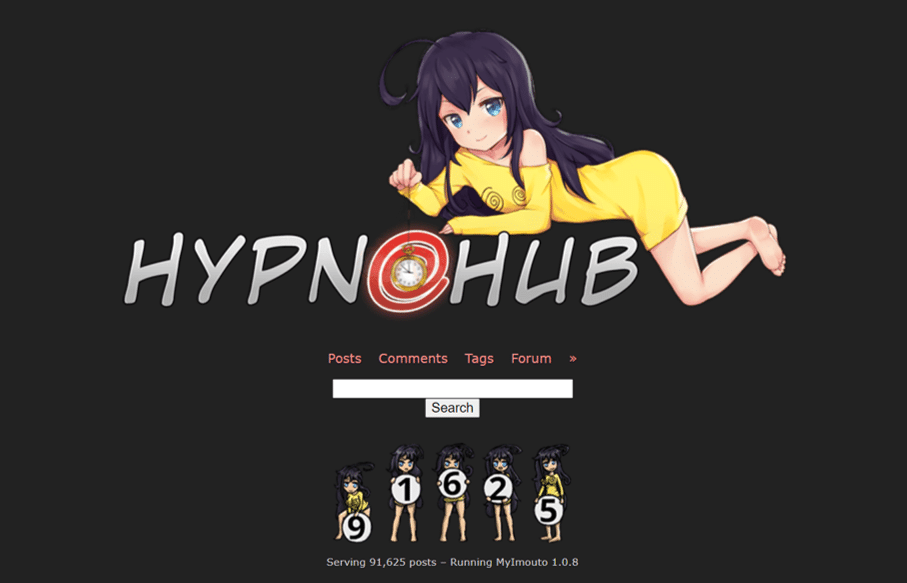 HypnoHub is a Danbooru-style message board dedicated to ladies in hypnotic states. When it first launched in 2013, hypnosis porn fans celebrated at the start of what would become the largest source of animated visuals using hypnosis. Whether it is swirls, glazed eyes, corpses, or plain hypnotism stories, most of the photos will feature hypnotic imagery.
Visit our full review of HypnoHub.
PROS:
Can upload own contents
Active porn community
Variety of animated pornographic images
Original artworks and creativity are highlighted
Accessible to all devices
Has a forum
CONS:
No porn films
Poor updates
---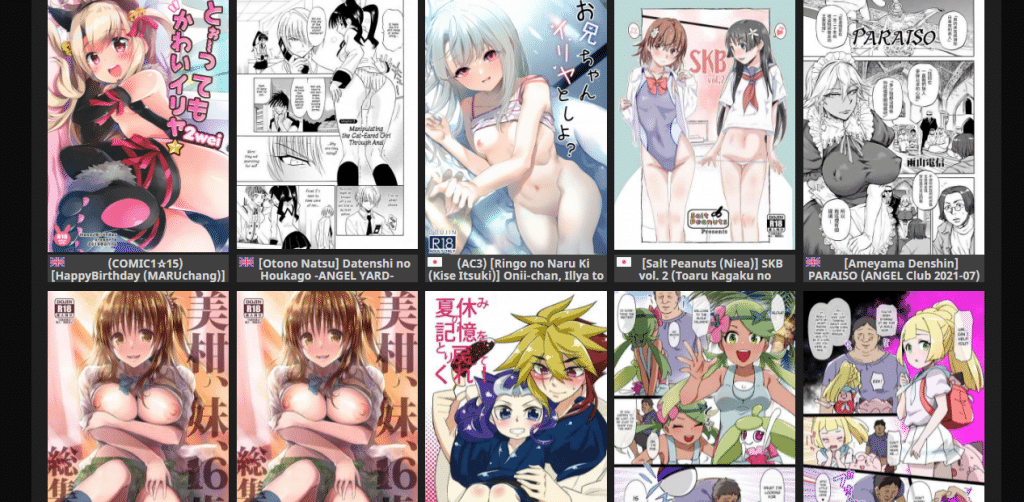 nHentai began a few years ago and has done an excellent job of offering a forum for people who want to see original Japanese hentai from some of the best artists in the industry.
The homepage is dedicated to displaying the most recent content posted and the language in which it has been written. Every post has a small flag next to it: Japanese, English (shown with a British flag), or Chinese. I firmly recommend that you glance at the tags section to see what categories are available. Popular choices include anal, which has 50,000 video files.
PROS:
Exciting user interface
Cute and enticing designs
Wide selection of videos
CONS:
Existence of some weird hentai porn
---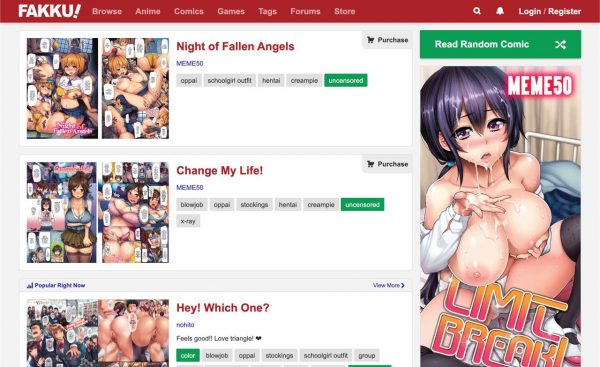 Fakku is a reputable distributor of original, translated Japanese hentai and manga. They have even made their own games, and you will enjoy yourself here. Fakku is, for the most part, accessible. Fakku, on the other hand, sells premium anime and comics with its Unlimited subscription.
PROS:
A wide array of pornographic contents
Lengthy videos and materials
Amateur and professional contents
CONS:
High-definition videos are accessible for premium members only
Advertisements
---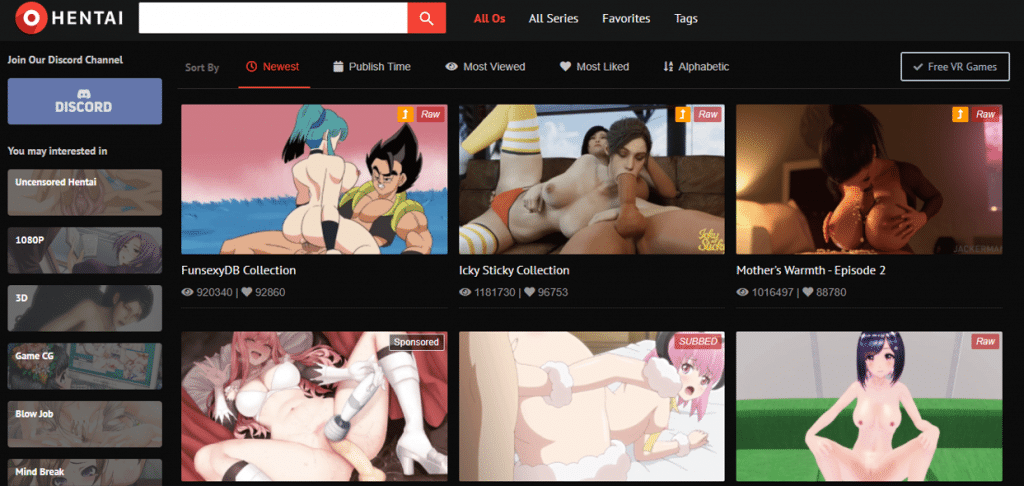 Ohentai.org offers hentai content and a 3D pornography library in up to full high-definition quality. Also, the platform provides access to many of the most erotic hentai videos; in fact, the site has a talent for finding outstanding materials and including them in its rooster of quality content. Additionally, porn fans glee in the scenes and episodes of superb sexual experiences with gorgeous women and an astounding choice of supernatural genres available here.
PROS:
High-quality hentai videos
Has 3D and CGI porn
Free download options
Variety of tags and categories
Taboo scenes
Good site organization
CONS:
Advertisements
No photos
Problems with some links
---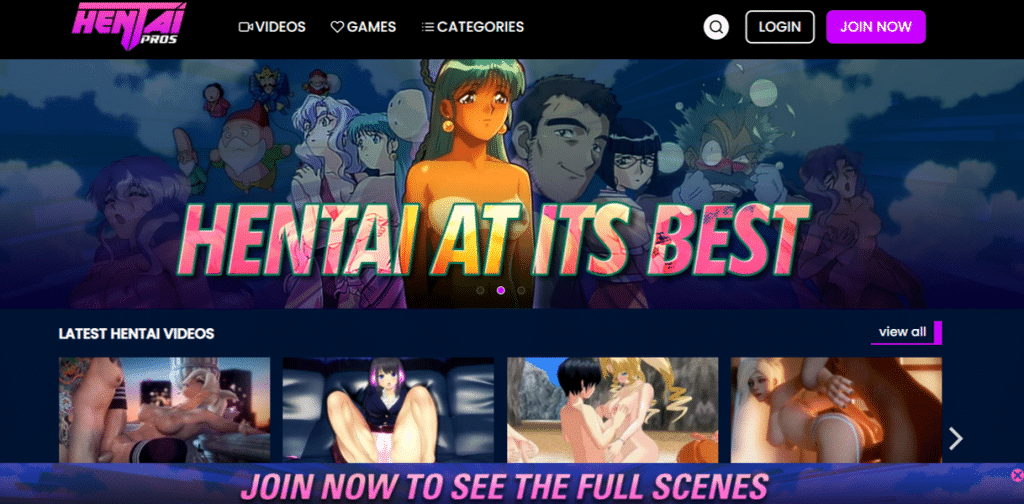 Launched in 2014, Hentai Pros served its clientele efficiently by offering various categories like creampies, hand jobs, blowjobs, squirting, and more. Not to wonder why they have good reviews, the films at Hentai Pros are sultry and timeless. You can use these contents any time of the day; hence, you can even grow old with them. More so, the characters are stunning and alluring. Everything here is of excellent quality, and the audio is on par with the visuals.
Get to know more about Hentai Pros in this review.
PROS:
High definition contents
Uncensored hentai materials
Wide range of contents
Good sorting and searching options
User and mobile-friendly site
Updates regularly
CONS:
Pay to access full site features
Pay extra to download contents
No pictures and images
Few categories
---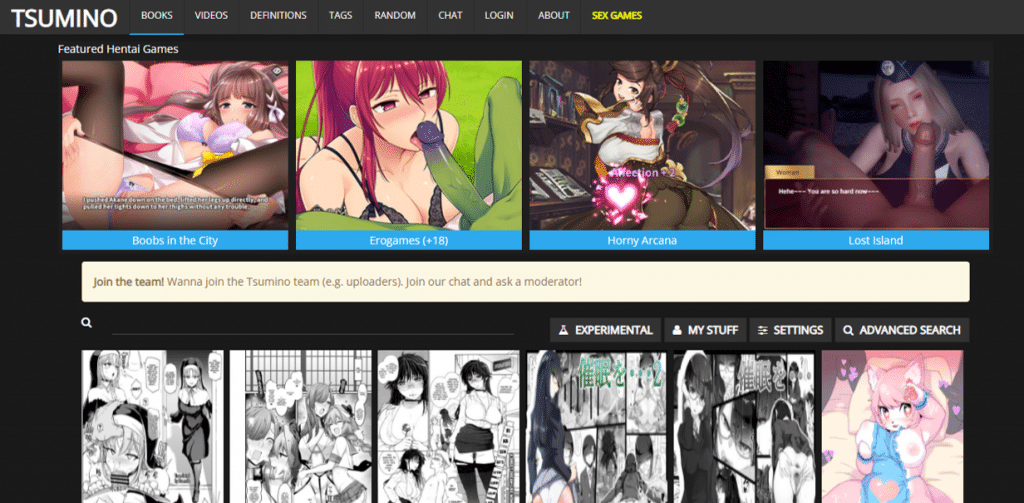 Since its inception in early 2015, Tsumino has gradually increased its number of page visitors and users. The platform started small but continuously grew, intending to offer thousands of great porn masterpieces from respected artists in the porn industry. Tsumino wows the manga community with its library of erotic porn books and animated novels displaying taboo, forbidden, and exciting themes in terms of content.
PROS:
Great design and organization
Easy navigation and impressive interface
Lots of top-quality contents
Active community
CONS:
Minimal advertisements
Few site features that need improvements
---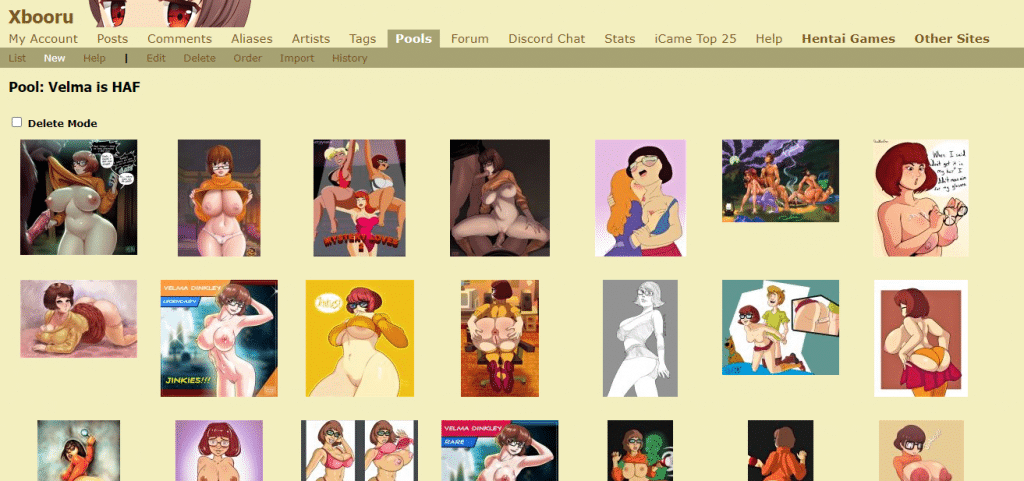 Xbooru is one popular place for enjoyment and gratification among hentai fans. It has been compared to other Booru pages, and this is right. However, the material is entirely different. The Booru sites are structurally identical, but not in the gallery, which is fantastic! You can go on various picture boards, but the basic concept and form will still be the same.
Furthermore, instead of giving feedback and waiting for the artists to reply, you can use the Discord chat to talk about whatever you want. There must be no other spot with as many pictures as Xbooru. More than 50 thousand photos are sure to excite any hentai fan! If you like anime-styled porn, you should surely visit this website.
PROS:
Variety of pornographic contents
Regular updates
Lengthy videos and materials
Amateur and professional video contents
CONS:
Limited access for non-members
Advertisements are plenty
---
Conclusion
Mucho Hentai has an undeniable skill in providing hentai fans with the most delightful orgasmic scenes. Being a free site does not hinder the page in giving high-quality materials. More so, they consistently update the collection by uploading fresh content regularly. Porn fans love to lurk around the corners of Mucho Hentai with its free streaming and downloading. Not just that, the page has a complete collection of famous and remarkable hentai episodes and series.
Furthermore, Mucho Hentai is presented exquisitely, with clean organization and helpful sorting options. Viewers can look around the repository from previous years with extreme ease. More so, genres and porn niches are listed on the main page giving porn fans smooth exploration. Mucho Hentai also translated the materials into two languages: Spanish and English. Truly, everything is well thought of and conceptualized here. Hence, if animated porn is your fetish, Mucho Hentai welcomes you with open arms, pal. Check it out!
All 71 Other Sites in This Category Worth Checking Out:
LoL Hentai Review & 12 Best Hentai Porn Sites Like LoLHentai.net Show Me 12 Alternatives for LoLHentai.net Hey there, fellow gamers and hentai enthusiasts! Today, we're diving into the fascinating world of LoLHentai, also known as League of Legends but with a hentai twist. Now, I know what you're thinking – "What on earth will happen […]