Updated on: December 5th, 2023
Gelbooru Review
& TOP-12 Anime/Hentai Sites Like Gelbooru.com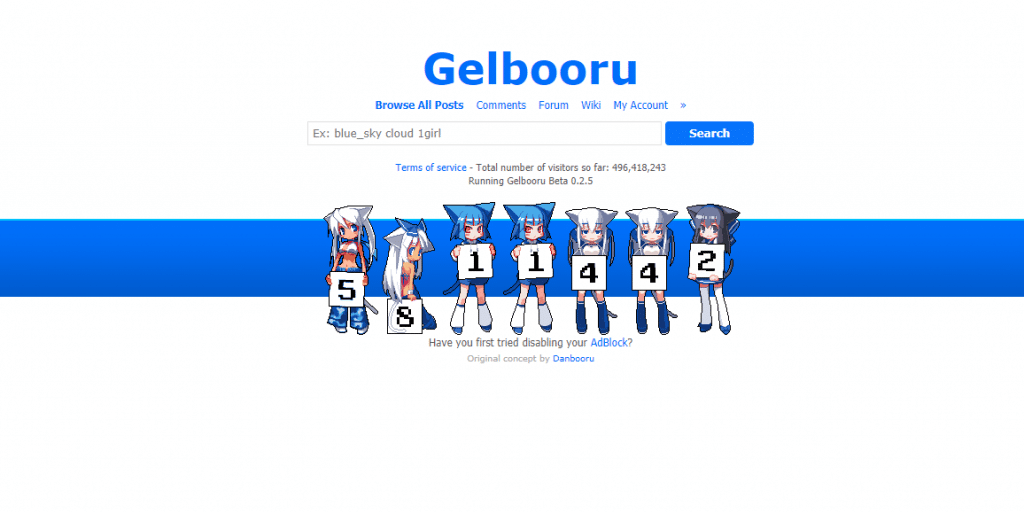 There's a new publishing hentai pornographic platform in town and hitting the internet with a bang! This site is called Gelbooru.com, and it has made anime/hentai search an absolute cinch. It is a unique website that lets you choose from a wide variety of different erotic anime photos or perhaps share and post pics from your personal collection. It also has a beautiful growing porn community with hentai porn enthusiasts. You can talk, chat about anything under the sun — be it your fetish interests, kinks, or fantasies.
Official URL: https://gelbooru.com/
Another free, unrestricted image-sharing website offers a wide variety of odd or sometimes bizarre sexual fantasies and quirks, including a ton of gifs and photos. Gelbooru features cartoons, anime series, and comics actors along with obscene images. It has a wide range of materials, spanning from sexy to real intense and freaky kink and anything else in between. Let's take a closer look at what Gelbooru.com has in store for us. Ikuze!
Exciting Sex "Bouken" at Gelbooru!
Kon'nichiwa! Once you start using the photo anime pornhub Gelbooru.com, viewing pictures of nude anime/Hentai girls will be a snap. A genuinely unique website, which you may submit your personal collection and share images with thousands of hentai lovers — providing everyone with several unique interaction ideas, and resources to build your excellent anime library.
All anime/Hentai contents, collectively presented in a massive compilation for the convenience of you dickheads who take this "hardcore" stuff seriously. It is a unique industry, and because of the followers' devotion, Gelbooru is indeed booming right. It was the 1980's when I was growing up, so when I discovered places such as Gelbooru.com, I had a lot of catching up to do. But now that I'm hip to these sorts of platforms, I certainly can't get enough of them.
The anime/Hentai site Gelbooru was initially created in the year 2005. It is a stand-alone venture and therefore not connected to any Media company. Currently, Gelbooru is home to countless photos and animated Hentai and manga. I can conclude that in Gelbooru, a tremendous amount of raunchy stuff is freely accessible here, and I completely missed track around 10 million. Technically, 90% of its material is sexually adult, while the rest is almost entirely a bunch of fanart.
Your Hentai Nakama Porn Site
GelBooru is a good choice for anyone interested in hentai-related visuals. For those of you who know what anime/hentai porn is, it acts precisely similar, almost like an anime sex browser with thousands of categories to examine thoroughly. We are sure you would certainly stumble upon thousands of overly sexualized photos of your best-loved Hentai iconic characters. Indeed, the website provides tons of hentai-themed enjoyment.
By joining other Hentai enthusiasts who aren't embarrassed to share over their private "dirty" Hentai smut desires, you will become more pleasant with them and plunging your hands into the entire Hentai porn community. Anime/Hentai is huge and warmly welcomed. And you're free to upload Hentai artwork and perhaps other content from your private archive to let fellow folks discover Hentai for their jerking off.
Logically speaking, Gelbooru is to the anime/hentai porn as what Pornhub is to mainstream porn. It has an endless supply of comic strip and hentai photos with really scorching hot pink pussies. To be honest, I'm a little freaked out. I've seen several extremely raunchy things here too. I guess that's typical in a universe of comic made-up; anything bizarre will likely happen. Imagination is the limit! For instance, I've seen an eclectic range of taboo fetishes and photos, kinky sex, BDSM and, anal/oral sex. There are plenty of images on Gelbooru.com for whatever you can imagine —hardcore or softcore. By definition, there is erotica of everything.
Gelbooru's Design and Navigation: My Honest Experience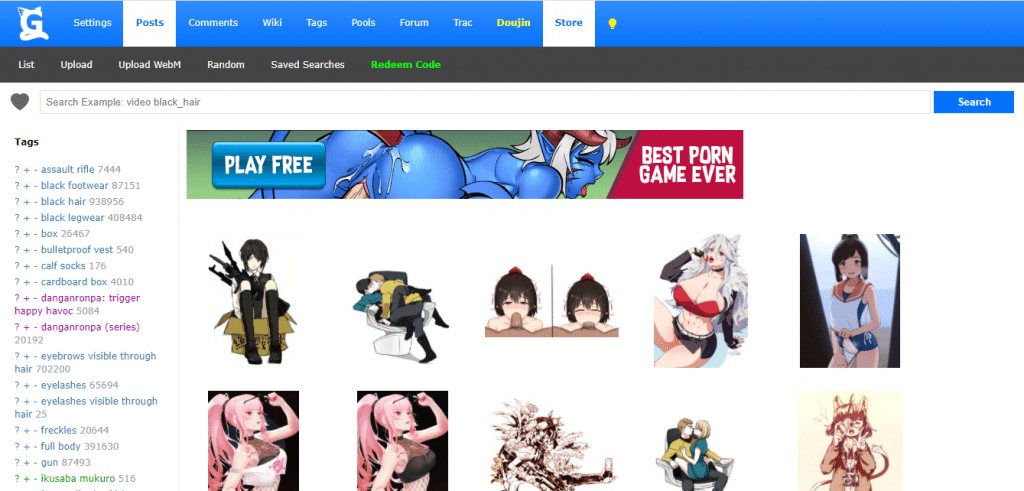 Visually Pleasing
Most imageboard platforms like Gelbooru.com have a similar design and style. So there wouldn't be much that can be changed. I'm pleased that no advertisements were cluttering up the page materials. However, there were a few adverts and obnoxious pop-ups. Meanwhile, "Tags" are crucial to imageboard websites like this, as you can use them for all its posts, fanarts, and everything. The solution is to understand ways to properly handle each of these tags, so you would exclusively see high-quality content.
Browse, Select, and Enjoy
The main page of this website has a similar appeal to a searching engine. You only type some keywords or anything, and boom, you have your result instantly! Of course, the search results are displayed in organized thumbnails, and you can browse, scroll and do the fuck you want. If you feel like there's just an abundance of options shown, slim down your searches by jumping to the categories option.
If you found the perfect Hentai pic for you, click the thumbnail, and, boom —there you have it! Technically, each image has corresponding details including, the uploader's name and comments. One thing I hate about it is there is no slideshow feature available for these images. So, these images are presented individually and go through a laborious process of going back and forth to see new photos. I'm not too fond of it, especially when I'm busy jerking off with my other hand.
Non-intrusive Ads and Mobile Version
Sure, Gelbooru.com is funded by advertisements, yet it looks beautiful. The ad placements are on perfect spots and not intrusive when viewing pictures or browsing the main page. Though many of the advertising only appear on other hentai websites, most of them feature non-distracting, artistic images.
Not to mention, Gelbooru.com has a handy-dandy version that you can use using your mobile phones. Technically, it is a modification of the web application but a bit more simplified. Every function of this mobile version is entirely different from the usual. It was made for the convenience of some Hentai lovers who's always on the go.
Bizarre Anime/Hentai "Bouken" at Gelbooru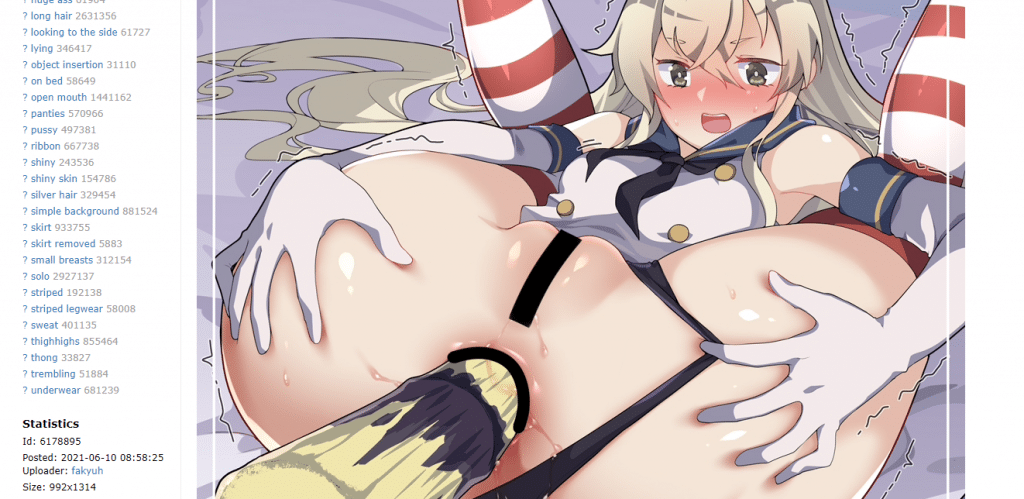 Shikkari Shiro! Do you know what that means? Well, I just told you to pull yourself together cause you're about to see the naked truth of Gelbooru.com! The Gelbooru website offers several materials, graphics, visuals, and photos to present various fantasies and perversions. It also encompasses animated series, comic artwork, Hentai, and fictional characters —a total nirvana experience.
It is a true community where people are constantly helping each other out. So, enjoy yourself; you've just been granted a once-in-a-lifetime opportunity to enjoy things that many here merely imagine. Rest assured —you will discover a staggering number of your beloved anime characters getting down and dirty in all sorts of XXX-rated shenanigans. Wow, you're pretty lucky!
These explicit pictures of hentai pornography here are pretty adventurous and exciting. Although seeing just how inventive and bizarre Doujinshi artists on this website could be is utterly remarkable. It is critical to point out that most of the stuff featured seems to be wildly far-fetched and bizarre —something beyond your wildest imagination. Let's say, for example, sketches of naked women with great butts; next to that is her adorable, bouncy testicles bouncing. Or perhaps pictures of animated sex with naughty anime characters going at it in a goblet.
Yokatta! Some more…
You may also encounter incredibly tender pink pussies that seem to be eager to release countless gobs of jizz. Or perhaps a quite flirty and lewd Catwoman with massive natural titties and nips which ooze copious amounts of delicious milk. One of the highly fascinating matters about this website is that you will have the opportunity to see several of the unexpected, unusual possibilities for physical pleasure visually. But the thing that is overlooked is how effortless it can be to re-energize and re-focus on your desires to attain erotic happiness over and over.
Unfortunately, there aren't a lot of decent anime porn films nowadays. However, if you can find them, they're undoubtedly high-quality, thrilling, and absolutely worth seeing — just like Gelbooru. You can make suggestions or requests for specific users to give them more material to work with when jerking off.
Unique Features for Hentai Lovers of Gelbooru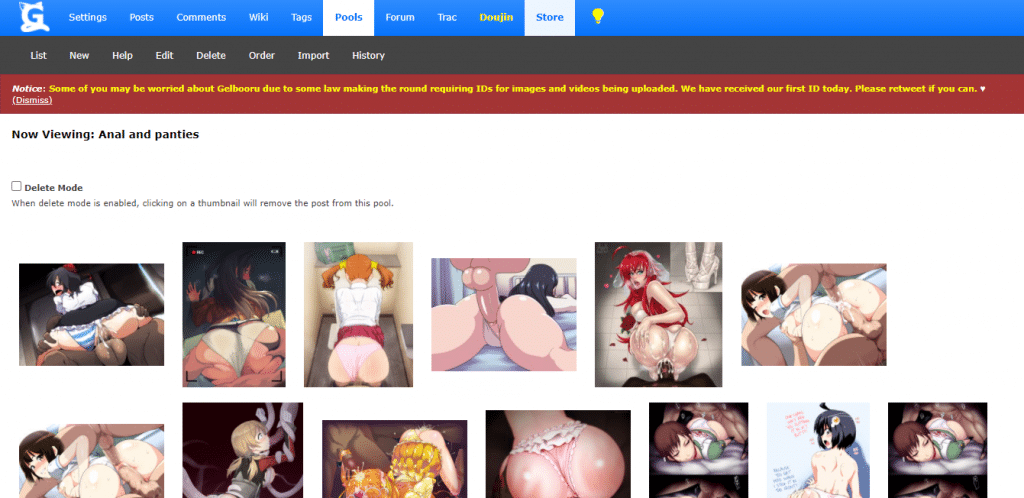 If you've found an issue or want to request an improvement on the website, go over to the "Trac" page. You can describe the problem or suggest additional content for Gelbooru. Performing this keeps your requests up to date and fixed.
A pool is a collection of content that shares a particular topic. You may establish several pools and organize entries in a pool, and the content is publicly available. Anyone can make new or eliminate unnecessary postings on public pools, including those who aren't signed in. In other words, the members of the site are in charge of the pool's content.
Gelbooru gets cluttered with a bunch of various hentai postings on the homepage. You may have a tough time accessing your favorites if this feature is enabled. The site fixed the problem and helped you organize your content by introducing a "Saved Searches" option. By doing this, users can easily store their regular searching tags and access them for later use. All you'll see will be all your favorites and nothing else cluttering your browsing experience.
Most comments appear below posts like typical, but the Comments section is slightly different. With this feature, you can read each newest remark placed on the page. It provides additional variety in how users engage with the application. While Gelbooru may not be to everyone's taste, you will still feel compelled to engage and interact with anything Hentai-related.
Do I Need To Sign-up or Not?: Gelbooru Membership Benefits Explained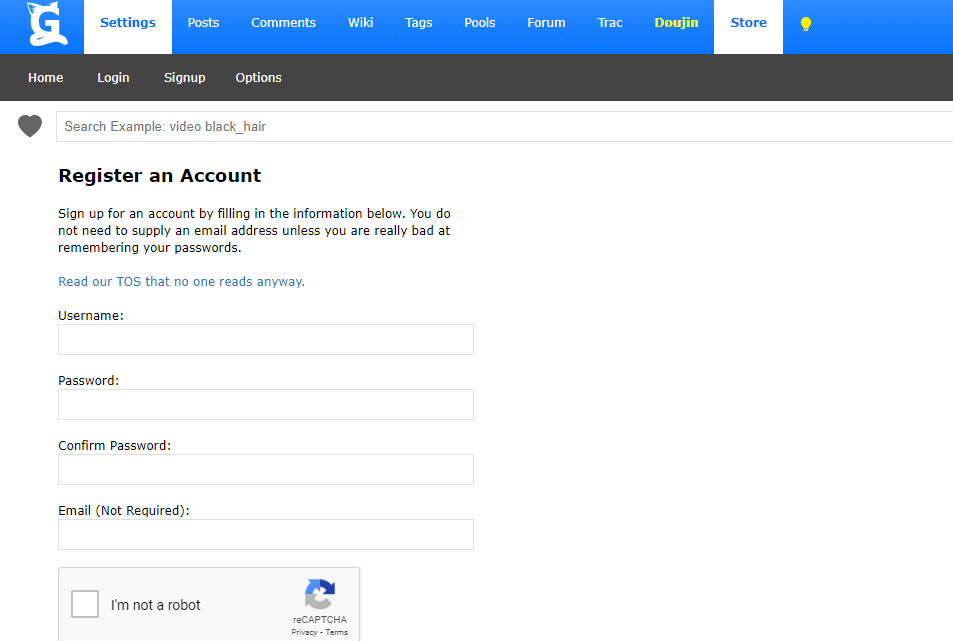 It's a great opportunity for non-members of Gelbooru to use this site because most of its features and contents are accessible for free. In other words, you can download, view, customize, and stream whenever, whatever you need, without worrying much about fees or hidden charges.
Nevertheless, signing up and becoming a member of Gelbooru provides you with complete access to its collection and enjoy more benefits. For instance, you can add up content to your Favorites, leave comments, and upload your private collection to the site. Also, you can blocklist some keywords out of your sight. Let's say you hate seeing tranny Hentai; you can effortlessly wipe it out so you won't be dealing with them when searching. But then again, if you're too bothered about the hassles of the registration process, you are welcome as a visitor anytime.
Before I forget, always remember that Gelbooru follows strict rules regarding uploading content on the site. Sure, Gelbooru provides limitless benefits when sharing and giving comments on its sexual content, but always keep the regulations in mind at all times.
Pros & Cons of Gelbooru
PROS:
Plenty of anime/Hentai content
Amazing search feature
Image quality is top-notch
Fantastic community features and services
Supports mobile browsing
Compatible with all mobile devices
CONS:
Videos are limited in number
It has few pop-up ads
---
TOP-12 Anime/Hentai Sites Like Gelbooru.com: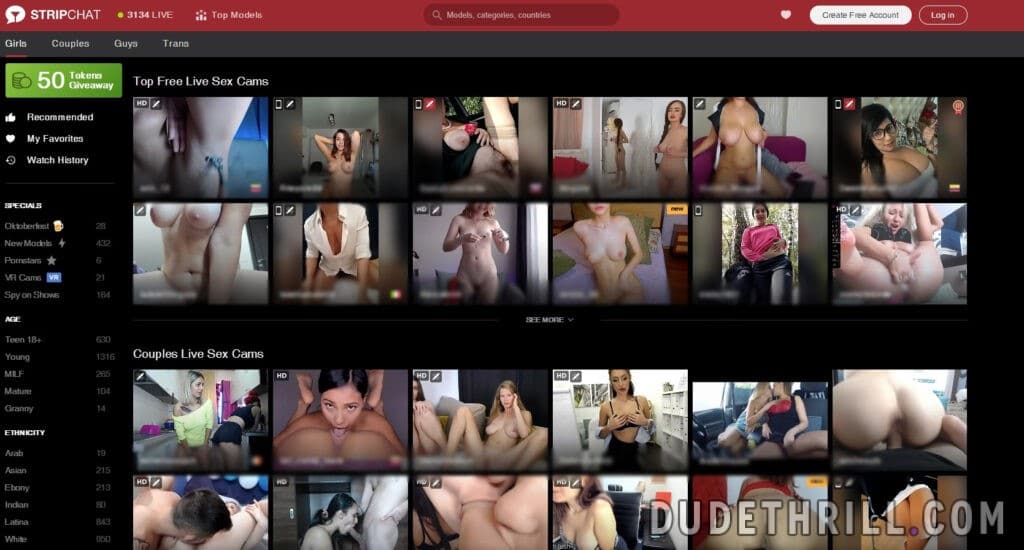 Stripchat is an attractive choice for people who look forward to watching the finest online sex cam clips. Thus, Stripchat might offer everyone the perfect content range if stuff gets old for you to see porn actresses. Users can waste endless hours streaming online cam videos of different people. Log in and enjoy pretty ladies with their sex toys playing in front of the high-quality camcorders.
Here's the full review of Stripchat
PROS:
A long list of beautiful cam girls
Website design is so simple but easy to use
Free sending of messages
Extensive choices of live streaming videos
CONS:
Only English language supported
Premium membership allows sending private messages
---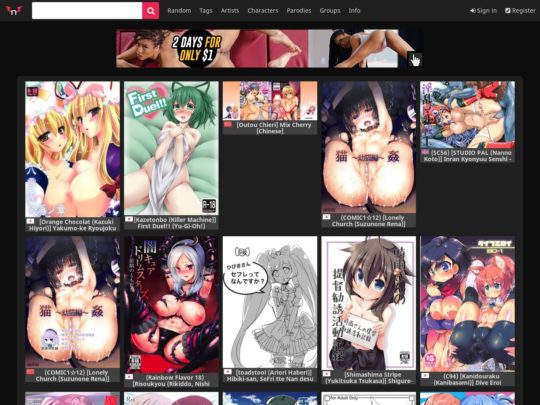 nHentai began a few years ago and has done an excellent job of offering a forum for people who want to see original Japanese Hentai from some of the best artists in the industry.
The homepage is dedicated to displaying the most recent content that has been posted and the language in which it has been written. Every post has a small flag next to it, the majority of which are Japanese, English (shown with a British flag), or Chinese. I sincerely recommend that you look at the tags section to see what categories are available. Popular choices include anal, which has 50,000 video files.
PROS:
Exciting user interface
Cute and enticing designs
Wide selection of videos
CONS:
Existence of some weird hentai porn
---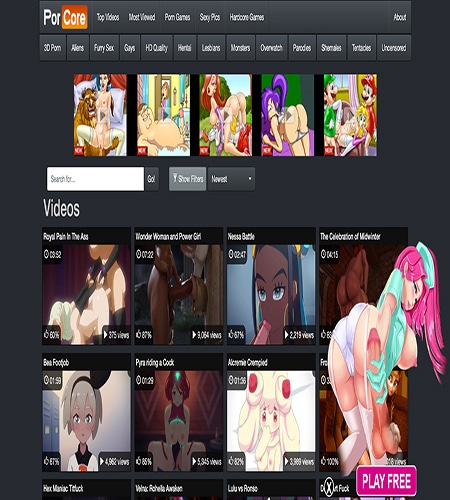 Millions after millions of pictures, gifs, and videos are available for your viewing pleasure. If you like Hentai, a visit to PorCore.com will make you feel as if you've died and gone to heaven. There's only too much to discover. The web is updated daily, so there's still something fresh and exciting to look forward to.
People have spent time and effort making these videos, and even though you aren't a big fan of Hentai, you will have a lot of videos that you will have a happy time viewing. PorCore.com is a hentai platform that can't be matched, not in terms of content, not in terms of frequency of updates, but with its overall functionality.
PROS:
A wide array of hentai videos
Free access
Can be utilizing a mobile phone
User friendly
Easy to navigate
CONS:
Plenty of annoying advertisements
---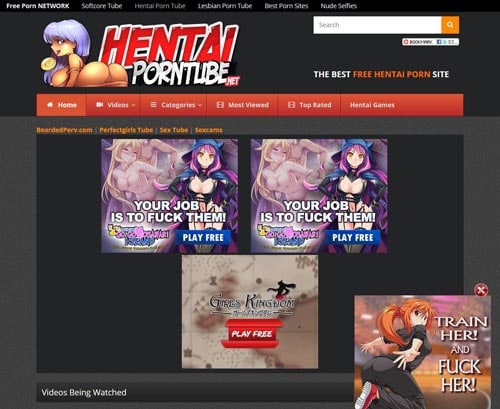 This website has worked tirelessly to provide its users with high-quality anime porn, and it is unquestionably one of the best tube pages for that reason. It works like every other tube platform, and once you get to the homepage, you will find hentai scenes, sex with Lara Croft, and a few manga comics. Part of the Japanese pornography is only available in Japanese, although others have English subtitles to make it easier for Westerners to view. Like all good tube pages, I love that Hentai Porn Tube has a 'top rated' and 'most watched' section.
PROS:
Existence of Top-Rated sections
Various video collections
Has porn game contents
Accessible and site friendly
CONS:
Limited English content videos
---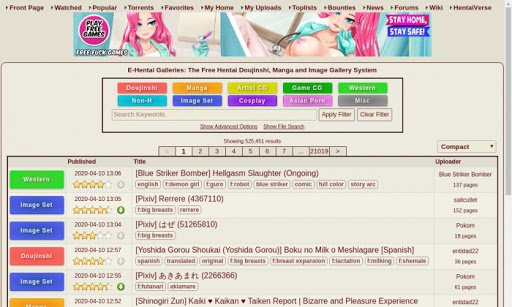 E-Hentai is your one-stop store for all the depraved and filthy Hentai! Nurses, shemales, tentacles, and furries are all there. Nothing is off-limits here; the only limitation is the right to use search marks. Even without an account, E-Hentai is entirely free to use. The only restrictions on a free account are the inability to play Hentaiverse, create and approve bounties, and post. If all of that appeals to you, making an account is as easy as it gets! Simply enter your e-mail address and generate a username and password.
PROS:
Millions of videos
Full-length size of available videos
Updates regularly
CONS:
Need membership for unlimited access
Advertisements
---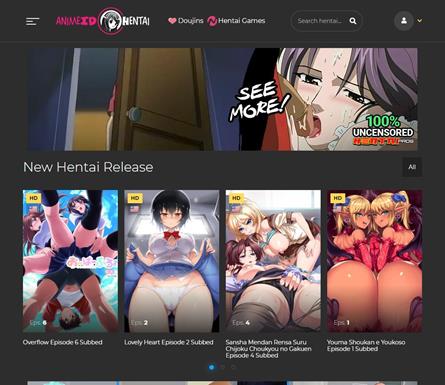 There is plenty of sexy material for all tastes on Anime Hentai, and the navigation layout makes it easy for every user and visitor. You can choose from selecting common tags at the top of the homepage, just below the main menu. Moreover, all the strangest fetishes are welcome here. By ticking the page you want to read, you can choose it. This is a fantastic choice for those who do not have the patience to read the whole story but still want to learn more about it.
PROS:
Loads of free hentai contents
Easy and accessible to navigate
Good quality hentai videos
CONS:
---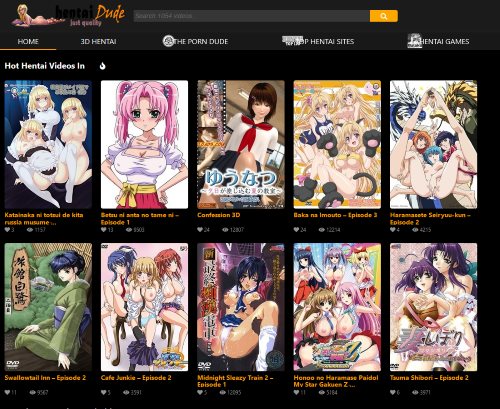 HentaiDude is without a doubt one of the most significant pornographic discoveries you'll ever find. The sheer volume of videos will astound you. Each video is neatly classified into a sub-genre and cross-referenced with keywords. This means that you will find an exact video within 30 seconds of landing on the front page. The majority of the videos are available for free to watch, but the paid account is where the true advantage lies. Any video is available for free, and you can communicate with other members of the group. When it comes to this niche, paying a premium is an investment rather than a cost.
PROS:
Many free accounts to access
Amazing web design
Highly organized and neat
CONS:
A limited number of videos
---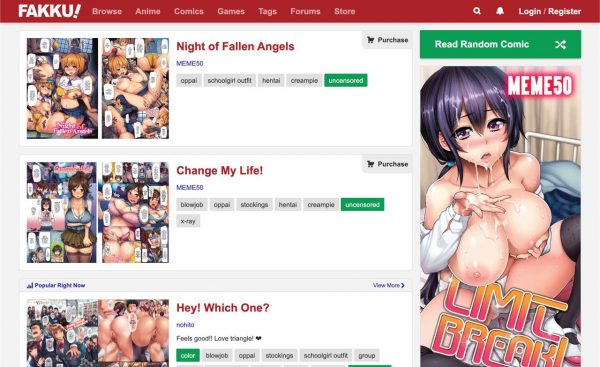 Fakku is a reputable distributor of original, translated Japanese Hentai and manga. They have even made their own games, and you will enjoy yourself here. Fakku is, for the most part, accessible. Fakku, on the other hand, sells premium anime and comics with its Unlimited subscription.
By buying it, you will not only gain access to the most recent material, but you will also get all previous issues from a variety of well-known comics such as Kairakuten and Koh. You will also get a 10% discount on anything in the Fakku shop, as well as access to beta features on the website and uncensored Hentai.
PROS:
A wide array of pornographic contents
Lengthy videos and materials
Amateur and professional contents
CONS:
High-definition videos are accessible for premium members only
Advertisements
---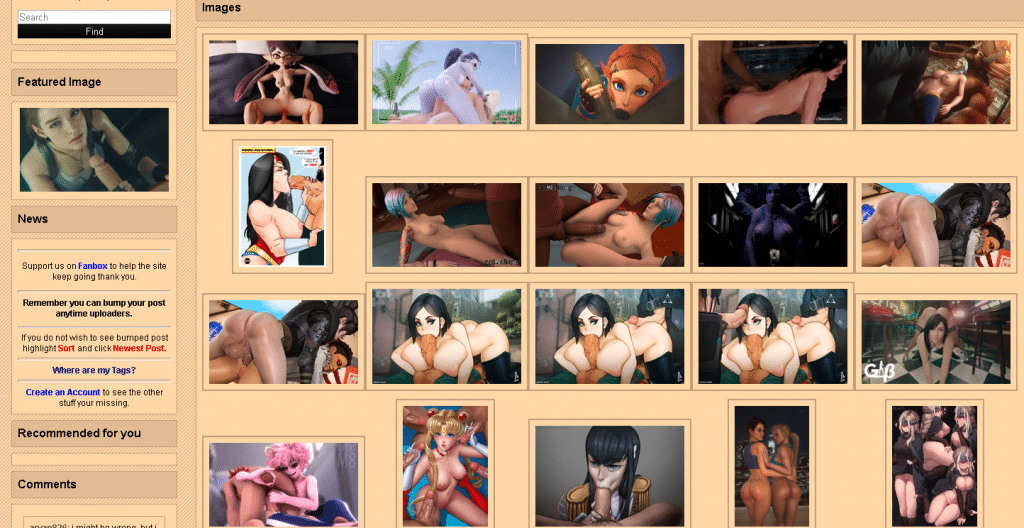 Rule34hentai is a pornographic image paradise where its brigade of devoted consumers provides the content. You will find all your beloved characters fucking and sucking in its massive gallery, whether from Frozen, Overwatch, or The Simpsons. Basically, the site aims to provide you with animated fun and Rule 34 enjoyment.
A full review Rule34Hentai here.
PROS:
Loaded with hentai contents
User friendly and easy to access
Fantastic search engines
Amazing navigation tools
Updates regularly
CONS:
Minor members of the community
Slideshow contents are unavailable.
Minimal advertisements
---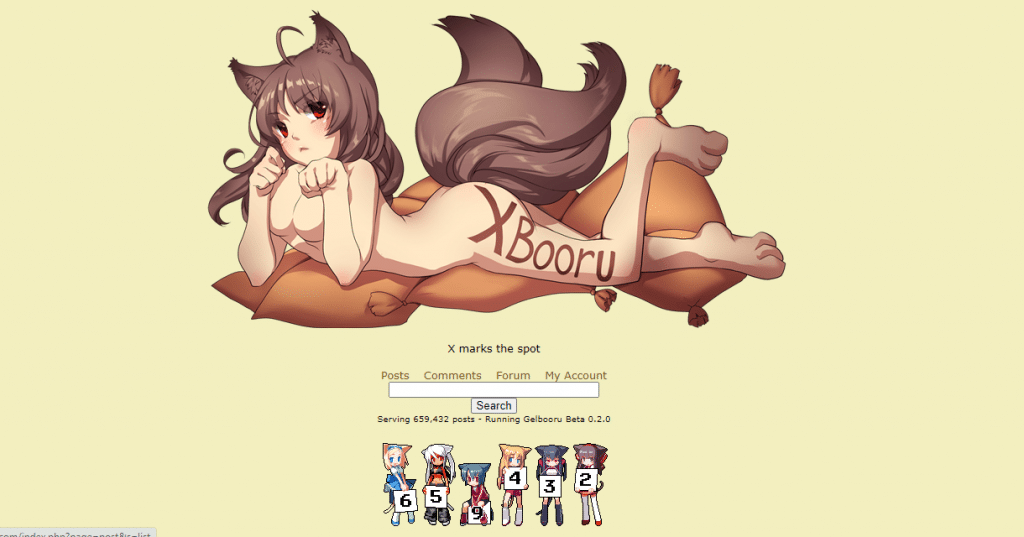 One popular place for enjoyment and gratification among hentai fans. It has been compared to other Booru pages, and this is right. However, the material is entirely different. The Booru sites are just structurally identical, but not in terms of the gallery, which is fantastic! You can go on many various picture boards, but the basic concept and form will still be the same.
Furthermore, instead of giving feedback and waiting for the artists to reply, you can use the Discord chat to talk about whatever you want. There must be no other spot with as many pictures as Xbooru. More than 50 thousand photos are sure to excite any hentai fan! If you like anime-styled porn, you should surely visit this website.
PROS:
Variety of pornographic contents
Regular updates
Lengthy videos and materials
Amateur and professional video contents
CONS:
Limited access for non-members
Advertisements are plenty
---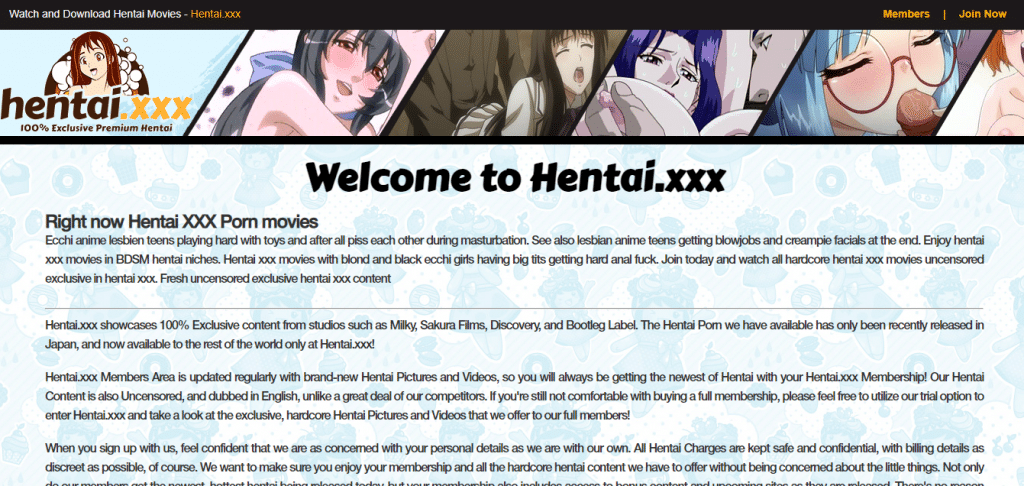 A brand new and unique hentai video service with consistently good stuff from Japan that is indeed everything you're getting at Hentai.XXX. It's a website that includes well-produced videos of varying qualities, including high-definition quality and SD formats. You should anticipate exceptional anime sexual content in HentaiXXX because unique Japanese studios produce everything here — and we know exactly how they work.
PROS:
Exclusive Japanese material
Top-notch movies with excellent quality
Contents are tremendous and wild
It offers some bonus scenes
It has a mobile version
CONS:
---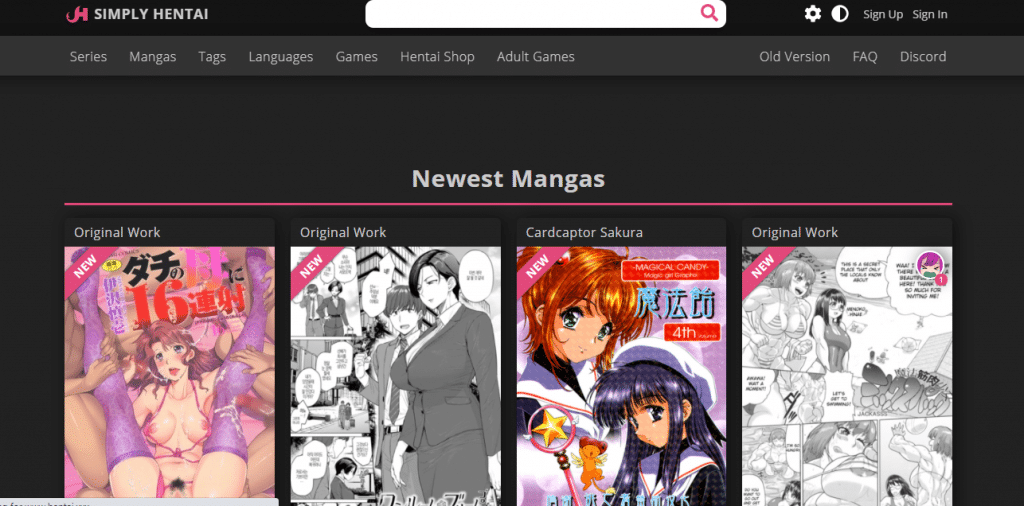 SimplyHentai is a complete source for your anime/hentai desires. Here's where you can discover new videos of your beloved sex anime shows and comics to browse, all without needing to pay anything. Now you will find everything you could possibly want to fulfill your highly unique erotic dreams and discover new and thrilling fetishes.
PROS:
Massive selection of hentai content
Full-length collection of Hentai episodes
Amazing navigation and design
Supports mobile browsing
CONS:
---
Final Thoughts
Though it looks pretty basic, Gelbooru does precisely what they boast about. It is an efficient solution for all of the lusty hentai aficionados across the world. Many people consider Hentai to be the weirdest fetish possible. This is precisely why the website presently includes many Hentai pics and doujinshi containing the most bizarre Hentai fetishes.
Yes, here you may get hundreds of pictures of the female foot, Smutty Pikachu, monster stuff, lesbian erotica, and much more. Gelbooru is always a safe haven for perverts of all colors, so you've certainly nothing to worry about — especially for Hentai-loving sex-crazed schmuck like you.
All 71 Other Sites in This Category Worth Checking Out:
LoL Hentai Review & 12 Best Hentai Porn Sites Like LoLHentai.net Show Me 12 Alternatives for LoLHentai.net Hey there, fellow gamers and hentai enthusiasts! Today, we're diving into the fascinating world of LoLHentai, also known as League of Legends but with a hentai twist. Now, I know what you're thinking – "What on earth will happen […]