Updated on: December 8th, 2023
Hentai Cloud
& TOP-12 Hentai and Anime Porn Sites Like HentaiCloud.com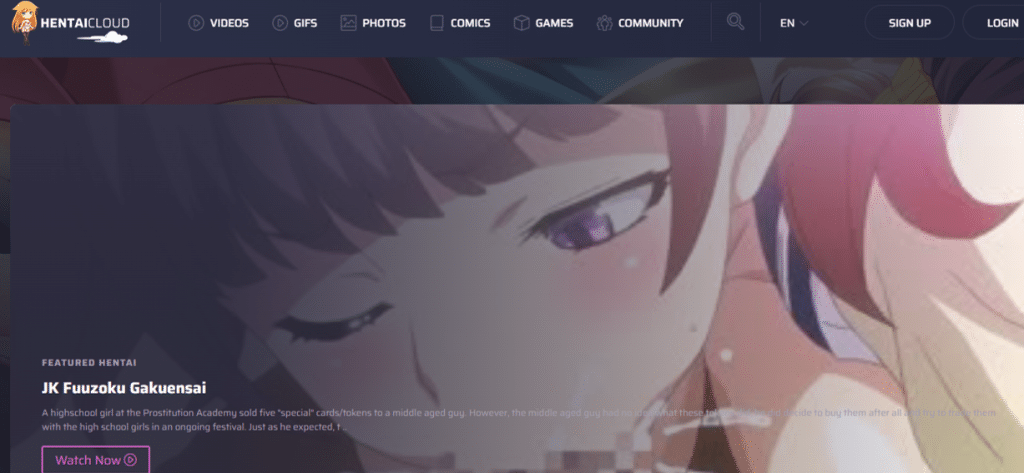 It is always great to have crazy and steamy materials to fap daily or during wee hours at work, school, or home; hence gloomy days no more with HentaiCloud.com! Yeah, I was looking around a list of porn domains on the Internet and was revolted to discover that I haven't reviewed Hentai Cloud yet. Thus, today is a fantastic day to share my thoughts and sightings about this anime porn platform. Get ready to sizzle your sexual adventure with HentaiCloud.com.
Official URL: https://www.hentaicloud.com
Hentai Cloud aims to be one of the industry's wildest and most sought-after hentai websites. I bet they come with amazing surprises as they vow to provide delectable anime pieces for free. The site welcomes various erotica fans and potential artists to contribute to its kinky assortment. If you seek unlimited access to any hentai porn content, Hentai Cloud happily offers its photo, GIFs, comics, and flicks. The domain grows daily with its regular updates and consistent uploads.
Anime Porn? Here We Go!
Hentai Cloud has been around for almost six years since its inception in 2016. The site dreams of eradicating porn fans' cloudy days when they visit the repository. Hentai Cloud brings limitless concepts to reality. Hence, various scenes that cannot be executed on porn sites are accessible in anime porn domains, like Hentai Cloud. Erotica fans can witness gigantic boobs, intensely huge cocks, cute characters, tentacles, demons, schoolgirls, etc.
Interestingly, you can get all these deals without extending your hard-earned money. If bad days are inevitable, fans can let it out or shrug them off with one of the fap-worthy materials at Hentai Cloud. Isn't that an incredible offer? This wonderful site allows you to jerk, fap, and satiate in one seating. Porn fans are only required to visit, hop in, and start fapping. Nice, Hentai Cloud!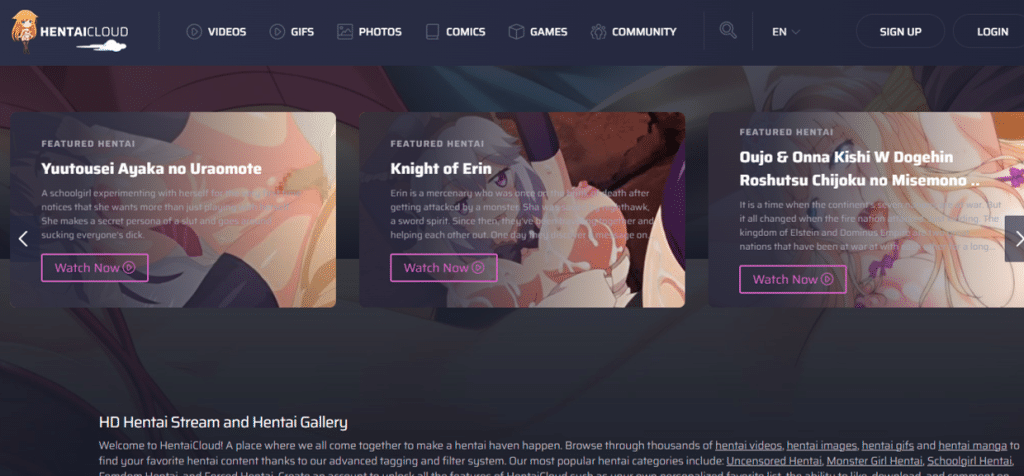 HentaiCloud Welcomes Aspiring Artists
One of the most remarkable features that I like about Hentai Cloud is its growing community of potential hentai artists. I love how they encourage experienced and novice creators to submit materials. Significantly, this community only requires a quick and easy way to register freely. From there, aspiring porn creators can start broadcasting and showcasing their hidden wealth of talents. Everyone in the community actively and generously shares their horny and excellent works.
More so, I couldn't help but commend the healthy artistry and spirit inside the Hentai Cloud arena. It is noticeable how each member lifts one another. They share their passion happily and welcome criticisms to improve their craft. Some fans also respectfully input how to maneuver an orgasmic hentai concept flawlessly. Indeed, it is always a lovely vision to see artists helping and building each other as they share one common goal: to help Hentai Cloud arouse more porn fans.
So, if you have an artistic compilation of sexual scenes, feel the enthusiasm to share it with some hungry dudes. Porn fans are just waiting to devour your talents and bring you to a pinnacle of success. Most importantly, this could be your chance to bump into some fantastic and established erotica artists and collaborate with them. Truly, it would be a magnificent achievement. Tap the community bar, pal; you will be excited to discover more that awaits you.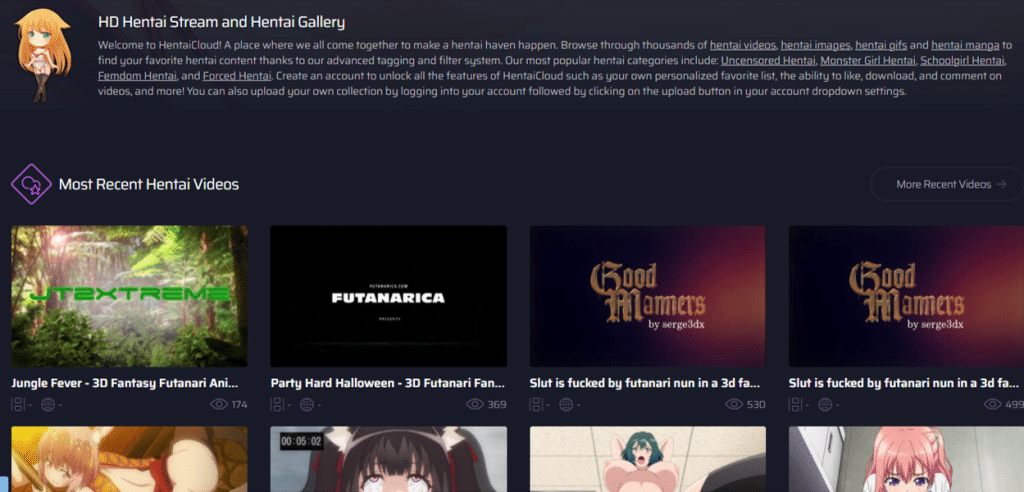 Heavenly Home Page of Hentai Cloud
Oh, I was so ecstatic to share that feature that I forgot I wasn't able to give my cents about the home page. Well, here it is. Hentai Cloud can be a decent resource for fans who delight in dark-themed platforms. The gray-toned backdrop complimented exquisitely with the white texts and tasty thumbnails. I also liked the logo and the cloud detail on it. Certainly, the place was well-conceptualized, so everywhere you set your eyes, you will have enough pieces to engage with.
Moreover, Hentai fans will be satisfied with the friendly ambiance and the large preview image. They can readily see some of the delicacies like dick sucking, pussy eating, and more. More so, Hentai Cloud quickly provides featured and recommended treats for its avid and new site goers. Porn fans can also select among the materials on the main page as they are displayed in an interesting approach. Although the entire site layout isn't as fancy and catchy as other premium domains, Hentai Cloud sets the work done and satisfyingly delivers its kinky purpose to hungry hentai consumers.
Access the Buttons
From the navigation bar, you can see vital and functional buttons necessary for your Hentai Cloud exploration. With this, you can select which pathway to go and fap as fast as you can with suitable pieces for your cock. With this, you can roam around the sections like videos, GIFs, photos, comics, games, community, login, and sign-up details. Apart from the featured materials, the main page also adds segments for "Videos Being Watched' and 'The Most Recent Hentai Videos.
Furthermore, the header also incorporated language options for porn enthusiasts. This is also another vital opportunity for Hentai Cloud to reach more potential visitors with its multitude of navigational treats. In addition, the search icon is also accessible at the menu header. Though it isn't as huge as other search icons in some porn venues, you can still readily see it. All in all, the buttons at the menu bar generously made our tour easier. Therefore, selecting the best hentai material is no longer time-consuming and tedious.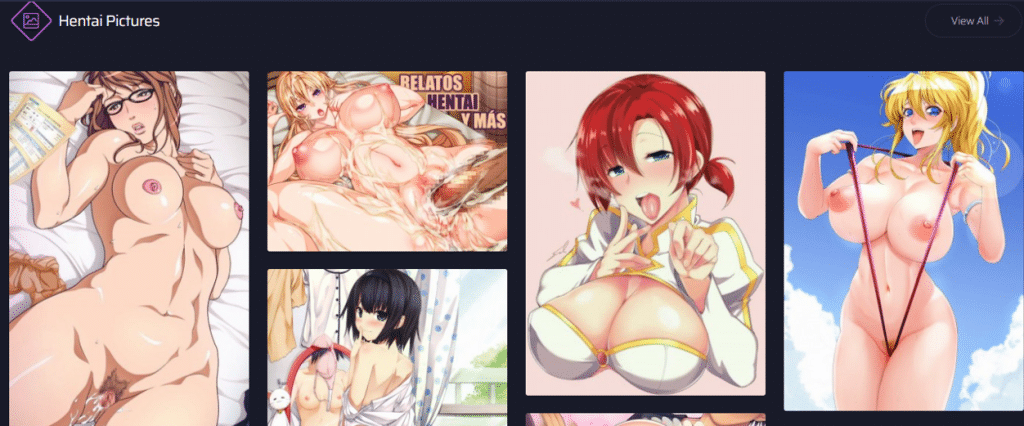 Diverse and Appealing Materials
It is noticeable that the main page does not have a specific area for the porn niches. So, I made a deeper introspection and found them in the video section. Simply click the categories, and you will then have a list of the concepts at Hentai Cloud. The site boasts its most popular niches around Uncensored Hentai, monster fucking, schoolgirl, femdom, and forced anime treats. Porn fans will also love choosing between hundreds of other porn categories in the domain.
With this, they can devour the materials that also involve tentacles, futanari, famous cartoon characters, impregnation, and more. Hentai Cloud also provides a decent collection of hentai series and a handful of comics. However, if you find it hard to locate these pieces, you can utilize the search engine to get a narrower result. Incredibly, you will have various options at Hentai Cloud as they also bring 3D videos to seal your fapping escapade. Indeed, this endless supply and assortment of hentai porn is a delight to several fans considering that everything is free.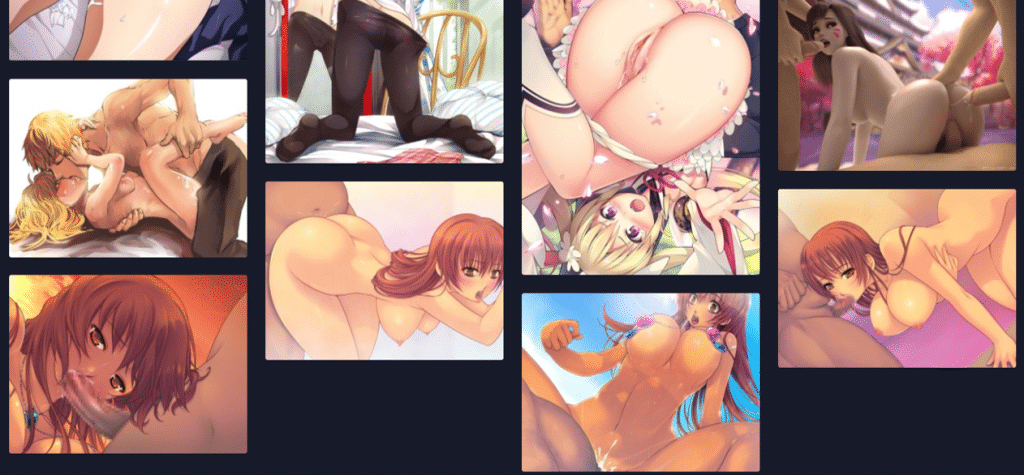 Hentai Cloud's Salivating Porn Images and GIFs
Thankfully, Hentai Cloud gives out close to three hundred mouthwatering erotica images of your favorite characters. It is undeniable that it isn't hard to appreciate the delicious content as each masterpiece exudes skill and artistry. It also has an undoubtedly sexual appeal that will make you rub your cock while feeling satiated. The fun materials also house the famous babes from Pokémon, Naruto, Dragon Ball, Sailor Moon, and many more. With this, every sexual imagination runs a million miles making enthusiasts reach an intense climax.
Additionally, Hentai Cloud does not settle in giving its fans a limited experience. The site is happy to provide followers with more softcore and hardcore meals. Oh, you will delight in the extreme, kinky, and sensual combinations of anime porn. While looking at the creations, I commend the artists for the skillful execution of putting the drooling fragments of hentai erotica.
Streaming Experience
Hentai Cloud's video player can accommodate every porn and fapping need. Porn fans will love the video labels and captivating flicks. The films are also ranging from standard to high-resolution quality. In addition, each episode is listed in a sequence to aid easier access. The materials also consist of various vital details like a number of views, reactions, comments, and other essential information. Also, you can create your favorite list of comics, videos, GIFs, and images for a personalized assortment.
Not just that, fans can easily specify the offerings into the highest number of views, most popular, and most commented. Porn followers can also filter which treat is watched by the significant community. Other than that, the uploaded erotica can be sorted in terms of all added today, this week, and this month. However, with all these great features in a free platform, Hentai Cloud also shares some drawbacks and a few things to improve.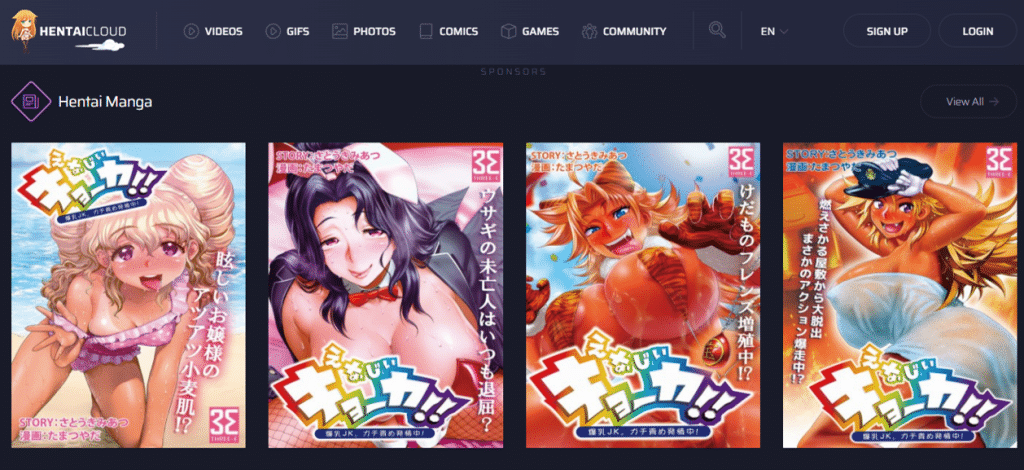 These functions that require attention include the advertisements and pop-ups on the page. Though they aren't as annoying as some free sites, they aid in the buffers and significant delays. There is no denying that Hentai Cloud is full of sweet and spicy treasures, but porn fans need to arm themselves with patience in navigating the entire system. When you surpass all these roadblocks, you can download and stream your most-loved anime erotica anytime and anywhere of the day.
The Pros and Cons of HentaiCloud.com
PROS:
Vast materials like GIFs, videos, comics, images, games, and more
Easy to use navigation tools
Decent design
Standard to high-quality materials
Encourages user-submitted materials
Interactive community
CONS:
---
TOP-12 Hentai and Anime Porn Sites Like HentaiCloud.com: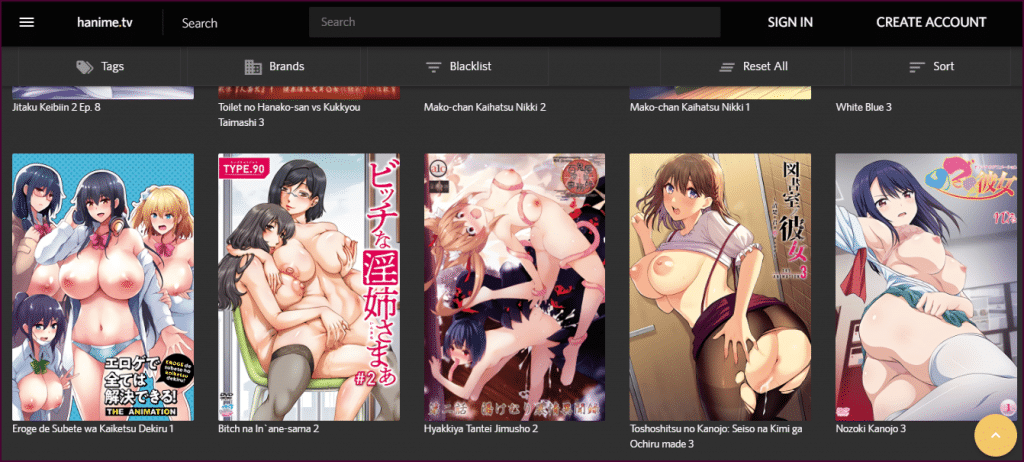 Hanime.tv is another free streaming hentai site, suitable for anyone who enjoys Japanese manga and animated cartoons. Hanime is notoriously known for its huge library hentai. It's packed with sensual scenes and themes that you don't typically see in several traditional pornos. Here, you can search any videos or images with numerous categories effortlessly.
PROS:
Amazing content
Simple but intuitive design
Effortless to use
Available as a mobile app
Taboo and bizarre themes
CONS:
Some features require membership
Ads are plenty
---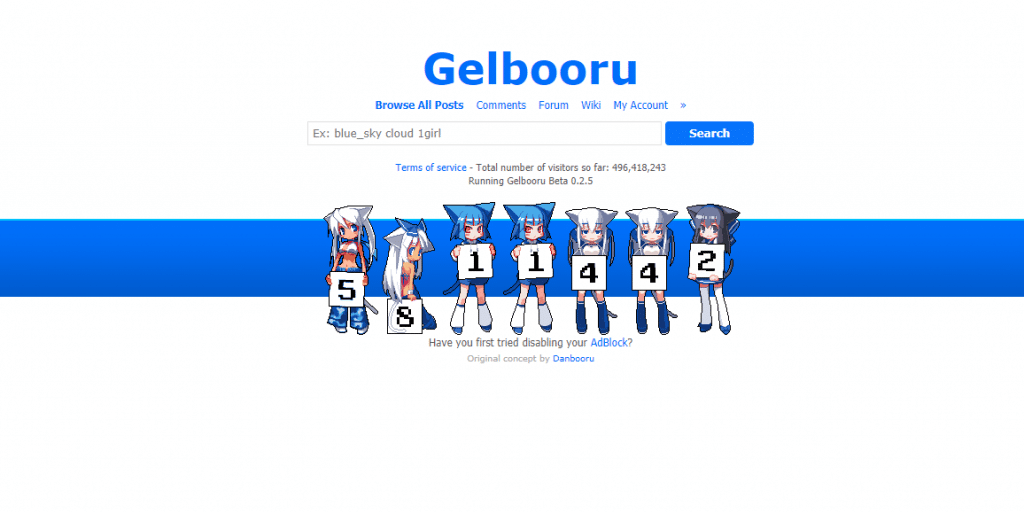 Though it looks pretty basic, Gelbooru does precisely what they boast about. It is an efficient solution for all of the lusty hentai enthusiasts worldwide. Many people also consider hentai to be the weirdest fetish possible. This is precisely why the website presently includes many Hentai pics and Doujinshi containing the most bizarre Hentai fetishes.
PROS:
Plenty of anime/Hentai content
Amazing search feature
Image quality is top-notch
Fantastic community features and services
Supports mobile browsing
Compatible with all mobile devices
CONS:
Videos are limited in number
It has a few pop-up ads
---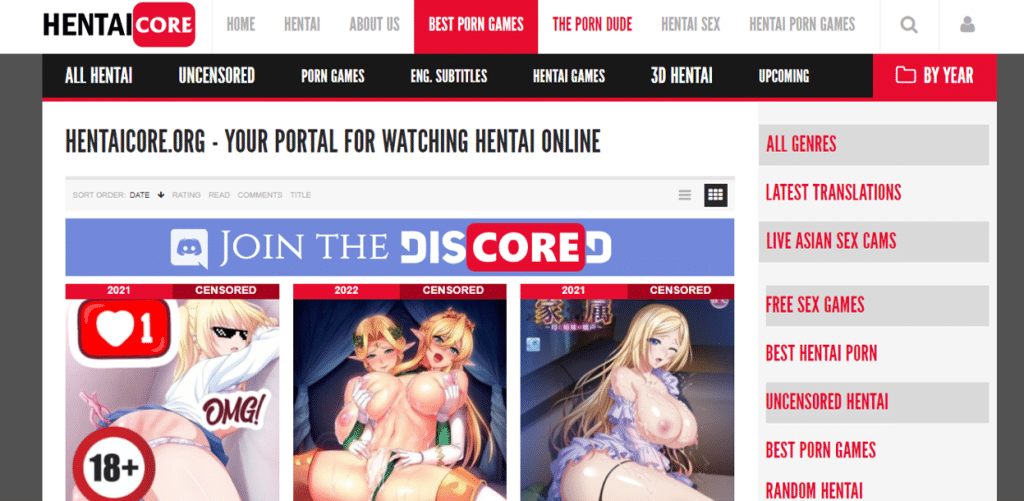 Hentai Core is one great hentai porn destination with its Japanese sex vibe. The site delivers hardcore and out-of-this-world scenes. Hentai Core does not limit its library with standard porn content but also covers all porn genres and anime series. I adore how flexible and diverse the nasty materials here at Hentai Core are. No wonder Japanese cartoon fans lurk around Hentai Core due to its intense sexual repository.
Here's Hentai Core's full review.
PROS:
Free anime porn site
Regular updates
Huge library
Hundreds of uncensored films
Sorting options available
Subbed and dubbed contents
More quality features
CONS:
Advertisements
Censored materials
No download options
Few site functions
---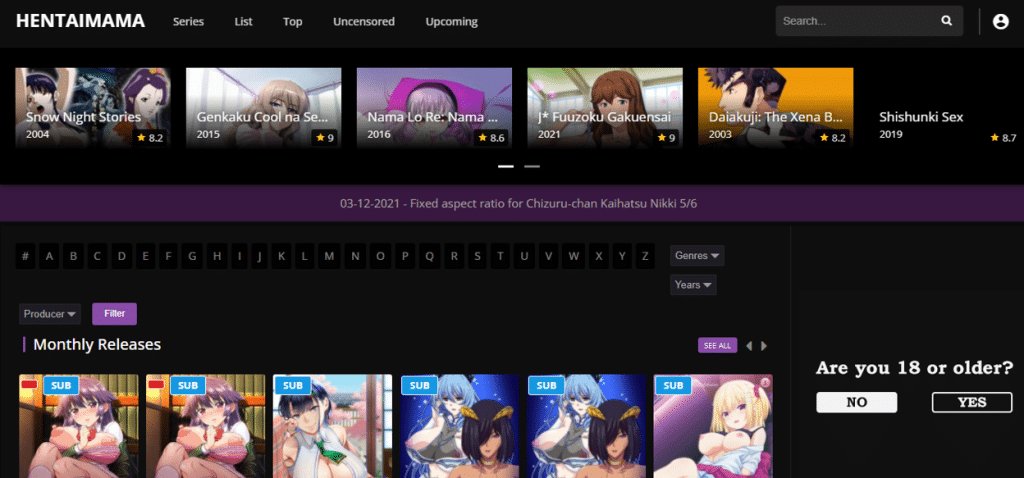 Hentai Mama is a free website that debuted in 2014; since then, the platform has featured a library of hentai series and episodes. Undoubtedly, porn fanatics will enjoy the fine assortment of hentai niches. Not just that, all releases are in high-quality material. Hence, Hentai Mama made its presence known in the porn world by consistently adding erotic scenes in its domain.
Read more about Hentai Mama here.
PROS:
Free anime porn site
Delivers complete hentai series and episodes
Straightforward site layout
Efficient browsing tools
Full-length contents and a vast database
Nice interactive features for members
CONS:
Few ads
Some censored materials
Need membership to use full features
---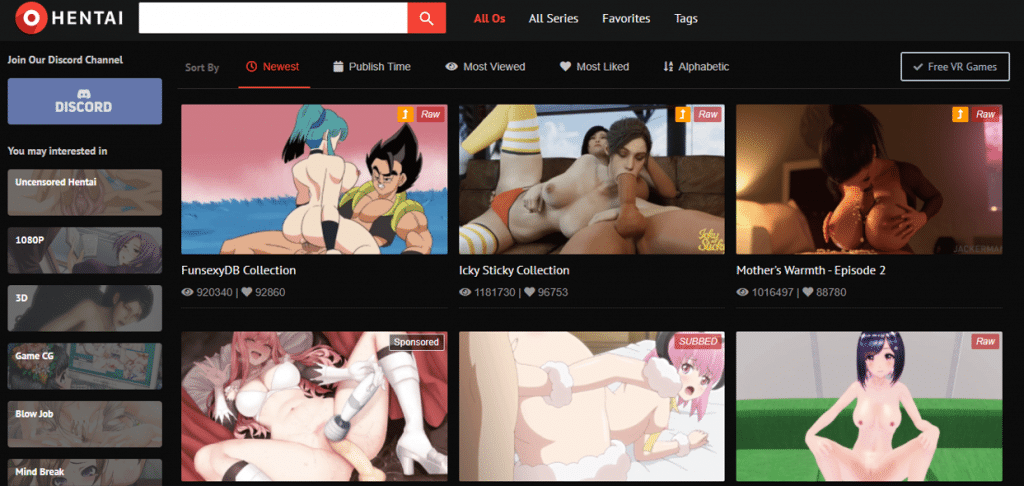 Ohentai.org offers hentai content and a 3D pornography library in up to full high-definition quality. Also, the platform provides access to many of the most erotic hentai videos; in fact, the site has a talent for finding outstanding materials and including them in its rooster of quality content. Additionally, porn fans glee in the scenes and episodes of superb sexual experiences with gorgeous women and an astounding choice of supernatural genres available here.
PROS:
High-quality hentai videos
Has 3D and CGI porn
Free download options
Variety of tags and categories
Taboo scenes
Good site organization
CONS:
Advertisements
No photos
Problems with some links
---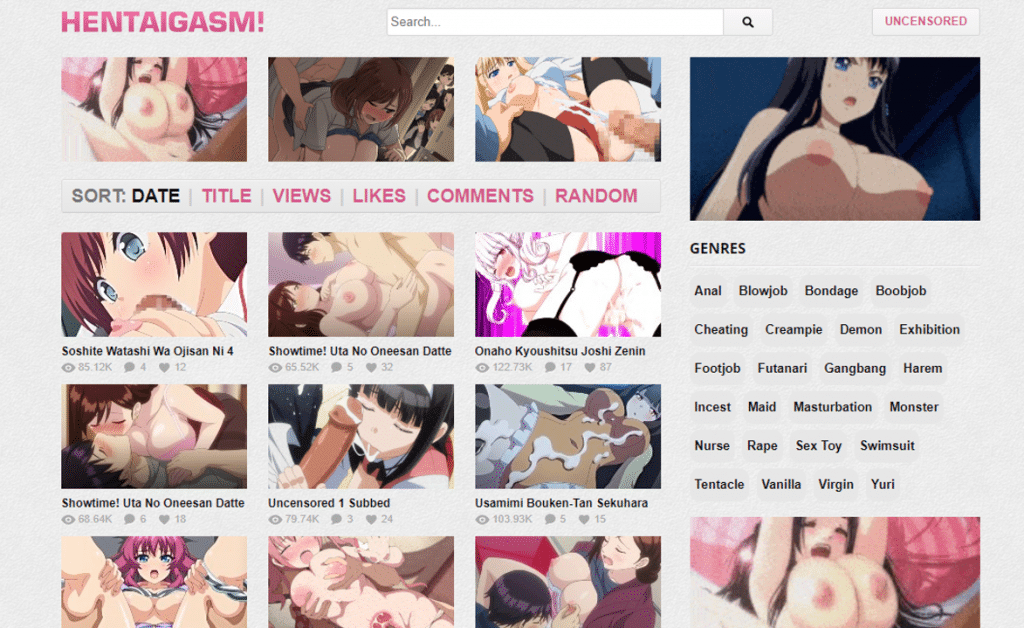 Hentaigasm reached more than a million site visitors in the world of pornography. The site reportedly has more than thirteen million monthly visitors; I mean, that is huge! With that, Hentaigasm continually constructed its massive library of free hentai videos. Intensely, I love the experience of watching hentai films too. Hentaigasm aims to satisfy every hentai lover with its bits and pieces of orgasmic delicacies, all waiting for you to try.
PROS:
Straightforward platform
Free anime porn site
Quality contents
Free downloads
Uncensored contents
CONS:
Some censored contents
Few categories
Advertisements and pop-ups
---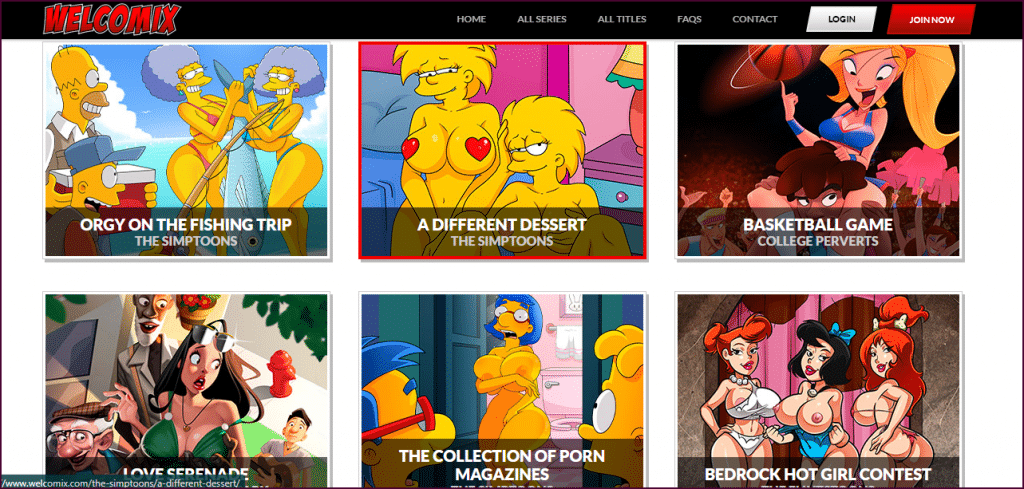 Welcomix's subscribers get all-out access to various comic entertainment through animations, comic strips, adventures, and fantastic artwork in every issue. If you visit Welcomix, you'll be treated to some genuinely bizarre romance among featured parody characters. It has quite a massive casting in terms of quantity and quality, and everything is impressively high-quality resolution.
Here's the full review of Welcomix.
PROS:
Massive comic collection
Supports mobile browsing
Plenty of comic series available
Caters to various genre
Updates regularly
CONS:
You can't play slideshows when reading comics
Needs monthly payment to access
---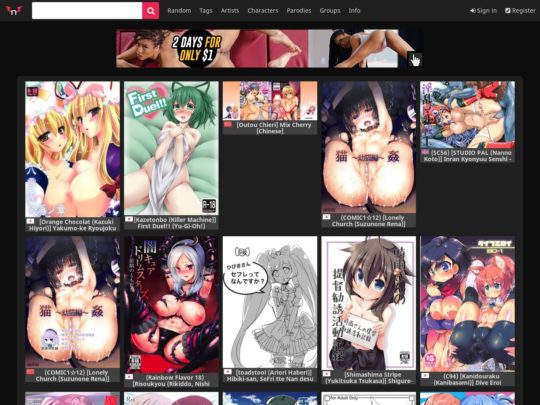 nHentai began a few years ago and has done an excellent job of offering a forum for people who want to see original Japanese hentai from some of the best artists in the industry.
The homepage is dedicated to displaying the most recent content posted and the language in which it has been written. Every post has a small flag next to it: Japanese, English (shown with a British flag), or Chinese. I firmly recommend that you glance at the tags section to see what categories are available. Popular choices include anal, which has 50,000 video files.
PROS:
Exciting user interface
Cute and enticing designs
Wide selection of videos
CONS:
Existence of some weird hentai porn
---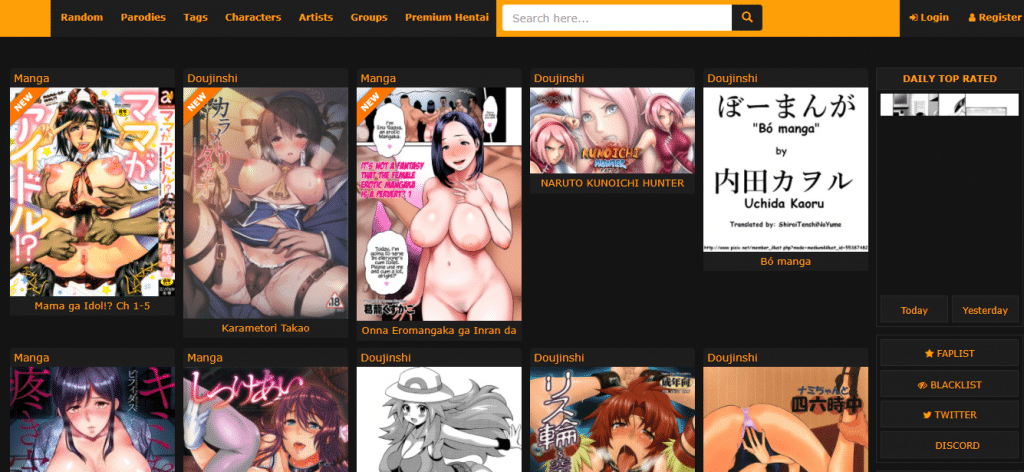 HentaiFox provides an extensive collection of the most entertaining and seductive hentai porn videos and photos. In fact, millions of people worldwide enjoy Japanese sexually explicit content. It is among the most popular erotic forms in the US alone, and perhaps among the most popular hentai sites worldwide.
Full HentaiFox review in this page.
PROS:
Amazing hentai collection
Different categories to choose from
There are taboo and uncensored content available
Free to browse
Basic and straightforward design
CONS:
There are too extreme themes
Feature basic searching tool
Some ads
---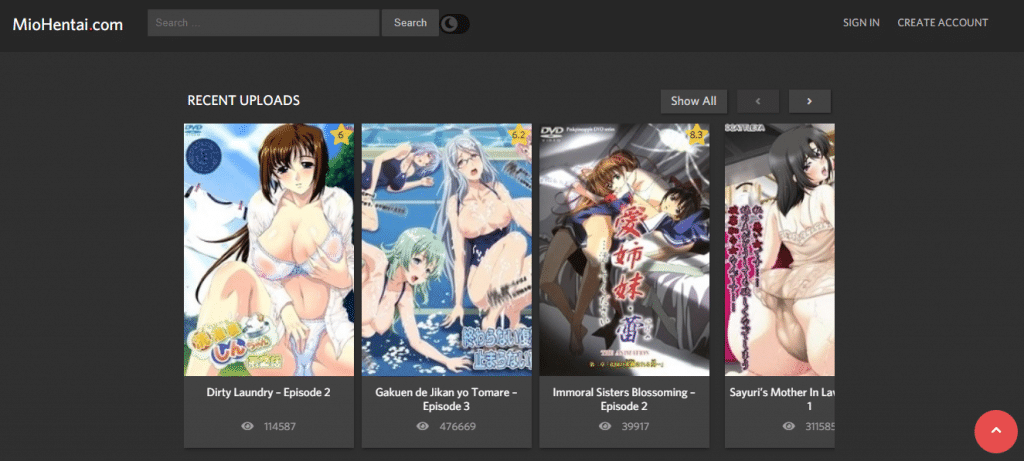 MioHentai has a great feature, with an easy navigation system employed. Everything you see around the page seems newbie-friendly and straightforward to understand. In fact, it has tags, categories, and a top list that makes searching more effortless than it ever was. Plus, the video player is quite impressive since no lagging or buffering happened throughout my experience.
PROS:
Design is accessible and user-friendly
There are taboo themes
Uses 3D and 2D animation
Plenty of categories
CONS:
Mostly censored content
Some ads
Registered users can access some member-only features
It has redirect links available
---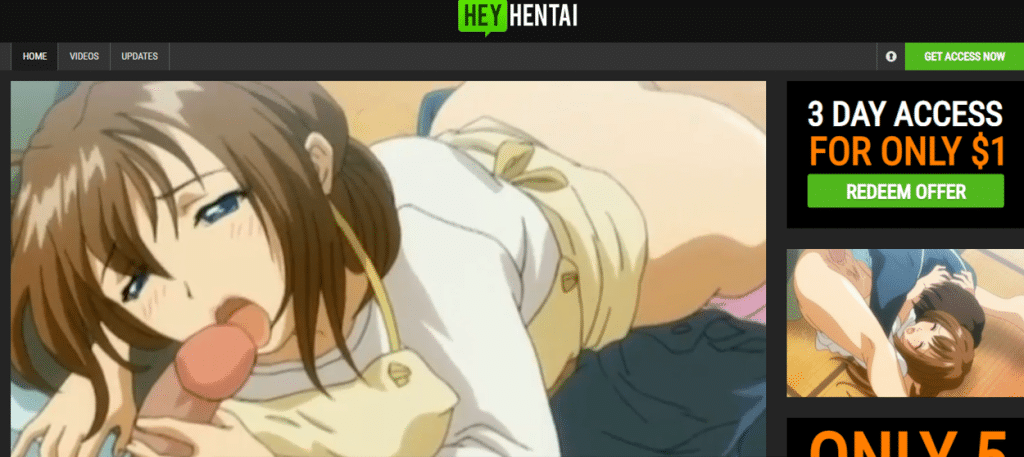 If you seek more hentai stuff, Hey Hentai will give you tons of animated porn. They love to help you explore diverse materials ranging from solo performances to group sex. Hey Hentai gives aid to every fetish craving. It surely entices you to devour its collection. Also, the main page displays orgasmic thumbnails and mouthwatering pieces. The characters at Hey Hentai are equally alluring, seductive, and horny. They will excite your dicks and make you happy with massive uncensored materials.
PROS:
Hot hentai materials
Old hot contents
Uncensored
Good and clean design
Diverse assortment
CONS:
Lacks features
No categories
No search and sorting functions
---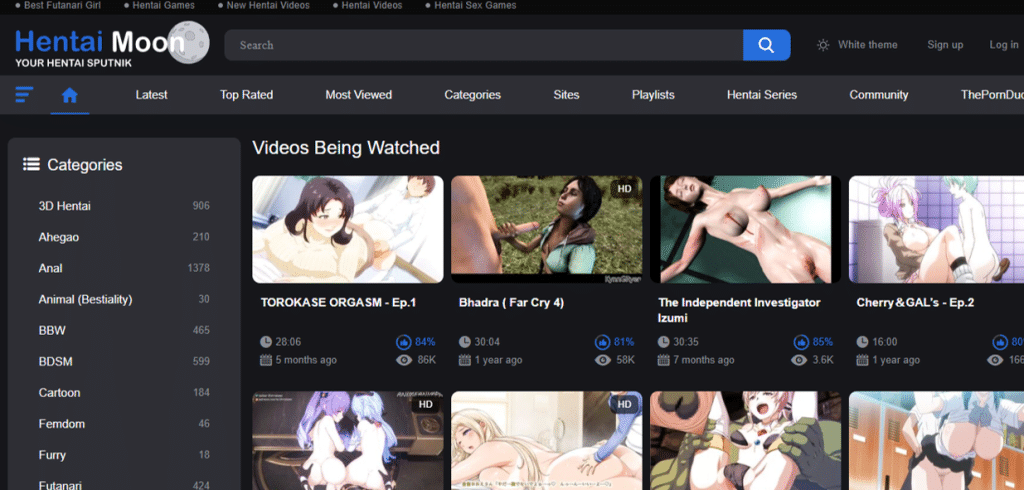 Hentai Moon knows how to make porn followers' cock hard in seconds with its offered porn in diverse niches. Hence, you will be mesmerized as you delve into the world of horny anime characters, 3D porn, orgasmic scenes, and accessible video streaming. Hentai Moon sealed the deal in bringing the intense materials for every fapping journey. In addition, the platform got loads of pleasant fucking and unique video personalities.
PROS:
Free anime porn site
High-quality materials
Well-organized domain
Various features and sorting options
Full-length materials
Uncensored content
Collection of fetish and hot porn niches
CONS:
Lacks video descriptions
Subtitles are missing on some materials
Ads may occur
---
Final Thoughts
Anything you want for animated porn is here at Hentai Cloud. You can have drooling GIFs, videos, images, comics, and more in one repository. Everything you can have and pick at Hentai Cloud is accessible for free. Yes, no money, details, and vital information involve. All you need is to search, navigate, and your horny self. Enjoy the significant threats and unlimited access in one orgasmic venue by also appreciating the works of the Hentai Cloud community members.
Furthermore, Hentai Cloud offers various sorting options and features to suit your needs. You can pick up these materials and download them to your computer. Or, you can also start sharing and uploading your creation. Yes, pal, take out your masterpieces and showcase them to the world to see how many dicks will arouse. Overall, this decent and free domain is another magnificent addition to the roster of anime erotica; try the site today.
All 71 Other Sites in This Category Worth Checking Out:
LoL Hentai Review & 12 Best Hentai Porn Sites Like LoLHentai.net Show Me 12 Alternatives for LoLHentai.net Hey there, fellow gamers and hentai enthusiasts! Today, we're diving into the fascinating world of LoLHentai, also known as League of Legends but with a hentai twist. Now, I know what you're thinking – "What on earth will happen […]