Updated on: November 29th, 2022
Fakku Review
& 12 BEST Hentai/Porn Anime Sites Like Fakku.net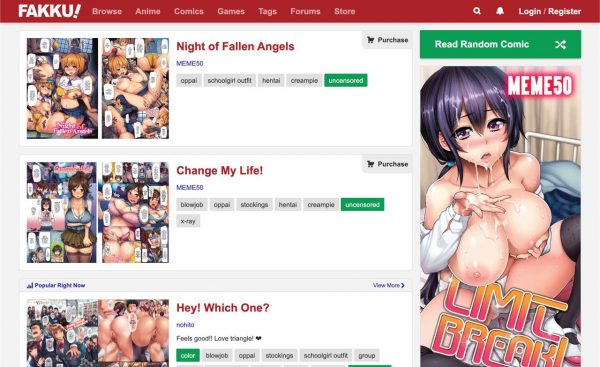 Do you have an interest in Japanese culture? Do you enjoy anime? How about, do you find these things hot that they can give you intense orgasm? Fakku is one of the sites most pervents love to try. Fakku is one of the most popular hentai platforms and publishers online. What makes them extra famous? Porn lovers adore the site because they can access uncensored and translated adult manga and self-published works from Japan. What more? Fakku is indeed a reputable distributor of authentic, transcribed Japanese hentai and comics.
Official URL: https://www.fakku.net/
This site even created its own games, and surely, everyone will have fun here. They also have merchandise available through their online stores. Hence, to give you a little history, Jacob Grady, a computer science major, launched Fakku in 2006. The project was initially known as All About Hentai, but after a brief hiatus, it was resurrected by fan contributions and reintroduced as Fakku. It is also worth noting that Fakku restored old hentai erotic publications, ensuring that various big follower of hentai picks is now obtainable in more excellent resolution.
With this, I can attest that countless anime pornographic fans around the globe are pretty enthusiastic about everything that has emerged outside of Fakku. In addition, the webpage is proud to obtain a streaming license, allowing users to access even more incredible Japanese manga entertainment.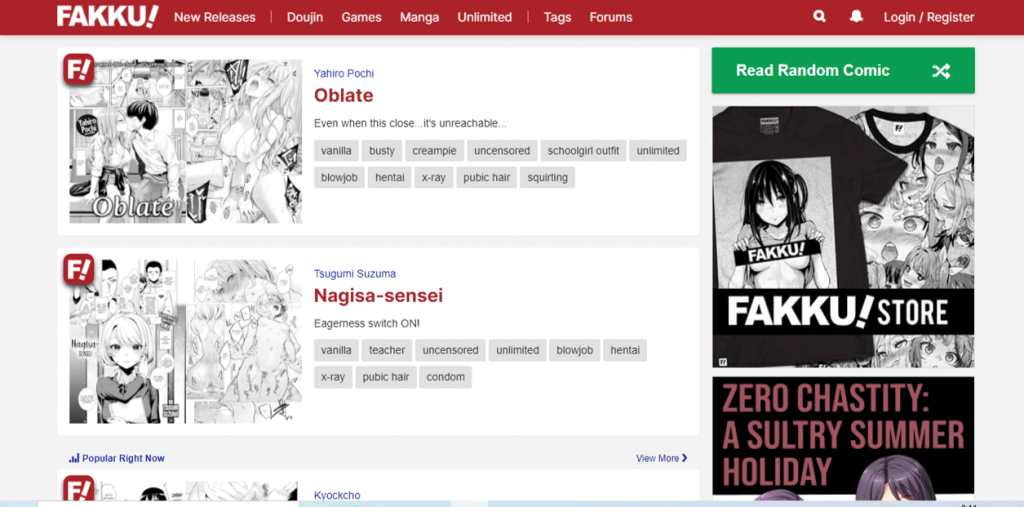 Do I Need an Account to Access Fakku? Yes!
Just like many other pornographic sites, creating an account to view the entire collection is a must. In creating one, users must adhere that they are at least eighteen (18) years of age. More so, users need not worry because they only need to establish a username and a password in creating an account. Incredibly easy, right?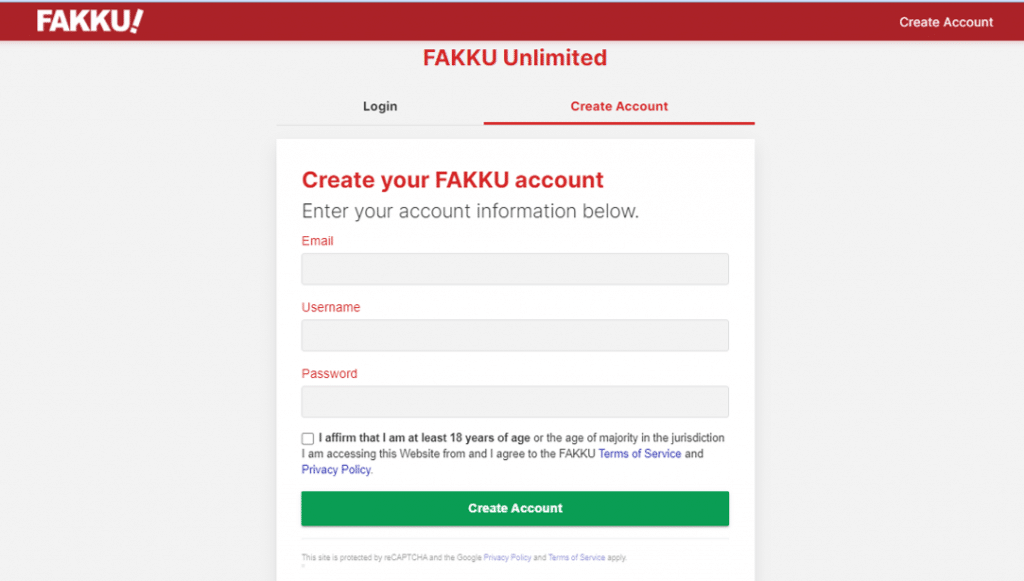 Securing an account will take you a long way; hence, it allows you to access more of the platform's services. Hence, you can have the option to purchase Fakku Unlimited too! This subscription provides access to English transcribes comics and hentai artists. There is also a unique feature that offers notifications every time there is fresh content. Moreover, tags, series, games, and many more are within your reach at Fakku.
Furthermore, to access your unlimited subscription, get the list of payments per month here:
1 Month: $12.95
3 Months: $38.85
6 Months: $77.70
1 Year: $155.40
The Looks
The site is well-known for its hentai erotic comics, but it also contains manga, games, forums, and other features. The platform's interface is simple to use, and there are both filtered and unfiltered hentai comics available. Many of the cartoons and comics on this site are incredibly graphic, and due to the nature of hentai pornographic films, you can see things that you wouldn't see in actual porn. Tags and subjects such as anal, big-dick, humor, bondage, bukkake, and various other topics are included.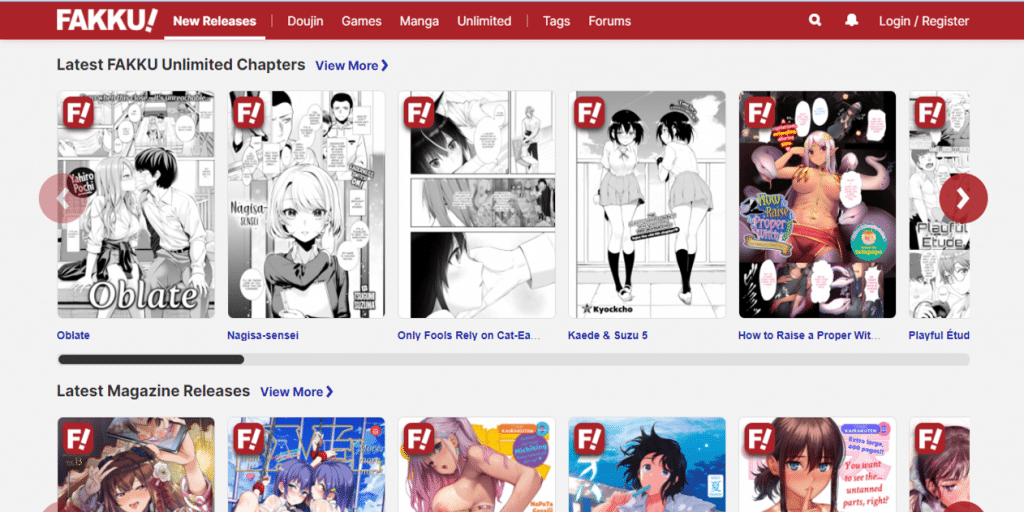 Talking about tags? The site's visitors may locate anything thanks to a wide variety of labels. Hundreds of categories and themes are available. Hentai touches on a wide range of subjects. Some of the categories are also associated with more forbidden pornographic films, such as busty, blowjob, cunnilingus, and others. The site has a wide range of body kinds and beauties, and characters of different genders.
Various Sections to Explore
What makes sections helpful in every platform is informing the site viewers what they may expect from the site itself. Anime is one of the website's categories on the menu, including sections for comics, doujin, new releases, games, manga, tags, forums, and more. Let us discuss some of the areas below.
Anime
Fakku also provides full-color sexual animation pleasure. To offer you a glimpse of what you are getting yourself into, they made sure to give each anime a narrative. I love this section because they represent huge thumbnails. More so, each movie or film contains a number of series for proper tagging. What else? You may also expect that titles and descriptions for each content are clearly identified. With this, users will no longer have a hard time searching and locating their favorite anime film.
Comics
Though many of the comics on the site are only accessible to those who have purchased an unlimited subscription, there are still free comics found. Well, you can locate them with ease by simply using the tags. These free contents are categorized as Standard ones. Now, if you are more into the Premium ones, try out the premium hentai under the "Anime" button at the top left of the homepage. The materials will make you jerk hard as they are uncensored and translated into English.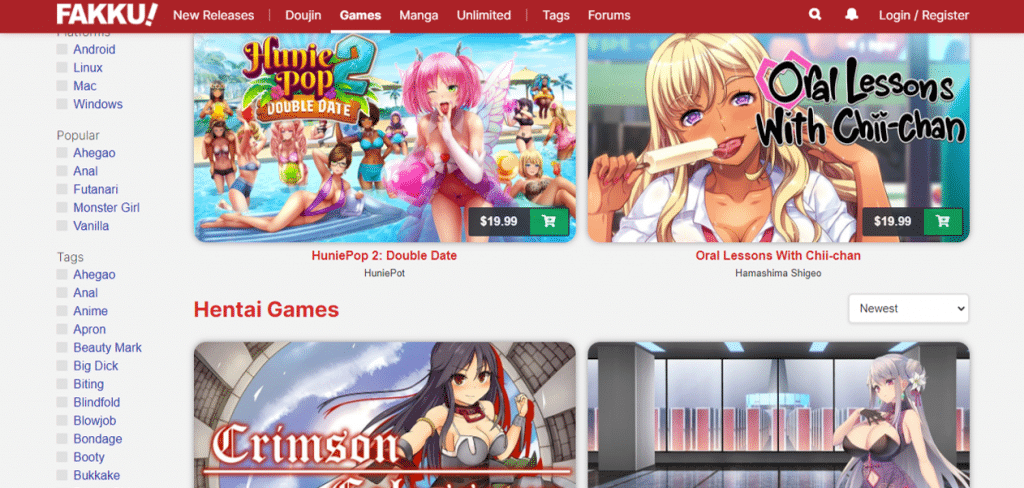 Games
For its gaming clientele, Fakku offers hundreds of games. Fakku provides a large selection of pornographic video games with a variety of settings. They are more interactive sexual experiences, so you may play one hand while jerking with the other. These games are available in English, have excellent visuals, and cover a wide range of sexual obsessions. They are also playable and accessible on any device, particularly on Android, Mac, Windows, and Linux. Moreover, none of the games are free, and they are not included in the Fakku Unlimited package.
Forums
Forums are an excellent way to meet new people on the internet. Front-page news, feedback, recommendations, support, comics, games, merchandise, and sections where other topics can be discussed can all be found in these forums. You may discover places dedicated to casual talk, nonsensical babble, serious debate, meet & greets, and more in this area. Hence, like-minded individuals may share their experiences in the forum, brainstorming and allowing creativity to transcend too.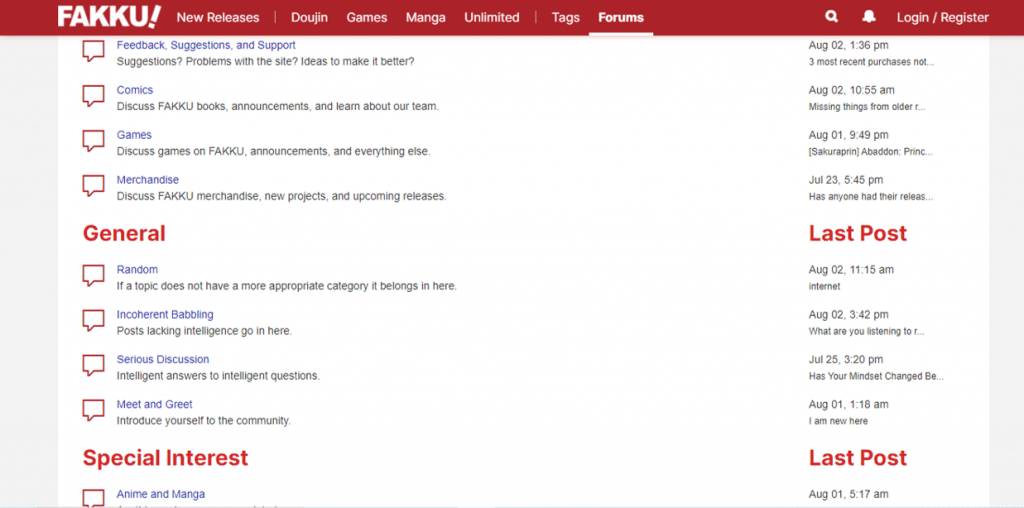 The Brilliant Creators
Many individuals are constantly attempting to create anime porn movies, anime sex manga, sexual games, and other forms of pornography. At Fakku, a rigorous standard has been established for inclusion on the website. While there are many various forms of art on display, they are all of the exceptional quality. When you identify an individual you like a lot, you may use the search engine to find the artwork you want. The forum is a great place to go if you want to learn more about artists, comics, games, cosplay, and other topics.
Moreover, a premium subscription to this page, which you may cancel at any time, will help the creators and editors create the high-quality masterpieces you like. You may support creating additional Japanese manga hentai videos and photos for a reasonably tiny sum of cash. Support the artists who make the porn you enjoy today! This is indeed a give-and-take process for us, porn fans.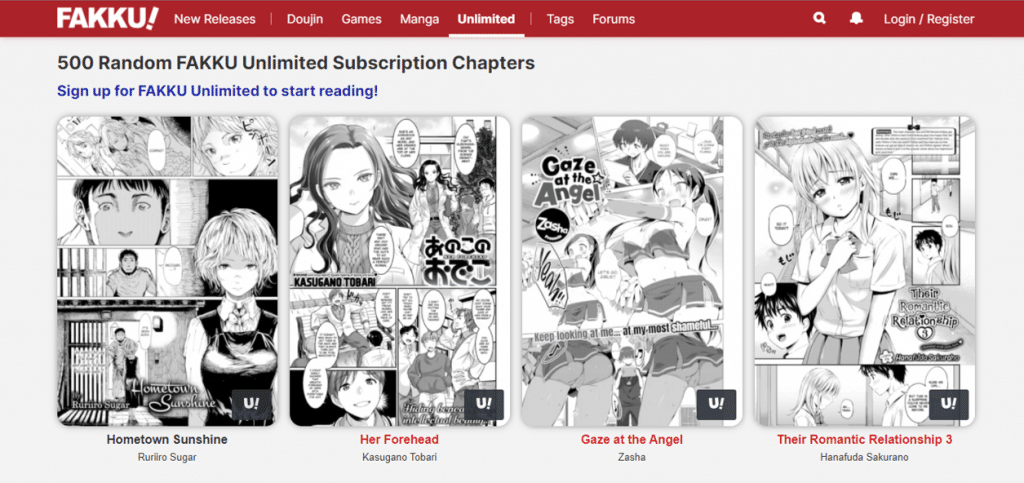 Purchase any Fakku Merchandise and Comics Here!
Do you want to save your favorite hentai on your computer or print it off for future jerking sessions? With their comprehensive e-store, Fakku has you covered. You may purchase a digital and print edition for your favorite hentai material. I believe these things do not cost you anything if you genuinely enjoy collecting. In fact, the quality is truly a great deal. Other than that, Fakku also trades apparel, posters, figures, skateboards, and many more. Indeed, when you are a great fan, these deals are for you!
Best Things About Fakku
Because Fakku.net is a subscription-based service that offers legal content, the site is simple and free of pop-ups, with only a few banner ads for recent products. It is also straightforward to utilize and navigate, with a number of helpful users features such as the ability to manage purchased material and notify users when you subscribe to artists, episodes, or tags.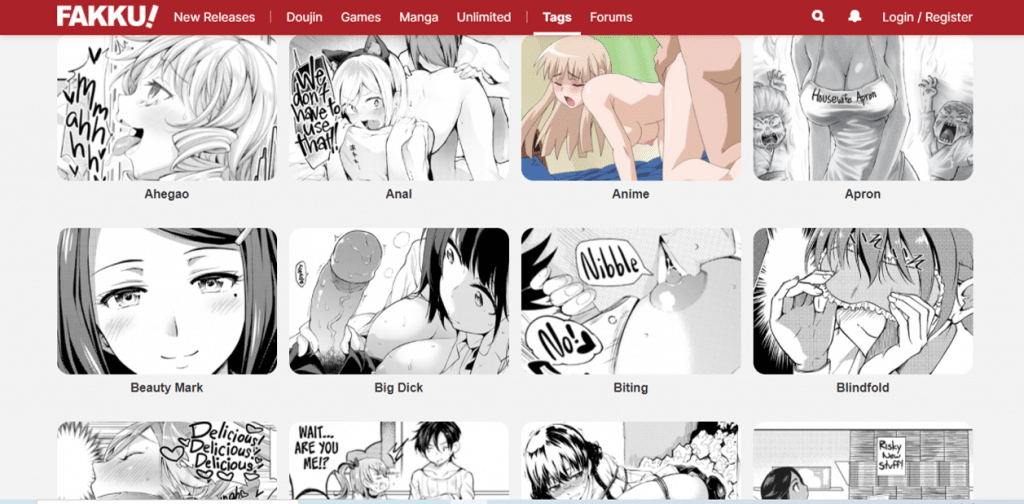 While other sites are no longer operational and have been inactive for years, Fakku has received feedback in almost every area over the last few days. This is owing to the site's reputation as one of the best sites to get hentai porn comics, porn movies, porn games, and other related content. It is also a superb location to legally and properly support a diverse spectrum of creators' artwork.
The Pros and Cons of Fakku.net
PROS:
Clean and simple site
Smooth navigation
User friendly with English translations
High-quality contents
Notifies when there are new and fresh updates
Massive collection of contents
Excellent features like games and forums
Active and vigorous forums
Utilized to all types of mobile devices
It helps boost the creator's work and confidence
CONS:
There are only a few free hentai on the platform
Requires account
Needs to pay to access most of the site's features
---
TOP 12 Hentai and Porn Anime Sites Simialr to Fakku.net: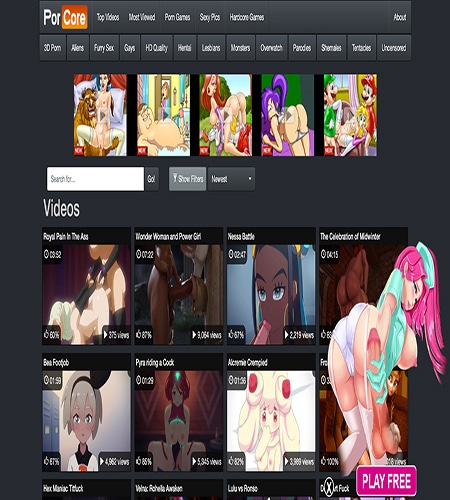 Millions after millions of pictures, gifs, and videos are available for your viewing pleasure. If you like Hentai, a visit to PorCore.com will make you feel as if you've died and gone to heaven. There's only too much to discover. The web is updated daily, so there's still something fresh and exciting to look forward to.
People have spent time and effort making these videos, and even though you aren't a big fan of Hentai, you will have a lot of videos that you will have a happy time viewing. PorCore.com is a hentai platform that can't be matched, not in terms of content, not in terms of frequency of updates, but with its overall functionality.
Read PorCore's full review here.
PROS:
A wide array of hentai videos
Free access
Can be utilizing a mobile phone
User friendly
Easy to navigate
CONS:
Plenty of annoying advertisements
---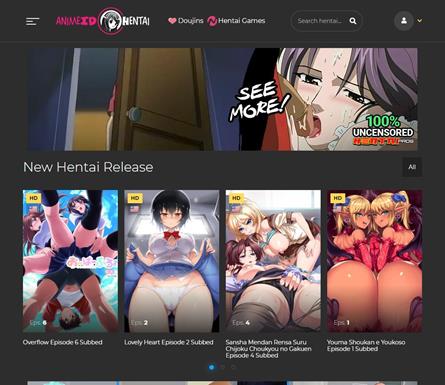 There is plenty of sexy material for all tastes on Anime Hentai, and the navigation layout makes it easy for every user and visitor. You can choose from selecting common tags at the top of the homepage, just below the main menu. Moreover, all the strangest fetishes are welcome here. By ticking the page you want to read, you can choose it. This is a fantastic choice for those who do not have the patience to read the whole story but still want to learn more about it.
PROS:
Loads of free hentai contents
Easy and accessible to navigate
Good quality hentai videos
CONS:
---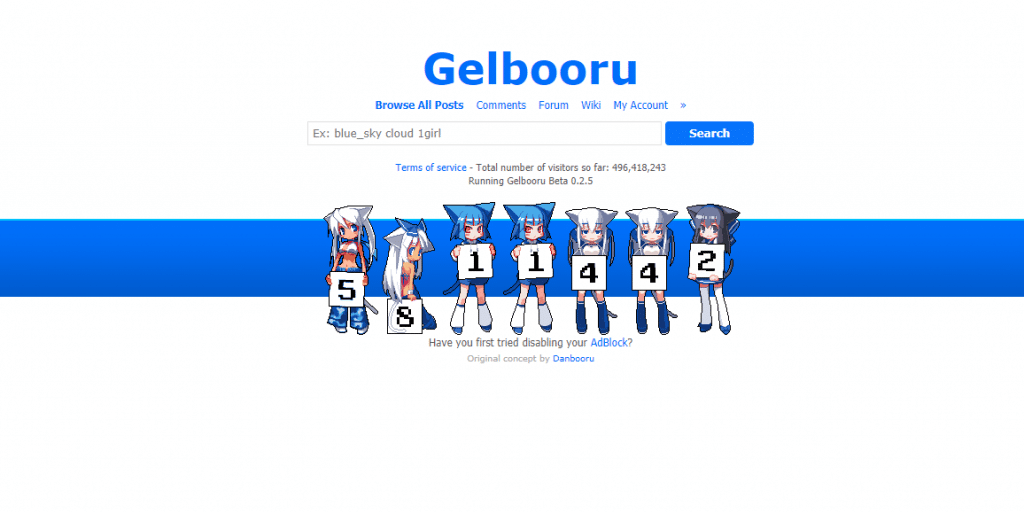 Though it looks pretty basic, Gelbooru does precisely what they boast about. It is an efficient solution for all of the lusty hentai aficionados across the world. Many people also consider Hentai to be the weirdest fetish possible. This is precisely why the website presently includes many Hentai pics and doujinshi containing the most bizarre Hentai fetishes.
Read the comprehensive Gelbooru review here.
PROS:
Plenty of anime/Hentai content
Amazing search feature
Image quality is top-notch
Fantastic community features and services
Supports mobile browsing
Compatible with all mobile devices
CONS:
Videos are limited in number
It has few pop-up ads
---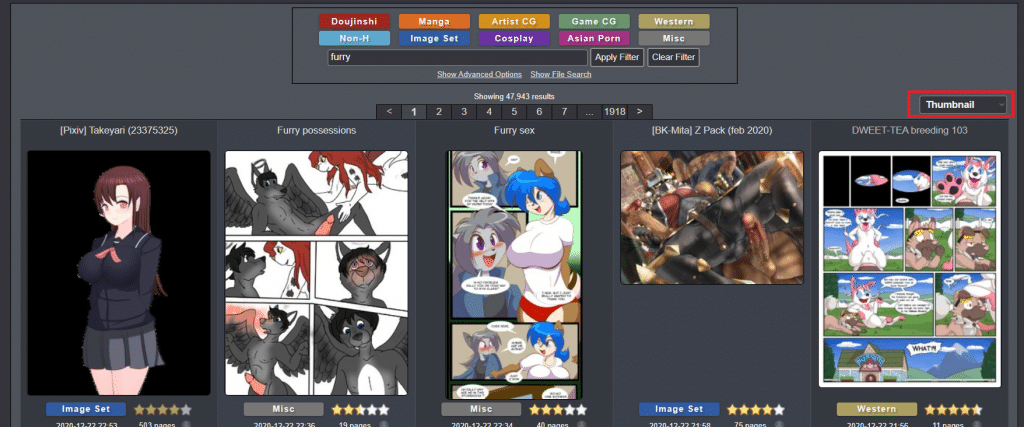 The massive amount of stuff in this platform will delight a lot of porn citizens. And there are a lot of them, based on the amount of material. Sluts getting their breasts licked and their bottoms screwed by creatures, team whores sucking bleeding dick, rape, and octopus banging, among other things, can all be found here.
PROS:
Simple lay-out
Loads contents of different niches
Regular updates
Easy to access
CONS:
No videos or films
Lacks forum and community
---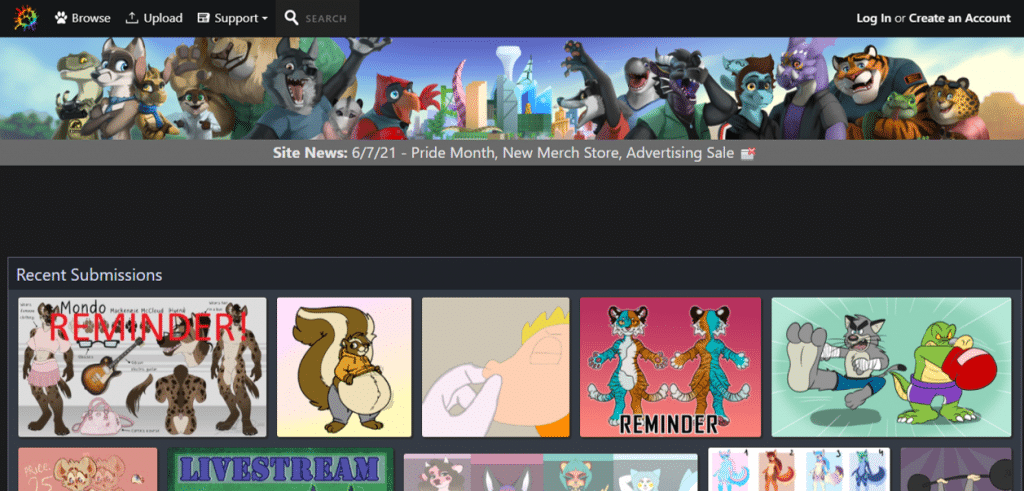 If you enjoy hairy creatures and content that involve sexual activities with furry characters, this is perfect for you. Even if you are not, I can attest that this website has much valuable and fascinating information. Indeed, FurAffinity is more than just a pornographic site.
More so, I love how this excellent site allows us to chat with other individuals, read some steamy stories, or simply find some furry porn to jerk off to. Indeed, they offer everything that entails furs and hair characters; what more to ask if you have some hairy fetish in you! I also noted how features are available for free! However, you need to create an account to get to the adult content.
Check our full review of Furaffinity here.
PROS:
Ability to share and upload own works
Has a flood of sexy furry contents
Excellent features
Good mobile experience
Large and active community
Fast and excellent navigation
Presence of effective support service
CONS:
A lot of nonsexual materials
Requires an account to enjoy an adult section
The not too fancy design
Some weird materials
---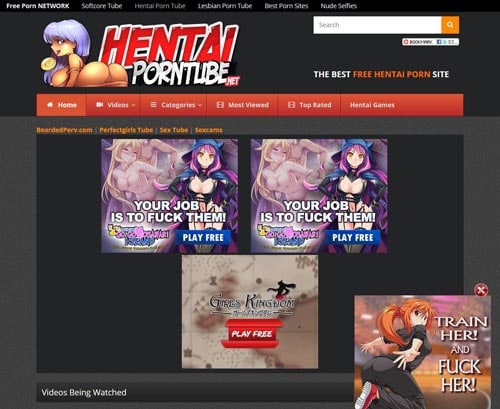 This website has worked tirelessly to provide its users with high-quality anime porn, and it is unquestionably one of the best tube pages for that reason. It works like every other tube platform, and once you get to the homepage, you will find hentai scenes, sex with Lara Croft, and a few manga comics. Part of the Japanese pornography is only available in Japanese, although others have English subtitles to make it easier for Westerners to view. Like all good tube pages, I love that Hentai Porn Tube has a 'top rated' and 'most watched' section.
PROS:
Existence of Top-Rated sections
Various video collections
Has porn game contents
Accessible and site friendly
CONS:
Limited English content videos
---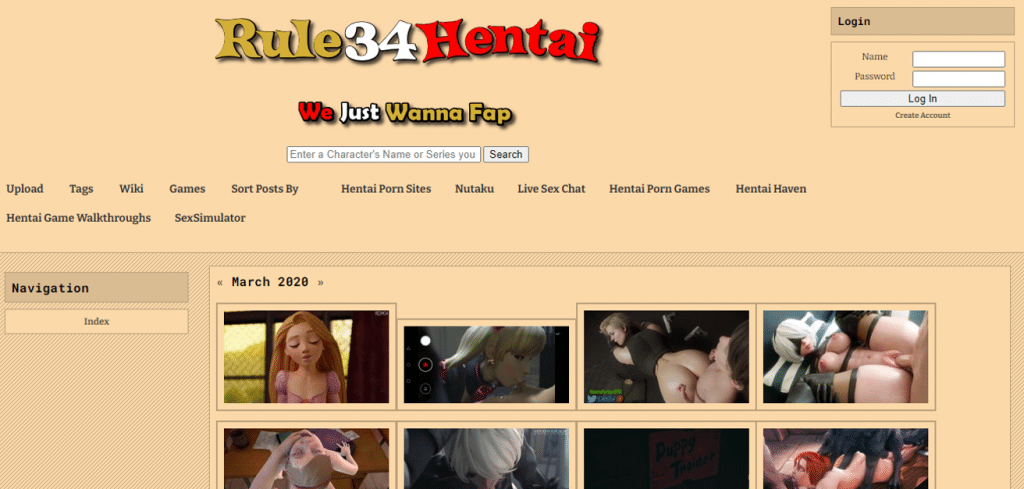 Rule34hentai is a pornographic image paradise where its brigade of devoted consumers provides the content. You will find all your beloved characters fucking and sucking in its massive gallery, whether from Frozen, Overwatch, or The Simpsons. Basically, the site aims to provide you with animated fun and Rule 34 enjoyment.
A full review Rule34Hentai here.
PROS:
Loaded with hentai contents
User friendly and easy to access
Fantastic search engines
Amazing navigation tools
Updates regularly
CONS:
Minor members of the community
Slideshow contents are unavailable.
Minimal advertisements
---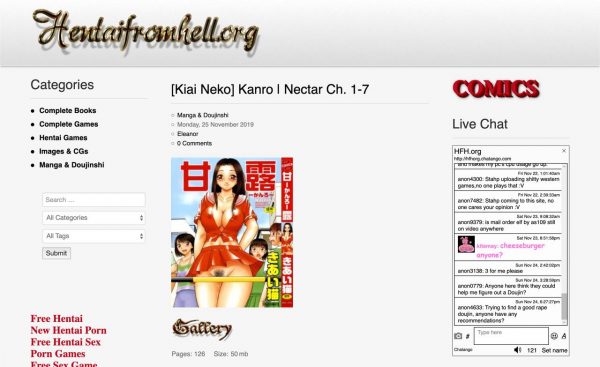 Hentai From Hell is a great name for a forum dedicated to naughty hentai porn. Every day, a large number of new comics are added, so the archive is very large. We are talking about over 3,100 pages, each of at least ten hentai galleries.
However, the presentation of these comics is lacking, since they are simply thrown on the web with just a title. HentaiFromHell is just as simple as websites come. There are no frills, only naughty anime porn that you can appreciate right now. I like how they specify the size of each comic as well as the number of pages.
PROS:
Free access to hentai porn
Updates regularly
Various contents
CONS:
---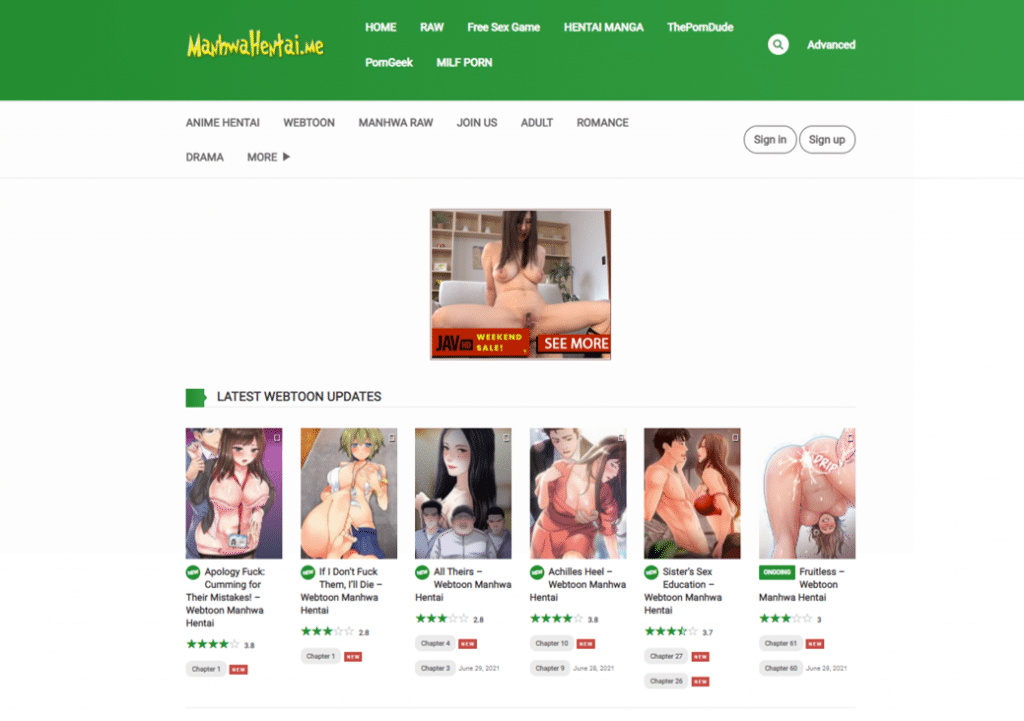 Manhwahentai is an excellent website with some tremendous Korean manhwa porn. I enjoyed it since the tales are more engaging, and the art is unique compared to typical hentai. Manhwahentai has also come up with a wonderful concept of compiling all of these series into a quick and dependable website. This site is far more reliable than many of the free manga sites I used in the past.
Manhwahentai also performs an excellent job at remaining current and maintaining high ratings. Because it's such a popular site, you will discover a plethora of ratings that will help you figure out which things are worth trying next.
Read more about Manhwahentai site here.
PROS:
Efficient English translation
Free comics to read
Wide selection of contents
Has a discussion section
Good quality comics
Diverse topics and plots
Good mobile display
With dramatic and engaging storylines
Comics load fast and quick
CONS:
Too many advertisements and pop-ups
Not all hardcore
Absence of sex scenes sometimes
Not so good layout
Some censored contents
---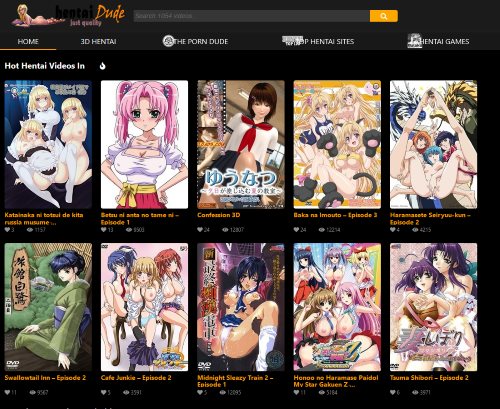 HentaiDude is without a doubt one of the most significant pornographic discoveries you'll ever find. The sheer volume of videos will astound you. Each video is neatly classified into a sub-genre and cross-referenced with keywords. This means that within 30 seconds of landing on the front page, you will find an exact video.
The majority of the videos are available for free to watch, but the paid account is where the true advantage lies. Any video is available for free, and you can communicate with other members of the group. When it comes to this niche, paying a premium is an investment rather than a cost.
PROS:
Many free accounts to access
Amazing web design
Highly organized and neat
CONS:
---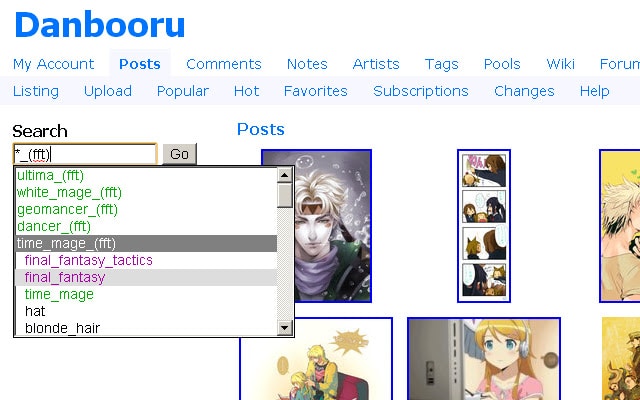 Danbooru is a forum that caters to both developers and non-creators. You can both display and make hentai in this way. Names, creators, visibility, and other factors are used to categorize these posts. If you are feeling daring, you can check out the most recent comments on the website, as well as links to sections where you can debate subjects with other enthusiasts.
Basic, Gold, and Platinum membership levels exist on Danbooru, with Platinum being the greatest and Basic being the least. Although absolutely nothing on Danbooru is limited, having a higher tier makes some aspects of the platform easier to use or offers better facilities.
PROS:
Variety of pornographic contents
Consist of anal, escort, cam, and many more porn sites
Lengthy videos and materials
Amateur and professional contents
CONS:
High-Definition videos is accessible for premium members only
Advertisements
---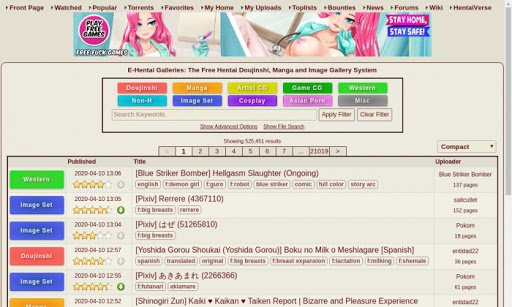 E-Hentai is your one-stop store for all the depraved and filthy hentai! Nurses, shemales, tentacles, and furries are all there. Nothing is off limits here; the only limitation is the right to use search marks. Even without an account, E-Hentai is completely free to use.
The only restrictions on a free account are the inability to play Hentaiverse, create and approve bounties, and post. If all of that appeals to you, making an account is as easy as it gets! Simply enter your e-mail address and generate a username and password.
PROS:
Millions of videos
Full length size of available videos
Updates regularly
CONS:
Need membership for unlimited access
Advertisements
---
Parting Words
Fakku ticks almost all of the categories I admire about a hentai site. There is a never-ending supply of high-quality erotic comics to read, with new ones being added all the time, regular updates via the site and social media, and lots of additional content. More so, if you are seeking a massive selection of uncensored and translated hentai and numerous exclusives, Fakku is the place to go. Paid users receive access to over 50,000 sheets of manga, periodic updates, excellent user functions, and deals.
In addition, this platform strikes an excellent mix of free and paid material, allowing users to show their support for their admired creators. Prepare to have a good time with the porn games, manga, hentai porn comics, anime porn movies, and more. The website's forums are also great and are busy and active. Be amazed by the variety of activities that are going around Fakku! Undoubtedly, one great venue to spend your luxurious time with, try Fakku now.
All 48 Other Sites in This Category Worth Checking Out:
XAnimePorn & TOP 12 Hentai Streaming Sites Like Xanimeporn.com Show Me 12 Alternatives for Xanimeporn.com Need another Hentai site recommendation? Well, you have arrived at the perfect spot. I guess we can all agree that when dealing with porn, only Dudethrill can give you authentic reviews like no other. And today, our main star is XAnimePorn. […]