Updated on: December 8th, 2023
Yandere Review
& TOP 12 Hentai Porn Sites Like Yande.re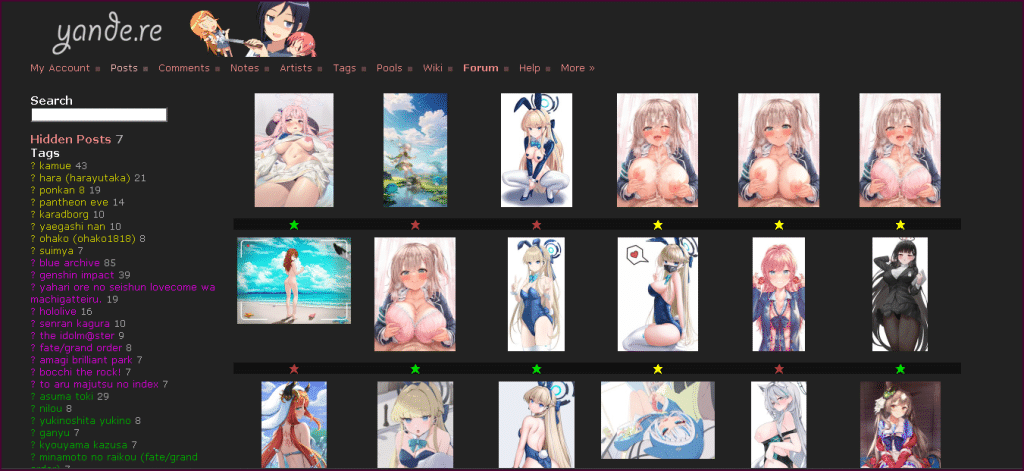 Welcome, my fellow curious netizens! I'm Dudethrill, and let's talk about Yande.re — a popular online destination catering to individuals who love softcore, wholesome hentai content. Wait, what's that? Do you already know about it? Well, I'm not surprised. After all, we're all just a bunch of pervs who can't resist a bit of compelling entertainment. But hey, no need to be ashamed of it. In fact, let's dive deeper into the world of Yande.re together and explore what makes it so darn appealing.
Official URL: https://yande.re
Yande.re: The Hottest Softcore Booru You Need to Check Out Right Now!
Are you a fan of softcore hentai content but don't want to dive into the world of crazy fetishes? Well, my friend, you're lucky because I've just got the site for you. It's called Yande.re, and it's been around for quite some time now. In fact, Yande.re has been going strong for years, and guess what? It's still attracting over 5M+ visitors monthly. That's a whole lot of weebs if you ask me.
Now, I know what you're thinking. "Booru-style? What the heck is that?" Don't worry, my friend. I got you covered. You see, a website style similar to "booru" is based on some famous Hentai services. Gelbooru and Danbooru are among the most well-known booru sites; many platforms have used them as templates. Certainly, these sites offer related layouts or content with effortless searching and tagging systems. But let's be honest, that's not what makes Yande.re so darn appealing.
As a matter of fact, the real reason why so many of you pervs keep coming back for more is the softcore, loving hentai content that this site offers. It's the perfect balance of naughty and nice that keeps you hooked. And let's not forget about the community. Oh, the community! It's like a family, only weirder and more dysfunctional. That's what makes it so entertaining, am I right? So together with its cool design, quickly searchable tags, and a community that's weirder than your own family, Yande.re is undoubtedly the perfect online destination for all your hentai needs.
Sleek and Sassy Design with Fewer Ads to Ruin Your Fap Time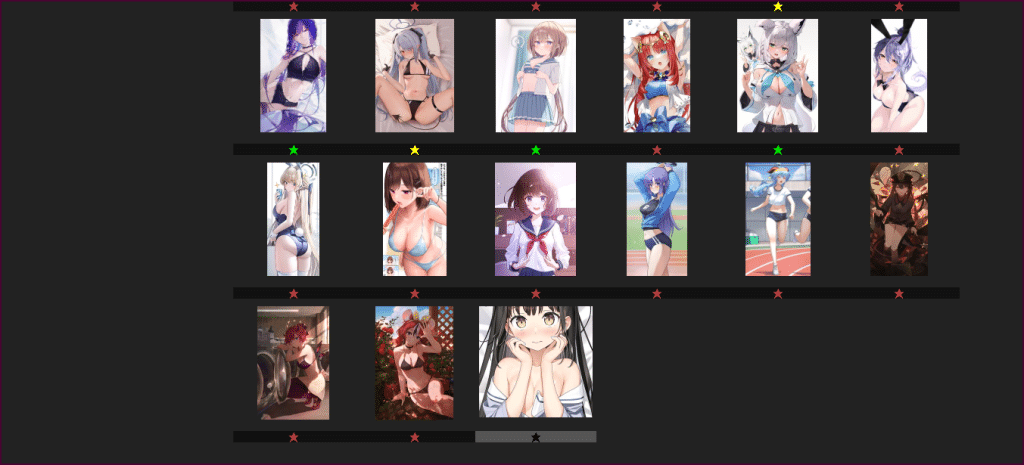 Do you hate clicking through endless, annoying pop-ups and being directed to sketchy sites? Well, then, Yande.re is the perfect site for you! Unlike other hentai sites, Yande.re won't disappoint you in any way. In fact, its homepage has a simple, elegant look and easy-to-navigate features. Plus, the dark theme makes it a charisma that makes you feel like a real anime connoisseur.
But let's discuss the actual star of the show: the content. With numerous pages to flip through, you'll never run out of steam on this site. Also, you'll never have to worry about feeling overwhelmed because of Yande.re's sorting features, including "latest upload" (daily, weekly, monthly), "most trending," and "random." It's like having a personal anime genie granting your every wish!
Moreover, Yande.re has a neat search feature and organized tagging system to help you find the exact type of content you're looking for. And with few selections to post feedback, and reviews, ask for help, join pools, browse tags, and more, you'll never have to leave the site for anything! Indeed, it's a one-stop shop for all your anime needs.
Finally, let's not forget the emotional aspect. Have you ever been disappointed by a site's lack of content or poor quality? Well, with Yande.re, you'll never feel like you've wasted your time. The site's easy-to-use interface and vast image collection will make you feel like a kid in a candy store. Ultimately, you can browse confidently, knowing Yande won't lead you astray.
Sharing is Caring: Join the Fun with Yande.re's User-Generated Collection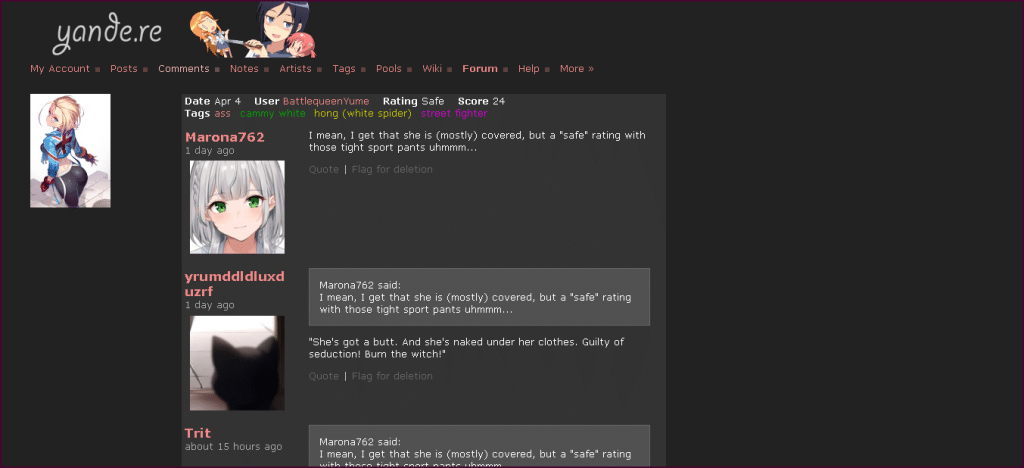 Listen up, my fellow weebs! Before you get too excited, scroll through all the lovely softcore hentai on Yande.re, you need to know that you'll need an account to get the whole experience. Don't worry, it's free, but you must obey the standards set forth by the site. And I know what you're thinking: "Without an official account, I can't even comment, rate, or tweak the tag list. That's lame!" Well, my friend, I feel you. But the real bummer is that the registration function was disabled the last time I checked. So, we just cross-fingers and hope they get that sorted out soon.
Additionally, being a guest user, you won't be able to experience the hardcore side of Yande.re. Similarly, you can't filter your searches or rate content and certainly miss out on some spicier stuff reserved for account holders. That's the price you pay for keeping things softcore.
Also, Yande.re is definitely all about the softcore, and they take that seriously. This isn't your average hentai and porn comic website with crazy fetishes — it's more about the sweet and romantic aspect of hentai. Think of it like the Hallmark Channel but with more skin. So if you're looking for something a little more tender and a little less wild, you've come to the right place.
Finding Your Waifus Has Never Been Easier with Yande.re's Search Tools!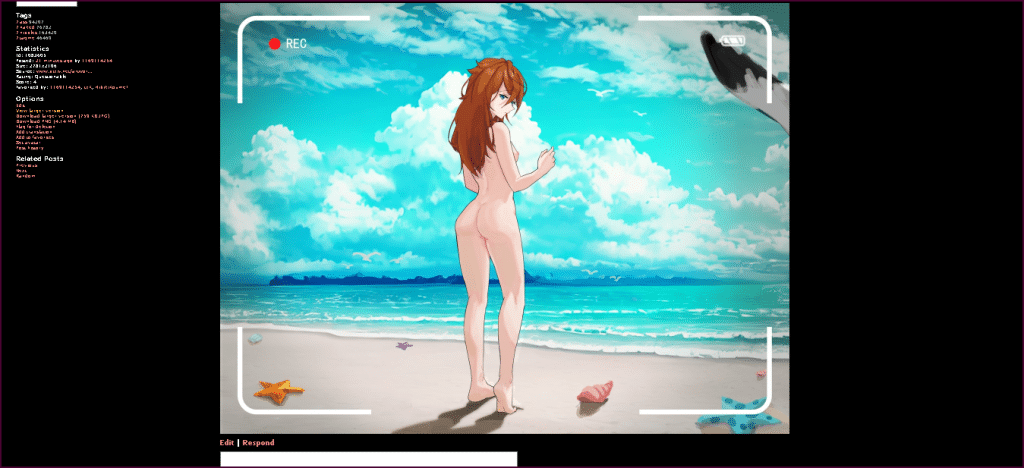 Alright, let's dive into the juicy stuff – the content. And trust me, there's a lot of it to sift through. You'll be drowning in it faster than you can say "kawaii." We're talking about a shitload of high-quality images that can make any softcore hentai fan drool. Also, the content previews, my goodness, are clean and concise. Each one comes with a cute little star to let you know the image's resolution – because, let's face it, no one wants to save a low-res image and end up disappointed accidentally.
However, let's not forget about the search feature. It's not just a pretty face — it's helpful too. As a matter of fact, you can scroll through a shitload of tags, sort through collections from your favorite artists, and discover unique comic series. Meanwhile, the forum section is the place to be if you feel social. It's not buzzing with activity but a smashing way to unite with like-minded people and stay updated on the latest site news.
Certainly, Yande.re is like a world of possibilities opening up with every click! And the best part is that you don't have to pay a dime to access this excellent content. You must make a free account and follow the site's rules and guidelines. Definitely, that's a small price to pay for some of the most beautiful and romantic hentai entertainment on the web.
Mobile Site Needs Serious Improvement, Get Your Shit Together Yande.re!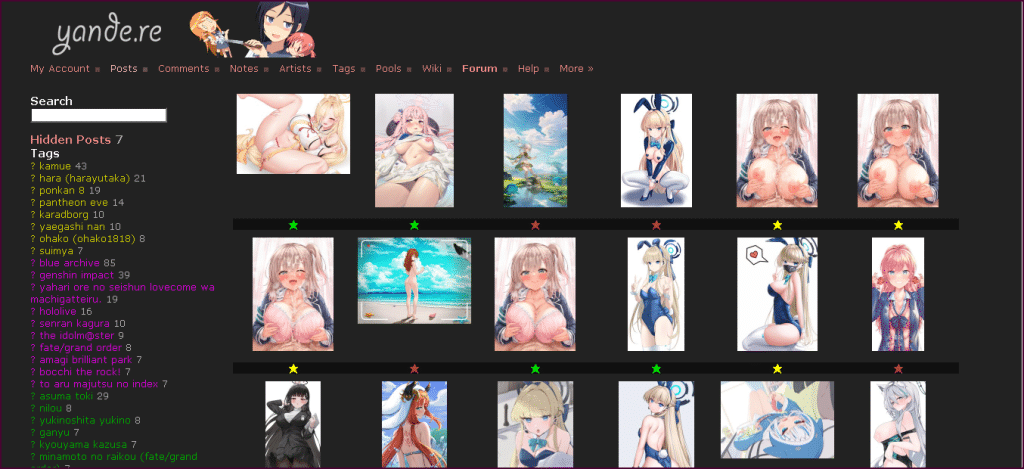 Meanwhile, let's discuss the phone browsing system of Yande.re. In a nutshell, it sucks. I mean, it's like they didn't even try. The mobile site is basically a shrunken-down version of the computer-based site that looks like it was made in 2005. In fact, everything is so tiny that I need a magnifying glass to select. And don't even say a single word about the images. They load sideways, and I have to turn my phone every which way to see what's happening. It's enough to make a perv like me shed a tear.
Certainly, it's disappointing because Yande.re is such a great site. You'd think they would have invested some time and effort into making a mobile-friendly version. But no, they just leave us, mobile users, out in the cold. Come on, Yande.re, show us some love! A whole market of mobile pervs is waiting for their fix, and you're leaving money on the table.
Nevertheless, let's not dwell on the negative too much. The site's desktop version is where it's at, and it makes up for the lackluster mobile experience. However, I'm still hoping that Yande.re will come to its senses and roll out a mobile version that doesn't suck. Fingers crossed!
Yande.re's Best Bits and My Top Picks: The Features That Will Keep You Coming Back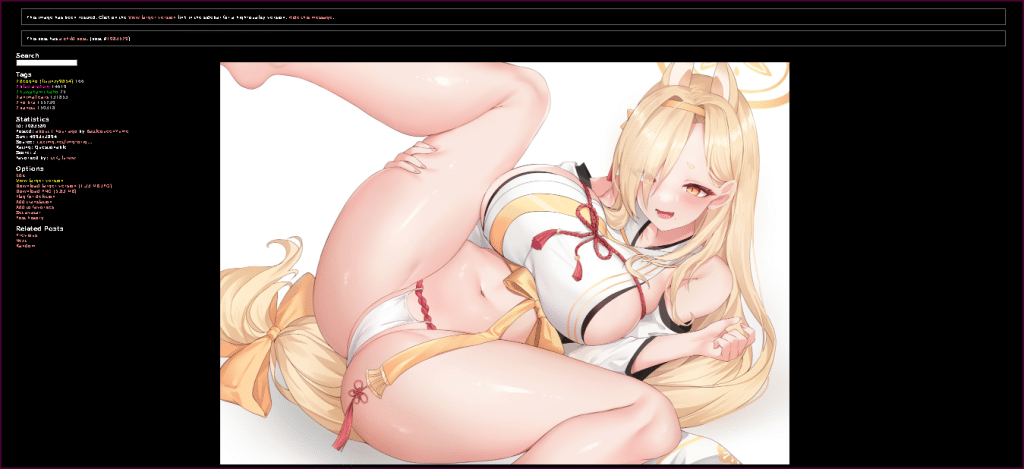 Yande.re is the holy grail of free softcore hentai content. It has a shitload of irresistible images that'll have you drooling over your keyboard just a few clicks away. And the best part? You don't need to create an account or fork over a single penny.
Furthermore, Yande.re is packed to the brim with user-friendly tools that helps users navigate the page with ease. You can easily search for your favorite series/categories and never run out of options to satisfy your deepest desires. And let's not forget the sleek dark-colored page. Certainly, it's a feast for the eyes and makes the whole experience even better.
Oh, and did I mention there are no third-party redirects and irritating pop-up ads? Certainly, users are free to browse as their hearts desire without any hassle. And the best part? Because this is booru, the content won't get removed or expire. This means you can return and jerk off anytime you damn well please.
Honestly, I can't think of a better place to satisfy your softcore hentai cravings. Yande.re has everything you need to get off and enjoy yourself. I mean, it's like having your very own private library of smut. Who needs to go outside when you have Yande.re at your fingertips?
Some Improvement Ideas to Make this Site Even Better!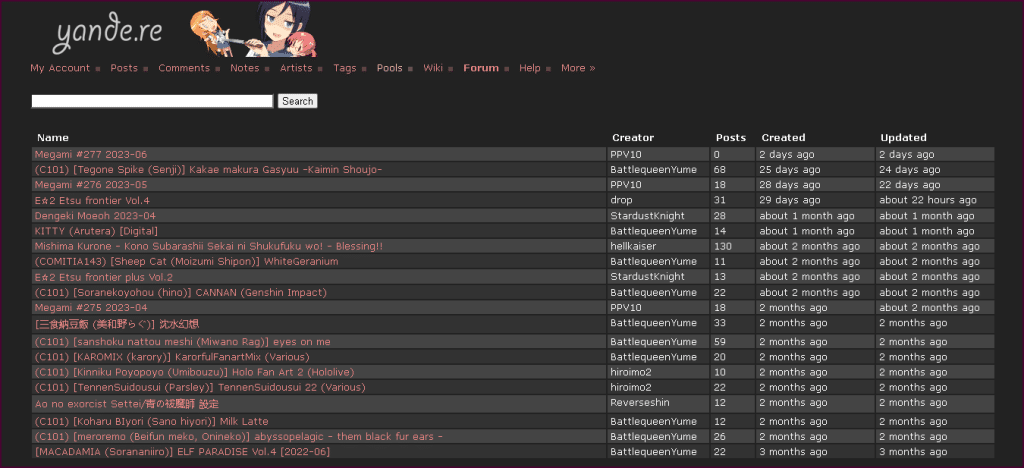 It's a damn shame that the mobile support version of Yande.re is a complete dumpster fire. I mean, what the hell? It's like they didn't even try to make it usable. And to top it off, they've locked the doors to new users, making it nearly impossible for fresh blood to join the party. Come on, guys! Don't be such cockblockers!
I get they want to keep the site exclusive, but what about the newbies just trying out the world of softcore hentai? They're missing out on some of the best content out there! And let's be real; without new users, the site will slowly wither into obscurity.
So, here's to hoping that the powers that be at Yande.re come to their senses and open up the floodgates for new users, give the people what they want! Let them bask in the glory of your site's softcore hentai goodness. It's the right thing to do, damn it! In the meantime, I'll have to stick to the desktop version and suffer through the shitty mobile experience. Well, as long as, at the end of the day, I can still get my fix of cute and romantic hentai entertainment, right?
Pros and Cons of Yande.re
PROS:
Lots of softcore content
Amazing design
Easy-to-use navigation features
Free to download
Ads are on a minimal level
CONS:
---
TOP 12 Hentai Porn Sites Similar to Yande.re: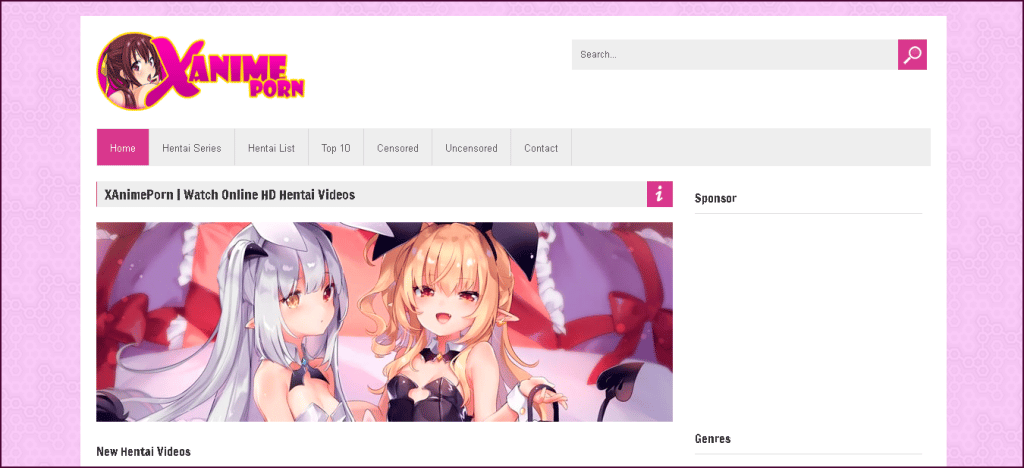 XAnimePorn is a free Hentai streaming site that stores thousands upon thousands of hentai content across all genres. It has been in the adult entertainment industry for years, so we should expect lots of content uploaded from the 1990s to the present. Also, the site is excellent for viewing extra "taboo" material, such as incest, rape, and molestation. These genres are pretty common among hentai and comic porn sites, but what makes XAnimePorn different is the scenes, characters, and caliber of storylines they got. Definitely, XAnimePorn is the standard of hardcore and outrageous hentai content. You'll find no garbage here — everything is jerk-off worthy and undoubtedly addictive!
Here's the full review of XAnimePorn
PROS:
Offers free Hentai series and clips
Numerous genre offers
Lots of categories and series are available
Downloading and streaming is free
Plenty of uncensored content
CONS:
Annoying pop-up ads
It only features hentai videos
---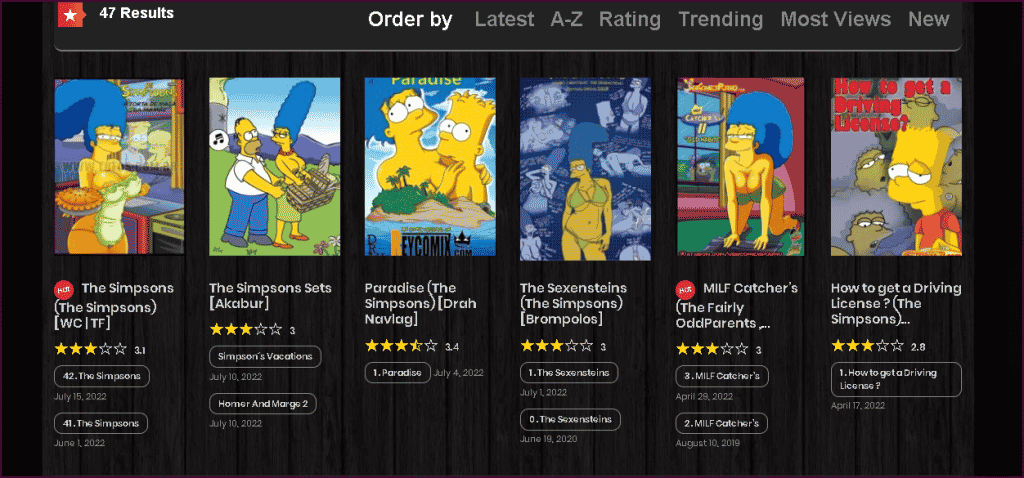 It's tough to beat All Porn Comics as the best online collection of filthy manga and extreme animations. Certainly, a vast array of stuff here might blow your mind, from quite lifelike to utterly surreal. Inside, you'll find everything from cartoons and anime to hentai and drawing illustrations, and the collection is massive, and the navigation system is the biggest perk I've experienced. Everyone can finally stop imagining their favorite Anime characters getting banged and just follow some comic strips where real 'entertainment' is happening.
Click here for a full review of All Porn Comic
PROS:
Plenty of porn comics, Hentai, manga, and 3d animation
Free to use
Easy to use site
Simple navigation
Lots of themes, series, and artists
CONS:
Requires registration to download
May experience error when downloading
---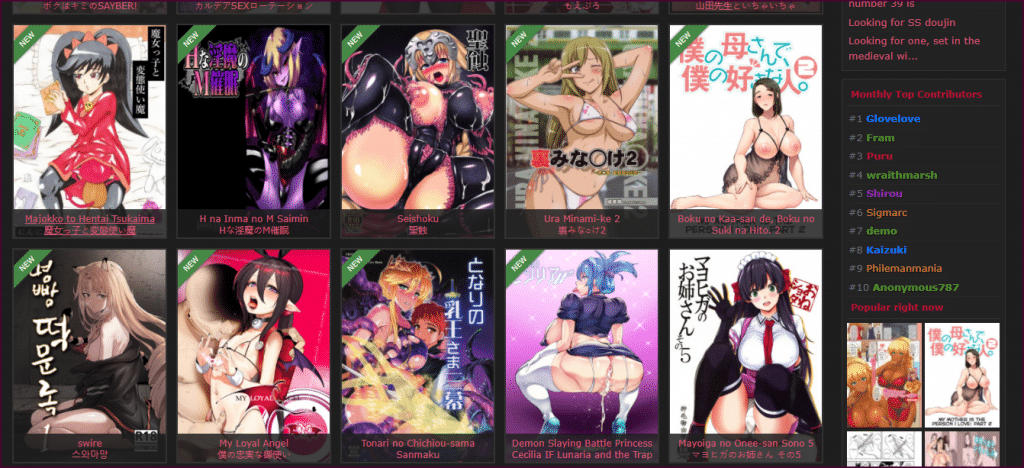 Hentai has a much more thriving community than other genres of porno and erotica. It's particularly true given that Pururin's storylines and hentai characters are trendy around the globe because of their fascinating traits and extensive fan support. Supporters can't contain their enjoyment, so it's no surprise that virtual communities have sprung up in their stead. They enjoy talking about everything from cartoons to hardcore porn to superheroes to anything else that comes to mind.
PROS:
Upload content for free
Updates regularly
Organized content
Easy use of the site
Free to use
Free registration
CONS:
Downloading needs registration
Videos are not available
---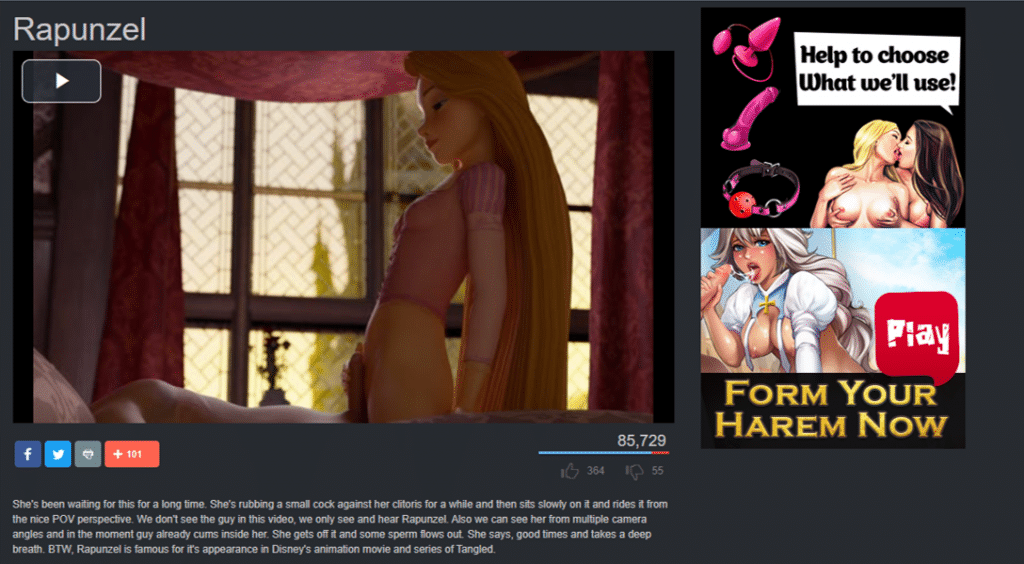 Millions after millions of pictures, gifs, and videos are available for your viewing pleasure. If you like hentai, a visit to PorCore.com will make you feel as if you've died and gone to heaven. There's only too much to discover. The web is updated daily, so there's still something fresh and exciting to look forward to.
People have invested time and effort into making these videos, and even though you aren't a big fan of hentai, there are a lot of videos that you will have a happy time viewing. PorCore.com is a hentai platform that can't be matched, not in terms of content, not in terms of frequency of updates, but with its overall functionality.
Click to see the full review of PorCore
PROS:
A wide array of hentai videos
Free access
Can be utilizing a mobile phone
User friendly
Easy to navigate
CONS:
Plenty of annoying advertisements
---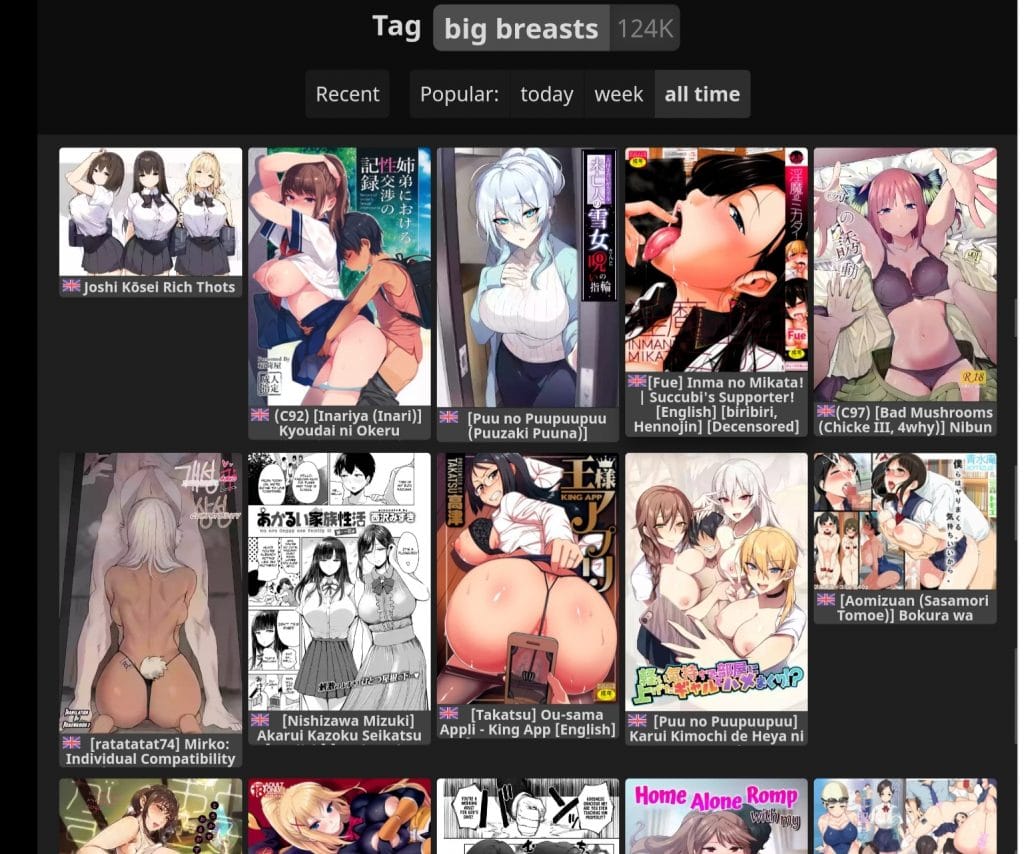 nHentai began a few years ago and has done an excellent job of offering a forum for people who want to see original Japanese hentai from some of the best artists in the industry.
The homepage is dedicated to displaying the most recent content that has been posted, as well as the language in which it has been written. Every post has a small flag next to it, the majority of which are Japanese, English (shown with a British flag), or Chinese. I strongly suggest that you look at the tags section to see what categories are available. Popular choices include anal, which has 50,000 video files.
Check out the full review of nHentai
PROS:
Exciting user interface
Cute and enticing designs
Wide selection of videos
CONS:
Existence of some weird hentai porn
---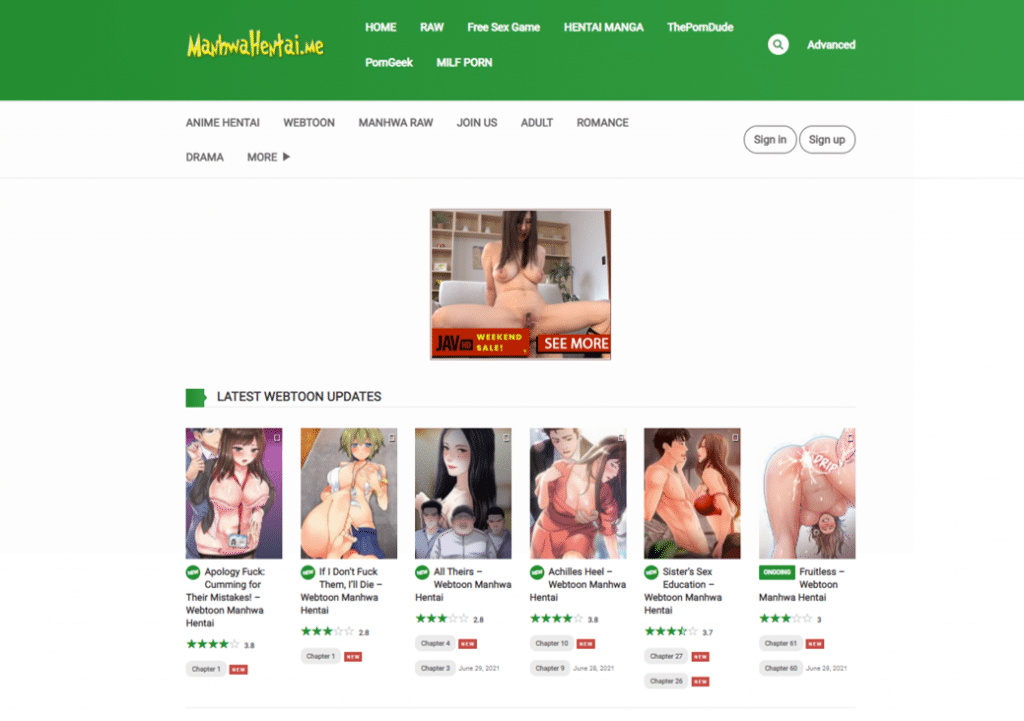 Manhwahentai is an excellent website with some tremendous Korean manhwa porn. I enjoyed it since the tales are more engaging, and the art is unique compared to typical Hentai. Manhwahentai has also come up with a beautiful concept of compiling all of these series into a quick and dependable website. This site is far more reliable than many of the free manga sites I used in the past.
Manhwahentai also performs an excellent job at remaining current and maintaining high ratings. Because it's such a popular site, you will discover many ratings that will help you figure out which things are worth trying next.
Take a look at the full review of ManhwaHentai
PROS:
Efficient English translation
Free comics to read
Wide selection of contents
Has a discussion section
Good quality comics
Diverse topics and plots
Good mobile display
With dramatic and engaging storylines
Comics load fast and quick
CONS:
Too many advertisements and pop-ups
Not all hardcore
The absence of sex scenes sometimes
Not so good layout
Some censored contents
---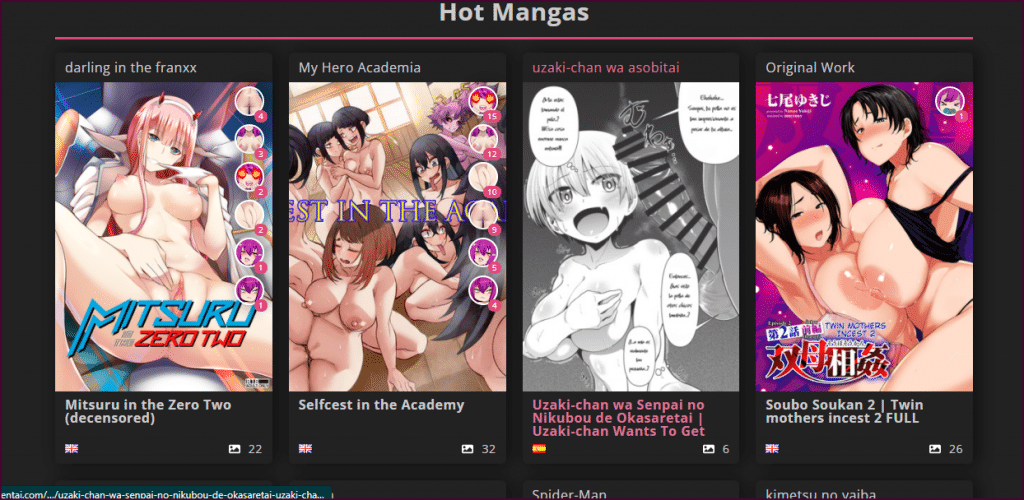 SimplyHentai is a complete source for your anime/hentai desires. Here's where you can discover new videos of your beloved sex anime shows and comics to browse, all without needing to pay anything. Now you will find everything you could possibly want to fulfill your highly unique erotic dreams and discover new and thrilling fetishes.
Here's a full Simply-Hentai review
PROS:
Massive selection of hentai content
Full-length collection of Hentai episodes
Amazing navigation and design
Supports mobile browsing
CONS:
---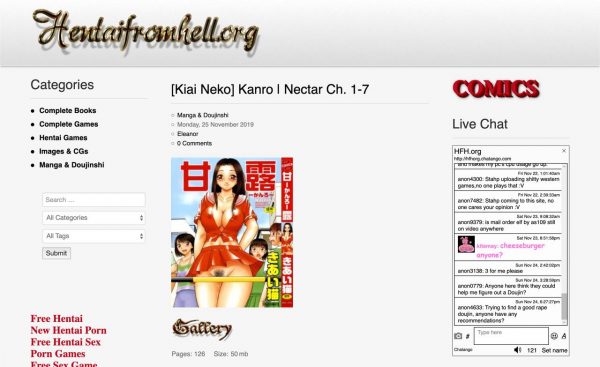 Hentai From Hell is an excellent name for a forum dedicated to naughty hentai porn. Every day, many new comics are added, so the archive is extensive. We are talking about over 3,100 pages, each of at least ten hentai galleries. However, the presentation of these comics is lacking since they are simply thrown on the web with just a title. HentaiFromHell is just as simple as websites come. There are no frills, only naughty anime porn that you can appreciate right now. I like how they specify the size of each comic and the number of pages.
PROS:
Free access to hentai porn
Updates regularly
Various content
CONS:
---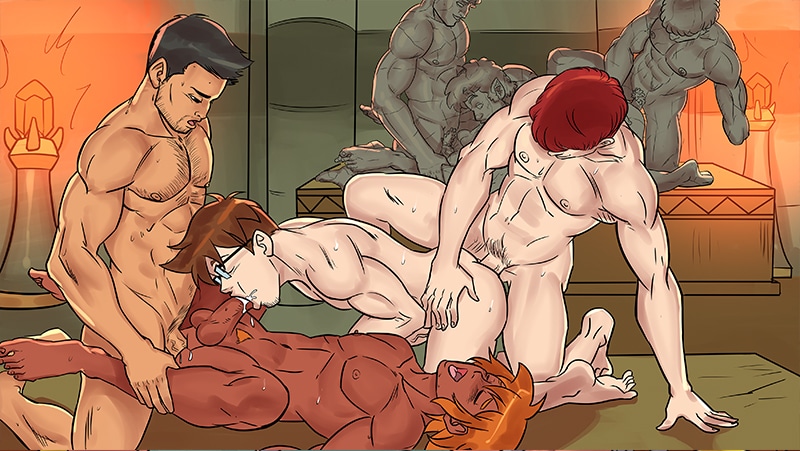 Xbooru is one popular place for enjoyment and gratification among hentai fans. It has been compared to other Booru pages, and this is right. However, the material is entirely different. The Booru sites are structurally identical, but not in the gallery, which is fantastic! You can go on various picture boards, but the basic concept and form will still be the same.
Furthermore, instead of giving feedback and waiting for the artists to reply, you can use the Discord chat to talk about whatever you want. There must be no other spot with as many pictures as Xbooru. More than 50 thousand photos are sure to excite any hentai fan! If you like anime-styled porn, you should surely visit this website.
Check out the full review of Xbooru
PROS:
Variety of pornographic contents
Regular updates
Lengthy videos and materials
Amateur and professional video contents
CONS:
Limited access for non-members
Advertisements are plenty
---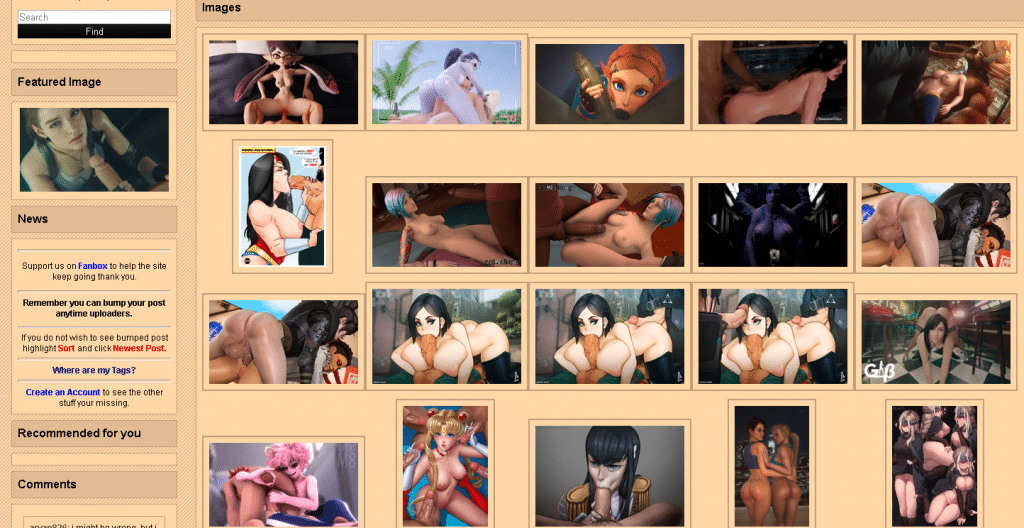 Rule34hentai is a pornographic image paradise where its brigade of devoted consumers provides the content. You will find all your beloved characters fucking and sucking in its massive gallery, whether from Frozen, Overwatch, or The Simpsons. Basically, the site aims to provide you with animated fun and Rule 34 enjoyment.
Click to see the full Rule34Hentai review
PROS:
Loaded with hentai contents
User friendly and easy to access
Fantastic search engines
Amazing navigation tools
Updates regularly
CONS:
Minor members of the community
Slideshow contents are unavailable.
Minimal advertisements
---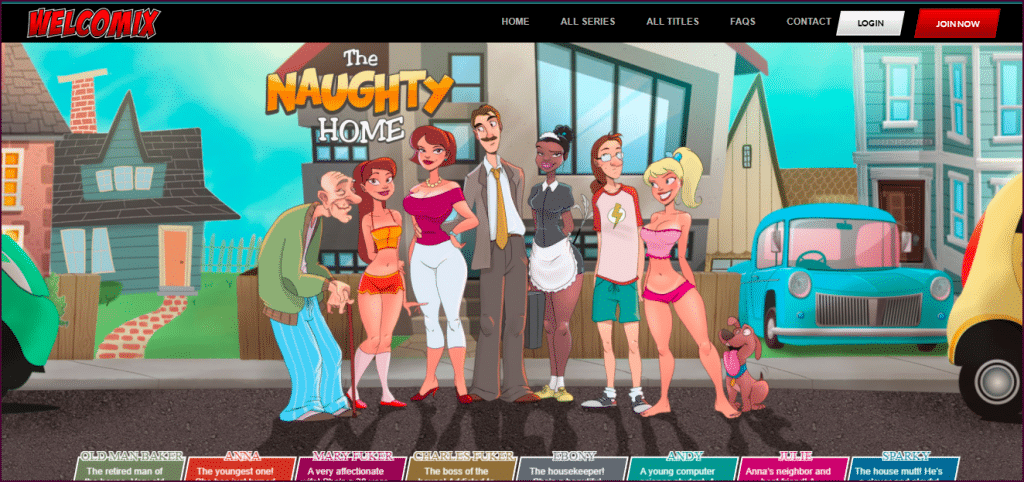 Welcomix's subscribers get all-out access to various comic entertainment through animations, comic strips, adventures, and fantastic artwork in every issue. If you visit Welcomix, you'll be treated to some genuinely bizarre romance among featured parody characters. It has quite a massive casting in terms of quantity and quality and rendered everything in impressively high-quality resolution.
Learn more about Welcomix with this full review
PROS:
Massive comic collection
Supports mobile browsing
Plenty of comic series available
Caters to various genre
Updates regularly
CONS:
You can't play slideshows when reading comics
Needs monthly payment to access
---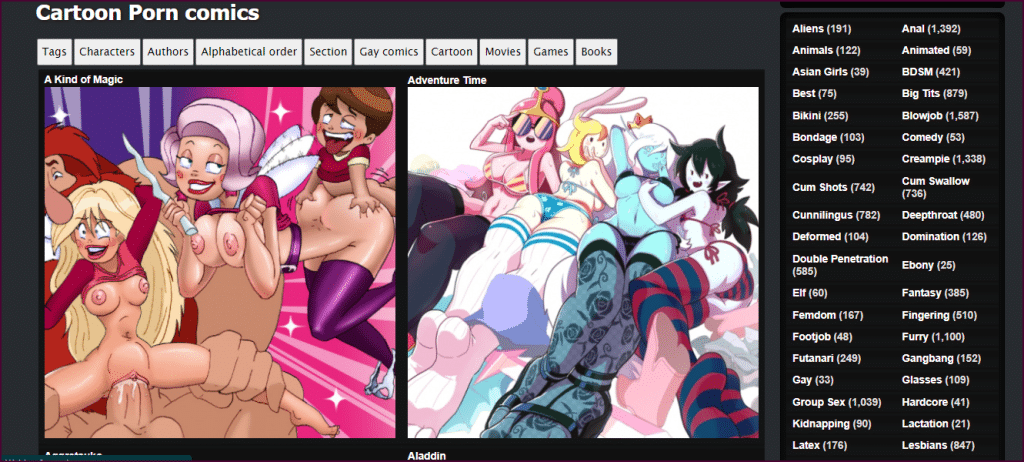 MultPorn is a comic porn site that features films, cartoons, and kick-ass manga hentai. It provides its audience with a kind of content that destroys the "limits" that real humans can do with our bodies. Typically, these girl characters go on covert espionage missions, fuck extraterrestrials, and take huge fucking cocks along for fun. Apart from comics, MultPorn also has hentai videos that I'm sure will leave you breathless.
Check out the full review of MultPorn
PROS:
Massive collection
Diverse content
Lots of famous characters, movies, and shows
Easy to use
Free and all-access
CONS:
---
Bottomline
Yande.re is a gem in the world of Hentai imageboards. If you're looking for softcore Hentai content, you won't find a better website than this. Sure, it may not be the best if you want to upload content or indulge in hardcore stuff, but it's still worth a visit. With its sleek design, easy navigation, and a vast collection of high-quality images, Yande.re is a dream come true for those who want to rub one out. So, grab a box of tissues, lock the door, and get ready to explore the site's excellent content. And remember, with Yande.re, you'll always find something new to satisfy your desires. Enjoy the ride!
All 71 Other Sites in This Category Worth Checking Out:
LoL Hentai Review & 12 Best Hentai Porn Sites Like LoLHentai.net Show Me 12 Alternatives for LoLHentai.net Hey there, fellow gamers and hentai enthusiasts! Today, we're diving into the fascinating world of LoLHentai, also known as League of Legends but with a hentai twist. Now, I know what you're thinking – "What on earth will happen […]