Updated on: December 8th, 2023
Studio FOW
& 12 Must Visit Hentai and Anime Porn Sites Like StudioFOW.com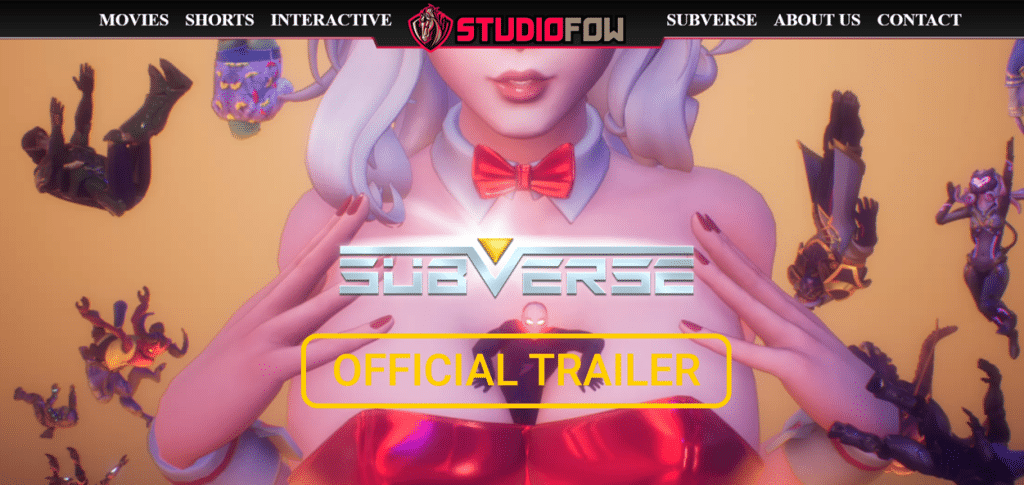 Studio FOW sounds a bit interesting. This hentai, porn, and erotic game page targets an all-in-one escapade. Those addicted to this world's adventures may find Studio FOW a captivating arena. More so, if you adore video game franchises like World of Warcraft and Tom Raider, you may get to unravel your lust for the characters. Studio FOW exhibits a library of 3D models in their most vulnerable pursuits. Gone are the brave women on battlefields seeking great sex at war. Fans may heighten their expectations with Studio FOW's impeccable promises. We are here to check how true they are, dude.
Official URL: https://studiofow.com/
Speaking of promises, what do they want us to see? Studio FOW gears to deliver very high-quality items. The site used the term 'very,' suggesting high resolution and production. Studio FOW also covers unique fantasy plots to arouse your imagination. The storylines are linked to the games in the venue. Thus, you may follow through the scenes and stimulating pieces. Not just that, Studio FOW crafted a tempting fifteen-minute rollercoaster films. This duration is the least you can get; therefore, expect longer movies for your dick to savor. Damn, I am ecstatic to see Lara getting a creampie.
Awed with Studio FOW's Intense Production Quality
Studio FOW definitely knows what it is doing. It does not limit itself, thus, extends to make your browsing the most extraordinary experience. How can Studio FOW assure fans? The site itself utilizes a movie maker called Source Filmmaker. This software is also linked to the famous game mechanisms from Valve. Avid gamers know Valve's majestic contribution to our game world. This same engine is why we adore Counter-Strike and its superb animations. From here, porn fans may manifest a hardcore quality and consistency.
Everything you will see at Studio FOW is a product of thorough planning, storytelling, and jerking. The page is suitable for claiming a hefty, solid, and consistent video definition. Since its first video release in 2014, Studio FOW has left a mark on thousands of masturbators. The sound features attracted global perverts and made Studio FOW an impeccable destination. However, as it carefully solidifies its collection, the number of treats is at stake. The materials gradually increase over the years to emphasize each item's quality. Your dick must appreciate each flick, pal.
Slow Growth in Video Numbers, but Followers Are Tremendously Escalating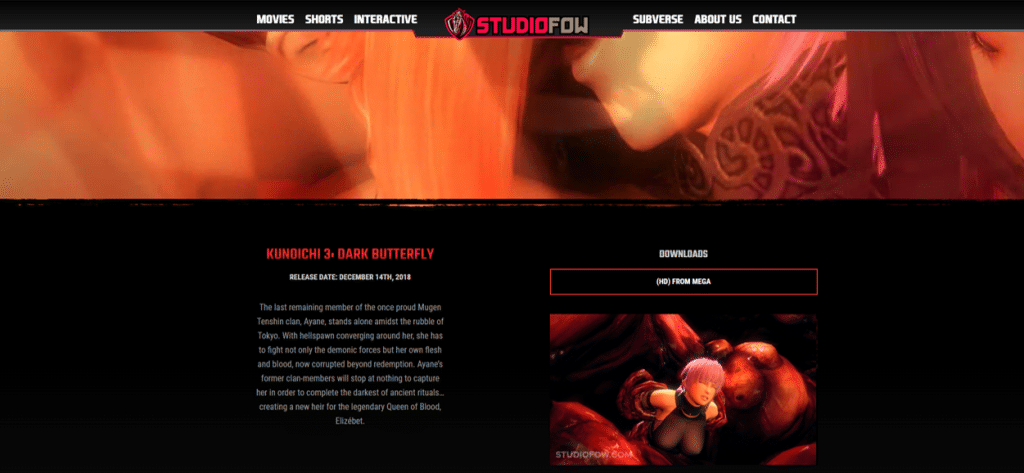 Despite the compromised quantity to address the sheer quality of videos, followers find this situation attractive. With this, Studio FOW gathered a strong following of mature and adult fappers gearing to see Lara Croft and Little Red Riding Whore in their sexiest activities. Mind you, below eighteen-year-old fappers, may fail to see these masterpieces. Studio FOW is strict in implementing its age-appropriate policy. I shall consider that a good move, pal. More so, fans are urged to taste this global festivity because of the decent voice acting.
Yes, dude, the passionate people behind Studio FOW caught the tickles of fans with its savory selection of crazy fucking in jungles, rivers, battlegrounds, and more. The family also grew in numbers, with previously two artists in the community. Presently, Studio FOW employs more workers to provide sensual experiences. Not just that, the site now has enough voice actors to ace that jerk-erecting nastiness. As soon as you launch your browser to Studio FOW, you will see the not-so-usual porn exploration. I am excited for you to try this mouthwatering pursuit fully. But if this isn't your first time in the arena, I know you are crazy enough to visit multiple times.
Shall I Give You a Dick-Blowing Tour?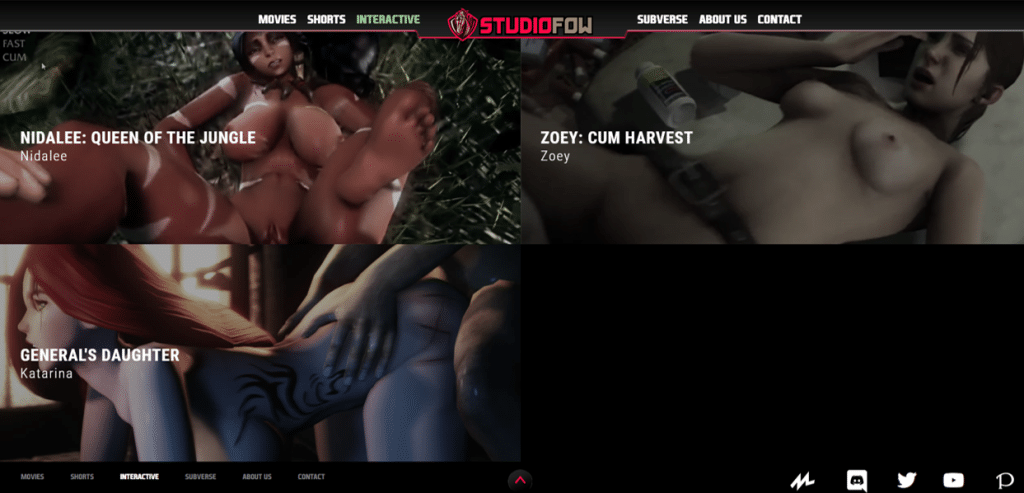 Studio FOW oozes with an appeal. As an occasional gamer, I commend the overall layout. At first, porn would not come across your mind as soon as you land on the platform. The site could pass a new game adventure domain. Without the number of 3D naked boobs and pussies, I would not think of getting a horny tour here at Studio FOW. It shows how convincing the platform gives a palpable arena for your subsequent fap-joy immersion. So, what does the page look like? I must say, classic, dude. Studio FOW launched a fascinating domain with massive montages and character images.
The babe in the central area welcomed me with links to its latest erotic game, "Subverse." There is a button for the official trailer that you may escape for a bit. However, if you wish to salivate directly, I suggest you move further and enjoy the preview images of Studio FOW movies. But before I give you my experiences with the films, I shall thoroughly describe the design. By now, you are probably relishing the quality. The logo looks hot, presented with a horse head in flaming red. In connection, the entire Studio FOW arena showcases black and red hues to seal the theme.
Immersed in Studio FOW's Caliber Segments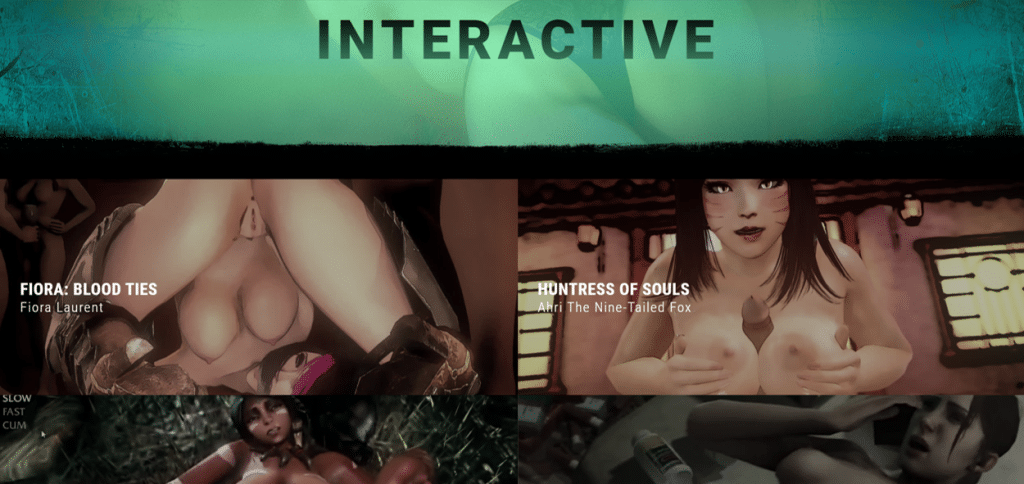 Moving around the vicinity requires little effort since Studio FOW has a clean abode. I haven't seen any unnecessary pop-ups or spam banner ads. Indeed, Studio FOW is far from your usual porn experience. Visitors may pay a quick tour on the links to Movies, Shorts, Interactive, Subverse, About Us, and the Contacts Menu. I did not waste time and immediately grabbed a short Tomb Raider scene where Lara Croft ran a hundred miles while getting fully naked. Later on, she got fucked and was screaming in total satiation. Lara endured the challenges on the lost island with sexy slutty scenes entertaining her audiences.
Furthermore, each item at Studio FOW comes in an informative layout and high-quality preview images. Studio FOW will offer a short movie description as you tap the materials. But what makes the collection salivate, even on the home page, is its porn image's production value. The 3D animations are serving my dick with sensual reasons to rub it. It is, even more salivating since the color themes revolve around dark gray tones and feisty red ones. Apart from Lara, various bitches are masturbating in the 3D scenarios. Studio FOW presents on-point details like bodily reactions, eyes rolling, pussy hair, and overall character looks.
Studio FOW: Upcoming Films, Image Galleries, and More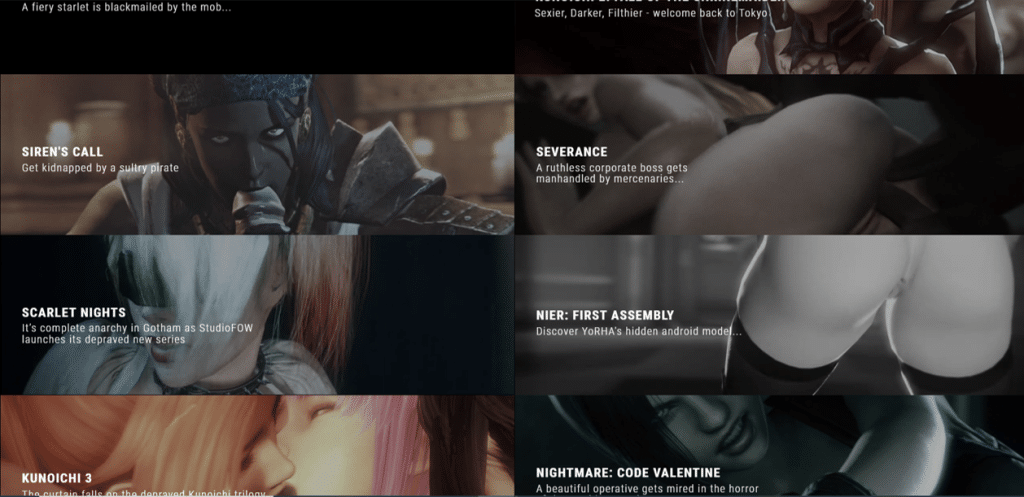 There is much to see at Studio FOW, including a mesmerizing and show-stopping selection of past movies, future items, and blog posts. The movie section houses more than ten movies, so you may give your dick a fantastic treat while waiting for the newest releases. Since the films cover much time to finish, I admire Studio FOW's way of crafting multiple deals in a row. The site is also transparent with the progress of each video in the making.
Meanwhile, the library films manifest many details like release dates, video game inspirations, the storyline, download links, and the teaser. You should also grab a visit to the gallery so you'll take notice of the hardcore and professionally crafted mini animations. It seals the incredible deal. I did my digging during my recess at the office, and honestly, the content is entertaining. Lara's Nightmare and Platinum Payback gave me a good one. This part of the page is like an appetizer before the main course.
All Movies Are Free at Studio FOW!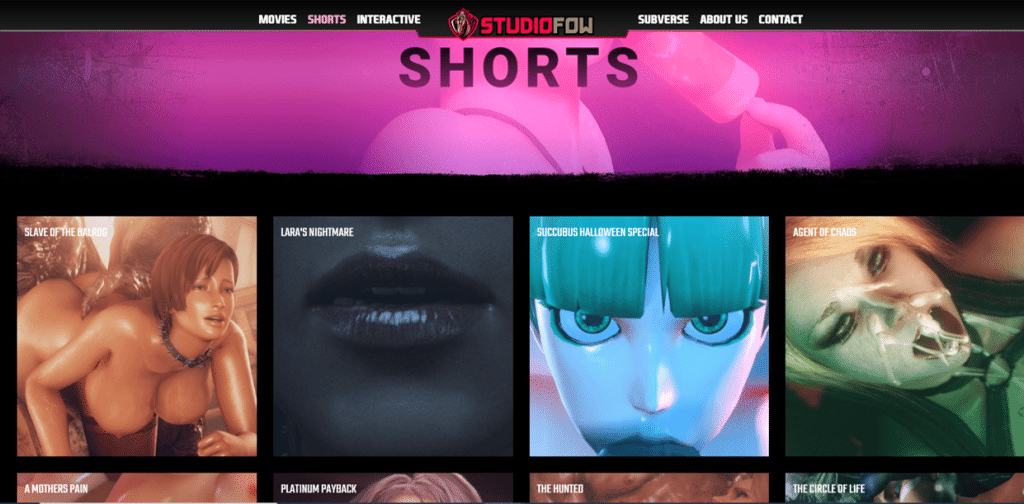 Whoever told you that the salacious deals here require a large sum of membership fees is wrong. Incredibly, you don't need to spend your money on these delights as they all come for free. Downloads cost nothing; the perks are also available in other porn venues. How great is that, pal? The only downside of Studio FOW is its small-scale library. Regardless, the revolutionary selection speaks more. The voice talents are also doing the most fantastic job here. They make each scene orgasmic and straightforward to the needs of many perverts.
Moreover, the fucking stories are undeniably made by legit porn makers. The artists captured not just the fans of these characters but the new-found visitors too. Studio FOW loads sex parodies not just from Tomb Raider but to The Witcher, Little Red Riding Whore, Resident Evil, Overwatch, and more. Enjoy the grandeur of Little Red Riding Hood's wet pussy while getting licked by giants in the forest. All possible fetishes are available at Studio FOW. Your most loved ass fucking is also exhibited. Save your favorites for immense satisfaction, and go!
Some Pieces That Guarantee You Great Masturbation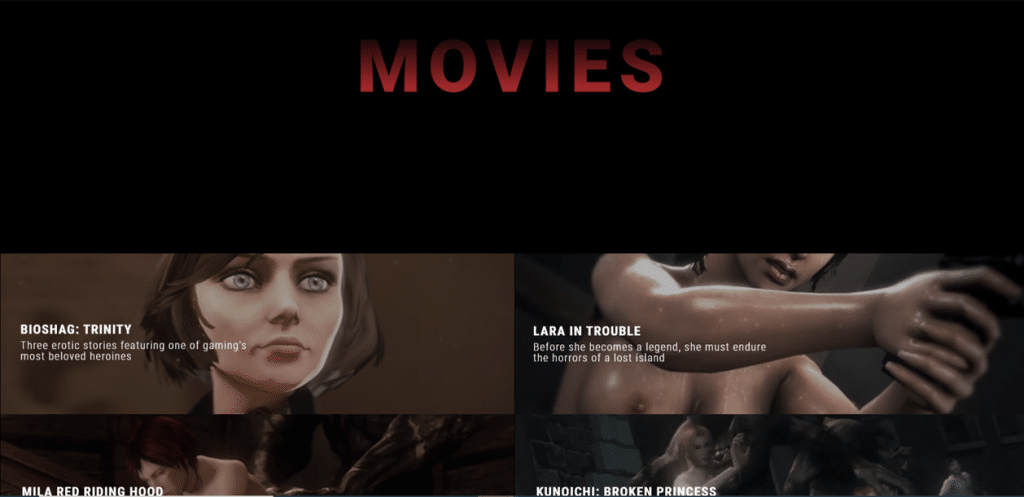 Boy, I dropped by the Interactives section and fell in love with the majority of items. Not just with the storylines but the undeniable orgasmic and high-end quality. I had a great experience with Huntress of Soul, Zoey Cum Harvest, General's Daughter, and Fiora Blood Ties. The impressive library enticed me to go home and fap 24/7 with these representations. The exploration would be more drooling as you take note of the influential streaming players. Overall, the Studio FOW artistry awakened our adoration for 3D porn and the juicy concepts revolving around these horny feasts.
The Pros and Cons of StudioFOW.com
PROS:
Inspired by hot and famous video games
High-quality collection
3D porn
Free materials
Download links
Clean site
Classy presentation
Horny storylines
CONS:
Small collection
Inconsistent updates
---
Top 12 Must-Visit Hentai and Anime Porn Sites Similar to StudioFOW.com: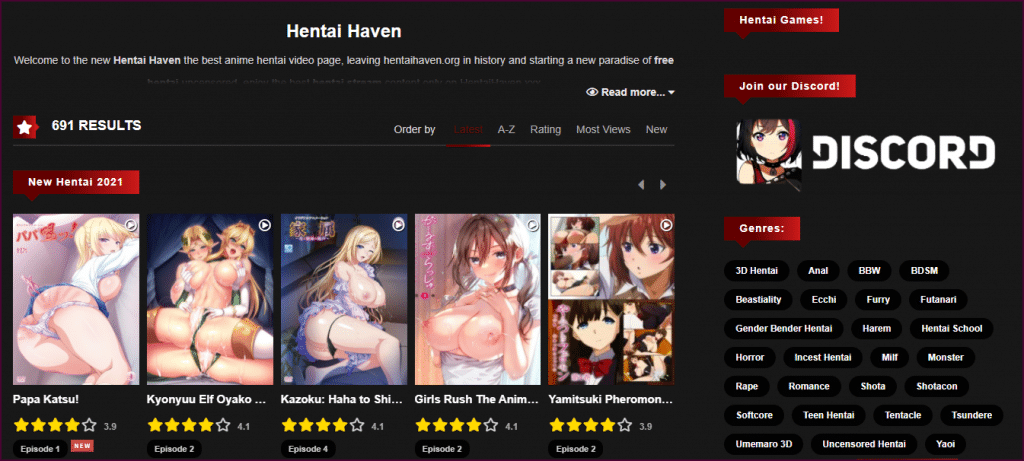 HentaiHaven is perhaps the most dedicated hentai site I've seen so far. It's serious about its niche and goal — and that's to provide incredible animated movies, clips, and the likes. You can tell how Japan, including its anime industry, heavily influences it from the content itself. No wonder why people are keep coming back.
Read Hentai Haven full review.
PROS:
It has fantastic sex games
Effortless to use
Navigation is simple
Plenty of content
CONS:
Requires registration to access the forum
Basic design
---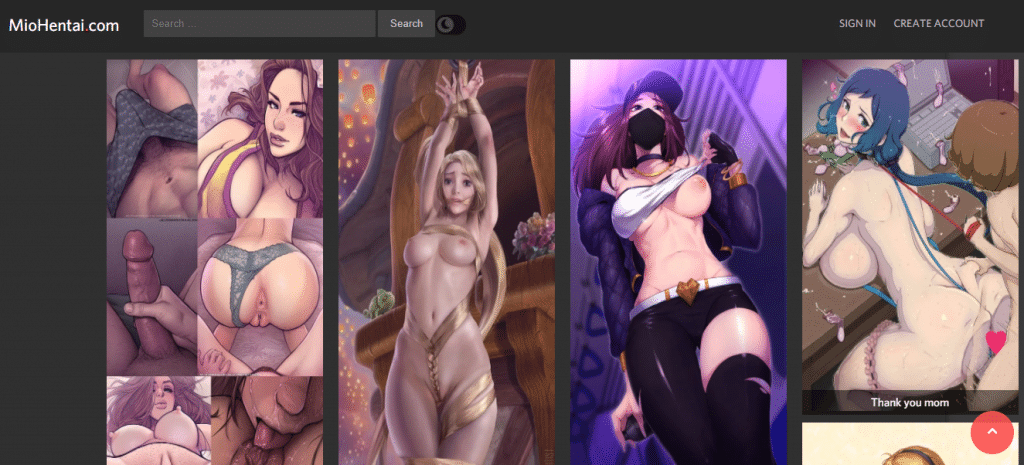 MioHentai has roughly 1300+ videos available; most of them are censored content. I also found out that there are around 600+ videos with English subtitles and the remainder are raw footage. The 3D videos collection has more than 500+ content, which plays around boobs, fetish, monsters, aliens, and more. MioHentai has a great feature, with an easy navigation system employed. Everything you see around the page seems newbie-friendly and straightforward to understand.
Grab a quick bite with this MioHentai review.
PROS:
Design is accessible and user-friendly
There are taboo themes
Uses 3D and 2D animation
Plenty of categories
CONS:
Mostly censored content
Some ads
Registered users can access some member-only features
It has redirect links available
---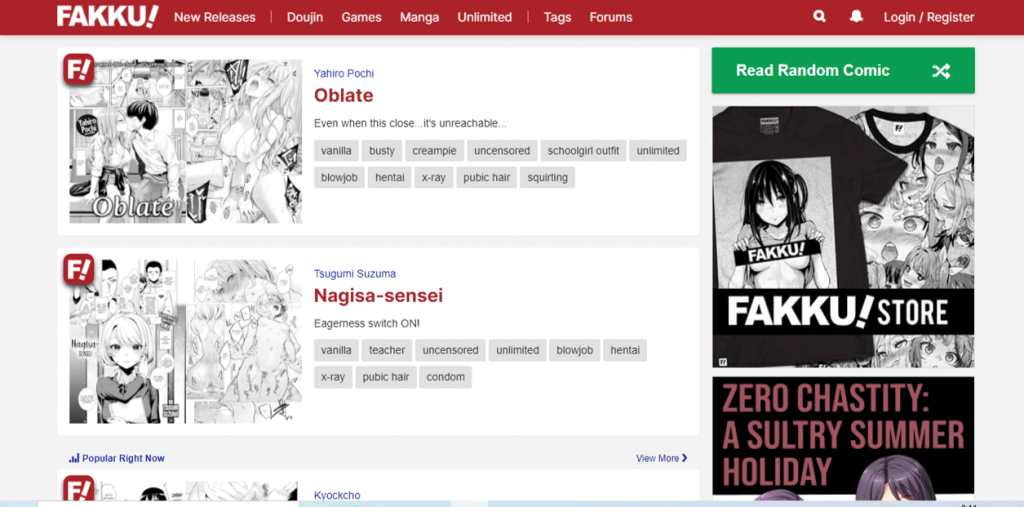 Fakku is a reputable distributor of original, translated Japanese hentai and manga. They have even made their own games, and you will enjoy yourself here. Fakku is, for the most part, accessible. Fakku, on the other hand, sells premium anime and comics with its Unlimited subscription.
By buying it, you will not only gain access to the most recent material, but you will also get all previous issues from a variety of well-known comics such as Kairakuten and Koh. You will also get a 10% discount on anything in the Fakku shop, as well as access to beta features on the website and uncensored hentai.
PROS:
A wide array of pornographic contents
Lengthy videos and materials
Amateur and professional contents
CONS:
High-definition videos are accessible for premium members only
Advertisements
---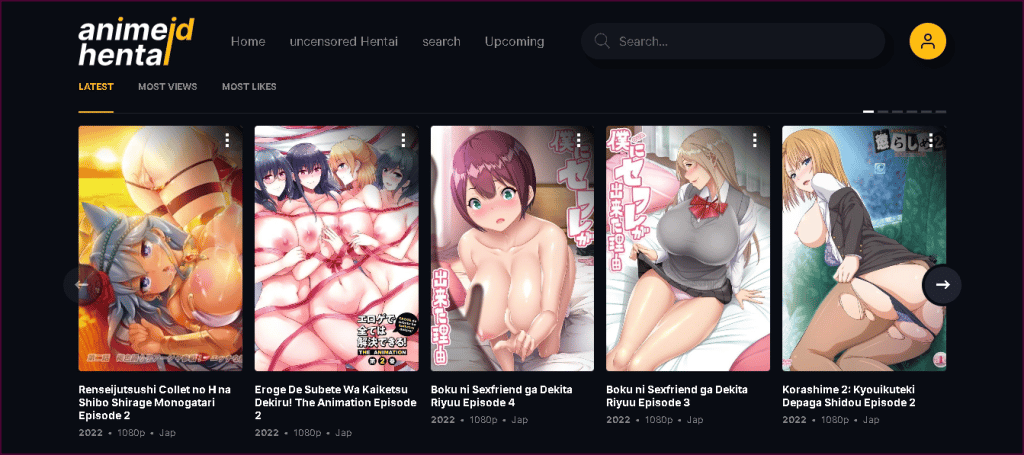 There is plenty of sexy material for all tastes on Anime Hentai, and the navigation layout makes it easy for every user and visitor. You can choose from selecting common tags at the top of the homepage, just below the main menu. Moreover, all the strangest fetishes are welcome here. By ticking the page you want to read, you can choose it. This is a fantastic choice for those who do not have the patience to read the whole story but still want to learn more about it.
PROS:
Loads of free hentai contents
Easy and accessible to navigate
Good quality hentai videos
CONS:
---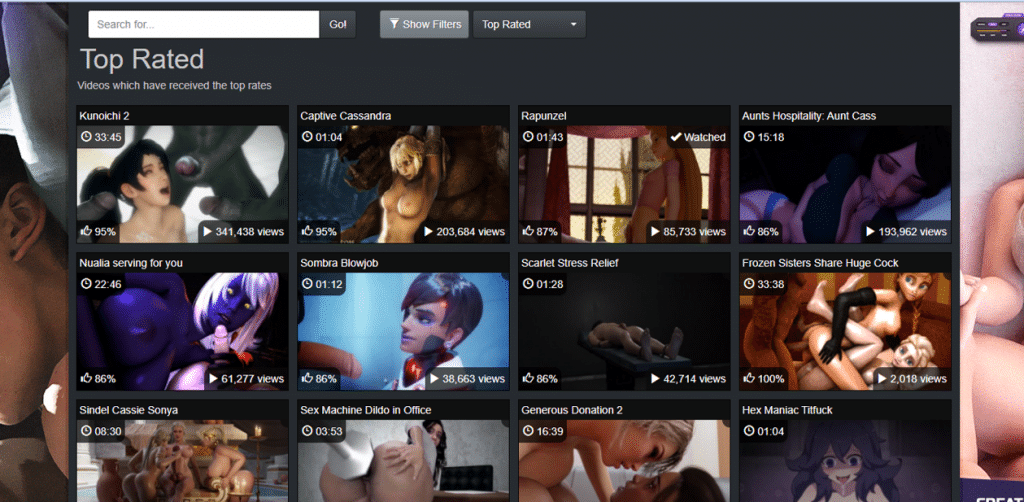 Millions after millions of pictures, gifs, and videos are available for your viewing pleasure. If you like hentai, a visit to PorCore.com will make you feel as if you've died and gone to heaven. There's only too much to discover. The web is updated daily, so there's still something fresh and exciting to look forward to.
People have invested time and effort into making these videos, and even though you aren't a big fan of hentai, there are a lot of videos that you will have a happy time viewing. PorCore.com is a hentai platform that can't be matched, not in terms of content, not in terms of frequency of updates, but with its overall functionality.
Read PorCore's full details here.
PROS:
A wide array of hentai videos
Free access
Can be utilizing a mobile phone
User friendly
Easy to navigate
CONS:
Plenty of annoying advertisements
---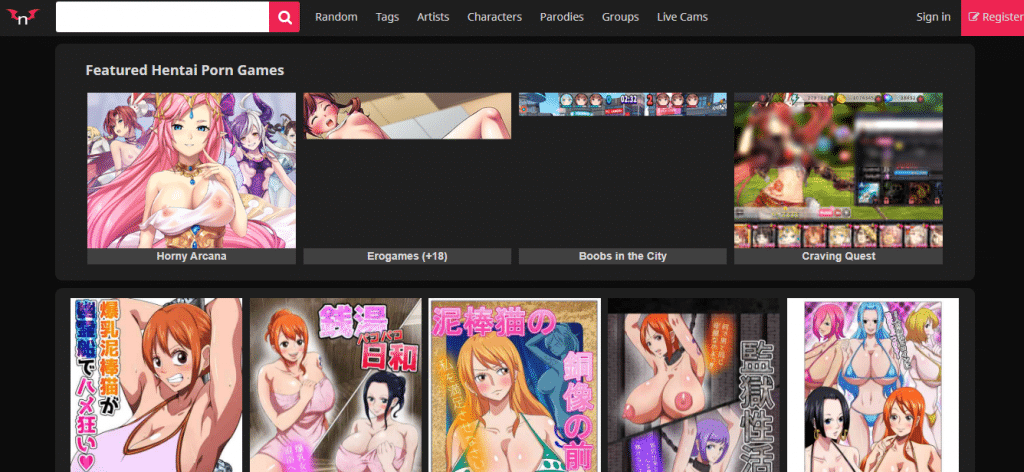 nHentai began a few years ago and has done an excellent job of offering a forum for people who want to see original Japanese hentai from some of the best artists in the industry.
The homepage is dedicated to displaying the most recent content that has been posted, as well as the language in which it has been written. Every post has a small flag next to it, the majority of which are Japanese, English (shown with a British flag), or Chinese. I strongly suggest that you look at the tags section to see what categories are available. Popular choices include anal, which has 50,000 video files.
PROS:
Exciting user interface
Cute and enticing designs
Wide selection of videos
CONS:
Existence of some weird hentai porn
---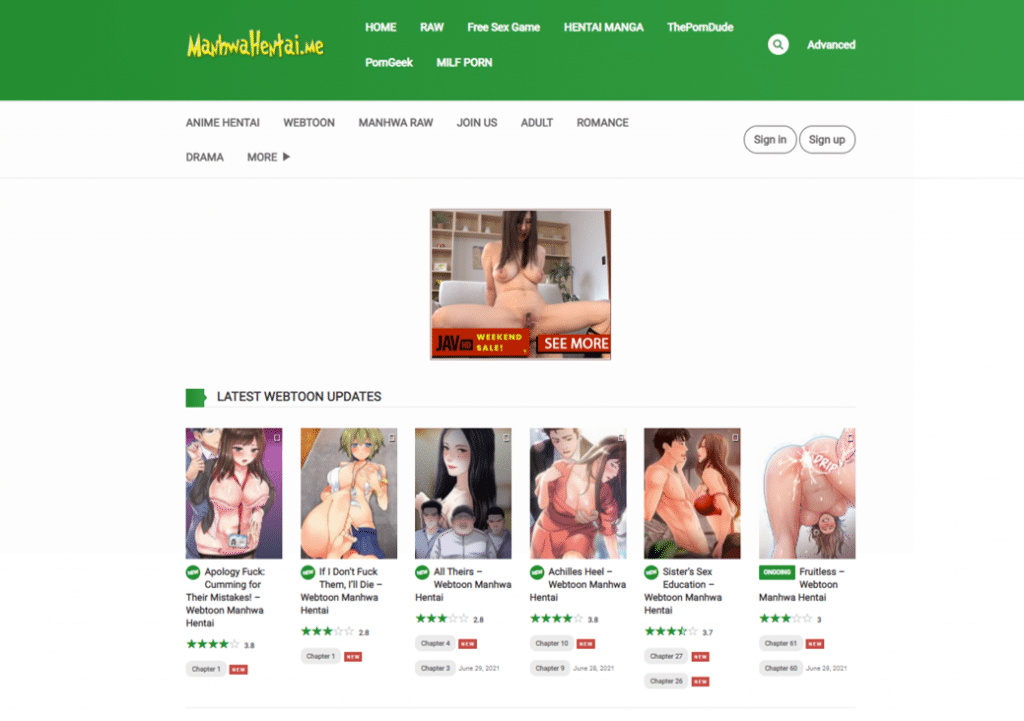 Manhwahentai is an excellent website with some tremendous Korean manhwa porn. I enjoyed it since the tales are more engaging, and the art is unique compared to typical Hentai. Manhwahentai has also come up with a beautiful concept of compiling all of these series into a quick and dependable website. This site is far more reliable than many of the free manga sites I used in the past.
Manhwahentai also performs an excellent job at remaining current and maintaining high ratings. Because it's such a popular site, you will discover many ratings that will help you figure out which things are worth trying next.
Take a look at ManhwaHentai review.
PROS:
Efficient English translation
Free comics to read
Wide selection of contents
Has a discussion section
Good quality comics
Diverse topics and plots
Good mobile display
With dramatic and engaging storylines
Comics load fast and quick
CONS:
Too many advertisements and pop-ups
Not all hardcore
The absence of sex scenes sometimes
Not so good layout
Some censored contents
---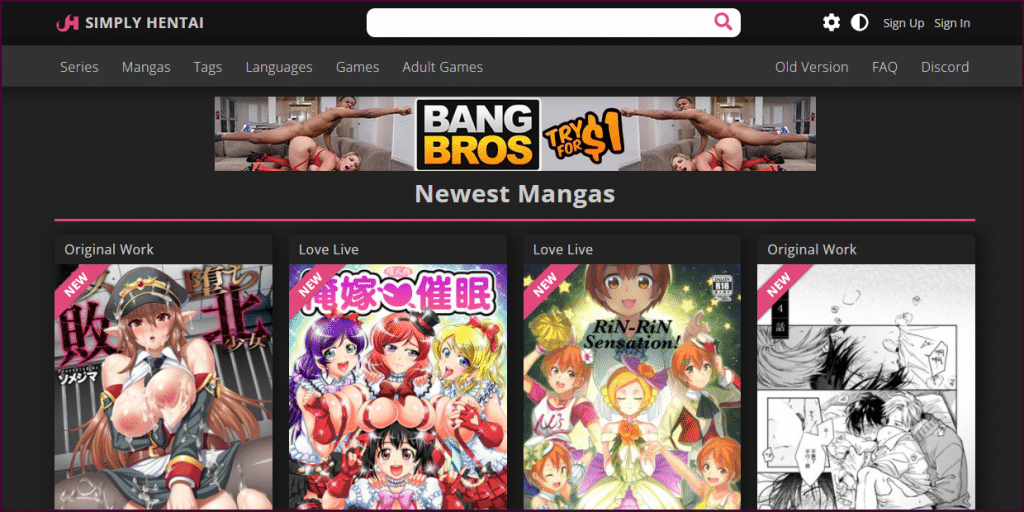 SimplyHentai is a complete source for your anime/hentai desires. Here's where you can discover new videos of your beloved sex anime shows and comics to browse, all without needing to pay anything. Now you will find everything you could possibly want to fulfill your highly unique erotic dreams and discover new and thrilling fetishes.
Here's the full review of Simply-Hentai.
PROS:
Massive selection of hentai content
Full-length collection of Hentai episodes
Amazing navigation and design
Supports mobile browsing
CONS:
---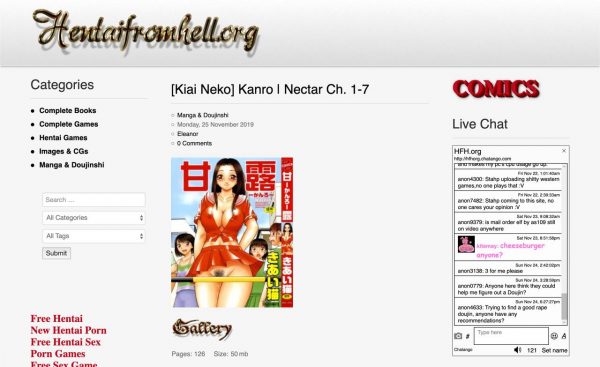 Hentai From Hell is an excellent name for a forum dedicated to naughty hentai porn. Every day, many new comics are added, so the archive is extensive. We are talking about over 3,100 pages, each of at least ten hentai galleries. However, the presentation of these comics is lacking since they are simply thrown on the web with just a title. HentaiFromHell is just as simple as websites come. There are no frills, only naughty anime porn that you can appreciate right now. I like how they specify the size of each comic and the number of pages.
PROS:
Free access to hentai porn
Updates regularly
Various content
CONS:
---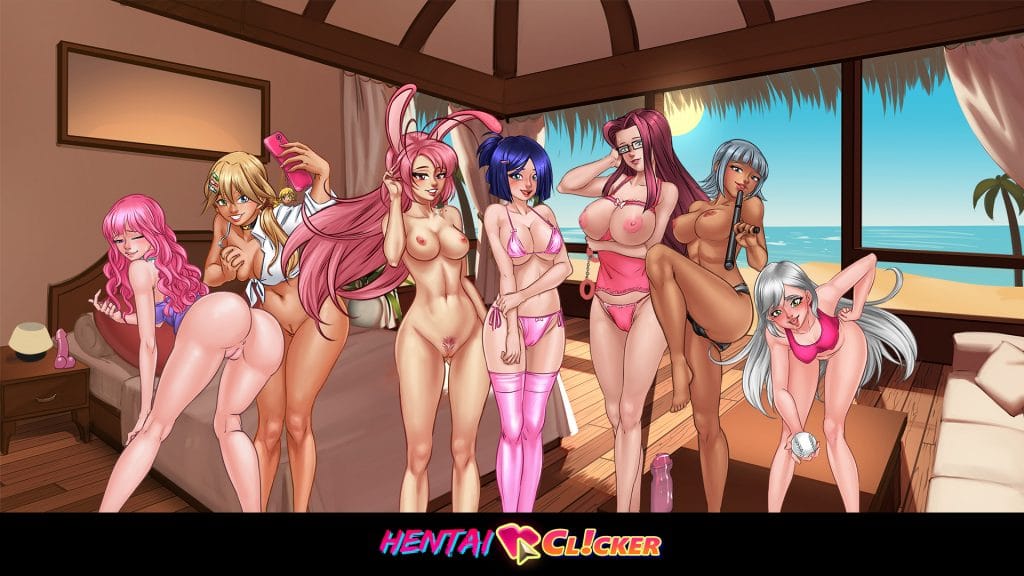 Xbooru is one popular place for enjoyment and gratification among hentai fans. It has been compared to other Booru pages, and this is right. However, the material is entirely different. The Booru sites are structurally identical, but not in the gallery, which is fantastic! You can go on various picture boards, but the basic concept and form will still be the same.
Furthermore, instead of giving feedback and waiting for the artists to reply, you can use the Discord chat to talk about whatever you want. There must be no other spot with as many pictures as Xbooru. More than 50 thousand photos are sure to excite any hentai fan! If you like anime-styled porn, you should surely visit this website.
Click here for Xbooru full review.
PROS:
Variety of pornographic contents
Regular updates
Lengthy videos and materials
Amateur and professional video contents
CONS:
Limited access for non-members
Advertisements are plenty
---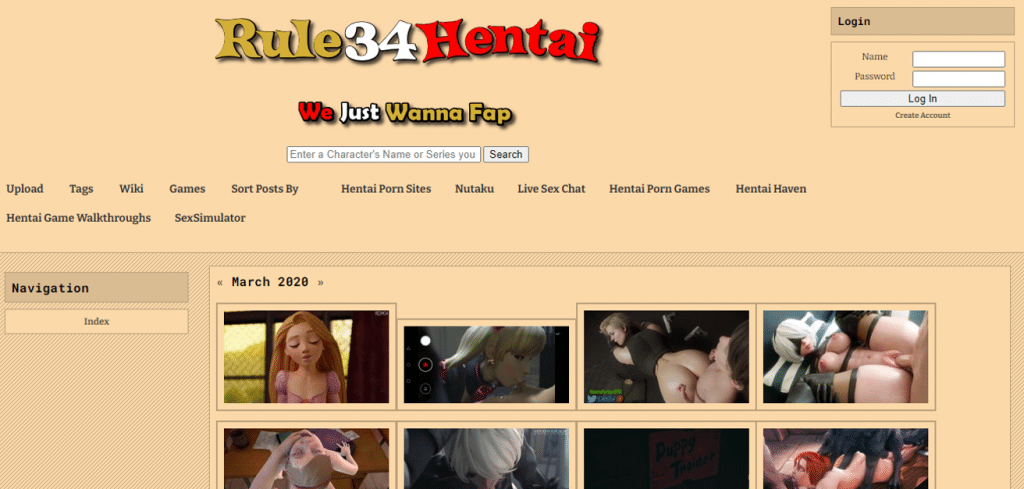 Rule34hentai is a pornographic image paradise where its brigade of devoted consumers provides the content. You will find all your beloved characters fucking and sucking in its massive gallery, whether from Frozen, Overwatch, or The Simpsons. Basically, the site aims to provide you with animated fun and Rule 34 enjoyment.
Check out Rule34Hentai review.
PROS:
Loaded with hentai contents
User friendly and easy to access
Fantastic search engines
Amazing navigation tools
Updates regularly
CONS:
Minor members of the community
Slideshow contents are unavailable.
Minimal advertisements
---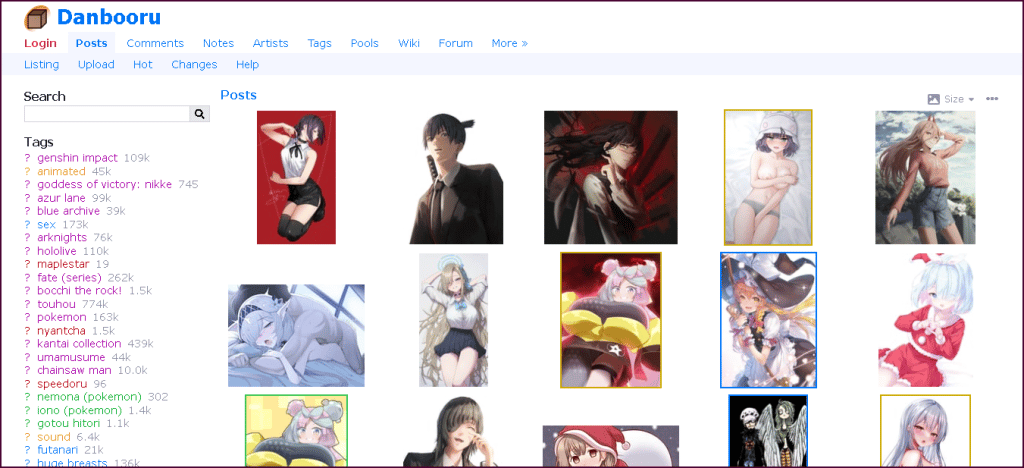 Danbooru is a forum that caters to both developers and non-creators. You can both display and make hentai in this way. Names, creators, visibility, and other factors used to categorize these posts. If you are feeling daring, you can check out the most recent comments on the website, as well as links to sections where you can debate subjects with other enthusiasts.
Basic, Gold, and Platinum membership levels exist on Danbooru, with Platinum being the greatest and Basic being the least. Although absolutely nothing on Danbooru is limited, having a higher tier makes some aspects of the platform easier to use or offers better facilities.
PROS:
Variety of pornographic contents
It consists of anal, escort, cam, and many more porn sites
Lengthy videos and materials
Amateur and professional contents
CONS:
High-Definition videos are accessible for premium members only
Advertisements
---
Conclusion
Studio FOW did great in offering a masturbatory platform filled with revolutionary 3D erotica. You will see your favorite characters transforming into bitches while enjoying hardcore sex. Much more, your mouth will water with the orgasmic voice talents giving life to the action fucking scenes. All the materials are produced in high quality and classic value. Studio FOW is spotlessly perfect for anyone gearing for hentai and professional quality porn. Since they target awesome libraries, fans may expect a slow collection buildup.
All 71 Other Sites in This Category Worth Checking Out:
LoL Hentai Review & 12 Best Hentai Porn Sites Like LoLHentai.net Show Me 12 Alternatives for LoLHentai.net Hey there, fellow gamers and hentai enthusiasts! Today, we're diving into the fascinating world of LoLHentai, also known as League of Legends but with a hentai twist. Now, I know what you're thinking – "What on earth will happen […]