Updated on: December 8th, 2023
Kusowanka Review
& 12 Best Free Hentai and Anime Porn Sites Like Kusowanka.com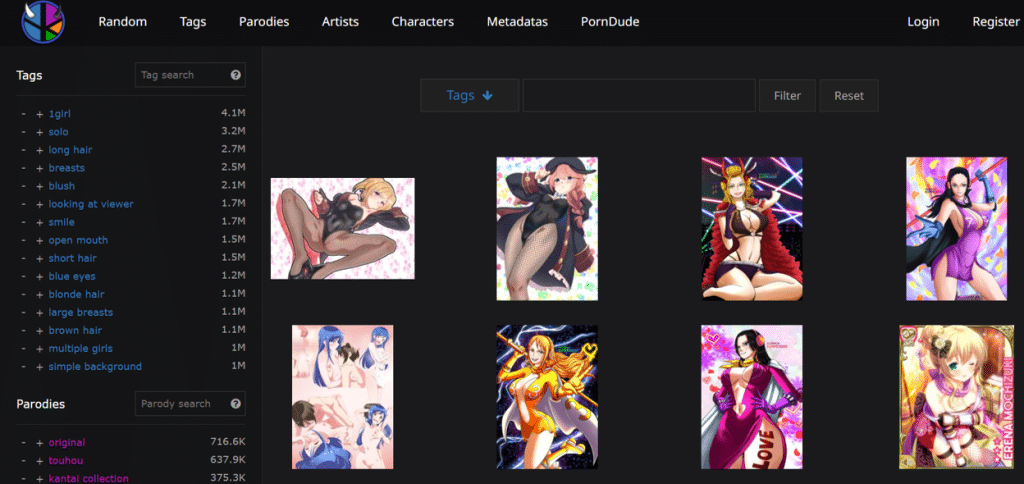 Time for a new round of anime goodness and extreme slutty goodies with Kusowanka.com! The site name sounds a bit weird, but the handy treasures make the page worth it. They say Kusowanka gathered hundreds and thousands of highly erotic hentai images to drizzle your afternoon with a fun-filled adventure. More so, everyone is getting curious about why the site is named Kusowanka and how it contributes to the online porn community. As for me, regardless of what the name of the page is, the gallery items are what I am after. It has been weeks since I reviewed another hentai site; hopefully, Kusowanka will quench my thirst now.
Official URL: https://kusowanka.com
An Imageboard Filled With Unlimited Hentai
Kusowanka gives an irresistible impression with hentai items engulfing its entire library. As they say, anime porn is abundant at Kusowanka; hence, I made no time to hesitate. I grabbed my lubes and other tools and dissected each hentai material I saw on the platform. What is intriguing about Kusowanka is its growing community and remarkable feedback from my fellow erotica addicts. I always love to listen to perverted stories and their experiences with Kusowanka, as it boosts my curiosity about the arena.
It was also revealed that Kusowanka is a few months old in the industry. I was even thinking now how this page is able to deliver a massive selection for a short period. The claims attracted hungry perverts worldwide. It gave Kusowanka a good standing in the biz with record-breaking visits from the erected penis and wet pussies. Kusowanka is also a blend of SFW and NSFW materials. Of course, we shall focus our undertakings on those nude artworks. I am ecstatic to see how big the eyes and breasts of the naked anime characters are.
Not just that, the site is proud to showcase various works of talented artists. Kusowanka has active member engagement features that allow fans to navigate and cultivate a healthy, lustful family. Those who are extra fanatics of message boards will adore Kusowanka's layout. However, like a few bumps in the road, some streamers and peekers find things to dismay about Kusowanka. Truly, you won't see any perfect page, but what brings Kusowanka to my attention is its ability to bring addictive pieces right to our plates. You must know how they do it, dude.
Kusowanka: New Site With a Conventional Style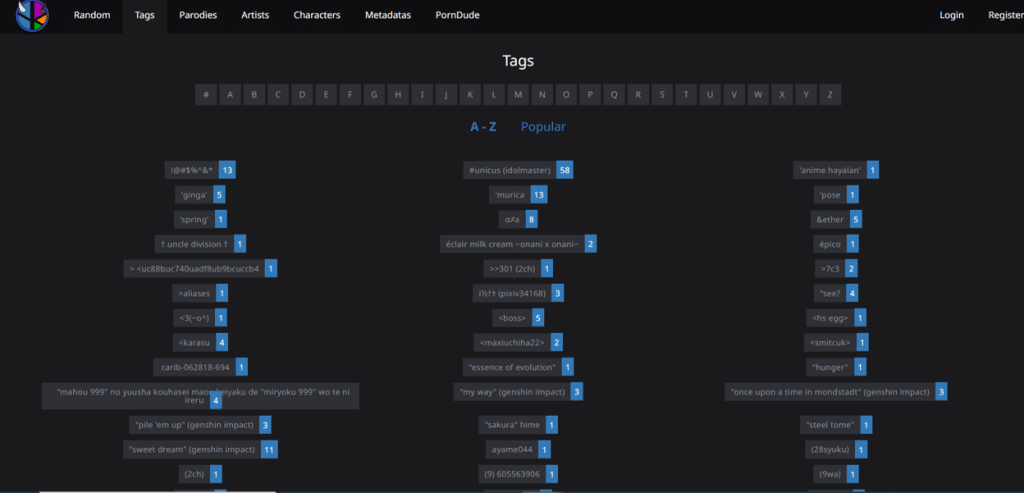 As soon as you hop into the Kusowanka page, you will notice a fairly basic design that has been flooding the porn industry long ago. Sadly, Kusowanka does not have a new ambiance as the domain claims. The image board contains no intricate detail, so you have to explore Kusowanka with some of the most typical web formats. Hence, I won't be surprised if some new-generation fappers may find the home page a bit outdated and weird for their taste. But what is nice about Kusowanka is its straightforward stance. Like any other imageboard page, items are on-point and direct to their patrons' needs.
Creators see no reason to waste time and effort. The page will bring forth the latest artistry at the main doors. With this, fans may immediately track down the newest trends. Site goers may also shield the items from prying eyes because most of the contents available on the homepage are SFW treats. This gives me both pros and cons. You may open Kusowanka in your office or public computer without getting scrutinized eyes. Not only that, this makes the exploration handy and manageable. On the other hand, if you are too hungry for hentai treats, you must make a few efforts to locate the anime porn goodies you are obsessed with.
Kusowanka's Realm of Unlimited Hentai and Anime Stuff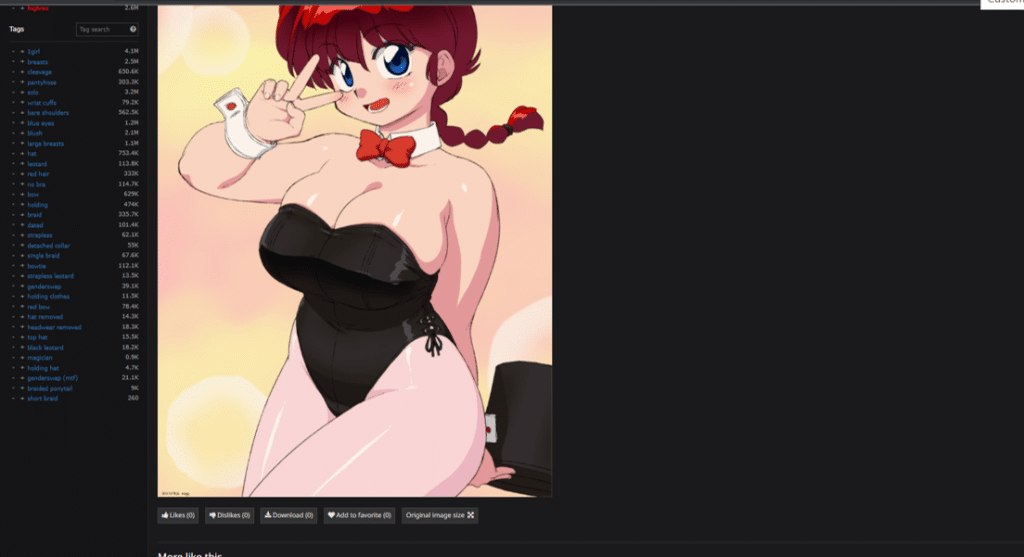 The black abode of Kusowanka highlights the number of animated pieces found on the screen. At the onset of my visit, I snatched more than twenty sexy images of fictional characters and whatnot. Kusowanka shows its confidence in delighting anime fans. Not just that, the overall black backdrop suits the entire display of the domain. Although I found it hard to decipher the site logo, navigating the arena without getting bombarded by advertisements was a breeze. Kusowanka is a free site with minimum to zero commercials. Honestly, I haven't seen one yet; if this continues, I would be very impressed.
In connection to the advert-free experience, it was swift to move around the community. The header contains segments like Random, Tags, Parodies, Artists, Characters, and the links to Login or Register. I believe visitors are not required to register, but yeah doing so will reap a few benefits. I bet you already know this perverted drill. It's good that the process only requires the usual password, email address, username, and others. In addition, Kusowanka also has a great sorting system in that you can see hundreds of tags and labels in the vicinity. You may filter your matches or reset your standard search.
Every option works, and I am glad I get to experience a quality navigational tool. Other than that, you also need to note the few artwork details on the thumbnails or home page. Yes, if you are curious about the artists, descriptions, upload dates, and more, you have to tap each photo to view it vigorously. I thought the task was tedious, but there were still no adverts. I am starting to love Kusowanka. Also, as I delved deeper, I slowly immersed myself in the realm of SFW treasures. Those busty babes are calling my dicks attention. Game on!
Samples of NSFW Treasures You Should Not Miss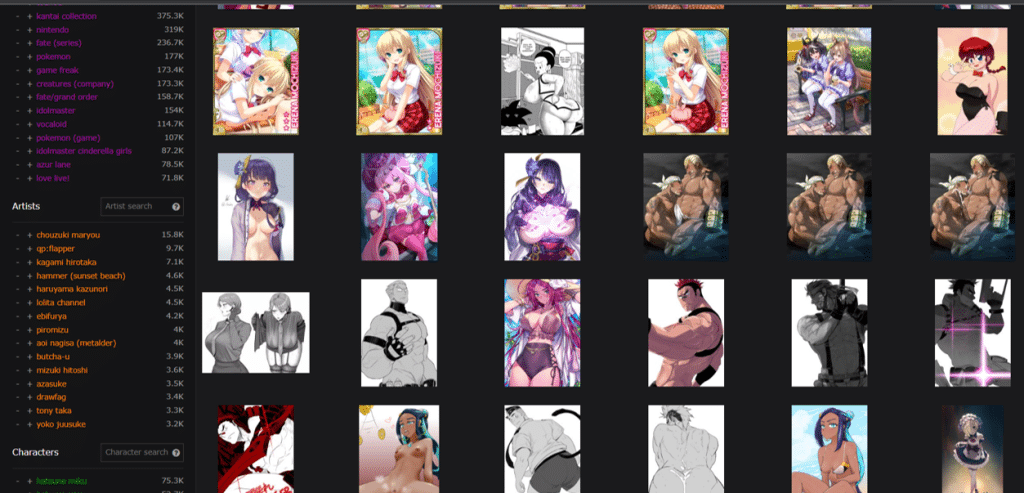 There is a vast gallery of sorts that will wet some pussies and harden dicks. I love the imaginative and horny minds of the creators behind these entertaining visions I see on the repository. You can start with lesbian hotties scissoring each other and naked babes with cute headbands. Some works focus on nudity, while others showcase parodies and furry activities. Anime characters are sunbathing, opening their legs, exposing naked butts, or wearing slutty bikinis. If you are really into intense images, Kusowanka will never disappoint with masturbation pics and the use of sex toys.
Furthermore, there are also hidden stashes that depict fucking, squirting, and more. You just have to use the proper tags and find the most accessible means to dig into the vast library. The fictional characters flood the space with schoolgirls in cute and sexy school uniforms, sexy and seductive versions of Naruto Shippuden casts, perverted girlfriends, long-haired fairies, and thousands of varied concepts you would adore to devour. It is also highly noticeable that most artworks are busty and slutty anime characters. Everyone would salivate as they imagine fondling those pair of boobies.
Kusowanka Numbers are Exhilarating!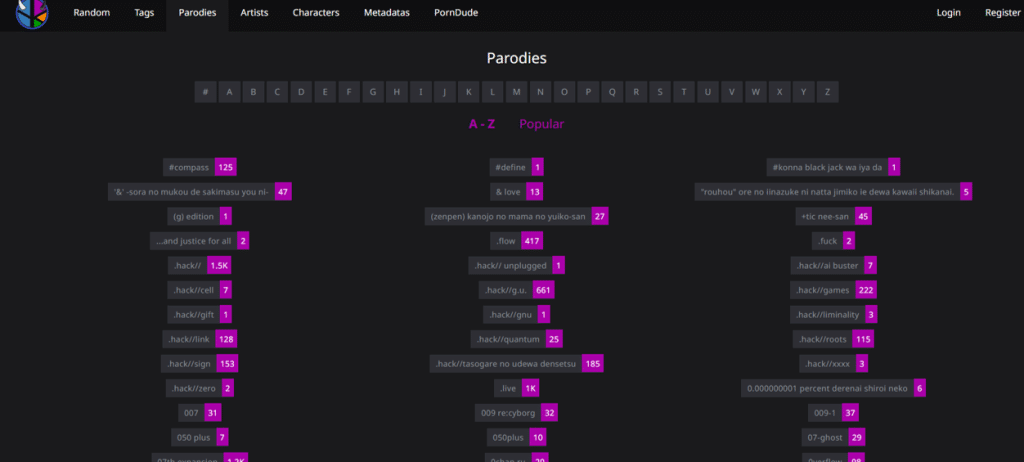 Damn, I was happily scrolling at Kusowanka and was satiated to see a hefty catalog. I know the site is proud to exhibit thousands of hentai pics, manga characters, and more, but I am seeing close to millions of heavenly fap-worthy treasures. Incredibly, the Kusowanka makers built all these deals in a flash. Honestly, I am impressed. Short videos are available, too, but you have to lower your expectations as these perks are few, considering the gigantic image selection. My brain could not decipher the exact number of collections, but most friends claim that Kusowanka has more than one million in the repository.
Moreover, the items come in varied stashes. I see most Japanese artworks, but Western picks are also listed. It was also fun to see GIFs on the field. With this, I am confident that Kusowanka can address the diverse needs of its audiences. Once they know how the site works, they will surely progress and satisfy their penises. Daily uploads are also guaranteed; if not, the domain would not blow this huge. The site also made sure to bring every material close to the hearts of many with comprehensive tags and sidebar tools.
Dude, it was a swift to locate my favorite niches. Each section delivers tags and labels like long hair, large breasts, group sex, masturbation, penetration, solo performance, and more. The hentai stuff is instant boners with big eyes, perfect bodies, and on-point facial reactions. Kusowanka was also able to navigate long overdue obsessions with tons of pornstars translated into kinky anime characters. Monsters, tentacles, and fictional hunks are everywhere, ready to devour female counterparts and unleash their nastiness.
The Pros and Cons of Kusowanka.com
PROS:
Varied hentai niches
Millions of drooling items
Parodies and fictional characters
Comprehensive tags
Great navigational tools
GIFs and short videos
Some SFW items
No ads
CONS:
---
Top 12 Best Free Hentai and Anime Porn Sites Similar to Kusowanka.com: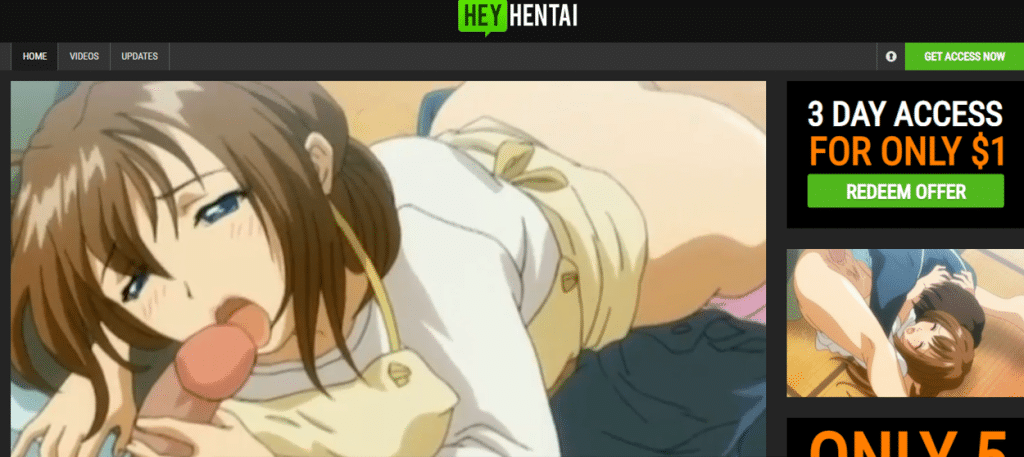 If you seek more hentai stuff, Hey Hentai will give you tons of animated porn. They love to help you explore diverse materials ranging from solo performances to group sex. Hey Hentai gives aid to every fetish craving. It surely entices you to devour its collection. Also, the main page displays orgasmic thumbnails and mouthwatering pieces. The characters at Hey Hentai are equally alluring, seductive, and horny. They will excite your dicks and make you happy with massive uncensored materials.
PROS:
Hot hentai materials
Old hot contents
Uncensored
Good and clean design
Diverse assortment
CONS:
Lacks features
No categories
No search and sorting functions
---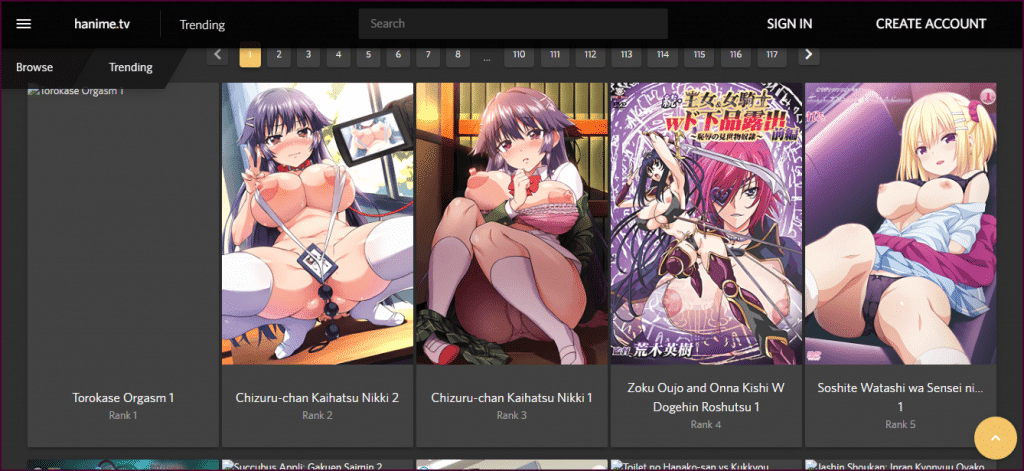 Hanime.tv is another free streaming hentai site, suitable for anyone who enjoys Japanese manga and animated cartoons. Hanime is notoriously known for its huge library hentai. It's packed with sensual scenes and themes that you don't typically see in several traditional pornos. Here, you can search any videos or images with numerous categories effortlessly. Certainly, you'll experience the hottest and most unusual hentai movies ever —huge kudos to this website. In terms of quality, I gotta say that Hanime's high-definition content and promising 4K Resolutions are simply stunning to behold!
PROS:
Amazing content
Simple but intuitive design
Effortless to use
Available as a mobile app
Taboo and bizarre themes
CONS:
Some features require membership
Ads are plenty
---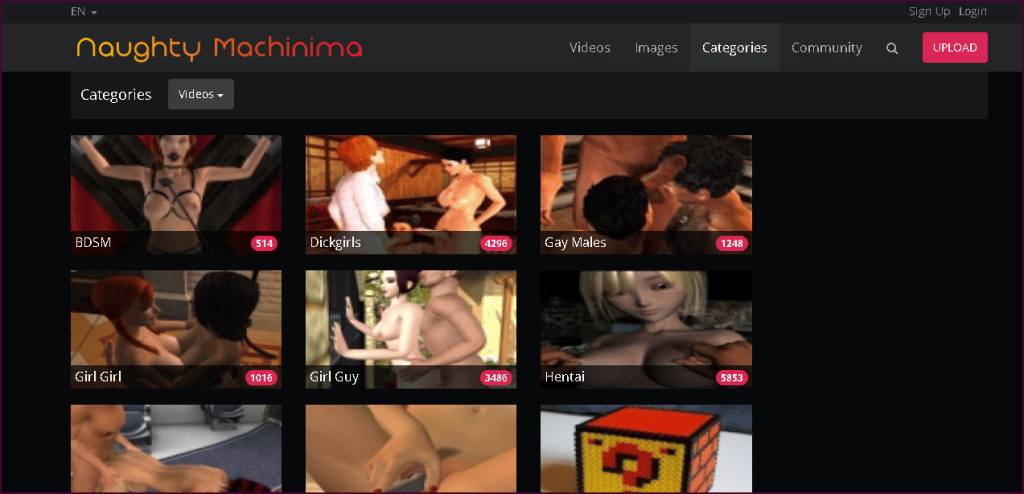 Naughty Machinima is a unique hentai streaming site that offers high-technology videos. The term "Machinima" directly translates to CGI productions, and the team behind the site has incorporated this technology into hentai. It was designed to pay attention to fans of 3D, anime, cartoons, and computer game adult entertainment niches in the truest sense.
Grab a quick bite with this NaughtyMachinima review.
PROS:
Fantastic and peculiar niche
Free source
No sign up needed
It has picture galleries available
Downloading is free
Smooth streaming
Lots of categories are available
Free to upload your creation
CONS:
Some videos were uploaded twice
Some ads
---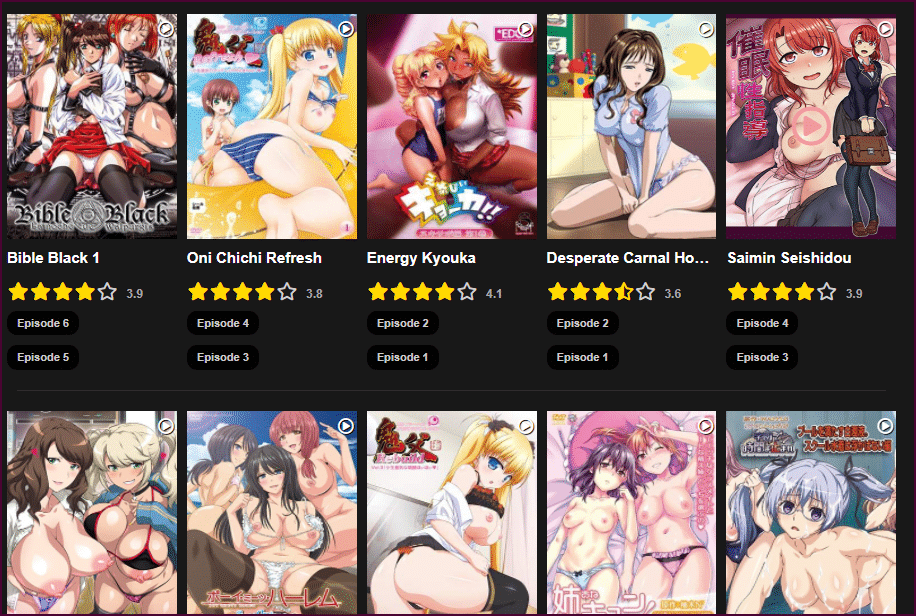 HentaiHaven is perhaps the most dedicated hentai site I've seen so far. It's serious about its niche and goal — and that's to provide incredible animated movies, clips, and the likes. You can clearly tell how Japan, including its anime industry, heavily influences it from the content itself. No wonder why people are keep coming back.
Full review of Hentai Haven here.
PROS:
It has fantastic sex games
Effortless to use
Navigation is simple
Plenty of content
CONS:
Requires registration to access the forum
Basic design
---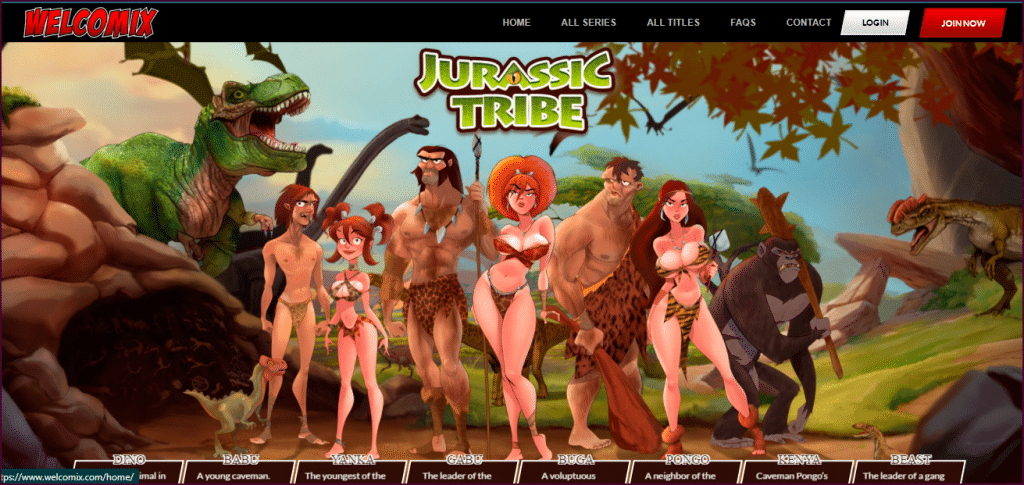 Welcomix's subscribers get all-out access to various comic entertainment through animations, comic strips, adventures, and fantastic artwork in every issue. If you visit Welcomix, you'll be treated to some genuinely bizarre romance among featured parody characters. It has quite a massive casting in terms of quantity and quality and rendered everything in impressively high-quality resolution.
Read Welcomix's full details here.
PROS:
Massive comic collection
Supports mobile browsing
Plenty of comic series available
Caters to various genre
Updates regularly
CONS:
You can't play slideshows when reading comics
Needs monthly payment to access
---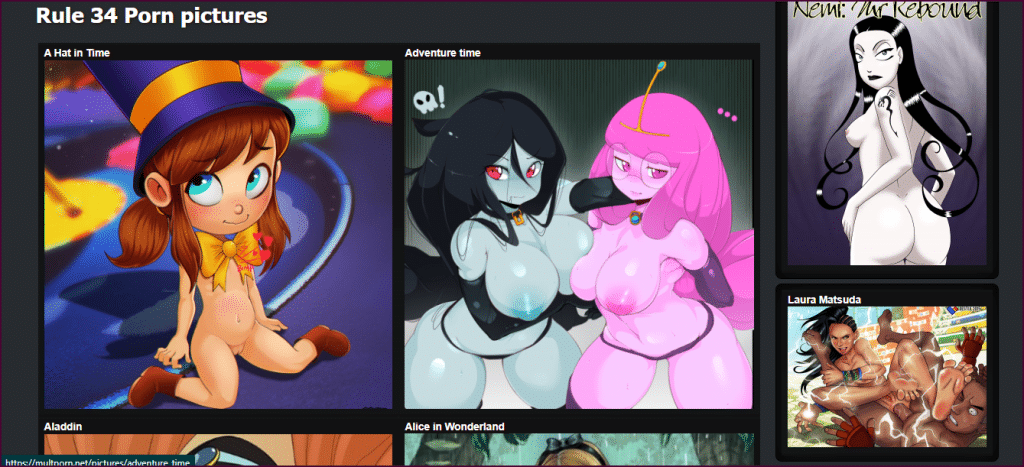 MultPorn is a comic porn site that features films, cartoons, and kick-ass manga hentai. It provides its audience with a kind of content that destroys the "limits" that real humans can do with our bodies. Typically, these girl characters go on covert espionage missions, fuck extraterrestrials, and take huge fucking cocks along for fun. Apart from comics, MultPorn also has hentai videos that I'm sure will leave you breathless.
PROS:
Massive collection
Diverse content
Lots of famous characters, movies, and shows
Easy to use
Free and all-access
CONS:
---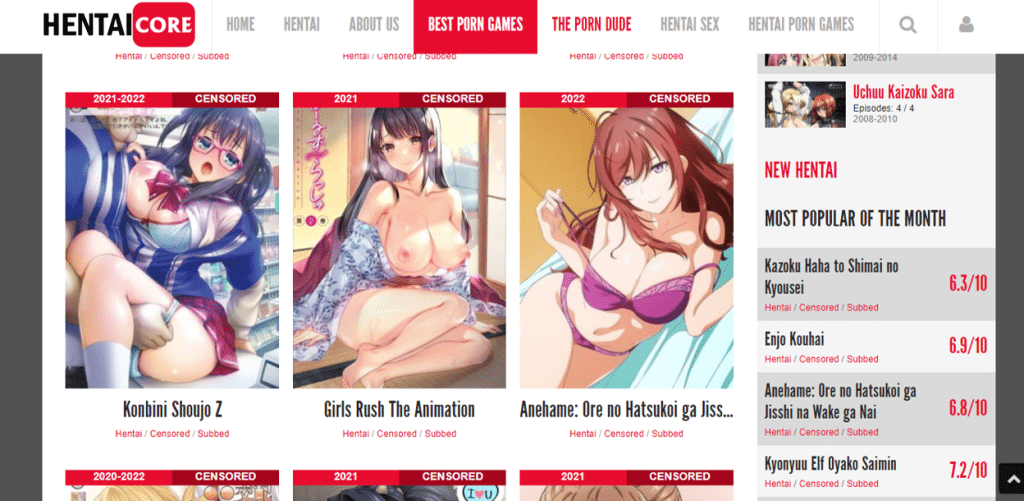 Hentai Core is one great hentai porn destination with its Japanese sex vibe. The site delivers hardcore and out-of-this-world scenes. Hentai Core does not limit its library with standard porn content but also covers all porn genres and anime series. I adore how flexible and diverse the nasty materials here at Hentai Core are. No wonder Japanese cartoon fans lurk around Hentai Core due to its intense sexual repository.
Take a look at Hentai Core review.
PROS:
Free anime porn site
Regular updates
Huge library
Hundreds of uncensored films
Sorting options available
Subbed and dubbed contents
More quality features
CONS:
Advertisements
Censored materials
No download options
Few site functions
---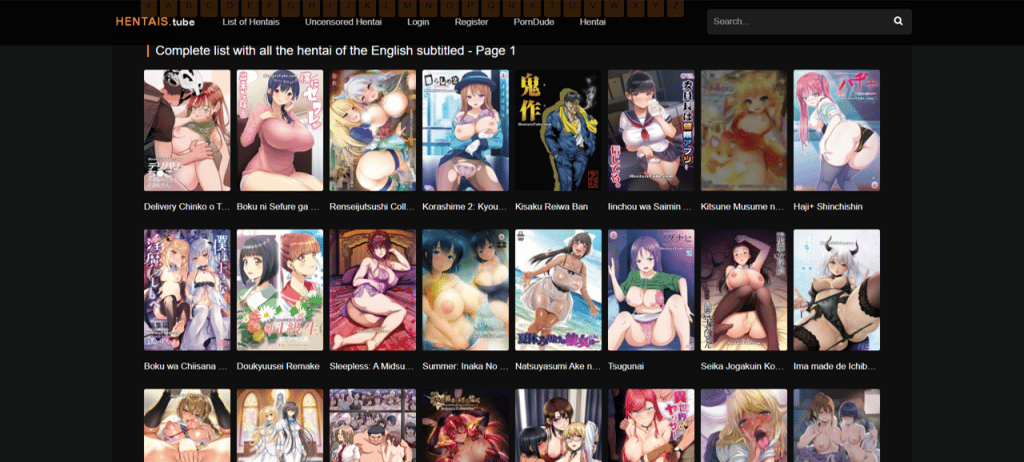 You will experience unlimited fapping here at Hentais Tube. No other great news can outweigh the delight of avid porn anime advocates when they see accessible jerking venues. Although some erotica fans pay for premium and highly produced materials, they still flood around handy domains like Hentais Tube. The unlimited treats come in diverse themes and deliveries. However, it would not surprise you by now that free hentai tubes may mean adverts and more.
Here's the full review of Hentais Tube.
PROS:
Helpful browsing tools
On-point site
Accessible features
Free site
Updated selection of series and episodes
Creates healthy rules for the community
Great quality films
CONS:
Adverts and redirects
No intricate site designs
Not too large database
---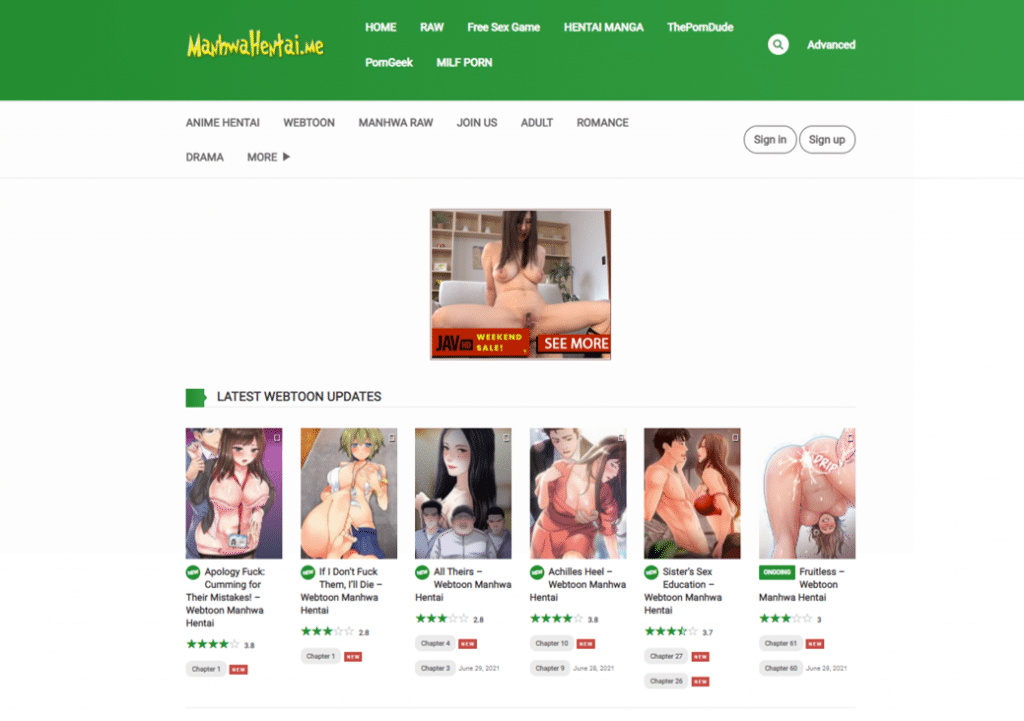 Manhwahentai is an excellent website with some tremendous Korean manhwa porn. I enjoyed it since the tales are more engaging, and the art is unique compared to typical Hentai. Manhwahentai has also come up with a beautiful concept of compiling all of these series into a quick and dependable website. This site is far more reliable than many of the free manga sites I used in the past.
Manhwahentai also performs an excellent job at remaining current and maintaining high ratings. Because it's such a popular site, you will discover many ratings that will help you figure out which things are worth trying next.
Read our full review of ManhwaHentai.
PROS:
Efficient English translation
Free comics to read
Wide selection of contents
Has a discussion section
Good quality comics
Diverse topics and plots
Good mobile display
With dramatic and engaging storylines
Comics load fast and quick
CONS:
Too many advertisements and pop-ups
Not all hardcore
The absence of sex scenes sometimes
Not so good layout
Some censored contents
---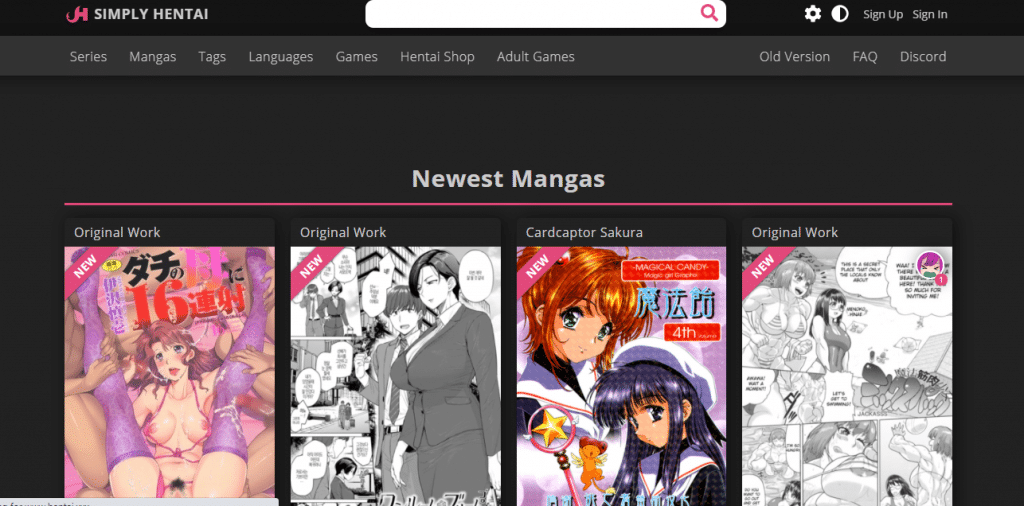 SimplyHentai is a complete source for your anime/hentai desires. Here's where you can discover new videos of your beloved sex anime shows and comics to browse, all without needing to pay anything. Now you will find everything you could possibly want to fulfill your highly unique erotic dreams and discover new and thrilling fetishes.
Click here for Simply-Hentai full review.
PROS:
Massive selection of hentai content
Full-length collection of Hentai episodes
Amazing navigation and design
Supports mobile browsing
CONS:
---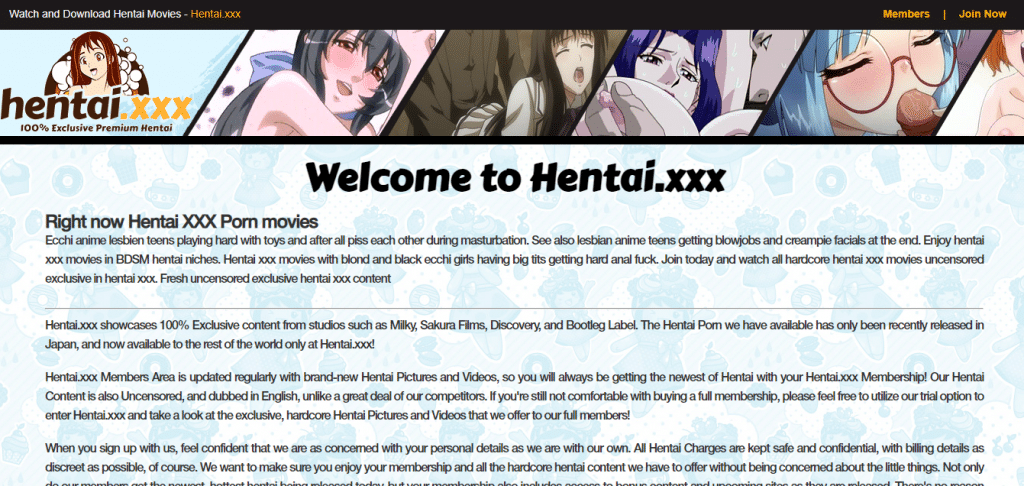 A brand new and unique hentai video service with consistently good stuff from Japan that is indeed everything you're getting at hentai.XXX. It's a website that includes well-produced videos of varying qualities, including high-definition quality and SD formats. You should anticipate exceptional anime sexual content in HentaiXXX because unique Japanese studios produce everything here — and we know exactly how they work.
PROS:
Exclusive Japanese material
Top-notch movies with excellent quality
Contents are tremendous and wild
It offers some bonus scenes
It has a mobile version
CONS:
---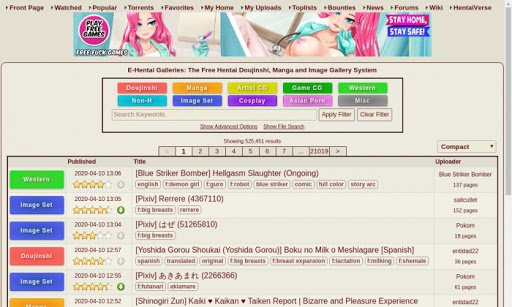 E-Hentai is your one-stop store for all the depraved and filthy Hentai! Nurses, shemales, tentacles, and furries are all there. Nothing is off-limits here; the only limitation is the right to use search marks. Even without an account, E-Hentai is entirely free to use. The only restrictions on a free account are the inability to play Hentaiverse, create and approve bounties, and post. If all of that appeals to you, making an account is as easy as it gets! Simply enter your e-mail address and generate a username and password.
PROS:
Millions of videos
Full-length size of available videos
Updates regularly
CONS:
Need membership for unlimited access
Advertisements
---
Parting Words
Kusowanka made me appreciate the artworks of gifted and perverted artists with its thriving selection. The site hosts more than a million diverse niches, all to suit your longing for anime porn. All deals come with a proper tagging system and accessible tools. Being a newbie in the industry did not stop Kusowanka from providing an intensifying service. The parodies and themes are all salivating with hundreds of Naruto, Pokemon, Dragon Ball, and other fictional or anime superstars. Kusowanka guarantees more delectable items for you with its consistent uploads and extensive database. Not only that, ads come from minimal to zero appearances.
All 71 Other Sites in This Category Worth Checking Out:
LoL Hentai Review & 12 Best Hentai Porn Sites Like LoLHentai.net Show Me 12 Alternatives for LoLHentai.net Hey there, fellow gamers and hentai enthusiasts! Today, we're diving into the fascinating world of LoLHentai, also known as League of Legends but with a hentai twist. Now, I know what you're thinking – "What on earth will happen […]