Updated on: December 5th, 2023
Hentai Mama
& 12 Greatest Hentai/ Anime Porn Sites Like Hentaimama.io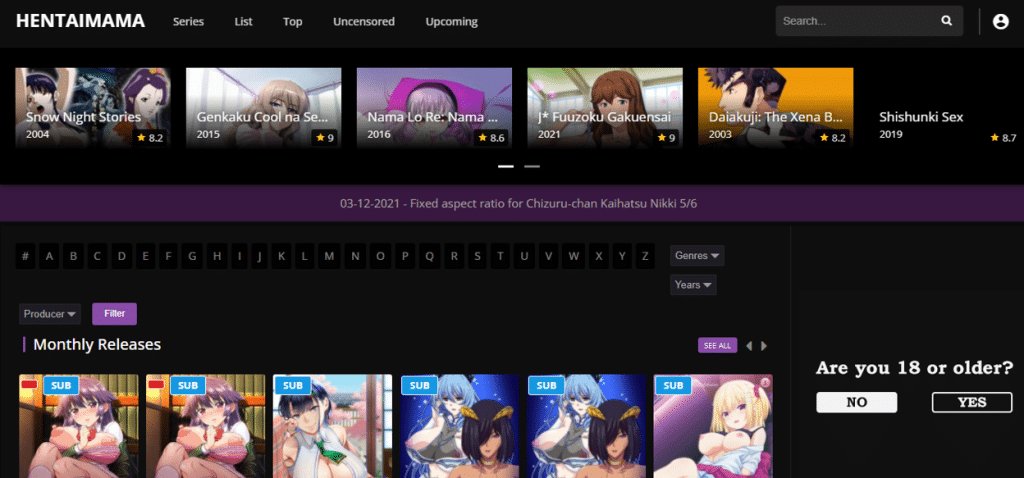 Hentaimama.io is here! This site is perfect for hentai fans who wish to see the latest anime porn from top hentai producers in the industry. Hentai Mama is a free website that debuted in 2014; since then, the platform has featured a library of hentai series and episodes. Undoubtedly, porn fanatics will enjoy the fine assortment of hentai niches. Not just that, all releases are in high-quality material. Hence, Hentai Mama made its presence known in the porn world by consistently adding erotic scenes in its domain.
Official URL: https://hentaimama.io/
Meanwhile, Hentai Mama users religiously visit the page because of the classic, historical, and up-to-date jerking materials. This is a piece of great news to those planning to visit Hentai Mama and fantasize about grabbing anime porn in different generations. Indeed, it is clear that Hentai Mama is well-loved by porn enthusiasts, considering the sites' high traffic and twelve (12) million monthly visitors. Apart from the free deals and offerings, Hentai Mama aims to cover all possible obsessions of its site goers.
Hentai Mama and the Looks
Hentai Mama utilized a dark tone in its domain. In fact, the overall theme is dark with pinched purple boxes and white letters. I appreciate the color schemes as it is entirely appropriate when browsing at night or even during the daytime. Apart from that, I immediately noticed how Hentai Mama's design does not display a typical free site. All items are adequately organized with a slide bar at the top to show a few of the most popular hentai materials in the collection.
Furthermore, the menu buttons allow users to have better and faster access to the Hentai Mama platform. Thus, the site allocated five buttons, including series, list, top, uncensored, and upcoming. As you also scroll on the Hentai Mama page, you will bump into the monthly releases, recent series, and recent episodes. In addition, sorting options are available here at Hentai Mama too. These features aid in assisting every porn fanatic's exploration. Hence, they can filter the videos by genres, date of upload, producers, and titles.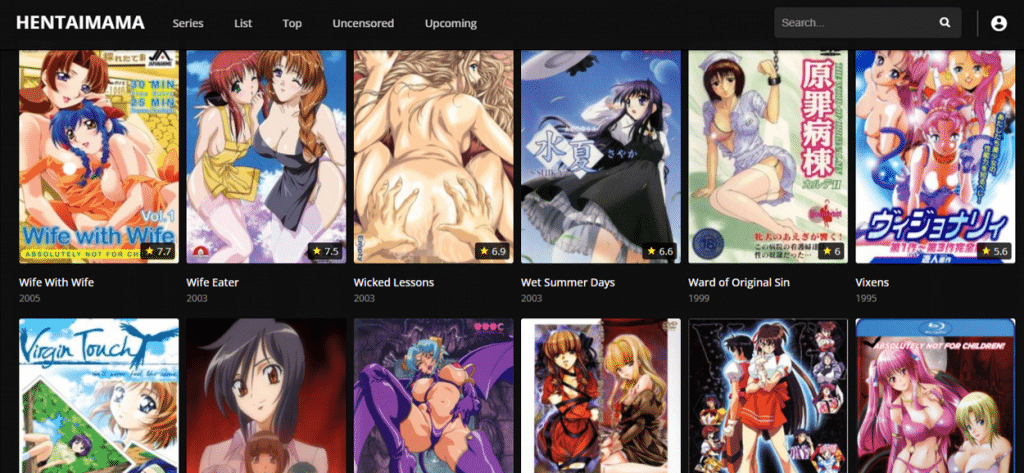 As you can see, there are letters on the main page to help site visitors locate their preferred anime porn films. On the other hand, the sidebars also display the popular videos and the porn genres at Hentai Mama. With this, users do not need to move away from the main page to get the complete list of niches here since everything is on the homepage already. Also, if the list of porn genres does not match your jerking needs, porn fans can utilize the search engine to get the fastest results. Simply write the title at the icon, and voila, everything is set.
Clear Presentation and Efficient Navigation
While exploring the Hentai Mama domain, I appreciate how things are organized. The homepage is not overcrowded with different erotic materials; thus, everything has appropriate sections. Although the contents do not have an episode preview, you will never be disappointed with the available information. I am talking about how each content is efficiently labeled with a title, synopsis, year of upload, studio, and porn genres. Hence, these descriptions could be another way to get a suitable film for your dick.

From these details, hungry hentai porn fanatics will quickly grab the materials required for their fapping adventure. They get to enjoy various public sexual escapades, MILFS, favorite cartoon characters, schoolgirls, homemakers, superheroes, busty ladies, and many more at Hentai Mama. More so, the main page showcases a selection of complete episodes and series. You can also choose whether the videos are classified as sub or raw materials. Aside from that, the star ratings are seen in each thumbnail, together with a few other flick details.
Hentai Porn, Game on!
Fortunately, Hentai Mama offers the most popular hentai delicacies in its repository. Thus, porn fans will definitely get the taste of anime erotica that appeals to them. It is a bonus to realize, too, that these mouthwatering characters can be jerked off for free, hence, no limitations and restrictions. With this, no porn enthusiast will be discriminated; they can acquire the collection anytime and anywhere. Hentai Mama also provides one of the largest selection of hentai porn niches in the history of anime pornography.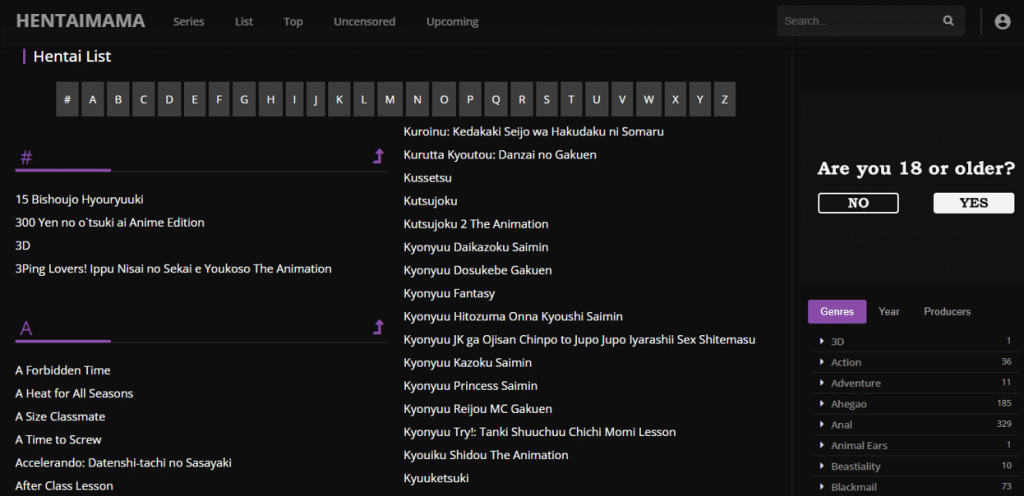 With that, a wide range of fetishes, obsessions, and extreme erotica is accessible in the domain. Everyone will have the chance to dive into the realm of vanilla, steamy scenes, and even out-of-this-world fictional sex. Hentai Mama does not discriminate against any sexual orientation; hence, expect to stream any erotica that delivers transgender, gay, and lesbian content. More so, enjoy hot porn gems like 3D, action, adventure, ahegao, anal, blowjob, bukkake, comedy, creampie, cosplay, cumshot, facial, public sex, and many others.
In addition, Hentai Mama also gives fictitious genres like a demon, bestiality, tentacles, catgirl, elf, vampire, and supernatural. The site also contains taboo materials, including rape, gangbangs, train molestation, torture, incest, humiliation, and a slew of others. All these materials can be quickly grasped at the main page's sidebar. Apart from that, the number count of videos per genre is also displayed beside each niche. Now, if uncensored genitals add to the spice of your fapping sessions, you can select the uncensored option from the menu to reveal the magical tits and clits.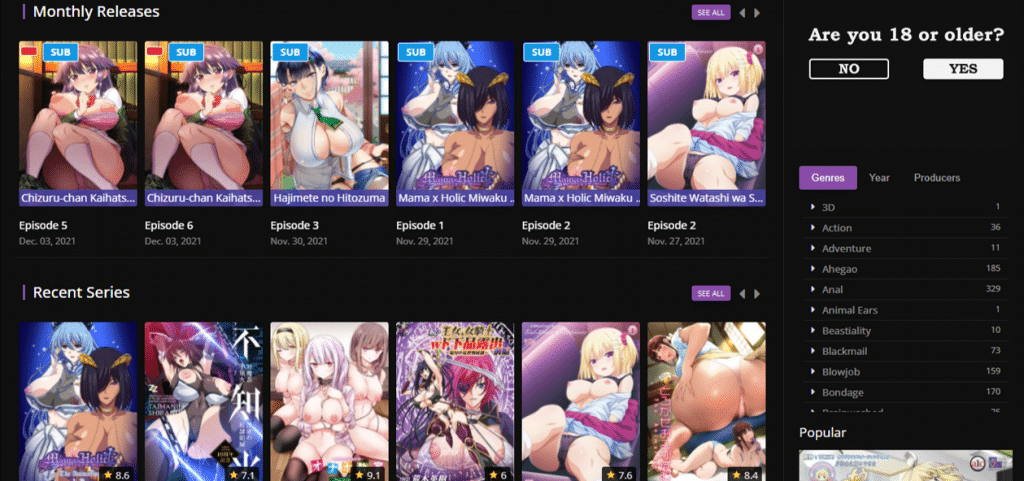 Series, Episodes, and Hot Scenes to Enjoy
As mentioned, most of the materials here at Hentai Mama are part of episodes and series. Site users can identify this stuff with the information provided underneath each film. Hentai Mama also religiously updates these series, releasing complete episodes for you to enjoy. I bet you will be delighted to know that these fantastic porn series are uploaded in bulk to give you a fantastic viewing experience. Additionally, the erotica series found in this domain is accompanied by photographs and galleries that will excite your dicks as well.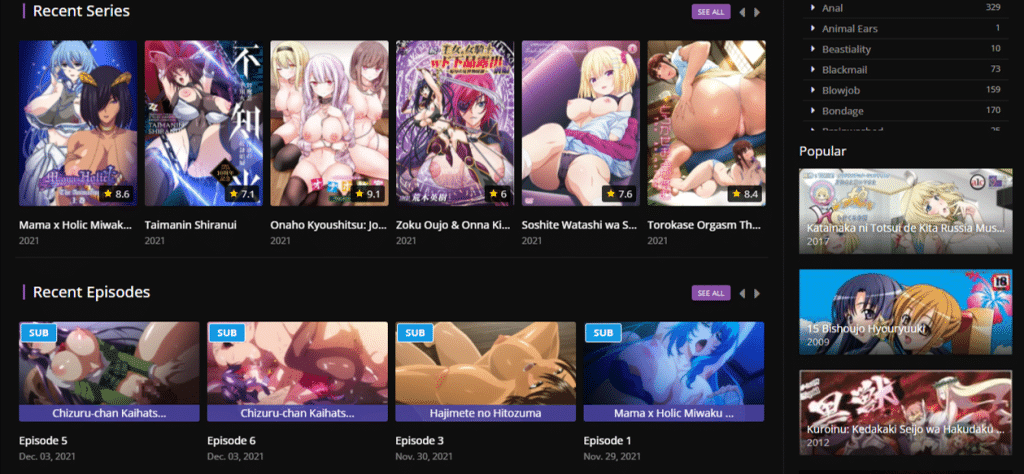 Moreover, you can quickly note how Hentai Mama organized and selected the uploaded series in its library. Even though 1980s materials are still present in the repository, you will still be in awe of these vintage and classic erotica. Apart from everything is free, it is a magnificent ability to witness how hentai porn has evolved since then. Certainly, these episodes provide many benefits considering that you can watch new scenes and replay your favorite series anytime and anywhere you want, pal.
Upcoming Contents to Make You Cum
If you are one of those fans who look forward to new materials, this Upcoming section is dedicated to you. It is hard not to recognize how Hentai Mama pay significant consideration to our needs and sexual aspirations. The upcoming segment offers the whole page a complete list of soon-to-be-released hot episodes. You will undoubtedly appreciate the information provided, as it includes the title, release date, company label, video type, and vital links.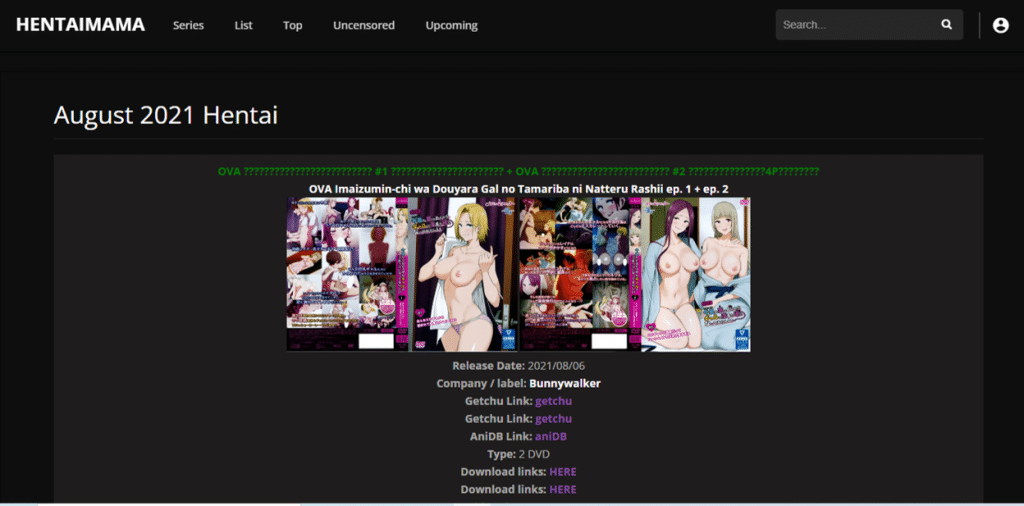 Furthermore, since Hentai Mama collects various porn materials from different porn producers, the domain does not forget to provide an impressive list of these video contributors. Hence, if you follow a specific porn studio, you can get complete access to their offerings here at Hentai Mama. Therefore, you can enjoy the deliverables from porn locations like Kitty Media, Green Bunny, Queen Bee, Pink Pineapple, and other dominating porn producers.
Porn Quality and Other Site Perks
Though the site does not provide specific detail about each video's quality, you can quickly identify that the materials are standard to high resolution. I also mentioned earlier that they have images, porn galleries, and 3D animations in the collection. Hence, these contents are manufactured by skilled artists and professional pornographers. What is more alluring and enticing about Hentai Mama is how it adds subtitles in each film. With this, non-Japanese-speaking visitors can still understand every piece of the video storyline.
Moreover, Hentai Mama does not solely focus on its extensive database of anime porn; it also perfected its interface by providing various categorizing tools. Apart from the simple search engine, Hentai Mama fans may filter materials by genre, release year, and producers. The main page contains an A-Z hentai list of all episodes for ease and accessibility. Not just that, the Hentai Mama site is versatile in that it can be utilized in different devices, may it be your desktop computer, smartphones, or other mobile devices.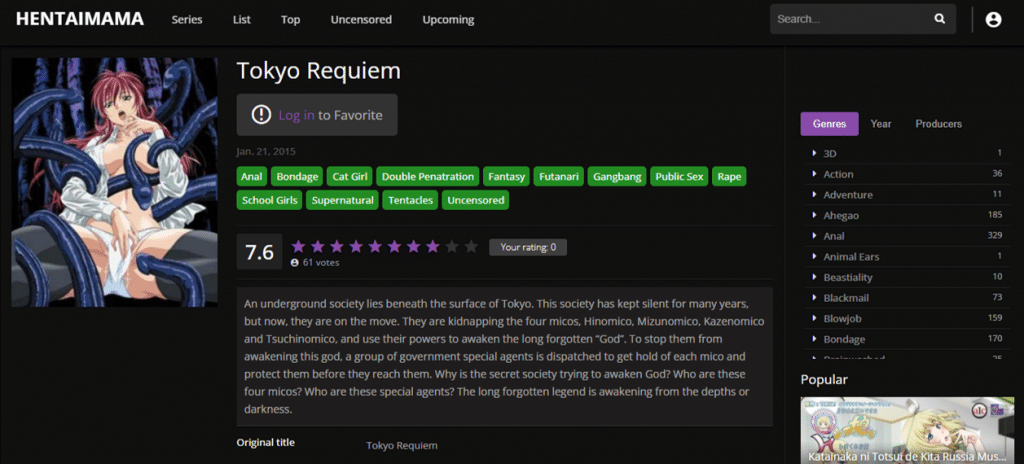 Lastly, streaming the contents will also give you access to the episodes list, screenshots, and other film details. Though everything is accessible to regular site visitors, signing up for free membership will take your site exploration a long way. Members may enjoy a slew of features like creating a favorite porn playlist, providing comments and feedback, and of course, downloading the video materials. Luckily, submitting a membership account is straightforward. Providing a username and email address will do, and afterward, you can interact and communicate with other porn hentai fans at Hentai Mama. Not just that, members can also get notified and alerts whenever updates and releases are available on the platform.
The Pros and Cons of Hentaimama.io
PROS:
Free anime porn site
Delivers complete hentai series and episodes
Straightforward site layout
Efficient browsing tools
Full-length contents and a vast database
Nice interactive features for members
Good navigation
Mobile friendly
CONS:
Few ads
Some censored materials
Need membership to use full features
---
12 Greatest Hentai/Anime Porn Sites Similar to Hentaimama.io: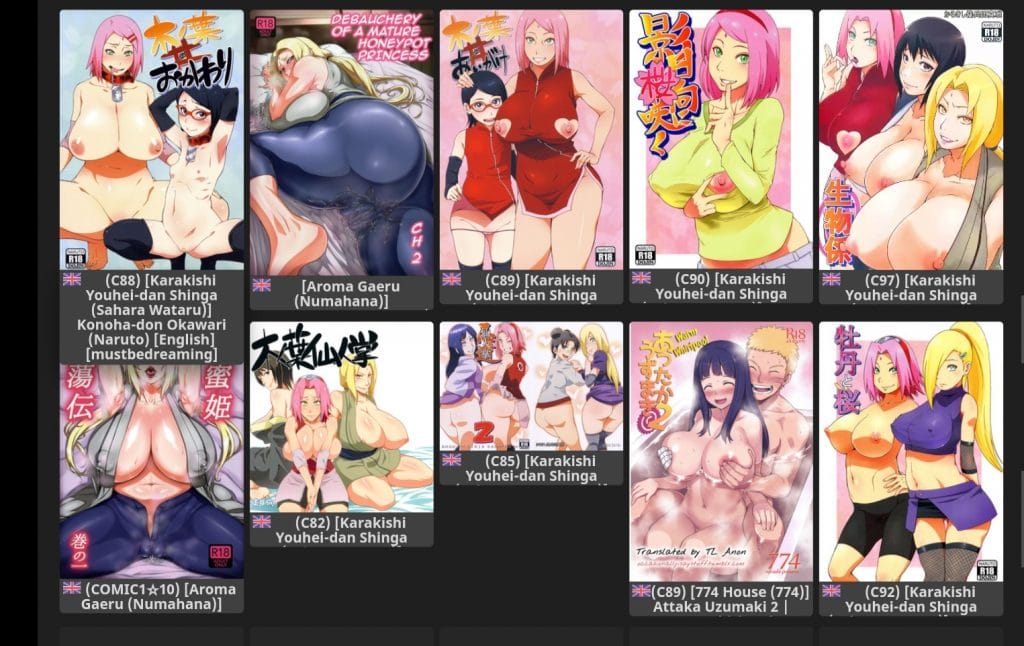 nHentai began a few years ago and has done an excellent job of offering a forum for people who want to see original Japanese hentai from some of the best artists in the industry.
The homepage is dedicated to displaying the most recent content posted and the language in which it has been written. Every post has a small flag next to it: Japanese, English (shown with a British flag), or Chinese. I firmly recommend that you glance at the tags section to see what categories are available. Popular choices include anal, which has 50,000 video files.
PROS:
Exciting user interface
Cute and enticing designs
Wide selection of videos
CONS:
Existence of some weird hentai porn
---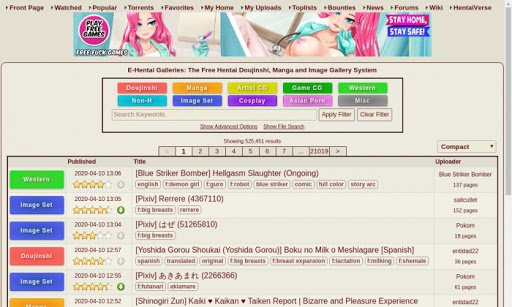 E-Hentai is your one-stop store for all the depraved and filthy Hentai! Nurses, shemales, tentacles, and furries are all there. Nothing is off-limits here; the only limitation is the right to use search marks. Even without an account, E-Hentai is entirely free to use. The only restrictions on a free account are the inability to play Hentaiverse, create and approve bounties, and post. If all of that appeals to you, making an account is as easy as it gets! Simply enter your e-mail address and generate a username and password.
PROS:
Millions of videos
Full-length size of available videos
Updates regularly
CONS:
Need membership for unlimited access
Advertisements
---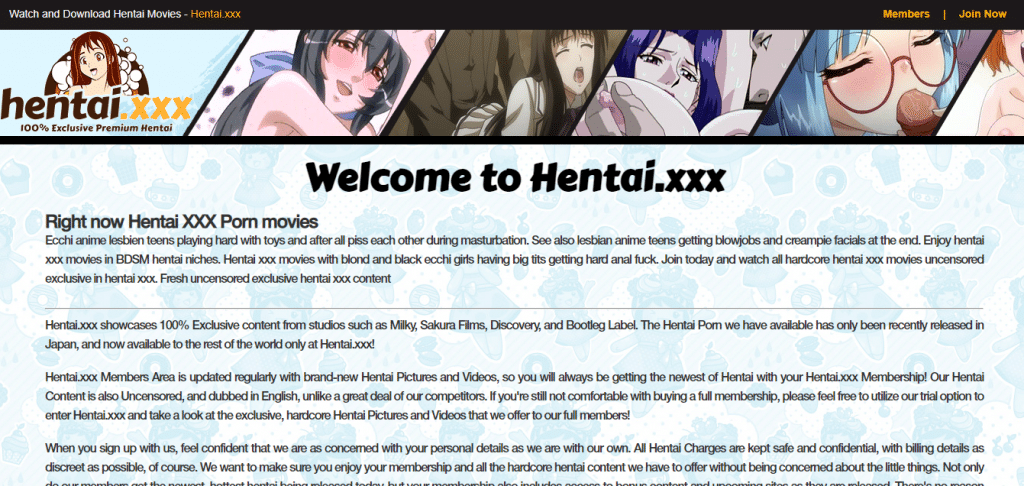 A brand new and unique hentai video service with consistently good stuff from Japan that is indeed everything you're getting at Hentai.XXX. It's a website that includes well-produced videos of varying qualities, including high-definition quality and SD formats. You should anticipate exceptional anime sexual content in HentaiXXX because unique Japanese studios produce everything here — and we know exactly how they work.
PROS:
Exclusive Japanese material
Top-notch movies with excellent quality
Contents are tremendous and wild
It offers some bonus scenes
It has a mobile version
CONS:
---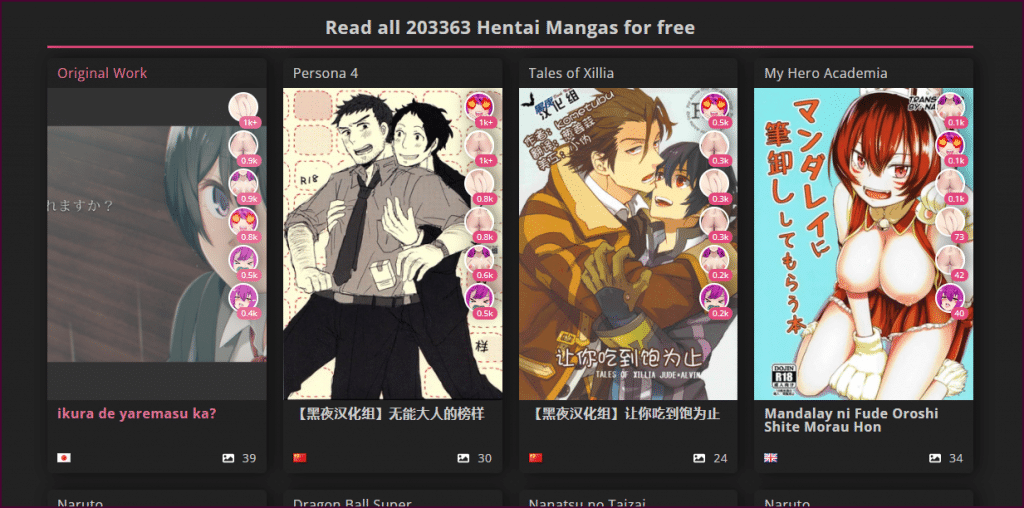 SimplyHentai is a complete source for your anime/hentai desires. Here's where you can discover new videos of your beloved sex anime shows and comics to browse, all without needing to pay anything. Now you will find everything you could possibly want to fulfill your highly unique erotic dreams and discover new and thrilling fetishes.
PROS:
Massive selection of hentai content
Full-length collection of Hentai episodes
Amazing navigation and design
Supports mobile browsing
CONS:
---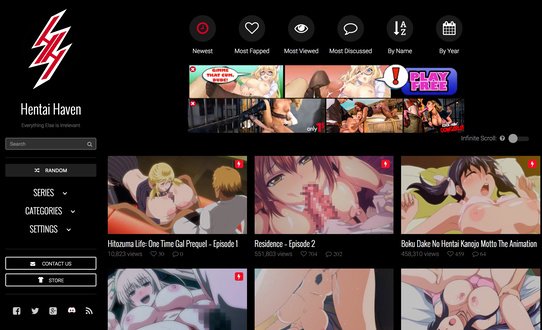 HentaiHaven is perhaps the most dedicated hentai site I've seen so far. It's serious about its niche and goal — and that's to provide incredible animated movies, clips, and the likes. You can clearly tell how Japan, including its anime industry, heavily influences it from the content itself. No wonder why people are keep coming back.
PROS:
It has fantastic sex games
Effortless to use
Navigation is simple
Plenty of content
CONS:
Requires registration to access the forum
Basic design
---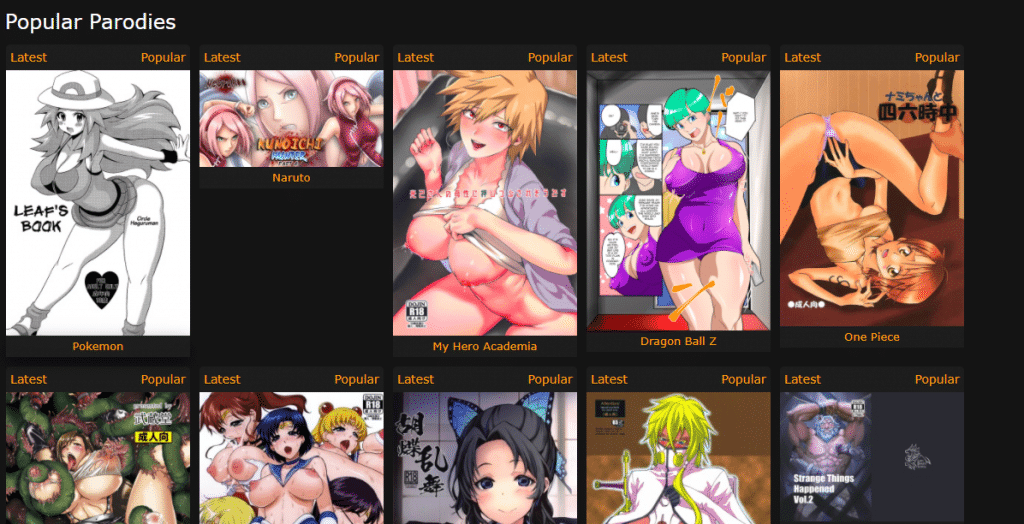 HentaiFox provides an extensive collection of the most entertaining and seductive hentai porn videos and photos. In fact, millions of people worldwide enjoy Japanese sexually explicit content. It is among the most popular erotic forms in the US alone, and perhaps among the most popular hentai sites worldwide.
PROS:
Amazing hentai collection
Different categories to choose from
There are taboo and uncensored content available
Free to browse
Basic and straightforward design
CONS:
There are too extreme themes
Feature basic searching tool
Some ads
---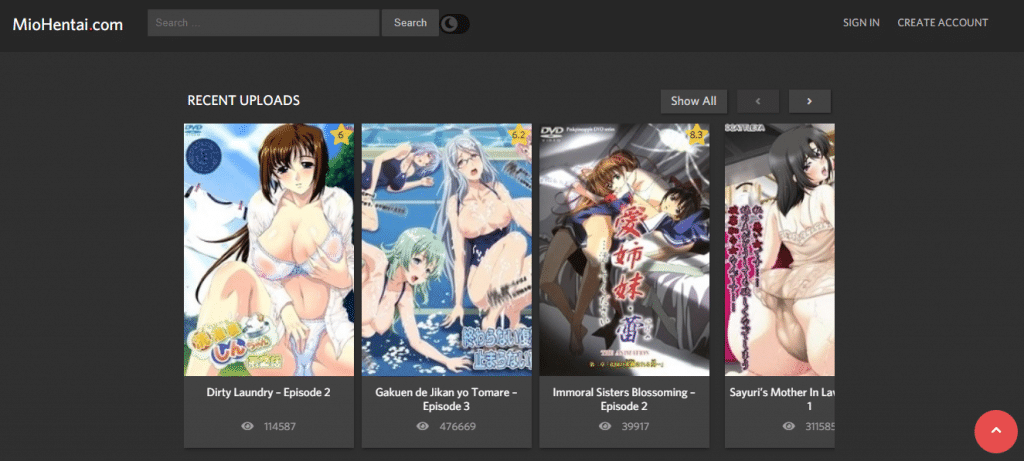 MioHentai has a great feature, with an easy navigation system employed. Everything you see around the page seems newbie-friendly and straightforward to understand. In fact, it has tags, categories, and a top list that makes searching more effortless than it ever was. Plus, the video player is quite impressive since no lagging or buffering happened throughout my experience.
PROS:
Design is accessible and user-friendly
There are taboo themes
Uses 3D and 2D animation
Plenty of categories
CONS:
Mostly censored content
Some ads
Registered users can access some member-only features
It has redirect links available
---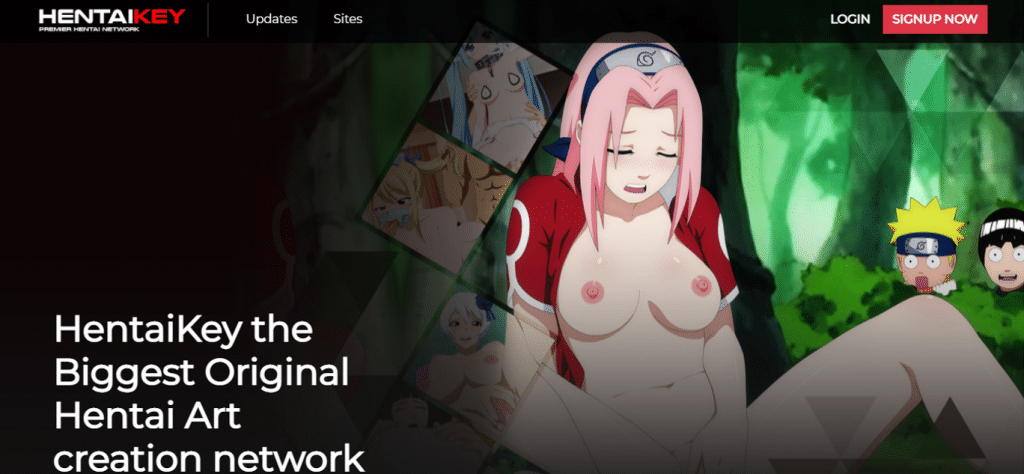 When it comes to top-notch anime and manga erotica, Hentai Key is the network to watch. This network includes more than 40 fantastic websites where you can get anything from hentai shows and films to comics and even hentai games. Moreover, the platform also provides a user-friendly interface and quick download rates. Hence, anyone from the newest anime newbie to a lifelong manga aficionado can enjoy this ultimate hentai experience online.
Hentai Key and more of its features in this review.
PROS:
Access to more than 40 hentai sites
Uncensored hentai
Massive collection of contents
High-definition videos and photos
Regular uploads and updates
No advertisements
Has a seven-day trial access
Considered as the Netflix of hentai
CONS:
Needs membership to access
Quite disorganized
---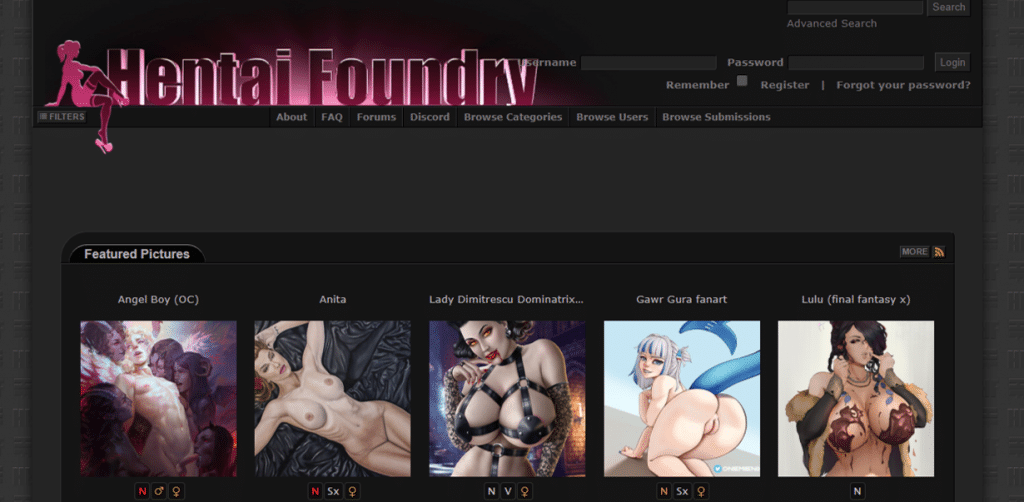 The Hentai Foundry website is very user-friendly. With a vast community and engaging users, everyone will surely love the atmosphere here. The site also needs registration before users can thoroughly enjoy all its perks and features. In fact, everything is really well structured, and everyone who has an account may upload. Downloading contents are also free and can be done with a few clicks.
Here is Hentai Foundry's full review.
PROS:
Free hentai contents
Lots of genuine artists
Engaging community
User-submitted hentai materials
Prices and perks
Effective search options
It has a gaming section
CONS:
Advertisements
No videos available
Need registration to enjoy more features
---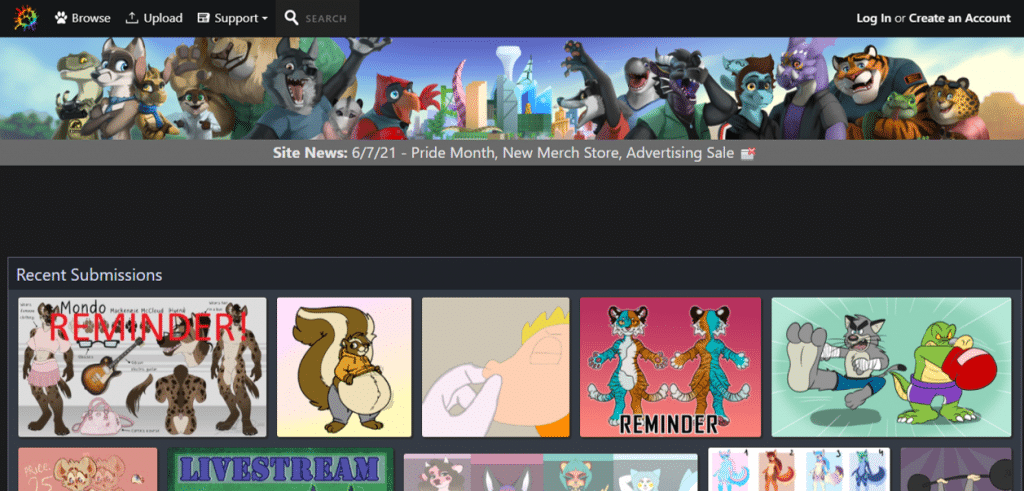 If you enjoy hairy creatures and content involving sexual activities with furry characters, this is perfect. Even if you are not, I can attest that this website has much valuable and fascinating information. Indeed, FurAffinity is more than just a pornographic site.
More so, I love how this excellent site allows us to chat with other individuals, read some steamy stories, or simply find some furry porn to jerk off to. Indeed, they offer everything that entails furs and hair characters; what more to ask if you have some hairy fetish in you! I also noted how features are available for free! However, you need to create an account to get to the adult content.
Here's the full review of Furaffinity.
PROS:
Ability to share and upload own works
Has a flood of sexy furry contents
Excellent features
Good mobile experience
Large and active community
Fast and excellent navigation
Presence of effective support service
CONS:
A lot of nonsexual materials
Requires an account to enjoy an adult section
The not too fancy design
Some weird materials
---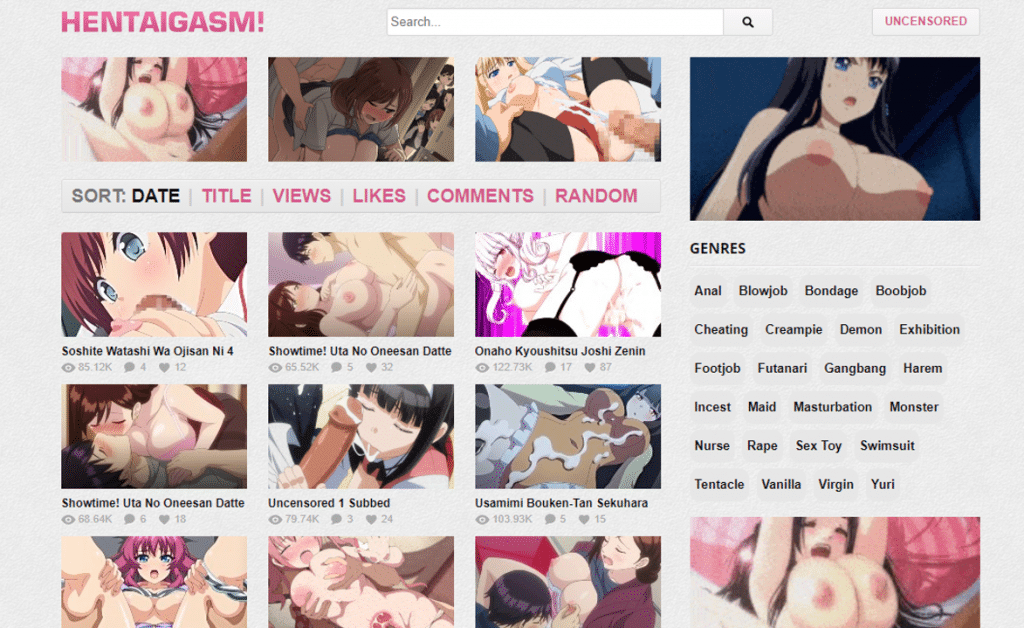 Hentaigasm reached more than a million site visitors in the world of pornography. The site reportedly has more than thirteen million monthly visitors; I mean, that is huge! With that, Hentaigasm continually constructed its massive library of free hentai videos. Intensely, I love the experience of watching hentai films too. Hentaigasm aims to satisfy every hentai lover with its bits and pieces of orgasmic delicacies, all waiting for you to try.
PROS:
Straightforward platform
Free anime porn site
Quality contents
Free downloads
Uncensored contents
Nice thumbnails and video descriptions
Random feature
Efficient video player
CONS:
Some censored contents
Few categories
Advertisements and pop-ups
---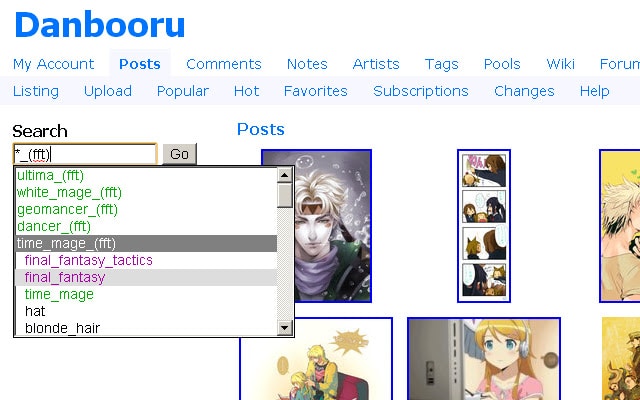 Danbooru is a forum that caters to both developers and non-creators. You can both display and make Hentai in this way. Names, creators, visibility, and other factors are used to categorize these posts. If you are feeling daring, you can check out the most recent comments on the website, as well as links to sections where you can debate subjects with other enthusiasts.
PROS:
Variety of pornographic contents
It consists of anal, escort, cam, and many more porn sites
Lengthy videos and materials
Amateur and professional contents
CONS:
High-Definition videos are accessible for premium members only
Advertisements
---
Conclusion
Thankfully, Hentai Mama provides porn fans with various anime porn materials from different major porn sites. With this, hentai fans do not need to hop from one erotica venue to another, for every porn fetish is here. Certainly, Hentai Mama is a must-visit venue for any hentai enthusiast. The site provides a handful of a diverse selection of free hentai series and episodes. Not just that, fans will enjoy a straightforward domain with efficient organization and navigating tools.
Meanwhile, sorting and filtering options here at Hentai Mama will take every porn exploration to a greater level. Hence, grabbing your favorite uncensored porn and hot erotica genre is easy as counting one, two, and three. All in all, porn fans will delight diving into these magnificent hentai experiences. Indeed, they will adore schoolgirls, bukkake, blowjob, cosplay, deep throat, bestiality, incest, and many other niches accessible. What are you waiting for, pal? Head to Hentai Mama, explore mouthwatering anime porn and start the rubbing dick sessions.
All 71 Other Sites in This Category Worth Checking Out:
LoL Hentai Review & 12 Best Hentai Porn Sites Like LoLHentai.net Show Me 12 Alternatives for LoLHentai.net Hey there, fellow gamers and hentai enthusiasts! Today, we're diving into the fascinating world of LoLHentai, also known as League of Legends but with a hentai twist. Now, I know what you're thinking – "What on earth will happen […]