Updated on: December 10th, 2023
MultPorn Review
& 12 Must-Visit Porn Comics and Hentai Sites Like multporn.net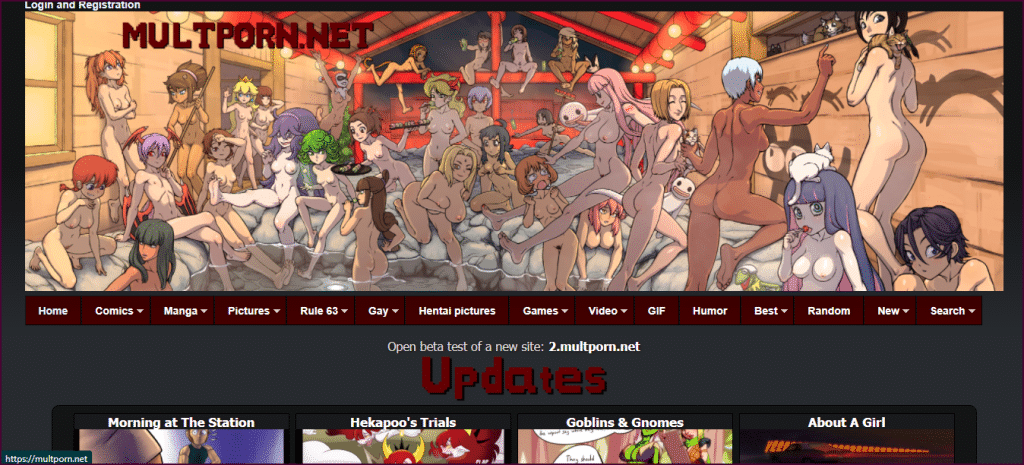 Feeling horny? Are you looking for a site that will help your jerking business? If your answer is yes, then why not hop to a place that could deliver diverse pornos. Let me introduce MultPorn — a comic porn site that does more than expected! It has different content like manga, comics, games, videos, and other hentai-related stuff. With all these MultPorn collections, I'm pretty sure you will never watch and stream pornos the same way again. The twisted takes of MultPorn on your favorite TV shows, movies, and anime series would blow your mind. Take a look below, so you'll understand what I'm talking about.
Official URL: https://multporn.net
Multiple Pornos from MultPorn!
MultPorn is a comic porn site that features films, cartoons, and kick-ass manga hentai. And to keep you entertained, the site also offers a variety of porno games and videos.
From what I see, MultPorn's most delicate porn flicks are among the fascinating free stuff out there because of the ingenuity that goes into making them. Plus, it's all well-structured, both in terms of sections and searching possibilities.
Moreover, the artists of MultPorn come up with new and imaginative methods to push the boundaries of what is typical for both real-life and imagination. Most of the females in this area are really mind-boggling. They have tits that can withstand gravitational pull, and big asses are their trademarks.
Typically, these girl characters go on covert espionage missions, fuck extraterrestrials, and take huge fucking cocks along for fun. Certainly, MultPorn contains everything you could ever want. And when I say everything, I mean everything from conventional anime rough sex to the out-of-this-this-world fantasies.
Manga Overload!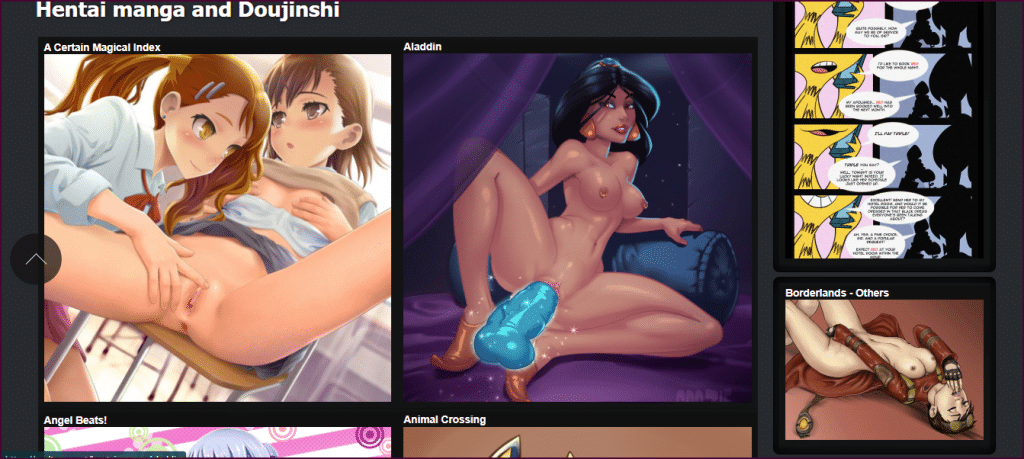 I understand that some people may still see hentai as gross and unrealistic. Sure, they are far from the authentic pornos you see online, but the twist these hentai content can deliver definitely sets different arousal. But whatever you say, hentai is like cancer you can't get rid of. So, I checked out MultPorn's Manga section 'cause I don't want to miss a bunch of twisted sex actions.
Oh boy, MultPorn certainly provides its audience with a kind of content that destroys the "limits" that real humans can do with our bodies. I went straight to South Park, Rurouni Kenshin, Zootopia, Shaman King, Future Diary, League of Legends, Star Fox, and My Hero Academia. These cartoons and animes are famous on TV, but I didn't think MultPorn could give these shows a sexy twist.
Of course, I explored more, and my favorite TV series like Dragon Ball, Full Metal Panic, Avatar: The Last Airbender, Astro Boy, Fullmetal Alchemist, Lupin 3, and Bleach was terrific. Seriously, who would imagine these shows I grew up watching could be this nasty and filthy? But perhaps MultPorn really put effort into creating a new kind of anime experience.
Finally, I hate to exit the Manga section without seeing a few more hentai, so I went ahead to Final Fantasy, Shrek, My Little Pony: Anthro, Dragon Quest, Angel Beats!, Fruits Basket, Attack on Titan, Boruto: Naruto Next Generations, and Atomic Betty. Certainly, MultPorn never ceases to surprise me with their winning stuff. If I had plenty more time, I'd check out the whole bunch of collections, but dude, we gotta move on. So, better visit MultPorn yourself.
The Porn Сomics Section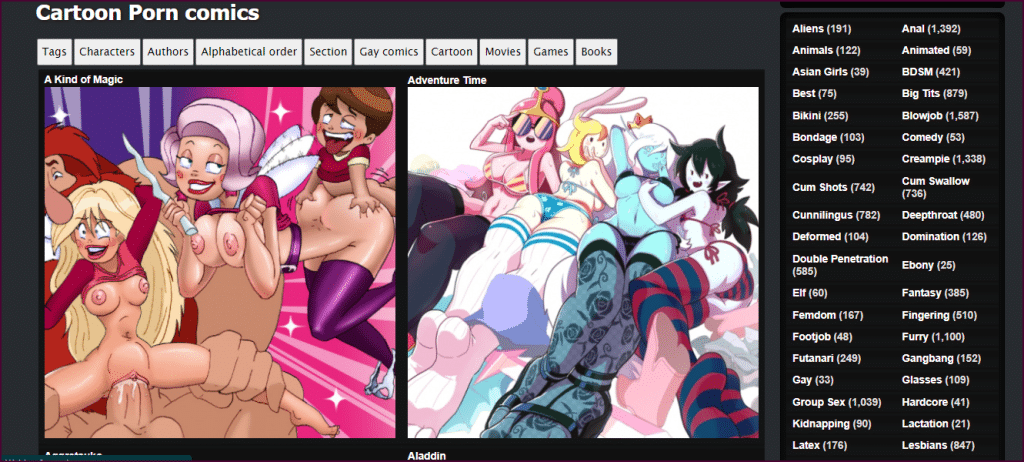 MultPorn's Comin section is divided into five different categories. Each of them delivers unique twists and stories of our good old movies, anime series, and cartoons.
We all love reading books, right? I'm sure you've got some favorites on the shelf. But have you ever thought of reading your favorite book with a hentai twist? Yes, that's right! MultPorn has dominated the book scene and transformed your beloved book characters into unique porno content. Some of the books featured here are classics, like Tarzan, Tangled, Sinbad: Legend of the Seven Seas, Pinocchio, Alices Adventures in Wonderland, Aladdin, Mulan, and Little Red Riding Hood. Also, there are plenty of fan-favorite books such as Harry Potter, Game of Thrones, Crossovers, and Beauty and the Beast.
Of course, a comic porn site won't be complete without game-turned-porno content. Many gamers reading this would probably feel excited because MultPorn has created a fantastic twist to your games. Some of the best collections they've got were DC Universe, Crash Bandicoot, BlazBlue, Batman, and Banjo-Kazooie. I alps checked out Animal Crossing and Among Us because they looked deliciously arousing on the cover. Certainly, none of them disappointed me.
Meanwhile, MultPorn also gave another nasty twist to our good old favorite movies. At first glance, I was hesitant if they gave justice to the characters by turning them into sex machines, but oh boy, MultPorn really knows what they are doing. So, I hurriedly clicked Fantastic Four, Friday the 13th, Dungeons & Dragons, and Deadpool movies. Certainly, the filthy scenes and dialogues were cock-friendly. But, my Movie adventure didn't stop there, so I tapped that nasty doll Chucky and our favorite Casper the Friendly Ghost. The comics were unexpected but definitely blew my mind!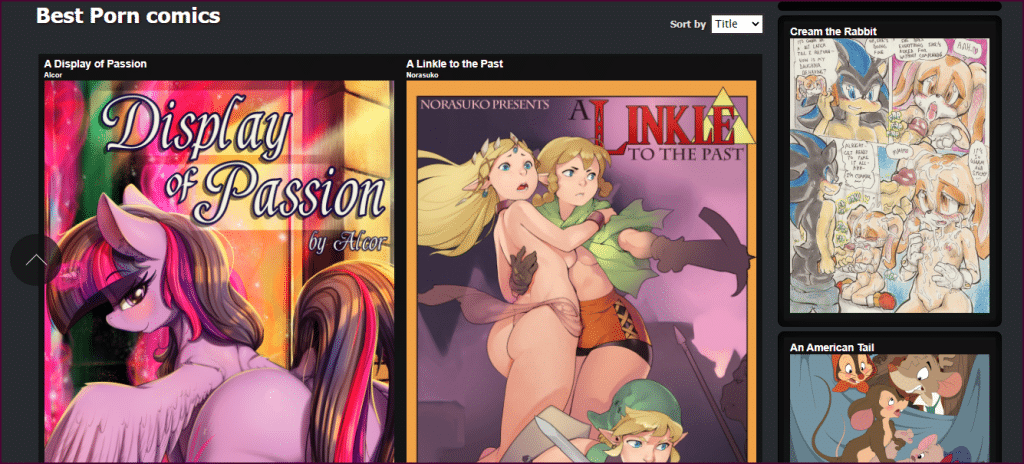 We can't visit MultPorn without checking out its Comic Book section. It features incredible comic stories from my favorite comic book characters like Little Tails, Justice League, Power Girl, Hellsing, I Hate Fairyland, FoxTrot, Calvin and Hobbes, Guardians of the Galaxy, and Hilda. I loved these comic books back then, but now I love them even more! Certainly, I didn't think it would be much cooler to see iconic characters in filthy situations.
Finally, my favorite part of MultPorn's Porn Comic section is the cartoon comics. Why? Well, MultPorn has delivered amazing transformations on our innocent tv shows and cartoon movies. Who would have thought Buzz Lightyear could fuck Woody, or Tom and Jerry could stop chasing each other and just give in to their nasty sex cravings? This section certainly has more to offer, including Brandy and Mr. Whiskers, The Wizard of Oz, The Simpsons, The Powerpuff Girls, Rapunzel, Power Rangers, and Popeye.
If you want more, there's also Arthur, Adventure Time, Pokemon, Phineas and Ferb, Hotel Transylvania, DC Super Hero Girls, and American Dad. On top of those cartoons, MultPorn also features a beloved childhood top list such as All Grown Up!, How to Train Your Dragon, Dalmatians 101, DC Super Hero Girls, Peter Pan, Big Hero 6, Alvin the Chipmunks, Ben 10, and Aggretsuko.
MultPorn Hentai Pictures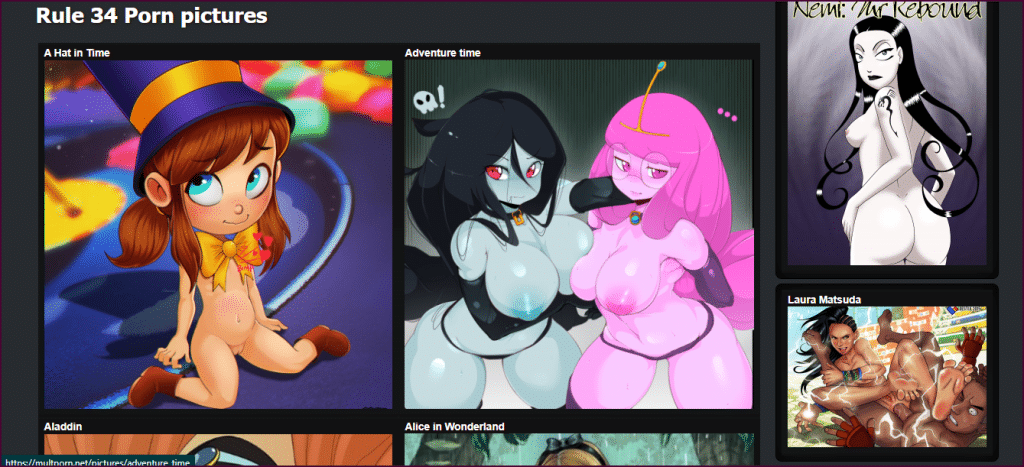 Besides porn comics, MultPorn also features hentai pictures. It was actually pretty surprising to see they have incorporated photos on the site. Usually, other hentai sites would only focus on comics or videos, but having a gallery of goodies is such a fun twist. And speaking of twist, MultPorn has twisted some good old TV shows and movies like Star Wars, Looney Tunes, Courage the Cowardly Dog, Spider-Man, Coraline, Johnny Bravo, Foster's Home for Imaginary Friends, and Kim Possible.
If you think that's all, well, wait until you see Alvin and the Chipmunks, Spongebob Squarepants, Jimmy Neutron: Boy Genius, Craig of the Creek, and Jackie Chan Adventures. Also, MultPorn offers some comedic and nasty transformations on Buzz Lightyear of Star Command, Angry Birds, Family Guy, Doctor Who, Call of Duty, Brutal: Paws of Fury, F is for Family, Alpha and Omega, and Disney Fairies. Those will surely satisfy your cravings; if not, then MultPorn has more collections.
The Rule 63: Gender Bender Section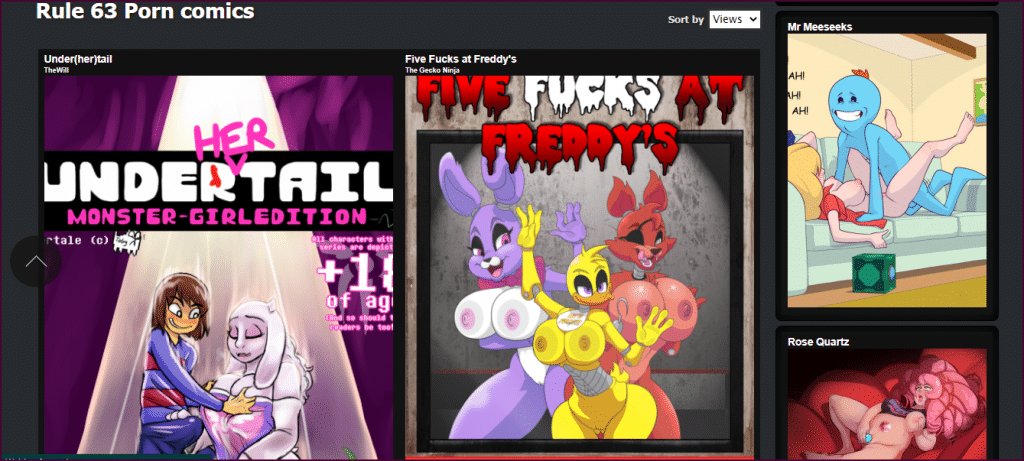 MultPorn offers a fantastic selection of porn comics that twist the gender of some famous characters. For instance, I've seen Spider-Woman instead of the usual Spiderman. These comics got amazing fucking scenes and stories that broke the typical Marvel movie. Also, MultPorn has put incredible Rule 63 on our favorite Spanish girl Dora from Dora the Explorer.
Of course, The Rules 63 section updates regularly, so you can enjoy some great stories of Camp Sherwood, Bowsette's Bisexual Bukkake Castle, A Night of Bowsette, and All-sex Wolververse. There's still more on this section that I couldn't afford to mention. Better check them out yourself, so you can pick which one you like most. Many of these comics got some serious following.
For Your Gay Cravings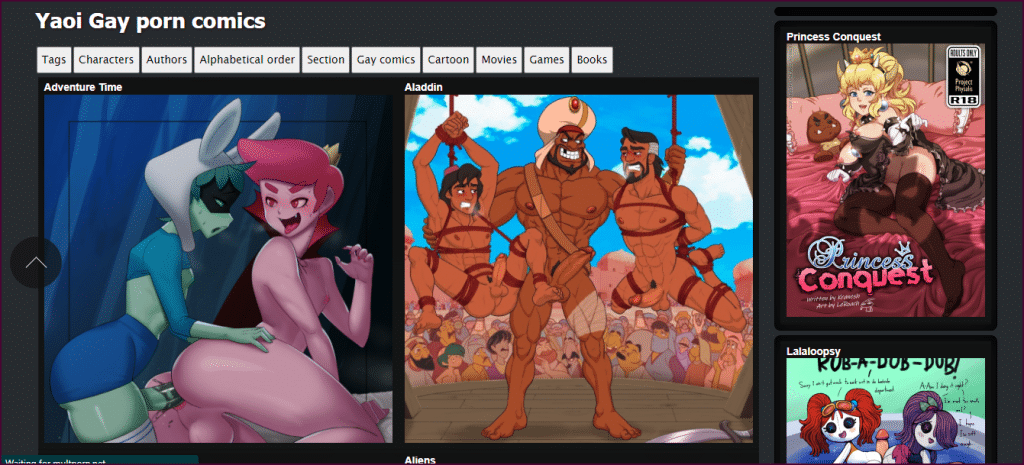 MultPorn won't ever forget to include gay content on its page. Of course, we can't ignore that many of us would love to see some gay porn action. In fact, even on porn sites, administrators always incorporate the gay section so that everyone can enjoy some gay erotic fun. And Hentai site like this is not an exception to that.
Currently, MultPorn has an extensive collection of gay-themed porn comics. They have taken some famous shows and movies and given gay-themed twists. I checked out some of the things were Hunter × Hunter, Kung Fu Panda, Avatar: The Last Airbender, Lilo and Stitch, Marvel, and Animal Crossing. Also, the site featured Harry Potter, Futurama, Frozen, Final Fantasy, Ed Edd N Eddy, Donkey Kong, Crash Bandicoot, Adventure Time, and Aladdin. I still can't imagine these characters in fucking gay scenes, but MultPorn made it possible. Now, I can never look at these movies and shows the same way.
MultPorn's Porn Games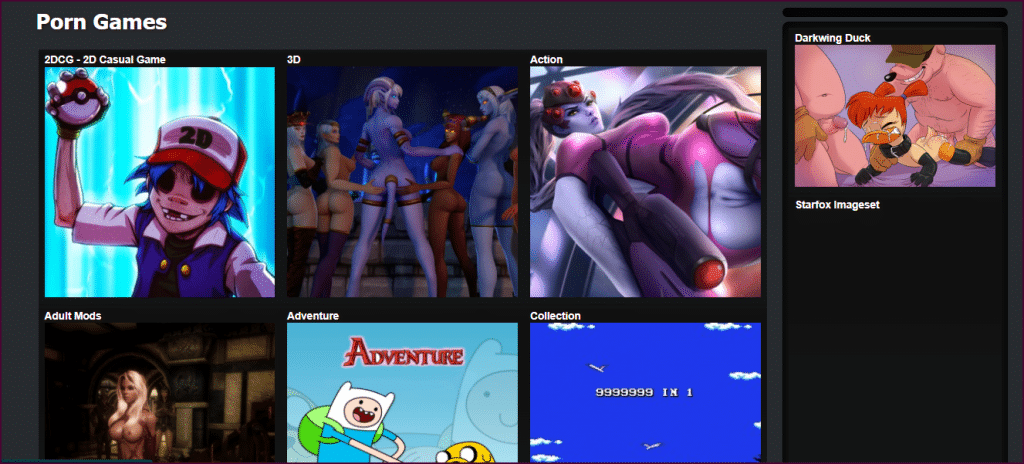 So far, MultPorn has really impressed me with its content diversity. I thought it would only focus on giving us porn comics and other steamy, erotic hentai scenes. But obviously, the team behind this site had reached beyond expectations when introducing Porn games into the collection.
The porn game section is currently divided into different categories: Strategy, Sci-Fi, Fighting, SLG, RPG, Quests, 2DCG – 2D Casual Game, Adventure, NoVeL, Collection, Adult Mods, Action, and 3D games. Each of these porn games offers an unusual but unique porn adventure. Better visit the page, and enjoy this MultPorn journey playing erotic games.
More Hentai Videos at MultPorn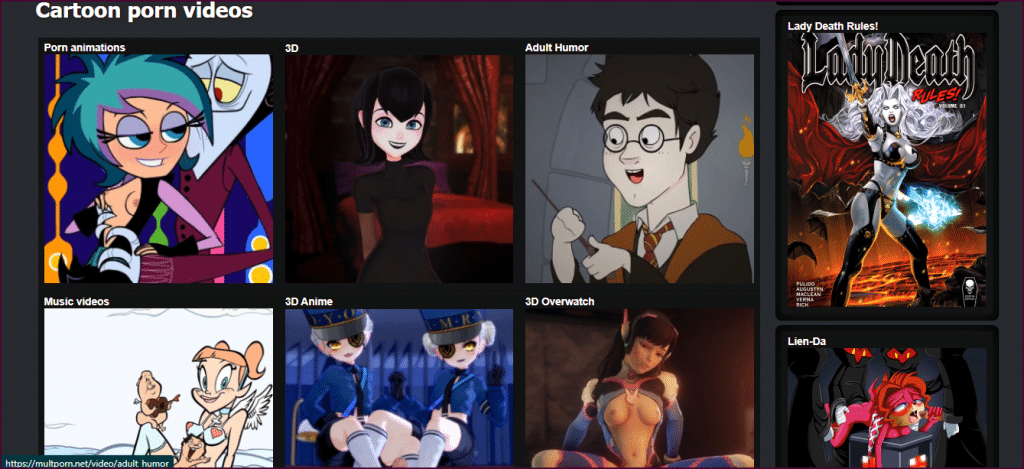 If you think that's what MultPorn can give, think again because this site offers more than expected! Apart from comics, MultPorn also has hentai videos that I'm sure will leave you breathless. They've got excellent clips from Old classic cartoons, movies, anime, mainstream animation, and more. Like the game section, MultPorn's videos are divided into 3D My Little Pony, Old classic cartoons, My Little Pony, Minecraft, 3D Overwatch, 3D Anime, Music Videos, Adult Humor 3D, and Porn animations. They offer a variety of scenes and characters that authentically capture the show/movie. Of course, these videos are not ordinary because MultPorn has its own twists and turns.
Pros and Cons of MultPorn
PROS:
Massive collection
Diverse content
Lots of famous characters, movies, and shows
Easy to use
Free and all-access
CONS:
---
12 Must-Visit Porn Comics and Hentai Sites Similar to Multporn.net: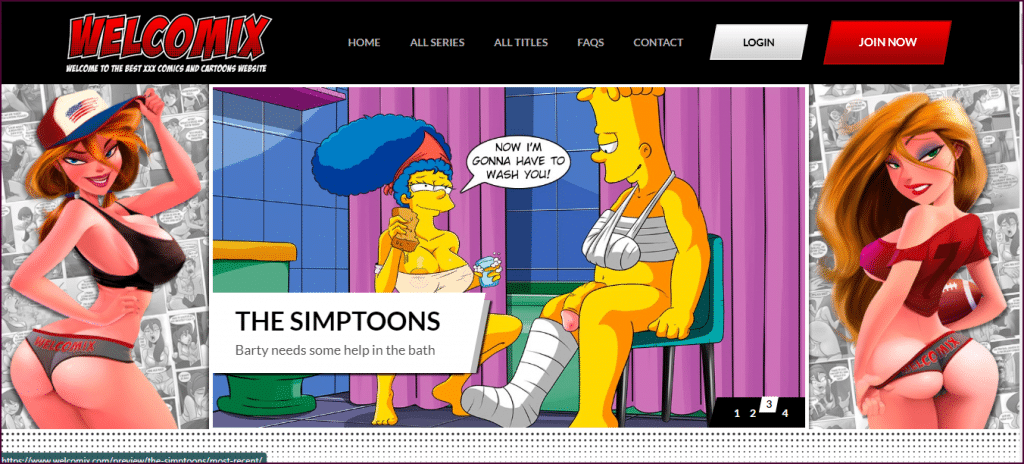 Welcomix's subscribers get all-out access to various comic entertainment through animations, comic strips, adventures, and fantastic artwork in every issue. If you visit Welcomix, you'll be treated to some genuinely bizarre romance among featured parody characters. It has quite a massive casting in terms of quantity and quality, and everything is impressively high-quality resolution.
Here's the full review of Welcomix.
PROS:
Massive comic collection
Supports mobile browsing
Plenty of comic series available
Caters to various genre
Updates regularly
CONS:
You can't play slideshows when reading comics
Needs monthly payment to access
---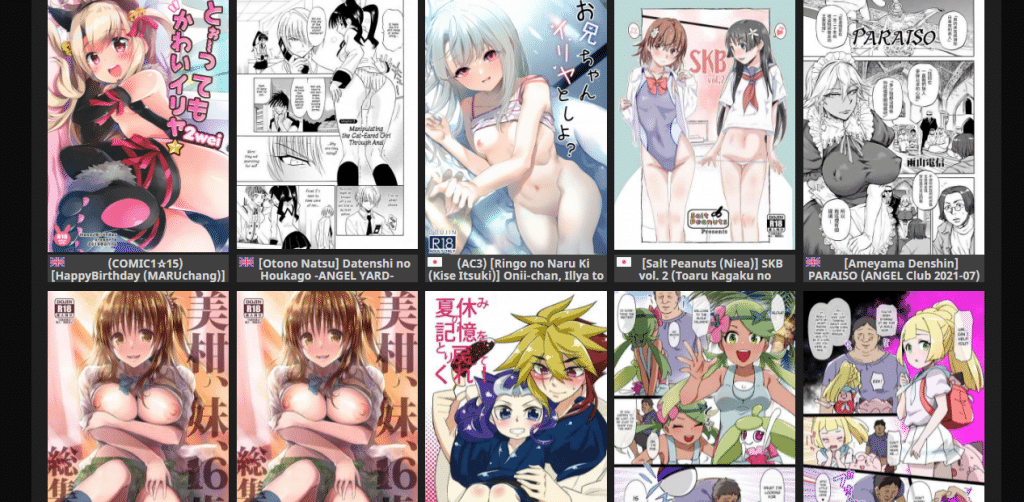 nHentai began a few years ago and has done an excellent job of offering a forum for people who want to see original Japanese hentai from some of the best artists in the industry.
The homepage is dedicated to displaying the most recent content posted and the language written. Every post has a small flag next to it: Japanese, English (shown with a British flag), or Chinese. I firmly recommend that you glance at the tags section to see what categories are available. Popular choices include anal, which has 50,000 video files.
Click here for nHentai full review.
PROS:
Simple to use and user-friendly
Design is decent
Plenty of niches, including taboos
Content is sorted efficiently
Free to download
Easy registration
Free to use
CONS:
No videos or GIF
Ads
Lacks forums
---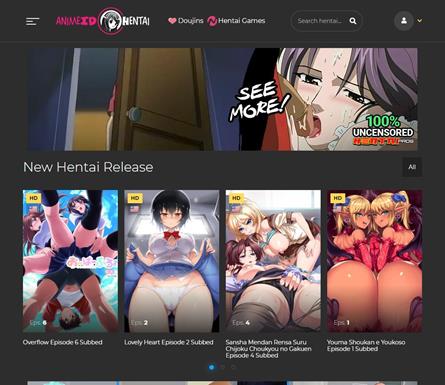 There is plenty of sexy material for all tastes on Anime Hentai, and the navigation layout makes it easy for every user and visitor. You can choose from selecting common tags at the top of the homepage, just below the main menu. Moreover, all the strangest fetishes are welcome here. By ticking the page you want to read, you can choose it. This is a fantastic choice for those who do not have the patience to read the whole story but still want to learn more about it.
PROS:
Loads of free hentai contents
Easy and accessible to navigate
Good quality hentai videos
CONS:
---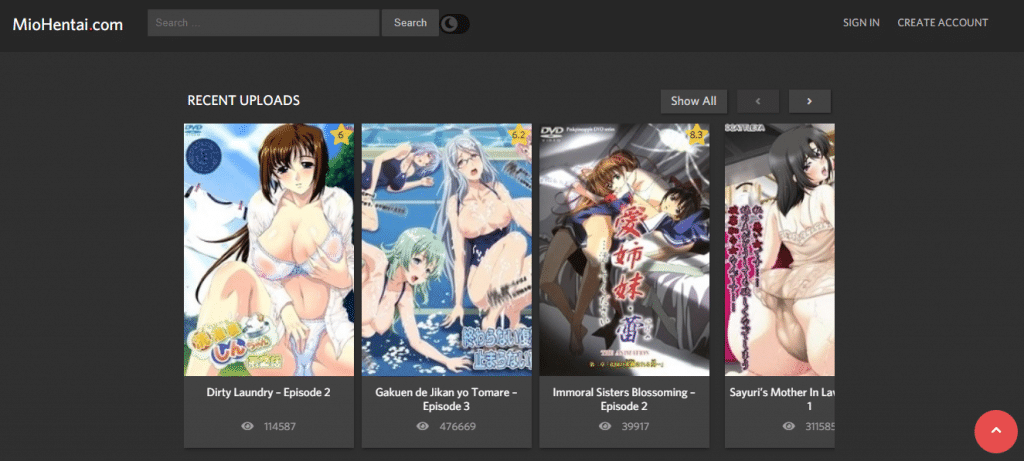 MioHentai has roughly 1300+ videos available; most of them are censored content. I also found out that there are around 600+ videos with English subtitles and the remainder are raw footage. The 3D videos collection has more than 500+ content, which plays around boobs, fetish, monsters, aliens, and more. MioHentai has a great feature, with an easy navigation system employed. Everything you see around the page seems newbie-friendly and straightforward to understand.
Click for a full review of MioHentai.
PROS:
Design is accessible and user-friendly
There are taboo themes
Uses 3D and 2D animation
Plenty of categories
CONS:
Mostly censored content
Some ads
Registered users can access some member-only features
It has redirect links available
---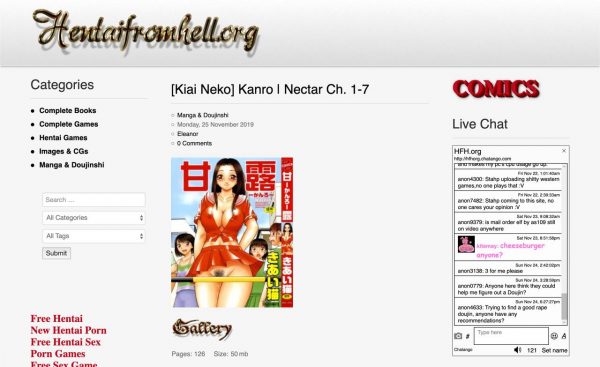 Hentai From Hell is an excellent name for a forum dedicated to naughty hentai porn. There are regular updates on new comics every day, so the archive is extensive. We are talking about over 3,100 pages, each of at least ten hentai galleries. However, the presentation of comics is lacking since they are simply thrown on the web with just a title. HentaiFromHell is just as simple as websites come. There are no frills, only naughty anime porn that you can appreciate right now. I like how they specify the size of each comic and the number of pages.
PROS:
Free access to hentai porn
Updates regularly
Various content
CONS:
---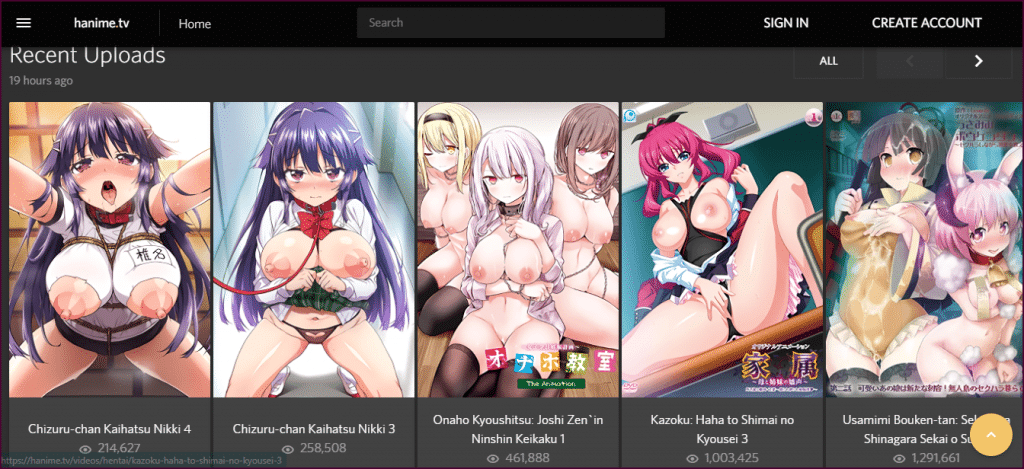 Hanime.tv is another free streaming hentai site, suitable for anyone who enjoys Japanese manga and animated cartoons. Hanime is notoriously known for its huge library hentai. It's packed with sensual scenes and themes that you don't typically see in several traditional pornos. Here, you can search any videos or images with numerous categories effortlessly. Certainly, you'll experience the hottest and most unusual hentai movies ever —huge kudos to this website. In terms of quality, I gotta say that Hanime's high-definition content and promising 4K Resolutions are simply stunning to behold!
PROS:
Amazing content
Simple but intuitive design
Effortless to use
Available as a mobile app
Taboo and bizarre themes
CONS:
Some features require membership
Ads are plenty
---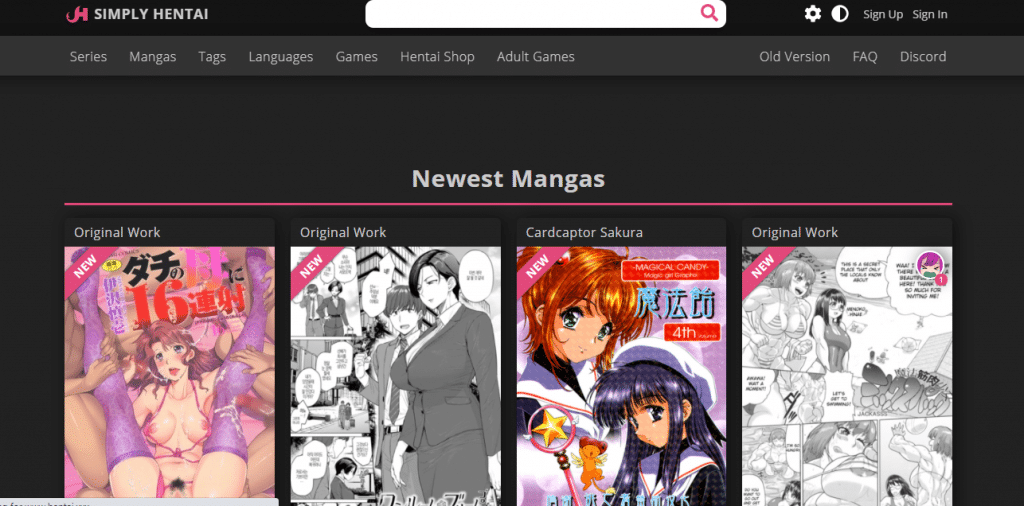 SimplyHentai is a complete source for your anime/hentai desires. Here's where you can discover new videos of your beloved sex anime shows and comics to browse, all without needing to pay anything. Now you will find everything you could possibly want to fulfill your highly unique erotic dreams and discover new and thrilling fetishes.
Take a look at Simply-Hentai review.
PROS:
Massive selection of hentai content
Full-length collection of Hentai episodes
Amazing navigation and design
Supports mobile browsing
CONS:
---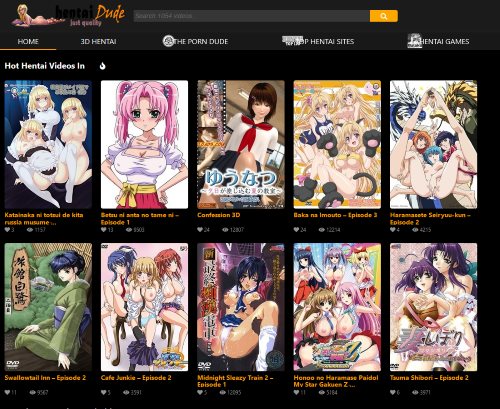 HentaiDude is without a doubt one of the most significant pornographic discoveries you'll ever find. The sheer volume of videos will astound you. Each video is neatly classified into a sub-genre and cross-referenced with keywords. This means that you will find an exact video within 30 seconds of landing on the front page. Most videos are offered free to watch, but the paid account is the true advantage. Any video is available for free, and you can communicate with other group members. When it comes to this niche, paying a premium is an investment rather than a cost.
PROS:
Many free accounts to access
Amazing web design
Highly organized and neat
CONS:
A limited number of videos
---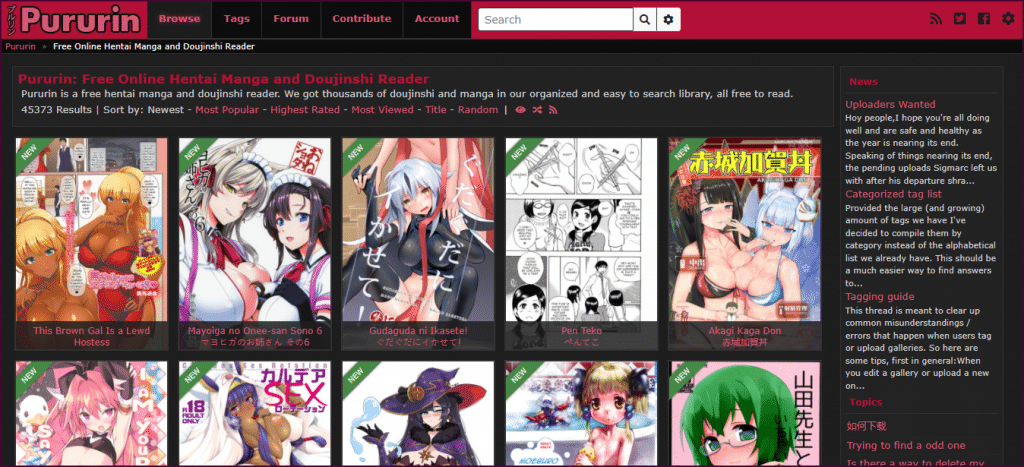 Hentai has a much more thriving community than other genres of porno and erotica. It's particularly true given that Pururin's storylines and hentai characters are trendy around the globe because of their fascinating traits and extensive fan support. Supporters can't contain their enjoyment, so it's no surprise that virtual communities have sprung up in their stead. They enjoy talking about everything from cartoons to hardcore porn to superheroes to anything else that comes to mind.
PROS:
Upload content for free
Updates regularly
Organized content
Easy use of the site
Free to use
Free registration
CONS:
Downloading needs registration
Videos are not available
---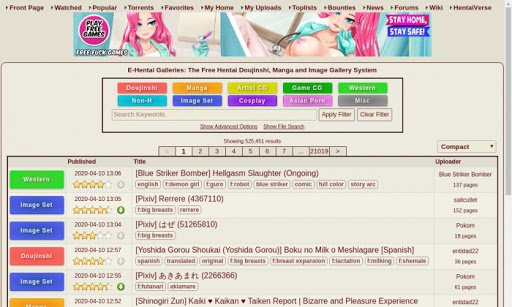 E-Hentai is your one-stop store for all the depraved and filthy hentai! Nurses, shemales, tentacles, and furries are all there. Nothing is off-limits here; the only limitation is the right to use search marks. Even without an account, E-Hentai is entirely free to use. The only restrictions on a free account are the inability to play Hentaiverse, create and approve bounties, and post. If all of that appeals to you, making an account is as easy as it gets! Simply enter your e-mail address and generate a username and password.
PROS:
Millions of videos
Full-length size of available videos
Updates regularly
CONS:
Need membership for unlimited access
Advertisements
---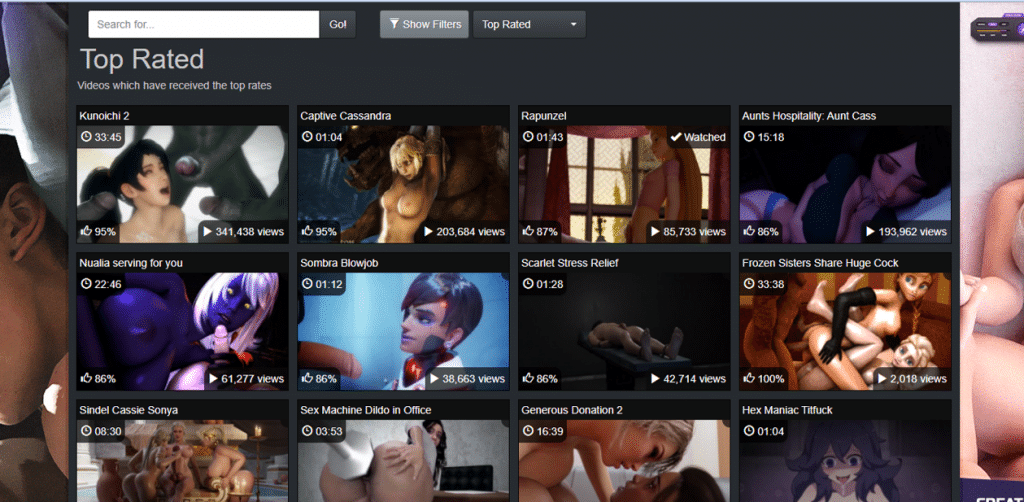 Millions after millions of pictures, gifs, and videos are available for your viewing pleasure. If you like hentai, a visit to PorCore.com will make you feel as if you've died and gone to heaven. There's only too much to discover. The web is updated daily, so there's still something fresh and exciting to look forward to.
People have spent time and effort making these videos, and even though you aren't a big fan of hentai, you will have many videos that you will have a happy time viewing. PorCore.com is a hentai platform that can't be matched, not in terms of content or frequency of updates, but its overall functionality.
PROS:
A wide array of hentai videos
Free access
Can be utilizing a mobile phone
User friendly
Easy to navigate
CONS:
Plenty of annoying advertisements
---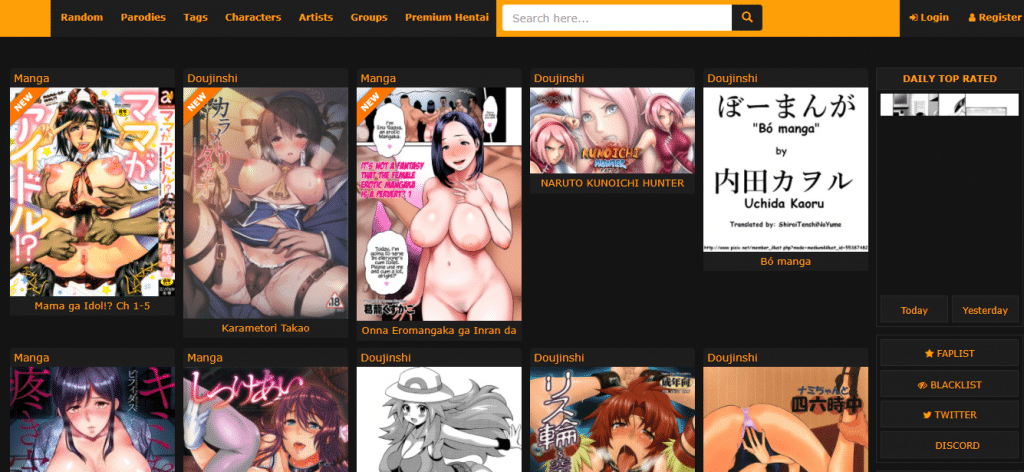 HentaiFox provides an extensive collection of the most entertaining and seductive hentai porn videos and photos. In fact, millions of people worldwide enjoy Japanese sexually explicit content. It is among the most popular erotic forms in the US alone and perhaps among the most popular hentai sites worldwide.
Check for review of HentaiFox.
PROS:
Amazing hentai collection
Different categories to choose from
There are taboo and uncensored content available
Free to browse
Basic and straightforward design
CONS:
There are too extreme themes
Feature basic searching tool
Some ads
---
Verdict
After browsing MultPorn, I can finally say that this site is more than just a porn comic platform. The variety of content features a cover from porn games and hentai pictures to cartoon comics and porn games. Indeed, by adding Rule 63, movies, book comics, manga, and some extra fun stuff, MultPorn has surpassed my expectations. With all these twisted hentai collections, MultPorn has really made me think twice about watching adult pornos again. Surprisingly, the sick and unusual themes that this site pushed transformed how I see fucking and banging in general. Despite all the ads on the page, MultPorn really set the standard high. Better check it out and enjoy hentai's bizarre adventures!
All 71 Other Sites in This Category Worth Checking Out:
LoL Hentai Review & 12 Best Hentai Porn Sites Like LoLHentai.net Show Me 12 Alternatives for LoLHentai.net Hey there, fellow gamers and hentai enthusiasts! Today, we're diving into the fascinating world of LoLHentai, also known as League of Legends but with a hentai twist. Now, I know what you're thinking – "What on earth will happen […]