Updated on: October 2nd, 2023
Moekyun
& 12 Best Premium Hentai Sites Like Moekyun.co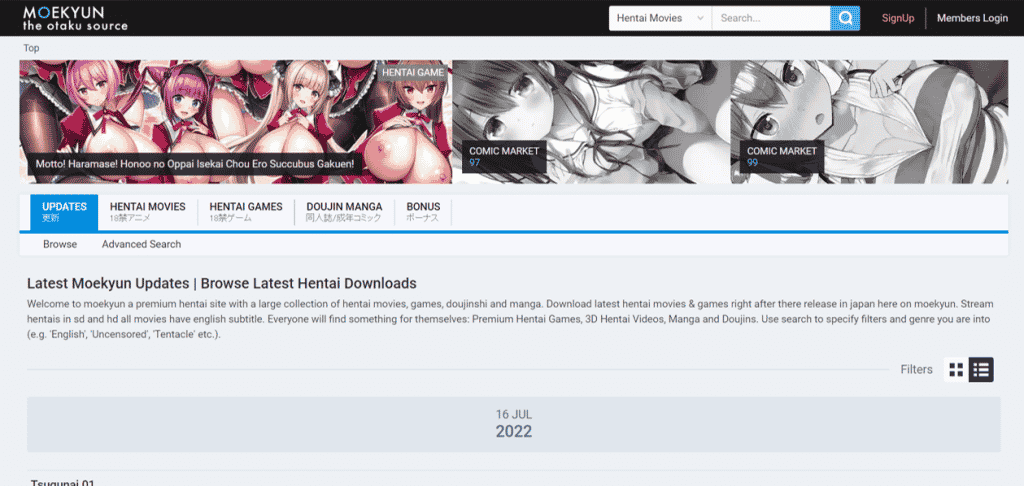 Upgrade the hentai fun with Moekyun.co! Initially, I was having a bit of confusion about how to address and pronounce the site name. Thankfully, Google came to the rescue. Moekyun is a feast to the eyes and an ideal vicinity for fappers who love animated stuff. It was also a great delight to discover this arena; thus, I took the chance to share my cents over Moekyun.com. Yes, pal, I know you have the same curiosity too. If not, you are not lurking in this review.
Official URL: https://moekyun.co/
Meanwhile, I am glad about the advent of premium hentai sites and their vast repository of quality content. Moekyun provides a wide opportunity to showcase talents and skills. More so, it allows perverts to explore individual needs and sexual cravings. Hentai is a primary ingredient in the entertainment business, and Moekyun is an absolutely advanced and straightforward version. Let us get this review done and have your piece of Moekyun information in this item.
Fap Hard with Moekyun
Some say it is inevitable not to fap with Moekyun's complete set of orgasmic libraries. With that, I became even more intrigued to snoop and investigate. I was ecstatic to see the luxury of animated porn films, erotic games, doujinshi, and more. Moekyun's gallery is a treasure trove of fantasies and obsessions; hence, it called its platform 'The Otaku Source.'
How does that affect you? Well, if you have a personal inclination to address your intense interests, Moekyun volunteers to help you. The long list of perverted creations captured the attention of jerkers.
Therefore, fans sumptuously devoured the bits and pieces of hentai porn available at the arena. Not just that, Moekyun aims to blow your entire sensuality and awaken your long overdue hentai addiction. However, a premium is a premium; thus, you must spend some extra cash. You have to set your boundaries first, pal, so if you are openly willing, read more about this comprehensive evaluation.
Ready Set Moekyun!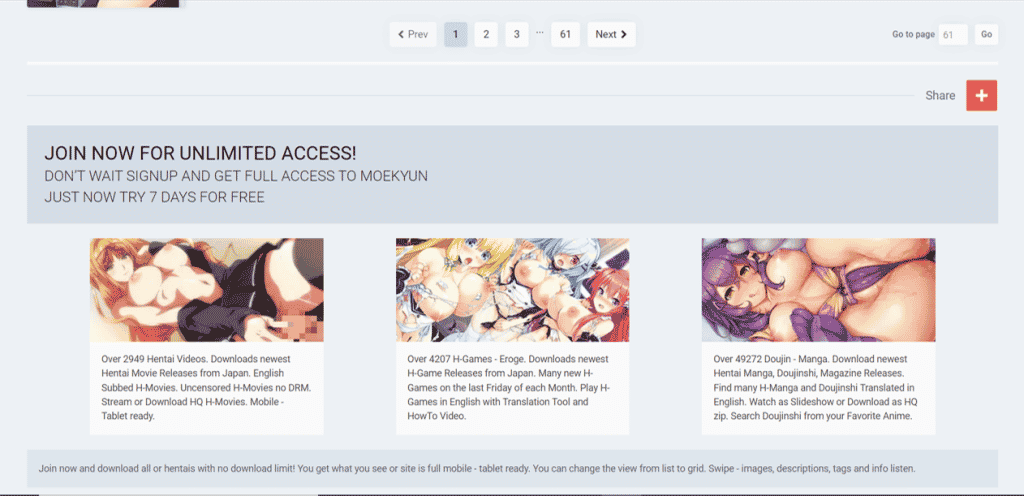 Obsessed anime porn fans are overwhelmed with the tons of collective productions at the Moekyun arena. I mentioned how Moekyun is a feast to the eyes a while back, and I stand by these words. The main page literally brought wonders to my penis. I am aroused as soon as I land on the page, and my hentai thirst is instantly quenched. Truly, I love the vibe; however, this is not the end game yet; we will discover more as the review progresses. But one thing is certain, Moekyun knows its craft and is serious about easing our erotica troubles away.
Immensely, the various selections made me want to taste them all. If you do not know me yet, hentai is one of my top favorites, and Moekyun seems to provide enough. On the other hand, you have to note that Moekyun does not look like your typical hentai streaming arena. Yes, I need to tell you straightly to give you enough expectations about the domain. Moekyun settled for a blog-type repository; hence, be ready to devour images and essential descriptions on the page. Your real bodily senses will be busy. Indeed, an interesting affair for avid fanatics like us.
Design and Layout of Moekyun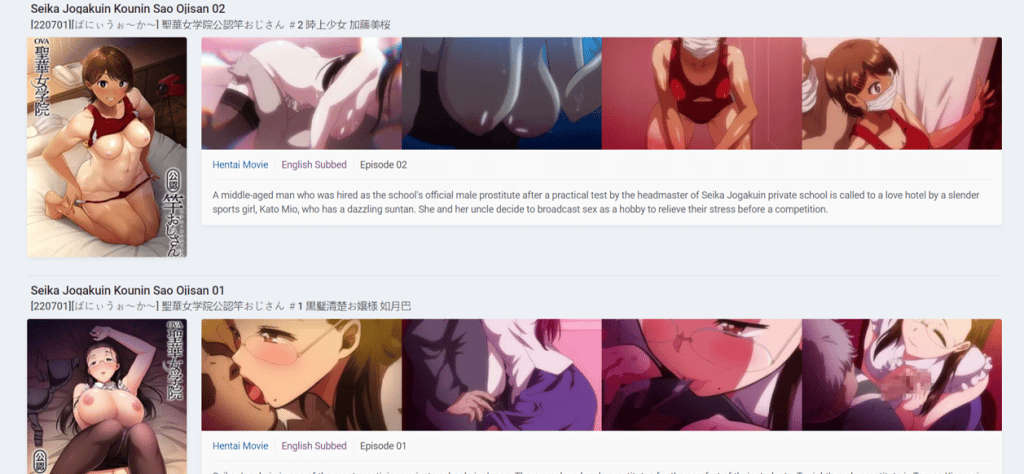 I liked the unique presentation of Moekyun and its effect on my bulging cock. The arena gave me a taste of both worlds with black and white prints and colorful manga images. Moekyun provides more sweet delicacies by offering any hentai material you can imagine. It got a satisfying list of newly displayed manga, bonus treats, and the steamiest hentai films. Also, games are present on the main page through neat tabs and links. I commend the overall organization as it separates from the usual anime porn approach.
Moreover, since Moekyun opted for a blog-style format, you can see information listings everywhere. Each surprising treat comes with a paragraph of erotic descriptions and equally salivating images. Though videos aren't readily available on the main page, the photos still serve their delectable purpose. Moekyun presents five or more pictures per material to entice you to tap and select them. I bet you will agree with me about how overwhelming the images are. It depicts the typical hentai characters that we so love to savor.
User-Friendly Features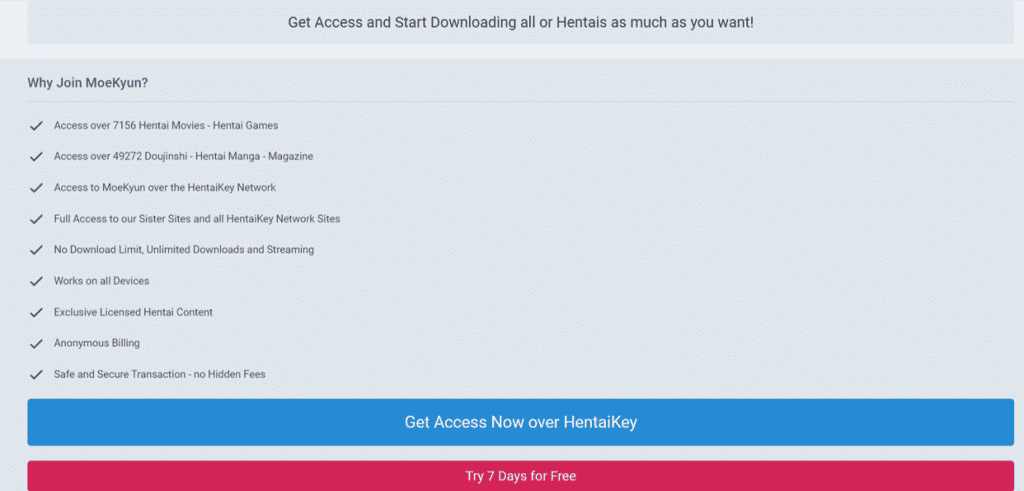 As an Otaku source, Moekyun successfully built an interactive arena for jerkers. The moment I saw the page, I was instantly satiated to see enough features to aid my quest. Moekyun intricately displayed a huge site logo. On the other end, site visitors can locate the advanced search engine, signup, and member login buttons. The entire page is dominated by white colors and stints of gray on the menu headers. Interestingly, you can immediately shift your viewed collection into Updates, Hentai Movies, Hentai Games, Doujin Manga, and Bonus content.
Furthermore, site visitors have the option to change the entire page layout. Depending on personal preferences, fans can either go for a grid or list style. In addition, I believe you will adore the sorting functions accessible at Moekyun. You can filter materials via title, rating, popularity, release, or newest. Not just that, fans can also happily maneuver the page through the use of pagination at the bottom. From there, one can decipher the huge gallery with the number of pages available.
Grab Some Moekyun Treasure Tonight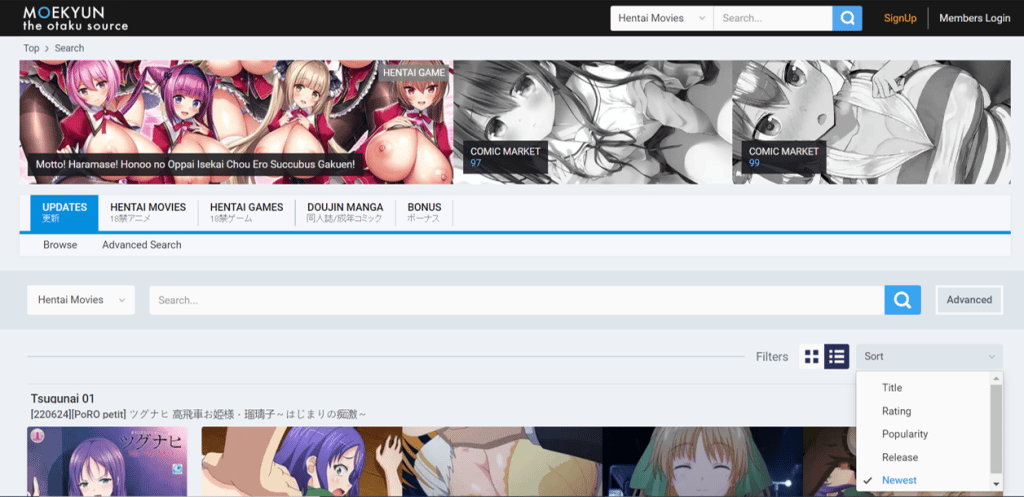 I am saying tonight because I am doing this review a few minutes before midnight. Anyway, Moekyun is accessible to the porn market regardless of time and date, which means you can have jerk-worthy material 24/7. Excitingly, each content here at Moekyun shows a cover page. Therefore, when you tap each photo, you will be directed to a realm of orgasmic surprises. Yes, you will see a full media page with full-length flicks and full-size photosets.
Undoubtedly, anyone will have a piece to entertain them. However, picking and choosing is a challenge with the thousands of selections. You can see anime characters in diverse hair colors, dresses, beauty, and skin colors. These qualities are what I adore about hentai sites; you can have enough characters and playful options to devour. I saw anime babes that looked like Asians, Europeans, and more. Most importantly, the ladies project hot curves and huge titties.
Moekyun Updates Often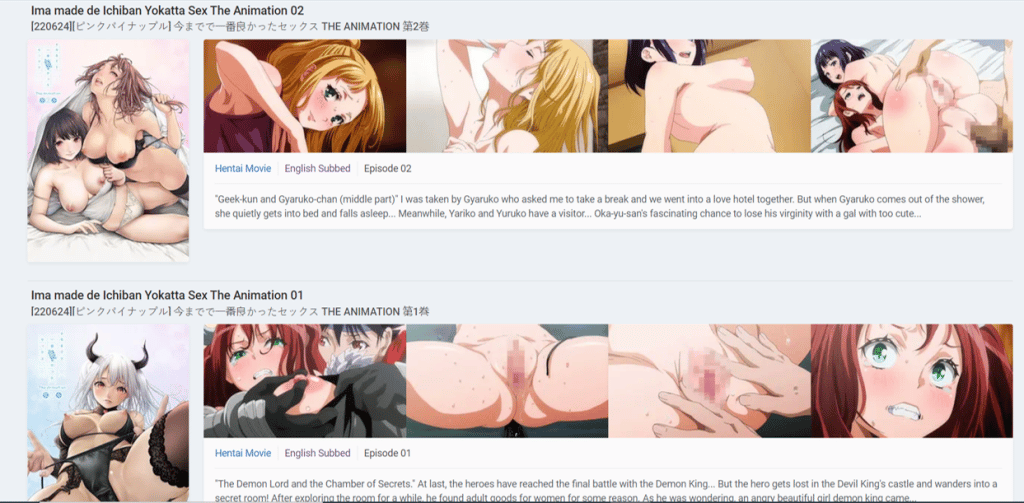 Fans will have a mountain of picks as the site promises regular uploads. Although no specific upload schedules exist, Moekyun tallies weekly additions on the page. I saw a decent list of freshly updated pieces like comics, hentai seduction, and playful scenarios. There are also princesses and royal personalities in the latest scenes. The insane fucking is mouthwatering that rubbing my itchy dick is a natural bodily response.
I also love that Moekyun has not been long in the industry, yet it has already surpassed a record-breaking statistic. It was only 2019 when the site was launched and presented more than five thousand hentai videos and hundreds of erotic stories. Not just that, the site also loaded an estimated three to four thousand anime porn games and 49 272 doujinshi. With this data, Moekyun is confident in showcasing quality and quantity assortment. Activities are overflowing, and Moekyun sets a higher bar for irresistible platform functions. However, exclusive members can only enjoy these sweet promises; thus, you have to be one, pal.
A 7-Day Trial is in!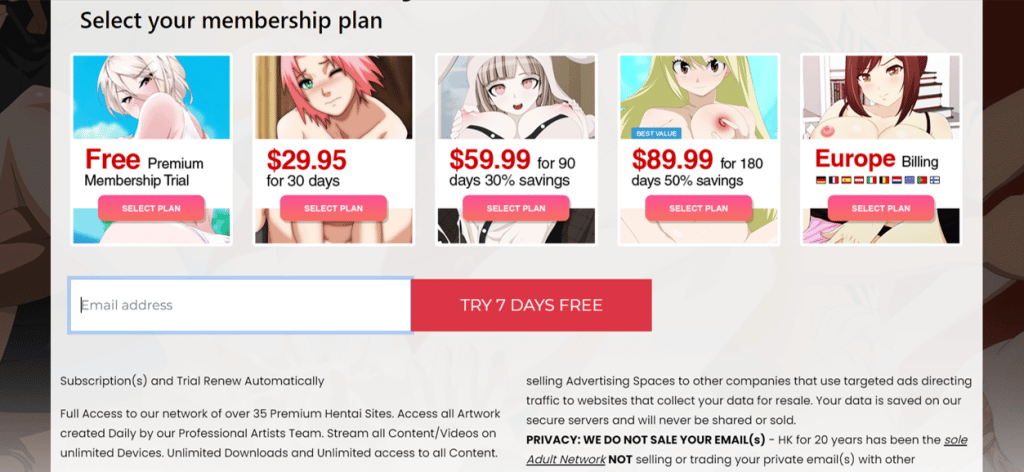 Yes, Moekyun is generous to give a seven-day free trial to potential and novice site goers. Hence, one can have enough time to test the waters and see how Moekyun affects their fapping. Also, becoming a member of the page allows you to access a huge umbrella of sister sites. Your membership entitles you to enjoy the entire Hentai Key network. Each treat works on all devices with no download and streaming limitations. Indeed, you can relish exclusive hentai materials and top-of-the-line productions in a single subscription.
Discreet or anonymous billing is also a priority at Moekyun; hence, one can guarantee a safe business transaction. So, what are you waiting for? Select the best plan for you; after a week of free fapping exhibitions, source your favorite material for a $29.95 30-day subscription, $59.95 for 90 days, and $89.99 for a 180-day plan. All these and more entail big discounts and quality savings. You also need to be vigilant as these plans renew automatically. Get your free tour today and level up the party the Moekyun way.
Streaming Experience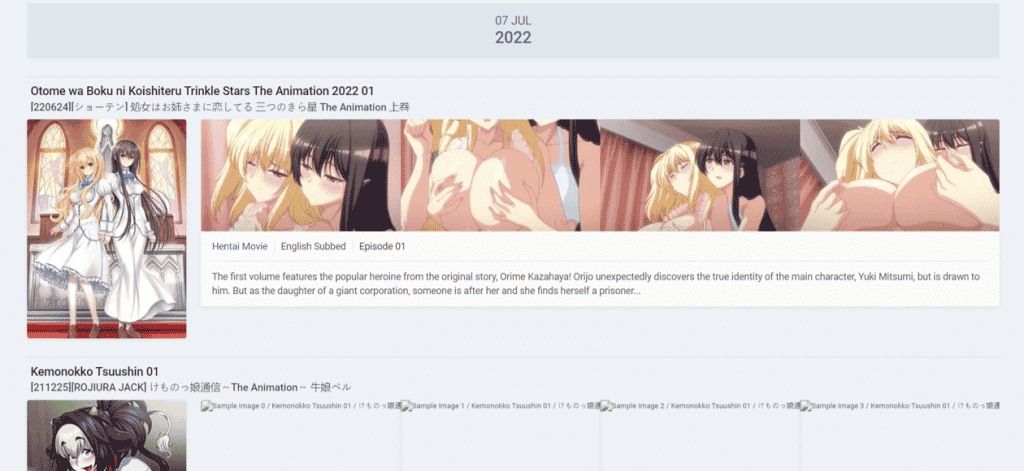 It was a great anime viewing party at Moekyun. I watched a few flicks to test and was happy with the overall presentation. Episodes and series are available so that one can binge-watch some scenes. Interestingly, the materials are full-length, running twenty to thirty minutes of playing duration. Some even went an hour or two long; indeed, there is so much fun here. Tags are also available in each material with bits of humiliation, schoolgirls, MILF, and tentacles.
So far, the movies have played smoothly with a 360p default quality. You can upgrade the fun by selecting 720p, 1080p, and up to 4k resolution. English is Moekyun's default language, and translations are also available. However, censorship is inevitable at Moekyun. The site strictly follows Japanese guidelines, and we have to respect that. Fappers can use their wild imaginations as genitals are covered with pixels and blurry lines.
The Pros and Cons of Moekyun.co
PROS:
Consistent new uploads
Advanced search and effective features
Large database of hentai stuff
Blog-style domain
High-quality movies
Translations and subtitles are available
Access to other Hentai Key sister sites
Unlimited streaming and downloads
Free one-week trial
CONS:
Censored genitals
Somewhat expensive
---
12 Best Premium Hentai Sites Similar to Moekyun.co: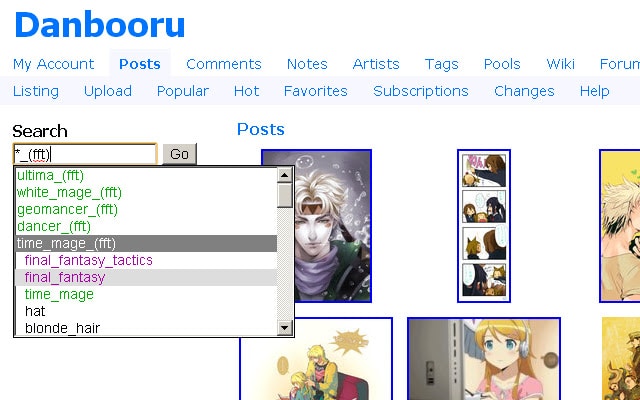 Danbooru is a forum that caters to both developers and non-creators. You can both display and make hentai in this way. Names, creators, visibility, and other factors used to categorize these posts. If you are feeling daring, you can check out the most recent comments on the website, as well as links to sections where you can debate subjects with other enthusiasts.
Basic, Gold, and Platinum membership levels exist on Danbooru, with Platinum being the greatest and Basic being the least. Although absolutely nothing on Danbooru is limited, having a higher tier makes some aspects of the platform easier to use or offers better facilities.
PROS:
Variety of pornographic contents
It consists of anal, escort, cam, and many more porn sites
Lengthy videos and materials
Amateur and professional contents
CONS:
High-Definition videos are accessible for premium members only
Advertisements
---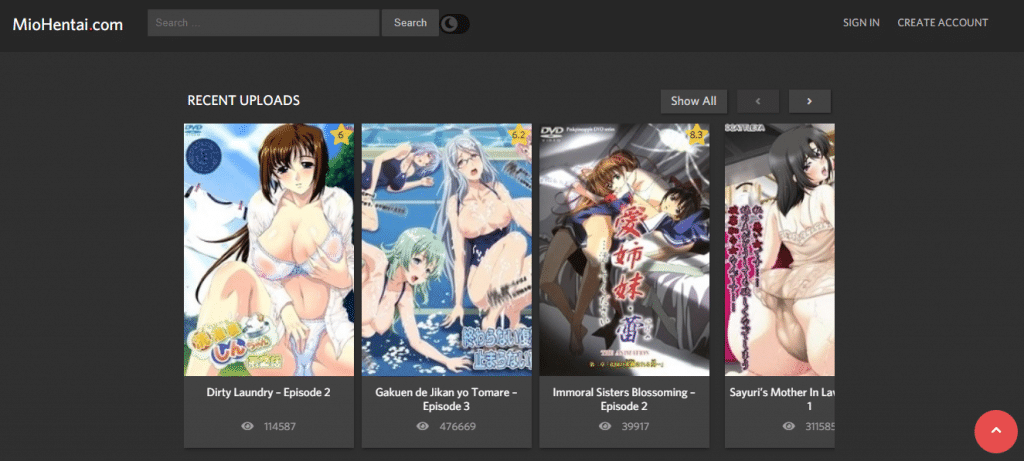 MioHentai has roughly 1300+ videos available; most of them are censored content. I also found out that there are around 600+ videos with English subtitles and the remainder are raw footage. The 3D videos collection has more than 500+ content, which plays around boobs, fetish, monsters, aliens, and more. MioHentai has a great feature, with an easy navigation system employed. Everything you see around the page seems newbie-friendly and straightforward to understand.
Grab a quick bite with this MioHentai review.
PROS:
Design is accessible and user-friendly
There are taboo themes
Uses 3D and 2D animation
Plenty of categories
CONS:
Mostly censored content
Some ads
Registered users can access some member-only features
It has redirect links available
---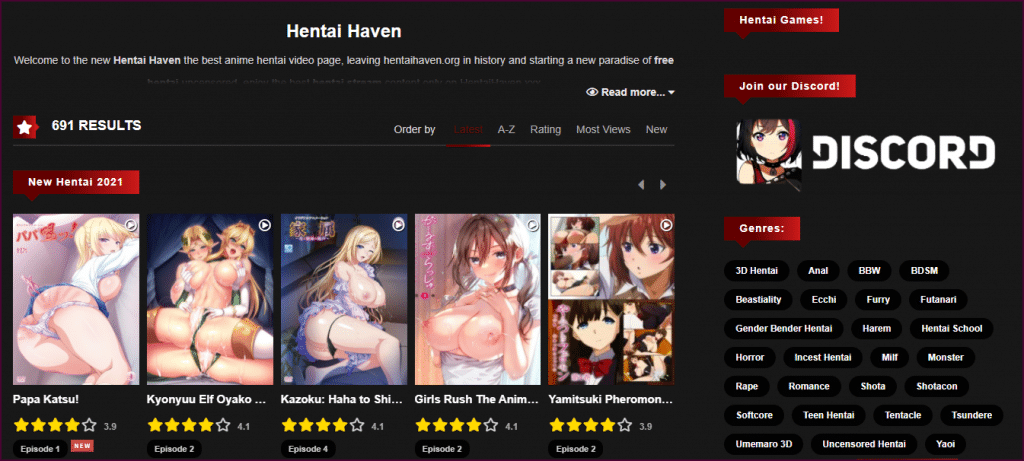 HentaiHaven is perhaps the most dedicated hentai site I've seen so far. It's serious about its niche and goal — and that's to provide incredible animated movies, clips, and the likes. You can clearly tell how Japan, including its anime industry, heavily influences it from the content itself. No wonder why people are keep coming back.
Full review of Hentai Haven here.
PROS:
It has fantastic sex games
Effortless to use
Navigation is simple
Plenty of content
CONS:
Requires registration to access the forum
Basic design
---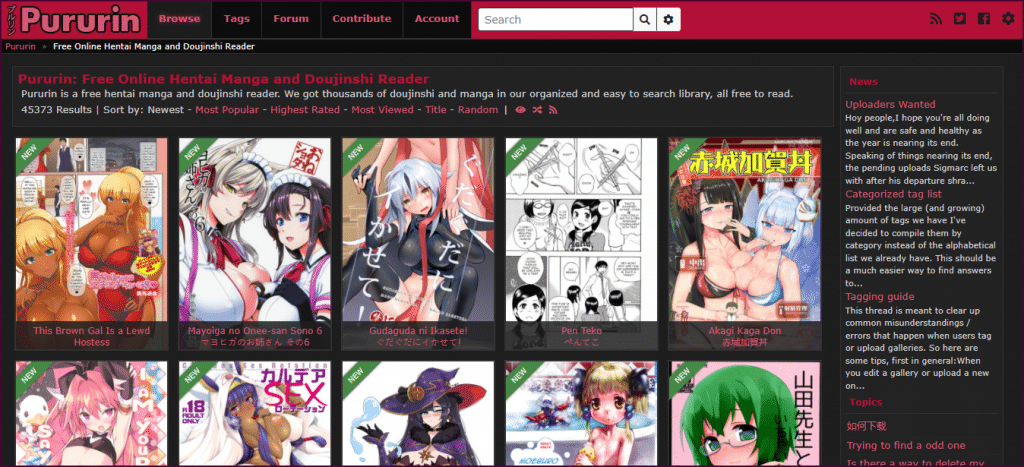 Hentai has a much more thriving community than other genres of porno and erotica. It's particularly true given that Pururin's storylines and hentai characters are trendy around the globe because of their fascinating traits and extensive fan support. Supporters can't contain their enjoyment, so it's no surprise that virtual communities have sprung up in their stead. They enjoy talking about everything from cartoons to hardcore porn to superheroes to anything else that comes to mind.
Read this full Pururin review.
PROS:
Upload content for free
Updates regularly
Organized content
Easy use of the site
Free to use
Free registration
CONS:
Downloading needs registration
Videos are not available
---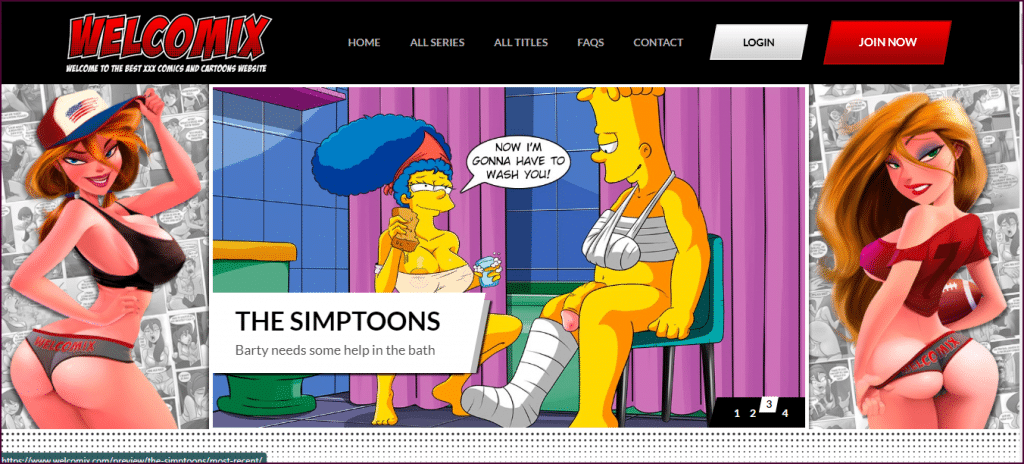 Welcomix's subscribers get all-out access to various comic entertainment through animations, comic strips, adventures, and fantastic artwork in every issue. If you visit Welcomix, you'll be treated to some genuinely bizarre romance among featured parody characters. It has quite a massive casting in terms of quantity and quality, and everything is impressively high-quality resolution.
Read Welcomix's full details here.
PROS:
Massive comic collection
Supports mobile browsing
Plenty of comic series available
Caters to various genre
Updates regularly
CONS:
You can't play slideshows when reading comics
Needs monthly payment to access
---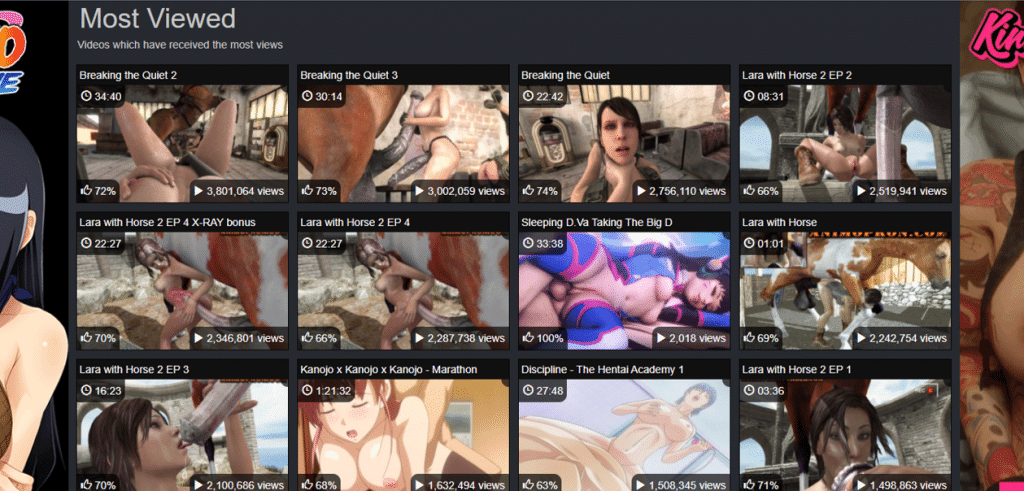 Millions after millions of pictures, gifs, and videos are available for your viewing pleasure. If you like hentai, a visit to PorCore.com will make you feel as if you've died and gone to heaven. There's only too much to discover. The web is updated daily, so there's still something fresh and exciting to look forward to.
People have spent time and effort making these videos, and even though you aren't a big fan of hentai, you will have many videos that you will have a happy viewing. PorCore.com is a hentai platform that can't be matched, not in terms of content, not in terms of frequency of updates, but with its overall functionality.
PROS:
A wide array of hentai videos
Free access
Can be utilizing a mobile phone
User friendly
Easy to navigate
CONS:
Plenty of annoying advertisements
---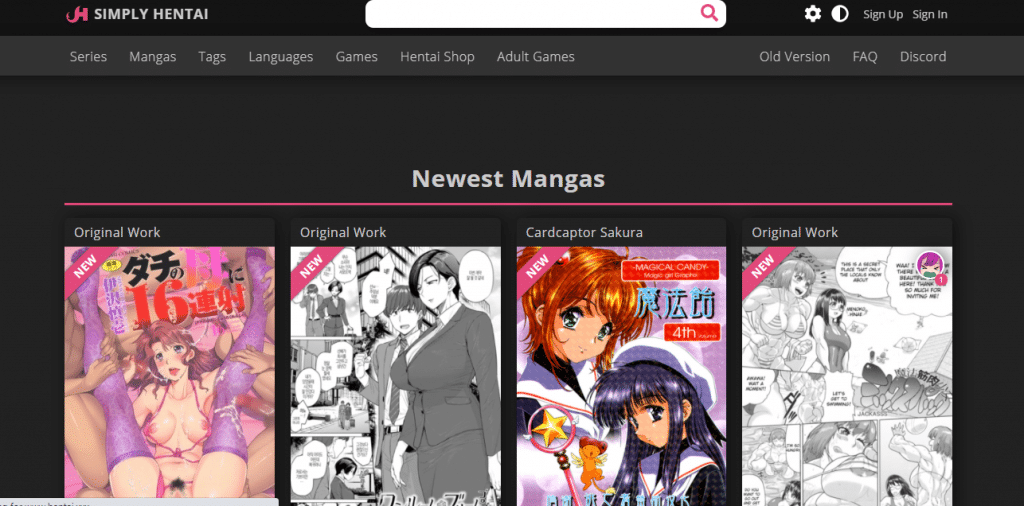 SimplyHentai is a complete source for your anime/hentai desires. Here's where you can discover new videos of your beloved sex anime shows and comics to browse, all without needing to pay anything. Now you will find everything you could possibly want to fulfill your highly unique erotic dreams and discover new and thrilling fetishes.
Take a look at Simply-Hentai review.
PROS:
Massive selection of hentai content
Full-length collection of Hentai episodes
Amazing navigation and design
Supports mobile browsing
CONS:
---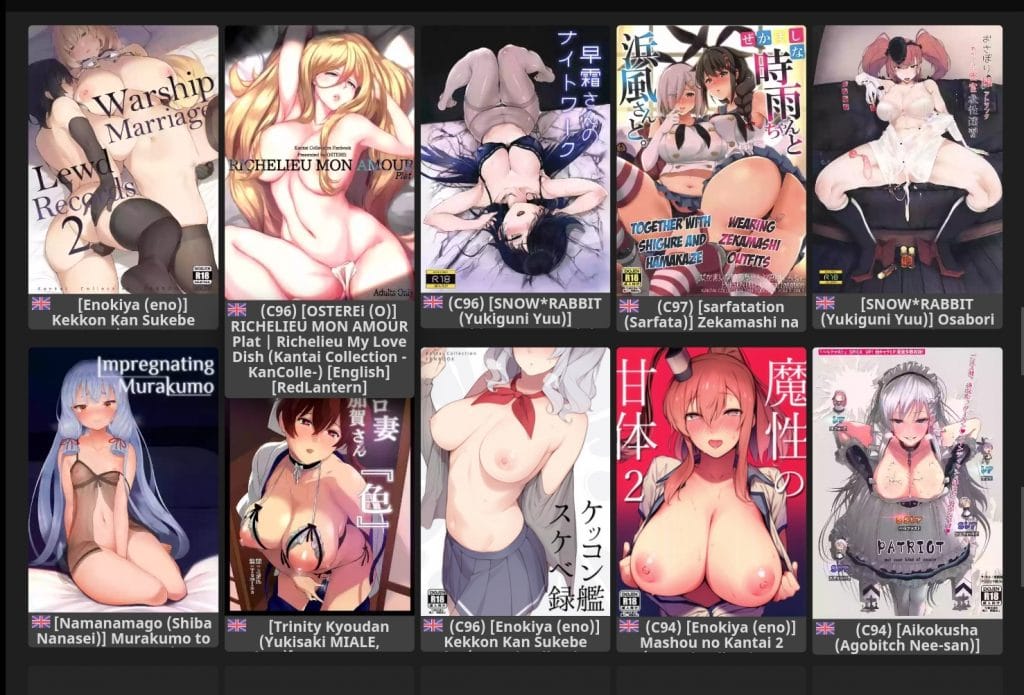 nHentai began a few years ago and has done an excellent job of offering a forum for people who want to see original Japanese Hentai from some of the best artists in the industry.
The homepage is dedicated to displaying the most recent content posted and the language it has been written. Every post has a small flag next to it: Japanese, English (shown with a British flag), or Chinese. I firmly recommend that you glance at the tags section to see what categories are available. Popular choices include anal, which has 50,000 video files.
Here's the full review of nHentai.
PROS:
Simple to use and user-friendly
Design is decent
Plenty of niches, including taboos
Content is sorted efficiently
Free to download
Easy registration
Free to use
CONS:
No videos or GIF
Ads
Lacks forums
---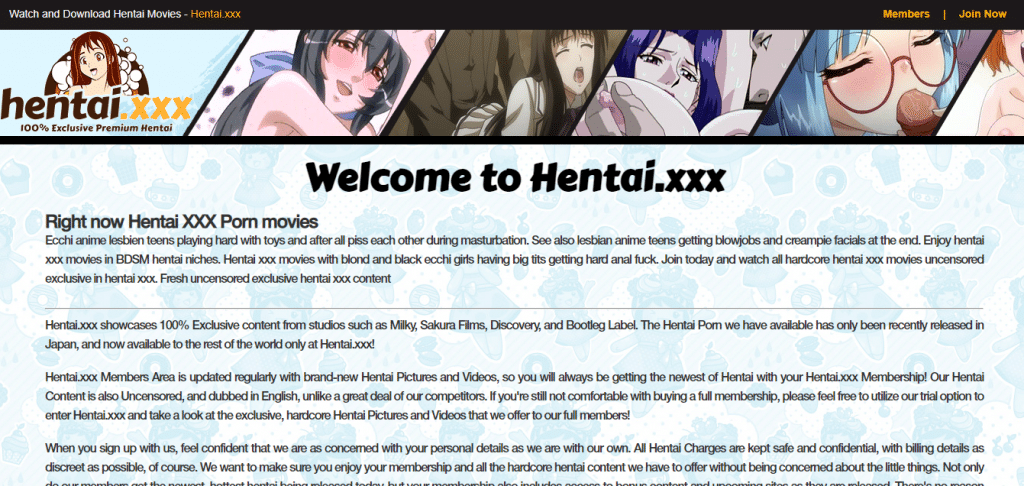 A brand new and unique hentai video service with consistently good stuff from Japan that is indeed everything you're getting at hentai.XXX. It's a website that includes well-produced videos of varying qualities, including high-definition quality and SD formats. You should anticipate exceptional anime sexual content in HentaiXXX because unique Japanese studios produce everything here — and we know exactly how they work.
PROS:
Exclusive Japanese material
Top-notch movies with excellent quality
Contents are tremendous and wild
It offers some bonus scenes
It has a mobile version
CONS:
---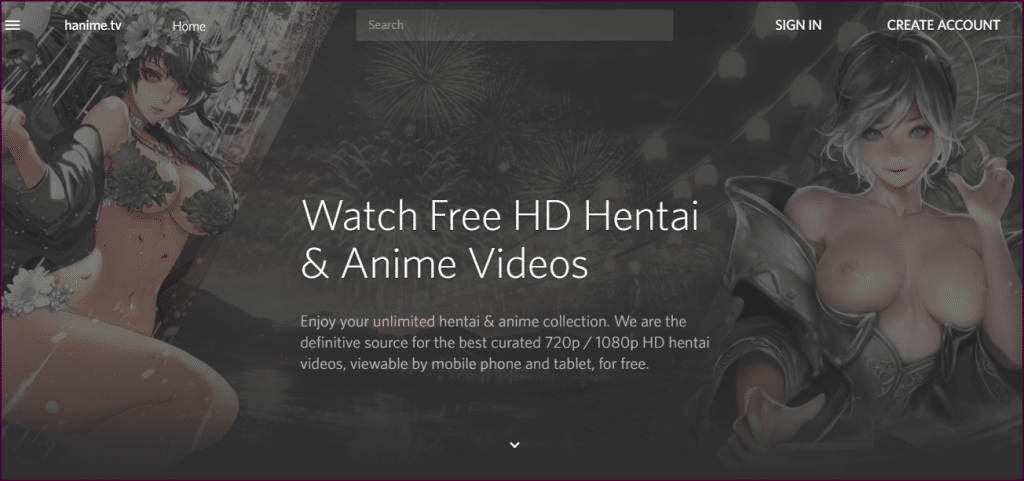 Hanime.tv is another free streaming hentai site, suitable for anyone who enjoys Japanese manga and animated cartoons. Hanime is notoriously known for its huge library hentai. It's packed with sensual scenes and themes that you don't typically see in several traditional pornos. Here, you can search any videos or images with numerous categories effortlessly. Certainly, you'll experience the hottest and most unusual hentai movies ever —huge kudos to this website. In terms of quality, I gotta say that Hanime's high-definition content and promising 4K Resolutions are simply stunning to behold!
Click here for Hanime full review.
PROS:
Amazing content
Simple but intuitive design
Effortless to use
Available as a mobile app
Taboo and bizarre themes
CONS:
Some features require membership
Ads are plenty
---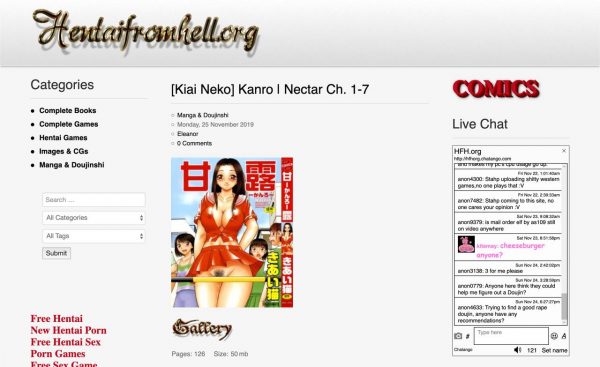 Hentai From Hell is an excellent name for a forum dedicated to naughty hentai porn. There are regular updates on new comics every day, so the archive is extensive. We are talking about over 3,100 pages, each of at least ten hentai galleries. However, the presentation of comics is lacking since they are simply thrown on the web with just a title. HentaiFromHell is just as simple as websites come. There are no frills, only naughty anime porn that you can appreciate right now. I like how they specify the size of each comic and the number of pages.
PROS:
Free access to hentai porn
Updates regularly
Various content
CONS:
---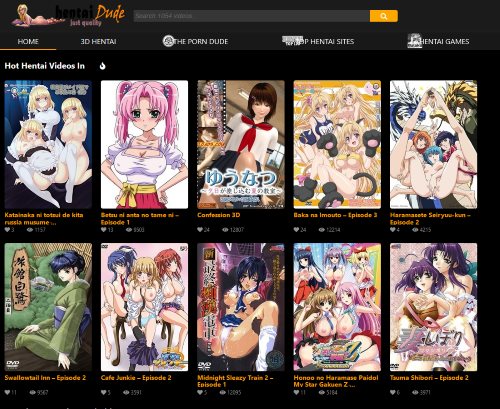 HentaiDude is without a doubt one of the most significant pornographic discoveries you'll ever find. The sheer volume of videos will astound you. Each video is neatly classified into a sub-genre and cross-referenced with keywords. This means that you will find an exact video within 30 seconds of landing on the front page. Most videos are offered free to watch, but the paid account is where the true advantage lies. Any video is available for free, and you can communicate with other members of the group. When it comes to this niche, paying a premium is an investment rather than a cost.
PROS:
Many free accounts to access
Amazing web design
Highly organized and neat
CONS:
A limited number of videos
---
Takeaway
Moekyun attracts a good following with its quality collection of hentai assortment. One can enjoy doujinshi, games, and films in one venue. More so, the production value is a priority on this premium site. Gladly, Moekyun offers a seven-day trial period to jerkers. There is no way of escaping Moekyun and the fun it gives. Elevate your fapping by selecting a plan and amusing your dick with steamy hentai characters. Check the platform today!
All 66 Other Sites in This Category Worth Checking Out:
U18Chan Review & 12 Best Hentai Porn Sites Like U18Chan.com Show Me 12 Alternatives for U18Chan.com Let's address the elephant – or should I say, the humanlike elephant – in the room. We're diving into a realm where art takes a wild twist, animals strut their stuff with a dash of human flair, and some pretty […]