Updated on: October 1st, 2023
Reality Kings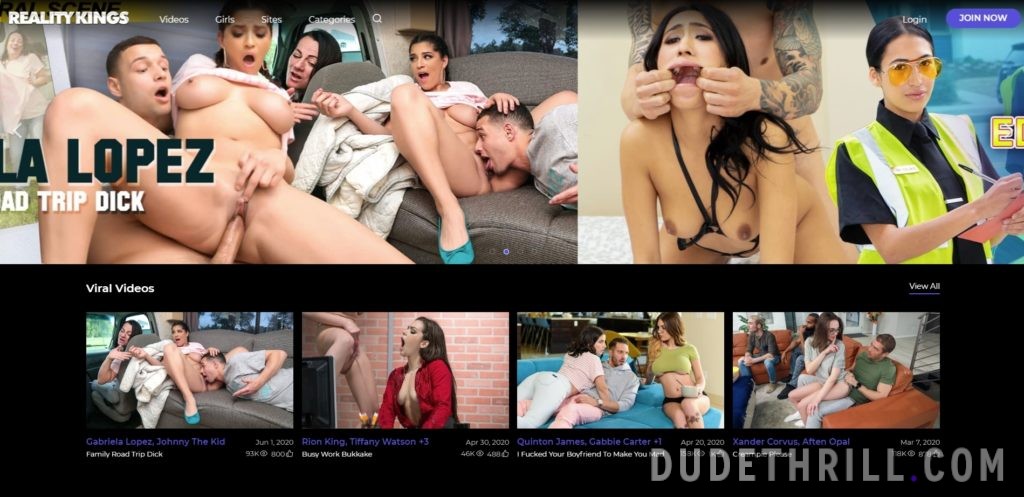 If you love mainstream reality porn, you will enjoy Realitykings which has been feeding our fetishes and kinks since 2006. Over the last few years, it has successfully grown and has attracted a significant number of audiences mainly because they have a massive collection of content. Just like a bottle of old wine, it gets better with age, and Realitykings has become a good network for everyone who loves porn.
Website address: www.realitykings.com
Known for their collection of girls and frequent updates, they have consistently been the top choice and go-to website for porn watchers. Among the many premium porn sites, they have the largest share of registered members. Once you log in to the site, you're in for some pleasant surprise. You'll find out that the site does its job of keeping everyone entertained and no room for looking outside Reality Kings, because they can provide all your needs.
Reality Kings is not just one website but rather, it is an "umbrella" of 45 other premium porn sites. It boasts of more than 10,000 female models and videos plus more than half a million video captures and pictures. All of its contents, models, and niches are all good quality, ensuring the satisfaction of hardcore porn. Every niche from Reality Kings is enjoyed by the audience and the models' age ranges from 18 to hot older mommas. Although there are some glitches and minor problems that the website encounters from time to time, Reality Kings still live up to expectations while garnering positive feedback. Streaming via Flash is available for both 1080p and 720p quality and you can also download the videos. Every user can download at least 50 clips in 24 hours and HD quality; just the option to download is good enough for users since not every porn website offers such a feature.
Decades of Unparalleled Quality of RealityKings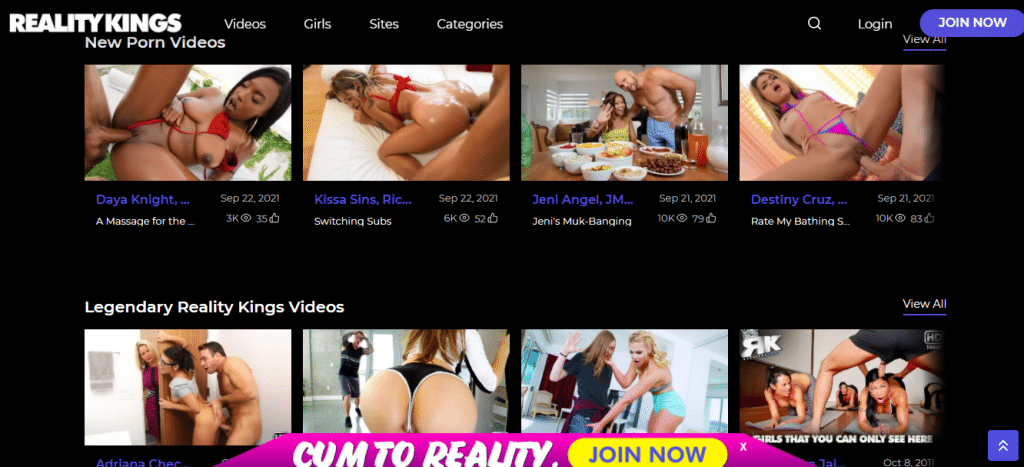 Looking back on those great decades of unique adult entertainment service, RealityKings really set the bar in pleasure and quality. It has terrific years of journey to reach this far and remarkably recognized by many people as one of the topmost brands in the sex world. Come to think of it; this site was only a small network developed by brilliant (and horny) minds. Now, it has become a massive archive of quality pornos and an excellent source of erotic pleasures.
What's the secret? Perhaps its formula of combining renowned performers, top-notch storyline, and fantastic production helped the site hit its impressive reputation. After years of operating, RealityKings remains intact and even summoned over 40+ websites under its umbrella. Just imagine jerking off to different pornos starring the best pornstars on the planet. So now we can finally hop from one erotic theme to another without paying extra charges. Eventually, things have become more exciting! I guess you can finally kiss goodbye to your old, rotten free porn and experience premium sexcapades brought to you by RealityKings.
Some Missing Content in RealityKings Collection?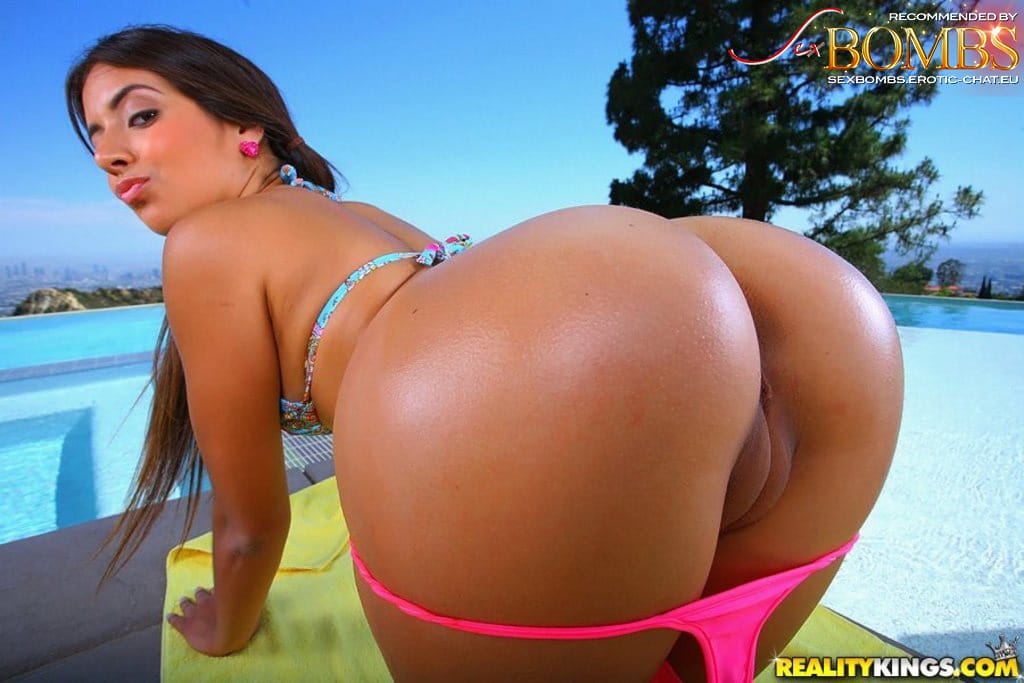 If you still don't know, RealityKings had a massive drop of content this year. Perhaps its collection has reduced to about 6K+ videos, killing at least half of its entire library. Even some models' index stars were removed from the list, and the oldest published videos were wholly gone into thin air. It is such a sad, unexplainable moment for fans like me since I enjoyed jerking off to their old porn videos. Nothing beats the classic RealityKings style. And from what I can see, there's no hope that they will re-upload them to the site.
I'm thinking that perhaps they're doing some major cleanup and throwing away their old stuff, adding more space for the new ones coming. And I can attest to that since relevant updates are happening on the site daily. Also, I don't think it's too bad, actually — there's plenty of content left on the site and you'll probably won't finish them even spending an eternity fapping on each video.
Currently, there are around 7K+ porn videos, and 40+ bonus sites, that you can all enjoy for under $15 a month. What more can I complain about? I'm pretty sure they are just cleaning up the pile of old pornos to make a fresh start. As we all know, porn lovers have leveled up their porn expectations these days. Many of us are already sick of standard quality and content. We try to devour new erotic experiences that a porn video must reflect, so irrational to settle to some mediocrity. Nonetheless, whatever RealityKings is trying to do, I'm sure it's for the best. If ever I find the answer, I'll give this review an update.
User Navigation of RealityKings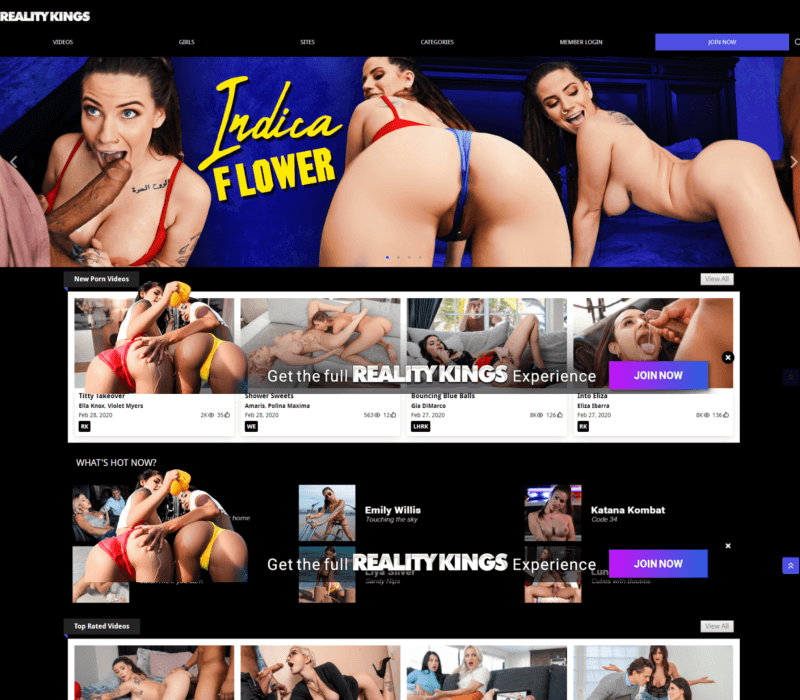 RealityKings has superb navigation, and it is easy to grasp the full website features and design. You can quickly say that it's a premium porn site because of its luxurious vibe. The porn pics and videos are right on the homepage, so you won't be bothered finding the latest updates on the site. Each video has details, including the date uploaded, number of views, and like counts. Before I forget, there are trailers available for each video, so you might probably have to go over the videos and see what might interest you. Generally, the content is seen in everything on the page —it's literally transparent and shows whatever a porn lover would love to see.
Also, RealityKings have tons of pornos —it's massive and seems endless. That's why it would be extra valuable if a tool could filter the exciting stuff from the annoying stuff. Good thing RealityKings saved us from all the hassle and trouble of going through every video. And it's because it's RealityKings; I have high expectations with their search engine. After several backs and forth streaming, I'm pretty satisfied with this site's filtering power and tags.
You may also filter things out according to pornstar names, keywords, number of views, duration, and more. Whatever you think may satisfy your carnal cravings, then type in. I think it's very basic, easy-to-use, and simple to grasp. The search results will leave you to explore more options and see which one would hop to your favorite list. Overall, RealityKings has a pretty fantastic design and user navigation that helps your viewing experience better.
RealityKings' Audio and Video Quality Standard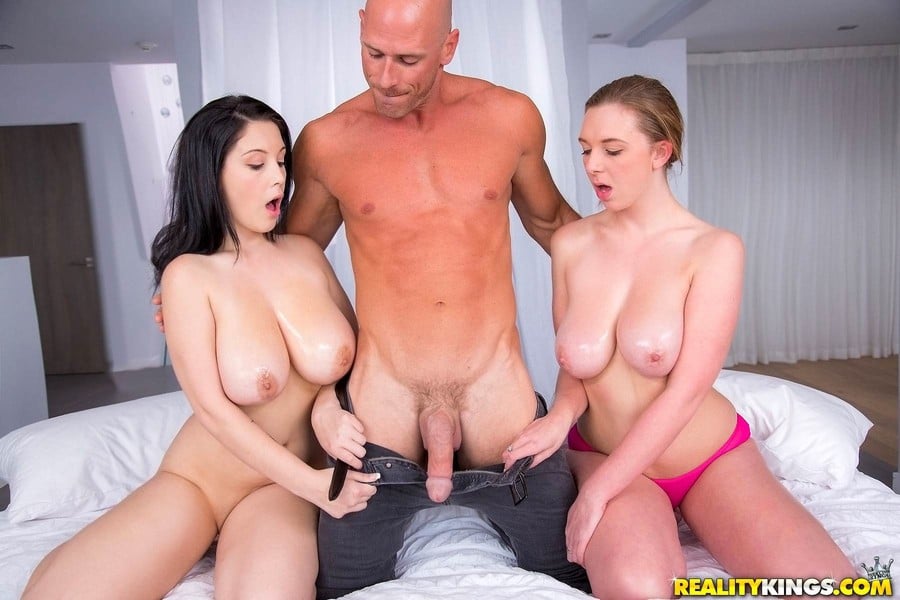 For years, RealityKings has never failed my expectations in terms of quality. It never tries to produce sub-standard porn videos and pics just for the heck of it. They make sure that lighting quality and resolution are top-notch in every production compared to other premium porn sites. Of course, we always want our viewing experience to be filled with vivid colors and vibrant saturation.
Every scene has an impressive lighting setup that you can enjoy adequately shot scenes. No shadows blocking pussy or their perky tits. I hate it when these fantastic views are hardly ever seen; it makes fapping less attractive. For instance, POV-themed videos —these are great and bring unique firsthand experience. But when the shadow of the guys is blocking the picture-perfect body of my favorite pornstars, I'm out right away! Sometimes I wish it had 4K Ultra HD videos soon to enjoy my fapping sessions totally.
Meanwhile, the angles of every scene are similarly excellent. Kudos to the director, who ensured that everything was well and all the scenes were shot decently. No annoying zooms or blurry angles that really suck when you're on climax already. It's how sex videos ought to be, and other sites must learn a thing or two from RealityKings. The audio is likewise above-average quality. Every video runs with 160kbps bitrate (although deep inside, I wish they could upgrade it more) and provides crisp sound —you could hear every moaning and screaming in top-notch quality.
Thousand Hot Models at RealityKings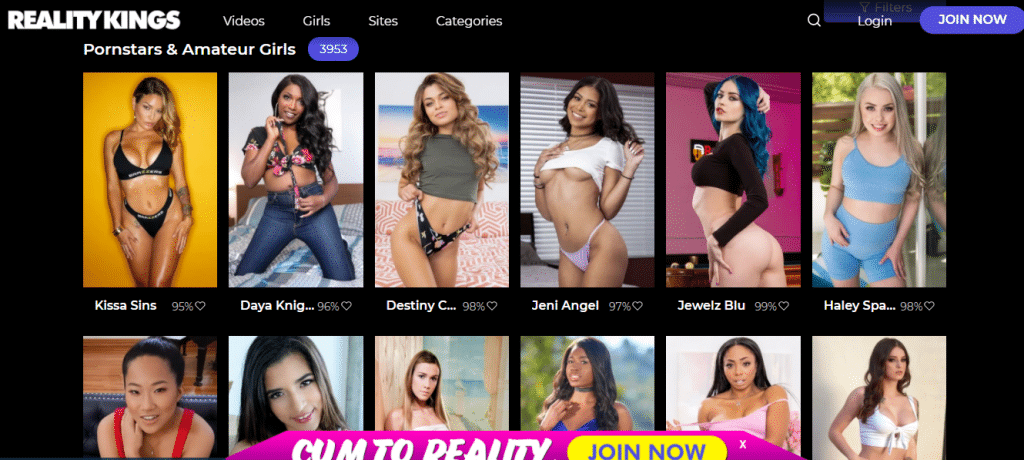 With a massive collection of pornos like this, it's not surprising how many models are there in its model index. RealityKings boasts its collection of over 8K+ models —all hungry for your attention. These models range from legal teens to MILFs around 45 years old. If your appetite is set for some delicious young teen models or gorgeous horny MILF, then there's a pornstar for you. They vary according to hair color, skin color, race, body shape, sexual preferences, expertise, and more.
RealityKings' massive model index may get you overwhelmed sometimes. I understand, though. Just imagine scrolling over 8K+ pornstars on the list and selecting which one has the highest quality of porn scenes. But don't get too overwhelmed; RealityKings ensures that each model is above-average in terms of model quality. Of course, they have the highest-paid pornstars here. So, whoever it is you're looking for —whether she's a renowned slut in the adult entertainment industry or an innocent newbie model, I'm sure she's on RealityKings' model index.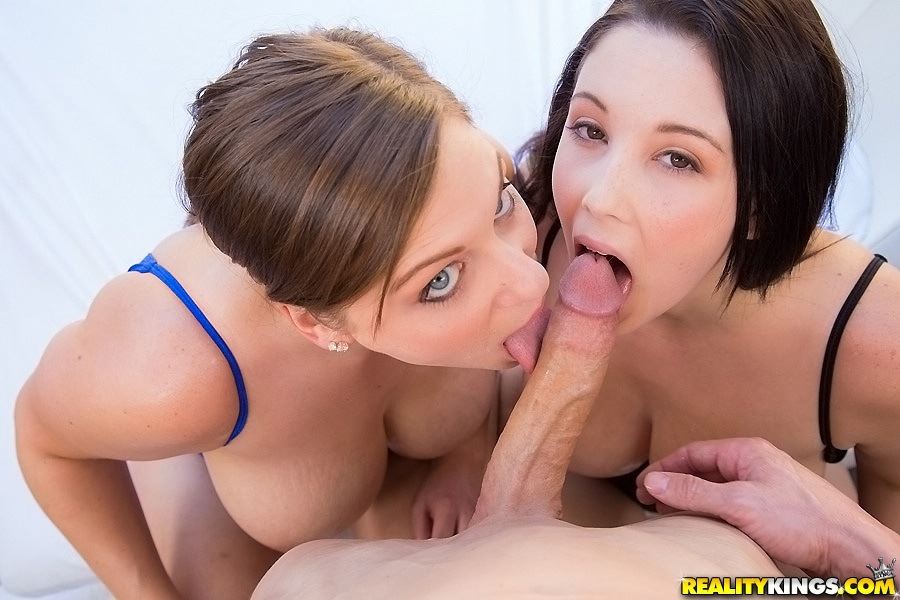 Most of these pornstars are skilled entertainers that have mastered the art of pleasure and seduction. They carry themselves well on cam and can make you cum with their amazing tantalizing eyes. RealityKings' models don't just moan, scream and lie down in bed until the man cums. They shake those booties doing cowboy position and bounce off those titties when it's time for titty-fuck. You're surely going to discover lots of renowned pornstars in the world and few beginners who are starting their careers fresh and kicking. Get to know the girls more by reading their profiles and see if they impress your unique cravings.
Over 40+ Bonus Porn Sites at RealityKings!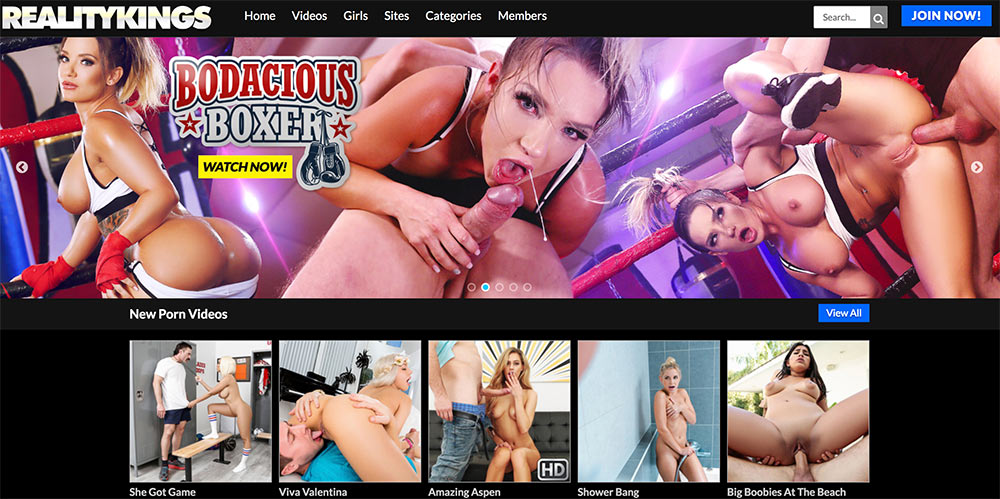 RealityKings has over 40+ bonus porn sites that cater to various themes and storylines. I found the LilHumpers site, which comprises men with unusual sex drive on whatever they see —kitchen counters, sofa legs, chairs, television, or tables. There's MILFHunter, too, running as one of the most active networks in RealityKings. It's oozing of videos of men trying to seduce ladies from random places into their bedrooms.
RoundAndBrown and BlackGFs sites have some ebony girls with amazing butts and tits, while the 8thStreetLatinas jam-packed with hot Latinas. I've also seen the lesbian porno, WeLiveTogether has erotic scenes of young ladies fucking hot MILF, BFFs fucking and fingering each other. They have amazing unscripted scenes and exclusive storylines. There's CrazyAsianGFs site that stores amazing innocent, petite Asian chicks.
If you like huge tities and titty-fucking porn videos, RealityKings has BigTitsBoss and BigNaturals. It has awesome HD content in hot, steamy action. I gotta mention that several other porn sites make your cravings more satisfied, including, MoneyTalks, MomsBangTeens, FlowerTucci, VIPCrew, GirlsofNaked, SaturdayNightLatinas, HornyBirds, RecklessInMiami, BadTowTruck, NoFaces, BikiniCrashers, SneakySex, Pure18, MomsLickTeens, TeensLoveHugeCocks, BlackGFs, CFNMSecret, and WivesInPantyhose.
RealityKings' Subscription Options & Price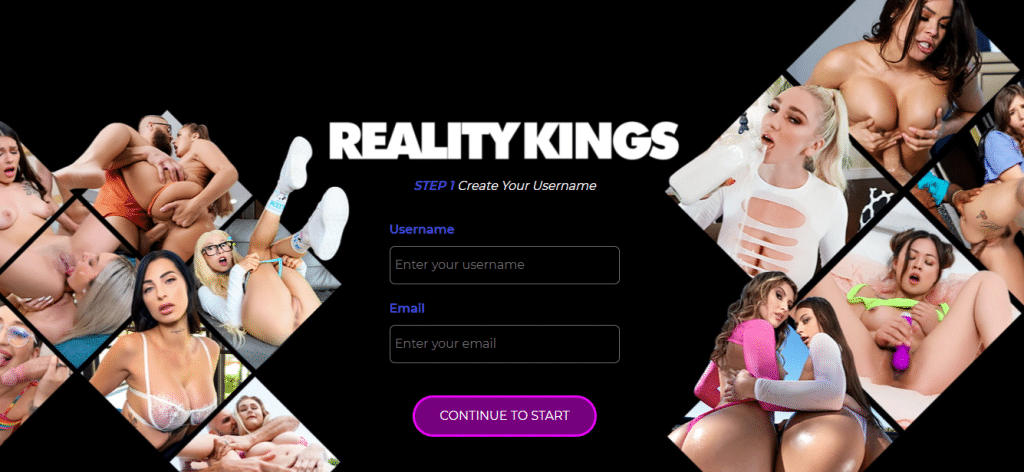 RealityKings has four excellent subscription options that you can enjoy. First off, this site has a trial option for two days and tests the waters for only $1 — check out Realitykings discounts here! You can explore the site content, stream, and jerk off to several famous pornstars. If you ever decided to hop on the fun ride at RealityKings, then join the gang for $14.99 per month. There's also a three-month subscription for only. And, of course, a year-long subscription to RealityKings would save you a lot of money. It charges $119.99 annually or $9.99 per month.
Every subscription only provides a streaming service. If you wish to experience offline pleasure by downloading some porn videos, it requires an additional charge per month — $15, to be exact. If you are ready for extra bucks, then you might take the pleasure of spoiling yourself some fun. You can enjoy and take pleasure from 320p to 1920p screen resolutions, and on average, it runs at least 25-minute long.
If you are into hardcore porn, Reality Kings is the best choice for your needs. You may also try these other sites which give off that same vibe and features.
10 Best Alternatives For Reality Kings: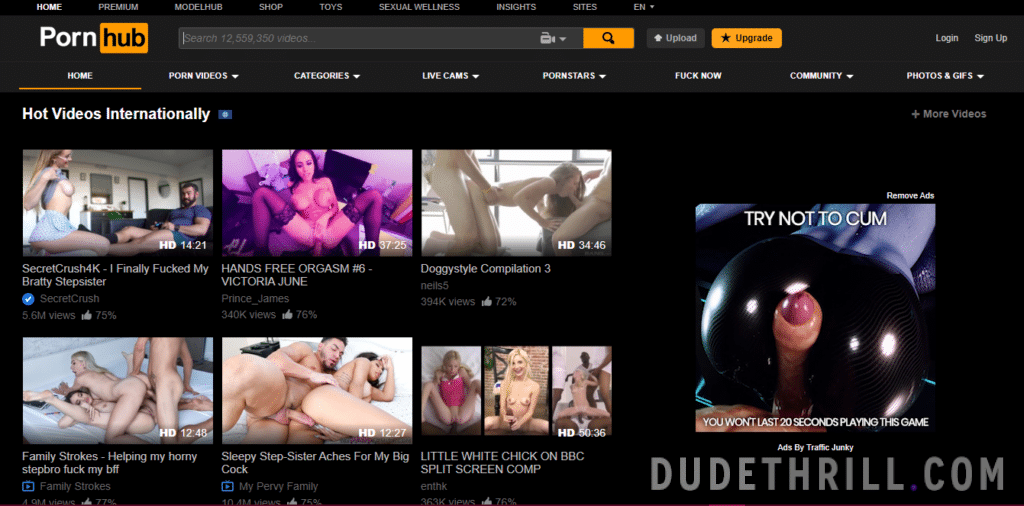 This one is practically a household name, for porn watchers of course. When you say adult websites, this one won't be left out since it is very popular and has lots of users from all over the world, being the most visited porn site ever. It never fails to provide fresh and daily content which sets it apart from other competing sites. You can't find anywhere else the amount of content that Porn Hub has; whatever niche sits well with your taste, you can find it here. It's also a huge plus that you can easily enjoy built-in displays and watch the full action of porn, or even skip the long and talking parts of a porn video and go straight and watch the real action — all those blowjobs, dog style, and raw fucking.
PROS:
Has over 7.4 Million videos
Comprehensive search engine
Organized categories for easy search
Also has categories for LGBT+ community
Great and familiar website design
Contents are updated daily
CONS:
Pricey premium subscription
More on professional contents
Some ads pop up here and there
---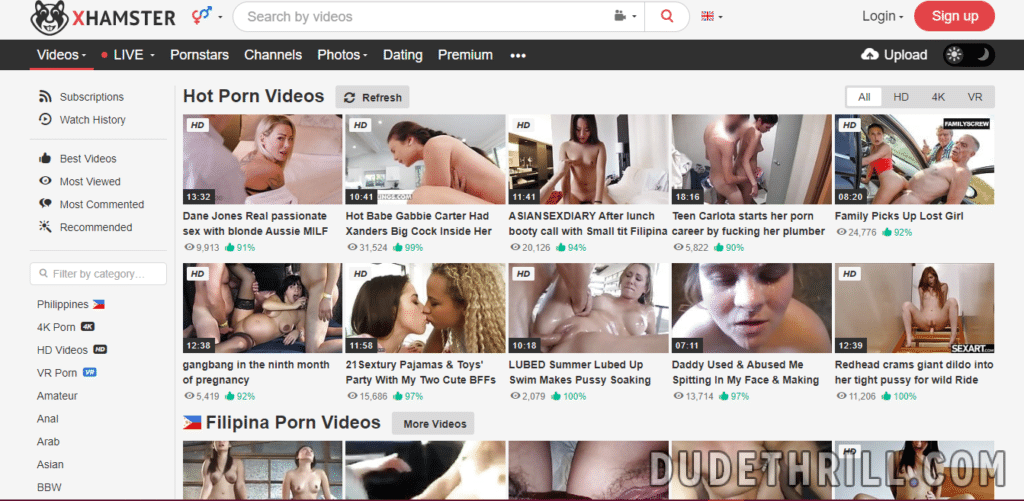 Its ever-growing collection of videos are slowly taking everyone's attention. They also offer a variety of niches and everything you can think of, you'll see them here. Pictures, videos, and live streams are just a few of their features that most porn watchers enjoy. All their videos are in HD and some VR scenes are made of juicy amateur content. You can be well-fed with your fetishes and fantasies on this site as there are more than 10,000 videos in HD. Whether you have signed up for an account or not, you can easily download videos and check out their galleries.
Here's the full xHamster review.
PROS:
Its user interface has improved over the years
Browsing and search has been made easy
HD content for free
CONS:
Pop-up ads are frequently disturbing your whole watching experience
Pricey premium membership
Experiences glitches from time to time
---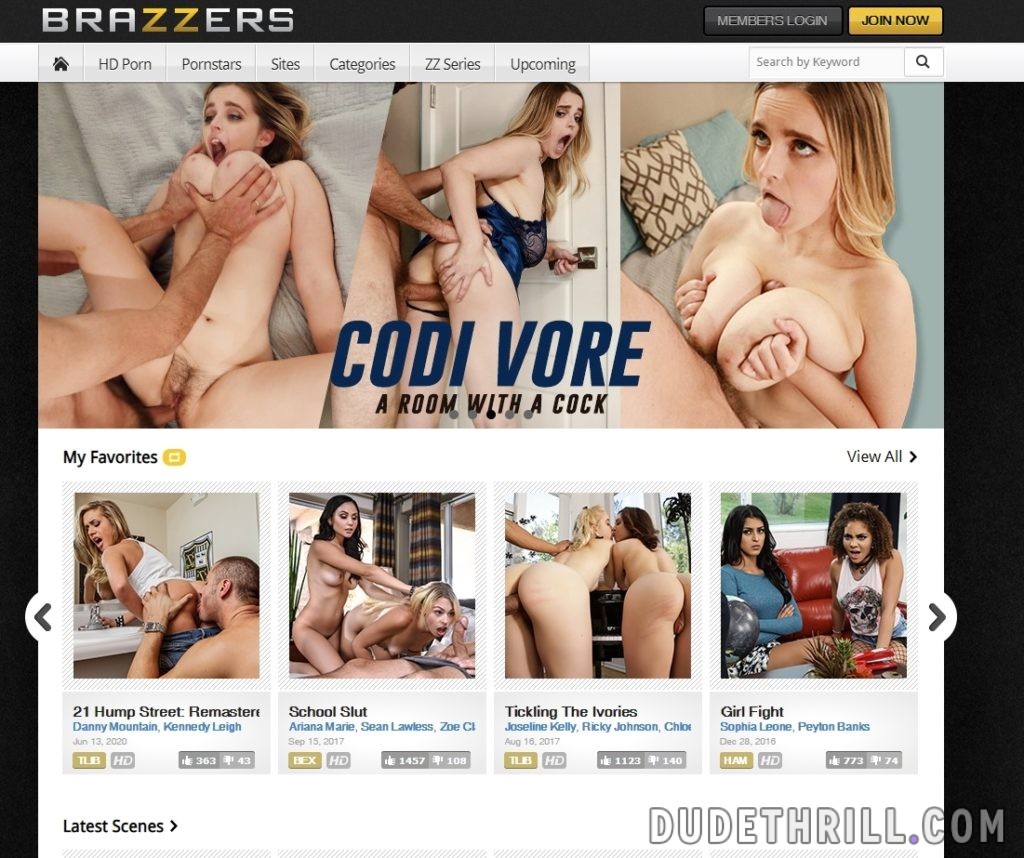 Being around for the last 15 years, this porn site is another staple for every porn fanatic. It boasts of its big-breasted models and offers videos from different niches. They offer more than 9000 scenes and most of them in HD quality. You can download or stream via the web or a mobile phone; searching has never been easier with their different tags and keywords for filtering content. They also have an "I Feel Horny" filter which will show you interesting videos according to your tastes.
PROS:
High-resolution pictures and videos
Most of their models are busty
Filtering keywords make searching easier
CONS:
No advanced search engine
Expensive premium accounts
---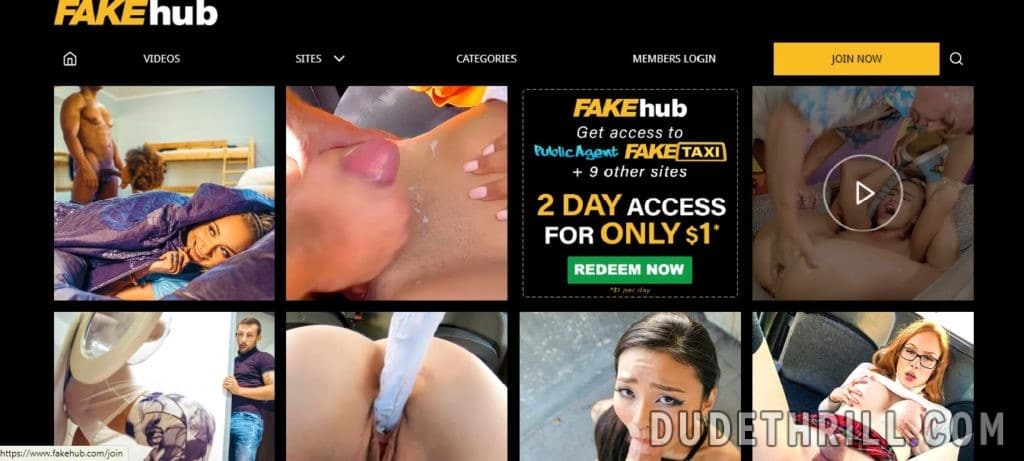 This is where your sexual fantasies come to life; Fake Hub covers niche after niche which will leave you wanting more. Car sex? Horny teens? Experienced MILFs? Their massive collection is made from high-quality videos and pictures, delighting every hardcore porn fanatic. Most of their models are from the Czech Republic. We know how wild European babes are, right? The sensational Fake Taxi can be found here and updates are posted every two days.
PROS:
Easy to use interface
Diversity among female models
All videos come with English subtitles
CONS:
Downloads will require sign-up
---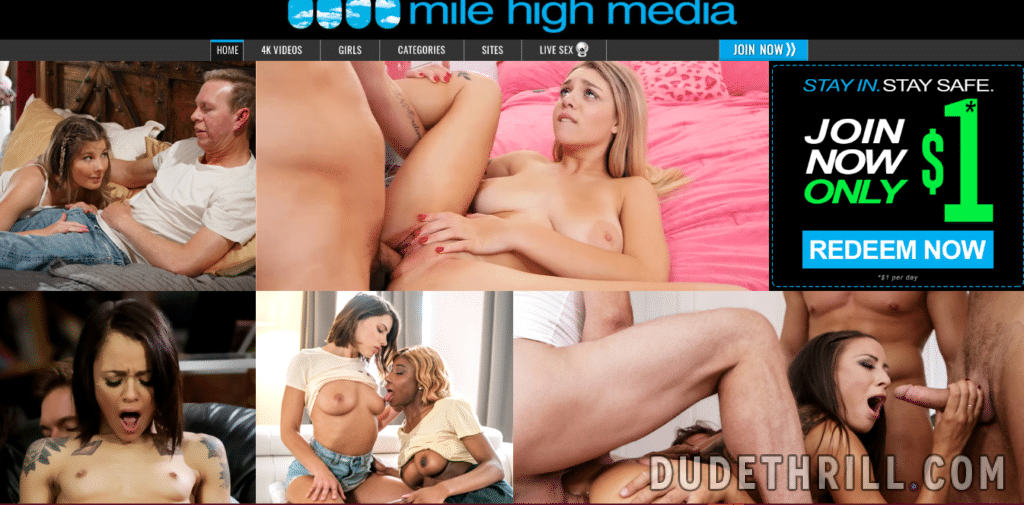 If you hear "Mile High" and put it in a porn context, it would usually be associated with fucking up high on an airplane. But for this porn website, it is an explicit haven that offers various niches and categories, perfect for feeding your hunger for hardcore action. They offer at least 4000 scenes in total and some of their action includes erotic ones, girl-on-girl porn, teens and MILFs, gangbangs, as well as European and American amateurs. The choices are endless, to be honest. They even update their content regularly, ranging from at least 5-6 new videos weekly, and all of them are in HD quality.
Check out our full review of MileHighMedia.
PROS:
Offers 4 main porn sites
Thousands of content to keep you entertained and horny
Videos are available in full HD
Clean and easy to use website design
Compatible on mobile devices
CONS:
Downloads would cost you a lot
From 7 porn sites, they are now down to just 4
No more "Extras" portion (where BTS videos used to be available)
No more "Photos" section and forums
---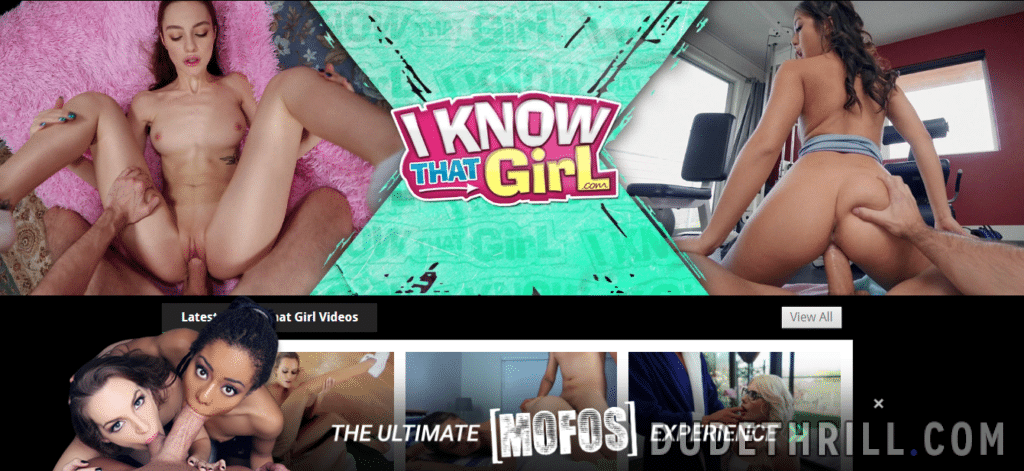 With contents that will surely keep you stimulated and hot, this porn site features beautiful and smoking hot girls. This is indeed reality porn at its finest; contents are inventive and made of good quality. There is always something new and exciting with each content that they offer, but the site continues to stick to its roots — making sure you get to see people enjoy blissful yet hardcore sex. Most of the videos here are from the tag of "couple fantasies" so you could expect to see naughty guys and girls. Cumshots, dick-sucking, and anal fucking are just a few of the site's best concerns.
PROS:
The website looks clean with simple and beautiful
Every scene offers something new and sexy
Beautiful girls are hired as models
Videos are made in HD quality 1080p videos.
CONS:
Downloads need to be paid at least $9.99
They used to fantasize revenge porn a lot
Updates are a bit slow
---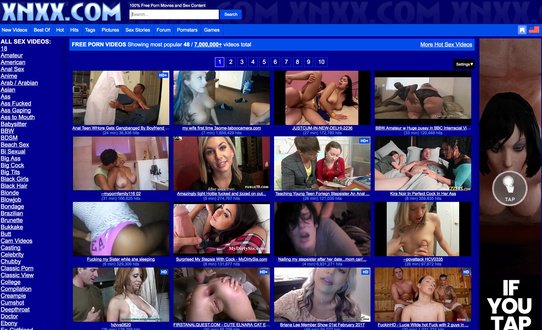 Although it looks a bit outdated, XNXX offers a lot of content — for FREE. If you are into fantasizing about 18+ photos and videos, you can find them all here. You also have plenty of categories to choose from. All you have to do is key in what type of babe or dude you want to see and you can easily find one that will satisfy everything in you. They have lots of arousing pictures, homemade porn, and just about everything that will fulfill your kinks and fantasies. Although it might seem not that nice to look at, but mind you, its functionality is at par with the latest porn sites we have today
PROS:
Adult content that will surely satisfy you
Millions of videos can be found here
User-friendly and open-minded community
Forums are established to promote communication
Mobile-supported
CONS:
Most of their videos are similar to other sites
Pop-up ads will usually get into your nerves
The website's total look is very outdated and ugly
---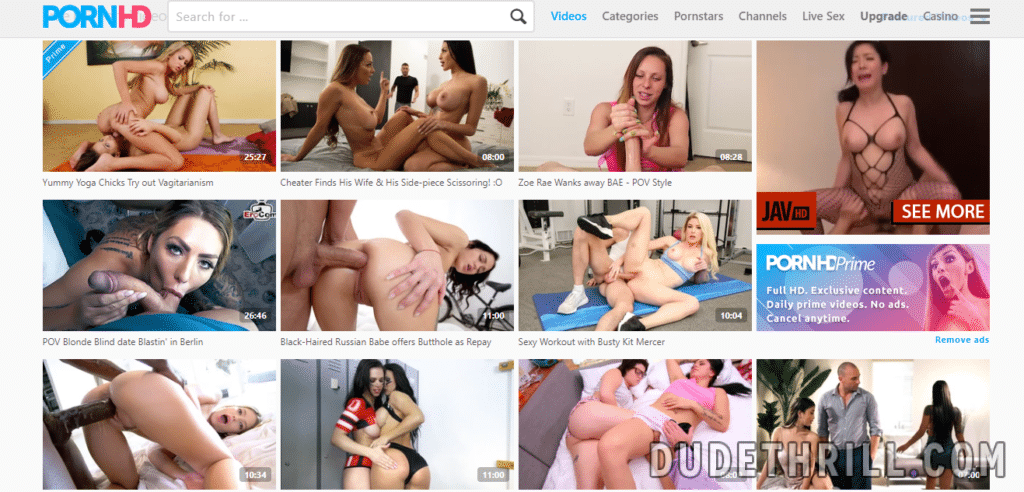 As its name suggests, this website is your go-to haven for free and HD quality videos. You can choose from many categories: heterosexual, lesbian, couples, and even fetishes and bondage scenes. Since it is a free channel, you will be overwhelmed with the massive number of videos on PornHD. While streaming or downloading any video from the site, you can opt for HD quality (which is the default for every one of them), or even just standard or low quality. The videos' playback is fast and uninterrupted and the site's interface is also user-friendly. Just like any other site, they offer a premium membership that will guarantee to have your pleasures met. The hottest porn videos can be found on PornHD and you can enjoy each one of them without ever worrying about annoying ads since there are just a few of it in here.
PROS:
The website looks clean and easy to the eyes
Their interface is easy to use
Videos are of high quality
Fast streaming and unlimited download
Can be played via mobile phones
CONS:
A little pricey for the premium features
Ads show up in random times while watching a video
Lesser videos for "couple" category
---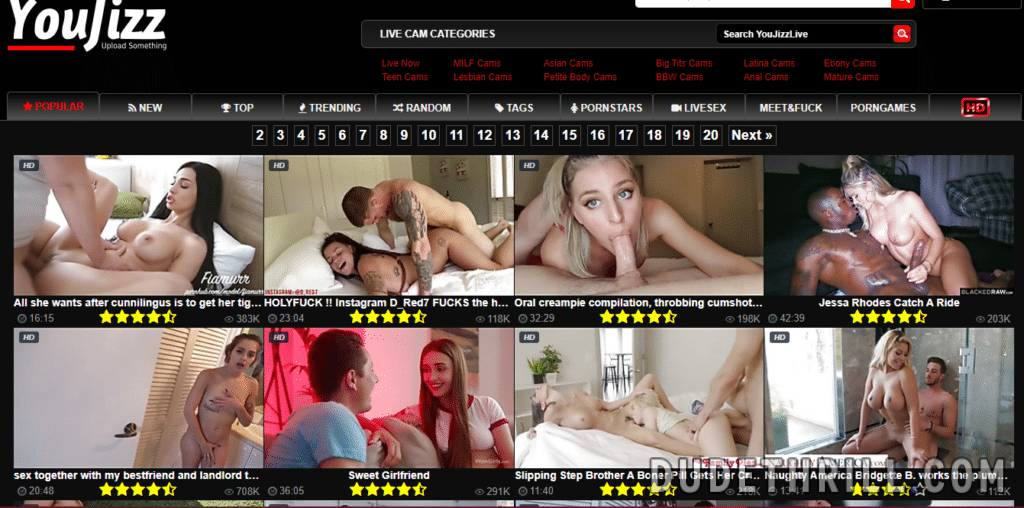 We all jizz, right? And all of us must have heard of this website's name before. Just like the other popular ones on this list, Youjizz has been considered one of the more well-known among others. Years ago when this site first came into service, they didn't have that much content, but it was patronized nonetheless. Years went by and Youjizz was able to adapt to the ever-changing trends and now they have started uploading videos after videos of hardcore porn under different niches. Adult entertainment has never been this good — Youjizz can help you knock off your loads at any time and feel the pleasure of your whole being.
PROS:
Tags and categories are useful especially for searches
They feature a great list of porn stars and most of them are really popular
You can share your homemade porn and smut by creating an account
CONS:
Their download options and resolution is really slow and could use some improvement
Annoying pop-unders and banner ads
Ads continuously show up inappropriate times
---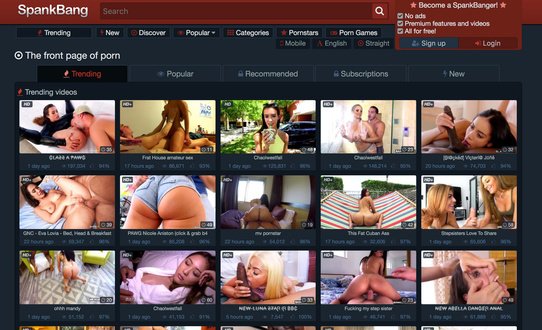 Another free website that offers tons of porn videos that you might have never seen anywhere yet, it boasts of their massive xxx content and is headlined by famous porn stars and amateurs. A lot of niches are available and you can just choose from reality porn, BBW, gay, fetish, and many others. Its video quality is pretty good as well, so you can say that even with a free membership, you still get to enjoy videos and the experience like you've paid for it. SpankBang also has a feature for the most trending porn stars, videos, and just about anything that will entice more website visitors.
PROS:
PROS
Wide variety of hardcore porn
Multiple video qualities you can choose from
Even with a free account, you can enjoy great features and videos
CONS:
Pop-up ads really get to your nerves
Older videos are not available or got deleted
To download, you need to sign up for an account
Last Word
We can't deny that watching porn has been a silent pleasure for most people. There are many existing and upcoming porn sites everywhere, and most of them are for free. Each one of the websites mentioned above is already tried and tested by fellow hardcore porn fanatics, so you won't have to worry about being scammed. On this list, there are already household names and sites that are new to the ears but regardless of how long a porn website has been around, each one of them has unique and useful features that will surely let you have the best pleasurable times.
Personally, I really recommend trying out:
And of course, RealityKings.com themselves!
Premium porn has always been premium.. it will NEVER let you down!
All 102 Other Sites in This Category Worth Checking Out:
Colombian Casting Couch & 12 Must Visit Premium Amateur Porn Sites Like ColombianCastingCouch.com Show Me 12 Alternatives for ColombianCastingCouch.com We are about to get some real meat and stuff. I am talking about Colombia's Colombian Casting Couch; well, I hope I got it right. The dickhead in me just assumed that Colombian Casting Couch is from […]