Updated on: June 6th, 2023
Else Cinema Review
& 12 Must-Visit Premium Porn Sites Like ElseCinema.com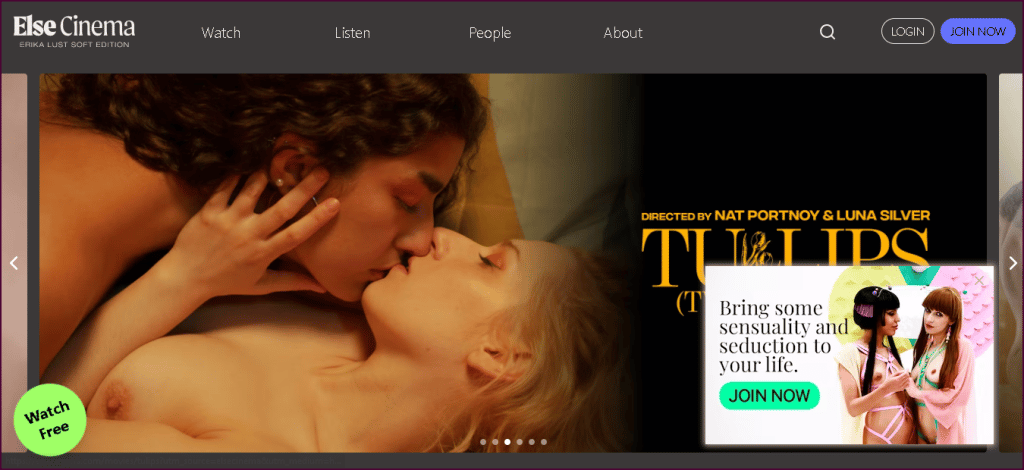 Good day pervs! Today is another fantastic review at Dudethrill.com. We already know that the online world is a shitload of porn, but regardless, the content, scenes, and themes can be repetitive sometimes. I'm pretty sure you have often craved something "else." So, I suggest you check out Else Cinema. This premium porn site is not ordinary and far from the "standard" of adult entertainment. In fact, Else Cinema offers more than typical "porn" in the form of photos and videos. What are these? Well, let's explore Else Cinema and see what we can grab from here.
Official URL: https://elsecinema.com
The Revolutionary Porn Transformation Made by Else Cinema
Swedish filmmaker named Erika Lust owns and operates the Else Cinema site as part of her ongoing mission to revolutionize the adult entertainment industry. According to Erika, she's not a porn maker but a reputable "filmmaker" interested in the sexual pleasure and erotic side of the human body.
Else Cinema, which markets itself as the center of the adult entertainment industry, offers its viewers a large selection of sex-affirming, feminist smut. Widely regarded as EroticFilms, Else Cinema provides its services on a membership and pay-per-view system, giving its customers more flexibility in purchasing and consuming ElseCinema's explicit material.
Additionally, since it's a revolutionized version of any porn site, there are no offensive advertisements, underage or otherwise problematic performers, or sleazy storylines to be found on this site. Instead, audiences may loosen up, knowing they are contributing to creating sex-affirming, morally-sound sexual entertainment.
Creating New Porn Concept Without Sacrificing Pleasure and Satisfaction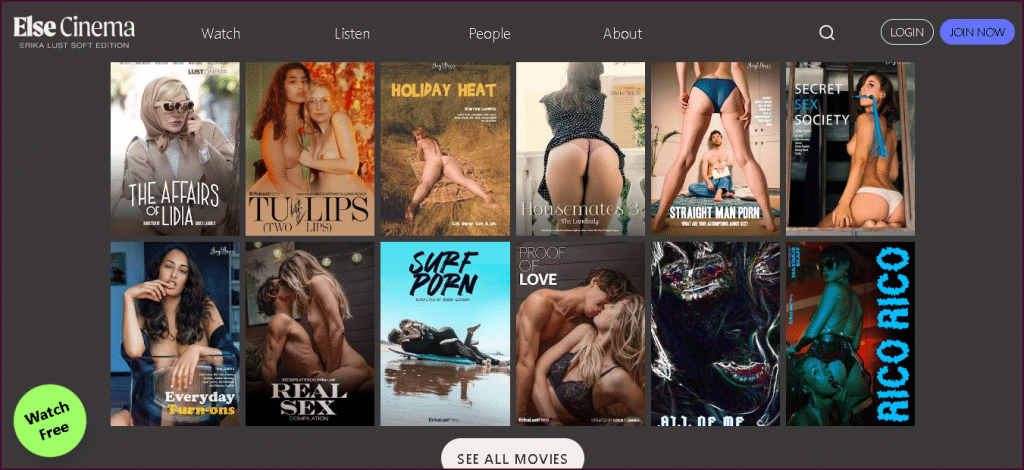 Else Cinema's morally-acceptable porn production relies heavily on several of Lust's ideas for transforming the adult entertainment business, including:
Representation and Model Diversity is a Must.
Like mainstream Hollywood productions, diversity among sex and preferences, along with a wide range of appearances, ages, and body shapes, are all essential to a well-rounded film. That's why Else Cinema put a significant emphasis on this matter as much as possible.
Everybody Gets Paid What They're Worth
Everybody involved and worked hard in making the Else Cinema film — from the trainees and porn actresses to the directors and producers — receives reasonable compensation, a pleasant working setup, and regular breaks. The filmmakers behind Else Cinema's movies even get a reasonable slice of the profits from the DVD sales.
The Satisfaction of Women is Extremely Important
Indeed, the women's "clitoris" is the single and only part of the body whose main job is to make them pleased and satisfied. So, inaccurately depicting women's orgasms as being triggered solely by cock penetration conveys the idea that a female's sexual pleasure doesn't count. Else Cinema tries to promote those porn producers should avoid doing so and create something realistically pleasurable for all sexes.
All Models' Well-being, Privacy, and Consent Are Never Compromised
All actresses of Else Cinema are subject to frequent Sexually-transmitted disease testing at the insistence of Erika and her crew. As for condom protection, Else Cinema strongly suggests it, but it's ultimately up to the actresses involved. Certainly, everyone involved in making the movie ensures the actresses and actors don't only "agree" to the task. Still, they are enthusiastic about doing it by discussing their goals, limits, and no-go zones before production begins.
It's Crucial to be Open and Honest
Every video of Else Cinema acts as a mini-IMDb by listing all the credits necessary, including the film's creators, porn actresses and actors, and other relevant people involved. They do this because Else Cinema and the entire team are passionate about everything they do. Certainly, nowhere on other premium porn networks, you'll encounter something like this.
Some Great and Unique Features of Else Cinema That You Won't Find Elsewhere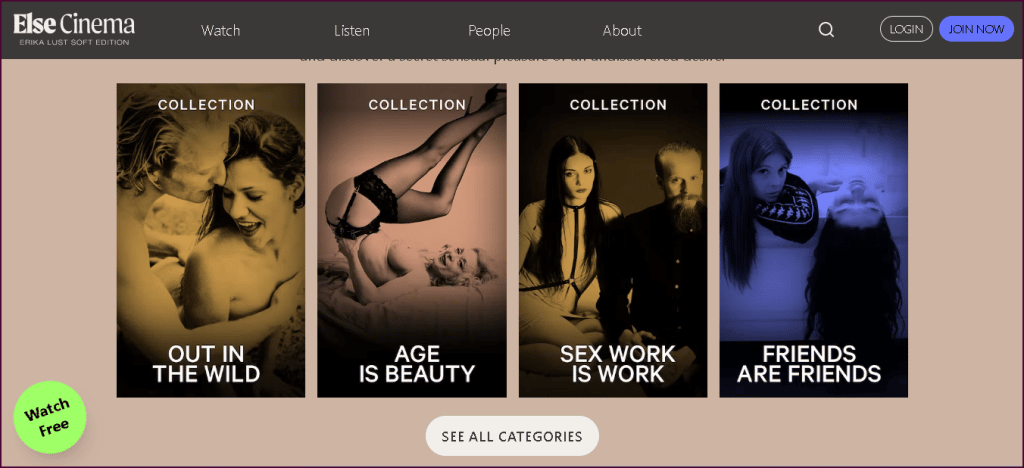 Amazing Premium Videos Full of Lust and Pleasure
Besides ensuring all its videos are morally acceptable, Else Cinema also has its quality. You won't find better-caliber movies anywhere than on ElseCinema. You'll be pleased to discover that the content they create is genuinely superb, and most of these are available in ultra-high definition quality. In fact, even the ones that aren't HD still have remarkable clarity and detail.
This is No Run-of-the-mill Erotic Entertainment
Initially, I just brushed aside the site's claims and goals in the adult entertainment industry and considered it a typical sales gimmick to increase traffic. However, to be perfectly frank, Else Cinema has unique materials compared to its mainstream rivals. These videos feature more than just your standard guy-on-girl or girl-on-girl sex scene; they radiate an intense, heartfelt atmosphere. Certainly, there's no way to put it into words; only by experiencing it firsthand will you grasp its impact.
Unlimited and Easy-to-Download Porn Pictures
You can enjoy Else Cinema's image collections that can be saved in one convenient ZIP format. Thus, it should be simple for you to download the images available on the page.
Pick From Different Content Resolutions
The photos on Else Cinema are accessible in a variety of resolutions. Depending on your needs, you can select a quality anywhere from basic resolution to high-definition. Certainly, you'll enjoy the finest viewing experience possible regardless of the dimension of your monitor or the quality of your device.
Level of Entertainment That Is Not Offered Elsewhere
Because the movies on the Else Cinema website are produced in-house, you can guarantee they are all unique and exclusive. I'm pretty sure this kind of feature excites the hell out of us because it is unusual for these to exist on any mainstream porn sites.
Hottest and Most Popular Pornstars on The Planet Has Finally Landed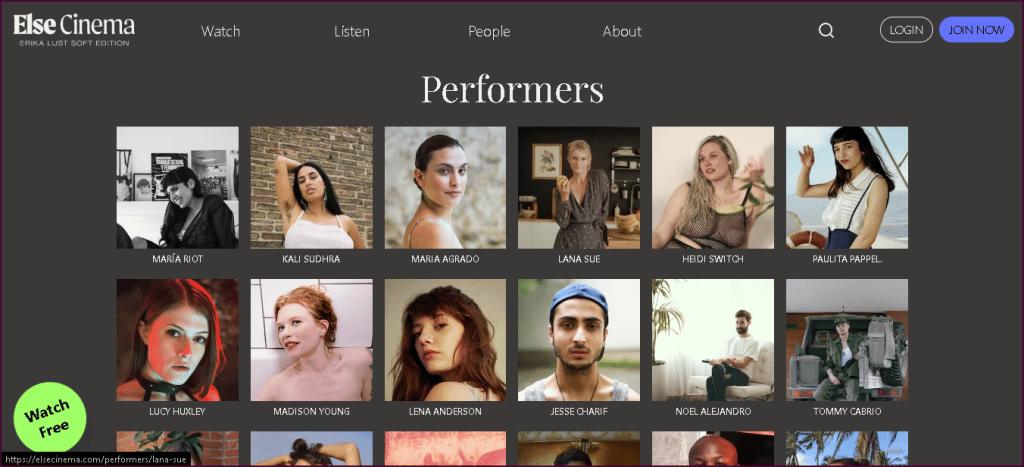 Else Cinema has a great list of pornstars waiting for you to watch and devour. You will find several prominent stars on the page and some new aspiring models in the adult entertainment industry. Regardless of their experience and years of being in the business, Else Cinema will offer a unique porn experience and unforgettable scenes.
Certainly, you will be blown away by the extraordinary quality of their bodies and superb talents in various kink-themed scenes and stories. Else Cinema gives pornstars a pleasant place to do business, complete with regular breaks and free refreshments, allowing them to relax and give their best performances at all times. As I said, Erika ensures all the persons involved in the production will be treated fairly and reasonably. So, it's not surprising that the outcome of Else Cinema's videos is high-quality, as always.
Even though a few of these porn actors and actresses have worked with different adult entertainment companies before, you have not fully witnessed them in various scenes and genres. I'm pretty sure you'll be surprised by what more they can do to satisfy your cravings. They are so naturally talented in front of the cameras that it will leave you speechless. Certainly, I can't emphasize enough how much I enjoyed my time here.
Flexible Membership Plans and Pay-per-view Options of ElseCinema.com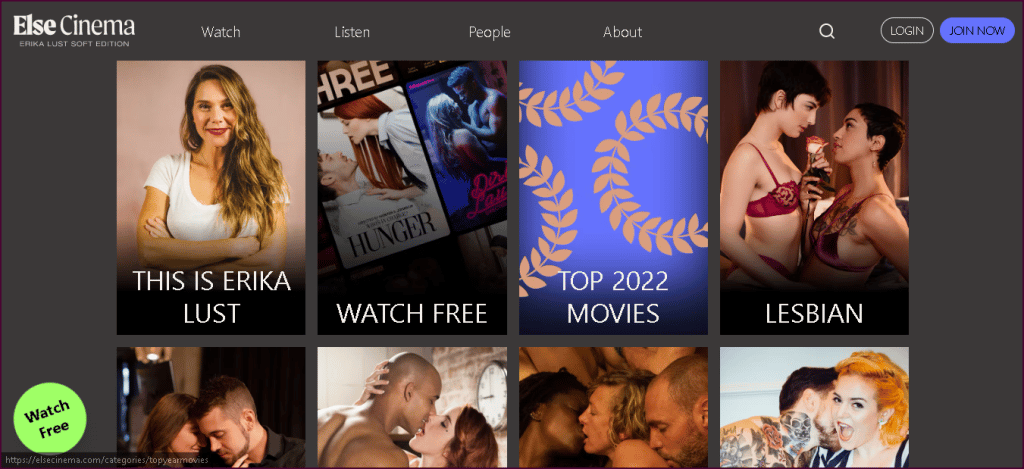 As far as I can see, ElseCinema is among the few premium porn sites offering flexible subscription packages and allowing users more freedom to choose what's best. If you prefer a monthly subscription or renting system, options are available here.
However, before we summarize the site's subscription packages, you must understand the perks you can enjoy here. Here are some notable features of Else Cinema's premium membership:
Non-stop Streaming and Porn Action
Some users opt for a pay-per-view method on the site, but you can save more money when you subscribe to a premium plan. This way, you are free to do non-stop streaming and enjoy all porn actions whenever and wherever. Also, you can stop and play a video, get straight to the climax, or rewind it repeatedly. Simply put, users have more freedom in browsing and consuming Else Cinema.
Enjoy Thousands of Unique Movies
All users who avail of any premium subscription will enjoy full entry to the site's premium content. There are no limits or exclusive features as long as your subscription plan has not expired. Also, Else Cinema doesn't offer any forms of gold, silver, bronze, or tiered membership just to get every cent of your money. All you need is to purchase one, which will unlock everything ElseCinema has!
Get Monthly Updates and Exclusive Porn Releases
As a premium member, you can enjoy the site's monthly updates and fap to all its newest videos. So far, Else Cinema uploads at least two videos monthly, and you'll be notified whenever something new comes up.
User's Freedom to Stop Premium Subscription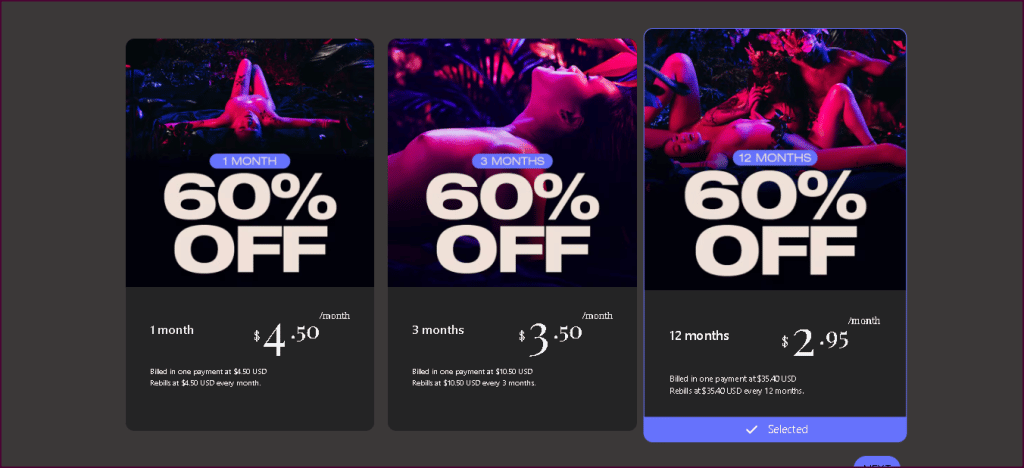 Once you're ready for Else Cinema, then pick which subscription plan suits your needs more. Here are the options to pick from:
1-Month Membership — $11.99
3-Month Membership — $29.99
12-Month Membership — $107.95
If you find Else Cinema isn't for you or you aren't getting as much use out of your membership as you had intended, you can withdraw at whatever period with no penalty. That's right; if you change your mind, you may stop without any hassle or additional charges. Else Cinema's openness about its prices, working conditions, and primary focus on customer satisfaction make it seem like a victory for all parties involved.
Pros and Cons of ElseCinema.com
PROS:
Amazing videos
Unusual porn themes
It has porn pictures available
Different video resolutions are available
Exclusive entertainment and videos
CONS:
No bonus sites or videos
Premium fees are high
---
12 Must-Visit Premium Porn Sites Similar to ElseCinema.com: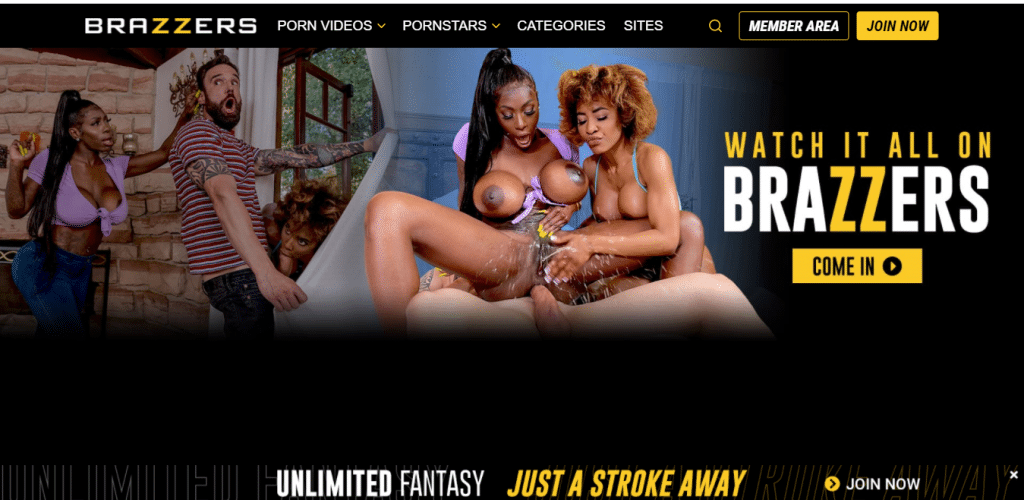 Brazzers is a trendy website and is considered one of the best premium porn websites up to this day. Over the years, it has maintained to give its audience the best and most steamy videos. Since 2005 its launching, it has never failed to upload various themes. Including lesbian sex, hardcore, seductive MILFs, teens, live amateur, and many more.
Indeed, for many years, it has created a massive impact on the business of porn. Many people join its horny community every day, making it one of the largest user-based worldwide. Also, Brazzers' team put lots of effort into the production and cost to make sure that every scene is high-quality. Undoubtedly, their title as World's Best HD Porn Site in 2019 says it all.
Here's the full review of Brazzers.
PROS:
Extensive collection of porn videos
Categories of videos are available for easy searching
There are available uncensored pictures
No advertisements and pop-ups
The affordable trial membership fee
Thousands of scenes to choose from
HD videos are plenty
You can stream videos
Regular updates and uploads
You can access more than 33 websites as a bonus
CONS:
Limited time for Trial membership
Trial membership is not for free
Some videos uploaded in the year 2009 does not work
There are some categories with limited video contents
---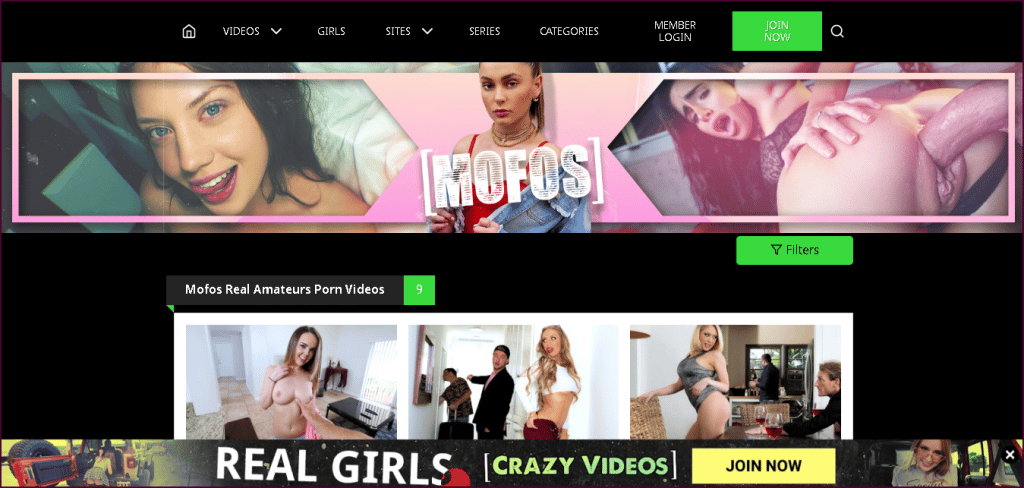 Mofos is the top-rated premium porn website on the Internet and is considered one of the safest venues to explore. Indeed, there are a decent amount of porn videos here. All are with unique scenes, storylines, and diverse actors. Also, there is a great selection of genres available, like blow jobs, blondies, MILFs, couple swapping, and amateur setup. Clearly, all the members freely watch all contents here without the trouble of lags and low-quality performance.
Click here for a full review of Mofos.
PROS:
It contains different websites that have unique features
All the videos in the collection are high-quality
The browsing experience is decent and very smooth
Models provide a complete description of themselves
CONS:
You have to wage additional money if you want to download
No advanced searching available
---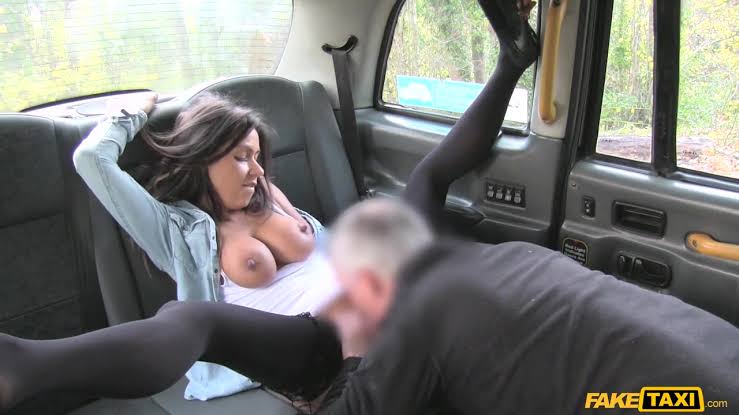 FakeHub has come to life and taking over the internet by storm. It has loads of exciting scenes and video themes. You will be in awe by actors taking over the scenes leaving the viewers thirsting for more. Additionally, the site has tons of unique and horny babes who perform various sexual scenes and positions, either in orgy, threesome, couple, or masturbating.
Indeed, there are many listings to watch on FakeHub, and every day they upload high-quality videos to indulge. Also, the site offers some bonus features for everyone to take pleasure in. Above all, the premium membership lets you access various porn videos, fulfilling all your sexual fantasies, fetish, and kinks, leaving you soaked in mind-boggling fantasy satisfaction.
PROS:
Users have access to seven unique sites for a price of one
The library of porn video collections is huge
Users can perform unlimited downloads once they become a member
The site gives regular updates of their new uploads
Readers of the site have a special discounted price
The mobile version is stable and smooth
All the videos are in 1080p HD resolution
The site gives regular uploads to provide daily fresh contents
Streaming is an unlimited feature
Pornstars are of various ages and cultures
Customer Service is accessible 24 hours a day, seven days a week
CONS:
Searching engine lacks advanced engine option
Limited time for a free trial perk
No photo galleries yet
---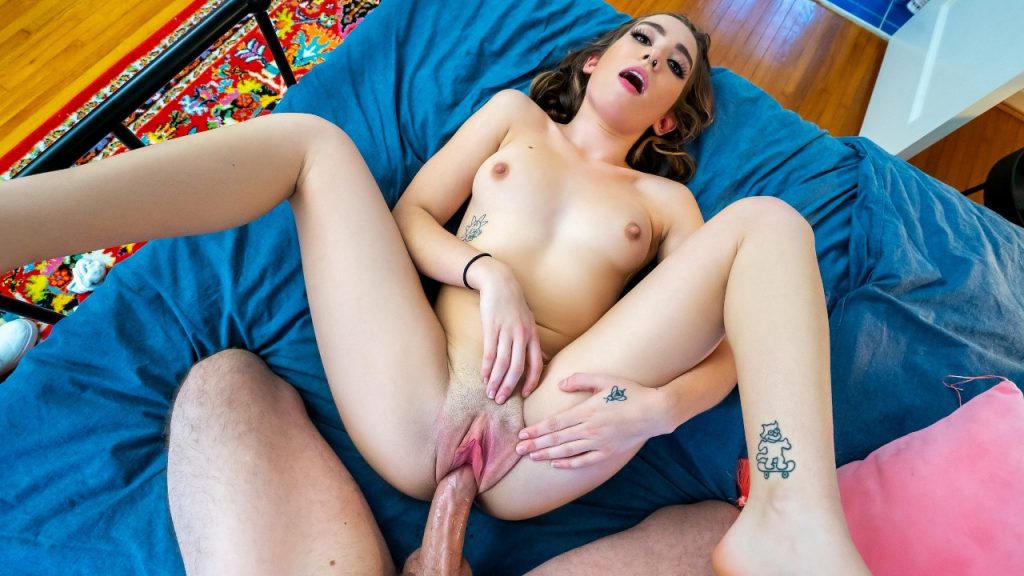 PropertySex is a must-visit website with hardcore content. It is famous for its videos containing estate agents looking seductive and fucking around. Also, PropertySex produces unique new content each week. So, there are fresh videos available to look forward to. Above all, they got the most pleasing girls on the Internet today.
Click to see the full review of PropertySex.
PROS:
An extensive collection of high-quality and HD videos
There is a weekly update
Pornstars are a hot and high-class selection
Puts effort and investment on production quality
CONS:
Downloading of videos may need extra payment
---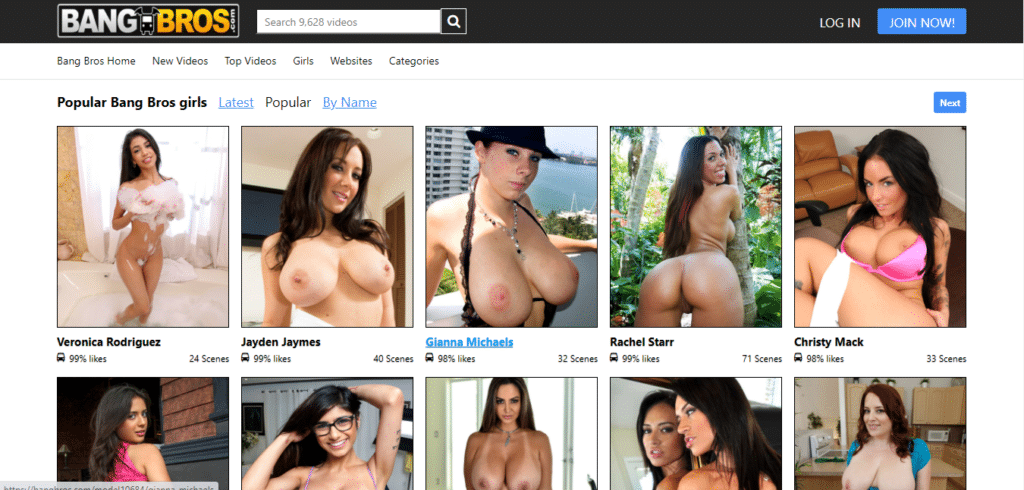 BangBros is one of the best premium porn websites nowadays. What makes it popular from the remainder is the high-quality videos they produce daily. Indeed, it has an impressive list of hottest pornstars and amateur stars ready to make your viewing pleasurable and exciting. Because of its popularity, many pornstars here have made it into the center stage and known worldwide. Up to this day, BangBros grows its followers daily and has become one of the most considerable fan-base ever noted.
Check out the full review of BangBros.
PROS:
Thousands of porn selection
Downloading is available
Updates regularly to give fresh content to the users
Easy searching of videos because of categories
CONS:
To view 4K resolution videos, you need to pay an extra rate
---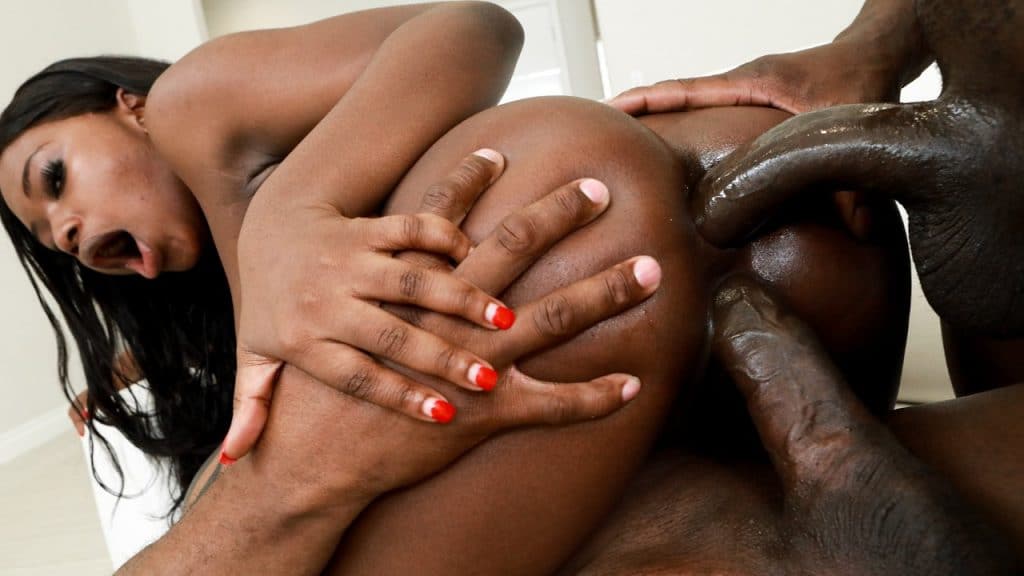 Words like "massive" and "remarkable" when I think of an empire conjure an image in my mind. I expected something vast and impressive from XEmpire, and I was not disappointed at all! With its amazingly well-crafted and beautiful pornographic scenes, XEmpire certainly has an empire of collections that stands up to my high expectations.
Take a look at the full review of XEmpire.
PROS:
Free access to full-length videos in high-quality resolution
Design and interface are simple and user-friendly
4K and total HD quality videos are available
Features 4 unique and unforgettable websites with thousands of diverse collections
CONS:
It has a 300GB daily download limit
The model index has limited details and information
---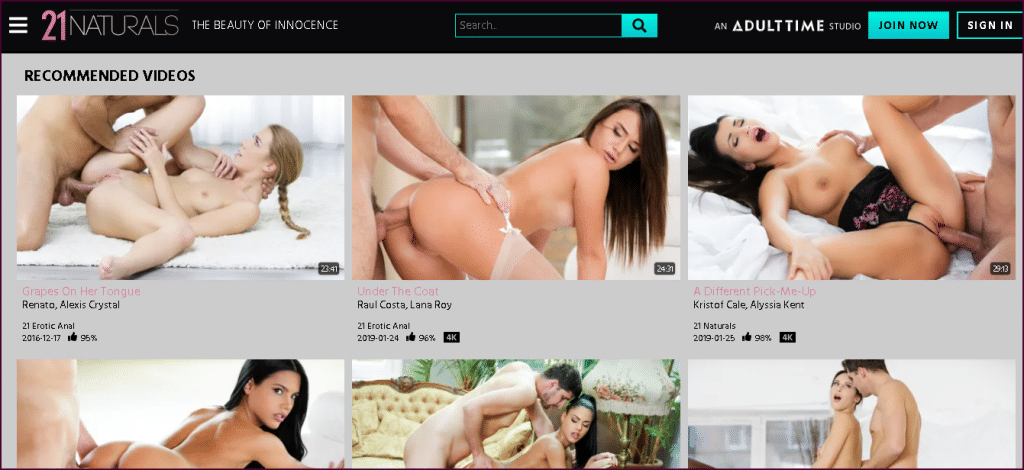 21Naturals is a unique site consisting of three channels in one place. Top-caliber glamcore adult entertainment is the focus of this three-site network. Each experience on 21Naturals' three-site channel has its own unique flavor, so if you think it will give you a similar vanilla thing, think again. Also, its subscription package and perks provide accessibility to the vast adult entertainment from the mega-network AdultTime.
Here's a full 21Naturals review.
PROS:
Premium and high-quality content
Lots of categories
Popular pornstars
High-quality and 4K Ultra videos
Softcore and hardcore scenes
Easy to use
CONS:
Requires membership to access
Additional payment when downloading
---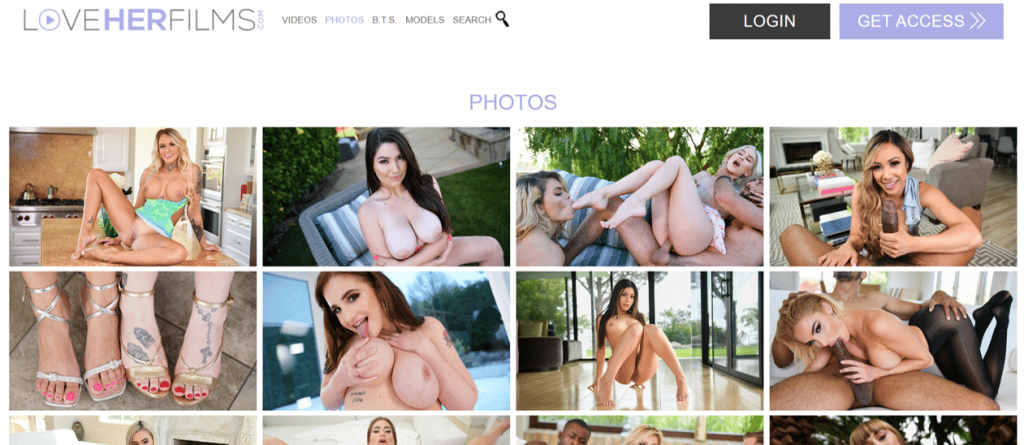 Love Her Films is a premium erotica abode that sets our mood for a steamy showcase of girls in their most intimate escapes. The page does not need to beg anyone to adore its repository because the minute you see the venue, you will start to drool around each piece. Love Her Films' salacious archive brought more fans to fapping. The domain consistently gives more, with four scenes uploaded per week. In addition, the interviews and behind-the-scenes are a great pick, too.
Read the Love Her Films full review.
PROS:
Clean design
4k videos, photos, and downloads
Consistent updates
Seductive ladies and comprehensive model profiles
Interviews and behind the scenes
Alluring hardcore concepts and montages
CONS:
Expensive subscription
No porn category page
Teens Love Huge Cocks
---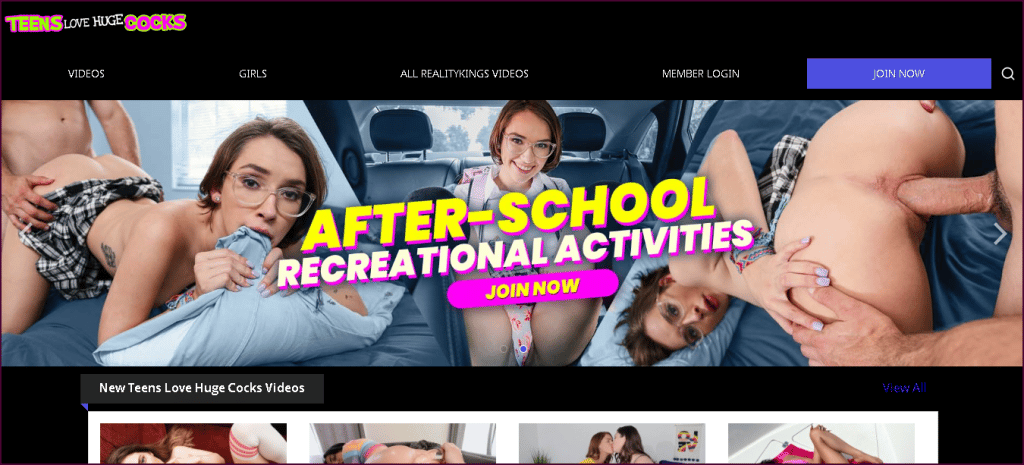 Everybody loves big cocks! It's inevitable that teen actresses or slutty stars like these have wet dreams about big cocks. According to the name, this website is stacked with teen hotties taking on massive meaty peckers —what more could you ask for? It was established in 2013 and had nearly a decade of operation.
TeensLoveHugeCocks does an excellent job of making it easy to find what you want for the Teens category. There are no bullshit storylines for the new actresses, only the introduction and fucking. What makes this the most exciting? They're young and hungry for some tasty cocks. I've seen tons of porn before, but this is the best!
PROS:
Numerous teen pornstars
Sex performances are impressive and hot
Exclusive content
Video quality is exceptionally fantastic
The website has a fantastic and straightforward layout and design
Updates regularly
It has access to bonus channels
Supports mobile devices
CONS:
It has daily downloading restrictions
No Advanced Search tool
---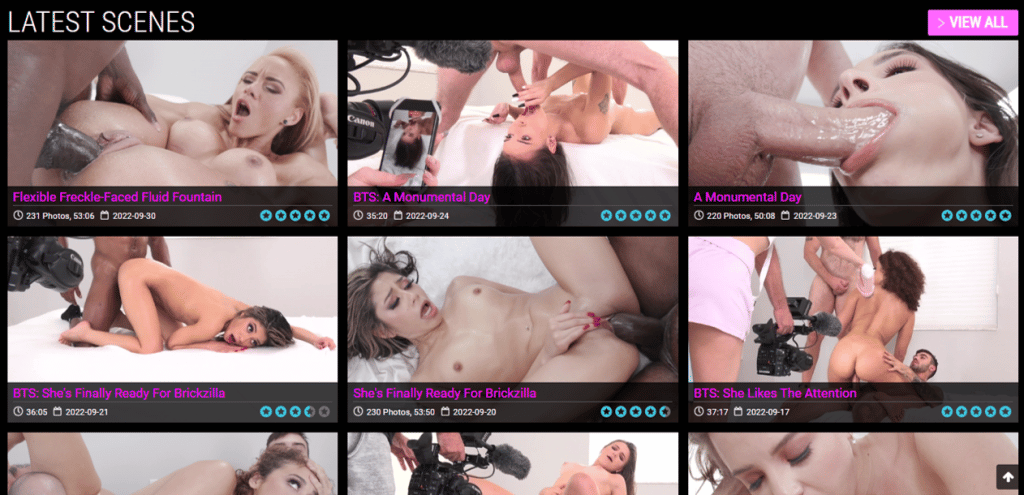 Hussie Pass is widely known for delivering gorgeous pussies and grandiose hardcore scenes. The page likes it much when followers drool over their pieces. You shall delight when you get one ticket to this orgasmic venue. Hussie Pass delivers a mouthful of treasures for your dick. Truly, this hardcore premium page has a name built with excellence and experience.
Hussie Pass awakens the senses of hardcore fans with its wild collection of steamy porn niches. The thumbnails, preview shots, behind-the-scenes, and video montages captured the dicks of perverts. Fans are also animated when they visit the venue due to the high-caliber production and top models.
Click to see the full Hussie Pass review.
PROS:
Top production
High-quality films
Hardcore scenes
Top-of-the-line porn niches
Great montage and thumbnails
Top models await you
Easy to navigate
Big discounts
CONS:
Few interactive features
High regular prices
---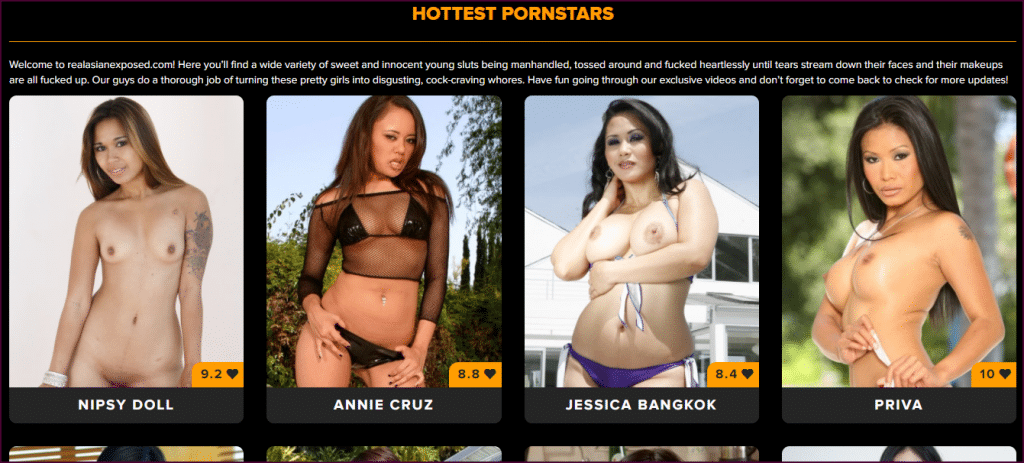 RealAsianExposed focuses primarily on homemade adult entertainment scenes; that's why it's no surprise you'll find plenty of intense, raw clips featuring lovely young women. Finally, this site also gives us something less challenging to digest videos like some solo self-pleasure recordings. Aside from that, you'll discover new vids every day that surely your wiener will impossible to resist. Thank God, you no longer have to waste days looking for the ultimate Asian videos repeatedly because we now have a convenient and easy-to-use RealAsianExposed page.
Learn more about Real Asian Exposed with this full review.
PROS:
HD videos
Simple to use
Uncensored content
Numerous categories available
Sexy pornstars/models
CONS:
Contents are mostly not exclusive
Admin is just rotating their uploads
Some videos don't have English sub or dub
---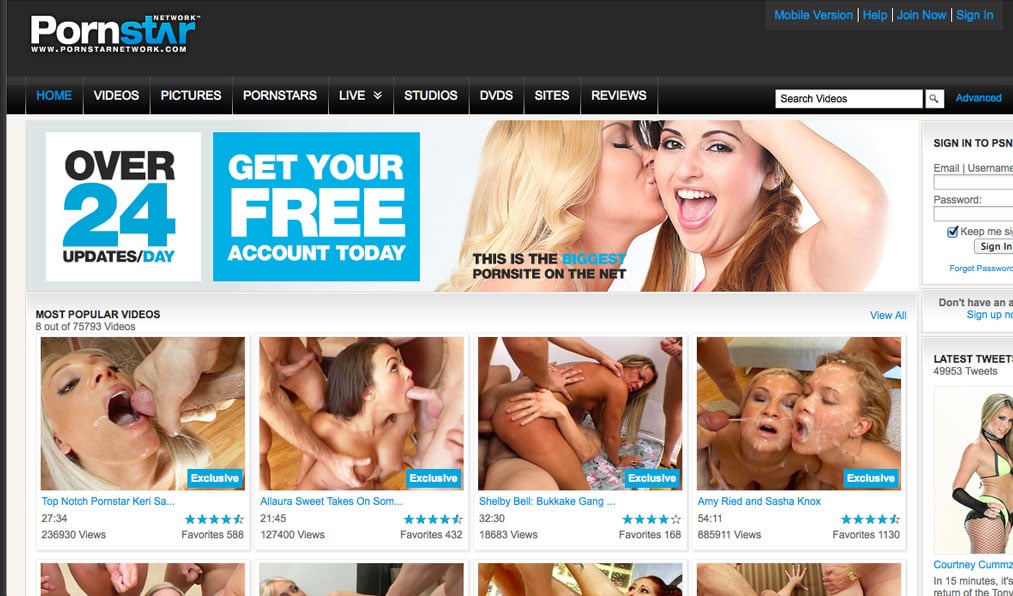 As the name says, Pornstar Network is one of the best premium porn websites that gathers all finest and professional pornstars in one place. However, being a premium website, all the fun and exciting features require payment before accessing. Indeed, all videos are high-quality and shot from incredible angles.
Check out the full review of PornstarNetwork.
PROS:
Categories are plenty, and many videos you can choose from
Stores a lot of sexy contents
Pornstars are gorgeous, and many
CONS:
Vintage contents are so many
Some of the videos are not HD quality
---
Final Words
Else Cinema may not be your typical porn site, but it's refreshing to see something different from time to time. Also, the site's concept makes it stand out from the other adult entertainment networks today. With excellent video quality, skilled pornstars, one-of-a-kind scenes, and great porn concepts, Erika has made revolutionary changes in how we see porn. If you want to experience the out-of-this-world pleasures of Else Cinema, you better start clicking that link and check it out.
All 91 Other Sites in This Category Worth Checking Out:
Strokies Review & 12 Must-Visit Premium Porn Sites Like Strokies.com Show Me 12 Alternatives for Strokies.com Hey there, fellow pleasure seekers! Let's dive into a topic that's sure to tickle your fancy. We all have those instances when we need a little pick-me-up, a little "me time" to maintain our sanity. And hey, who am I […]