Updated on: October 1st, 2023
ClubDom
& 12 Best Fetish and Premium Porn Sites like clubdom.com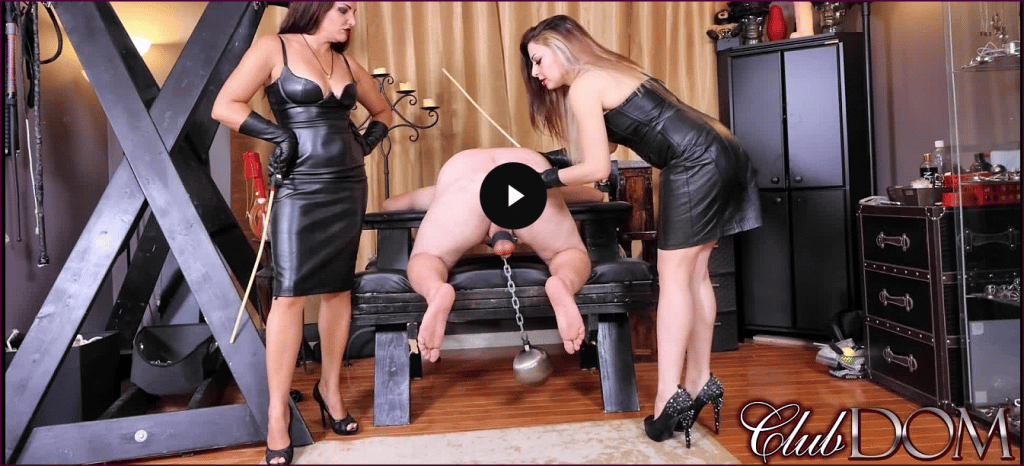 Rejoice, kinky and fetish lovers! I think it's time to explore the world of BDSM and femdom porn, where lies the most vicious and humiliating acts of torture and pleasure. Today, I'll feature a site known in the hardcore entertainment industry. ClubDom is a femdom porn site with a shitload of CBT, worshipping, castration, and all-out humiliation. Those merciless and mean female doms are not afraid to experiment with their limitations to give us a fantastic viewing experience. Buckle up because I'll take you on a mind-blowing ride you've never experienced before!
Official URL: https://clubdom.com
The ClubDom Domination
In terms of Femdom entertainment, ClubDom really stands out. Apart from their content, the vicious doms of ClubDom have an overwhelming fascination with torturing men and their testicles. And I'm sure this passes as a dream destination for all the BDSM and femdom junkies. But of course, many fetishists may find something to their liking in this collection too.
Every kink and fetish has a room on this site, but you must prepare to see a shitload of cock and ball torture since this is the site's forte. These vicious yet gorgeous doms take great pleasure in torturing their men slaves, and they are very skilled at what they're doing.
Every scene will lead you through top-quality BDSM acts, overpowering your emotions and feelings with ecstasy and enjoyment. Take a seat and get ready for pussy-smothering, tormenting of the nipples and glands, and other forms of corporal punishment.
Inside the Dungeon of ClubDom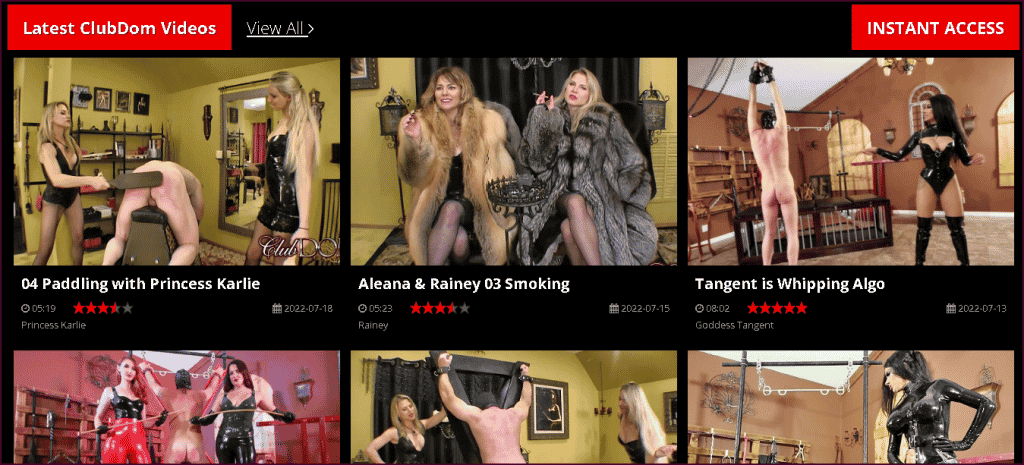 As far as Femdom websites go, ClubDom is among the greatest, with a wide variety of high-quality entertainment and an ever-growing content volume. Existing videos count over 3K+, and the newest additions are all available for free downloading as high-definition MP4s. You may also run over SD-type videos, but these only apply to several classic videos. Additionally, you can watch the video online for free via a streaming video service.
ClubDom has around 3K+ clips and 250+ picture albums on this website right now, and they are all displayed at the highest pixel resolution. ZIP files containing all the photos are available for download, while the movies are streamable or downloadable in WMV and MP4 versions. The bit-rates range from roughly 8000kbps to 1280×720, the highest resolution they can produce at their best. Also, the website upgrades regularly with fresh content for your viewing pleasure. Sadly, as of this writing, the picture collection hasn't been updated in over a month, but I understand since this site is basically a video-focused porno. Generally speaking, all users could expect to experience an HD movie nowadays, and some earlier ones have been reworked to include more material.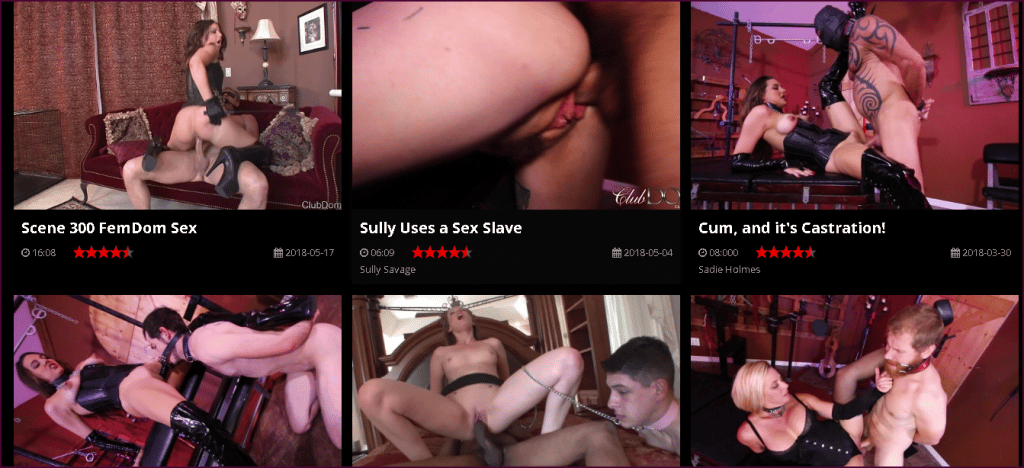 Moreover, the photo galleries show beautiful Mistresses pushing their guy submissive through hardcore tests in medium to high-quality pics. Bondage, corporal punishment, feet-licking, and pleasure deprivation are just among the methods seen in the galleries. And it's pretty clear that each femdom stars has their unique and distinct characteristics in these photo.
So far, the ClubDom's pic collection is among the most unique and exclusive stuff I've seen online. Plus, its entertainers are fully committed to their performances, showing scenes perfectly after scene. Before you can even visit the site, you already know what to expect just by hearing the name 'ClubDom.' That's the kind of reputation this site is preserving over the years and continues to grow as days to come.
Design and Usability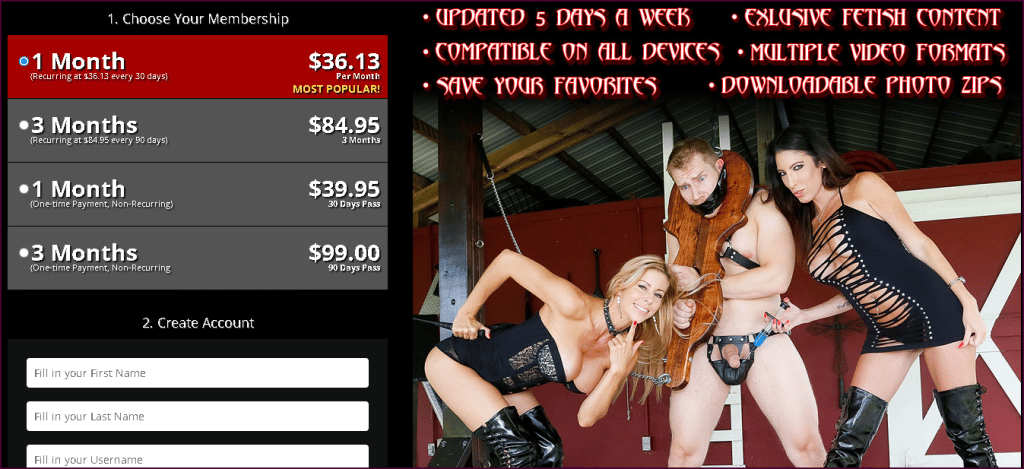 You can't say a site is picture-perfect even if it has the finest quality BDSM material. Remember, nothing is built perfect, so don't expect too much from them. You can apply this mindset in the ClubDom situation since I noticed a few flaws on the page. Honestly, ClubDom is among the eldest and most outdated paid adult sites you'll stumble upon. The design, features, and several font elements on the page are both outmoded; a few features have been left in their original, unstyled HTML state. Looking at the overall aesthetics of the site, I thought that this is something that should exist on an expensive subscription service.
Also, the ClubDom website isn't well-suited to mobile devices, so expect to experience some issues when streaming. Nevertheless, the page can be accessed anywhere with only a tiny amount of tweaking. The site is speedy, efficient, reliable, and perhaps the only thing good about its user experience. Anyway, if you don't bother about the platform's aesthetics and just wish to enjoy the best pornstars and hardcore BDSM movies, then ClubDom is the perfect spot.
BDSM and Femdom Categories of ClubDom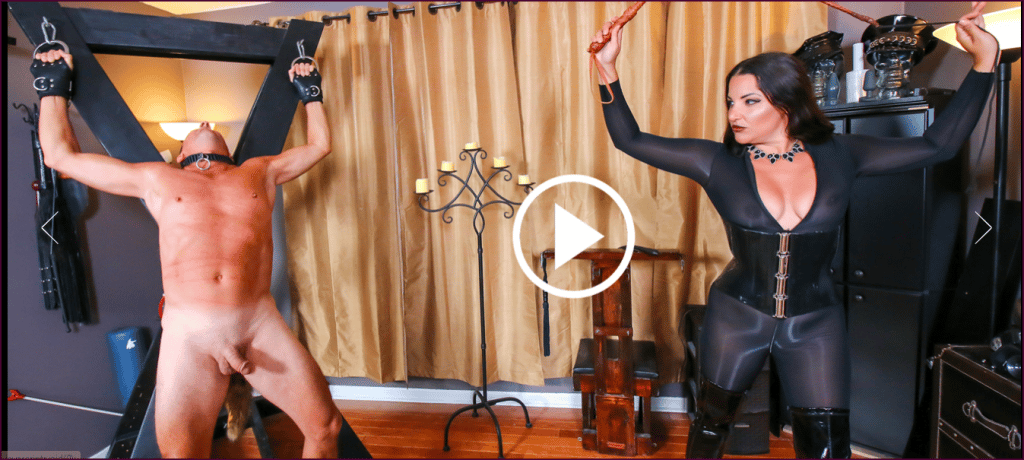 ClubDom is well-known for its gruesome movies, which feature not only severe beating and flogging but often various sorts of torment like body worshipping, Dirty Feet, Tease and Denial, Chindo, Dildo Play, and castration. As a whole, ClubDom is an excellent resource for dedicated femdom fans looking for top-quality authentic BDSM entertainment. In fact, those are just the tip of the iceberg when it comes to everything ClubDom has in store for the BDSM junkies.
If those are not enough, the site still has more categories like Corporal Punishment, Cum Eating, Human Ashtray, BDSM, CBT, Cuckolding, Bondage, Caning, and Ball Busting. Obviously, most of these are displayed with PVC costumes, handcuffs, and kinky paraphernalia. Certainly, you won't find any of this anywhere else! More real-life female abuse movies await you on this site than just bondage, whipping, and small penis humiliation. It also features Whipping, Pony Play, Female Domination, Mixed Wrestling, and Femdom Sex. So, better plan on spending quite a good chunk of time around.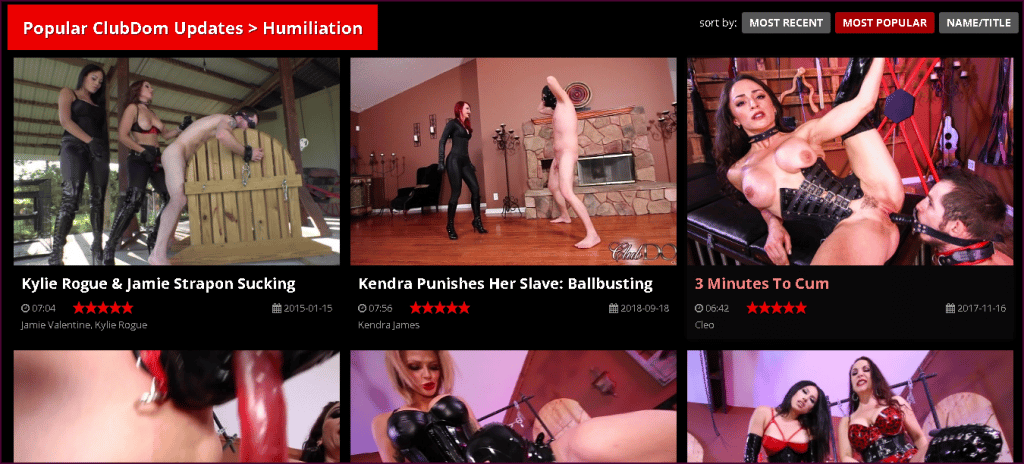 On the other hand, the appearance of the main webpage seems to be the primary aspect that should be improved because the users or the visitors won't be able to get a sense of just how much information is contained within the member area. When I visited, many categories were still available like Chastity, Ass Worship, Boot Fetish, Body Worship, and Anal. But because of its interface, many of these can be easily overlooked. From what I hear, it is a common tactic used by underground websites with considerably less stuff than they actually do. They make it appear to provide a massive collection but, in reality, have far less.
The Hardcore Mistresses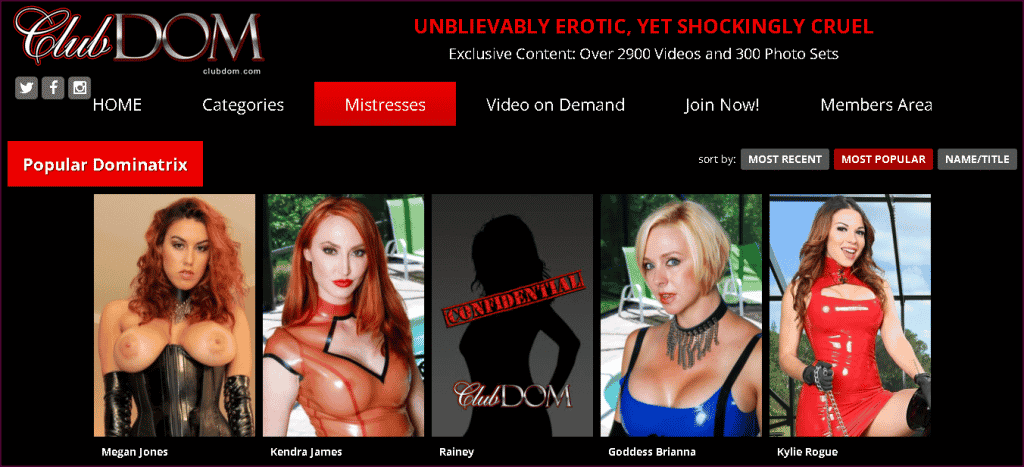 ClubDom is among the premier places to access high-quality BDSM and femdom movies online. For all the fans of hardcore fetishes, this is an absolute must-have. Check out Deanna Winters, Natalia Starr, Michelle Lacy, Alexa Rydell, Sasha Meow, and Jean Bardot in their most brutal sex torture scenes, and enjoy femdom pleasure all the way. There will be no vengeance; instead, these poor men will be subjected to a succession of dominatrixes, each dressed in a torture costume and eager to wreak havoc on her next victim.
As I have previously said, ClubDom Mistresses can be seductive and overly harsh. I know for sure because I've seen it on the popular videos of Alexis Fawx, Goddess Tangent, Paris Knight, Alexis Grace, Mena Li, Kelly Diamond, and Vanessa Cage. These dominatrix women are not afraid to show off their brutal, sexy side and always willing to go all out! Certainly, they'll go to any lengths to make the situation more enticing for their audience.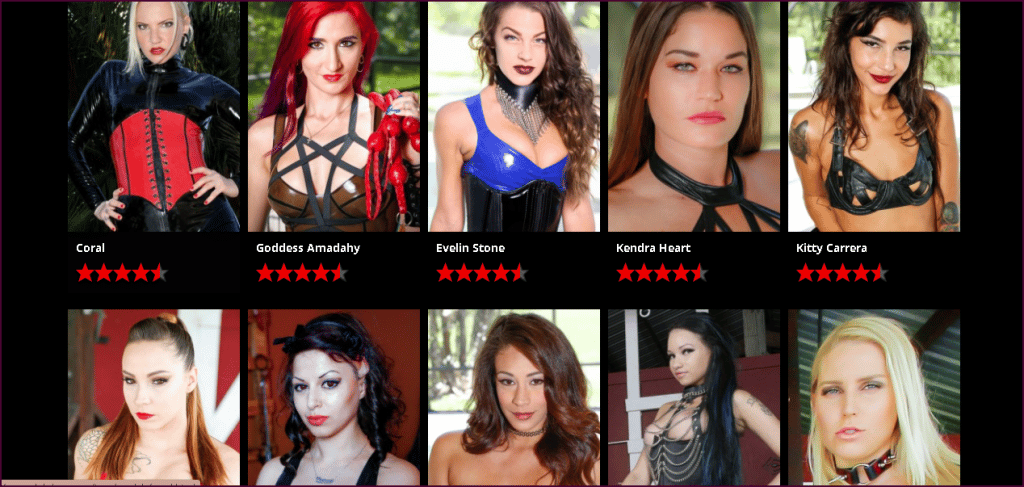 If that's not enough, we also have Raven Bay, Jamie Valentine, Isobel Devi, Sasha Foxx, Kitty Carrera, Kendra, and Heart Coral. At the whim of these beautiful women dressed in glossy Latex suits with towering, scary-looking booties, several gentlemen are being captured and imprisoned in a gothic sex torture chamber. Each of them has its own way of enticing the viewers. So, if you're not a hardcore BDSM fan, I suggest you stay away from here. The brutal tortures and sex are just two things you may find absolutely displeasing.
Anyway, as a hardcore porn fan, I finished my journey with popular videos of Evelin Stone, Kylie Rogue, Goddess Brianna, Kendra James, and Megan Jones. These fantastic girls are totally hardcore and not afraid to go the extra mile to please their man. Of course, it was an excellent experience for me to see this femdom domination and men's submissive sides. It might be hard to take all in, but it surely was something refreshing for a fapping night session!
ClubDom's Content Quality Analysis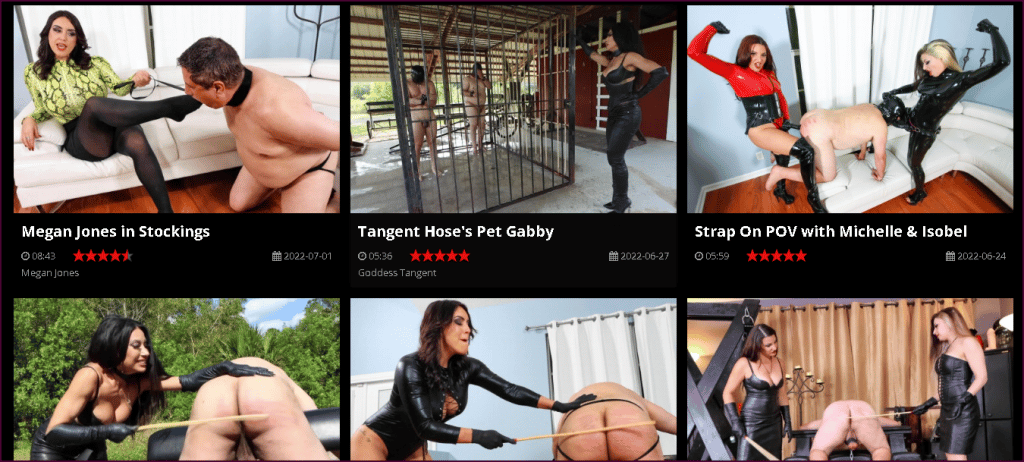 ClubDom is certainly a fantastic female Domination and hardcore BDSM network that really does live up to its reputation. Initially, it appears to be a simple small website, but after you register and see all its collection and categories, it becomes evident just how excellent this is. Definitely, you won't be disappointed with the content in any manner.
After my recent visit, the website has grown massively, and all aspects of the material are excellent. Starting from the video sharpness to the themes and hardcore actions, there's no single scene that won't satisfy you. Who knows, maybe it's the coolest femdom website ever? That's entirely possible, isn't it?
In spite of the fact that some older movies looked terrible, they've made great strides in quality. They now can deliver Ultra High-quality movies, including 1080p resolution streams with incredibly high bit-rate. There is likewise an option to save your best-loved videos and a chance to score every clip with a 5-star rating. Perhaps, the only disappointing thing about ClubDom is the porn pics. Currently, the site does not support regular updates with its gallery collection, and that's probably because this service is primarily a video-sharing platform. It is expected to take a long time for images to be updated.
Pros and Cons of Clubdom.com
PROS:
Lots of hardcore/femdom porno
High-quality content
Regular updates
Streaming and downloading are available
Exclusive to BDSM and femdom fans
Lots of bizarre scenes
Customer service is available 24/7
Shitload of categories
CONS:
Requires membership to access
Some old videos have a lower quality
Outdated website design
Some ads for free members
---
12 Best Fetish and Premium Porn Sites Similar to clubdom.com: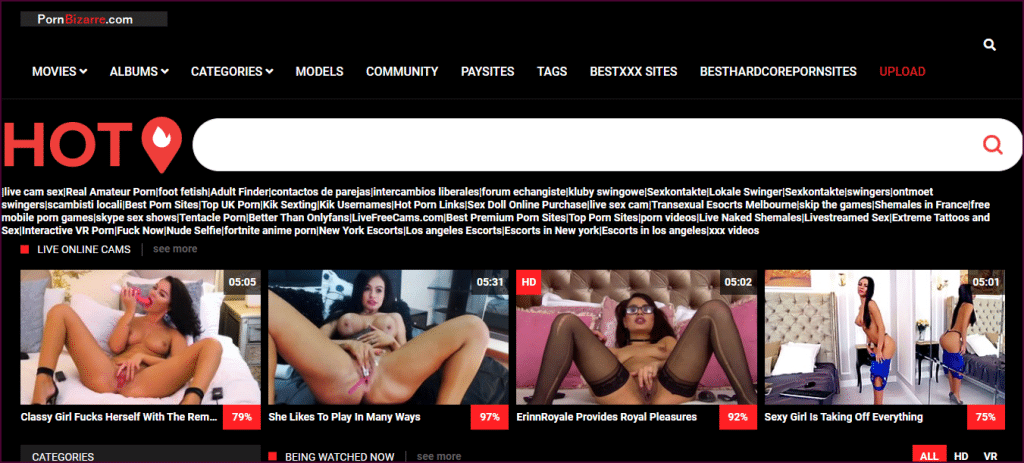 PornBizarre is my new favorite free porn site that caters to all types of fetish and bizarre scenes and themes. I know some of you may not be into bizarre videos, but there's something pleasurable about them that I can't resist. PornBizarre boasts its amazing hardcore, bizarre adult entertainment. Its girls are gorgeous and hot, so there is no doubt that every scene here would be insanely smoking too. I'm also impressed with the number of categories available on PornBizarre, and it seems like an endless list of good things to jerk off! It may not be as big as those giant mainstream websites, but PornBizarre deserves the spotlight.
Here's the full review of PornBizarre.
PROS:
Massive archive
Plenty of pornstars available
Numerous porn categories
Search and tags
Amazing porn selection
Registration is free
Downloading and streaming are available
Allows uploading of personal videos
Free to use
CONS:
Plenty of ads
Requires registration to download
---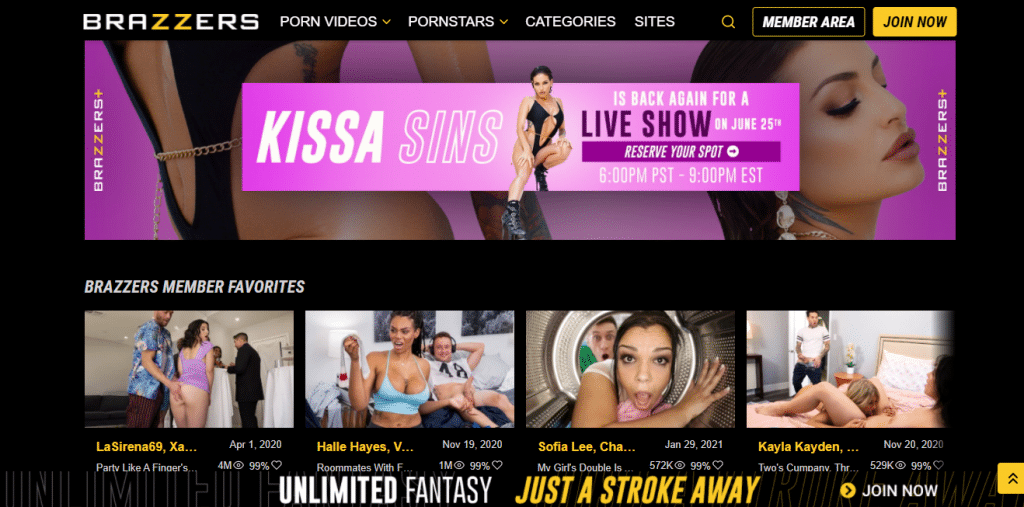 Brazzers is a trendy website and considered one of the best premium porn websites up to this day. Over the years, it has maintained to give its audience the best and most steamy videos. Since 2005, the year of its launching, it has never failed to upload various themes. Including lesbian sex, hardcore, seductive MILFs, teens, live amateur, and many more.
Indeed, for many years, it has created a massive impact on the business of porn. Every day, many people join its horny community, making it one of the largest user-based worldwide. Also, Brazzers' team put lots of effort into the production and cost to ensure that every scene is high-quality. Undoubtedly, their title as World's Best HD Porn Site in 2019 says it all.
Click here for a full review of Brazzers.
PROS:
Large collected porn videos
Categories of videos are available for easy searching
There are available uncensored pictures
No advertisements and pop-ups
The affordable trial membership fee
Thousands of scenes to choose from
HD videos are plenty
You can stream videos
Regular updates and uploads
You can access more than 33 websites as a bonus
CONS:
Limited time for Trial membership
Trial membership is not for free
Some videos uploaded in the year 2009 do not work
There are some categories with limited video contents
---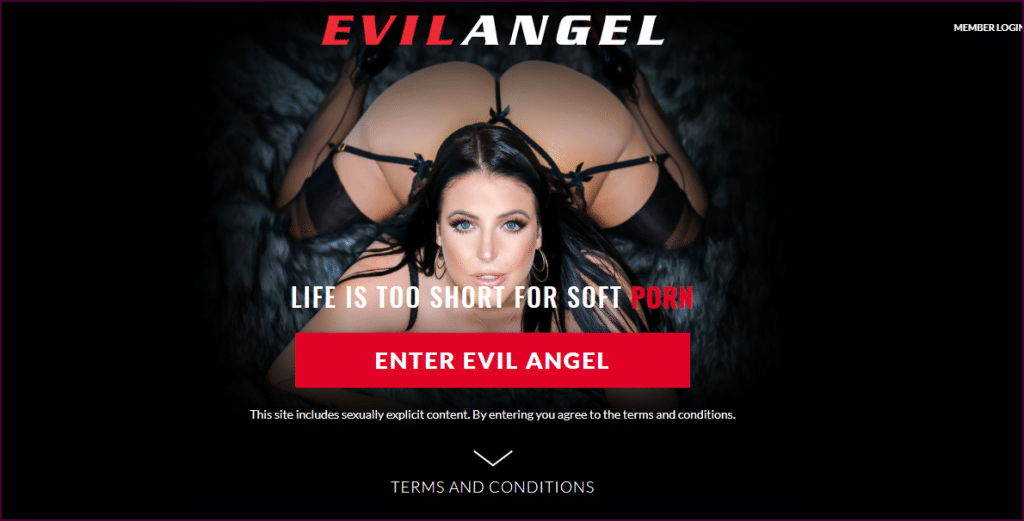 EvilAngel's harsh anal sex notoriety has been well-known for a looooong period now. So, for anal lovers, there is no better place to be than chasing the sunshine radiating from the largest and nicest ripping buttholes to their sacred resting spot. With so many networks on the EvilAngel platform, it's hardly surprising that its entertainment catalog is absolutely massive.
Moreover, EvilAngel has made an all-out effort to showcase every kink and fetish that many of us would love to see in action — and I believe it has succeeded without a hitch. The film and the entire production are flawless, and the pornstars are generally fantastic performers.
PROS:
It has loads of hardcore and intense porno
The monthly subscription is very affordable
Customer service is available 24/7
An extensive collection of high-quality and 4K videos
The newsletter is available for updates on limited offers and free content
CONS:
Sometimes users experience lagging
---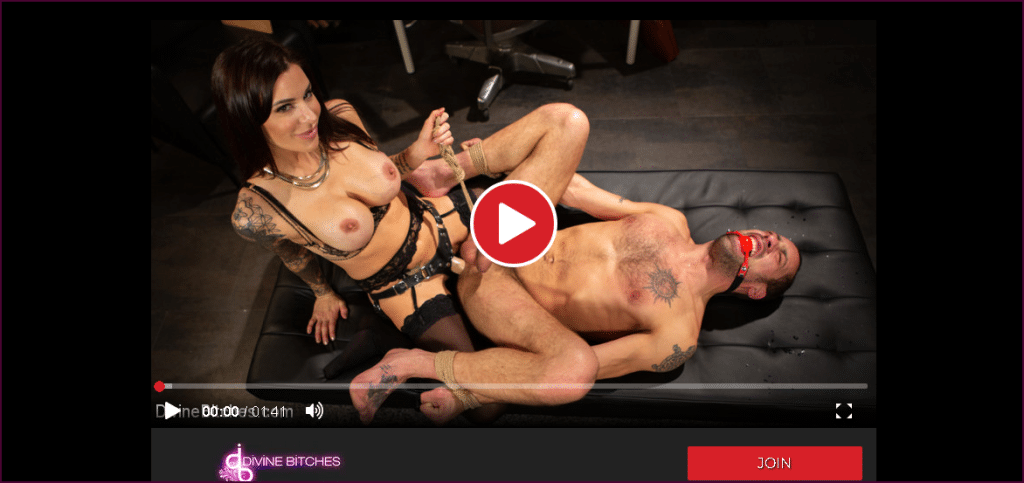 You might be unfamiliar with the word "Femdom" for the newbies out there. Basically, DivineBitches' Femdom niche is a unique kink variety where the women play the dominating role. It is a good home for extraordinary scenes where actors and gorgeous pornstars can beat the hella out of sex and pleasure. DivineBitches is also known for its fantastic collection of videos in high-definition resolution and top-caliber quality. The site's subscription payment is relatively cheap compared to other porn competitors with a website and service of this quality.
PROS:
High-definition videos
Thousand Femdom content
Millions of porn pictures
Affordable
It has other bonus sites
It offers bizarre and unique scenes
No ads or spam
CONS:
Only femdom niche available
Updates happen weekly
---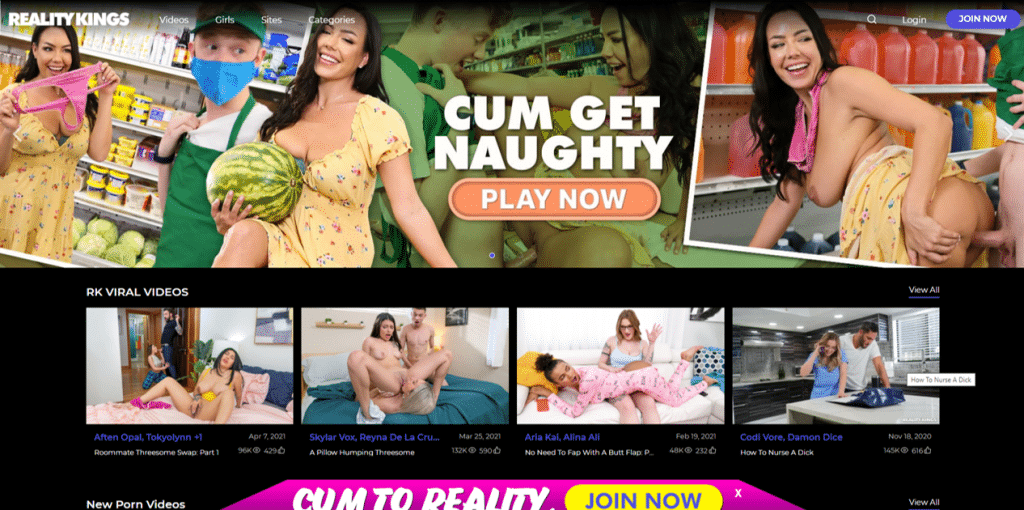 Another one on the list is RealityKings. This is no ordinary porn site because it has loads of high-quality scenes performed by the hottest and sexiest pornstars. One of the most sought-after scenes here includes MILFs fucking their daughters' boyfriends, erotic massages, shy maids, fake professionals, and many other storylines. Indeed, the name RealityKings is not given for no reason. Loaded with thousands of videos to watch, there is so much more to see within this site.
Check out the full review of RealityKings.
PROS:
The trial cost is only $1
The site updates its videos frequently
Extensive library of porn videos
All your favorite porn actors are together in one place
CONS:
You can only download 50 videos a day
---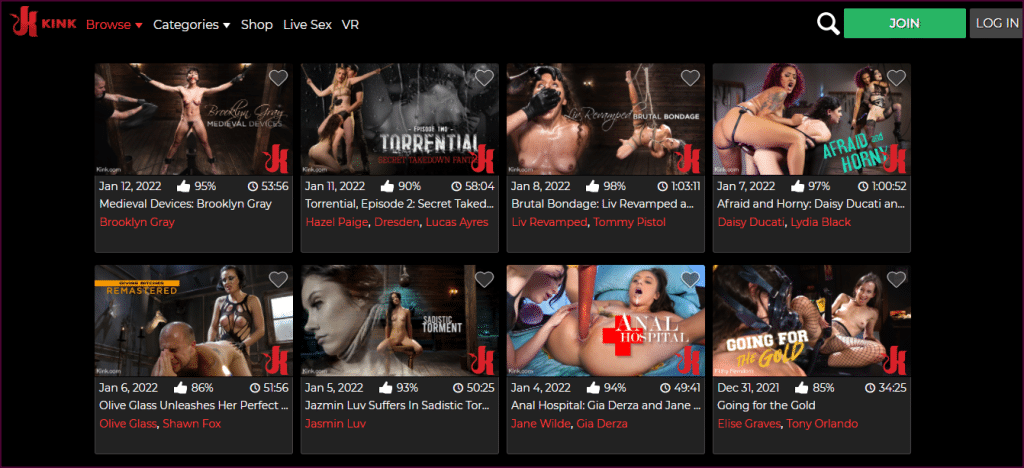 Are you in the mood for kinky videos and fucked up BDSM-themed scenes? Well, don't look for those somewhere else because Kink.com has a shitload of them. Certainly, this site is specifically designed to fulfill your needs for nasty, bizarre, and wild porno. Since not everybody is a fan of vanilla sex or usual fucking, Kink.com has revamped your old-fashioned concept of porno into something unforgettable. Expect to see some hardcore fisting, submission, bondage, and all-out bizarre fun. Definitely, Kink.com is not your typical hardcore kink site, but it goes beyond the darkest aspects of sex and BDSM.
Take a look at the full review of Kink.com
PROS:
Massive archive
Active community
Additional stuff like links, forums, articles, and educational sources
Respect and trust in the lifestyle
Largest shop for kinky toys
Impressive design
CONS:
---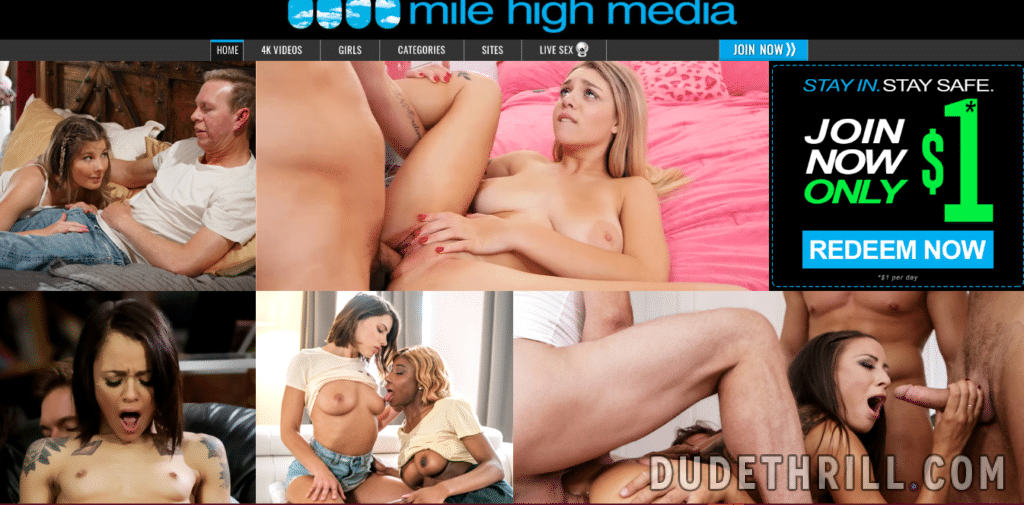 You can smoke joints as many as you wish, but the high you get from smoking will never top the MileHighMedia "high." Certainly offering sexual entertainment from a large selection of professional adult actors; indeed, this website has brought high-quality videos to your screen.
MileHighMedia is an excellent porn website with a wide selection of features, videos, and sexual content to enjoy. All the scenes are impressive and done by fucking gorgeous women. Indeed leave you mouth-watering. Similarly, it has a great selection of actions, fetish, and kinks for all lovers with unique tastes. Certainly, there is an extensive collection of porn videos waiting for you.
Take a look at the MileHighMedia review.
PROS:
There are hundreds of 4K videos available
Regular updates
Amazing design and usability
Streaming in High Definition
Downloading is fast and reliable
Great list of pornstars on both male and female
Contains exclusive websites for a price of one
CONS:
Downloading may need to pay extra
Limited period for a free trial
---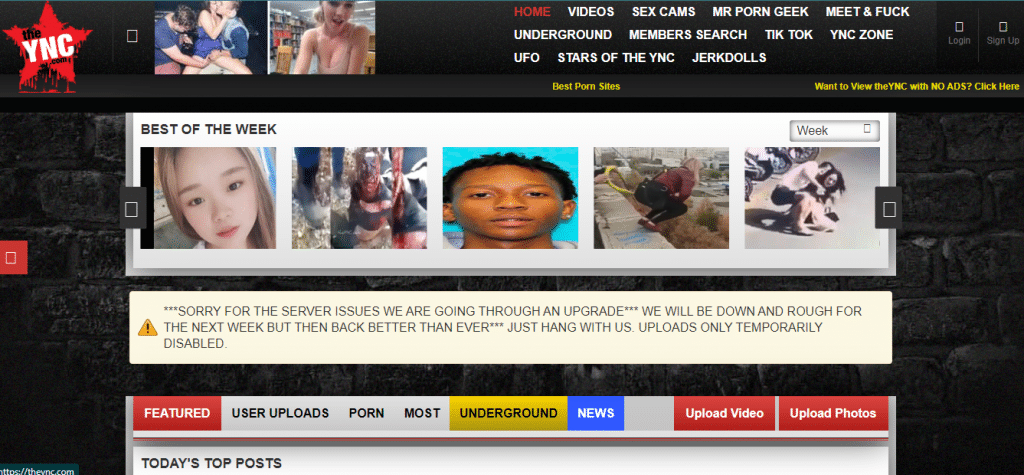 TheYNC is a website that features several of the world's worst morbid and disturbing content. There are a lot of pornographic clips here too, yet weirdly, the emphasis has always been on the bizarre and crappy ones. In other words, if you never had a "thing" on bloodshed and murder, I recommend you stay away from this website.
TheYNC is a one-of-a-kind platform. Before all of this, we already have experienced too many odd and bewildering websites. However, this is the first time I have ever encountered something close to this before. Sure, only a tiny percentage of the audience enjoys watching graphic clips loaded with nastiness and brutality. But most people here enjoy seeing hostilities and individuals acting erratically. In that case, TheYNC could be a good option for you if you're somewhat sexual predators hungry for non-traditional porno.
PROS:
Free access
Bonus sites
Active members
Perfect for extreme porno lovers
Amateur content
Bizarre themes are plenty
CONS:
Not typical site content
Some poor-quality videos
Pornos are not exclusive
---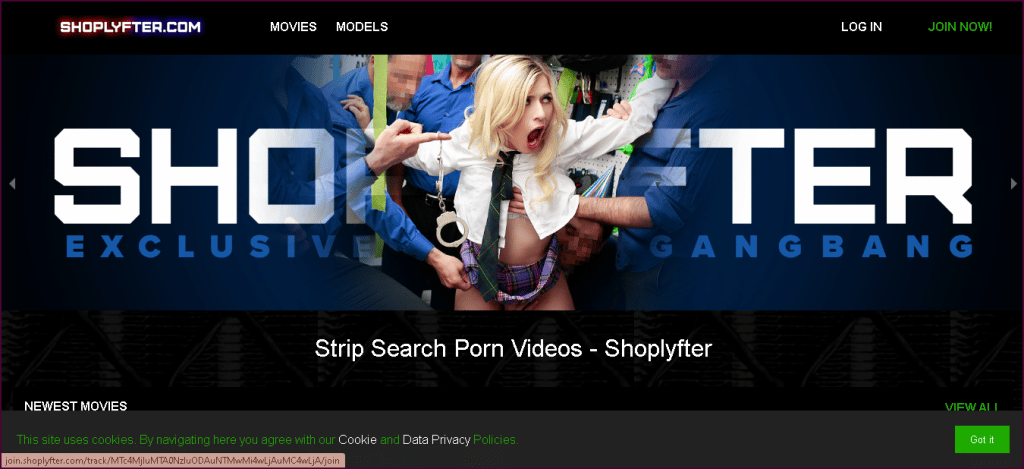 Shoplyfter may sound like an e-commerce site, but it's actually naughtier than you think. It has a massive collection of almost-real-like scenes where hot teenagers are caught shoplifting in malls or stores. Currently, there are over 300 films in the Shoplyfter collection. The complete premium collection is available in highest resolution of 1080p for both streaming and downloading. Plus, you can enjoy many bonus sites and content considering Shoplyfter is part of the TeamSkeet massive network.
Check out the full review of Shoplyfter.
PROS:
Lots of content
Bonus sites
Simple design and convenient user experience
Models are hot, young, and gorgeous
Scenes are unique but focus on the niche
Tempting content
CONS:
Requires Premium membership
Downloading requires an extra fee
---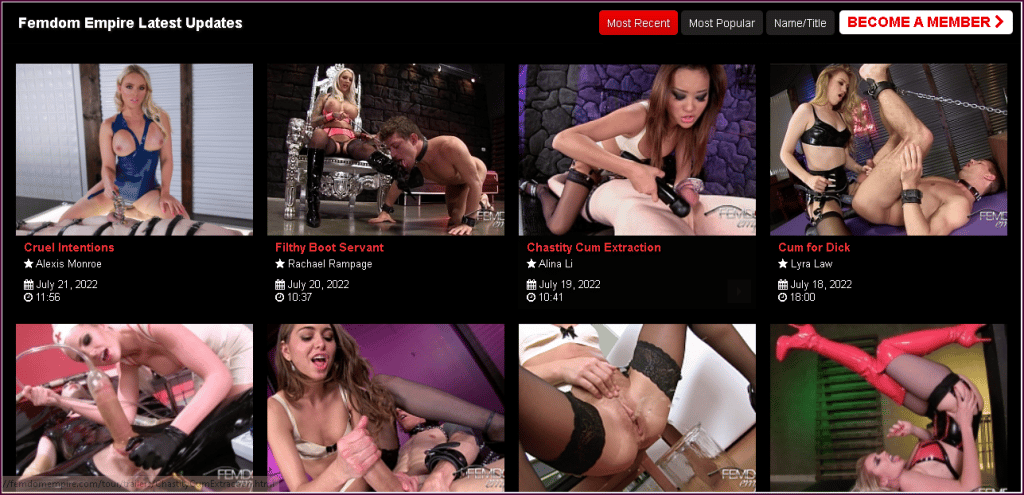 FemdomEmpire is a fetish porn site that gives fantastic, bizarre adult entertainment. It's not for everyone's taste but for those who enjoy the femdom niche; then this site is heaven-sent. You'll find various forms of humiliation, male submission, strapon, BDSM, and other femdom activities.
PROS:
Countless videos available
High-quality content
Affordable membership packages
CONS:
No trial membership
Exclusive femdom niche
---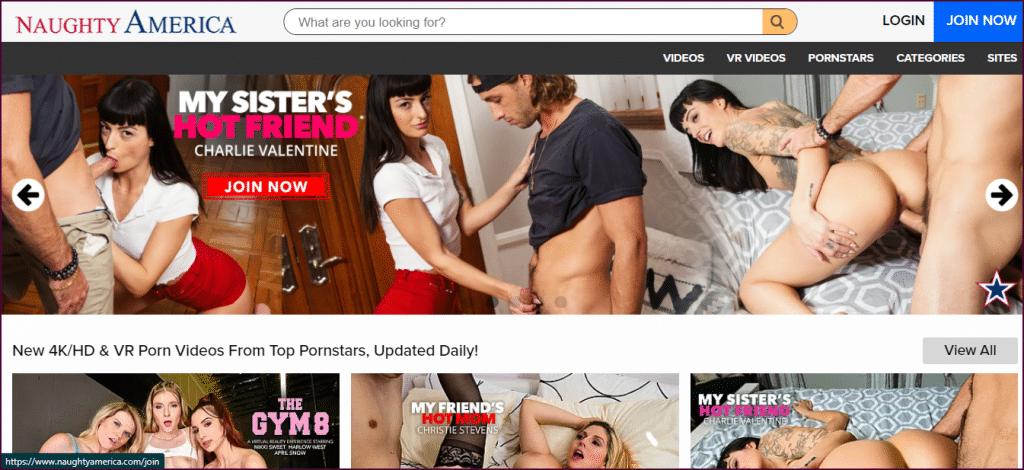 Do you want to browse hundreds of porn films showing in full HD? If yes, then the popular and safe adult website Naughty America would certainly fit your needs. So, now you can meet famous porn actresses, starting from young teens to professional adult stars, to MILFs. Also, the actions often differ widely with multiple categories. These include group sex, wild parties, real-life concepts, step-sister or brother, ebony, and so forth.
Learn more about Naughty America with this full review.
PROS:
Ranks top around the world
Massive collection of 4K and HD porn videos
Organized collection of videos
There are over 30 websites to access within the page
One of the first websites on the Internet
CONS:
Requires payment if you want to use it
---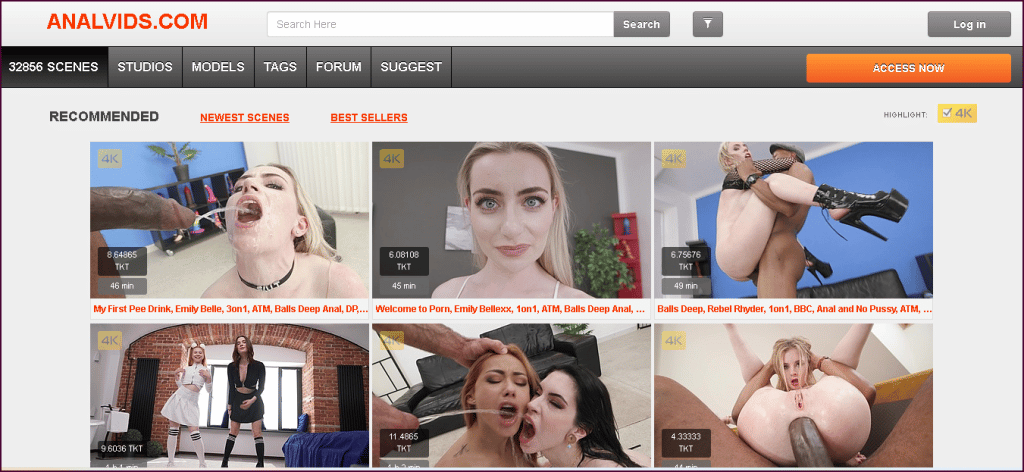 AnalVids is the new title for the good old LegalPorno. It has already established itself as a go-to site for pornography enthusiasts. Currently, the standard actions featured on the site are at least one female actress swallowing and banging on a larger amount of cocks, and fucking at least two dudes. Even the rarest vaginal intercourse is harsh with horny, harsh guy actors slamming whichever hole they chance to fuck with their nuts.
Check out the full review of AnalVids.
PROS:
Massive library
Features almost a hundred porn studios
Distinct porn site
Features extreme, hardcore videos
Lots of 4K and high-definition content
Regular updates
Compatible with different devices and browsers
CONS:
No available filter to narrow high-quality videos from the low-quality ones
Not typical membership and purchase method
Downloading speed varies on the location
Quite expensive
---
Bottomline
Despite having an outdated website design, ClubDom's content and hardcore scenes make this site popular and reputable. From the vicious bondage and castration to penis humiliation and cock-and-ball busting, this site is not afraid to go all out and experiment with its limits further. So, for viewers with weak hearts or no experience with BDSM, I suggest you stay away. ClubDom has no time to hold back, which might be too harsh and brutal for vanilla-sex lovers. Anyway, I totally recommend this site and better overlook the membership fee. Yeah, it's pretty expensive, but the experience you can enjoy here is worth every penny.
All 102 Other Sites in This Category Worth Checking Out:
Colombian Casting Couch & 12 Must Visit Premium Amateur Porn Sites Like ColombianCastingCouch.com Show Me 12 Alternatives for ColombianCastingCouch.com We are about to get some real meat and stuff. I am talking about Colombia's Colombian Casting Couch; well, I hope I got it right. The dickhead in me just assumed that Colombian Casting Couch is from […]