Updated on: December 3rd, 2023
PmateHunter
& 12 Best Porn Pictures Sites Like PmateHunter.com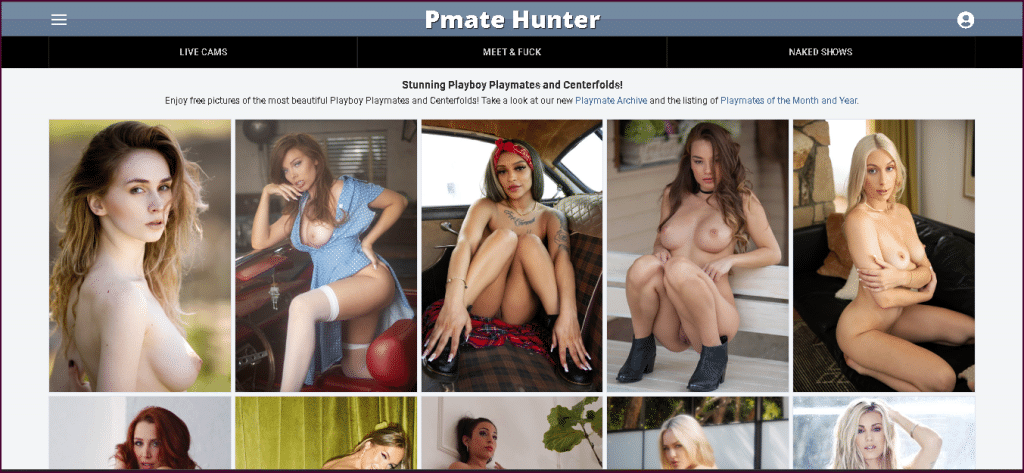 Welcome to the world of "Playboy," a name that is synonymous with glamour, beauty, and sensuality. If you are a person who grew up in the era when pornography was a taboo subject, you probably have fond memories of sneaking a peek at Playboy magazines to satiate your primal urges. In those days, Playboy was the only source of sexual gratification readily available to the masses, and men couldn't get enough of the stunning models featured in it. Even I was among those guys who couldn't resist the allure of Playboy. But guess what? I recently stumbled upon a website that offers free access to a vast collection of Playboy model galleries, and needless to say, it's a game-changer. So, prepare yourself to get charmed by the seductive and alluring Playboy models on PmateHunter, the ultimate destination for erotic photo galleries.
Official URL: https://pmatehunter.com
Let's Take a Trip to the Oldies but Goodies and Relive the Glory Years of Playboy
Are you ready for some steamy fun without spending a dime? Look no further because PmateHunter got your back. Believe it or not, all the porn pictures on PmateHunter are free! No catch, no gimmicks, just pure and simple pleasure. In fact, you don't need an official account to use it. That's right, folks, PmateHunter.com is the real deal, and it won't cost you a dime. I bet you're already feeling curious, aren't you? There's nothing wrong with that; we all have our guilty pleasures. And let's face it; these models were probably the first to get our hearts racing and imaginations running wild.
I get it; some of us might have even had a crush or two on these stunning ladies. But for me, it was all about pleasure. I didn't need to form an emotional connection; all I needed was a bit fapping material, and Playboy was never disappointed. And now, with this porn pic site, it's even easier to indulge in our fantasies without breaking the bank. All you need is an internet connection; the rest is up to you. Let's relive those innocent and not-so-innocent moments and enjoy the ride.
The Ultimate Fusion of Classic Charm and Modern Style of Playboy Models at PmateHunter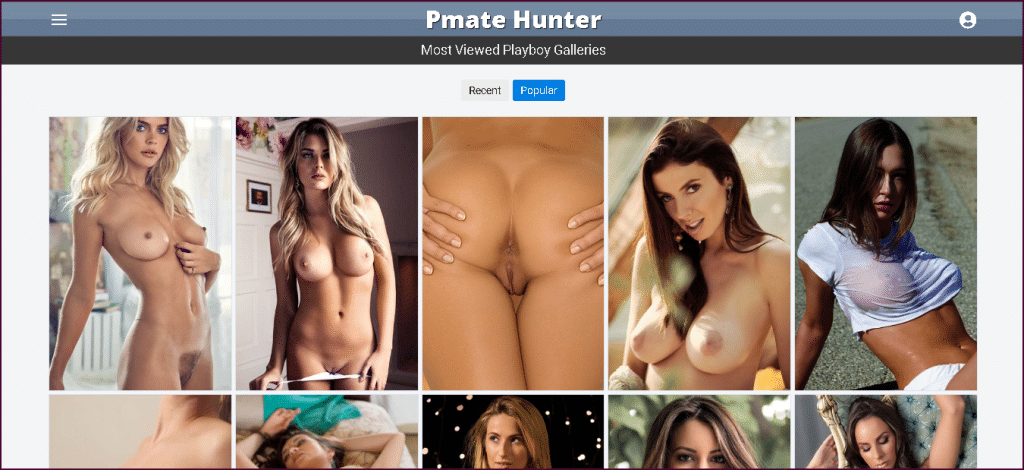 If you've been longing for the days when Playboy magazines were the go-to source for sensual content, then you're lucky because PmateHunter is here to fulfill your wildest dreams. And let's be honest, who wouldn't want a newer upgrade of the good ol' Playboy mag? With PmateHunter, you get a shitload of hot models with multiple pictures to satisfy you and make you want more. Definitely, PmateHunter is the perfect blend of nostalgia and innovation.
Gone are the days of flipping through pages upon pages of magazines to find that one picture that makes your heart race. With PmateHunter.com, you can access an impressive collection of high-quality shots that satisfy even the most discerning tastes. And the best part? It's all completely free! That's right; you don't have to spend a single dime to access some of the hottest images the adult industry offers.
Speaking of quality, let's talk about the caliber of images on this site. They say a photo is worth a million words, but these images are worth a million. Certainly, you won't find anything else like them on the web, at least not for free. So if you're a connoisseur of all things sensual and you appreciate the art of photography, PmateHunter.com is the perfect site for you.
In a world where paid subscriptions and memberships are the norms, it's refreshing to see a site like this porn pic site that puts the user first. No account or credit card information is necessary, just pure, unadulterated pleasure at the click of a button. So go ahead and indulge in some of the best erotic content the internet has to offer. You won't regret it, I promise.
More Bang for Your Buck: Personalize Your Experience with Additional Categories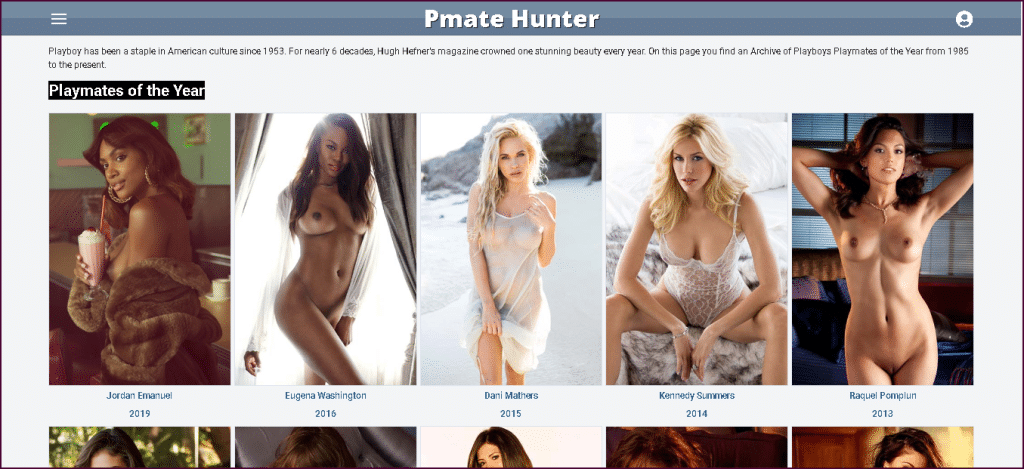 Let's talk about the categories for a moment. They're like little gifts, waiting for you to open them up and explore the treasures. You can find these categories neatly organized on the main menu button, each containing a unique content selection that will satisfy your desires. But let's be real; the show's real star is the excellent content from Playboy that PmateHunter features.
Speaking of PmateHunter, it's pretty impressive what they have accomplished. The site is easy to navigate, the content is free, and the quality is top-notch. But, like all things, some areas could be improved. Don't get me wrong, PmateHunter is fantastic; however, they haven't quite nailed down numerous aspects yet. You might notice some of these quirks as you explore the site, but in the end, it's a small price to pay for all the staggering content that you get for free.
Feast Your Eyes on Gorgeous Models of PmateHunter Without Paying a Dime!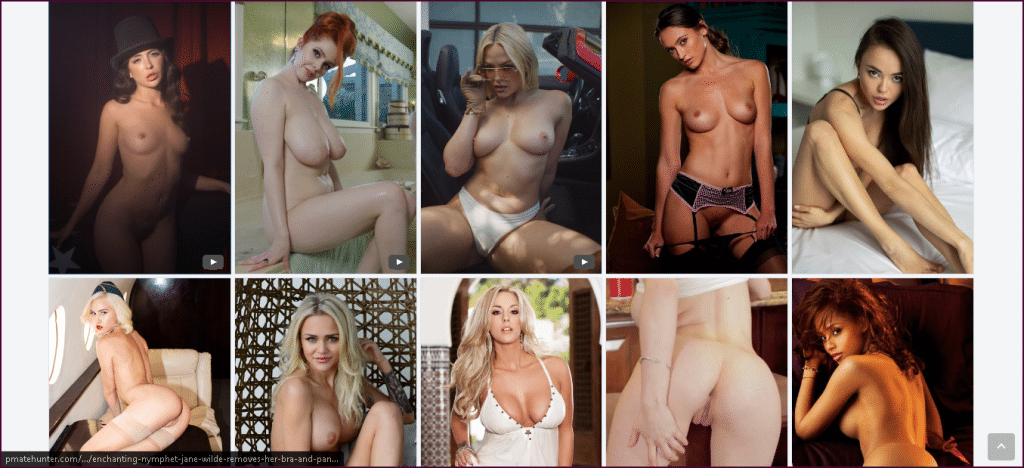 Alright, let's talk about the organization on this site. Because let's be real, without proper categorization, this place would be a hot mess. But fear not, my fellow Playboy fans, because this site has got it all figured out. Each model has their own designated spot on the site, making it easy to find precisely what you're looking for. It's like a treasure hunt, but you're rewarded with pictures of beautiful women instead of gold. And honestly, what could be better than that? This site is a haven for those who appreciate the female form and all its glory.
And let's face it; sometimes, life can be a drag. You might have a nagging partner or boss breathing down your neck. But that's where this site comes in. It's like a breath of fresh air, a sanctuary for your eyes to feast upon. These hot babes will brighten your day and give you something to smile about. And the nicest part? It's all free. No fees, no subscriptions, just high-quality images of stunning models for you to enjoy. So forget about your annoying lover, and give yourself a little pick-me-up with the gorgeous ladies of Playboy. It's a win-win situation and makes your day just a little bit better.
Looks can be Deceiving: PmateHunter's Potential Beyond its Design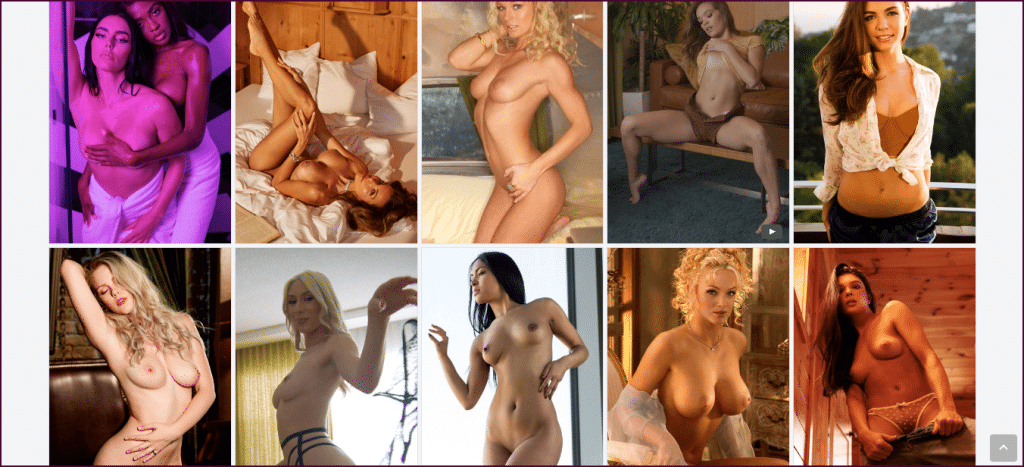 Let's get real here, folks. As much as we love the content on PmateHunter, there's no denying that the website layout leaves much to be desired. Sure, it functions much to my liking, but it looks like it was created in the early 2000s by someone who had just discovered the internet. Everything is so blocky and outdated; it's hard to believe they put much effort into curating unique content but skimp on the design. I mean, we're talking about the hottest models on the planet, but the website they're on looks like an amateur made it.
And, oh boy, don't even get me started on the background. It's like someone turned the brightness up to 11 and forgot to turn it back down. It's blinding and doesn't do the models any favors, either. I'm not sure why PmateHunter didn't put more effort into the design, but it's definitely something that needs to be addressed if they want to keep up with the competition. After all, when you have this much awesome content, it only makes sense to showcase it in the best possible way.
Top-notch Picks: The Finest Content on this Site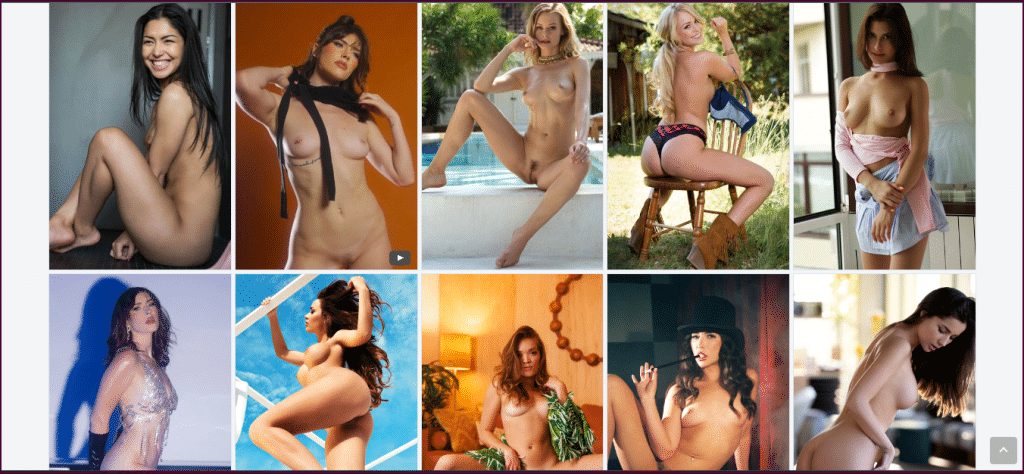 Listen up, horny pals. If you're looking for the best, look no further than the "Playmates of the Year" category. These babes are the finest and most sought-after models that Playboy offers. The pictures in this category are breathtaking, and you won't resist scrolling through them all.
Now, maybe you're not ready to jump straight into the deep end just yet. That's okay; PmateHunter has gotcha with the " Models of the Month" category. These models are still top-notch but less intimidating than the Playmates of the Year. You'll still find a load of stunning pictures of gorgeous women you've ever seen but at a slightly more manageable level. And if you're feeling even more adventurous, simply focus on the main page and browse the latest posts. So, no matter which way you choose, PmateHunter is always something new and exciting to enjoy.
Never Miss a Beat: Consistent and Top-notch Uploads on PmateHunter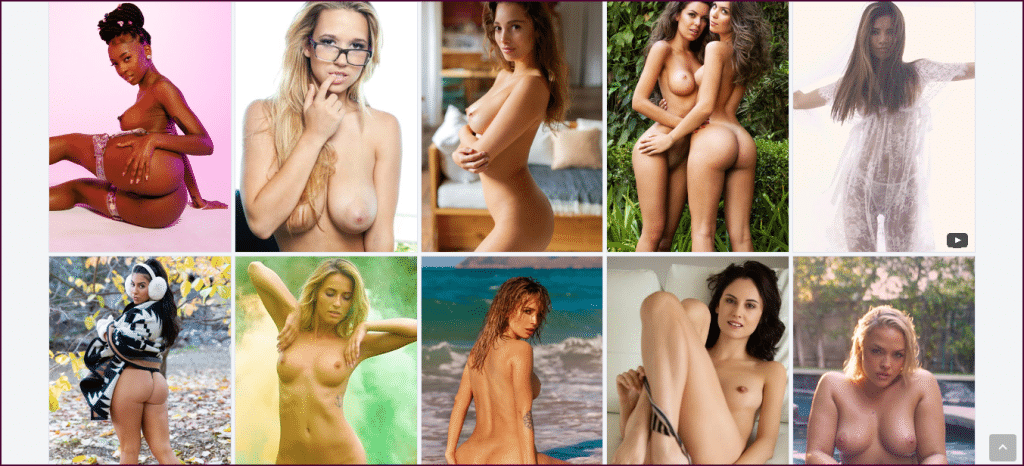 Come on! Who doesn't love fresh and new content? With PmateHunter, you'll be spoilt for choice with their regular updates. Seeing how frequently they add new galleries is impressive, giving you a new set of hot models to ogle every time you visit the site. This constant content stream keeps things exciting and interesting, and you won't be left wanting more. In fact, you'll probably be on the edge of your seat waiting for the next upload.
Certainly, the anticipation and excitement of waiting for new content is a feeling many of us can relate to. It's almost like waiting for the latest blockbuster movie or the next episode of your favorite TV show. Or like being a part of an exclusive club where you enjoy all the perks before anyone else. With PmateHunter, you won't have to wait long for that new release. The site regularly ensures its users access fresh, exciting, high-quality content.
Pros and Cons of PmateHunter.com
PROS:
Thousands of amazing galleries
Hot and popular models
Free to use
Lots of categories
Top-quality content
CONS:
The design could use some update
---
12 Best Porn Pictures Sites Similar to PmateHunter.com: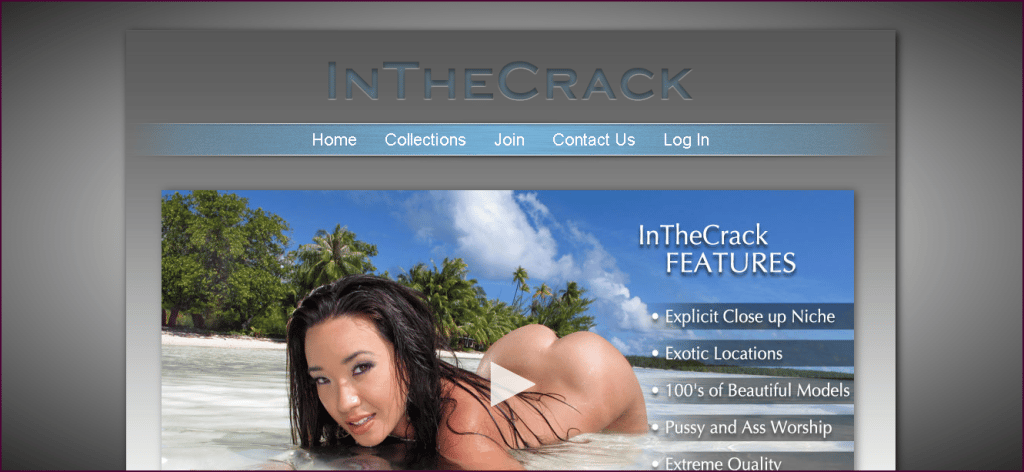 InTheCrack is among the top-caliber porn picture sites I've visited. The platform's targeted consumers consist entirely of people interested in watching solo action porn and performances that focus on exquisitely naked models, with particular attention to their most private areas. Typically, the shots here involve fingering, playing with sex toys, masturbating, and getting fucked with vibrating sex machines, along with their gorgeous faces, naked tits, and glowing legs.
Here's the full review of InTheCrack.
PROS:
Lots of close-up photos
Features videos too
Numerous categories
Features pornstars and amateur babes
Lots of membership options are available
It has high-definition and 4k quality content
CONS:
Outdated web design
The membership fee is pretty expensive
---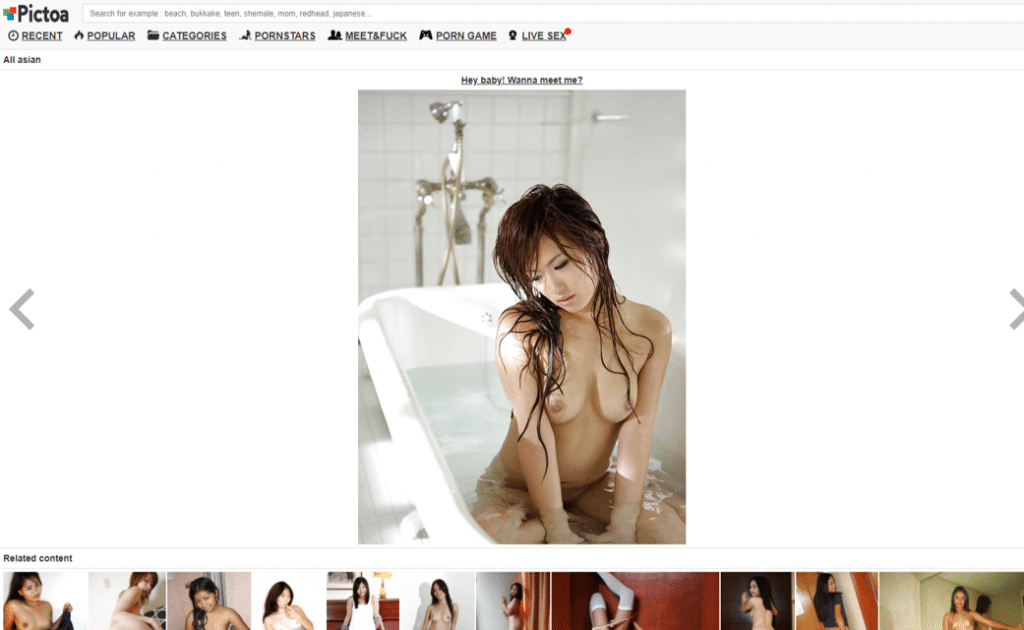 Each photo on Pictoa.com can cover any pornographic genre. There isn't a single category that they have not included, and you will notice this as well as you browse through the Categories area. Every class has tens of thousands or hundreds of thousands of photographs and porn galleries.
The most significant piece of it all is that all photo galleries are free. You will not be charged with anything and will be able to see as many as you like. The only drawback one needs to consider is that you will have to put up with some commercials because it is free, which will make the experience a little more tedious.
Click here for a full review of Pictoa.
PROS:
All porn genre is available
Massive galleries to explore
Free access
No registration required
CONS:
Not too impressive design
Too many annoying ads
Pop-ups everywhere
---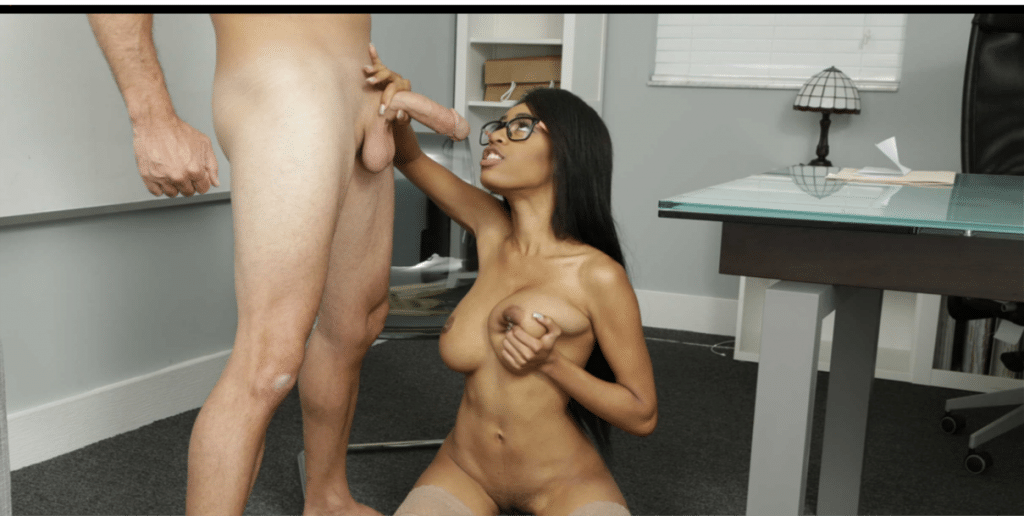 Fuskator.com is a reliable pornographic website. The design is excellent, there aren't many advertisements, and there's a ton of material. The layout and design are both quite good. It features a lovely black backdrop with light lettering and gray thumbnail boxes.
It is also one of the safest porn gallery sites I have ever seen, and the moderation seems to be enough. The site is proud that it has over 7 million photographs and approximately 400 thousand galleries.
PROS:
Numerous sexy images
Nearly no advertisements
A free site
Registration is not required
Maintains anonymity
CONS:
Categories are not arranged properly
Challenging to locate some pictures
---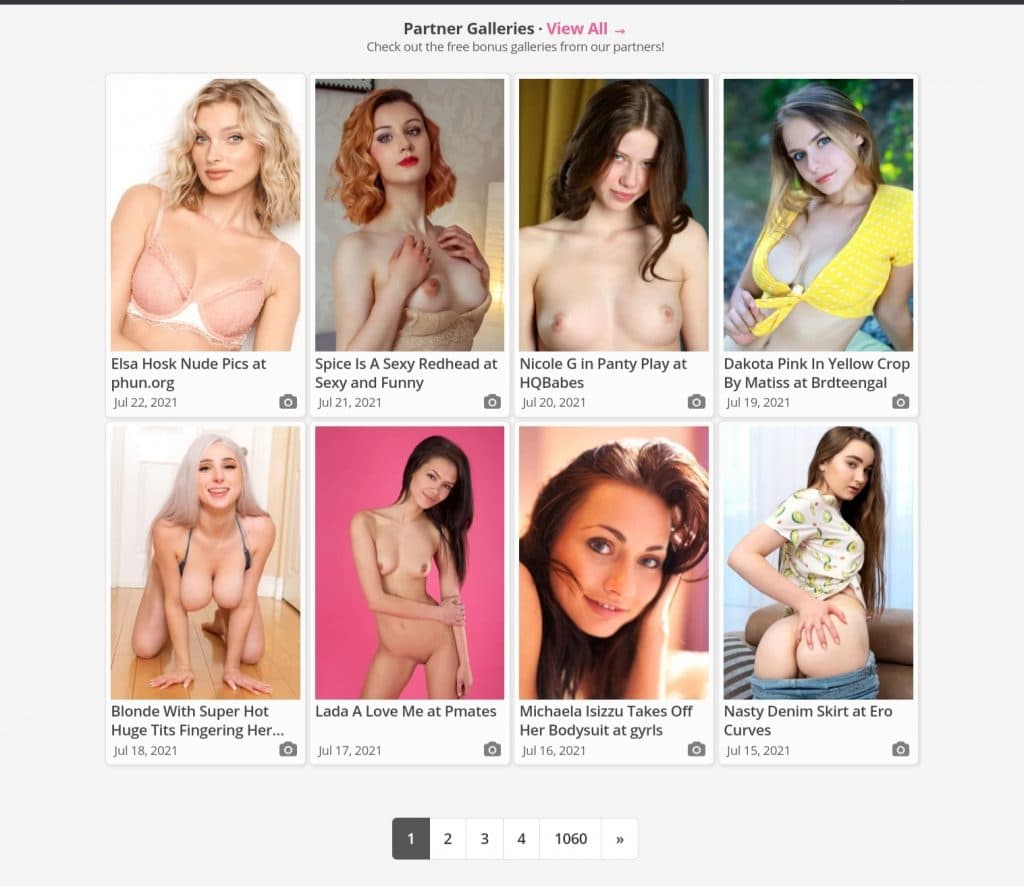 EroticBeauties is a site that caters to a sexual image blog dedicated to photographing the most sensual and gorgeous ladies from across the world. You will find regular updates with fresh new photographs from a handful of places, with a strong emphasis on sexual photography and creative nuance. The site also provides a cheap subscription, ideal for individuals seeking affordable access to beautiful females in erotic photography.
Click to see the full review of EroticBeauties.
PROS:
Amazing deals and discounts
Good photography details
Updates daily
CONS:
Lack of sexy amateur materials
Annoying ads
---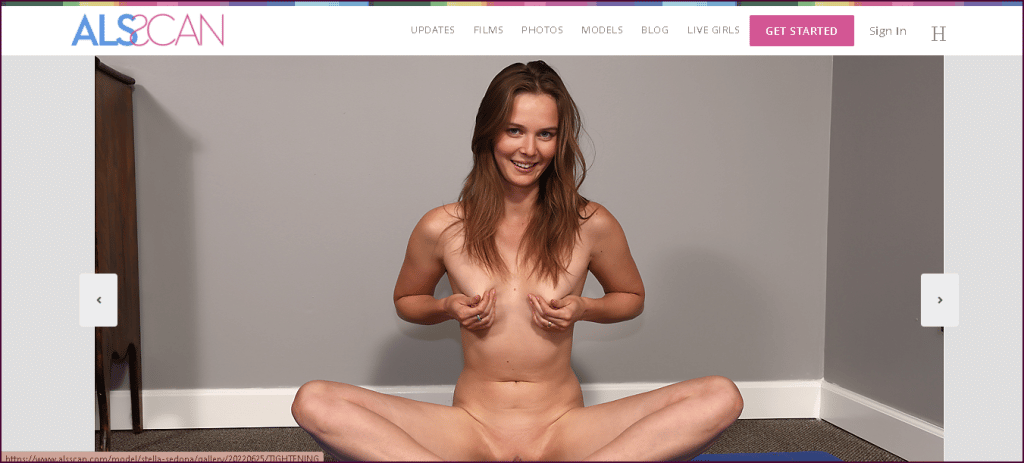 It has more than a thousand pieces of content —all dedicated to hardcore smut and thought-provoking scenes. Some of them are kinky-filled scenes, while others are more on the softer side. Its collection may show scenes of BDSM, hardcore fetishes, softcore vanilla, masturbation, anal fucking, double penetration, and more, but every scene always has a shaved pussy. Additionally, the 4K quality content really makes the site perfect.
Check out the full review of ALSScan.
PROS:
Lots of content
Various scenes
High-quality images
It has videos too
Smooth usability and easy-to-use features
CONS:
---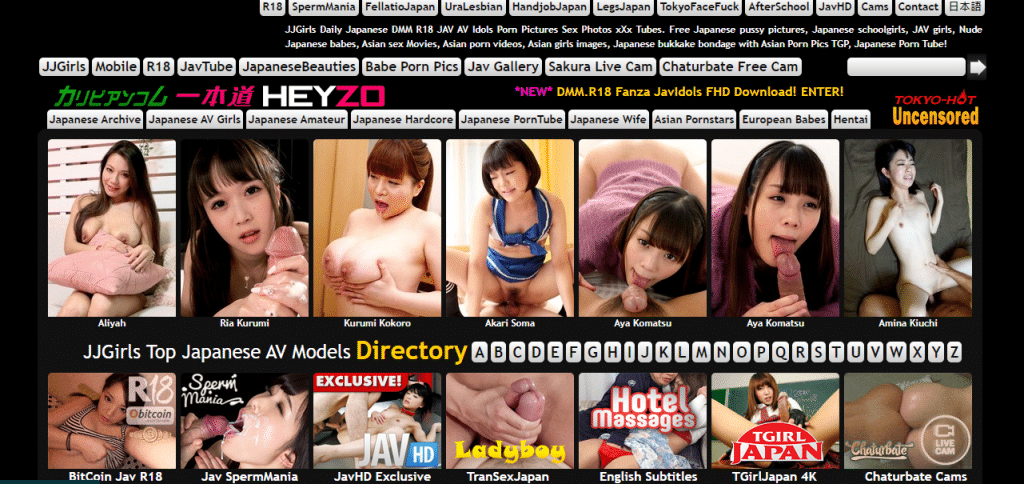 Are you looking for fantastic JAV photos? Well, I have good news for you. Introducing the JJGirls site —loaded with quality JAV photos and even videos. Each of the pics and vids offers something different and unique —something you rarely find from any JAV pornos. Plus, they are all uncensored, so you can finally see the tight pussies and perky tits of Japanese babes. There are plenty of categories you can choose from here, including fetishes, kinks, and more.
PROS:
Amazing JAV content
Plenty of categories available
Numerous pics and videos
CONS:
Quite a messy website design
Some ads
Redirect links
---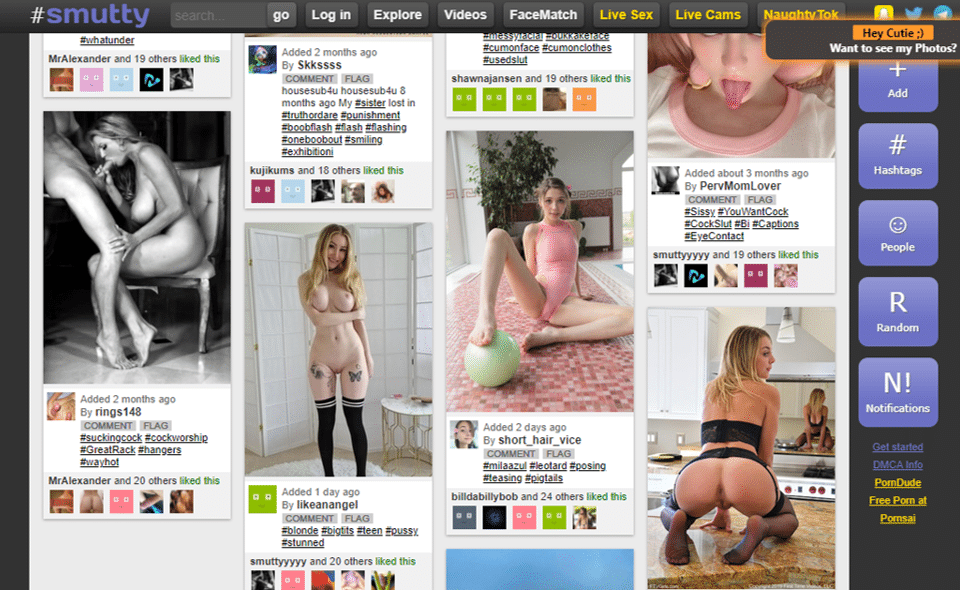 Smutty has a contemporary design, with most pages consisting of a wall of photos divided into columns. The site is designed to stimulate user participation. Some connections and icons in the page's sidebars lead to hot and new content and a giant button in the corner that allows users to add new material.
The system is also set up in such a way that the most extraordinary material climbs to the top, and creating the bespoke feed of your favorite material is a breeze. Currently, the site favors amateur photography, but you can still find whatever content you want.
PROS:
Availability of amateur and professional contents
Can personalized contents
Top-rated materials
User-contributed images
Very engaging community
CONS:
Has advertisements
Limited videos
---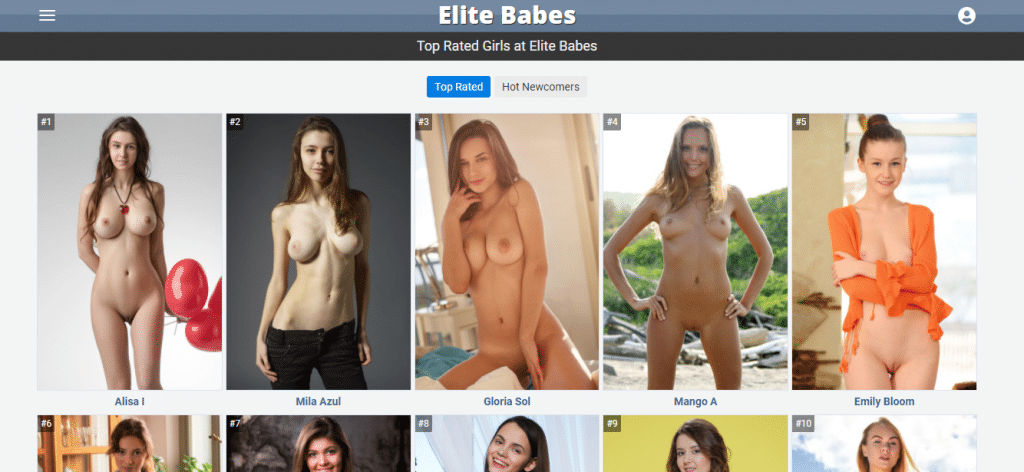 Elite Babes has a vast porn collection, everything is free, and the projects shown on the site are of outstanding quality. This site is relatively straightforward, so moving from one spot to the next and finding the hottest top girls to masturbate to isn't too tricky. Also available on the site are entirely natural bodies of models. Indeed, you will not see fake and ridiculous body parts.
Elite Babes also updates its website at least once a day. This not only indicates that fresh stuff is on its way to you, but it also means that you will be aware of the next update. The site can always discover stunning naked models that are sophisticated, eager, and classy. Everything is here, waiting for you to explore.
Read the EliteBabes full review.
PROS:
Best quality of porn images
Sexy and alluring content
Huge selection of materials
Glamorous pornstars
CONS:
Few adverts
Lack of customer support service
---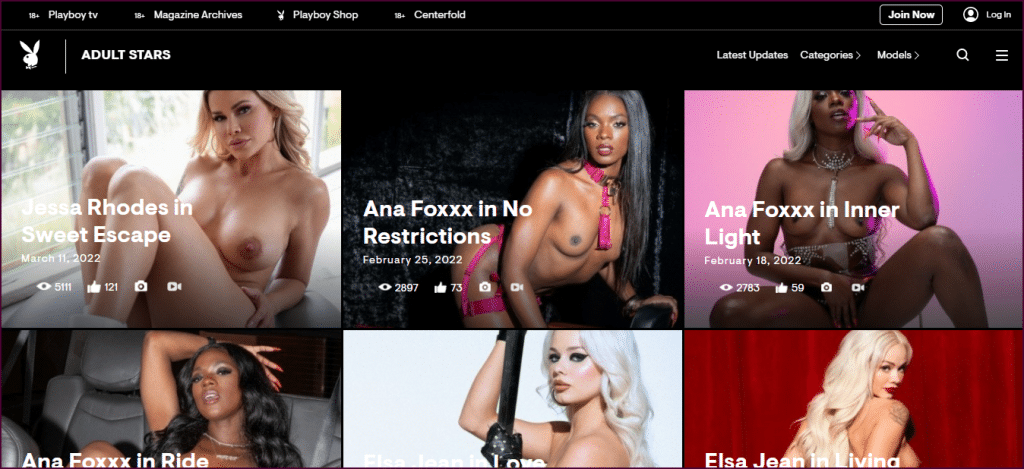 PlayboyPlus is a product of well-known brands in the sex industry. And to keep up with all of the changes, the team revamped and expanded PlayboyPlus to provide even more helpful information and resources. Everything about this website's video and image library is top-notch. With these unique features and a massive library, it's not surprising that many people consider PlayboyPlus among the best online destinations to check out.
Check out the full review of PlayboyPlus.
PROS:
Plenty of exclusive photos and videos
Updates regularly
Fantastic design and fun features
It has bonus content
CONS:
Requires subscription to access
---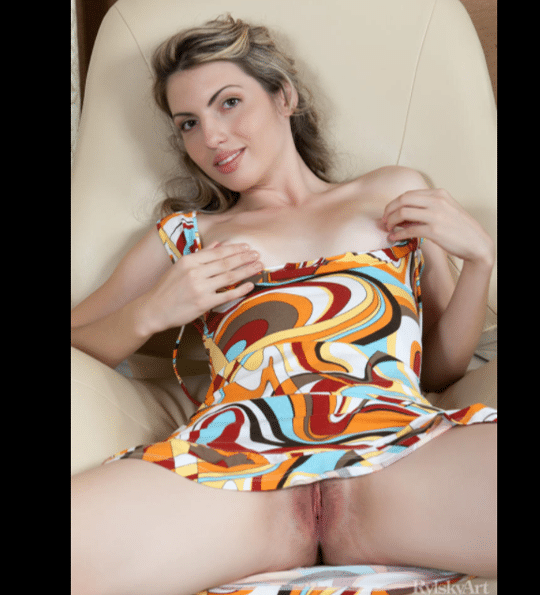 There are a couple of areas on this website worth looking out for. While most of us will concentrate on the "videos" area, here in Nude-Gals.com, the "pictures" area is the most popular since it has several excellent galleries.
The photographs are grouped into several parts. However, there is no transparent categorizing system in place. You will also find several well-known porn actors here, and clicking on their specific thumbnails will take you to all of their photoshoots and videos.
Click to see the full NudeGals review.
PROS:
Hot images
Quite a selection of photos
Presents model's profiles
Attractive pornstars
CONS:
No categories
Confusing presentation
Few adverts
---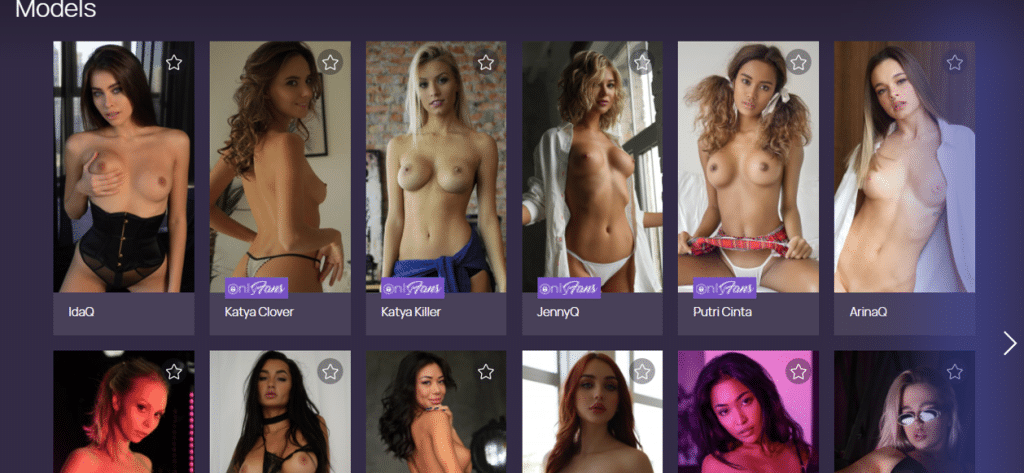 StasyQ brings a new arena for men to enjoy that glamorous and dreamy porn. Though some men want hardcore stuff, out-of-this-world scenes, rough sex, and more, StasyQ delivers a new approach. Hence, the materials around the domain are a breath of fresh air for porn fans. I know you have been to various softcore sites, and like them, StasyQ picks the most beautiful nude babes. These women love to open and stimulate themselves for your entertainment.
Learn more about StasyQ with this full review.
PROS:
Exclusive and original content
High-resolution images
Clean site
Sleek design
Cheap subscription deals
Variety of features
CONS:
Needs upgrade to download
Short films
---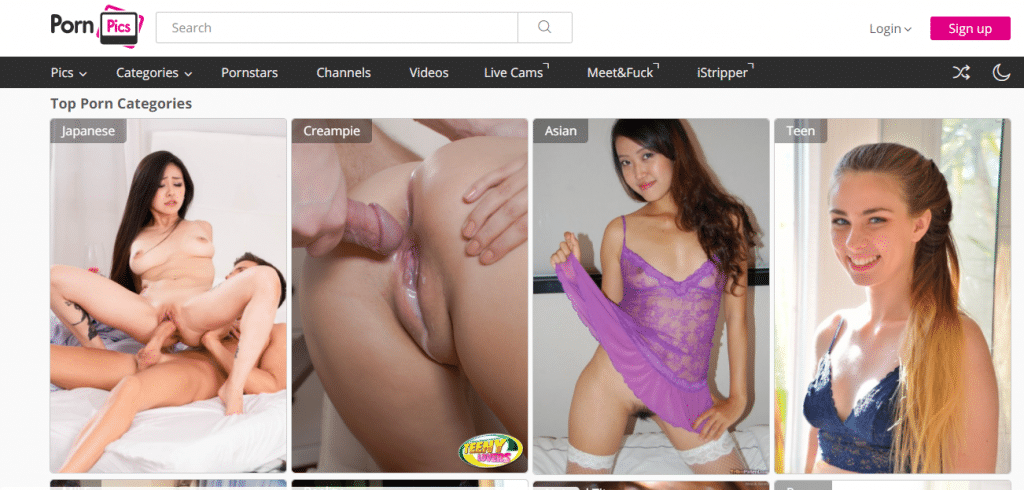 Sure, films, clips, videos about moaning, screaming, and splashing can show quite a bit of heat and even several squishes. However, over a million words usually are not enough to describe when it comes to still images. There is another excellent way with specialized sexual photos; you can make your unique personal narrative and include it within the snapshot or slideshow.
The PornPics website is a fantastic resource of amazing nude pics with several great features and an abundance of photos and movies. This moniker, PornPics, describes the site precisely because it features thousands of pornographic images. You will undoubtedly recognize that the title says the place well as you get inside the platform. That's why PornPics is the No.1 porn pic website I get into when I want to look at naked women and spend my time when I'm bored.
Check out the full review of PornPics.
PROS:
Fantastic collection of sexually explicit pics
Layout and navigation is top-notch
Bonus features are amazing
Several access to fantastic mainstream porn websites
It has sought-after porn stars from quality studios
HD photos
CONS:
There are external links available
Some pop-up adverts issue
---
Conclusion
Ultimately, PmateHunter is a fantastic website that delivers high-quality content for those who enjoy Playboy's beautiful models. With a vast collection of pictures and videos, and new galleries added frequently, there's always something fresh and exciting to discover. While the site's design could improve, it's not a deal-breaker and doesn't detract from the overall experience. In fact, PmateHunter is so accessible and user-friendly that it's easy to get lost in the pages for hours. So, if you're looking for a fun and free way to indulge in eye candy, PmateHunter is worth checking out.
All 66 Other Sites in This Category Worth Checking Out:
Adult Magazine & Top-12 Must-Visit Porn Picture Sites Like Adultmagazine.net Show Me 12 Alternatives for Adultmagazine.net Step into the world where porno hasn't entirely trampled the glossy reign of x-rated magazines — yes, they're still kicking! While the era of sneaky stash in the garage might be fading, the AdultMagazine site ensures yesteryear's printed passion stays […]