Updated on: December 10th, 2023
PicHunter Review
& TOP 12 Porn Pictures Site Like PicHunter.com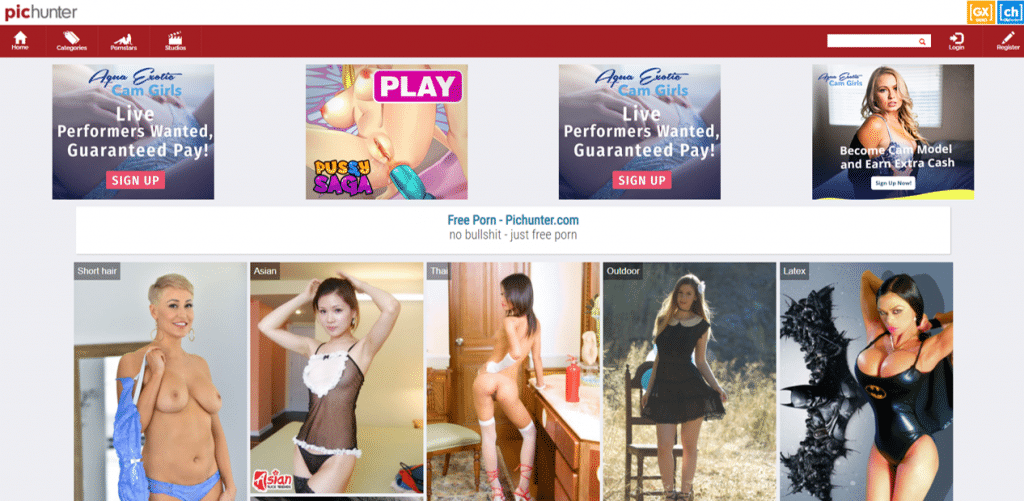 There are times when we feel like videos are not enough to ease the hungry side of us. Sure, they can load sufficient acts and boosts our sexual needs, but there are moments when you just don't want to look at a video and instead want to gaze at the splendid nudity of a woman for a while. Indeed, I also feel you; that is why I looked around and found another site that needs a review. Hence, I am talking about Pic Hunter – a dedicated hunter providing sexual pictures on the internet.
Official URL: https://www.pichunter.com/
PicHunter, like ClipHunter, is a free, 2001-founded website. More so, this site is a Cliphunter's sibling, with one focusing on photos and the other on videos, as the names suggest. Pichunter is also dedicated to providing as much diversity as possible in high-quality, tiny galleries. Your manhood will indeed erect from a stripper, gay and lesbian stuff, as well as homemade contents, screen grabs from films, and plenty of porn actresses, among the hundreds of galleries and photos accessible.
The site gathers images from numerous pornographic sources on the internet and tries its best to identify and acknowledge where they came from as well as the models' identities. It is fantastic because if you find someone you like, you can learn more about them and start looking for more of their content, such as movies and cams. In addition, the founders are also true to their claims in maintaining a clean, quick, user-friendly porn picture site.
Easy to Browse Site? YES!
Everything is lightning quick and straightforward to navigate, and there are no worries about spyware, viruses, or other malware. The site has a long history of development, and it appears that the developers are still hard at work on it every day. The platform is somewhat similar to Pinterest, as they are not obnoxious, hence, feature a lot of fantastic porn that every porn citizen wants to check out.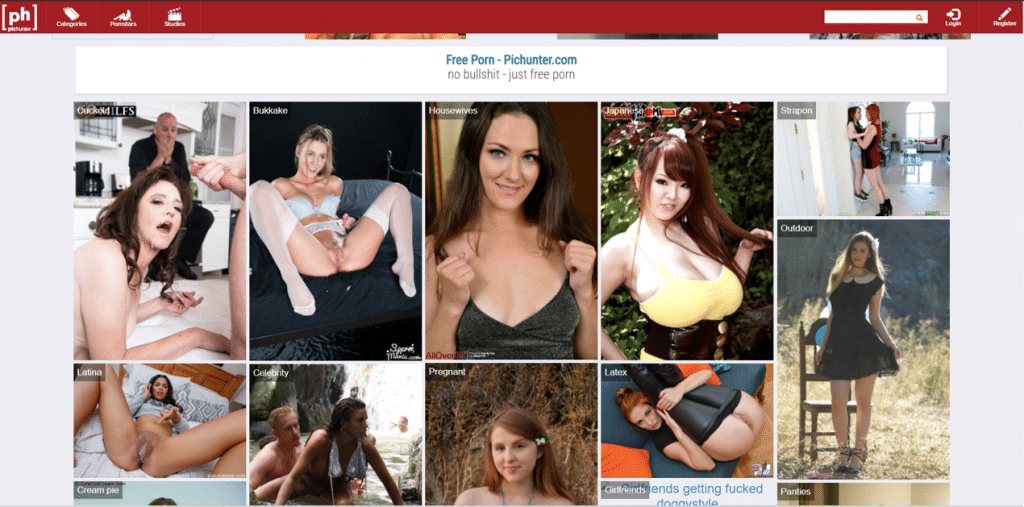 With their tagline and banner "No Bullshit, just Free Porn," the site guarantees users will enjoy their stay here. I can also attest to how smooth and flawless my navigating experience is. This effortless feature is an added point to why a site stood out from the rest. No wonder Pic Hunter became one of the go-to places for porn pictures addicts.
Checking the PicHunter's Aesthetics
I am in awe of how the design is simple, fresh, and appealing to the eye. When you first visit and land on the platform, you will be greeted by a large photo exhibition. Each photo symbolizes a category, such as secretary, yoga, threesome, Russian, and so on. More so, the site's objective is to allow each porn enthusiast to work their way around these magnificent collections. In addition, PicHunter's content originates from various studios and elite sites, but there are also a number of authentic handmade pornographic images.
Furthermore, we estimated PicHunter to have almost around more or less a hundred thousand photos in their galleries. As previously said, the categories are limitless and include almost anything else that comes to mind; this is evident in their photographs of pregnant and older women, so expect to see a lot more. They also have a comprehensive collection of HD pictures and galleries available; however, the bulk is of ordinary quality. You can also download photos, but you must do it one at a time.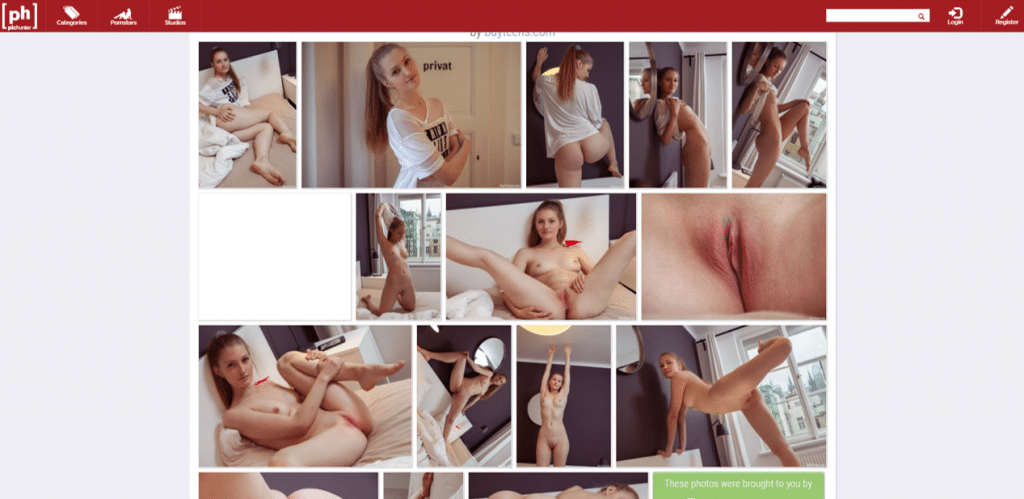 Exploring PicHunter more: Your New Jerking Partner!
The top left corner of the website has tabs for Home, Categories, Pornstars, and Studios that you can't ignore even if your eyes are closed. The navigation bar, which includes links to the various categories, is located at the top of the page too. For a man like you who knows exactly what he craves and wants it fast, there is a search box found on the top right. The categories are listed efficiently in alphabetical order; hence, you can see anal, babysitter, dad, lactating, and many more.
The site also offers sections for pornstars and studios in addition to the primary categories. This site has numerous porn actresses that you can explore in alphabetical order too, which is helpful if you are seeking for a new pornstar to pursue. You can view photos from famous stars like Ashley Adams, Connie Carter, Kelly Divine, and so much more.
The Studios segment is also an additional area to try. Although most people ignore studios, you will find the following studios to be surprisingly efficient in making your dick erect. Studios are likely to provide similar images and models, so if you like a set from one, you should go through the entire of their library.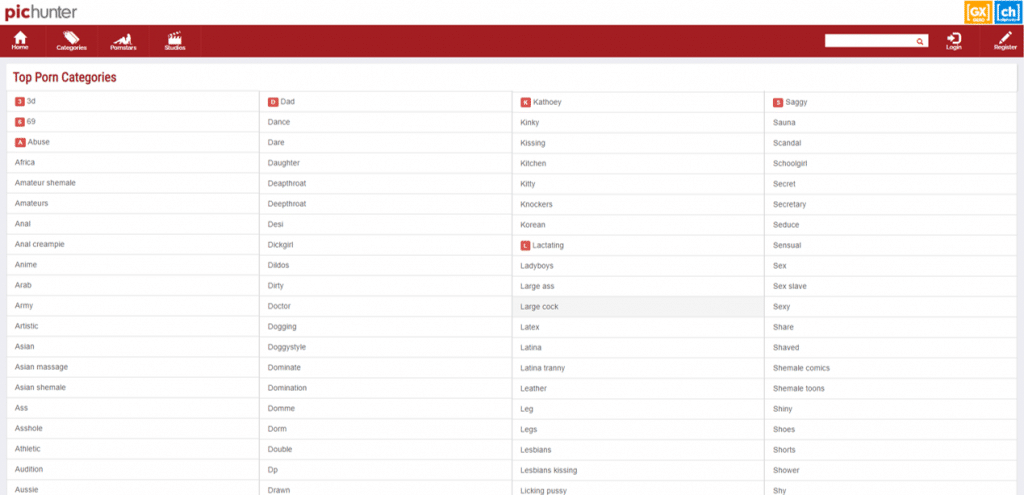 The Finest Strengths of PicHunter
Pichunter porn is unique in that it is provided in a one-size-fits-all format. Basically, the females are all gorgeous – to various degrees of hotness – and they are all ready to strip down and show off their warm naked mind-blowing appeals. In addition, Pichunter hits the ball out of the park in terms of visuals, using only the most tantalizing thumbnails to pique your interest and lure you in. These teaser images also act as a portal to the site's many sections.
Moreover, Pichunter is staying steady in a period where everyone is going to video and cramming as many advertisings as possible onto their websites. The site adheres to a simple model that has survived the test of time. This feature makes them entirely classic and favored by many porn citizens. One of their significant advancements is that they now cater HD photos which are very visible as they provide a sign to images that qualify.
Lastly, one of the platform's advantages is that they have built strategic alliances and partnerships with large porn studios. Their relationship is superb and close that the creators of PicHunter provided a whole section dedicated to all of their significant photos. This move is a good marketing skill for both PicHunter and partner studios.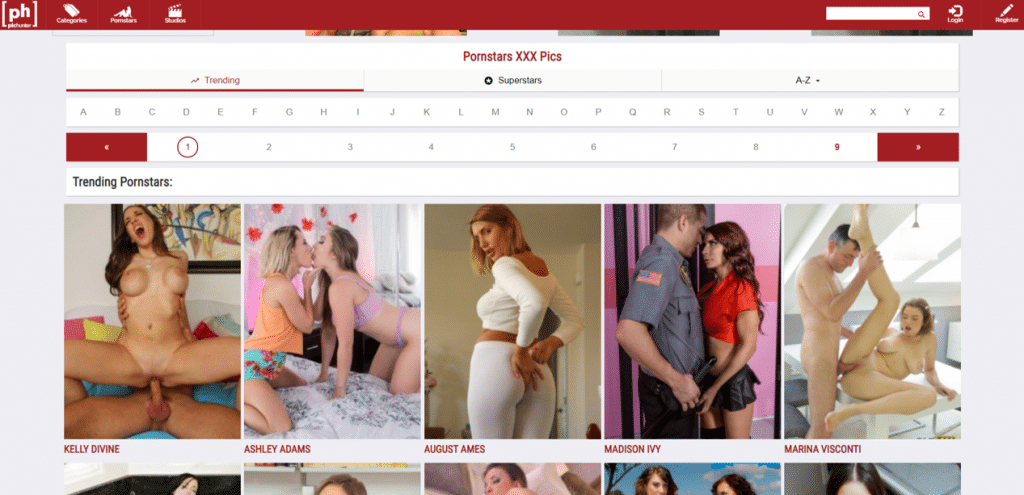 Mobile Display and Registration Process
In addition, the mobile edition, like the desktop version, is well-designed. When it comes to creating a positive user experience, PicHunter doesn't screw up. What else I love? Well, on this site, you won't have to worry about any unexpected fucking blasts of sound. Hence, you can watch porn lowkey and relaxed. What else to ask when indeed everything is neatly arranged and simple to browse.
Also, the most famous question is, "Is the site registration for free?". The answer is a big YES! Creating and registering for an account is free in PicHunter. When you set up an account, you have additional features like photo collections, remarks, "favorites," and the ability to submit self-shot data. SexyID powers and supports the registration process of the site. You will only need to supply your chosen username, password, and email for verification to start. And from that, you are good to go, buckle up and enjoy the deals in PicHunter.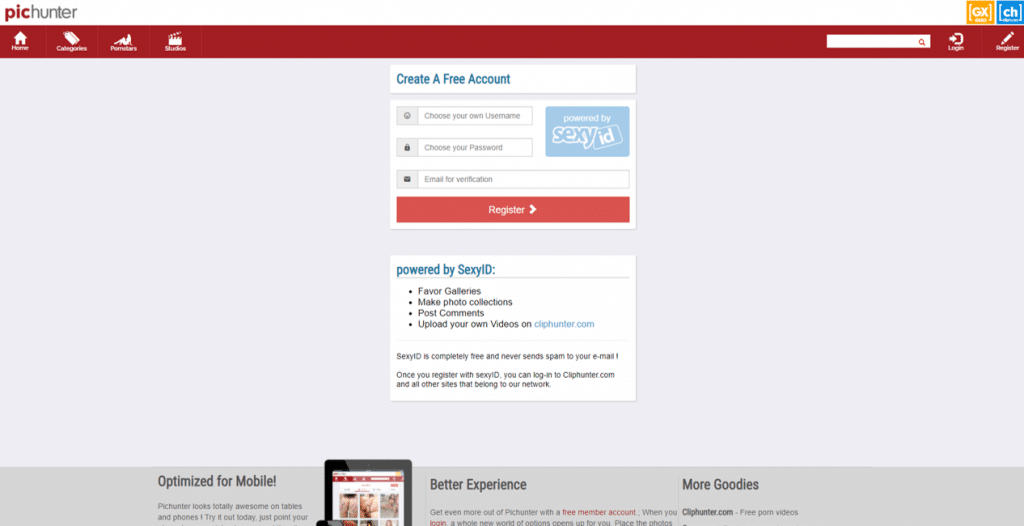 The Pros and Cons of PicHunter.com
PROS:
High-Quality Photos
Allows users to comment and save photos
Wide collection of photos
Exquisite categories, pornstars, and studio sections
Good mobile display
Launch and load quickly
Good user experience
No spam
Amazing site design
CONS:
No random photo features
Some tiny thumbnails
Focuses on photos alone
---
12 TOP Porn Pictures Site Similar to PicHunter.com: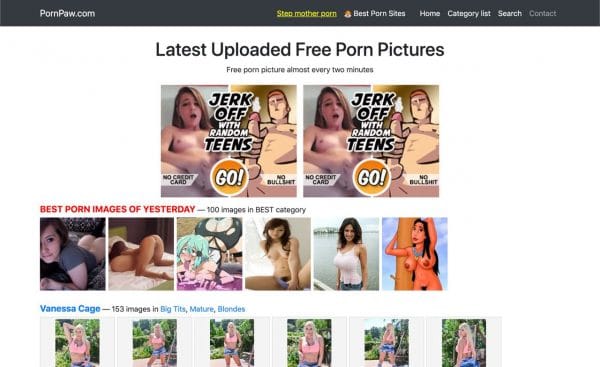 PornPaw is a pornpic website that has a massive selection of porn pics, downloadable with a charge. It has a vast collection of everything you like — from ebony, MILF, Asian, shaved pussies, fetish, BDSM, and all sorts of stuff. Say it, and they have it all for you! Indeed, this website got everything settled for you and satisfied your pleasure all day long.
PROS:
Free download and access
It has profile accounts about your beloved porn girls
The teen category is an absolute perfection
CONS:
You can't comment or rate anything
No option for a slideshow presentation
It has watermarks
---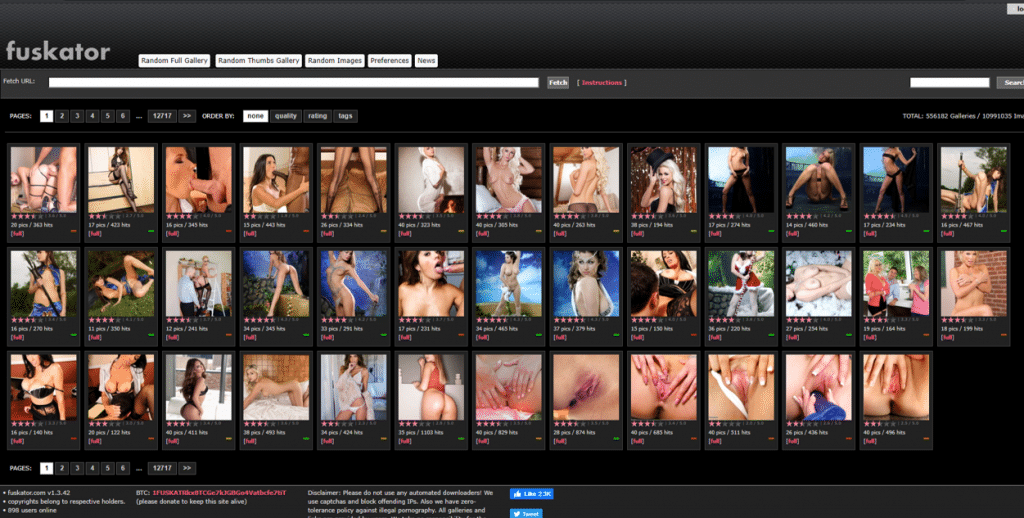 Fuskator.com is a reliable pornographic website. The design is excellent, there aren't many advertisements, and there's a ton of material. The layout and design are both quite good. It features a lovely black backdrop with light lettering and gray thumbnail boxes.
It is also one of the safest porn gallery sites I have ever seen, and the moderation seems to be enough. The site is proud that it has over 7 million photographs and approximately 400 thousand galleries.
Take a look at Fuskator review.
PROS:
Numerous sexy images
Nearly no advertisements
A free site
Registration is not required
Maintains anonymity
CONS:
Categories are not arranged properly
Challenging to locate some pictures
---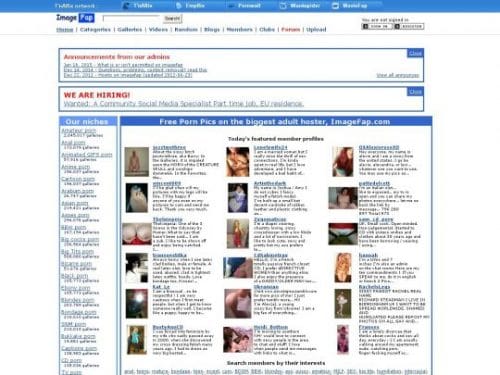 With millions of galleries on a unique website, ImageFap offers everything from standard sex photos to really nerdy and twisted material. Hence, find everything you are searching for, as well as a lot of stuff you did not realize you were searching for. The site is also updated often, and though there are adverts on the site, they are only a slight annoyance.
This is a free website where people may quickly access the information they seek. Moreover, this site is indeed a definite addition to your list. Go grab this opportunity and join their large community! Get the best and top-of-the-line images that will make you fap with intense satisfaction.
PROS:
Biggest porn image collection
Large community
No hassle and everything is free
Updates every minute and hour
Good mobile site
It covers different genres and categories
CONS:
Outdated layout and design
Some advertisements
Small thumbnails
---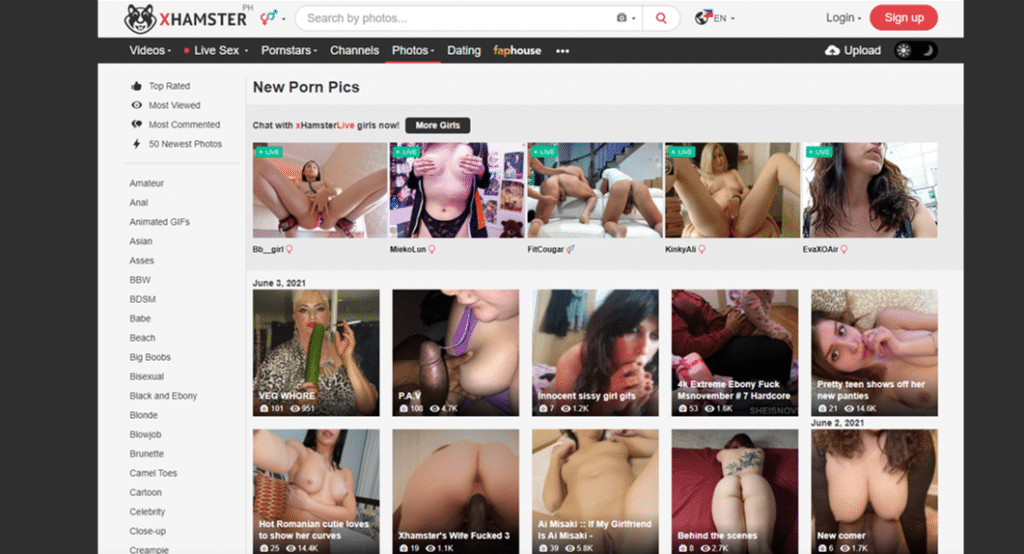 Since 2007, they have been one of the top sites for amateur porn. There are more than a decade's worth of exciting and mind-blowing photos, gifs, and movies to peruse. They also have a bit of everything. Check out their xHamster exclusive cam ladies, amateur movies, sexual tales, and free dating service if you manage to get through everything the photo area has to offer.
The site's image collection displays the number of photographs and the number of views it has received. This, together with the thumbnails, gives you a decent indication of what to anticipate. When you navigate across, you can either browse through the whole album on one page or set up an automated slideshow by clicking on a photo. In case you want to magnify or look closely at each picture, there is also a sidebar that allows you to zoom in on the photographs.
PROS:
Updates regularly
Massive collection of amateur contents
Good photo quality
CONS:
Advertisements here and there
---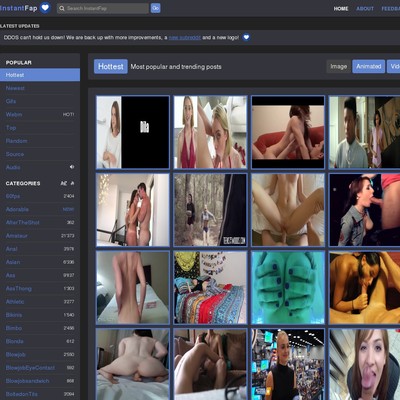 InstantFap.com is a pornographic image website that features some of the sexiest photos from across the globe. You will see a lot of pornstars in different situations and locations. InstantFap's homepage is dedicated to displaying the "hottest" and "trending" photographs, most likely based on the number of views. The fact that Instant Fap is so simple to access and use is its primary selling point. Hence, you may also use the top-of-the-page filter to find animated GIFs.
Read a comprehensive review of InstantFap here.
PROS:
Good categories
Huge selection of images
High-quality contents
Efficient and fast
Excellent navigation
CONS:
Broken Links
Existence of advertisements
---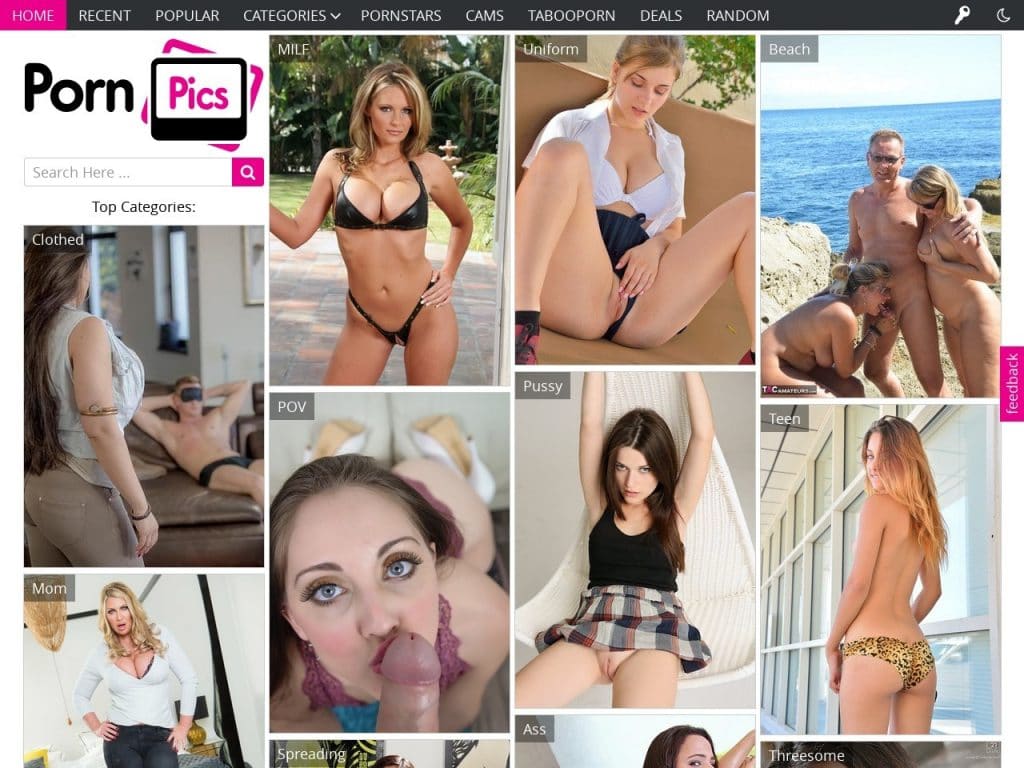 The photographs on Pornpics are very excellent. These aren't amateur, grainy photographs coming from anywhere. Hence, every photo on this site is of the finest quality, and every woman on this site is a total sweetheart. Pornpics also has a slideshow function, which is really useful.
Moreover, you may also view all of the photographs in a high-resolution, full-screen slideshow once you click on an album. Click and stop using the arrow keys to enjoy your favorite pictures at your convenience. Pornpics has done a fantastic job of embracing the world of pornographic images as the new content.
PROS:
High Definition Photography
Has the prettiest and alluring models
Convenient and easy to use functions
Clean website design
User-friendly
CONS:
Confusing thumbnails
No community engagements
Has advertisements
---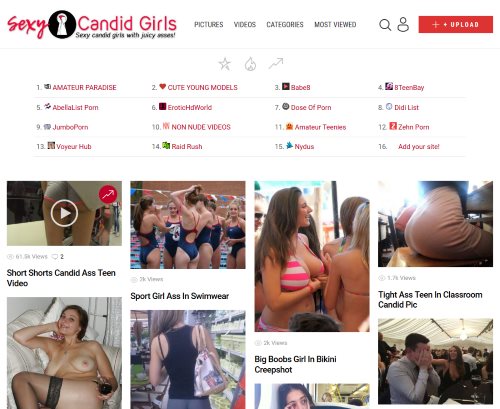 As the title of this website says, SexyCandidGirls gives us porn addicts a massive amount of pleasure pic by pic. It has a collection of sexy, hot, and gorgeous ladies that you can't forget until you sleep. This is your heaven to fetish dreams, and I'm sure you won't miss a single chance of fapping to these porn babes.
PROS:
No advertisements popping
Simple to use
It has various porn contents
Plenty of images from hot babes
HD images
CONS:
---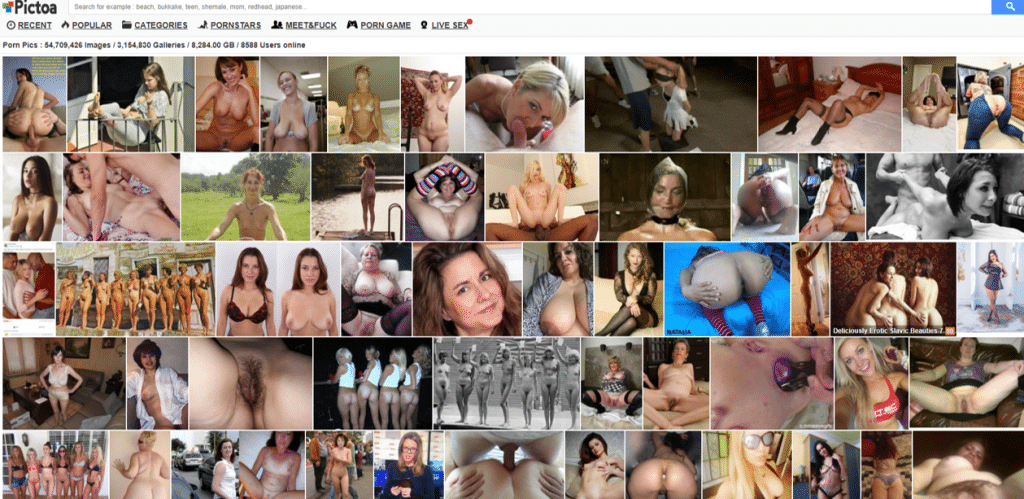 Each photo on Pictoa.com can cover any pornographic genre. There isn't a single category that they have not included, and you will notice this as well as you browse through the Categories area. Every class has tens of thousands or even hundreds of thousands of photographs and porn galleries.
The most significant aspect of it all is that all of the photo galleries are free. Therefore, you will not be charged with anything and will be able to see as many as you like. The only drawback one needs to consider is that you will have to put up with some commercials because it is free, which will make the experience a little more tedious.
PROS:
All porn genre is available
Massive galleries to explore
Free access
No registration required
CONS:
Not too impressive design
Too many annoying ads
Pop-ups everywhere
---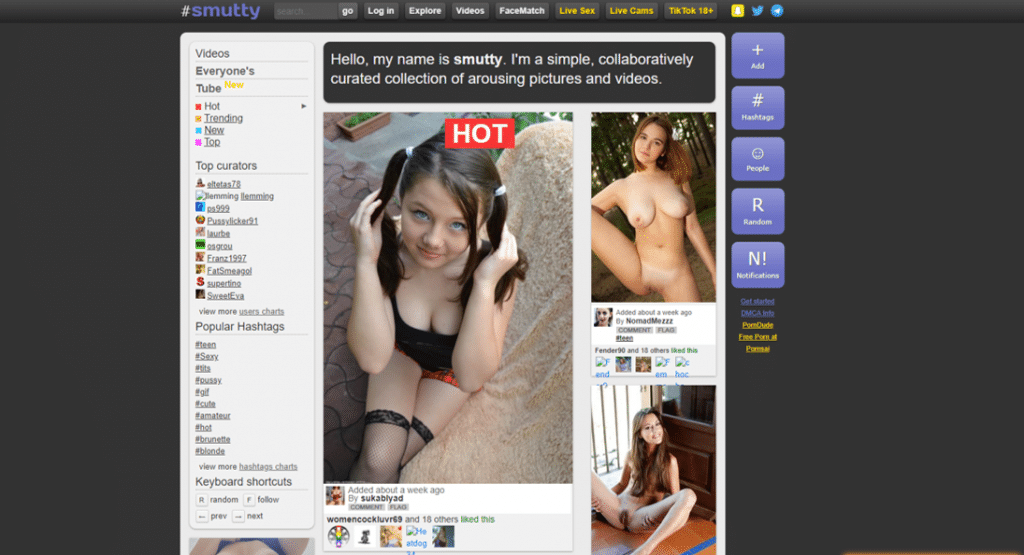 Smutty has a contemporary design, with most pages consisting of a wall of photos divided into columns. The site is designed to stimulate user participation. In the page's sidebars, some connections and icons lead to hot and new content and a giant button in the corner that allows users to add new material.
The system is also set up in such a way that the most extraordinary material climbs to the top, and creating the bespoke feed of your favorite material is a breeze. Currently, the site favors amateur photography, but you can still find whatever content you want.
PROS:
Availability of amateur and professional contents
Can personalized contents
Top-rated materials
User-contributed images
Very engaging community
CONS:
Has advertisements
Limited videos
---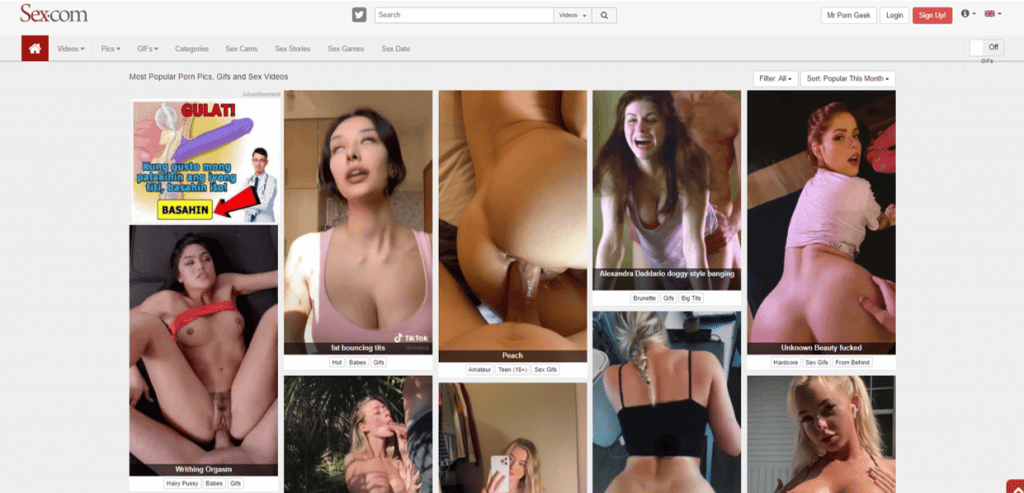 Sex.com is exceptionally close to being one of the most sought-after and popular pornographic image sites. The site is simple to explore and customize; I enjoy the degree of customization and the opportunity to post content; it's one of the few ad-free porn sites available. There are plenty of high-quality photographs and clips to select from.
Also, what amazes me is this site's ability to "like," and "comment" on each material. You can also "click" the image to get to its actual source. This feature makes Sex.com a terrific information site and a terrific location to share erotic films and photographs with the world.
PROS:
Excellent and interesting features
Good quality materials
No advertisements
CONS:
Inability to connect and engage with others on the site
---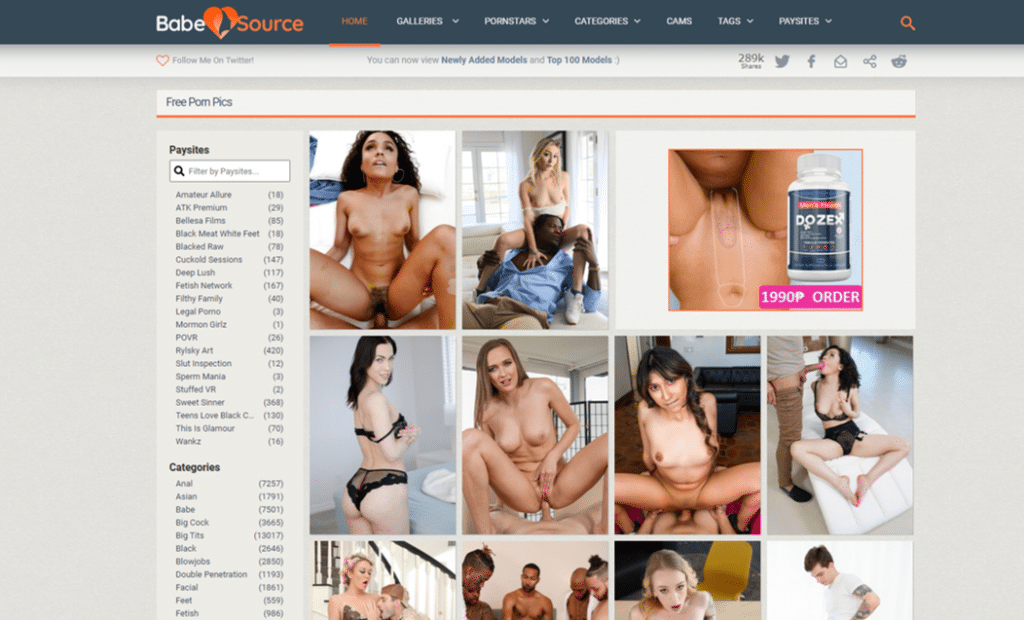 Babesource.com has extensive high-quality nudes and sexual pornography that will attract a few new believers in the nudity clause. This is a fantastic location to satiate your desire demons since it has a wide range of materials, excellent quality, and few to no advertising.
More so, every featured girl is hotter than a fire in each of the galleries here. Each area in this site features a search box in case you're looking for something specific, as well as some of the best studios whose sensuous pictures you're looking for.
PROS:
Massive selection of models and their images
Simple to navigate
User-friendly
CONS:
Less interaction
Has advertisements
---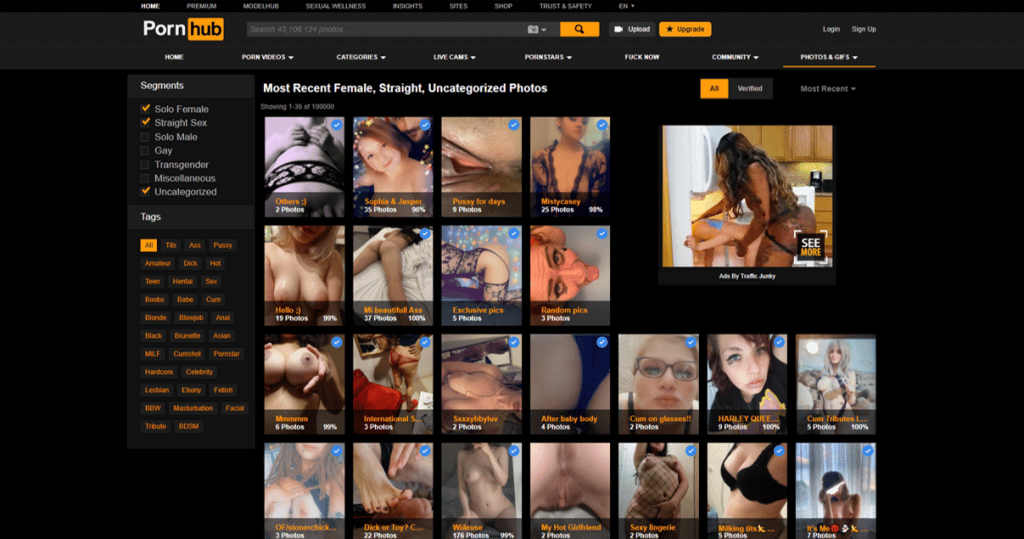 Indeed, this platform will not receive billions of monthly page views for nothing. Their album page is also very popular as they have tons of high-quality material, millions of photographs and gifs, user uploads, good mobile design, legit and verified users, and so on. You could look at a thousand photos every day for years and never run out of inspiring material. Apart from the material, their verified user functionality is commendable.
PROS:
Huge collection of amateur and professional albums
Excellent and efficient design for both desktop and mobile
User-verified feature
Quality materials
CONS:
Some adverts
No slideshow features
Lacking albums for GIFs
---
Final Thoughts
I am indeed having a blast and total enjoyment while utilizing PicHunter. As a porn enthusiast, I appreciate the dedication and effort the whole team of PicHunter into creating a fantastic site to view porn. They made sure that all visitors will enjoy and feel safe and protected.
What made me say this? I took note of how they are adamant about not using spyware or other nonsense. There are no popups, strange browser messages, or anything like that on the site that may annoy or hinder the user experience. In addition, their hundreds of thousands of photos, all with a correct source and pornstar attribution, continuously give me goosebumps and jaw-dropping feelings.
Also, the amount of free stuff available at this specific location is astounding. You may even take your game to the higher step of the ladder by creating a free member account. This free account entitles you unlimited access to store and save for later your favorite photos in private albums and do a variety of other things. What more to search for? You got your own Hunter in your hands! Allow yourself to explore this worthy site and fap many times on this platform. Join me, and let us hang out at PicHunter together!
All 66 Other Sites in This Category Worth Checking Out:
Adult Magazine & Top-12 Must-Visit Porn Picture Sites Like Adultmagazine.net Show Me 12 Alternatives for Adultmagazine.net Step into the world where porno hasn't entirely trampled the glossy reign of x-rated magazines — yes, they're still kicking! While the era of sneaky stash in the garage might be fading, the AdultMagazine site ensures yesteryear's printed passion stays […]