Updated on: December 8th, 2023
Mitaku
& Top-12 Porn Pictures Sites Like mitaku.net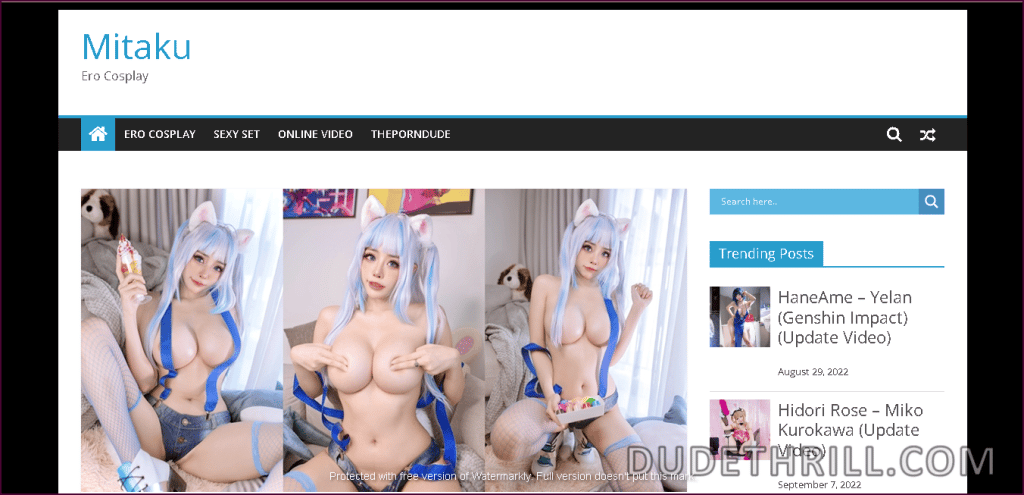 Ahhh, porn pictures. These bitches could tame my cock down in a minute. But do you know what could cum in a second? Cosplay! Luckily I've come across a porn picture site that's exclusively dedicated to cosplay porno — and not just regular cosplay, but gorgeous, fucking hot cosplayers dress up as your favorite anime or cartoon characters. They are not just your typical gals who put on a costume without even knowing who they're representing. Mitaku, however, features unique talents that take cosplaying into a different dimension. It's really refreshing to see how these Mitaku girls transmogrify into the characters we love and transform them sexually.
Official URL: https://mitaku.net
The Mitaku's Cosplay Charm
Cosplay but different — that's the type of materials you'll enjoy here at Mitaku.net. It's not as popular as other mainstream porn picture sites, but it's making waves in the adult entertainment industry. From the looks of it already know this will be a fapping material. I know most of you are not into cosplay or costumes and anime. Still, after browsing this site, I'm sure you'll have your new favorite. I'm not kidding, though, because the last time I watched wonder woman cosplay porn, I never returned to the standard entertainment concept. Mitaku.net brings a different kind of entertainment that none of us is ready to see, and for some reason, this is a highly intriguing site concept.
Cosplay and Sex In One Place
Are you looking for something different, or are you just here to access numerous content related to cosplay? If so, then Mitaku.net is the perfect place. The site has a lot of sex porn and cosplay in one place, and I'm sure you'll have plenty of jerking materials that will blow off your dick. Mitaku.net is like a fucking machine you can't get rid of.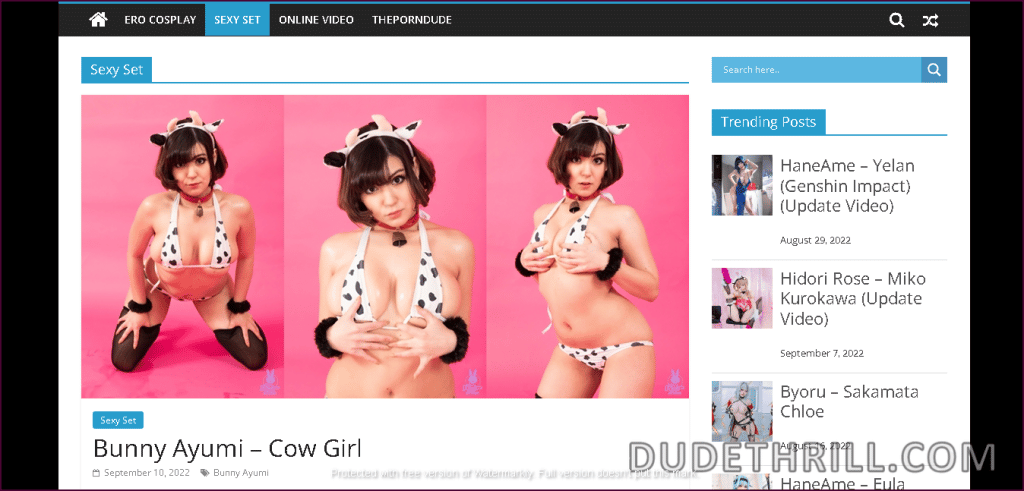 While browsing the site collection, I found hundreds of pages featuring cosplay and sexy girls. It's definitely a massive network that promotes and encourages users to explore their cosplay-related desires while also enjoying the attention of horny dudes. Mitaku.net has over a thousand albums free to explore, and the galleries have at least ten images that could fulfill all your dreams and fantasies.
I like the idea of Mitaku.net for bringing in a different niche and giving us porn fans a fantastic experience. Not every day will you encounter this sort of site, and I got to commend them for breaking the boundaries of creativity. A shitload of adult websites nowadays are trying to create a cosplay-themed collection; however, despite the efforts, they still can't match the caliber of Mitaku.net. I don't know, but whatever those rival websites do, they can't capture the magic of Mitaku.net's sexy cosplaying.
Unique Themes and Shots of Mitaku.net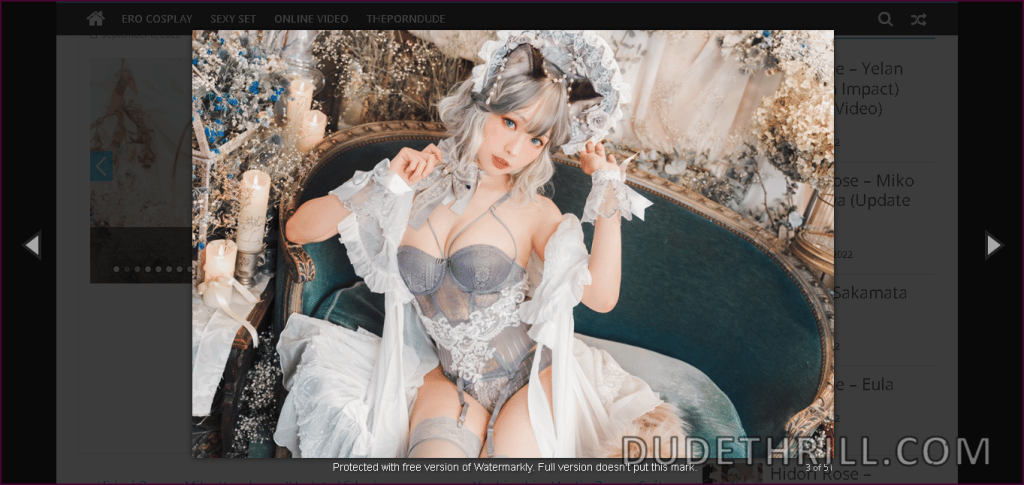 You may even find some sites attempting to capture some famous characters like Hinata or Sakura. Sure, they all look hot and sexy, but you have to admit it seems rushed and poorly done. Luckily this site put a lot of effort into radiating and expressing the true meaning of cosplaying and sex. That's why it's not shocking to see that unique touch and vibe radiate from every shot published.
Apart from its cosplay theme, the variety of its collection is another reason why people are coming back over and over to this site. It has a shitload of categories, niches, and tags that will likely cum you in a split second. For instance, if you like browsing video game characters or protagonists from movies, comics, and anime, this site will give you everything you could imagine. I can guarantee that whatever you're craving in cosplaying entertainment, Mitaku.net will surely give you more than expected. Plus, who wouldn't return if a site like this could bring together all your favorites in one convenient place?
Mitaku's Content Organization and Features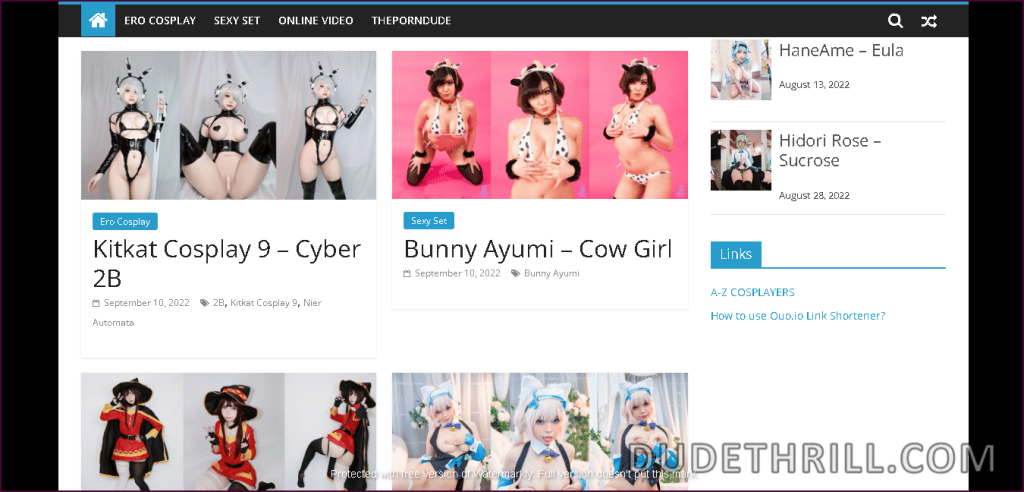 I've already mentioned how massive the Mitaku.net collection is, but I did not elaborate on how ridiculous it could get once you start browsing. For starters, the site is challenging to navigate since there are countless things to explore and check out. Everywhere some albums and galleries are sizzling and tempting to jerk off. Perhaps, your number one enemy here is how and where to start. So, if you are a new visitor or a newbie in porn pictures, I'm pretty sure you'll get lost around the site. But I'm confident you will get the concept and layout in a couple of hours or days.
Of all of the features of the Mitaku site, perhaps this is among the things I hate about it because it doesn't make sense. As a massive porn pic site, one should know how to organize the contents properly; for instance, you can incorporate some sections for different themes or sources. I've seen a lot of adult websites that use a systematic organization that helps users categorize and discover their preferences in one look. And I just wish Mitaku.net would also incorporate this style, so anyone who would like to narrow their searches could enjoy the variety they got.
Mitaku.net's Tagging System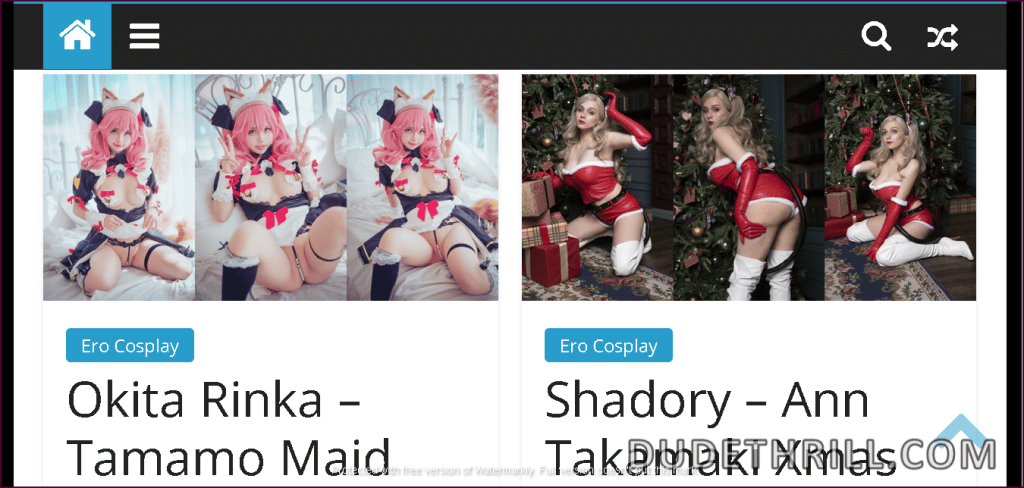 The only way you could organize specific themes from this site is through tags. I'm sure of it because when I was looking at a Naruto cosplay-themed picture, there was a "tag" located next to it, and when I clicked through the tag, the link went straight ahead to all of the Naruto-related stuff. I was actually surprised to see that there are a lot of naruto cosplayers featured on Mitaku.net. I did not notice them on the display screen. Of course, as a fucker like me, I took that as an opportunity to jerk off and cum my way to sleep.
Again, Mitaku.net is using a tag system to organize its collection. But to be honest, it's definitely a challenge to check out every tag available. In fact, if I did not mention it here, you probably won't know they are using a tag system. Personally, if there is someone from Mitaku.net who is reading this review, perhaps you could incorporate a list of tags so that searching and filtering would be a piece of cake. But for now, since there is no proper user interface for that, you just have to choke yourself using its tag system, and maybe after a few minutes of browsing, you will find what you're looking for.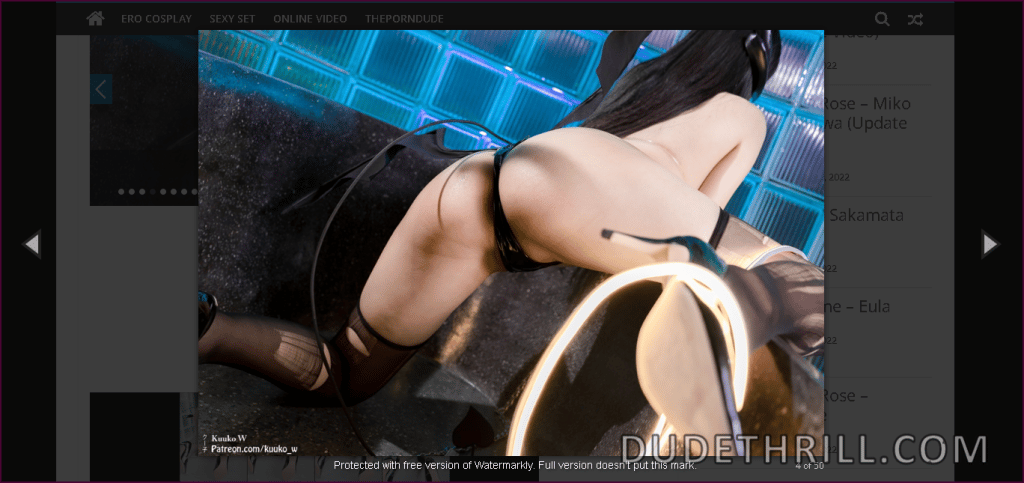 Moreover, the site has a search bar feature where you can type in a specific keywords like Power Rangers, Barbie, Naruto, Dragon Ball, Marvel characters, and more. It's quite helpful; however, I'd still recommend incorporating a list of tags displayed on the screen. Meanwhile, if you are not a specific kind of man and like things randomly, then just let yourself explore the whole Mitaku.net site and click through everything that is popping up on your screen.
There is also a random feature on the upper side of the homepage that is used to "randomize" you're searching. This feature is pretty effective for users who like their pictures to be unexpected and surprising. Given my natural curiosity, I also tried it, and it was fucking fabulous to see different themes and characters that I hadn't thought would be a great cosplay inspiration. It also expands your horizon by trying out other things and opening you to more unusual stuff. But I still hope the site will soon provide its user an appropriate feature or section where they could explore random things conveniently.
Easy Downloading Feature For All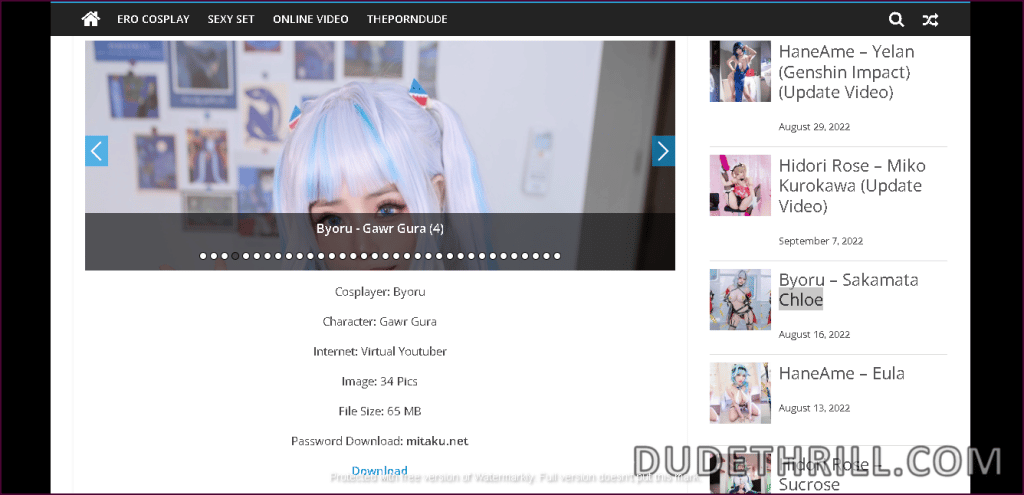 I always have this feeling whenever I see something spectacular or tempting; I always like to keep a souvenir from it. This truly works great for me because whenever I'm craving something and there is no internet connection, I could quickly go through my download folders and check out some nasty stuff. If not, then maybe, if you simply like to keep things offline and take every picture and video as a collection, Mitaku.net could help you.
Mitaku.net really helps by incorporating an easy downloading feature. You only need to tap the gallery section and look for the download icon on the lower page. Generally, the format is downloadable as ZIP files, and you can get the entire collection as one. It's basically pretty convenient and organized, and once you have it, you can easily share them or use them for a nightly jerking session.
Overall the Mitaku.net site is a fantastic porn picture platform that features all detailed and relevant information about the album. You can find a preview thumbnail, model information, publication date, album title, and related tags. Of course, as a porn picture site, expect to get zero videos from here. But I hope that won't turn you off from checking it out because the magic of pictures is even more significant than a single video clip could give.
Pros and Cons of Mitaku.net
PROS:
Thousands of cosplay-themed content
Downloading is easy and free
Unique concept
It has an advanced search bar
CONS:
No available category feature
Just pictures, no videos
---
Top-12 Porn Pictures Sites Similar to Mitaku.net: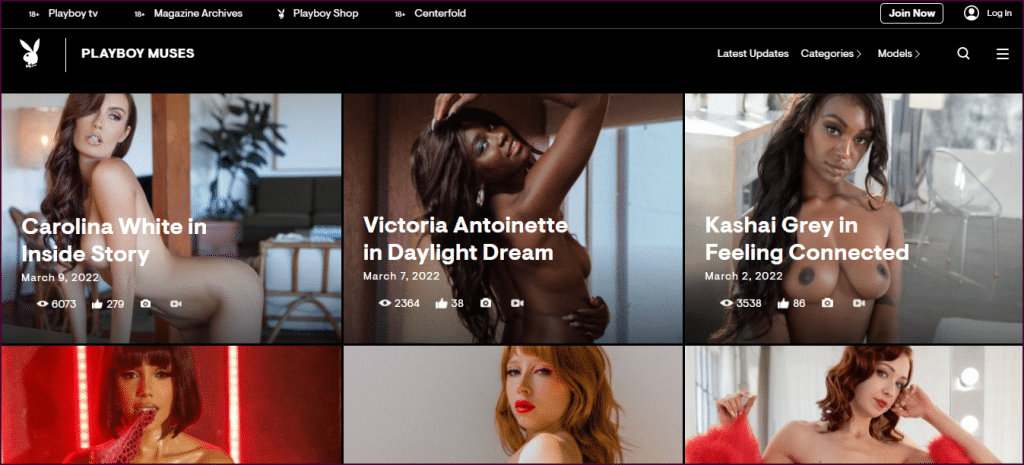 PlayboyPlus is a product of well-known brands in the sex industry. And to keep up with all of the changes, the team revamped and expanded PlayboyPlus to provide even more helpful information and resources. Everything about this website's video and image library is top-notch. With these unique features and a massive library, it's not surprising that many people consider PlayboyPlus among the best online destinations to check out.
Here's the full review of PlayboyPlus.
PROS:
Plenty of exclusive photos and videos
Updates regularly
Fantastic design and fun features
It has bonus content
CONS:
Requires subscription to access
---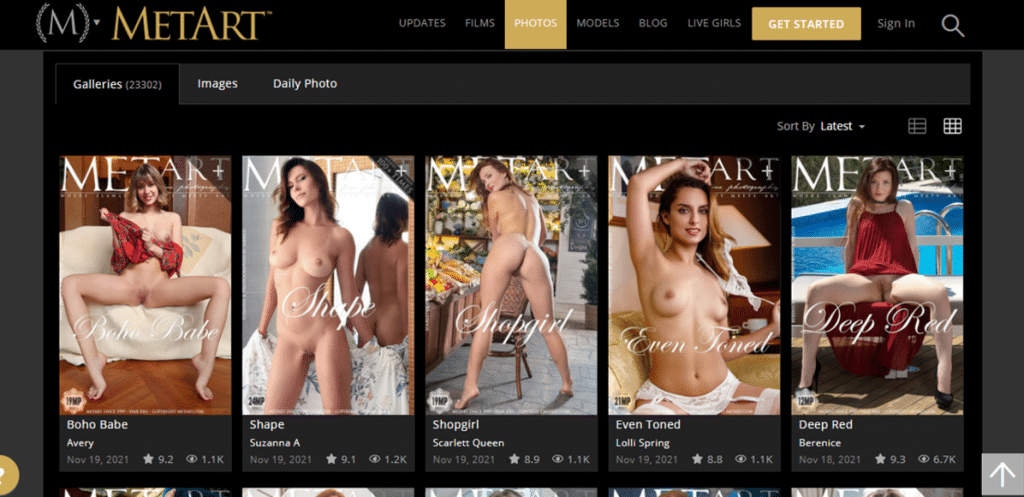 Met-Art eventually became a powerhouse in photography, casting, and production quality. With that, the site was able to produce a multitude of images and even exclusive films to address your fapping needs. Since then, Met-Art has collected various awards from recognizing bodies with its ultra-high-quality concepts. In fact, Met-Art has now become a standard to other porn pictures domains.
Click here for a full review of Met-Art .
PROS:
High-resolution contents
High definition films
Available in different devices
It has an advanced search option
Thousands of gorgeous ladies
Clean and organized site
CONS:
Only softcore contents
Few video materials
---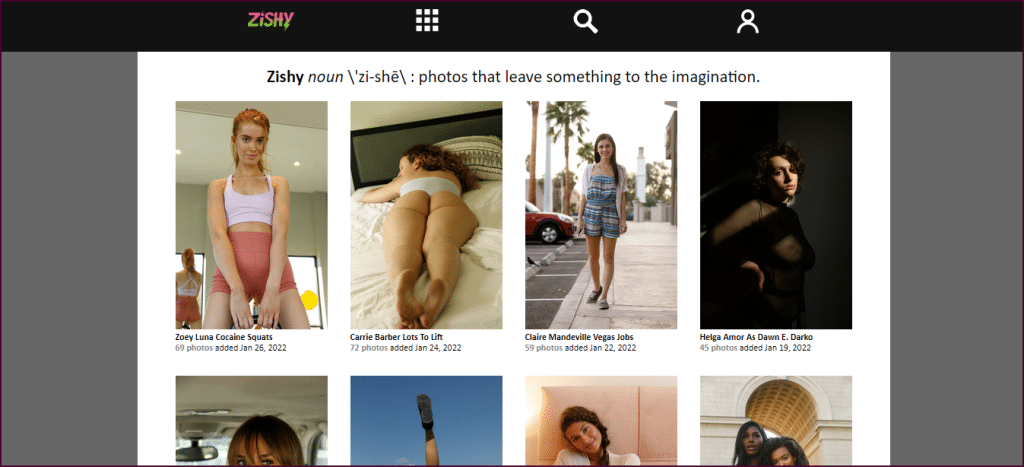 Around 2011, when Zishy started, they gave us a fantastic collection of pics with high-quality resolution. Plus, there are weekly updates to enjoy fun shots and new featured girls on cam. Currently, Zishy has over a thousand galleries collection and 500+ videos. Zishy has a cool and unique concept that gives us the Bellesa experience.
Honestly, it's pretty refreshing seeing all the collection with a cool concept of softcore and non-nude entertainment. Of course, what makes them all great are the featured girls, and take note, many of them are amateur. Certainly, they like to tease us by showing some nip slips, hot sideboobs, and sometimes even go fully top-naked.
PROS:
Filter button is available
Members are active and engaging
Videos are short but high quality
Pictures are HD and sharp
CONS:
Some old videos are in SD format
No information about the models
Short videos only
No tags
---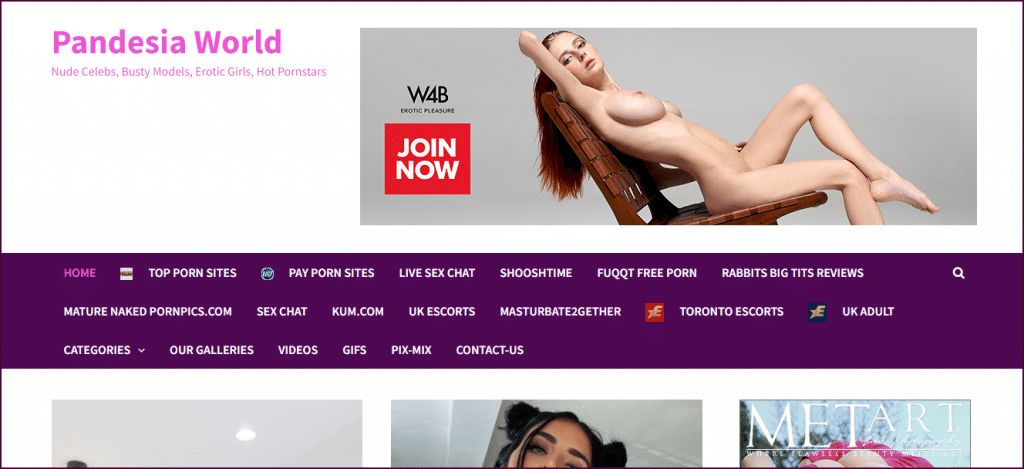 Porn entertainment isn't only about sex, scandals, and premium porn channels. Adult blog sites and sex mags likewise provide incredible pleasure for anyone with extreme fascination in pleasure, fantasy, draw-jopping babes. Indeed, you can't go wrong with PandesiaWorld —a sizzling porn pic site with an entertainment blog featured. It brings you the most up-to-the-minute stories and freshest nude galleries of your favorite stars and amateur babes.
Click to see the full review of PandesiaWorld.
PROS:
Easy downloading options
High-quality resolution pics
Use the site as a guest
Plenty of categories
Amazing celebrity leaks
It has amateur models
CONS:
Ads and pop-ups
No hardcore themes
Redirects and third-party sites
---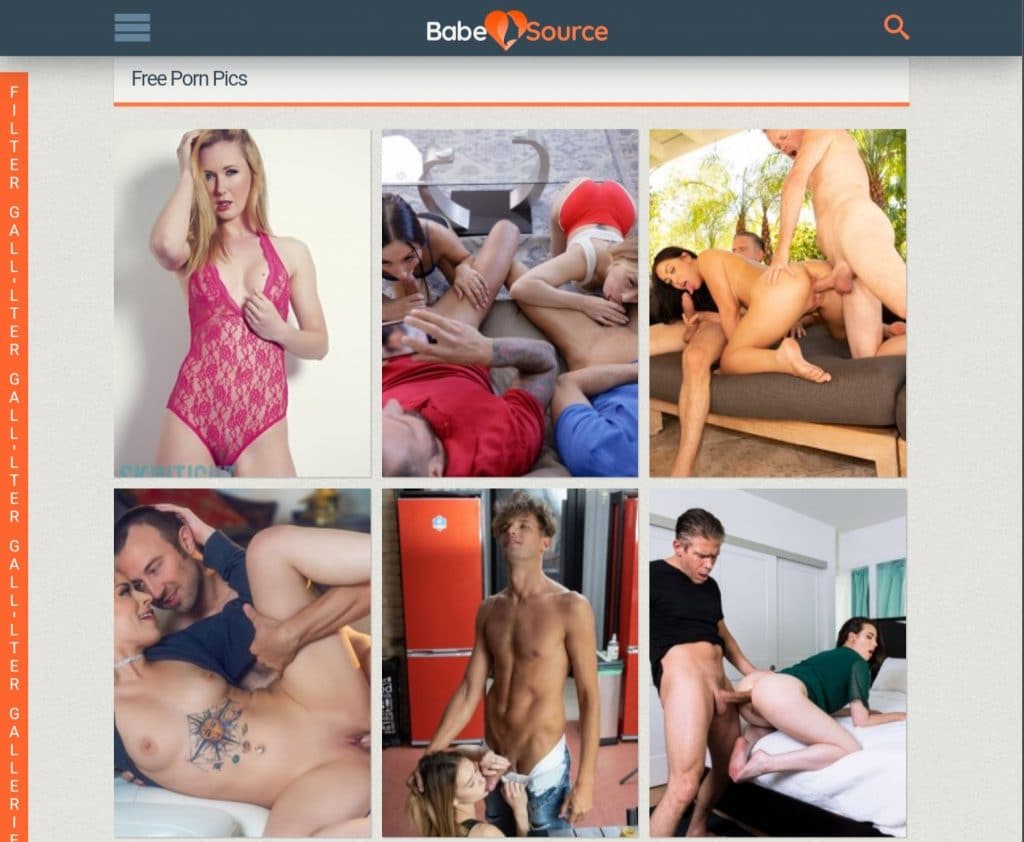 BabeSource is known to many as a vast porn pic site with an outstanding collection of adult erotica. Everything you see in its galleries is free, but of course, high-quality, studio-produced, and got stunning models from various mainstream porn sites. One thing that BabeSource is proud of about its content is primarily on its pornstar collection.
If you adore content from MileHighMedia, Brazzers, EvilAngel, or TeamSkeet, but you're broke or cheap as fuck that can't afford the membership fee, then BabeSource has got you covered. It has all your favorite pictures of celebrity pornstars collected for your convenience. Yes, that's right —they care about you. So, I hope you enjoy its massive porn pic collection from professionally-produced websites, with a great blend of genre, themes, and actors.
Check out the full review of BabeSource.
PROS:
Porn pic content is fantastic
Galleries are overflowing
Pornstar pics are studio-produced
The website has an incredible layout and is easy to use
Filters and tags are the best
Mobile optimized website
Categories are unforgettable and just enough amount
CONS:
Ads and pop-ups
Community feature is not available
Some poor quality images
---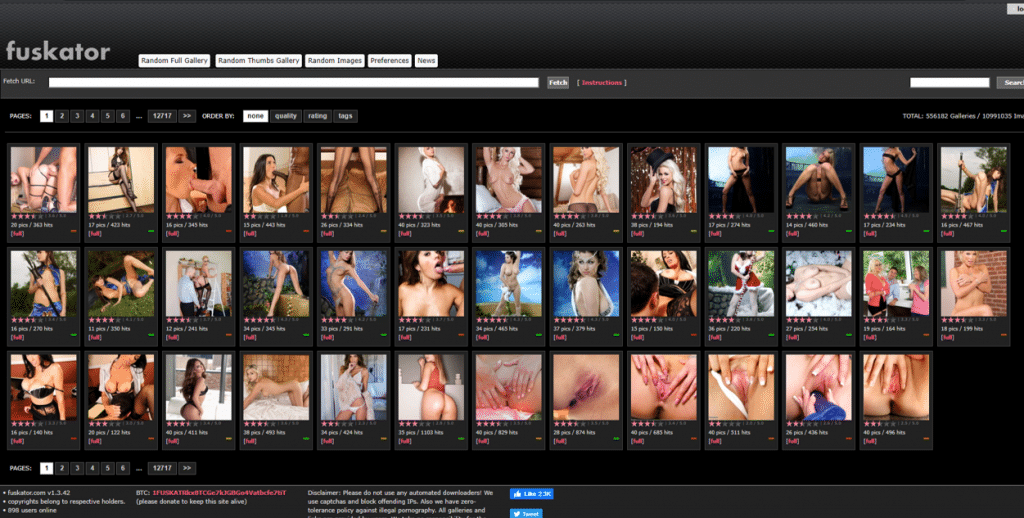 Fuskator.com is a reliable pornographic website. The design is excellent, there aren't many advertisements, and there's a ton of material. The layout and design are both quite good. It features a lovely black backdrop with light lettering and gray thumbnail boxes.
It is also one of the safest porn gallery sites I have ever seen, and the moderation seems to be enough. The site is proud that it has over 7 million photographs and approximately 400 thousand galleries.
Take a look at the full review of Fuskator.
PROS:
Numerous sexy images
Nearly no advertisements
A free site
Registration is not required
Maintains anonymity
CONS:
Categories are not arranged properly
Challenging to locate some pictures
---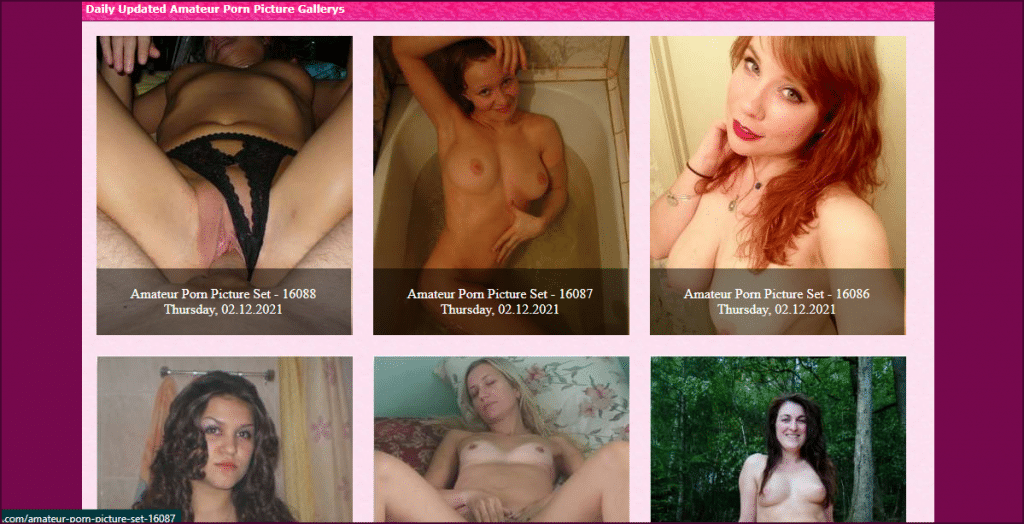 Amateur Bitch, popularly known as AmaBitch, is a porn picture site featuring amazing sexy bitches. As the name suggests, these girls are not pornstars with mainstream careers and successful pornos. Instead, they are regular ladies craving huge dicks, ready to take blowjobs anytime they need. Since 2008, AmaBitch has evolved and stepped up its game in the adult entertainment scene. And I'm pretty sure there's more to this little bitch in the coming years.
Here's a full AmaBitch review.
PROS:
Plenty of amateur girls and content
Galleries are in a zip file
Free to use
No need to register
CONS:
Badly designed
There's no categorization of material
---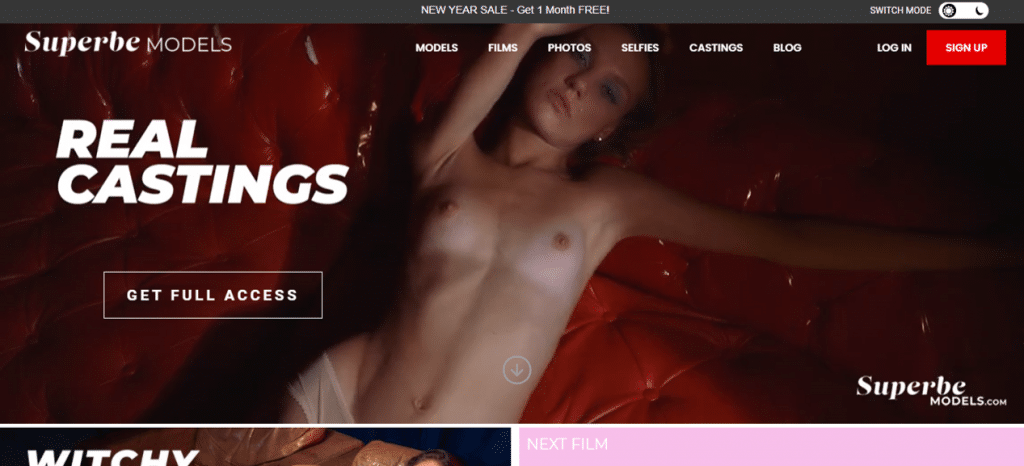 Superbe Models offers a collection of high-quality mouthwatering ladies who strip, tease, and pose their hot physique. These women are so exquisite that the site included various selfies, videos, casting films, and diverse erotic materials. Indeed, everyone is getting aroused with the snaps accessible at Superbe Models.
Read the Superbe Models full review.
PROS:
Easy to navigate and use platform
Constant updates
High-quality materials
Exclusive contents
Hot and appealing ladies
Variety of excellent functions
Casting videos are available
Clean and sleek website
CONS:
No hardcore materials
Small collection
---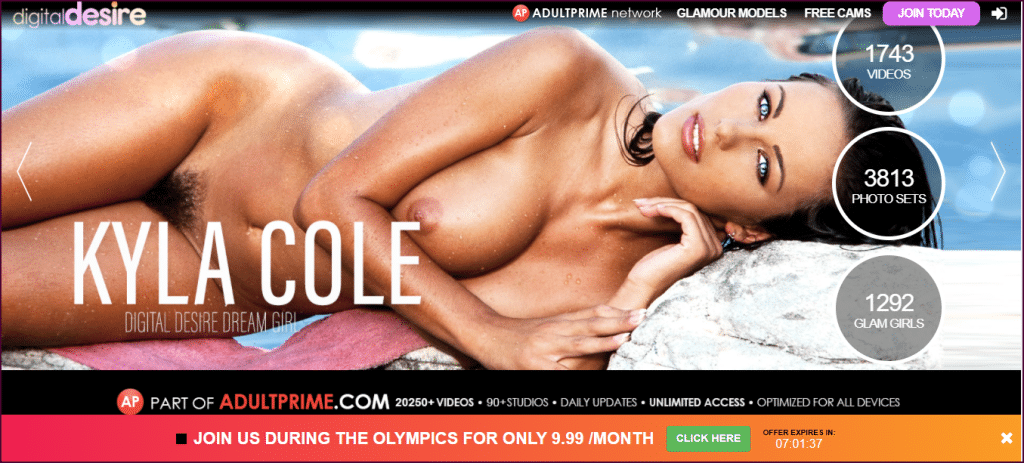 The Digital Desire site is a top-quality site where you can find sophisticated shots and scenes of the most sought-after girls worldwide. Thanks to Hicks, a respected dude from Penthouse and Playboy, who created this masterpiece for us to enjoy. Unfortunately, he died around 2013, but the site he made remained popular today despite passing away. Undoubtedly, Digital Desire is an excellent site filled with passion and desires.
Check out the full review of Digital Desire.
PROS:
Massive archive
Models are famous
Sophisticated design
Usability is convenient and easy
Lots of bonus channels
Access to all AdultPrime networks
CONS:
Tools are basic
Some ads
Rotating content
---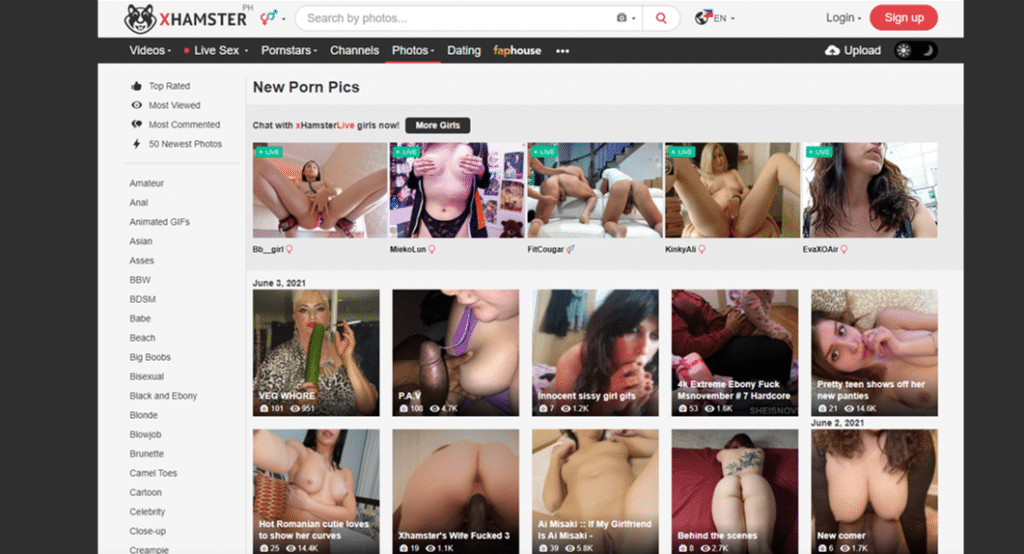 Since 2007, they have been one of the top sites for amateur porn. There are more than a decade's worth of exciting and mind-blowing photos, gifs, and movies to peruse. They also have a bit of everything. Check out their xHamster exclusive cam ladies, amateur movies, sexual tales, and free dating service if you manage to get through everything the photo area has to offer.
The site's image collection displays the number of photographs and the number of views it has received. This, together with the thumbnails, gives you a decent indication of what to anticipate. When you navigate across, you can either browse through the whole album on one page or set up an automated slideshow by clicking on a photo. If you want to magnify or look closely at each picture, a sidebar also allows you to zoom in on the photographs.
PROS:
Updates regularly
Massive collection of amateur contents
Good photo quality
CONS:
Advertisements here and there
---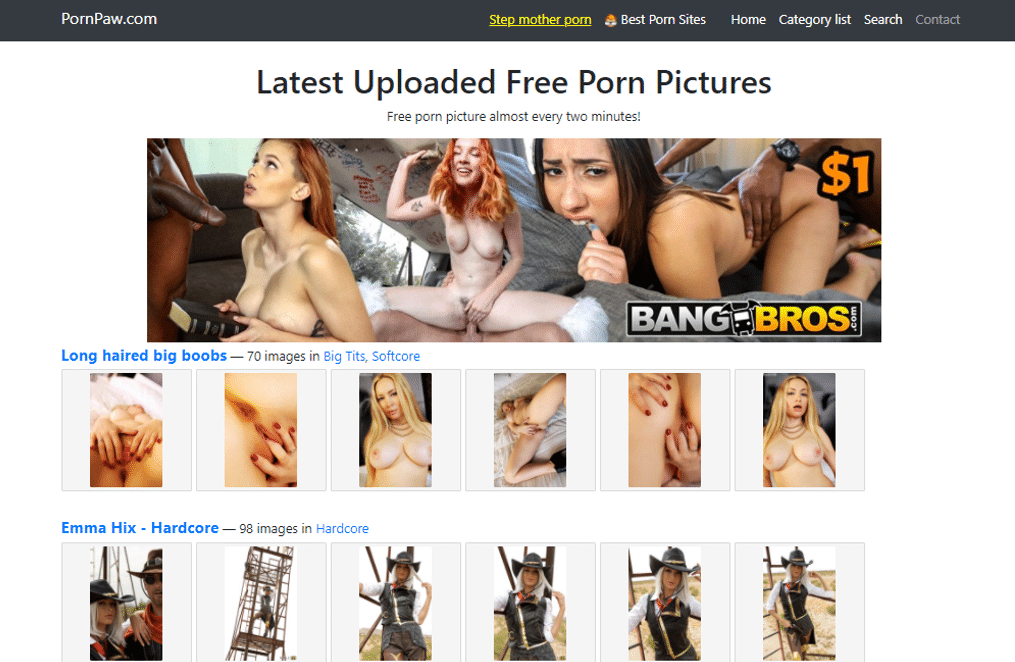 PornPaw is a porn pic website with a massive selection of porn pics, downloadable with a charge. It has a vast collection of everything you like — from ebony, MILF, Asian, shaved pussies, fetish, BDSM, and all sorts of stuff. Say it, and they have it all for you! Indeed, this website got everything settled for you and satisfied your pleasure all day long.
Learn more about PornPaw with this full review.
PROS:
Free download and access
It has profile accounts about your beloved porn girls
The teen category is an absolute perfection
CONS:
You can't comment or rate anything
No option for a slideshow presentation
It has watermarks
---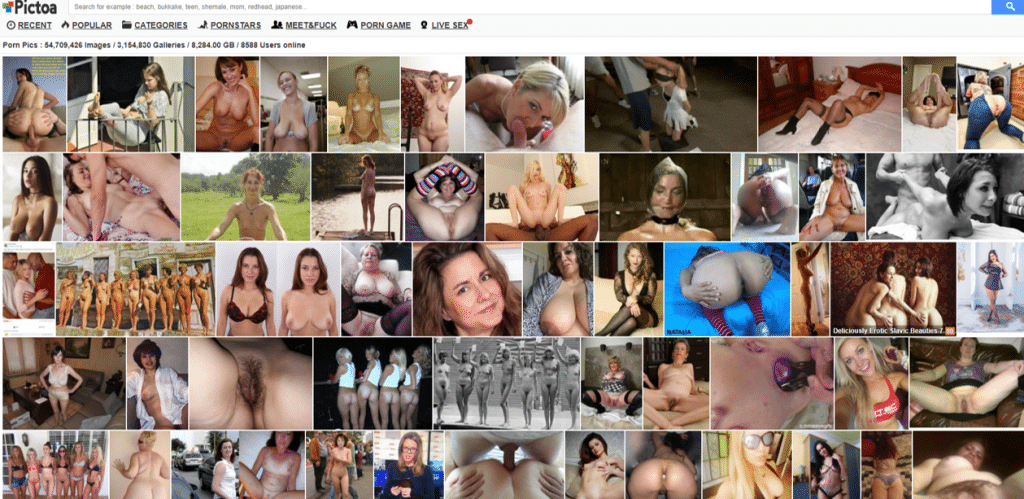 Each photo on Pictoa.com can cover any pornographic genre. There isn't a single category that they have not included, and you will notice this as well as you browse through the Categories area. Every class has tens of thousands or hundreds of thousands of photographs and porn galleries.
The most significant piece of it all is that all photo galleries are free. You will not be charged with anything and will be able to see as many as you like. The only drawback one needs to consider is that you will have to put up with some commercials because it is free, which will make the experience a little more tedious.
Check out the full review of Pictoa.
PROS:
All porn genre is available
Massive galleries to explore
Free access
No registration required
CONS:
Not too impressive design
Too many annoying ads
Pop-ups everywhere
---
Final Thoughts
Ultimately, the Mitaku.net site is a fantastic cosplay-themed porn picture. It features a massive cosplay collection that no sane person would expect to see. Sure, it has its downside, like having no organizational features or categories. Still, if you look at its porn concept, scenes, and overall collection quality, you can agree that it is better than any porn pictures sites I visited this week. Clearly, I prefer that Mitaku.net would incorporate some suggested elements into the page, but for now, let us all enjoy the magical transformation of some gorgeous dolls and jerk off to their sizzling hot scenes. These alone will keep you craving Mitaku more!
All 66 Other Sites in This Category Worth Checking Out:
Adult Magazine & Top-12 Must-Visit Porn Picture Sites Like Adultmagazine.net Show Me 12 Alternatives for Adultmagazine.net Step into the world where porno hasn't entirely trampled the glossy reign of x-rated magazines — yes, they're still kicking! While the era of sneaky stash in the garage might be fading, the AdultMagazine site ensures yesteryear's printed passion stays […]