Updated on: December 10th, 2023
BabesMachine Review
& TOP 12 Porn Picture Sites Similar to babesmachine.com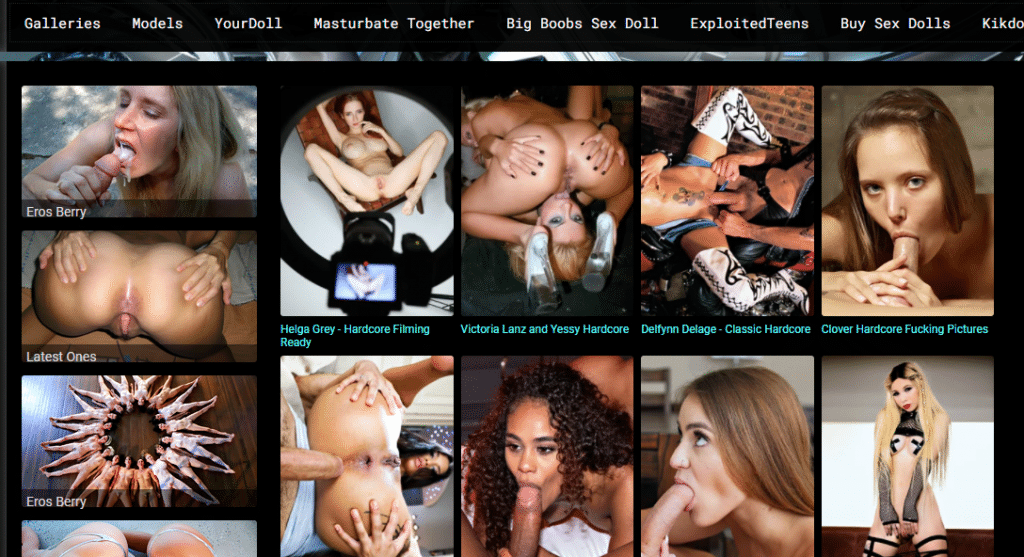 BabesMachine is another new addition to the Dudethrill collection. I found this site from my friends, and when I checked it out, it looks like an aggregate porn pic site that lurks the world wide web for the finest and high-quality content there is. What you see here is entirely free, with no extra or hidden charges whatsoever. But, in return for the free stuff, all its content is not hosted by BabesMachine. Meaning redirects to third-party links would be your best bud.
Official URL: https://www.babesmachine.com/
But that doesn't mean BabesMachine is a terrible site already. This only means that you'll be introduced to various accessible sources that could open to a thousand more content. Imagine you're only scrolling and browsing BabesMachine, and by the end of the night, you already few ten websites added to your favorite list. Each site has various features and content, so I'm pretty sure a night of jerking off would not be enough. To know more about BabesMachine, let's dissect this bitch below.
Hot Sex Machines of BabesMachine
To start, BabesMachine sounds like a porno site with videos and hardcore scenes. It's close to that concept, though, but instead, the pleasure is brought to you through pictures. These pictures are mainly collected as galleries with softcore, hardcore, or extreme themes. As mentioned above, nothing is hosted in BabesMachine, so you have to go through third-party resources and experience plenty of redirects every time you click a pornpic.
Despite its unhosted content, most of its galleries are looking great. It has incredible thrills and themes that serve its purpose of giving us pleasure while fapping. Sure, porn videos, GIFs, and erotic films are sure-fire spice things up on different levels, but in terms of porn pictures, the thrill is something unique.
Your imagination and creativity are the keys because you can create your own narrative, imagine yourself in the scene, or maybe pretend she's your bitch. Literally, the stories are limitless, and you are in control of what's going to happen.
If that's not enough reason to switch to BabesMachine, I don't know what else to convince you. BabesMachine is an excellent platform with all the resources you need for a fapping session. The quality, resolution, and features it has are just cherry on top of its jam-packed content.
BabesMachine's User Interface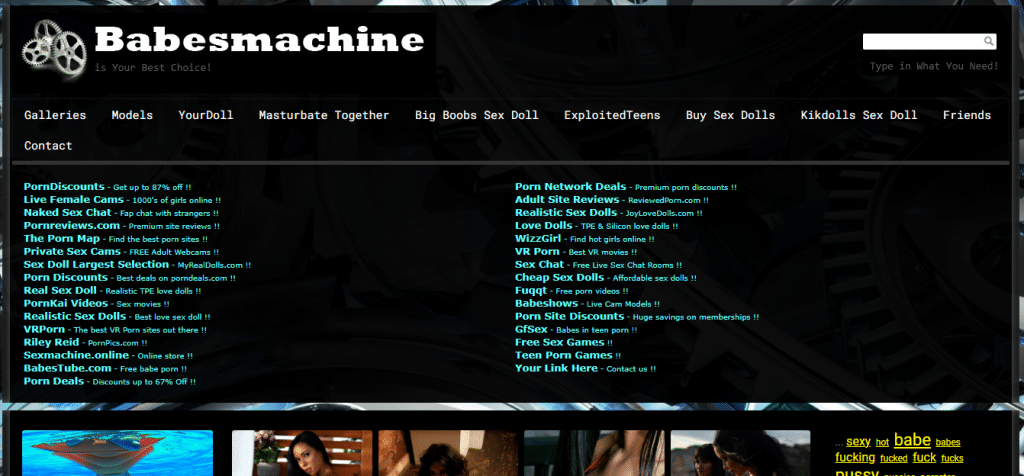 Visiting BabesMachine, I instantly thought it was not your typical Thumbnail Gallery Post site. Clearly, the whole page seems a bit different than what I usually feature here on Dudethrill — but in the best way, of course. Coupled with great content, BabesMachine's design is relatively impressive. It's simple, uncluttered, and pretty effortless to use. Sure there are ads and pop-ups here and there (that's the typical scene of a free resource site), but everything seems in place.
The page is generous of sexy, smoking babe machines. Galleries are around 60+ per page, and its overall collection sums up roughly 25K+. The left portion of the page is the list of porno websites featured by BabesMachine, and the opposite side is where the tags are located. These tags are something you can use when looking for specific themes, babes, or niches.
Also, there are featured sponsors on the page where it leads you to more porn galleries, excellent bonus content, and every niche you need to complete your day. BabesMachine sets the mood with its high-definition pictures and intuitive servers. You'll experience no lags and no unnecessary ads. No wonder many people recognized BabesMachine among the finest Thumbnail Gallery Post site worldwide.
My BabesMachine User Experience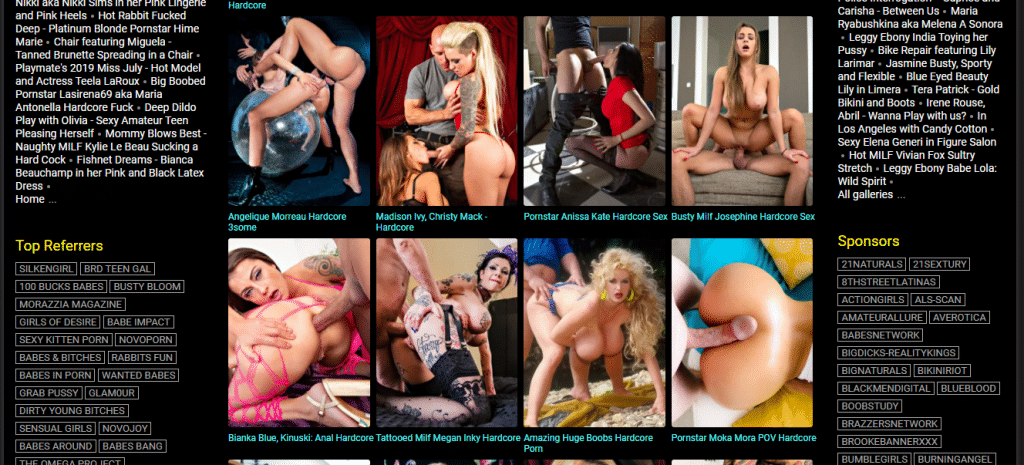 Overall, after few hours of browsing, I can say that the design, system, and full functionality of BabesMachine really satisfy me. This site truly serves what it promises — giving you the most pleasing pornpics from numerous unique sources. Despite being an unhosted site, the redirects are straightforward and do not lead to annoying advertisements.
The tabs available here are organized, making it easy to find what you're looking for. Certainly, whatever the site claims are precisely what you're going to get. The main page is jam-packed with excellent content ranging from fetish themes to hardcore sex to vanilla niche. All these unique featured pornpics can all be seen here without you jumping from one pornpic site to another.
BabesMachine's Porn Pic Content
Unhosted Galleries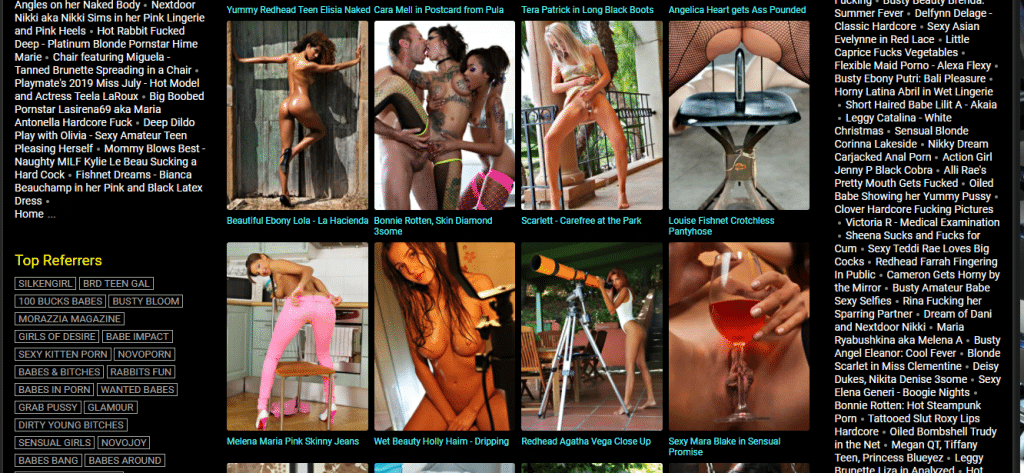 It appears that nearly all of the posts at BabesMachine are featuring adorable sorority chicks with huge fake boobs and petite waistlines. However, the tagcloud feature allows you to browse other varieties of beauty available. So you don't merely access one type of niche, but also anything that tingles your tastes.
BabesMachine has also included URLs to some of their best-loved collections, and they're pretty fucking rad. All of the images in these collections were collected from reputable adult mixed media sources. Actually, there's a lengthy collection available of all the site's hardcore partners, so if you've had a new fav site from which you'd like to get additional free photos, just search for it.
Further, gallery pages are scattered throughout the site, half of which are hosted on the same host as the rest of the content. Sure softcore collections predominate the scene. However, real hardcore pictures are similarly adored by the fans. But the true essence of pornpics is controlled. Meaning, rather than waiting for the scene to end in typical sex videos, you can make up your scenarios by simply working on some imagination.
Thousand More Niches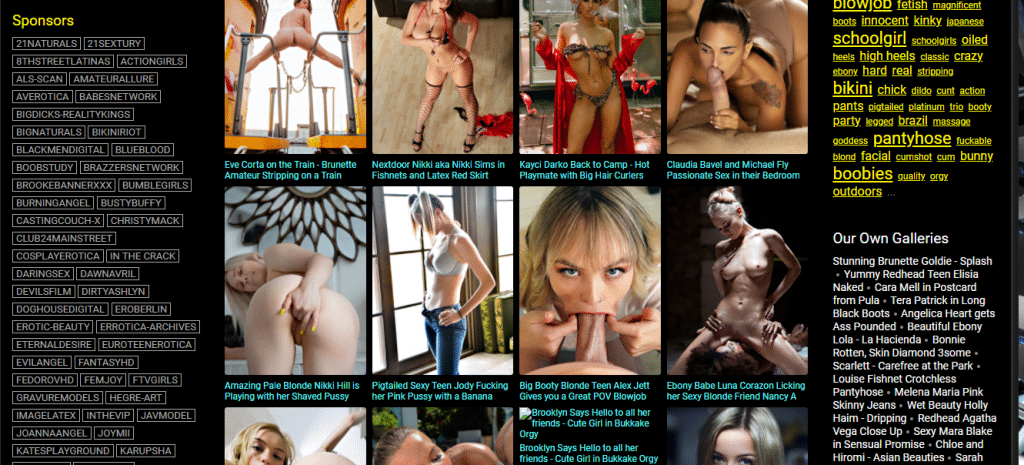 BabesMachine has a seemingly endless number of photos, making it feel as if you could spend an eternal damnation browsing. Thousands of sultry images of women in a wide range of poses, setups, and themes can be found here. I'm pretty sure that whatever your personal taste be, you can find something worthwhile at BabesMachine. Its system continuously pumps out sexy bitches for no charge at all.
There's a particular category here that certainly captured my attention. The name of this gallery is "Schoolgirl," which features perhaps the "sexiest" photos available on BabesMachine. Everywhere you look, you'll see gorgeous, fresh-faced girls dressed up in their fave uniforms. Users could expect every kind of extreme raw excitement served up. Also, there are extensive sex activities covered, including everything from solo fingering to girl-on-girl kink play and far beyond. I'm sure, using BabesMachine as your primary source for explicit content, you'll never be disappointed. The site is constantly being updated, which means new images are available around the clock.
Hot Chicks in High-Definition Pics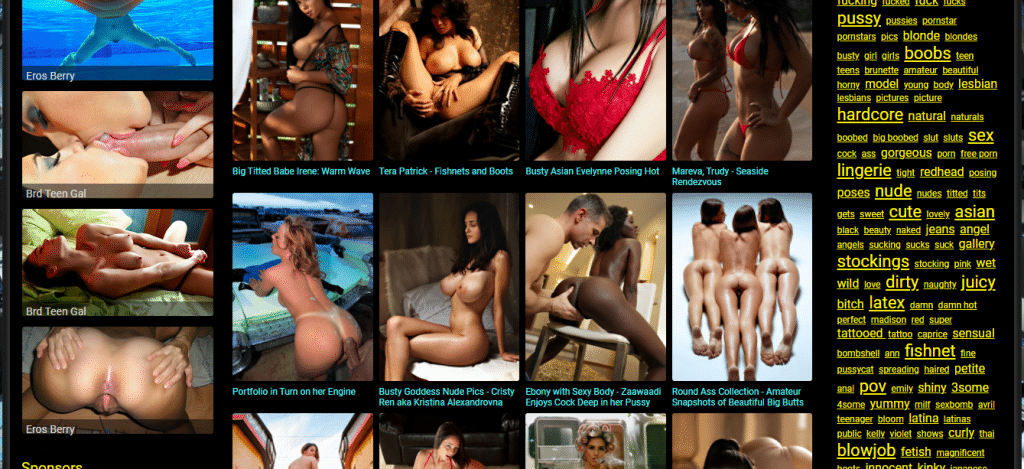 For your information, BabesMachine only features models (guys, chicks, trans, and gays) who are up to your standards. These folks understand that every horny dude needs some hardcore love from the sexiest pornstars. But obviously, the excitement doesn't end there because BabesMachine is giving you an all-star specialty. Plus, every pic is well-organized according to location, labels, and tags.
Certainly, BabesMachine lives up to its claims, and I'm not surprised how glamorous their entire collection is. You won't see any phone-captured pics or some amateur cams with blurry or dark outcomes. Every shot on each gallery was made with professionalism. Fantastic lighting and well-suited setup is pretty recognizable. Just thinking how BabesMachine has put so much effort collecting and putting this stuff together is such a relief and convenient. Can you imagine how many websites you have to go through just to find a specific niche? Sure, there are thousands of pornpic sites out there, but none of us are sure which ones are safe and fantastic and which ones are not. Coupled with a free membership, basic features, and porn partners — BabesMachine is fayah!
Gorgeous Hotties on The Site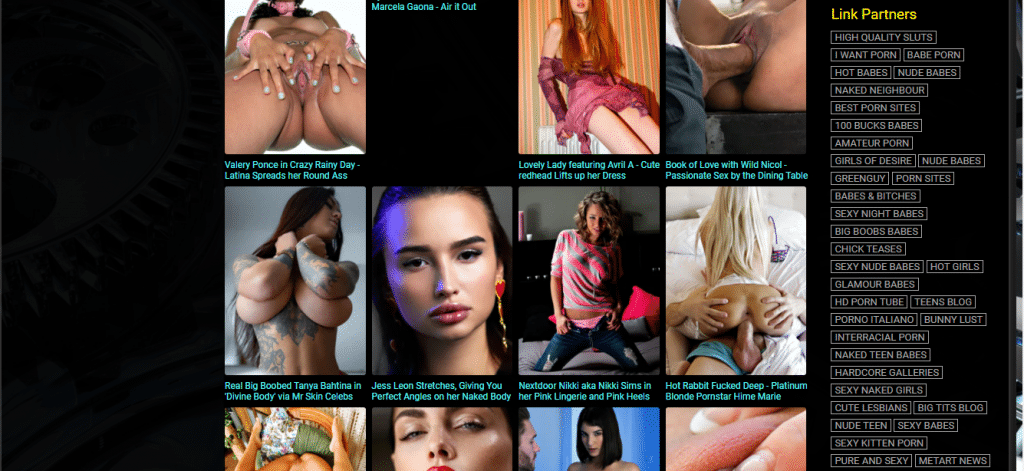 It's pretty easy to recognize the high-quality content of BabesMachine even after just a few minutes of browsing. To be honest, I won't be surprised if the quality is the initial thing you see on your first visit. BabesMachine always leaves everyone a lasting impression — that's why their so-called visitors are now their loyal fans.
Apart from quality, the gorgeous hotties of BabesMachine are the site's hidden gem. They look like A-list superstars from Hollywood or some runway supermodels of New York, Paris, and London. In short, they are all breathtakingly stunning! I would have mistaken them as aliens because their beauties are out-of-this-world.
I also appreciate the fact that BabesMachine made sure that pornstars are listed alphabetically. Now, you won't have a hard time finding the perfect babe for your night fapping session. Head over to their list, and you'll discover names of the most renowned models in the industry, mixed with some gorgeous newbies in the adult entertainment world. The best part here is, each pornstar's name has a designated gallery. Tap their names, and it instantly send you to their collection. Please lower your expectations, though, because some of these pornstars are still starting their careers, so there might be less than a hundred in each gallery. However, don't worry since there are big names featured here too that I'm pretty sure offer more than a thousand pornpic collections.
Top-Notch Diversity of Models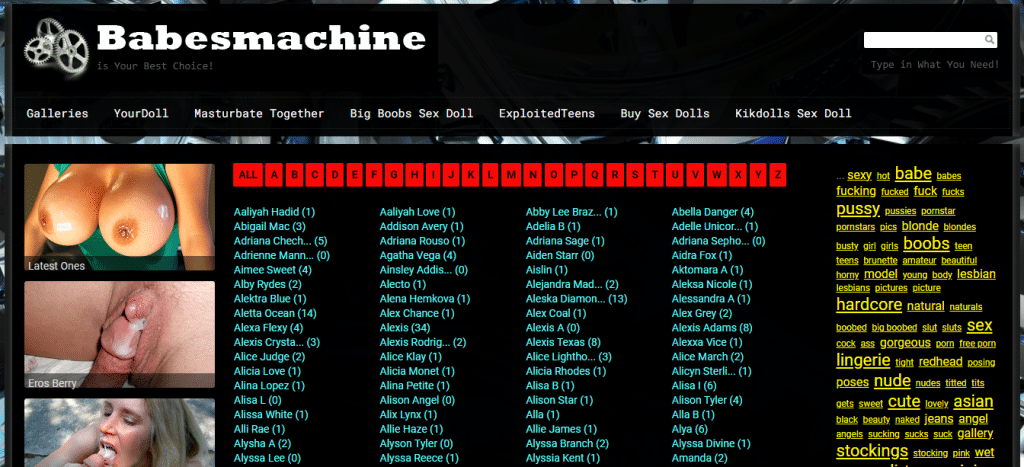 Seeing all the girls featured here, it should no longer be surprising how diverse their model collection is. Everything on the site seems great, and I can vouch for their quality. These models you meet here have a wide range of characteristics — in fact, many of them have different butt sizes or big-tit supermodels. They all come from various backgrounds and seem to have their own distinct personalities to bring to the table.
BabesMachine has a wide variety of women worldwide. You can catch them doing erotic scenes like foursome pounding, gangbang, solitary masturbation, or steamy orgy sessions. Obviously, everything I've mentioned is what you're hoping for, as porn fans are always looking for new and exciting ways to see their favorite porn stars in action.
Here are some of the prominent names in the BabesMachine database: Xo Gisele, Violet, Viola Bailey, Tyra Lex, Tarra, Sofi, Pammie Lee, Nekane, Molly Cavalli, Yurizan, Skin Diamond, Olivia Austin, Rita, Rahyndee, Niemira, Sasha Arnold, Puma Swede, Laura Lee, Kayleigh, Maria Ozawa Little Caprice, Veronica Rodriguez, Phoenix Marie, Nikola Sarah Banks, Lana Rhoades, Natalia Starr, Priya Anjali Rai, Michaela Isizzu, Janice Griffith, Joanna Angel, Agatha Vega, Black Angel Wicky, Ivana Sugar, Faye Reagan, Davon Kim, Chloe Foster, Cassidey Rae, Gina Gershon, Franchesca Heart, Gina Valentin, Gisele, Agatha Vega, Irene Rouse, Candy D, Bailey Blue, Alison Tyler, Aimee Sweet, Adriana Chechik, Kagney Linn Karter, Danielle, Dana, and Aaliyah Hadid.
Pros and Cons of BabesMachine
PROS:
Free to use
Unique themes, categories, and niches
Variety of pornpics
A to Z List of Pornstars
CONS:
Content is not hosted
Redirects
Can't follow pornstars
---
12 Best Porn Picture Sites Similar to Babesmachine.com: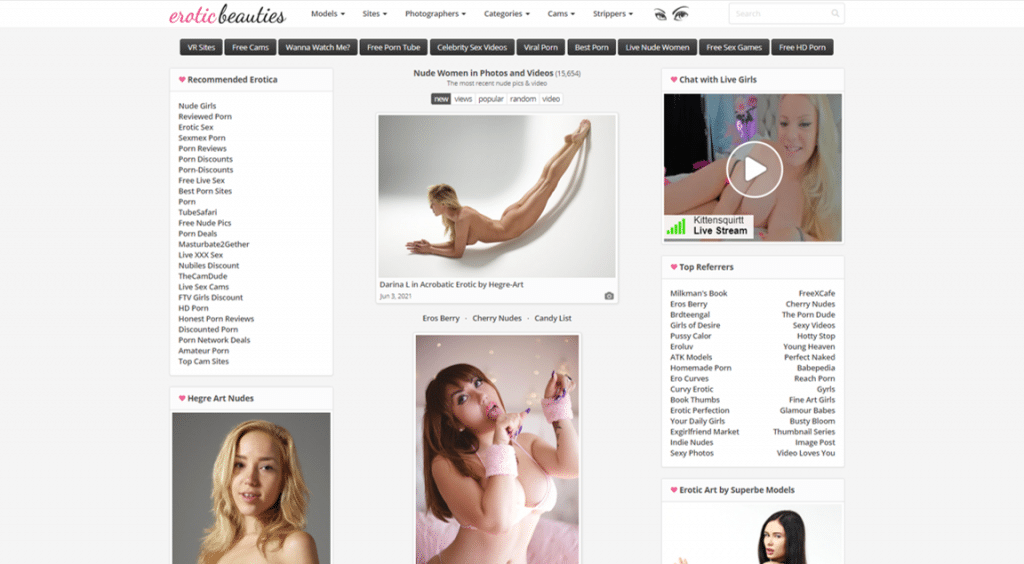 EroticBeauties is a site that caters to a sexual image blog dedicated to photographing the most sensual and gorgeous ladies from across the world. You will find regular updates with fresh new photographs from a handful of places, with a strong emphasis on sexual photography and creative nuance. The site also provides a cheap subscription, ideal for individuals seeking affordable access to beautiful females in erotic photography.
Here's the full review of EroticBeauties.
PROS:
Amazing deals and discounts
Good photography details
Updates daily
CONS:
Lack of sexy amateur materials
Annoying ads
---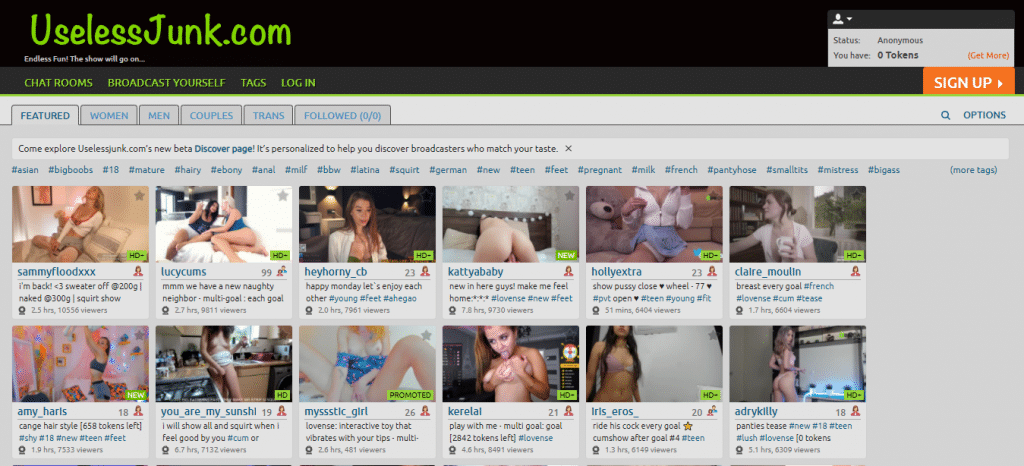 If you're interested in exploring sensual pornpics, UselessJunk is a great starting point. It has a library packed with close-up shots of stunningly pretty amateur chicks and absolutely perfect pornstars.
All users worldwide have unfettered access to the large bunch of high-quality adult pornpics on UselessJunk. To make surfing easier for users, the website offers several different ways to sort multiple galleries. There are also plenty of explicit photos for both newbie and seasoned model lovers to choose from. You can freely decide whether to jerk off on homemade or pro shots!
Click here for UselessJunk full review.
PROS:
Plenty of high-quality pornpics
Galleries came from top-notch porn studios
Free to use
It covers a lot of themes and categories
CONS:
There are plenty of misleading ads and third-party links
No advanced search feature
Can't download content
---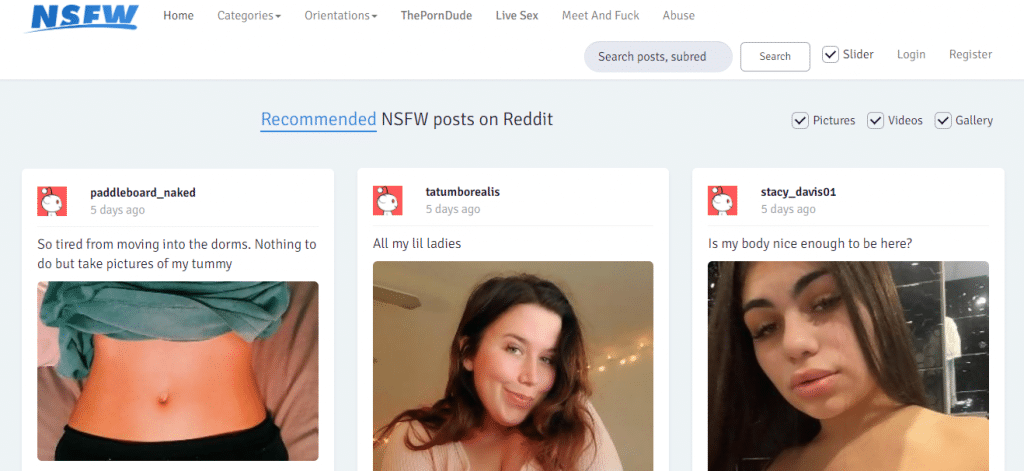 Ahh NSFW.xxx, I got to admit the name of this porn pic website is quite exciting and unique —something that's easy to remember but hard to forget. It has intuitive and advanced navigation, and its design is quite luxurious. In terms of content, the name of the site indeed says it all. NSFW.xxx has various pics, and videos with themes focused on cartoons, fetish, amateur, gaping, and many more. It certainly has a great blend of genre, themes, and actors in its content, making them irresistible among porn enthusiasts.
PROS:
Plenty galleries available
Unique porn categories
Regular updates
Organized and clean content
Most gorgeous girls
CONS:
---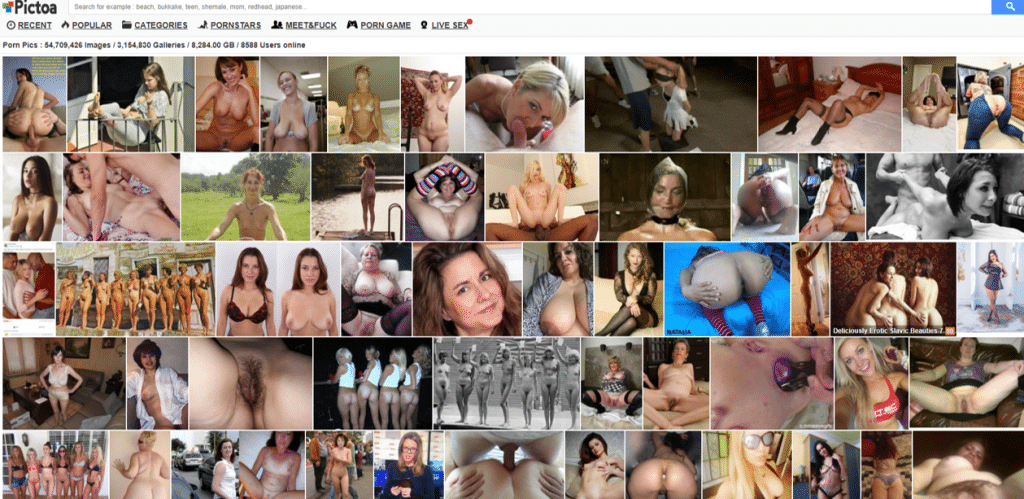 Each photo on Pictoa.com can cover any pornographic genre. There isn't a single category that they have not included, and you will notice this as well as you browse through the Categories area. Every class has tens of thousands or even hundreds of thousands of photographs and porn galleries.
The most meaningful part of it is all of the photo galleries are free. You will not be charged with anything and will be able to see as many as you like. The only drawback one needs to consider is that you will have to put up with some commercials because it is free, which will make the experience a little more tedious.
Click for a full review of Pictoa.
PROS:
All porn genre is available
Massive galleries to explore
Free access
No registration required
CONS:
Not too impressive design
Too many annoying ads
Pop-ups everywhere
---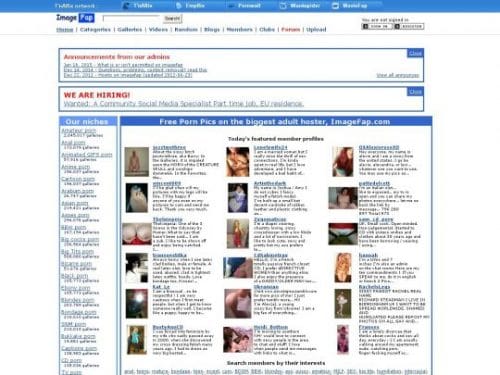 Did you know that a person had to jack off to images even before the advent of high-speed Internet? Gosh dang, that's an old-school ImageFap! It is enough for a man to enjoy the classics from time to time. Image Fap wants to be the finest image-based porn website in the world. You get a picture gallery with an unbelievable range, speed, and simplicity by incorporating old image galleries with a simple interface.
PROS:
A large community that shares personal galleries
Most extensive gallery on the Internet
You can find a variety of kinks and porn you like
Everything is free
CONS:
Simple design
Limited filter features
---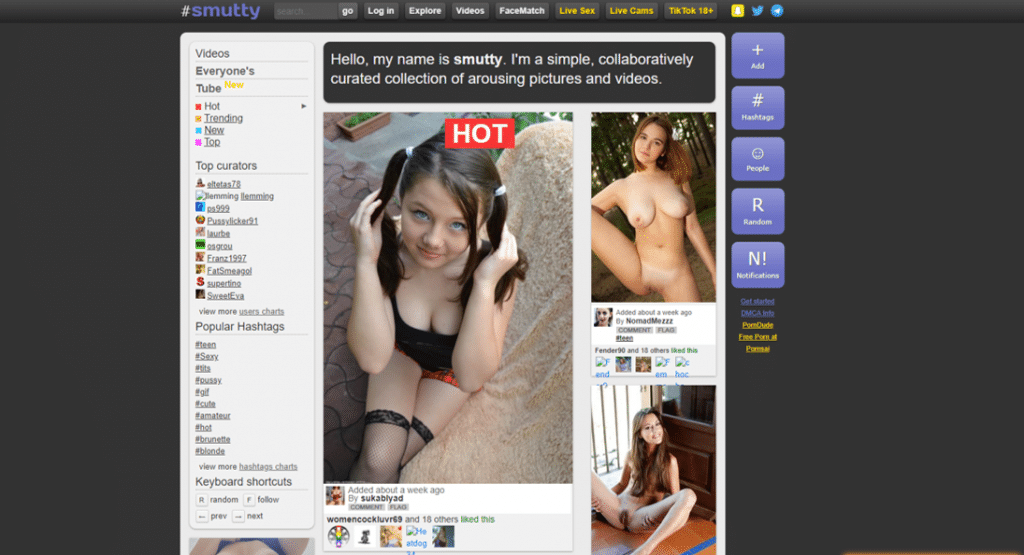 Smutty has a contemporary design, with most pages consisting of a wall of photos divided into columns. The site is designed to stimulate user participation. Some connections and icons in the page's sidebars lead to hot and new content and a giant button in the corner that allows users to add new material.
The system is also set up in such a way that the most extraordinary material climbs to the top, and creating the bespoke feed of your favorite material is a breeze. Currently, the site favors amateur photography, but you can still find whatever content you want.
Here's the full review of Smutty.
PROS:
Availability of amateur and professional contents
Can personalized contents
Top-rated materials
User-contributed images
Very engaging community
CONS:
Has advertisements
Limited videos
---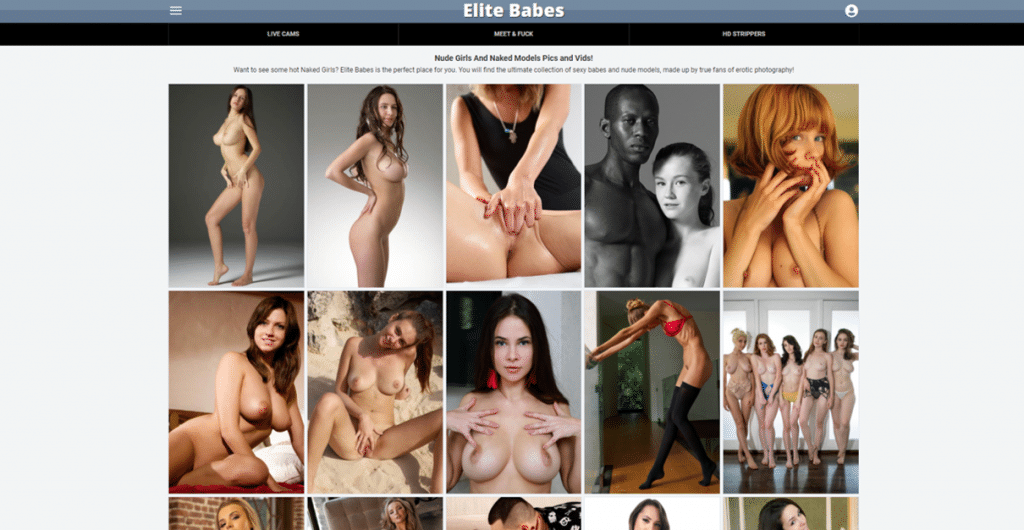 Elite Babes has a vast porn collection, everything is free, and the projects shown on the site are of outstanding quality. This site is relatively straightforward, so moving from one spot to the next and finding the hottest top girls to masturbate to isn't too tricky. Also available on the site are entirely natural bodies of models. Indeed, you will not see fake and ridiculous body parts.
Elite Babes also updates its website at least once a day. This not only indicates that fresh stuff is on its way to you, but it also means that you will be aware of when is the next update. The site is always able to discover stunning naked models that are sophisticated, eager, and classy. Everything is here! Waiting for you to explore.
Take a look at EliteBabes review.
PROS:
Best quality of porn images
Sexy and alluring content
Huge selection of materials
Glamorous pornstars
CONS:
Few adverts
Lack of customer support service
---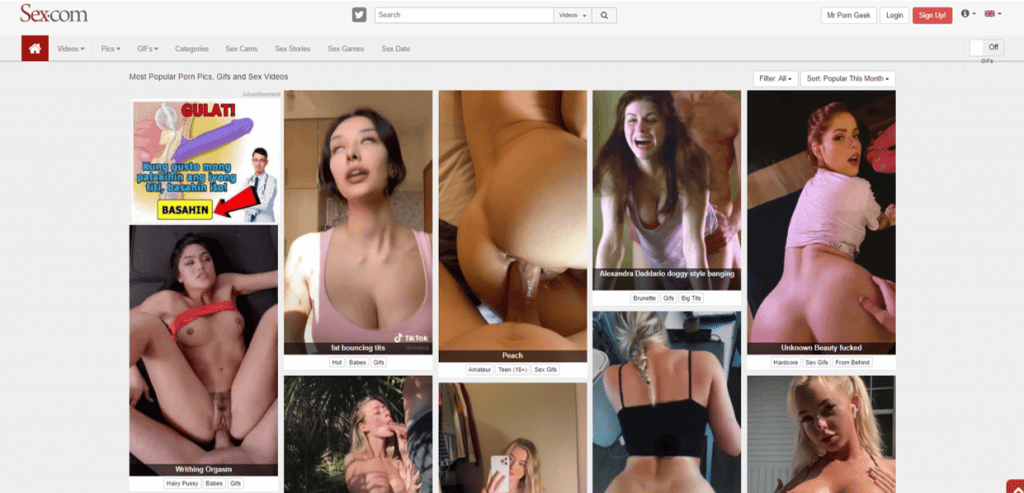 Sex.com is exceptionally close to being one of the most sought-after and popular pornographic image sites. The site is simple to explore and customize; I enjoy the degree of customization and the opportunity to post content; it's one of the few ad-free porn sites available. There are plenty of high-quality photographs and clips to select from.
Also, what amazes me is this site's ability to "like," and "comment" on each material. You can also "click" the image to get to its actual source. This feature makes Sex.com a terrific information site and a terrific location to share erotic films and photographs with the world.
PROS:
Excellent and interesting features
Good quality materials
No advertisements
CONS:
Inability to connect and engage with others on the site
---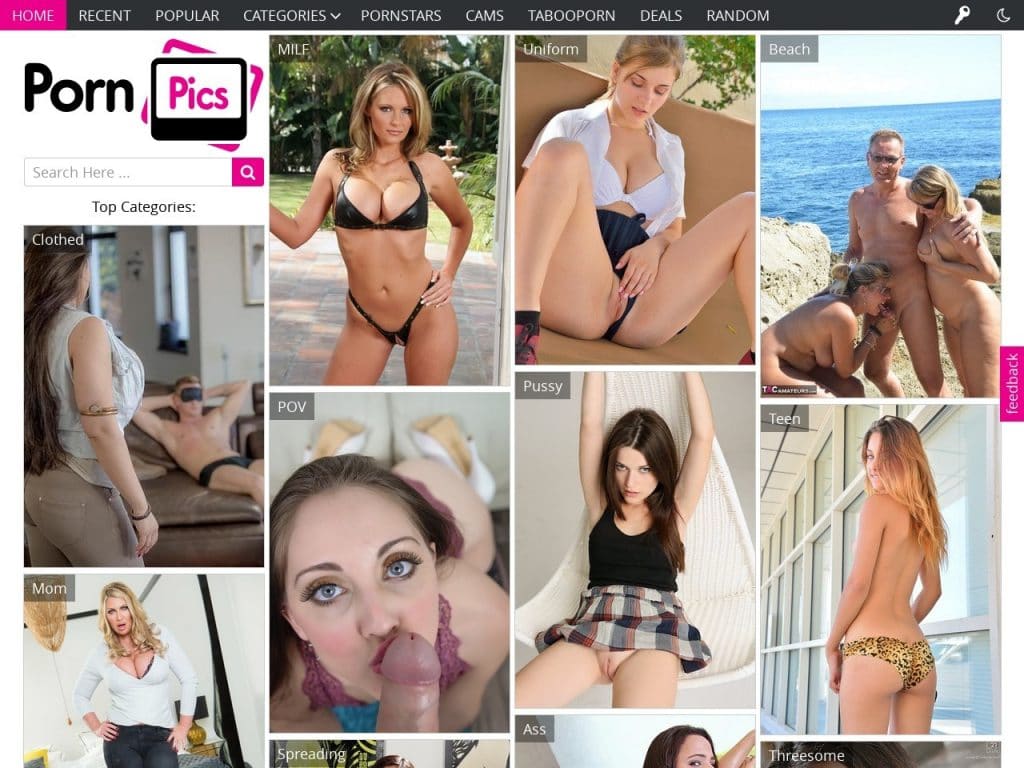 Sure, films, clips, videos about moaning, screaming, and splashing can show quite a bit of heat and even several squishes. However, over a million words usually are not enough to describe when it comes to still images. There is another excellent way with specialized sexual images; you can make your unique personal narrative and include it within the snapshot or slideshow.
The PornPics website is a fantastic resource of amazing nude pics with several great features and an abundance of photos and movies. This moniker, PornPics, describes the site precisely because it features thousands of pornographic images. You will undoubtedly recognize that the title says the place well as you get inside the platform. That's why PornPics is the No.1 porn pic website I get into when I want to look at naked women and spend my time when I'm bored.
PROS:
Fantastic collection of sexually explicit pics
Layout and navigation is top-notch
Bonus features are amazing
Several access to fantastic mainstream porn websites
It has sought-after porn stars from quality studios
HD photos
CONS:
There are external links available
Some pop-up adverts issue
---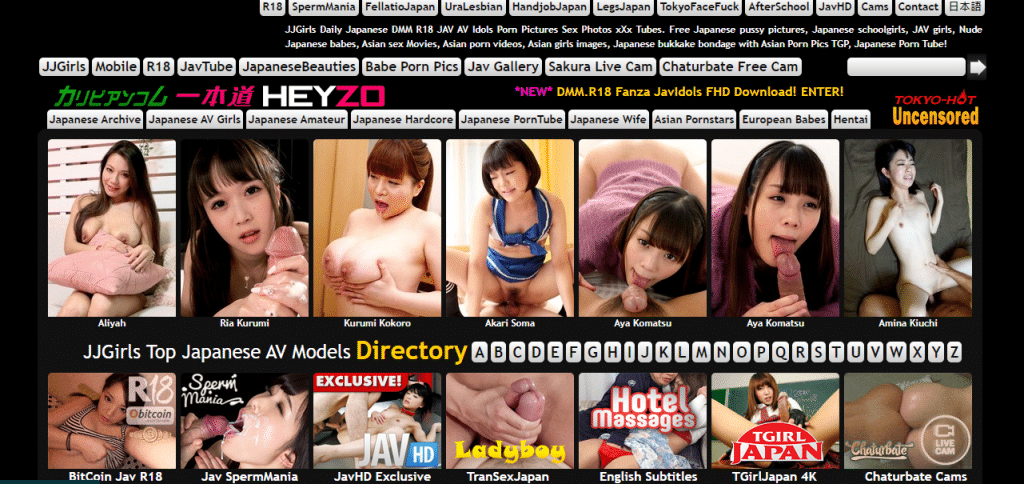 Are you looking for fantastic JAV photos? Well, I have good news for you. Introducing the JJGirls site —loaded with quality JAV photos and even videos. Each of the pics and vids offers something different and unique —something you rarely find from any JAV pornos. Plus, they are all uncensored, so you can finally see the tight pussies and perky tits of Japanese babes. There are plenty of categories you can choose from here, including fetishes, kinks, and more.
PROS:
Amazing JAV content
Plenty of categories available
Numerous pics and videos
CONS:
Quite a messy website design
Some ads
Redirect links
---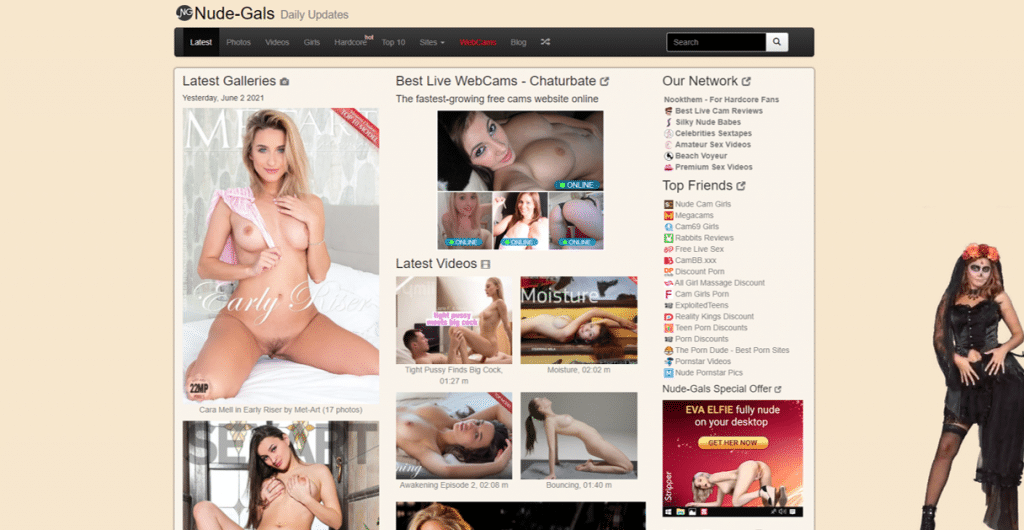 There are a couple of areas on this website that are worth looking out for. While most of us will concentrate on the "videos" area, here in Nude-Gals.com, the "pictures" area is the most popular since it has several excellent galleries.
The photographs are grouped into several parts. However, there is no transparent categorizing system in place. You will also find several well-known porn actors here, and clicking on their specific thumbnails will take you to all of their photoshoots and videos.
PROS:
Hot images
Quite a selection of photos
Presents model's profiles
Attractive pornstars
CONS:
No categories
Confusing presentation
Few adverts
---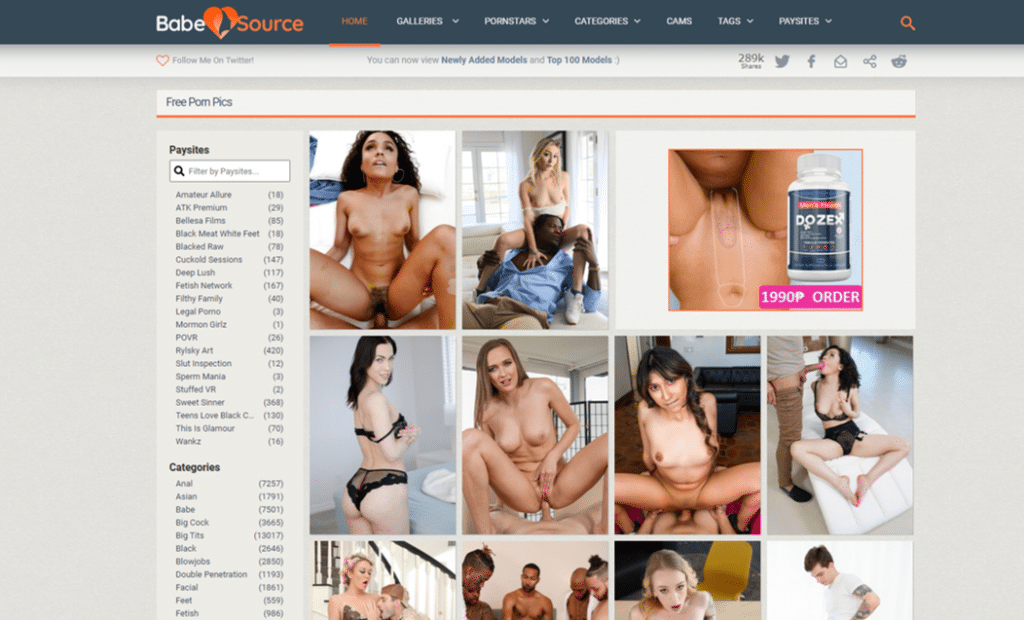 BabeSource is known to many as a vast porn pic site with an outstanding collection of adult erotica. Everything you see in its galleries is free, but of course, high-quality, studio-produced, and got stunning models from various mainstream porn sites. One thing that BabeSource is proud of about its content is primarily on its pornstar collection.
If you adore content from MileHighMedia, Brazzers, EvilAngel, or TeamSkeet, but you're broke or cheap as fuck that can't afford the membership fee, then BabeSource has got you covered. It has all your favorite pictures of celebrity pornstars collected for your convenience. Yes, that's right —they care about you. So, I hope you enjoy its massive porn pic collection from professionally-produced websites, with a great blend of genre, themes, and actors.
Check for review of BabeSource.
PROS:
Porn pic content is fantastic
Galleries are overflowing
Pornstar pics are studio-produced
The website has an incredible layout and is easy to use
Filters and tags are the best
Mobile optimized website
Categories are unforgettable and just enough amount
CONS:
Ads and pop-ups
Community feature is not available
Some poor quality images
---
Bottomline
Overall, I'm pretty satisfied with the content, quality, and sources of BabesMachine. You can enjoy what the site claims and serve according to its purpose. Additionally, you can jerk off to unlimited pornpics from various trusted sources and porn partners. Despite its unhosted contents, BabesMachine opens you up to fantastic porno sites that serve kinky, fetish, hardcore, and vanilla scenes all you want.
BabesMachine also has an impressive collection of gorgeous babes posing in sexy, seductive, and most erotic setups. They all look hot in high-definition quality pics while getting pounded by big cocks. Can you imagine the limitless stuff you can enjoy here for free? I bet no better site can offer you this much than BabesMachine. Better check this bitch out and taste the spice yourself!
All 66 Other Sites in This Category Worth Checking Out:
Adult Magazine & Top-12 Must-Visit Porn Picture Sites Like Adultmagazine.net Show Me 12 Alternatives for Adultmagazine.net Step into the world where porno hasn't entirely trampled the glossy reign of x-rated magazines — yes, they're still kicking! While the era of sneaky stash in the garage might be fading, the AdultMagazine site ensures yesteryear's printed passion stays […]