Updated on: December 8th, 2023
Bunny Fap
& 12 Best Free Porn Pictures Sites Like BunnyFap.com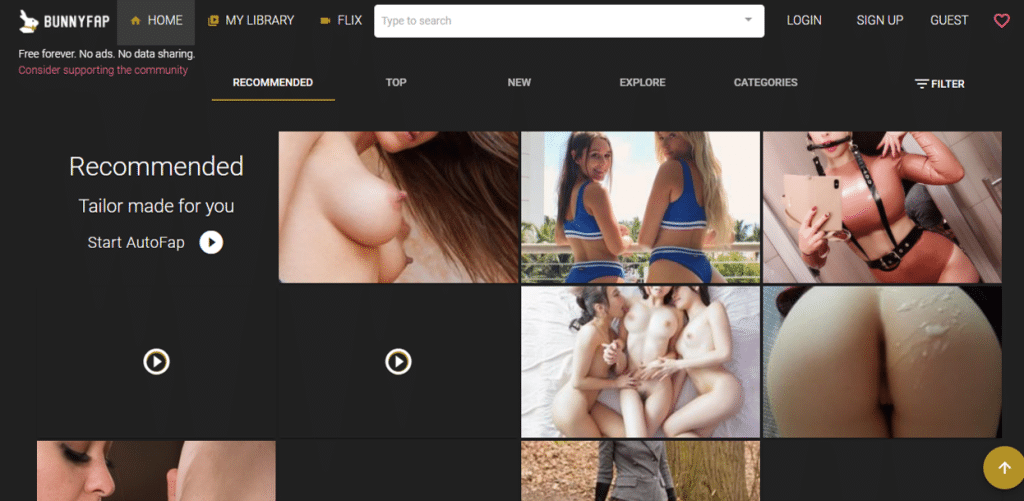 Does your hard 'bunny' down there want to play? Amazingly, I discovered a playful, erotic, and fap-worthy platform. I am talking about BunnyFap.com. Have you heard about this place? Perhaps you do or do not; whatever it is, I am sure you are curious about what this bunny does in our sexual and fapping adventure. Indeed, the name of this site is not your typical porn venue; however, Bunny Fap promises to offer a fresh taste of erotica that you will remember.
Official URL: https://bunnyfap.com
Meanwhile, I am sure you are curious about what entices me to review this new erotica venue. Well, I was surprised to see Bunny Fap with its great combination of amateur and professional flicks. Not just that, the platform got loads of enjoyable porn photos and short videos in its repository. The site intends to capture the attention of avid porn niche followers and aims to seduce them into rubbing their dicks wherever they are situated. Fellow porn fans engage in delectable fapping in the offices, classrooms, living rooms, parties, public areas, and other go-to places.
New Rising Porn Destination
Bunny Fap has now set its high record of site visits despite being one of the latest additions in the porn industry. This site belonged to the newly released free porn sites with orgasmic layouts and appeal. Bunny Fap invented a domain that aims to promote nude photos and materials in a holistic and seductive approach. Thus, anywhere you set your eyes in the area, you will genuinely get something to get hooked to.
Undeniably, this free picture porn site will catch more avid supporters with its pieces representing every possible fetish. I appreciate the gesture of providing a free community for adult video lovers; in fact, Bunny Fap's tagline caught my senses as it says, "Free Forever. No ads. No data sharing." Hence, the people behind Bunny Fap want your continued patronage and following to its adult community. In addition, the site juggles providing a smooth platform for all its supporters.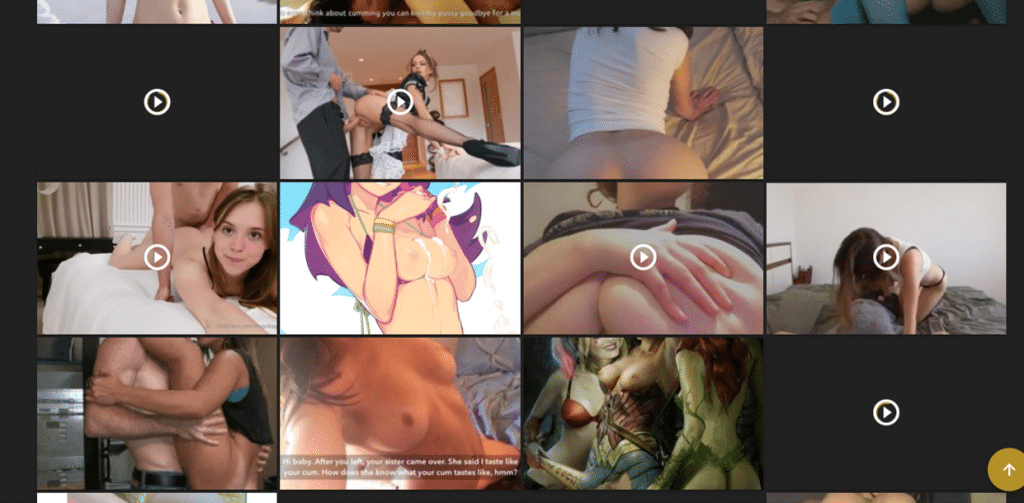 Describing the Bunny Fap Looks
The entire abode is simple. Yes, you cannot see any clutter or unnecessary buttons and whatnot. Bunny Fap focuses on a uniformly detailed site with color coordination that reflects the materials in the collection. Since the site is named Bunny Fap, then, of course, its logo is a cute bunny. It is direct to the point. More so, the gray background is complemented well with white texts and some other touches of pink and yellow on the icons.
Indeed, Bunny Fap's design will make you feel comfortable and settled on the domain. Though it doesn't look like a typical free site, novice visitors will still easily maneuver the Bunny Fap place. Goers can have a porno to help them get through the day in less than minutes. I appreciate the array of materials found on the screen and Bunny Fap's effort to provide a free tutorial. Yes, they offer such feature to new visitors of their abode.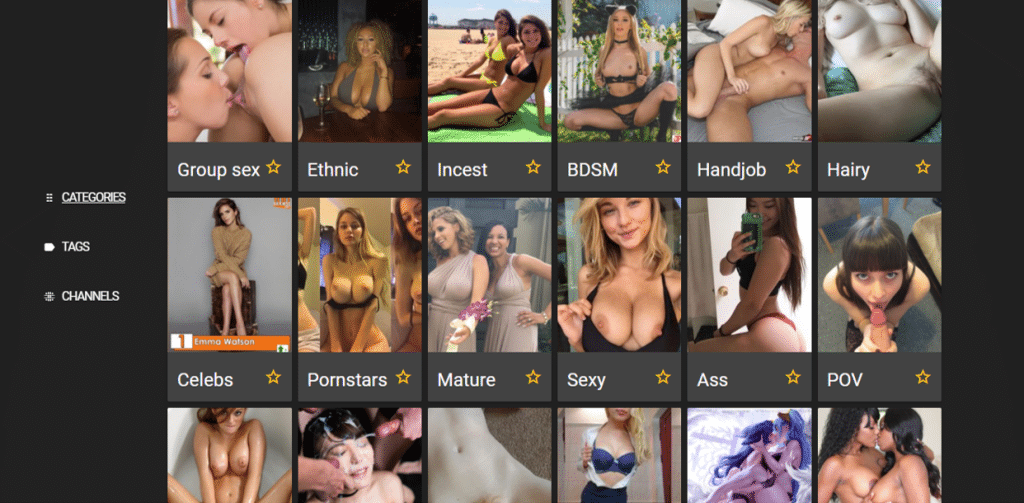 I believe this gesture is a warm welcome to site goers and potential visitors. The tutorial delivers a handy tour of the venue's features, functions, and repository. In an average of ten to twenty seconds, porn fans will get acquainted with Bunny Fap and the details within this porn picture abode. With this, you can see images of hot babes getting excited over a hard penis. More so, there are delicious varieties of butts, tits, and topless darlings on the home page.
Navigate and See
Bunny Fap also provides sections for efficient site organization and order. It included buttons leading to Home, My Library, Flix, login, Sign Up, and Guest. Bunny Fap also added an extensive search engine at the top of the main page. From here, you can quickly go to the pieces that adhere to your preferences. I like the swift selection and the library of deepthroating, facial, cosplay scenes, social media hotness, and more in one page. Other than that, Bunny Fap added filter buttons on the main menu.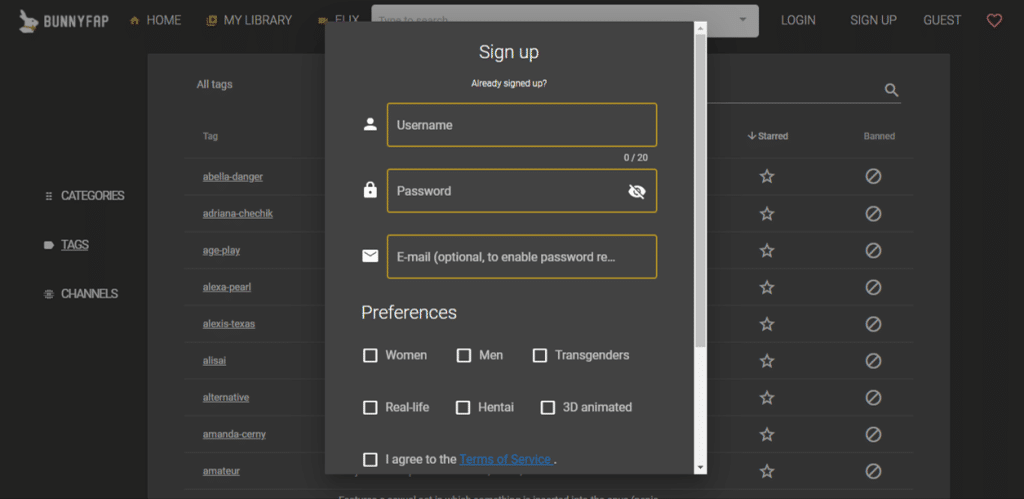 With this, porn fanatics can choose between recommended, top, new, explore, and categories. The recommended section provides the materials related to your preferences when you first took time to visit Bunny Fap. It also helps you get the best options if this moment is your initial visit to Bunny Fap. On the other side, the top and new sections are self-explanatory together with the explore and categories area.
Thumbnails and Layout
Besides the newly added segments that we haven't come across, Bunny Fap also has a fantastic way of presenting its assortment. The layout of thumbnails is fresh in the eyes. Yes, it isn't the same with specific sites that have a title, video duration, ratings, and other details. Though that information is added points for me, these thumbnails that are stacked together provide a different flavor. Bunny Fap insisted on arranging the materials without delivering any additional texts and icons.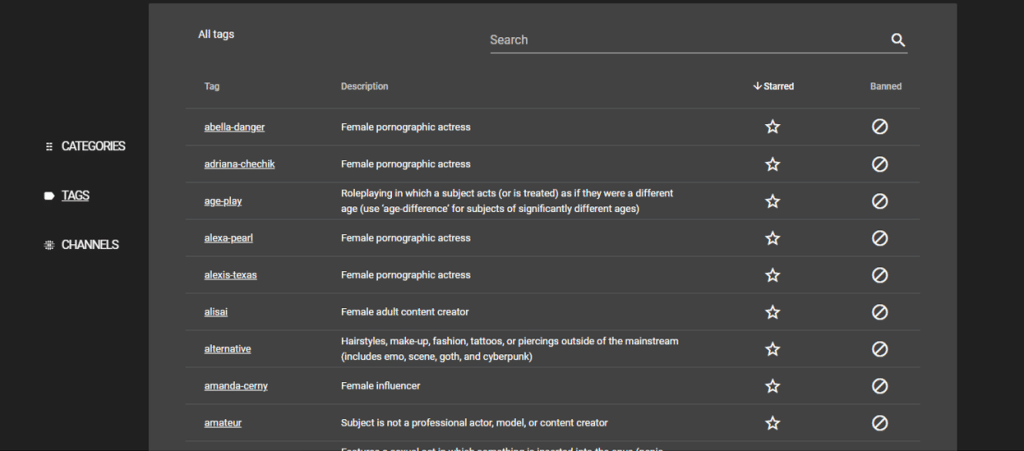 Thus, the format allows a more uncomplicated glimpse on niches like hentai, threesomes, sucking, licking, creampies, big ass, and many more. The mixture of porn images and short videos is mouthwatering that you are urged to save and devour. Undoubtedly, each photo and video exude kinky details that you can't resist clicking. Oh, I even fell on one babe with incredible breasts; it looks so soft and supple. I wonder how they exactly feel in real life. Plus, there are other delicious photographs of women getting banged by two or three men. This free site showcases deals without worrying about payments and unfriendly prices.
Top Materials and Narrowing Items
I was surprised to see Bunny Fap's top section; hence I was expecting to see thumbnails of great orgasmic pieces but what I saw was a list of preferences. Undoubtedly, this section is a combination of feelings; I immediately become curious and excited at the same time. You can see three groups in this area: Art Style, Orientation, and Media Type. Each location includes a list of the niches, selections, and options suited for your liking. This feature will also help you filter and narrow down your search.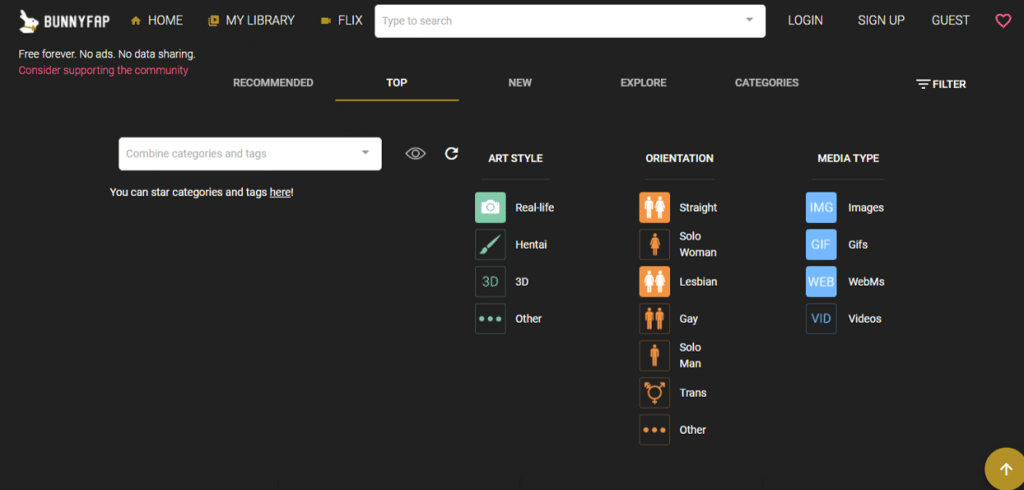 With that, porn fans will have to choose between real-life, hentai, 3D, and others when it comes to Art-Style. Also, Orientation is necessary to meet a more specific material; thus, you can navigate around straight, solo woman, lesbian, gay, solo man, trans, and more. This time, if you are done selecting the art style and your choice of Orientation, you can limit your quest with the media type you are looking for. Thus, Bunny Fap will give you options like images, GIFS, WebMs, and Videos. Overall, I appreciate this feature as it delivers quality service to their clientele.
Categories and Tags
Bunny Fap does not disappoint in terms of porn niches and tagging. The whole site provides a comprehensive categories page. Yes, the niches are accompanied by tags and channels. I commend Bunny Fap for another sweet gesture. Indeed, everything is smooth and friendly here. Not just that, the categories are also presented in appealing thumbnails with salivating images. Porn followers also glee in delving the varieties that include trans, ginger, clothing, public, pussy, cosplay, and fetish. There is also a vast collection of group sex, ethnic, incest, BDSM, celebrities, pornstars, POV, mature, handjob, etc.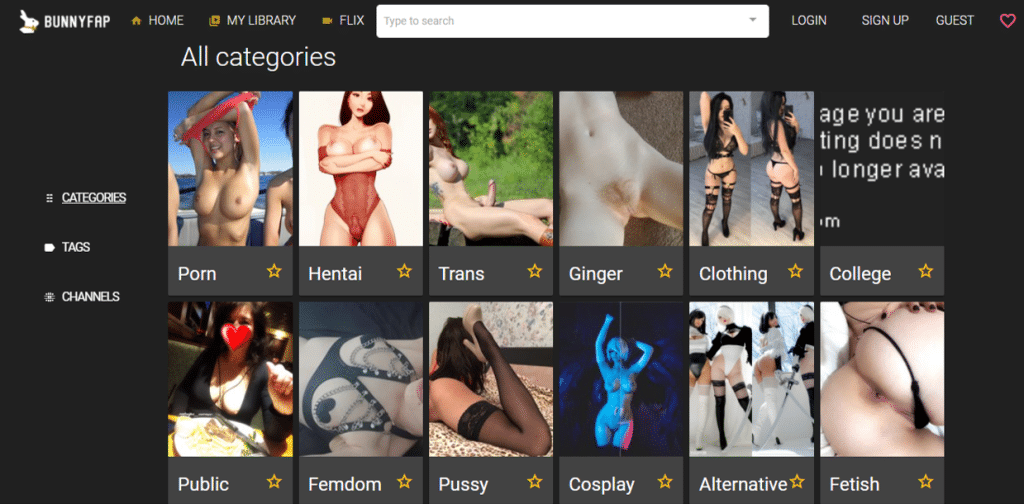 On the other hand, if you visit the tags area, you will see a comprehensive list of titles with corresponding descriptions. For example, fans can select the "amateur" tag, which has a detail that says "subject is not professional actor, model, or content creator." You can also decipher if the specific label is starred or banned on the page. Interestingly, fanatics can search and use the search engine to seek their favorite tags. Indeed, I love how resourceful and handy Bunny Fap is.
Quality and Other Site Features
Luckily, Bunny Fap gave us a whole arena full of quality fapping materials. Yes, this domain is a free site with a library of professionally crafted repositories. The amateur contents are also tricky to identify because of its decent resolution. If not because of the tags and categories, you can't decipher which is professional materials to not. I also commend the unique transition of materials. They are displayed in a full-window theatre mode with buttons and other functions adequately placed to allow a full view of each erotic image.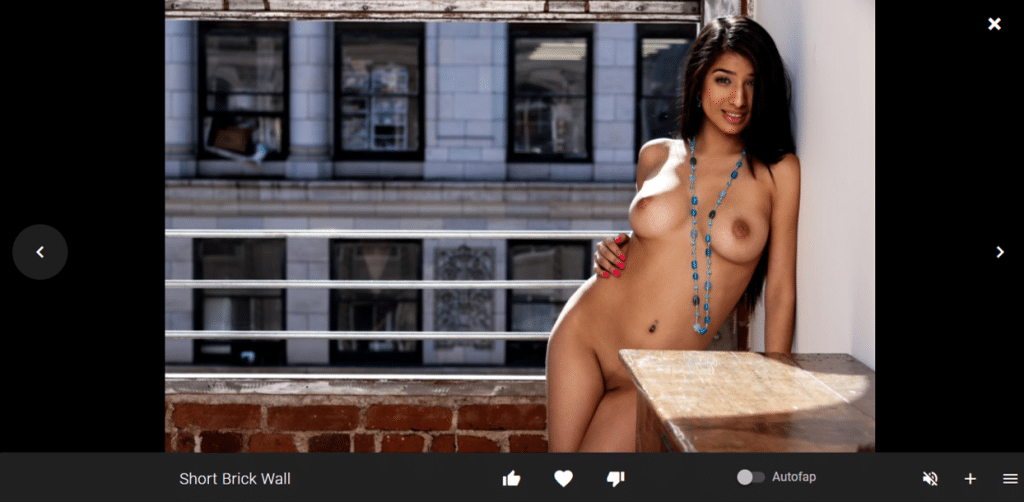 Thus, the play, volume, and reaction buttons are organized at the corners of the materials. Good thing you can smoothly maneuver the collection. I liked how flawless the transition of adult treats was. In addition, Bunny Fap provides various viewing options for you. Porn followers can tap the arrows to proceed to the following photo or hit the Autofap button. I bet you will also love this function for a completely hands-free exploration. This button will give you an unlimited or non-stop stream to help you focus on rubbing your dick. Oh, do not forget to cast your votes, too; tap like and dislike to help Bunny Fap know your reactions.
The Pros and Cons of BunnyFap.com
PROS:
Unique layout and design
Salivating materials
Hot images and short videos
Great features like Autofap
Handy sorting and filtering options
CONS:
---
12 Best Free Porn Pictures Sites Similar to BunnyFap.com: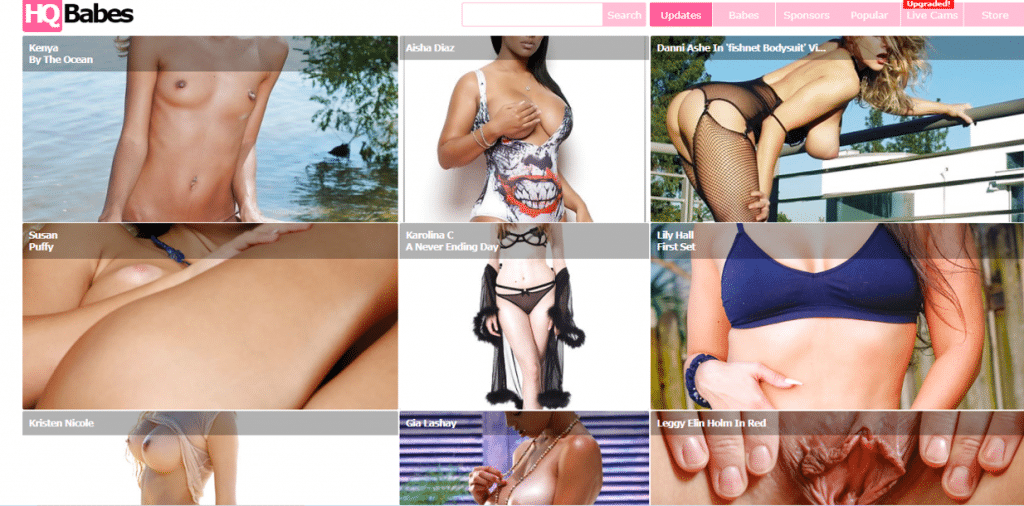 HQbabes.com is far superior to the majority of sexual photo galleries I have visited. There are several portfolios of beautiful naked women and pornstars to view on the website. They are also updated regularly and may be considered for free with no restrictions. And I can undoubtedly say that it's not the glitz and grandeur that draws people in, but the consistency, excellence, and genuine sexiness on exhibit that triumphs and will continue to make the site effective.
Check the full HQBabes review here.
PROS:
High-quality photo selection
Updates regularly
Various site features
Has an online store
CONS:
No amateur photo grabs
Too many links
Insufficient labeling and tagging
---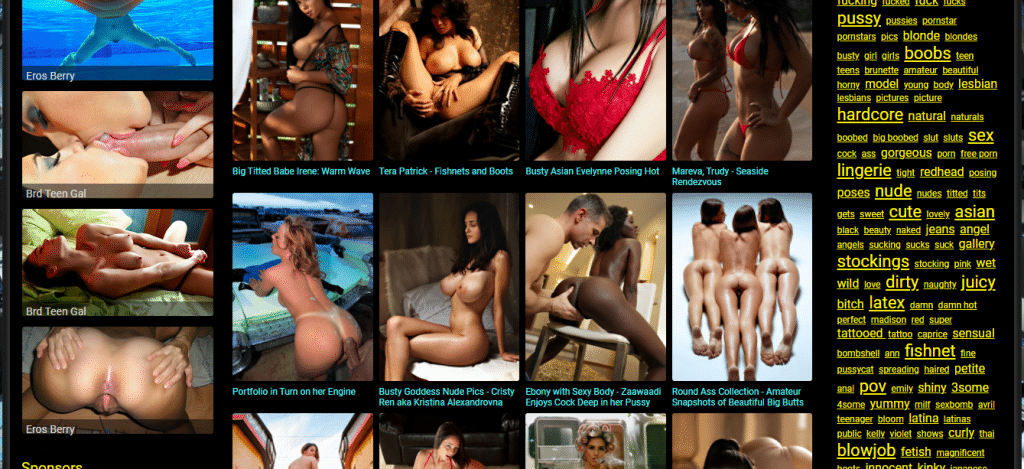 BabesMachine sounds like a porno site with videos and hardcore scenes. It's close to that concept, though, but instead, the pleasure brought to you through pictures. They mainly collected images as galleries with softcore, hardcore, or extreme themes.
Despite its unhosted content, most of its galleries are looking great. It has incredible thrills and themes that serve its purpose of giving us pleasure while fapping. Sure, porn videos, GIFs, and erotic films are sure-fire spice things up on different levels, but in terms of porn pictures, the thrill is something unique.
PROS:
Free to use
Unique themes, categories, and niches
Variety of pornpics
A to Z List of Pornstars
CONS:
Unhosted content
Redirects
Can't follow pornstars
---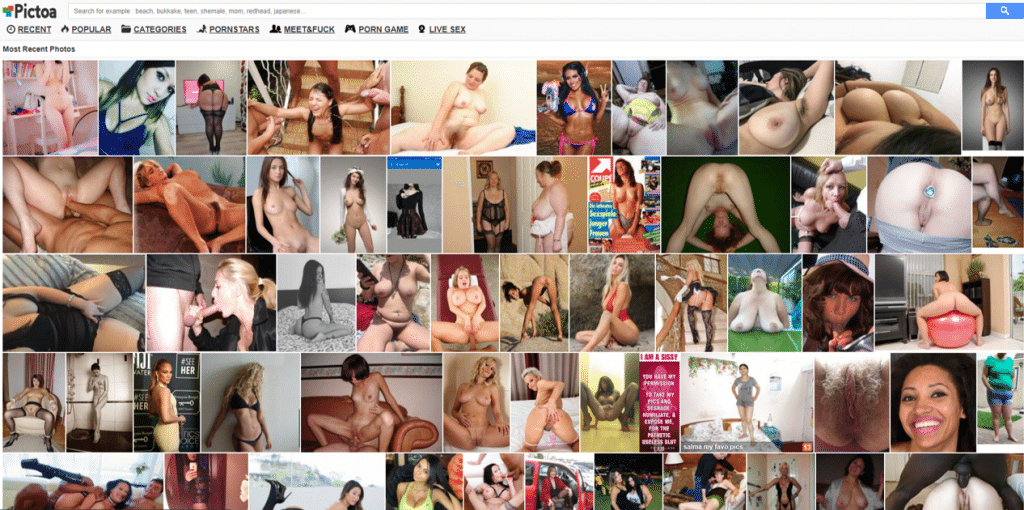 Each photo on Pictoa.com can cover any pornographic genre. There isn't a single category that they have not included, and you will notice this as well as you browse through the Categories area. Every class has tens of thousands or even hundreds of thousands of photographs and porn galleries.
The most significant aspect of it all is that all of the photo galleries are free. Therefore, you will not be charged with anything and will be able to see as many as you like. The only drawback one needs to consider is that you will have to put up with some commercials because it is free, which will make the experience a little more tedious.
PROS:
All porn genre is available
Massive galleries to explore
Free access
No registration required
CONS:
Not too impressive design
Too many annoying ads
Pop-ups everywhere
---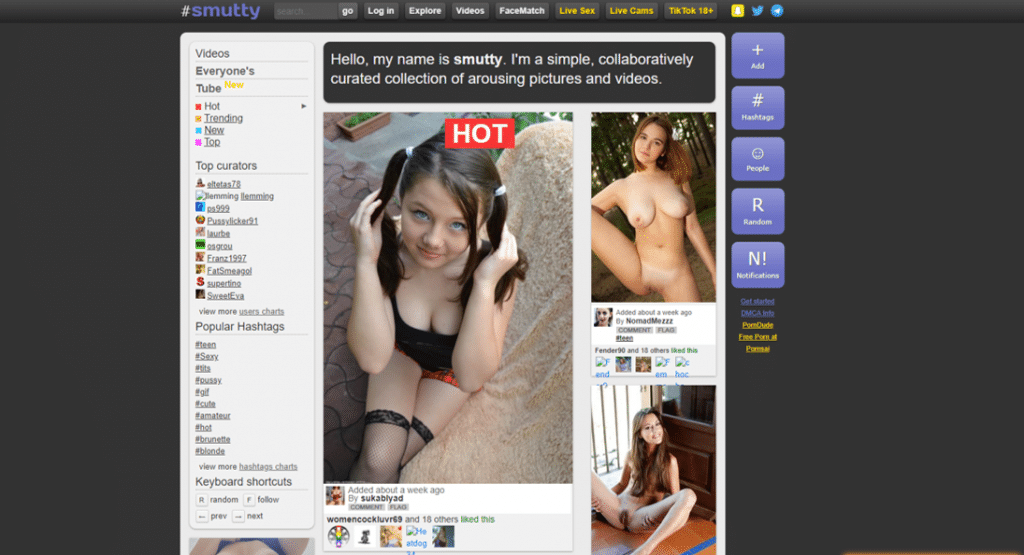 Smutty has a contemporary design, with most pages consisting of a wall of photos divided into columns. The site is designed to stimulate user participation. Some connections and icons in the page's sidebars lead to hot and new content and a giant button in the corner that allows users to add new material.
The system is also set up in such a way that the most extraordinary material climbs to the top, and creating the bespoke feed of your favorite material is a breeze. Currently, the site favors amateur photography, but you can still find whatever content you want.
PROS:
Availability of amateur and professional contents
Can personalized contents
Top-rated materials
User-contributed images
Very engaging community
CONS:
Has advertisements
Limited videos
---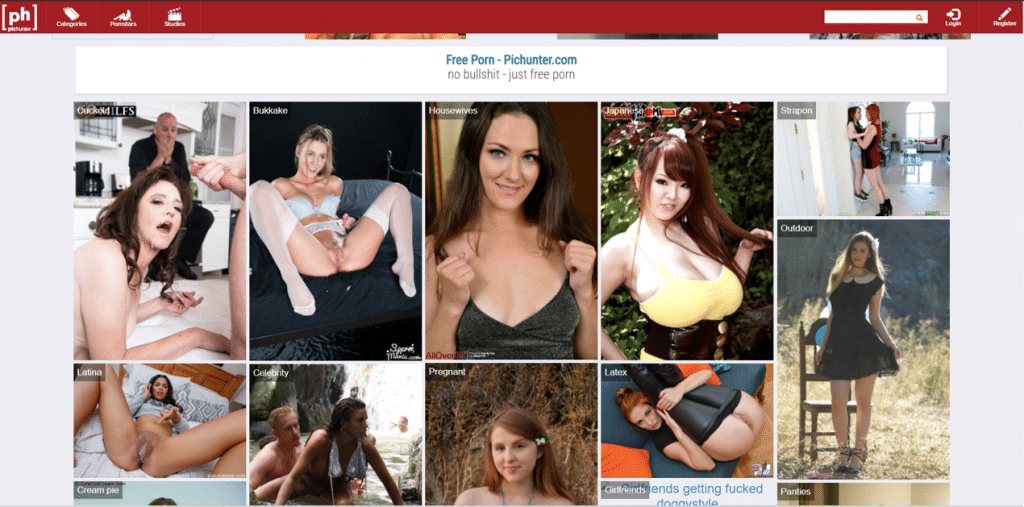 PicHunter.com has been around for a long time, dating back to 2001. The developers claim to be dedicated to maintaining a virus-free, clean, quick, user-friendly, and they appear to be true to their word. This site has progressed with the times, and you can now discover HD photographs without searching too far. They make them very visible by constructing a large HD sign in front of the galleries that fit.
PROS:
Processes fast and quick
Minimal Ads
Huge Gallery
High Definition photos
CONS:
No amateur images
No filters available
---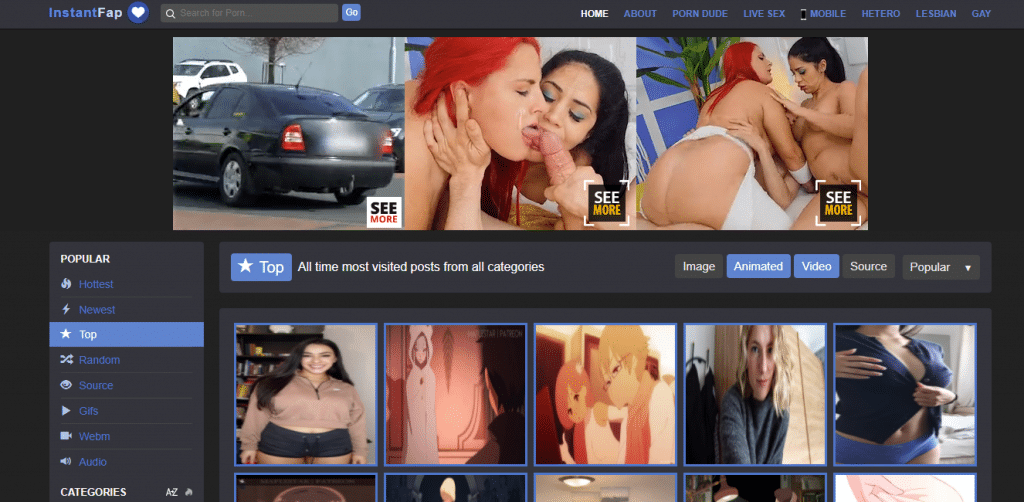 InstantFap.com is a pornographic image website that features some of the sexiest photos from across the globe. You will see a lot of pornstars in different situations and locations. InstantFap's homepage is dedicated to displaying the "hottest" and "trending" photographs, most likely based on the number of views. The fact that Instant Fap is so simple to access and use is its primary selling point. Hence, you may also use the top-of-the-page filter to find animated GIFs.
PROS:
Good categories
Huge selection of images
High-quality contents
Efficient and fast
Excellent navigation
CONS:
Broken Links
Existence of advertisements
---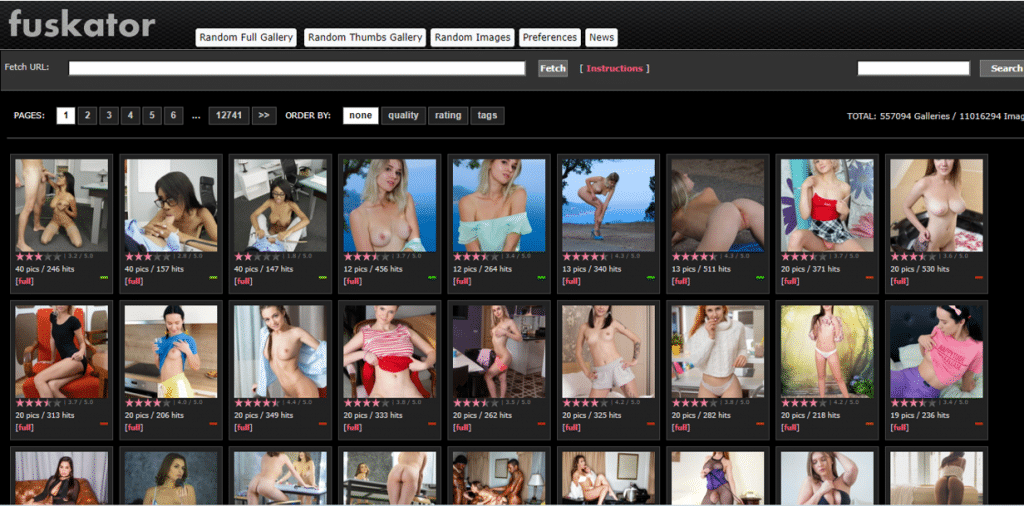 Fuskator.com is a reliable pornographic website. The design is excellent, there aren't many advertisements, and there's a ton of material. The layout and design are both quite good. It features a lovely black backdrop with light lettering and gray thumbnail boxes.
It is also one of the safest porn gallery sites I have ever seen, and the moderation seems to be enough. The site is proud that it has over 7 million photographs and approximately 400 thousand galleries.
Click for a Fuskator full review.
PROS:
Numerous sexy images
Nearly no advertisements
A free site
Registration is not required
Maintains anonymity
CONS:
Categories are not arranged properly
Challenging to locate some pictures
---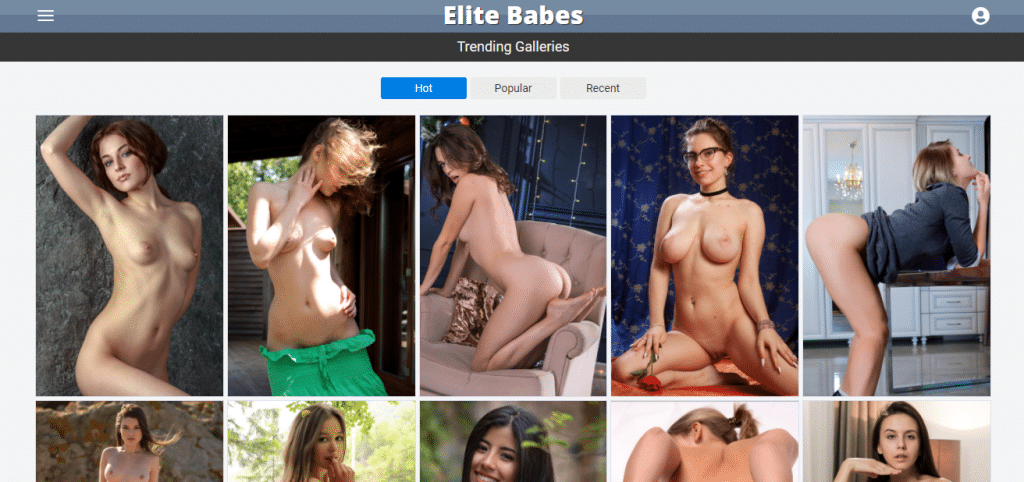 Elite Babes has a vast porn collection, everything is free, and the projects shown on the site are of outstanding quality. This site is relatively straightforward, so moving from one spot to the next and finding the hottest top girls to masturbate to isn't too tricky. Also available on the site are entirely natural bodies of models. Indeed, you will not see fake and ridiculous body parts.
Get to know more about the EliteBabes site now.
PROS:
Best quality of porn images
Sexy and alluring content
Huge selection of materials
Glamorous pornstars
CONS:
Few adverts
Lack of customer support service
---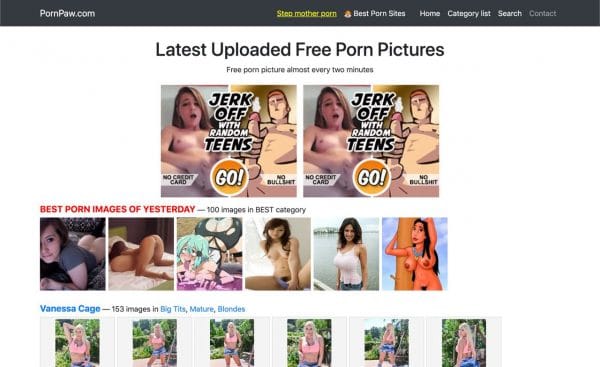 PornPaw is a porn pic website with a massive selection of porn pics, downloadable with a charge. It has a vast collection of everything you like — from ebony, MILF, Asian, shaved pussies, fetish, BDSM, and all sorts of stuff. Say it, and they have it all for you! Indeed, this website got everything settled for you and satisfied your pleasure all day long.
Here's the full review of PornPaw.
PROS:
Free download and access
It has profile accounts about your beloved porn girls
The teen category is an absolute perfection
CONS:
You can't comment or rate anything
No option for a slideshow presentation
It has watermarks
---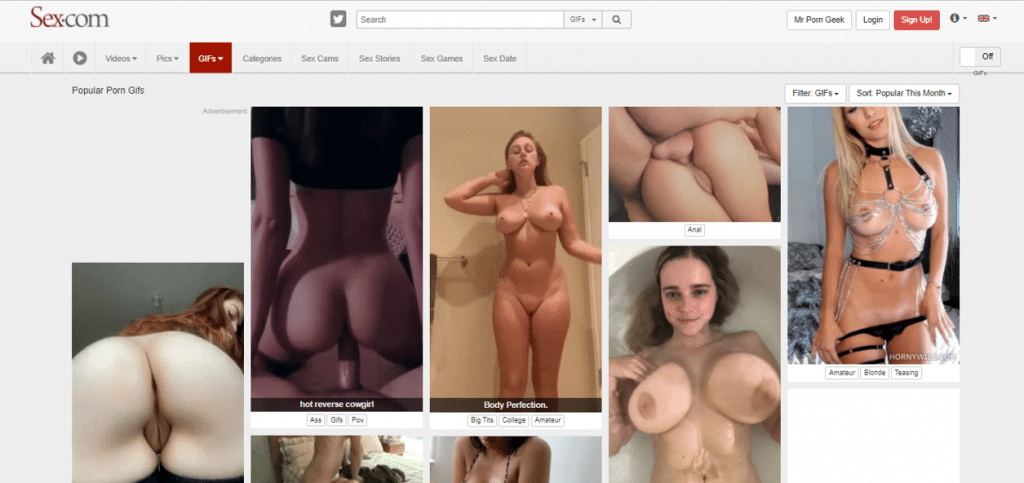 Sex.com is exceptionally close to being one of the most sought-after and popular pornographic image sites. The site is simple to explore and customize; I enjoy the degree of customization and the opportunity to post content; it's one of the few ad-free porn sites available. There are plenty of high-quality photographs and clips to select from.
Check out Sex.com's full review.
PROS:
Excellent and interesting features
Good quality materials
No advertisements
CONS:
Inability to connect and engage with others on the site
---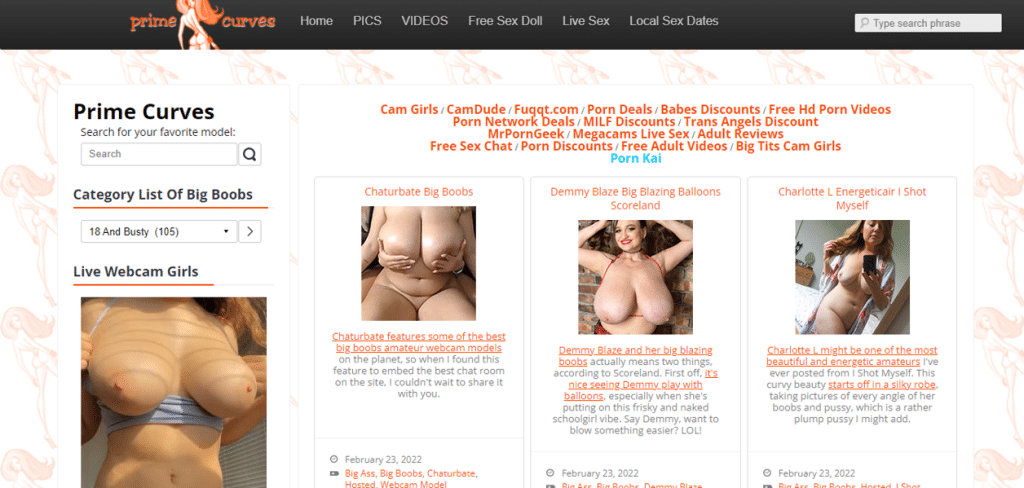 Every porn fans' obsession with these sexual treats makes Prime Curves success in the industry. Since its inception, they never disappointed the world of adult erotica and perfected the craft in delivering a specific genre. Hence, Prime Curves solely focuses on big boob entertainment. A great place to fap and imagine your dick slicing those massive pair of titties. Thus, everyone is raving about it, and so, you deserve this treat too.
PROS:
A clean and straightforward site
Hot curvy babes
Big boobs and ass
Good quality images
Updates regularly
CONS:
It cannot download in zipped format
Some external links
Lacks advanced features
---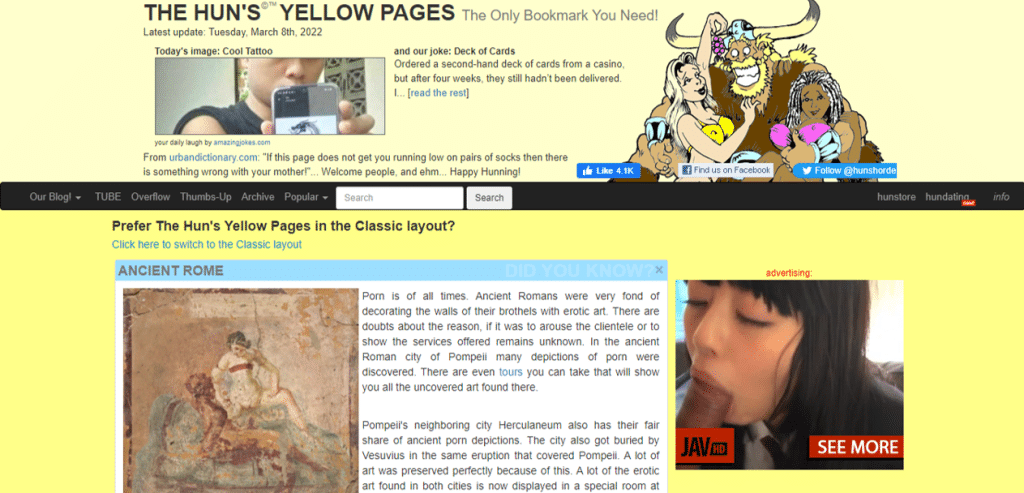 It is not too hard to appreciate the yellow pages of The Hun. The site got admirable traits like high-quality materials, unique sections, a significant quantity of deals, and efficient features. Porn fans and pornographers will also love the offerings and functions of this free site. Though there are some advertisements on the page, The Hun managed them properly; hence they aren't as annoying as other porn sites.
PROS:
High definition galleries
Efficient archive sections
Offers various materials
Blogs and informative features
Sections are unique
CONS:
Outdated design
Navigation issues
Advertisements
---
Conclusion
There is no denying that I appreciate this free platform. Bunny Fap sealed the deal when it comes to jerk-worthy materials. The images are excitingly eye-catching, and the quality is overwhelming. Thus, you can have a hard time identifying the amateur content to professional ones because of its undeniable excellent quality. More so, the collection is massive, with enough sorting options to help you navigate the site smoothly.
Furthermore, features are also lit. I liked the Autofap button and the variety of filtering selections. Indeed, it isn't hard not to commend and take note of the excellent details of Bunny Fap. All in all, the site has one of the most satiating collections of porn images and short videos. This review is your ultimate sign to at least try and give Bunny Fap a chance. Visit the site today and tell me your thoughts. I will be waiting, pal.
All 66 Other Sites in This Category Worth Checking Out:
Adult Magazine & Top-12 Must-Visit Porn Picture Sites Like Adultmagazine.net Show Me 12 Alternatives for Adultmagazine.net Step into the world where porno hasn't entirely trampled the glossy reign of x-rated magazines — yes, they're still kicking! While the era of sneaky stash in the garage might be fading, the AdultMagazine site ensures yesteryear's printed passion stays […]