Updated on: December 5th, 2023
VintageEroticaForums
& Top-12 Porn Forums Like vintage-erotica-forum.com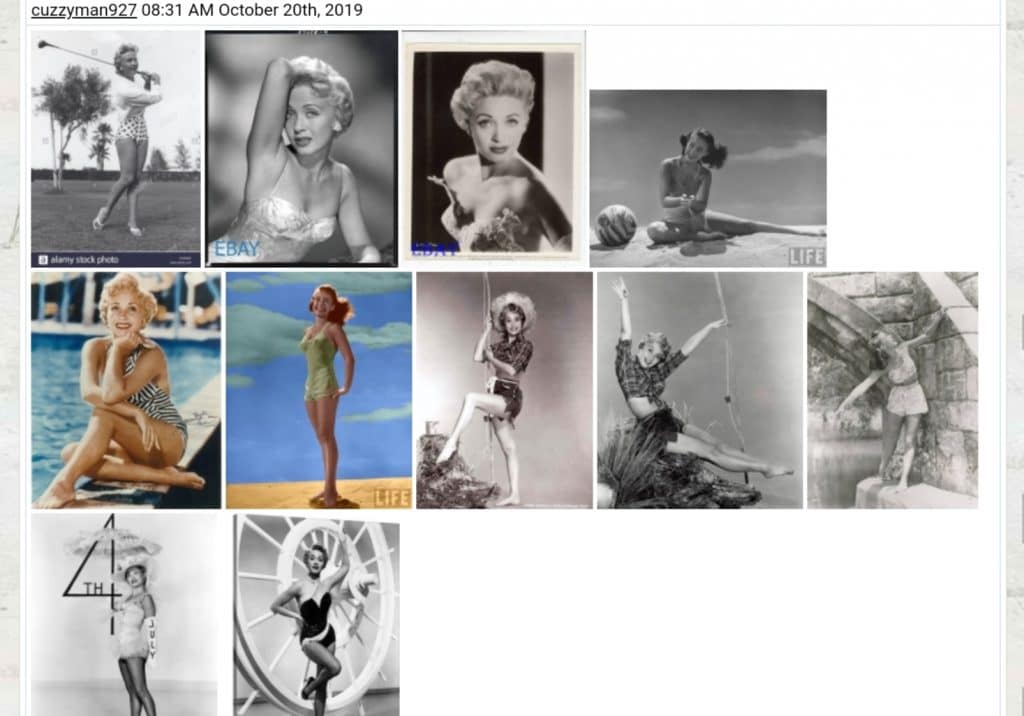 VintageEroticaForums is unlimited access, user-submitted adult forums platform where users can organize their discussion thread to post scans of old-fashioned nudity and lewd magazine snippets. It features the fantastic work of celebrities or models who have unique charms that appeal to a worldwide audience.
Official URL: http://vintage-erotica-forum.com/
The site VintageEroticaForums.com is the best source for classic and antique smut, period. All the galleries feature classic examples of erotica from the old era, including vintage mags, scanned classic images, and hand-painted works. There are several different categories in the galleries, each of which showcases various periods of adult entertainment. Most bits showcase superb photos that were taken in the late 90s or later. There were even pictures that were taken before technologically advanced cameras were invented. What'd you say to that?
Despite being a "unique" porn forum, you really can't criticize the VintageEroticaForums' potential to execute an enriching experience for everyone's pleasure. It boasts a massive number of posts (roughly 2 million) that highlight a wide range of categories and forums they're capable of. Let's see what else this classic and vintage porn forum has in store for us!
Classic and Vintage Pornos of VintageEroticaForums
VintageEroticaForums is (obviously) a porn forum cater to those who want to reminisce about the good old days of classic erotica. There's nothing more unique and classic than this website. Up until now, I've spent a lot of time browsing for this type of fantastic entertainment, and I have never experienced a page with such finesse and breadth on this theme.
Somewhere roughly 4M+ entries are currently active on VintageEroticaForums. Plus, these forums have more than 200K+ threads with over 600K+ active participants. I'm not surprised, though, since vintage erotica enthusiasts are pushing their way back to their computers daily — the stats of unique users is even growing each time I visit.
People are surfing around and getting to know one another in a pleasant, exciting way while also having access to tons of pornography. These users are relating, sharing, and talking about world events, laughing at jokes, etc. Suppose you ever want to show off your appreciation for timeless masterpieces and know that there are thousands of like-minded users backing you up. In that case, you have to join VintageEroticaForums right now! You have nothing to lose. This forum has classic hardcore content, unlimited access, excellent features, and most of all —it's free. What's even better than enjoying vintage smut without having to spend any money? Nothing!
What Makes VintageEroticaForums So Attractive?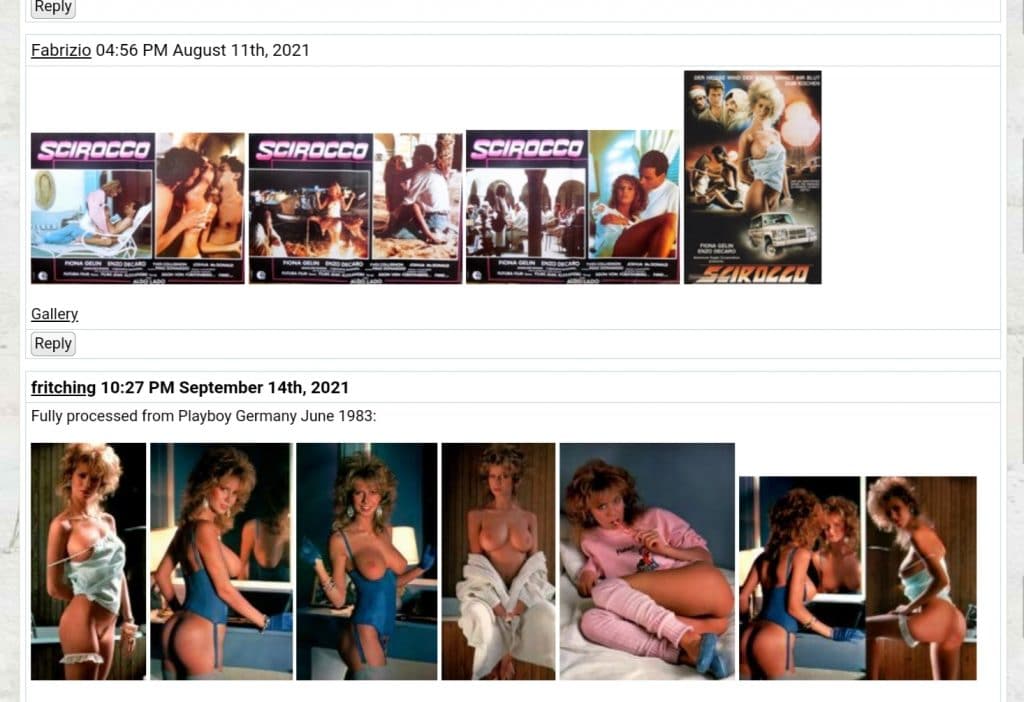 Everyone needs to agree that today's modern erotica differs significantly from the classic stuff back then. These days, all you can see are Barbie-like models with fake boobs, pouty injected lips, and silicon butts. Most classic stars were known for their natural bushes, gorgeous asses, and ample cleavage that were obviously natural.
Plus, many of these women from the '70s to 90's era have an unedited, naturally beautiful look that audiences can easily connect with. Although there are some minor physical flaws since they are not airbrushed or photoshopped, overall, they are stunning. Maybe a little appreciation of the story's details and characterization is needed to overlook specific nuances and appreciate the authentic standard scenes' features.
That's why it is hardly surprising that there is a significant fascination in vintage porn presently. I can't even imagine the volume of the horny folks who enjoy it. Others point out that pornography with vintage porn seems to be the only type of sexual entertainment that features carefully thought themes and serves a broader audience base.
Vintage Style Design of VintageEroticaForums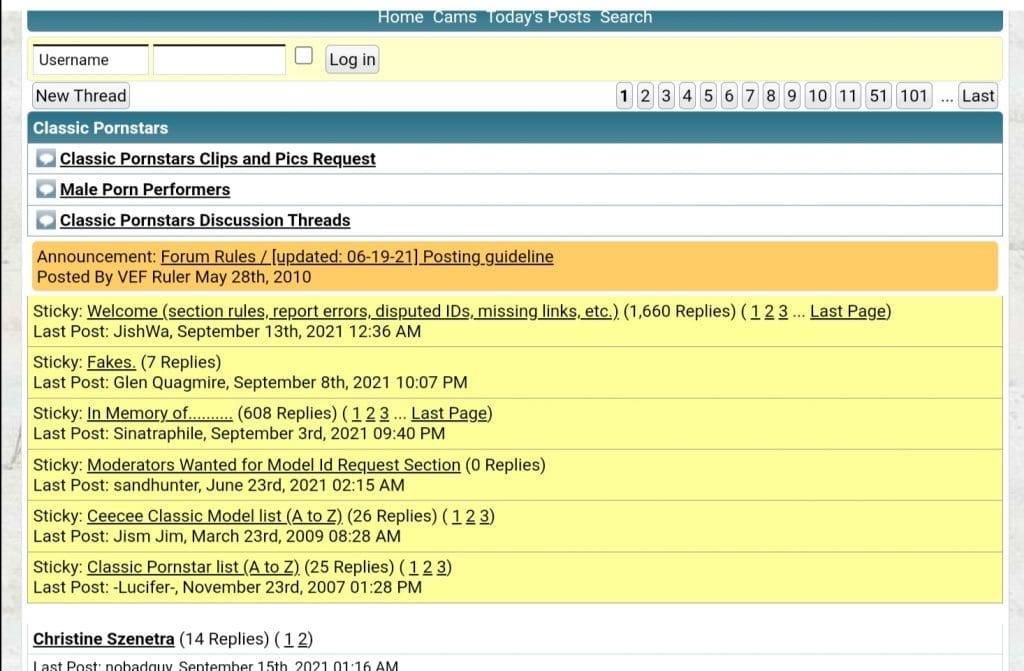 It appears that VintageEroticaForums was designed in the mid-1980s, as it looks much like an outdated system layout —complete with chunky borders and buttons everywhere. Some basic features of the porn site, such as mobile optimization, advertisements, and membership requirements, are examples of how inefficient it is. Anyway, everything is tolerable, as long as there's plenty of good old classics around the page —that's what's important.
VintageEroticaForums has many users, and the web page has an enormous collection of classic smut — in fact, it has many forums and posts! Truth be told, the content is visually reminiscent of glamorous porn, which lends a lot of nostalgic charm to the website.
They're Devoted to Vintage Goods
With everything from retro bikinis and tank tops to boots, lingerie, and everything in between, VintageEroticaForums carries all the goods. It even has classic deep throat and granny porn. Once you're in, you will suddenly experience like you're permanently stuck in a time warp while browsing this website —which, trust me, is a rewarding experience. Even before reviewing this site, I had my hopes up already. Good thing I wasn't disappointed after I saw that the VintageEroticaForums has everything I was looking for my whole "classic" life.
Good-old Magazines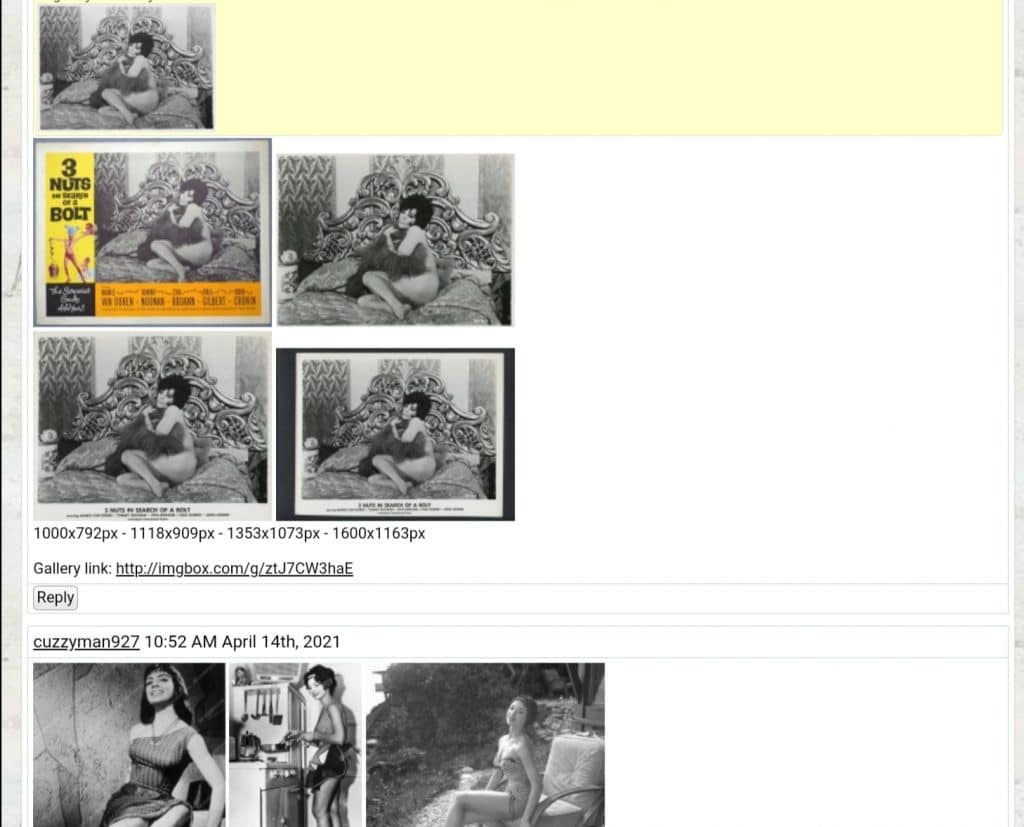 The magazine sub-forum at VintageEroticaForums is really popular with people that are enthusiastically interested in their reading material like me. But you've got to remember; you won't be able to browse this forum if you use it as a visitor. But, if you decide to sign up and become a member, you can join the discussion, share, and talk about anything vintage —as long as you're ready to relive a classic period in adult entertainment.
Classic Movies
If you keep scrolling, you'll find the Classic Movies section with a wide variety of classic films. After browsing for few hours, I guess it's the best category in VintageEroticaForums! Remember when everything was raw, crazy, and entertaining? They've got "historic" erotica in here that takes us to the road back to the old days when that kind of stuff was popular. It's the only sub-forum in this site that has been around long enough to have things from 1997 and even earlier than that.
Classic Celebrities & Iconic Pornstars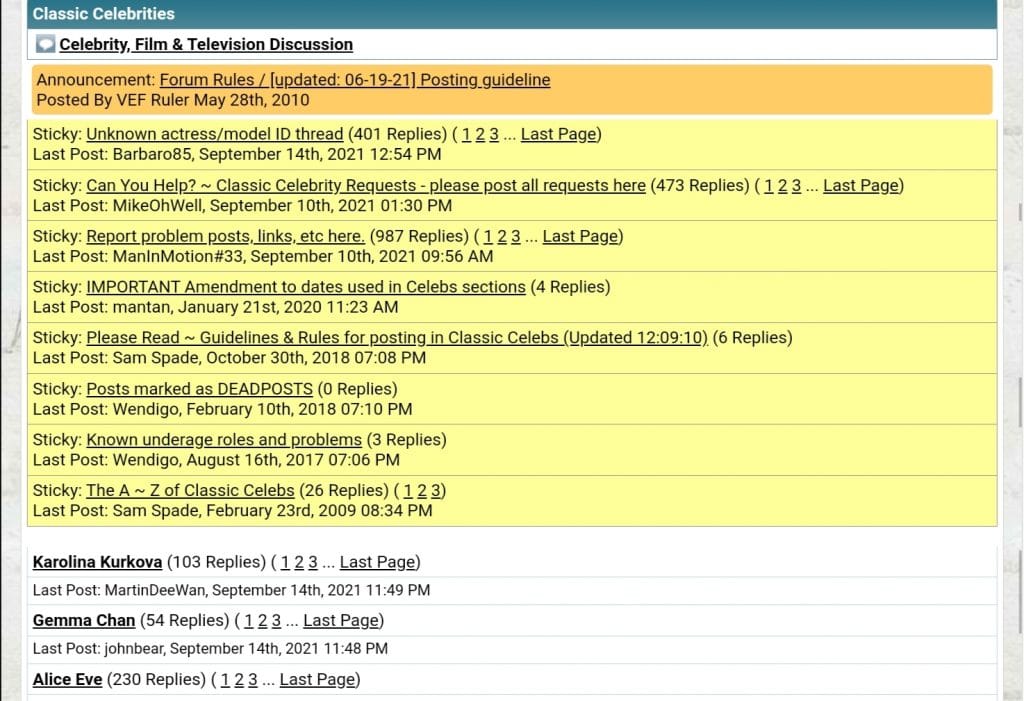 The fun doesn't stop there because VintageEroticaForums has enough variety that indeed meets whatever your "classic" preferences may be. For folks with sweet tooth for old celebrities and adult stars from years past, you'll want to have a look at the "Classic Celebs, Beauty & Elegance" forum.
I've seen that part about pre-1945 splendor, and oh boy, it really sparked my curiosity! Now that's the kind of stuff they don't make these days anymore. All you need to do is think of the classic bombshells of years past, like Marilyn Monroe, Madonna, or Brigitte Bardot, and I think you'll understand.
User Requests
VintageEroticaForums makes it possible for the members to easily share classic smut material, such as mags, model photos, starlets, short clips, vintage films, and whatever they have to other members in need. Using the Request forum, they establish a sharing community that provides a comfortable venue for users to post requests related to anything vintage and classic. Mostly, users' demand for old smut goes back to no older than '95s, while some few allowances for '97 publications are authorized. You may be pleased to know that majority of the users are old-school porn lovers, and they will almost certainly be thrilled to help you out.
Become VintageEroticaForums Member or Suffer the Ads!
VintageEroticaForums features an insane amount of advertisements. To be completely frank, I believe they purposely keep the website this way to pressure you into becoming a member of their community. Annoying ads and pop-ups are coming out of nowhere! And this wasn't just the annoying pop-ups that keep sprouting like a mushroom everywhere —there were ad banners, redirecting links, and small ads that I couldn't possibly remove with an AdBlocker. Guest browsing on VintageEroticaForums is terrible. It will just upset the fuck out of you. So, it's best to register, enjoy unlimited access to all its content and put up with the forum's ad-heavy service.
Their Classic Models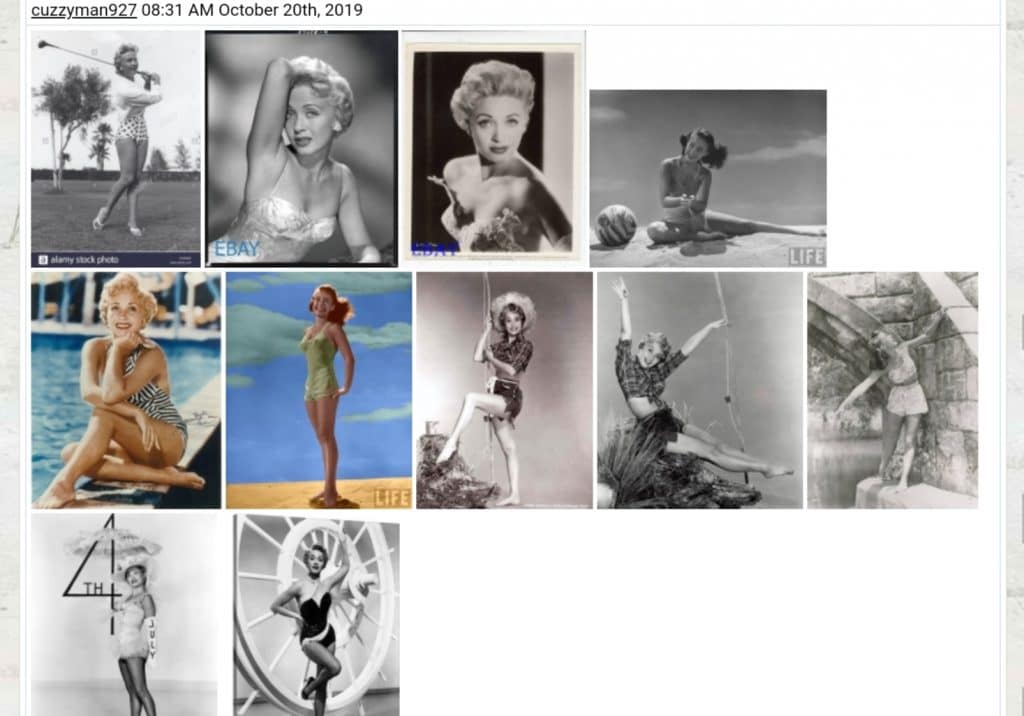 As the distribution and availability of porn in today's society bear a resemblance to what existed in the past, people throughout the globe were racing to get their hands on a limited number of sexually explicit DVDs. Good thing VintageEroticaForums has enough collection for all of you. They usually feature female stars from the '80s and '90s. And since we are talking about "classic, " we can always assume that only women who naturally possess the most attractive qualities were picked to star in the show.
Sure, they have minor flaws here and there —they are not perfect. They don't have the fake boobs and fake butts that many pornstars have now these days. But one thing vintage models have is their classic and authentic confidence that naturally brights up on cam. Each woman has a unique charm in some way, whether it was due to their looks or how captivating they were. I can't enumerate all these classic models. Still, some names have caught my attention, like Crystal Wilder, Sunset Thomas, Samantha Wood, Johnni Black, Anita Gyongy, Bridgette Monet, Donna Ambrose, Kathy Kash, Toni Kessering, Linda Wong, Monika Sandmayr, and Adele Stephens.
Active Community of Thier Forums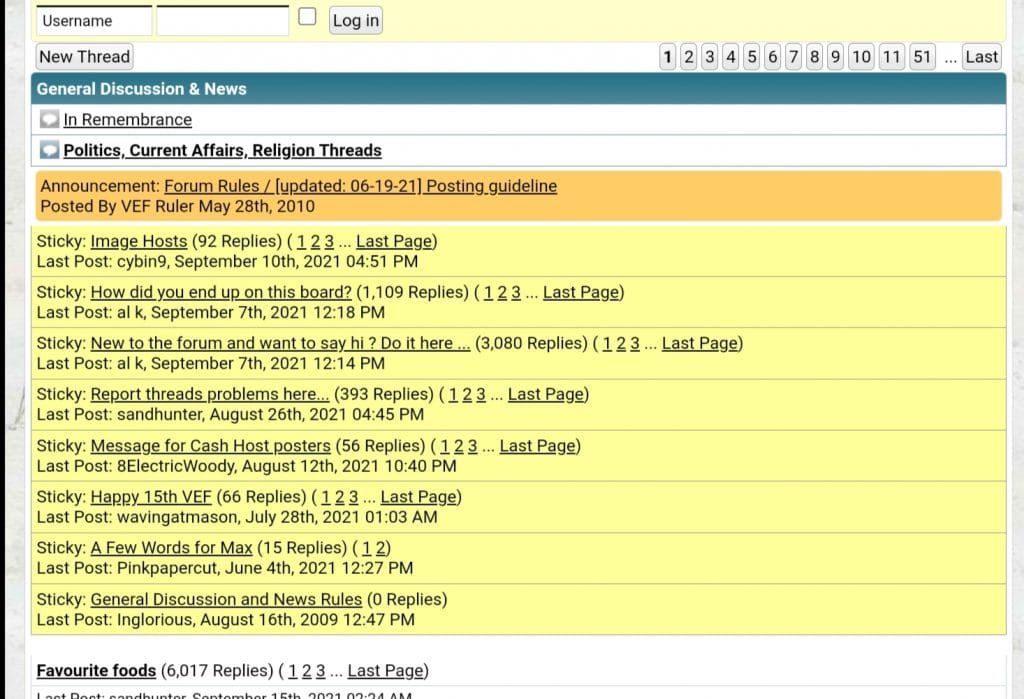 Generally, the community that exists on porn forum sites makes or breaks them. That's true because community interaction is the lifeblood of every porn forum site. It's a natural thing that every site should establish, and VintageEroticaForums is no exception. This site relies on an active and enthusiastic userbase to be engaging and dynamic. If they can't sustain an active customer base, the site will end up being useless.
Good thing, the members of VintageEroticaForums are vital contributors to their erotic content community. The forum features multiple posts, a supportive comment section, and a "requests" sub-forum that enables other people to post things they know they have and offer them to other members. In turn, other users can access their classic goods and deliver them to the people requesting them. If that's not an enthusiastic and genuinely supportive community, then I don't know what else!
Pros and Cons of VintageEroticaForums
PROS:
Plenty of active threads
active userbase
there are plenty of vintage porn everywhere you click
no mobile application is available
CONS:
some ads and annoying pop-ups
---
Top-12 Porn Forums Similar to vintage-erotica-forum.com: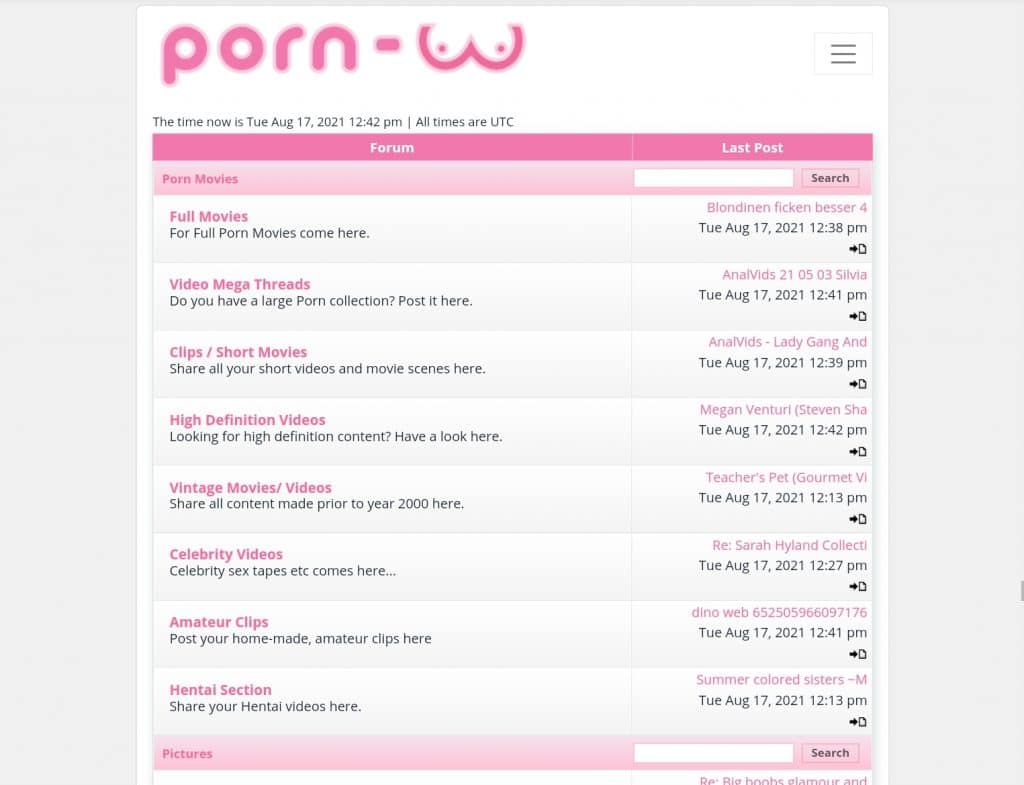 Porn-W.org, which has been around since 2009, is a website that brings together a broad group of porn fans who post all sorts of pornographic free content, and you can join in without having to sign up. The information provided here is in the context of hosting site links. If you don't have a paid account on either of these websites, you'll either have to wait a long time for files to download, or you'll be limited to a certain number of downloads.
Here's the full review of Porn-W.
PROS:
Free porns are plenty
Content is in a variety of categories and themes
The forum is clean and simple
Community is active and huge
CONS:
Downloads are free but slow
---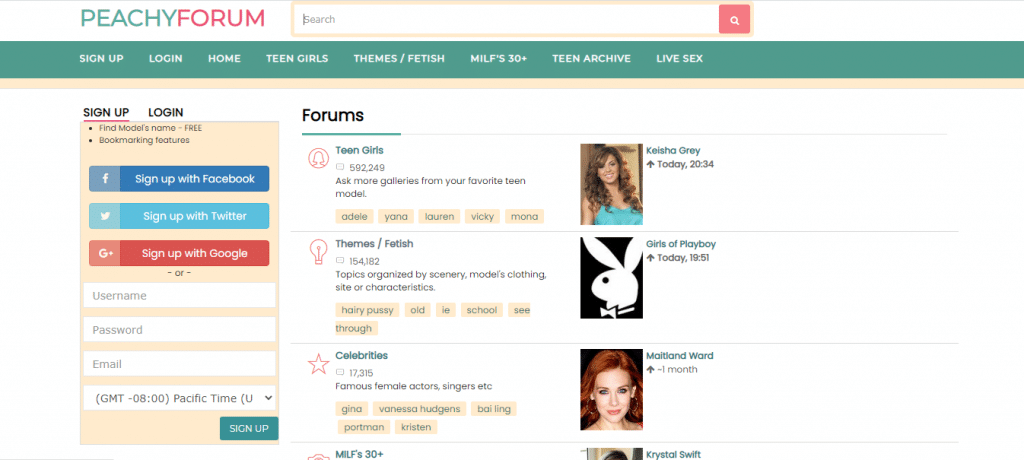 PeachyForum.com is a free premium gallery website with everything from teens to young girls to MILFs and professionals. The "Teen Girls," "Fetish," "MILF's 30+," and a "Teen Archive" are among the four sections available here. In each area, you'll find links to free or sample galleries with high-resolution images from websites like Karups, Anilos, Mature.NL, and many more you can imagine.
Click here for PeachyForum full review.
PROS:
Plenty of free content and porn gallery samples
Only allows legal content
It has terrific sorting options
The forum is clean and easy
Unique themes and topics about fetish
Large active user base
Supports mobile browsing
CONS:
---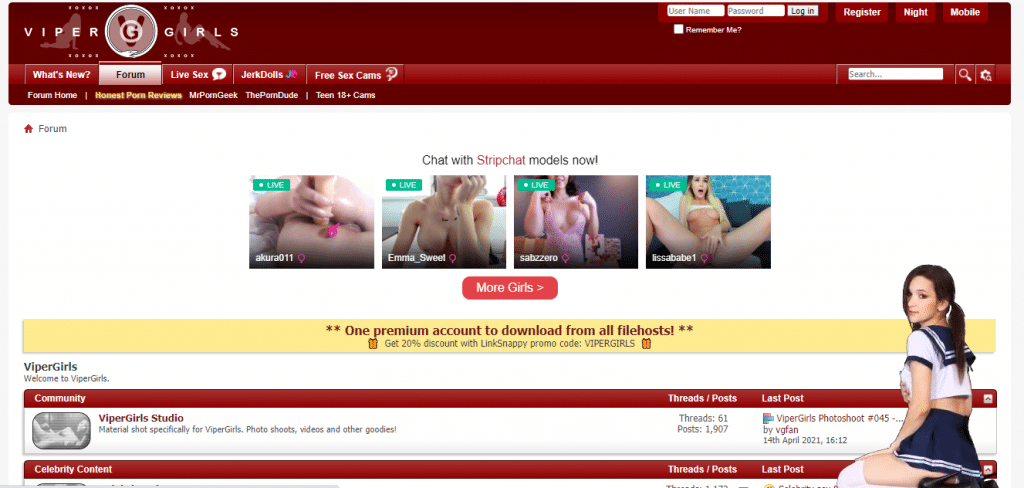 For many people, watching porn is a satisfyingly good and delightful hobby. In fact, most people
constantly go to websites to fulfill their carnal desires because of the constant availability of internet
pornography as a source of satisfaction. If you're looking for an exquisite webpage with a wide range of porn images and video clips, look no further because ViperGirls is ready to serve you. The forum has one of the most excellent high-definition galleries, containing over sixty different niche websites with pictures and videos of erotic quality.
PROS:
It has a million posts currently
Regular updates
Insane user base with millions of active members
Flexible membership options
Vast choices of free adult materials
Very easy to use website
Supports mobile browsing
CONS:
There are some adverts
A minimal number of spam posts
---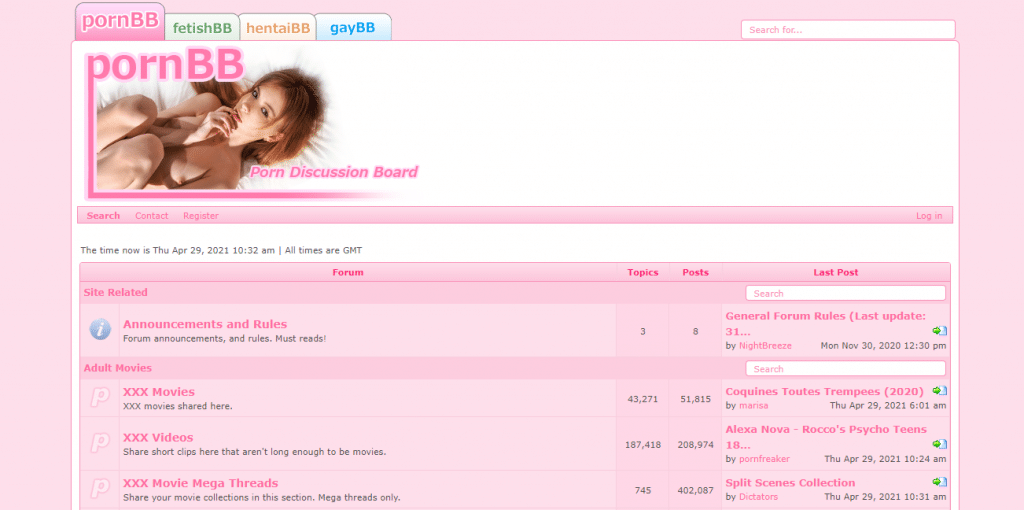 It's where you can find various straight and lesbian content, including Jav Porn, VR, and 3D content, as well as people's amateur videos. Every month, millions of people visit this forum, leaving thousands of comments and links. The four major content categories are adult movies, explicit images, model pictures, videos, and the "Other XXX's" segment of stories, games, and magazines.
Click for a full review of PornBB.
PROS:
Free content is plenty
The community is vast and active
The website is well-organized and clean
Variety of contents available
CONS:
The pink theme is too girlish
Download limits
---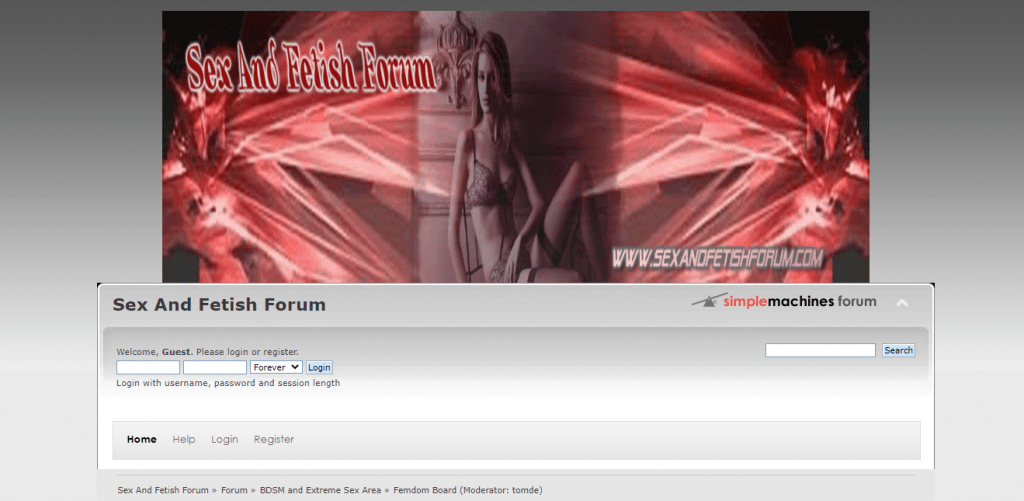 The Sex And Fetish Forum has an almost endless supply of free videos and photos featuring a wide range of sexual fetishes. But, besides kinky stuff, it also offers a lot of more common niches. Gauging how many videos or photos an adult forum has is never easy. Still, this place has 12 million replies, 27,000 topics, and almost 60,000 members post new material daily.
PROS:
Amazing fetish porn variety
The userbase is active and massive
Easy to use the website, and has a simple layout
CONS:
---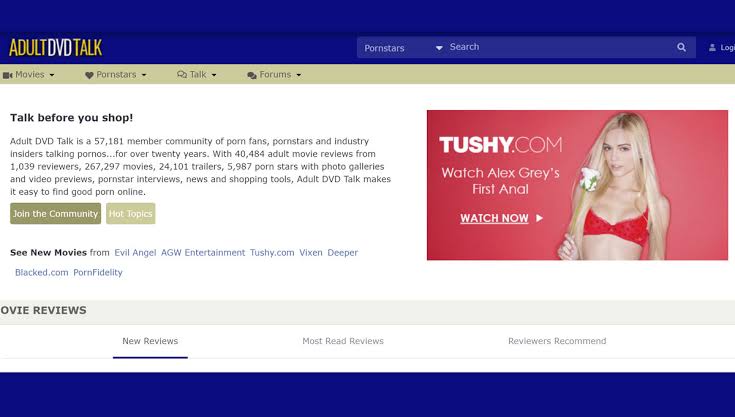 In almost 200K+ subjects, approximately 3M+ posts were created, and all of those posts were created by the 46K+ individuals who have registered to the forum. The primary objective is to critique upcoming films and DVDs to help people understand your views and also so you can discover which clips you should pay attention to. I've seen that AdultDVDTalk is a member-driven site where many people appreciate porn films and discuss them.
PROS:
Amazing concept and content
Uploaders are plenty
The community is fantastic and active
CONS:
Limited discussion on gays
Some spam posts are available
---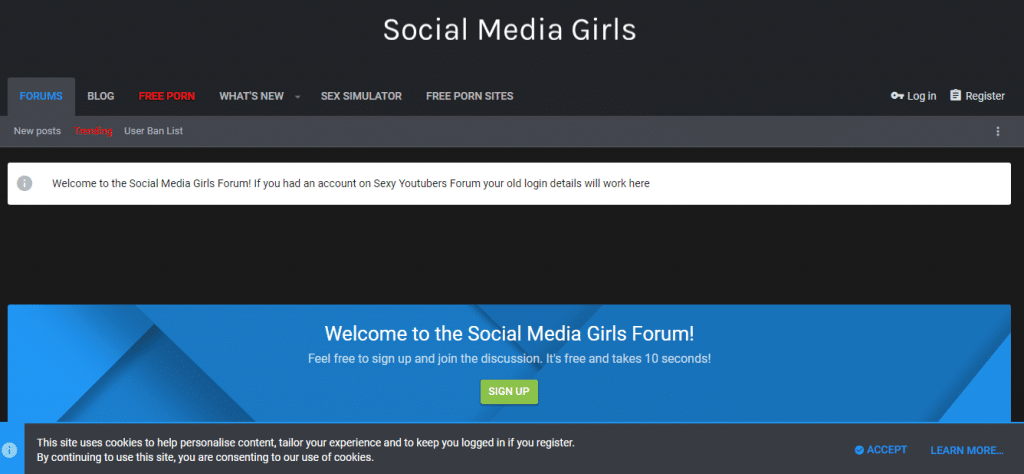 More and more YouTubers nowadays are almost forcing pornography on the network. Sounds like something you would enjoy, right? Then you've come to the right place. Check out the SocialMediaGirls — they're the best around. Indeed a perv's paradise, where sexual content, from Facebook to YouTube, is combed through searching for more stuff to whack off to.
Returning to this site promotes imagination and openness to allow new forms of sexual expression to be accepted. While enjoying some drinks and conversation, they're gossiping about their beloved sex arousal and enjoying each other's company. If you have a lot more leisure on your hands, you might want to explore becoming friends with these creeps and putting your sex scenes online. Gathering similar-minded individuals who match your raunchy interests can be a terrific approach to create new connections. Surround yourself with adventure.
PROS:
Amazing content
Numerous porn content you can browse
Free to use
Active community
CONS:
Quite tricky to use for beginners
---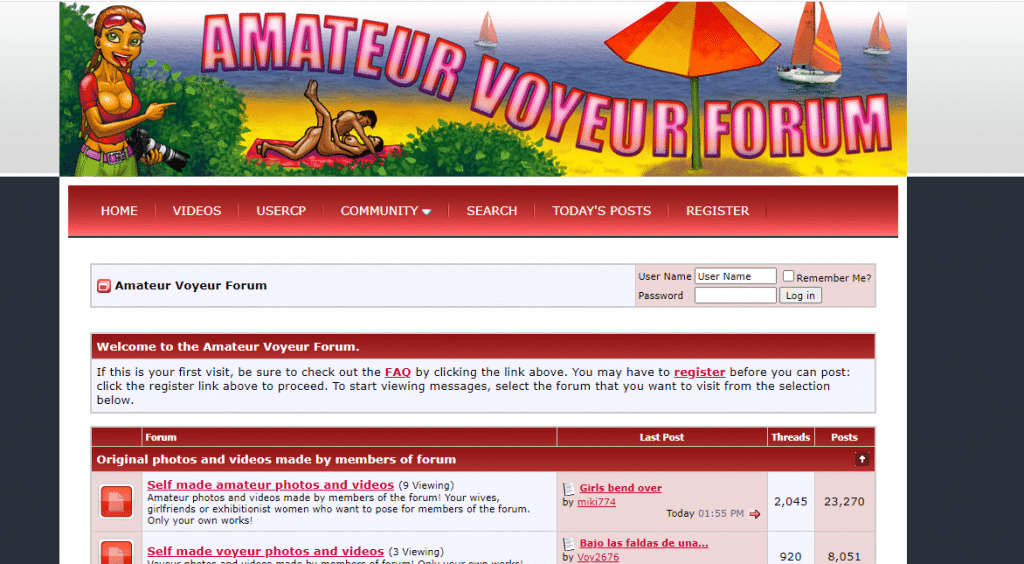 If we are talking about a porn forum, there's always that website that comes to mind instantly —AmateurVoyeurForum. If you are a massive fan of voyeuristic porn, then this should be your delightful sanctuary. It has thousands of members and is constantly updating its contents. Right now, it has over 800k posts, and more and more people are popping in the site to enjoy voyeur content.
PROS:
Easy downloading of images and videos
Exclusive images for the exhibitionist and voyeuristic fans
Members make updates regularly
CONS:
Annoying advertisements
Many videos from YouTube are in private mode
---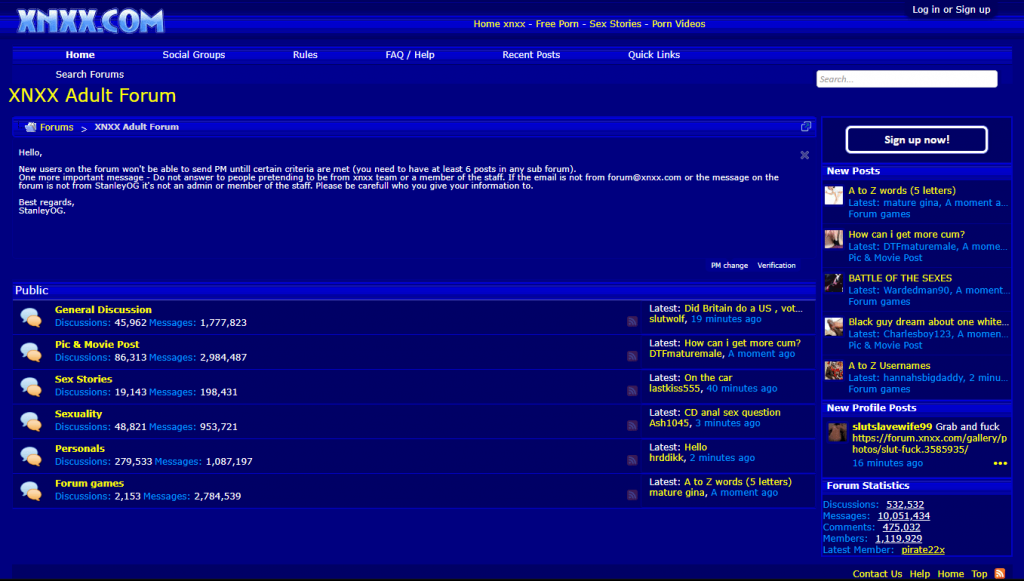 The XNXXForums never disappointed my porn forum standards. When I visited this website, it had a massive collection and sub-boards that cater to every need. These discussion boards are the General section, Stories of Sex, Personal, Porn Games, etc. Currently, there are 7M+ posts on the forum, and many are actively participating in the discussions while sharing their unique erotic material.
PROS:
Plenty of postings
There are amateur content available
Updates posts regularly
CONS:
Only a few sub-boards are available
Design needs improvement
---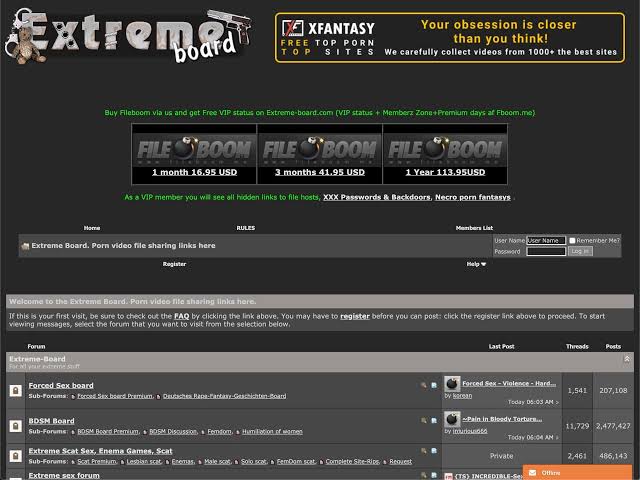 Some people enjoy visiting extreme sites on the internet. And since the world wide web has tremendous potential risks of landing on the scammy website, I recommend something that might be helpful — ExtremeBoard. It's a forum appropriate for people looking for more severe forms of pornography. Currently, the total number of postings on ExtremeBoard has reached 6M+, and there are 50K+ different threads in which the content is laid together.
PROS:
Plenty of postings
Updates regularly
Amazing subforums available
CONS:
Advertisements are available
Basic design
---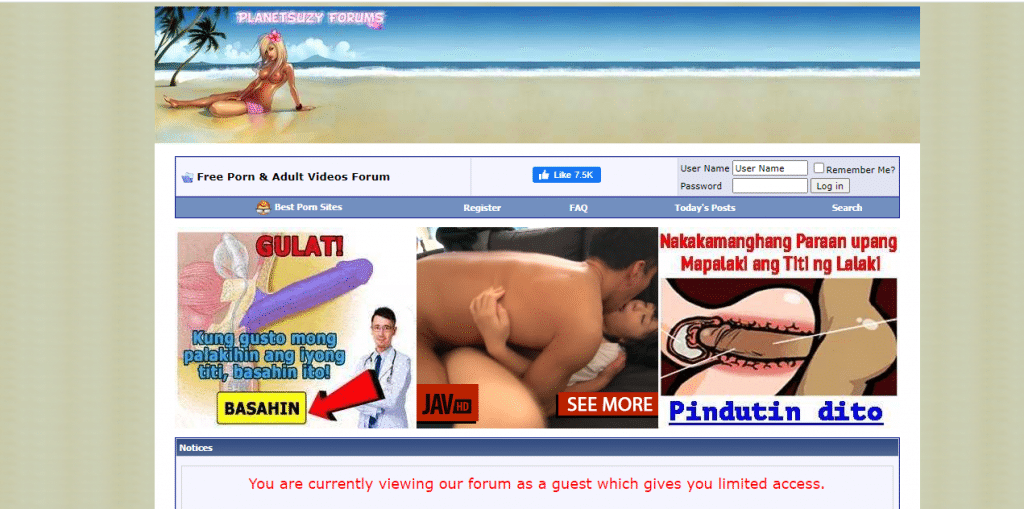 PlanetSuzy is an adult website that focuses primarily on video content. Although there are no concrete statistics about how many posts this site has in total, based on the information I've gathered, it appears to be about 4 million. The site is updated daily and includes sections dedicated to introductions, site support, and, of course, adult content. PlanetSuzy has been around for a long time, and like most other forums, it has many dedicated users who post regularly.
PROS:
Regular updates
Plenty of fetish content
CONS:
Few adverts available
Has few reported spam bots
---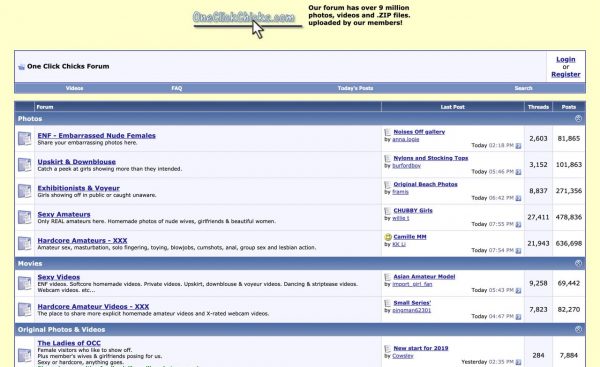 There are 10+ million sexual homemade shots and around 200K+ private pornos in OneClickChicks' collection. With about 1.3 million users, the site is approximately 1M+ times a day by nearly 2M+ unique individuals. They're actual people who film their wives, girlfriends, and other women as they do numerous lewd acts. These types are aggressive; they like to talk to anyone and have zero problem posting indecent photos and recordings to entice you to jizz hard.
Here's a full review of OneClickChicks.
PROS:
Updates regularly
Intuitive layout
Active participants
CONS:
Low-quality content
Requires membership
---
Bottomline
I will certainly tell everyone interested in classic adult stuff to check out VintageEroticaForums. Sure, vintage is not everyone's cup of tea. Some might find the content stunning, while others find it mind-numbingly dull. Your overall experience on this site really depends on how interested they are in the niche. Actually, nowadays, with our reliance on HD-level erotica, we're simply accustomed to a whole new standard. You may not be able to obtain perfect shots every time, but that's just the nature of things. Even so, I'd strongly encourage you to check it out; you could be in for a beautiful surprise.
So, though this site has a serious flaw, especially regarding advertisements and lack of mobile optimization, it isn't the wrong place to do your pleasure business. Not only is there a wide variety of smut available to choose from, but the sheer amount of choices is enough to earn this site a five thumbs-up. Whether you're feeling nostalgic or wanting to check out a classic amusement, this place is worth the trip.
All 47 Other Sites in This Category Worth Checking Out:
Undertow Club & Top 12 Free Porn Forum Sites Like Undertow.club Show Me 12 Alternatives for Undertow.club Are you considering joining an underground community? Undertow Club is an underground gaming and modding community with a sensual twist, pal. It has been a long time since I did a forum site review, so here it is. Undertow […]