Updated on: October 1st, 2023
FapFappy Forum Review
& Top 12 Porn Forum Sites Like forum.fapfappy.com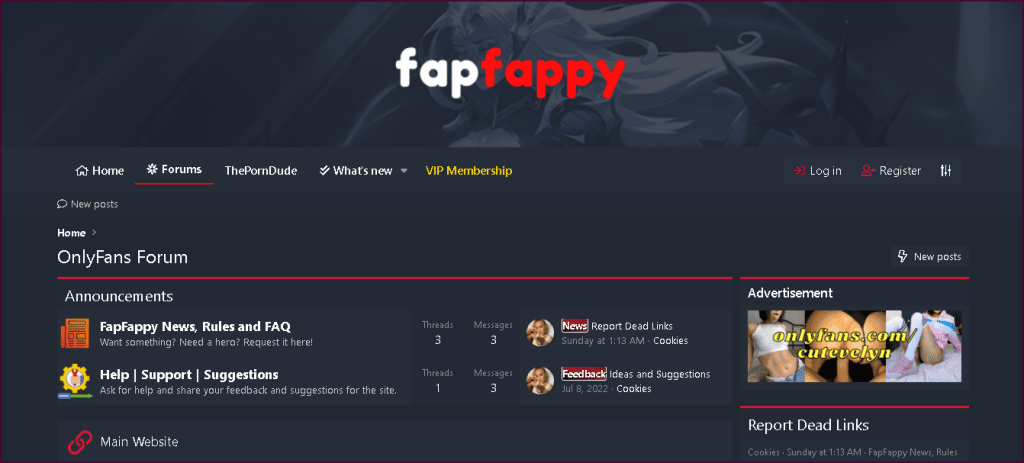 I reviewed the FapFappy porn site before; however, its forum was not given the attention it deserves. So today, we'll make the FapFappy Forum the main star! If you've been a porn fan for a long time, you'll probably notice that it's not unusual for porno websites to incorporate chat boards into their platform. But honestly, these forums almost always contain useless garbage. Luckily, the FapFappy Forum is pretty different and a rather thriving community of fuckers.
Official URL: https://forum.fapfappy.com/
As you know, in the realm of online erotica, a shitload of engagement and user activities often equate to a boatload of jerking-worthy materials. This FapFappy porn site and forum combo is the number one example of the trend. Let's see more about FapFappy Forum below and explore if it's as good as the main site.
Inside the FapFappy Forum
I'll be honest; I'm slightly behind with this review. When I first submitted my formal wanking review on Dudethrill about FapFappy, I wasn't very invested in the site's forum. Why? Well, seeing all the attractive nude women and online starlets, the forum can be easily ignored. You can only picture my excitement when I finally hit the button. FapFappy Forum has barely operated a few months since its public debut in April. In fact, I hardly would have suspected it if I hadn't come across the public announcement post.
If you didn't read my previous review, FapFappy is an expanding library of social networking blather presented in a trendy social media-like format. I adore it very much that I awarded it a top spot on my porn site ranking.
However, to be completely honest, that barely tells the side of the picture since the main FapFappy site is merely a tiny part of its full services. The FapFappy Forum is a booming message board with unlimited leakages, selfies, and various XXX entertainment. And since you already have a glimpse of the FapFappy, we're heading directly to the core because the discussion board is where a lot of the blog's stuff is generated.
Approximately 70K+ entries were reportedly made while I was writing this Dudethrill review. Obviously, that statistic is already remarkable without even glancing at the nature of those postings. The same as every other community board, FapFappy Forum's topics are divided into different categories. Unfortunately, you won't see anything if you haven't successfully registered yet. Before you sign up, files, URLs, and cited remarks are blocked; once you do, you'll access the pretty good stuff.
The VIP Lounge Forum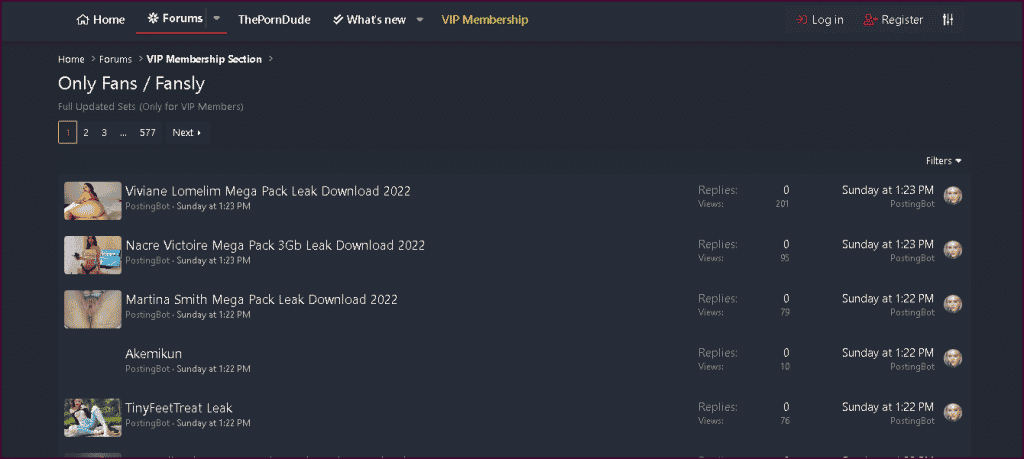 I call this the VIP lounge forum because FapFappy Forum only allows VIP members in this area. This means that all members must purchase a premium membership to access this forum and enjoy discussing with fellow VIPs. The VIP Membership Section has several subforums, and many of the members here are pretty active any time of the day.
Among the fan favorites is the 'Only Fans / Fansly' subforum, where you can find all premium content of the most famous and fabulous OnlyFans stars. Stay constantly updated on what's new because the members are pretty active in sharing nudes for free. Among these content are fresh from the OnlyFans site itself, so every visit is certainly a new experience. Other subforums of this section focused more on the internet stars from different platforms. They are filed under the 'Social Media Nudes' subforum, and more inside will leave you breathless. It's crazy how many internet stars are desperate to show off their junk just to get attention and popularity online. And we are here to make them feel appreciated and essential.
Finally, the VIP Membership Section also features impressive stuff from the Statewins and HLBalbums. They are collected in one exclusive subforum of the same title and keep regularly giving the VIPs the most updated smut. It's probably among the busiest subforum on the FapFappy Forum and will continue to endure until no more cocks can jerk off.
FapFappy Forum's Social Media Nudes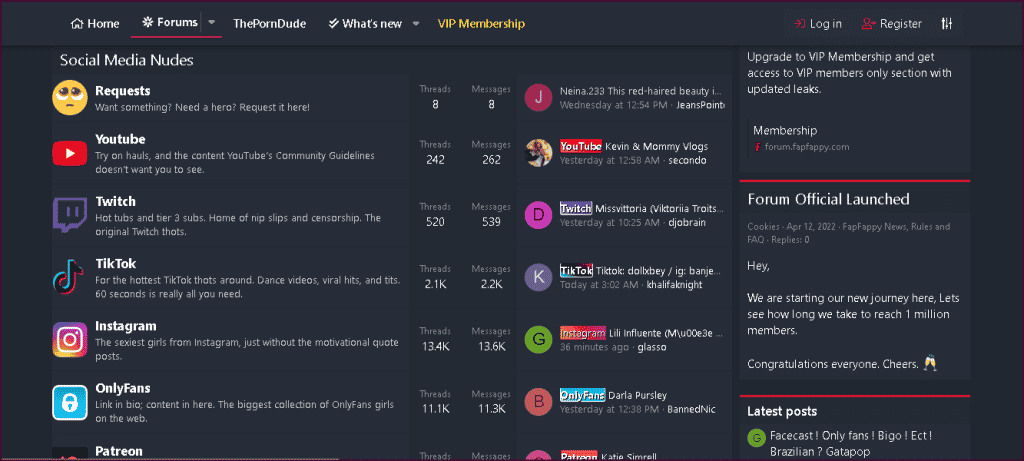 As expected, FapFappy Forum has dedicated an exclusive but public section for all lovers of nudes. They are compiled under the 'Social Media Nudes' forum, and you'll be surprised more once you see that this section is further divided into unique categories. First, we have the 'Requests' subforum, and by the name of it, you already know the purpose of this thread. FapFappy Forum knows that many of you jerkers will always look for something or someone, and you can only achieve it through requests.
Additionally, the site also offers 'Youtube' and 'Twitch' subforums that are jam-packed with great hits and features of the respective sites. We all know these bitches are posting their nudes and lewd acts wherever they can. Luckily, the members were fast enough to capture it before YouTube and Twitch were removed from their system.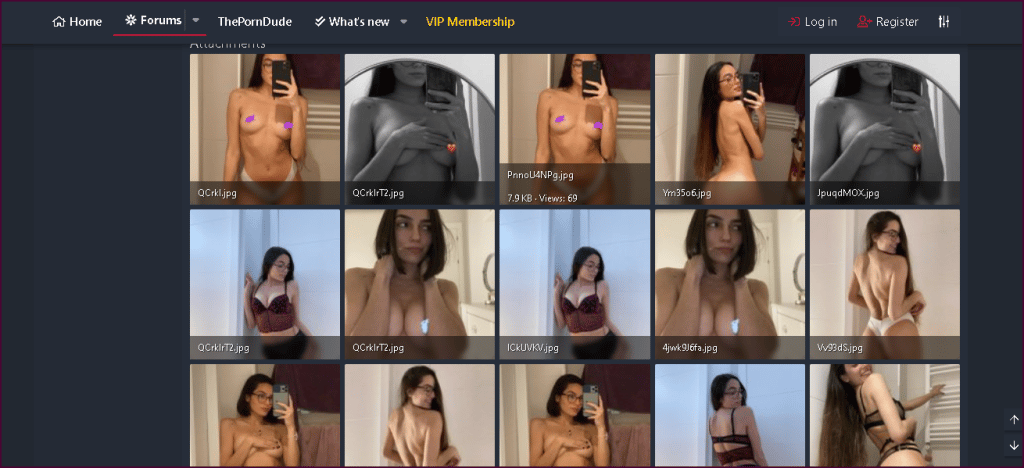 And speaking of 'remove,' the fans' love for short clips and sensational internet stars extends further to TikTok and Instagram. So, FapFappy Forum incorporated these giant social media sites into the mix. By adding this great content, the users can enjoy a good mix of Tiktok porn and insta nudes before the posts get banned from the public eye.
Moreover, FapFappy Forum features OnlyFans, Patreon, and Reddit subforums that specialize in each platform's excellent content. Of course, you already know OnlyFans, and since the site is exclusive for paying members, it wouldn't be easy for a broke-ass dude like you to check out nudes and sex quickly. The same thing applies to the Patreon site. Luckily, the members of FapFappy Forum are quick enough to collect these fantastic pornos and give us a glimpse of what premium tastes like. The Reddit Subforum also features terrific pics and videos from your favorite NSWF Subreddits.
More XXX Subforums!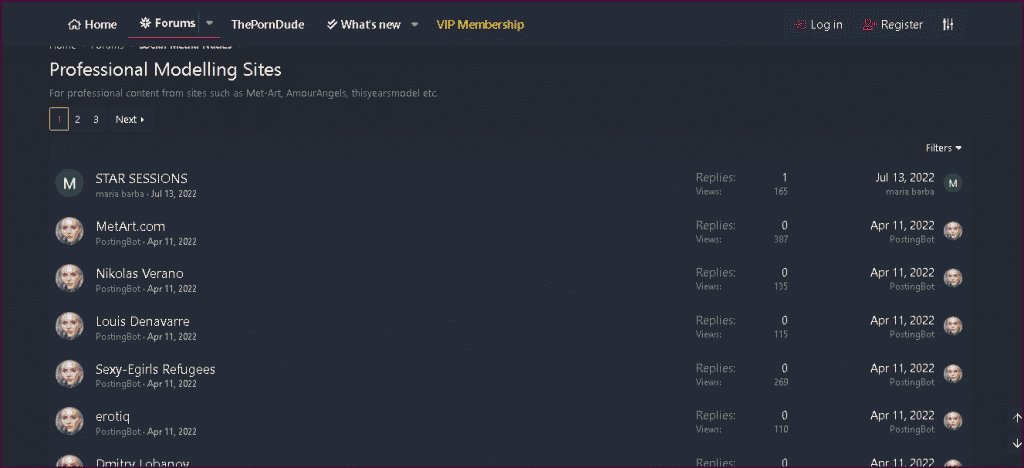 Apart from the above forums and subforums I've mentioned, the FapFappy Forum also has other nude sections that you might find interesting. First, we have the 'Professional Modelling Sites' section that features all the nudes and sexy shots of some popular models in adult entertainment and professional industries. Of course, if there is a modeling section, there should also be room for celebs. Luckily, FapFappy Forum has a 'Celebrities' subforum, and we can enjoy various scandals and wardrobe malfunctions captured by paparazzi and professionals. There are also regular updates on movies with sensual scenes and unique shots from their trips or beach outings. With this forum, we don't have to hop on Celebrity Nudes sites just to glimpse the celebrities' private lives.
FapFappy Forum also incorporated the ManyVids site into the mix and ensured that its members would stay updated on what's hot and what's not. There's plenty of porno featured here, and it's free to jerk off anytime. That's probably the beauty of porn forums. Of course, if there is a porno site, then live cam sex should be here, too—good thing FapFappy Forum never forgets to include our beloved cam girls for an added flavor. Indulge in the most enticing and popular streamers online and check out the 'Cam Girls' subforum. If that's not enough, FapFappy Forum offers plenty more options under the 'Video Sharing & Streaming Apps' section. You can find all types of websites and applications that provide nudity and sex in all forms. Once you get to this part, surely you won't be leaving the thread in the following weeks. If you call obsession, that's just an understatement!
Let's Play at FapFappy Forum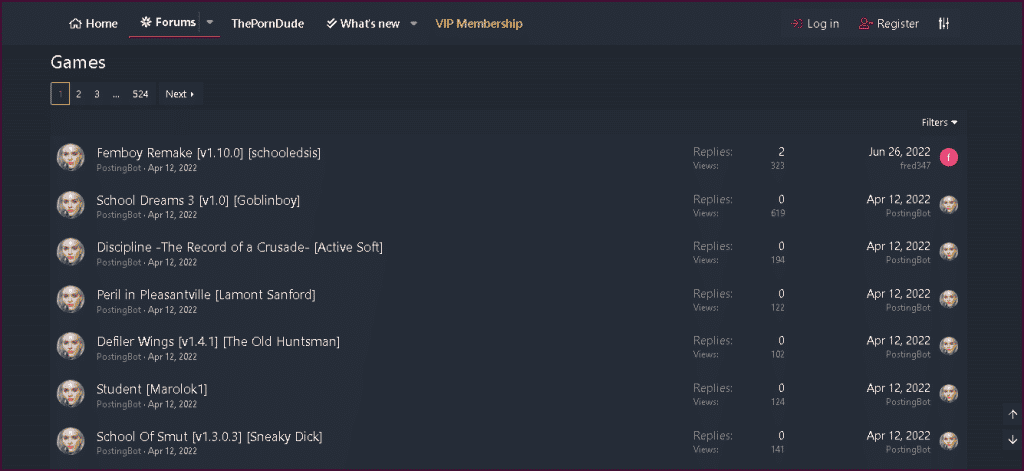 It's pretty unusual for a porn forum to include games on the list, but FapFappy Forum definitely set the bar high by adding a few to the mix. We can finally enjoy free and premium adult games without wasting so much time searching online. Just check out the 'Games' and 'Mods' subforums, and you'll be shocked with their recommendations. It has plenty of games that can be downloaded for free and also features cracked apps for premium apps. Yes, it has MODs of your favorite adult games, and you don't have to worry about premium subscriptions ever again.
Adult Comics and Trendy Porn Animations Forum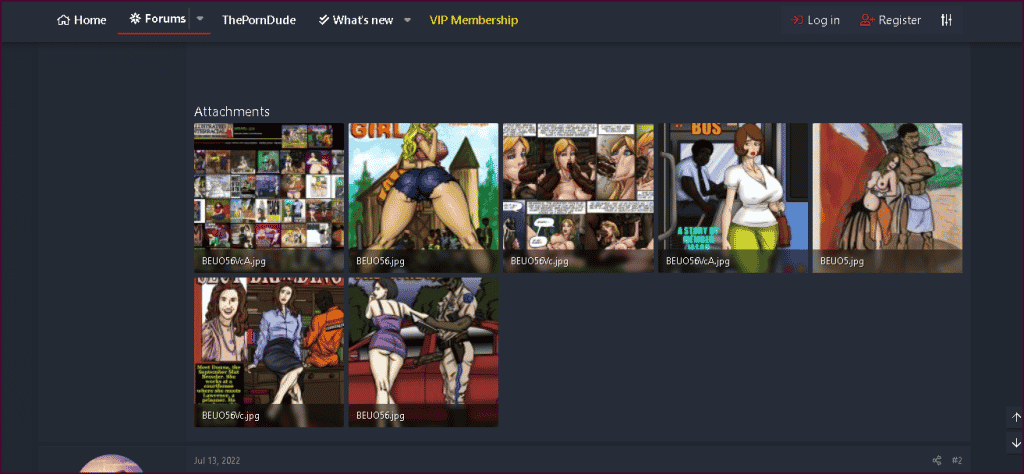 For many people, animated porno and sexy parodies of your favorite animes and cartoons are pretty erotic jerk-off material. Besides seeing the main characters in filthy scenes, the storylines are also exciting and wicked. Luckily, we can enjoy the goodness of Anime and comics here at FapFappy Forum. It has 'Comics & Still' and 'Animations & Loops' subforums that offer different types of fetish cartoons and narratives. Also, the posts here are regularly updated and come from numerous mainstream sources.
Honestly, seeing numerous content on this forum really thrilled my heart. I really like the idea that I don't need to jump from one comic site to another hentai streaming site just to enjoy the animated entertainment. The members are also pretty sick and generous for sharing their personal favorites and collection with us. I'm really looking forward to seeing more soon since FapFappy Forum promises to keep us updated every fucking day.
Membership and Premium Perks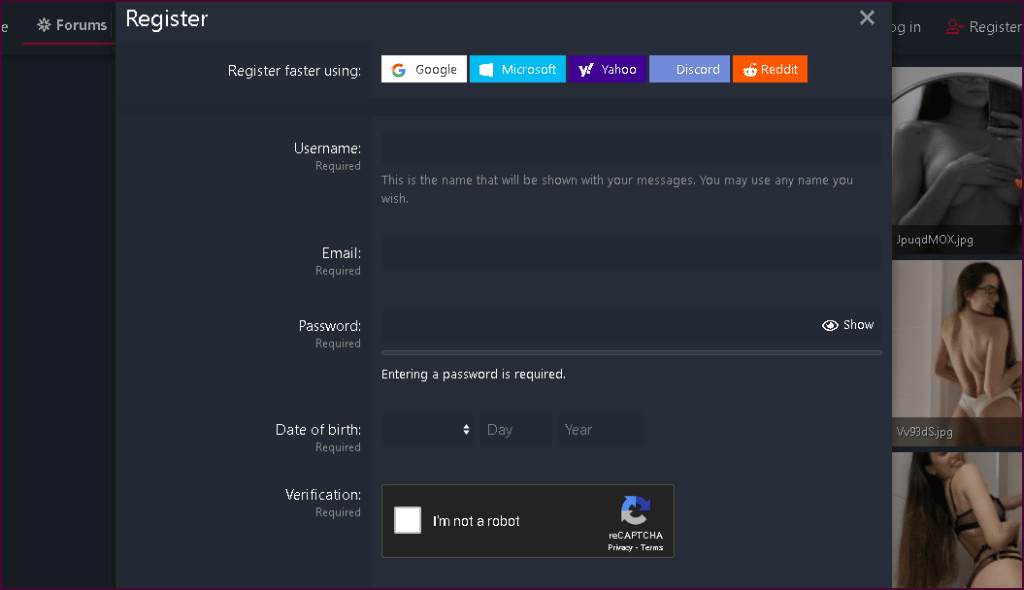 Although FapFappy Forum itself is pretty much free, VIP subscriptions are also available. And, of course, it provides access to much more stuff. You can purchase a Premium Subscription for $25 per month, cheaper than a few OnlyFans memberships but comparable to the monthly fee of several standard pay sites such as BangBros. If users want to use the website for an extended period, there's a decent offer you can always get, and it comes with a lifelong subscription for $50.
The VIP-only chat threads were visible at the forefront of the FapFappy site's home screen, and I initially thought they were the primary benefits of a premium subscription. It seems that to view the complete library and enjoy downloading URLs on the website, users basically require a VIP membership. Sure, there is still plenty of content for non-paying visitors; the greatest stuff is only available to paid subscribers.
Pros and Cons of FapFappy Forum
PROS:
Regular updates
Active community
Features a variety of social media stars and content
Numerous forums and subforums
CONS:
Some contents are for VIPs only
---
Top 12 Porn Forum Sites Similar to forum.fapfappy.com: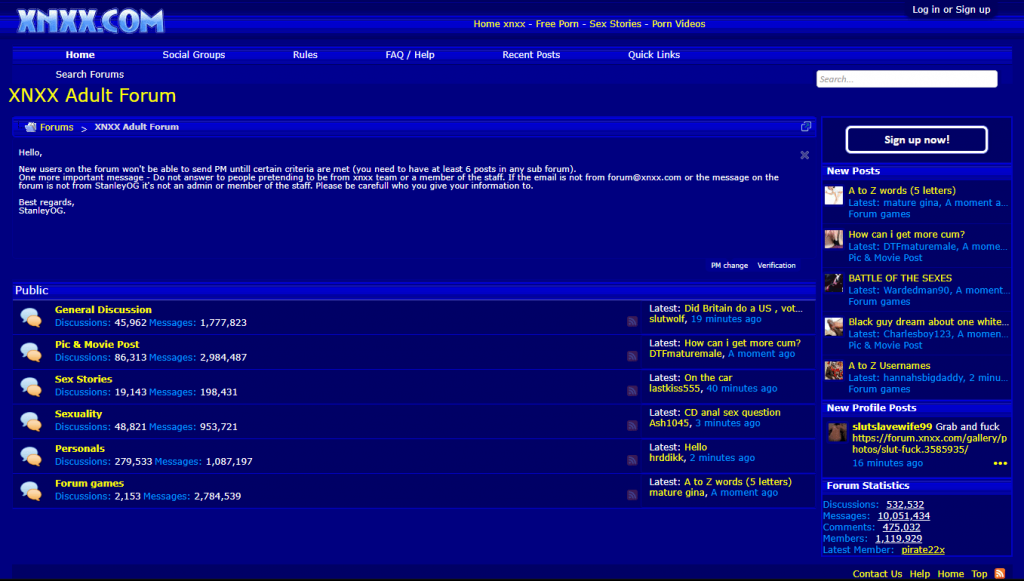 The XNXXForums never disappointed my porn forum standards. When I visited this website, it had a massive collection and sub-boards that cater to every need. These discussion boards are the General section, Stories of Sex, Personal, Porn Games, etc. Currently, there are 7M+ posts on the forum, and many are actively participating in the discussions while sharing their unique erotic material.
PROS:
Plenty of postings
There are amateur content available
Updates posts regularly
CONS:
Only a few sub-boards are available
Design needs improvement
---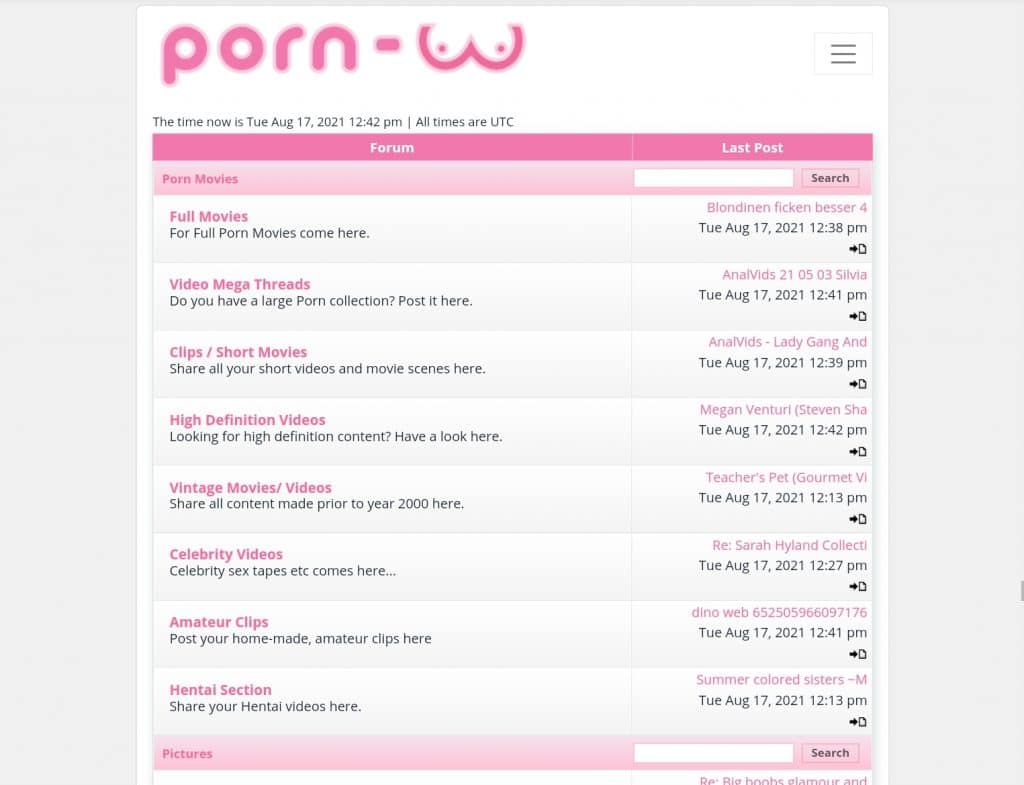 Porn-W.org, which has been around since 2009, is a website that brings together a broad group of porn fans who post all sorts of pornographic free content, and you can join in without having to sign up. The information provided here is in the context of hosting site links. If you don't have a paid account on either of these websites, you'll either have to wait a long time for files to download, or you'll be limited to a certain number of downloads.
Click here for Porn-W full review.
PROS:
Free porns are plenty
Content is in a variety of categories and themes
The forum is clean and simple
Community is active and huge
CONS:
Downloads are free but slow
---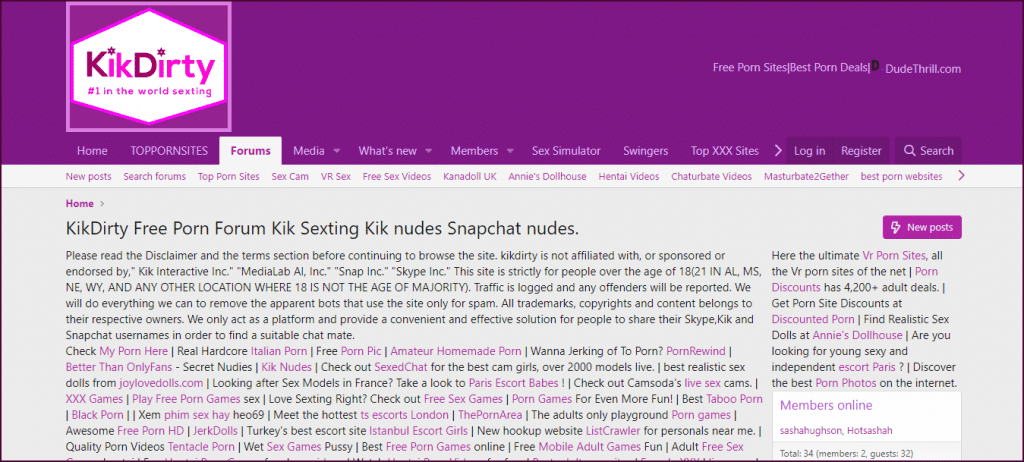 Surely everyone knows what the hell "Kik" is, right? If so, then you'd be thrilled to learn about this porn forum dedicated to the kinkiest side of Kik (and even Snapchat) KikDirty! This is a place where you'll find the sexiest Kiks and Snapchat selfies from across the web and the world! Additionally, KikDirty hosts plenty of forums. It became a platform for users to connect with others around the world. Users can also exchange lewd photos and similar intimate details using messaging apps like Kik and Snapchat.
PROS:
Lots of content
Amateur content is available
Updates regularly
Active members
CONS:
Plenty of pop-ups, ads, and redirect links
Commenting requires registration
---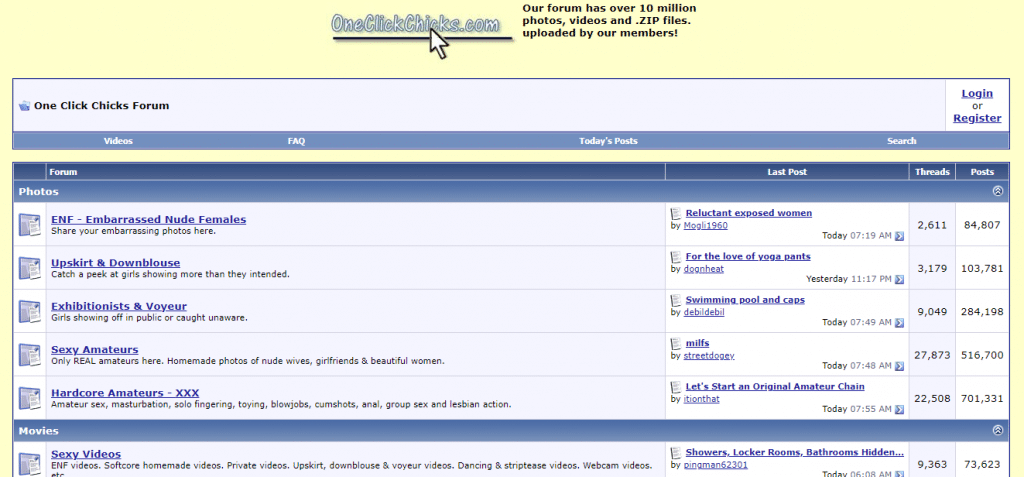 There are 10+ million sexual homemade shots and around 200K+ private pornos in OneClickChicks' collection. With about 1.3 million users, the site is approximately 1M+ times a day by nearly 2M+ unique individuals. They're actual people who film their wives, girlfriends, and other women as they do numerous lewd acts. These types are aggressive; they like to talk to anyone and have zero problem posting indecent photos and recordings to entice you to jizz hard.
Click for a full review of OneClickChicks.
PROS:
Updates regularly
Intuitive layout
Active participants
CONS:
Low-quality content
Requires membership
---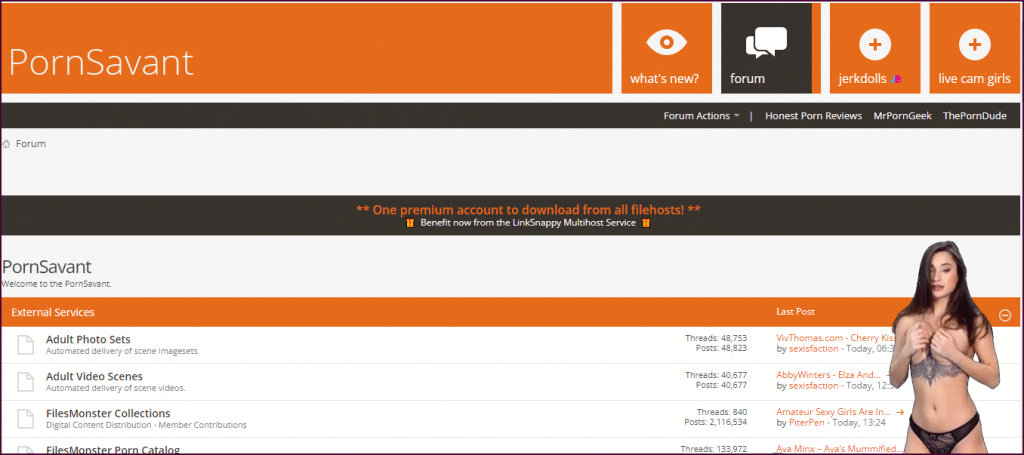 When we talked about sexual pleasure and enjoyment, PornSavant is totally unmatched. It has around 74K+ participants and 1.6M+ discussion threads with an aggregate post count of 59M+. Imagine how many sources, videos, movies, and photos you can access here for free with that numbers. Plus, it covers a wide range of themes, niches, and types, so you'll have your best time finding what best suits your peculiar taste.
Check out the full review of PornSavant.
PROS:
Active users
Diverse posts and threads
Excellent porn forums are available
Subforums are impressive
CONS:
So searching feature available
Requires downloading before you can watch videos
---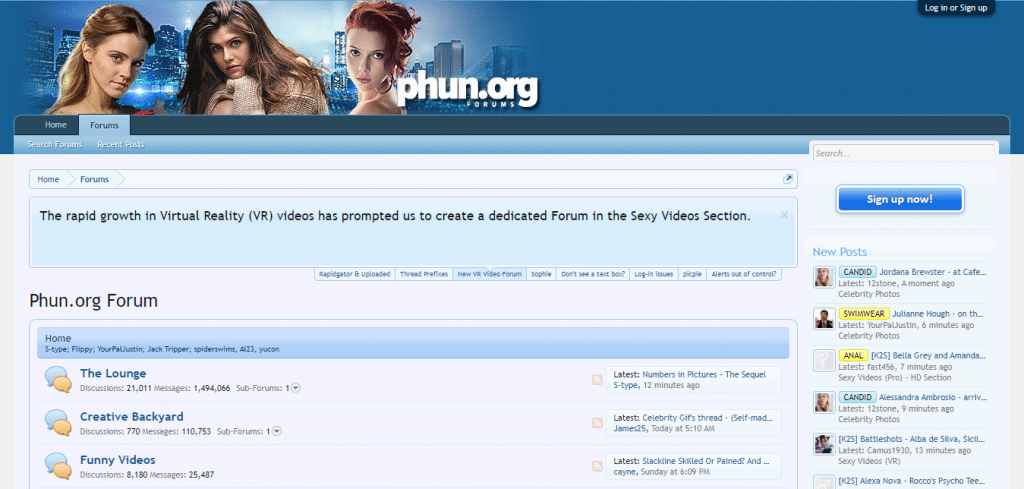 PhunForum, like many of its competitors, is a simple website where you can download a massive amount of free porn, exchange your collections with others, and talk with similar-minded people.
This forum, like others, has a list of required hosting sites, such as ImageBam, Uploaded, and IMGBox. It is worth noting that PhunForum is strict about content with themes like severe BDSM, Incest, secret cams, breach of privacy, and robbery. They prohibit these types of themes.
Take a look at the full review of PhunForum.
PROS:
Easy to use
Has celebrities, amateurs, and other sorts of models available
Millions of contents free to download
Regular updates
CONS:
There are some prohibited contents
Slow downloading speed
---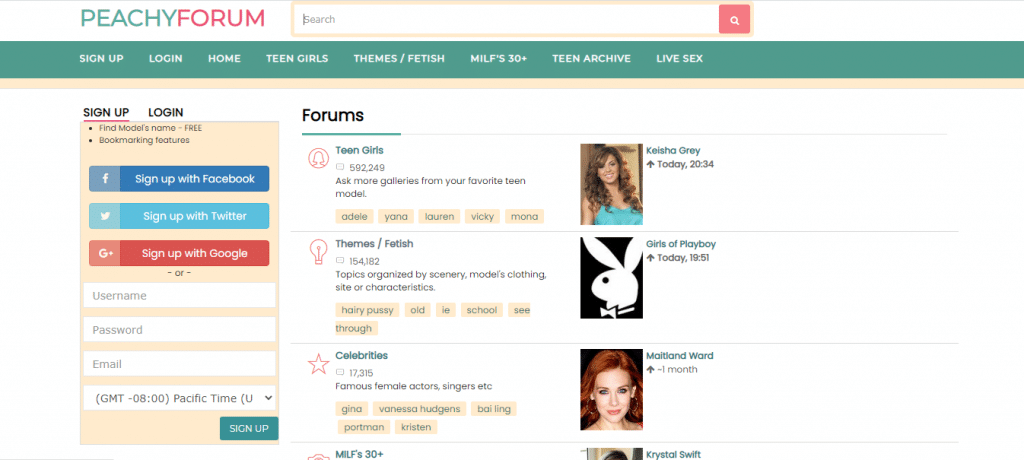 PeachyForum.com is a free premium gallery website with everything from teens to young girls to MILFs and professionals. The "Teen Girls," "Fetish," "MILF's 30+," and a "Teen Archive" are among the four sections available here. You'll find links to free or sample galleries in each area with high-resolution images from websites like Karups, Anilos, Mature.NL, and many more you can imagine.
Take a look at the PeachyForum.com review.
PROS:
Plenty of free content and porn gallery samples
Only allows legal content
It has terrific sorting options
The Forum is clean and easy
Unique themes and topics about fetish
Large active user base
Supports mobile browsing
CONS:
---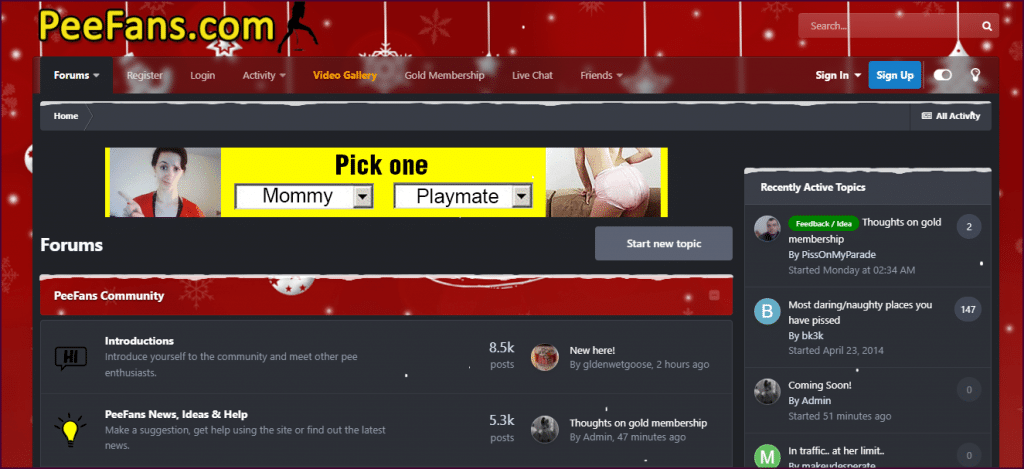 PeeFans is a forum dedicated to all types of pee fetishes, from peeing porn, pissing, and related stuff. You can also find video links for free downloading or streaming links. The majority of its content is free and accessible without a subscription, but expect to see some forum threads that are premium exclusive. So, if you enjoy the golden shower or want to explore the world of peeing porn, then now is the time!
PROS:
Plenty of members share content on the threads
It has lots of videos and pics of pee porn
Free to use
Registration is free
CONS:
Some threads require a premium pass
You need to register to access the page
Some ads and pop-ups for a premium upgrade
---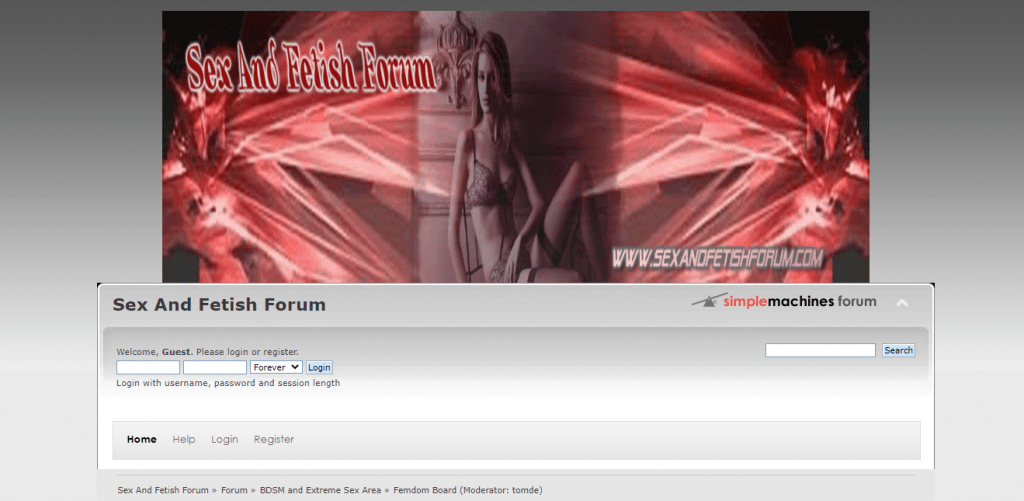 The Sex And Fetish Forum has an almost endless supply of free videos and photos featuring a wide range of sexual fetishes. But, besides kinky stuff, it also offers a lot of more common niches. Gauging how many videos or photos an adult forum has is never easy. Still, this place has 12 million replies, 27,000 topics, and almost 60,000 members post new material daily.
PROS:
Amazing fetish porn variety
The userbase is active and massive
Easy to use the website, and has a simple layout
CONS:
---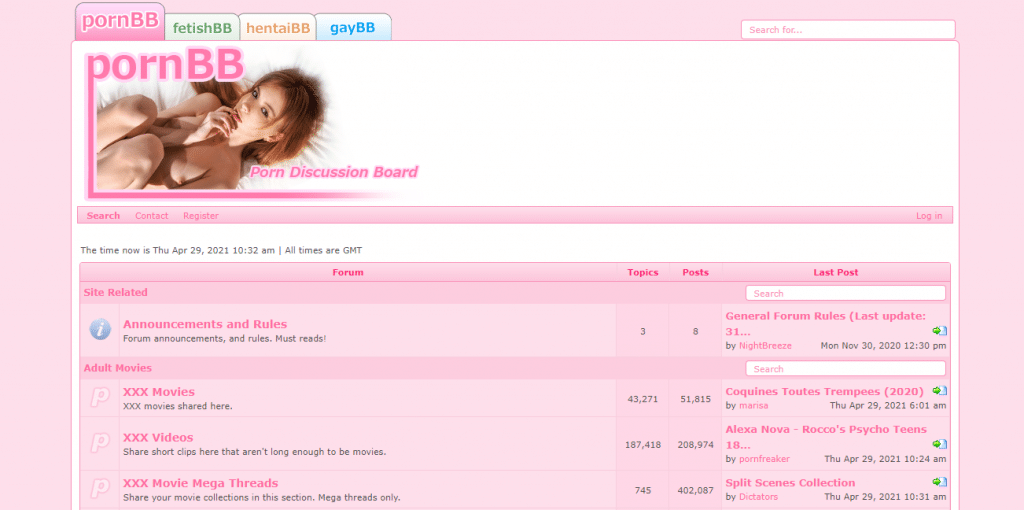 It's where you can find various straight and lesbian content, including Jav Porn, VR, and 3D content, as well as people's amateur videos. Millions of people visit this forum every month, leaving thousands of comments and links. The four major content categories are adult movies, explicit images, model pictures, videos, and the "Other XXX's" segment of stories, games, and magazines.
Click to see the full PornBB.com review.
PROS:
Free content is plenty
The community is vast and active
The website is well-organized and clean
Variety of contents available
CONS:
The pink theme is too girlish
Download limits
---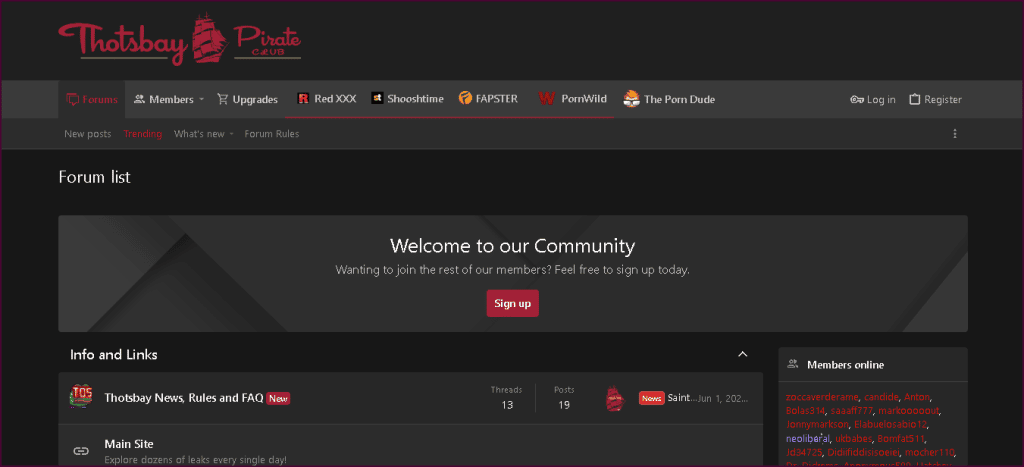 Thotsbay forum is a great porn forum with a fantastic community of fuckers. It has several media leaks shared by followers and porn enthusiasts. The members here actively discuss and post pornos and links throughout the day. Despite ads, redirects, and pop-ups, the site's content stood out and covered a shitload of niches and topics.
Learn more about Thotsbay forum with this full review.
PROS:
Lots of forums and subforums
Different and reliable sources
Active community
Easy to use
Registration is free
CONS:
---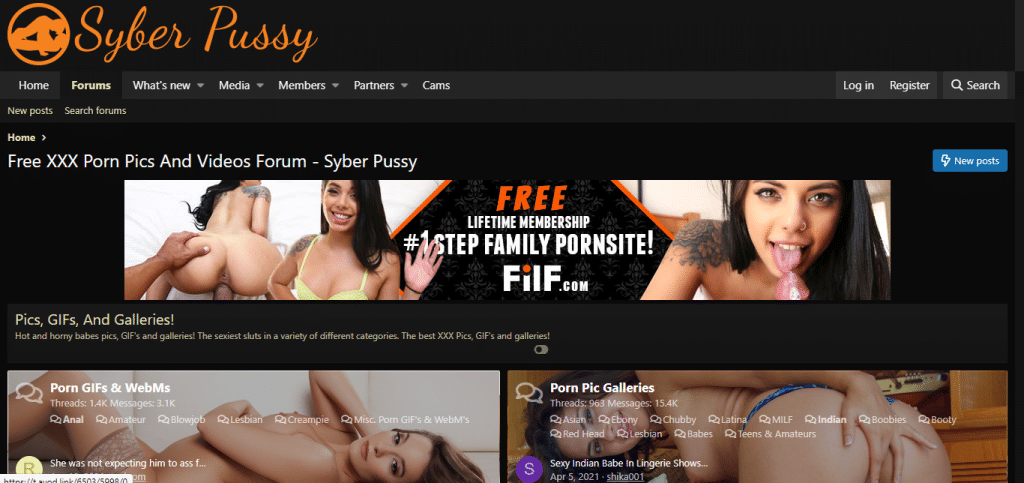 I guess it is harmless to say that Syber Pussy is a small porn forum: in total, it has about 25,000 entries, which is certainly on the small side of things. Syber Pussy is one of my favorite companies because they plan, which is why it's on this list. When you first arrive on the homepage, you'll notice a list of sub-forums devoted to porn GIFs, images, MILF videos, and amateur material — it's a nice mix of content, and the interface is very modern.
Check out the full review of Syber Pussy.
PROS:
Some contents are direct
The design and interface is good
Effortless to use and smooth browsing
CONS:
---
Verdict
FapFappy Forum is probably among the most surprising site I've seen this week, and it was a bummer that I overlooked this the first time I visited FapFappy.com. But it's better late than never, right? Certainly, this forum offers a shitload of things I never thought I needed. There may be far better and more extensive porn forums online, but this one really steps up its game! I look forward to more adventures on this site, and hopefully, more fuckers flock here to have fun.
All 46 Other Sites in This Category Worth Checking Out:
LoversLab & 12 Must-Visit Porn Forum Sites Like LoversLab.com Show Me 12 Alternatives for LoversLab.com Alright, fellow gamers, gather 'round. Do you know what's the real deal when it comes to PC gaming? No, it's not the jaw-dropping graphics or the heart-pounding narratives. And it sure ain't the price tag of your high-end gaming rig that […]