Updated on: December 5th, 2023
SimpCity Review
& 12 Best Porn Forums Like Simpcity.su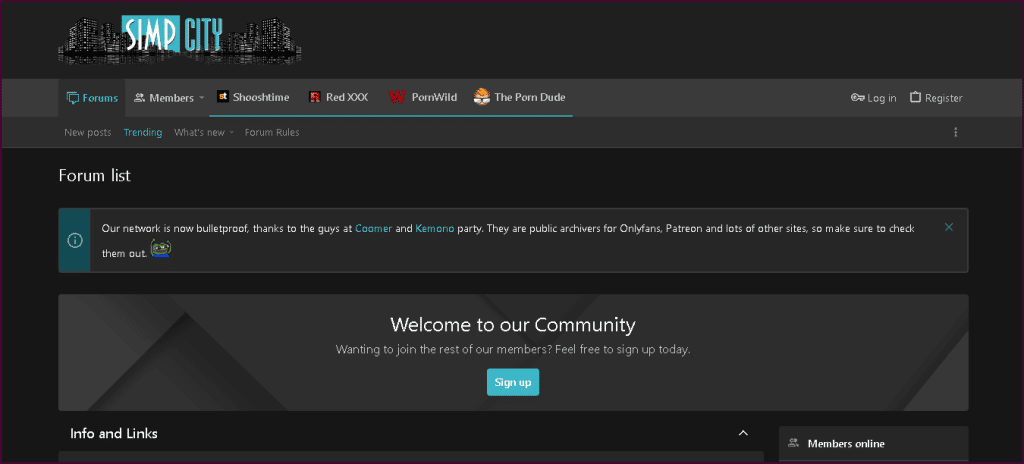 Another day, another forum! Today is a great day to jerk off, and one thing that could help you harden that cock is to check out the SimpCity porn forum. This forum is my new discovery that will totally make you horny as hell the moment you open its damn page. In terms of layout and features, Simpcity.su is pretty similar to other sites; however, its great content makes it unique. The kind of entertainment brought to us by this site is not typical, and you'll be shocked by the massive amount of pleasure available here. I'm sure you're excited, so let me tour you inside the dungeon of SimpCity.
Official URL: https://simpcity.su
Welcome to Simp City!
Simpcity.su is a free-access porn forum launched online to fill the hearts of brokenhearted fans of Thotsbay. If you didn't know, the Thotsbay forum has stopped operating for a while. But the creators of Simpcity.su can't let the entertainment go, so they decided to pick up what's left by the site. Simpcity.su claims to be the same as Thotsbay — from content, accounts, threads, etc.
However, after I personally visited the site, I can still see the difference between the two giants. Regardless, SimpCity still carries the appeal and magic and thrives daily. Among the unique features of SimpCity is its "ranking system." It works like a membership program that allows you to unlock exclusive privileges, like an ad-free experience, as you continue contributing and uploading.
Members and Forum Statistics You Should Know
The popularity of Simpcity.su has reached numerous users across the world. Currently, the site boasts 1.7M+ members and hopes to expand more in the following months or years. When I was online reviewing this forum, it had around 14,855 online members and 2,891 guests. For an underrated porn forum like this, I'm pretty impressed with SimpCity's traffic.
With these kinds of numbers, I won't be surprised if its forum statistics and threads would blow up after a few months. But for now, guests and members can enjoy and explore 786,435 posts and 68,571 forum threads on the page. I'm pretty sure that would be enough for your annual porn consumption.
The Info and Links Forum of Simpcity.su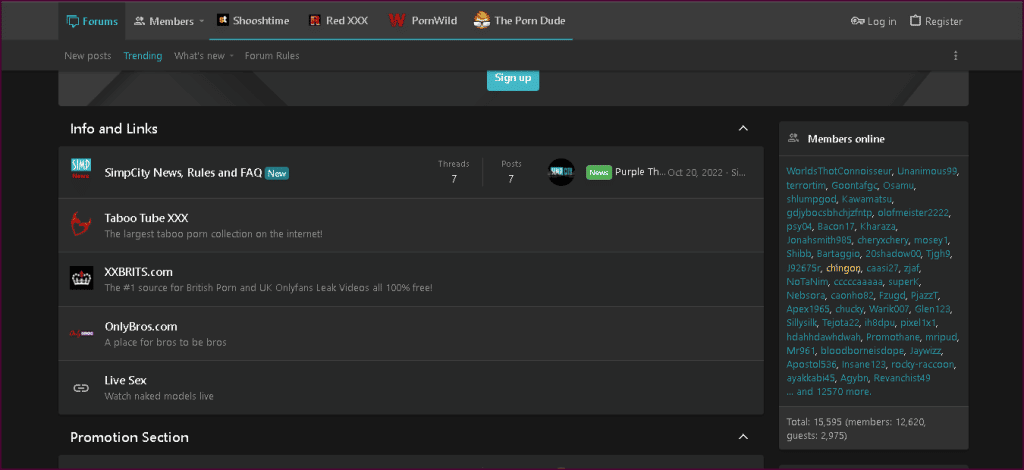 SimpCity is not just an ordinary porn forum site. It features many information, links, photos, and videos from different sources. So, seeing its page for the first time, I wasn't surprised by how much it offers. Don't get me wrong, Simpcity.su is still pretty overwhelming. There are just too many forums and subforums accessible for free, and picking where to start could be a challenge.
Nevertheless, I went straight to the site's main forum — The Info and Links Forum. This is where you can find necessary information about the site, the latest news, important rules, and FAQs. It also features several porn sites like Taboo Tube XXX. As you know, this porn site has the biggest taboo and incest porn library online.
Additionally, Simpcity.su features a link to OnlyBros, an intense place for bros like you to experience being real "bros." On top of that, we can also enjoy the UK's and Brit's leading source of porn and OnlyFans Leaks, the XXBRITS. You can explore this site, along with SimpCity's endorsed live sex site, Camonster! Like XXBRITS, this one offers free live sex streaming of the hottest cam models.
The Promotion Section and Requests Forums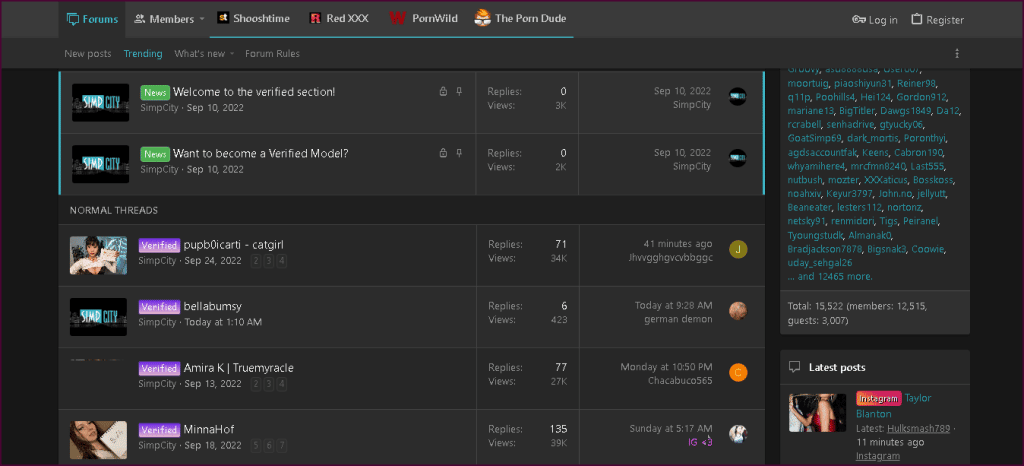 If you wish to follow the popular and exciting models of the adult entertainment industry, then go straight to SimpCity's Verified Models subforum under the Promotion Section. It has all the verified models and ensures a safe porn experience. All their content has undergone moderation, and the "verified" badge can attest to their authenticity. I dig deeper into this subforum since there's still more to check out around the page. But, I still found some attractive verified models, including:
Lexi Rosebud
Bella Bumsy
Amira K
MinnaHof
Hailey Harber
Meanwhile, for those who can't find their stuff on Simpcity.su, you can ask the admins and request anything you want. Users can do this using the "Requests" forum. This is probably the home for all unsung heroes in porn, and they are happy to be on service for those who need it.
Checking the Premium Fan Sites Forum of SimpCity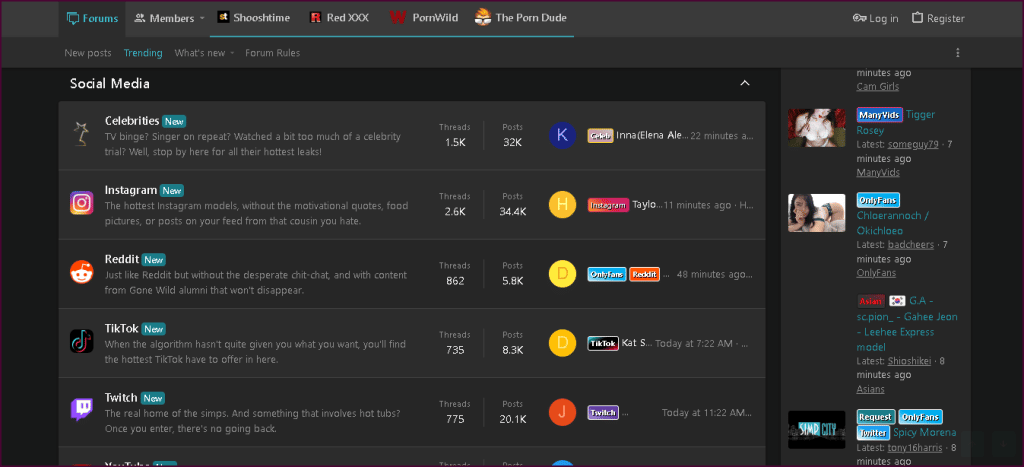 As any porn forum would have, SimpCity also has some premium fan sites available. Users can enjoy spicy videos and clips from the OnlyFans page. The links are accessible for free and experience the trendiest collection of porn from your favorite internet stars. What's more, the fans of cosplays and sex would probably indulge in the Patreon subforum. This area is where the best sex and cosplay acts happen. You can enjoy watching your favorite stars dressed as their favorite anime or movie characters.
Ultimately, SimpCity features the ManyVids site, where you can discover updated collections and top-quality performances from the sluttiest MV models. Remember, these are all free, so you better take advantage of Simpcity.su's premium fan site links before it's dead.
Exploring the Social Media Forum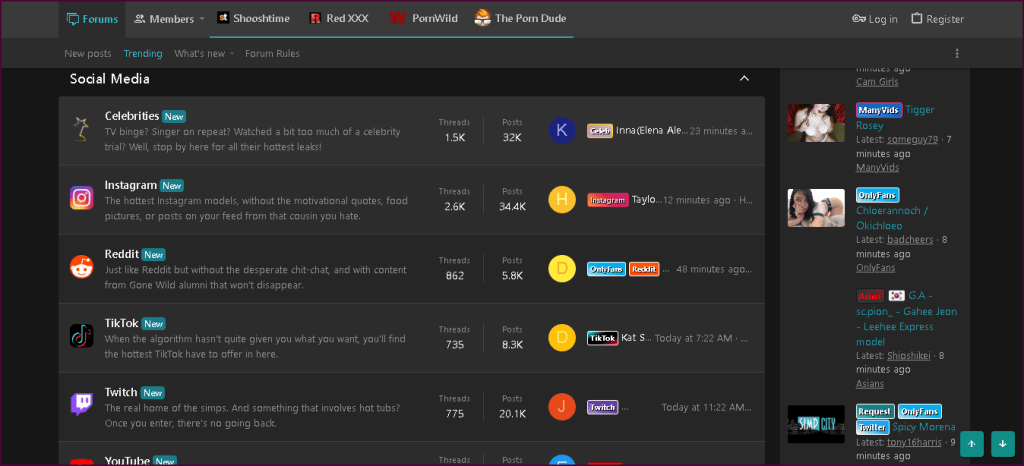 Anyone who likes to get updated with the latest and hottest pornstar wannabes and amateur models online jumps to The Social Media Forum. This section has plenty of options that suit every user's unique taste. SimpCity offers a "Celebrities" subforum that will give you updates on the scandals, news, and leaks from the most popular and talked-about celebs. The internet stars of Instagram also dominate this section. Unlike Instagram, where people post nonsense like food and travel, SimpCity filters them out and handpicks the sultry content.
Additionally, Reddit has a dedicated section in this forum, and judging by Reddit's nature; there are plenty of sex and erotic links here. Compared to the actual Reddit page, this one omits the tedious chit-chats and goes straight to the main course. TikTok also shows promising threads in the Social Media forum. Users are always active and give you updates on the banned videos and nasty clips uploaded directly from the app. Finally, Twitch and YouTube were able to make it here. Despite being last, these subforums will surely provide users with top-quality, handpicked, and rough sex videos from influencers worldwide.
SimpCity's Professional Sites Forum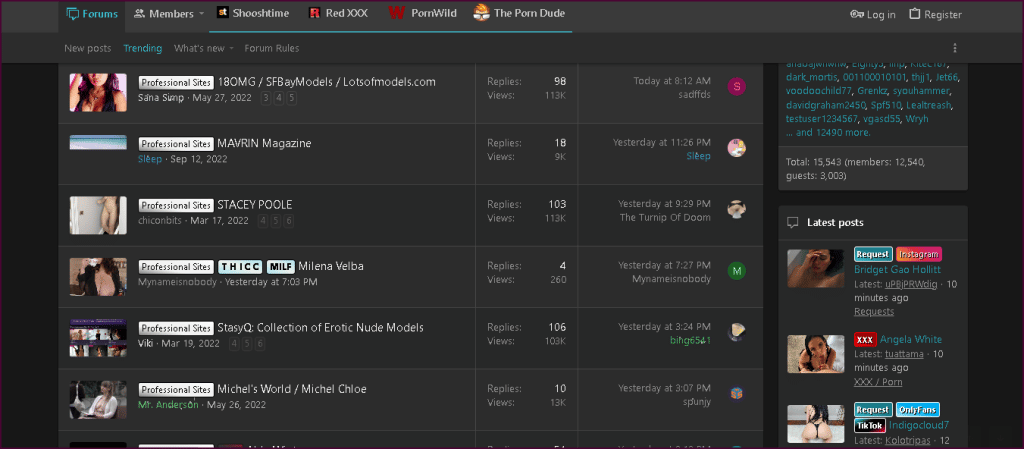 Diversity is the reason why Simpcity.su remains great despite the tough competition online. There are many porn forums nowadays, and picking one would be a nightmare. But before you get crazy, Dudethrill suggests following your guts. I did it, and luckily it landed me on this porn forum. The Professional Site section caught my attention immediately, exploring its entirety, so you don't have to.
Initially, I thought it was nothing but softcore porn, but when I checked them out individually, the section had impressive entertainment. This might be perfect for those who browse top-quality models and prints without buying the actual mags. Apart from that, Simpcity.su also features a Suicide Girls subforum that showcases models with tats, tits, piercings, and pin-ups. Lastly, users with fascinating interests in quality porn production and professional entertainment might enjoy jerking off to the "XXX/Porn" subforum. It's a mix of everything, so you'll also experience a combination of pleasure all night.
Forum for Specialised Sexual Interests & Fantasies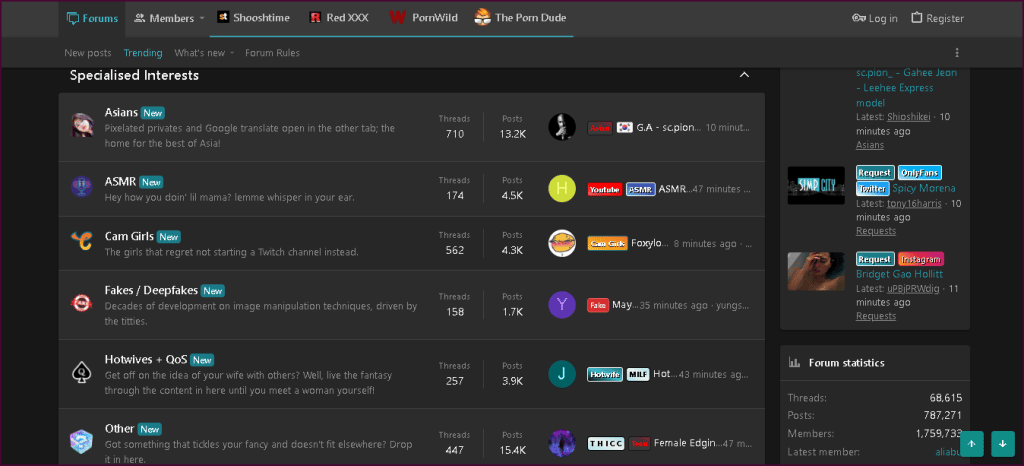 All of us have our personal interests — quirky or not. That's why SimpCity made sure to include a special section for the specialized interests of a horny audience. For anyone who prefers Asian girls, then the Asian sub is perfectly crafted for you. It has incredible photos, videos of censored private parts, and other delicious entertainment from Asia. Meanwhile, the ASMR video is a new and unique way to enjoy things, and that includes porn as well. The ASMR sub has unique whispering content and seductive ASMR audios that could tickle your body from head to foot.
The site also features deepfakes porn; you can find this in the Fakes/Deepfakes sub. It has a shitload of images and videos altered using a high-technology system to let us experience things we could only imagine. On the other hand, the Cam Girls and Hotwives subforums offer a unique take on entertainment. You can jerk off to beautiful and hot cam models and hot wives without paying individual subscriptions. Certainly, this is fantasy fulfillment at its best!
Transgender, Brazilian, and Animation Forums at Simpcity.su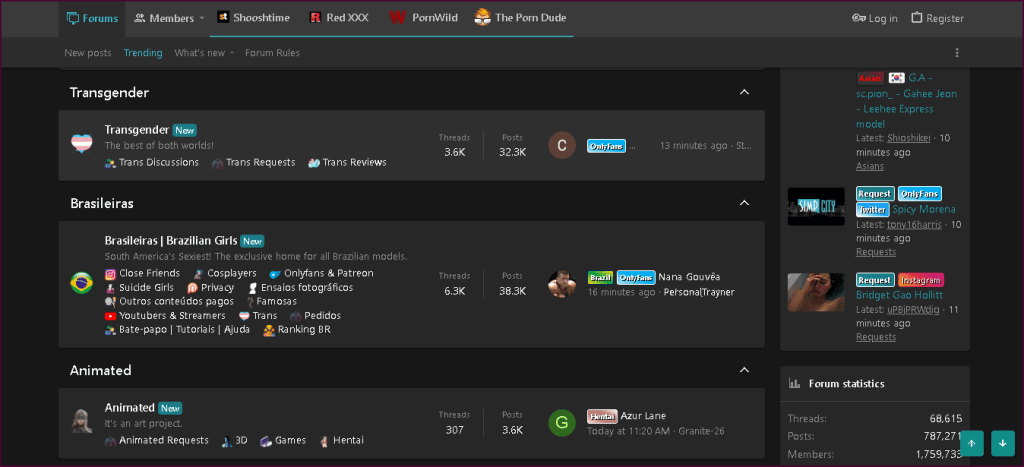 I thought I'd leave the site without seeing some hot trans, but I was wrong. I was stunned when I scrolled down the page and saw a Transgender subforum on the list. Typically, this kind of niche is not common in other porn sites, but at Simpcity.su, it's something exclusive. Finally, we can all indulge in the sultry deliciousness of both worlds! Simpcity.su's trans section has incredible threads you can join freely, including:
Trans Requests
Trans Reviews
Trans Discussions
Moreover, the site's Brazilian Girls sub didn't fail to make me happy. As you already know, Brazilian beauties are delightful and heaven-like. So, seeing them in action and located in one convenient place is an effortless experience. Everyone can enjoy porn, videos, and activities from their favorite Brazilian stars as:
Onlyfans and Patreon models
Cosplayers
Youtubers
Streamers
Lastly, the Animated section – this collection is very appealing to all the fans of Anime, cartoons, porn comics, and Hentai. Typically, you'll find and connect with artists from different parts of the world as they share their personal creations with SimpCity users. You can enjoy 3D animation, Hentai, porn games, and even request anime, comics, or cartoons you haven't seen on the page.
Open Community for All Users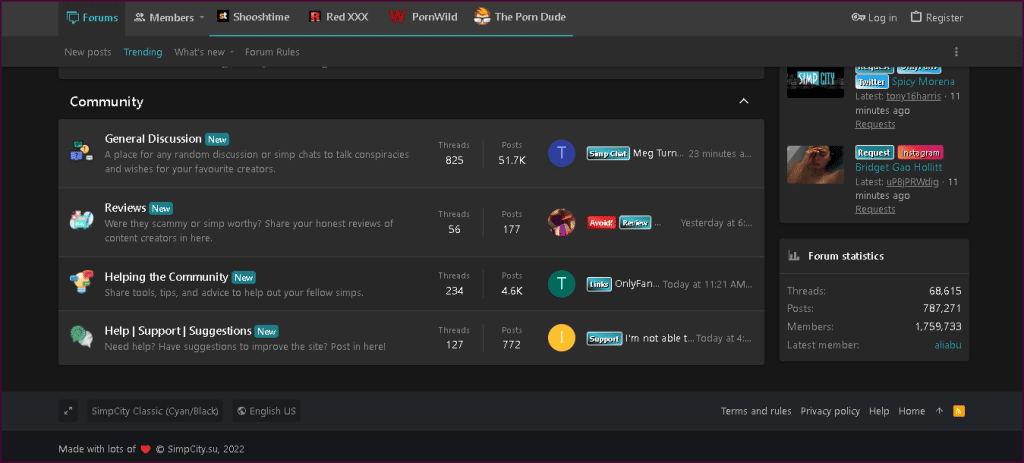 In general, porn forums always have a community area where users can gather and exchange relevant information from time to time. The same goes with Simpcity.su; it has a unique and thriving community section where members and guests can discuss anything, initiate a little chit-chat, or connect with the site's creators. Reviews in this section are likewise available, which makes it easier to stay away from scammy pages or spyware-infested apps.
Furthermore, SimpCity extends its community service by providing everyone with a "Helping the Community" sub. It is effective for those who like sharing tools, getting tips, or learning valuable advice from fellow users. If you experience unwanted lags, glitches, or any issues while browsing the site, you can discuss them in the Help, Support, and Suggestions sub. Simpcity.su is relatively open to suggestions from its users.
Pros and Cons of Simpcity.su
PROS:
Thriving and active community
Variety of topics and content
High-definition videos and reliable links
Top-quality internet models and pornstars
Easy registration process
CONS:
The site doesn't host any content
Some forums require registration to access
---
12 Best Porn Forums Similar to Simpcity.su: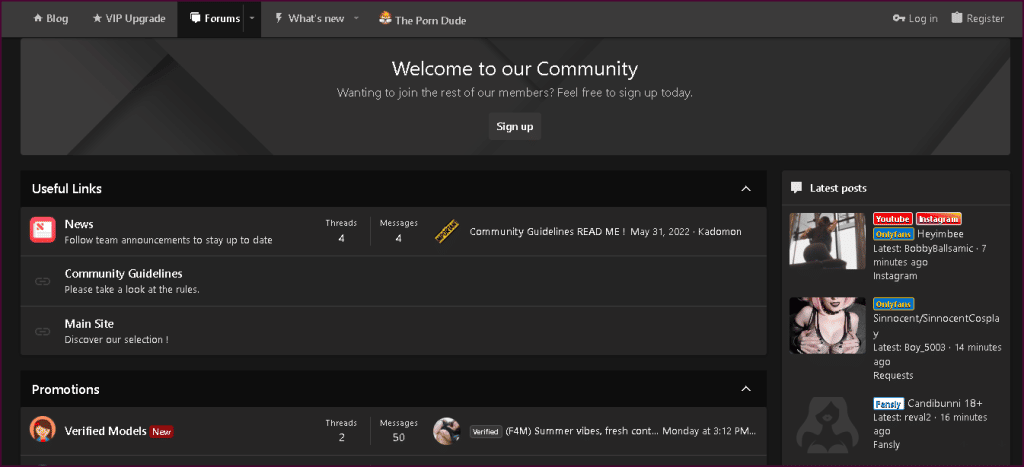 LeakEmUp Forum features a wide variety of explicit material, including scandals, updates, and leaks from numerous online celebrities. It also has collected around 15K+ threads and 75K+ messages. All of these are accessible for free, and the numbers keep growing. Despite being outdated and out of trend, you can still whack off to some sizzling porn, just like every friggin of adult entertainment website you regularly visit.
Here's the full review of LeakEmUp Forum.
PROS:
Around 700K+ members and counting
Free to use
Collection of different social media networks
Can request pictures, videos, or links
Regular updates
Lots of forums available
CONS:
Some subforums are not updating daily
---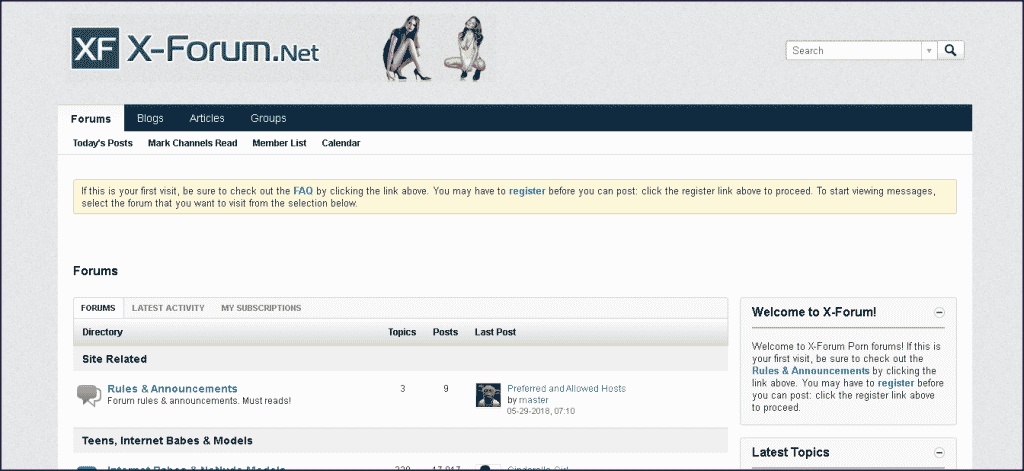 X-Forum is a simple porn forum site where people from different parts of the world get together and discuss or share porn. Despite being less well-known, it still has millions of threads available, and numerous messages have been made. Also, X-Forum not only focuses on porn but also incorporates other mainstream adult entertainment like nude celebrities, fappening, BDSM, fetishes, and more. Certainly, that's one thing that makes this community board different.
Click here for a full review of X-Forum.
PROS:
Lots of subforums and threads
Active community members
Thousands of topics
Countless messages are shared daily
Extensive collection
Free to use
Can upload personal collection
CONS:
Some forums have stopped updating
Unsecured website
---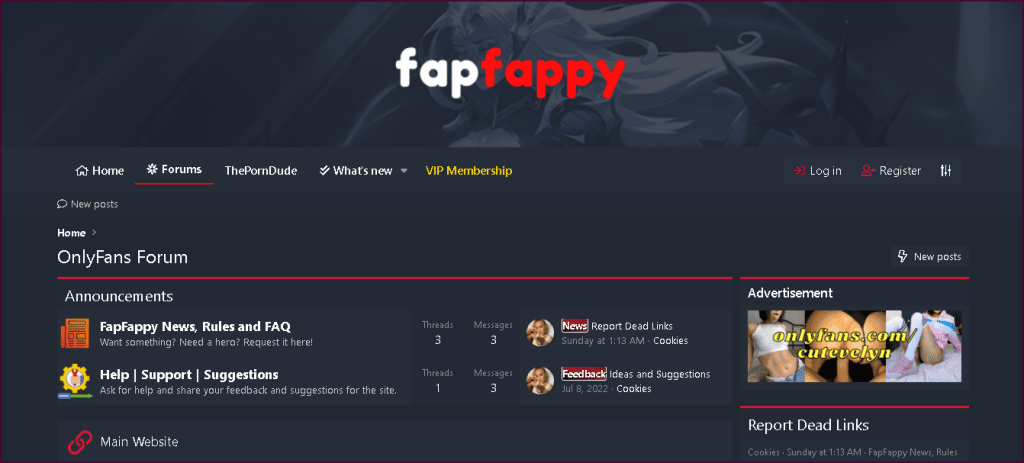 FapFappy Forum has barely operated a few months since its public debut in April, but it's already a booming message board with unlimited leakages, selfies, and various XXX entertainment. It's also among the busiest forum sites and will continue to endure until no more cocks can jerk off. Sure, there are far better and more extensive porn forums online, but this one really steps up its game!
PROS:
Regular updates
Active community
Features a variety of social media stars and content
Numerous forums and subforums
CONS:
Some contents are for VIPs only
---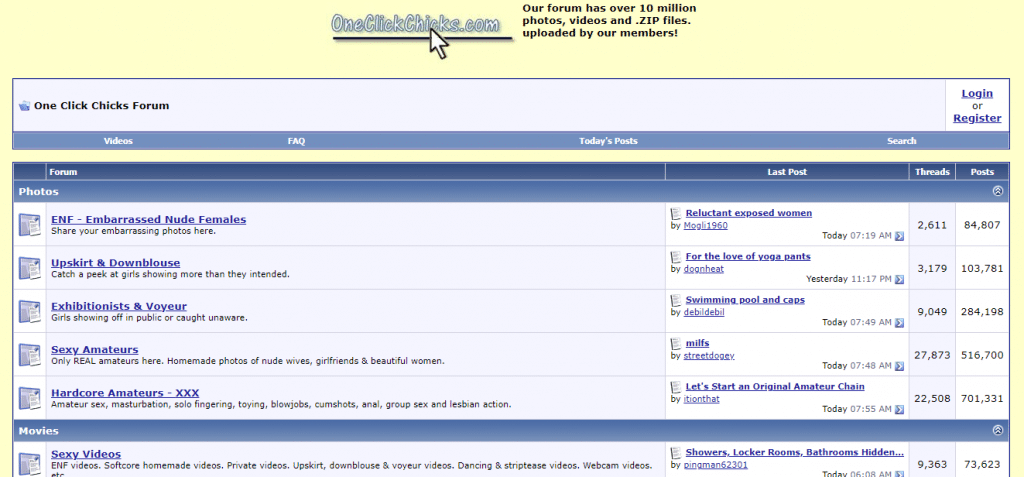 There are 10+ million sexual homemade shots and around 200K+ private pornos in OneClickChicks' collection. With about 1.3 million users, the site is approximately 1M+ times a day by nearly 2M+ unique individuals. In fact, they're actual people who film their wives, girlfriends, and other women as they do numerous lewd acts. These types are aggressive; they like to talk to anyone and have zero problem posting indecent photos and recordings to entice you to jizz hard.
Click to see the full review of OneClickChicks.
PROS:
Updates regularly
Intuitive layout
Active participants
CONS:
Low-quality content
Requires membership
---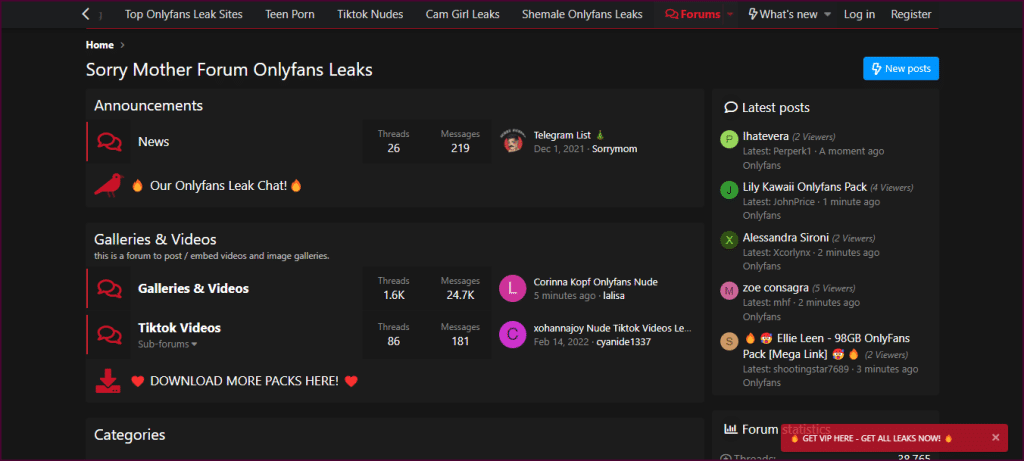 Sorry Mother is also a good destination for anyone looking for fetish videos and jerk-off-worthy porn. Just look around, and you'll see that Sorry Mother is more than what you expect it to be. Typically, leaked videos from prominent networks, including Snapchat, OnlyFans, and others, are the favorite pastime of the members. Certainly, Sorry Mother is a visual representation of just how much information you can get on the fucktube website!
Check out the full review of Sorry Mother Forum.
PROS:
Massive threads
Millions of messages
Free to use
Simple website
CONS:
Lots of ads and redirects
---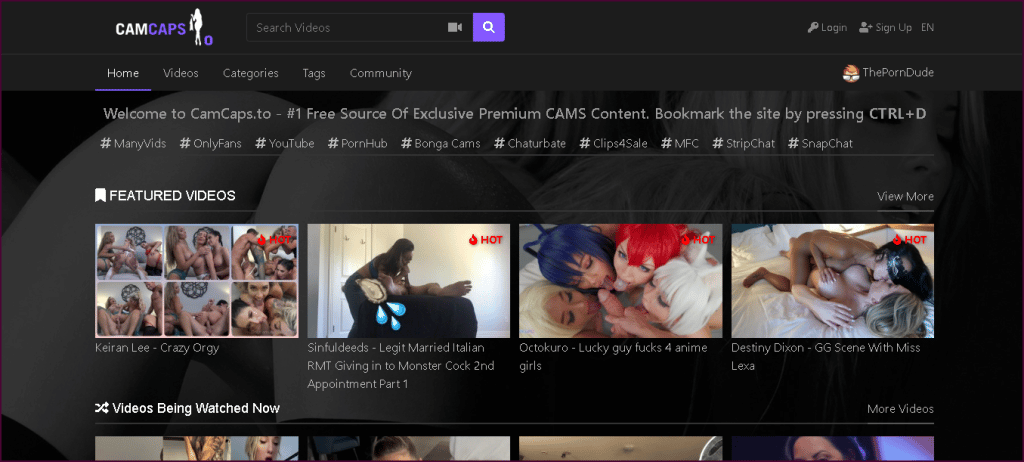 If you're a fan of all kinds of sexually explicit material, it's not a surprise that CamCaps will be your go-to destination soon. Overall, everything seems excellent here, but I'm not blown away by its materials. Sure, there are many niche boards and discussions that exist, but most of them focus on simple ol' bland sexual pleasure. There are hardcore cam videos too, but people may feel it drab and dreary at some point once they find vanilla-type pics and vids.
Take a look at the full review of CamCaps.
PROS:
Amazing niche
Top-notch content
Forums are fantastic
It has several exclusive contents
Organized posts
CONS:
Few broken links
Annoying ads
Redirect links
---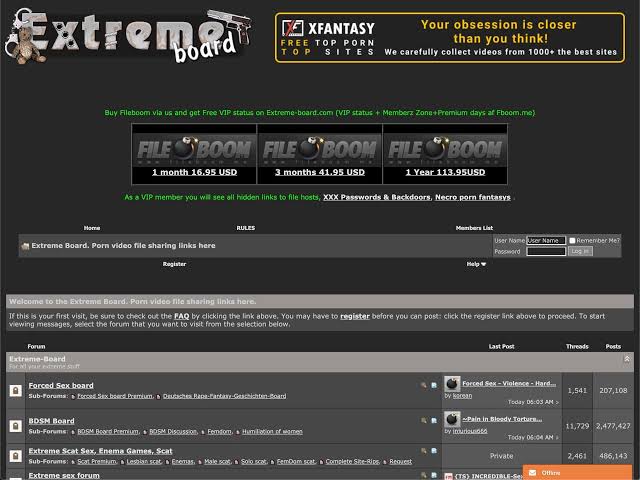 Some people enjoy visiting extreme sites on the internet. And since the world wide web has tremendous potential risks of landing on the scammy website, I recommend something that might be helpful — ExtremeBoard. It's a forum appropriate for people looking for more severe forms of pornography. Currently, the total number of postings on ExtremeBoard has reached 6M+, and there are 50K+ different threads in which the content is laid together.
PROS:
Plenty of postings
Updates regularly
Amazing subforums available
CONS:
Advertisements are available
Basic design
---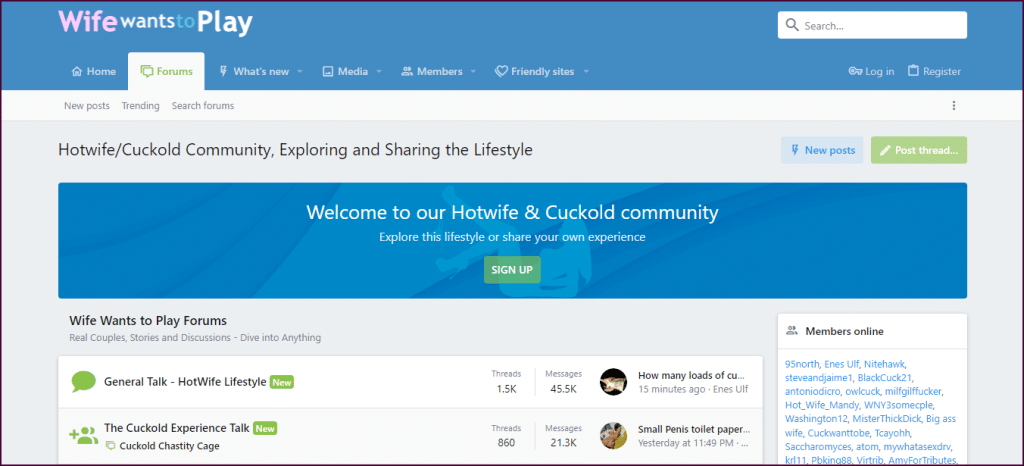 WifeWantsToPlay forum is a great site that serves what it's meant to do —cuckold. This online cuckold community has been around for years, giving everyone an open, non-judgmental venue to share, discuss, and talk about the cuckold lifestyle. Every day, the site gains thousands of unique visitors, and many of them are regular users already.
Read the WifeWantsToPlay full review.
PROS:
Lots of forums and subforums available
Free to use
Active members
Lots of users daily
Easy to understand design and usability
CONS:
Some trolls
Limited to cuckold only
---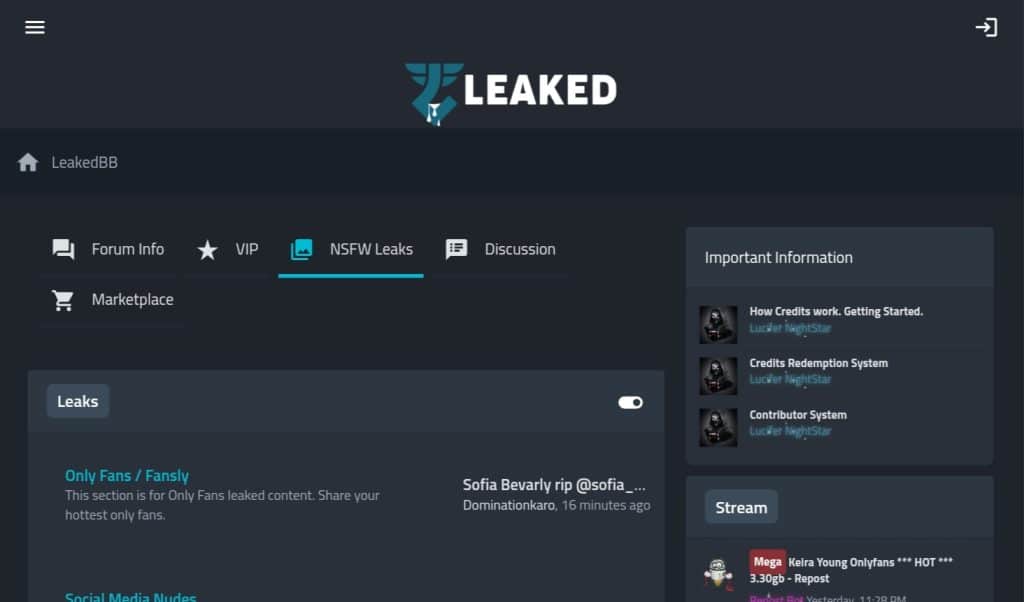 LeakedBB is a porn forum site that lets people enjoy unlimited and free videos, photos, and links of celebrities, social media stars, amateur talents, and anything porn-related. You can also chat, connect, and socialize with fellow porn forum lovers and request anything you haven't seen on the site. So, it's not surprising how LeakedBB attracted many people to follow them and even share resources directly from their personal collections.
Check out the full review of LeakedBB.
PROS:
Plenty of content
Numerous forums and subforums
Free to use
It has exclusive content available
Design and usability are great
CONS:
Exclusive content requires a premium membership
Registration needed
---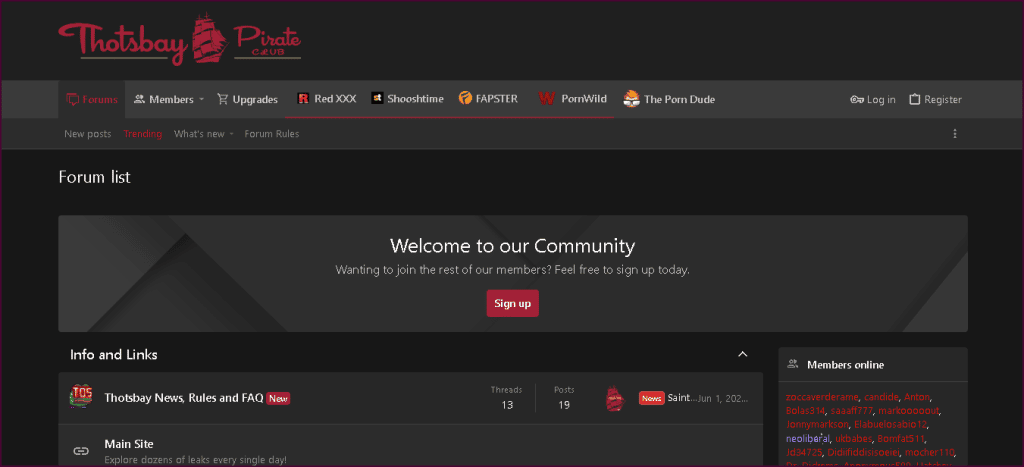 Thotsbay forum is a great porn forum with a fantastic community of fuckers. It has several media leaks shared by followers and porn enthusiasts. Also, the members here actively discuss and post pornos and links throughout the day. Despite ads, redirects, and pop-ups, the site's content stood out and covered a shitload of niches and topics.
Click to see the full Thotsbay review.
PROS:
Lots of forums and subforums
Different and reliable sources
Active community
Easy to use
Registration is free
CONS:
---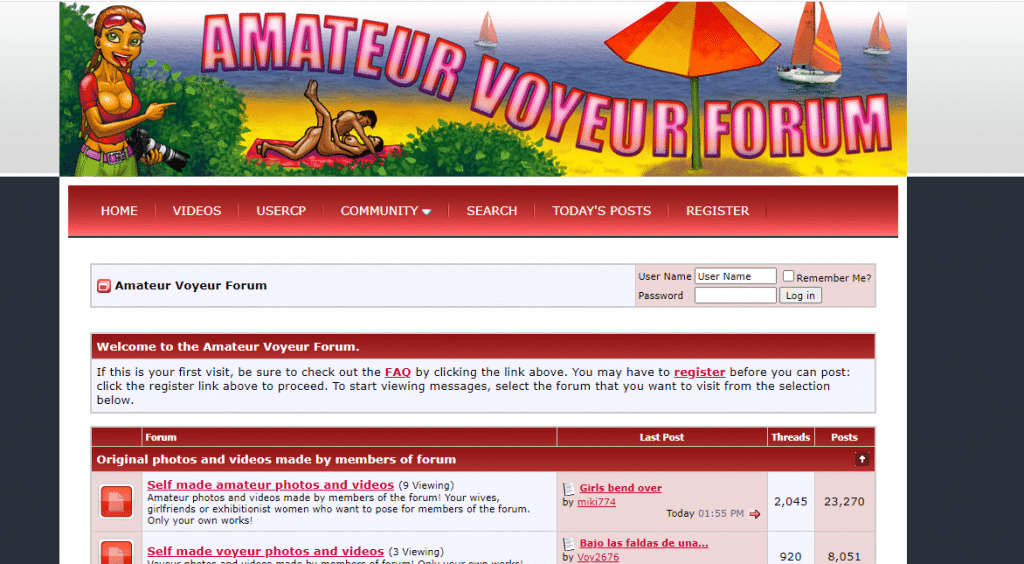 If we are talking about a porn forum, there's always that website that comes to mind instantly —AmateurVoyeurForum. If you are a massive fan of voyeuristic porn, then this should be your delightful sanctuary. It also has thousands of members and is constantly updating its contents. Right now, it has over 800k posts, and more and more people are popping in the site to enjoy voyeur content.
PROS:
Easy downloading of images and videos
Exclusive images for the exhibitionist and voyeuristic fans
Members make updates regularly
CONS:
Annoying advertisements
Many videos from YouTube are in private mode
---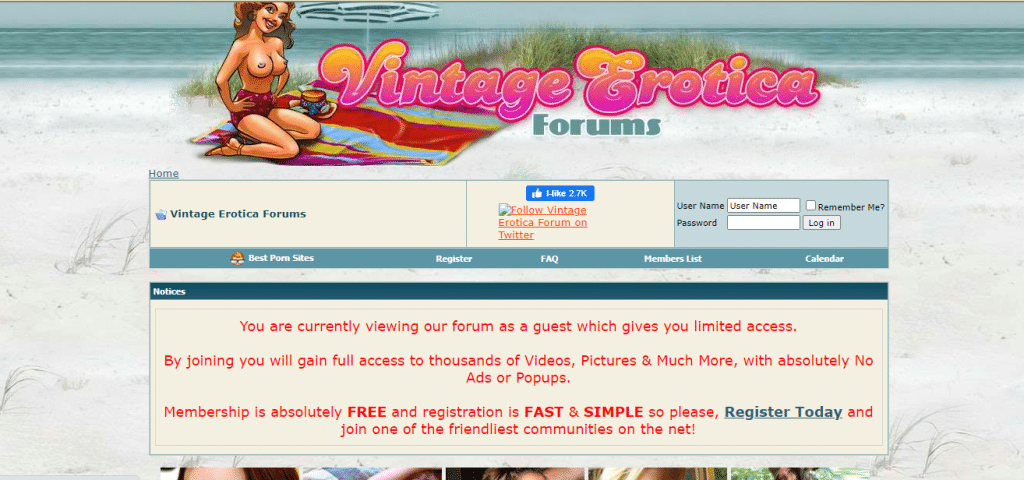 Ahh, yes, vintage. Nothing is ever remarkable than excellent old classics. Sure, the Internet has plenty of porn lurking around. In fact, they are easy to find if you're just smart enough. But the best vintage and classic content are never to enjoy. Good thing there is VintageEroticaForums where you can relax and enjoy some fun vintage movies, pictures, and just about anything.
Check out the full review of VintageEroticaForums.
PROS:
Plenty of active threads
active userbase
there are plenty of vintage porn everywhere you click
no mobile application is available
CONS:
some ads and annoying pop-ups
---
Final Words
Despite having a standard porn forum setup, the site did not fail its users to experience a once-in-a-lifetime taste of exquisite porn. Its appearance might be overwhelming initially, but the deeper you explore, the more you fall into the rabbit hole. Even though it has several ads, they are pretty minimal compared to other platforms. Certainly, SimpCity is a virtual showstopper in the porn forum field, thanks to its incredible quality of user-friendliness, which may also have contributed to the site's unexpected and swift boom. Come and check out Simpcity.su today and experience it firsthand!
All 47 Other Sites in This Category Worth Checking Out:
Undertow Club & Top 12 Free Porn Forum Sites Like Undertow.club Show Me 12 Alternatives for Undertow.club Are you considering joining an underground community? Undertow Club is an underground gaming and modding community with a sensual twist, pal. It has been a long time since I did a forum site review, so here it is. Undertow […]